I've been wearing my leggings A LOT these days and with all that's going on in the world, small daily comforts have been essential. Relying on closet staples is my main move under normal circumstances and now that everything feels upside down I'm leaning on them even more.
I noticed that I've been gravitating to the same outfit formula each time I wear my leggings (gifted, more info below) and figured you might be interested in some styling ideas for your go-to leggings too!
In today's post:
How to use this outfit formula
A quick note on the leggings I've been wearing
3 totally different outfits using the same formula
---
This post was not produced in partnership with any brands mentioned but does contain affiliate links and some gifted items. If you see something you like and decide to shop through the links included, I may earn commission on a sale at no additional cost to you. All opinions are my own and I only feature products I genuinely love. Thanks for supporting Style Bee!
---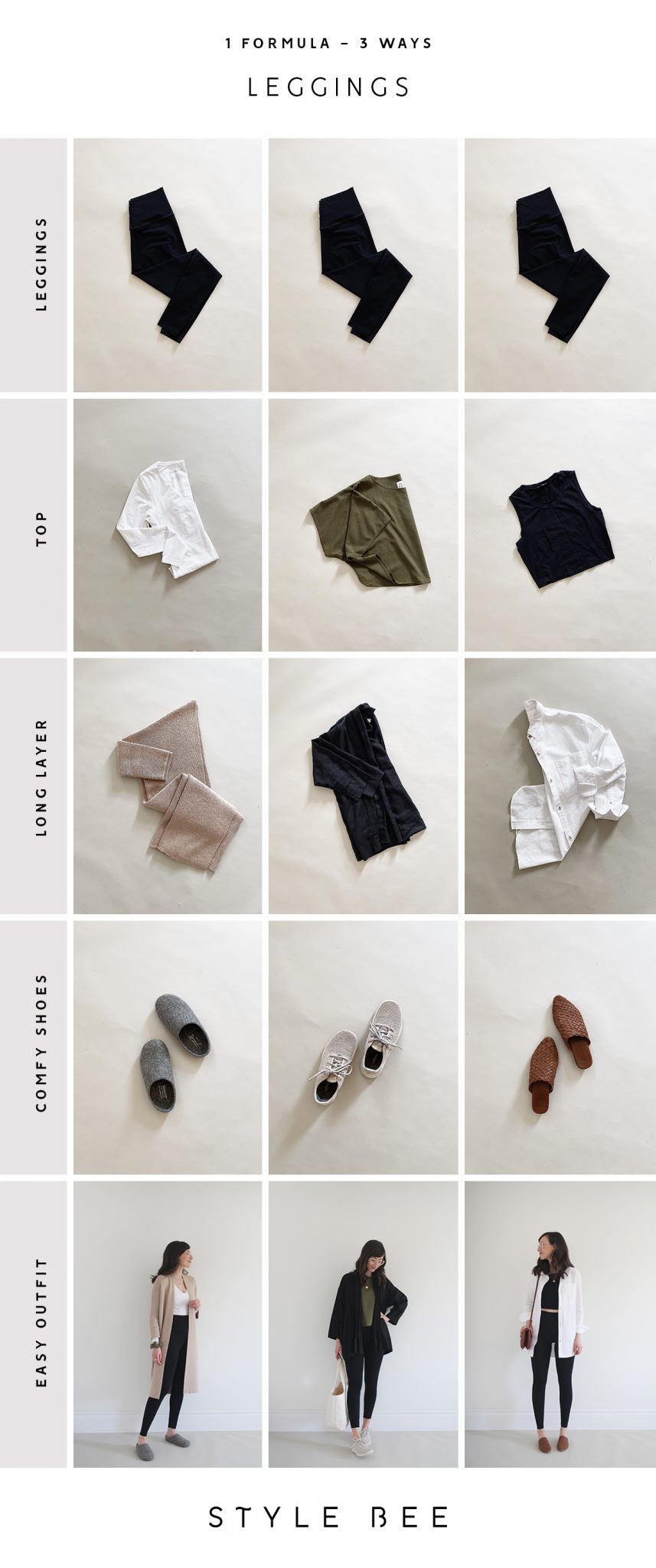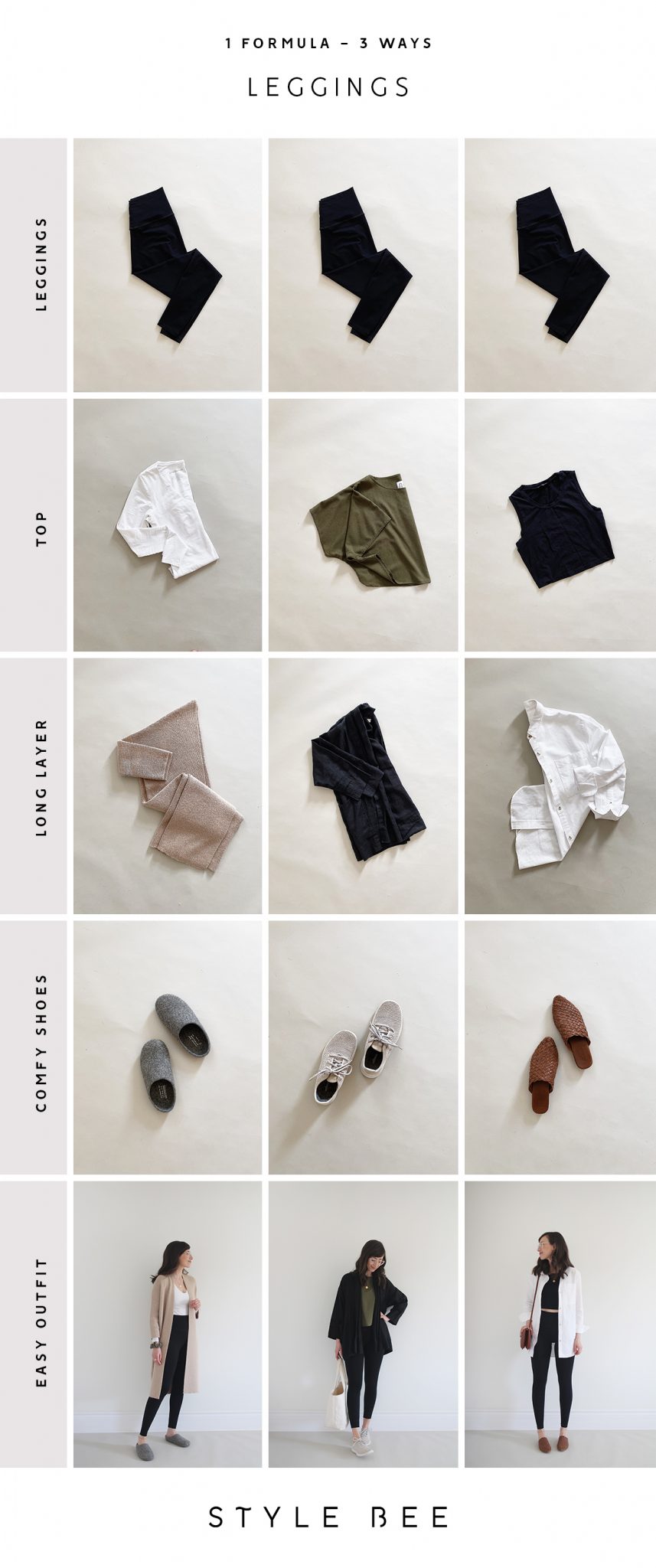 ---
How to use this outfit formula:
1 | Pull out your favourite pair of leggings.
2 | Grab any top. A bodysuit, floaty tee, fitted crop or just about anything you're drawn to.
3 | Add a third piece that's longer than your top. This could be a cardigan, oversized oxford shirt or light jacket.
4 | Slip on a comfy pair of shoes. House slippers, clean runners or your favourite spring slides are all great options.
5 | Then grab an accessory or two. I love wearing my Wolf Circus necklace and anklet (both currently on sale), and you're done!
---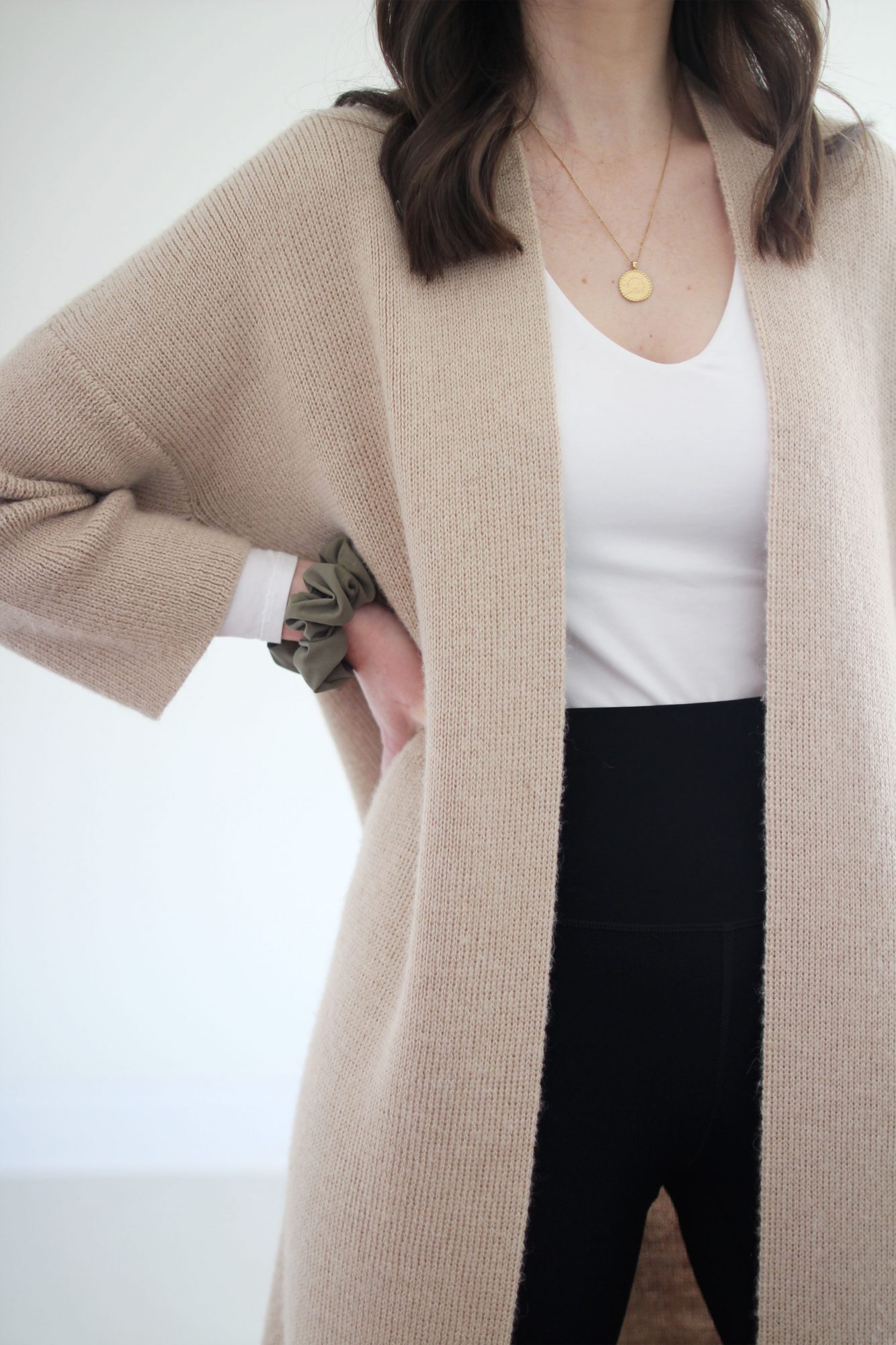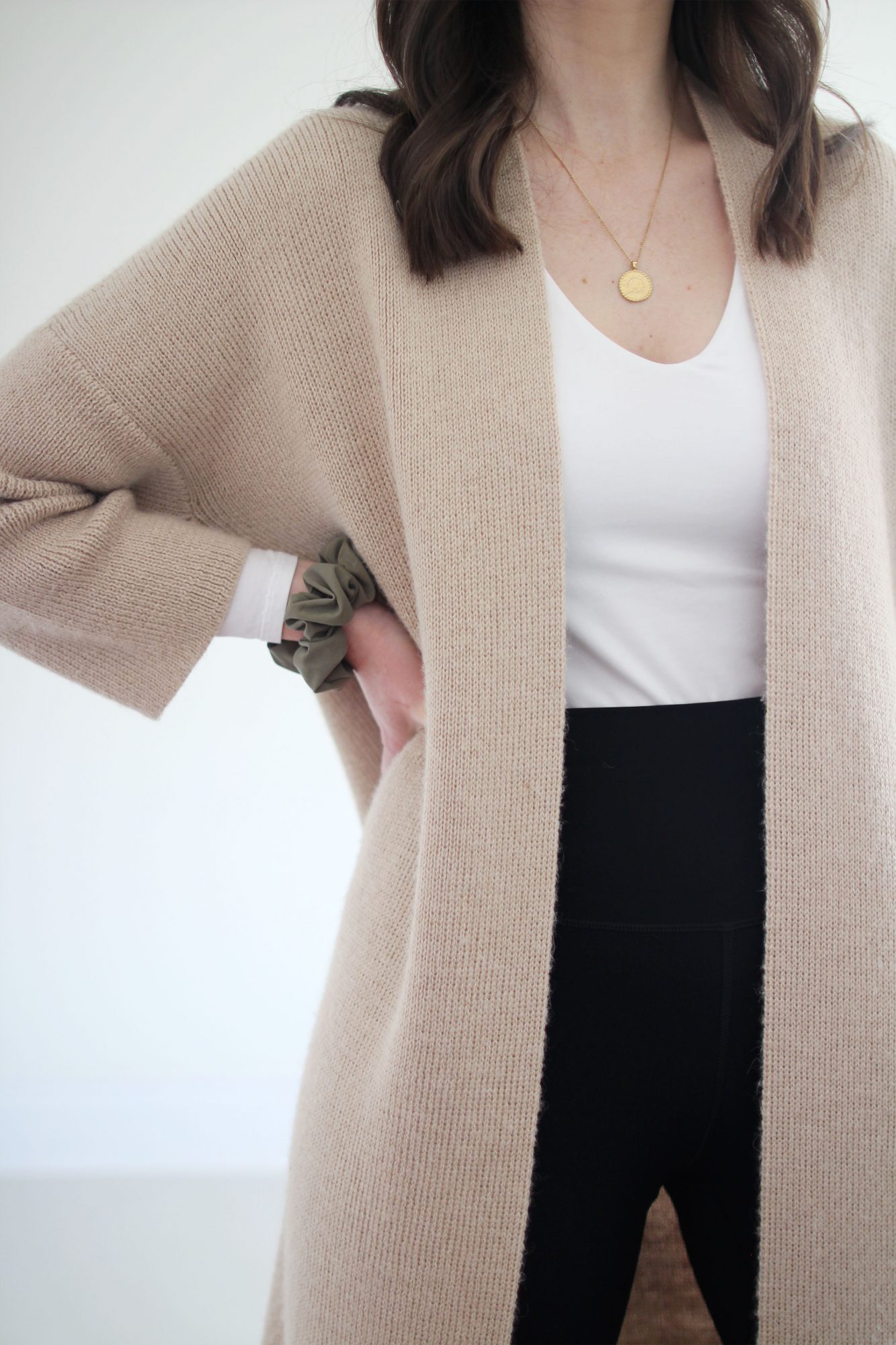 ---
Quick Notes on these Leggings
---
Until the new Perform Legging arrived (a PR gift sent from Everlane with no obligation to share, this is not a sponsored post), I didn't fancy myself to be much of a leggings person (I know, who am I?). I'd tried lots of options in the past but something would always seem off. Either the waist was too high, too low or too tight or the materials picked up too much lint or didn't breathe enough. Don't even get me started on the crotch! These however, have totally swayed my willingness to wear leggings on a regular basis.
They're so comfy that I can't help but pull them on day after day. They don't stretch out (even after several all-day wears) and they have a fabulously sleek fit and feel. Hugging all the right spots with zero digging in. From a morning dog walk to a midday yoga session to an evening of Netflix-ing they're always good to go, or, more appropriately right now, not go.
Compared to Girlfriend's Compressive Legging, of which I have several pairs and wear a lot for workouts, I find both the material and fit feel much different. The Perform leggings are a lighter fabric, not as warm or soft on the skin, a bit more breathable, stretchier and I find the waist band more comfortable and flattering. Girlfriend is a very cool brand (with the best marketing & models) and they make awesome activewear but I find these are more versatile as a loungewear legging and less of a workout pant. That said, I've worn these for yoga sessions and P.Volve workouts and they're totally up for it.
If you're looking for a pair of leggings these are worth a try. They're on sale at 2 for $90 USD at the moment, which is a great deal (and a happy coincidence with the timing of this post). I wear a small regular and I'm about 5'7 and 125 lbs. If you have more questions feel free to ask!
---

---
Now onto the outfits!
---
LOOK 1
---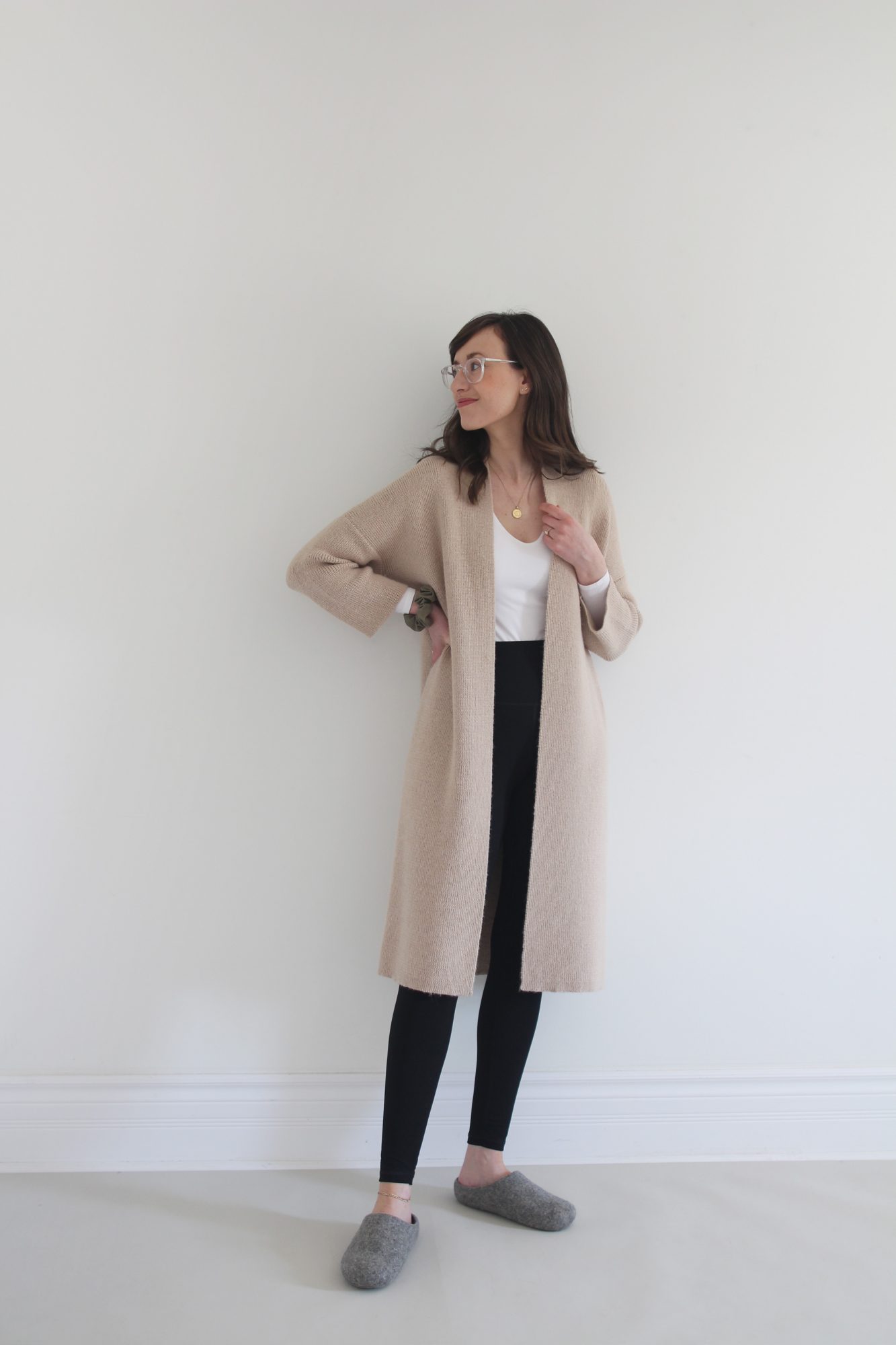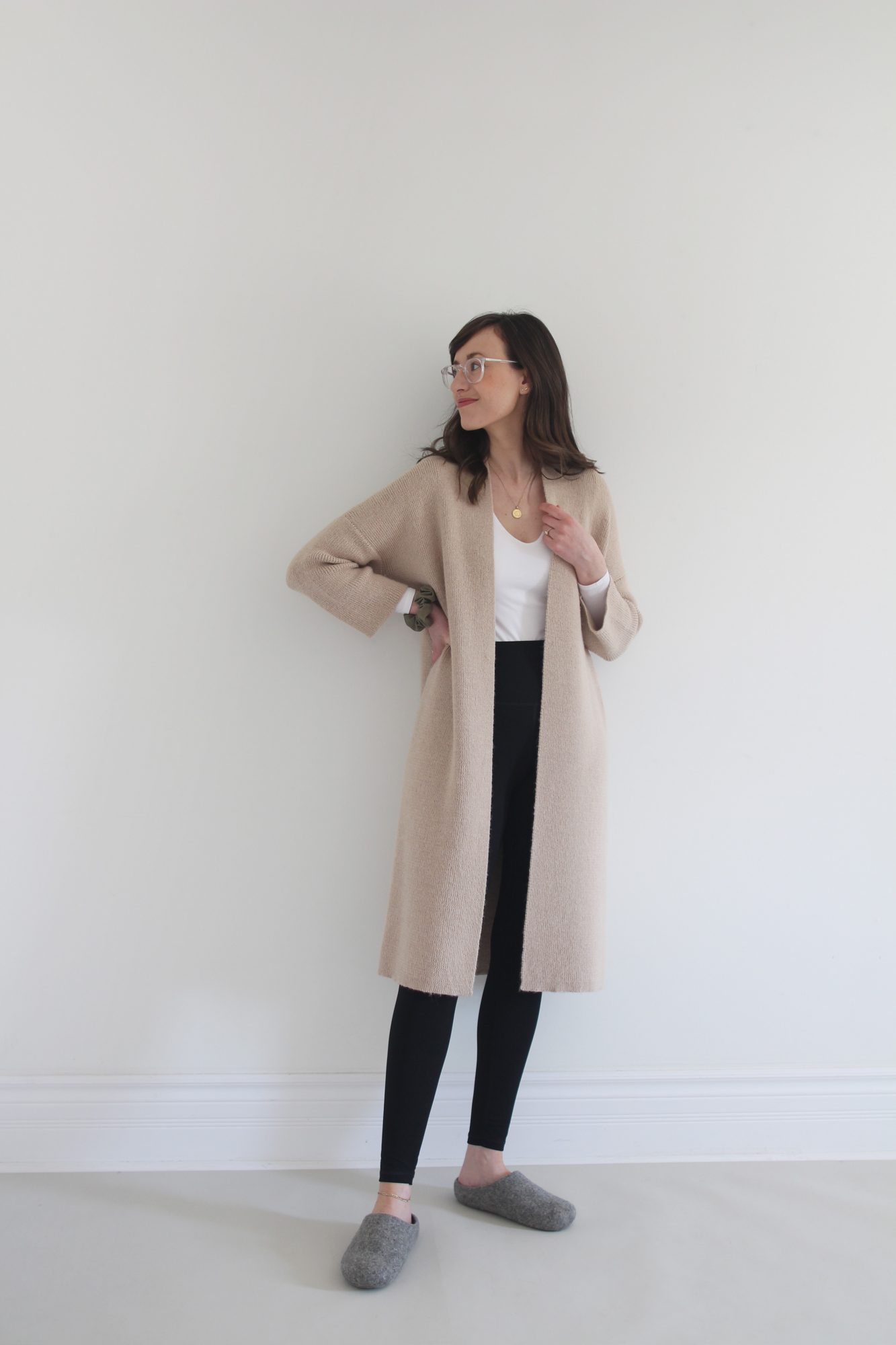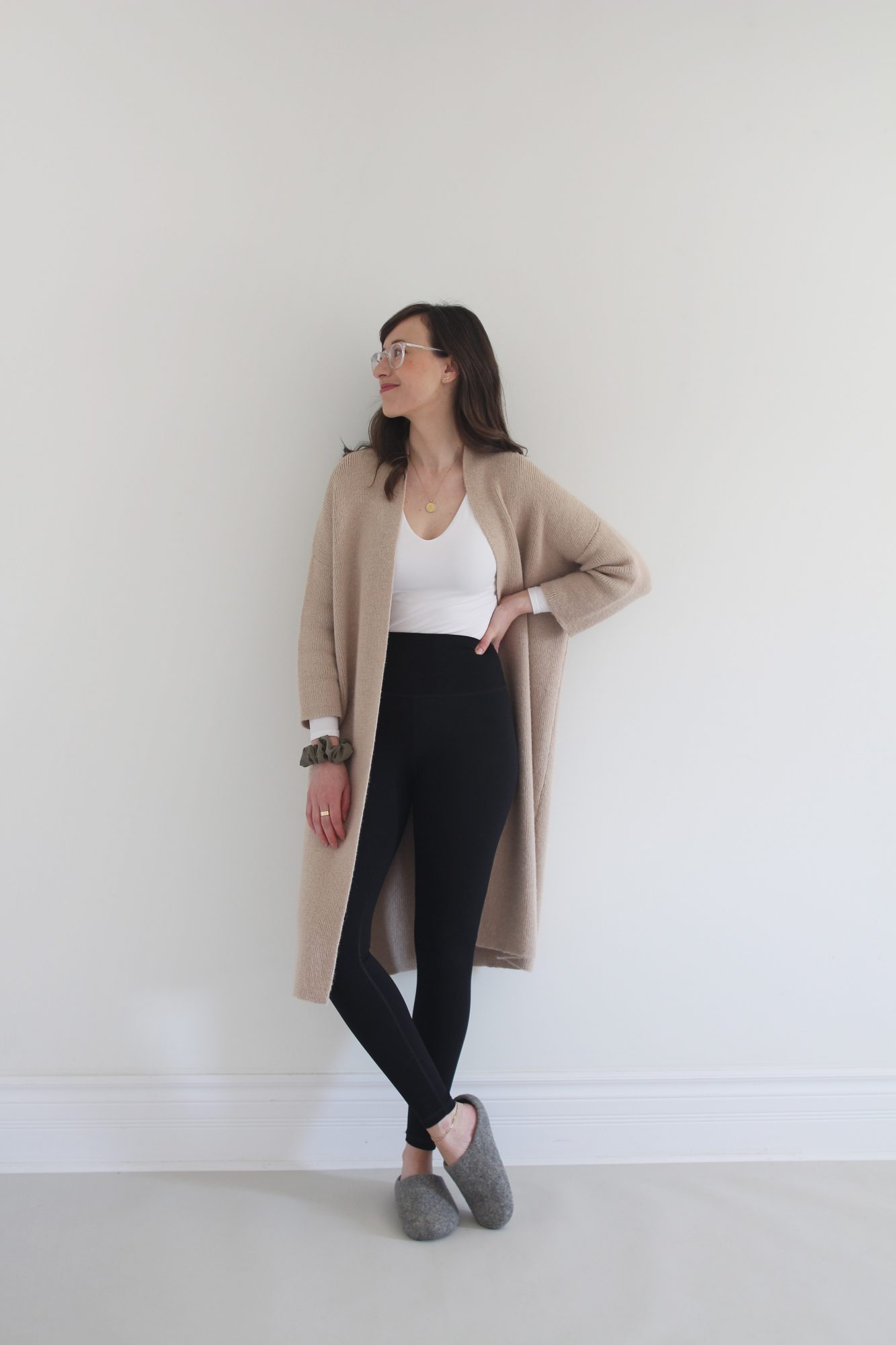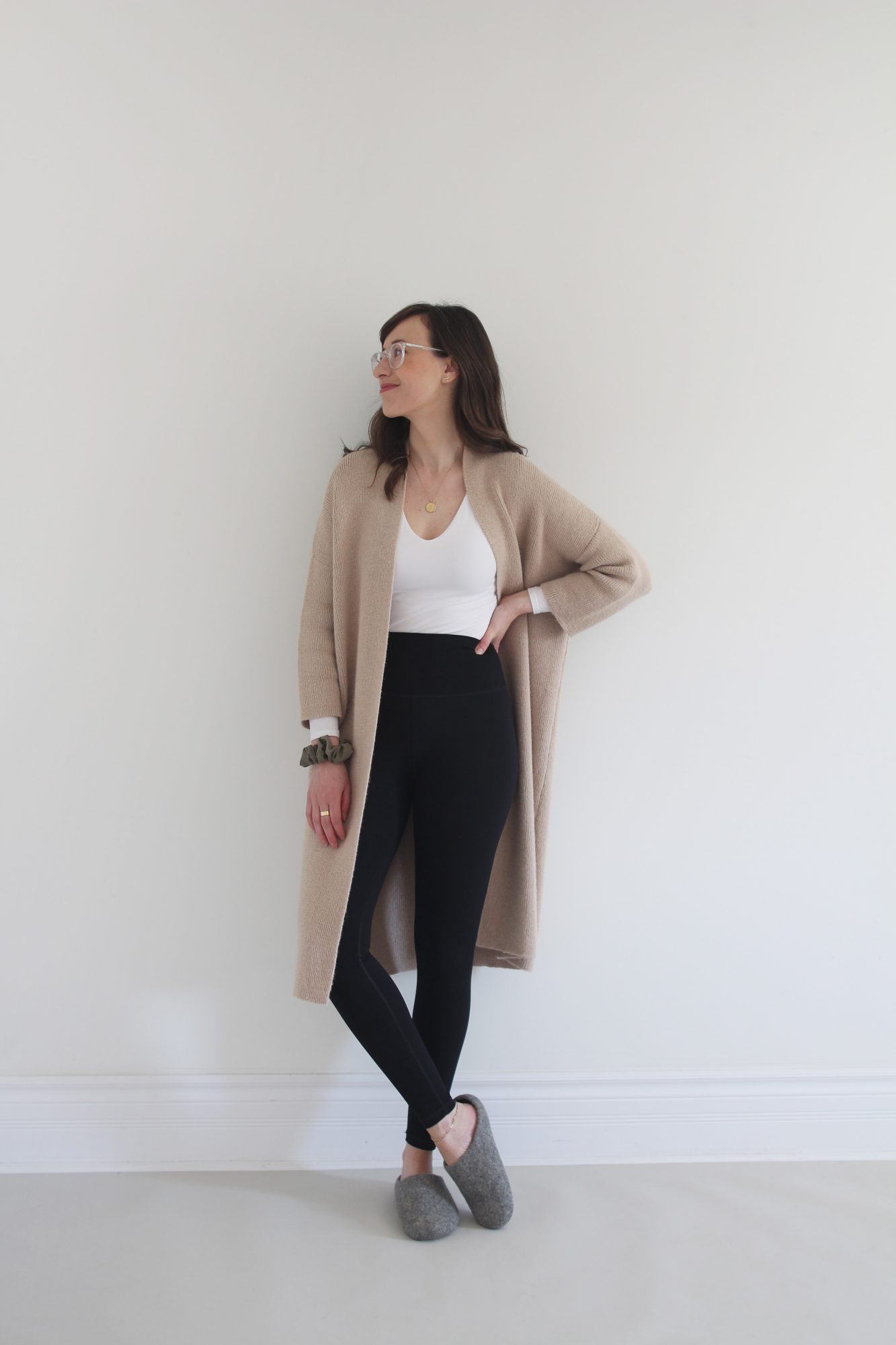 ---
This is a favourite legging look of mine because it's super comfy while still feeling put-together. I love this sweater so much (it's an old one sorry!) and really can't recommend a long, cozy, minimal camel cardigan enough. A piece like this is a true staple that goes with everything and elevates even the most relaxed outfit (a couple of linked options below).
I like wearing these leggings over a bodysuit for a streamlined base, then layering a slightly oversize item on top for an easy going look. The waist on these creates a high visual mid-point (one of my favourite styling tricks) and gives the illusion of really long legs. Who says lounge looks can't be flattering too?
Then it's just some comfy slippers, a green scrunchie for some colour and a few gold accessories to finish things off!
---
CARDIGAN old (similar here and here and this option is very budget friendly) // BODYSUIT (fit is TTS I wear my usual Small) | LEGGINGS gifted EVERLANE (fit is TTS, I wear my usual Small) // SLIPPERS gifted years ago KYRGIES // HASKELL FRAMES by WARBY PARKER // NECKLACE by WOLF CIRCUS (Canadian Made)
---

---
LOOK 2
---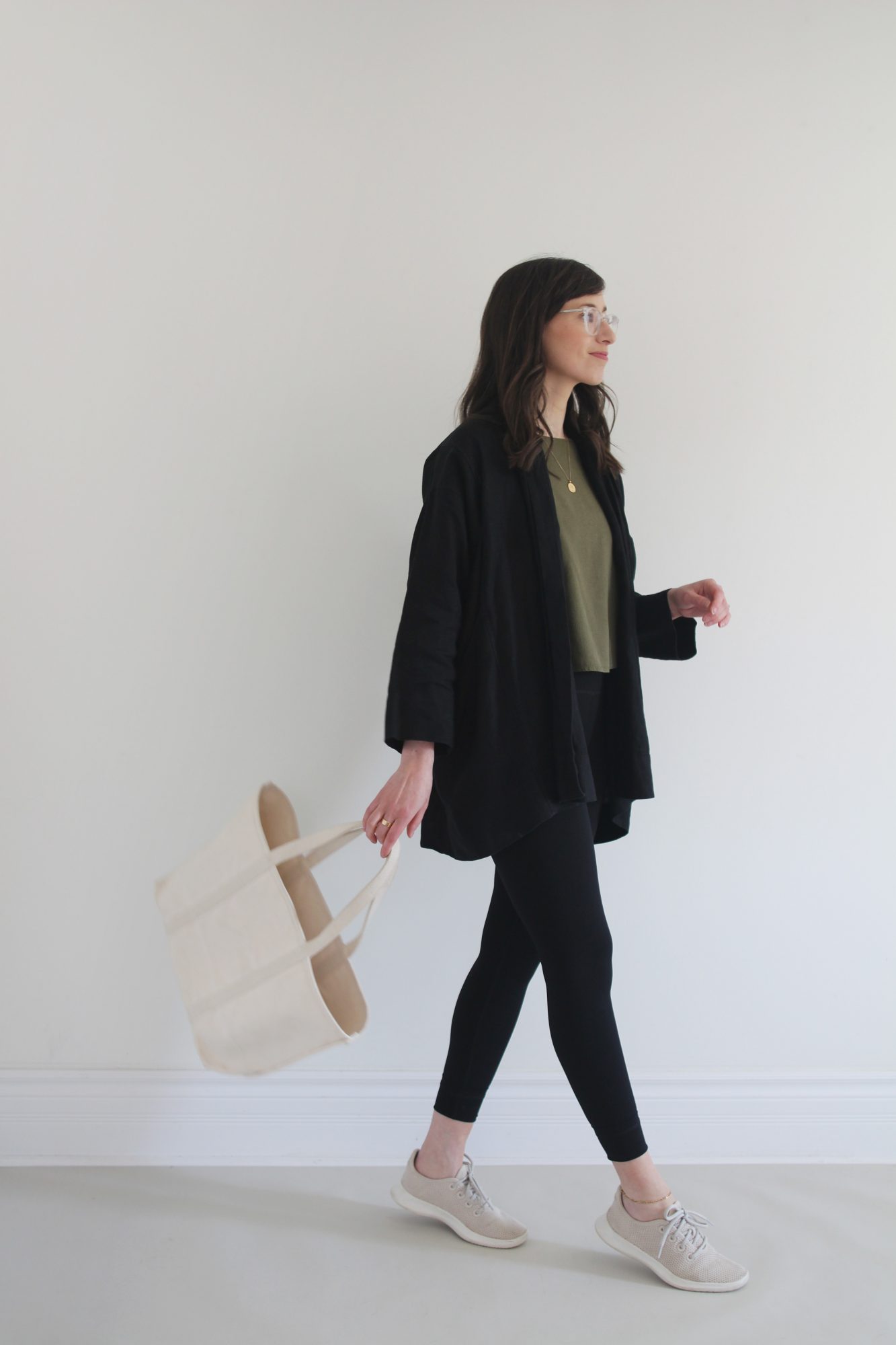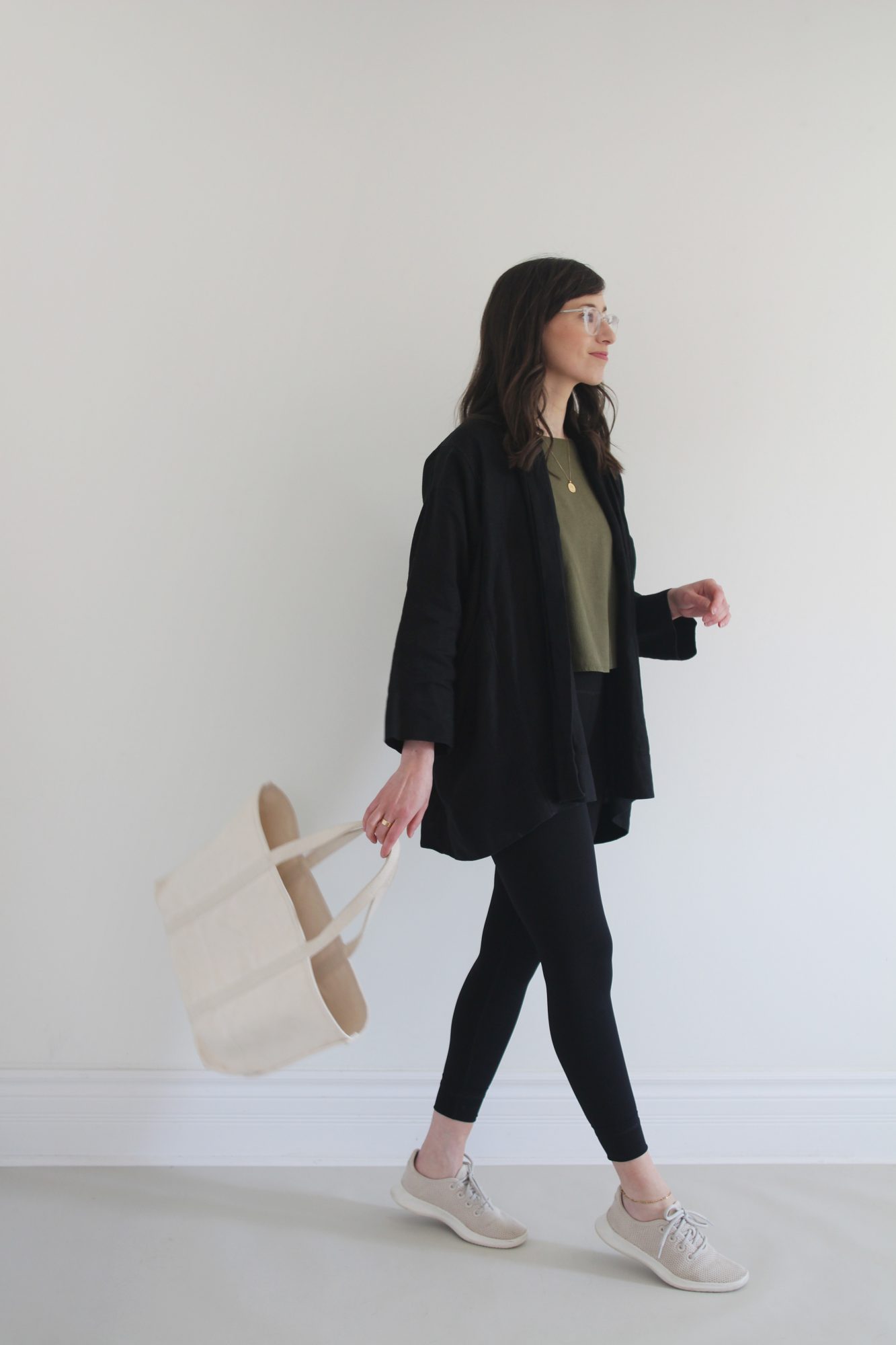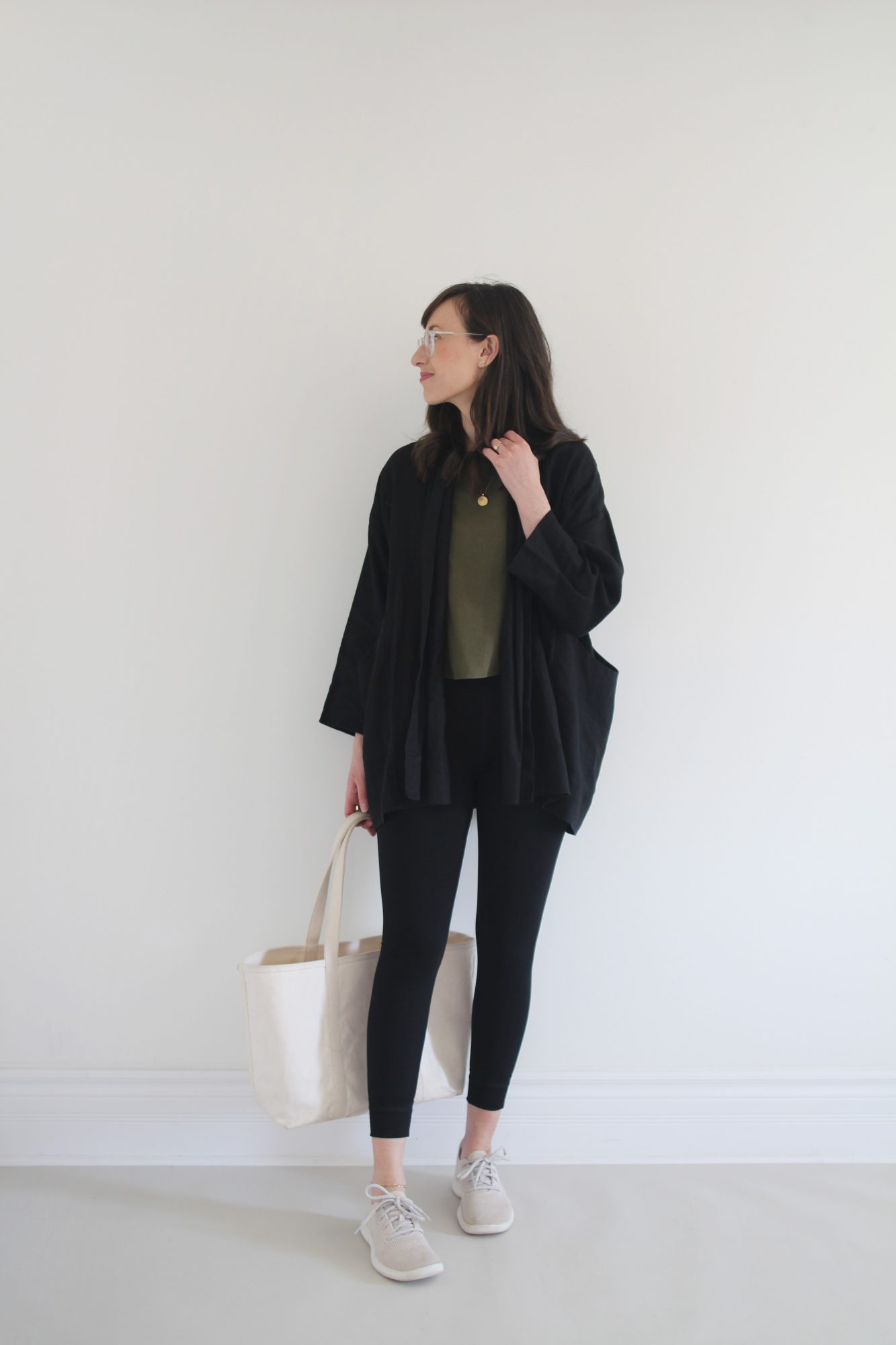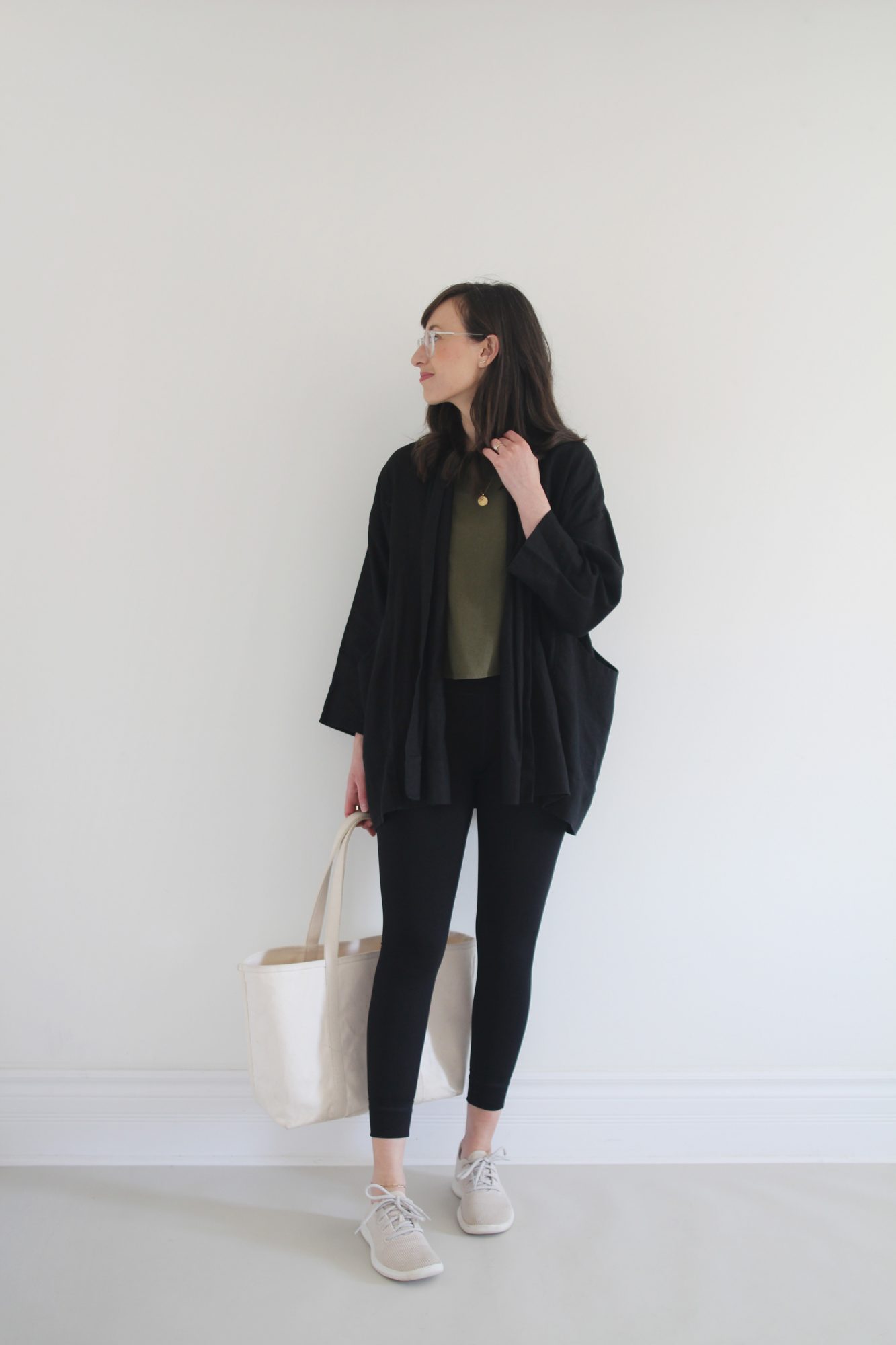 ---
For a sportier outfit I like to opt for shorter layers. By bringing all the elements up a bit the look gets a whole new vibe. I cuffed my leggings for a cropped inseam length, let my Blank Canvas Tee fall over the waistband and layered my shorter Clyde Jacket on top. Then I pulled on my Tree Runners* to give this look a more activewear feel.
This look will be great for walking Dobby and time in the backyard when it's warmer outside. Under normal circumstances, I'd bring my canvas tote to run errands or grabs some supplies but for now it's just for show!
* Right now, for every pair of runners purchased All Birds will donate a pair to a healthcare worker.
---
CLYDE JACKET LINEN gifted ELIZABETH SUZANN // BLANK CANVAS TOP gifted years ago JAMIE & THE JONES // LEGGINGS gifted EVERLANE (fit is TTS, I wear my usual Small) // TREE RUNNER from ALLBIRDS (fit is TTS) // TOTE gifted years ago JOSHUA + VELA // HASKELL FRAMES by WARBY PARKER // NECKLACE by WOLF CIRCUS (Canadian Made)
---

---
LOOK 3
---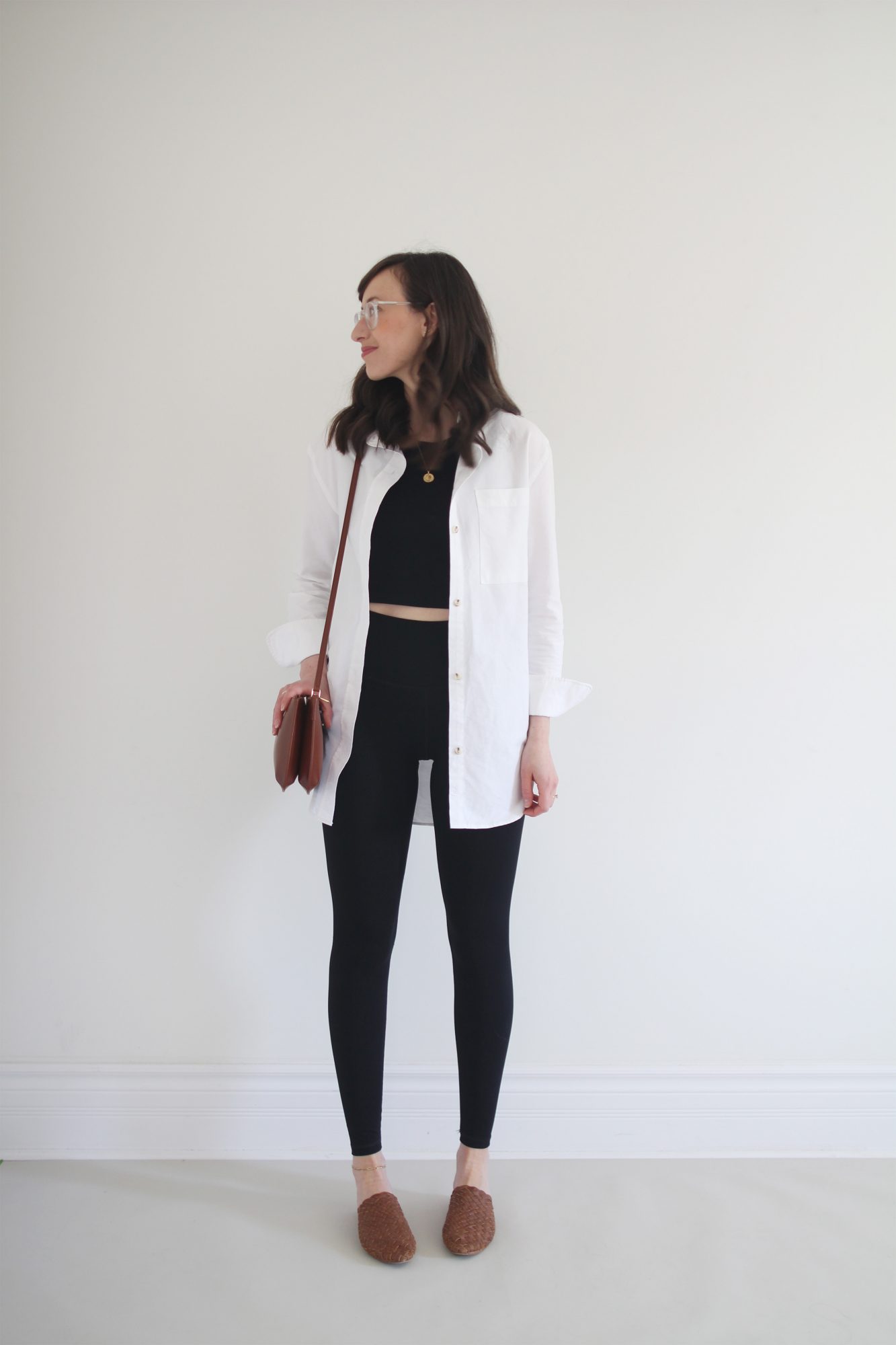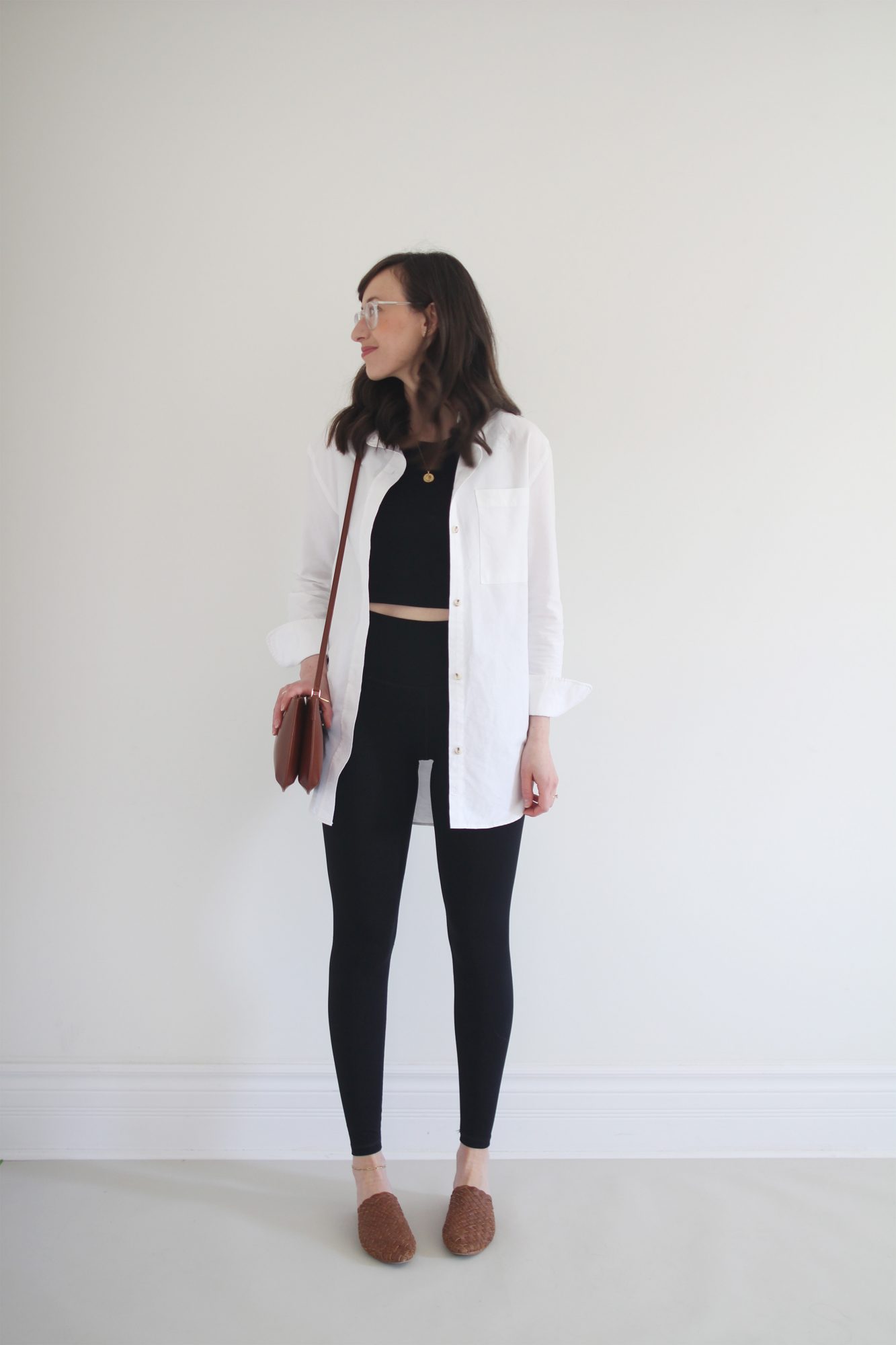 ---
Last but not least, I tried to push myself a little bit after being inspired by @styleisstyle, who's always pulling together brilliant outfits. I wanted to try something a little different so I paired a fitted black crop top with my leggings and layered an oversized oxford on top. This look makes me feel like an artist and I love it!
Whenever I wear a black and white base I usually add brown shoes and accessories to warm things up or it can feel a bit too heavily contrasted for me. In this case I pulled out my Paris Woven Mules and my latest bag investment (from Shopbop's spring sale) and the two are a great match in a rich, vintage brown.
---
LONG OXFORD SHIRT gifted KOTN (wearing a Small) // CROP TOP old ARITZIA (similar here and here) // LEGGINGS gifted EVERLANE (fit is TTS, I wear my usual Small) // PARIS MULE by ST AGNI (on sale! Fit runs narrow) // SARAH BAG by A.P.C. (colour s/o on ShopBop) // HASKELL FRAMES by WARBY PARKER // NECKLACE by WOLF CIRCUS (Canadian Made)
---

---
Are you living in leggings these days too?
Would you give this outfit formula a try?
---
THANK YOU FOR BEING HERE!
I know it's a very intense time for us all right now. The future is uncertain and a lot of important things in life are currently in limbo. I feel pretty helpless other than knowing if I stay home I'm at least doing my part to help contain this horrible thing. My hope is that by continuing to create and share style content, I'll be able to offer a few moments of ease and distraction from all that's happening right now.
Thank you for reading and staying home if you can. I'm thinking of you all and I know we'll get through this!