I once read that Tuesday's are the most productive day of the work week but of course, that study wasn't conducted during a pandemic. Nonetheless, I hope you've been able to tick an item or two off your list for the day, even if you just get dressed and have some breakfast.
Today I'm back with another easy going, colourful spring look and a collage inspired by it. This one is all about mossy tones and unearthing things we may not have known were there. Let's take a look!
---
This post was not produced in partnership with any brands mentioned but does contain affiliate links and some gifted items. If you see something you like and decide to shop through the links included, I may earn commission at no additional cost to you. All opinions are always my own and I only feature items I love. Thanks for supporting Style Bee!
---
THE OUTFIT
---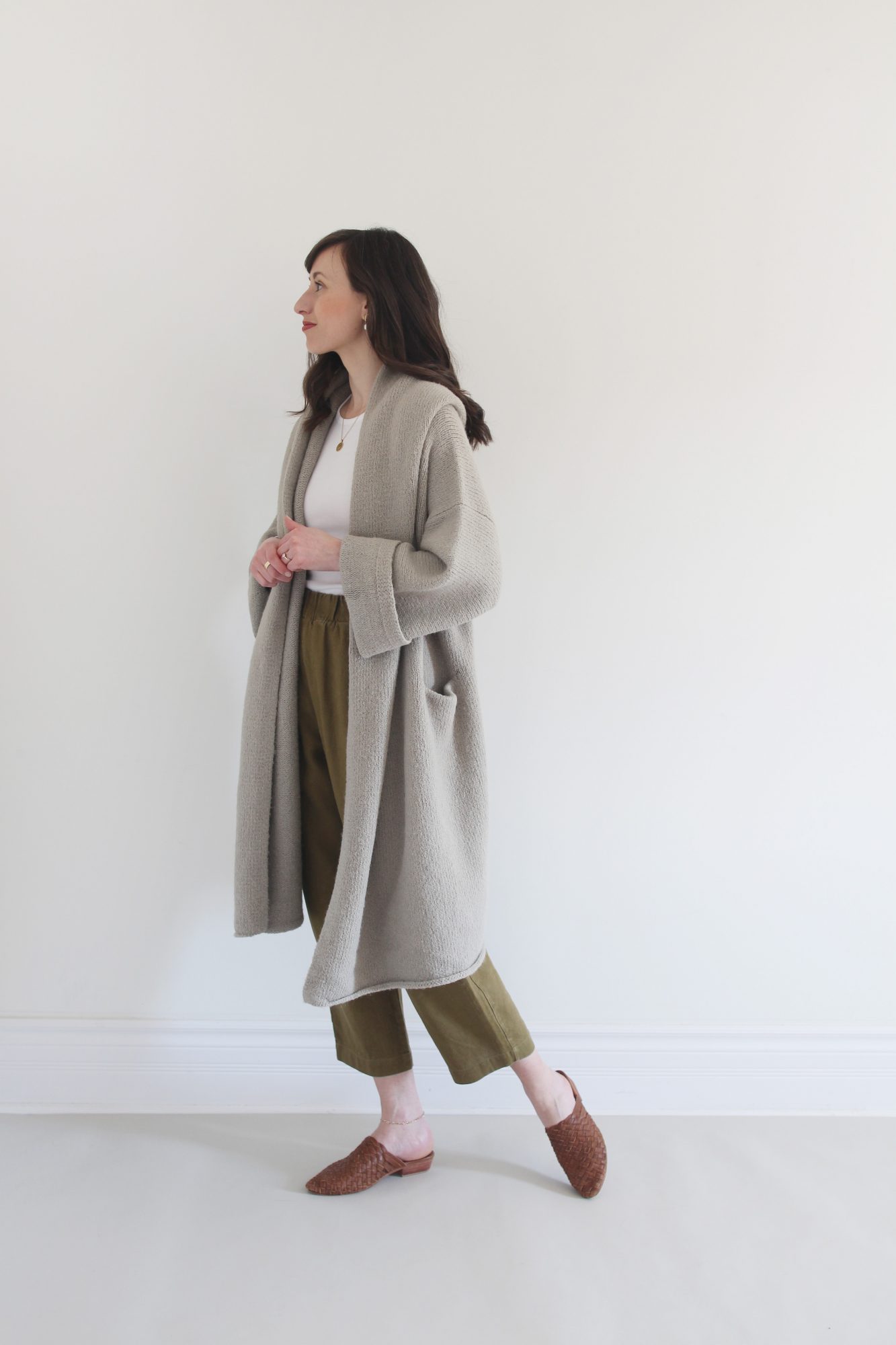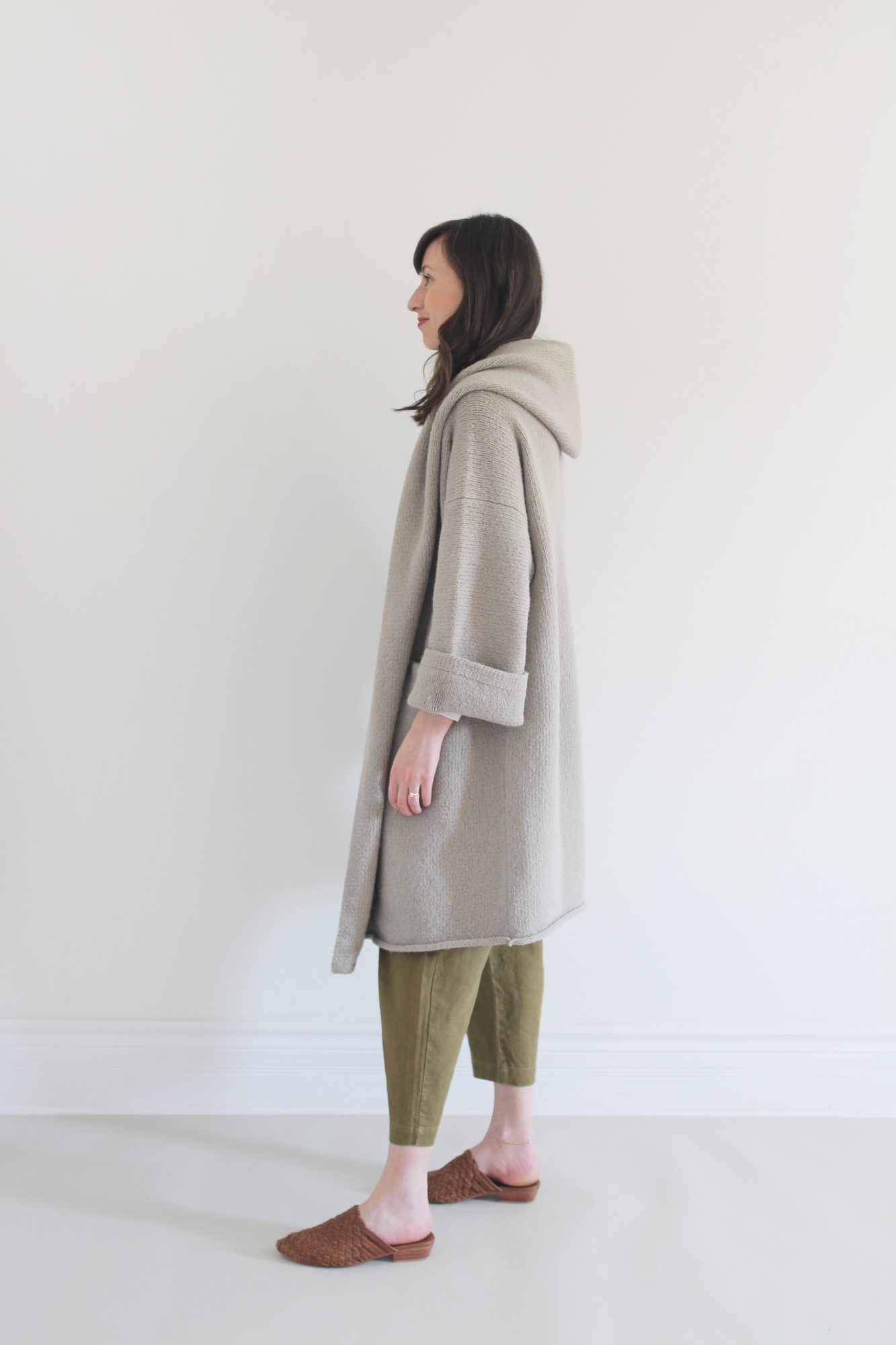 ---
Okay, so this one may not be the MOST colourful but it is a colour combo I've never tried before. It's always a treat to discover how two items that have been in my closet for a while can work together and this clay coat and these olive pants are doing just that!
I've treasured this Capote Coat for almost 5 years now and every time I wrap up in it I'm reminded of how special it is. I've also found that this clay colour can be a bit tricky to work with. It's a cool neutral and I tend to gravitate towards warmer undertones but now that I've seen how it works with these olive pants I'm excited to find more ways to wear it!
OUTFIT PROMPT: Maybe give your spring closet a look to see if there is a piece you love but would like to wear more and see how you can create some new combinations?
---
SOURCES: CAPOTE COAT by LAUREN MANOOGIAN (25% off right now) // MICRO RIB LONG SLEEVE by EVERLANE // ANDY TROUSER gifted ELIZABETH SUZANN (wearing a Small Reg) // PARIS MULE by ST.AGNI (on sale) //

JEWELRY: LUMEN NECKLACE & ANKLET by WOLF CIRCUS (Canadian) // PEARL EARRING by CADETTE (Canadian) // STRIPE STUD gifted JEWELS & ACES (Canadian) // CIGAR RING by ATTIC //
---

---
THE COLLAGE
---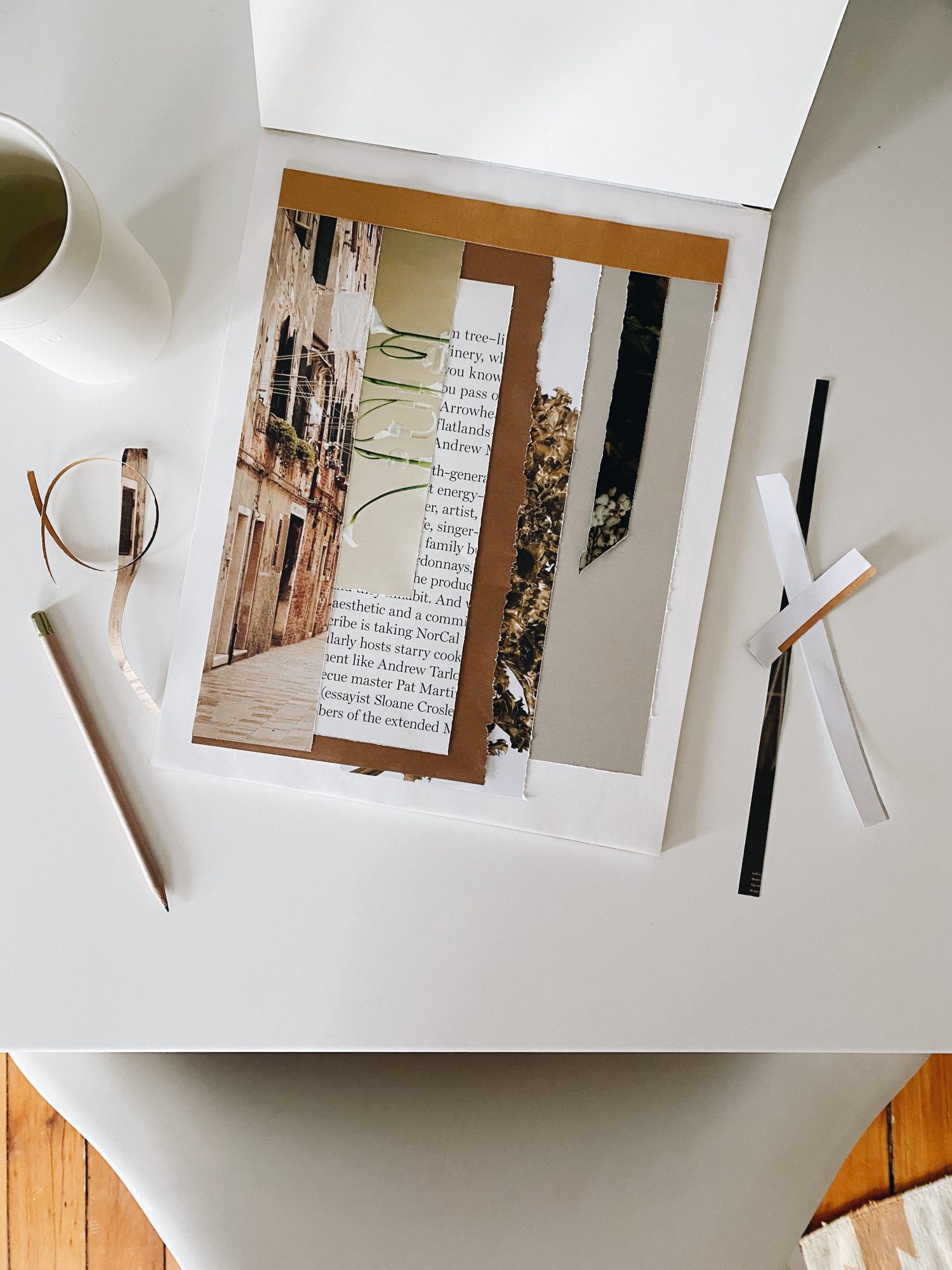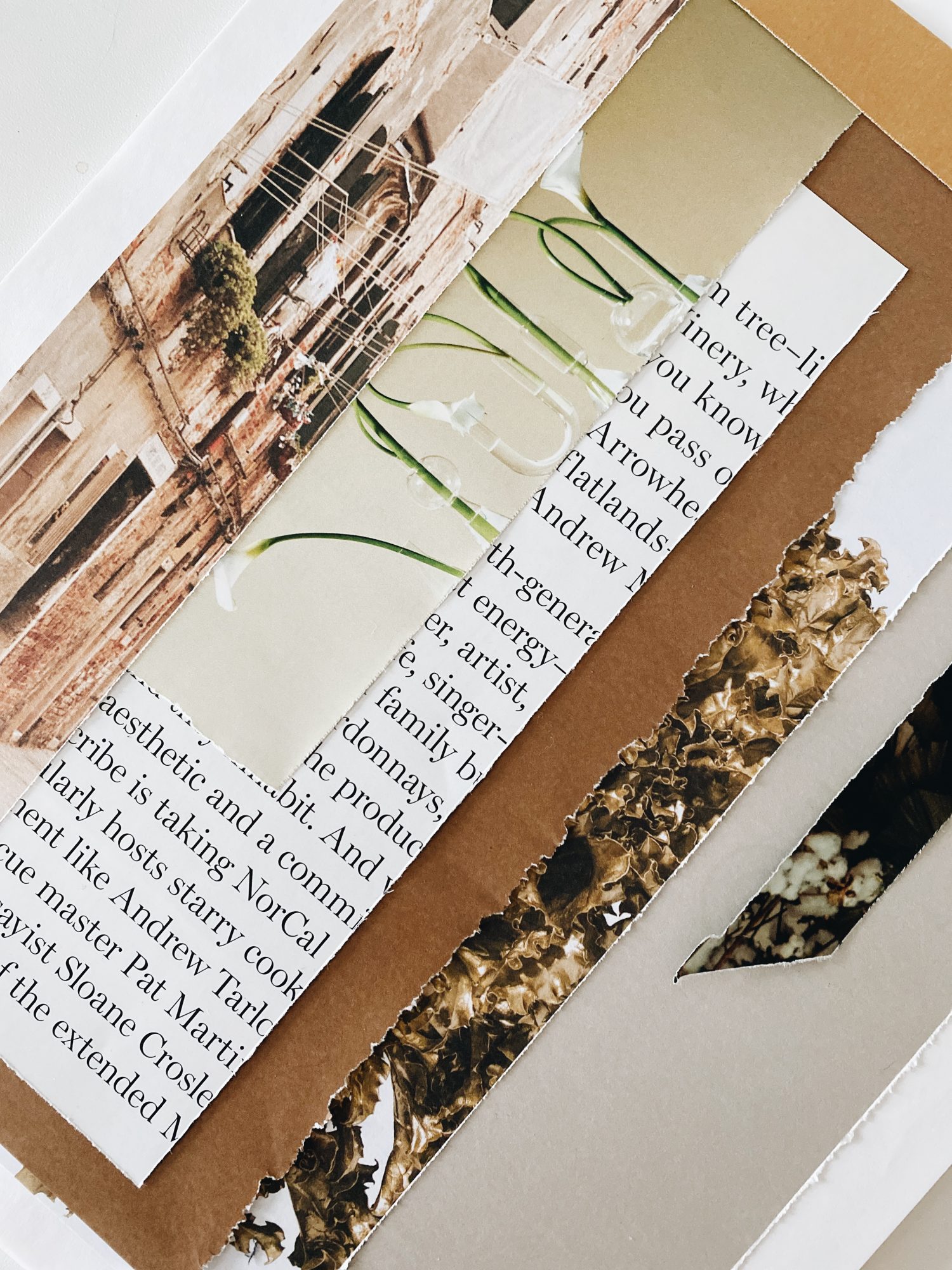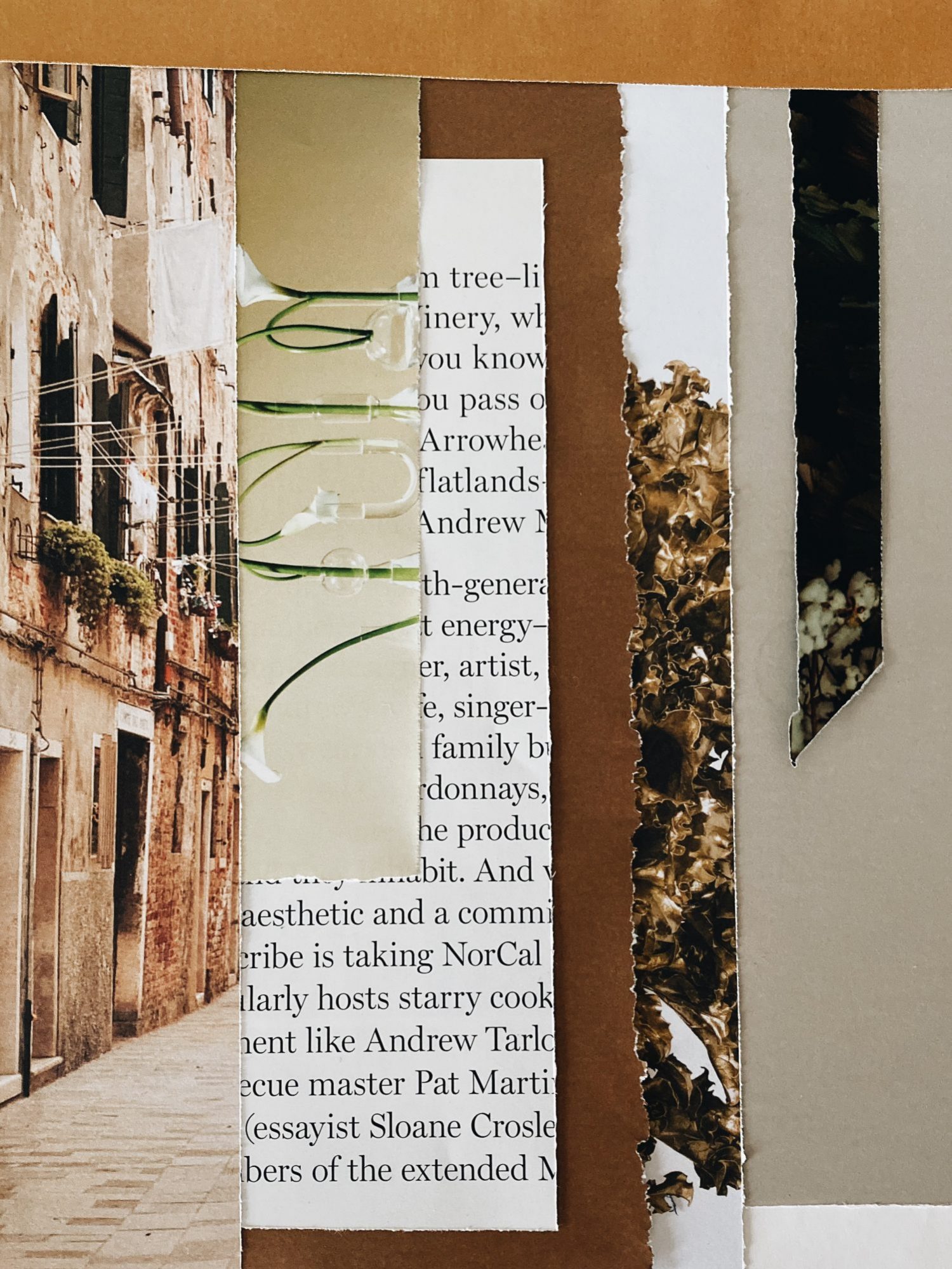 ---
Collage has always been an artistic form of expression in my family. My Mum started her career as a mixed media artist and my Dad has long combined his watercolour illustrations with found objects to create beautiful pieces. I feel so fortunate to have had parents that have always championed and encouraged artistic expression.
For me, collage has often been a form of therapy. Whenever I was feeling lost or lonely growing up, I would find comfort in my stack of magazines by clipping my favourite images or fashion items and combining them to create something entirely unique. You never really know what the end result will be but it always seems to reveal more than you'd intended.
This piece is an unearthing of some hopes and plans for the year that I've had to let go of or put on hold indefinitely. At the same time, similar to an April landscape, upon first glance it may look dull but there is an energy building beneath its surface.
---
Thanks for reading Spring Colour #2!
Be kind to yourself right now folks. You never know how these dark times could be the start of something special.