Today is intro day and I'm beyond excited to share a tour of the magical place we're calling Steep Hill Cottage!
In case you missed the news, at the end of last year Dave and I bought a cottage in the Muskoka region of Ontario! It still feels a bit surreal but needless to say, we're completely thrilled about all the projects, lake adventures and time we'll be spending in nature for years to come.
Another really exciting part about becoming stewards of such a special spot is that we get to bring you all along for the ride!
Today's intro post will cover:
A bit about the cottage
The exterior tour
A peek inside
Our list of projects
Let's get to it!
---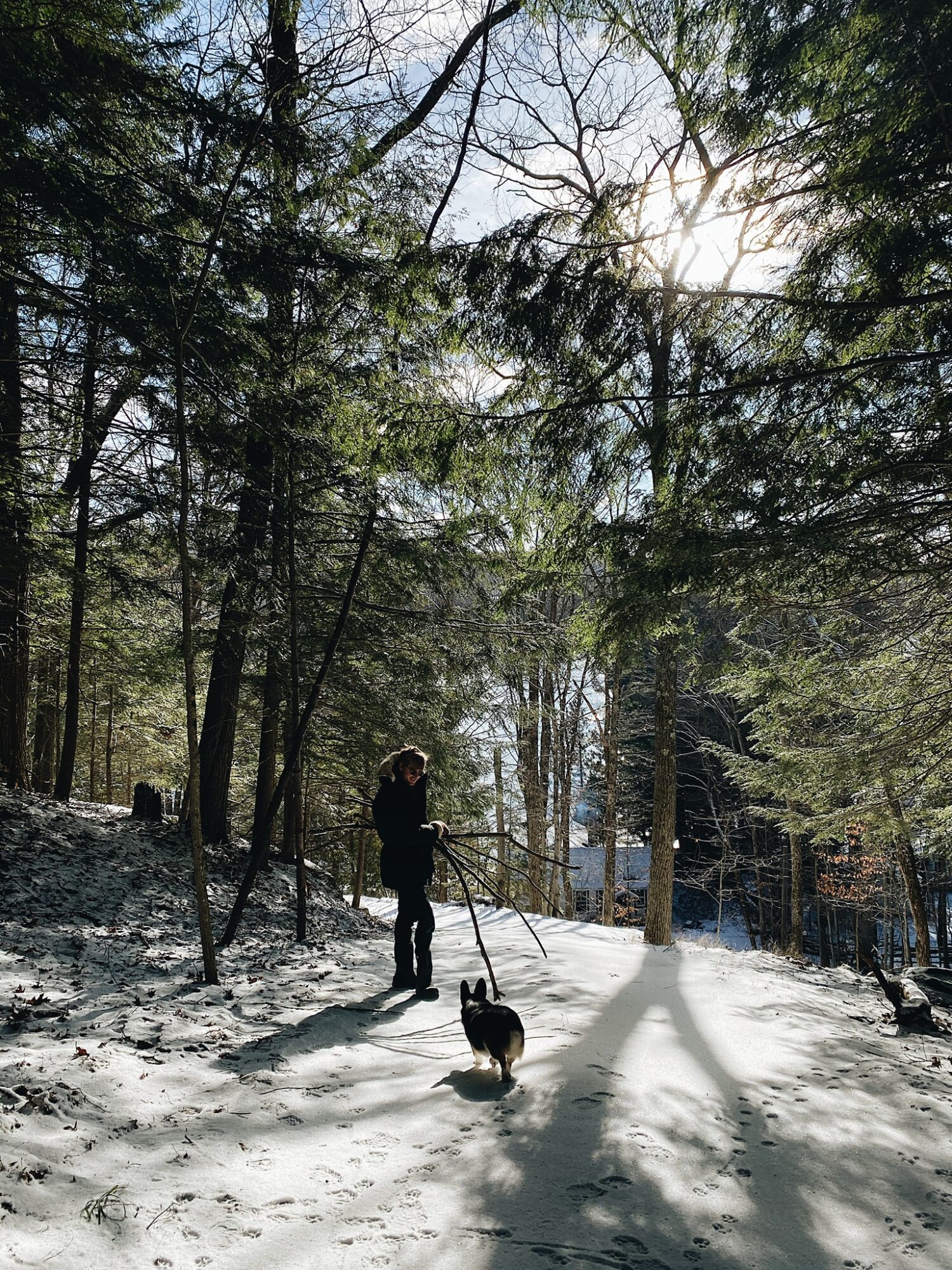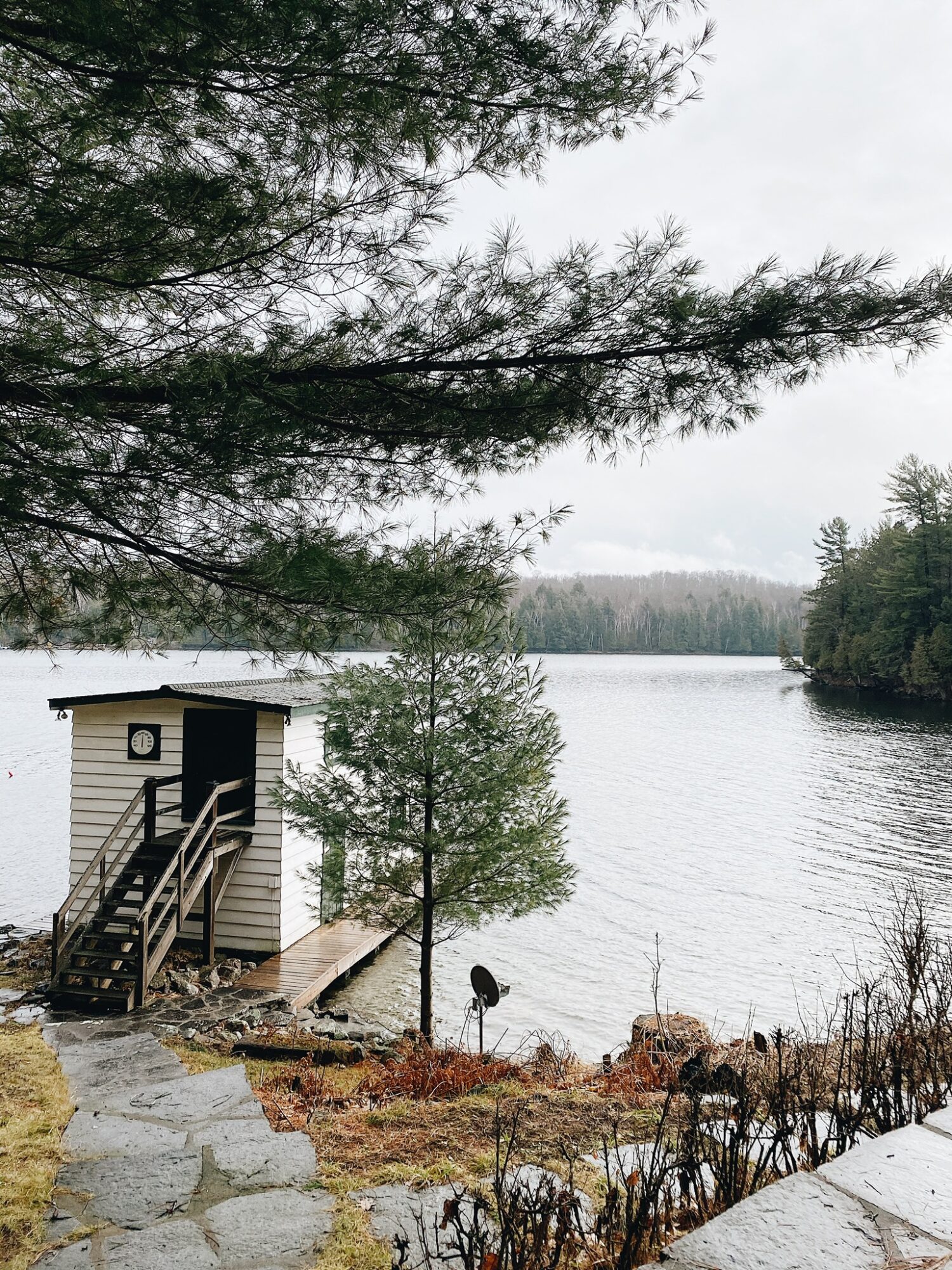 ---
A BIT OF BACKGROUND
---
Steep Hill Cottage is an old girl, built back in 1911, which means that this year marks 110 yrs standing. Not bad given the many harsh winters she's faced throughout the years.
After years of summer camping in Algonquin Park, Dave and I starting thinking about how we could find a way to spend more time in our favourite part of the province. Towards the end of last year this cottage became available and we hopped in the truck to go see. We both fell head over heels immediately and the rest is history!
Steep Hill Cottage isn't exactly a turn key type of place but luckily Dave and I are no strangers to quirky old dwellings. Our primary home in Guelph was built in 1890 and we've learned so much during the last 7 yrs of renovations. Dave is an engineer and contractor with a special interest in restoration (Ruhl Builds) and I manage the design side of things. So structurally speaking, old bones don't deter us.
We're planning to make changes but this won't be a flip type of project where we gut the place and 6 months later it's all shiny and new. That's just not our style. So instead, this will be a longterm project, throughout which we'll make thoughtful updates over time. Our plan is that Steep Hill Cottage will be part of our lives from this point on.
So that's a bit of background on the place and our approach to this project. Now onto the tour!
---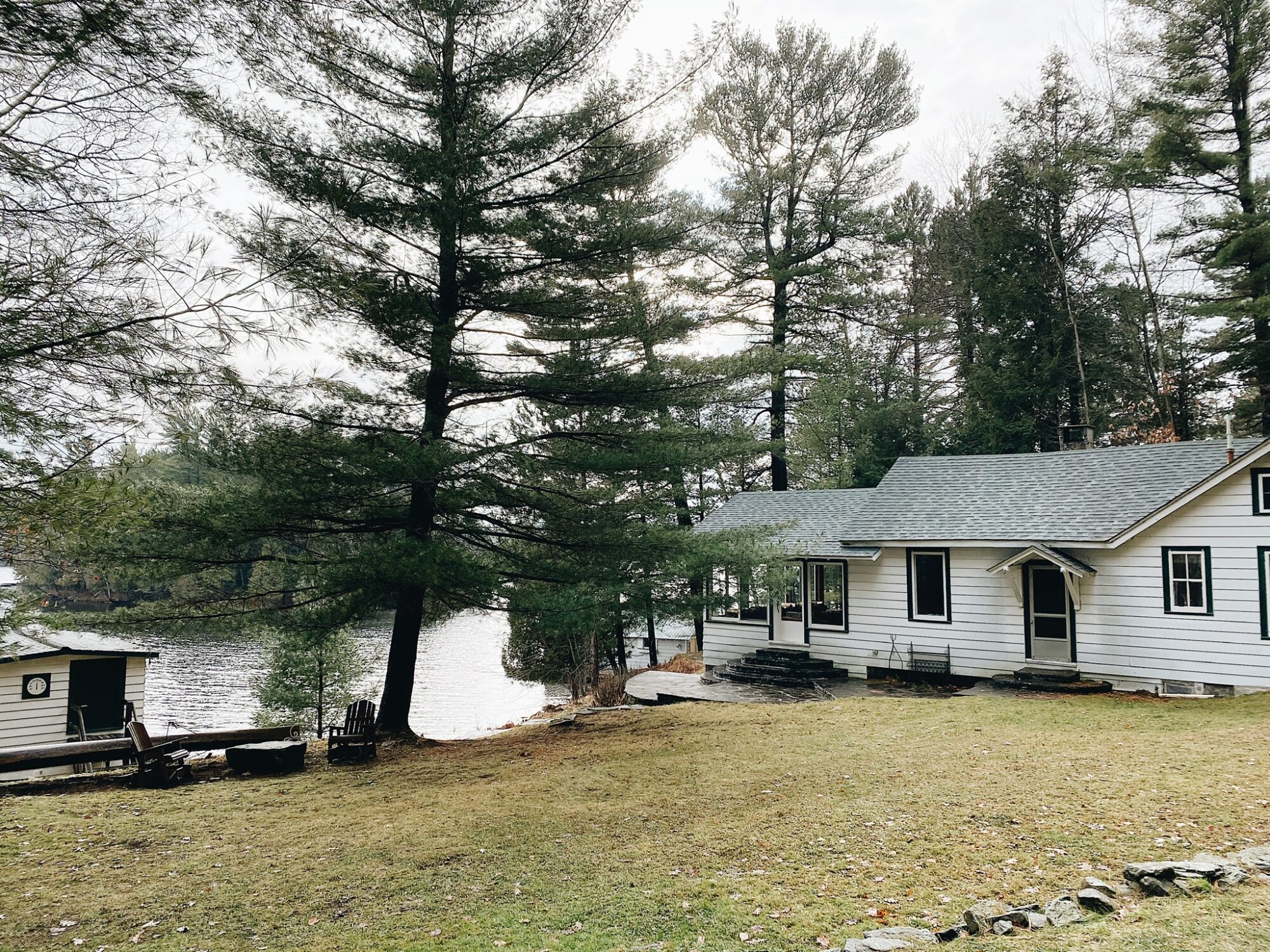 ---
Outdoor Tour
---
Honestly, I'm not sure if it was the character filled cottage or the unique topography that we fell in love with first. It's so rare to find a lakeside spot that also has forested area, lawn space (for four legged folk who require daily fetching), and grounds that have been developed enough to entertain and access all parts of the property.
Here's a look around!
---
THE LAKE
---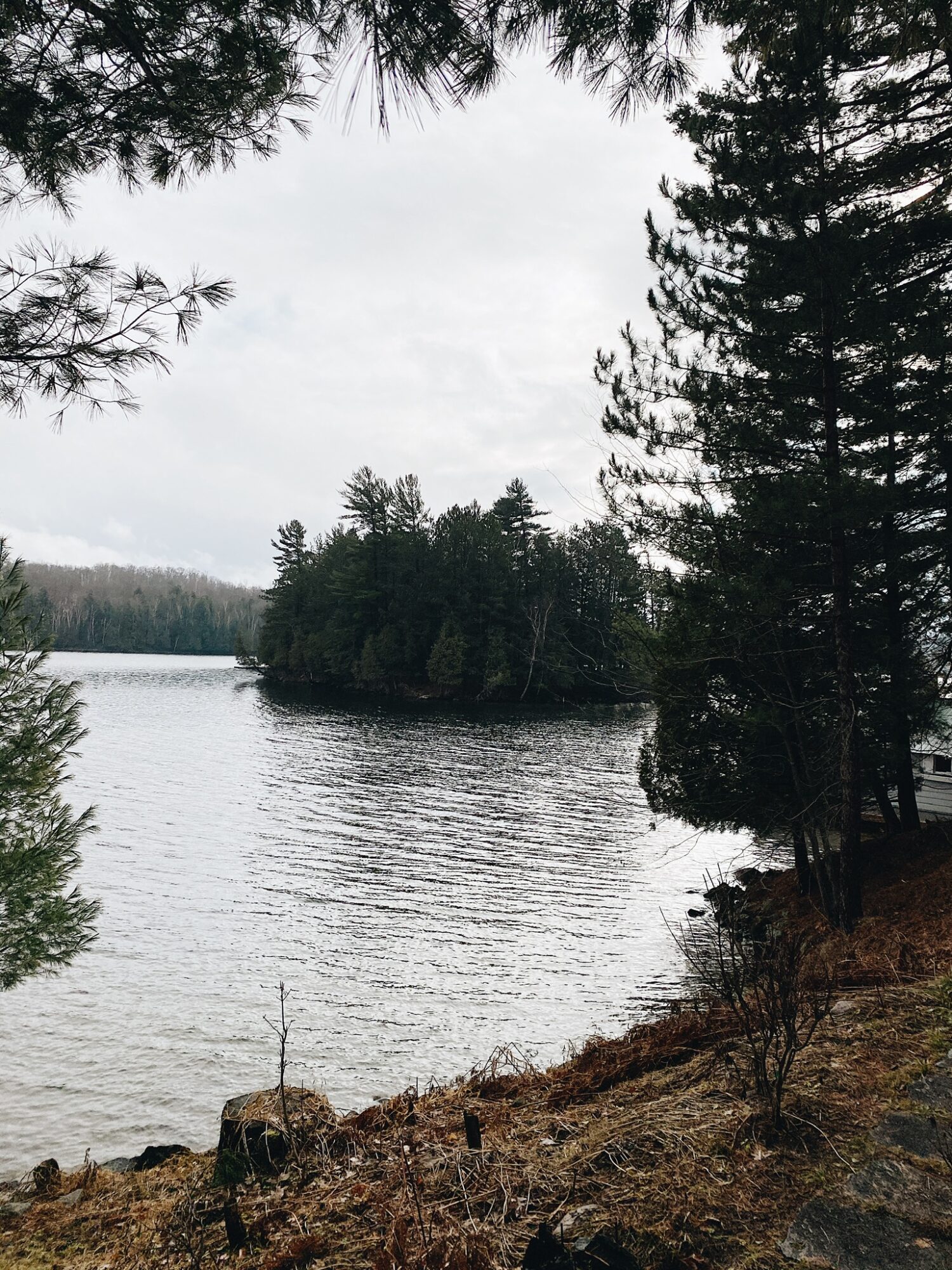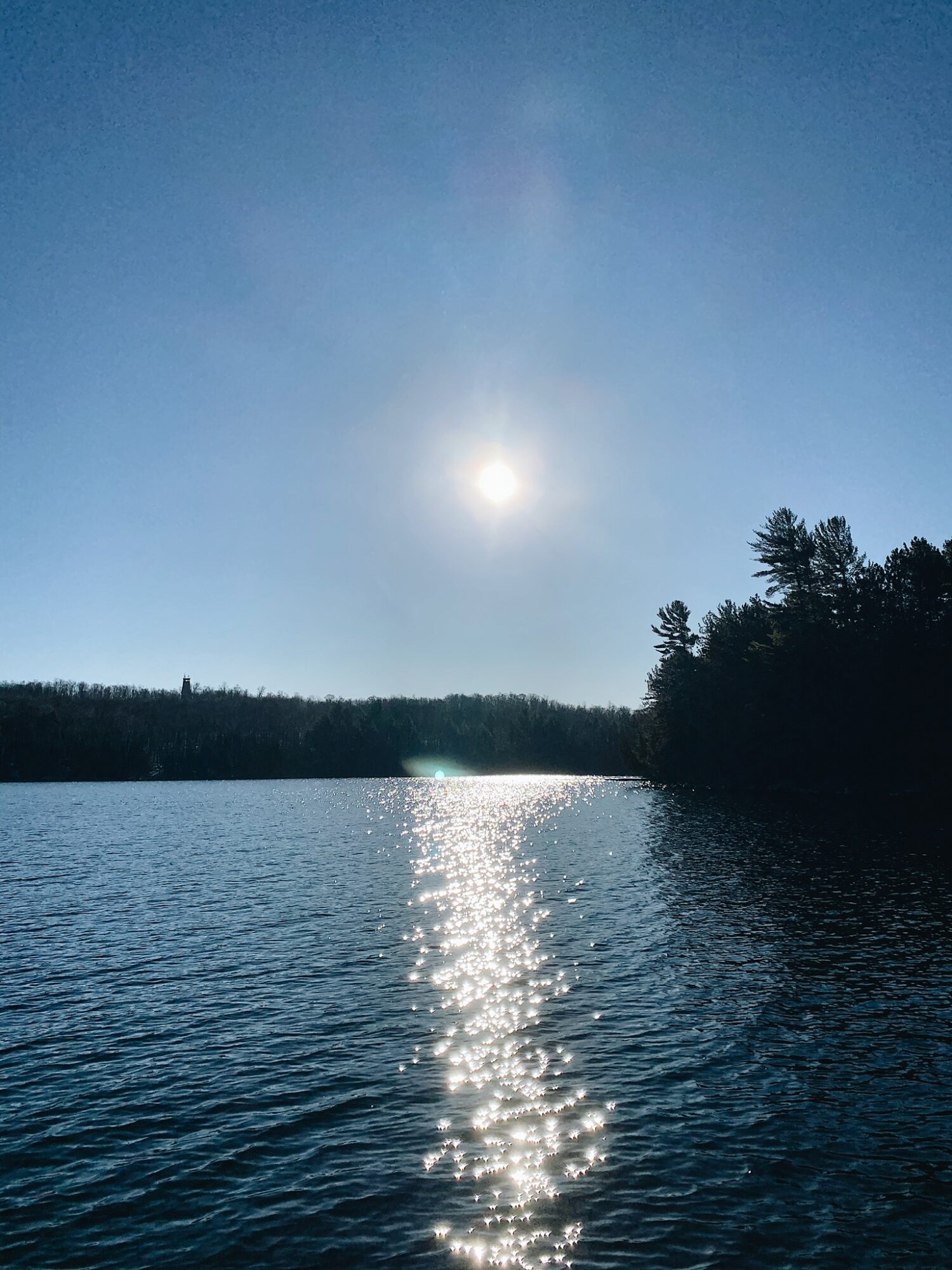 ---
Of course, the main reason we took the leap in buying a cottage was to be near the lake. This one in particular is special to us for lots of reasons but the view really says it all.
We got the keys towards the end of November and watched the lake quickly begin to freeze over this winter. I can't wait to jump in for the first time this spring!
Note: I'm keeping the name of the lake off the blog for privacy reasons but may share at some point.
---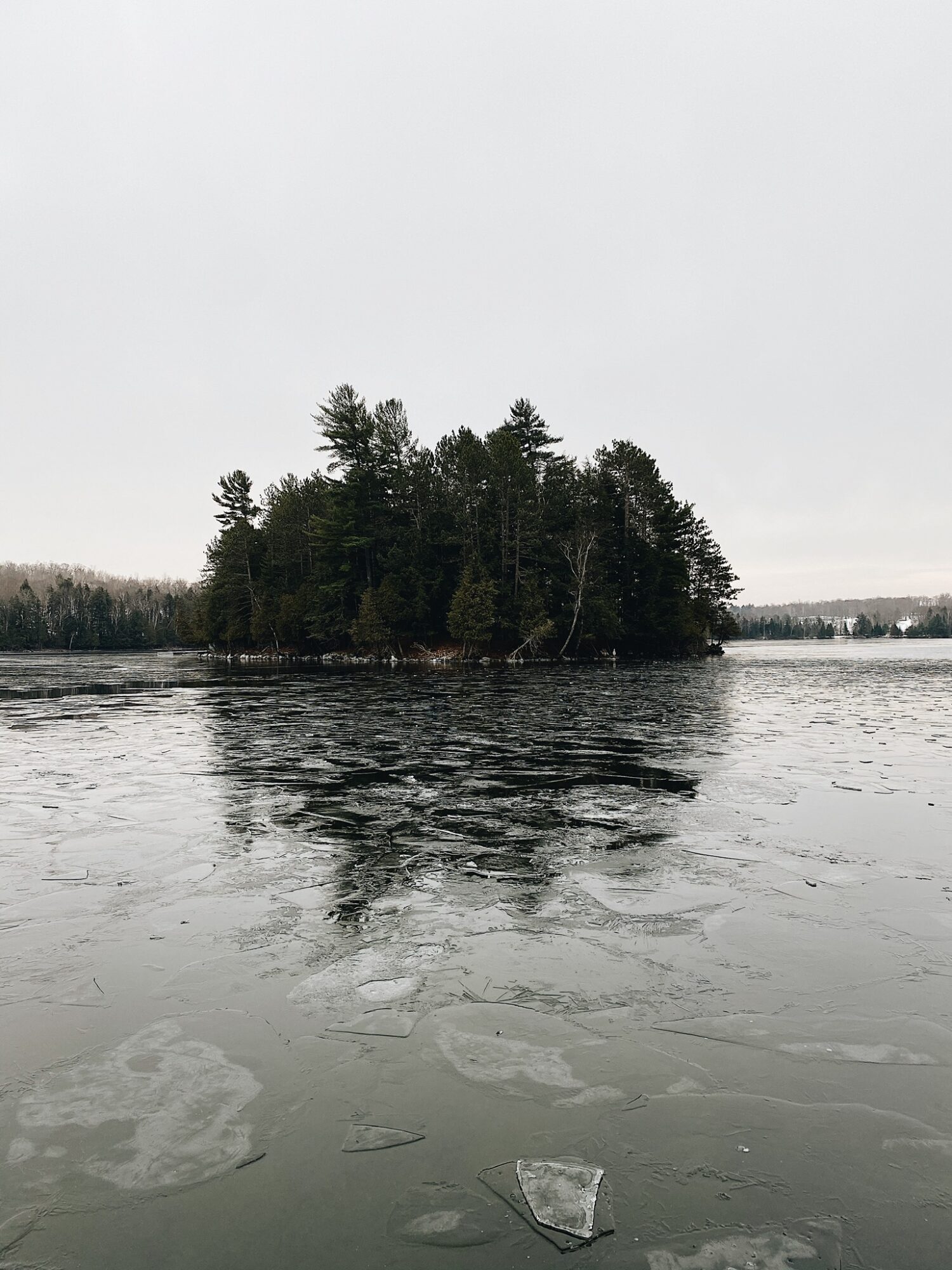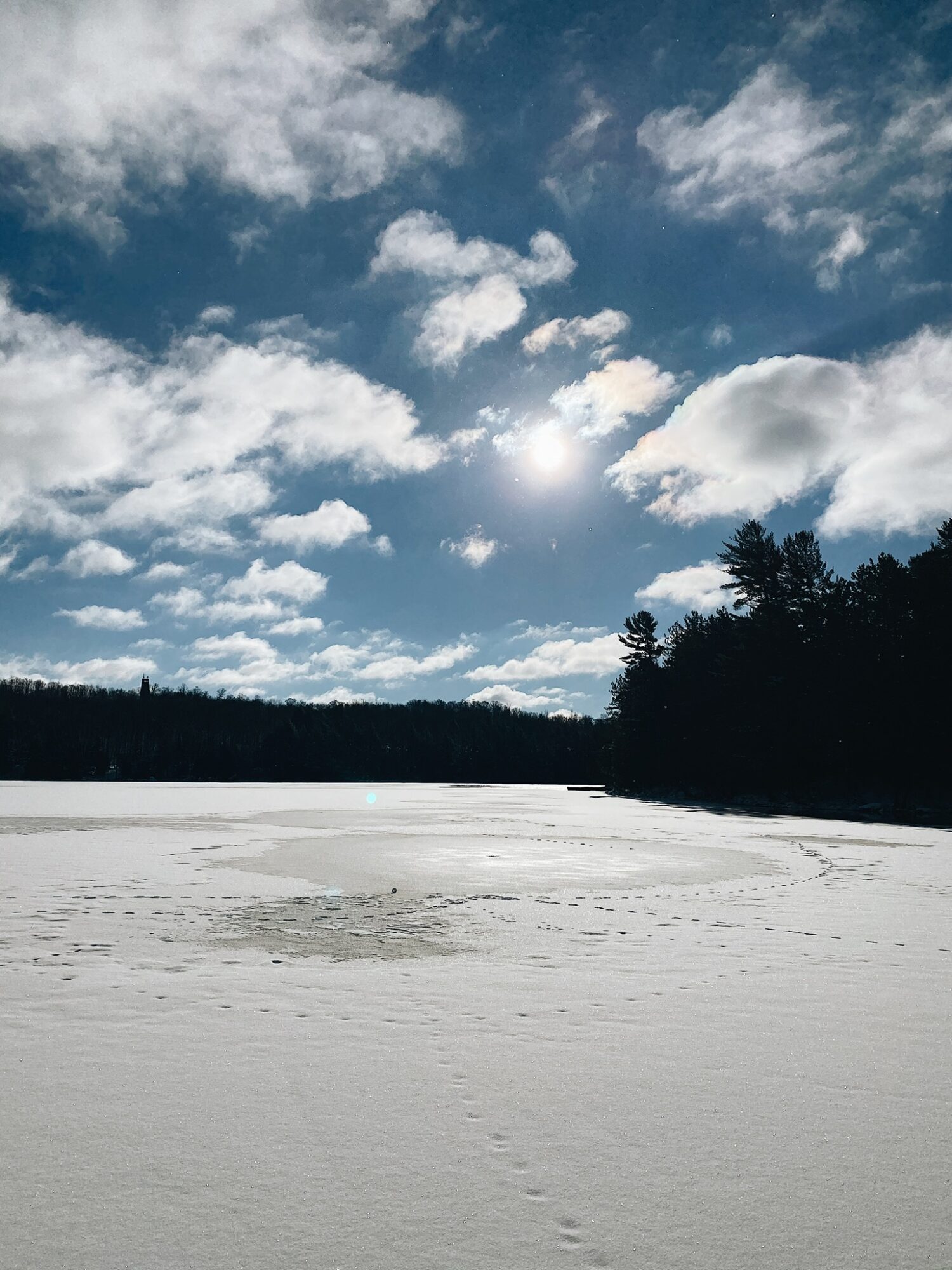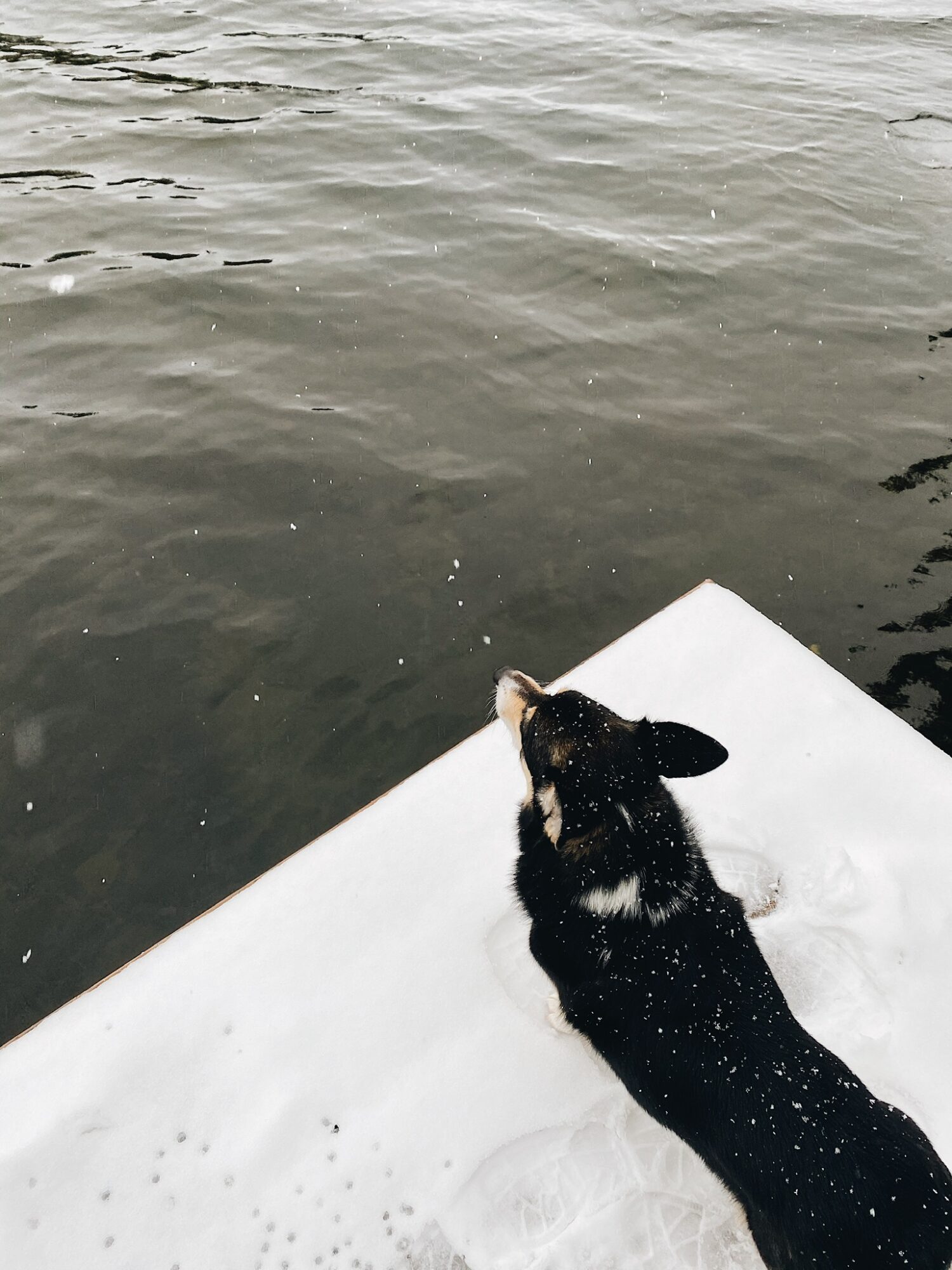 ---
THE COTTAGE
---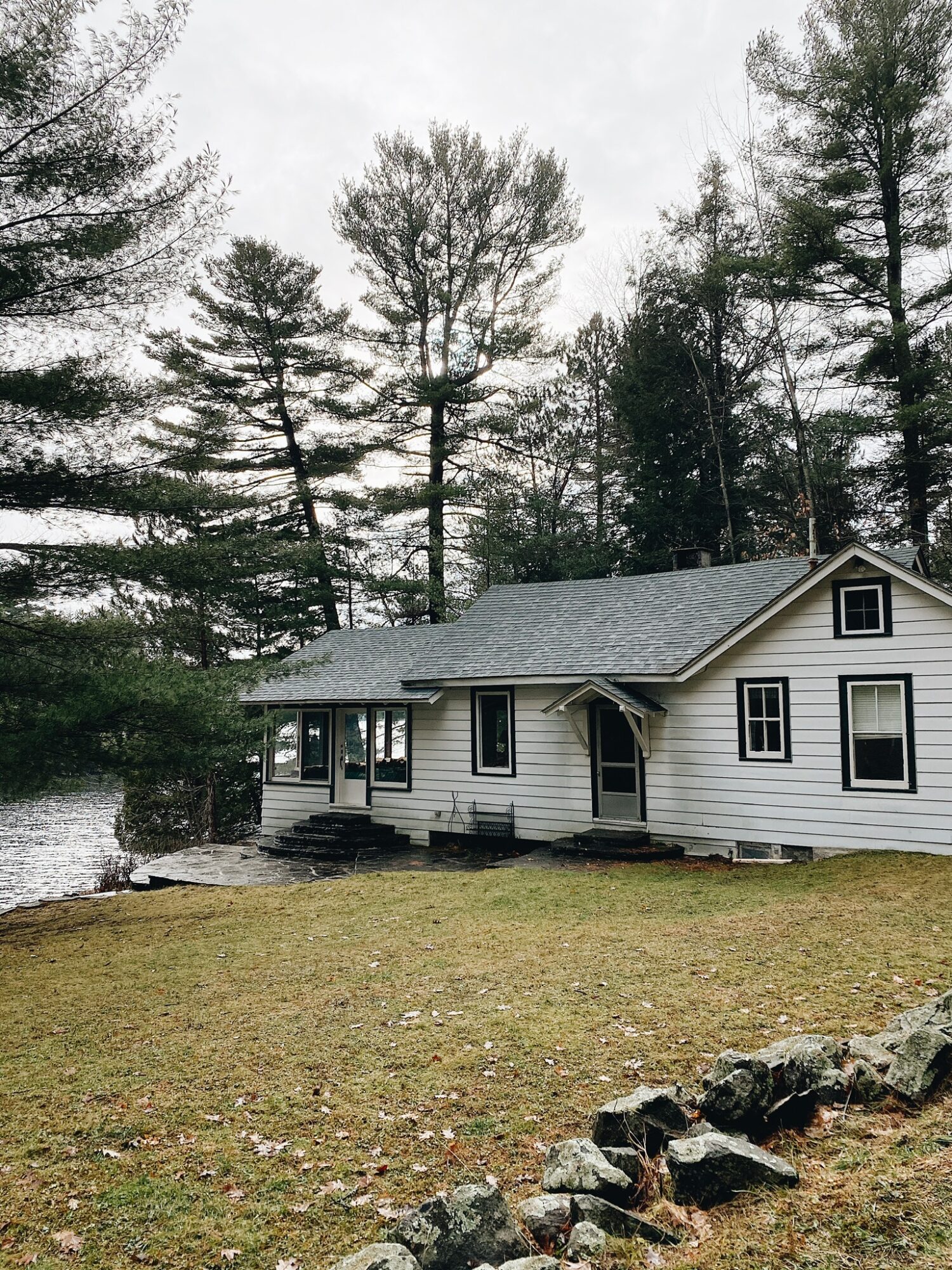 ---
The cottage is a single storey building with 2 bedrooms, a bathroom, kitchen and lots of common space, ringing in at about 1200 sq ft total. There are lots of windows for natural light and high ceilings, which make the spaces feel bright and open.
---
The Boathouse
---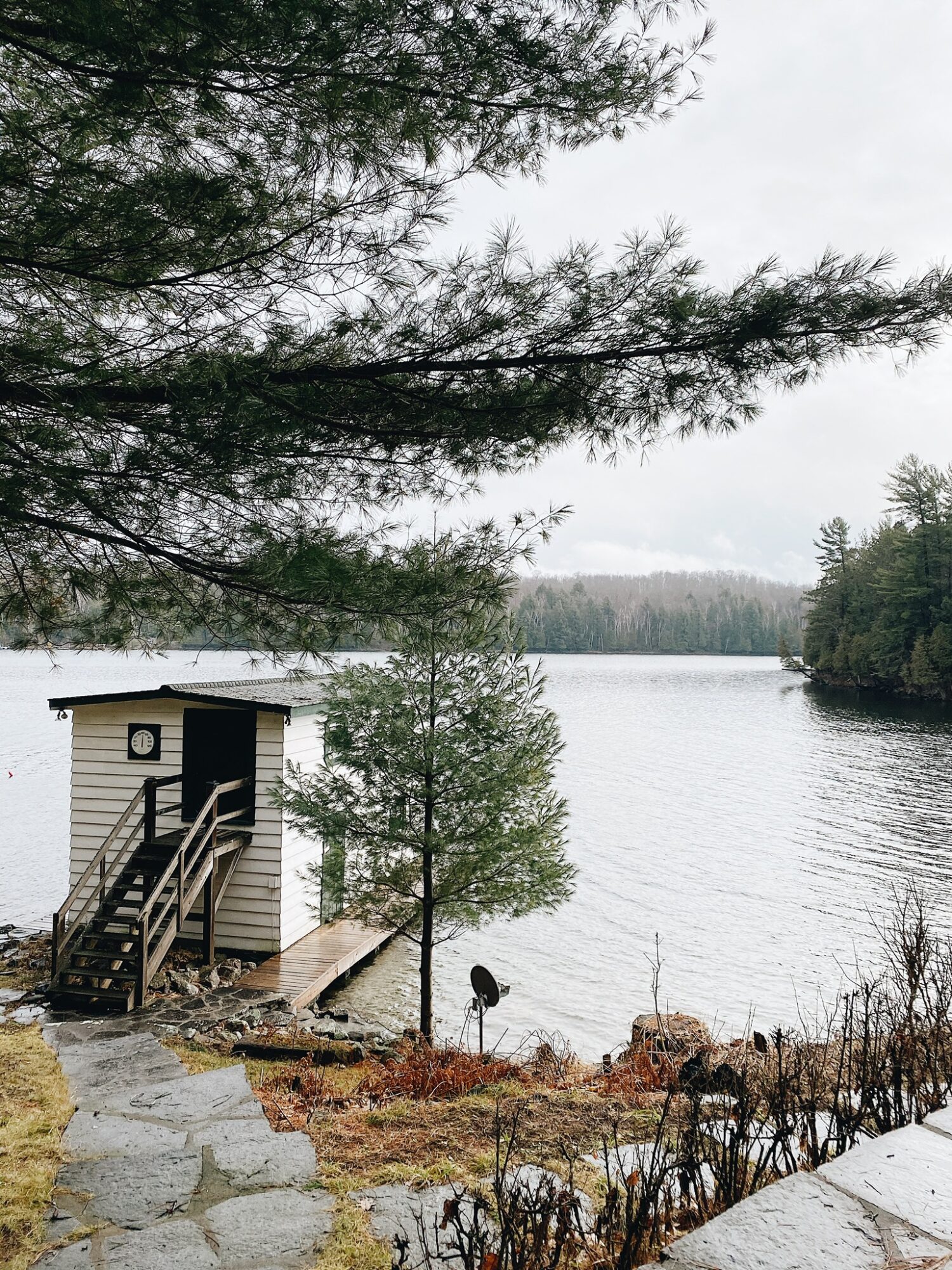 ---
The boathouse was built around the same time as the original cottage and has sleeping quarters upstairs. It's my favourite spot of all, with the best lake view on the lot (shown below). It's not insulated yet but once it is I expect we'll be out there a lot! Catch a peek inside below as well!
---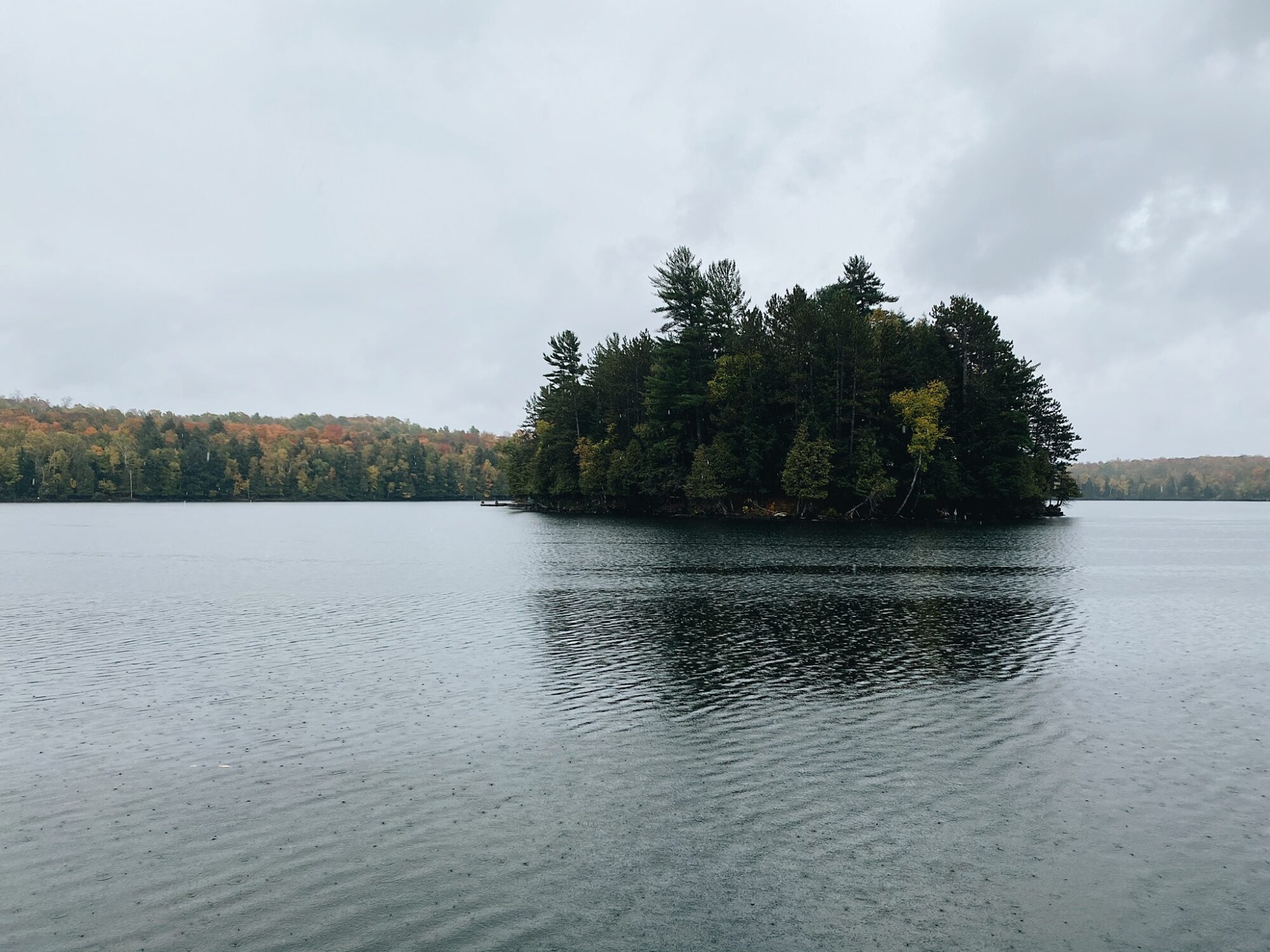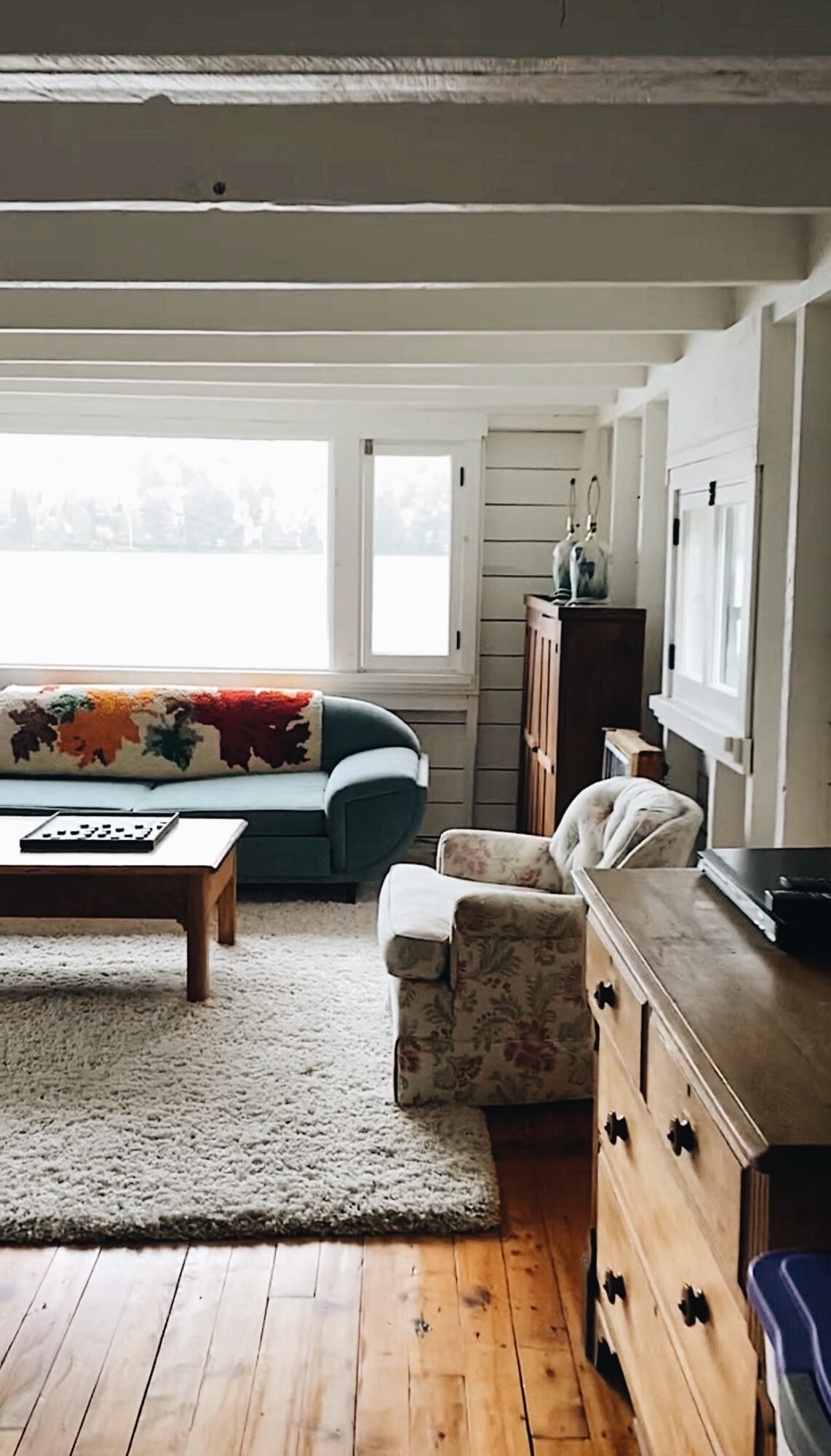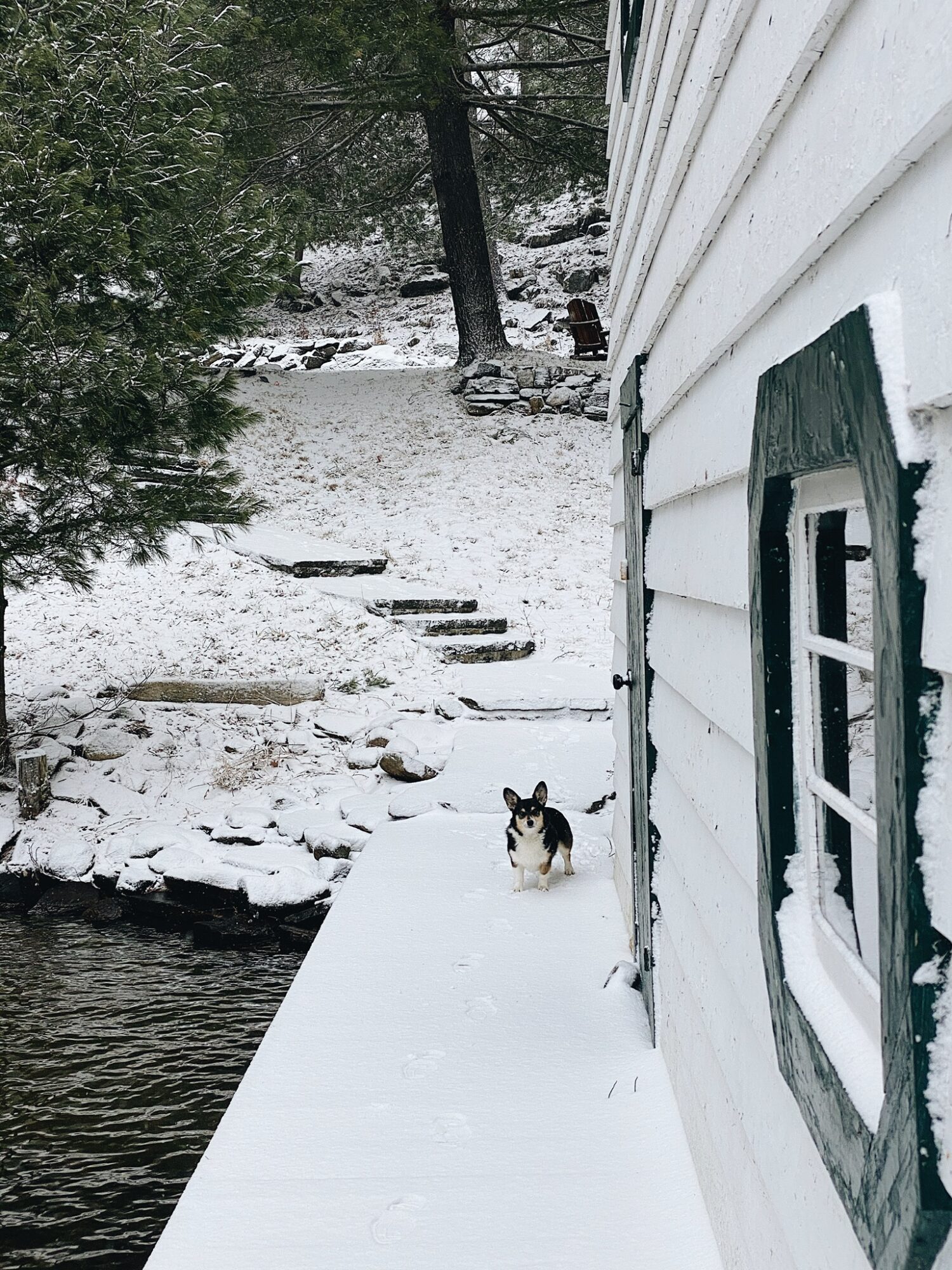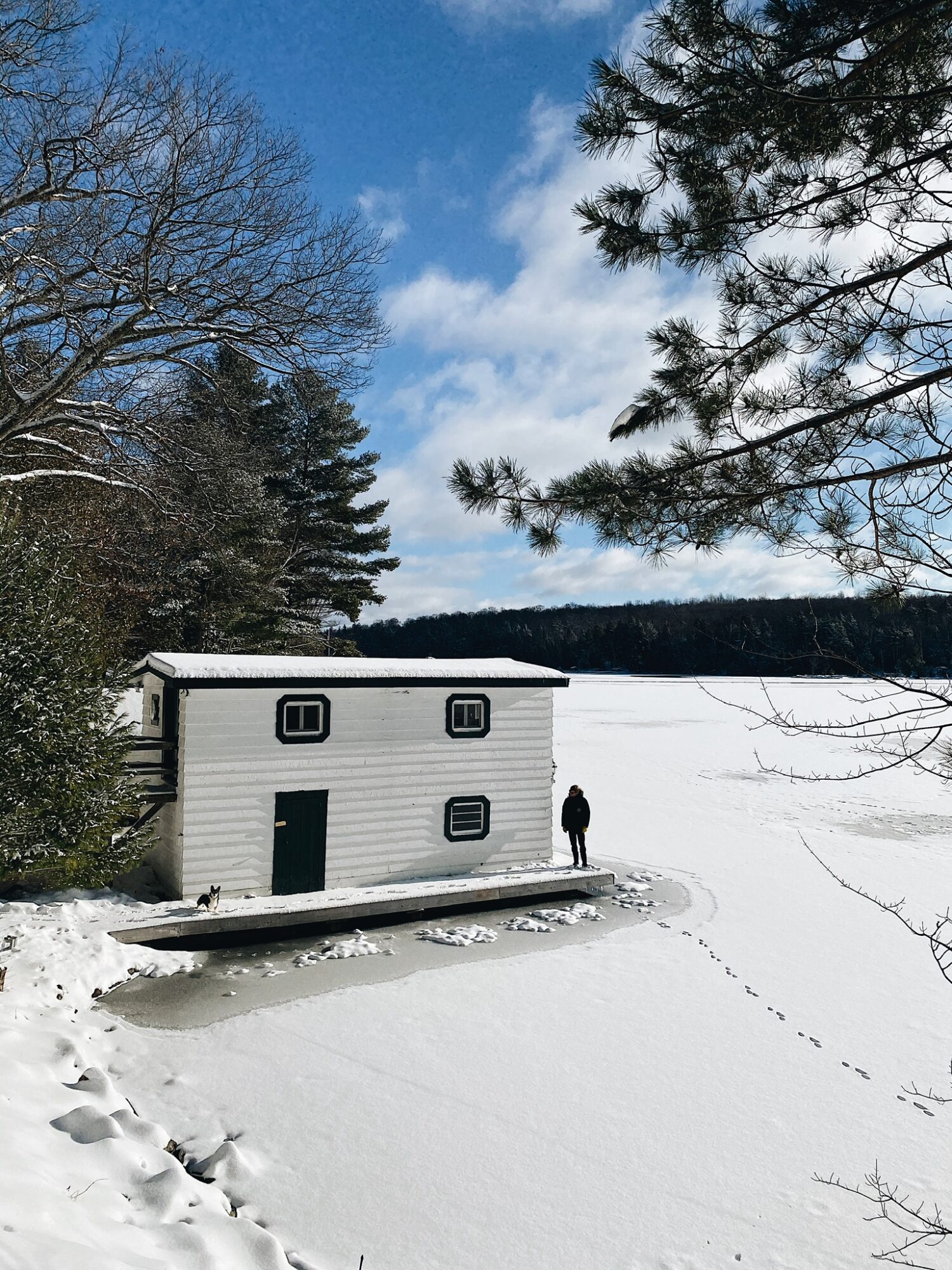 No, those are not Dave's footprints.
---
The Woods
---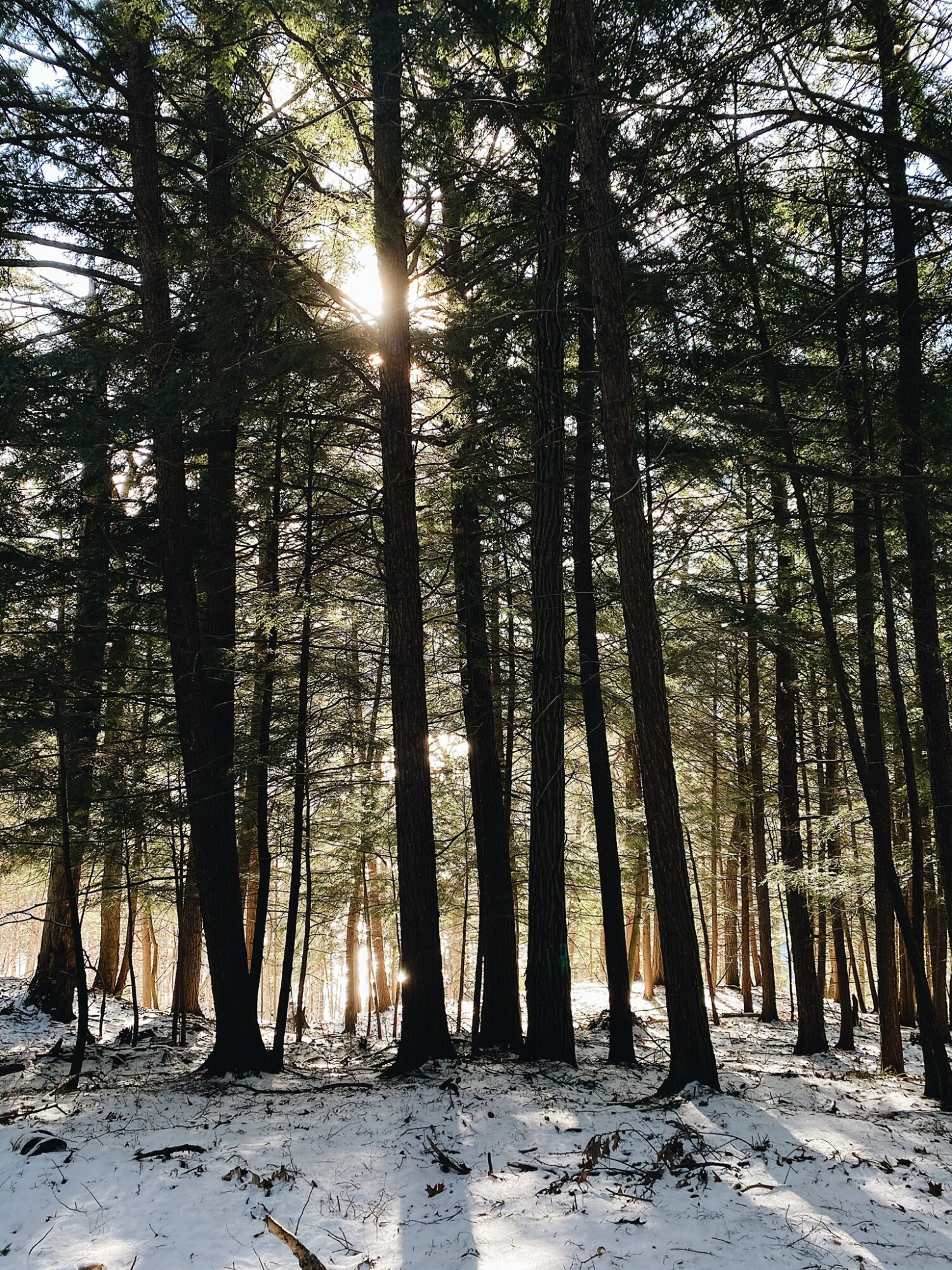 ---
Every morning so far, we've climbed the very steep hill behind the cottage to the top where you can see the sun gleaming through the trees. An activity that's as good for the glutes as it is for the soul.
---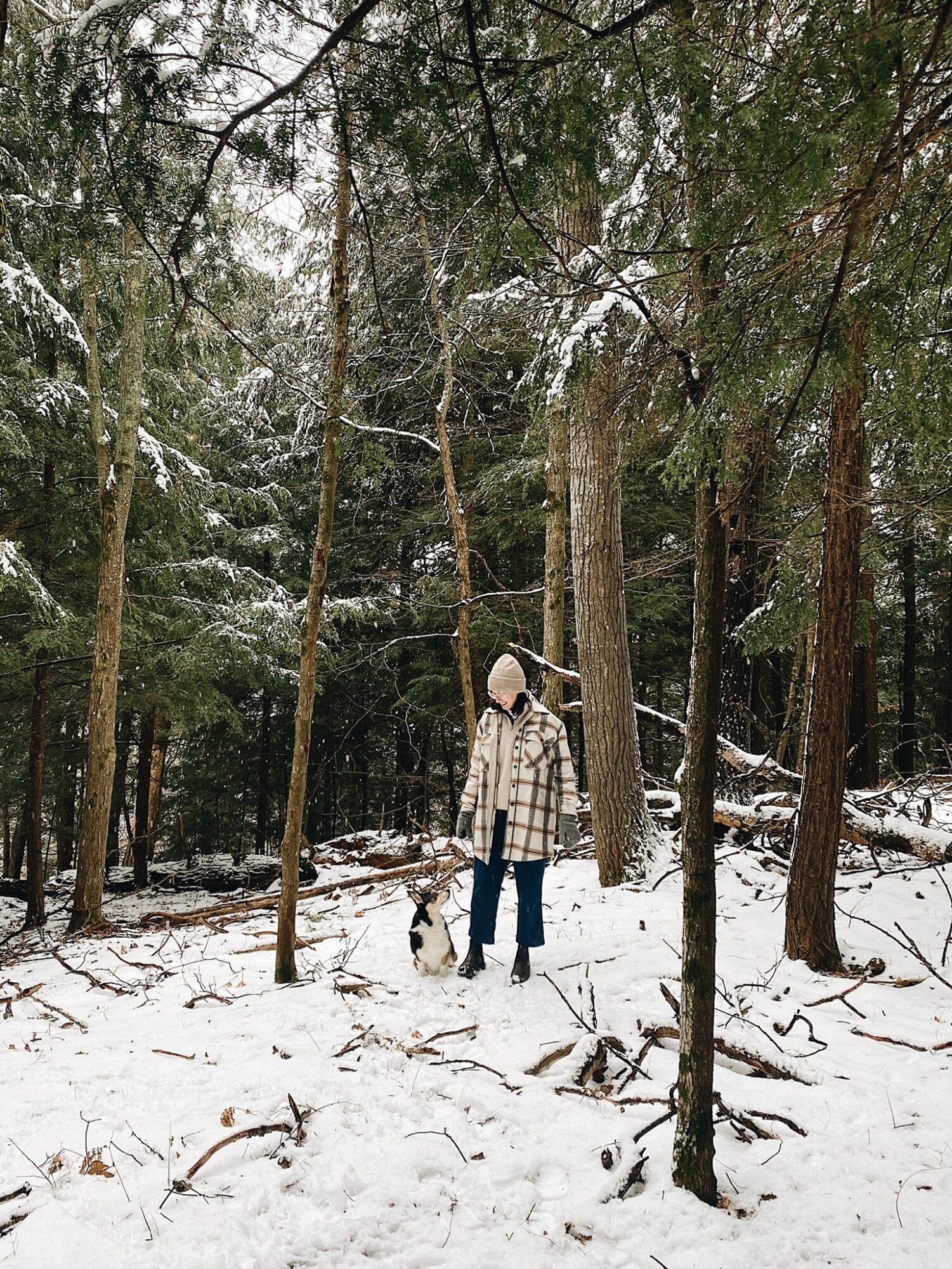 ---
THE COLD STORAGE
---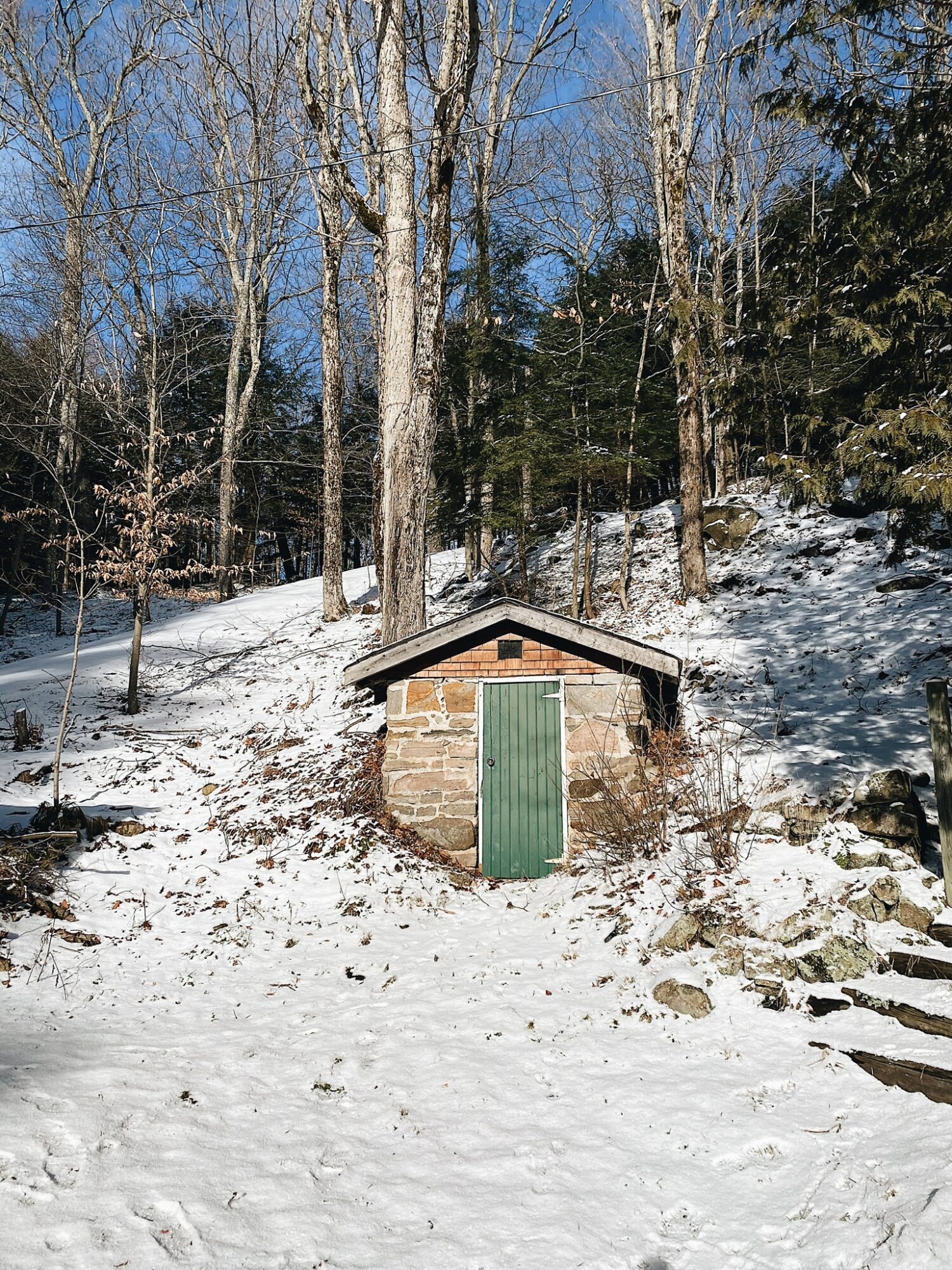 ---
This little stone cellar was built into the hill. Back in the day folks would put a block of ice inside for summer refrigeration. It uses the relatively steady temperature of soil to keep things cool in the summer and above freezing in the winter.
---
THE CHICKEN COOP
---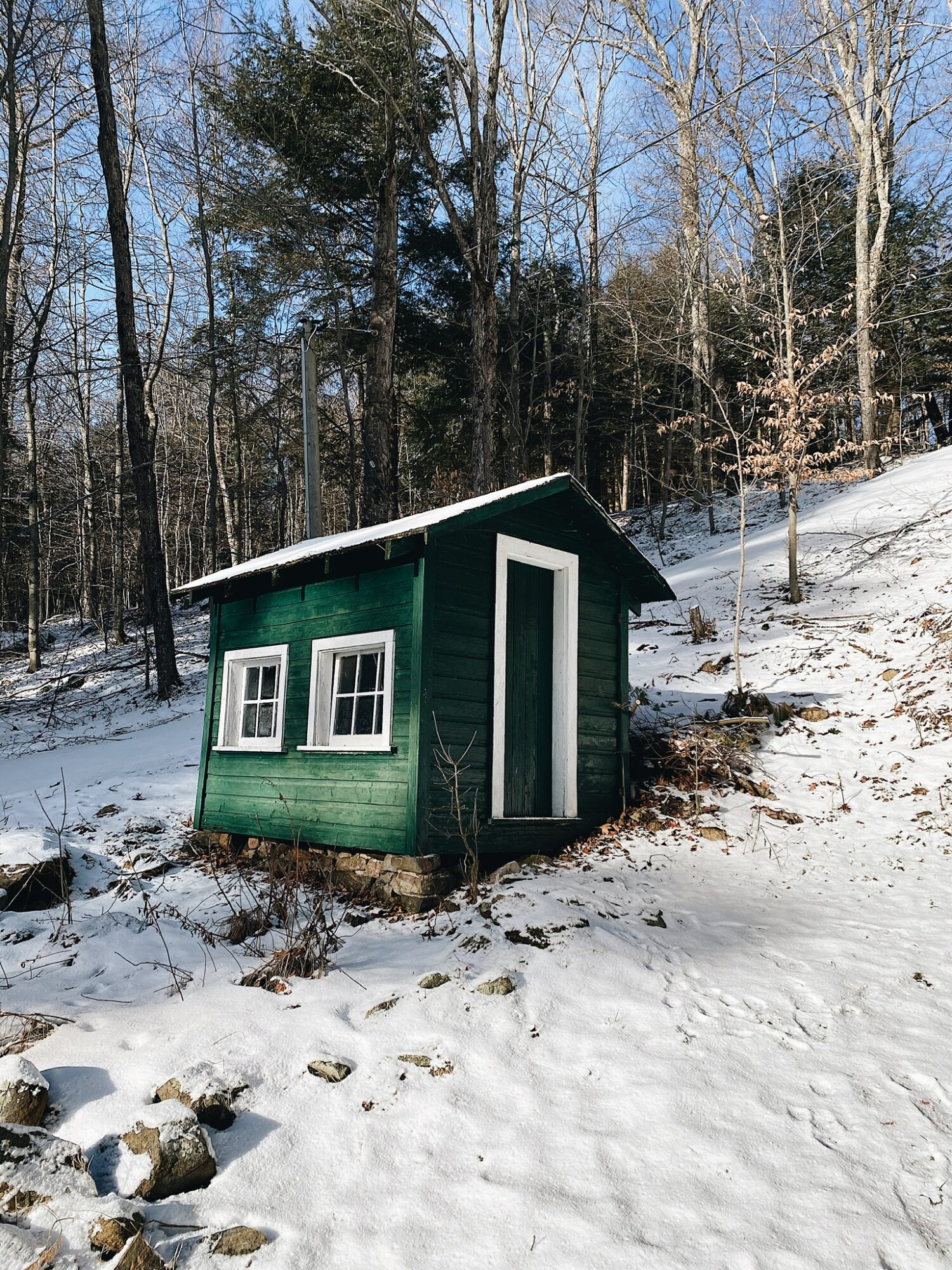 ---
This was where chickens lived for many years but is currently home to gardening tools and the like. The site is prime for a greenhouse, which I'd love to make happen eventually.
---
& That's it for the exterior tour!
---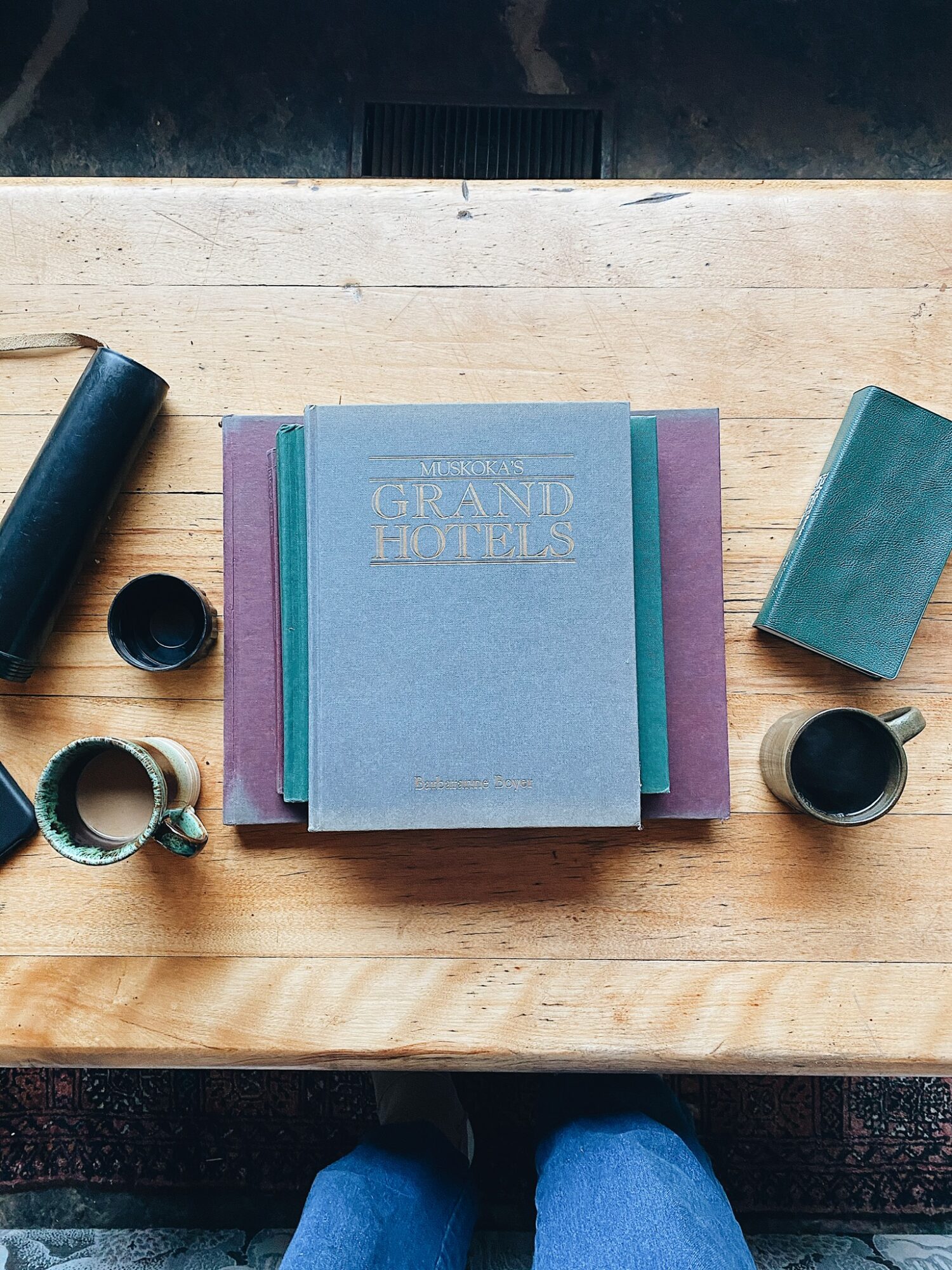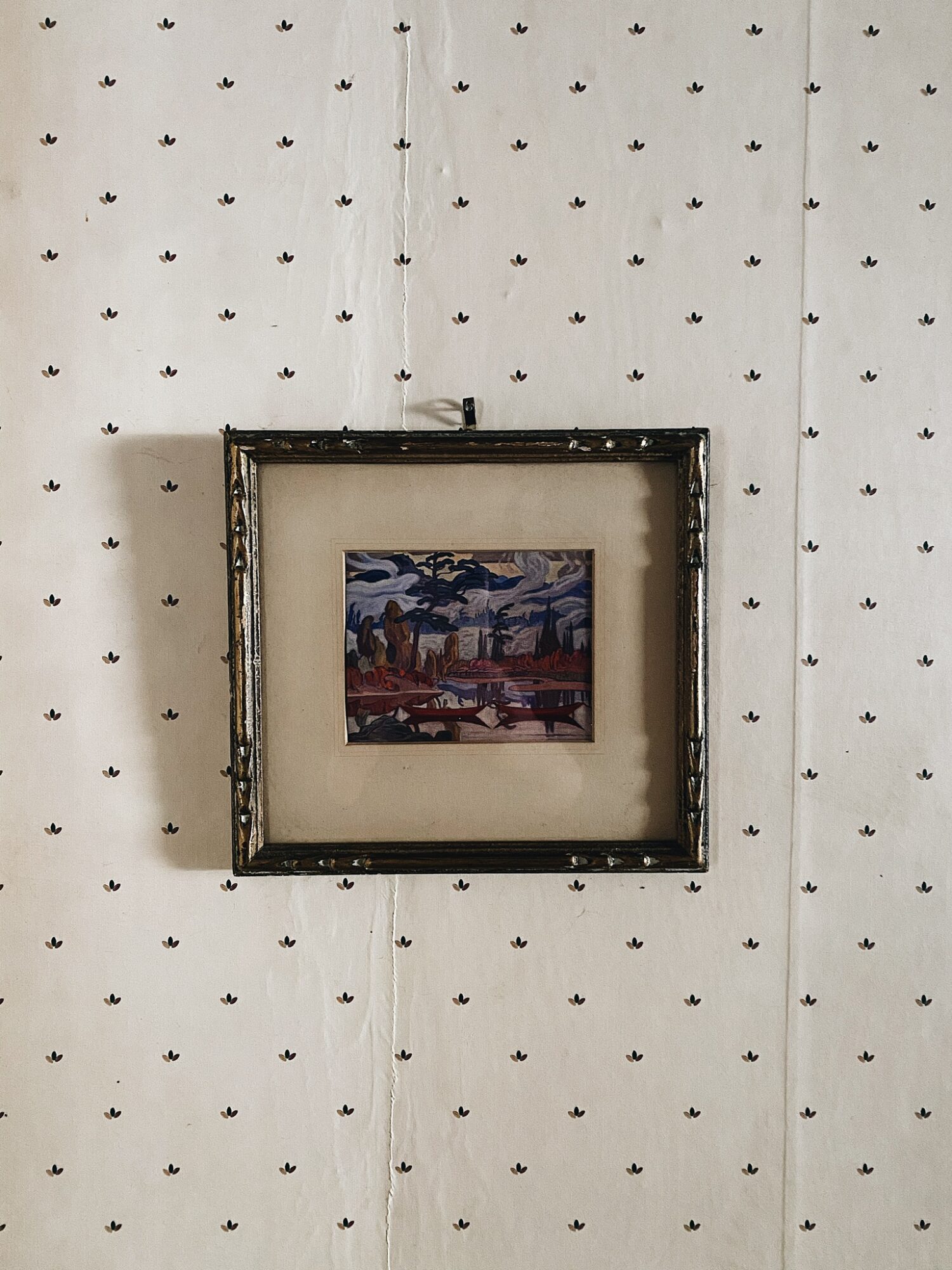 ---
NOW FOR
A Peek Inside
I'm saving lots of "before's" for future posts so this is just a teaser.
---
The previous stewards of Steep Hill generously left the place entirely furnished for us. Apparently this is somewhat customary with cottage transfers. We had the pleasure of meeting them in person to learn about the place and get acquainted, which is a rarity in the real estate world. They cared deeply about the cottage and it was clear that they wanted to ensure it would be in good hands. I hope they felt so!
---
MUSKOKA ROOM
---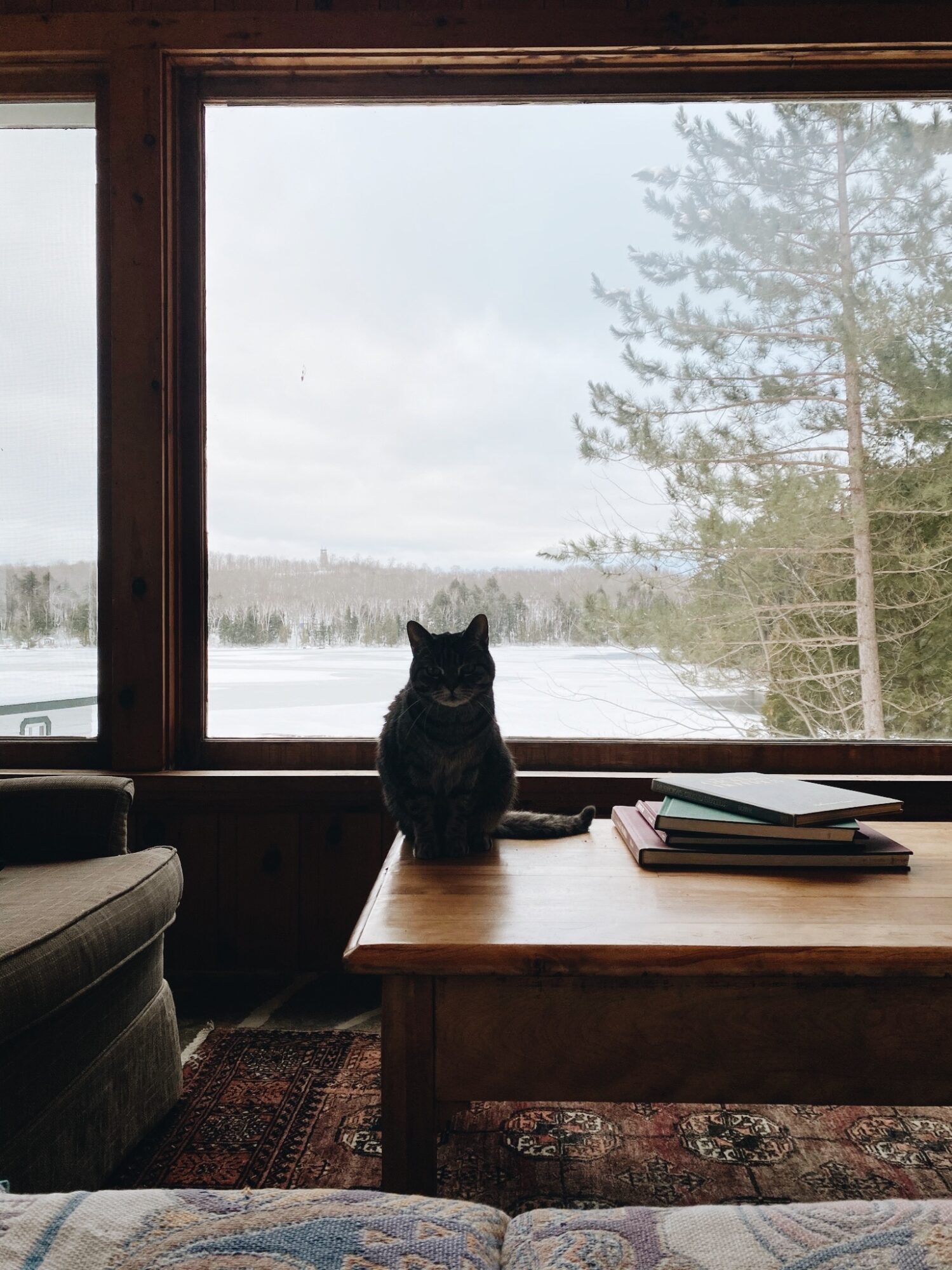 ---
The Muskoka Room is the jewel of the cottage with it's panoramic view of the lake and flagstone flooring. It's not currently winterized but on sunny days it's warm enough to enjoy a morning coffee or a snack overlooking the lake. Evie loves walking along the window ledge and watching birds fly by.
---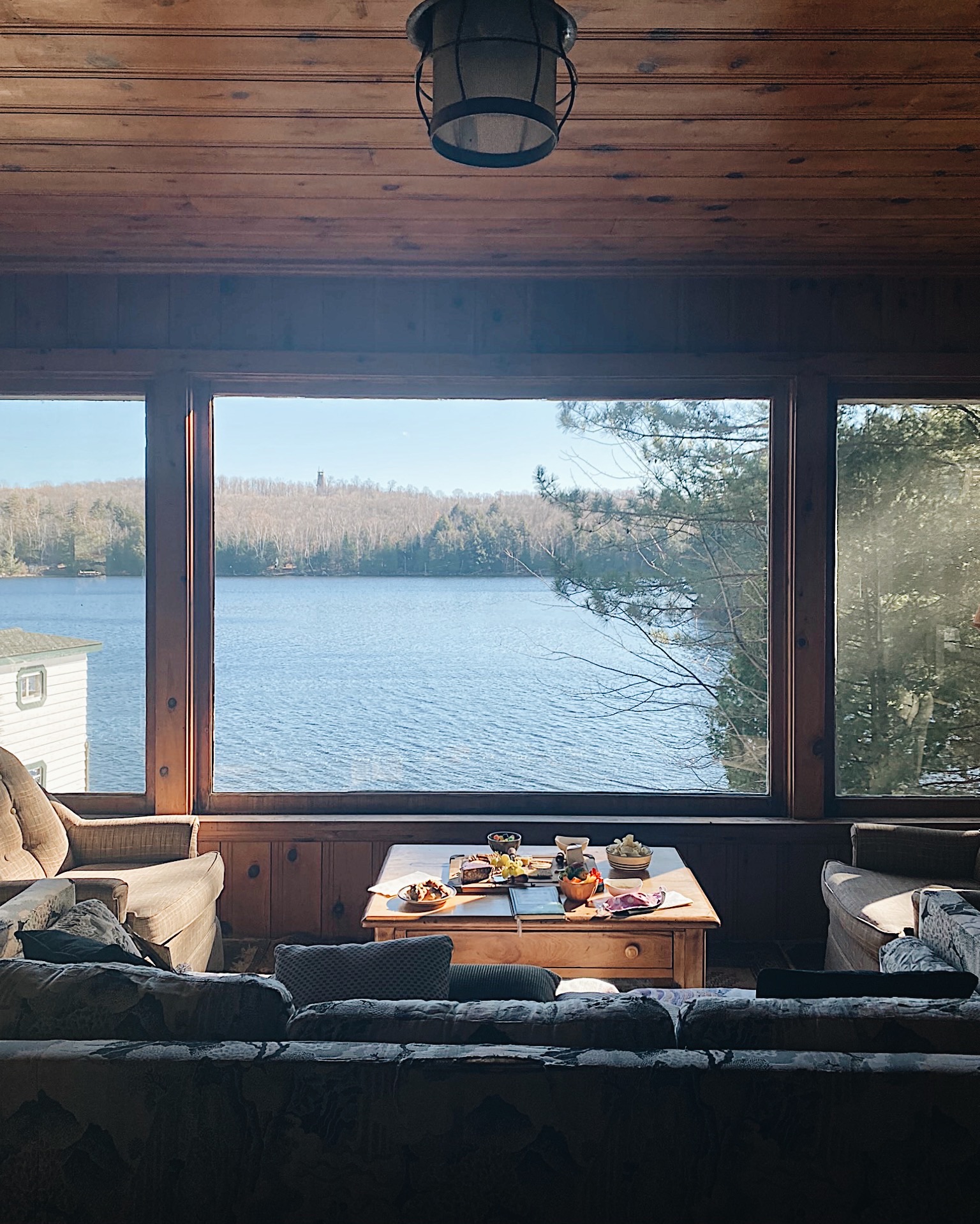 ---
THE LIVING ROOM
---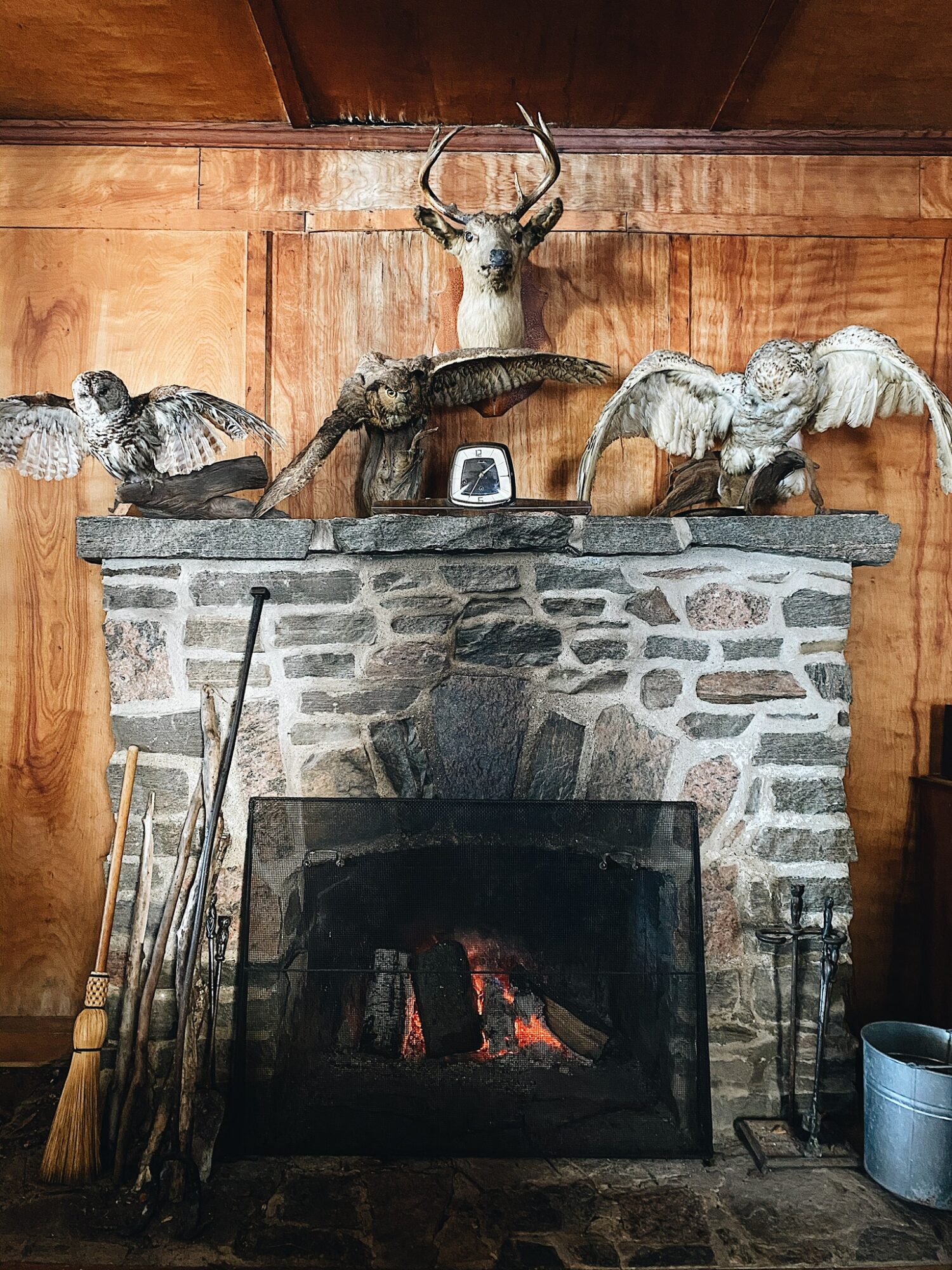 ---
The living room is where we've spent most of our time so far as it's home to a large and very effective fireplace (the primary heat source). It's also home to a trio of owls and a 100 yr old deer named Herman.
---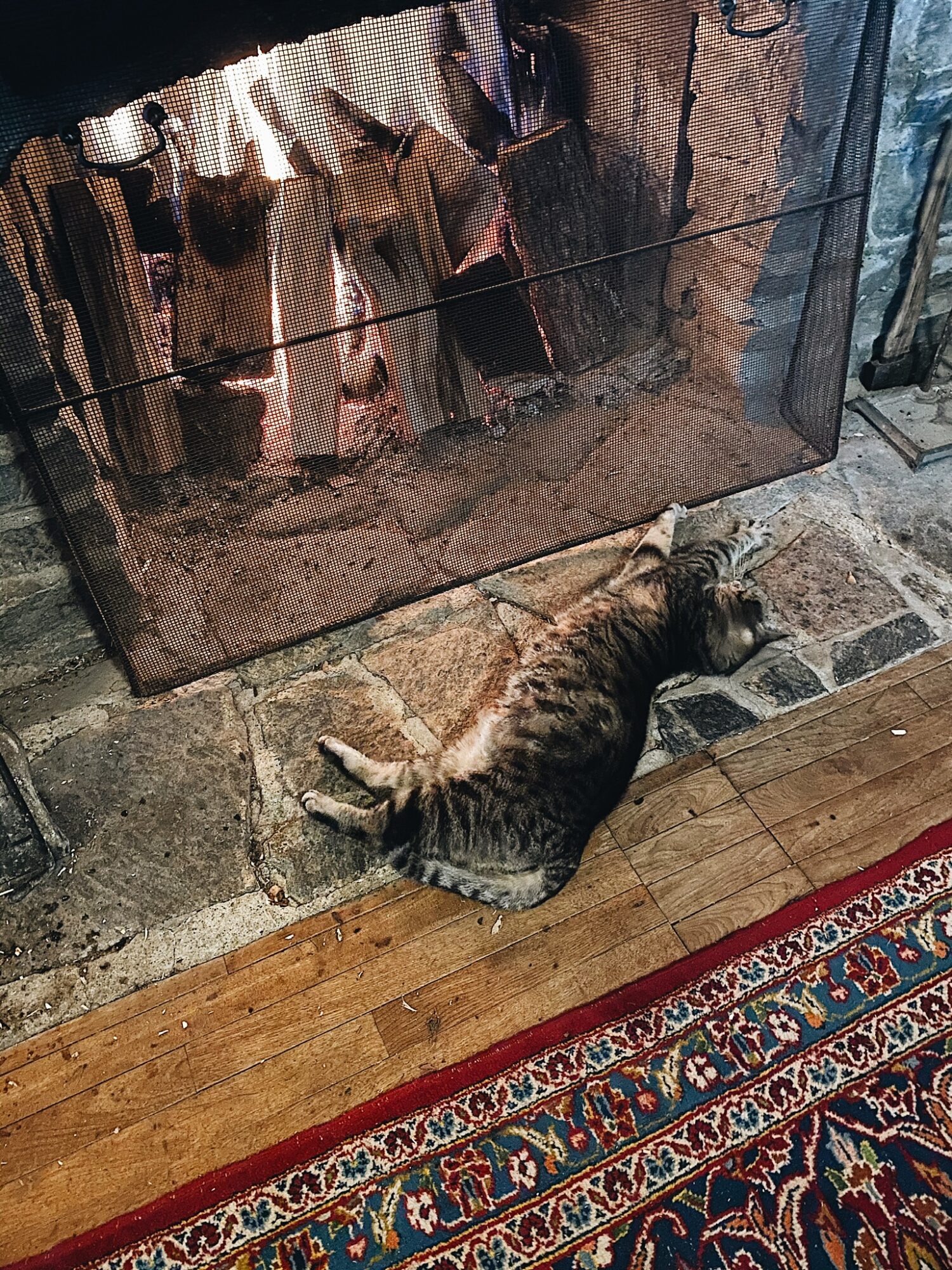 ---
Evie is completely obsessed with the fire and comes stomping in for a bake whenever she hears us adding logs.
The main room also came with a fascinating array of old fixtures, clocks, books and artifacts.
---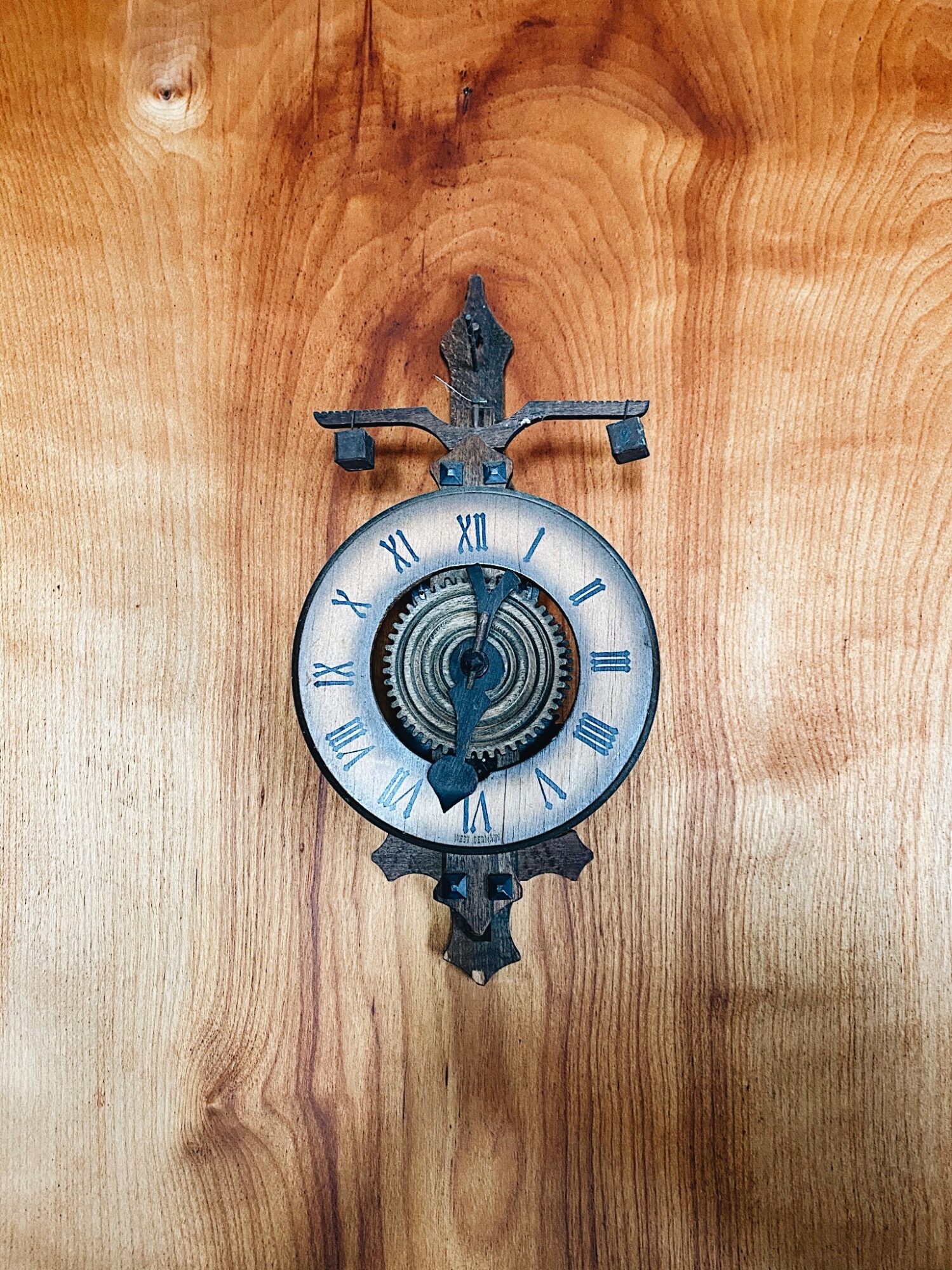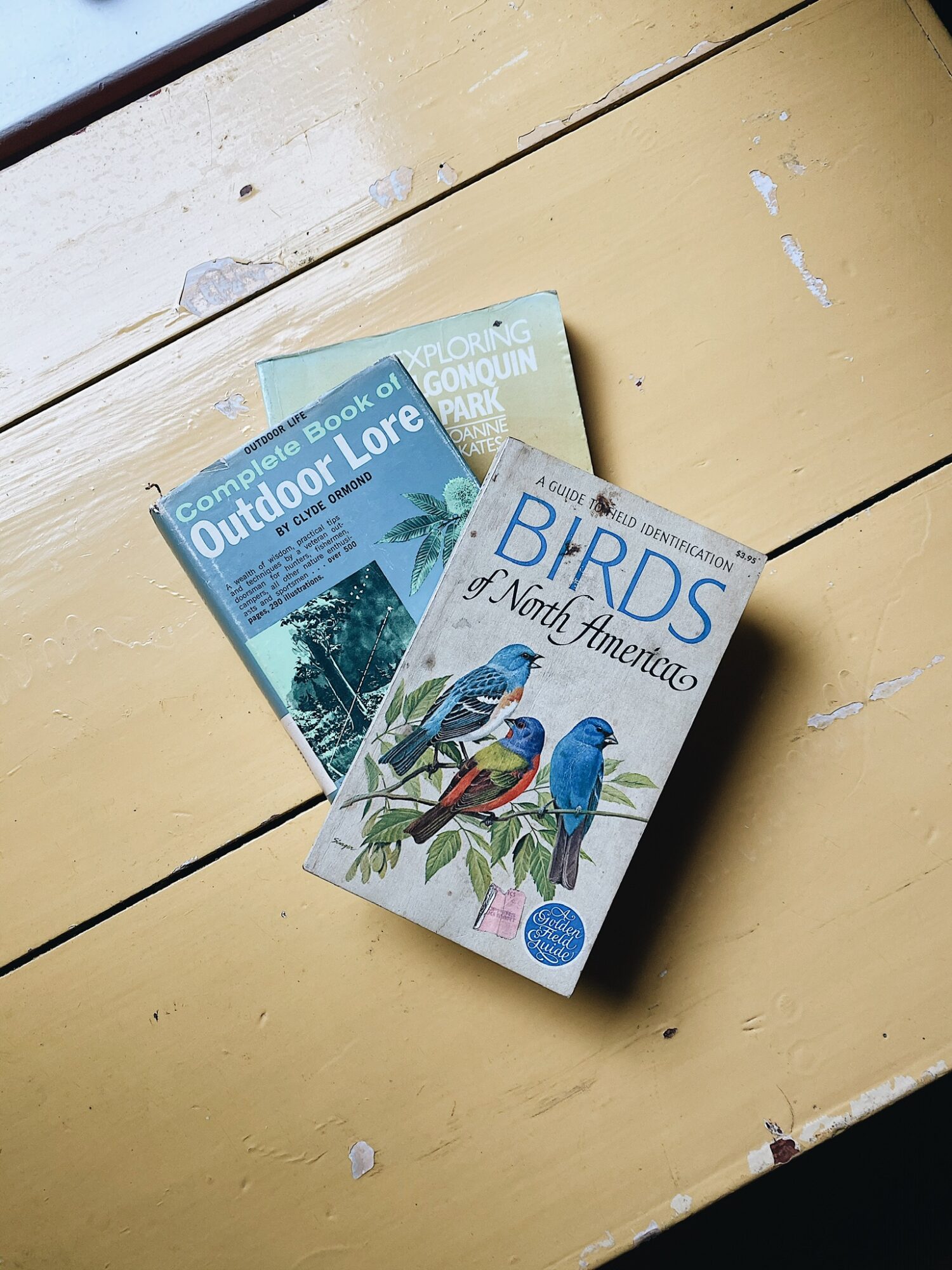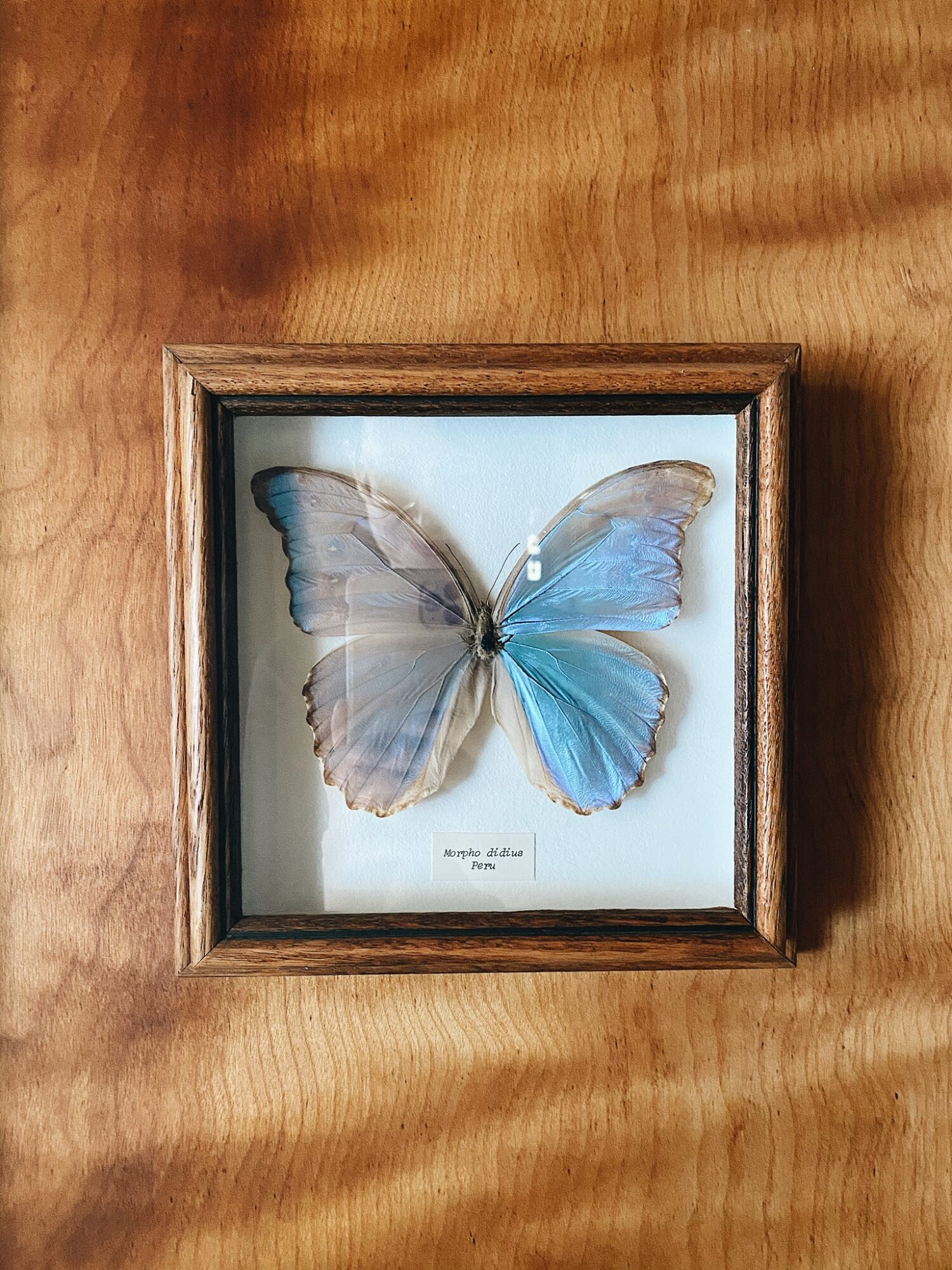 ---
THE BATHROOM
---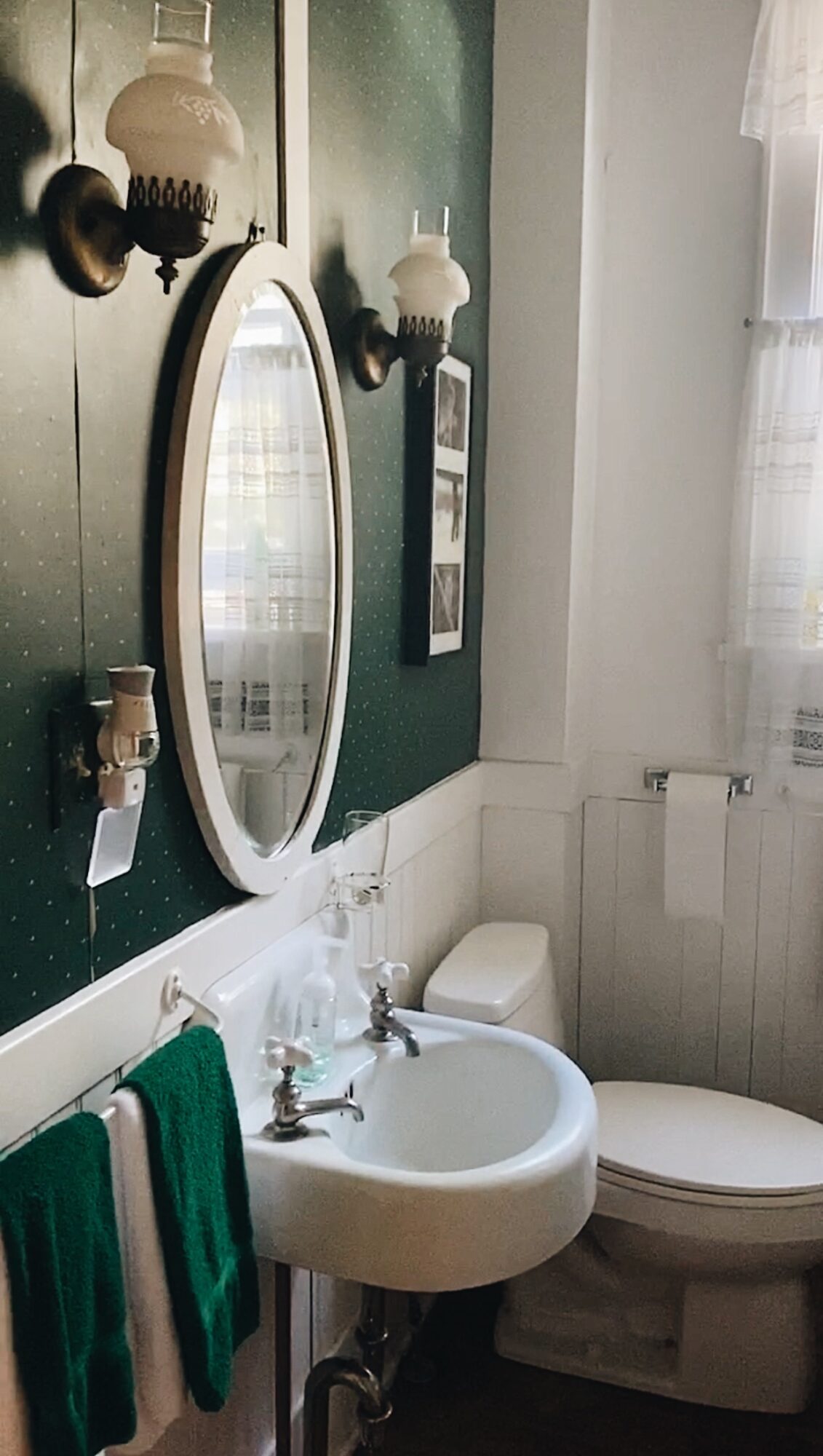 ---
The bathroom has a darling claw foot tub (restoring that is on my list of spring projects), a comically low sink, toilet and some storage space. It's a tight fit but functional.
---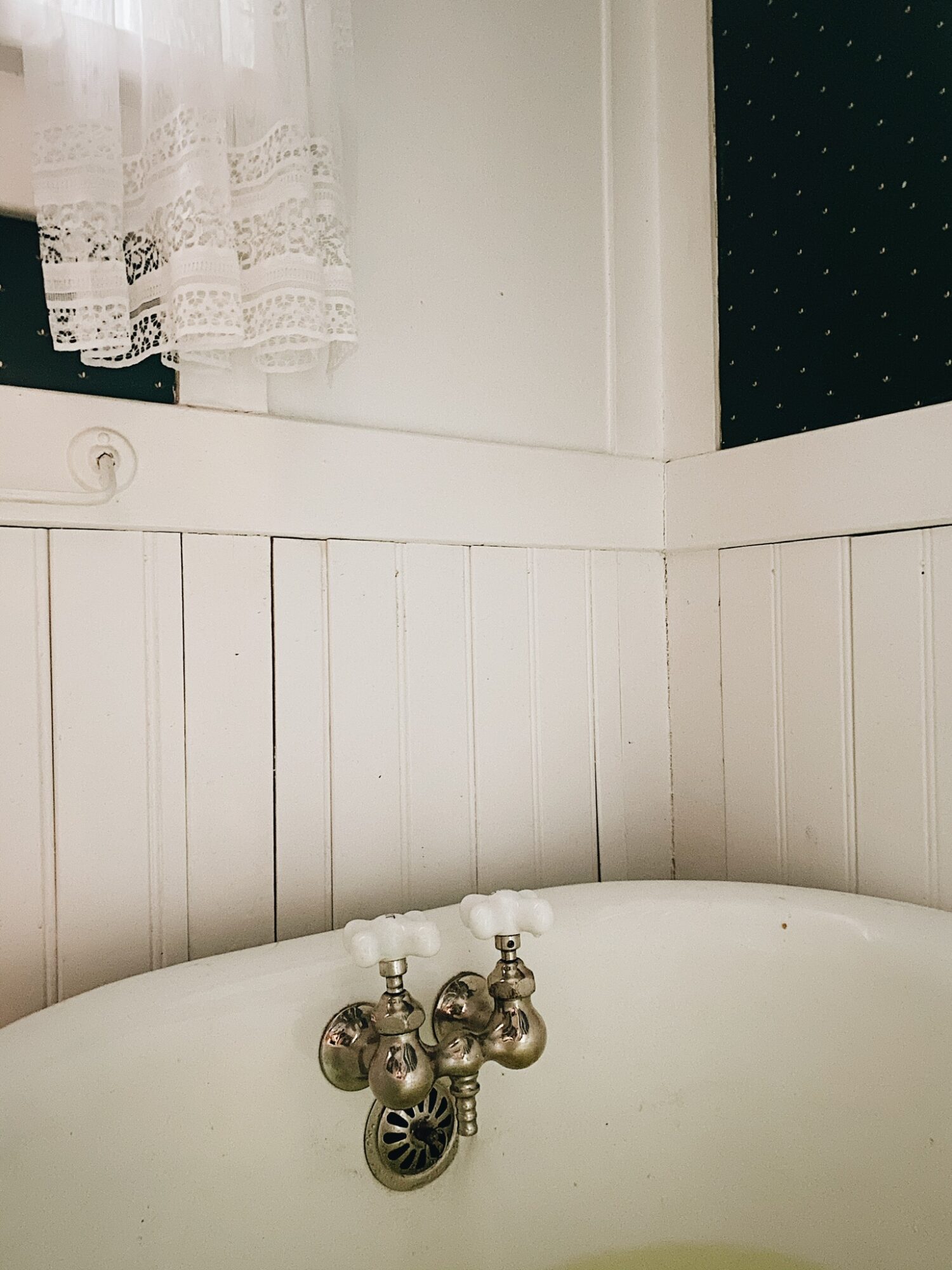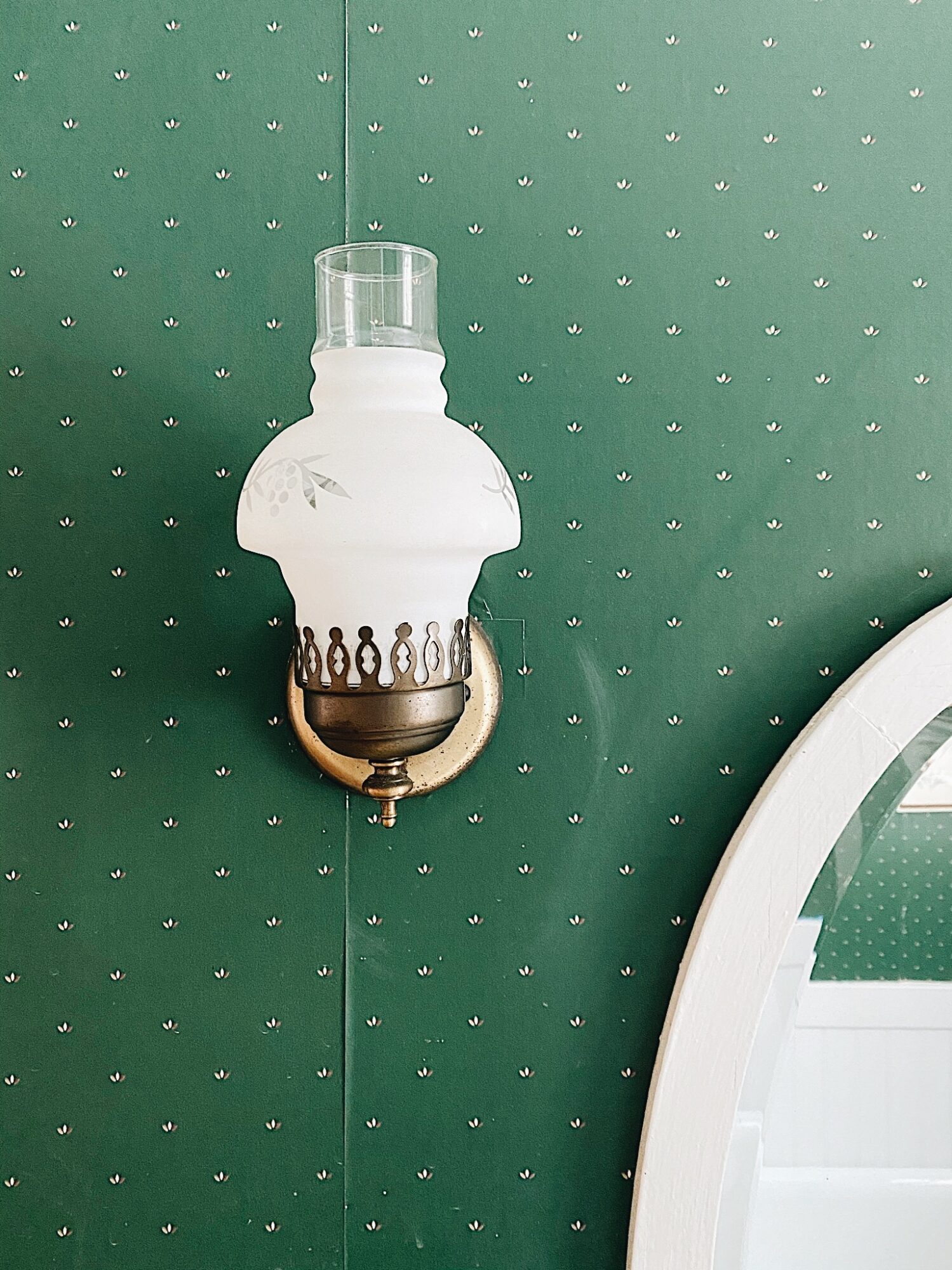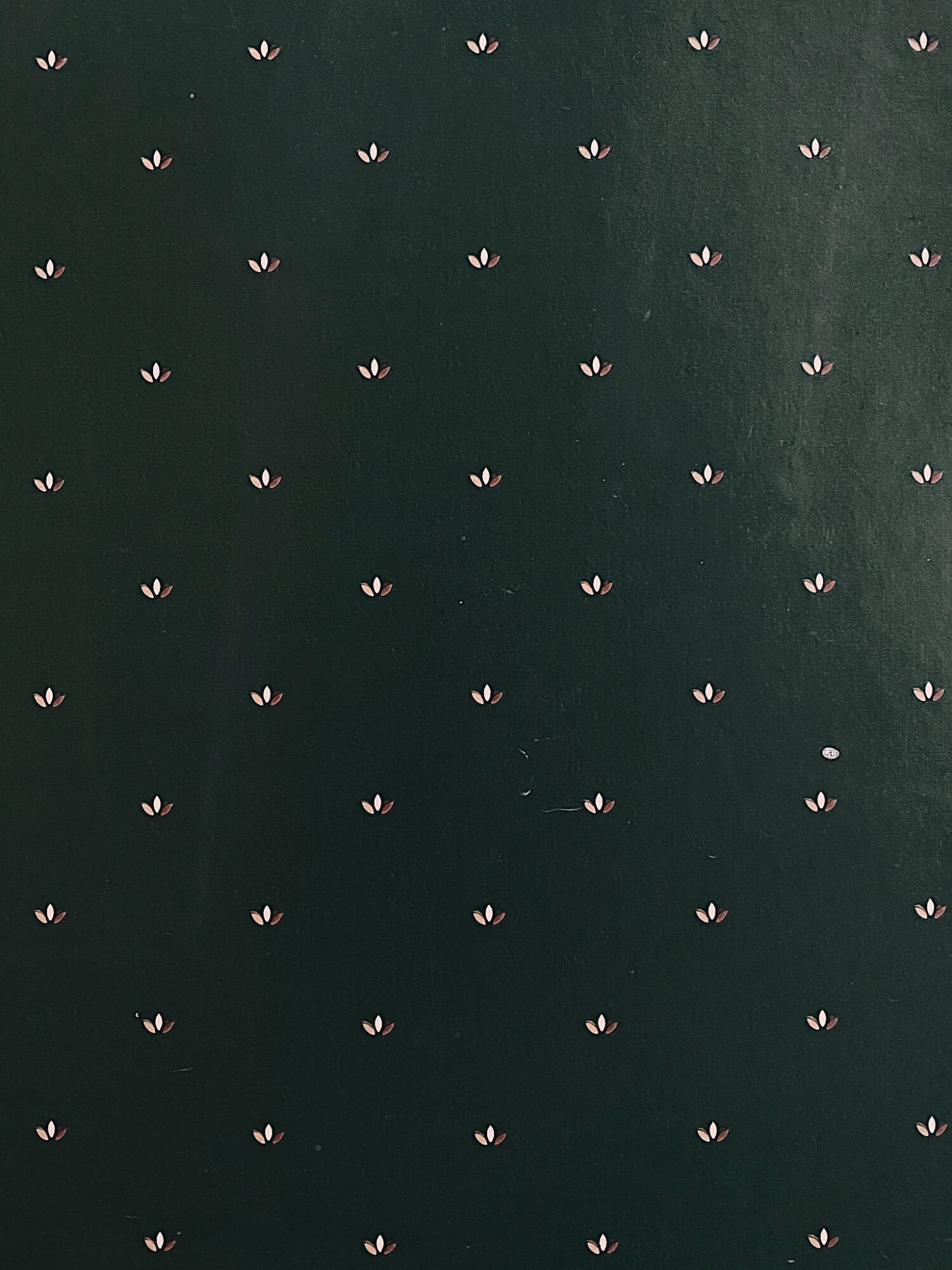 ---
BEDROOMS
---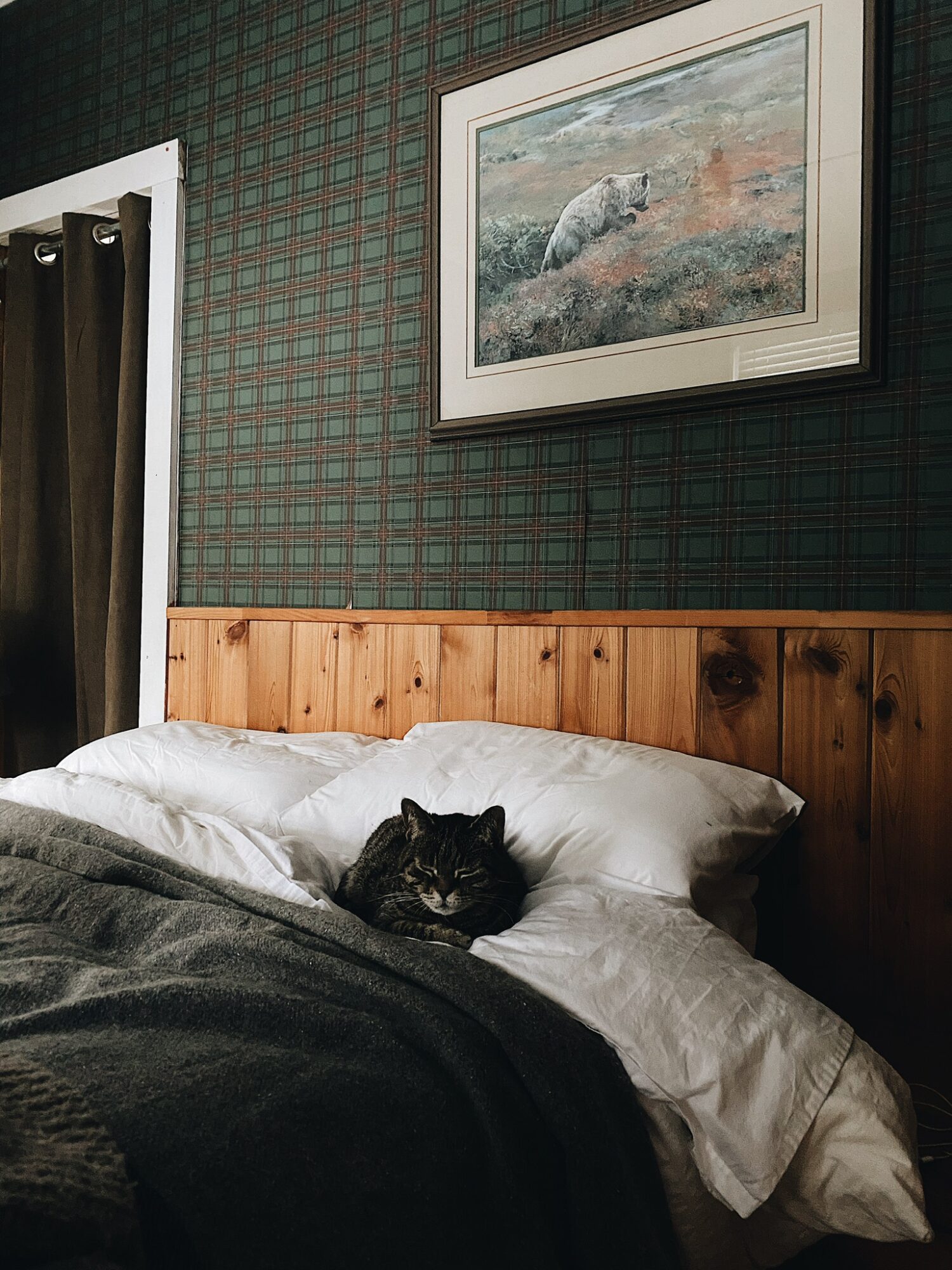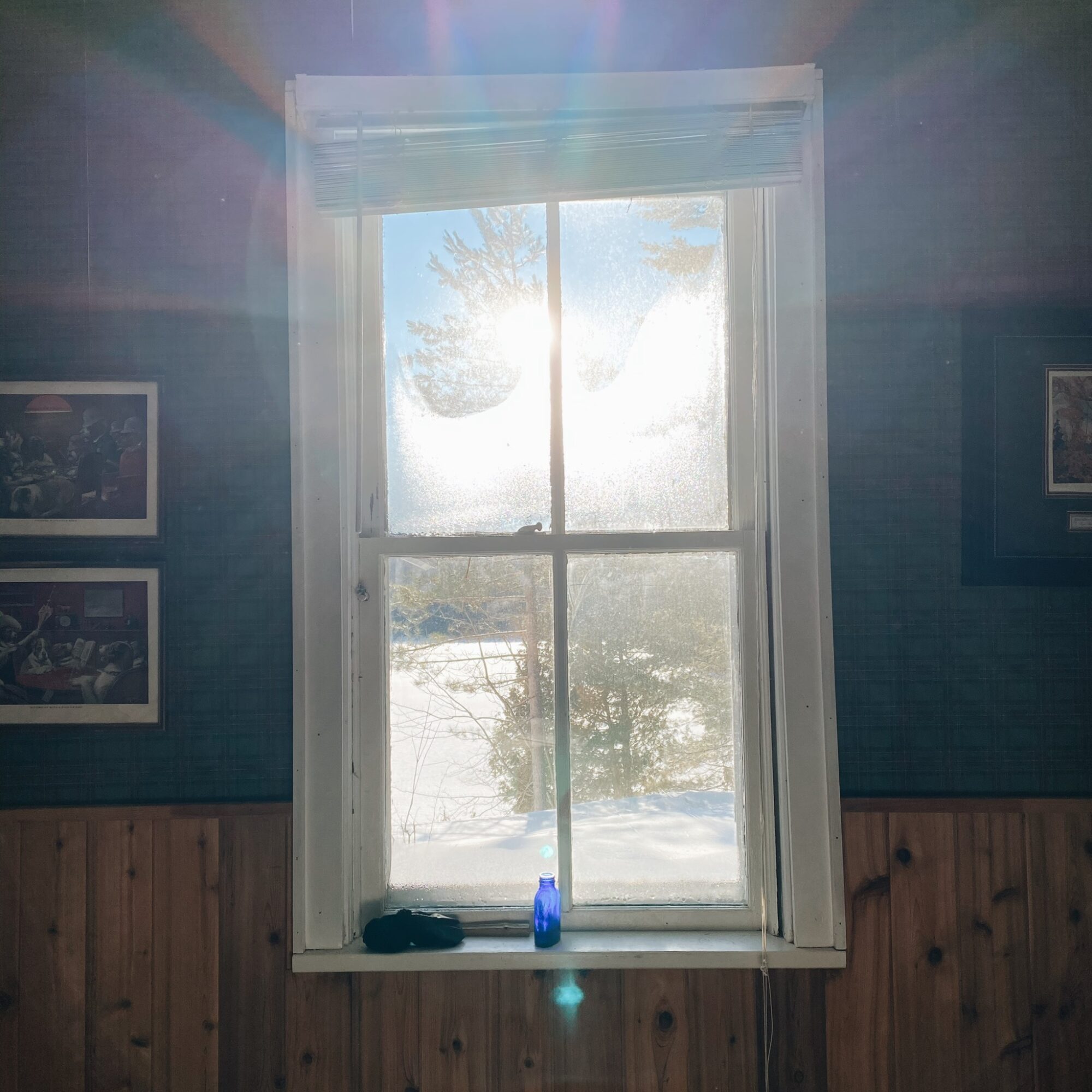 ---
The bedrooms are cozy, bright, and *thankfully* big enough for queen size beds! Another spring project involves new frames and mattresses.
---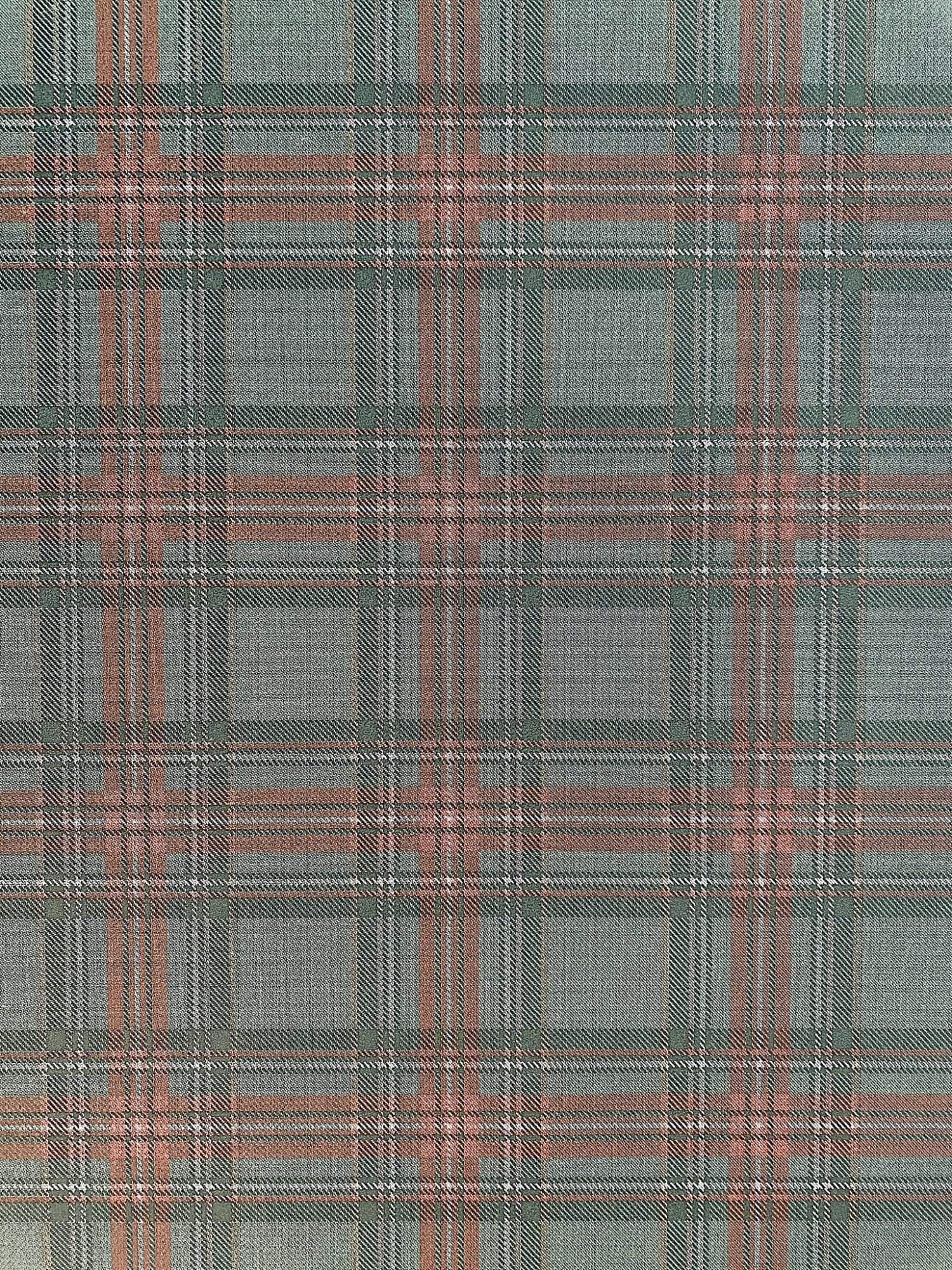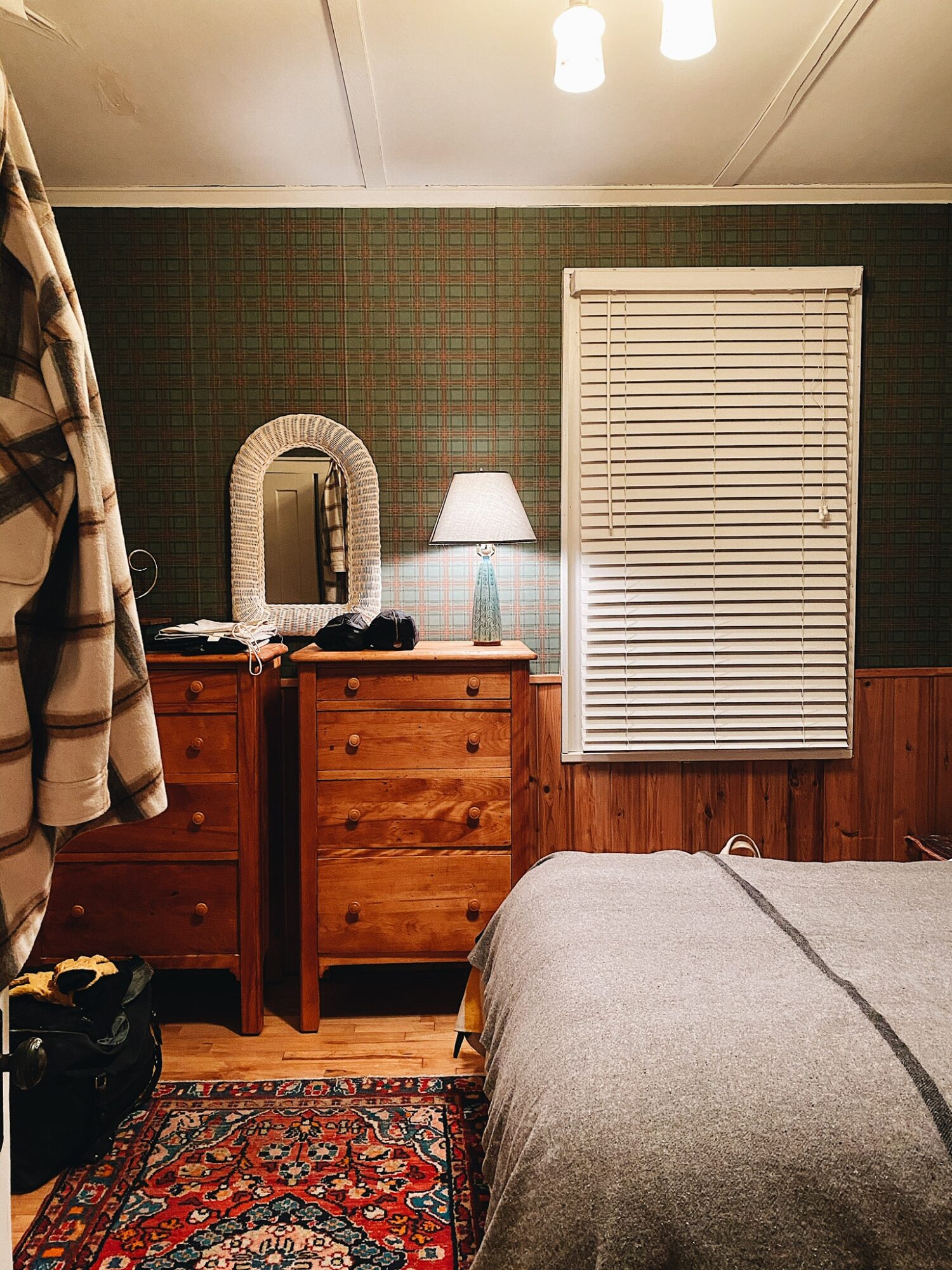 ---
THE KITCHEN
---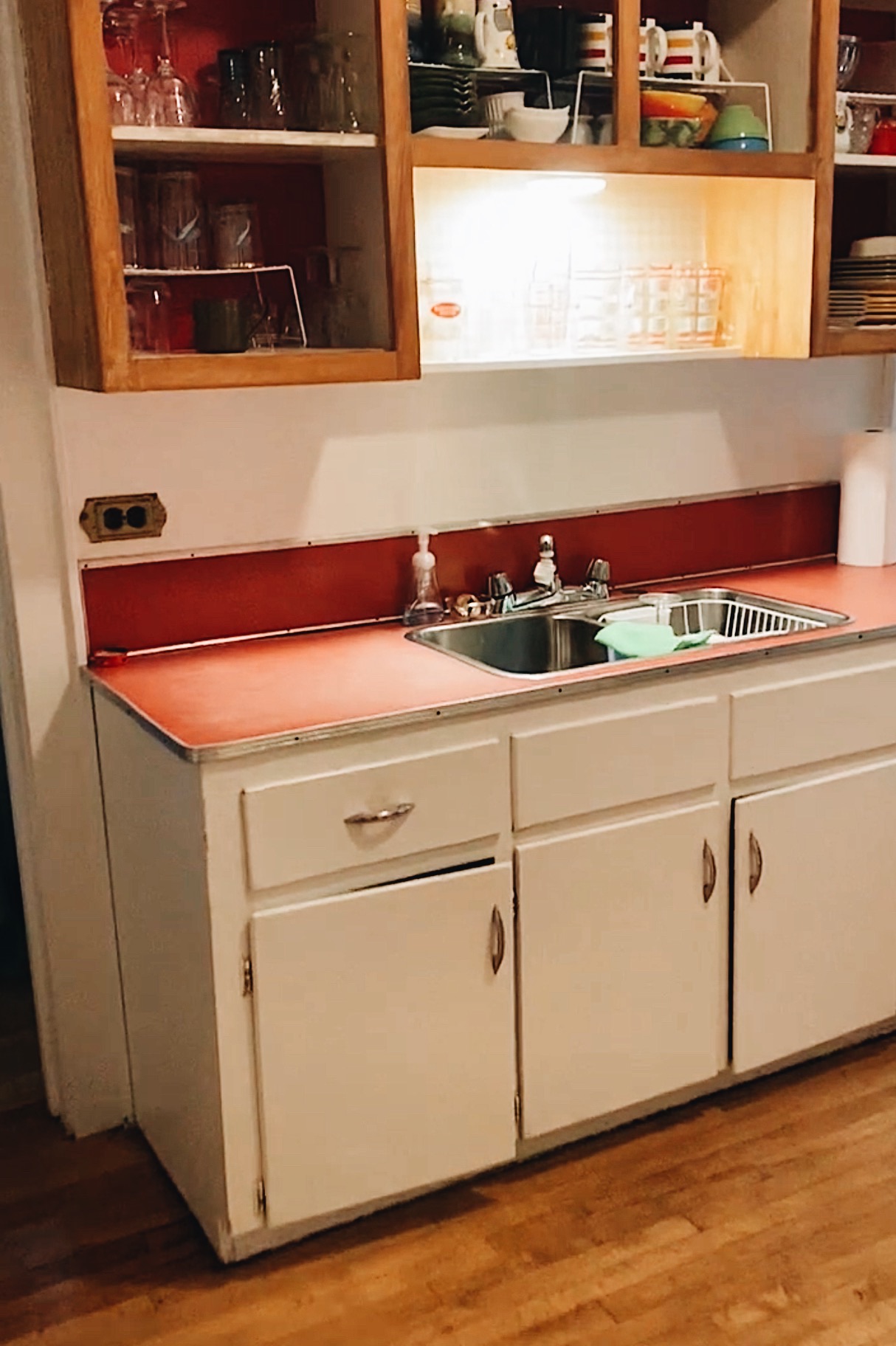 ---
The kitchen is quintessential cottage vibes with peeling wallpaper and sticky drawers to boot! We don't mind for now but in the not so distant future we'll be updating this area for better functionality.
---
---
Our Plans for Steep Hill Cottage
---
We started by addressing the most essential projects, which included:
Insulating the primary utility area in the basement. Dave immediately went to work on this job to get ahead of winter and it took a full week to complete.
Installing a UV water filtration system for potable (ie: drinkable) water. That said, we won't be guzzling tap water until all the pipes have been replaced (a spring job) but for now it's definitely cooking, tooth-brushing and pet drinking friendly.
Cleaning the chimney. Not exactly a glamorous job but necessary nonetheless.
Amassing a fire wood supply. Read: hauling sleds of wood downhill and stacking them all one by one. The photos below are just the tip of the stockpile.
Clearing out some furniture clutter that couldn't be salvaged or sold.
Purchasing a generator to keep the essentials going in the (likely) event of a power outage.
---
---
With the utmost essentials covered, we're planning some projects for when the weather and our budget permits. Just to name a few:
Painting the interior (excited to have some fun with colour!).
Painting the exterior. I have a bold idea but we'll see if it sticks into spring.
New bed frames and mattresses in all rooms.
Restoring the clawfoot tub.
Installing a dishwasher, dryer and washing machine.
Insulating the boat house upper level to make it habitable in colder weather.
Installing a propane fireplace insert. We love the open fire too, but we'll share more on that decision when we get to it!
Installing a wood stove in the Muskoka room.
A kitchen update.
Furniture updates.
& about 1000 other things so don't expect to see this all happen next year lol.
---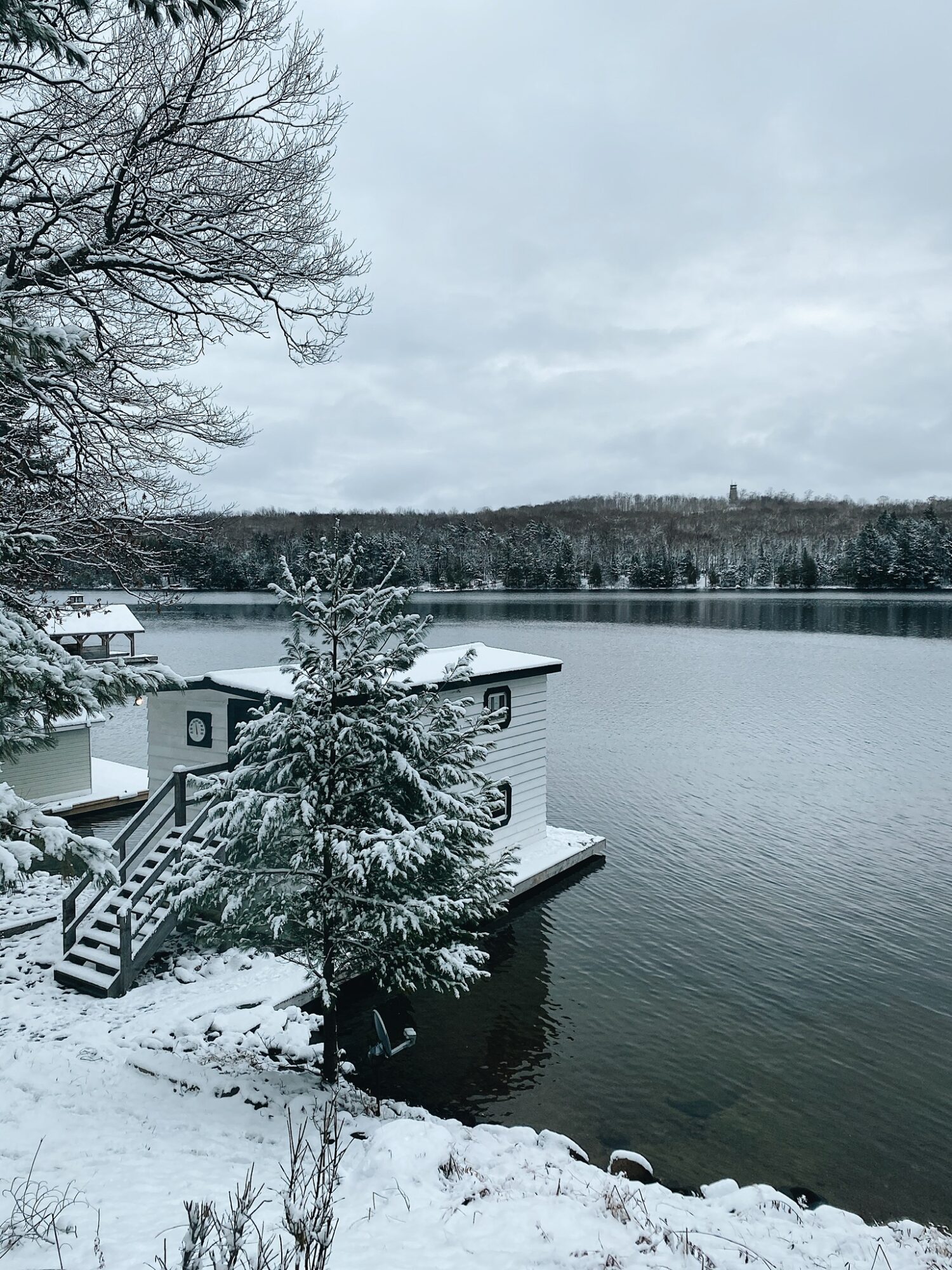 ---
& That's Steep Hill Cottage so far!
---
Dave and I are looking forward to all these projects and I'll be sharing lots more on the updates, renovations, and our time spent at Steep Hill Cottage throughout the year. My hope is to offer you a taste of the #cottagecore experience too!