Spring can be a delightful season, but it can also be a wet one. At least it usually is here in southern Ontario, where we get some pretty decent downpours, which are currently in the forecast.
Even knowing this, it still took me over 30 yrs of being ill prepared for spring weather to really give my rainwear options some thought. I'd ignored this closet category because I'd had the misconception that it wasn't part of my actual style and therefor wasn't worthy of consideration. At least not the way the pieces I was more excited to wear were.
Of course, over the years I've come to realize that this isn't the case. In fact, the opposite is true and now that I have a capsule that's functional and feels aligned with my style, I don't dread rainy days nearly as much!
Today I'm sharing:
The 10 items I have in my current Rainwear Capsule
A formula I swear by for a range of rainy days
+ Where to look as you build your own.
Let's stomp in some rainy day style puddles, shall we?
---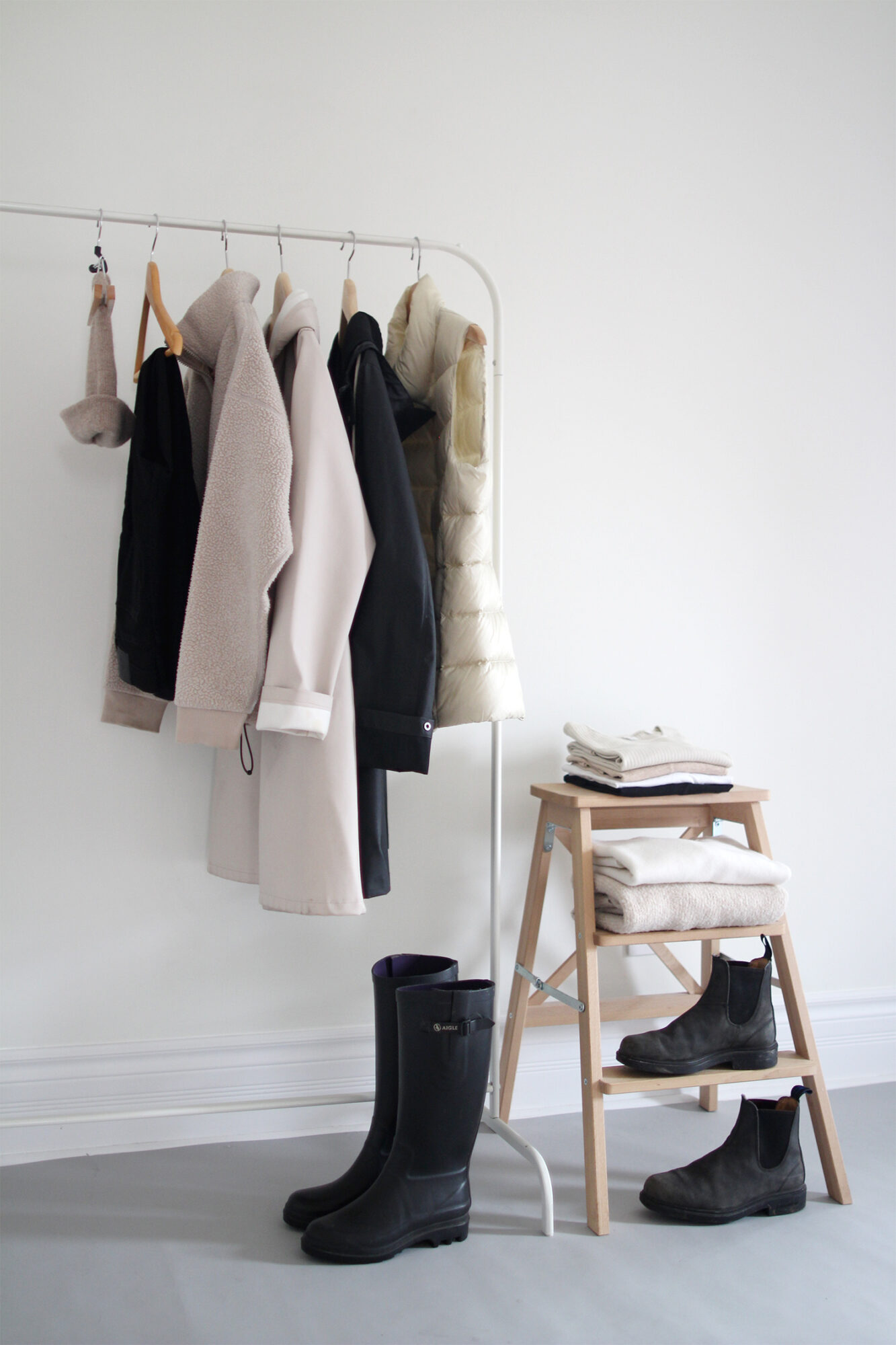 SHOWN: BEANIE* | BLACK SKINNY JEANS | FLEECE* | RUBBER RAINCOAT | BLACK RAIN SHELL* | PUFFER VEST | TALL RAIN BOOT | BASE LAYERS | WOOL SWEATERS | BLUNDSTONE BOOTS | *linked to similar
---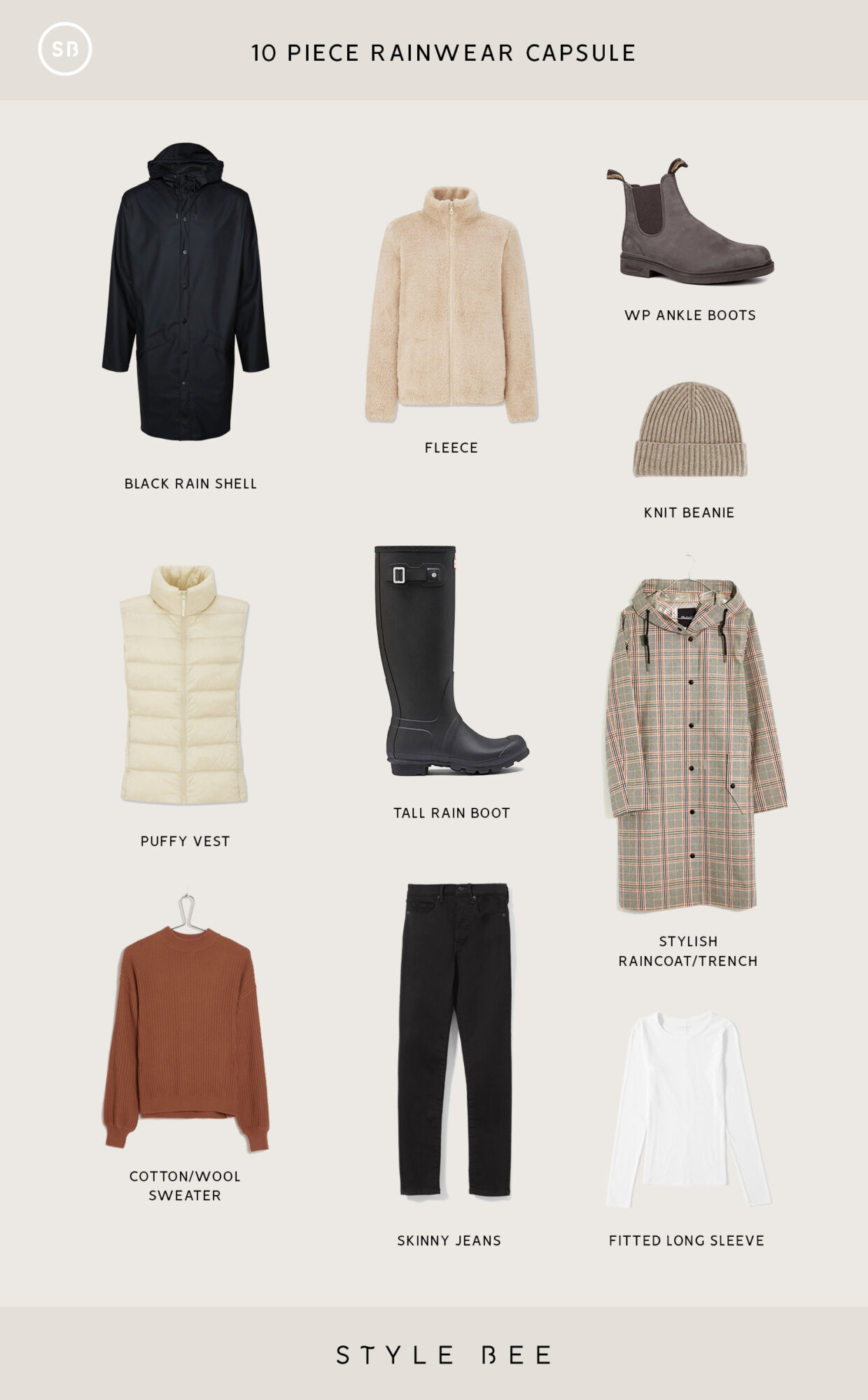 ---


---
10-PIECE RAINWEAR CAPSULE
---
GET CREATIVE & CUSTOMIZE: This capsule is meant to serve as a guide to help you see a possible rain capsule within your current closet and identify a few areas you can improve it to better suit your needs! You don't need all these items necessarily and you'll likely want to swap out certain ones depending on where you live and the temperatures you're working with.
EASILY INTERCHANGEABLE: If it's a warmer climate, swap the long sleeves for t-shirts, the skinny jeans for shorts, and ankle boots for a waterproof sandal. For instance, I switch my beanie for a ball cap in the summer monthhs.
NO MUTUAL EXCLUSIVITY: Many of these pieces are part of my regular coset as well so it's just a matter of keeping them top of mind when I'm getting ready on a rainy day.
---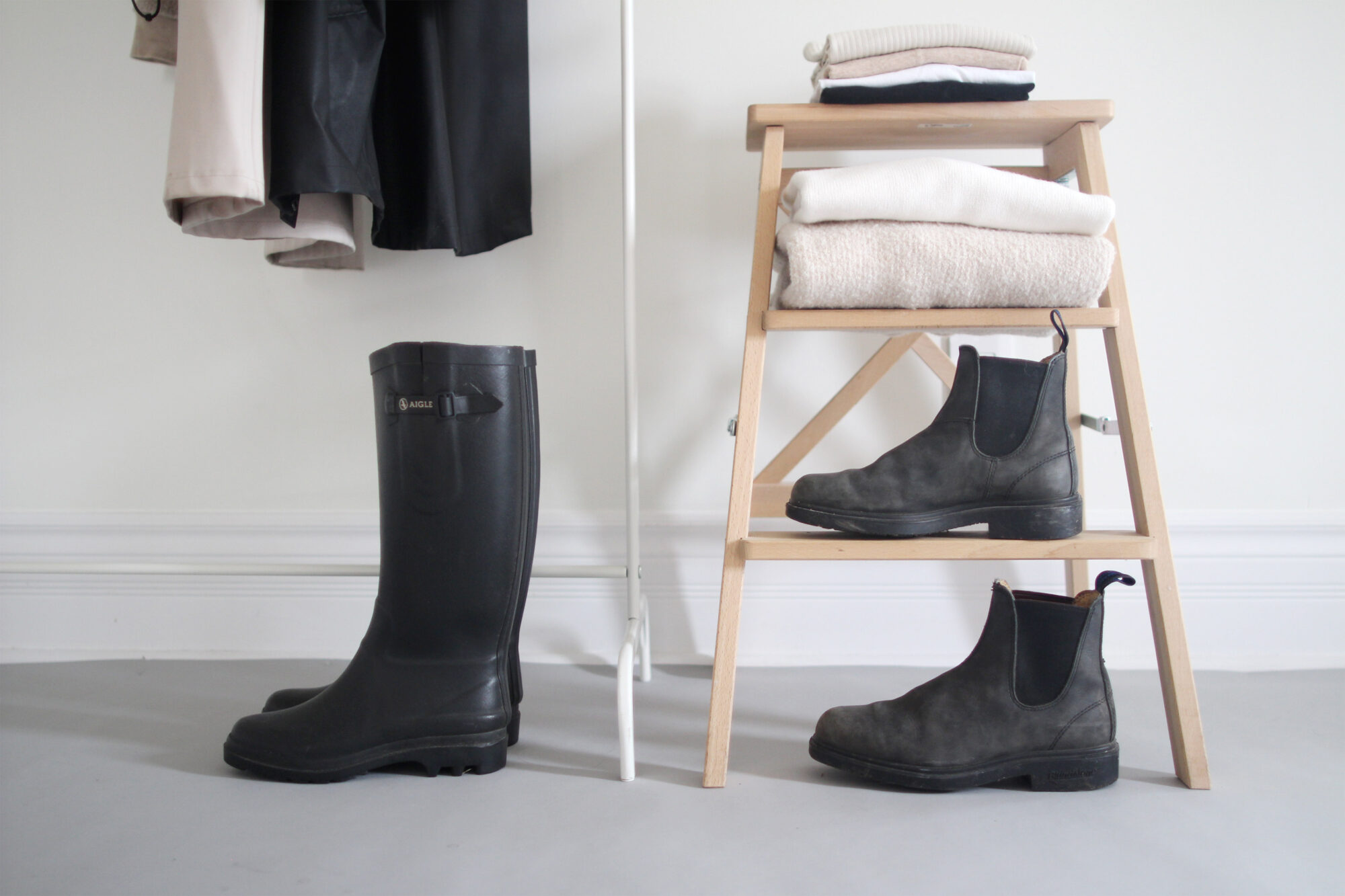 ---
LET'S LOOK AT THE 10 PIECES I'VE INCLUDED:
---
1 | TALL RAIN BOOT
A tall rain boot is #1 on my list for obvious reasons. They're the most practical when it comes to keeping your feet and pants dry. They're great for tons of activities and I wear them with shorts in the summer. However, they're not my top choice for longer walks when it's wet OR for really cold weather as rubber can crack.
BRANDS TO CONSIDER: HUNTER | AIGLE (shown above, adjustable calf) | KAMIK (great price, made in Canada) | BOGS | All available via Altitude Sports and Amazon

---
2 | ANKLE RAIN BOOT (OR A WATERPROOF SANDAL IN SUMMER)
The ankle rain boot is ideal for more moderately rainy days, going for trail walks or low-key hikes. Depending on the boot, they might also lend themselves to colder weather (see my Blundstone review) and offer more flexibility in the types of pants that work with them.
For summer (or hot climates) I love a good Birkenstock EVA on rainy days.
BRANDS TO CONSIDER: BLUNDSTONE | HUNTER | AIGLE | KAMIK | BOGS | BIRKESTOCK | All available via Altitude Sports and Amazon

---
3 | CLASSIC BLACK RAIN COAT / SHELL
I bought my black raincoat out of urgency when I was in Amsterdam a few years ago and needed something asap. It has since become the backbone of my rainwear capsule. Make sure you get something that's loose enough to layer over big sweaters so you're not limited in what you can wear it with. I also like an option that extends beyond my hips/butt so I can sit if I need to.
BRANDS TO CONSIDER: RAINS | COLUMBIA (up to 3X here) | PATAGONIA | ARC'TERYX | EVERLANE (note: It's come to my attention that the ReNew Anorak isn't 100% waterproof and best for light rain/windy climates) | Lots of great options via Altitude Sports.

---
4 | A STYLE FORWARD RAIN COAT OR TRENCH COAT
A "fun" or "stylish" raincoat/trench makes such a big difference when facing a dreary wet day in the city or running errands. If you have an option in a colour, shape or pattern that makes you feel a little better about the prospect of going outdoors, it's worth every penny. Luckily there are loads of great options available these days!
BRANDS TO CONSIDER: STUTTERHEIM (Shown above, high quality but $$) | EVERLANE | MADEWELL (I LOVE this one, just waiting on INTL shipping to return) | J.Crew | UNIQLO (I just got this trench and really like it) | FRANK & OAK | Lots of these can be found secondhand through POSHMARK too.

---
5 | FLEECE
I tend to wear my fleece underneath my black rain coat because it's more of a rough and tumble combo for walking trails or woodland explorations at the cottage. A fleece adds a beauty layer of insulation and warmth under the raincoat and a big collar acts like a scarf for some coziness on the neck.
BRANDS TO CONSIDER: PATAGONIA | GIRLFRIEND | FRANK & OAK | NORTH FACE

---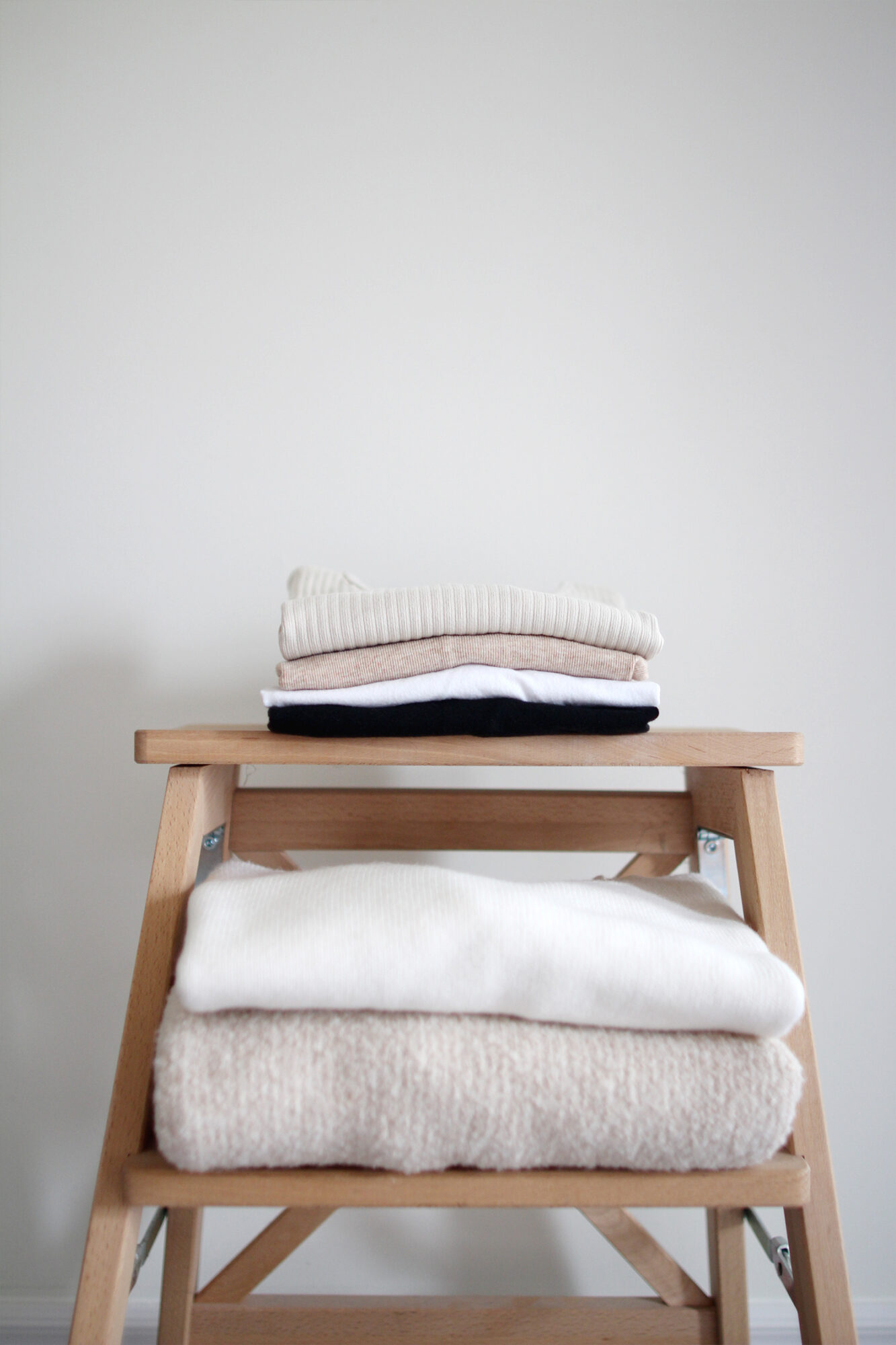 ---
6 | BASE LAYERS
What would a rainwear capsule be without some good base layers? I love a long sleeve partly for warmth but also because I don't like the feeling inside most coat sleeves. Plus, if you roll up your coat cuffs, you get a peek at the long sleeve layer underneath!
BRANDS TO CONSIDER: EVERLANE (my go-to) | MOTT & BOW (super light and soft – Use LEE10 for 10% Off your first order) | KOTN (well made – Use LEEV10 for 10% Off your first order)

---
7 | COTTON/WOOL/ALPACA SWEATERS
Possibly interchangeable with a fleece but a wool sweater brings it's own merit to the capsule. I like to wear a wool or cashmere sweater under my "stylish" raincoat on days when I'll be out and about in the rain or possibly stopping indoors and removing my raincoat.
BRANDS TO CONSIDER: FRANK & OAK (check out their SeaCell knits) | EVERLANE (I love the alpaca crew) | JENNI KAYNE (I love the Everyday Wool Sweater (15% Off with LEE15)
---

---
8 | DARK SKINNY JEANS
Why fix what isn't broken? Dark skinny jeans (I prefer black or a super dark wash) are the best option for a functional rainy day look. They tuck into tall boots easily, hide flecks of dirt that might splash up and always add a touch of polish compared to leggings.
BRANDS TO CONSIDER: EVERLANE | MADEWELL | UNIQLO (Heattech is great for winter) | GAP (I've had mine for many years now)

---
9 | PUFFER VEST
This is the newest addition to my rainwear capsule, but it's a game-changer. Having a super lightweight puffer vest to layer under the raincoat and over a base layer makes those crispy wet morning dog walks a lot more tolerable without needing a full-on winter coat.
BRANDS TO CONSIDER: UNIQLO (shown above, I live in this at the cottage) | FRANK & OAK (not a vest but a liner) | GIRLFRIEND | PATAGONIA

---
10 | BEANIE (OR BASEBALL CAP) + GLOVES
These are an extra item but I've found them so essential for rainy weather. a beanie keeps my ears and noggin' toasty under a hood and if wind knocks it back, at least I'm not left totally exposed to the cold. Knit gloves are another must for cold wet days to keep my hands warm and they can easily dry out between walks.
BRANDS TO CONSIDER: BARE KNITWEAR (my favourite, check this Fall) | ETSY (lots of great small shops) | EVERLANE (love the cashmere beanie) | NAKED CASHMERE | MOTT & BOW

---
MY RAINY DAY FORMULA(S)
BASE LAYER + SWEATER + JEANS + BOOTS + JACKET
---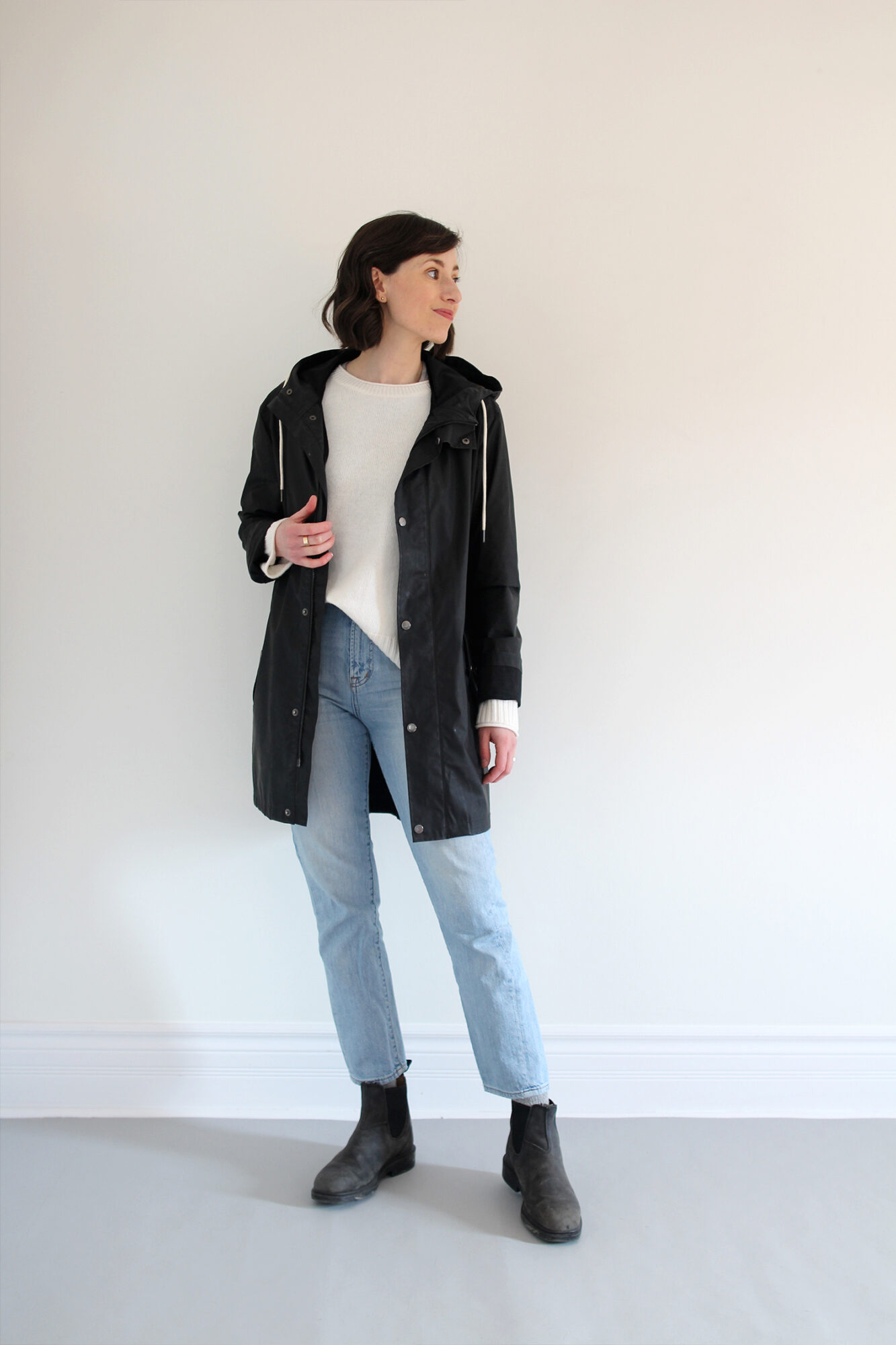 ---
WHERE TO SHOP FOR YOUR RAINWEAR CAPSULE
---
Altitude Sports carries a wide range of brands, including most of the ones I've listed in this post (even Girlfriend!), they're based in Canada (so no duties!) and ship worldwide.
Because you just can't deny the selection and speedy delivery in a pinch.
---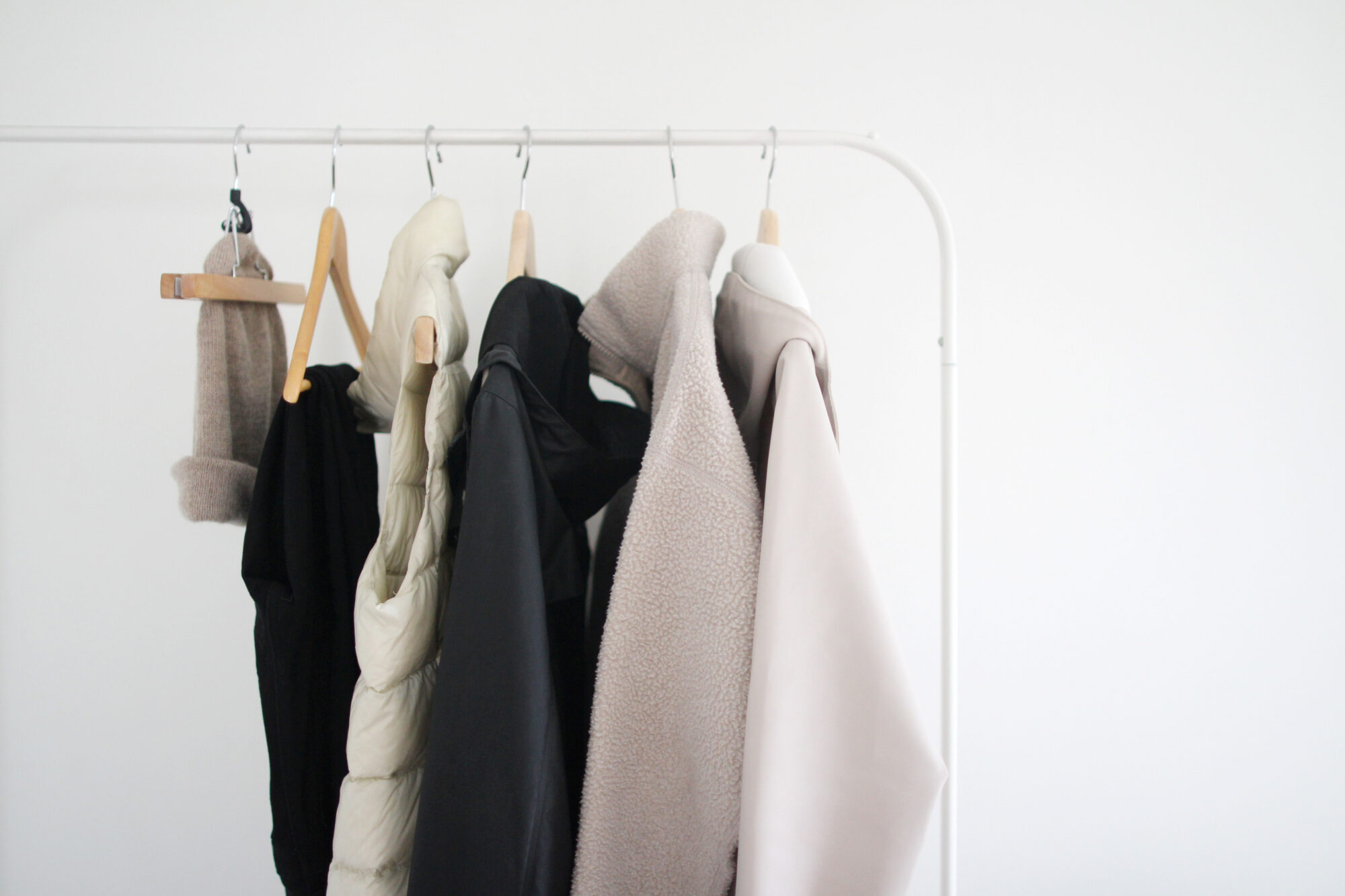 ---
THANKS FOR TUNING IN!
Do you have a rainwear capsule of sorts? I'd love to know what's included in yours!
Any requests for other types of capsules?