Time for another reader favourite roundup. Even though it's still cold here on the lake, it's so nice to see a few warm weather pieces making their way into your closets!
These picks have given me some ideas about how to start mixing spring items in with my winter staples. I love the combinations of:
trench coats and chunky boots
cozy knits with cute heels
fitted tees with wool trousers
Read on for:
February's top 10 reader favourites
5 outfit ideas using the items
Repeats from last month
---
This post is not produced in partnership with any brands mentioned but does contain affiliate links. If you see something you like and decide to shop through the links included, I may earn commission on a sale at no additional cost to you. All opinions are always my own and I only share items I love and think you might too. Thanks for supporting Style Bee!
---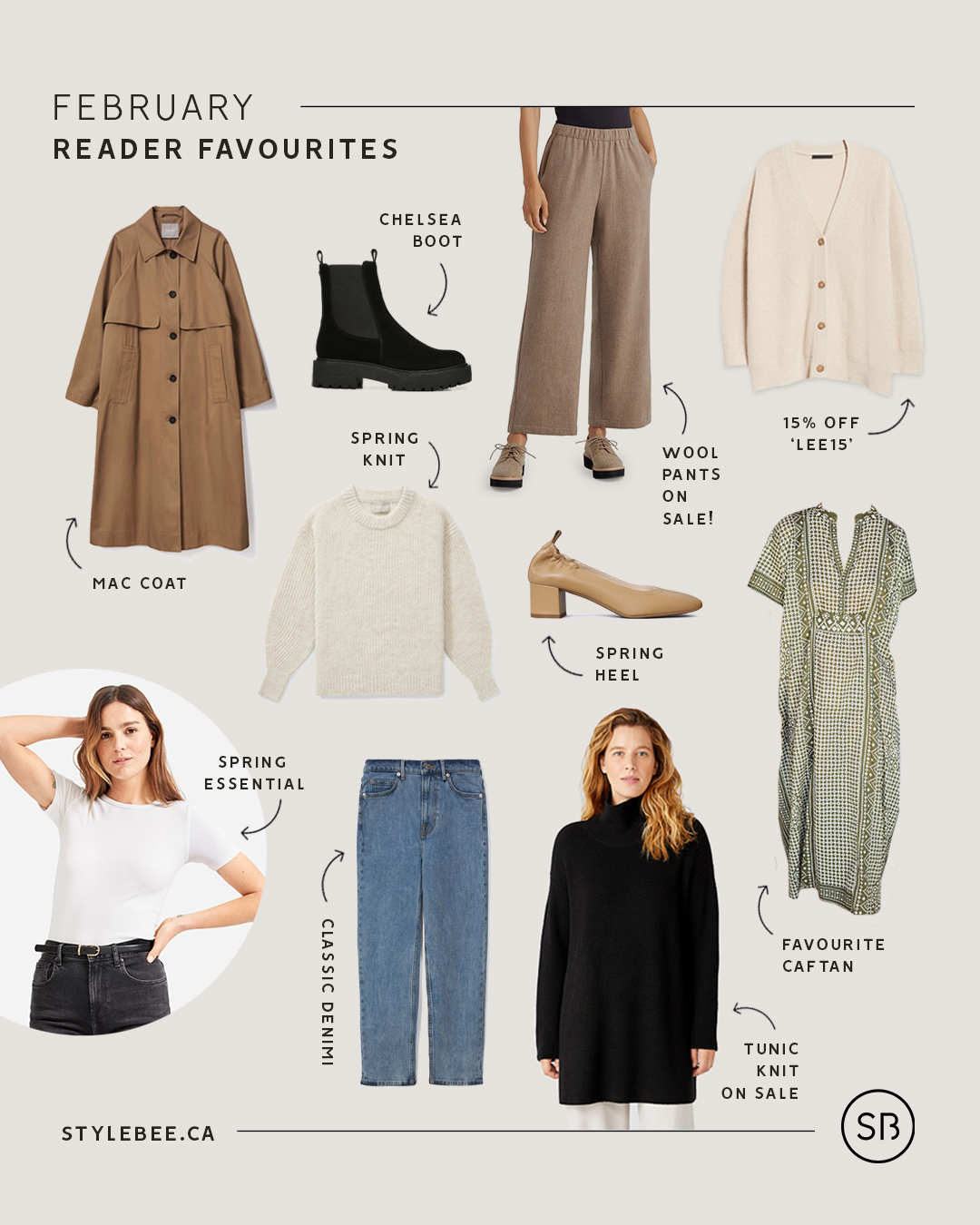 ---

---
SOFT WOOL FLANNEL PLEATED TAPERED PANT – EILEEN FISHER – These are a really great dupe for the Andy Wool Pant by Elizabeth Suzann (shown here)that I've had and loved for years. I love the Barley colour (there are 3 others) and they're on sale!
THE LONG MAC COAT – EVERLANE – I've shared the Mac Coat many times and finally took my own advice and bought it in Toasted Coconut during the sale and LOVE it. It's going to be a big part of my spring closet. Fit is true to size.
CHUNKY CHELSEA BOOT – SAM EDELMAN – These are frequently recurring favourite and this time it seems the black suede is a hit (black leather available in Canada here). I really love the shape and proportions of these. A great boot to transition from winter to spring. I have a similar option from Maguire here.
MERINO TURTLENECK LONG TOP IN RESPONSIBLE WOOL – EILEEN FISHER – This is such a unique piece with a beautiful loose fit and elegant design details. Plus it's currently on sale!
PIMA MICRO RIB TEE – EVERLANE – These are a warmer season staple similar to the turtleneck version I live in during the winter. I love the high neckline, snug fit and slightly long sleeve. 4 colours available, true to size.

---
THE ORIGINAL CHEEKY JEAN – EVERLANE – These are a great spring jean. I still love my white pair and I think the Bone white is beautiful too. If you're between sizes in this style I would suggest going down.
CASHMERE COCOON CARDIGAN – JENNI KAYNE – Use LEE15 for 15% Off anytime. – A reader favourite for 4 months in a row and a personal favourite for a full year now. You can find my full review here.
EMERSON CAFTAN – EMERSON FRY – This caftan was also on the best additions of 2021 list and I really cannot wait until it's warm enough to wear it again! It's perfect for anyone travelling somewhere warm too.
THE LEATHER DAY HEEL – EVERLANE – I linked to this beauties as an alternative option in my 15 Date Night Ideas post. I had the suede version and loved them so much but ultimately didn't wear them a whole lot so they went on to a new closet. I still love my Day Glove Flats in case you want a timeless flat instead.
OVERSIZE ALPACA CREWNECK – EVERLANE – I'm so glad I did a proper review of this piece after years of wearing it. It's truly a year-round favourite.

---
FEBRUARY FAVOURITES STYLED
Here are a few ways I'd style this month's favourites into outfits!
---
1 // MAC COAT | PIMA RIB TEE | WOOL PANT | DAY HEEL

2 // MAC COAT | LONG MERINO KNIT | ORIGINAL CHEEKY JEAN | CHELSEA BOOT

3 // MAC COAT | ALPACA CREWNECK | ORIGINAL CHEEKY JEAN | DAY HEEL

4// COCOON CARDIGAN (LEE15 for 15% Off) | PIMA RIB TEE | WOOL PANT | CHELSEA BOOT

5// COCOON CARDIGAN (LEE15 for 15% Off) | PIMA RIB TEE | ORIGINAL CHEEKY JEAN | DAY HEEL

---
REPEAT FAVOURITES
---
CHUCK TAYLOR HIGH TOP 70 ALL STAR IN BLACK
ORGANIC COTTON FRENCH TERRY BOX TOP & LOUNGE PANT (on sale!)

---
THANKS FOR TUNING IN!
I hope this was a fun read and inspired some new ideas for your style and closet.