Ready for some spring style fun? Excellent! Because today I'm sharing a brand new 10×10 capsule!
This particular 10×10 is a great start for a:
Spring Wardrobe Foundation
Simple Travel Packing Formula (see more on that below)
Casual Workwear Capsule
In this post I'm sharing the 10 Items that are the foundation of my spring travel capsule and over the next 10 days (starting today) you'll find a new outfit on the Style Journal!
I hope you enjoy this 10×10 exercise and it offers some ideas for any travel packing or capsule planning you've got on the go right now!
---
This post is not produced in partnership with any brands mentioned but does contain affiliate links. If you see something you like and decide to shop through the links included, I may earn commission on a sale at no additional cost to you. All opinions are always my own and I only share items I love and think you might too. Thanks for supporting Style Bee!
---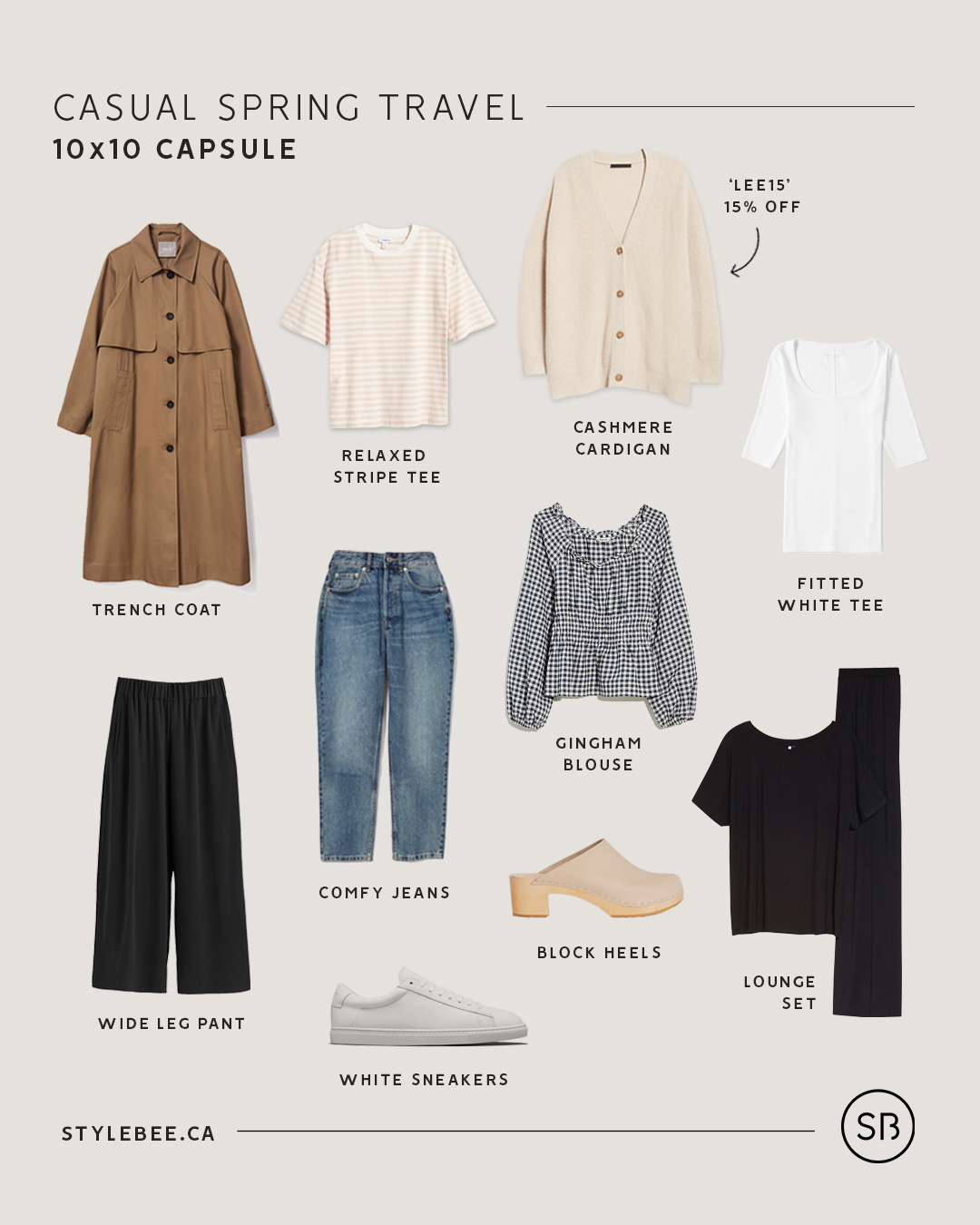 ---
QUICK LINKS TO SHOP THE 10×10 CAPSULE
---
WIDE LEG SILK PANT (if sold out try these or these)
WHITE SNEAKERS (full review here)
CASHMERE COCOON CARDIGAN (Use LEE15 for 15% Off, full review here)
GINGHAM BLOUSE (linked to the one in graphic, this is the one I have)
---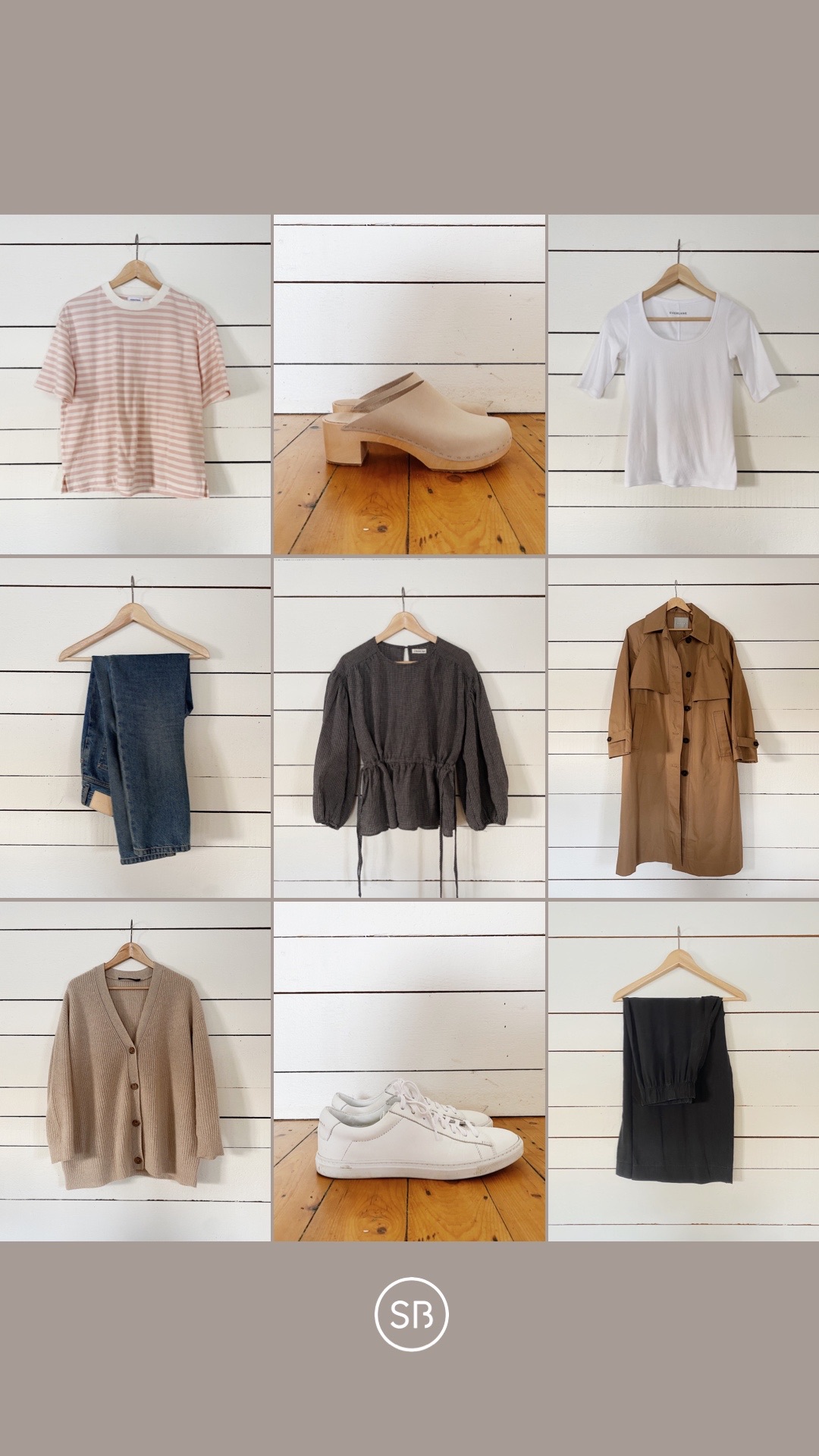 ---
Recently, I've been traveling to and from the lake for short stays where Dave is completing a big renovation project. After a few weeks of suitcase living, I wanted to see if I could curate a lean, versatile, and stylish (of course!) capsule to use as the base of my travel wardrobe going forward.
---
The travel capsule formula I'm using
---
1 KEY PIECE OF OUTERWEAR
1 WARM LAYER
1 PAIR OF COMFY JEANS
1 PAIR OF SNEAKERS
1 STRIPED TEE
1 PAIR OF WIDE LEG PANTS/TROUSERS
1 FUN TOP
1 PAIR OF WALKABLE HEELS
1 ELEVATED FITTED WHITE TEE
1 LOUNGE SET
---
To build on this formula I often:
Include activewear or technical outdoor gear
Double up on certain items for a longer trip (ie: striped tees and/or fitted tees)
Add something dressy if there is a need for it
Whenever I travel I always include the following accessories:
A large tote
A crossbody bag
A big scarf
My gold jewelry: mini hoop earrings, rings, pendant necklace, chain bracelet
Sunglasses
---
MORE ON THE 10 ITEMS I CHOSE
---
1 – TRENCH COAT – I started this capsule with a single piece of outerwear that I can see working in a range of temperatures and conditions. This trench coat (aka. Mac Coat) can be easily layered over different bases and I love how versatile and functional it is. My theory is that you can throw a trench over anything, add sunglasses and a quality bag, and you're instantly stylish.
2 – CASHMERE COCOON CARDIGAN – (Use LEE15 for 15% Off anytime, full review here) – Depending on where you're going, an interim layer that's not as heavy as a jacket but warmer than a basic tee usually comes in handy. I chose my Cashmere Cocoon Cardigan for this capsule because it goes with everything and has a magic ability to feel just cozy enough, always. Also available in a Cotton version.
TIP: A cardigan is more versatile than a crewneck. Wear it open over a tee, buttoned and on it's own, or over the shoulders as a shawl.
---
3 – 90'S CHEEKY JEANS – At this point in time, I'm not sure I could plan a capsule without including these jeans. They're my absolute favourites. They're 100% cotton so they don't have stretch but if you'd prefer a similar option with a bit of give, I love latest pair of Perfect Vintage Jeans.
4 – MINIMAL WHITE SNEAKERS – (Full review here) – Comfy sneakers are another essential for just about any capsule. I love a simple white pair because they offer comfort with a slightly elevated feel.
MAINTENANCE TIP: Snip half of a magic eraser and bring it with you to give them a refresh as needed while you're away.
---
5 – RELAXED STRIPE TEE – I always include something with stripes or pattern in my capsules because I find they add just the right amount of visual energy for me. This Pink and Ivory striped tee is a recent addition that I've been loving and its a gentler departure from my usual black and white stripes.
TIP: When I'm packing I like to toss in all the striped tees I have so that I can just re-wear one exact outfit a couple of times without having to think too much.
6 – SILK WIDE LEG PANT – (if sold out try these or these) – Another staple in my capsules and packing lists would have to be a silky wide leg pant. In this case I've included my favourite Silk Florence Pants and they're the perfect alternative to jeans that can be dressed up or down. I also think a pair of trousers would work really well instead and I have my eye on this pair.
---
7 – THE IVY BLOUSE – pr product – Spring calls for fun, flirty pieces that feel exciting and special. I love this gingham top (from Canadian brand A Bronze Age) for its easy wearability and special shape. I find that having at least one fun top in the mix (whether it's for a capsule or for travel) really adds some personality and playfulness to my options and offsets the more basic, everyday pieces I typically wear.
8 – GABE BLOCK HEEL CLOGS – pr product – After a winter of black snow boots I'm thrilled to be able to pull out some beautiful spring clogs in a light neutral hue. Clogs are similar in my mind to white sneakers in that they go with just about everything. I love a low block heel for walking and the platform helps make these even more comfortable, while still offering a bit of height.
---
9 – SCOOP NECK FITTED TEE – When you're working with a lean closet it's nice to have a basic piece that feels elevated. This scoop neck tee with 1/3 length sleeves is such a work horse in the spring. I love how elegant it is, while still being extremely comfortable and easy to layer and style. It's always on my list when I'm packing.
10 – BLACK LOUNGE SET – Okay, so yes, technically this item is two pieces, but we'll just have to get over that. I've wanted to find a set like this lightweight black one for ages and it has quickly become a favourite. A black set is perfect for travel days when you want to look put together but stay super comfy.
---

---
ET VOILA! There you have my quick, casual, spring 10×10 capsule!
Be sure to tune into The Style Journal over the next 10 days to see all 10 outfits I put together.