Towards the end of last summer I decided that in 2022 I was going to lean into summer style without any hesitations. To keep myself on track I made a few *light* resolutions to help steer my plans. With the season returning, I thought I'd share them in case one or two resonates with you as well.
Essentially, this exercise is just a way to take small steps towards living as my most authentic self, which of course is easier said than done!
Read on to see what those steps are in relation to my style and catch a look at two beautiful summer dresses I'll be wearing along the way.
---
This post is not produced in partnership with any brands mentioned but does contain affiliate links and gifted product. If you see something you like and decide to shop through the links included, I may earn commission on a sale at no additional cost to you. All opinions are always my own and I only share items I love and think you might too. Thanks for supporting Style Bee!
---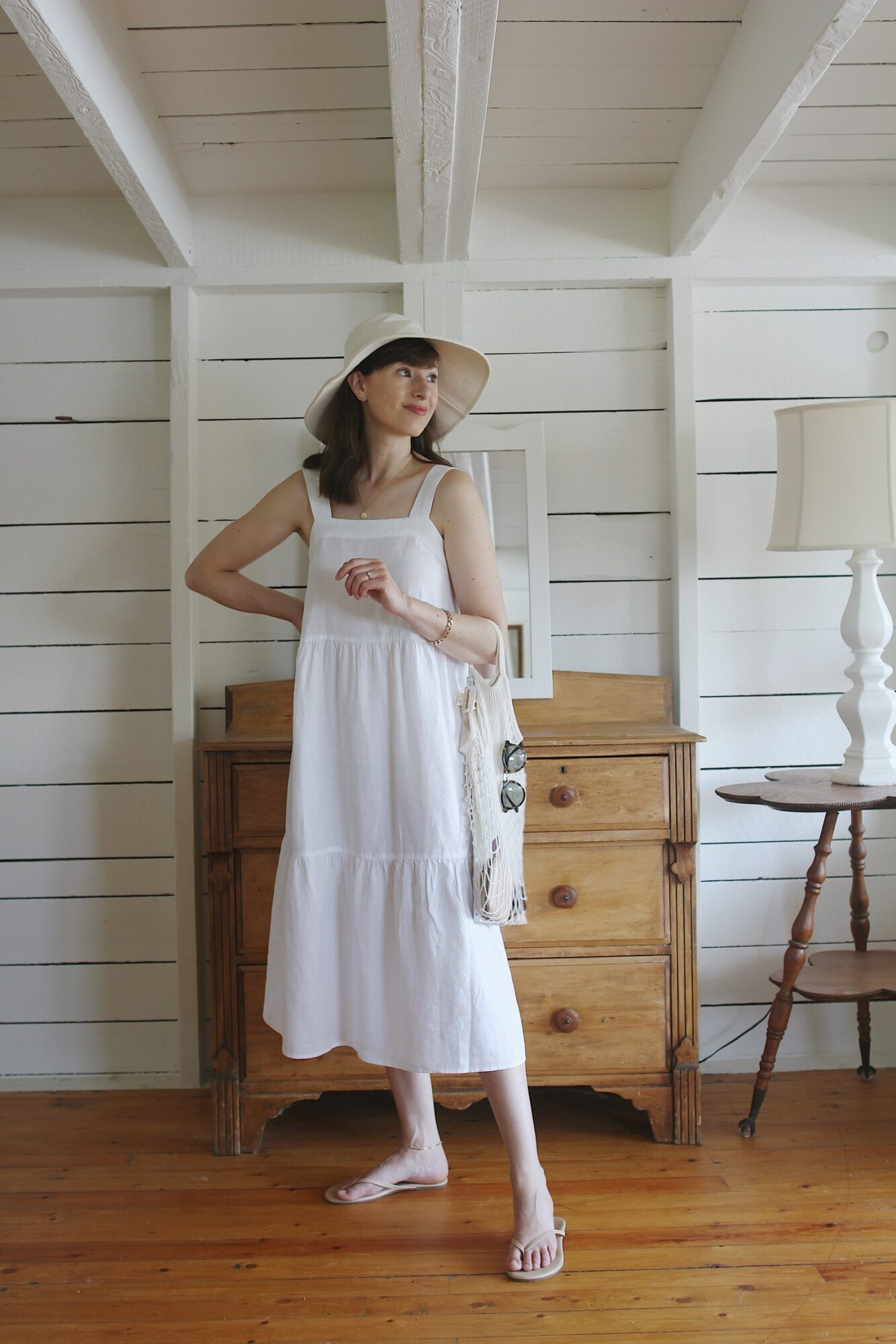 ---
ORGANIC LINEN TIERED DRESS gifted EILEEN FISHER Runs Big (I sized down a size from my usual EF dress size.) // MARKET BAG old similar linked // CANVAS HAT gifted JENNI KAYNE (LEE15 for 15% Off) // NUDE FLIP FLOPS TKEES True to size. // BLUE MOON NECKLACE & CIGAR RING by ATTIC GOLD // CHAIN BRACELET vintage similar linked

---
SUMMER STYLE RESOLUTION #1
WEAR THE DRESS
I know I'm not alone in my tendency to save my favourite dresses for special occasions. Maybe it's the hassle of dry cleaning or the fact that no one will see it, or perhaps more likely, that someone will and could comment on our state of overdress. But all that aside, after the last couple of years, we've seen how unexpected and short life can be, and I just want to WEAR THE DRESS*. Whether or not another soul will see me in it, and even more so what they'll think, is irrelevant. If I feel joy while wearing a cute frock to putz around the house, pick up dog food, or send some emails, that's what counts.
*If dresses aren't your thing, insert whatever the item is that you want to wear more freely. Maybe it's "the shorts", "the swimsuit", "the crop top"," the matching set". Wear it now or forever hold your peace!
---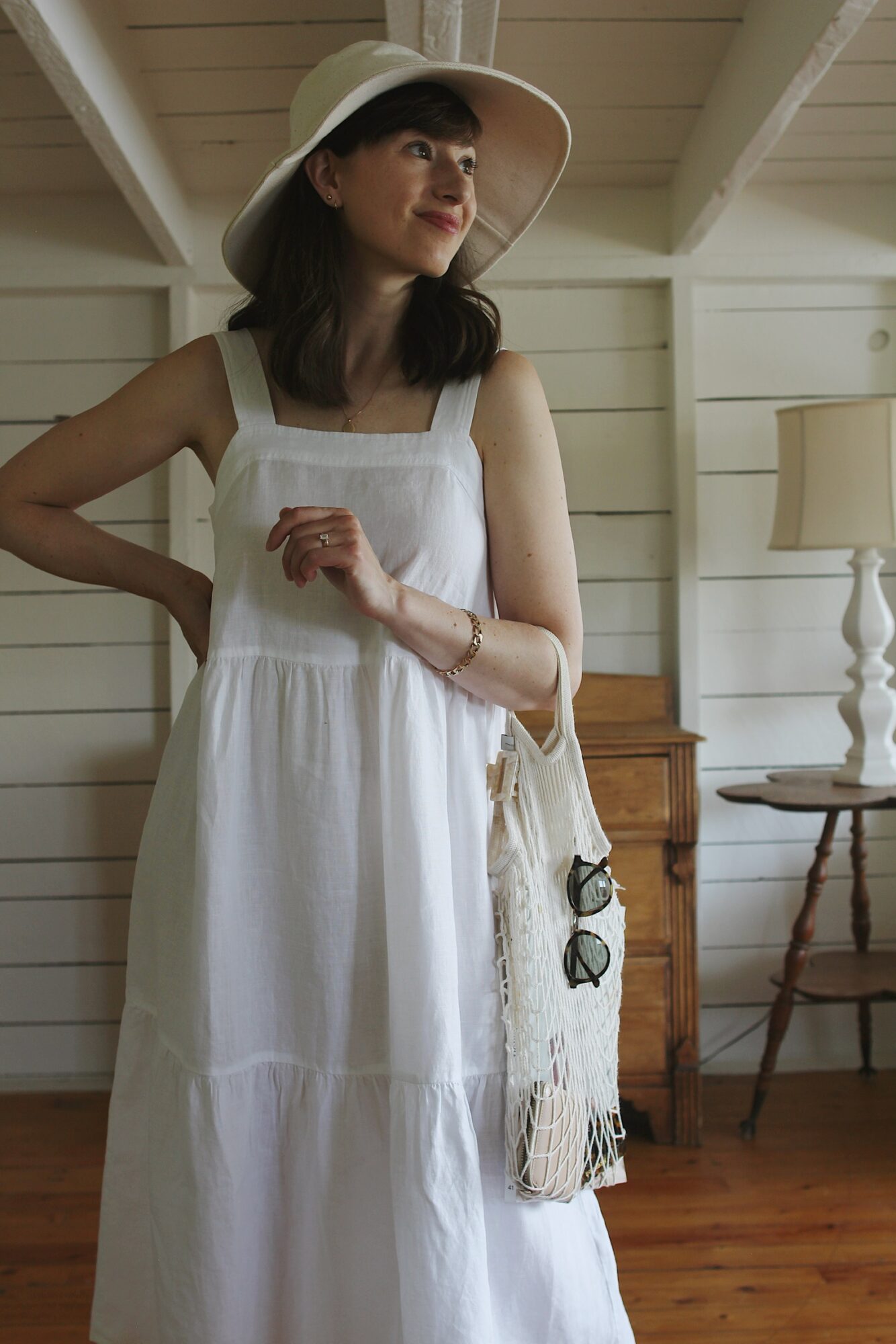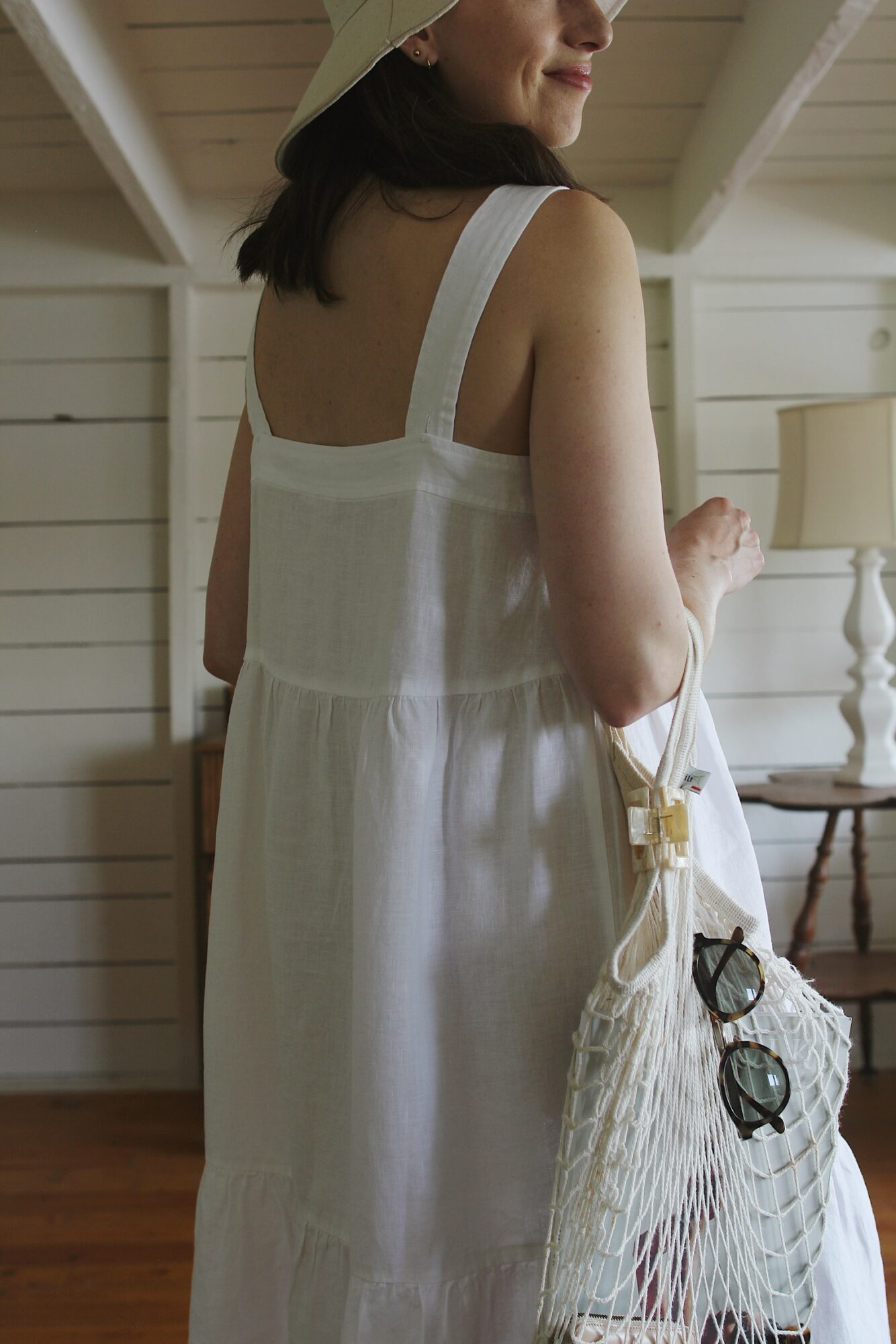 ---
SUMMER STYLE RESOLUTION #2
ABANDON THE BRA
I recently tried out this invention to relinquish myself from the discomfort of strapless bras and open up the possibilities of wearing tops and dresses that have historically tricky bra compatibility. Looking at you high necks and open backs.
To say my life is forever changed is an understatement. I'm a total convert. Now I wear them under fitted tees and tanks and just about anything I can't be bothered to wear my usual bras with. No more straps, bands or bullsh*t to deal with! The comfort is unparalleled and you get all the freedom with juuust a touch of coverage.
I realize these may not be an option or a preference for everyone but if you've considered trying them, definitely do!
---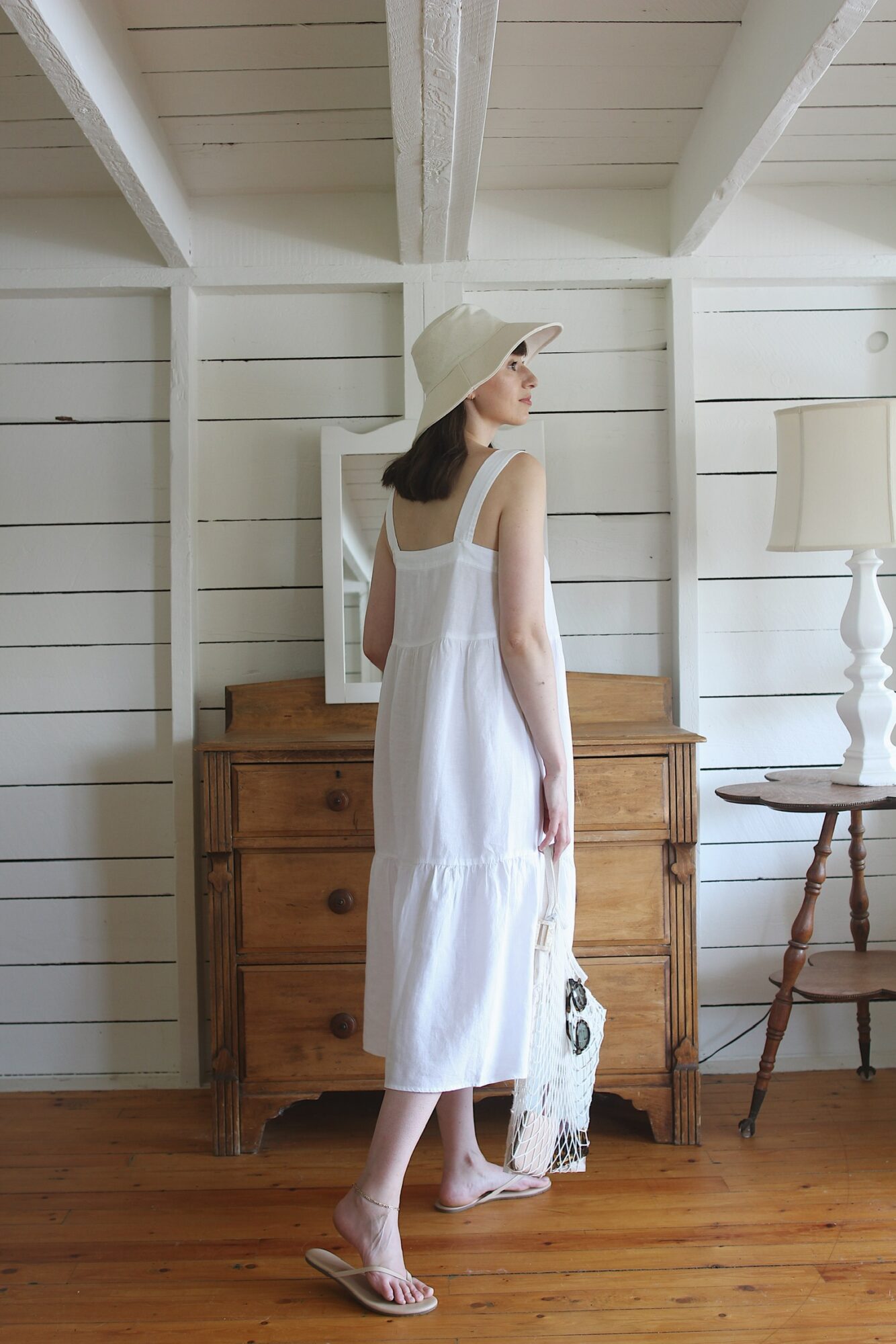 ---
SUMMER STYLE RESOLUTION #3
SOLID GOLD EVERY DAY
One of my global resolutions for the year was to stick to only gold jewelry. This came about through skin sensitivities and simply being at a point where I'm done buying jewelry I can't wear forever. So that means I'm working with a very small collection of solid gold pieces that I'll be wearing every day. I've already found that it makes styling outfits that much simpler because I no longer have to consider what earrings or necklace or rings to wear because the answer is always the same.
I love all my pieces by ATTIC (women owned, recycled gold, made in Toronto) & wear these Mini Hoops by MEJURI every day.
---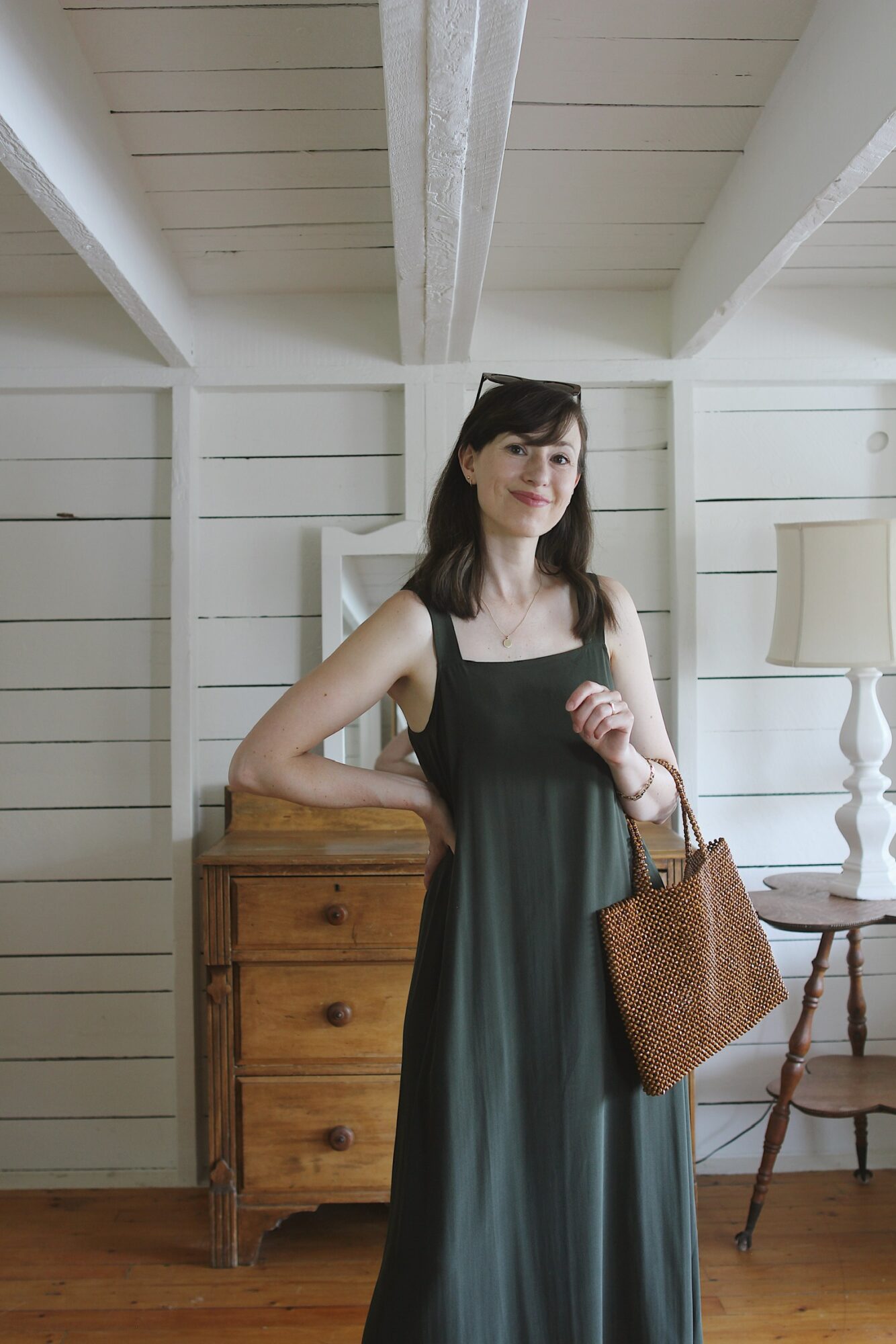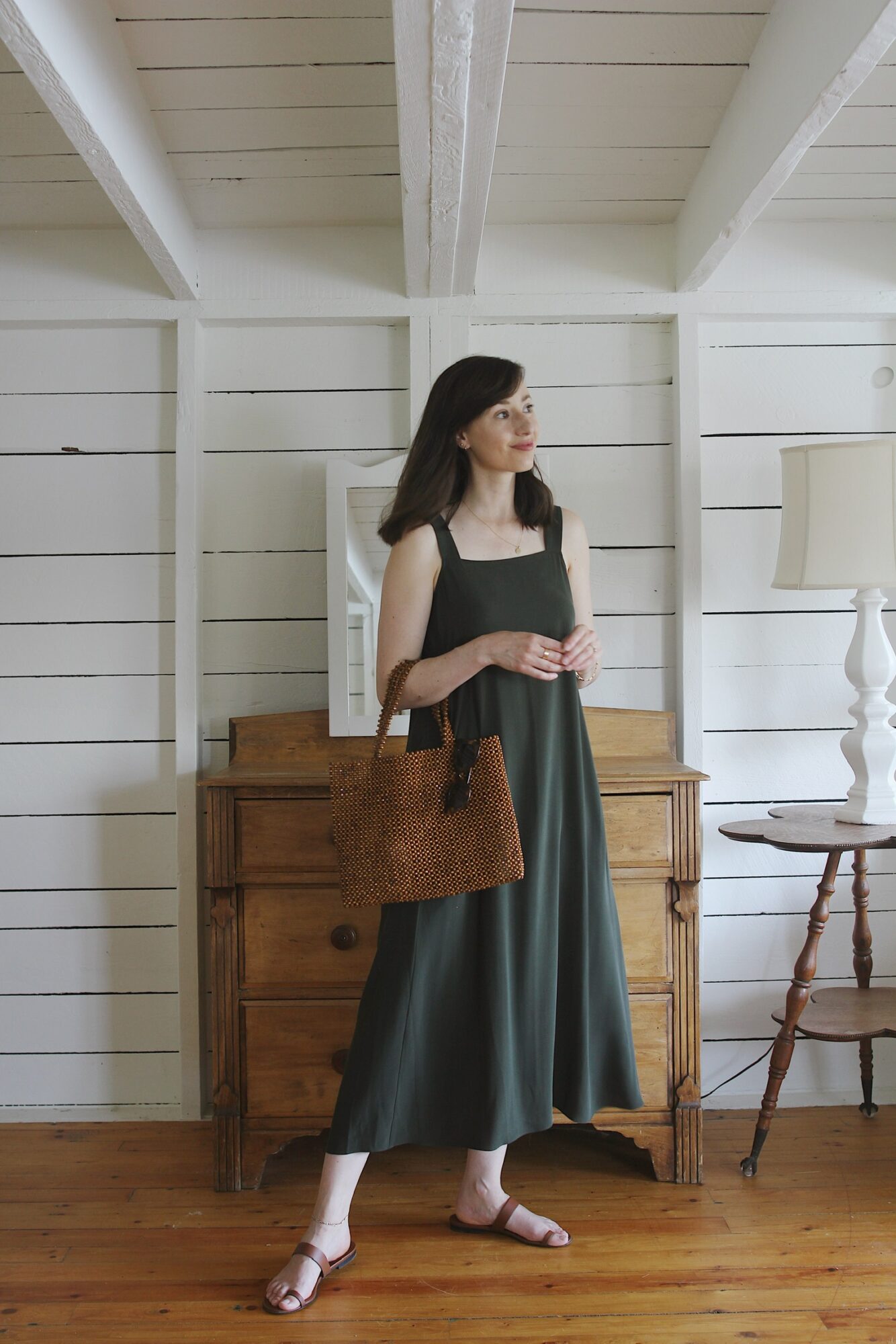 ---
SILK GEORGETTE CREPE SQUARE NECK DRESS gifted EILEEN FISHER True to size for EF. // BEADED BAG old similar linked // TORTOISE SUNGLASSES CELINE // MINIMAL BROWN SANDALS linked to black, similar for less here. // BLUE MOON NECKLACE & CIGAR RING by ATTIC GOLD // CHAIN BRACELET vintage similar linked

---
SUMMER STYLE RESOLUTION #4
FORGET THE FUSS
I'm looking at you make-up bag and hair tools. Not only are impromptu lake dives a daily possibility but I'm mostly just not interested in the pretence right now. When the mood strikes, sure, I'll give my beauty routine a go but I'll be giving my brushes, concealers and curling iron the season off for the most part.
I've even cut my skincare routine WAY down since my city life days. No more 10-step nonsense, just a gentle cleanse, a bit of moisture and some SPF.
---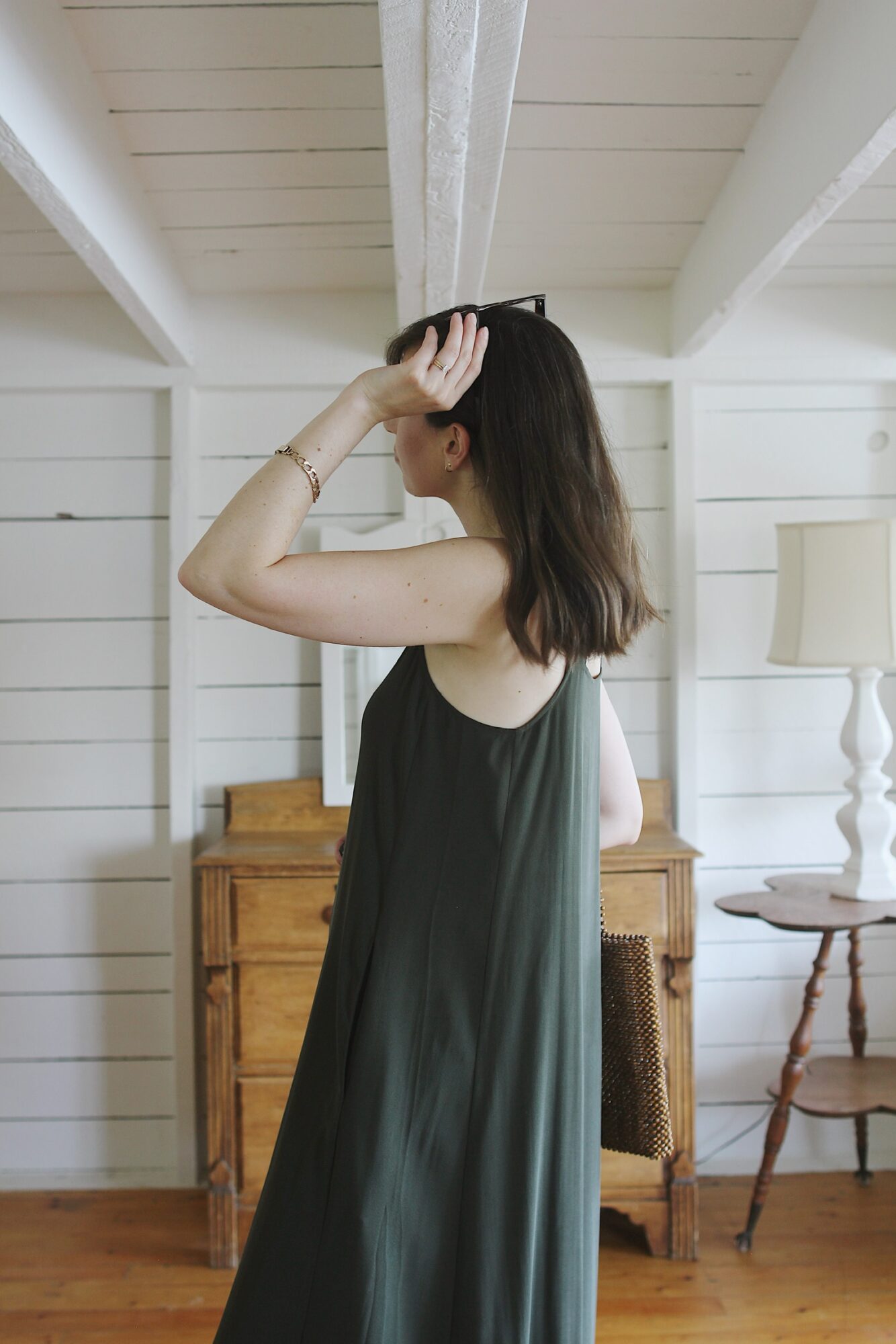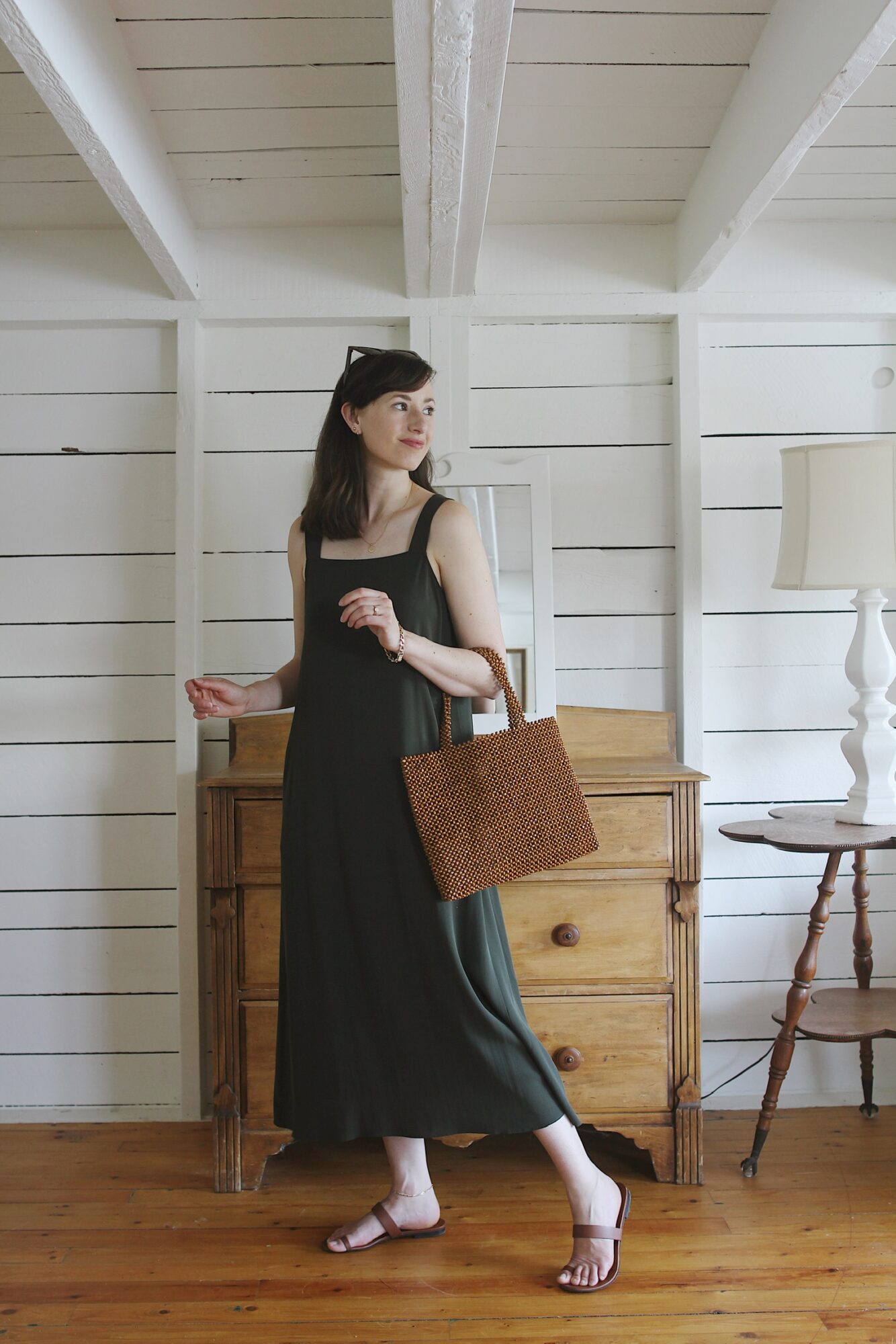 ---
SUMMER STYLE RESOLUTION #5
APPRECIATE THE VESSEL
In my teens and early 20s I had body acne that plagued my upper back and shoulders. The thought of someone witnessing such imperfections terrified me, which in turn, made summer dressing rather agonizing. Fast forward to my 35 year old self, still tormented by the occasional face and body break out, but ever so slightly the wiser. I can now acknowledge that these bumps and blemishes are just a sign that my skin is doing its job and that is indeed a privilege.
I'm not saying I intend to love every inch of myself everyday, but I do want to practice giving credit where credit is due. We get one vessel in this life and the least I can do is appreciate its inherent worth by not hiding it away or admonishing it for looking different than the manufactured ideals we've been sold.
So I will wear the slip dress, embrace the greys, and do my best to accept the fine lines, because they're part of my whole, authentic self and that is a wonderful thing.
---
---
Thanks for tuning in!
If you've got any summer style resolutions I'd love to hear them! Please share away in the comments.