One of the ways I've been simplifying my style this year is by curating a minimal jewelry capsule comprised of fine gold pieces. This came about two different ways. One being skin sensitivities, the other being a desire to further streamline my collection.
Long story short, it's been great and I absolutely love how easy it has made styling, packing, and just my general daily dressing.
Since sharing this idea I've had lots of folks interested in doing the same, with a few questions about my approach. I thought now would be a good time to share those answers and offer a closer look at my current capsule. Read on to see the pieces I've included, how I wear them on a daily basis, and answers to the most asked questions.
Perhaps this will inspire you to streamline your jewelry collection and add to it with intention going forward. Oh and don't mind my frizzy hair. It was ridiculously humid when I shot these and there's no a/c at the lake!
---
This post is not produced in partnership with any brands mentioned but does contain affiliate links. If you see something you like and decide to shop through the links included, I may earn commission on a sale at no additional cost to you. All opinions are always my own and I only share items I love and think you might too. Thanks for supporting Style Bee!
---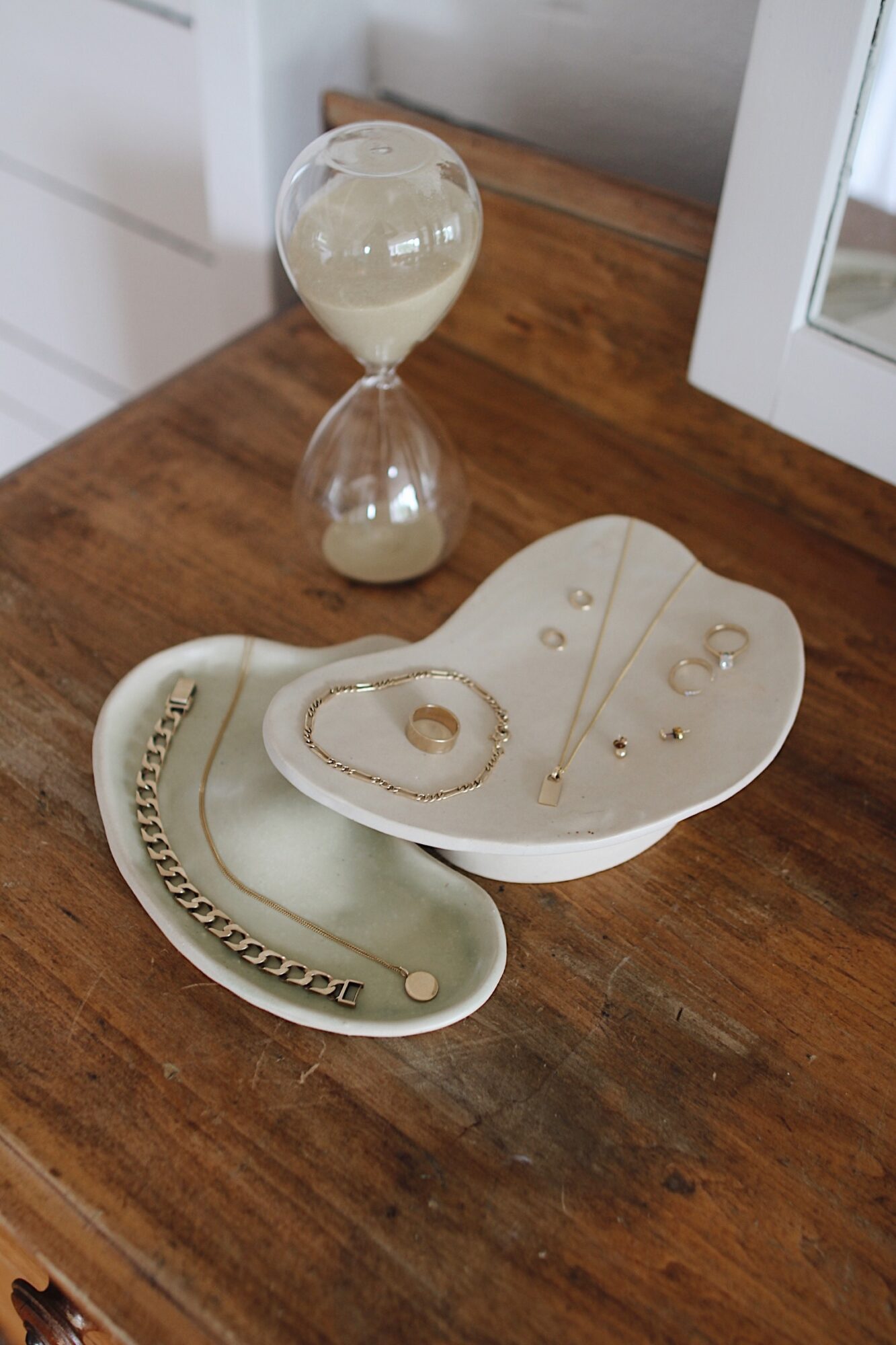 Hourglass vintage | Ceramic jewelry dishes Common Goods for Cadette | All jewelry linked below.
---
THE PIECES IN
MY MINIMAL JEWELRY CAPSULE
---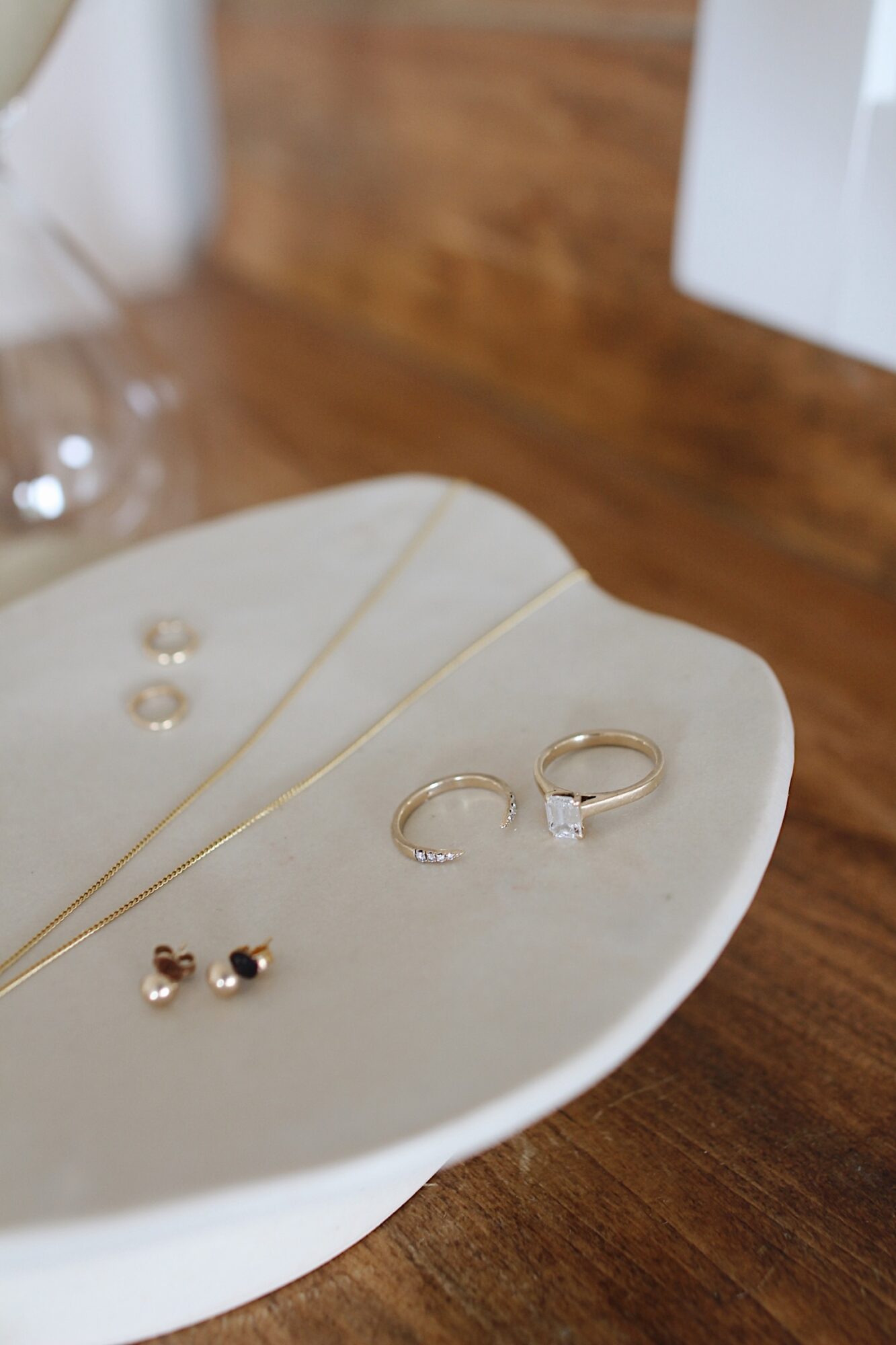 ---
MY ENGAGEMENT RING (custom) & WEDDING BAND
Both by ATTIC GOLD
I absolutely adore my engagement ring and wedding band. Dave worked with Susan and Melissa of ATTIC (a Toronto-based jewelry designer), with a few hints from me, to create a minimal, timeless emerald cut diamond engagement ring. I chose the Diamond Torc Ring as my wedding band because I love how the two pieces fit together. I cannot recommend ATTIC enough and you'll see their work has a big presence in my capsule. You might remember when I collaborated with them on this post a few years ago too.
---
CURB CHAIN BRACELET
Vintage | Similar options here and here.
This piece belonged to my grandmother Sylvia and is one of my most treasured possessions. I love the weight of it and how the gold warms up on my wrist. It reminds me of how she'd put her hand on my arm as we sat together.
I wear it on my left wrist and have been keeping an eye out for the perfect vintage gold watch face as I think it would be a beautiful bracelet on a dainty timepiece.
TIP: There are lots of vintage fine jewelry sellers to discover. One I recently found and love is Old Mine but give ETSY a perusal and Vestiaire Collective for luxury brands too.
---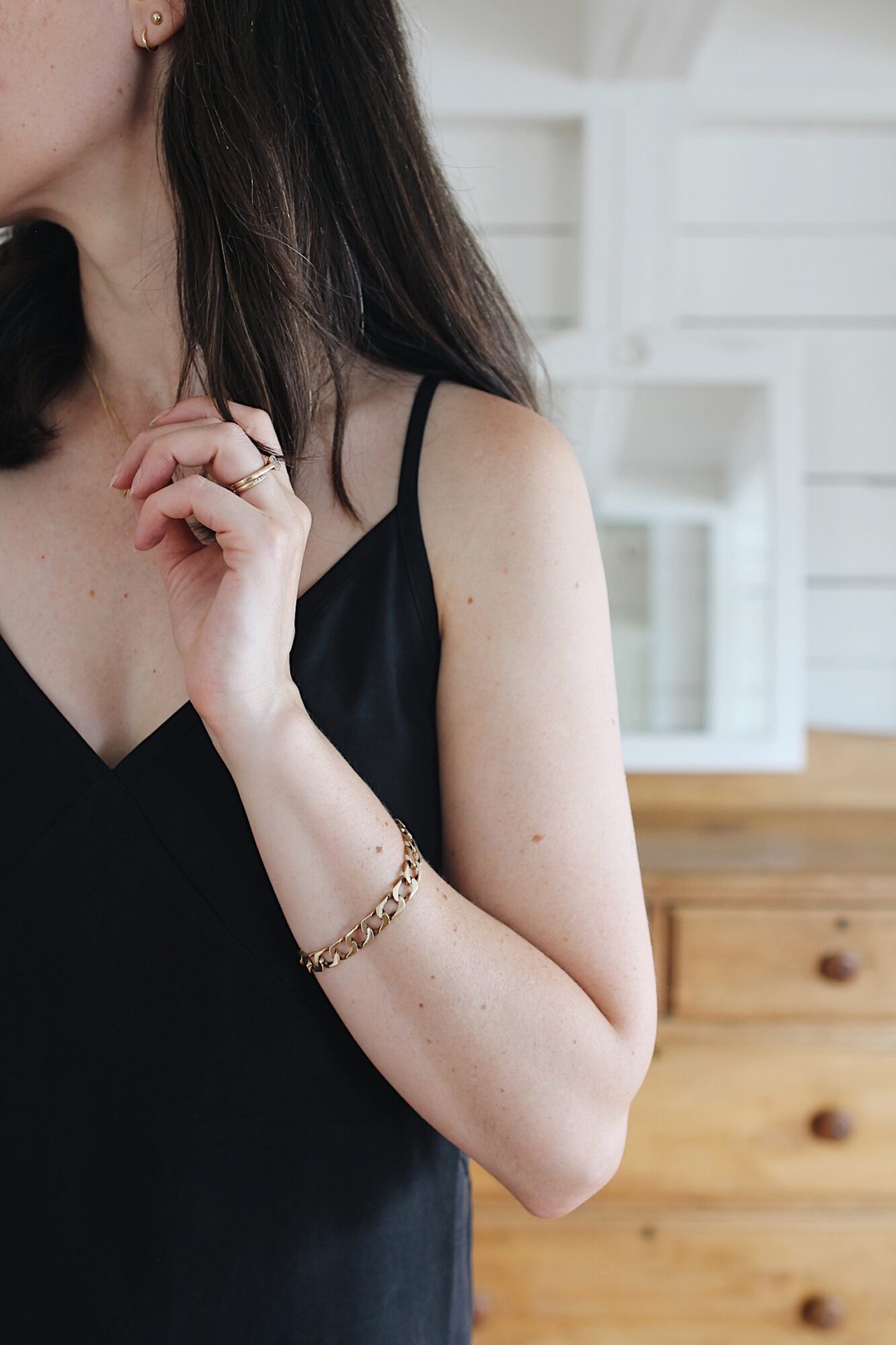 ---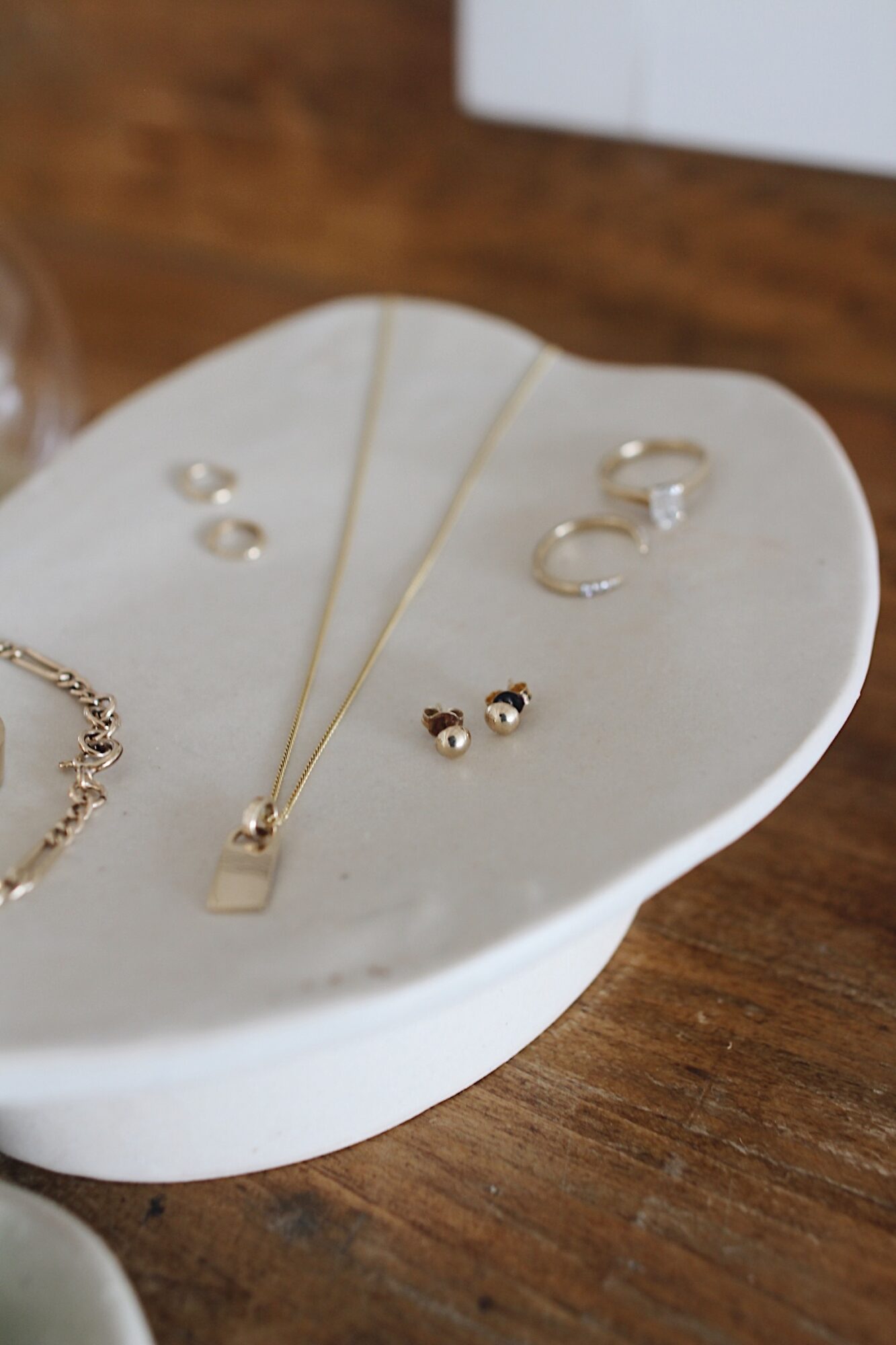 ---
DOME STUD EARRINGS
An old style by ATTIC | Similar option available here and here for a classic ball stud.
These simple dome studs were the first solid gold purchase I made for myself several years ago. I love that they're truly timeless and wear them in my second ear piercing, which is very sensitive to anything that's not high quality gold.
TIP: If you're just starting out building a jewelry capsule, this is still where I'd begin building from.
---
MEJURI | Sold individually.
I bought these this year and I've been really happy with them so far. I wear these in my first ear piercing and leave them in all the time without irritation. I had my ears pierced fairly young so the holes have expanded and I wanted a hoop that wouldn't weigh down my ear lobes. These are incredibly light. I also really like the easy clasp, which is hard to find on a small hoop.
---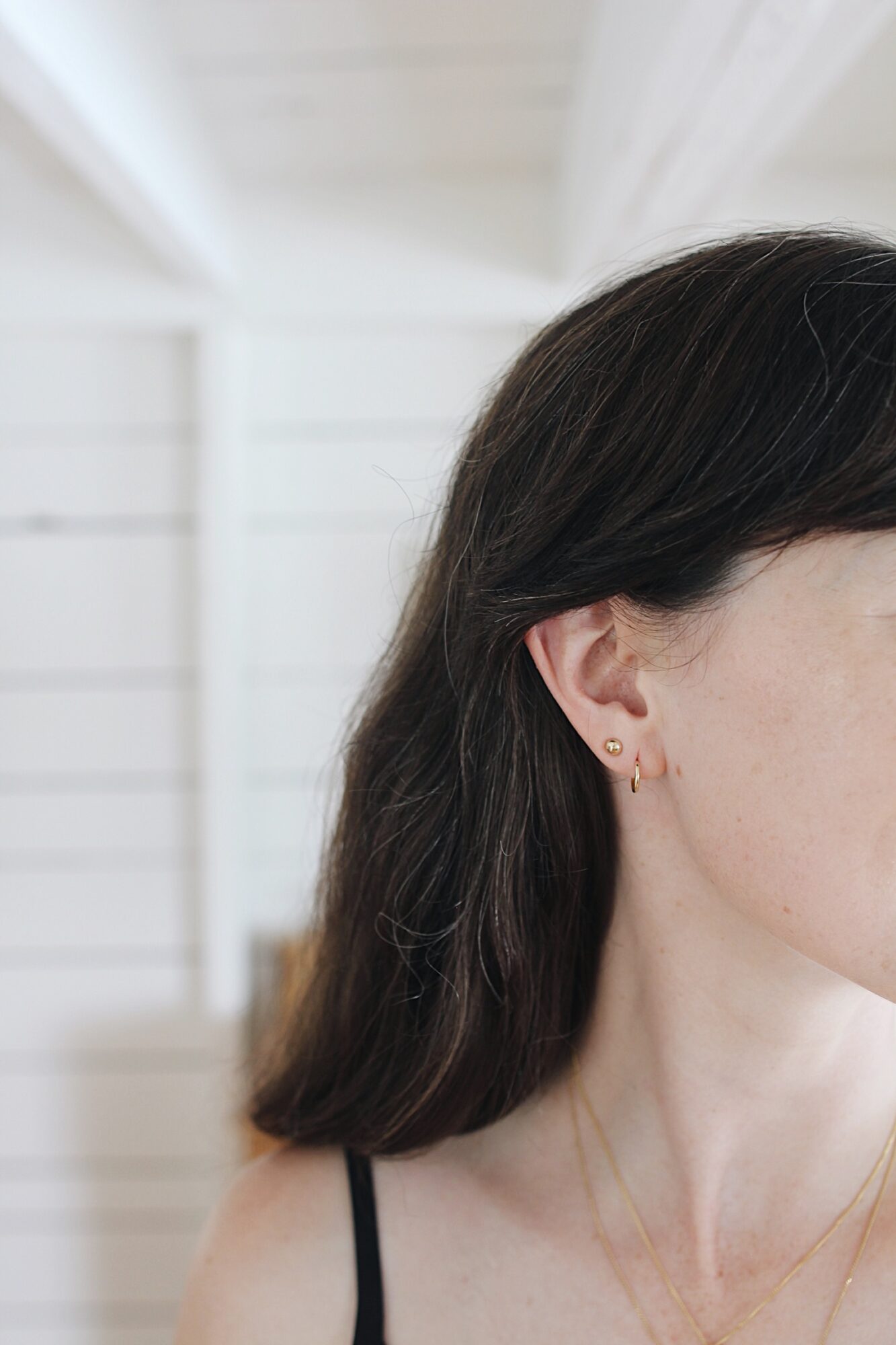 ---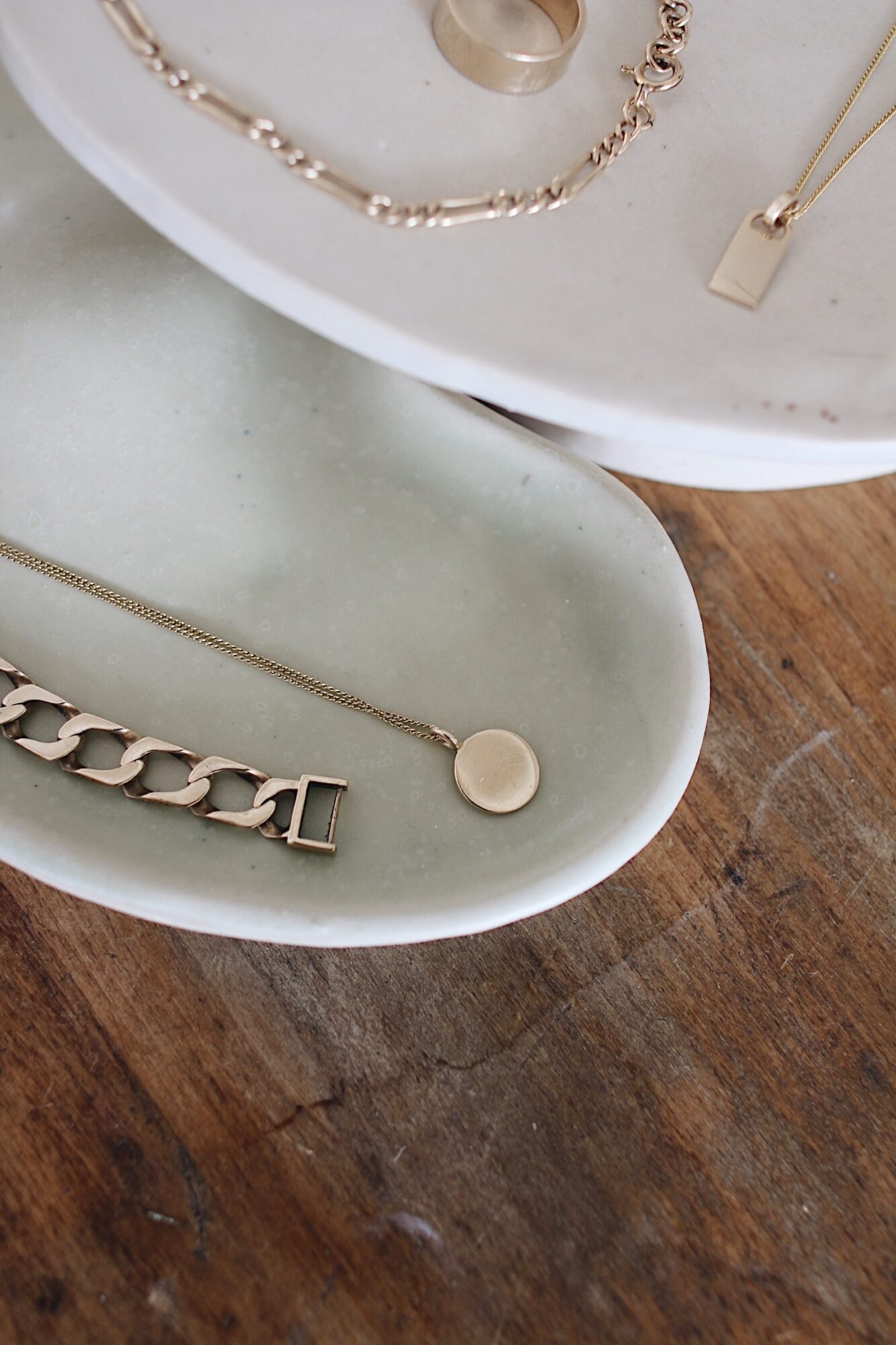 ---
ATTIC GOLD | Worn on an 18″ curb chain.
This necklace was on my wish list for years and I managed to send Dave enough hints for it to finally make it under the tree last Christmas. I've worn it every day since and it goes beautifully with almost every type of neckline I've tried.
---
ATTIC GOLD gifted | Worn on an 16″ curb chain.
This is the newest piece in my collection and I'm obsessed with all the beautiful little charms that ATTIC offers. I chose the Luggage Tag with the plan to pair it with the Blue Moon Pendant for a really streamlined take on a layered coin necklace. I love how it looks on it's own as well and the 16″ chain is the perfect length for v-necklines.
TIP: If you're planning to layer two necklaces, consider choosing chains that differ in length by 2″ so they create a nested effect.
---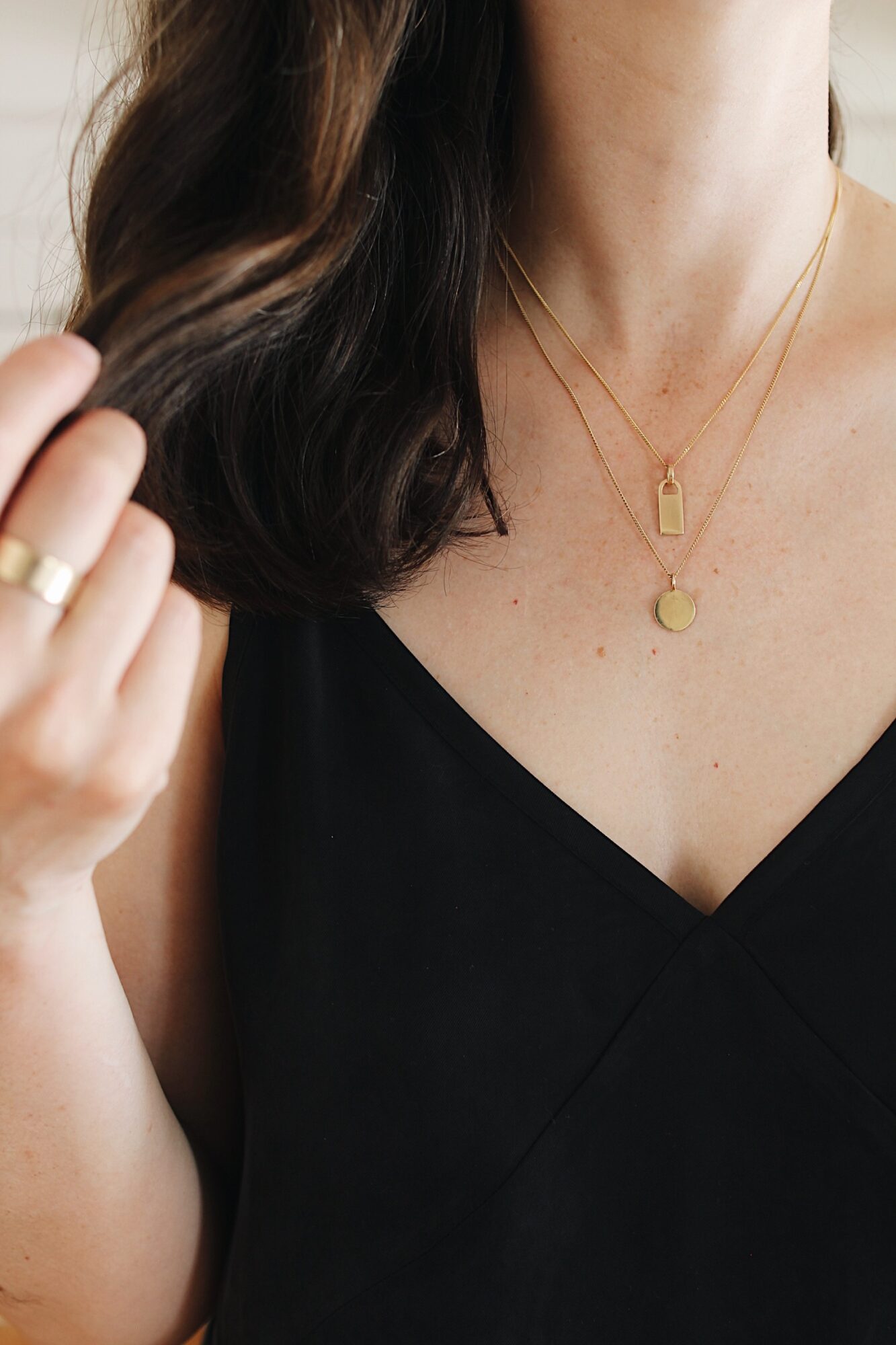 ---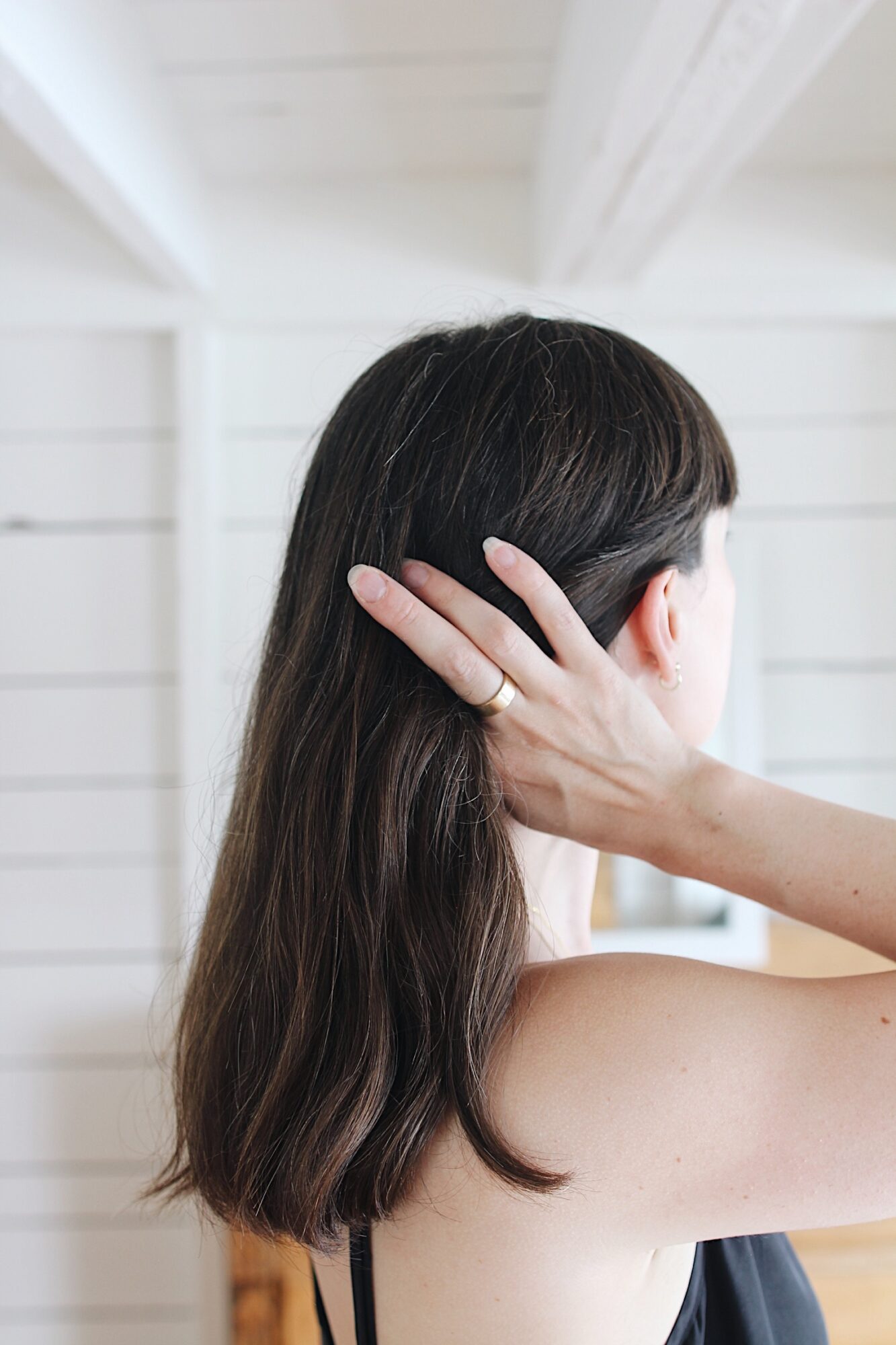 ---
ATTIC GOLD | This piece is worth every penny but I've found a similar option for less available here.
I've had this cigar band in my collection for a couple of years now and it's my power piece. So simple but so striking and elegant. I wear it on my middle finger of my right hand and love how it looks.
TIP: For wider bands in a thick gold or silver you may want to size up half a size. ATTIC will send you a complimentary ring sizer if you're unsure.
---
FIGARO CHAIN ANKLET
An old style by WOLF CIRCUS | Similar option here.
I've been wearing a slender gold anklet for many years now and I love the tiny touch of polish it adds to my summer style. The one I have is gold plated so once it starts to look beat up or breaks in some way, I plan to replace it with a solid gold version.
TIP: If you're considering an anklet, opt for something with a bit of adjustability. You'll appreciate being able to open it up a touch in humid weather or depending on the shoes you're wearing.
---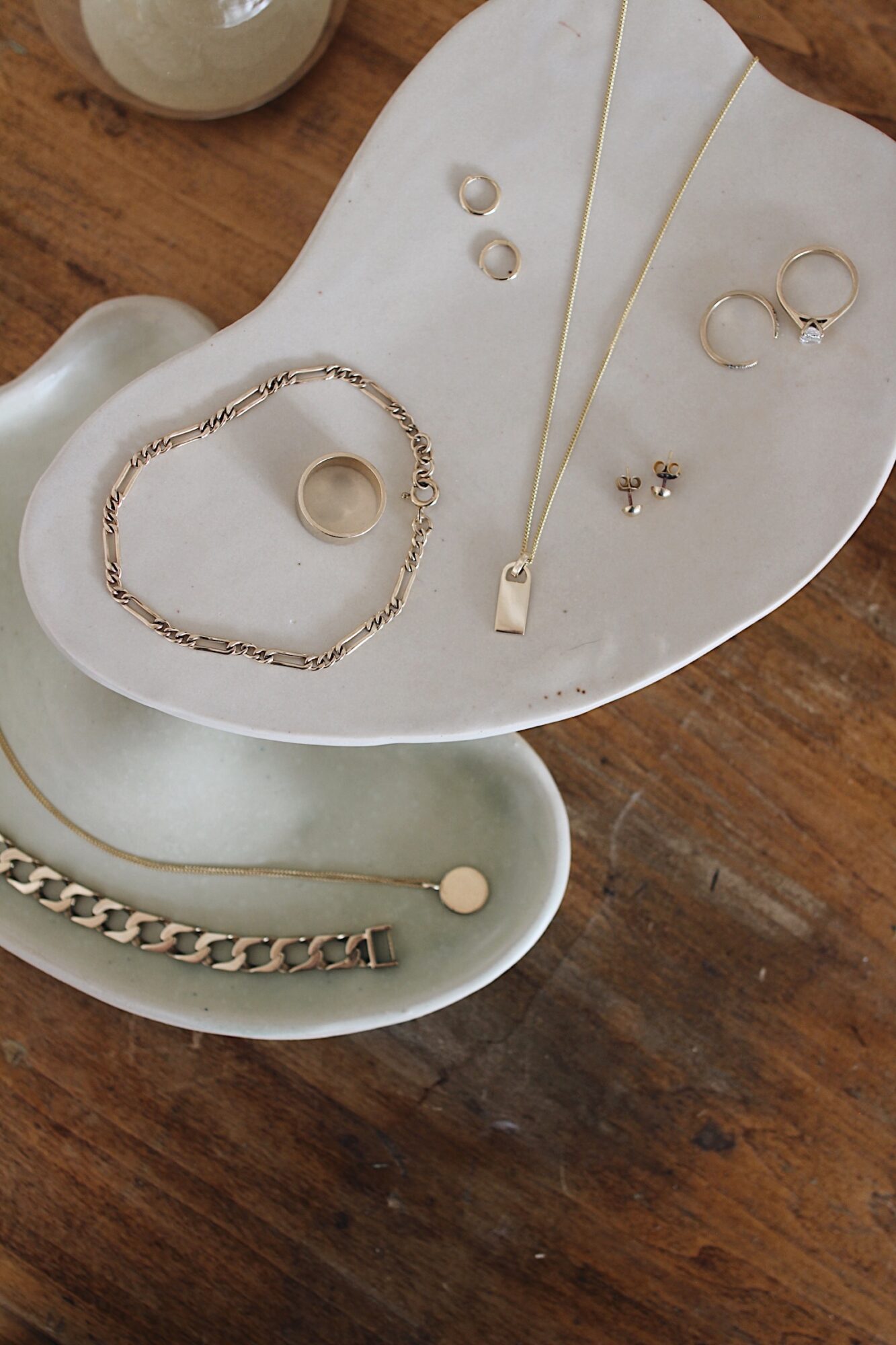 ---
JEWELRY CAPSULE FAQS
These are a few of the questions I've been getting asked most about this concept.
WHY YELLOW GOLD OVER SILVER OR ROSE? I think it mostly comes down to a personal choice and the metal tones you're drawn to. I've worn silver in the past but always found myself drawn more to gold. I have a mix of cool and warm undertones in my skin, but with hazel eyes and dark hair I generally find that gold suits me better than silver. Rose gold brings out the pink undertones in my skin, which I'm not a big fan of.
WHAT ABOUT MIXING METALS? I think it can definitely be done, especially if you're mixing pieces of the same style. I personally prefer the look of all the same tone on myself and love the ease of not having to think about it. I also try to stick to gold hardware on bags and other accessories so that everything feels cohesive, but that's probably a little extreme.
On the other hand I tend to think that wedding rings/bands can be excluded from the mix. For instance, if you have a wedding band and engagement ring in a metal that differs from one you'd like to wear, don't worry about it. If it bugs you, you can always consider replacing the setting.
TO ENGRAVE OR NOT TO ENGRAVE? I thought a lot about engraving my new luggage tag pendant and my blue moon pendant but decided to leave them blank for now. If you're on the fence about it you can always have it done later and wait to see how it feels after wearing it for a while. However, if there is an initial or special character you really want I think it's a great opportunity to personalize a piece.
WHAT IF YOU CAN'T AFFORD FINE JEWELRY RIGHT NOW? Fine jewelry is an investment for sure and I've been creating this capsule for years now. My advice is to buy the best quality your budget allows for (gold filled is better than gold plated, but still much less expensive than 14K solid gold) in the style you think you'll want to wear long-term. Then when you're ready to upgrade you'll know that the piece you invest in will be perfect for you. Ignore the trends you see and just focus on what you truly want to wear.
DO YOU WEAR THEM ALL 24/7? Some yes, some no. My earrings I rarely take off, although I do try to take them out every couple of weeks to keep everything free of any irritation. My anklet I wear all the time right now. Rings and necklaces I take off at night and try not to get them too gunked-up with sunscreen.
DO YOU GET BORED WITH THE CAPSULE? In the past I might have but at this point I've found myself wearing the same pieces over and over and over. This helped me feel as though it was time to streamline and let go of costume pieces I didn't reach for or couldn't wear for very long because of skin sensitivities. I have a couple of pieces with colourful stones in them that I wear around the holidays and I still have a few pieces that I've kept for when I want to switch it up like on a special night out or on holiday.
HOW DO YOU CARE FOR YOUR JEWELRY? I clean my gold jewelry by soaking the pieces in warm water with a few drops of mild dish soap. Then I rinse with a warm water soak and dry with a very soft cloth. Attic has some great care tips too https://atticgold.com/pages/care.
HOW DO YOU STORE YOUR CAPSULE? I'm a visual person so having everything on display helps to encourage me to wear the pieces more. I keep them essentially as shown in the photos, although usually in more of a heap. When I pack them for travel I put them into the lovely boxes I have from past ATTIC orders. They're boxes that open like little drawers.
Have another question about this? Feel free to share them in the comments.
---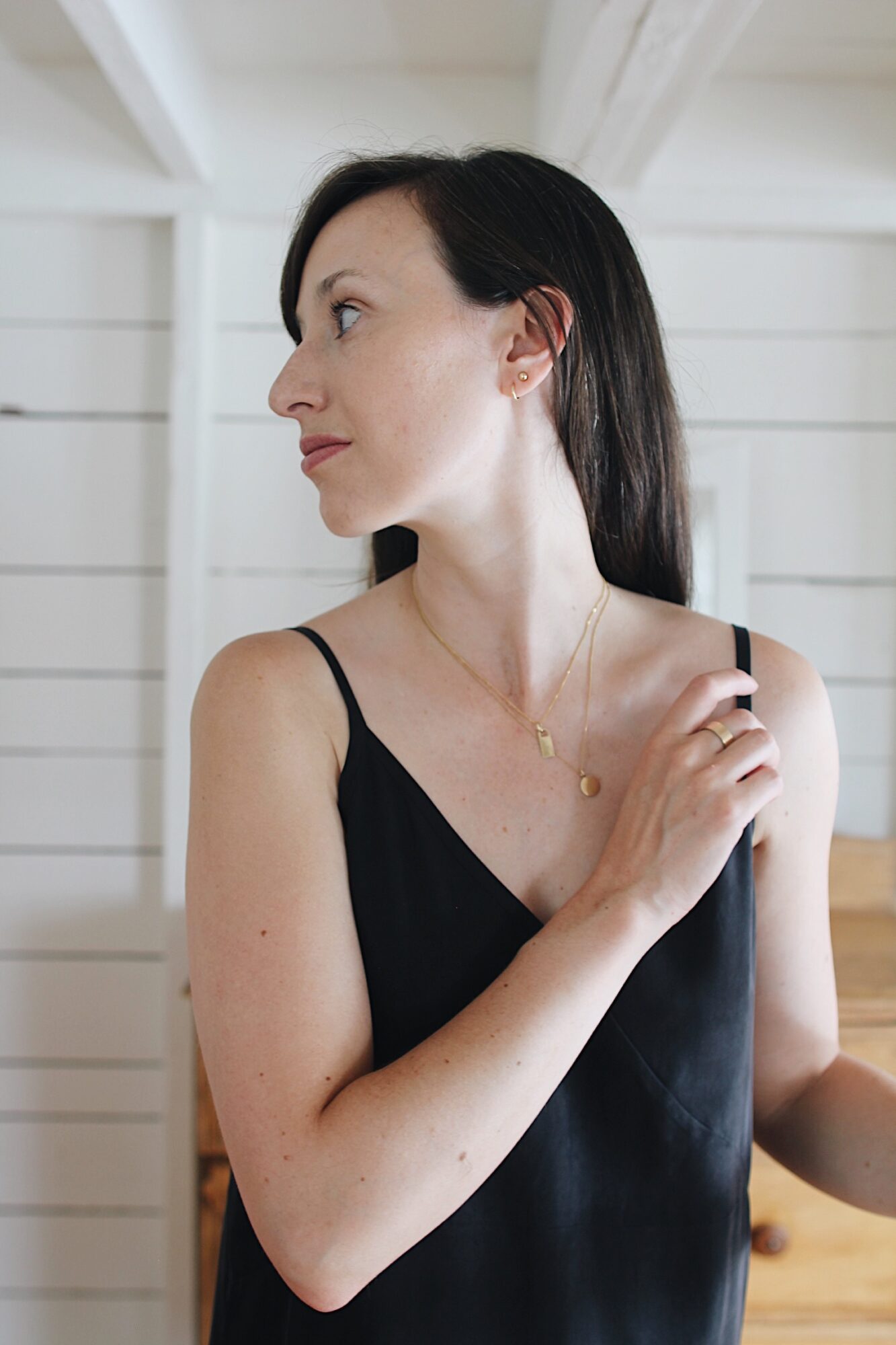 Dress shown throughout is the Rio Slip Dress by Jenni Kayne gifted – Use LEE15 for 15% OFF – Fit is TTS
---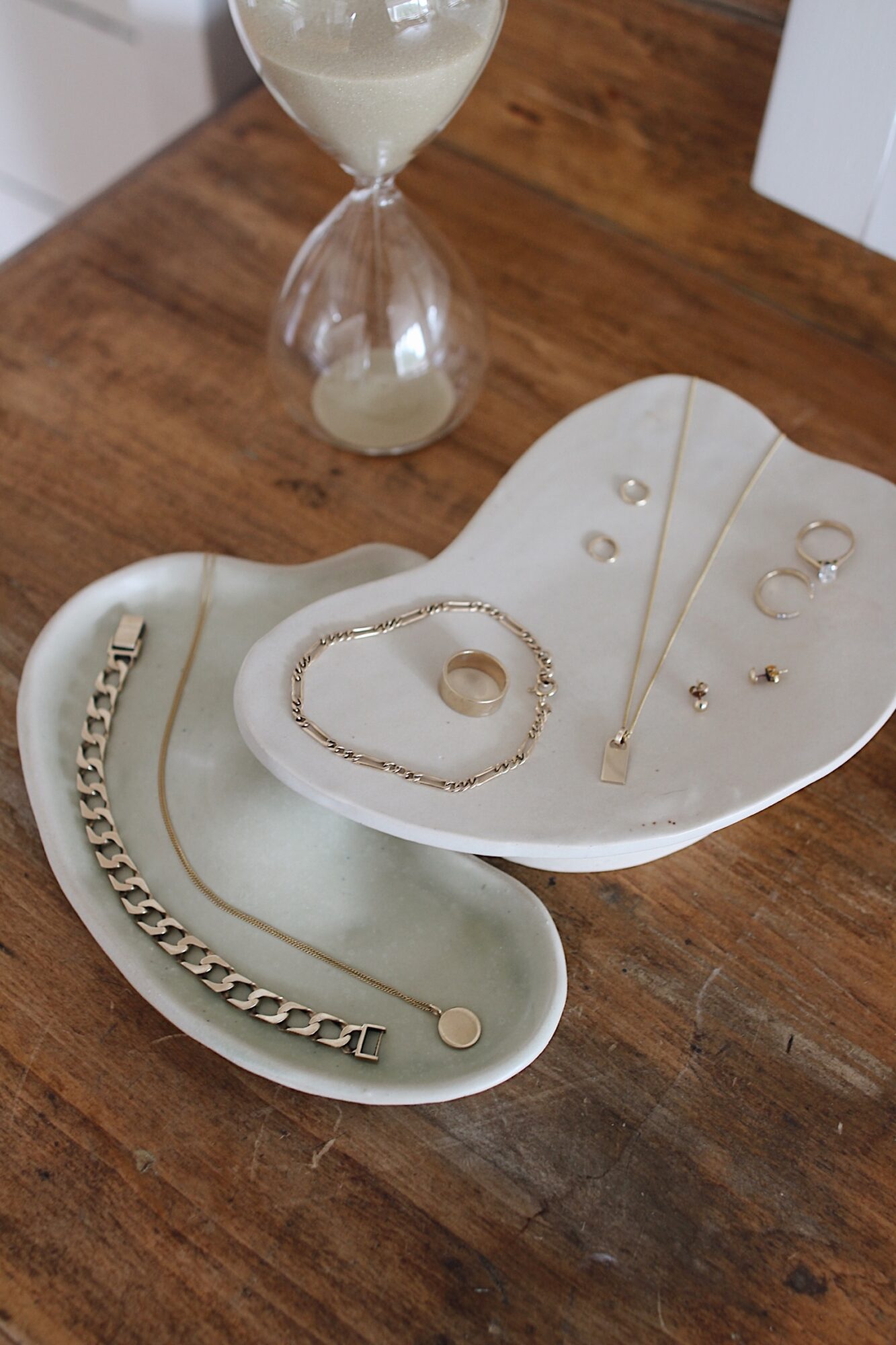 ---
Thanks for reading about my little jewelry capsule!
I hope this was helpful and maybe inspired you to streamline your own collection.