Happy Friday everyone! I hope you've had a nice short week and you're up for something a little fun and fancy on the blog today. As you may have gathered, I'm a gold jewellery kinda gal. This was a conscious choice I made a few years while in the process of refining my style. I decided to pick a precious metal lane and stick to it, so gold it was! I simply find that gold works best with my skin tone and the warm, earthy colours I love to wear and since making that choice I've never looked back. While I still wear a few gold-plated statement pieces, I have been streamlining my collection and thinking long-term about investing in timeless, minimal, solid gold pieces that I can wear every day for decades to come.
Cue today's featured brand, ATTIC, a Toronto-based, women co-founded line of stunningly understated gold jewellery. I've had the pleasure of getting to know Melissa Gobeil and Susan Shaw over the last couple of years and have had a chance to visit their gorgeous studio in downtown Toronto. They are some of the loveliest and most talented designers I've had the pleasure of working with and I'm so excited to share a bit more of their story and work today!
ATTIC has kindly let me borrow a selection of my favourite pieces from their gorgeous New Classics Collection to play around with and shoot. Trust me when I say it's going to be very hard to give these all back! They're also spreading the love with you by giving Style Bee readers a discount to help make the investment in fine jewellery a little easier on the budget.
In today's post I'll be sharing:
A brief introduction to ATTIC and how their work is part of my daily life.
How I've styled 10 pieces from the New Classics Collection.
An insightful Q&A with the designers themselves + gold care tips!
Now let's dive into all things gold!
---
ATTIC is kindly offering Style Bee readers 10% Off all orders from the New Classics Collection! Use 'STYLEBEE10' at checkout.
This is a great time to invest in a special piece! Offer valid through October 5th so you've got lots of time to decide.
---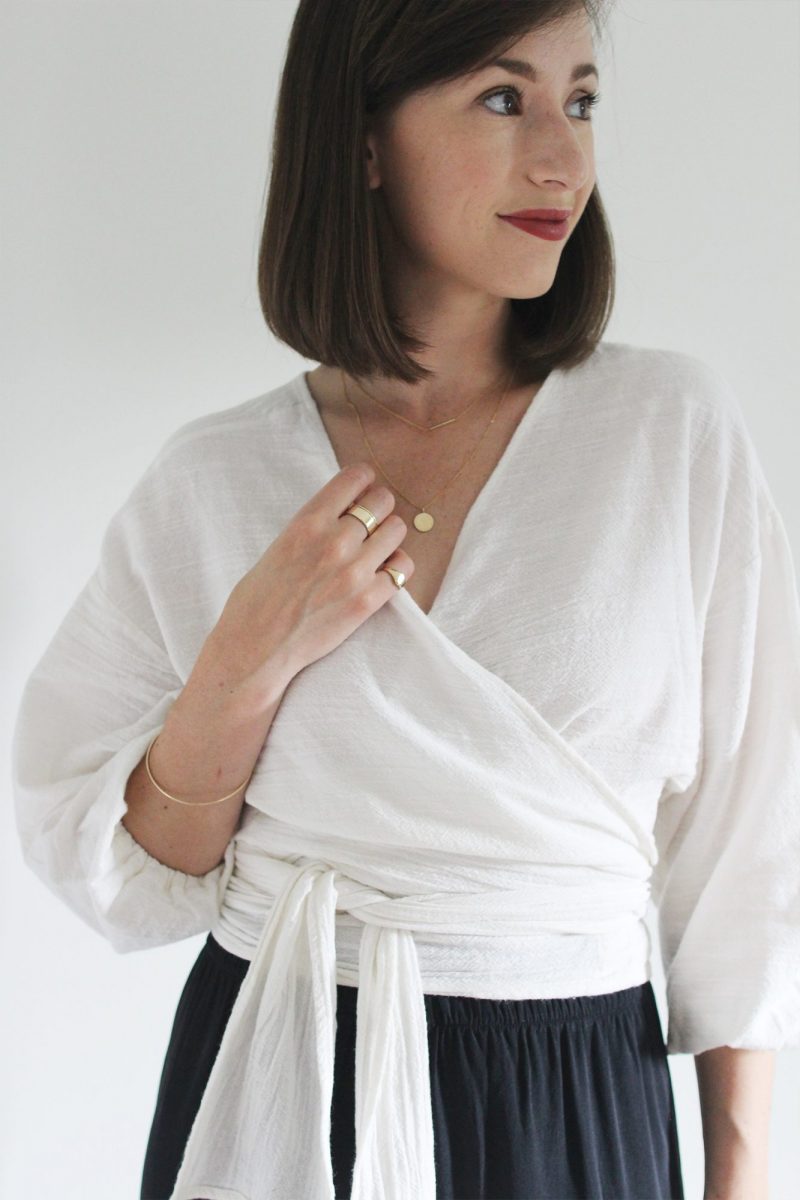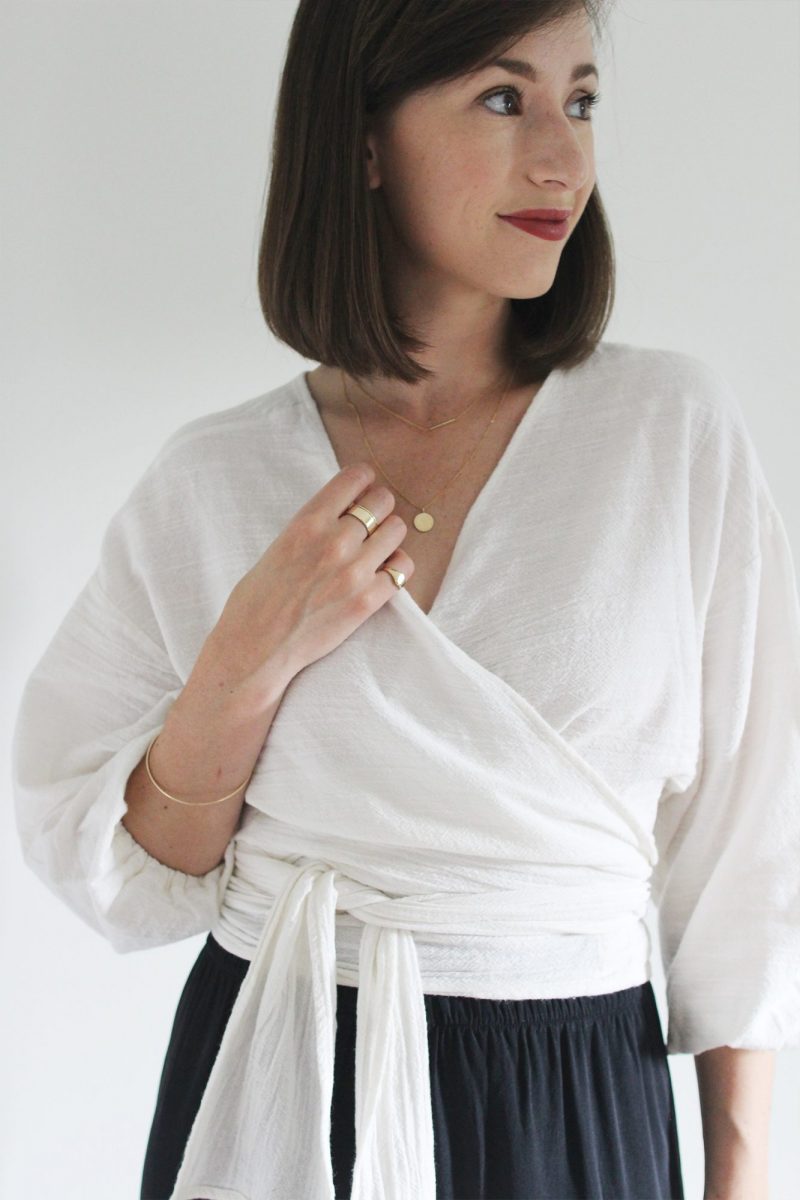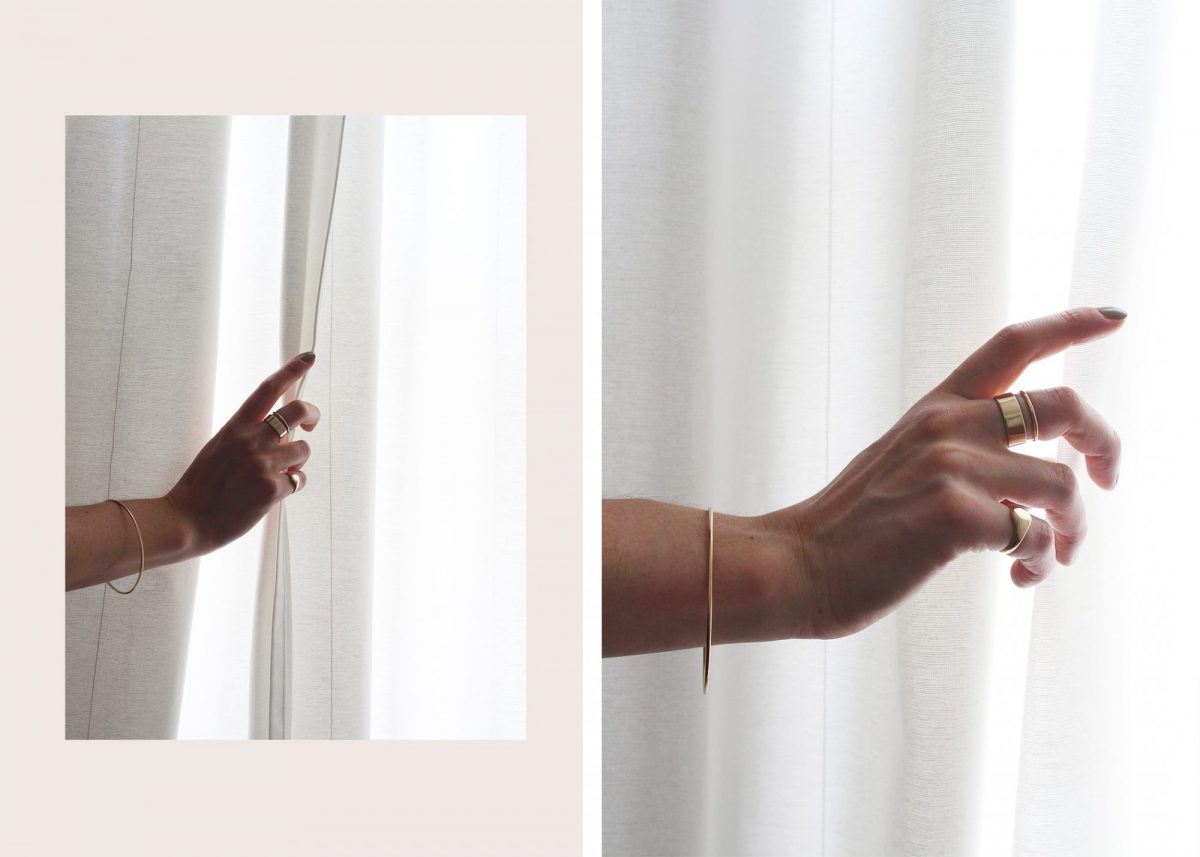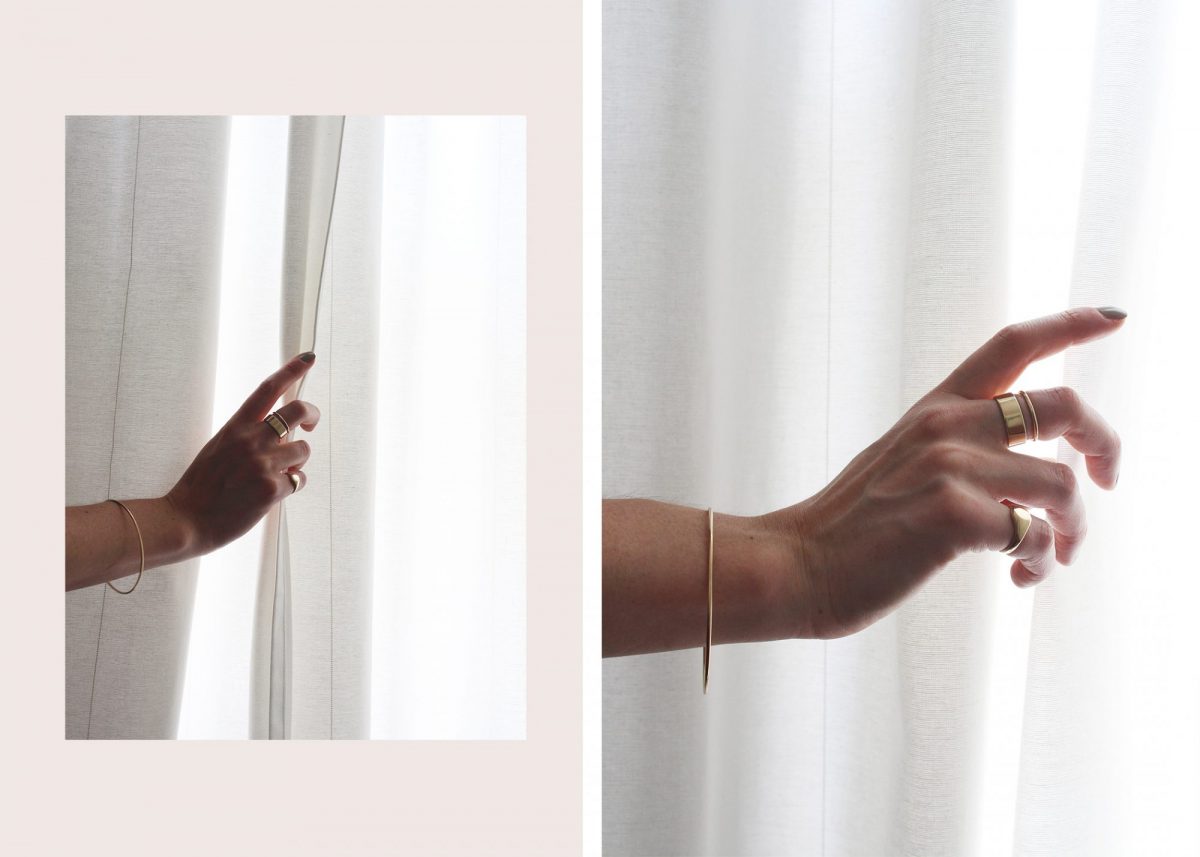 ---
A BRIEF INTRODUCTION
---
I can't quite pinpoint when I first discovered ATTIC but I believe it was at a local art and design fair in Guelph before they relocated to Toronto. I was immediately drawn to their fresh, open displays and the gleam of polished gold. Then I got to chatting with Melissa and Susan who were instantly warm and clearly very passionate about their work. I still have the business card I kept from that first visit and knew they'd be my first choice when I was ready to invest in my fine jewellery collection. When I caught wind of Dave's plans to propose (don't worry surprises aren't my thing) I sent him a not-so-subtle suggestion to get in touch with them for the design. More on that below but here are the key reasons why ATTIC has become my go-to responsible brand for special items:
ALL ITEMS ARE HANDMADE IN TORONTO – Each piece of jewellery produced by ATTIC is handmade to order in their Toronto studio, Canada and never mass-produced.
ONLY CONFLICT-FREE DIAMONDS – ATTIC sources conflict-free diamonds, and is an authorized retailer of responsibly-mined CanadaMark Diamonds.
EVERY PIECE IS MADE OF SOLID GOLD – ATTIC collection pieces are made from solid 14k yellow gold, and available by special request in other karats and colours of gold.
RECYCLED GOLD – ATTIC uses 100% post-consumer recycled gold whenever possible.
You can find ATTIC online and at select boutiques and marketplaces. Be sure to follow them on instagram @atticgold for behind the scenes looks at their process, studio and custom work! 
---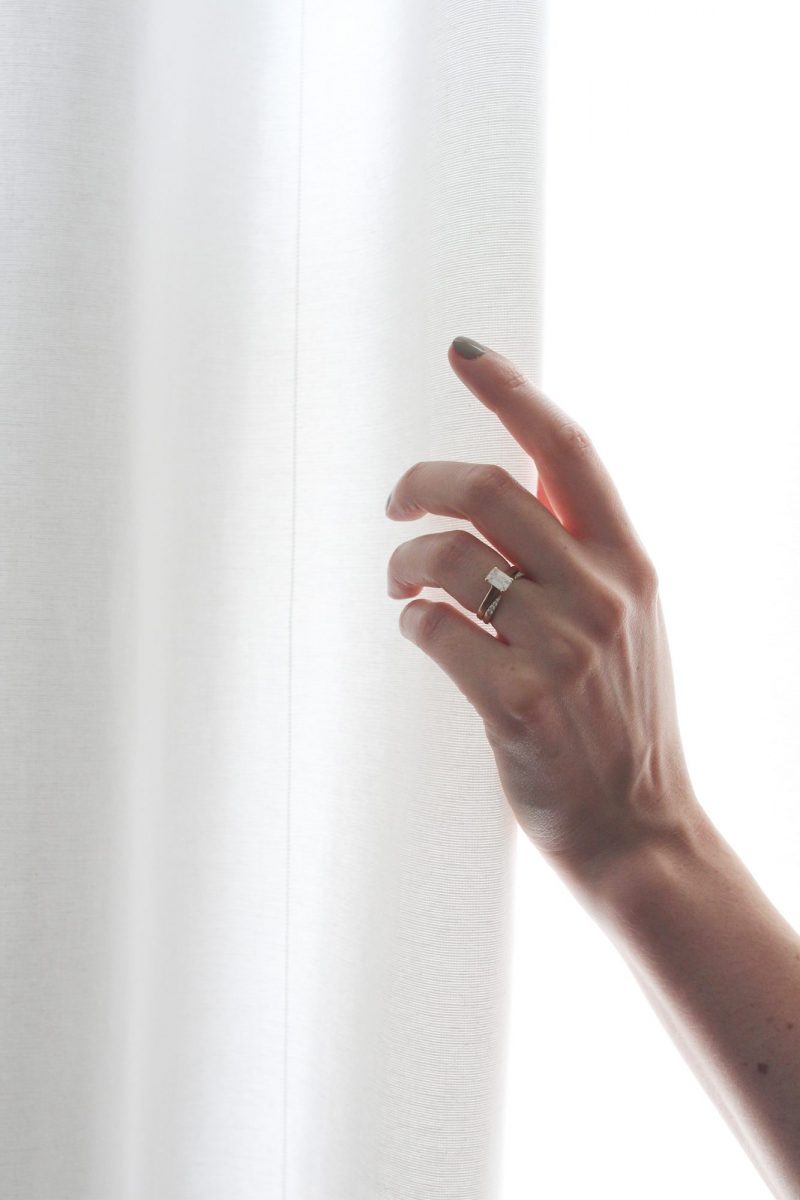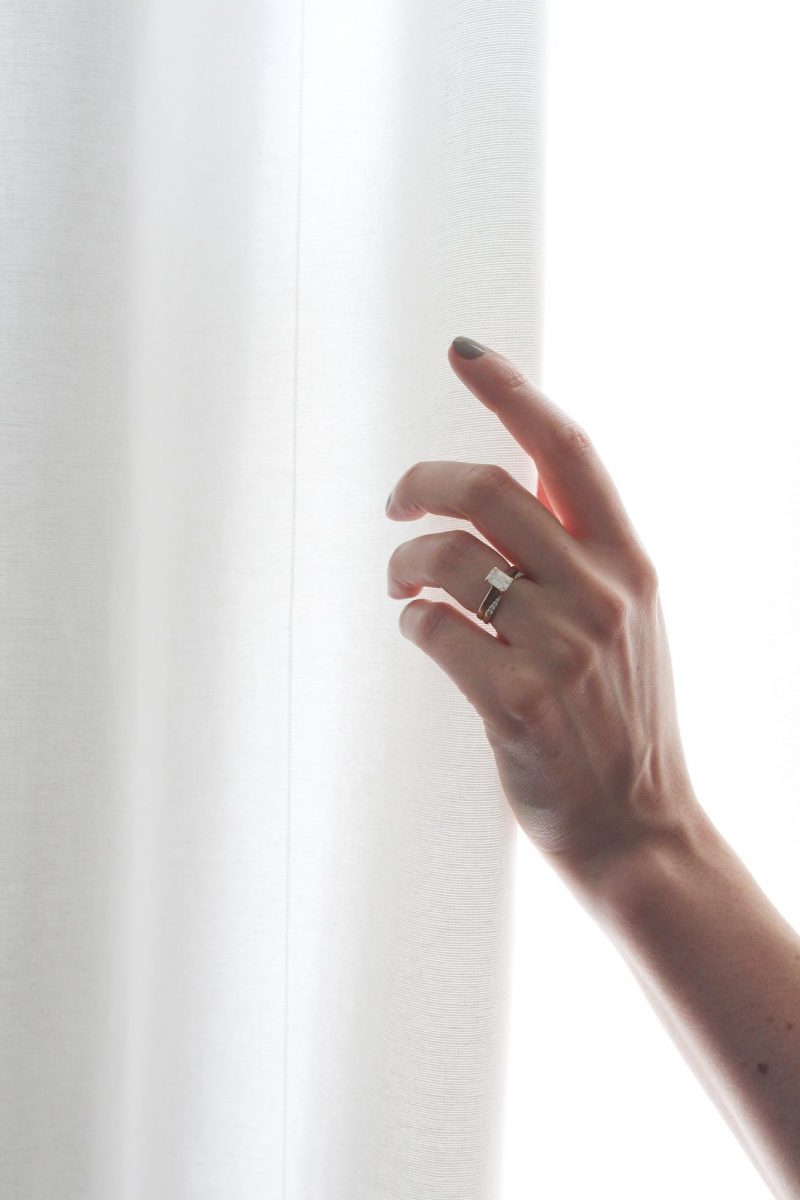 ---
MY PERSONAL CONNECTION TO ATTIC
---
On Sunday, September 2nd, Dave and I celebrated our 1 year anniversary! I know everyone says this but I truly cannot believe how quickly the time has flown. It feels like we were just sitting on the rocky shoreline of an Algonquin lake when Dave proposed with my dream ring designed and made by ATTIC. I may have given Dave some guidelines as to what I wanted (I mean, best he knew who he was marrying, right?) but the final design far surpassed anything I could have hoped for. Melissa and Susan truly know how to bring a vision to life and we cannot recommend them enough for any custom jewellery projects!
I am still in awe of the gorgeous ring that ATTIC created for Dave and adore how it looks with the diamond torc wedding band. I feel so very lucky that I get to wear a special piece like this every day, for the rest of my life!
Not surprisingly, I couldn't pin Dave down to shoot his wedding band for this post but it's this one and he absolutely loves it. It's only become more unique and special with wear and has developed a patina and lots of character. But needless to say, ATTIC continues to play a special part in our daily lives!
Now let's tuck into the 10 pieces from their New Classics Collection that I've styled today. 
---
Please note: Custom and union pieces are not included in the 'STYLEBEE10' promotion however, I still wanted to share this special piece of the story with you! 
---
---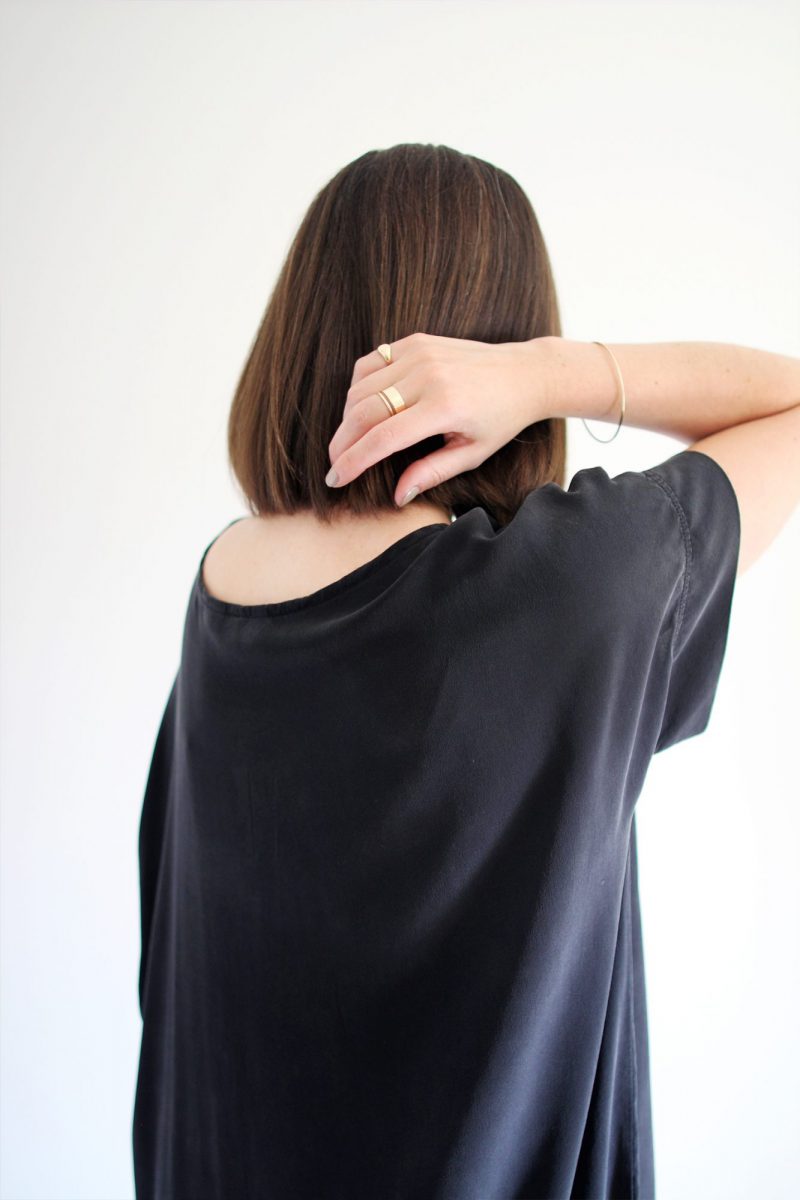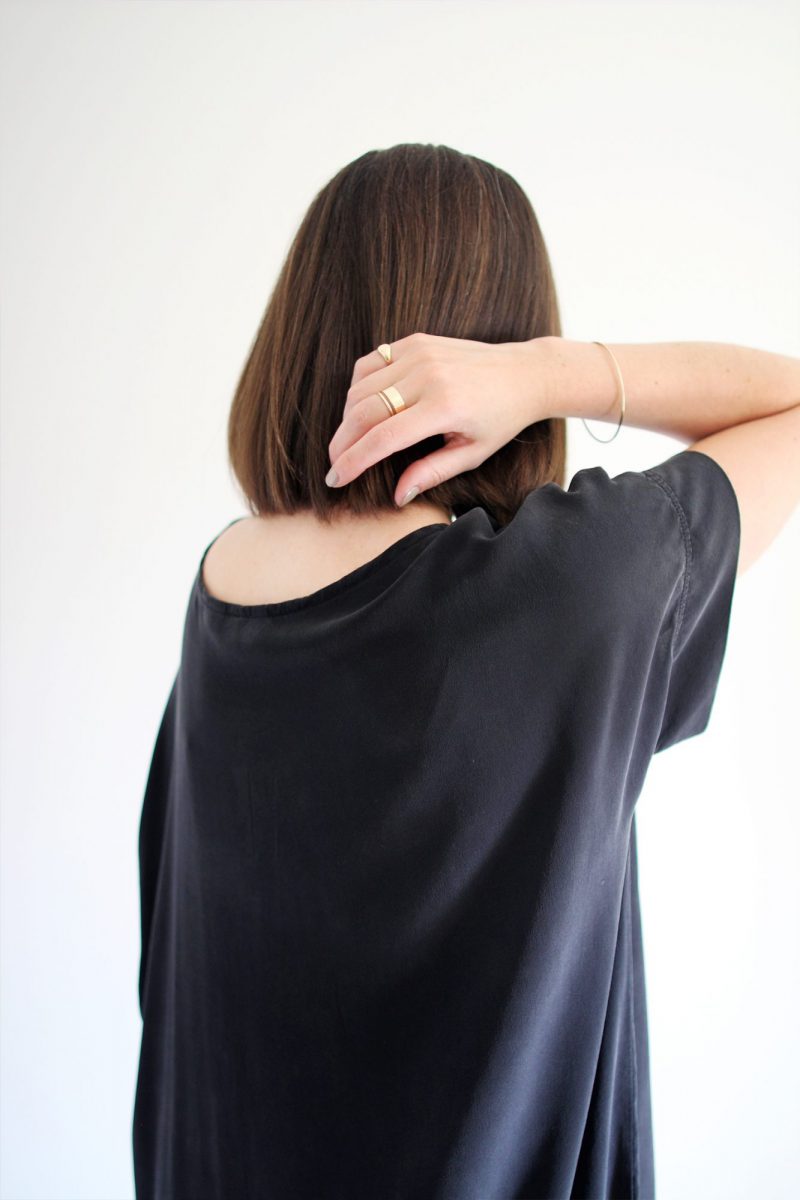 ---
---
ATTIC's Cigar Ring has been on my radar for so long now (you might remember it from this 2016 wish list) and it's even more stunning in person. The weight is incredible and the 7mm width is oh so flattering on. It's the perfect statement piece without being overtly showy or posing a risk to any knitwear, as many a snag has come from my ring choices. If feels really comfortable to wear and with the ever-so-slightly curved edges and the way gold warms to the temperature of your skin it feels completely natural.
I also think it looks great layered with a thin band like the Ring No. 1.5 for a chic gold stack. Even though the cigar band is my ultimate favourite in the collection these simple, thin bands rate very high on versatility. They can be paired with just about anything else or worn on their own for a more delicate look. To me these understated rings are like a great white tee or a perfect pair of jeans. You can never go wrong with the timeless, sophisticated but unfussy vibe they add to a look.
I just discovered this great tool to help you find your ring size too!
---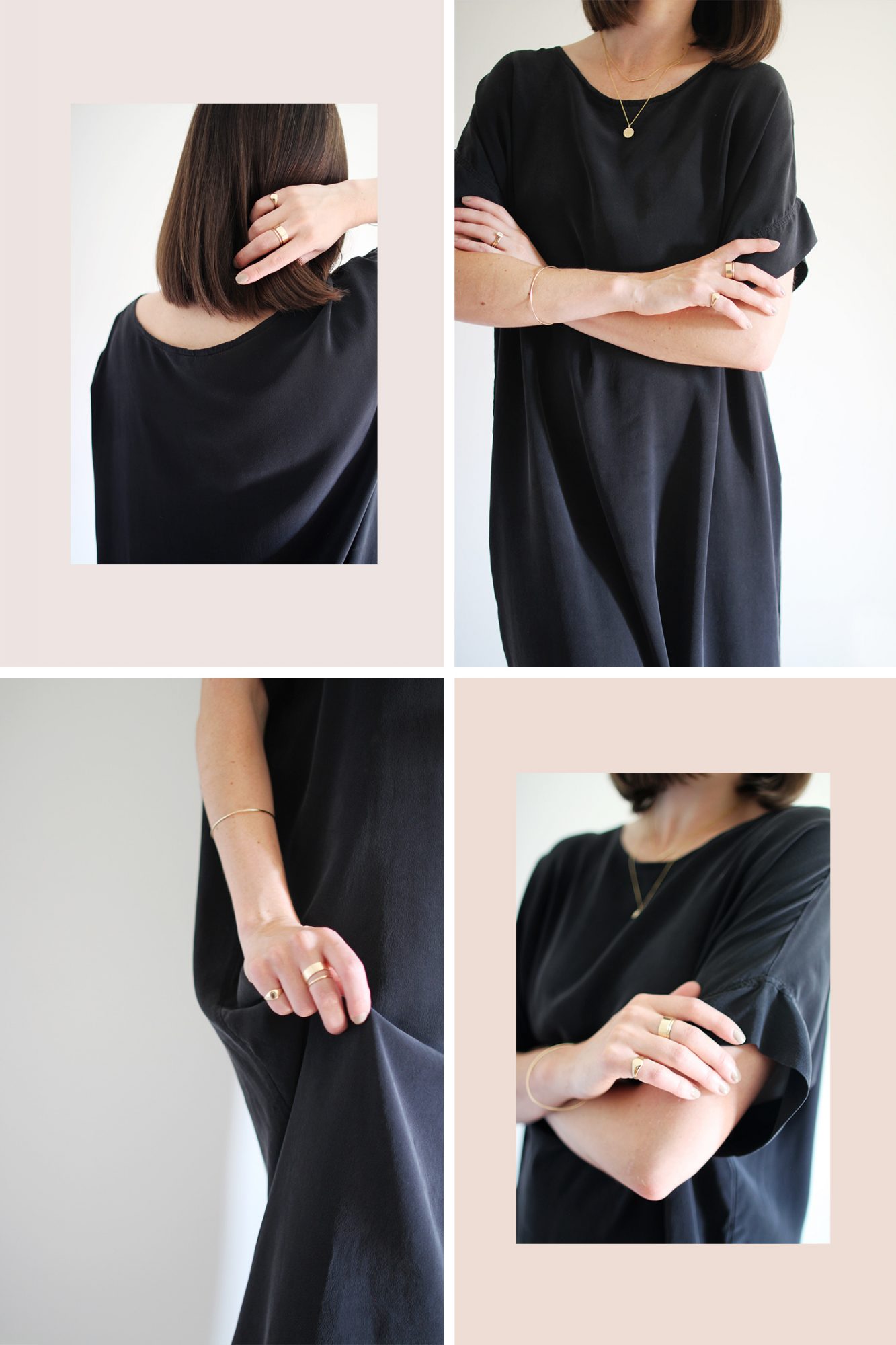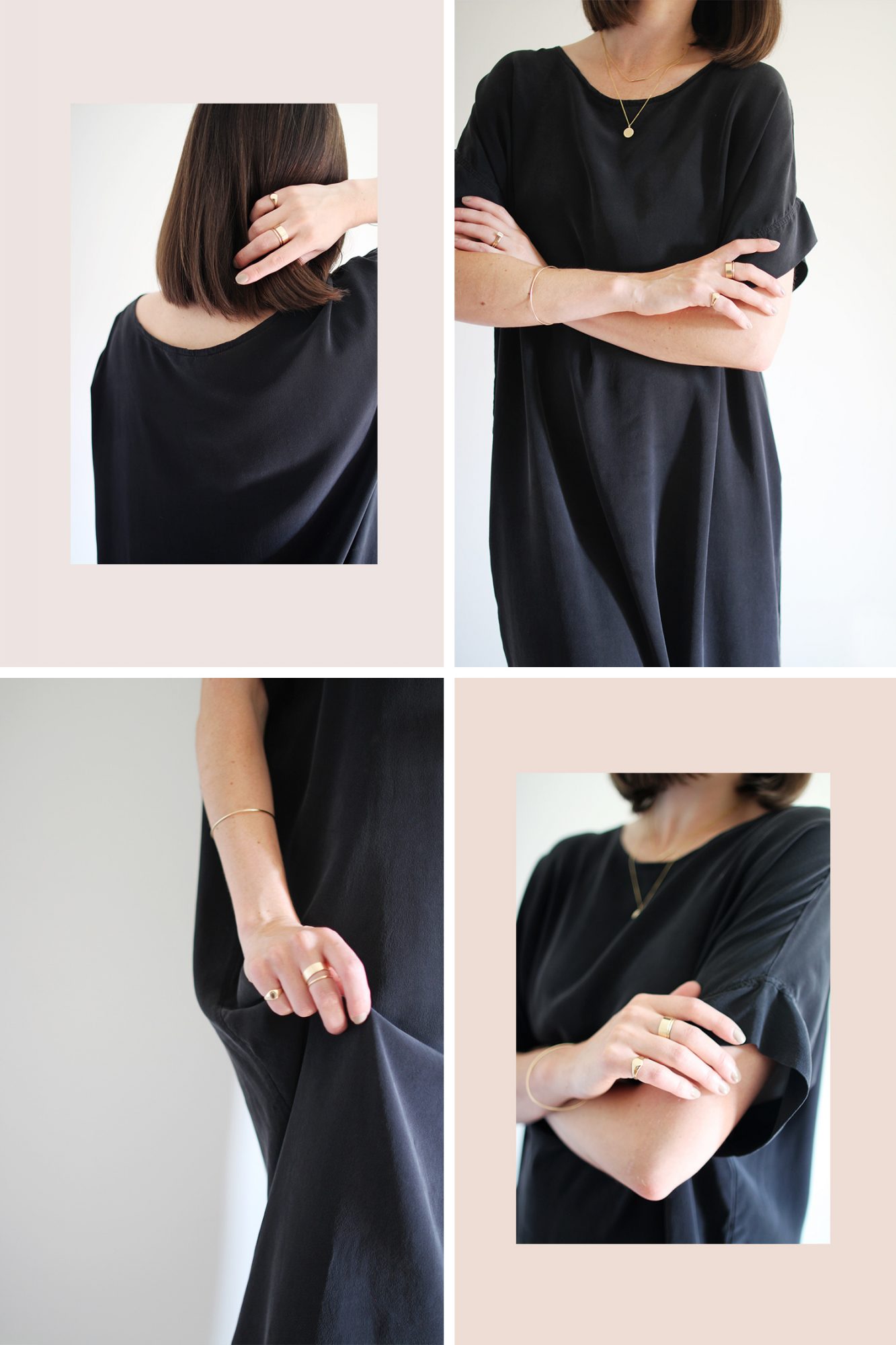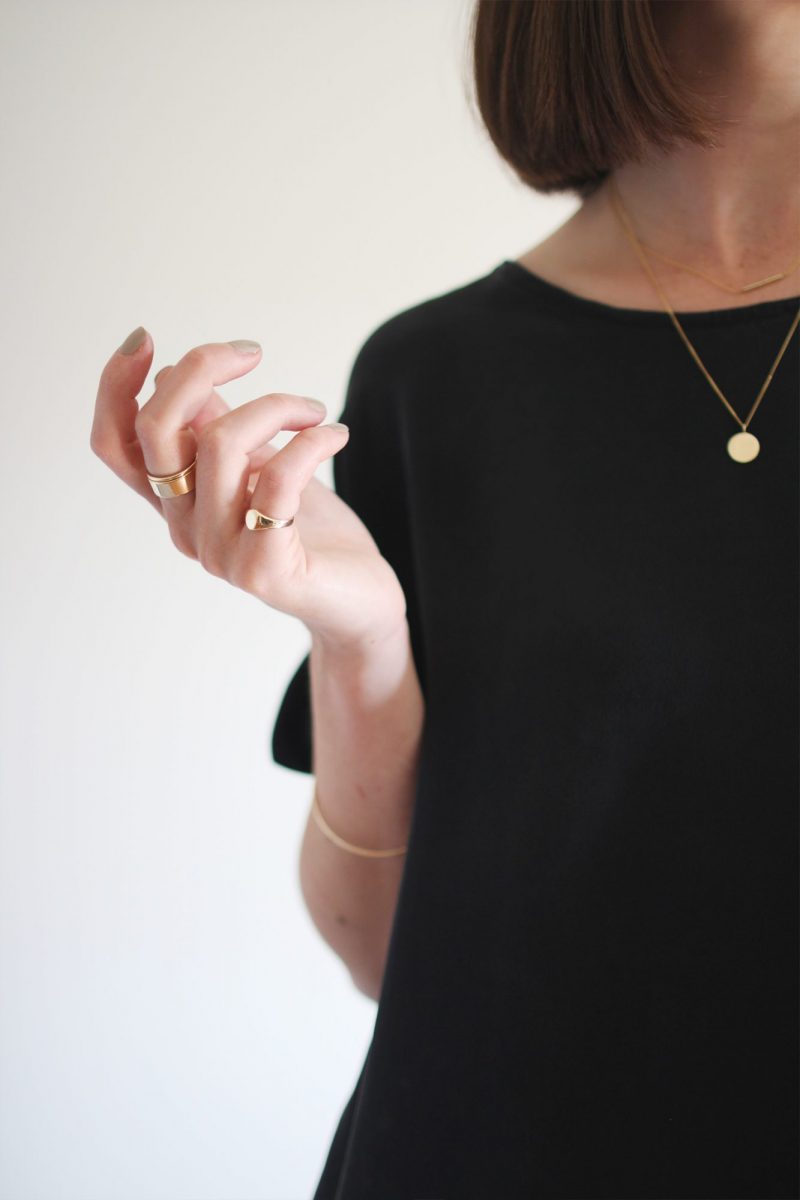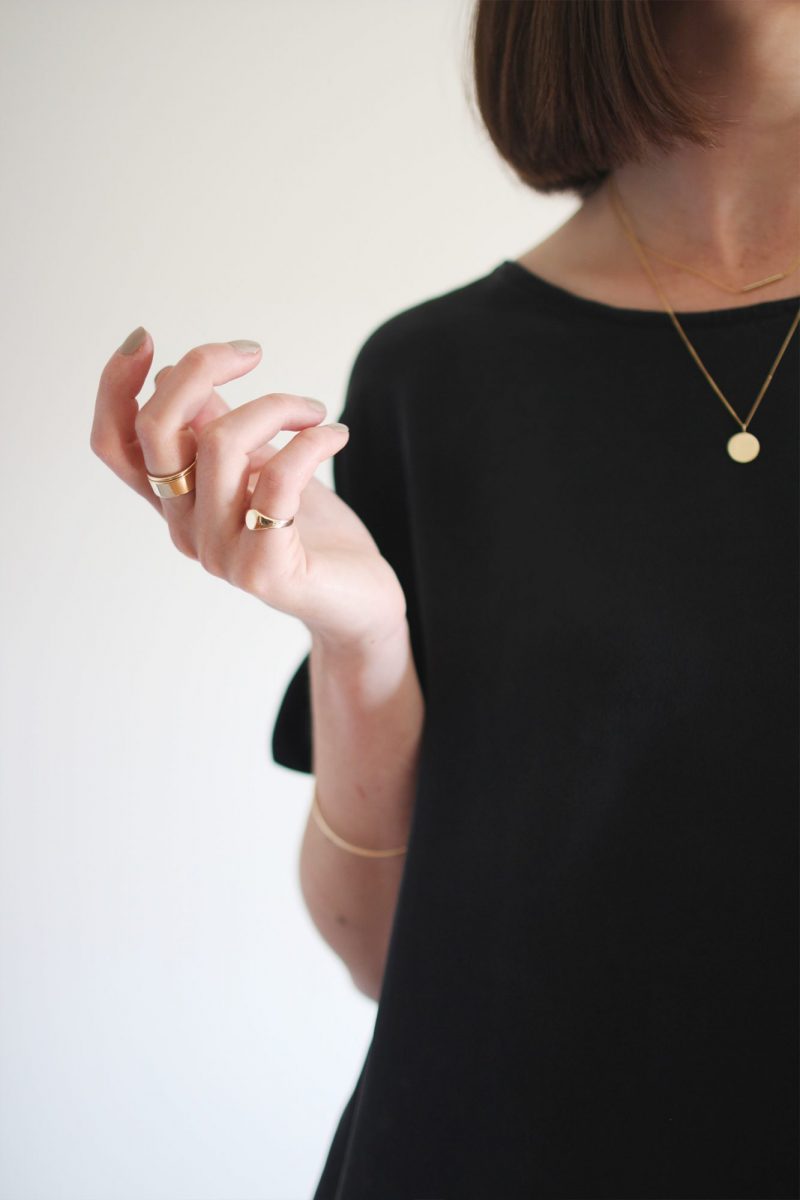 ---
---
This Pinky Signet Ring might be the cutest little signet ring I've seen yet. It's just so darn adorable! I love the look of a ring on a pinky finger, especially when it's a little unexpected and clever like this one. Even if you didn't wear any other rings it would have major impact. I particularly like that it's pulling from the masculine side of the jewellery spectrum but feels so dainty at this scale. Yep, this one is officially going on my wish list!
I don't wear a ton of bracelets but when I wear one they are always a simple, elegant band and the Oval Bangle is precisely that. The oval shape makes it very comfortable to wear on the arm and helps it stay in place if you don't want it to be floating around. It's also entirely wearable while typing or at the desk since it's so slender and can be easily adjusted. The shape makes it easy to slide on but it won't slip off unless you want it to. This one is a really well thought out design and I love the simplicity of it but the New Classics Collection has some other gorgeous bracelet options too!
---
THIS LOOK: DRESS | NAIL COLOUR 
GOLD BY ATTIC: OVAL BANGLE | $590 CAD | BLUE MOON PENDANT | $595 CAD | RING NO. 1.5 | $160 CAD | CIGAR RING | $950 CAD | PINKY SIGNET | $620 CAD | All pieces made in Toronto of 100% recycled gold except for pendant and pinky signet. 
---
Style Bee readers save 10% Off all orders from the New Classics Collection. Use 'STYLEBEE10' at checkout through October, 5th. 
---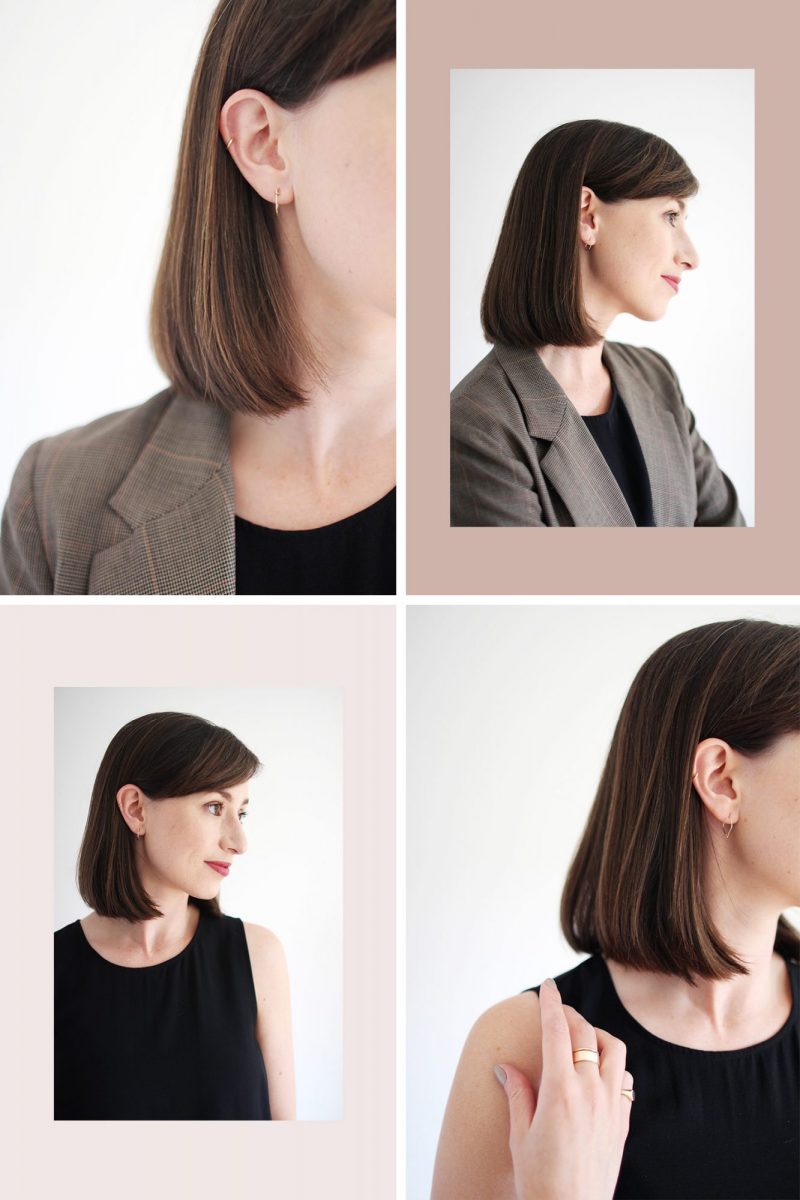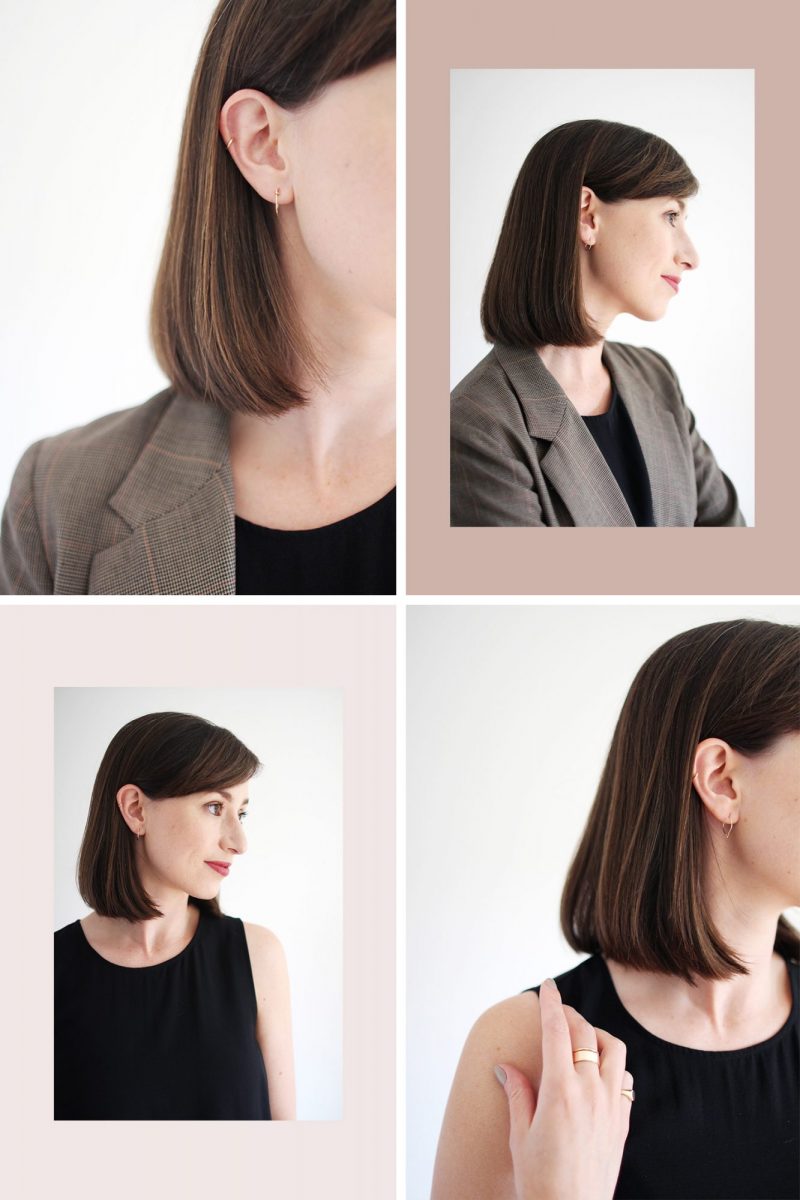 ---
---
My sister-in-law has these earrings and adores them! Now that I've tried them out I totally get why. I love the Lil Hoops because they're just like the first pair of earrings I had as a kid but updated for a more sophisticated feel (do you remember those tiny gold huggie hoops?). They're also light as a feather, sleep friendly and can be worn three ways:
1 | With the clasp turned up and to the front on the ear lobe. (shown above on the left top and bottom)
2 | With the clasp rotated to the back so the earring looks like a perfect hoop. (shown on the top right)
3 | With the little clasp facing down. (shown on bottom right)
See my stories for a little demo later today!
---
THIS LOOK: PLAID BLAZER (similar) | TANK | LIP COLOUR | NAIL COLOUR 
GOLD BY ATTIC: LIL HOOPS | $160 CAD | MINI EAR CUFF | $130 CAD | RING NO. 1.5 | $160 CAD | CIGAR RING | $950 CAD | PINKY SIGNET | $620 CAD | All pieces made in Toronto of 100% recycled gold except for pinky signet.
---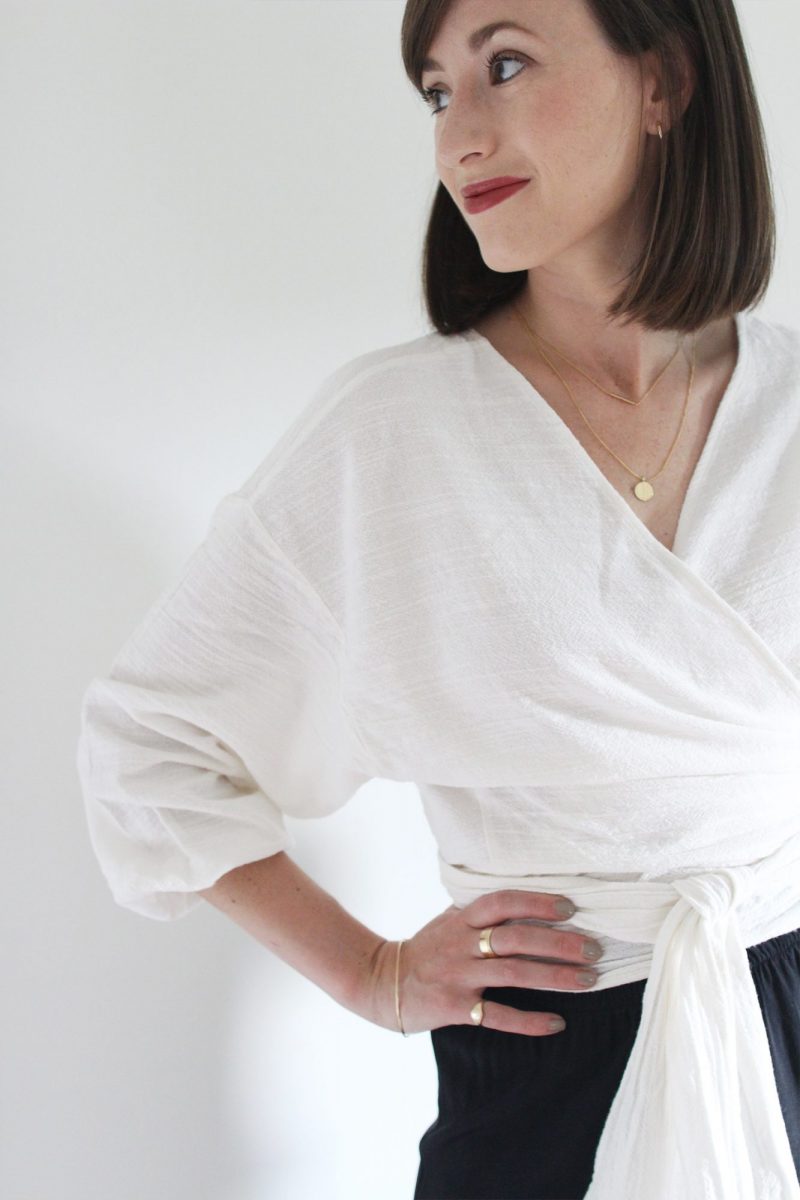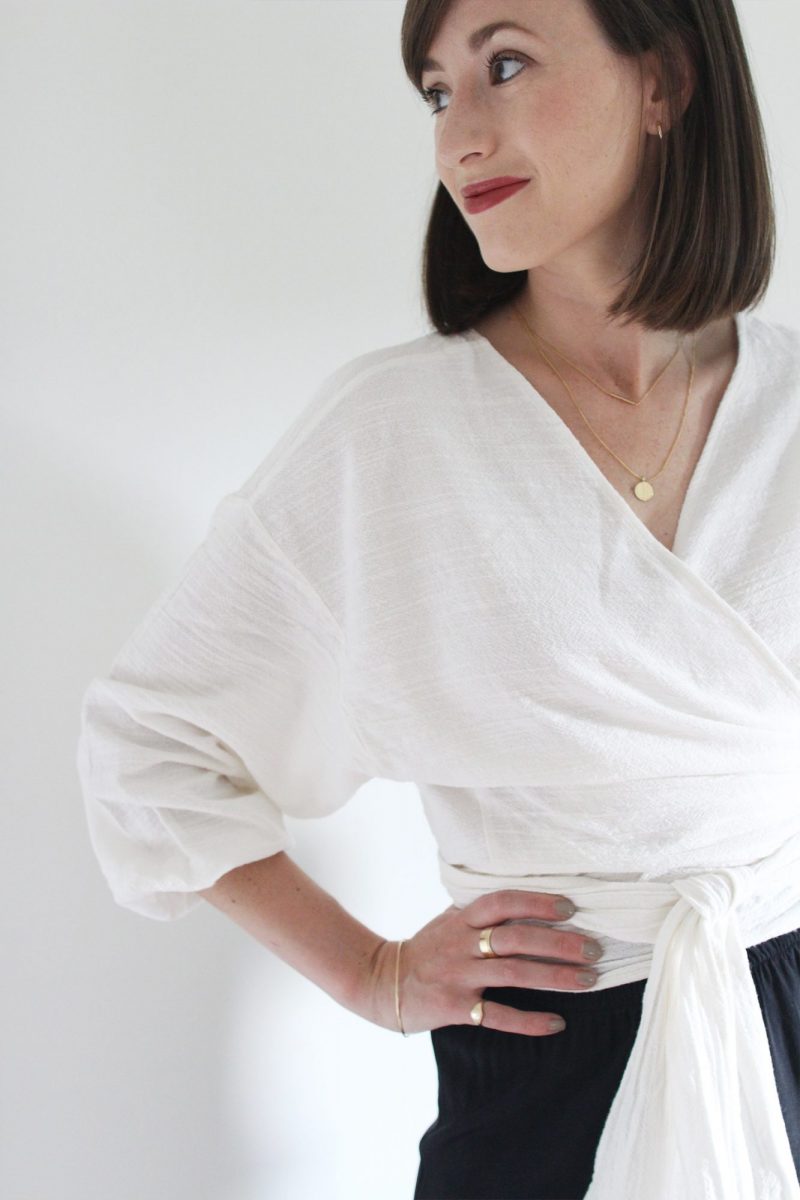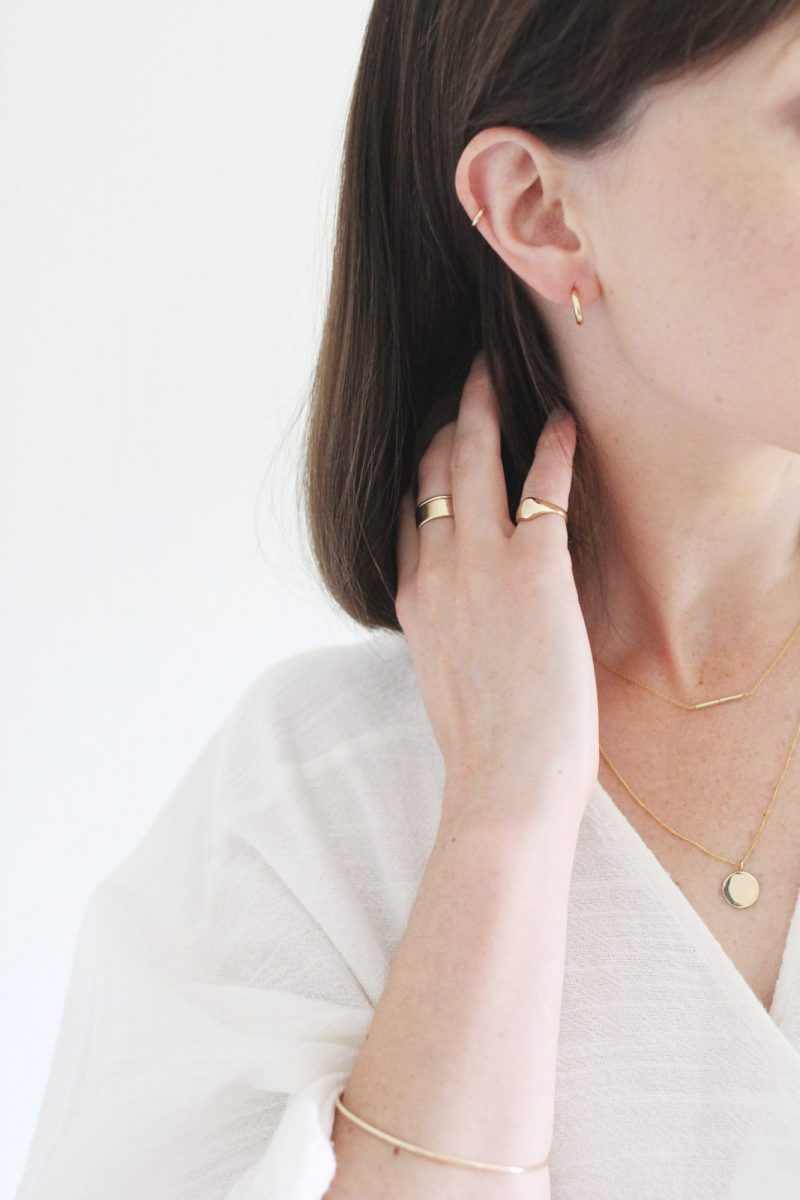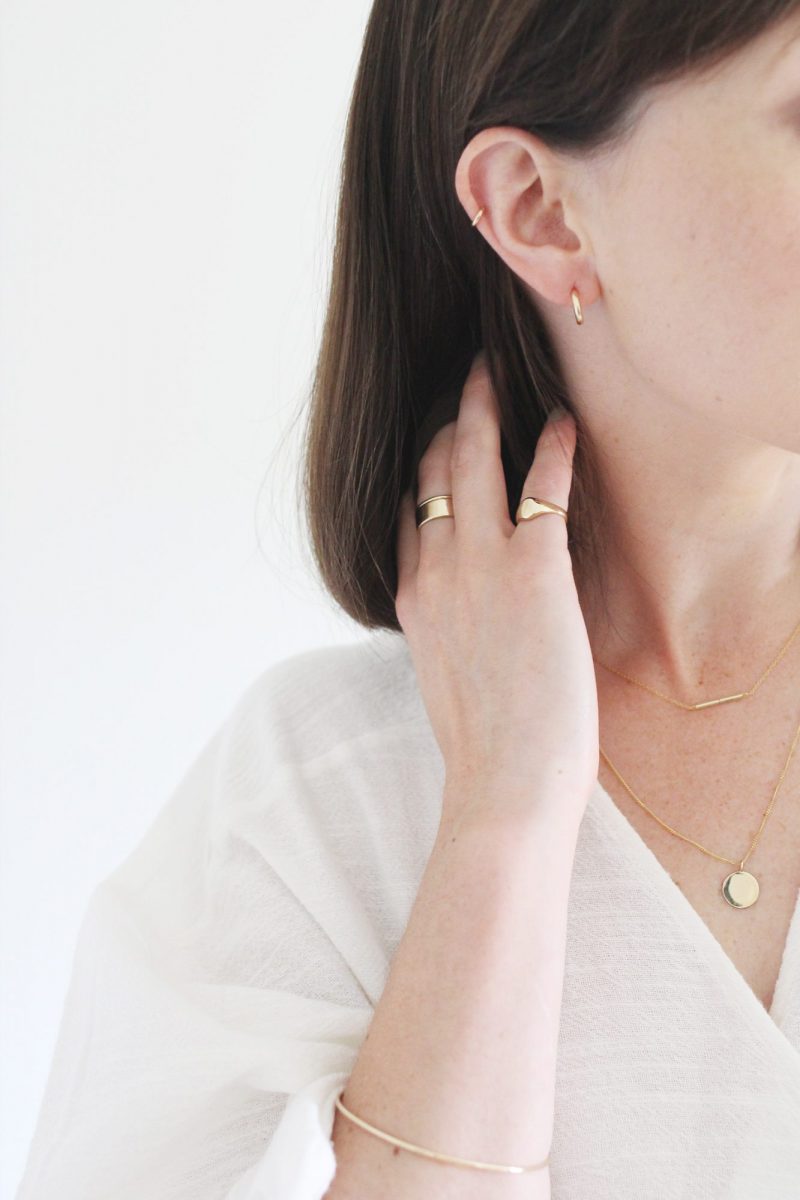 ---
---
If you prefer an earring that's a little more substantial than the Lil Hoops, the Barrel Earring might be a good option. The curved band is about 2.2 mm wide and while they're a stud that's easy to put on they give the look of a hoop. These have such a contemporary classic feel. They're definitely noticeable but still subdued enough to work with anything you're inclined to wear!
After the Cigar Ring, the Mini Ear Cuff ranks near the top on my wish list of ATTIC pieces. It's probably the chicest little cuff I've come across and it's so easy to put on and comfortable to wear. You just gently squeeze to secure it in place and it won't budge. Not to mention the fact there are no piercings needed to immediately step up your cool factor in a jiffy (but maybe don't say 'jiffy'). If you wear your hair tied back often this piece is a delightful little detail to add to an otherwise simple outfit. Some women, who are much cooler than me, wear it as a septum ring, which is genius too!
---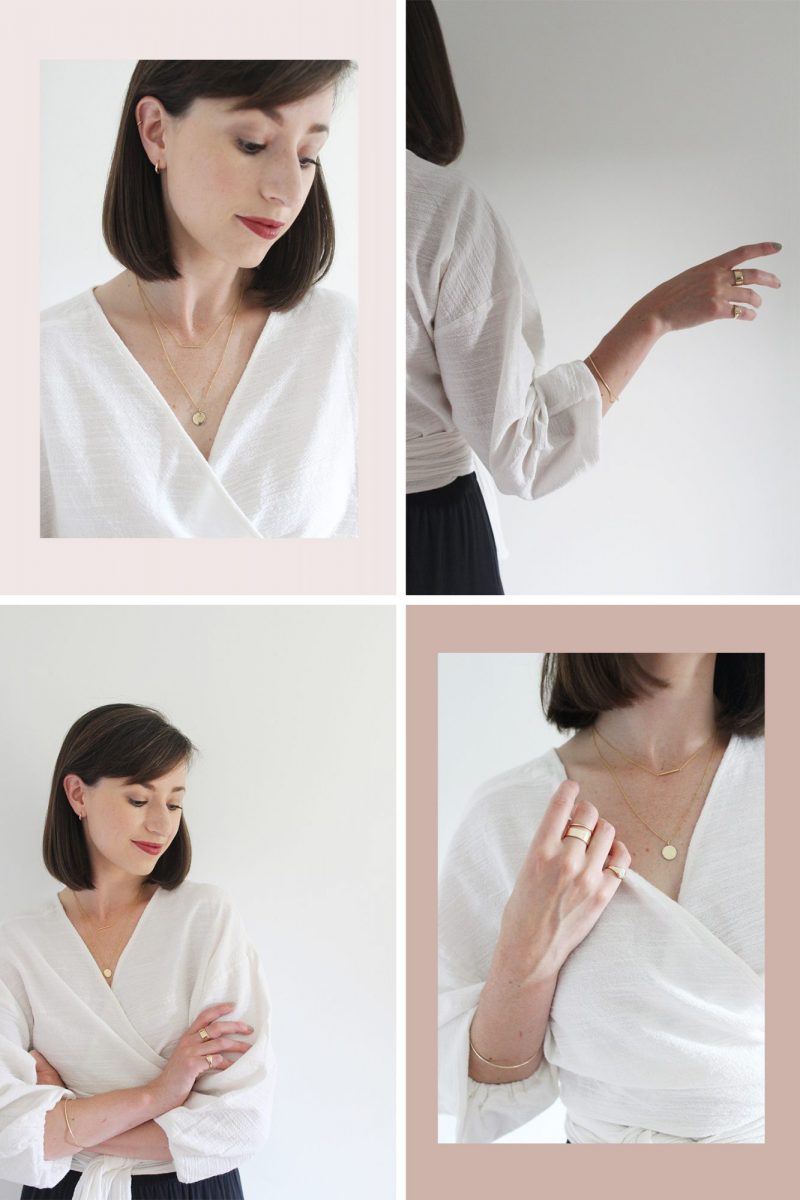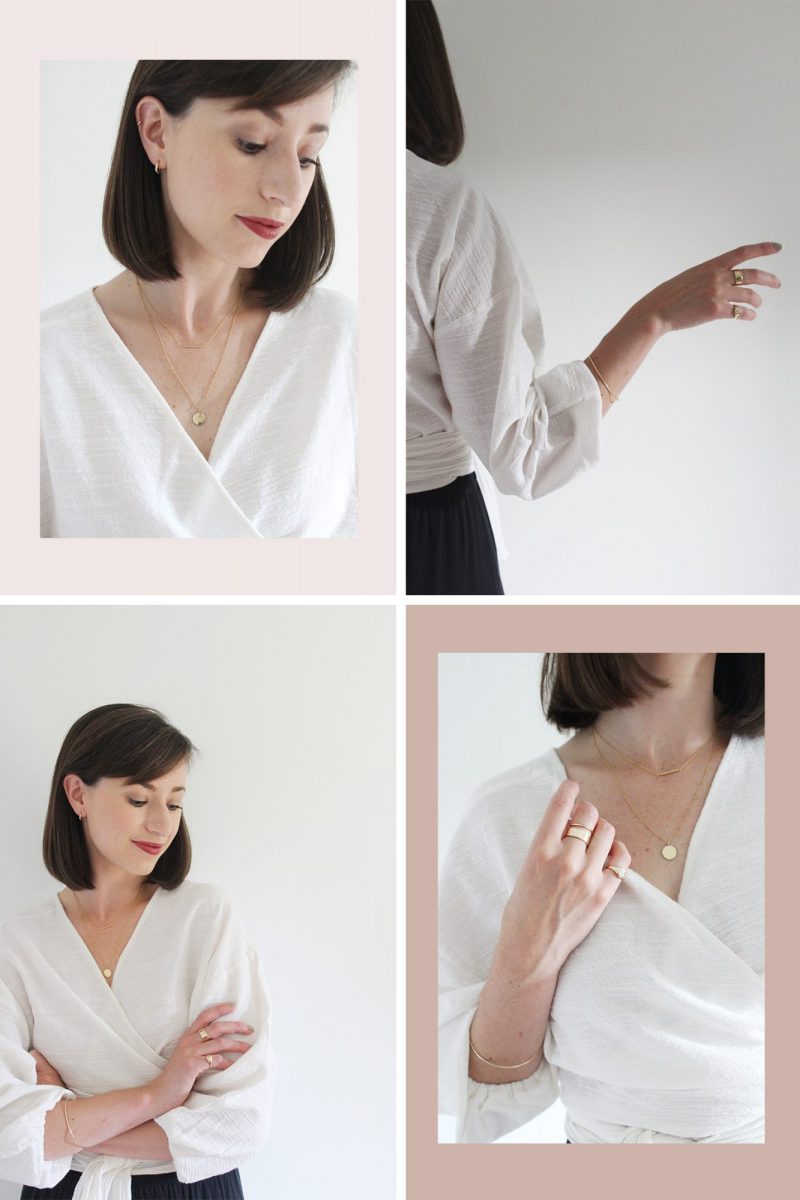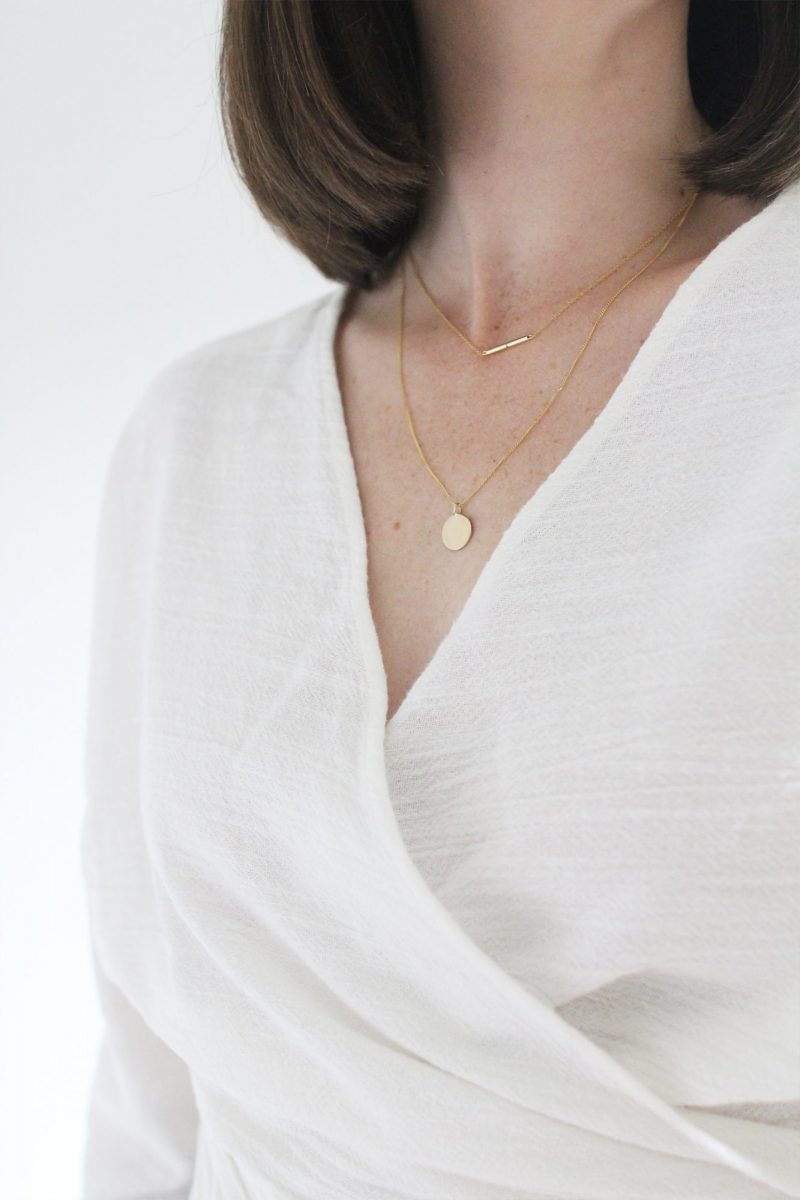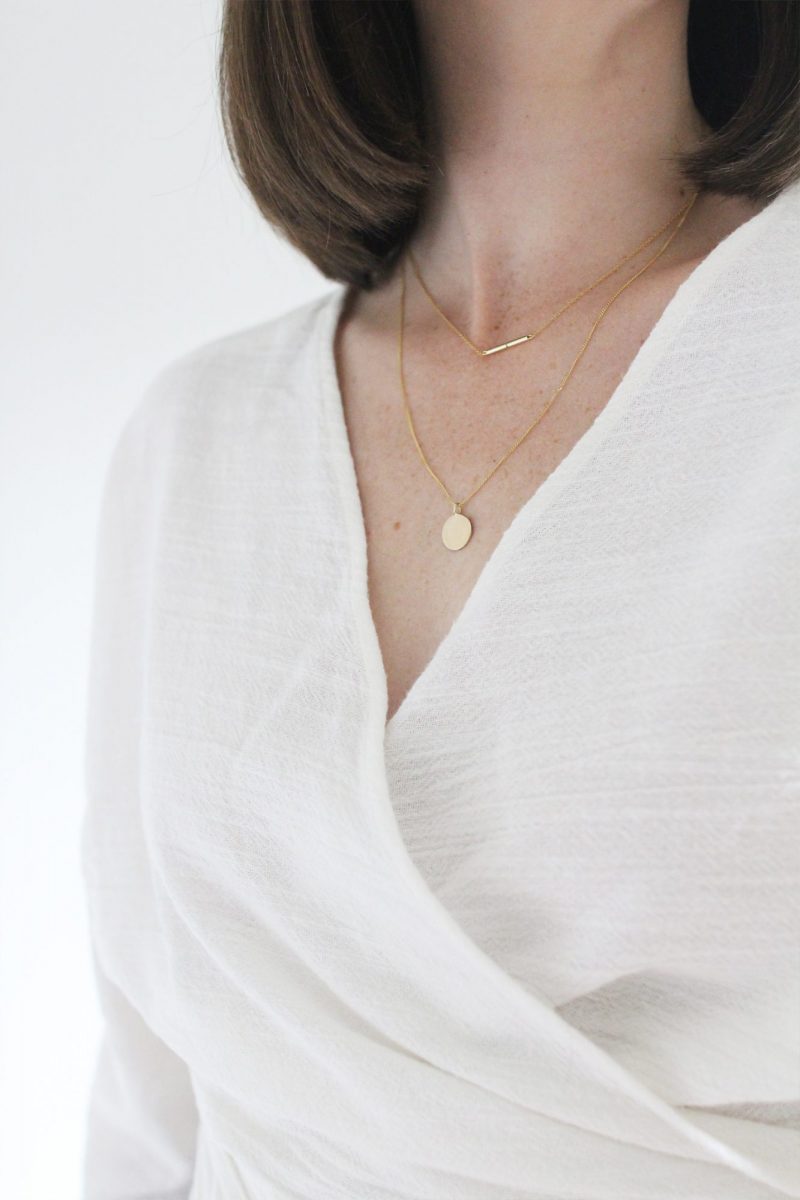 ---
---
Dainty layered pendant necklaces are having a major moment right now and while I haven't dabbled in the trend, this set would certainly have me wearing it non-stop. I love the feminine feel of the delicate chains and subtle but still eye-catching pendants, worn either together or solo. The clasp on the Bayonet Necklace was designed to be worn in front. It opens with a simple push and twist while the weight of the pendant keeps it from slipping around so it stays where it's supposed to! So clever. I also really like the length of this one as it hits right at the nape of the neck.
I've had my eye out for a perfectly petite pendant for a while now and the Blue Moon is at the top of my list. The proportions are delicate but it's still significant enough to be the focal point of a look, especially if worn on a black top (shown below)! I love the disc left clean but it can be engraved with anything you'd like! Imagine a special initial, date or symbol on there, how cool would that be!?
---
THIS LOOK: WRAP TOP | PANTS | NAIL COLOUR | EYE PALETTE | LIP COLOUR
GOLD BY ATTIC: BARREL EARRINGS | $395 CAD | MINI EAR CUFF | $130 CAD | OVAL BANGLE | $590 CAD | BAYONET NECKLACE | $375 CAD | BLUE MOON PENDANT | $595 CAD | RING NO. 1.5 | $160 CAD | CIGAR RING | $950 CAD | PINKY SIGNET | $620 CAD | All pieces made in Toronto of 100% recycled gold except for barrel earring, pendant and pinky signet. 
---
Style Bee readers save 10% Off all orders from the New Classics Collection. Use 'STYLEBEE10' at checkout through October, 5th. 
---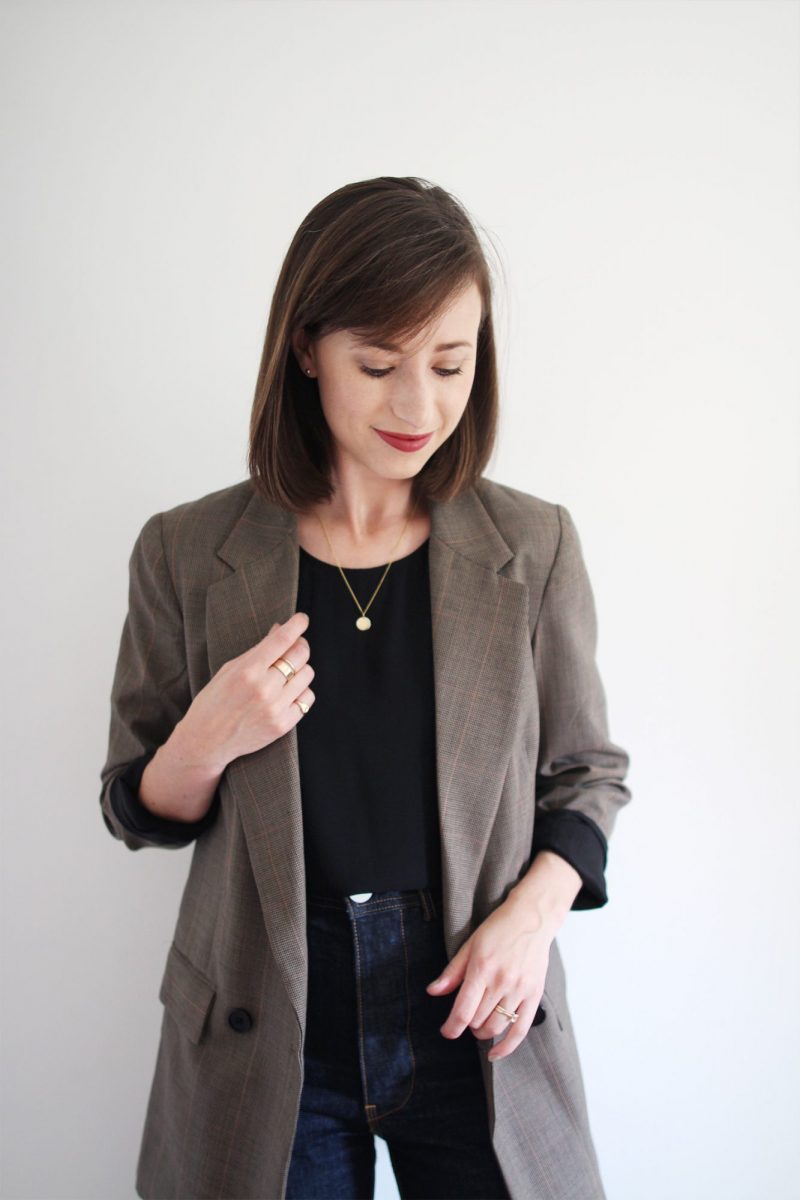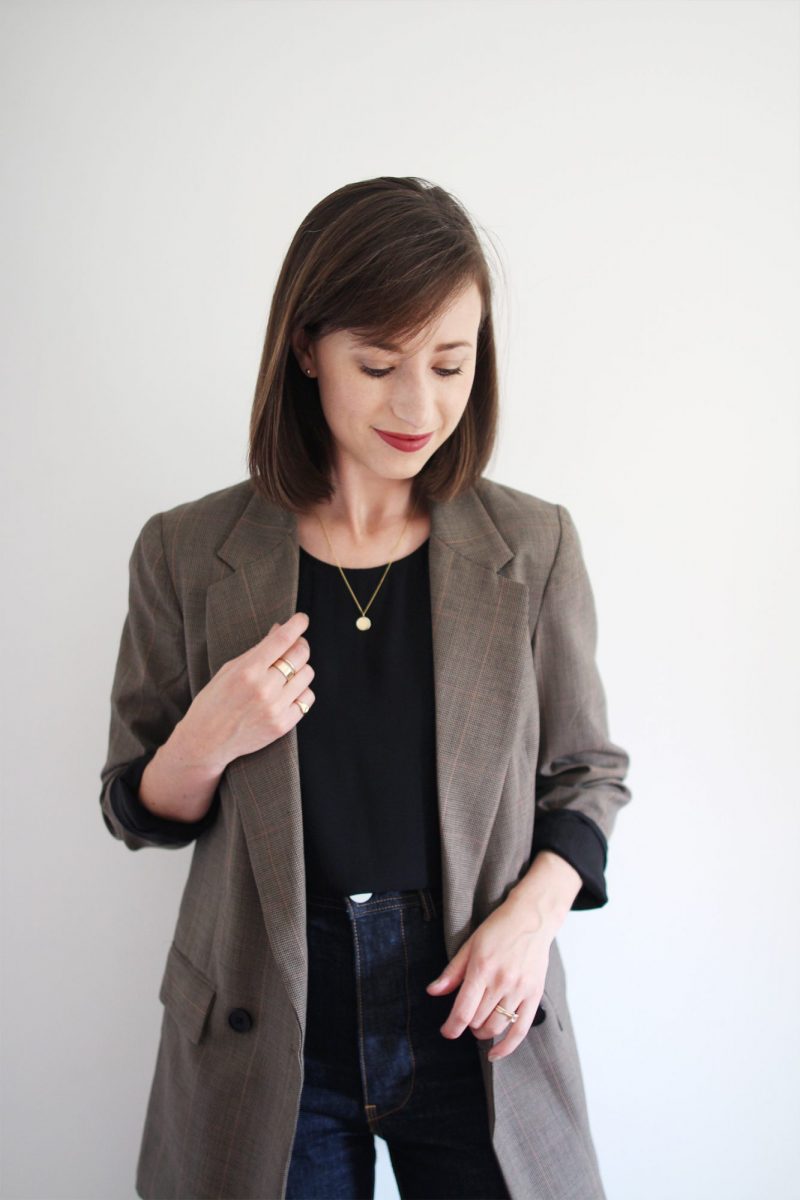 ---
---
Last but not least, the most worn pair of earrings from my personal collection, the Dome Studs. Much like my engagement ring and torc band, these rarely ever leave my person (how formal of me to phrase it that way, ha!). I wear them pretty much non-stop and they are super comfortable to sleep in. To me they're truly the perfect gold stud that works with any outfit, any occasion and any personal style. My Mum liked these so much that we got her a pair for her birthday and now she wears them all the time too! If you invest in one piece of fine gold jewellery, gold studs are definitely the place to start (if your ears are pierced of course!).
---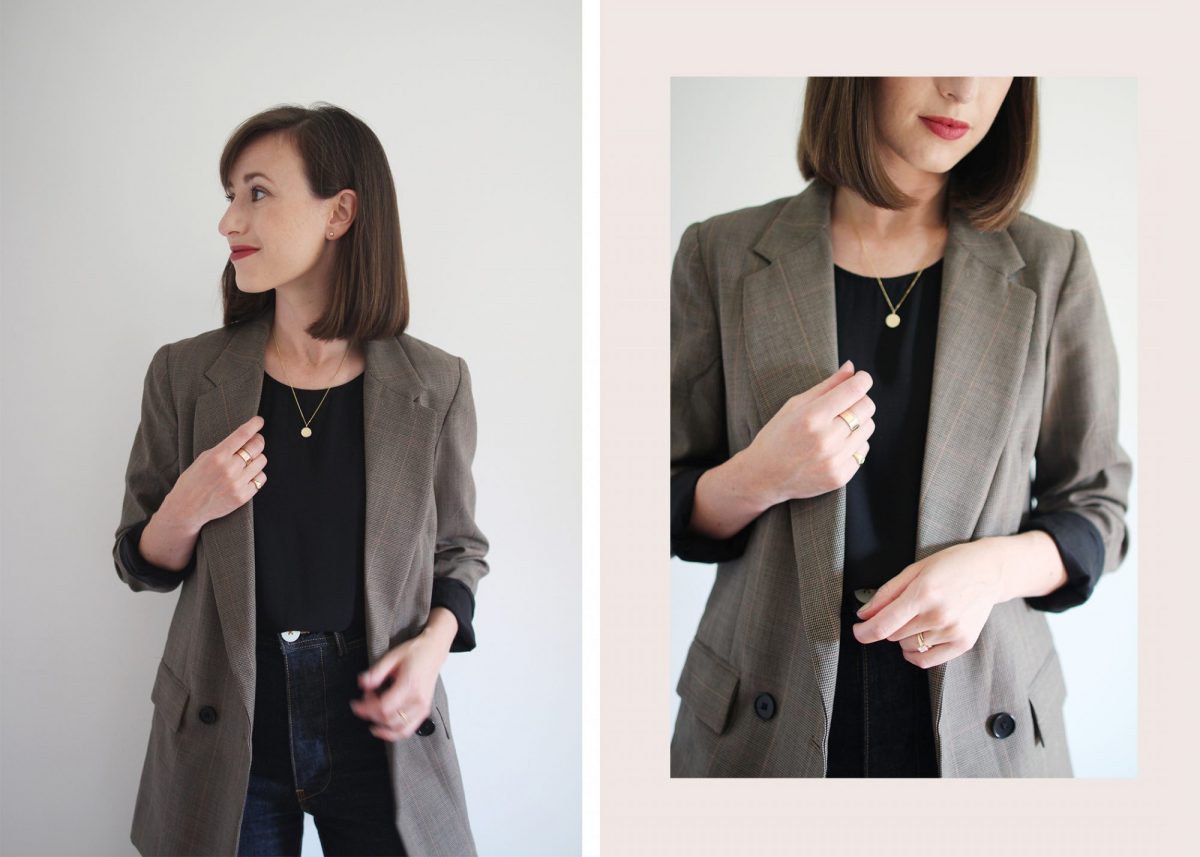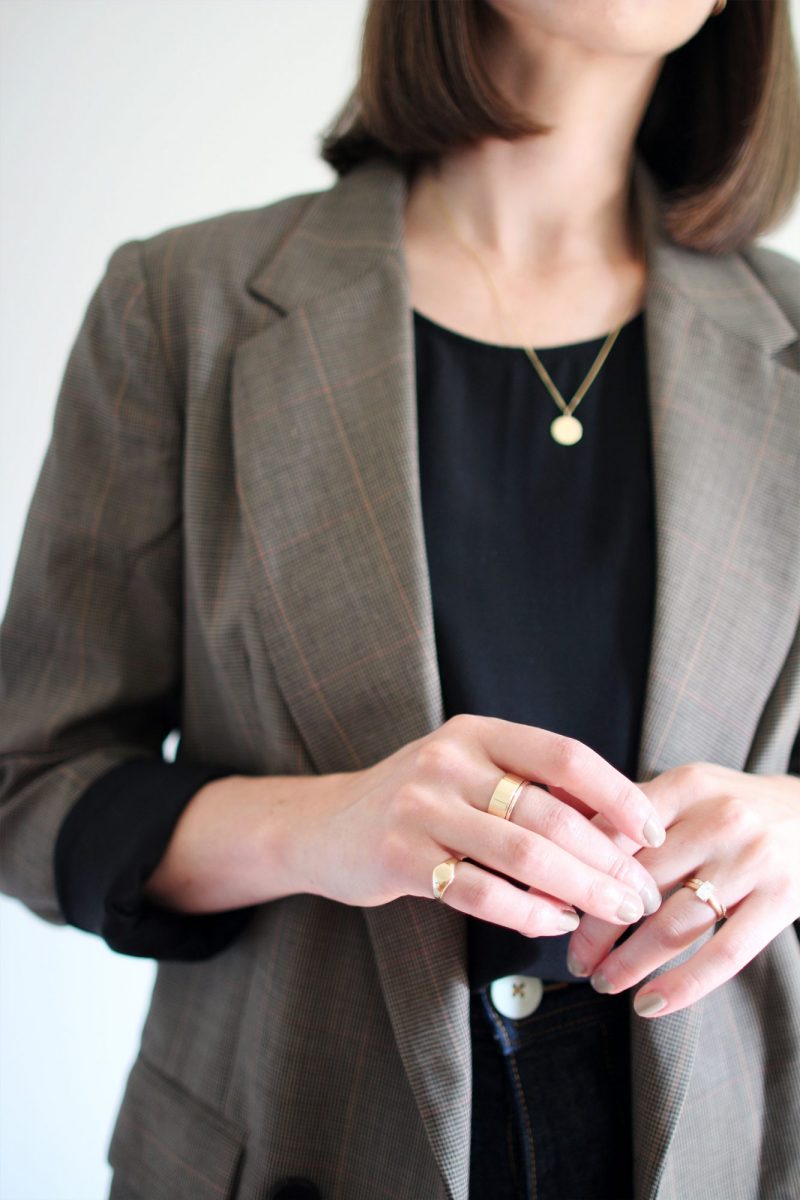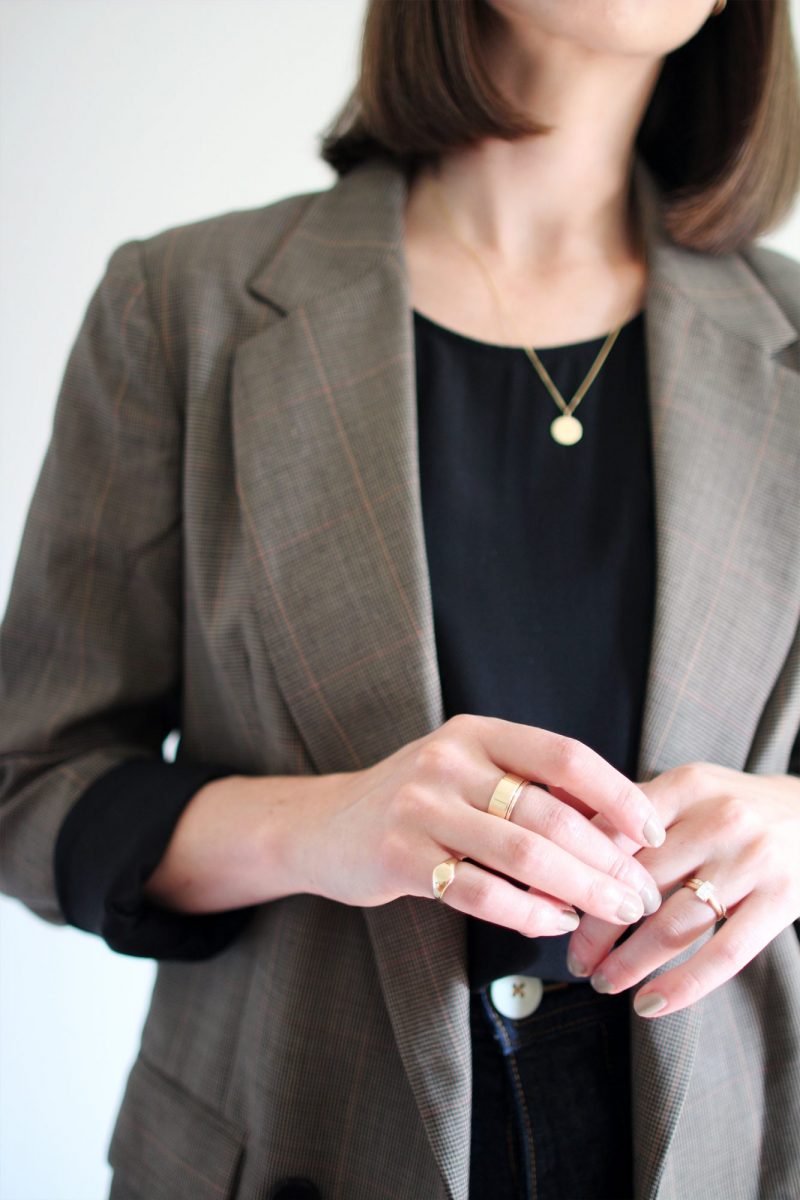 ---
THIS LOOK: PLAID BLAZER (similar) | TANK | LIP COLOUR | NAIL COLOUR | PANTS (similar for less here)
GOLD BY ATTIC: DOME STUDS | $260 CAD | MINI EAR CUFF | $130 CAD | RING NO. 1.5 | $160 CAD | CIGAR RING | $950 CAD | PINKY SIGNET | $620 CAD | BLUE MOON PENDANT | $595 CAD | All pieces made in Toronto of 100% recycled gold except for dome stud, pendant and pinky signet. 
---
Style Bee readers save 10% Off all orders from the New Classics Collection. Use 'STYLEBEE10' at checkout through October, 5th. 
---
SHOP THE OUTFITS
---

---
Q&A WITH MELISSA + SUSAN OF ATTIC
---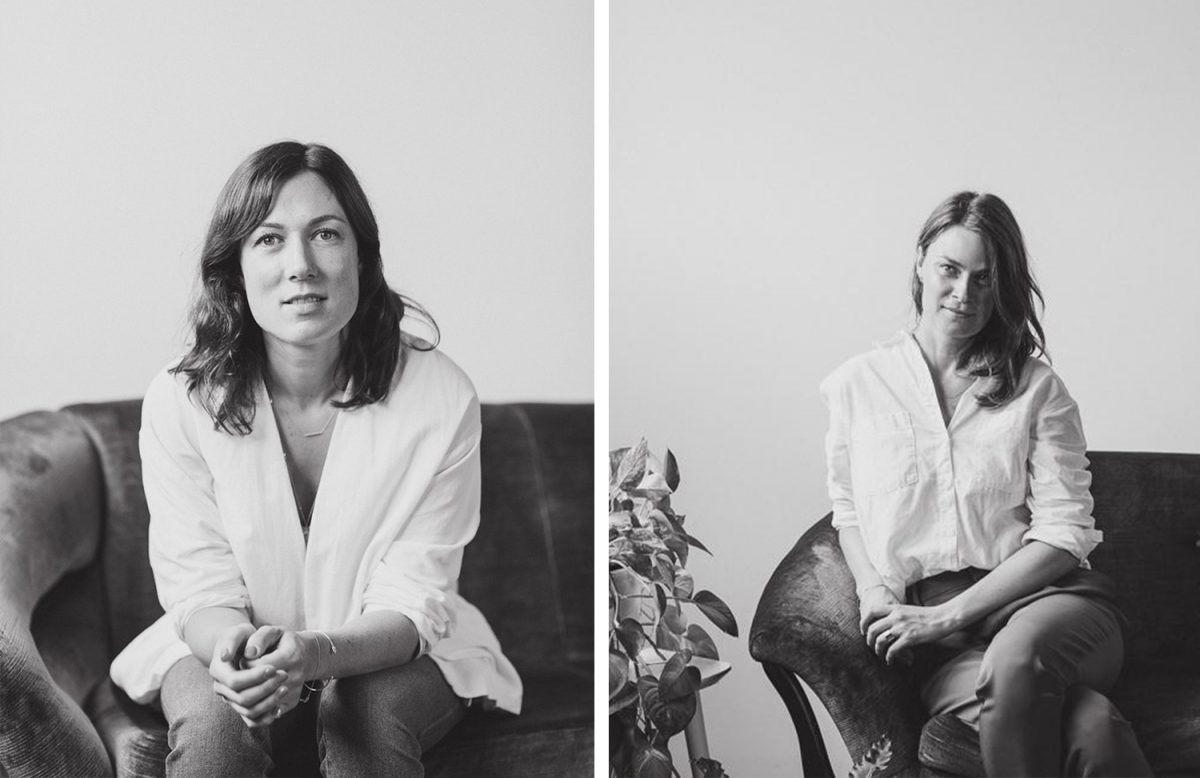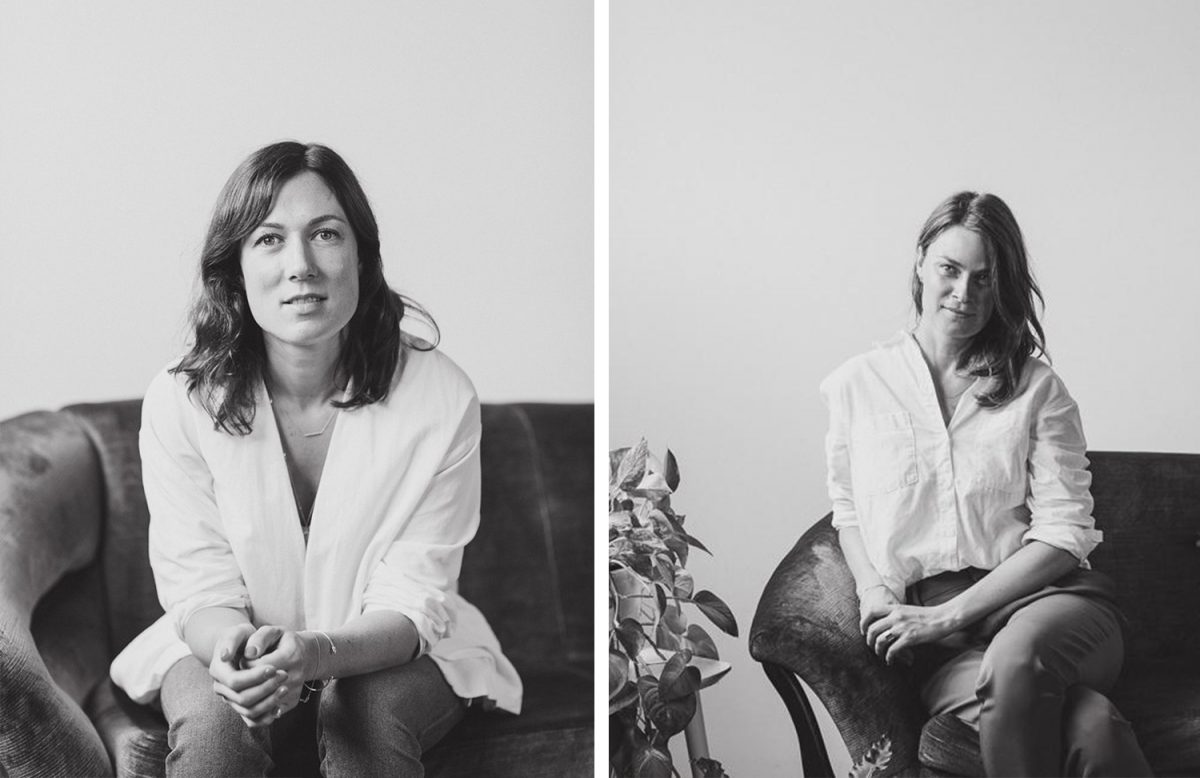 (Left: Susan Shaw | Right: Melissa Gobeil)
---
1 | What drew you both to jewelry design in the beginning?
Susan: I was taking a bunch of different visual arts and science courses in university out west but nothing was really clicking. I tried a bunch of things and eventually ended up in a silversmithing class and it just felt so good! You got to build tiny, wearable little sculptures – I loved it. I loved the problem solving involved, like making sure a piece is comfortable, structurally integral, beautiful –  and that just makes it so interesting to design. After that, I started searching for more courses I could take including one in Mexico then eventually ended up at George Brown College in Toronto where Melissa and I met.  

Melissa: I think there are a lot of us out there who have connected to their craft through the ones that they love.

My love of treasure, story and jewellery came very early in life. From as young as I can remember, the first thing that I would do when we arrived at my grandmother's house after the long drive to Montreal, was run up the big red carpeted stairs to her beautiful bedroom and start opening up her jewellery boxes. Grandma would be there right behind me, helping me unwrap and explore all of the tiny treasures, excitedly sharing stories about each and every piece in her collection.

While I had always dreamed of making jewellery, it was something that I really had to build up the courage to do.  It wasn't until I lost one of my dearest artist friends that I decided it was now or never.  
2 | A lot of jewelry brands offer gold-filled and gold-plated pieces, why do you work primarily with 14K solid gold?
Solid gold just wears so beautifully over time. A lot of plated jewellery eventually ends up in the landfill, but gold never will.  Gold gathers stories, and gets passed down over generations, and we love that.  As goldsmiths, we also love gold's working properties – it's mysterious, transformative, and offers up so much reward.
---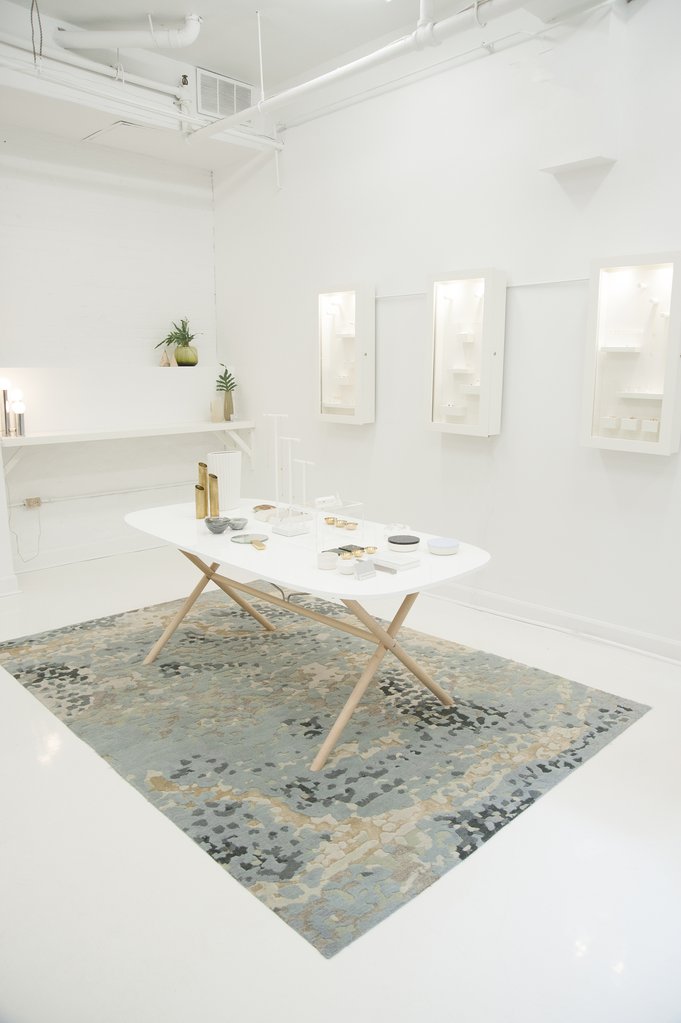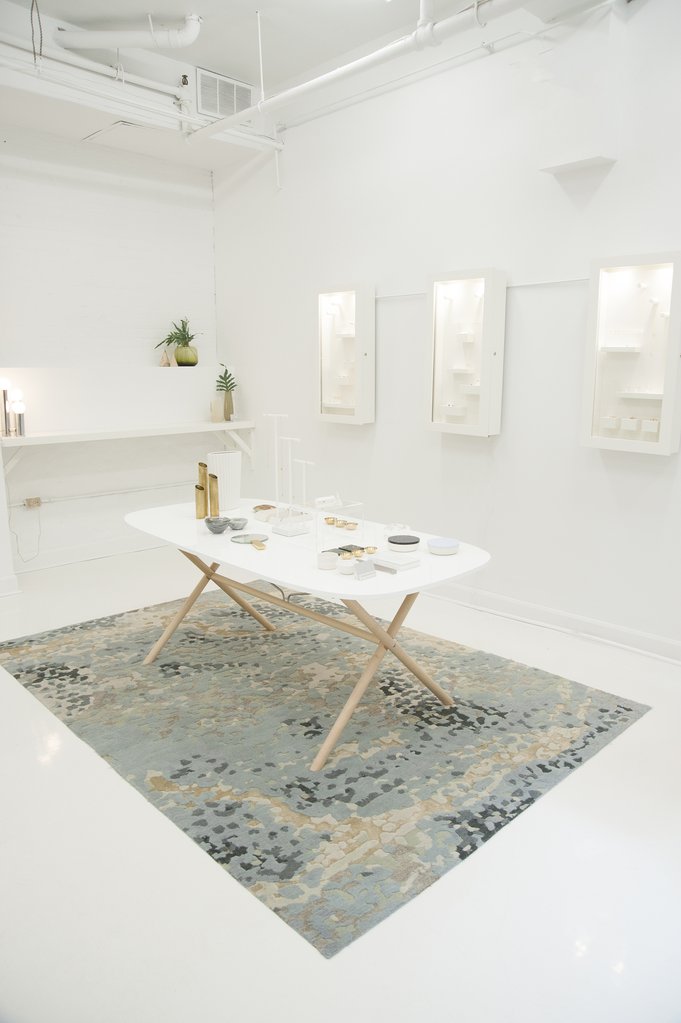 ---
3 | What is the best way to care for solid gold pieces so that they'll last a lifetime, and beyond?
The best way to care for solid gold pieces is to store them gently, remove them when doing things that could damage them ( like fixing cars, lifting weights, and doing dishes), and clean them often.

Having a jeweller periodically look over your pieces that are set with precious gemstones is also very important. Over the years settings that hold gemstones can wear down or be unknowingly damaged.

If something doesn't feel quite right, stop wearing the piece, and visit your favorite jeweller for assistance. Your jeweller will look everything over and  take care of you and your piece.
4 | What are your favourite pieces to wear from the New Classics collection?
Susan: I wear the Cigar ring and the Large Round Signet ring every single day. They're so simple but have a big impact and such a nice solid weight to them.

Melissa: The Poe Earrings are my go-to everyday studs. I adore their geometry, and how they are luxe yet understated at once.
---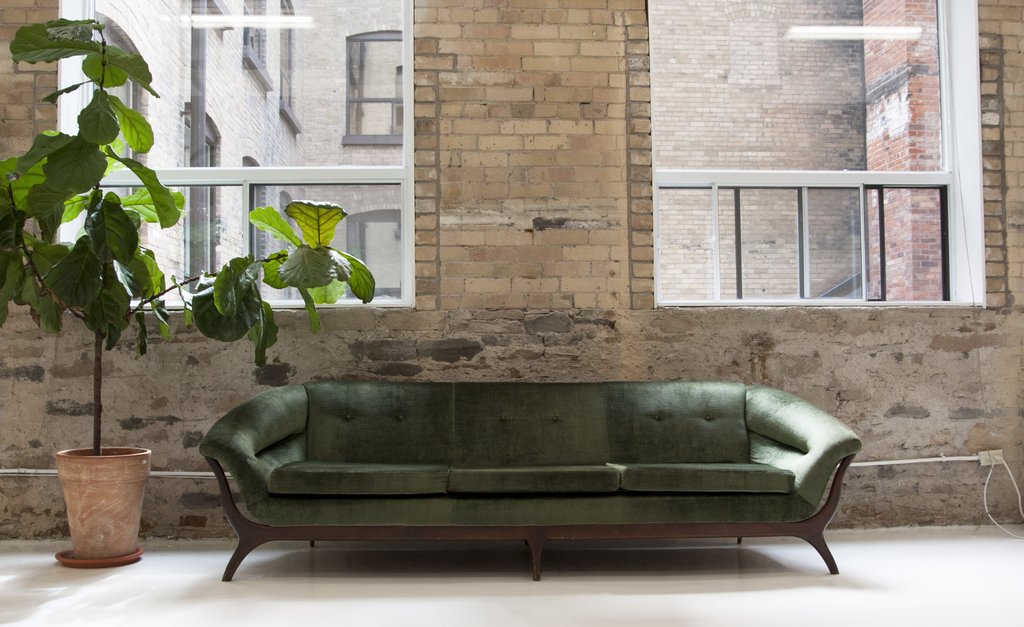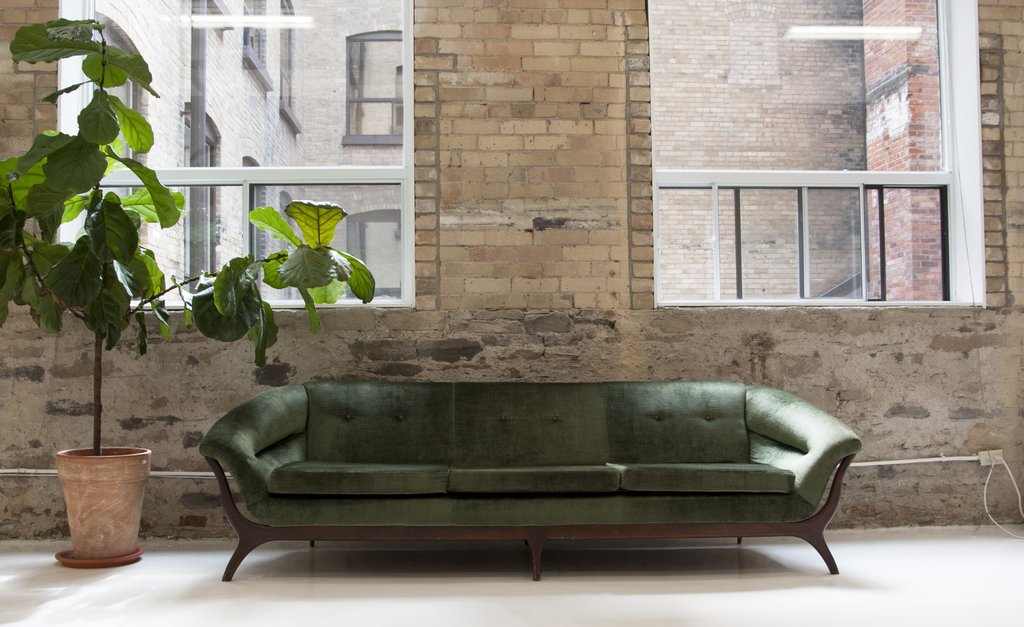 ---
6 | What are your favourite parts of the jewelry design and creation process?
Susan: My favourite part of the process is working with a client to translate their idea into something real. Getting to hand them the final product and to see their reaction, and the emotion around what that piece actually symbolizes for them in incredibly special.

Melissa: Building something from nothing is profoundly rewarding. I love sitting at the workbench with a client in mind while I carve the wax that will become their gold ring. That's pretty awesome.
---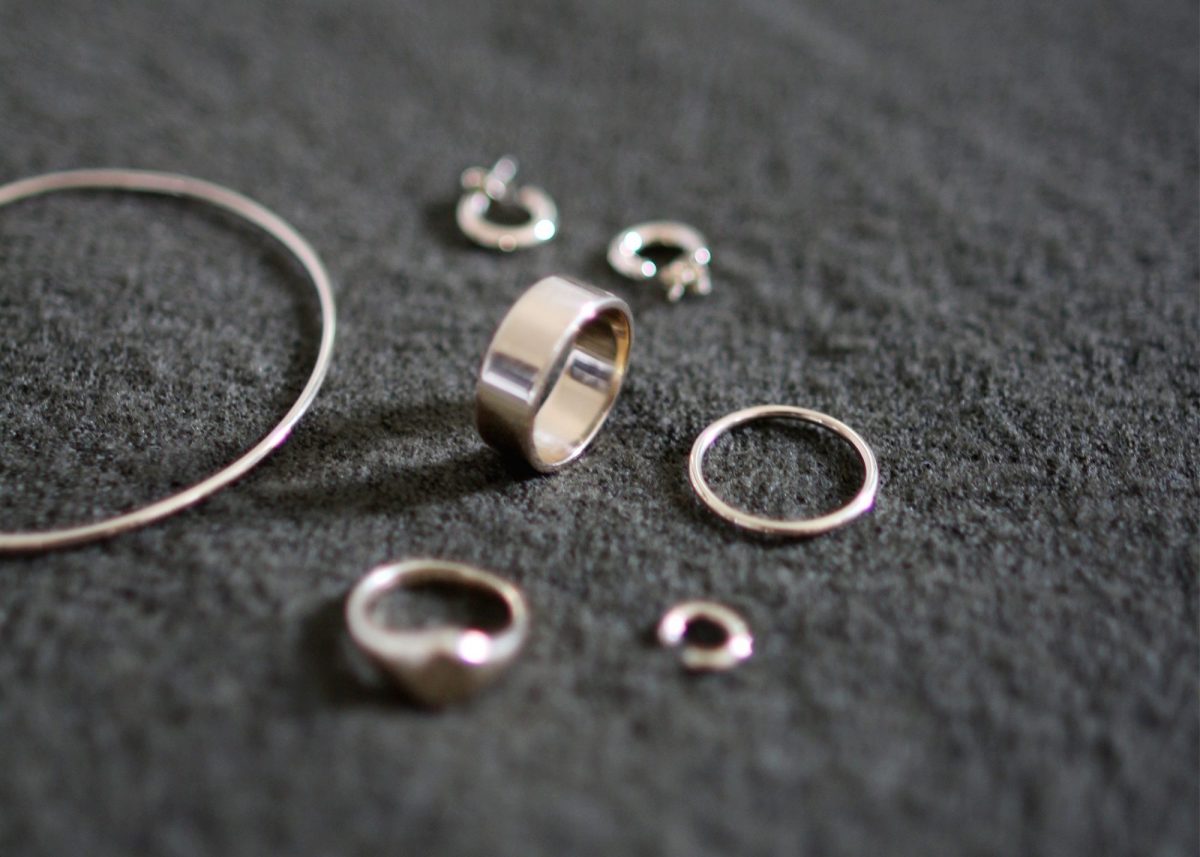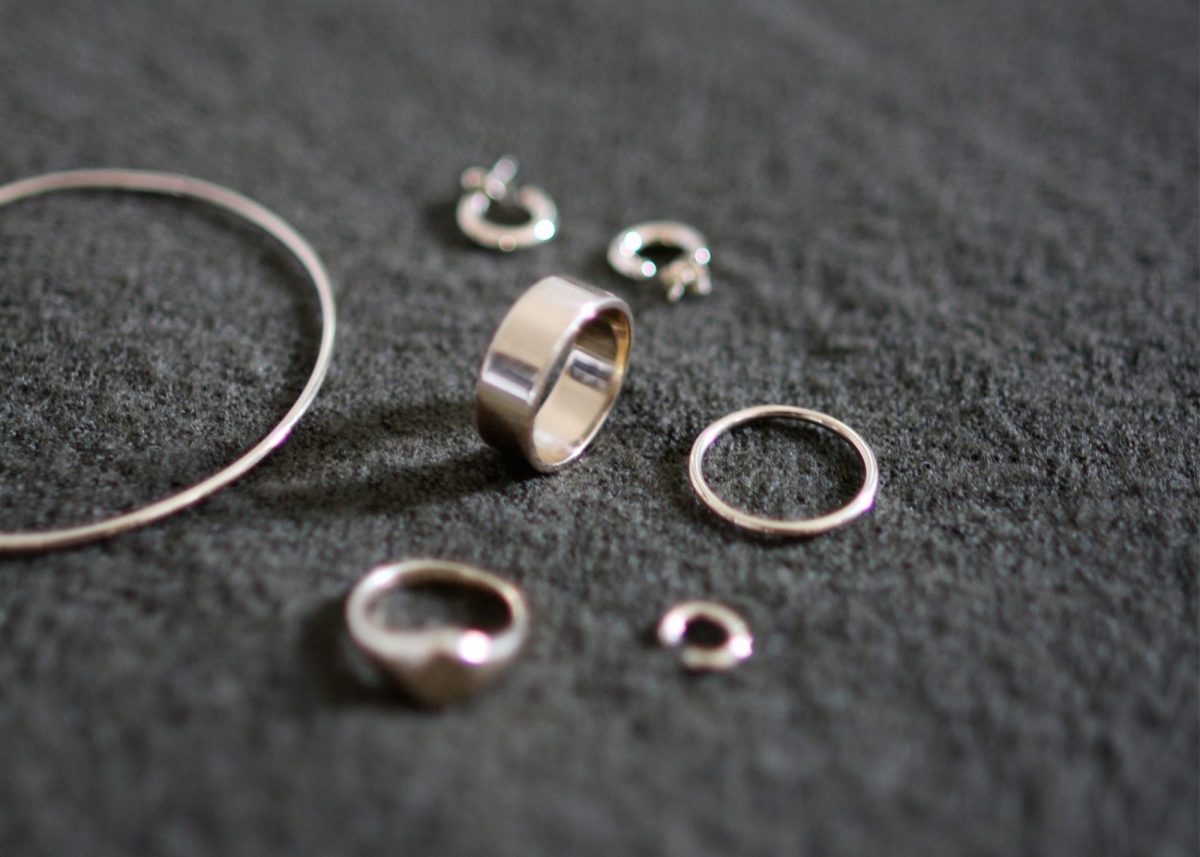 ---
YOU MADE IT! THANKS SO MUCH FOR READING, I REALLY HOPE YOU ENJOYED THIS POST.
---
I'd love to know which New Classics Collection pieces stand out to you!
If you have any questions about the collection or ideas for ATTIC please feel free to get in touch right here or via email at INFO@ATTICGOLD.COM.
Big thanks to Melissa and Susan for all they do and for letting me share their incredible work in this way!
---
I'll be back on Monday with my August Wear Count and lots of transitional looks to help you embrace Fall while it's still warm out.
Have a wonderful weekend! 
---
This post was produced in partnership with ATTIC, a responsible brand I've been a long-time supporter of. I was loaned most of the products reviewed and receive a commission on sales made using the 'STYLEBEE10' discount code. All opinions are my own and I thank you for supporting the brands that support Style Bee!