Aaannnnnd we're back! I hope you had a wonderful long weekend! What did you get up to? Lot's of fam jamming or did you lay low and get in a much needed recharge? I did a bit of both and spent Friday half working, half chilling (ie: watching UnReal Season 2) and then we went out for an overdue date night. After a morning of errands on Saturday we had a great time at a big family brunch and spent most of the day outside (thank you Mama Nature!). After that we took our bikes out for the first spin of the year and rode the Grand River Trail. Pure bliss just about sums it up! Sunday was my usual marathon shoot and blog prep day, which I relished as always.
A weekend well spent means I'm energized and ready to dig into a new week of #Spring10x10 Challenge goodness with my girl Caroline of UnFancy and all the savvy stylish folks who've joined us! So how are you feeling now that we've passed the halfway mark? At this point you've likely worn all your 10 pieces at least once so it's time to start flexing those creative muscles! I know you've got some awesome looks up your sleeves (pun intended) and I'm so looking forward to getting caught up with all your great outfits this afternoon.
If you're interested in getting in on the 10×10 Challenge fun it's never too late! You can get all the info here and tons of inspo here.
Today's outfit is a new one for me and I'm sharing a little bonus styling idea, so let's take a look! 
---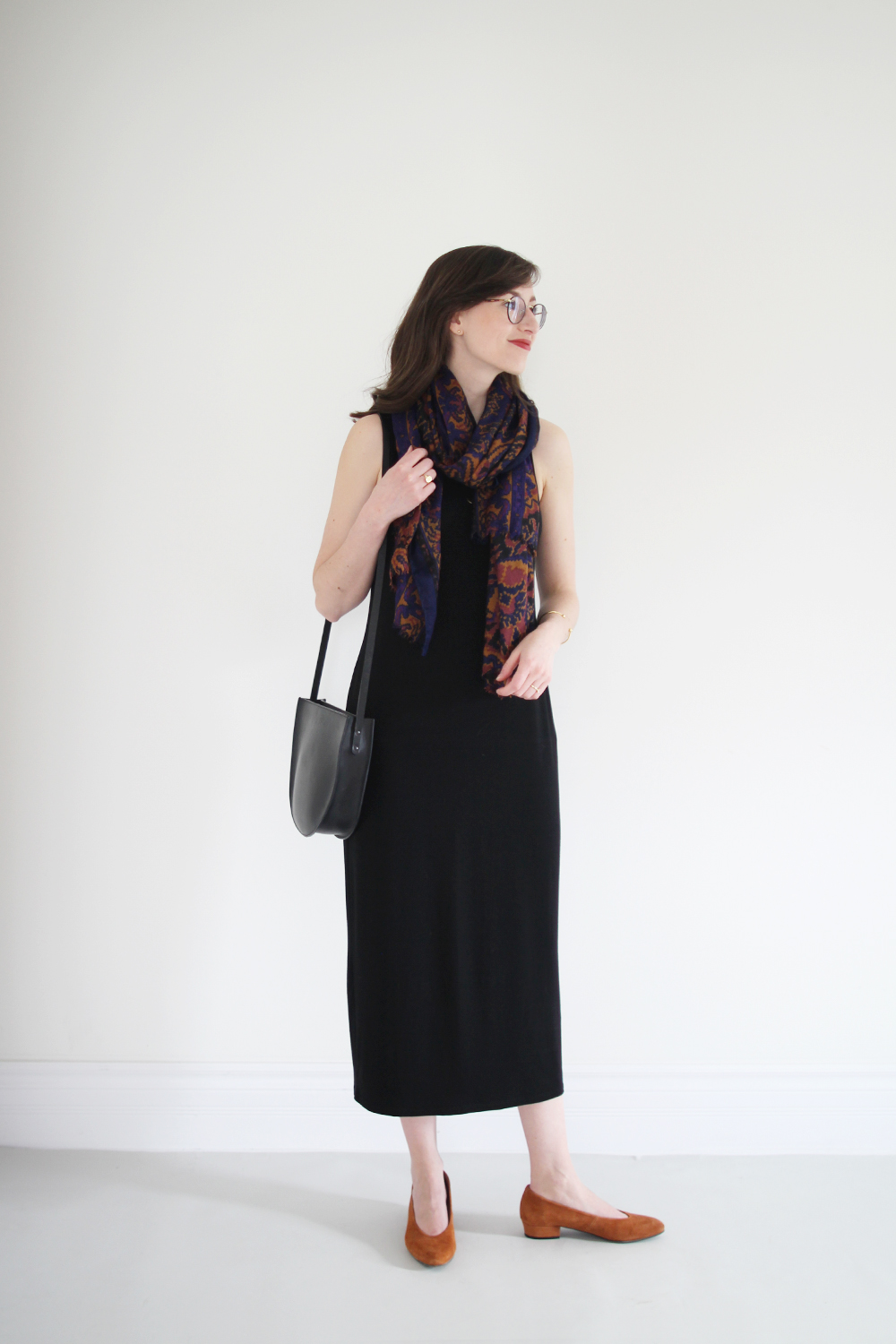 ---
INITIAL THOUGHTS
---
I took the weekend off from the challenge to wash some things, iron some others and plan for the week. I still wore my shoes for the most part and my jeans on Saturday and Sunday so I felt pretty cool with it. In fact, this look was an impromptu outfit change on Friday night when Dave surprised me with a reso at our favourite Italian restaurant. I slipped into this little number, grabbed a coat and slung this scarf around my neck and immediately felt chic and ready for a night out with my handsome fella.
Now I'm not going to lie, I've struggled with the 'little black dress' department in my closet for a long time. I've had my fair share of options over the years but sure enough they all end up making their way onto new homes. Either they're too little, too silky, too corporate, too blah or too…whatever, but this one feels different. It's just not like the others and I dare say it's got some serious staying power.
I barely wore any dresses all winter long but this one started to make its way into the rotation over tights and under sweaters very soon after it arrived. Now that the weather is more friendly, it's proving even more of a workhorse than ever and I'm totally changing my tune towards dresses.
This is definitely a new silhouette for me and yet it feels pretty natural. The comfortable, effortless fit of this dress combined with a familiar palette definitely helps. I also think it's working well because it's what I call easy-elegant, meaning that it feels super comfy, takes minimal effort and yet it has a high sophistication factor. The rich black, pop of pattern, minimal accessories and final touch of cognac suede come together for a high impact outfit with zero fuss involved. I also love that it's feminine but feels far from girly. More on all that below!
Today's Agenda: In this one I'm ready for anything the day throws my way. Whether it's a client meeting, time in the office, a coffee date, errands, dinner out or even better, a concert I'm all set! In fact today's agenda has a little bit of all those things involved and since it's a little chilly out (13 degrees) I'll probably keep my duster on all-day and add the scarf when I head out. 
---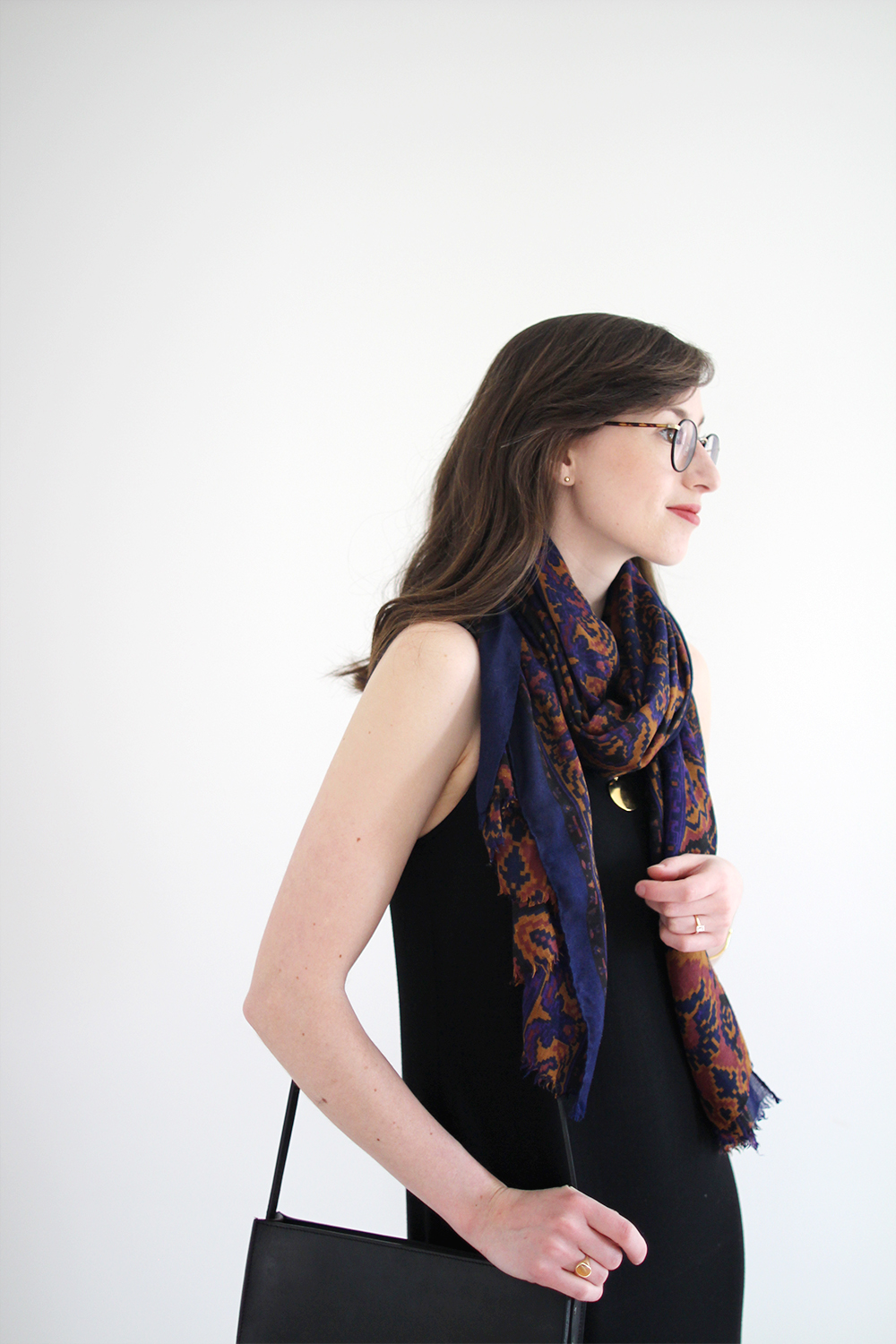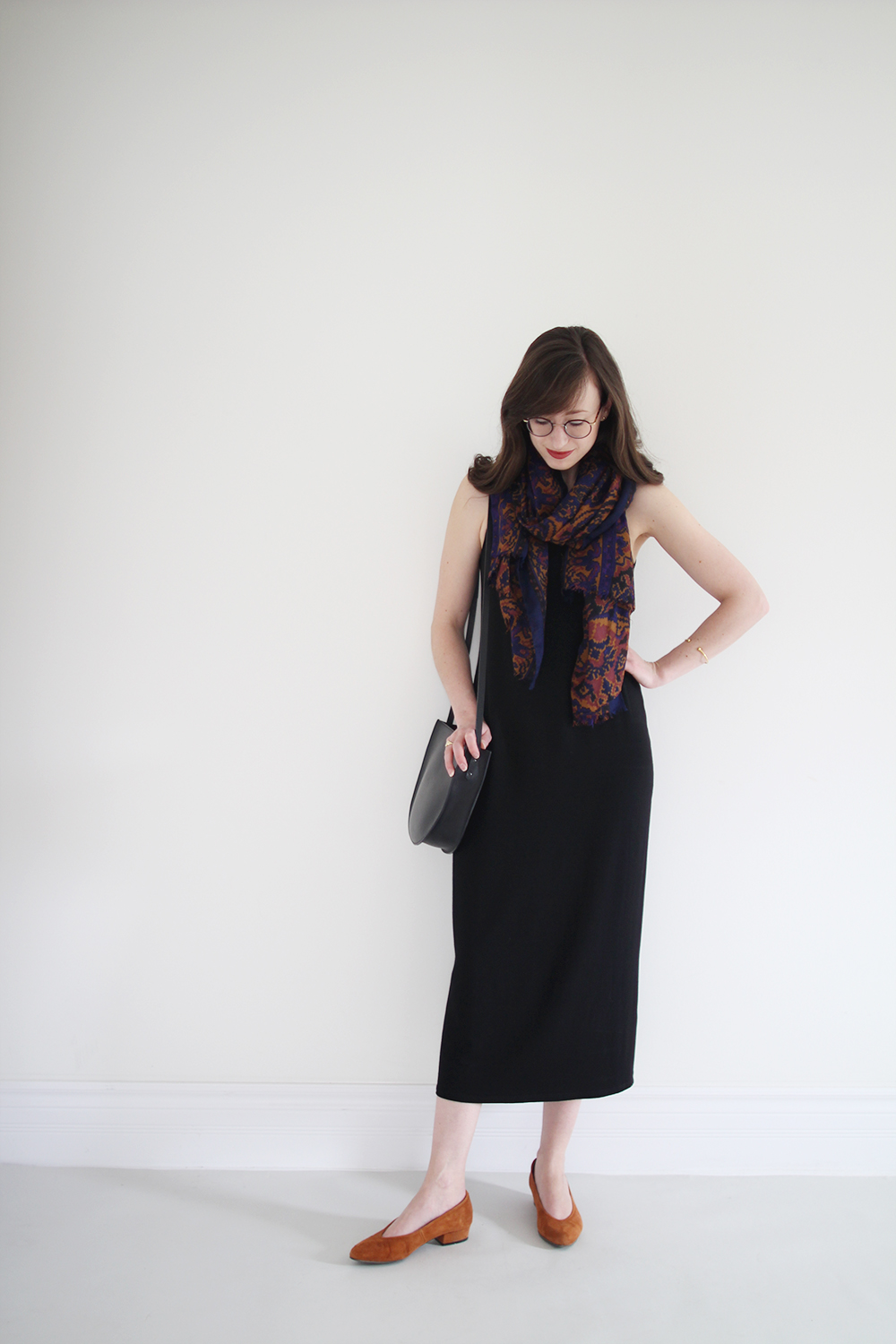 ---
STYLING NOTES
---
1 | GET IT TAILORED | Before I found my new favourite tailor in Guelph I was reluctant or mostly just never really considered having things tailored unless it was an obvious thing like hemming or taking in the waistband. But now that I have someone I can trust to do a good job, quickly and for a very fair price, I bring her everything I want to fit better. On this dress the arm holes were huge and stuck out too far revealing my bra so I asked her to take them in. Suddenly it went from being awkward to being the perfect dress!
Before you write something off as ill-fitting consider if there is an element that might be improved via tailoring. 
2 | PATTERN POP | It's funny I rarely wear this scarf aside from 10×10 Challenges and yet it works some major magic every time. I love how it brings this look to life and really ties in the cognac colour in my shoes. Suddenly a harsh, heavy, black outfit feels softer and much more spring appropriate. Plus it adds a bit of coziness around my neck.
When you're wearing a pattern look for a colour within it and consider pairing another element in the look with it. No matter how subtle, it really helps to pull a look together. 
3 | ROUND ABOUT | All my jewelry has a circular element in this outfit. Round dome studs, a flat circular pendant and two small spheres on my bangle. They're not overtly matching yet they add a nice element of continuity throughout the look.
When you'd like to add jewelry but want to keep your look clean and minimal, opt for pieces that are simple but feature recurring shapes. This way they're read as united instead of random.
---
BONUS STYLING NOTE: ADD A BELT
---
Here's a look at this dress and scarf combo worn with a thick black belt for a more waist defining look. Immediately it feels a bit more formal and deliberately styled. I love this as a day to night option to make a bit more of a statement.Belt available here.
---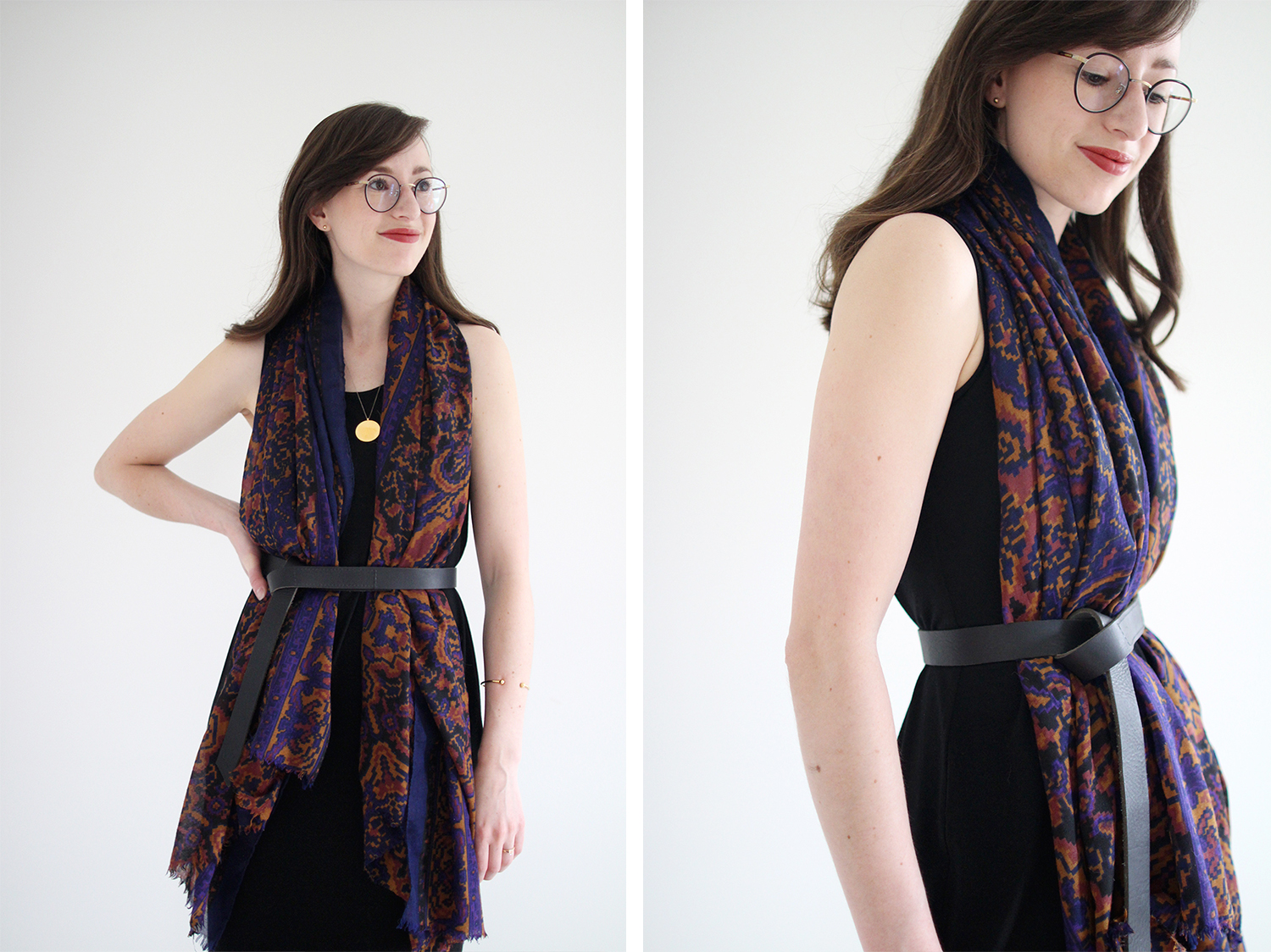 ---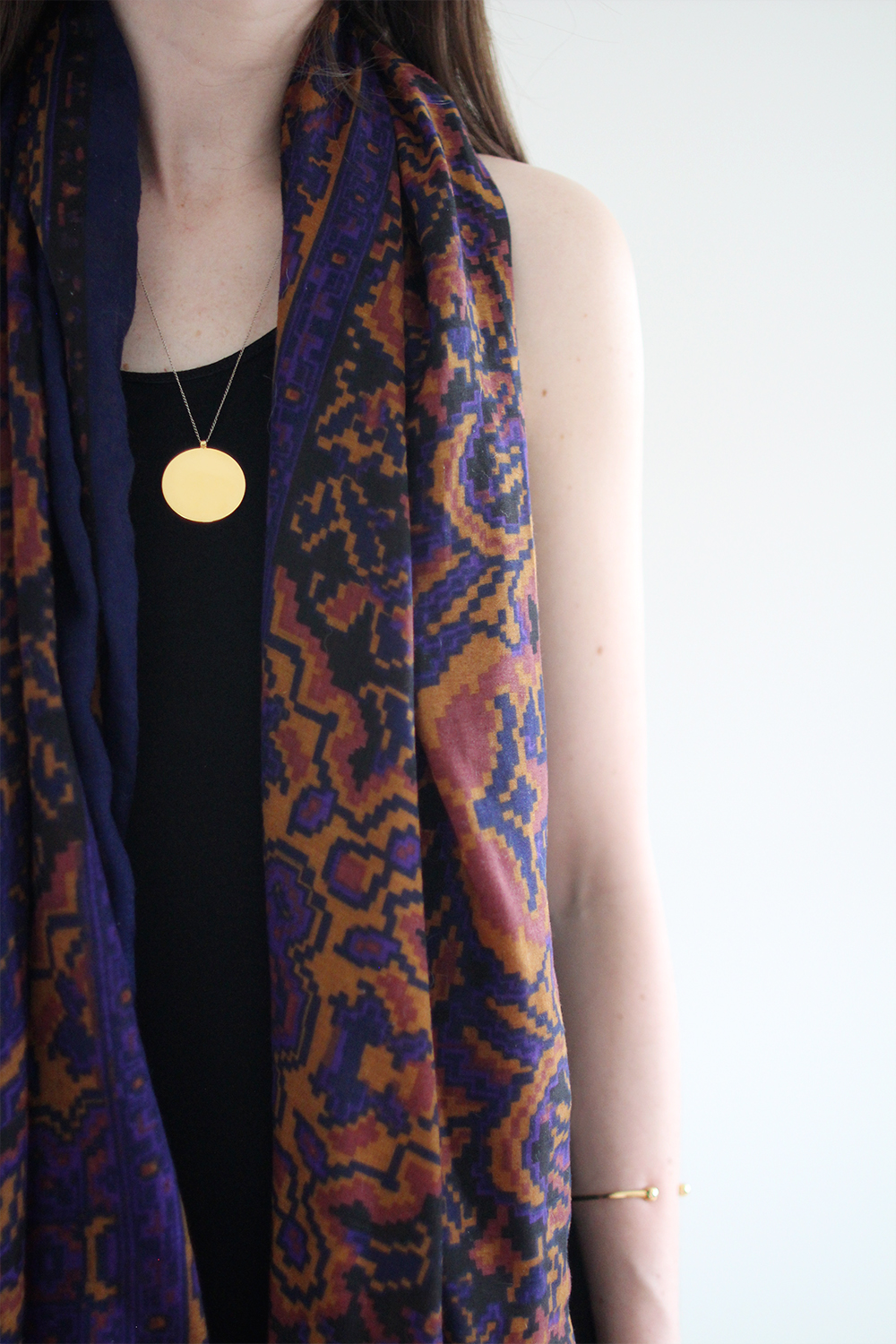 ---
TODAY'S ITEM SPOTLIGHT – JERSEY TANK DRESS
---
Today's item spotlight is the Jersey Tank Dress by Eileen Fisher. I received this piece during my System Collaboration and immediately knew it was going to be a warm weather favourite. I'd never tried anything like it before and I surprised myself by how much I loved it. After testing it out a bunch and giving it some thought, there are a few key elements that make it a hit (rather than just a sack) and here's a quick breakdown on what those are:
FIT | I'm wearing a Size S and it's just right. Relaxed enough through the hips to not feel tight and thanks to my tailor, the armholes fit now too. I'm 5'7, 125 lbs and my measurements are 32/26/37 for reference. For this one I would probably take your normal size (if you're curvy in the hip zone) and have the armholes nipped in. Otherwise it might be smart to size down.
FABRIC | One thing I've learned about Eileen Fisher pieces is that they use some seriously beautiful fabrics that feel amazing on. This is a Jersey knit is definitely one of those and made of 92% viscose, 8% spandex which drapes beautifully, has lots of stretch and excellent recovery. I shot this look after wearing the dress all day long (12+ hours) and it barely shows aside from a slight bit of relaxation in the seat. No wrinkles or creasing at all. It's also a deep rich black, which I love and doesn't seem to pick up too much lint or pet fur, which is amazing! It's the perfect mid-weight jersey that will be wonderful in many temperatures.
PRICE | $210 USD
WASHABILITY | I've washed this one a couple of times now and it comes out great. Hand wash cold on delicate, remove promptly and hang dry. It has not faded at all so far either.
LENGTH | I love the midi length of this dress. It's approximately 49 inches from shoulder to hem. I find it very flattering and elegant. The narrow width the bottom is no problem since the material is highly stretchable. If you're worried about length this style is also available in Petite sizes.
SHAPE | The shape of this dress is so simple but a few smart details make it a true workhorse:
The straps are bra friendly.
The scoop neck hits at a perfect spot to layer necklaces and so you can lean forward without issue.
Even though it appears very column-like (straight up and down) it's cut allows room for your hips and then falls in a straight line down.
It nips in slightly at the waist for a subtle hourglass shape.
The straight hem at the bottom is clean and chic.
If you're looking for a chic black dress that you can style a zillion ways and wear to work, dinner, dressy-events, on vacation, the cottage, a girl's night out or just about any other occasion, this gem is a great option!
---
I wasn't paid to include this dress in the 10 x 10 Challenge, nor is this in any way sponsored by Eileen Fisher, however I do make a small commission when a purchase is made via the links in this section or below. This commission helps me run Style Bee and limit the amount of sponsored content that appears on the blog. I sincerely appreciate your support! 
---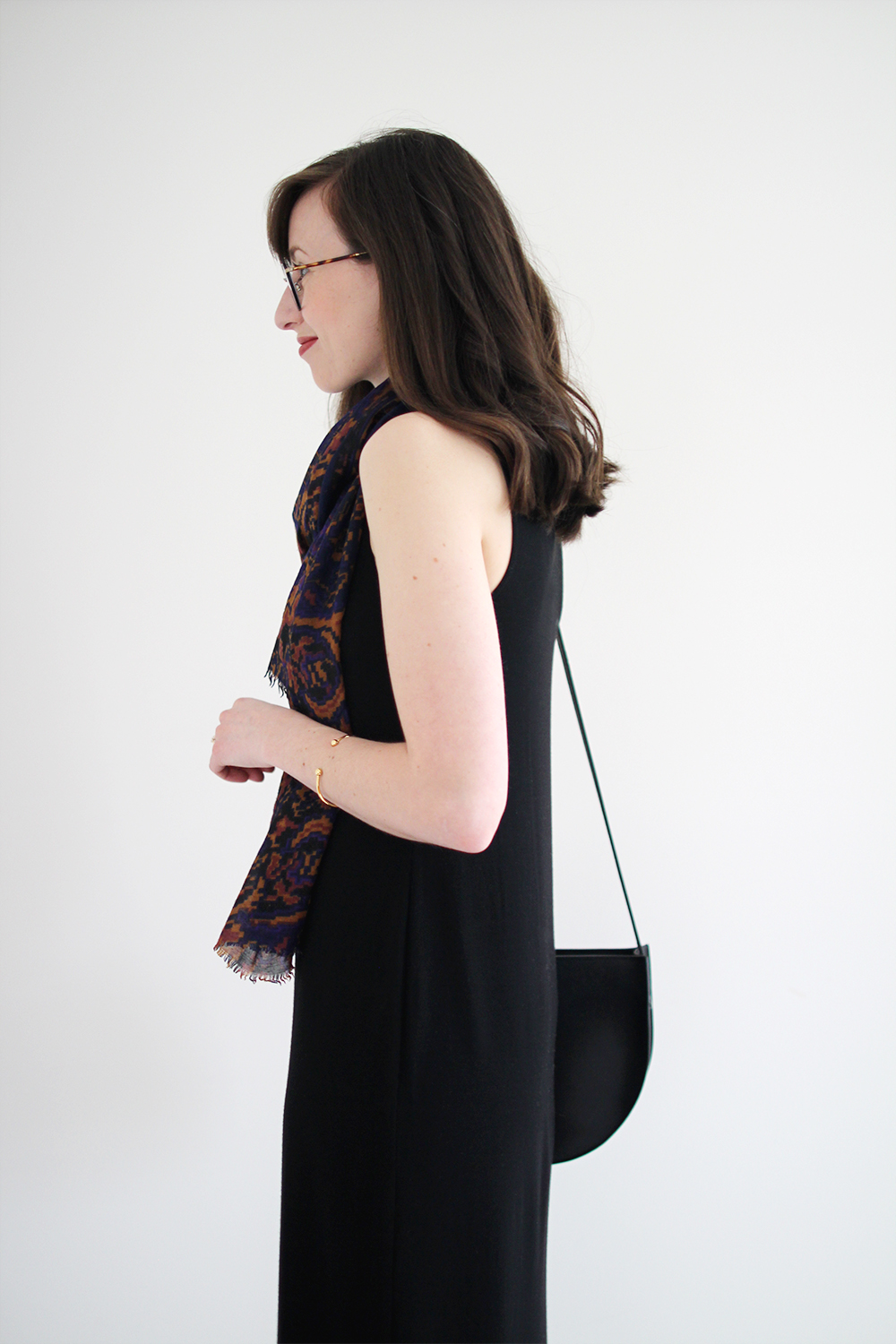 ---
COAT OPTION
---
This dress and this coat are a perfect match, in my opinion at least. I love how the length of the dress is a few inches longer than the coat so your get to see a good chunk of it peeking out at the bottom. I worried that the colour of the coat and shoes might not work but they're a similar enough 'clay' or 'cognac' colour in slightly different richness so I think they do, especially with a thick border of black (from the dress) separating them. The whiskey tone in the scarf pattern also picks up really nicely when paired with this coat so I knew they'd have to make an appearance together on the blog. For a linen coat this one is quite toasty and has a beautiful weight and movement to it. Catch it in action on my stories @leevosburgh!
---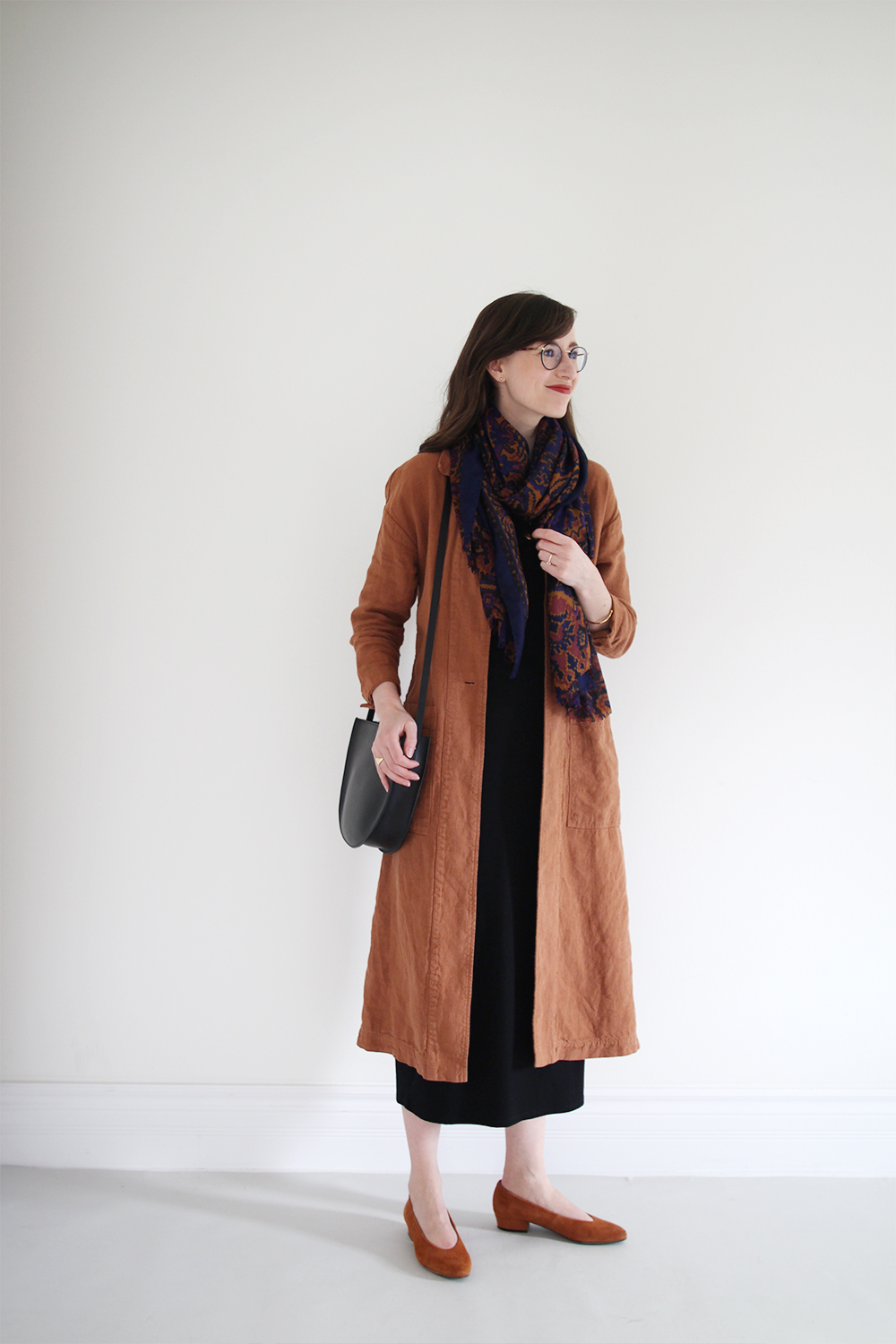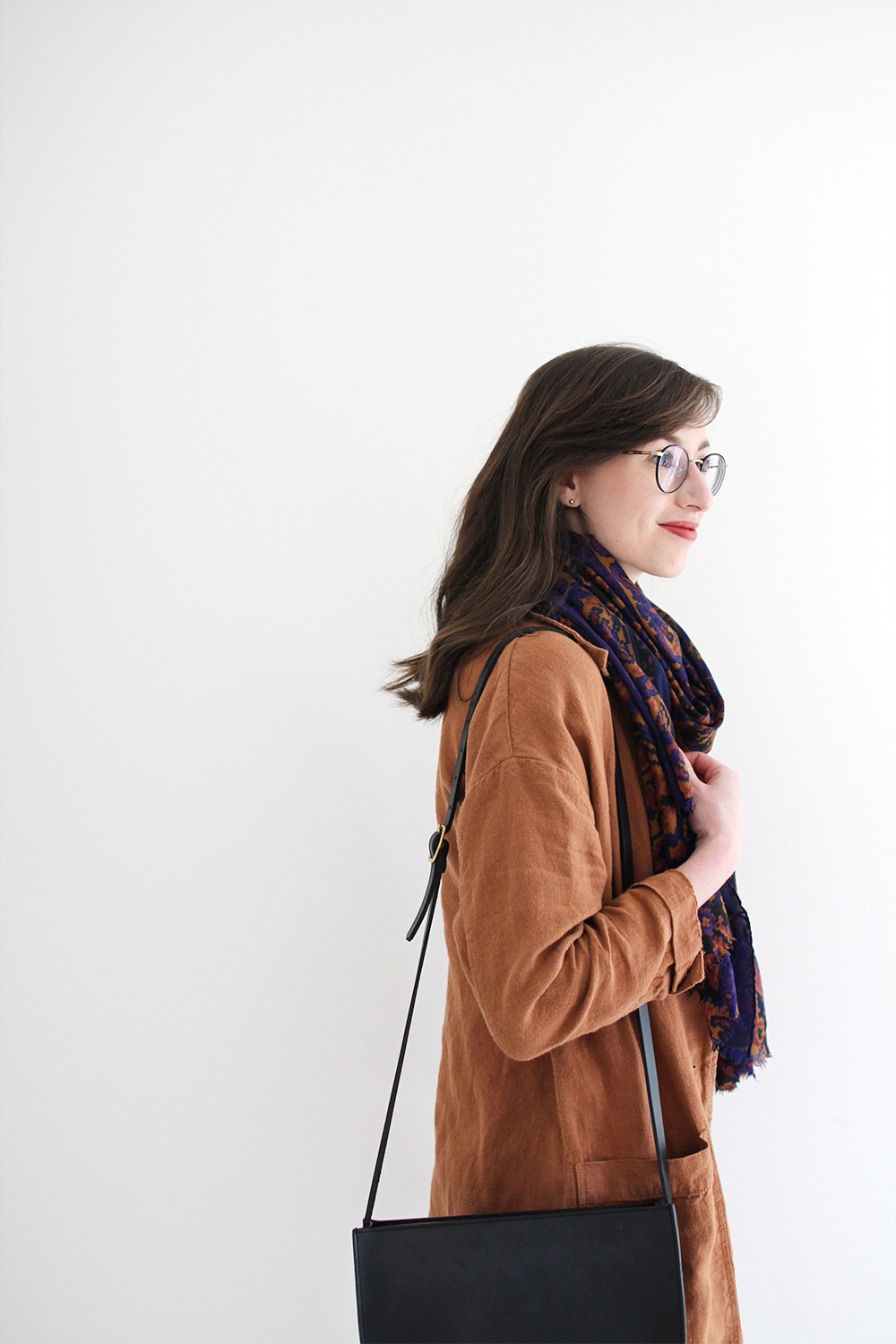 ---
1 | JERSEY TANK DRESS | c/o Eileen Fisher (4 months old) | $278 CAD | Made responsibly in USA
2 | BARONNE DUSTER | c/o ESBY | $368 USD | Made responsibly in USA | Receive $20 Off when you sign up here. | Wearing an XS.
3 | COGNAC SUEDE FLATS | L'Intervalle (2 months old) | $138 CAD | Made in Spain | Similar pair by Stuart Weitzman ($365 USD) and in Blush by Coclico ($295 USD) |
4 | ELOISE BAG | The Stowe | $378 USD | Made in Montreal | Receive $20 Off when you sign up here. 
5 | SCARF | old URBAN OUTFITTERS | Shop my favourite scarves by Blockshop Textiles here ($120 USD).
6 | DOME STUDS by ATTIC | $290 CAD | Made in Toronto.
CIRCLE NECKLACE old YOUNG FRANKK* | BRACELET c/o BIKO | SIGNET RING c/o CLAUS | GLASSES by GARRETT LEIGHT | *linked to similar
---
So tell me how you're feeling about the back half of this challenge? Is it starting to test your creativity a bit?
I'd love to hear more if you have a sec.
Tune into my Instagram Stories (@leevosburgh) later today for a look at this one in action. Be sure to see what Caroline is up to over on her blog and Instagram too!
See you on the #Spring10x10 hashtag and tomorrow with Look #7!
---
This post is not sponsored but contains affiliate links. When you shop via the links above I may make a small commission from a sale. Thanks for supporting Style Bee! All opinions are always my own.