Hi everyone! I hope you've all been having a wonderful summer season filled with joy and rest. I've been away from the blog but newsletter readers will know that the opposite is true for my garden. It's become a total obsession and I'm leaning into my gardener era with unbridled exuberance.
For Ontarians, this is the time of year when we finally get to reap the rewards of our patience and dedication. If we're lucky, the bounty is plentiful and we'll have an opportunity to share it.
To celebrate this brief time in the season, I thought it would be fun to share a late summer inspired table and a simple menu I recently put together using all the in-season ingredients we had on hand.
Read on for a few of my easy tips to create a layered and inviting table and get ready to save some of my all-time favourite recipes.
---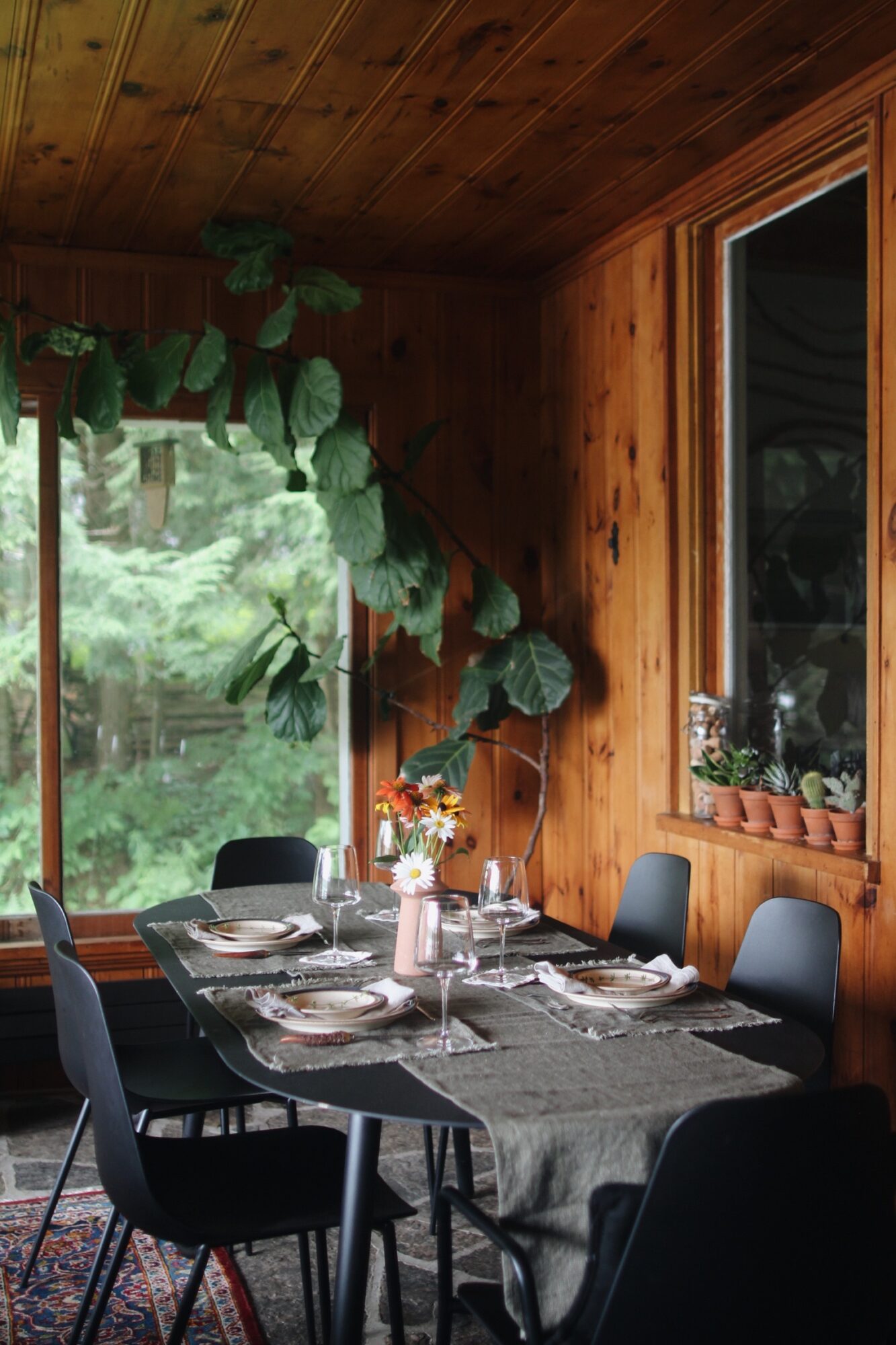 ---
The table linens featured in this post were kindly sent to me by SÖMN, one of my favourite independent Canadian textile purveyors. They do the most luxuriously soft and impeccably woven linen goods for the home and our table has been graced with their Dash Linen Collection all season. The whole collection is so lovely to use and easy to wash, I just know they'll be part of hosting at Steep Hill for years to come.
Included in this post are the following:
Be sure to use:
at SÖMN a Style Bee affiliate partner.
---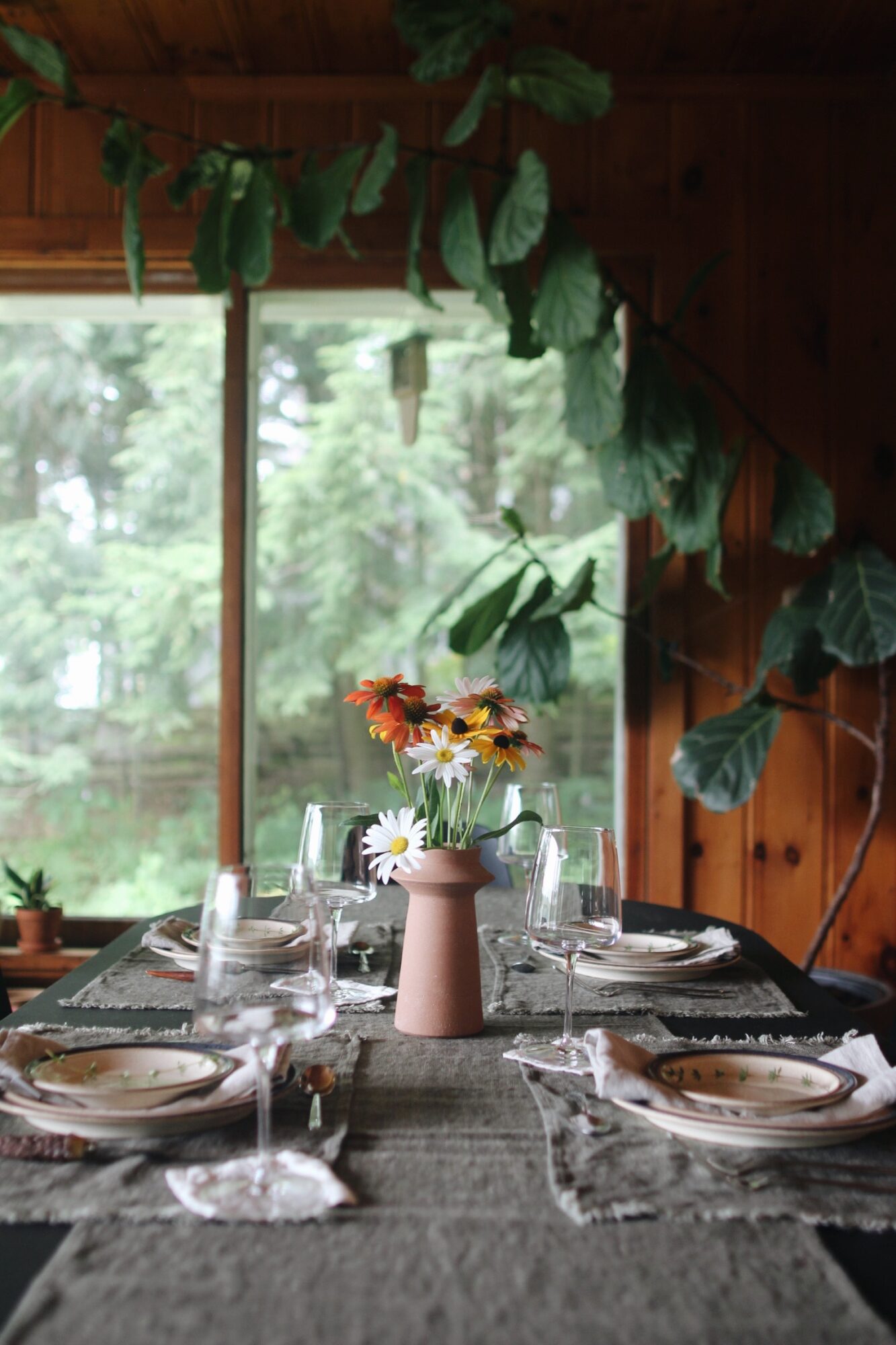 ---
My tips for an inviting harvest table:
1 // LAYER UP VS OUT
We are tight on space when it comes to our dining table so layering helps keep things organized without sprawling. I like to start with the dinner plate, then layer a napkin on top and a side plate stacks on that. This keeps the setting compact without sacrificing the necessities. Plus then there's never confusion about whose napkin is whose.
I chose the long linen runner for our dining room because it elongates the table without overwhelming the space. I love how the matching green placemats add depth and texture without making the space feel cramped and how off-white linen coasters brighten a dark table.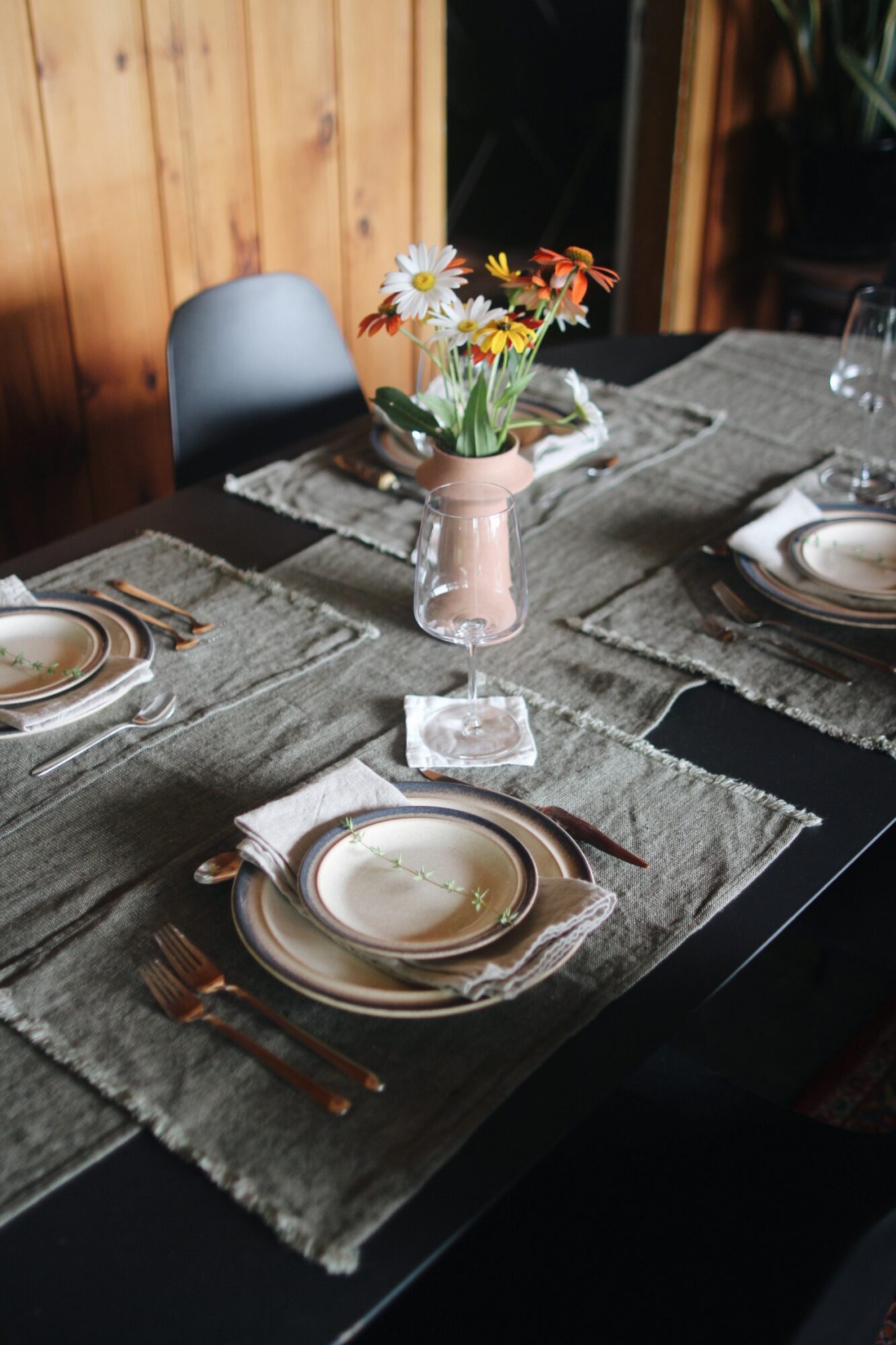 2 // KEEP IT NATURAL
While I try to keep the table free of unnecessary clutter, I love adding a little bit of life with freshly cut flowers that add some vibrance and a sprig of thyme or an aromatic herb at each setting.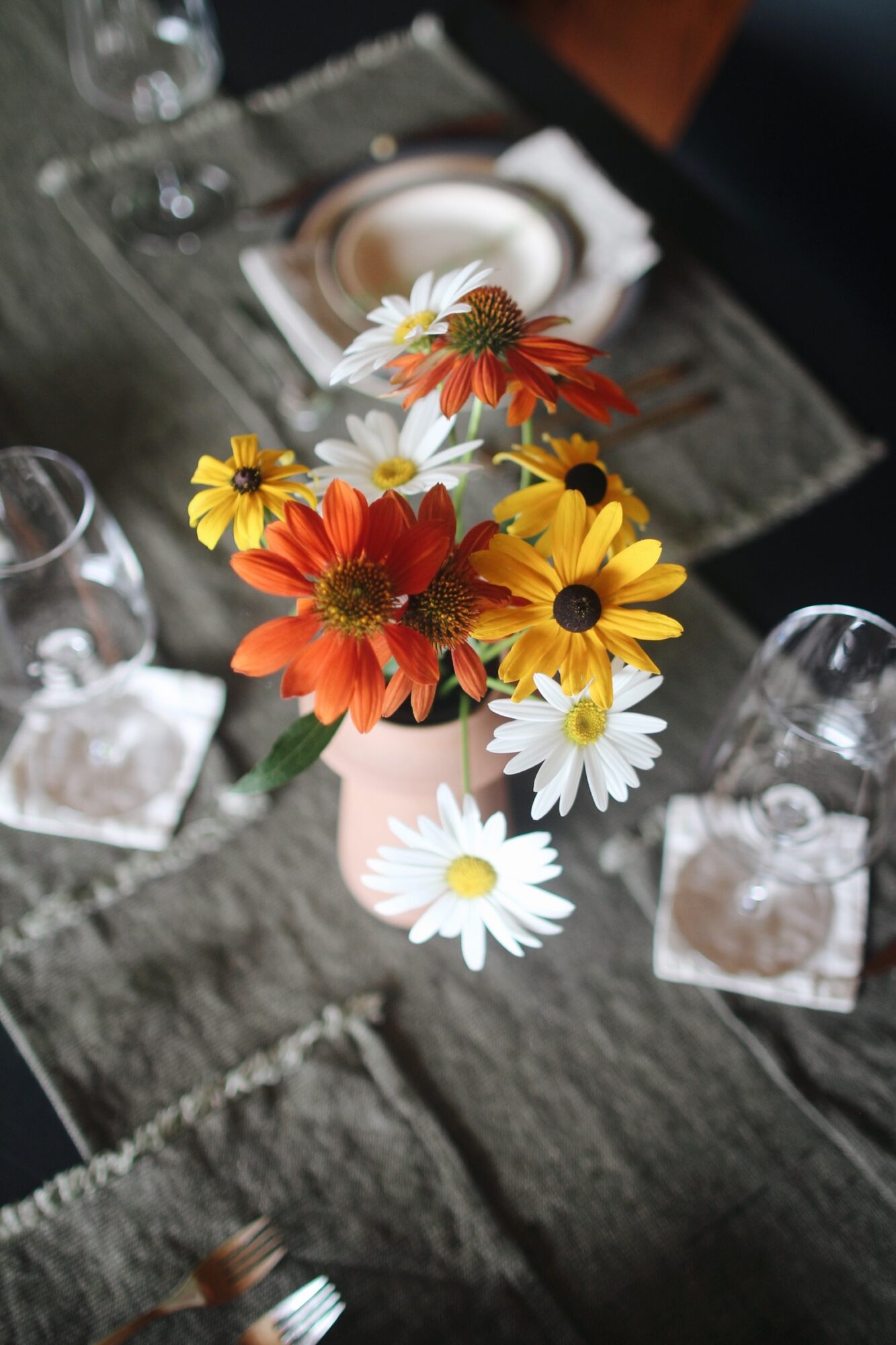 3 // MIX & MATCH
Our dinner "set" is a hodgepodge medley of things we brought from our old home and pieces we inherited with the cottage. Special treasures like antler handle knives and vintage stoneware serving dishes give the table charm and character and I love adding dessert spoons with different handles.
We only have red wine glasses at the moment so that's what we use, even for bubbly, and not one guest has refused a sip! Oh and I always serve water in these green glasses, I just forgot them for the shoot.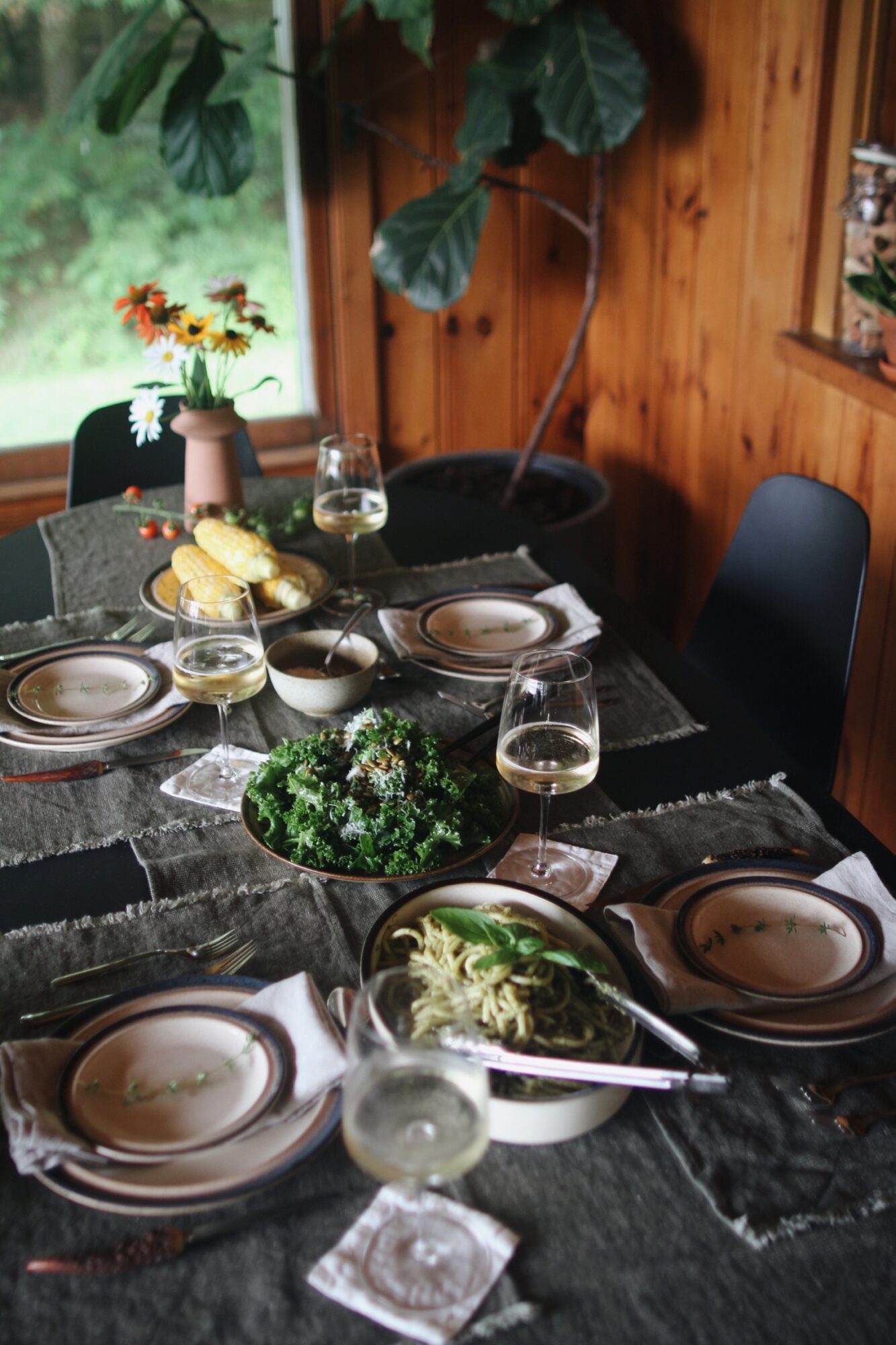 THE MENU
In this case, I was just making dinner for Dave and me so we didn't go way over the top, but I would happily serve this exact meal (plus perhaps an appetizer like this and an additional main dish like this cod or this chicken) to guests any time.
So here's what made the menu and the recipes I use time after time: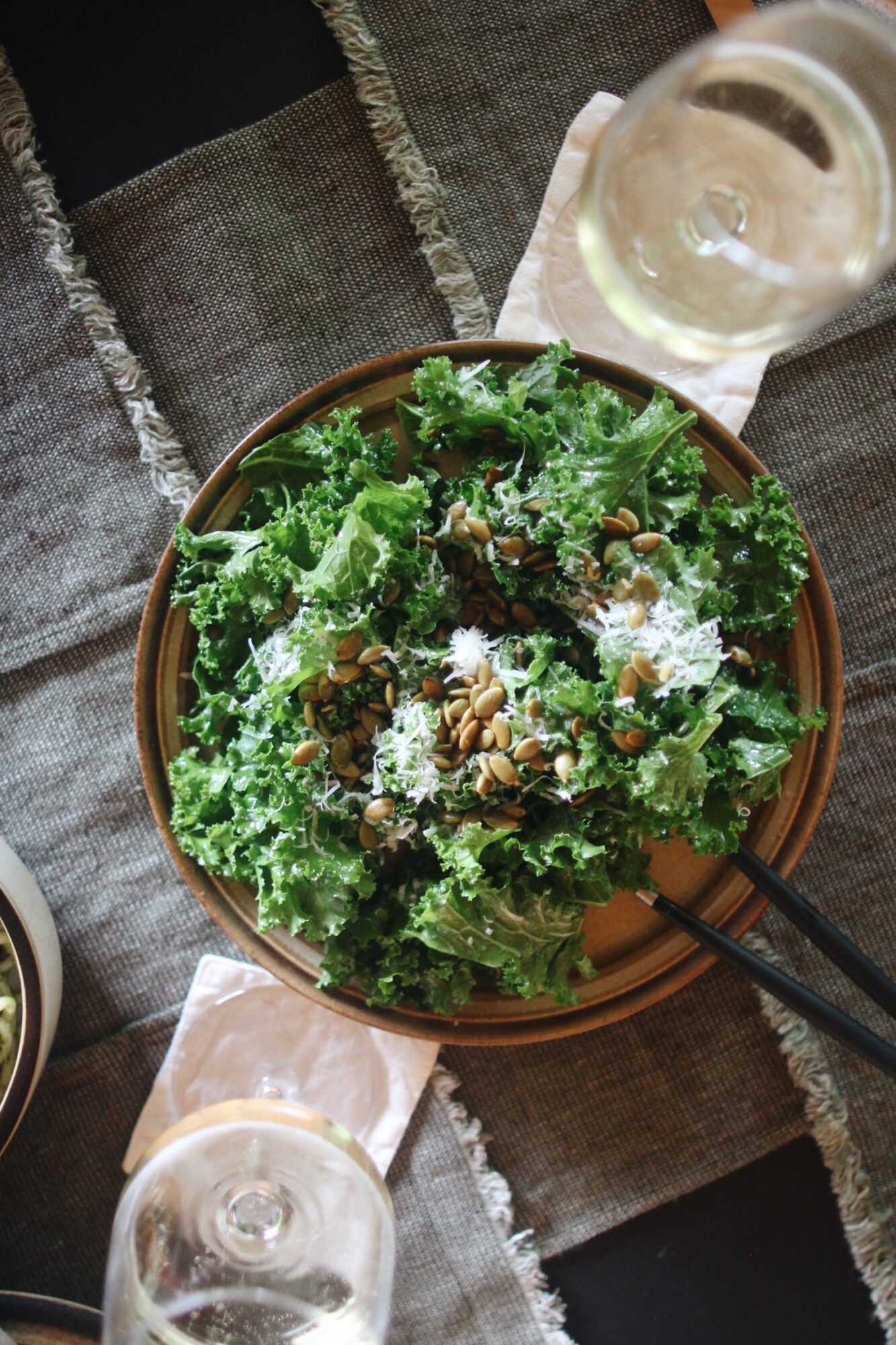 CURLY KALE FROM THE GARDEN WITH A SUN-DRIED TOMATO DRESSING, TOASTED SUNFLOWER AND PUMPKIN SEEDS WITH A SPRINKLE OF FRESH PARM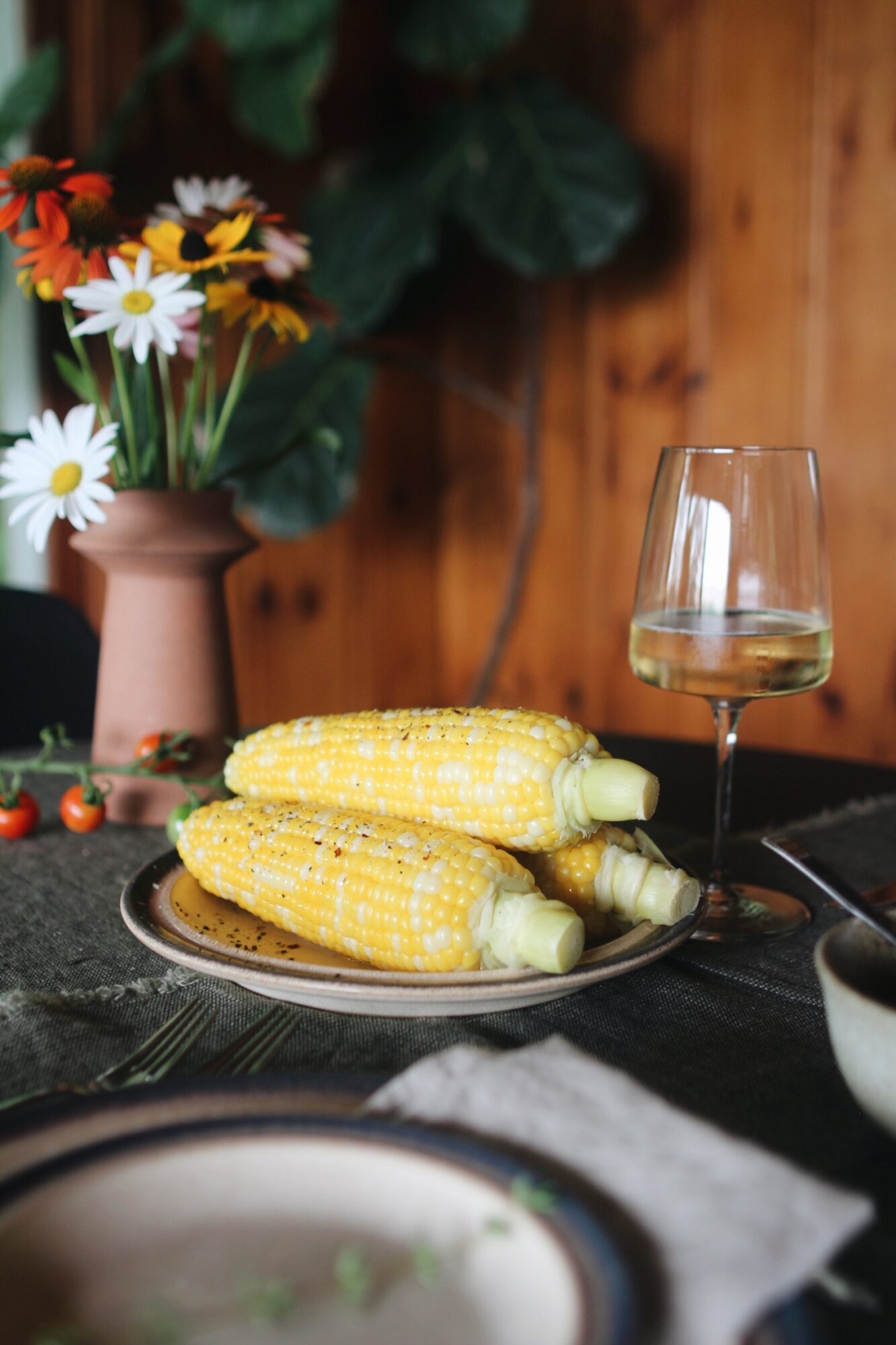 FRESH LOCALLY GROWN CORN ON THE COB COOKED TO PERFECTION & TOPPED WITH SALTED BUTTER, BLACK PEPPER & A DASH OF RED PEPPER FLAKES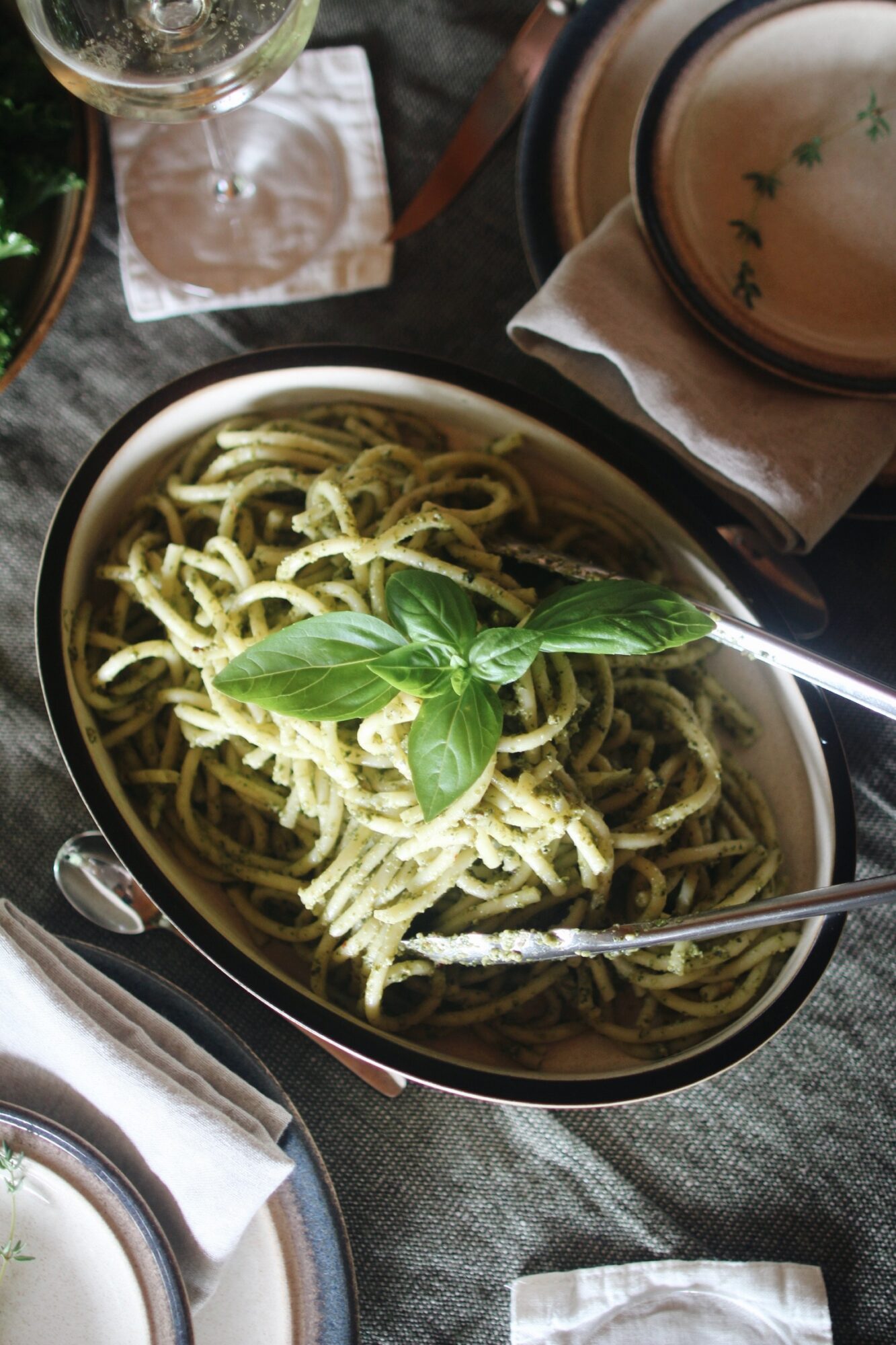 FRESHLY PICKED BASIL PESTO WITH BUCATINI NOODLES AND LOTS OF FRESHLY GRATED PARM FOR SERVING.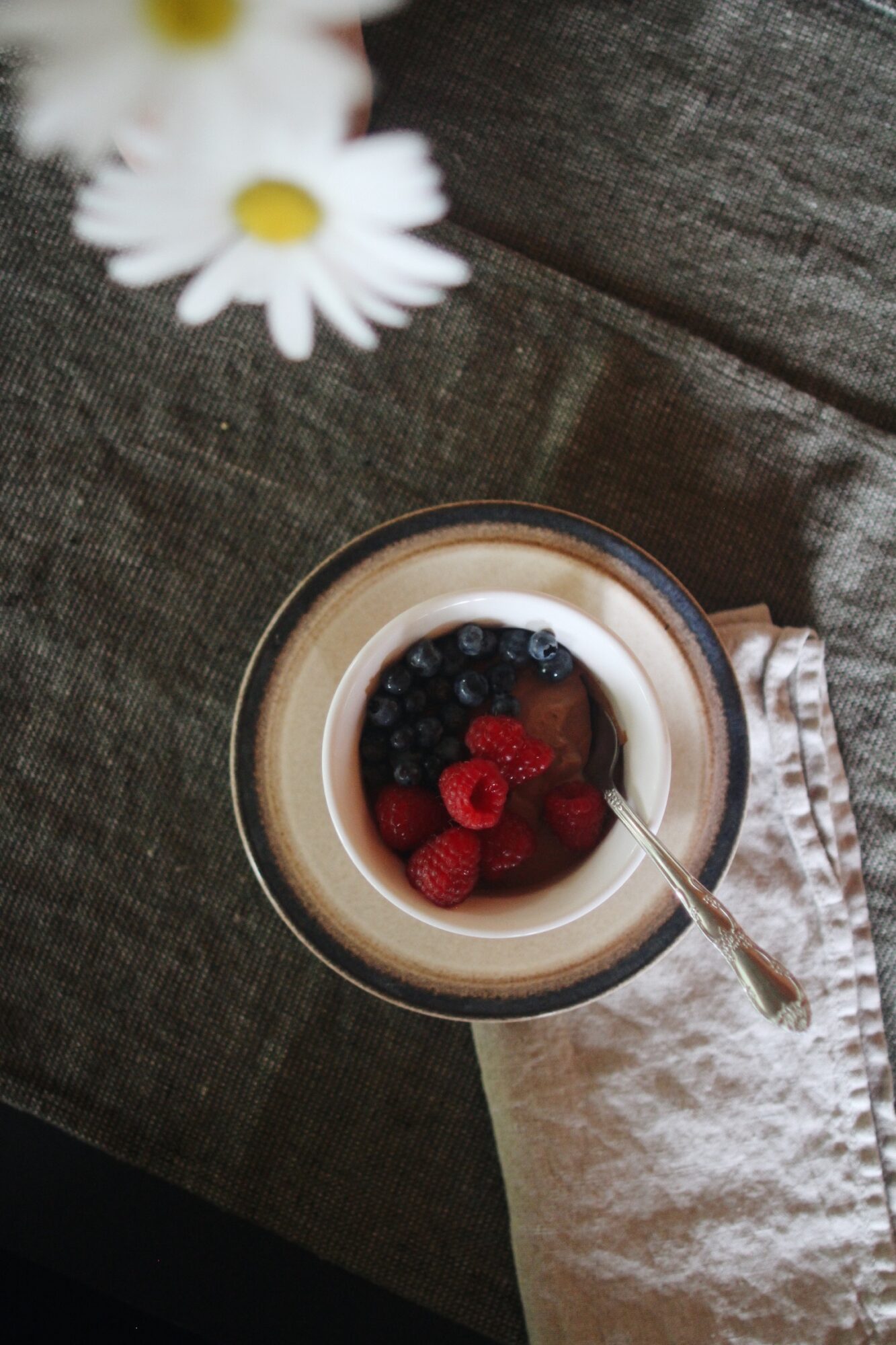 FOR A SUMMER DESSERT I LOVE A LIGHT CHOCOLATE MOUSSE WITH FRESH RASPBERRIES.
---
Cheers to good food and great company (even if that's just yourself)!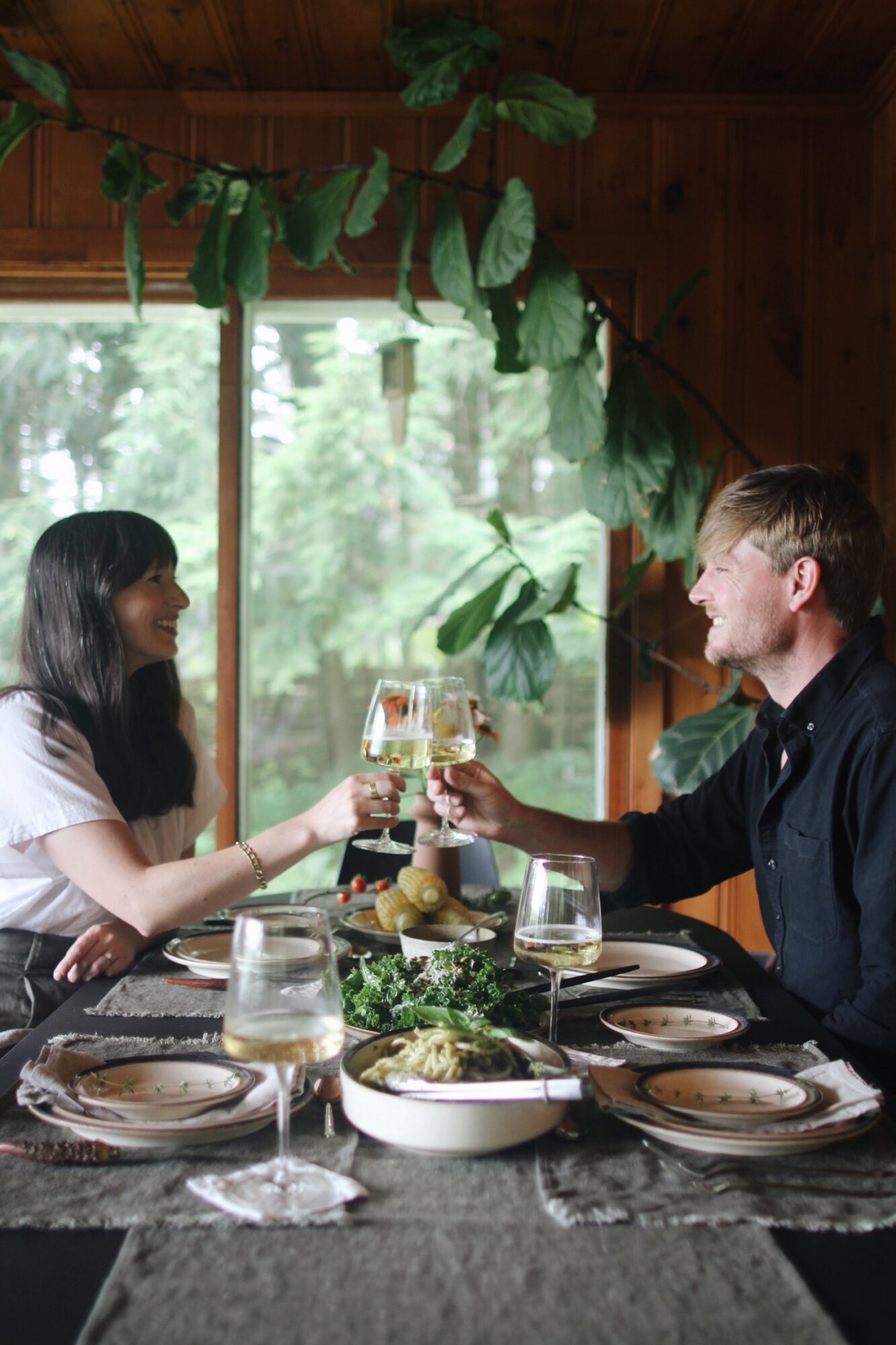 Why yes, Dave and I did indeed polish off all four drinks with our dinner for two.
---
I hope this post inspires you to get creative with your next dinner party and if you're in the market for table decor, I definitely recommend SÖMN.
Be sure to use:
at SÖMN a Style Bee affiliate partner.
Until next time!