Whenever the seasons change from warm to cool, I'm always drawn to darker colours. A palette of deep, earthy hues like coal, auburn, chestnut and dark olive always feels so comforting to wear. Black, in particular, has an innate sophistication and a grounding quality that has a big impact on my minimalist style of dressing.
While a dark palette can sometimes feel severe, I've found that there are simple ways to soften the look and add warmth. To demonstrate these, I'll be using a few new pieces from Eileen Fisher*, which have quickly become some of my favourite staples of the season.
So, if like me, you enjoy wearing black and would like a few easy ways to style it this season, do read on!
---
*This post is not sponsored but does feature gifted product and affiliate links. This means if you decide to shop through the links included, I may earn commission on a sale at no additional cost to you. All opinions are always my own and I only share items I love and think you might too. Thanks for supporting Style Bee!
---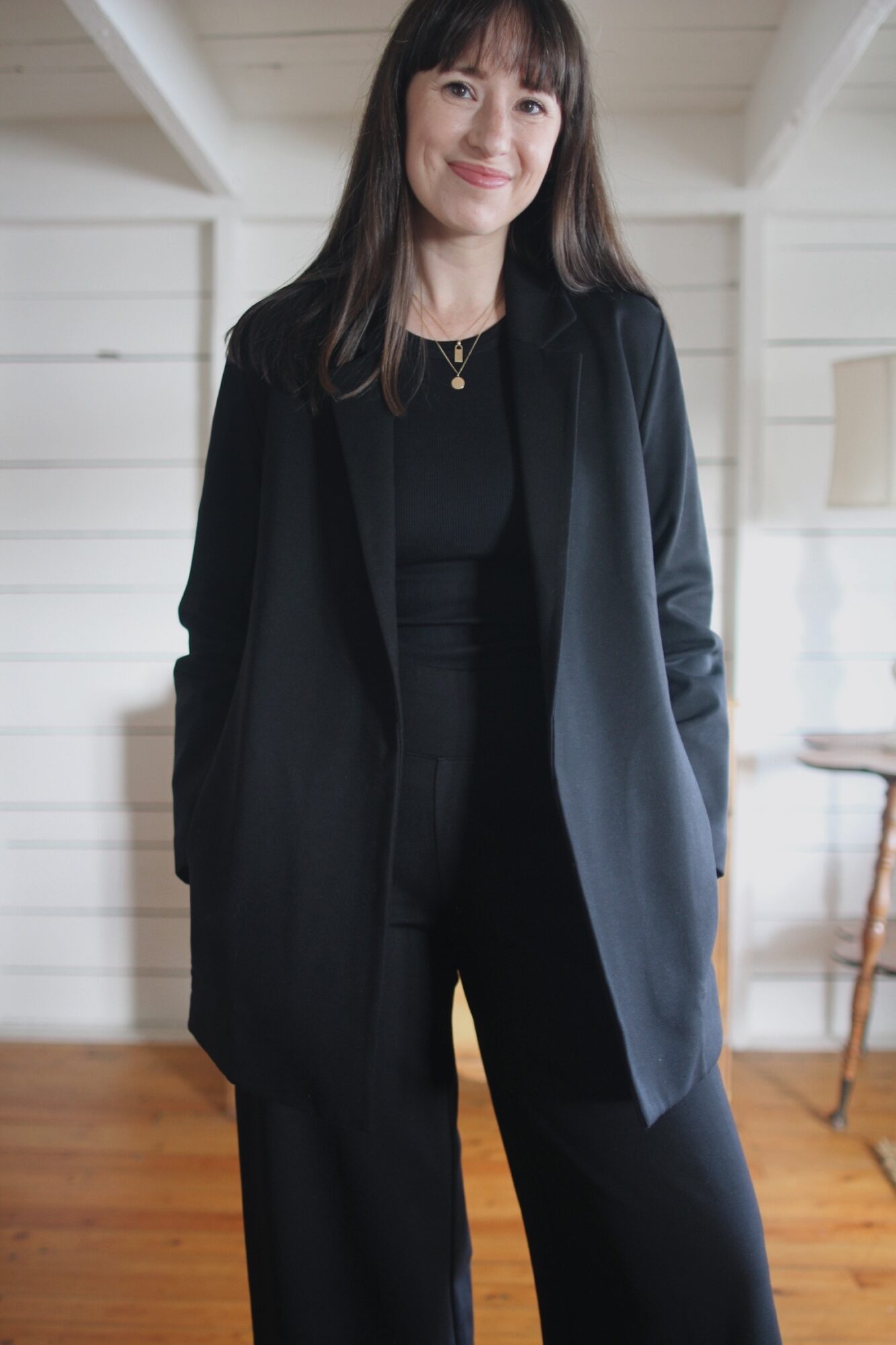 ---
DARK PALETTE TIP #1 – INCORPORATE LOTS OF DRAPE AND MOVEMENT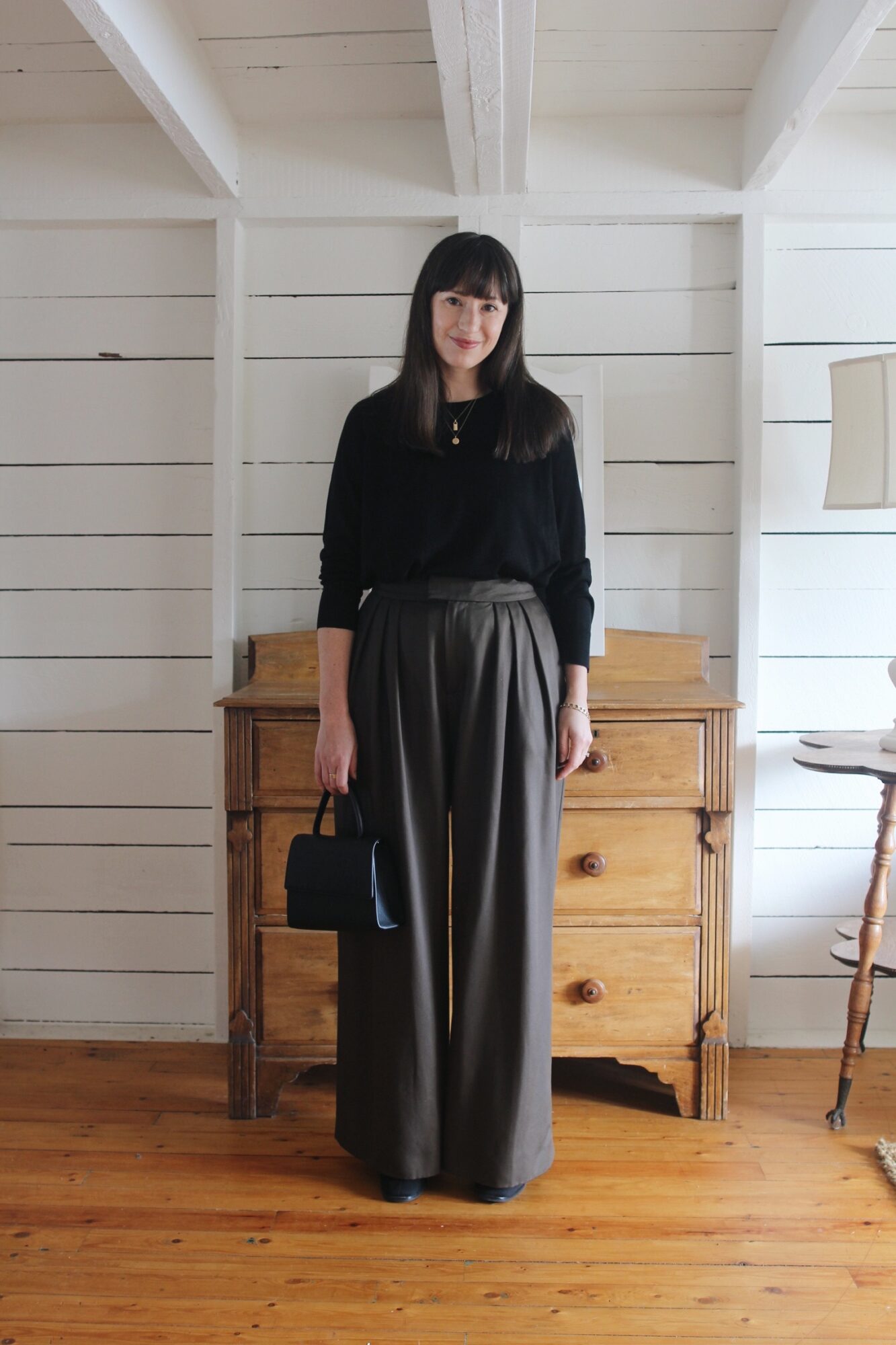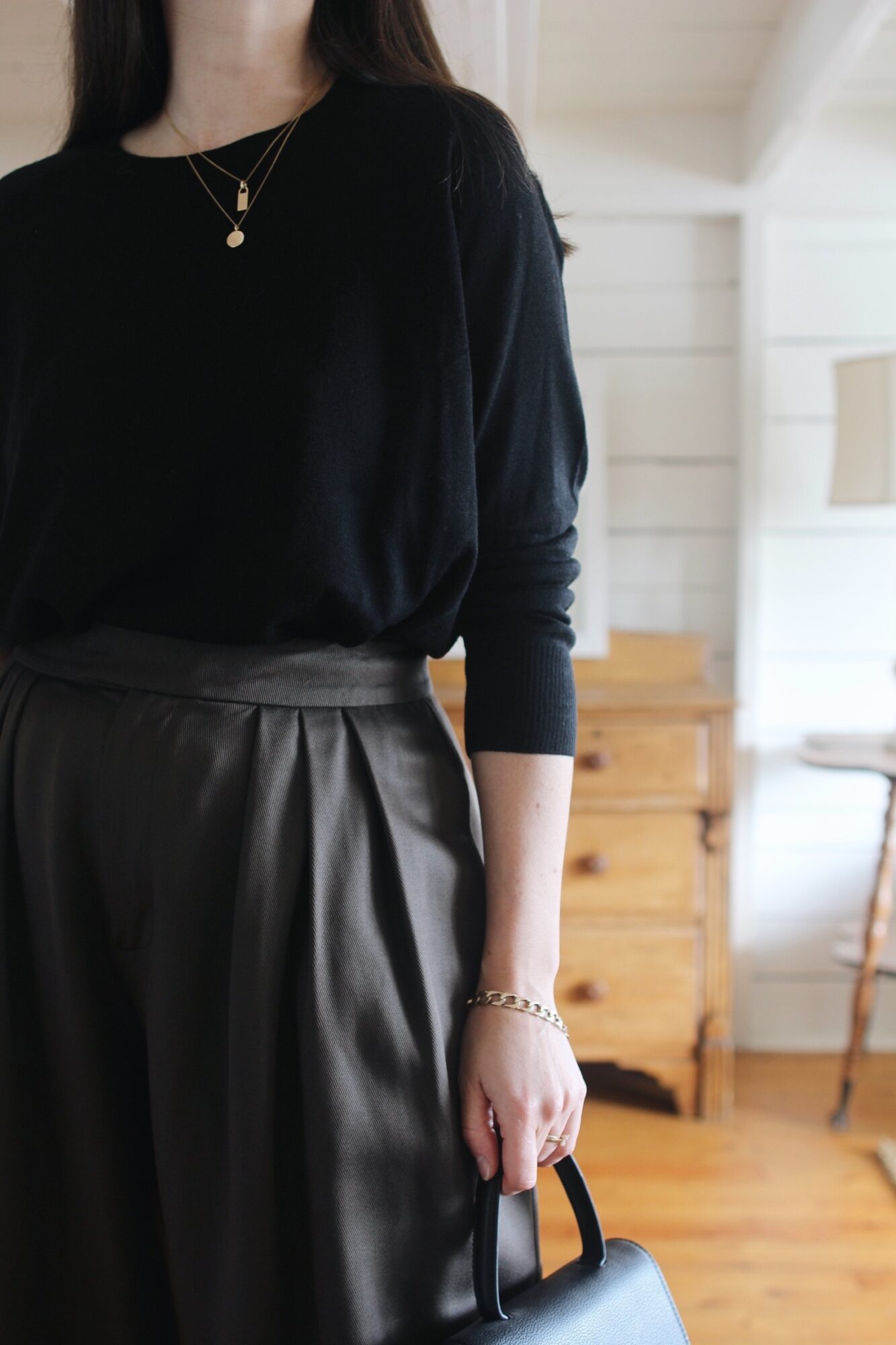 When a fabric drapes well, it catches the light and those highlights reveal the softness of the garment. In this case I'm wearing a lightweight, fine merino wool crewneck that has a relaxed fit that falls effortlessly over the frame. I've styled it tucked into a pair of olive trousers in a silk-like Tencel fabric that has a beautiful fluidity to it. Both pieces have a quiet luxury about them and drape plays a big part in that.
I kept the palette very lean with just black and olive green to let the shapes and fabrics be the main feature. I LOVE this look for a more formal work environment or for a nice dinner out. In fact I plan to wear it on an upcoming trip to the city.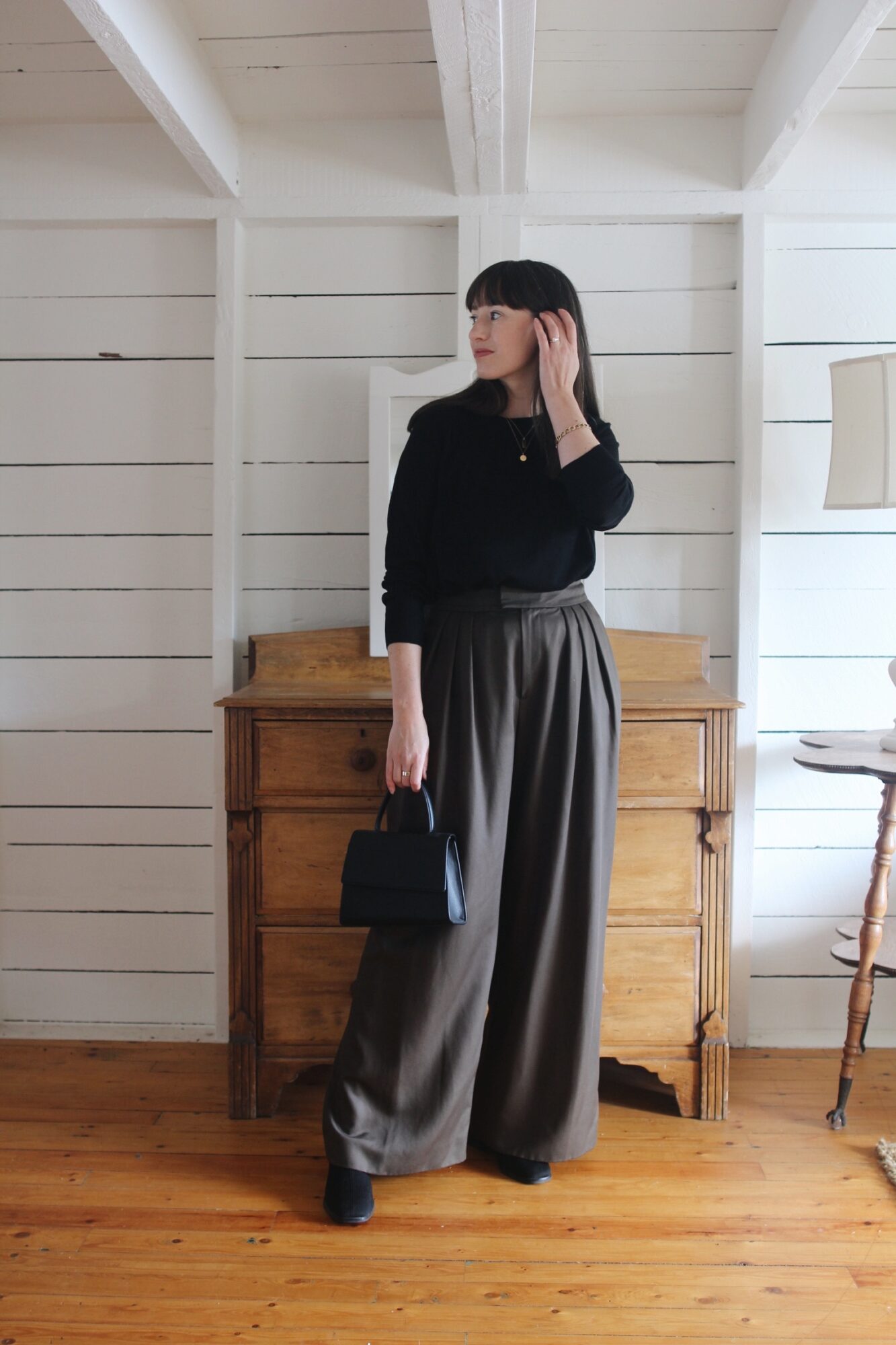 To add a bit of structure I layered a soft but sleek black blazer (styled below) over my merino knit* and chose a small box style purse to balance the softness elsewhere.
*Merino is such an under appreciated wool. It has a beautiful, luxe texture and packs a lot of warmth for such a lightweight yarn. Plus it's machine washable, unlike most cashmere and wool, however, I would only air dry.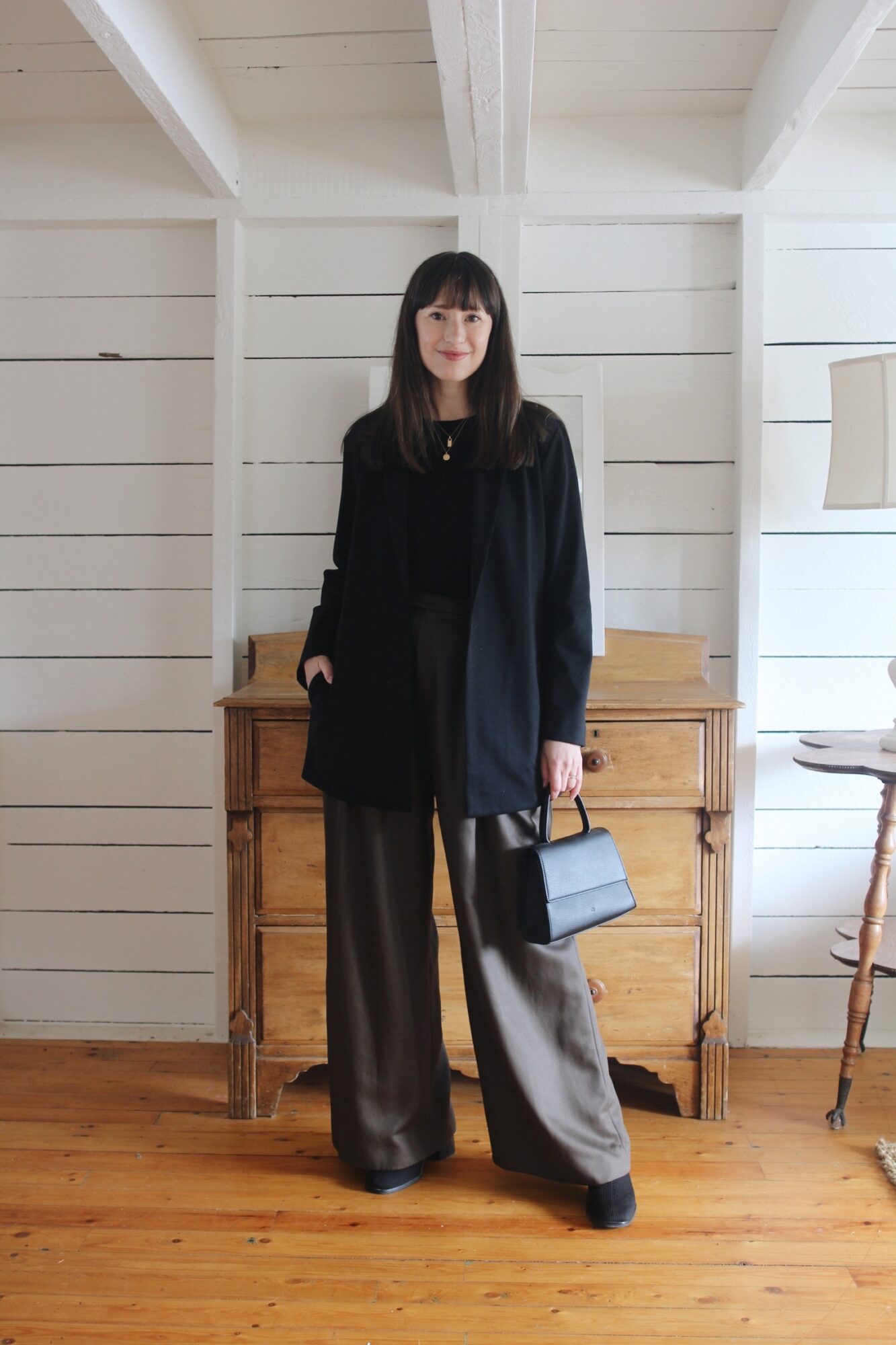 SHOP LOOK 1: Fine Merino Jersey Crew Neck Sweater gifted (True to size for a relaxed fit) | Washable Flex Ponte Notch Collar Blazer gifted (True to size for a relaxed fit) | PLAZA TROUSER (olive sold out, black linked, true to size) | BLACK GLOVE BOOT (sold out, similar linked) | HEADBAND BAG LEE15 for 15% OFF | All accessories from my Minimal Jewelry Capsule.

---
DARK PALETTE TIP #2 – LAYER IN WARM NEUTRALS TO SOFTEN THE PALETTE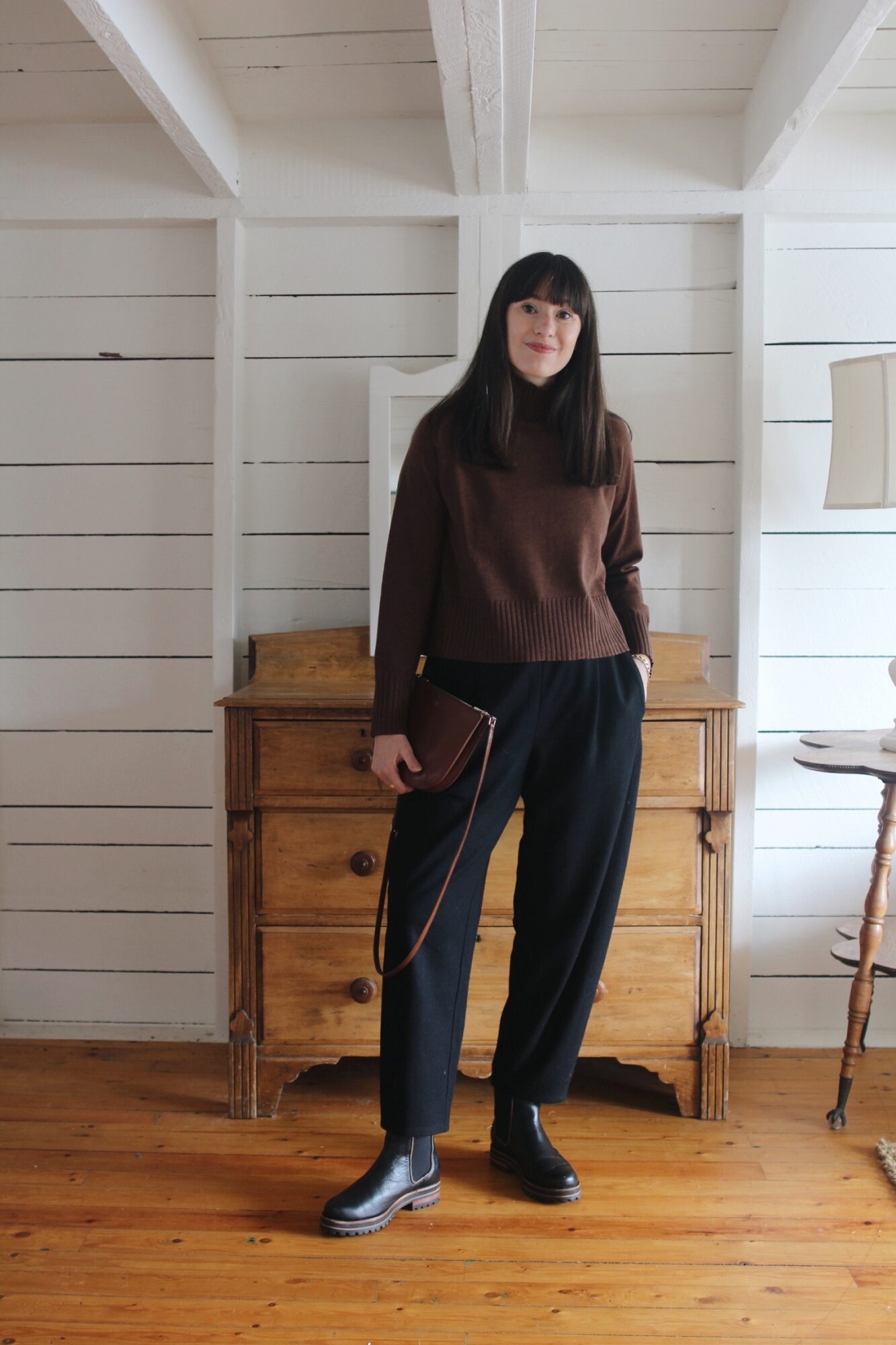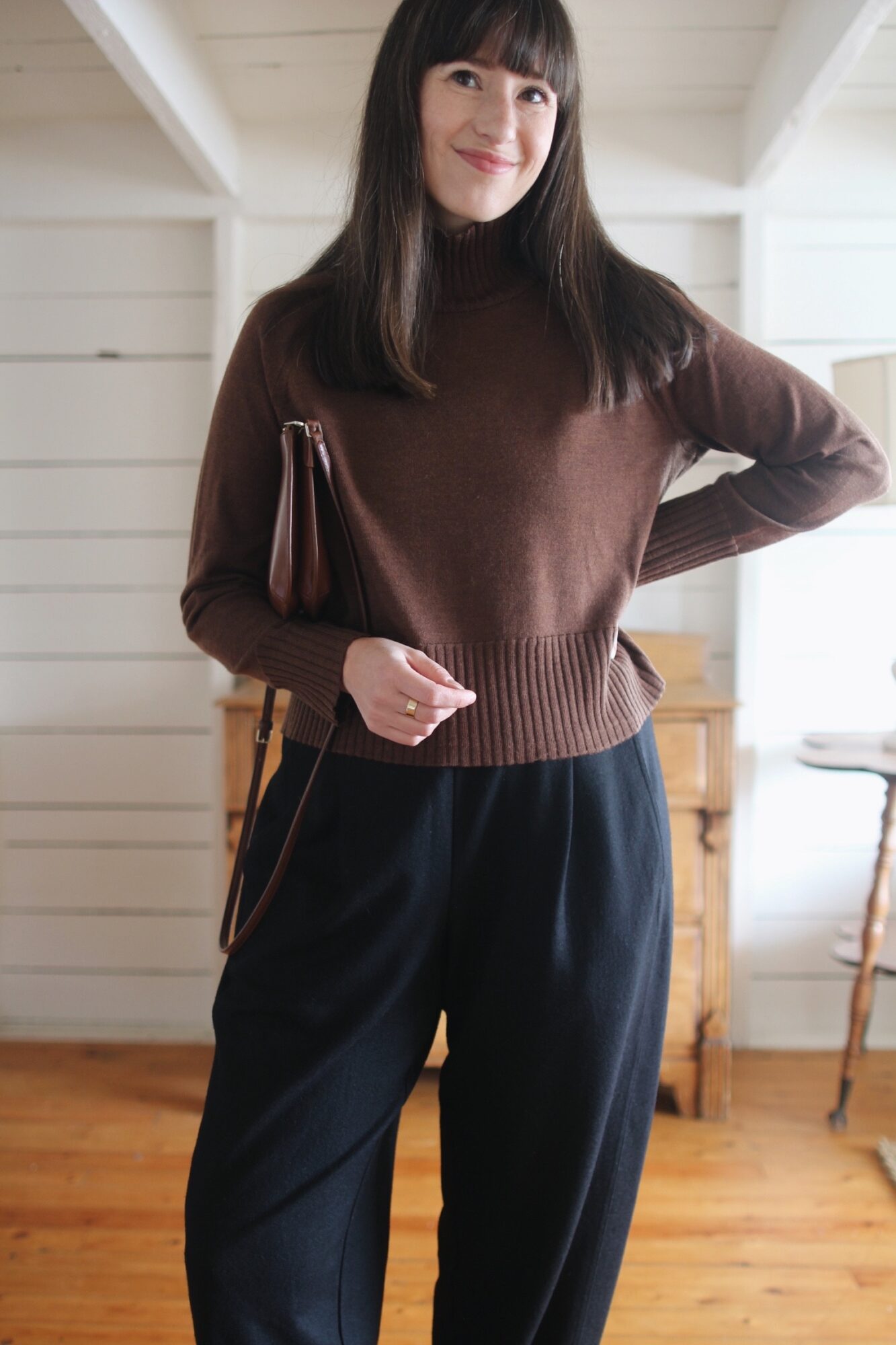 I personally love pairing black and brown together, although I know it's not for everyone. If it is for you, or you're at least open to giving it a go, then here's one idea. Try pairing a black pant with a brown turtleneck or sweater of some kind, then layer a coat, trench or jacket in another, slightly lighter, brown tone. This way the colours gradate from deep black to brown to tan creating dimension and depth to an otherwise simple outfit.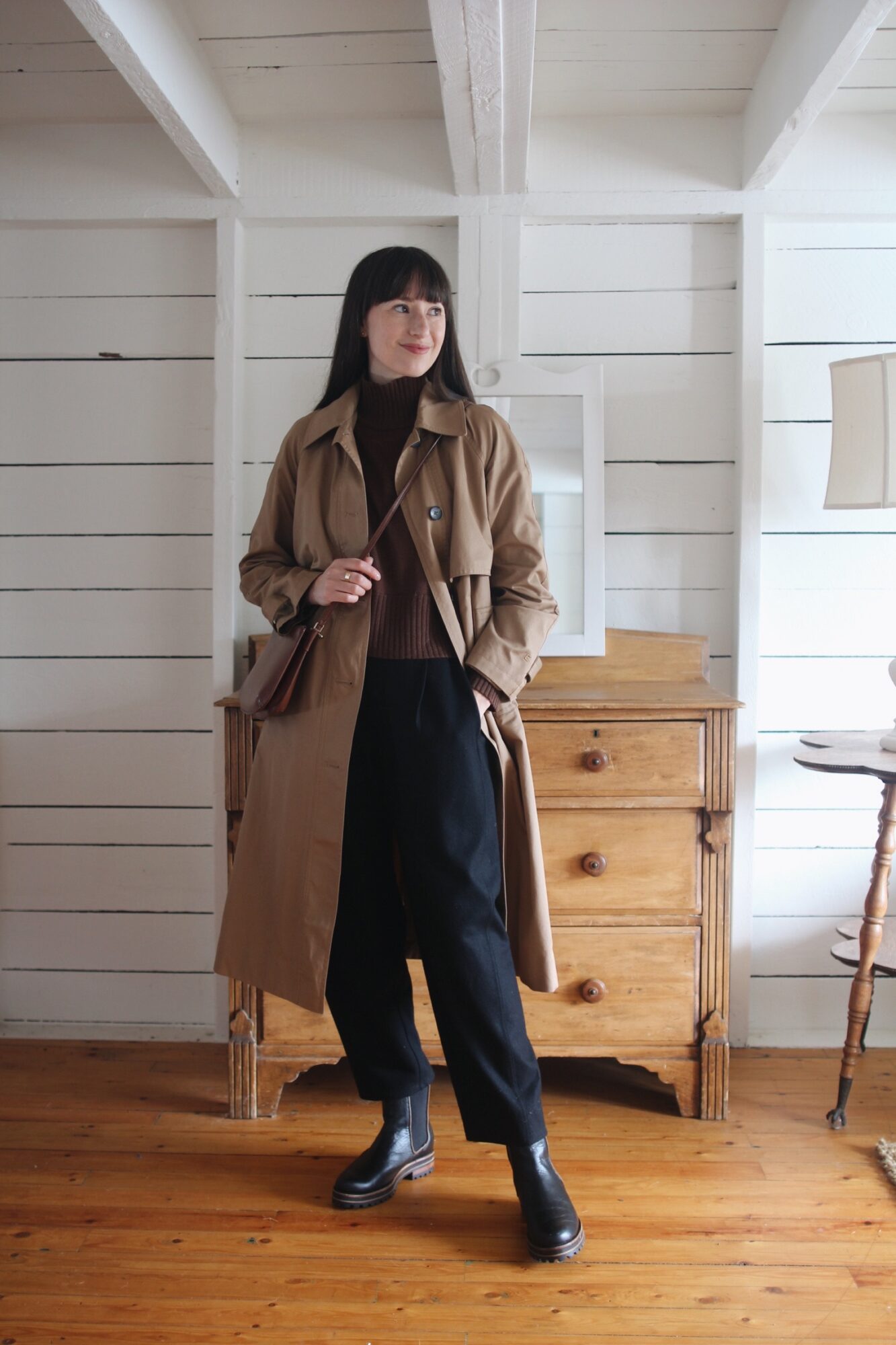 A couple of extra details like a brown bag and a subtle accent of brown on the ankle boots helps to tie it all together without adding too much complexity.
I absolutely love this look for this time of year.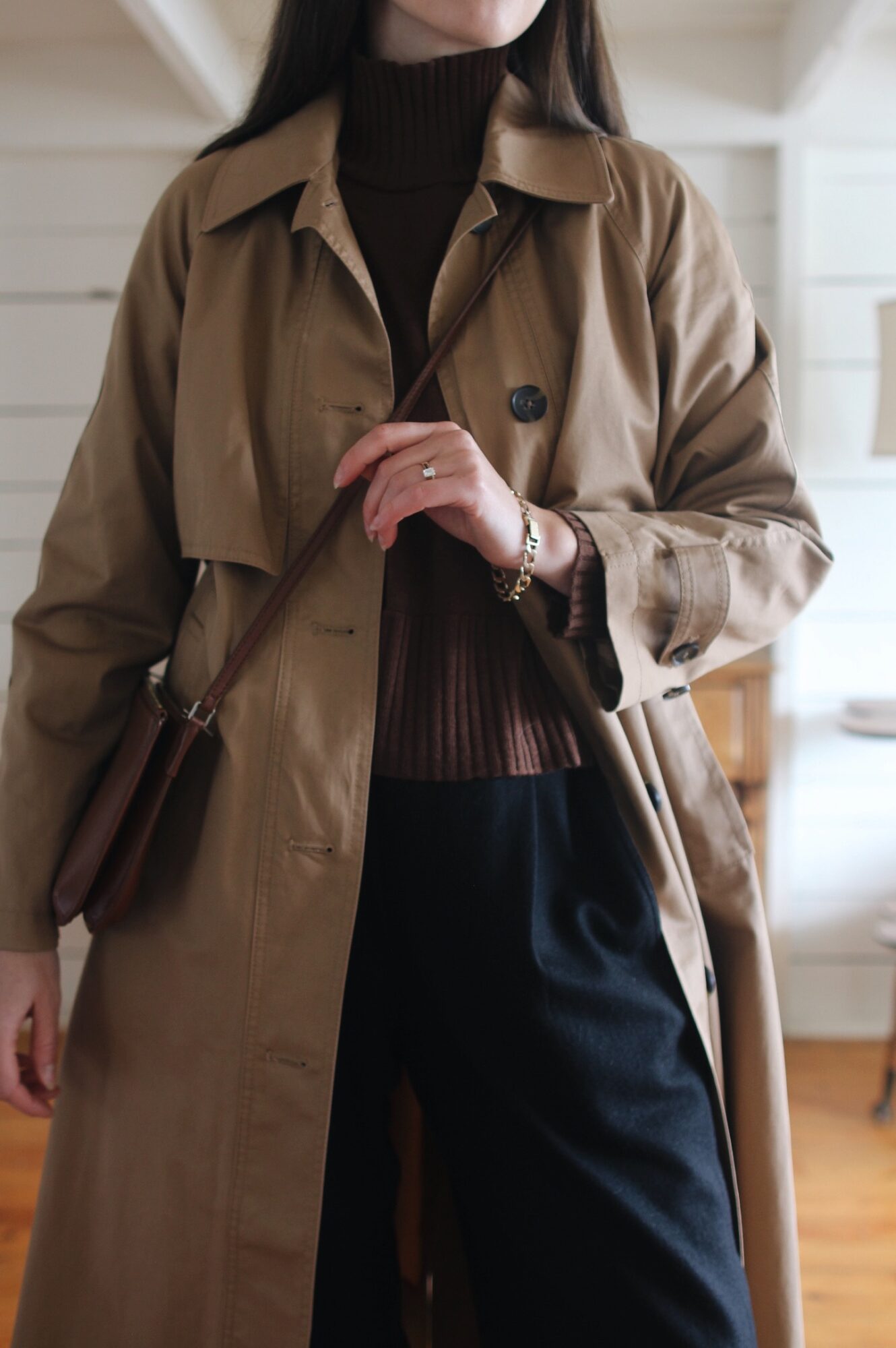 SHOP LOOK 2: Merino Jersey Turtleneck in Regenerative Wool gifted (True to size for a relaxed fit) | LONG MAC COAT in Toasted Coconut (colour sold out linked to other option) | BOILED WOOL JERSEY PLEATED LANTERN PANT gifted (True to size for a relaxed fit) | DECADE CHELSEA BOOT gifted (true to size) | SARAH BAG in Hazelnut | All accessories from my Minimal Jewelry Capsule.

---
DARK PALETTE TIP #3 – GO ALL IN WITH THE LOOK & ACCESSORIZE WITH HINTS OF COLOUR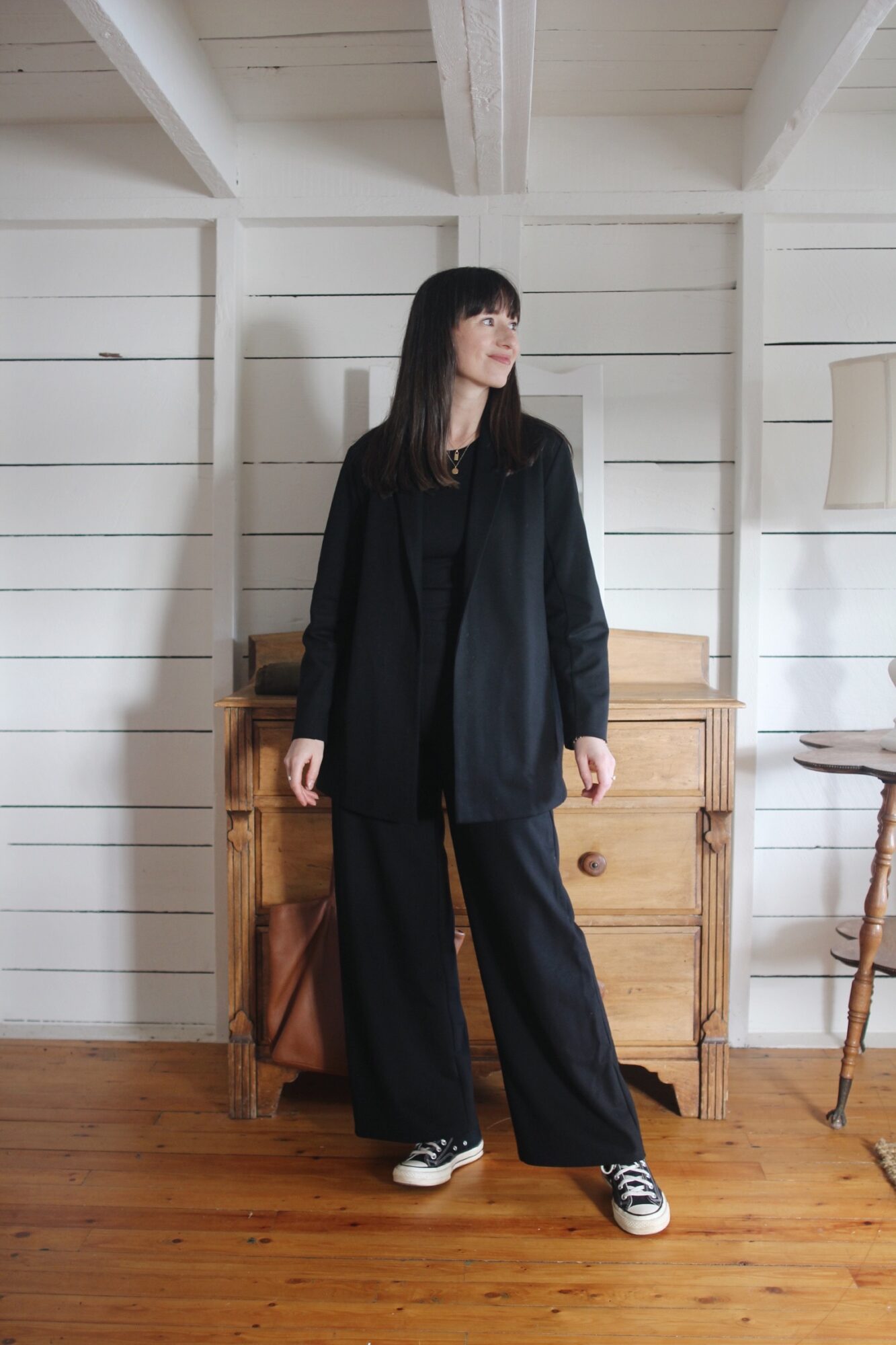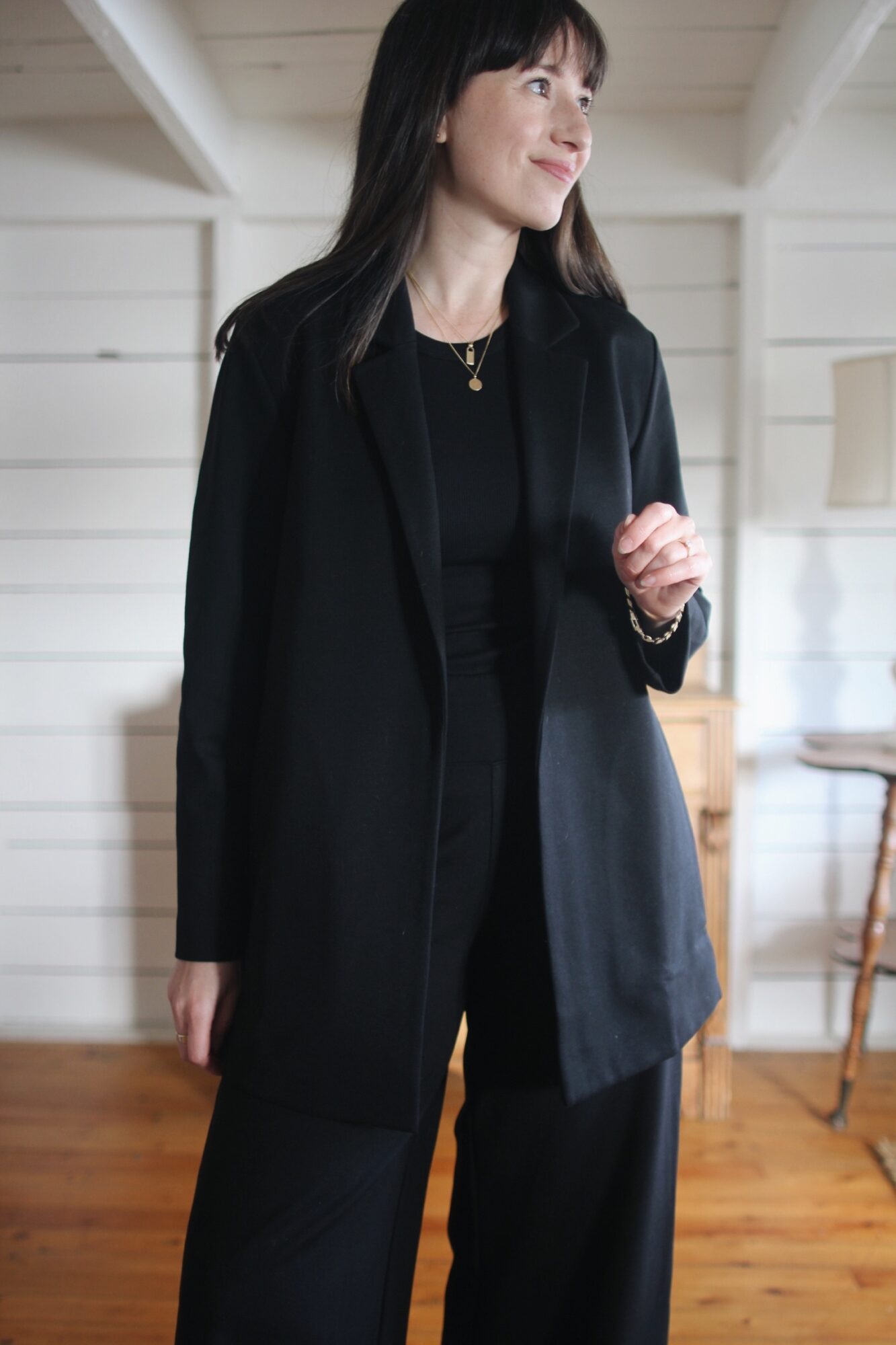 I love an all black outfit on days when I need to minimize decisions and just want to know I'm going to be highly comfortable and still feel put-together.
Cue the black "soft suit", which is a term I'm giving this wide leg pant and blazer combo. It's every bit as comfy as a track suit but so much more sophisticated and elegant. Because the pants are wide and the blazer* is relaxed, a fitted black t-shirt offers the right balance. The tee also has a mini rib texture to it, which is a subtle contrast to the smooth ponte texture of the set.
To soften the black base look I opted for my Converse High Top sneakers, which add a bit of a casual vibe and the cream toe and sole isn't too stark against the black. My favourite big, soft, olive green scarf introduces some colour and a caramel tote brings in warmth. A few bits of gold jewelry add a touch of shine and polish to the otherwise very easy-going look.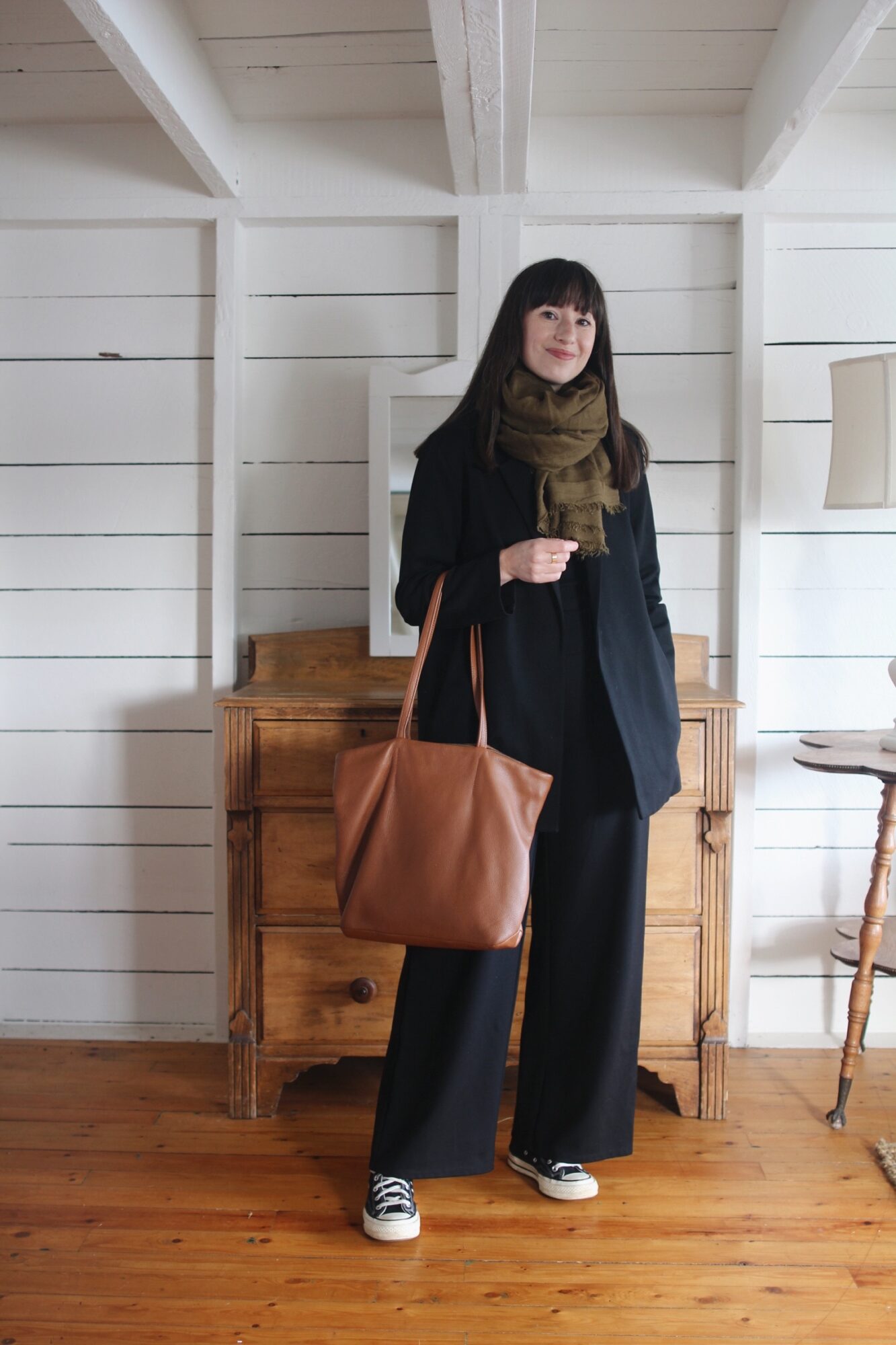 I've been wearing this set non stop this season. It's been washed (hang dry only to keep the black deep and not faded) and travelled in and always looks sharp.
*This blazer is the perfect option for folks that want the look of a classic suit jacket without the restriction. This one has the structure and shape with lots of stretch and the perfect long length to pair with any bottoms.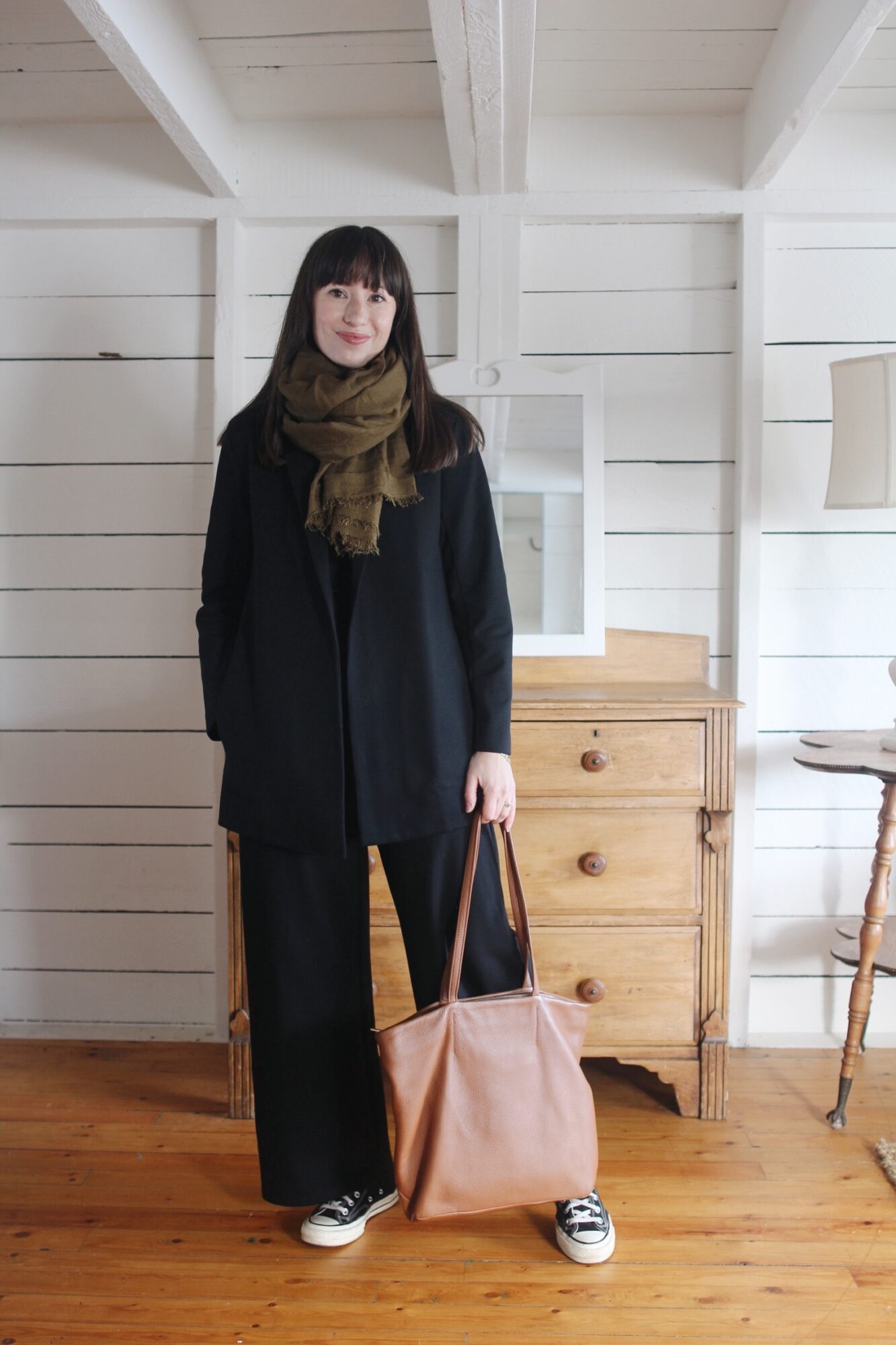 SHOP LOOK 3: Washable Flex Ponte Notch Collar Blazer gifted (True to size for a relaxed fit) | Washable Flex Ponte High-Waisted Pant gifted (true to size) | Supima Micro Rib Long Sleeve Crew (true to size) | CHUCK TAYLOR 70'S HIGH TOP | TOTE BAG (old, similar linked) | Olive Scarf (old, similar linked) | All accessories from my Minimal Jewelry Capsule.

---
THANKS FOR READING!
I hope those tips offer you an idea or two for the next time you're putting together an outfit with your favourite black pieces.