Today's Closet Mission post is all about building a Foundation Capsule Closet. Simply put, a Foundation Capsule is intended to serve as the core of your closet (seasonally or year-round) and provide a starting point from which you can build on. I've personally found this approach helps with overall closet structure, style clarity and offers a simplified approach when it comes to compiling outfits for the season.
I'll start by walking you through the "foundation" concept and what it means. Then I'll outline my own Fall Foundation Capsule Closet, which can be used to establish a seasonal closet that suits you.
*PLUS* There's a little worksheet you can download and use to plan your foundation capsule for any season!
Here's what this post will cover:
What is a Foundation Capsule Closet?
Where to begin & why?
The 12 item/category approach.
My Fall Foundation Capsule Closet.
+ FREE worksheet to help you plan your own Foundation Capsule.
Ready to dig in? Let's go!
---
This post is not sponsored or produced in partnership with any brands mentioned but does contain affiliate links. If you see something you like and decide to shop through the links included, I may earn commission on a sale at no additional cost to you. All opinions are always my own and I only share items I love and think you might too. Thanks for supporting Style Bee!
---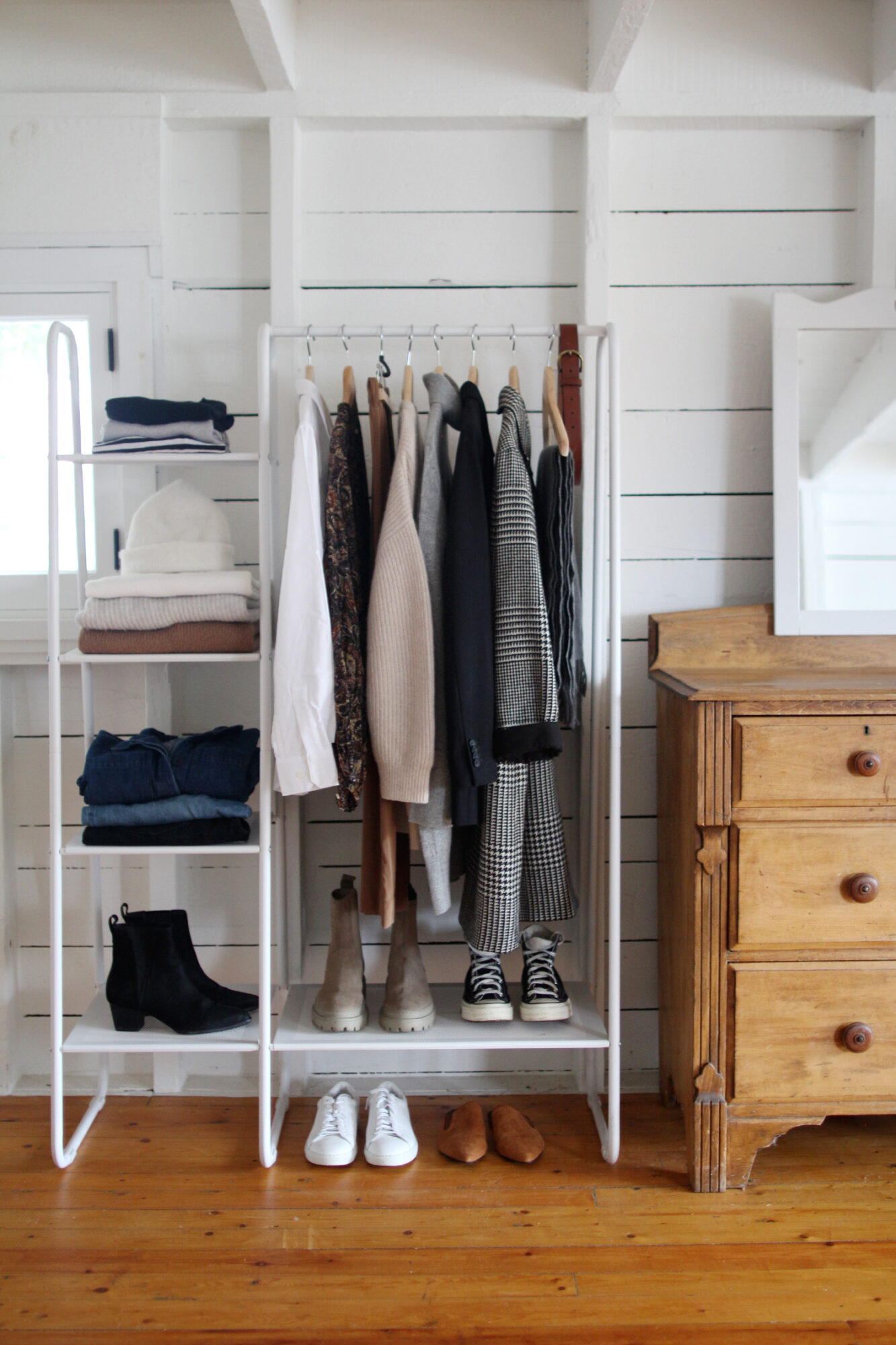 ---
From right to left on hanger: BROWN BELT // GREY SCARF // COAT* // BLACK BLAZER // SWEATER DRESS* // COCOON CARDIGAN (15% Off with LEE15) // SILK PANTS* // BLOUSE* // WHITE SHIRT (10% Off via link)
On shelves top to bottom: BASE LAYERS (10% Off with LEE10) // STRIPED SHIRT* // BEANIE* // IVORY SWEATER (15% Off with LEE15) // ALMOND SWEATER // TOBACCO SWEATER* // DENIM JUMPSUIT* // MEDIUM WASH JEANS // DARK WASH JEANS
Shoes: BLACK BOOTS (20% Off with LEEV20) // LUG SOLE TAUPE BOOTS // CONVERSE // WHITE SNEAKERS // SUEDE MULES (15% Off with LEE15)
*Old or vintage, linked to similar.
---

---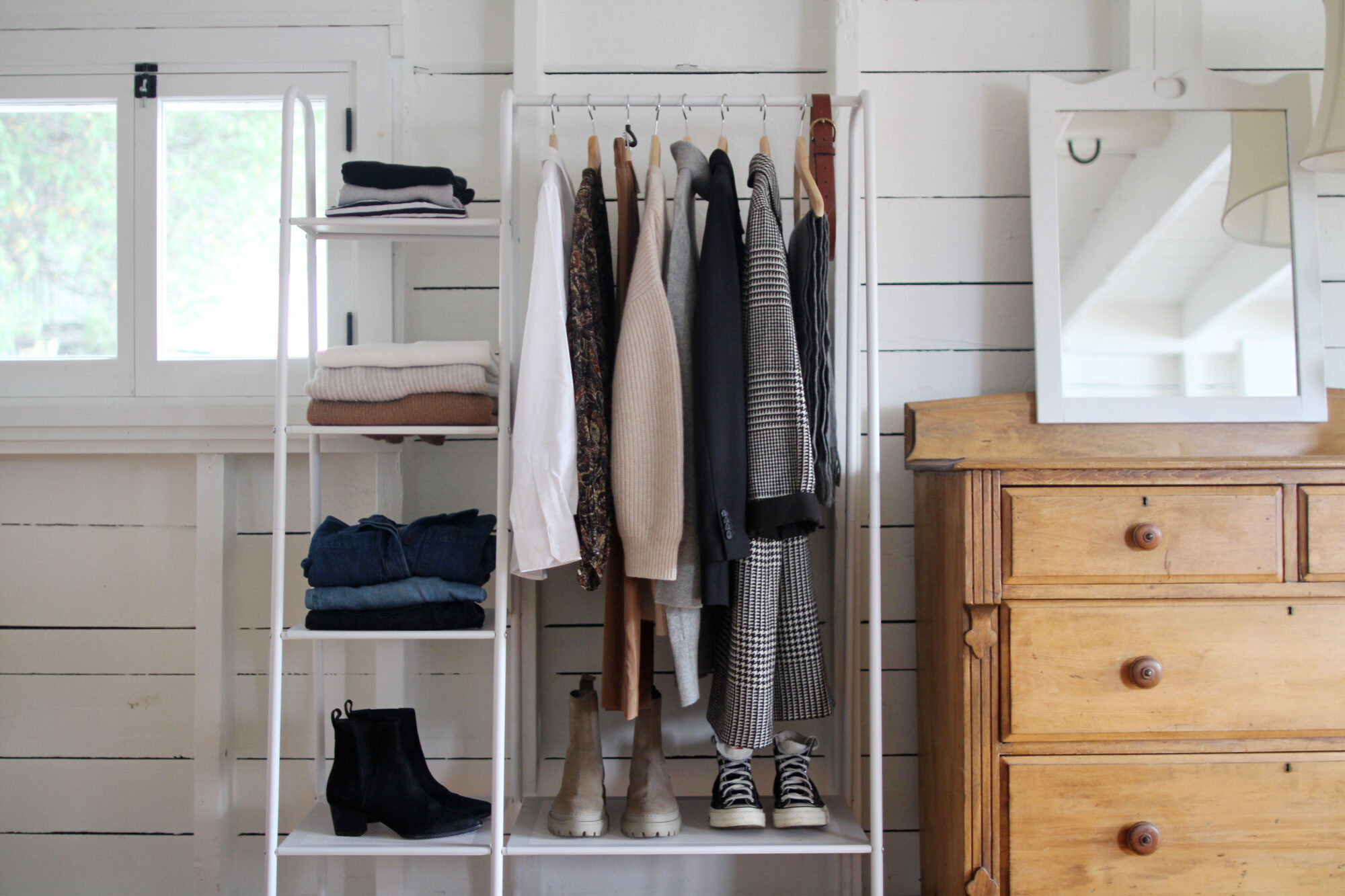 ---
WHAT IS A FOUNDATION CAPSULE CLOSET?
---
A foundation capsule is a little bit different than a typical capsule closet, in that it's intended to be the core of your wardrobe, not the entirety of it. This offers more flexibility when it comes to personal style, lifestyle changes and generally feels a little less restrictive.
A foundation closet helps to solidify your general style and typically, at least one item in every outfit you wear will be pulled from your "foundation" section. It can be made up of mostly basics but it can also have a couple of more unique or defining items that you love and wear a lot.
---
WHERE TO BEGIN & WHY?
---
Chances are you already have the makings of a "foundation closet" that you've been working with and those pieces will quickly become clear as you start considering what they are. Think about what you've been wearing a lot so far this season.
I like to start by answering a couple of simple questions:
1 | What are my current lifestyle needs?
For me that's: comfort, warmth, durability, ease of movement, simplicity, and versatility.
2 | What are my style words?
For me that's: Timeless, minimal, and natural.
From there, the styles that genuinely suit my foundation closet start to become very clear.
Why bother identifying a foundation section in your closet? Well, I personally do it for a few reasons:
1 | It makes creating outfits super easy and guarantees that I'll enjoy wearing them.
2 | Helps me define and maintain my personal style.
3 | Makes packing a breeze when I travel.
4 | Helps me avoid adding items that won't work for my lifestyle.
5 | Offers clarity and structure within my closet so I never feel overwhelmed.
---
THE 12 ITEM/CATEGORY APPROACH
---
First of all, don't let the numbers stress you out. You can opt for as lean or as loose an item count as feels right for you. I have much more than 12 individual items in my foundation closet, however, they all fall within 12 categories. This 12 item template simply helps me build looks really easily and gives me lots of style flexibility.
If you want to begin with only 12 items, that's great! Then you can see how you're drawn to specific categories that make up your style and closet overall.
You might have just one piece in certain categories or you might have several. For example, under Base Layers, I have many in my closet because I wear one every day. Whereas, under Dresses, I only have one or two items.
---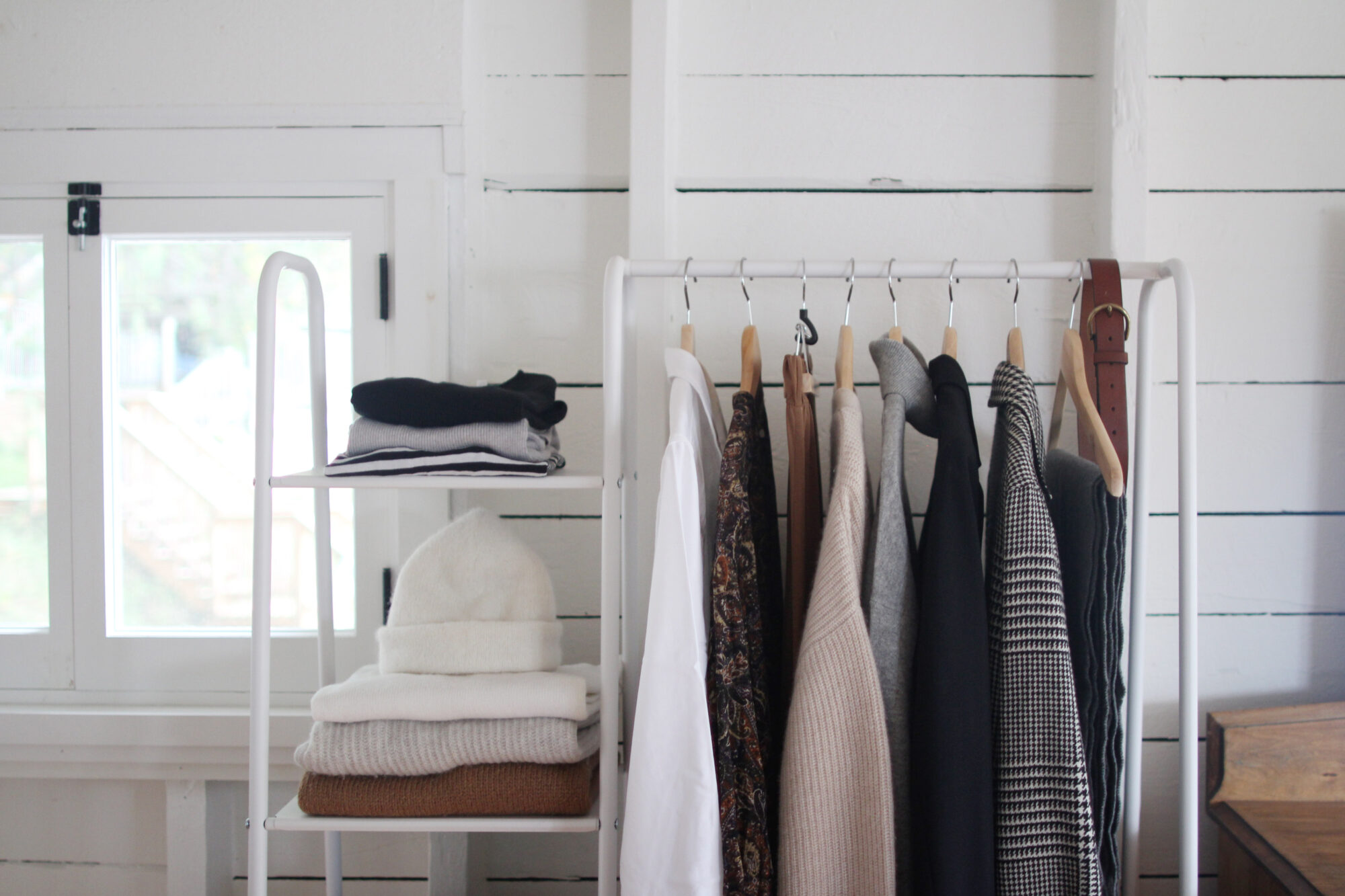 ---
MY FALL FOUNDATION WARDROBE
---
To offer some guidance, I've outlined the 12 categories that I think make for a really great and highly versatile fall foundation closet, so you can pick and choose the ones that suit you.
You'll probably recognize all the items in my foundation capsule because I've been wearing most of them for years. A foundation capsule is intended to remain relatively constant from one year to the next with room to add the odd new piece to keep it feeling fresh.
Be sure to download the worksheet (linked at the end of the post), which includes the prompts above and space for your 12 items/categories, 12 outfit ideas and additional notes!
---
CATEGORIES WITHIN MY FALL FOUNDATION CAPSULE
Staples:
BASE LAYERS / LIGHT KNITS / STRAIGHT LEG JEANS / CHUNKY CARDIGANS
Outerwear:
OVERSIZE BLAZER / RELAXED FIT COAT
Items of Interest:
JUMPSUIT / TROUSERS / DRESSES / DRESSY SHIRTS
Footwear:
CLASSIC BOOTS / COMFY FLATS
---
Now all walk you through each one!
---
---
STAPLES
---
1 – FITTED BASE LAYERS
I know, I know, I won't shut up about base layers (aka. thermals) but they're an absolute essential for me in colder weather. As someone that generally runs cold, they keep me cozy and they're the perfect starter to build on as the weather cools. Plus, they keeps my knits and cashmere fresh for longer!
Base layers need not be boring either. Go for stripes or use them as an opportunity to add some colour to your palette.
SHOWN ABOVE: LIGHT RIBBED COTTON CASHMERE CREW (Black and Grey) – Use LEE10 for 10% Off first orders. // STRIPED LONG SLEEVE (old, similar linked) // MY OTHER FAVOURITES: THE PIMA MICRO RIB TURTLENECK & LONG SLEEVE // THE LONG SLEEVE MARCY TEE – Use LEE10 for 10% Off first orders.
---
2 – LIGHT COZY KNITS
As you know I love my cozy knits and sweaters. SO. DAMN. MUCH. Now that we're up at the lake full time, they're even more essential to my daily style.
I tend to wear sweaters over my base layers or I wear them over my shoulders when I'm working at my desk and just need a bit of additional warmth.
SHOWN ABOVE & BELOW: TOBACCO ALPACA CREW (old, linked to similar) // OVERSIZED ALMOND ALPACA CREW // EVERYDAY IVORY SWEATER – Use LEE15 for 15% Off anytime. // I also really like Bare Knitwear, L'ENVERS and KOTN for quality knitwear.
---
3 – STRAIGHT LEG JEANS
My closet wouldn't be complete without a few pairs of classic straight leg denim. I like these because they're a timeless shape that's easy to pair with ankle boots and flats alike. I tend to opt for a more rigid denim in the fall to keep the cold air out.
SHOWN: 90's CHEEKY JEANS (Size down if you want a slimmer fit. I run between 26/27 and wear the 26.) // LE BRUT ECO SEXY (True to size. I wear a 27 in these and the fit isn't tight.) // I also love THE ORIGINAL CHEEKY and AGOLDE for rigid denim.
---
4 – CHUNKY CARDIGANS
I'm a looooong time fan of a great cardigan. There is rarely a day that goes by when I'm not wearing one at some point. I simply wear mine over a base layer or a light knit with jeans and boots as my go-to fall uniform. I've tended towards a longer lengths in the past, however I've recently been considering more cropped options to change things up.
SHOWN: THE COCOON CARDIGAN (Full review here. Use LEE15 for 15% Off anytime) // I also love my CLAUDE CARDIGAN by L'ENVERS, the SHELTER CARDIGAN from Tradlands is a crowd favourite and I love the looks of KOTN's new cardigans and Everlane's Cropped Cashmere and Chunky Cotton Cardigans.
---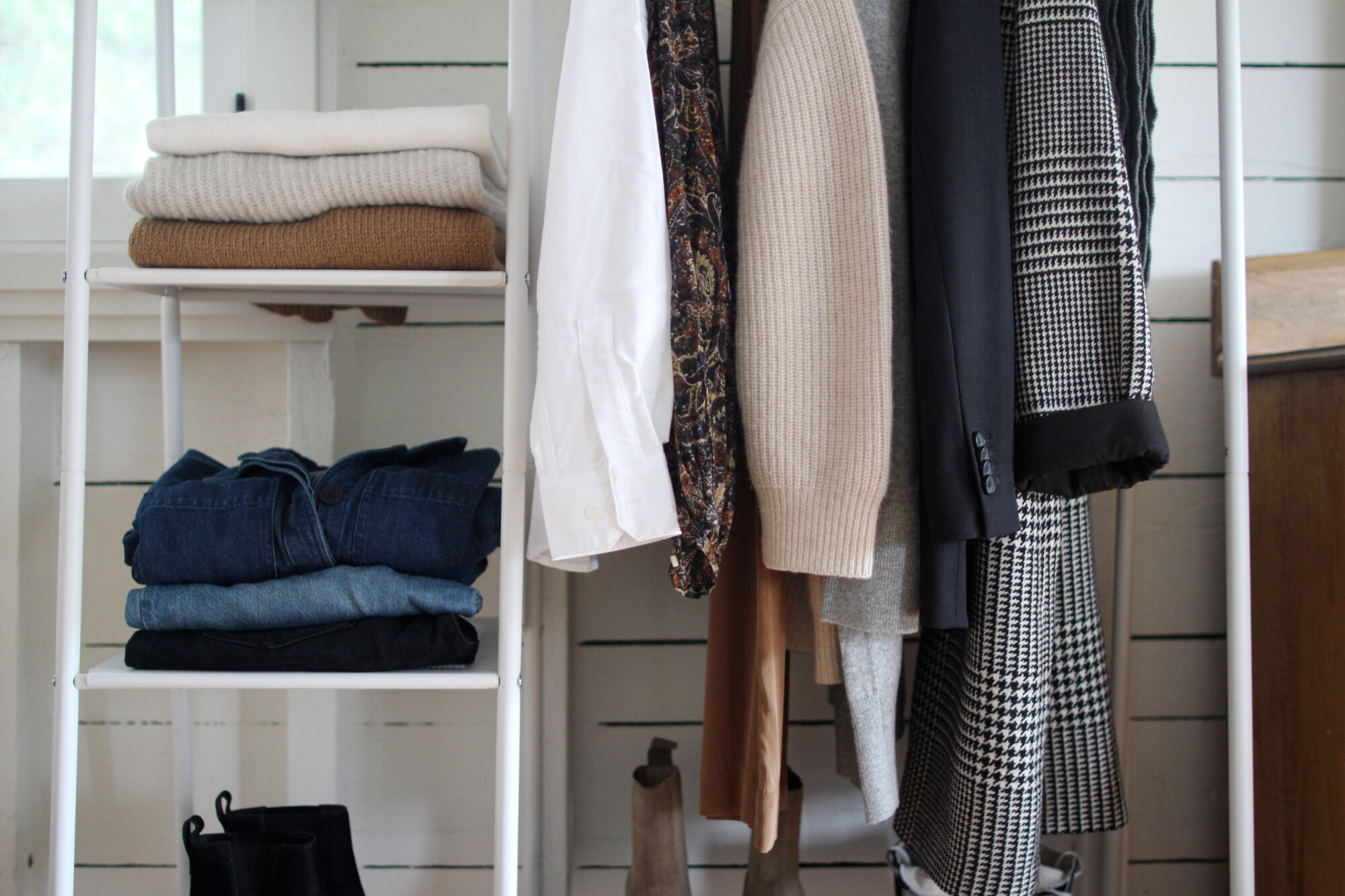 ---
OUTERWEAR
---
5 – OVERSIZED BLAZER
Can't go wrong with an oversized blazer at any stage in life. I consider these interchangeable with a cardigan and love a really relaxed fit for easy layering. A blazer adds an instant jolt of sophistication to any closet and I find it's perfect for dressing up a simple look in a timeless and functional way.
SHOWN: THE OVERSIZED BLAZER (True to size. I wear a 2 and it's very relaxed) // I also love the cut of the LAZER BLAZER. // See my full Spotlight on Blazers for more about this personal favourite staple.
---
6 – RELAXED FIT MID LENGTH COAT
A coat that goes with everything in your closet, offers easy layering and, most importantly, warmth, is so key for temperature fluctuations in the fall. I love using outwear as an opportunity to bring in a bit of pattern and colour to my closet.
SHOWN: VINTAGE HOUNDSTOOTH COAT – Linked to a very similar option that looks cozy! // I also love my CLASSIC CAMEL COAT (Full review here and similar for less here.)
---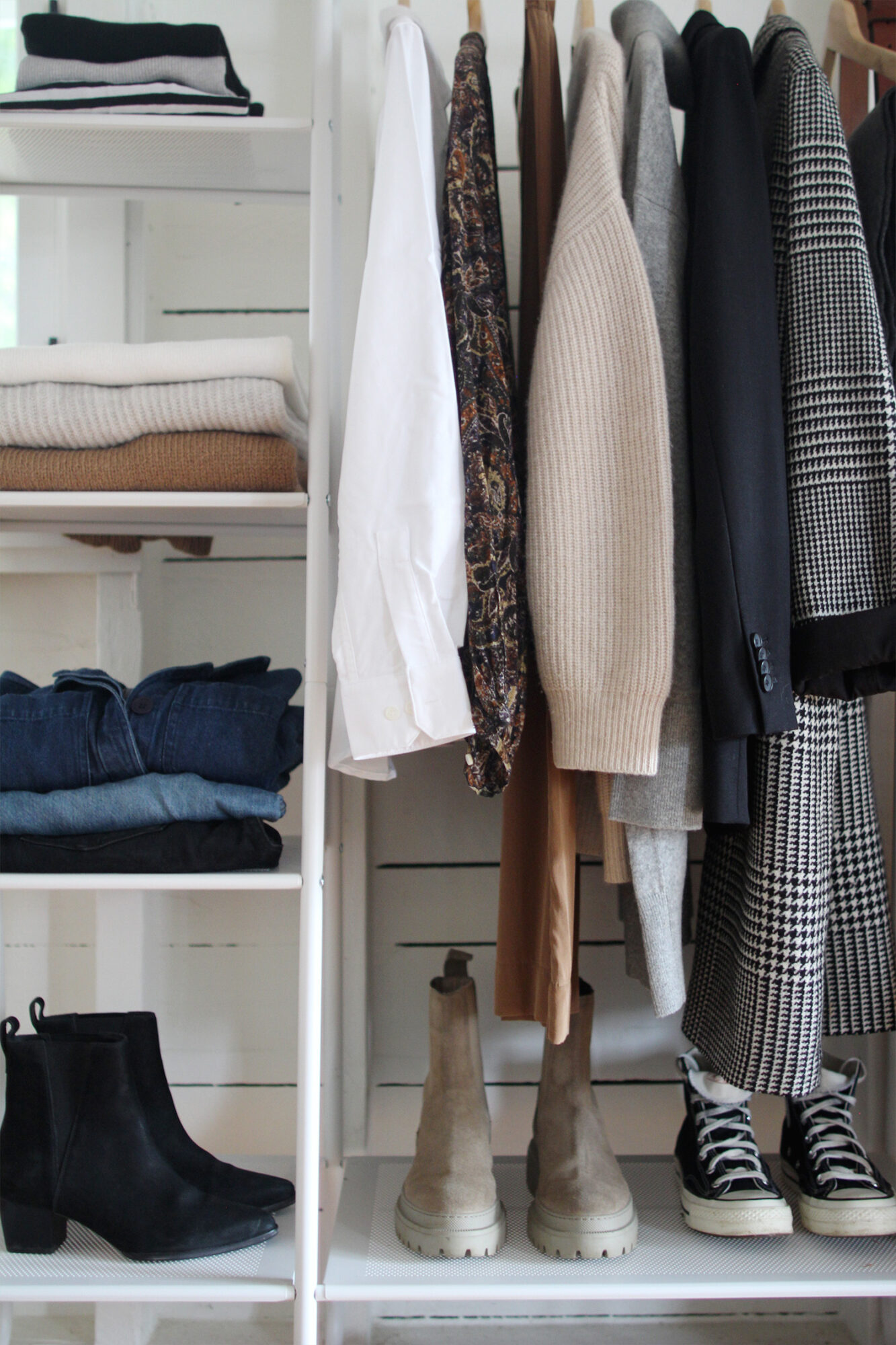 ---
ITEMS OF INTEREST
---
7 – JUMPSUIT
This one may not be on everyone's essentials list but I've found that a great jumpsuit (or coveralls) can be a fun way to mix things up. I love that they're functional enough for a hike but versatile enough to dress up as well.
SHOWN: THE COVERALL gifted (mine is old but new colours are available. I would recommend sizing up.)
---
8 – DRAPEY PANT / TROUSER
A classic trouser is an item I'm currently in search of. I like that they're something different from jeans but still classic and comfortable with an elevated feel. In the meantime, I'm still rocking my silk Florence pants as they serve a similar purpose with a bit less structure.
SHOWN: I love my FLORENCE PANTS in Black and Moss silk from Elizabeth Suzann (currently sold out) and I'm on the waitlist for this pair of classic trousers in black. I also have it on good authority that a Canadian line I love is coming out with some soon too!
---
9 – EASY DRESS
Whether it's a printed midi dress that you pair with chunky boots/sneakers or a sweater dress that gets paired with tights and tall boots, an easy dress that you can use to mix things up is a welcome variation in any foundation capsule.
SHOWN: CASHMERE TURTLENECK DRESS (old, similar option here and here) // I've linked to a few more that I like below.
---
10 – DRESSY SHIRT
This could be a classic like a tailored button down in white, something printed or a solid pop of colour. I like the sophistication that a dressy shirt adds and it's always easy to pair with jeans or trousers and layer under a blazer or cardigan.
SHOWN: THE TAILOR PROPER FIT (10% OFF via the link, full review here) // THE JANE BLOUSE (print is old) // I also have this WASHABLE SILK SHIRT and love it with jeans for a dinner with friends.
---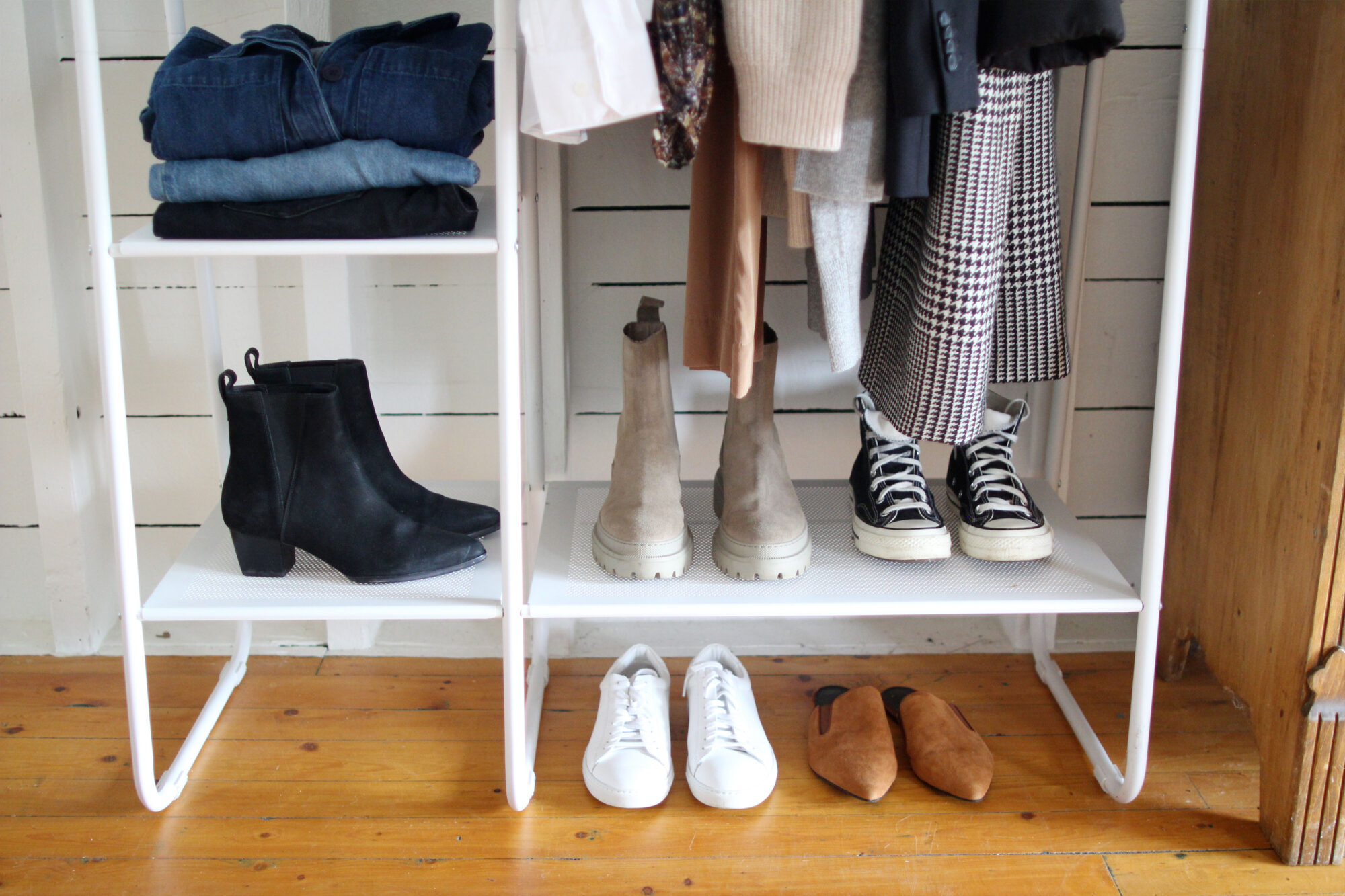 ---
FOOTWEAR
---
11 – CLASSIC BOOTS
These could be anything that feels "classic" to you. I love a lug sole Chelsea boot, a sleek pointed toe ankle boot, a tall glove boot in a brown tone, combat boots, knee-high leather block-heeled boots or a flat over-the-knee boot.
SHOWN: CORTICELLA (Canadian Brand) // TORI BOOT – Use LEEV20 for 20% Off anytime! // I also love my Blundstone's and Aquatalia's and you can't go wrong with a classic Chelsea Boot or Dr. Marten.
---
12 – COMFY FLATS / SNEAKERS
While it's still warm enough to let my ankles peek out I like to take advantage of the opportunity by wearing comfy sneakers or easy-going mules that add a bit of elegance to a simple outfit.
SHOWN: SADDLE SUEDE MULES (Use LEE15 for 15% Off anytime, review here) // CONVERSE // LOW 1 WHITE SNEAKERS (review here) // I also love the Glove Flat (review here) and a Modern Loafer is a forever staple.
---
EXTRAS
---
FUNCTIONAL BAG
I love my Sarah Bag by A.P.C. and Cuyana does beautiful minimal bags.
COZY BLANKET SCARF
The Canada Scarf by Acne Studios was the best investment.
KNIT BEANIE
Bare Knitwear, Everlane, Madewell and Colorful Standard do perfect beanies.
LEATHER BELT
A minimal leather belt in black and brown adds the perfect touch of polish to this foundation closet.
---

---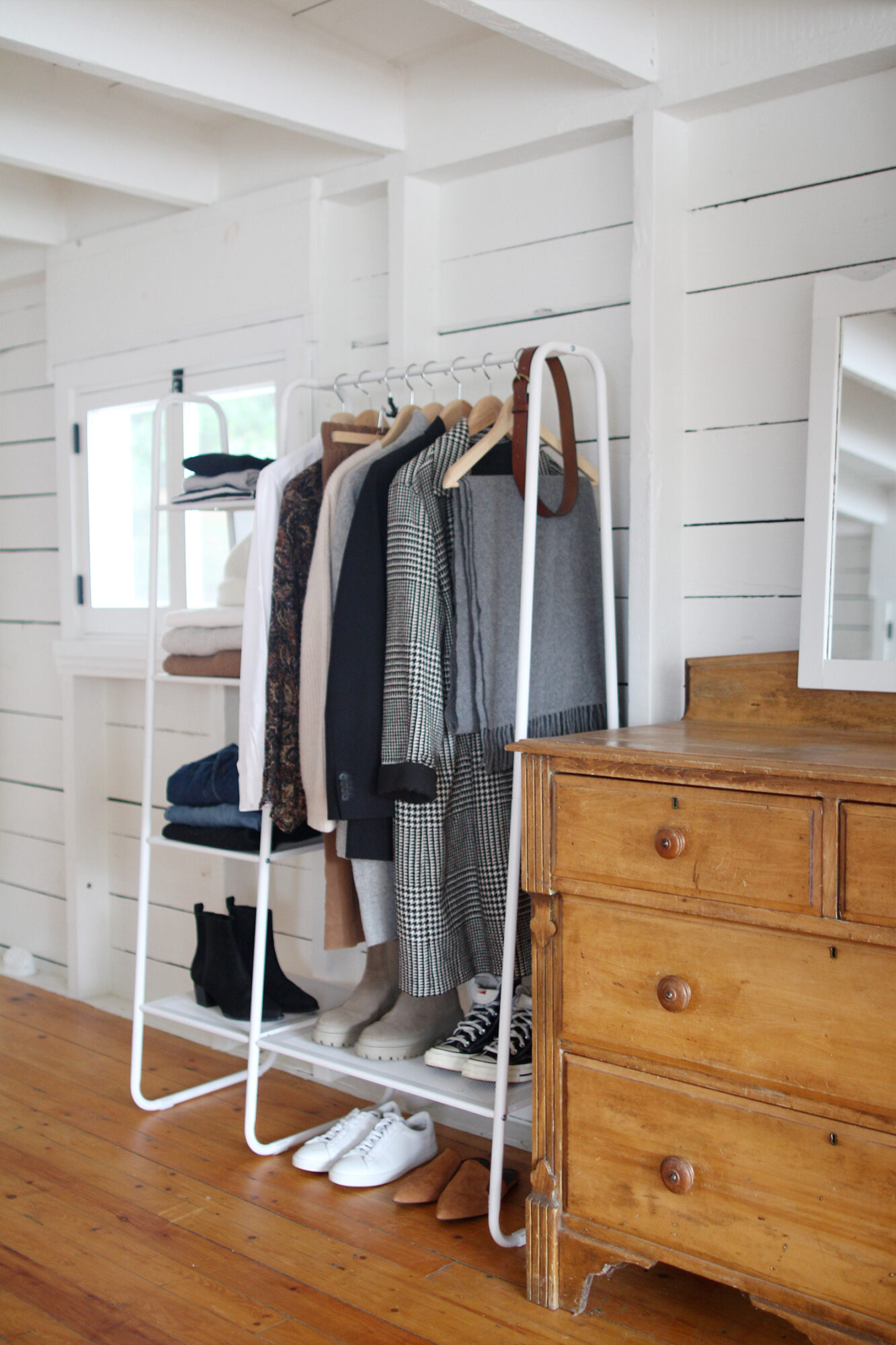 ---
NOW THAT YOU'VE SEEN MY FOUNDATION CAPSULE,
YOU'RE READY TO PLAN YOUR OWN WITH THE
(DOWNLOAD VIA THE LINK ABOVE)
---
---
Thanks for tuning in folks, I hope you enjoyed this post!
I'd love to hear what items are in your Foundation Closet and if you have any questions about this topic, please share them in the comments.