"Life fluctuates. Your clothing doesn't have to." is the mantra behind today's featured brand partner, Sotela, and this sentiment feels particularly on point with both life in general and my personal style these days.
In today's post I'm taking a look at the Pomelo Shirt (a charming and versatile button up) and the Papaya Shorts (aka. the heat wave saviour I've been living in). I chose both in a beautiful avocado green linen but they also come in 5 other colour ways. We'll be walking through how to style each piece a bunch of different ways, which I hope will offer some new outfit ideas and perhaps a new brand to support when the time is right!
In the post:
A bit about Sotela
3 details I love about the Pomelo Shirt & Papaya Short (+ other essential facts on these pieces)
4 ways to style the set.
7 ways to wear a classic pair of linen shorts.
Let's go!
---
Enter code at checkout, valid through August 6th.
---
This post is produced in partnership with SOTELA an independent, LA-made and size inclusive clothing brand. The featured pieces were gifted and Style Bee earns a commission on sales made using the reader code (at no additional cost to customers). More details below.
---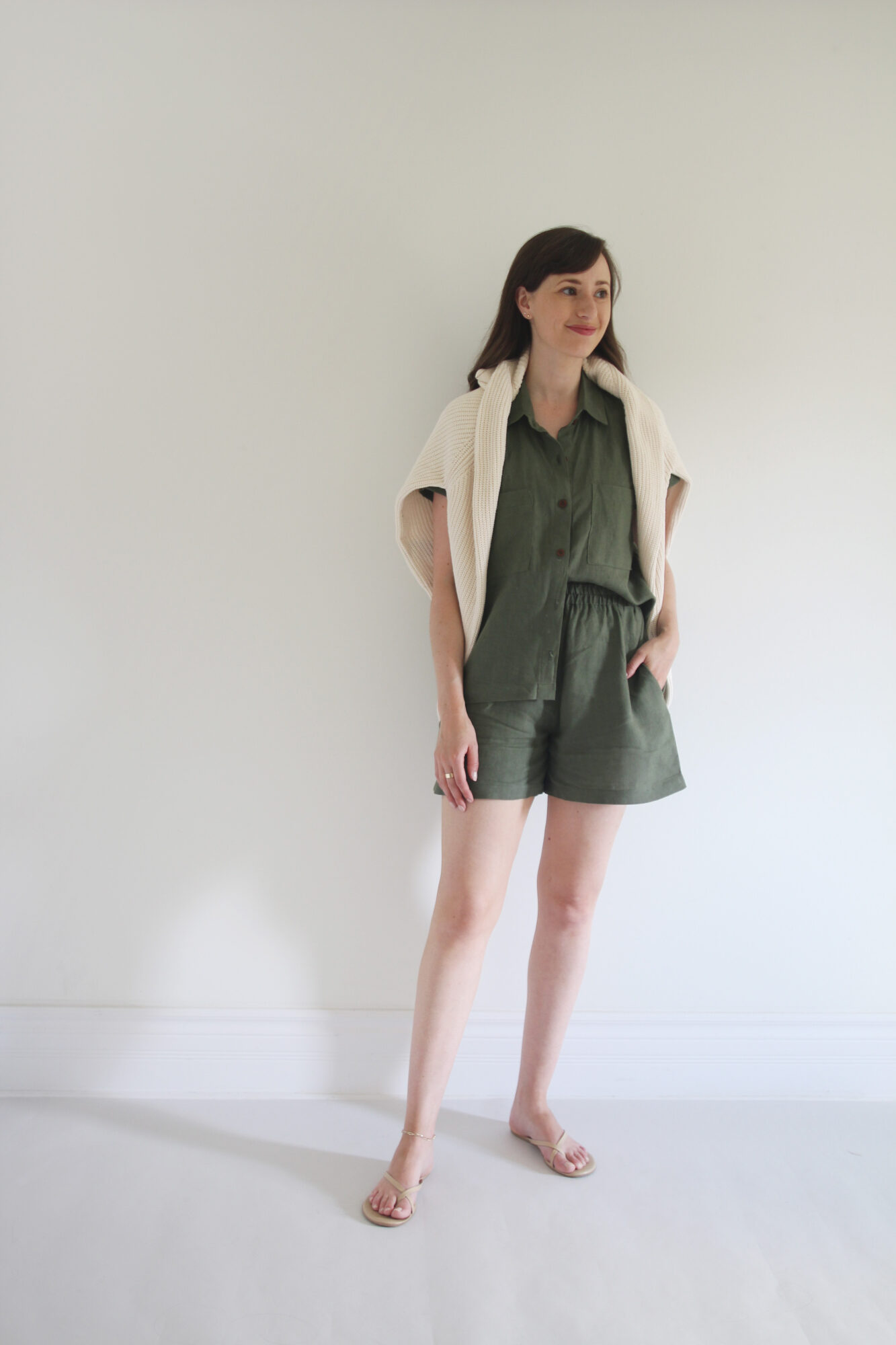 ---
A BIT ABOUT SOTELA
If you've been reading Style Bee for a while, you may recognize Sotela from past styling posts and closet discussions. The brand's founder, Hanna Baror-Padilla, and I have been collaborating since she launched the first collection through a kickstarter campaign back in 2016 (see the post here). Wow, does time fly! Since then Sotela pieces have remained some of the most comfortable items in my closet and the latest set is no different.
Sotela is created from start to finish in an LA based studio and founded on the concept that we all deserve to reach into our closets and have multiple pieces that will always fit, and better yet, make us feel confident.
You can learn more about Sotela's story here and to offer a bit of insight I wanted to share the brand's values:
Body Positivity | Inspiring you to feel good about yourself. inclusivity is a driving force in what we do.
Positive Impact | we are dreamers and campaigners. Change markers and advocates. Movers and shakers that are at our best when we are helping the world.
Humanity | We are not willing to compromise people for things. We're an ethically made brand without sweatshop labor, and treat our team as equal partners and collaborators.
Environment | Promoting ethical brands is not only a fashion decision, it's a lifestyle decision. We believe there's a responsible way to create products that doesn't harm the planet.
These are all values I certainly support here on Style Bee & I'm betting they'll resonate with many of you as well.
Now onto the post and LOTS of styling ideas!
---
---
3 DETAILS I LOVE ABOUT THE POMELO SHIRT
1 | SHAPE – I don't think I've ever had a button up shirt in quite this shape and I LOVE it. The straight hem & boxy torso are so fun & easy to style. The shape works fully tucked, half tucked, tied, open or loose making possibilities for different looks basically infinite. See how much this one transforms in the looks below!
2 | DROP SHOULDER & SHORT SLEEVE – Okay, technically two-in-one but theses design details go hand in hand. I love a drop shoulder in linen shirts because it's much more comfortable to wear and move in and the sleeve length on this shirt works as is or rolled. You know I always love me some options!
Tip: to keep a rolled cuff in place, run an iron over the edges to set the fold in place.
3 | BUTTONS – There are two options for the buttons on the Pomelo shirt (white pearl and tortoise) and I love the look of both. In this case I went for the tortoise shell corozo buttons, which tend to blend in a bit more and I'm all for the vintage feel they add.
---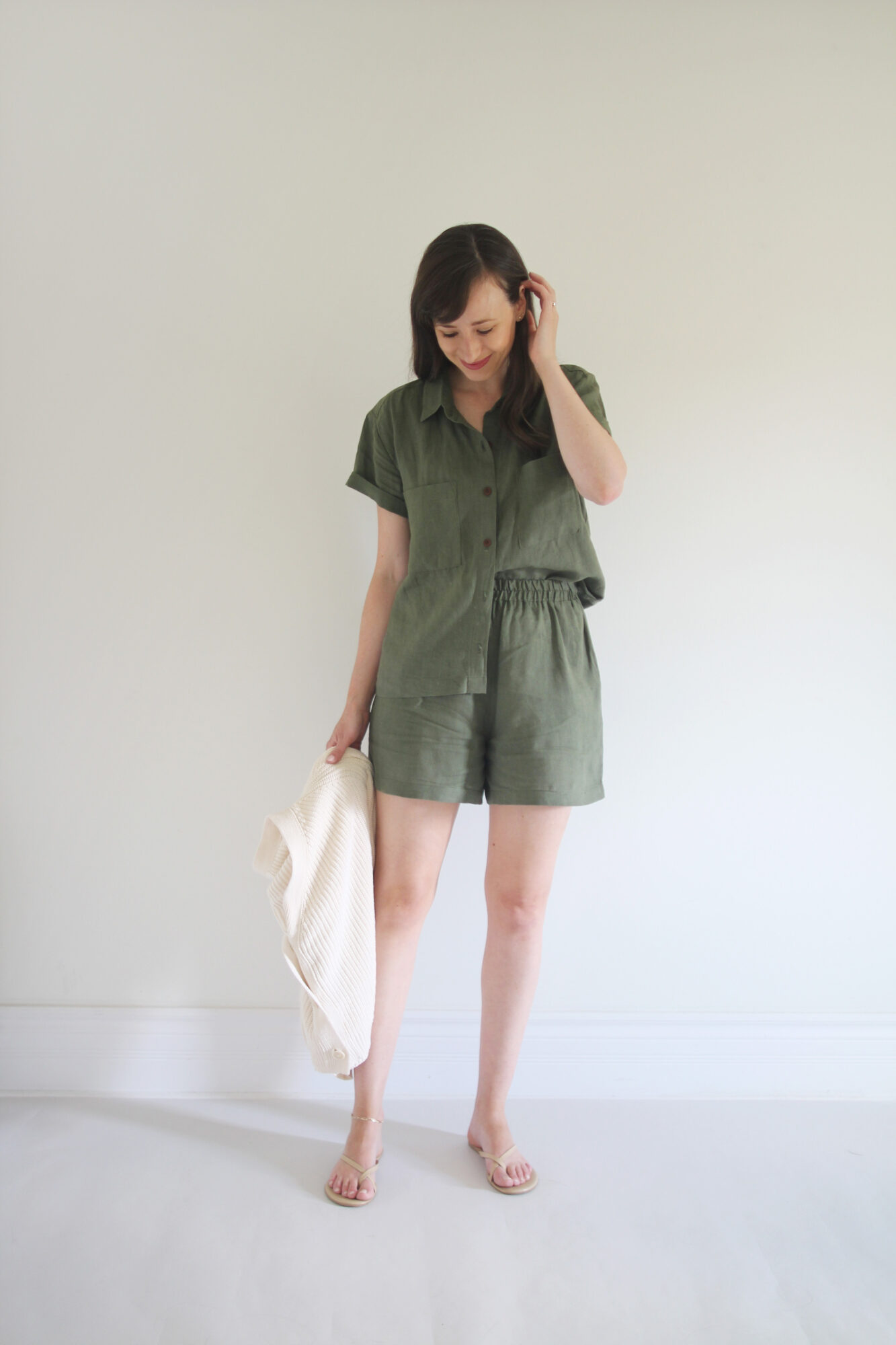 ---
3 DETAILS I LOVE ABOUT THE PAPAYA SHORTS
1 | THE CUT – I'm a bit of a Goldilocks about shorts but the cut on these is just what I'd been looking for in a summer short. Simple and relaxed but with clean lines and a hem that falls at the perfect spot on the upper leg (ie: not too short or too long). I've found that a 3-5 inch inseam is just right for me and I love when the hem can be easily cuffed for different looks (see these with a cuff in a look below).
2 | ELASTIC WAIST BAND – I don't own shorts that don't have an elastic waistband because my summer style is all about ease and comfort. This one is great because it's not too tight to start with and has lots of stretch for movement. It's also special because of the centre seam that's been sewn to keep it from rolling or twisting inside the fabric.
3 | INVISIBLE SIDE SEAM POCKETS – Need I say more? All the functionality of pockets without any added bulk or seams.
---
MORE ON THE PAPAYA SHORT & POMELO SHIRT
---
SIZING – 0 / 1 / 2 / 3 / 4 / 5 / 6 / 7 / 8 / 9 / 10 – Both styles come in an inclusive range of sizes developed by Sotela. See size 0, 2 & 6 on the models below. I think this set looks incredible on everyone I've seen wearing it! There is lots of sizing advice on the product pages and Sotela customer care is super helpful too.
The Pomelo Shirt also comes in two length options for taller folks that would like an additional inch of length.
I wear a Size 1 in both pieces and I'm typically an XSmall or Small in tops and a Small or Medium in bottoms. For reference my measurements are approximately: 34 in Bust / 27 in Waist / 38 in Hip
FABRIC – 100% Linen in 4.7 oz – Sotela's medium-weight linen has a luxe hand feel that drapes beautifully (see my IGTV today for how the pieces look in action. Although it's soft and light, it does not pill. Yay! I feel that the photos in this post are a fair representation of how the fabric can range from freshly steamed to a more rumpled look throughout the day.
CARE – Preshrunk and machine washable. Wash on normal with cool water. Tumble dry or hang dry (which I prefer for longevity and shape retention). Linen wears over time and will soften with each wash. I've washed my set twice so far and it comes out great. I hang dry and then iron with lots of steam to smooth it out.
COLOURS – These pieces both come in 6 lovely colours. Avocado (shown, linen) / Oat Stripe (100% cotton seersucker) / Chambray (organic cotton linen blend) / Sand (linen) / Mustard (linen) / Black (linen)
*Wash the avocado green separately or with black as colour may bleed onto other garments in the wash.*
---
PAPAYA SHORT PRICE – $139 USD $125.10 USD with 'STYLEBEE10' at checkout through August 6th.
POMELO SHIRT PRICE – $179 USD $161.10 USD with 'STYLEBEE10' at checkout through August 6th.
---
STYLING THE POMELO SHIRT & PAPAYA SHORT
4 WAYS
---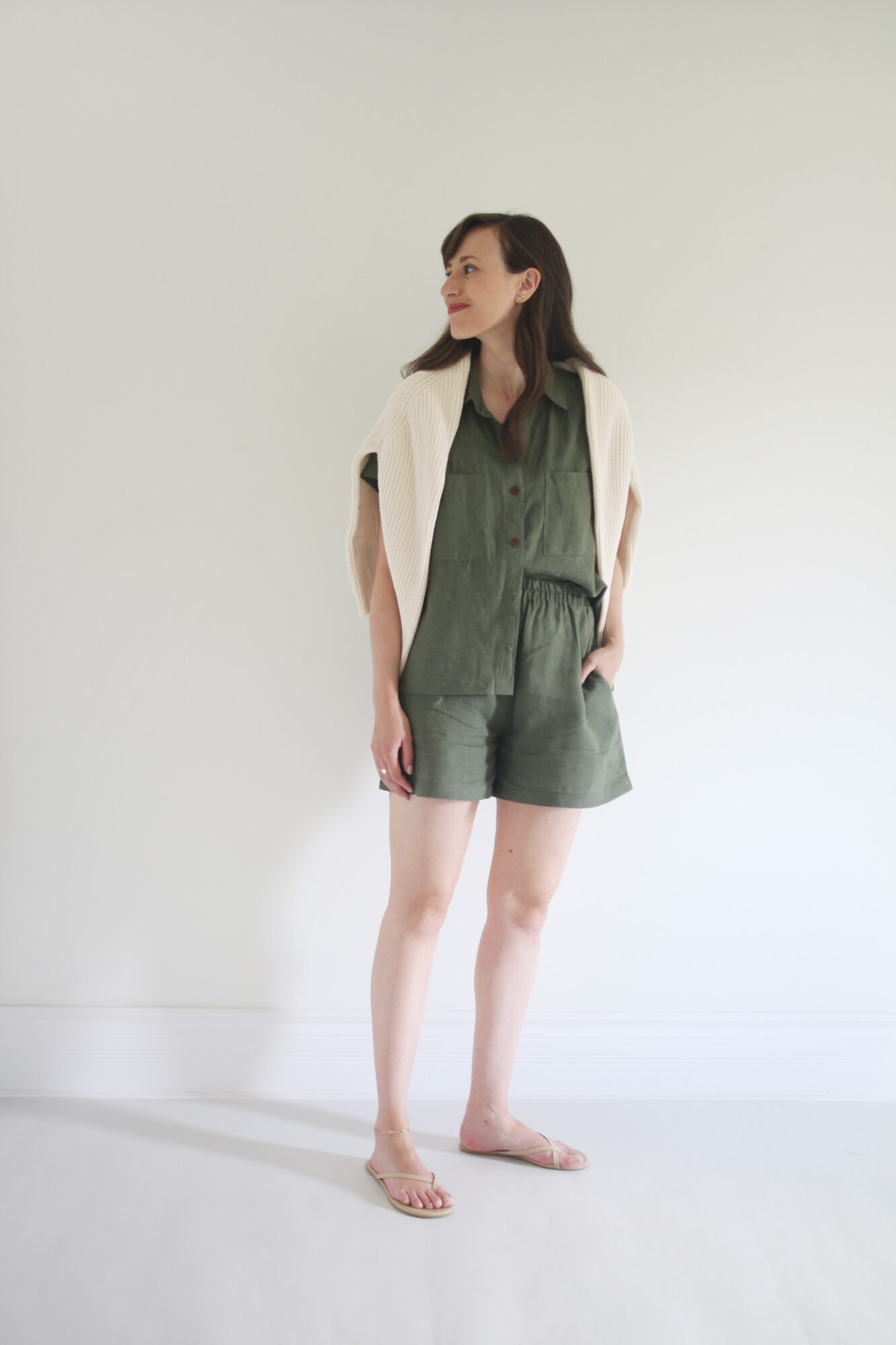 ---
HALF TUCKED WITH FLIP FLOPS & A COTTON CARDIGAN
---
This is how I've been wearing these shorts during hot days and breezy evenings lately. Something about a half-tucked shirt feels just styled enough without being fussy. I also think this trick helps to create a bit of shape and length on the lower half. Barely there flip flops and a gold anklet are my go-to summer accessories and a cotton sweater is never too far away. The evenings can be a little cool in the summer here so it's nice to have something soft and cozy for over my shoulders.
---
---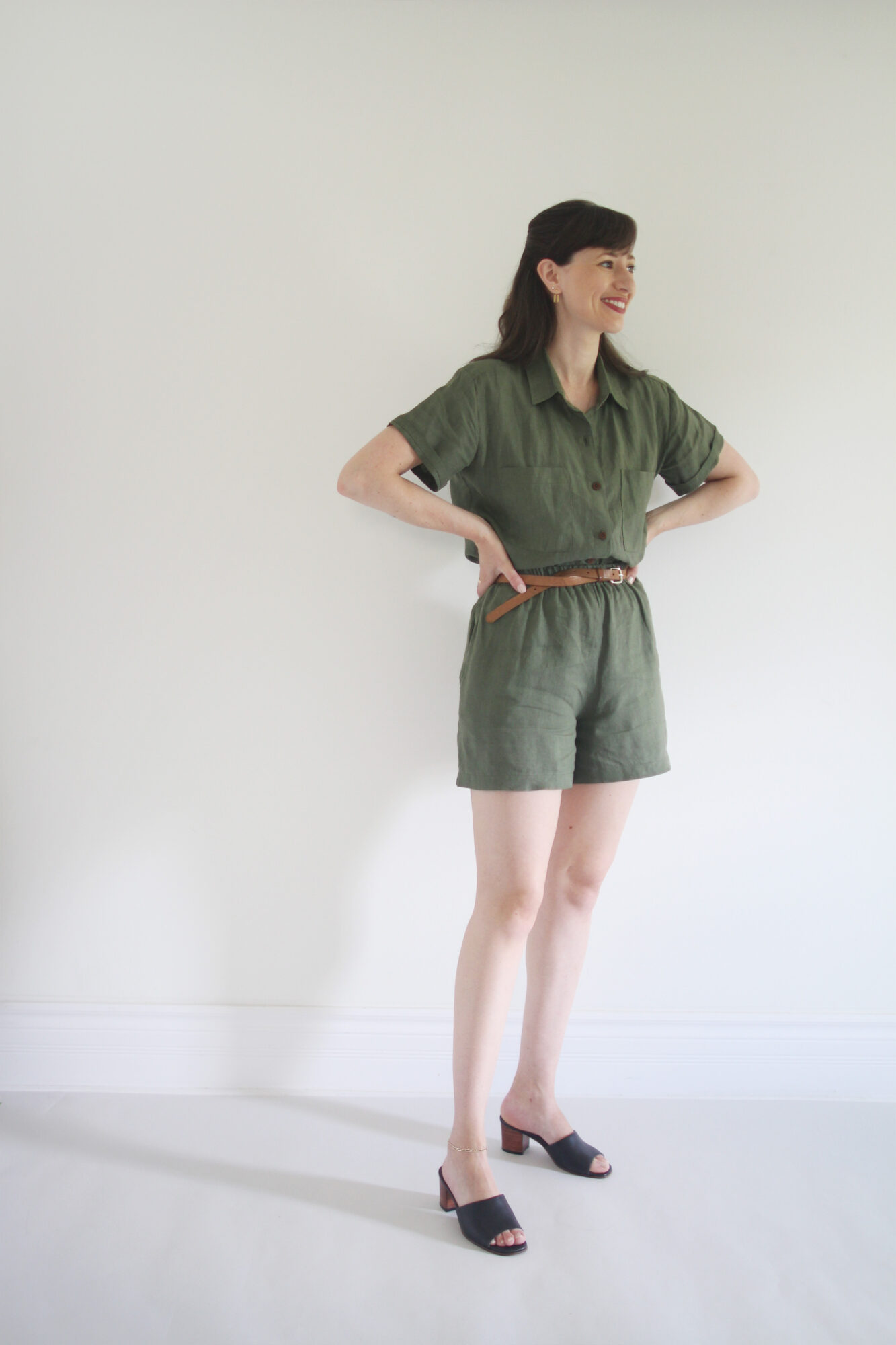 ---
FULLY TUCKED & BELTED FOR A FAUX ROMPER WITH A BARRETTE & MULES
---
It always amazes me how an accessory as basic as a brown belt can create a completely different outfit. In this case I tucked the Pomelo top all the way in and then layered an old belt over the waist band of the shorts. Thanks to the seam I mentioned above, there is a groove that helps the belt stay put but if you're bending down a bunch it'll probably need adjusting.
This look is perfect for a dinner on the patio, a little galavant about wine country, or just because!
---
---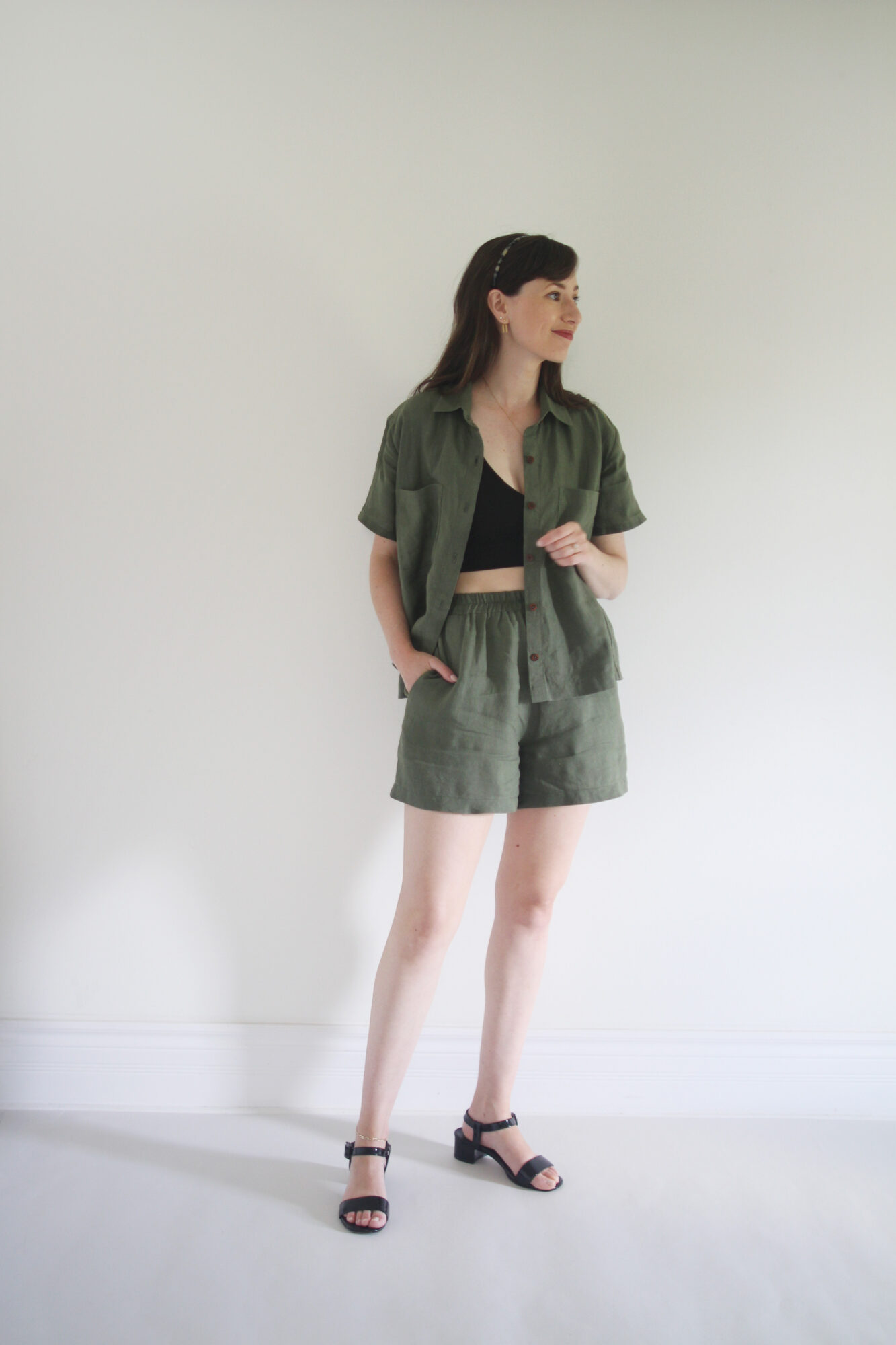 ---
OPEN OVER A BRA TOP WITH CLASSIC SANDALS & A SKINNY HEADBAND
---
I wore this at the cottage recently (minus the shoes) and it was ideal for a humid evening surrounded by trees and listening to the loons.
I love wearing matching sets like this because it lets you have some fun with different proportions without feeling self-conscious. These shorts are really great with crop tops because they can be worn at various spots on the waist. The elastic gives a lot as you bend or move and there is never any digging in or constraint around the waist, which can be an issue sometimes.
---
---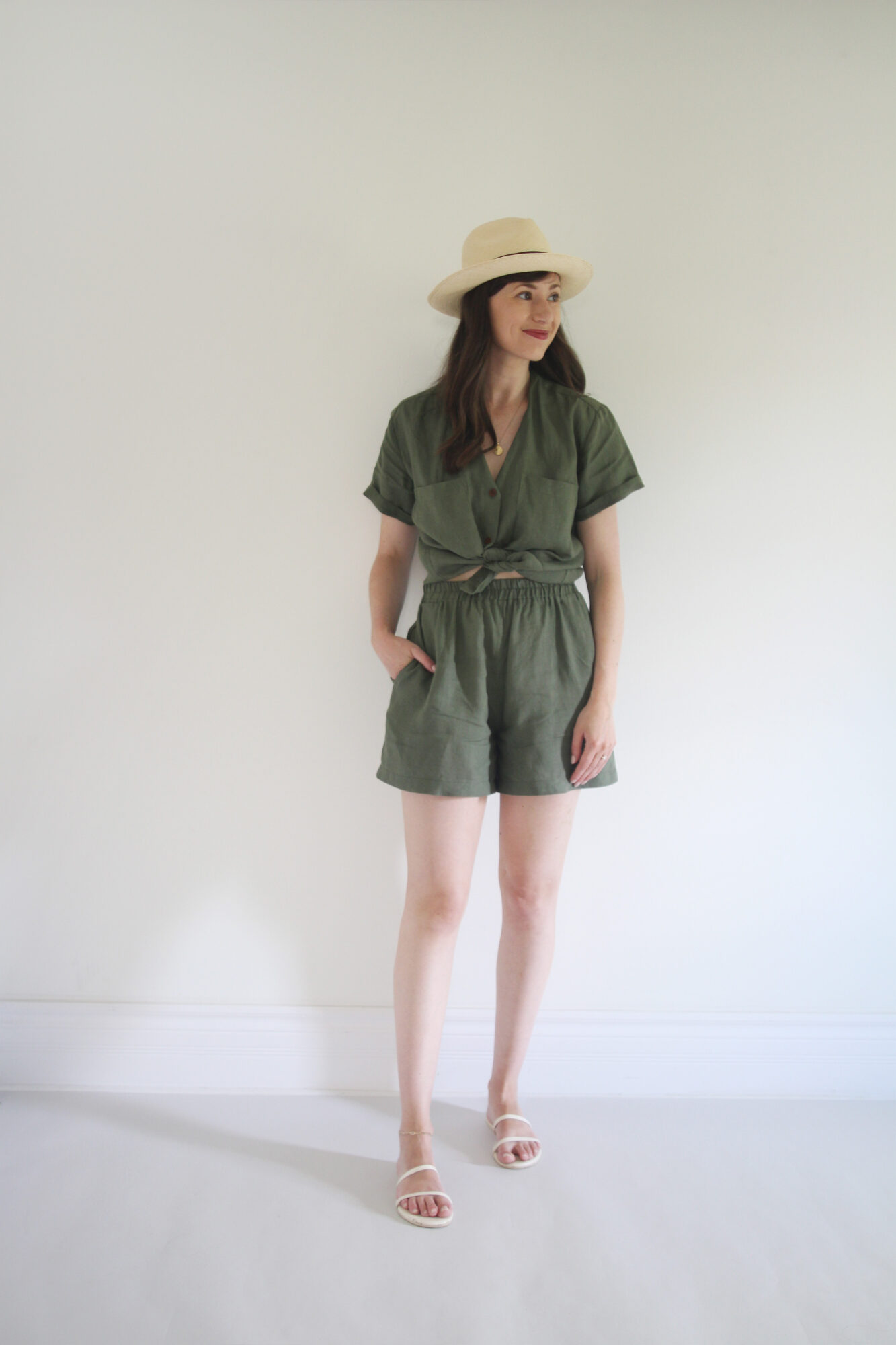 ---
SHIRT COLLAR TUCKED, FRONT TIED WITH MINIMAL SLIDES & A PANAMA HAT
---
Okay, I'll admit it, this collar styling trick is kind of amazing and I can't believe I've never tried it before! It's so simple and completely transforms the look of this top into a v-neck. It takes a little bit of adjusting to get the shoulders to lay flat but once it's done, you'd never know there was a proper collar hiding under there.
I love this cute combo for hot days outdoors, riding a bike to the lake or going for a stroll to grab an ice cream.
---
---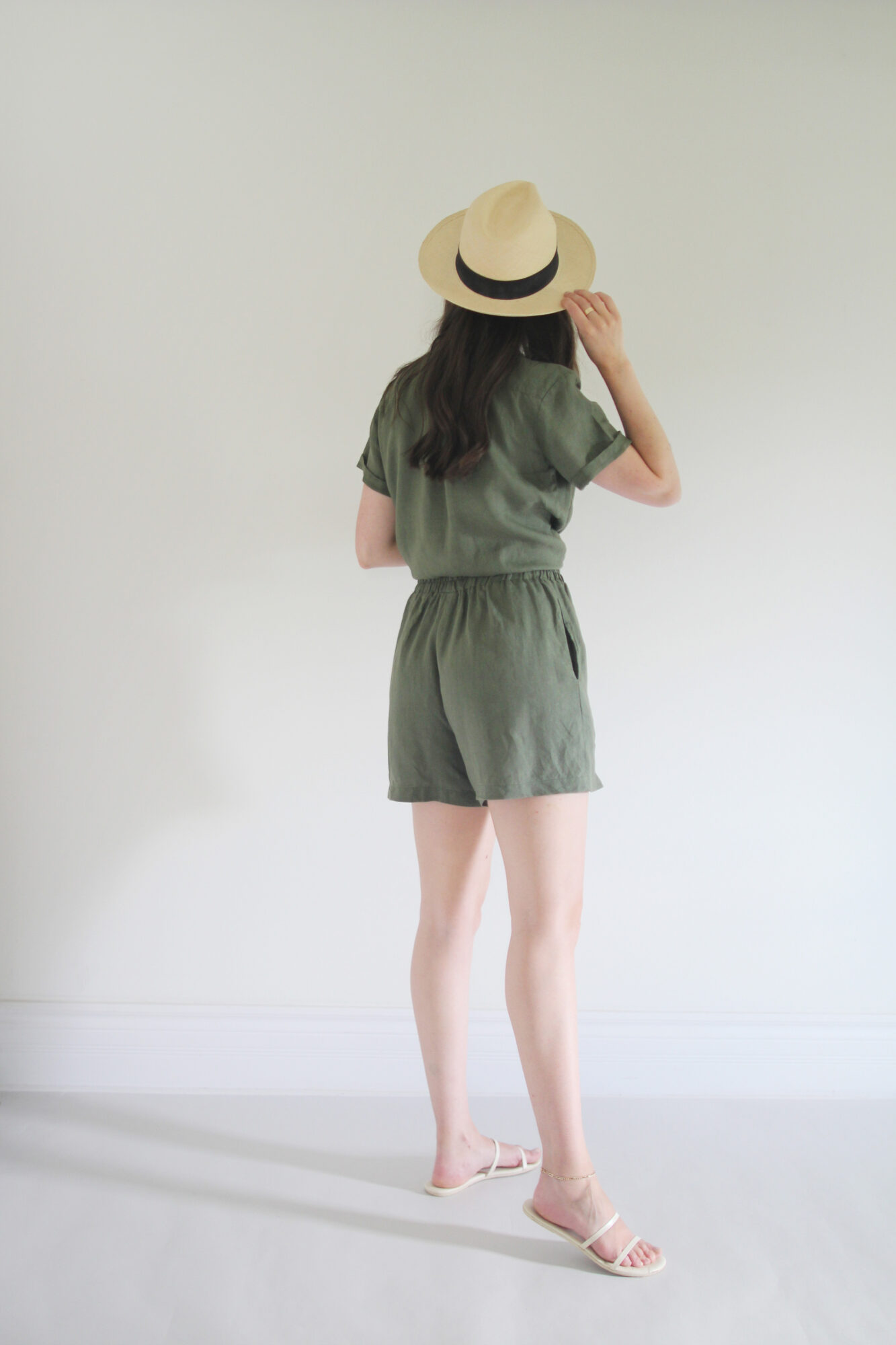 ---
NOW ONTO A WEEK'S WORTH OF WAYS TO STYLE THE PAPAYA SHORTS (ie: the ultimate summer short)
I love these shorts so much that I just ordered a second pair in Sand, which I can't wait to wear with sweaters in the fall and again next year!
---
LOOK 1
An oversize top worn loose, minimal slides, tortoise hoops & a woven circular tote for some texture.
---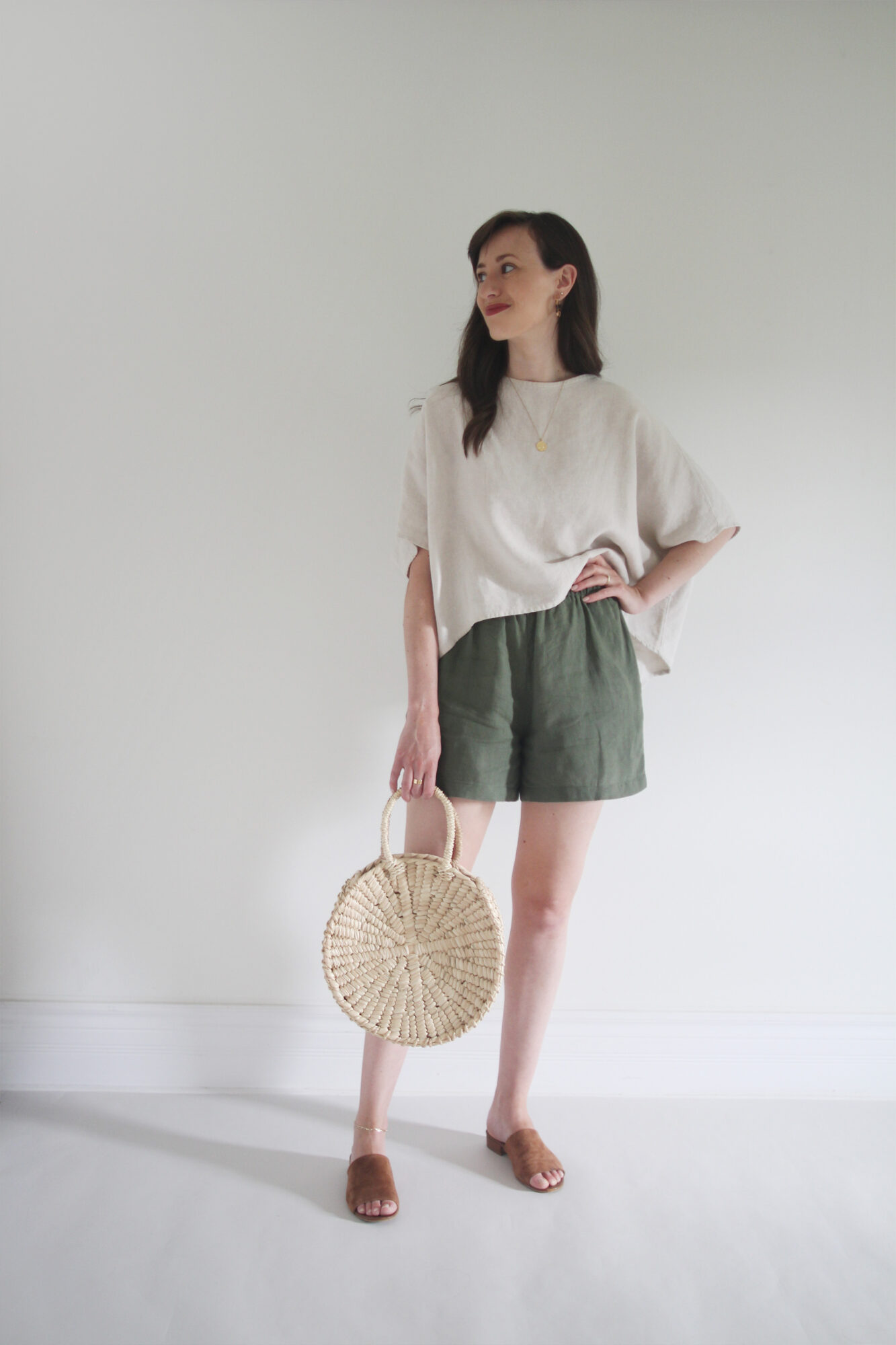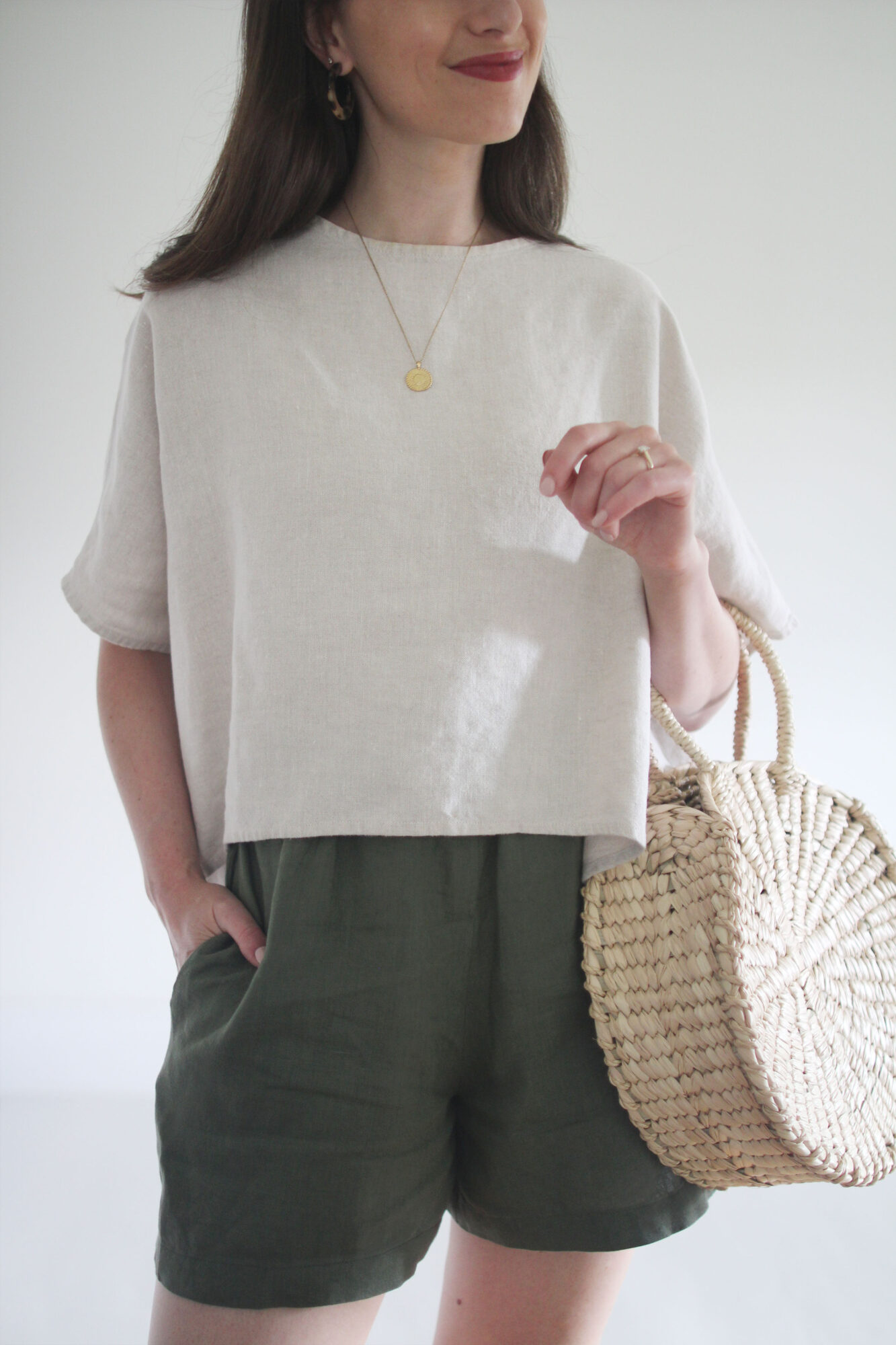 ---
---
LOOK 2
Striped tank fully tucked with a relaxed jacket on top, woven mules and a vintage beaded bag.
---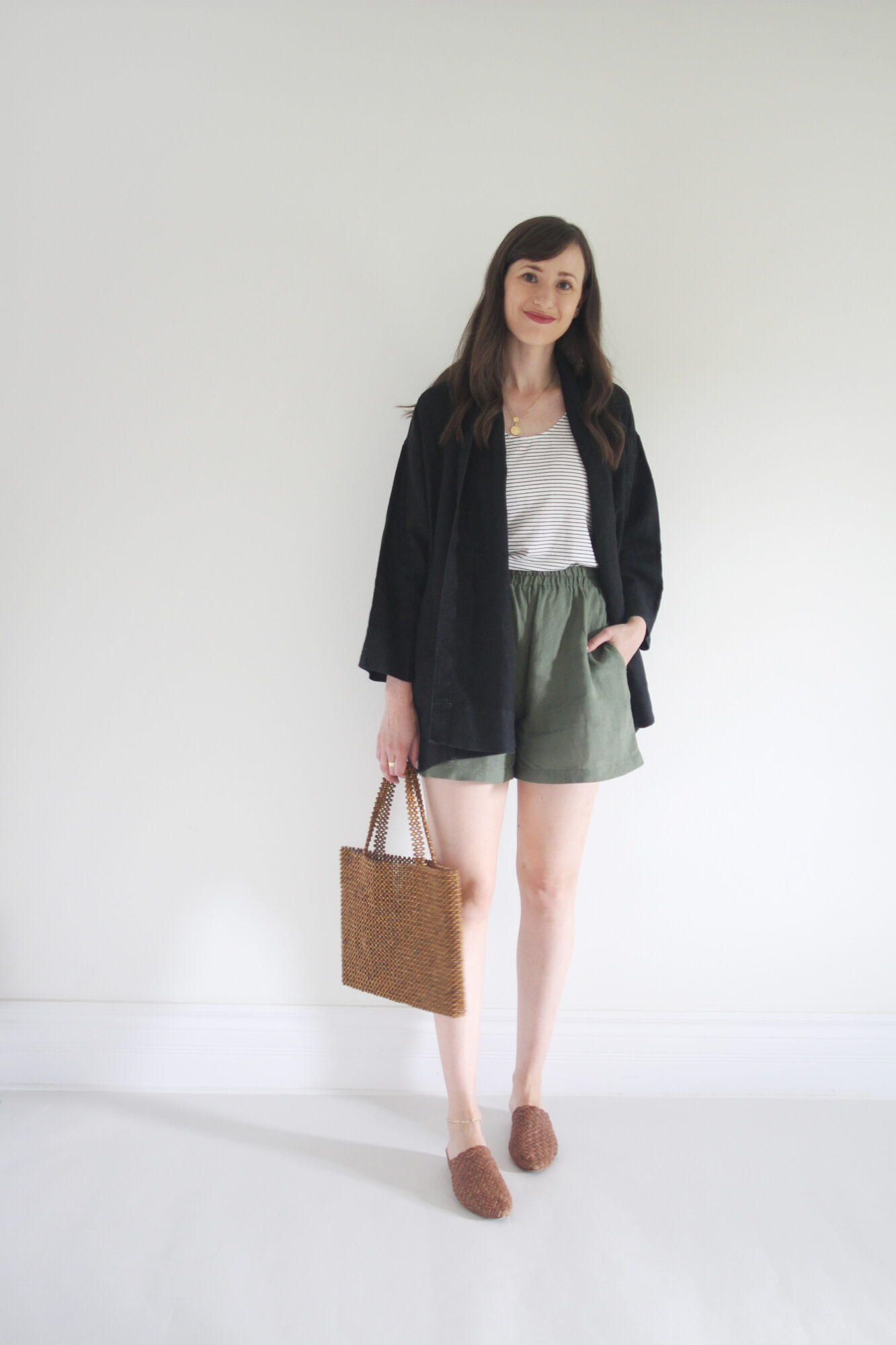 ---
---
LOOK 3
Black silk shell with a boyfriend blazer, block heel sandals, layered gold necklaces & a classic cross-body bag.
Shorts & blazers are a personal favourite combo.
---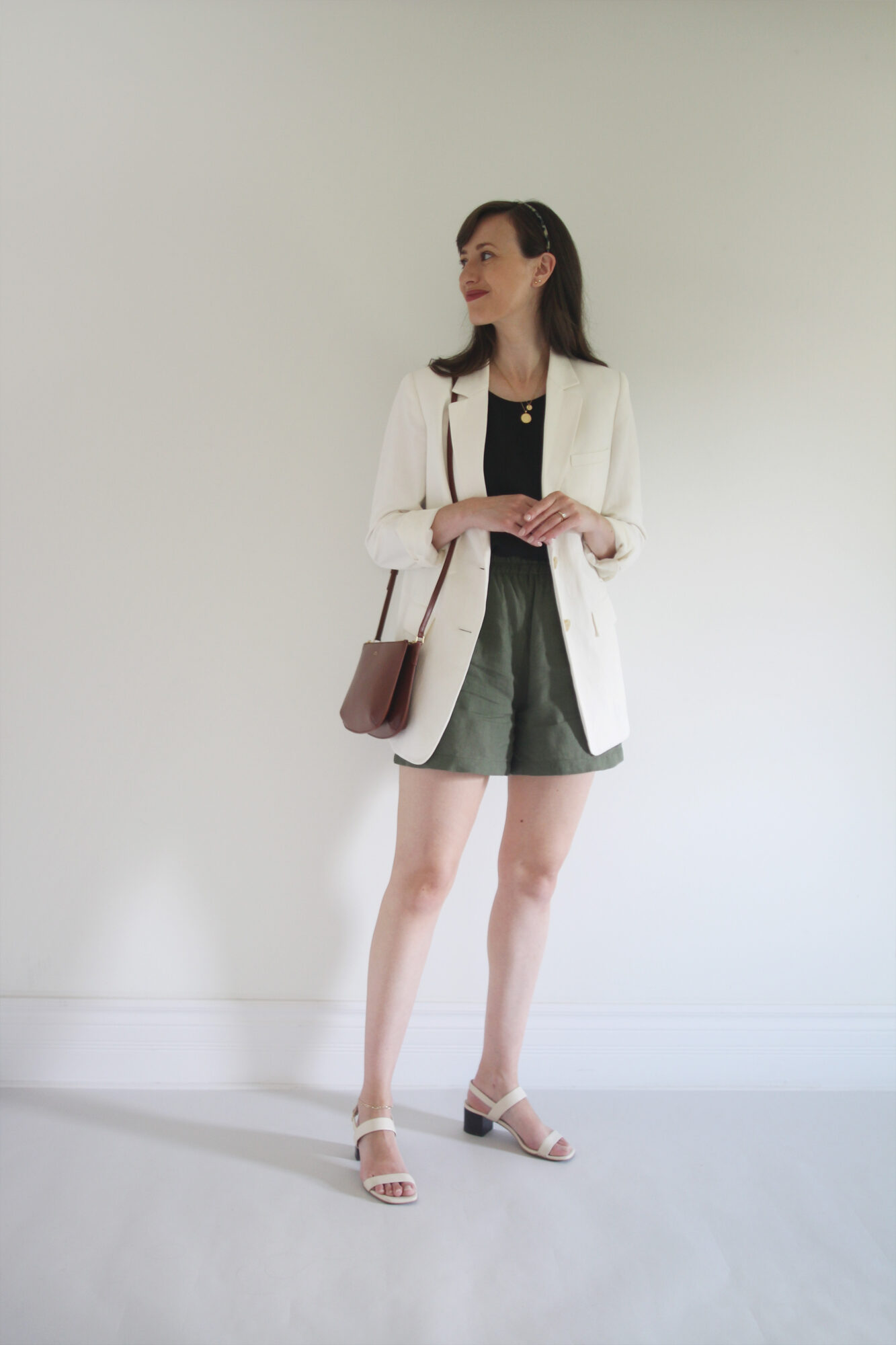 ---
---
LOOK 4
Light sweater front tucked with chunky sandals and a backpack.
---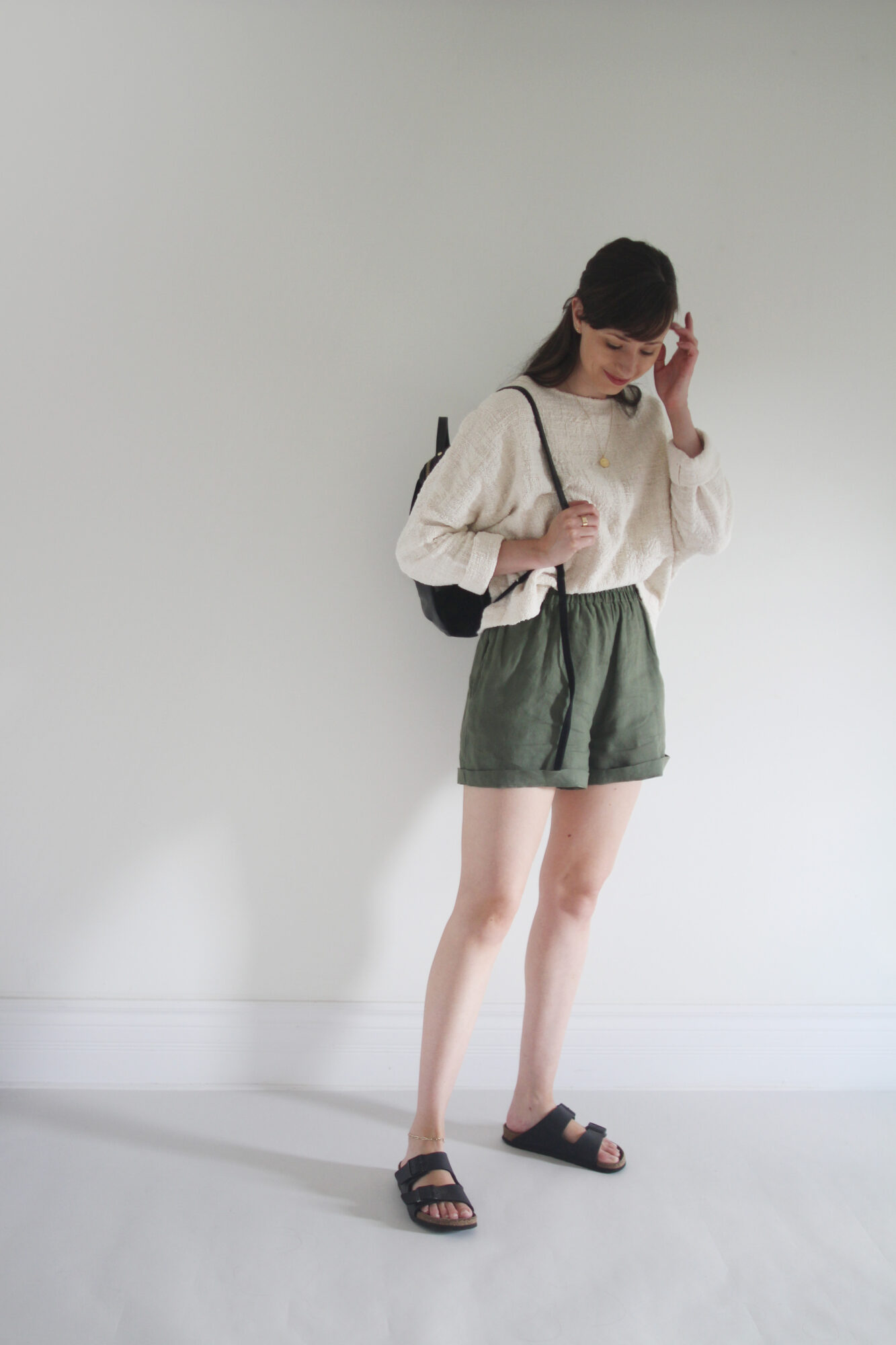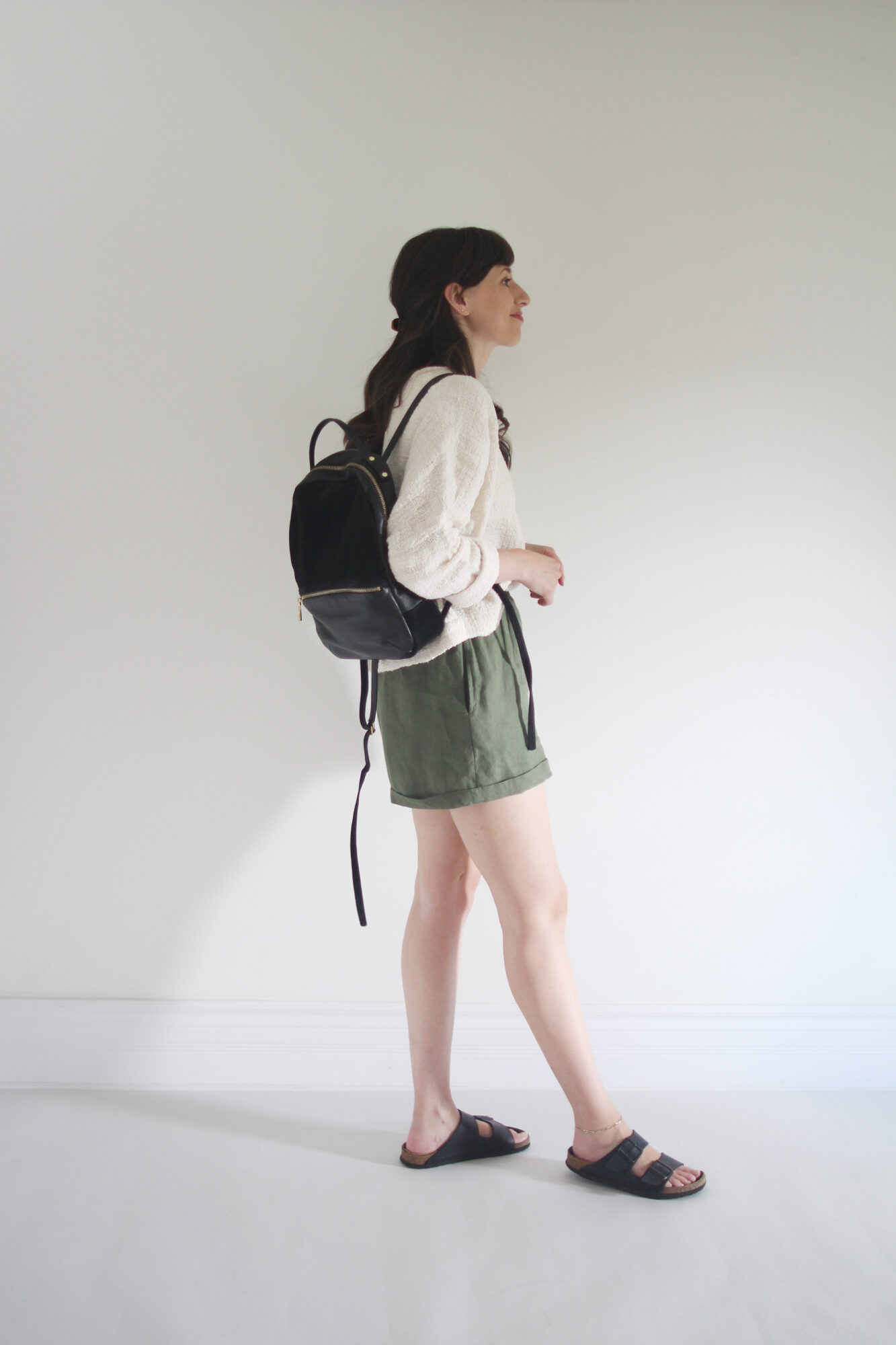 ---
---
LOOK 5
Airy print shirt with pearl earrings, a mini tote & block heel mules.
---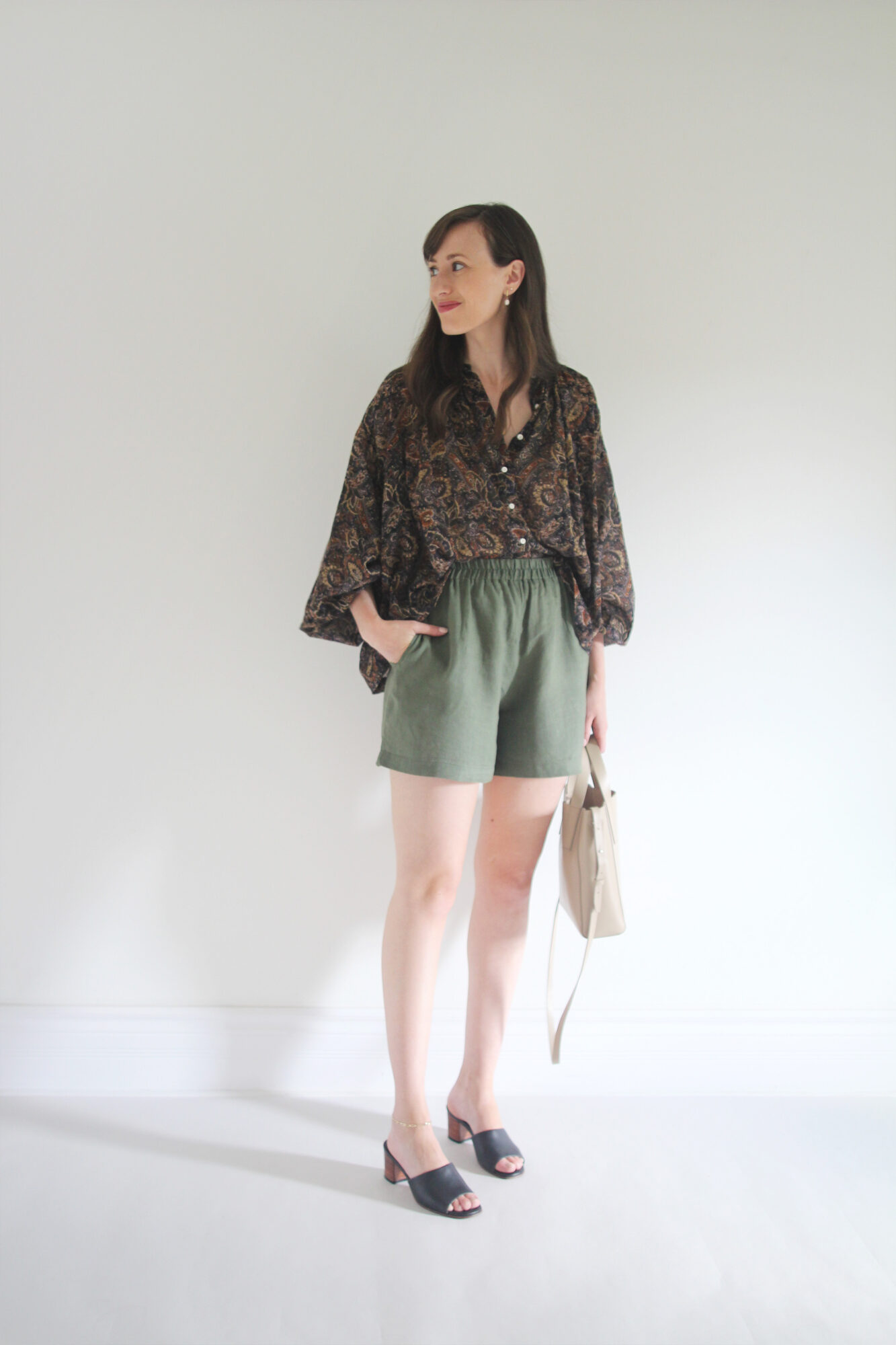 ---
---
LOOK 6
Fitted white t-shirt with a grandpa style cardigan and woven flats.
---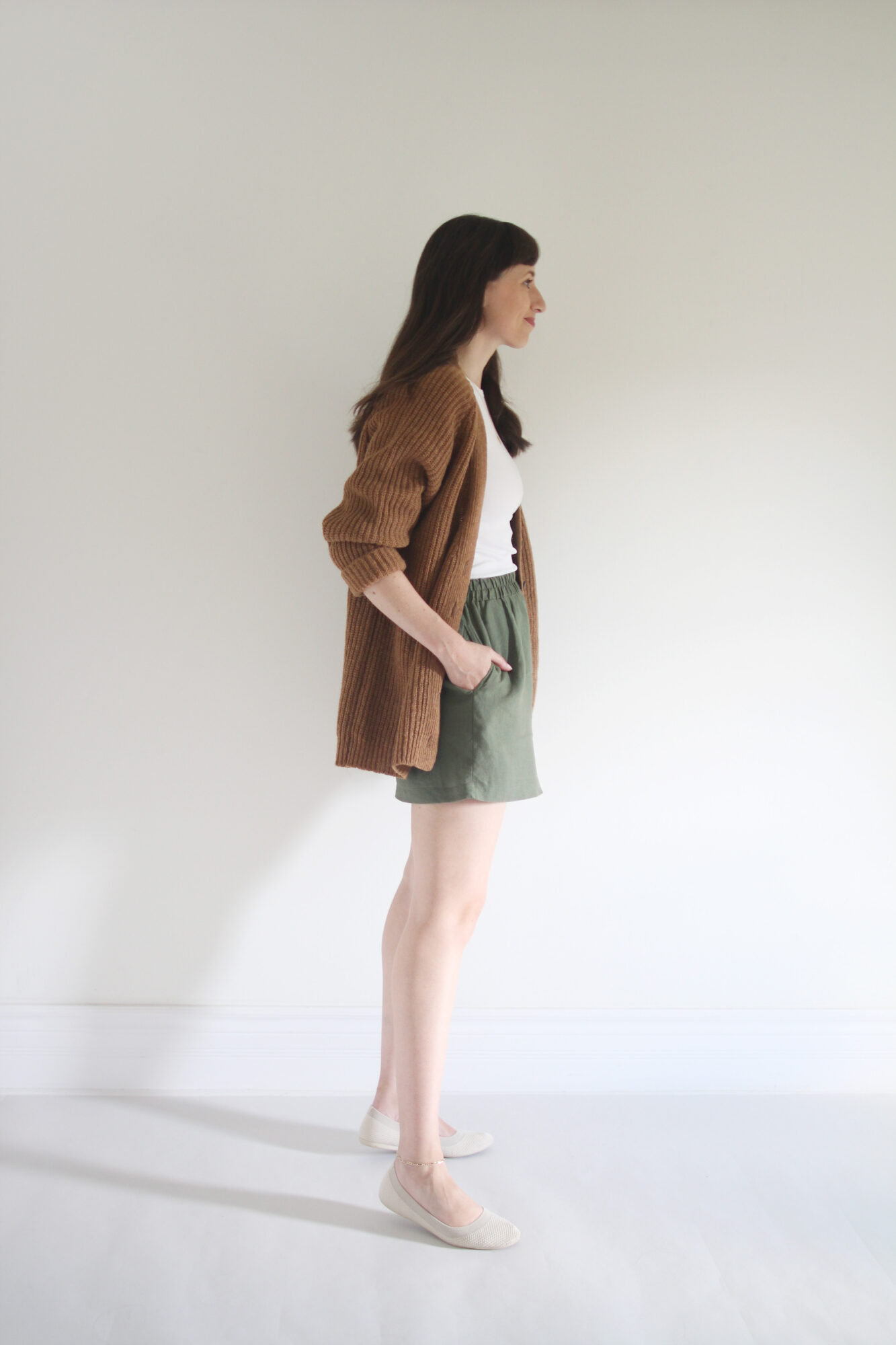 ---
---
LOOK 7
Wrap top with ties worn long, fun earrings, nude clogs & a woven circle tote.
---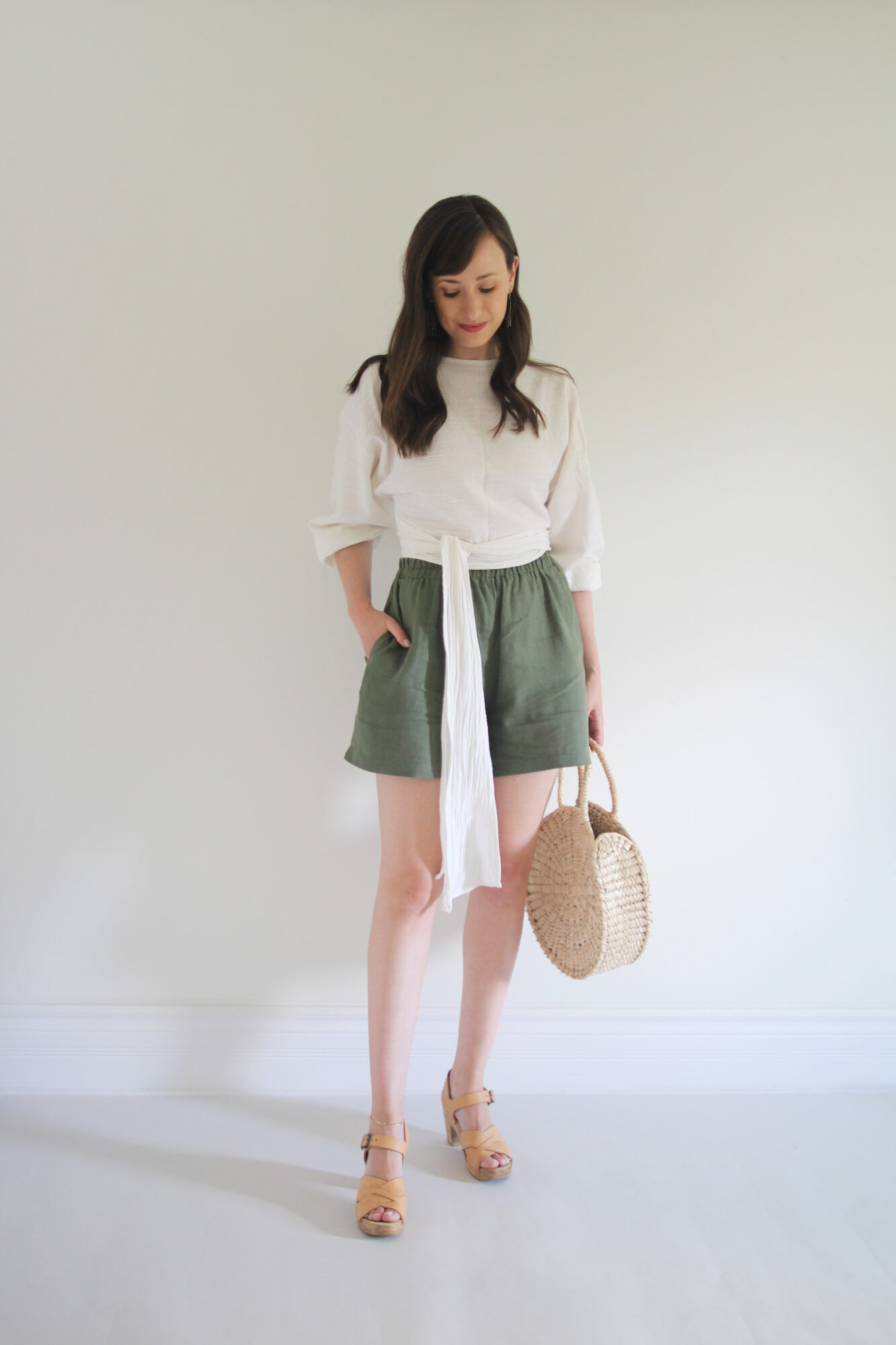 ---
---
There you have it! 10 Ways to style summer shorts!
Which ones would you wear?
---
(Going live at 4pm ET)
---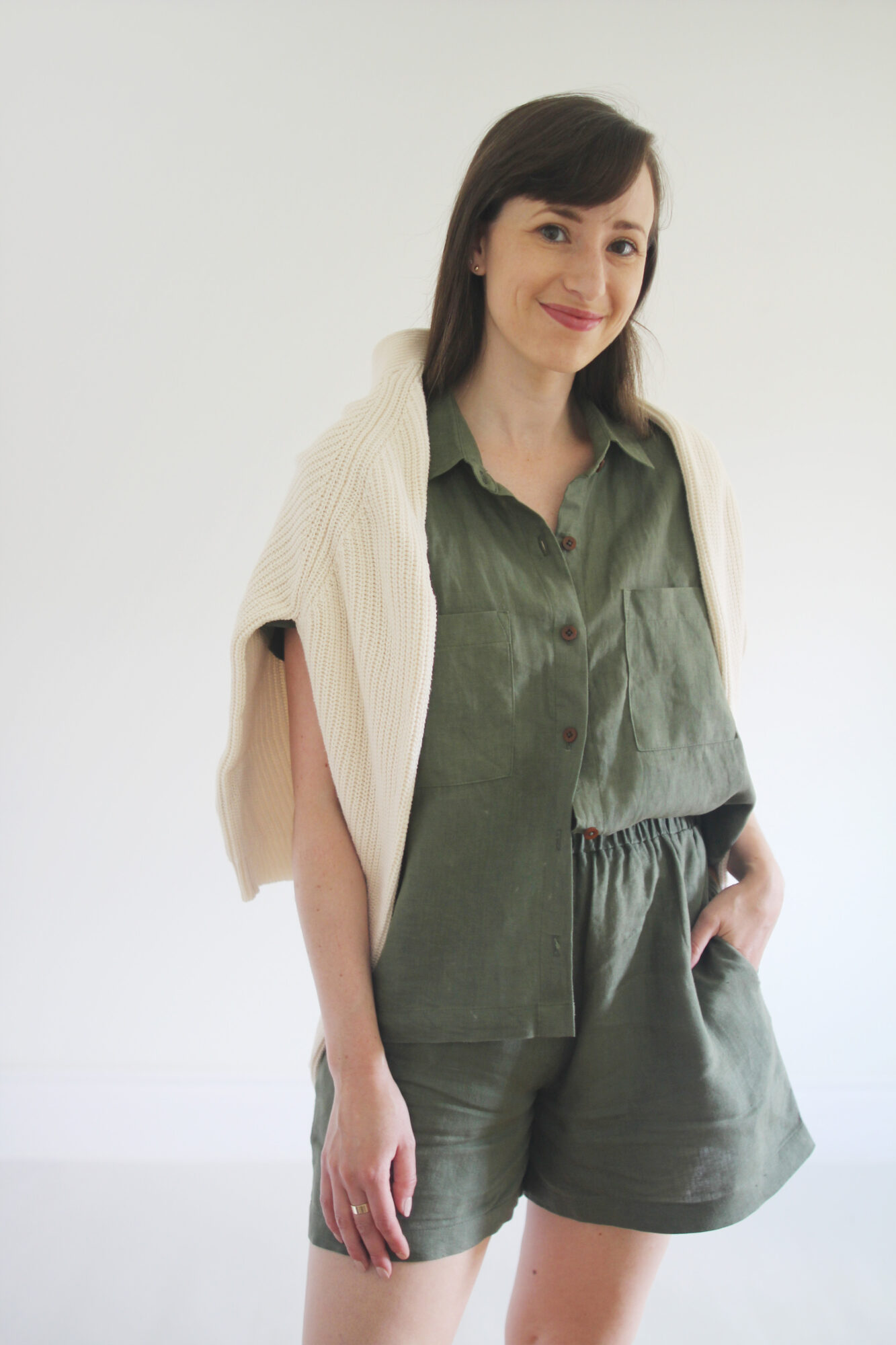 ---
DONE SUMMER SHOPPING?
I realize it's late in the season so if you're not currently shopping for warm weather pieces, you may want to check out the Grenada Button Up and Lena Pant (similar to the Florence pant) or the Ryan Trouser (similar shape to the Andy trouser) to create a similar set with more coverage that's perfect for autumn. OR go one-and-done with a wrap dress or jumpsuit that each pair perfectly with ankle boots and fall jackets.
All 10% Off with STYLEBEE10.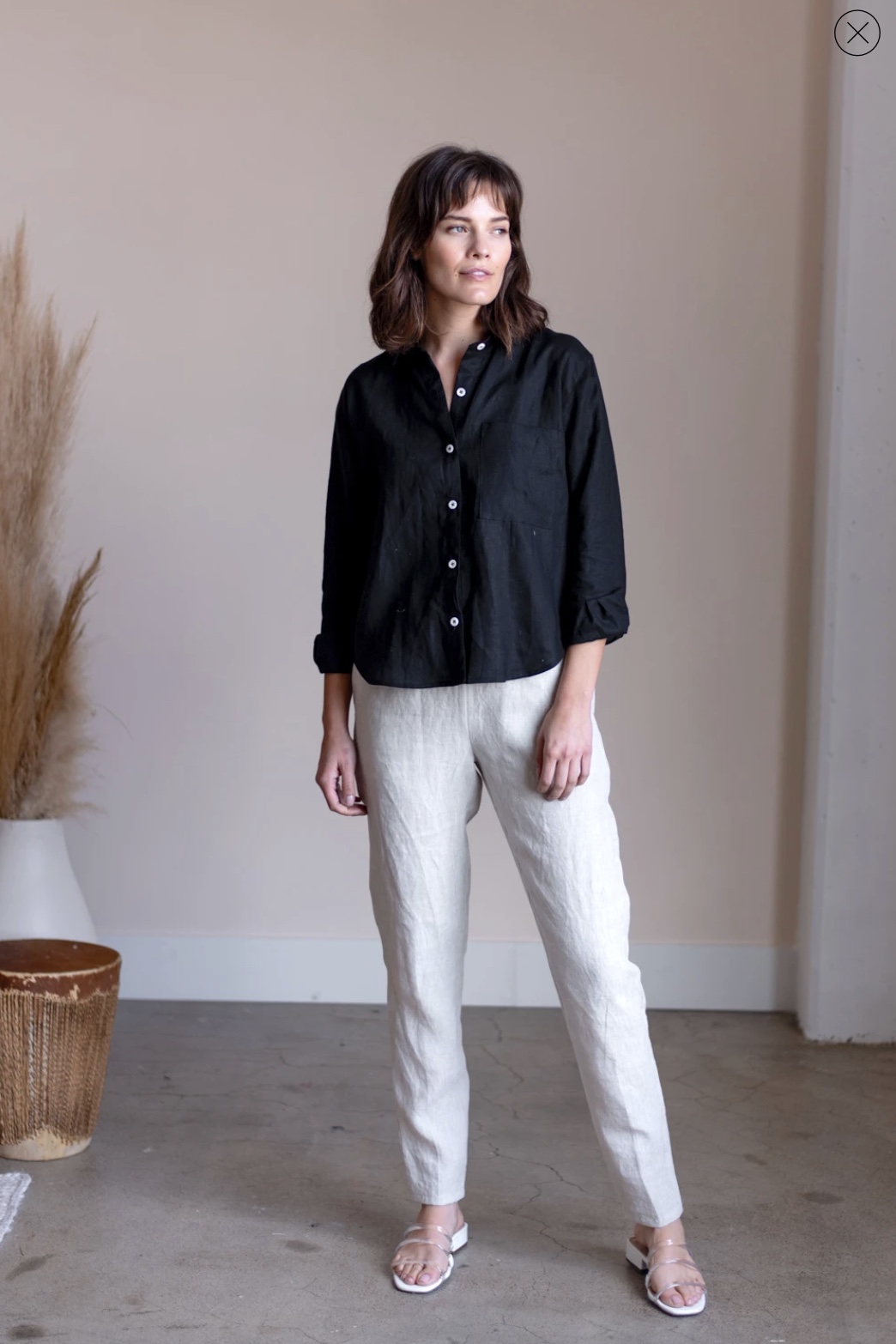 ---
Enter code at checkout, valid through August 6th.
---
THANK YOU FOR READING!
---
A QUICK NOTE: I completely understand that during these uncertain times not everyone is in a position to shop. My goal is always to share inspiration first and foremost, with options to shop if you choose. I hope this post offers up lots of styling ideas for pieces you already have and highlights details worth considering when you're ready to add to your closet again.
---
This post is produced in partnership with SOTELA and contains commissionable links. The featured products were gifted as part of this collaboration and Style Bee earns a commission on sales made using the reader discount code (at no additional cost to customers). Thanks for supporting the independent brands that support Style Bee!