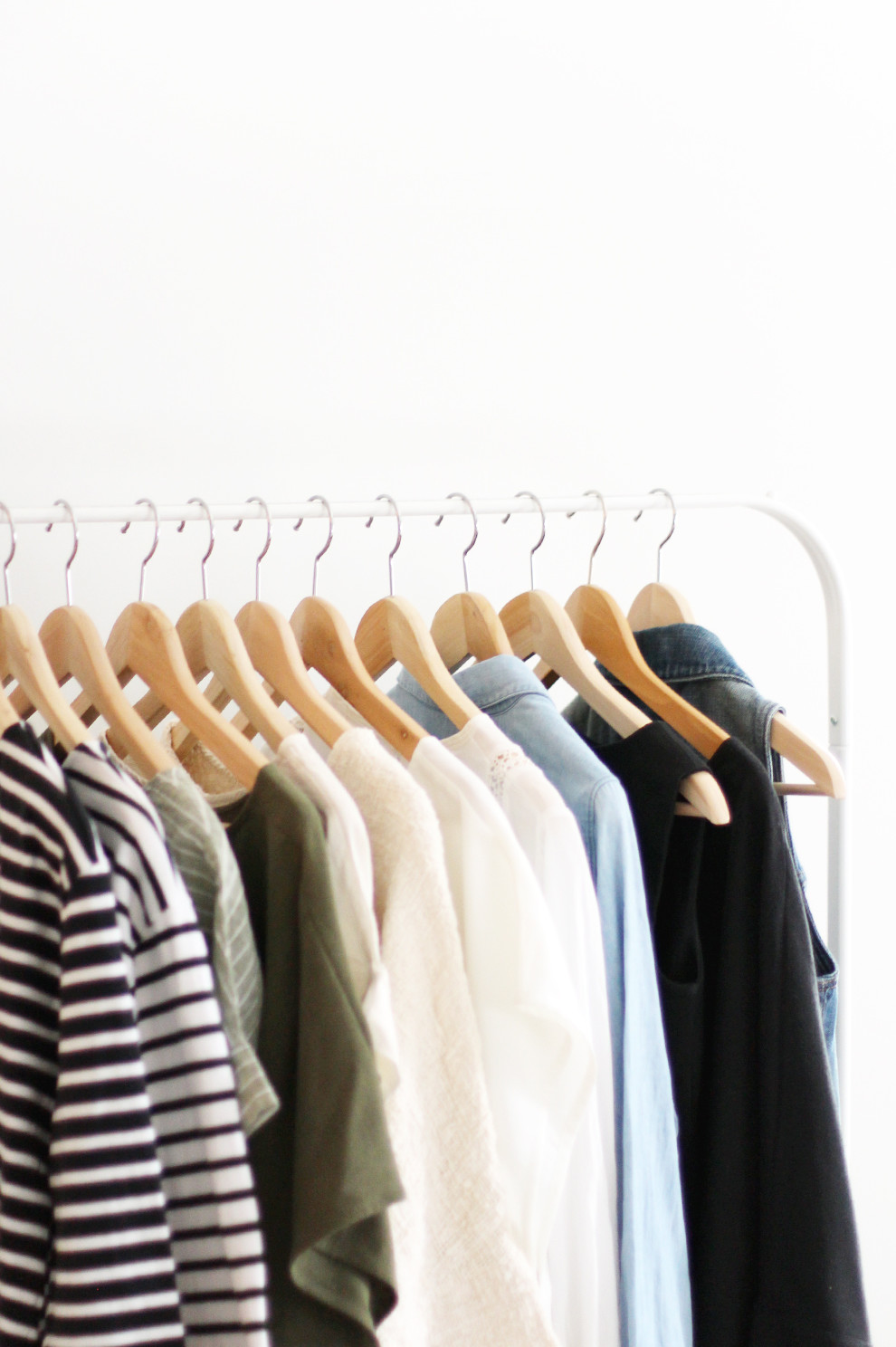 CLOSET MISSION CHECK-IN
I can't quite believe we're in the latter half of February and I'm just doing my second Closet Mission post of the year. So let's dig back in shall we? I'm going to start things off with a quick recap of where I'm at with my 5 part Closet Mission for 2016. I'm rating myself out of 10 to gauge how each goal is coming along.
1 | Reduce – This is one goal I'm making great strides with! I've just reduced my spring/summer closet to 50 items, more on that below, and I've been really good about not shopping. Aside from a few books and natural skincare products I've been keeping my bank account on lockdown. Of course an expensive vacation and property taxes coming due is also a factor! I give myself 8/10 for this goal so far.
2 | Create – This is one goal I want to improve on A LOT. I need to get serious about my sewing skills, I just haven't found the fabric I want! That said, I have finished decorating my office and that was a major task. I'll go easy and give myself 4/10 on this one.
3 | Connect – I've been so lucky to connect and partner with some really great independent designers and brands already this year. There is a TON of good stuff heading down the pipeline too so I have to give myself props for pursuing this goal head on. Cold emails are scary to send but worth it! 10/10
4 | Empower – Getting emails, messages and comments from readers, fellow bloggers and style enthusiasts alike is my favourite thing. I am so glad that I've been able to share my process and encourage others to streamline their personal style and consumer habits. I want to make an effort to share more Closet Mission posts going forward and create new workbooks for you all to try. 4/10
5 | Live Better With Less – This one will always have room for improvement but I've been feeling more content with my closet, personal life and career plans than ever before. I've been trying to focus more on fewer things, if that makes sense, and really consider how I'm spending my effort and energy on each task everyday. 6/10
So that's my current Closet Mission assessment. Now it's time to talk wardrobe editing!
---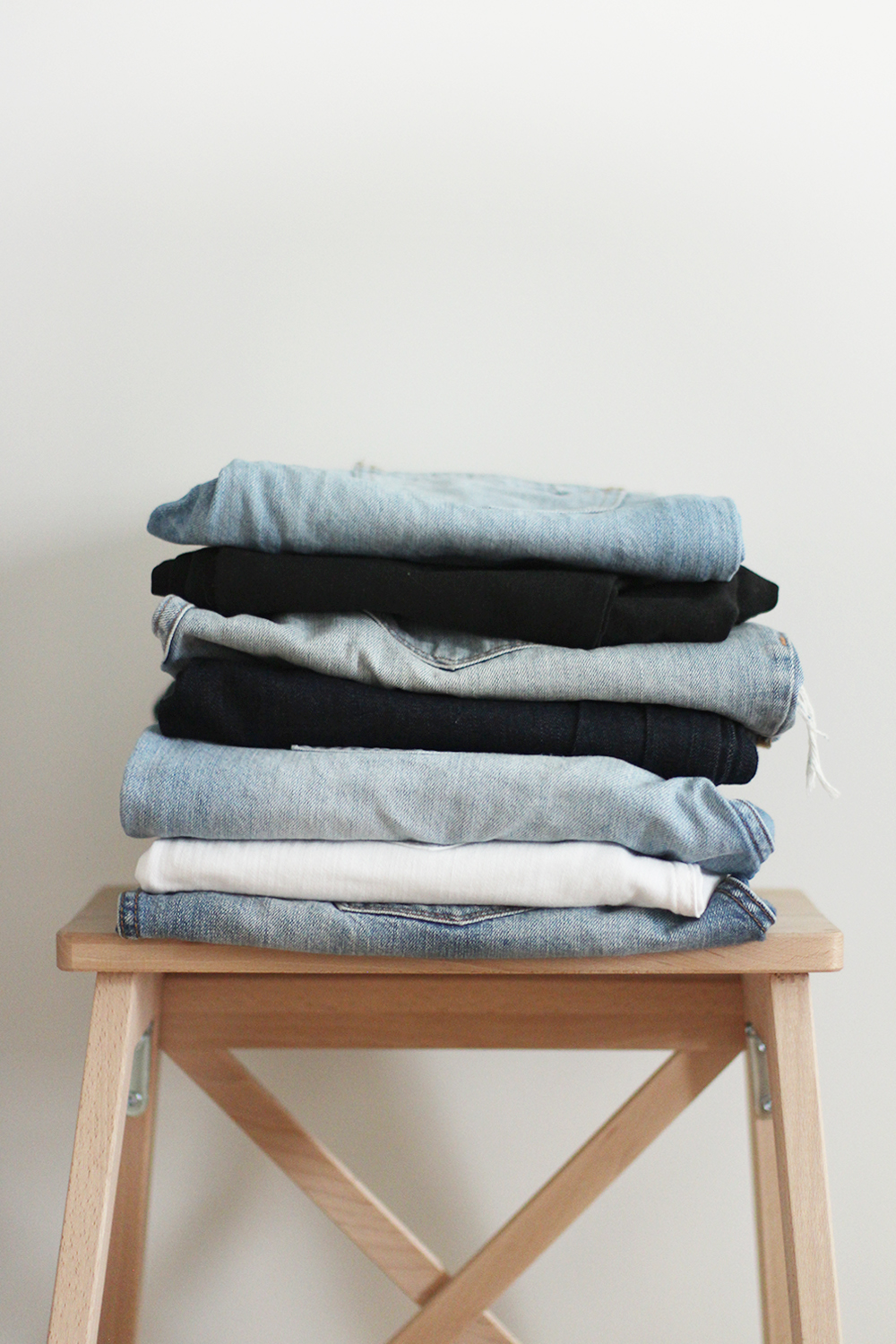 LEAN CLOSET vs CAPSULE CLOSET
Capsule closets are ALL the rage right now. To the point where it's getting a little bit annoying, if I can be totally honest. Don't get me wrong, I'm still 100% on board with a less is more style philosophy and still a complete convert when it comes to lean closet living, I just want to make sure I'm not getting caught up in the frenzy of it all. You may know that I'm weary of trends at the best of times, so when a trend involves my entire closet I get downright skeptical.
The Lean Closet vs Capsule Closet debate has been an internal issue for me for a long time. But I've finally come to a conclusion, which is that I know I do not want to be a full-time 'capsuler'. I think my biggest issue was that I felt like should want to or I should do it for the blog but if you're heart's not in it, it's just not in it.
That's not to say anything against all the people who are doing it, in fact, I admire you! I just know that for me personally it's not sustainable. I also feel that I'm at a point with my style and spending habits that a 'lean closet' is going to be the best long-term approach. I don't want to live season to season when it comes to my style, I just want to live life as it comes and let my style evolve with me. That being said, I believe without a doubt that a lean closet is the absolute key to wardrobe and style contentment. So that's what I'll be focusing on going forward. 
To achieve a bonafide 'lean closet' I decided to vigorously and deliberately edit my stuff.  Like, really dig in and get rid of anything I don't absolutely LOVE to wear. Earlier this year I wrote an article for Poppy Barley on 5 Steps To A Successful Closet Edit and took my own advice on how to properly clean out my whole Spring and Summer wardrobe.
I set my goal at 50 items of clothing and began sorting. After filling one giant IKEA blue bag and an a additional huge paper bag I had whittled my collection down to 50. Which in reality, still seems like a lot, even though 1/3 of my entire closet is on it's way to consignment. Which brings me to where this whole lean closet thing is headed.
---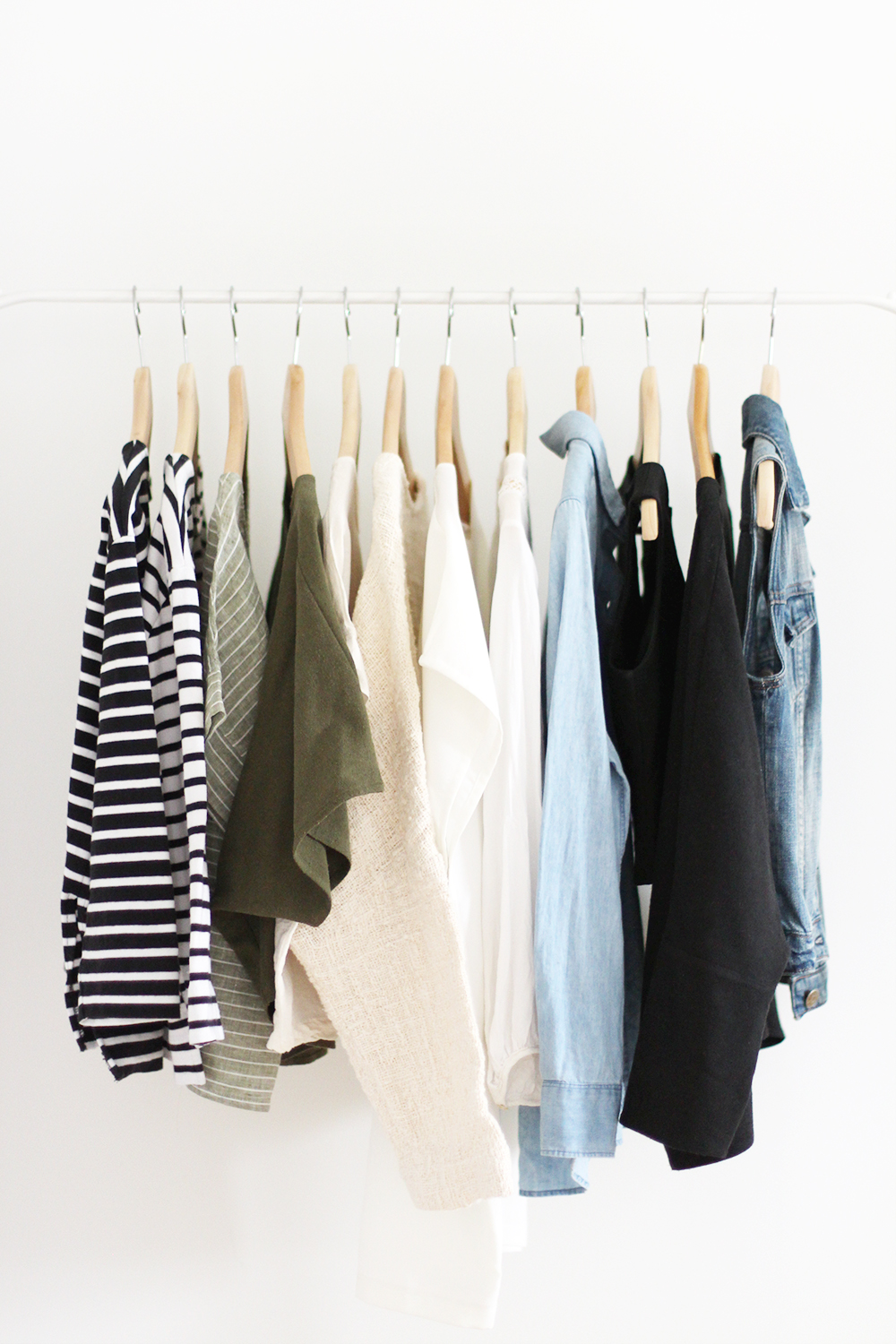 50 PIECE CLOSET
Why 50 Items? Good question. I knew anything under 40 was going to make me squeamish as I've spent a lot of time, effort and money building the closet I have and anything over 60 was basically tip toeing back into overflowing wardrobe territory. 50 felt small enough that I could easily recall everything I own while still feeling like I have a broad range of options and room for special items and style flexibility. But really 50 is just an arbitrary number that felt right and could serve as a benchmark. By the end of the summer it may not be anymore and I'll adapt accordingly.
What goes? This is where I was ruthless. Anything I'm not ready to wear again tomorrow or really excited to wear as soon as the weather permits is out. Anything I wore less than twice last spring/summer got the boot too. If I feel at all uncomfortable in an item it's gone. For example I had a great pair of high rise, wide leg pants but I felt like I couldn't sit down in them because they'd wrinkle like crazy and the length just wasn't quite right (and I couldn't make them longer!) so even though they look fabulous in the mirror, they weren't going to get worn again.
How is this not a capsule? Another good question! To me a capsule is finite. Once you've decided what's in there, that's it. This isn't necessarily a bad thing, but it makes me personally feel a little claustrophobic and that's not good. This lean closet idea I'm working with leaves room for improvement as you go, even if I don't add anything for a few months I like to know I have the option. Really it just comes down to the phrasing! I like the sound of a lean closet more than a capsule closet. Overall, I see this approach as a way of life for me more than an exercise.
---
These are the 50 items I kept for my SS 16 closet:
5 JACKETS/OUTERWEAR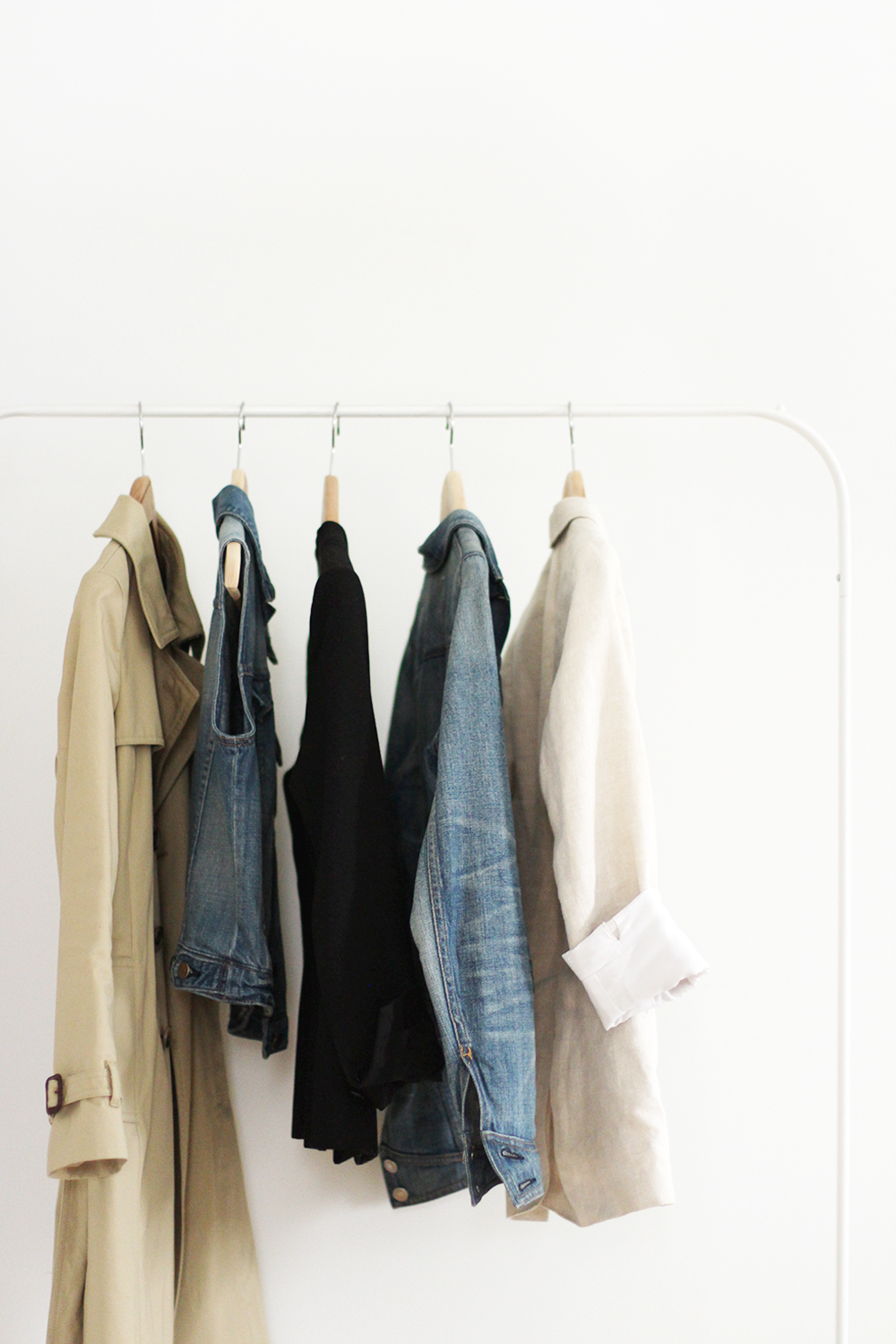 J.Crew Classic Trench | J.Crew Denim Vest | Madewell Black Blazer (similar) | Rag & Bone Denim Jacket | Club Monaco Linen Blazer (similar)
---
---
18 TOPS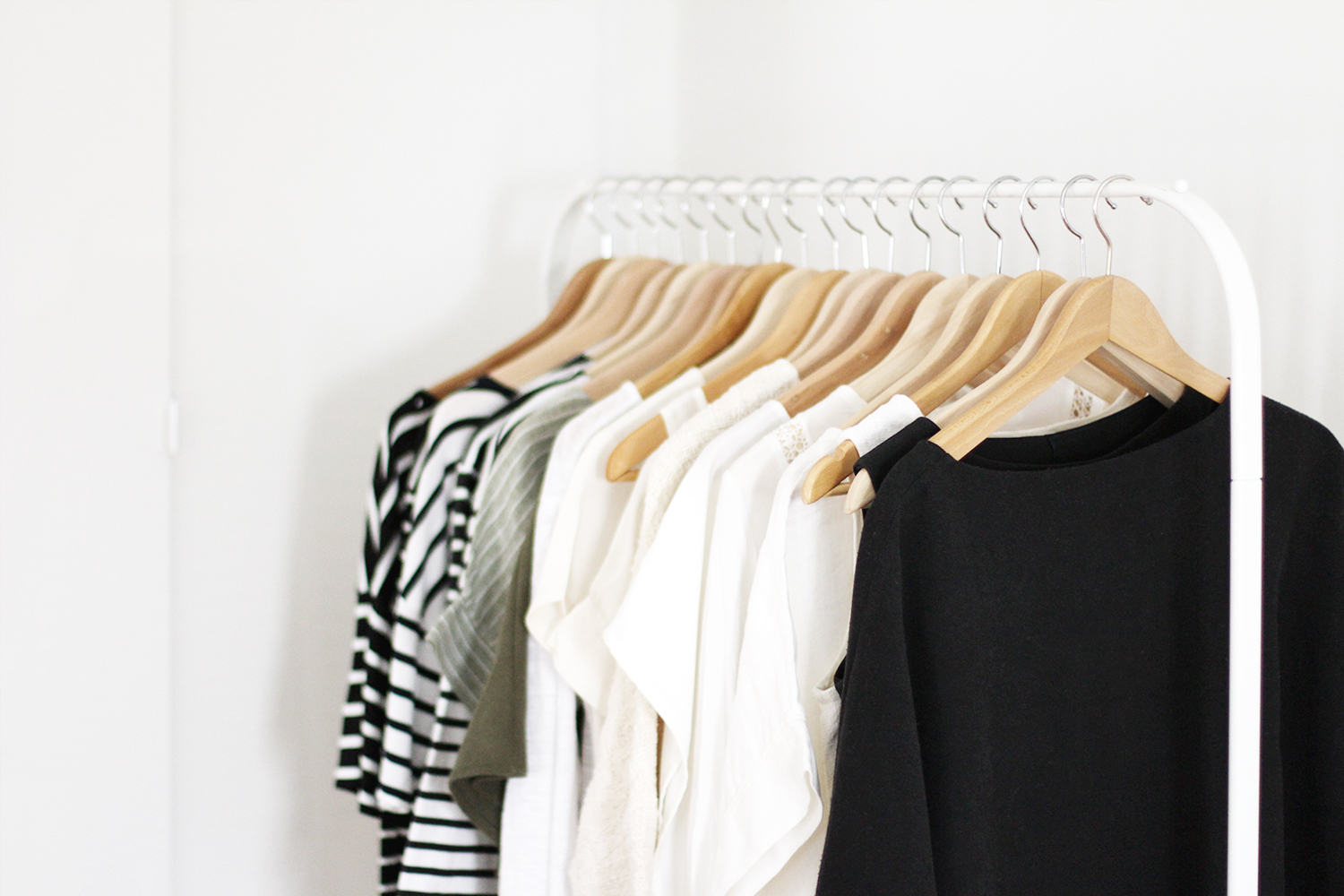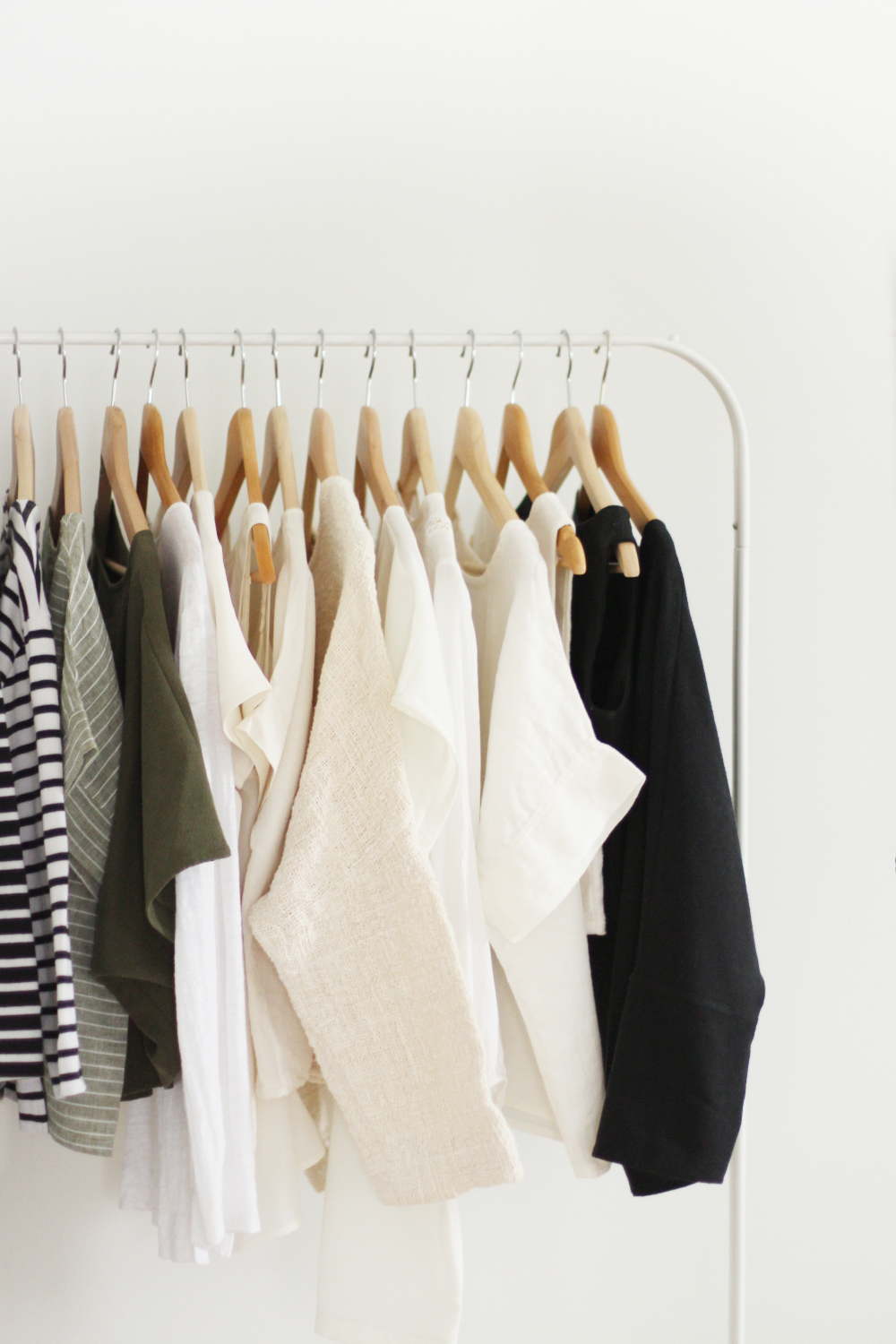 Everlane Striped Top x2 (white and black) | Joe Fresh Striped Tees x2 (old) | Long Sleeve Cropped Stripe (similar all black) | Elizabeth Suzann Georgia Tee x 3 | Jamie + The Jones Blank Canvas Top | Everlane White Sweater | J.Crew Silk Tee (similar) | Everlane Silk Tank | Jamie + the Jones T Sweater | Only Child White Tunic | Aritzia Boho Blouse (similar) | Elizabeth Suzann Crop Tops x2 (re-stock soon)|  Jamie + the Jones T Top (see all J+J pieces styled in the next Behind the Design)
---
---
12 PAIRS OF PANTS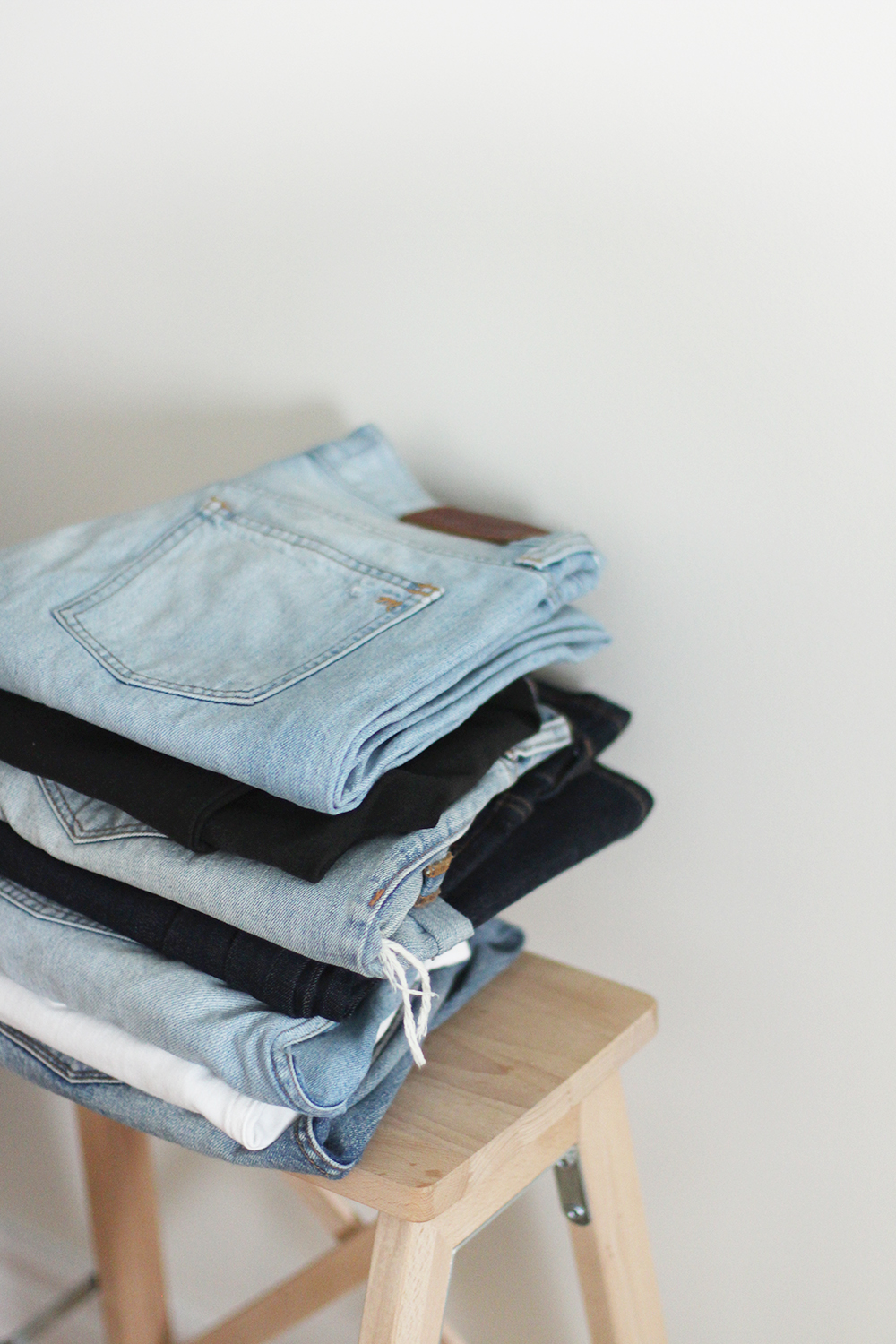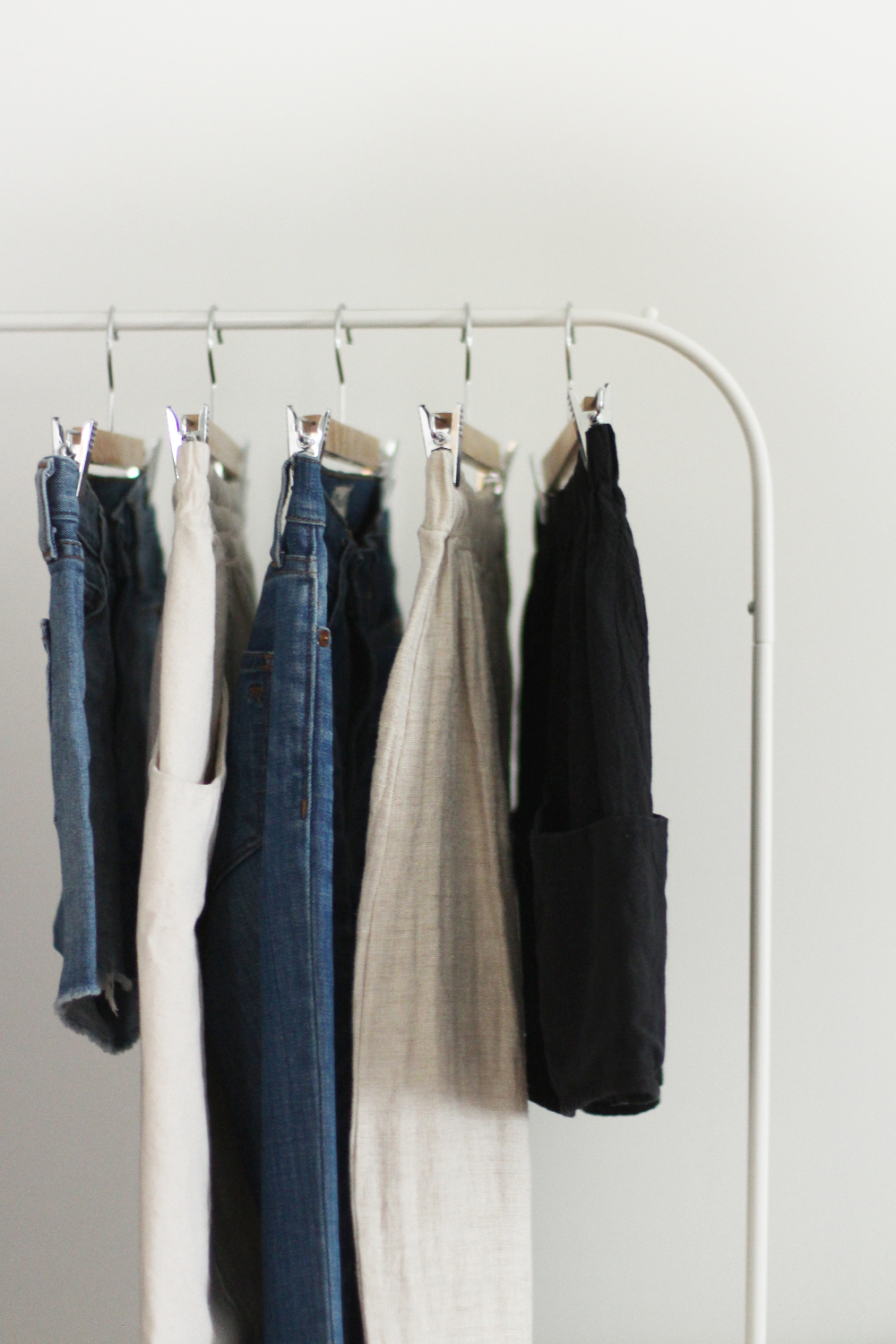 J.Crew Cutoffs | Elizabeth Suzann Clyde Pant | Madewell Flares x 2 | Formation Black Shorts (last season) | Elizabeth Suzann Linen Florence Pant | Madewell Summer Jean | Madewell White Denim | Elizabeth Suzann Cecilia Pant | J.Crew Boyfriend Denim | Madewell Distressed Shorts (similar)
---
---
9 DRESSES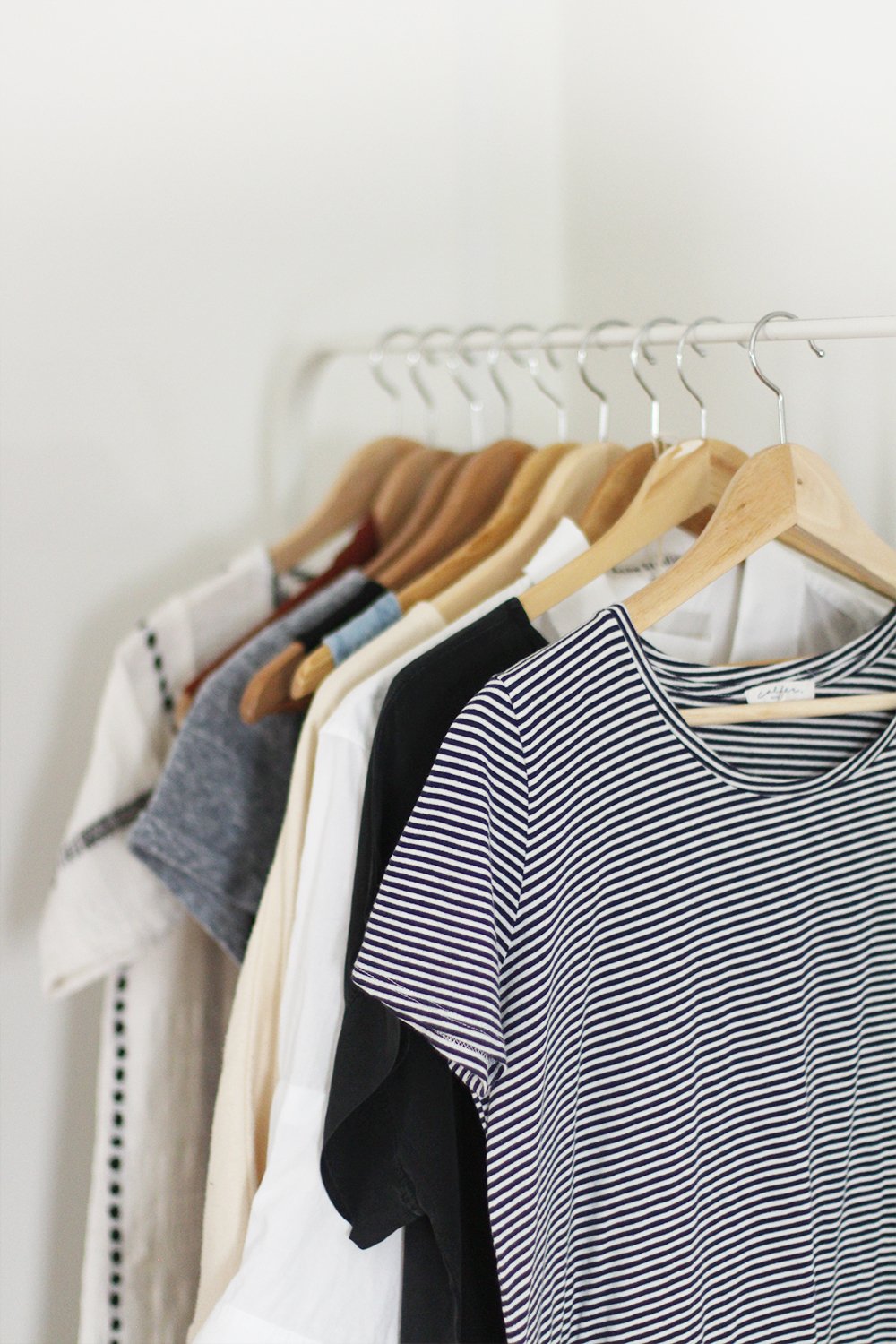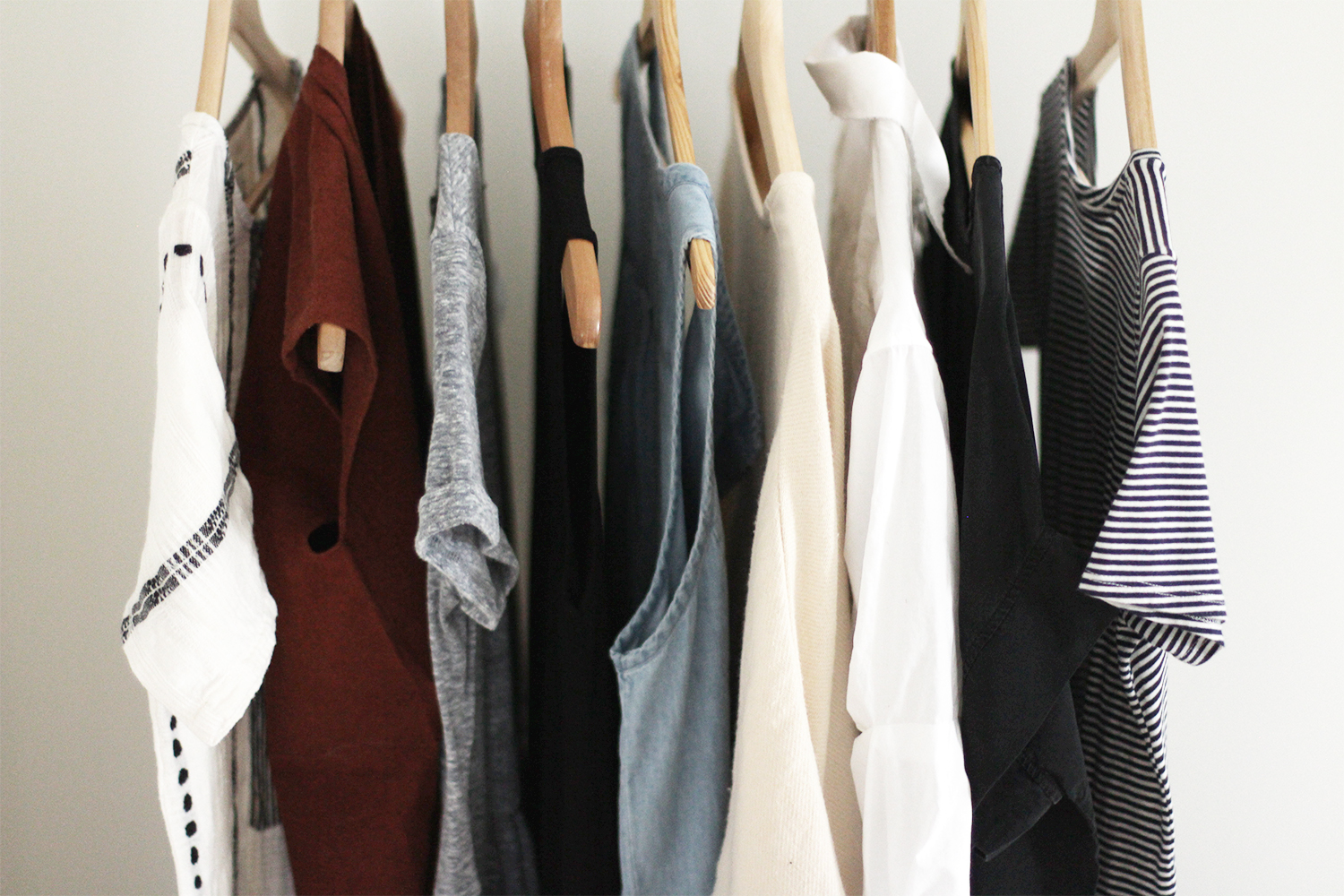 Ace + Jig Dress (new version) | Miranda Bennett Everyday Dress s/o (similar) | Grey Tee Dress (old) | Black Swing Dress (silk version) | Everlane Chambray Dress | Black Crane Painter Dress | Acne Studios Poplin Shirt Dress | Elizabeth Suzann Georgia Midi | Calder Blake Striped Tee Dress s/o (similar)
---
---
6 BUTTON DOWNS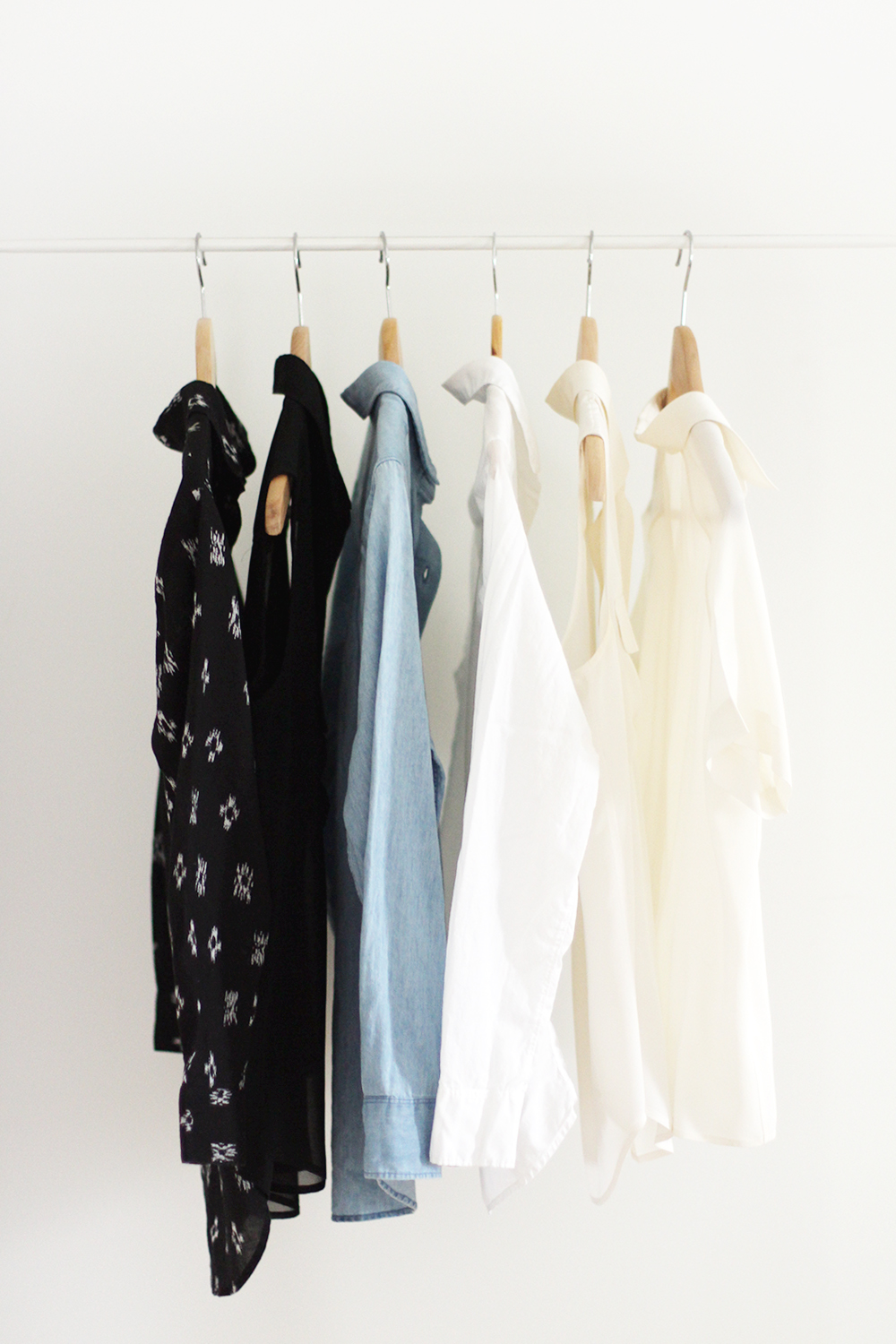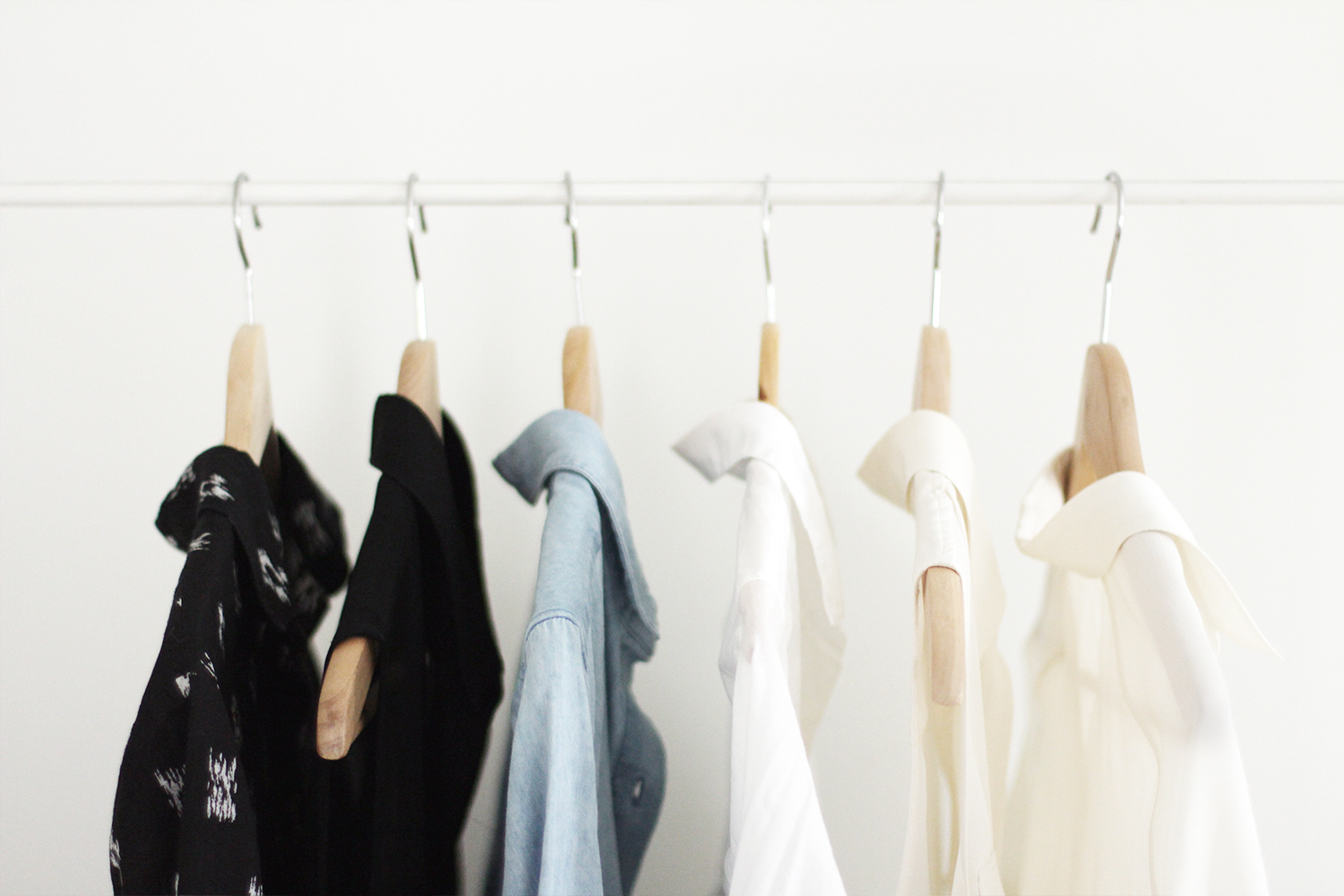 Madewell Button Down (similar) | Black Sleeveless Button Down (similar) | Everlane Chambray s/o (similar) | Everlane White Cotton | Equipment Silk Sleeveless | Everlane Silk Short Sleeve n/a (long sleeve version)
---
---
WHAT'S NOT INCLUDED
I chose not to include accessories like bags, hats, scarves and jewelry. That said, I've edited my collection in each category and feel great about the options I have left.
I reserved a pair of dress pants, a blazer and a couple silk tops for formal/corporate work meetings but I suspect those will be the next to go as my job requires less and less in terms of formal garb.
I also reserved my special occasion items like a fancy silk jumpsuit, a full skirt and a black crane dress, which are great for weddings and other more dressy events.
I also opted to leave out my workout gear (which is basically nothing) and camping gear which will be getting a proper edit in the summer before we go again.
Oh, and my underwear drawer didn't get involved but it's in need of an edit asap.
There were two other categories that I chose to leave out of the count and here's why:
SHOES
I removed about 1/4 of my shoes but wasn't prepared to edit further at this point. I've invested in really good quality footwear over the last few years and it just didn't seem right to give up good options just to reach an arbitrary number. As the season goes on I do plan to watch my usage carefully and anything that collects dust will go out with the next edit. My current favourites are my Mars boots, Everlane loafers, The Palatines Slides and my Pistols (not shown).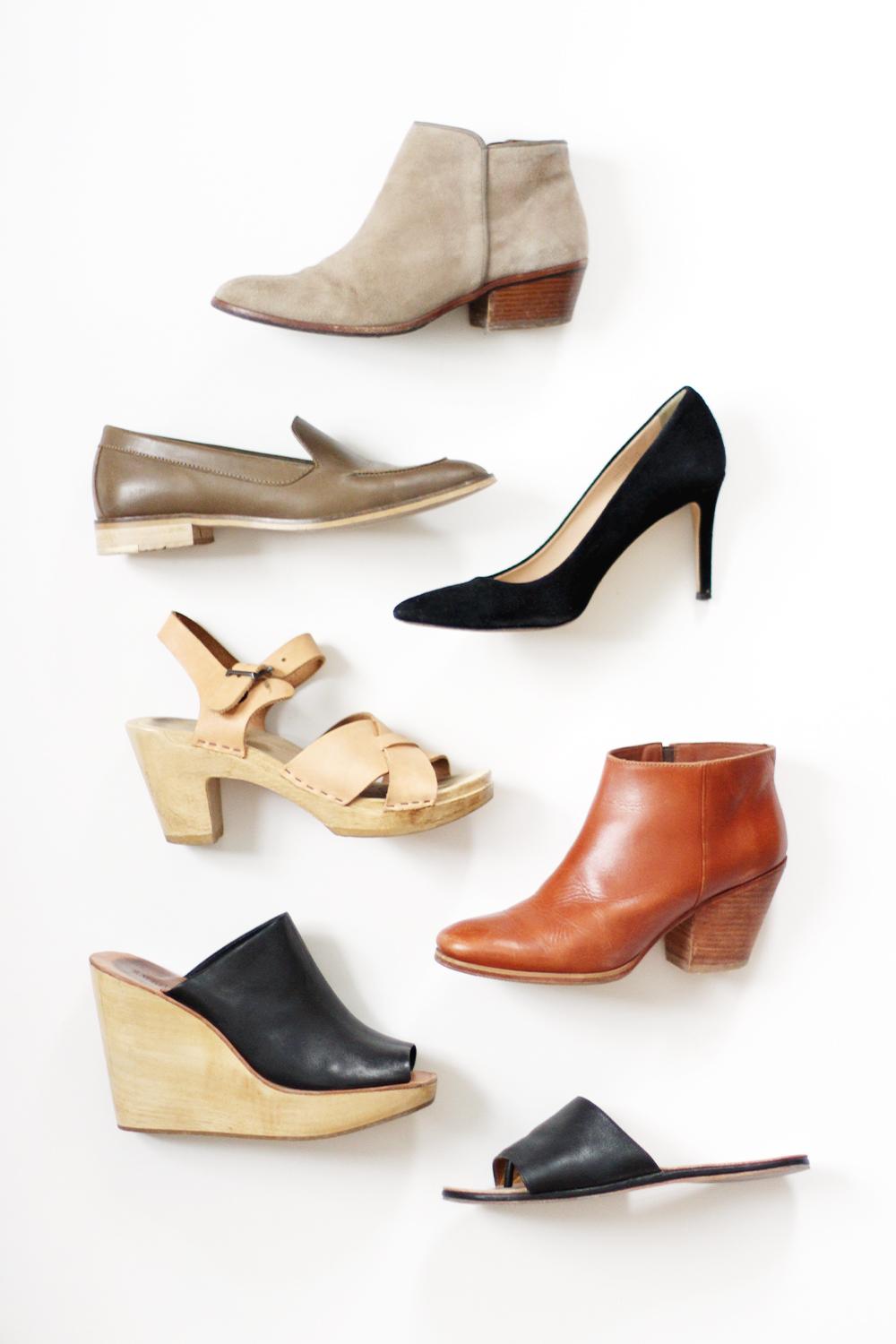 T-SHIRTS
You might consider this cheating but I kept all my good condition t-shirts (which adds up to 16). They take up very little room in my closet and I feel like I finally have all the basics I need for the seasons ahead. Of course, I'll be watching how much they get worn and anything untouched by the end of the summer gets the boot. My favourites are the U-Neck by Everlane (black, white, grey), the grey V-Neck by AMVI and the striped (slightly cropped) Crew-Neck by Community.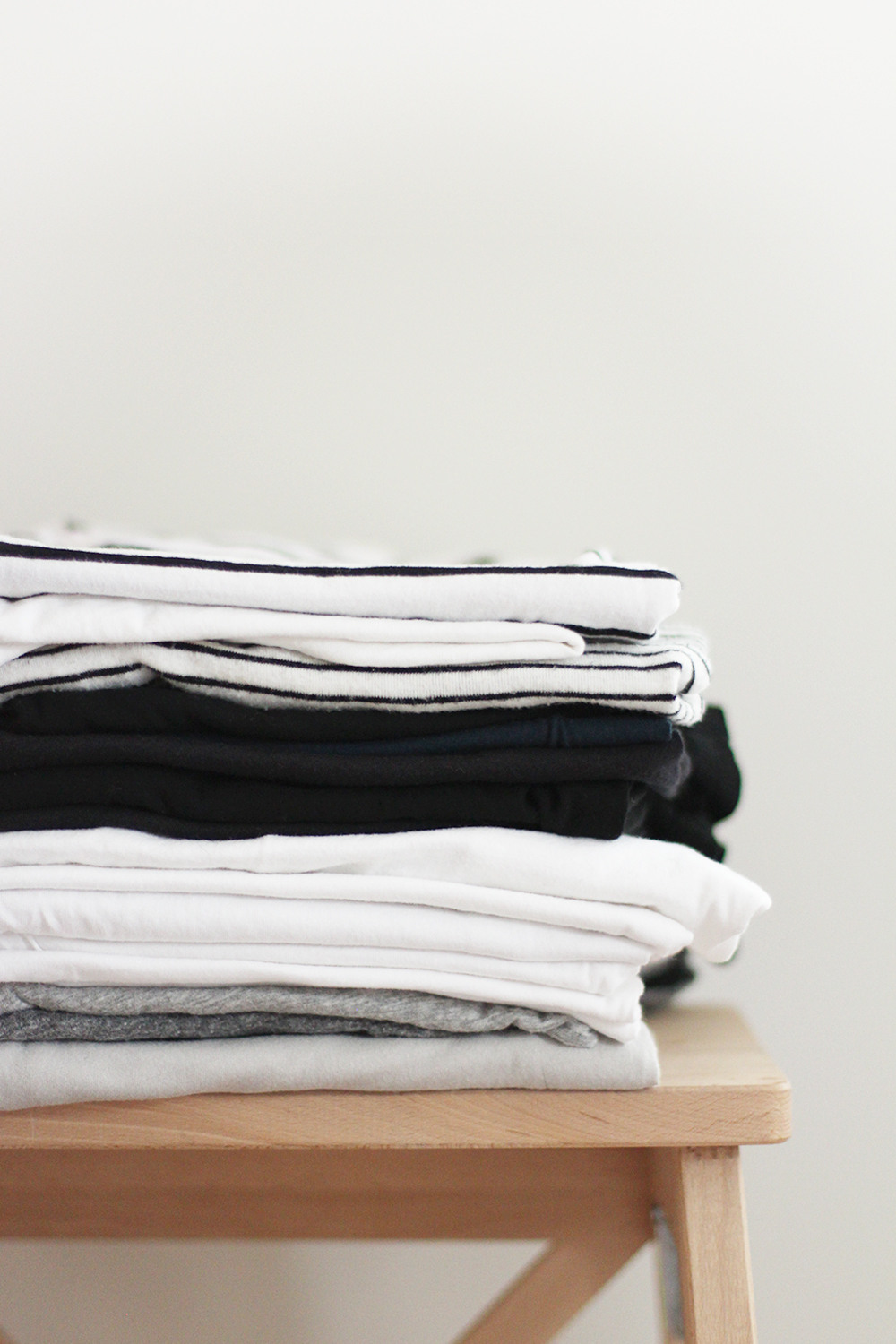 ---
NEXT STEPS
Truthfully, I already feel like I could edit my closet down further but I'm resisting that urge momentarily as I work on new looks and style posts. I'm a bit addicted to the act of getting rid of clutter so I want to make sure it's not just my love of clearing things out that's motivating me. To keep my closet lean and fresh, I'm going to focus on these 5 tasks going forward:
1 – The 1 in 1 out policy. Every time I add something to my closet I'm going to eliminate something. So that means I have to like it and plan to wear it way more than whatever I'm parting with.
2 – Shop Small and Ethical. I'm officially committing to shopping from independent makers and brands that are producing their products ethically. This was a big decision for me so stay tuned for more on that soon!
3 – Frequent Edits and Assessment. I'll be assessing my wardrobe every couple of months to make sure I'm not letting things slip. I'll be sharing more on how I've been defining and assessing my personal style too.
4 – Do More With Less. I'm planning another 10 x 10 Spring challenge and working on some fun posts about using colour palettes to make the most out of a minimal closet.
5 – Enjoy What I Have. I'll be sharing more in-depth looks at my favourite pieces and why I feel they've made such a positive difference in my life and style.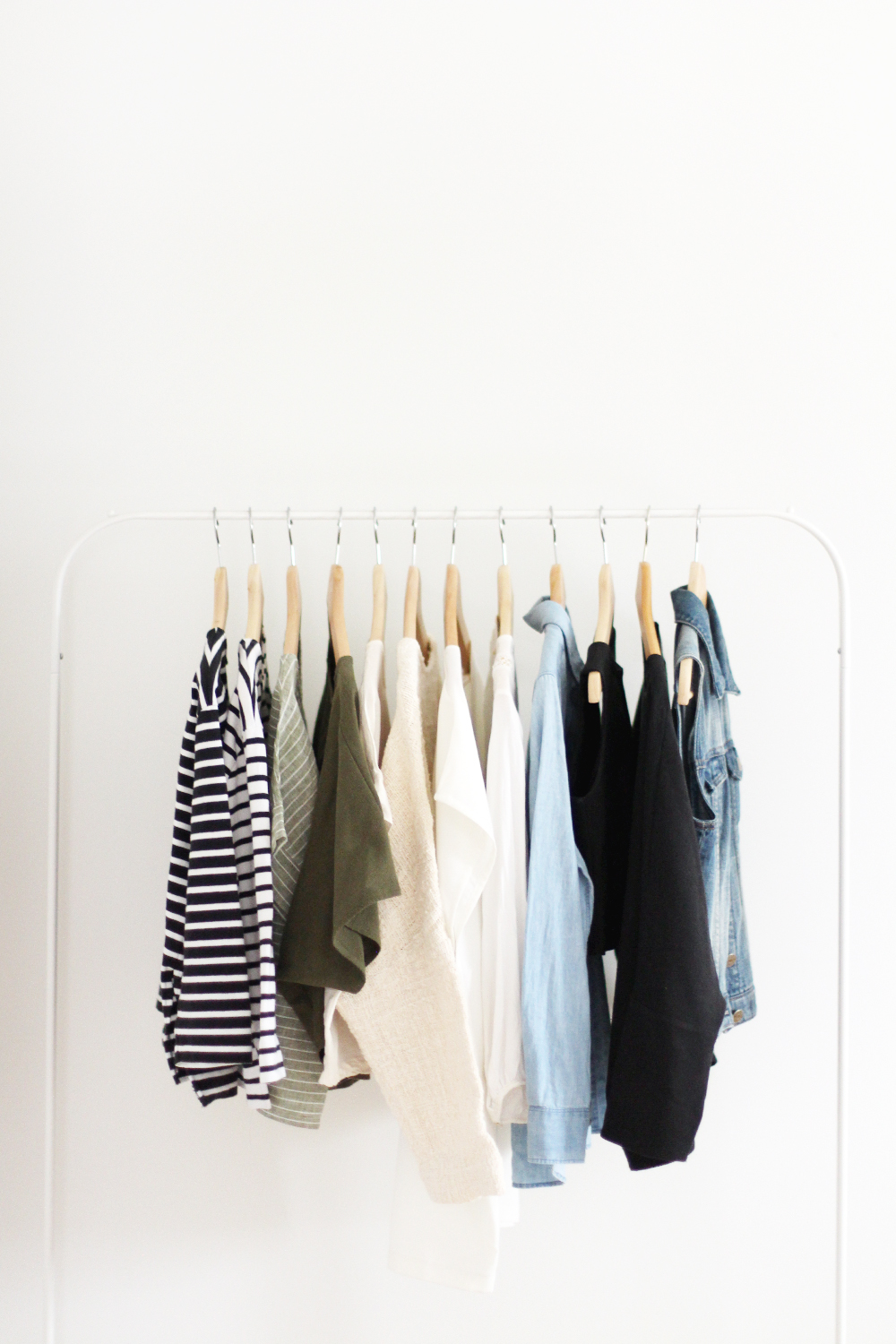 ---
Thanks for reading and joining me in this 2016 Closet Mission! Now I've got a few questions for you! 
What do you think about reducing your closet to 50 pieces? Could you do it? Could you reduce to even less?
Are you a capsule girl or a lean closet lady at heart?
I'd love to know if you have any editing tips or stories about parting ways with long-time closet items! 
Feel free to let me know your thoughts below.