Happy Friday everyone! Today I'm excited to kick off a multi-part series in which I'll be building and refining the loungewear section of my closet. It's one of a few areas in my wardrobe that I've neglected and been unhappy with for a while now and felt this was a good time to tackle it! In fact, it's been this long, cold, snowy winter that's had me craving comfy, soft, cozy layers more than ever.
Over the years I've invested a lot of time, research and money into my main closet, which has been a highly rewarding endeavour. Now that I feel it's working well, I wanted to address other key areas that deserve some attention too. I've always felt my 'after work' clothes were blah and uninspired but never did anything to change that. I figured, who sees it? Who cares? But the truth is that I do and the crazy thing is I end up wearing these pieces almost as much as I do my core closet items (if not more!). So of course they deserve a bit of consideration! I also work late most nights during the week and being in dowdy sweats doesn't feel conducive to creativity or dignified personal style, which is what I'm usually up late writing about. So I'm shifting gears and investing a bit of my time, some research and a portion of my budget to build a responsible loungewear capsule I love to wear.
Now that I've started the ball rolling I can't believe I didn't do this sooner! As usual though, instead of going nuts, stocking up too much and buying a bunch of new stuff, I'm trying to be pragmatic and thoughtful about what I need and will best serve said needs. So I'm starting this process with an overview of where I'm at and where I'm headed.
With that in mind, here's what we'll be looking at today:
Where I'm currently at with my loungewear collection.
The main pieces that make up my casual closet right now + whether or not they're working.
Inspiration I'm using to build my future capsule.
My loungewear capsule wish list.
---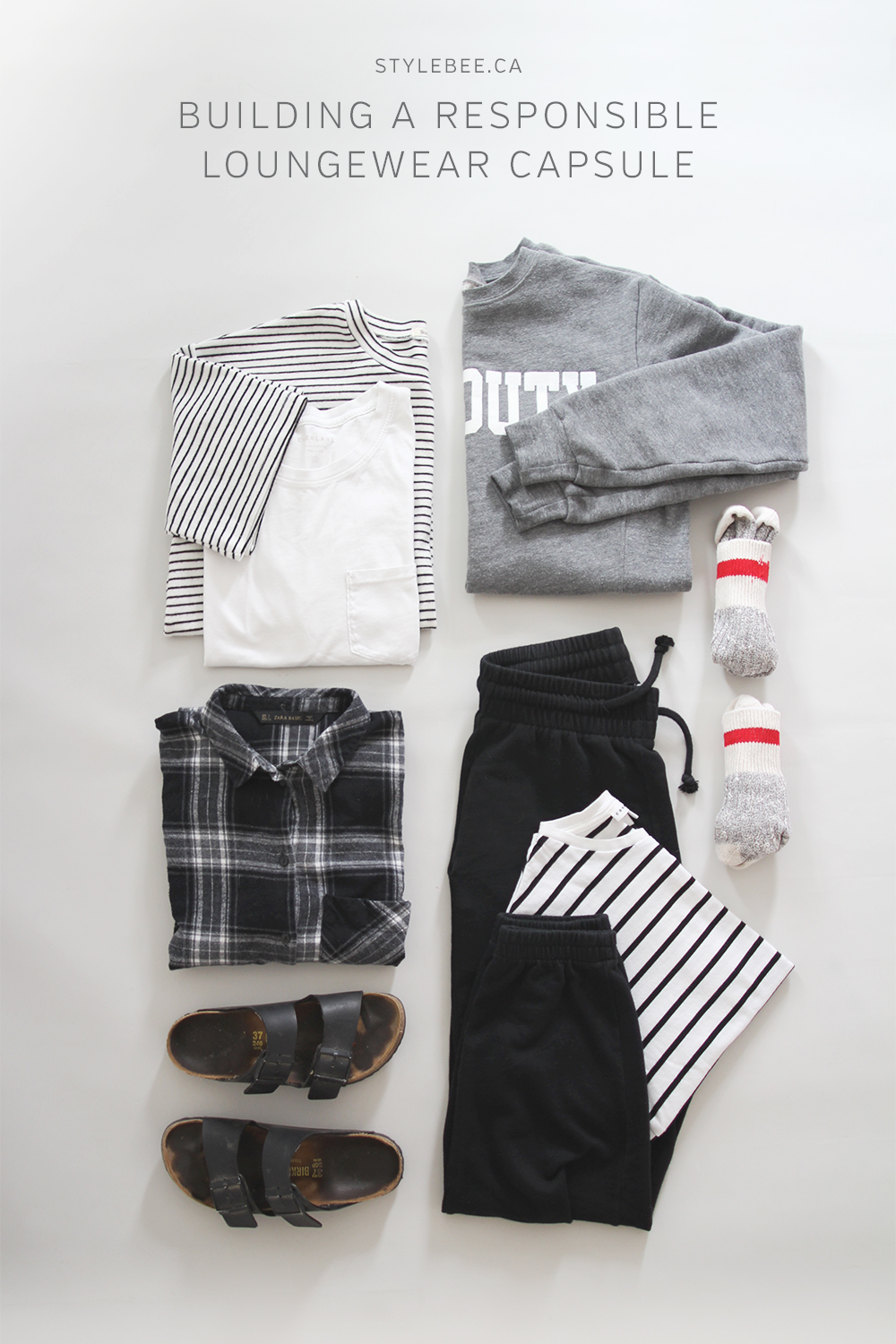 ---
WHERE I'M AT
---
I've never been a super casual dresser, even in high-school I over-dressed on dress-down days. I feel best when I'm comfortable but put-together with an element of sophistication. I've never thought twice about investing in clothes that the rest of the world will see but it seemed silly to put effort into what I wore at home. But as I mentioned above, I've begun to see the value in a well curated, good quality collection of highly comfortable loungewear options. My after hours life deserves a bit of respect and consideration too!
So I'm starting with what I've got and taking it from there. It would definitely not be responsible to ditch everything I've got and start over, because quite a few things are worth keeping and working well. After re-reading my friend Caroline's fabulous post on creating a loungewear capsule I was able to pinpoint a few key elements that need help when it comes to my loungewear and those are:
Logistically my loungewear collection is a mess. Different pieces are strewn about in all corners of my closet and I don't have any designated spot for my after hours clothing to live. Some are in the sweater section, some are with my ratty tees in my PJ drawer (that's another issue!) and whenever I'm ready to grab something it can't seem to find it. Not ideal indeed. Going Forward: Carve out a designated loungewear section in my closet.
My loungewear section has no boundaries, meaning, I wear some pieces in my work day, some to the gym, some to bed, some camping and so on. I'm not sure if that's a bad thing per se but I do think it leads to the disorganization above and it would be helpful, at least for a little while, to relegate certain pieces to one purpose. Going forward: Items in my loungewear capsule are for at home and casual purposes only.
I hadn't effectively edited my collection for years until I started this process. In my head it was just a mash-up of old tees I wasn't ready to part with, leggings that didn't fit right and some crappy sweatshirts that were falling apart. But once I got those out of the way, I could see that there were several items I could work with. Going forward: I'll include my loungewear in my closet edits so I can ensure it's staying up to date and lean.
---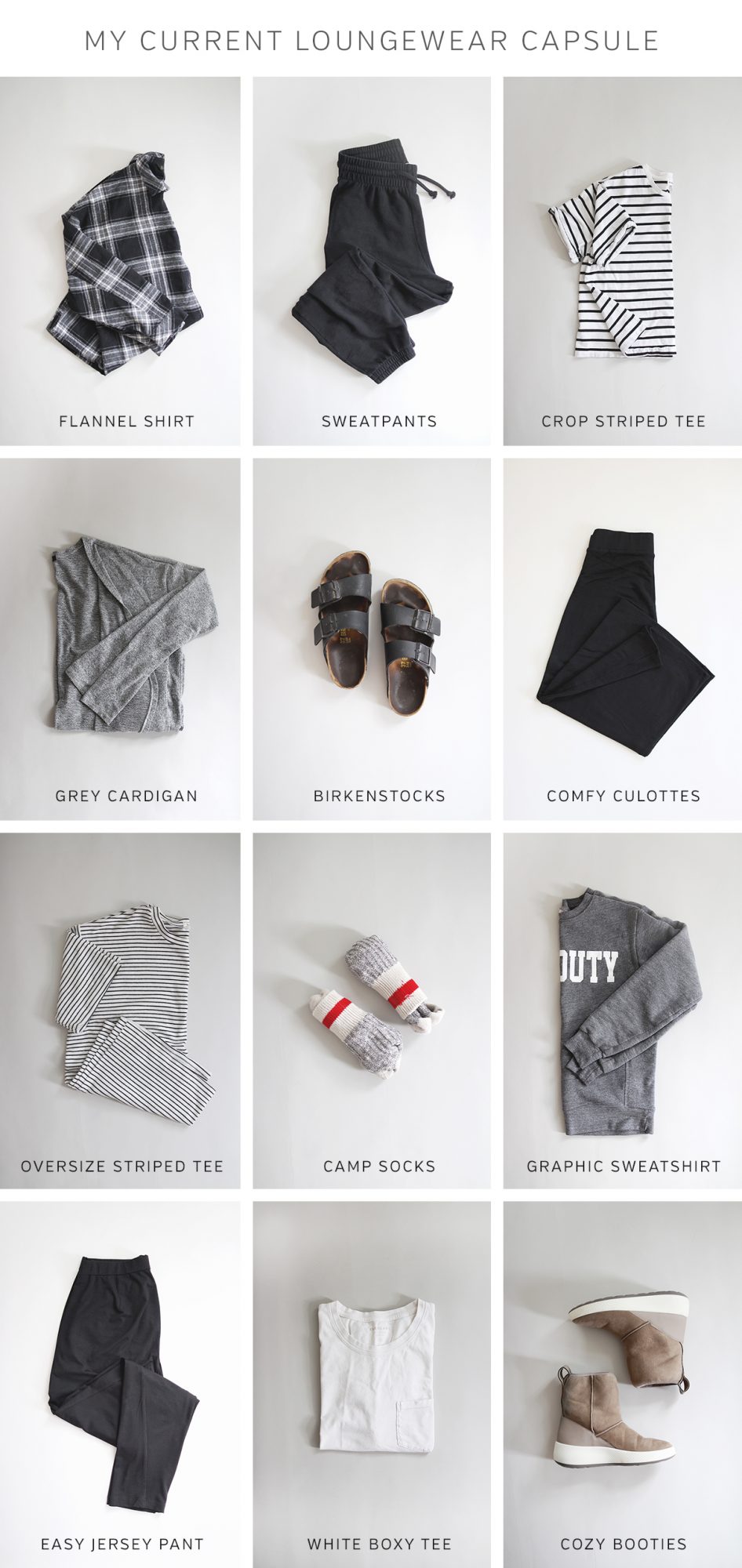 ---
MY CURRENT LOUNGEWEAR CAPSULE
---
So here's a list of the items in my current loungewear capsule. Most are working for me but a few will get the boot once I have a worthy replacement lined up!
1 | FLANNEL SHIRT* | WORKING | This old oversize flannel shirt from Zara might just be my favourite part of my loungewear capsule. It's super comfy, easy to clean, hides pet hair, lint and dirt, and it's just nice enough that I feel a tiny bit put together. *Linked to similar by Tradlands
2 | BLACK SWEATPANTS | WORKING | These were the first (and only) item I've ever bought to consciously add to my loungewear closet. They're by Base Range, a responsible basics and underwear line I love, and they rock. I found them via my go-to underwear shop UnDone which is based in Toronto! The only drawback with these is that they show lint and fur but it's a trade-off since they're super comfy and the great fit and thick high waist keep me from feeling like I'm actually wearing sweatpants.
3 | CROPPED STRIPE TEE* | KINDA WORKS BUT NOT REALLY | This tee was ridiculously popular a couple Springs back and I've gotten lots of use out of it but after dozens of washes it just fits a bit awkward and feels tight through the shoulders. I'll keep it for now and see how much use it gets going forward. *Linked to similar
4 | GREY CARDIGAN* | WORKING | This is probably my most worn loungewear item. I got i as part of a collab ages ago and it's been a regular go-to ever since. It washes easy, hides fur and serves as a nice light extra layer or grab and go house coat when I need it. *Linked to similar
5 | BIRKENSTOCKS | PLACEHOLDER | So these are definitely a crossover closet item since I wear them a lot in the summer but lately I've been wearing them as 'slippers' since I'm lacking a more official option.
6 | COMFY CULOTTES | WILL WORK SOON | I LOVE these fleecy jersey culottes from Corinne Collection but since it's been snowing for months and cold as hell I'm not exactly reaching for any cropped pants these days. Once it's warmer I know they'll be back in heavy rotation.
7 | OVERSIZE STRIPED TEE | WORKING | This is one of the least 'responsible' items I own (it was like $5 from SheInside and it's definitely not cotton as they claimed) but I've had it forever and I just love it. It's almost a fleece material but it's huge and slouchy and feels great with a little style thanks to the stripes.
8 | CAMPS SOCKS | WORKING | Except they're not mine and they're about 4 sizes too big. I need to invest in some cozy socks that are well made and actually fit!
9 | GRAPHIC SWEATSHIRT | IT'S NOT ME | I bought this sweatshirt when graphic tees and the like were very cool but now, it doesn't feel like me. I'll hang onto it because it's in good shape but I'd like to find something that feels more in line with my taste and style now. It says, 'OFF DUTY' and people ask me if I'm a cop all the time, no lie! *Linked to similar
10 | EASY JERSEY PANT | WORKING | I've been living in these pants since I received them as part of my Eileen Fisher collab. They're a gloriously soft jersey and the fit is slim but relaxed and I love it. The only draw back is that they're black and show pet fur. But it doesn't stick to these as much as it does to cotton so I can get away with fewer lint roller sheets per wear!
11 | BOXY WHITE TEE | WORKING | I LOVE this tee. It's by far my favourite in my closet and for that reason it always seems to be in the wash. It's the perfect length to front tuck and a nice relaxed fit that feels easy but not slobbish. I need to add a few more to the rotation stat!
12 | COZY BOOTIES | WORKING | I received these booties from a Ecco's PR team last year and while they're not made responsibly (as far as I can tell) they're ridiculously cozy and I've worn them all Winter long. They're faux shearling lined so I stay super toasty and light as a feather so I can get away with wearing boots in the house.
** NOT SHOWN**
13 | FITTED TANKS | WORKING | I have a few fitted tank tops I've collected over the years and they're a great base layer tucked into my sweatpants and under my cardigan.
14 | FITTED LONG SLEEVE TEE | WORKS BUT IT'S SUPER LONG | I only have one fitted long-sleeved tee in my closet and I love it except for the fact it's really long and looks odd over pants and sucks to tuck in. So it might need to be relegated to the 'camping' section soon.
15 | BLACK LEGGINGS | NOT WORKING | I have a really old pair of black leggings from J.Crew and while they're pretty comfy, they pick up fur like crazy and they're too tight in the crotch, ha!
16 | BRALETTES | WORKING | I have a great selection of comfy bralettes and bras, which I've been building for a few years. My favourite is the Soft Bra by Base Range and I've been eyeing up this one and this one lately.
ALL SLEEPWEAR | NOT WORKING | I'm constantly borrowing from my fella's boxer drawer for sleep shorts and have somehow got it in my head that if I can still wear a crappy tee to bed, then I have to. So this area needs work. It might even get it's own post! 
---
INSPIRATION FOR MY FUTURE LOUNGEWEAR CAPSULE
---
Whenever I'm exploring a new area of my style (or any design project) I like to compile some images to bring the 'vision' I have to life. It doesn't mean it will look exactly like the inspiration but it helps guide the general look, feel and colour palette that I'm going for. So for this scenario, a loungewear capsule, these images really stood out to me. Lots of warm neutrals and greys, relaxed fits, supple fabrics and easy layers happening here and while it feels very homey it still has a sophisticated elegant element to it. That's definitely what I'm going for! Images via pinterest.
---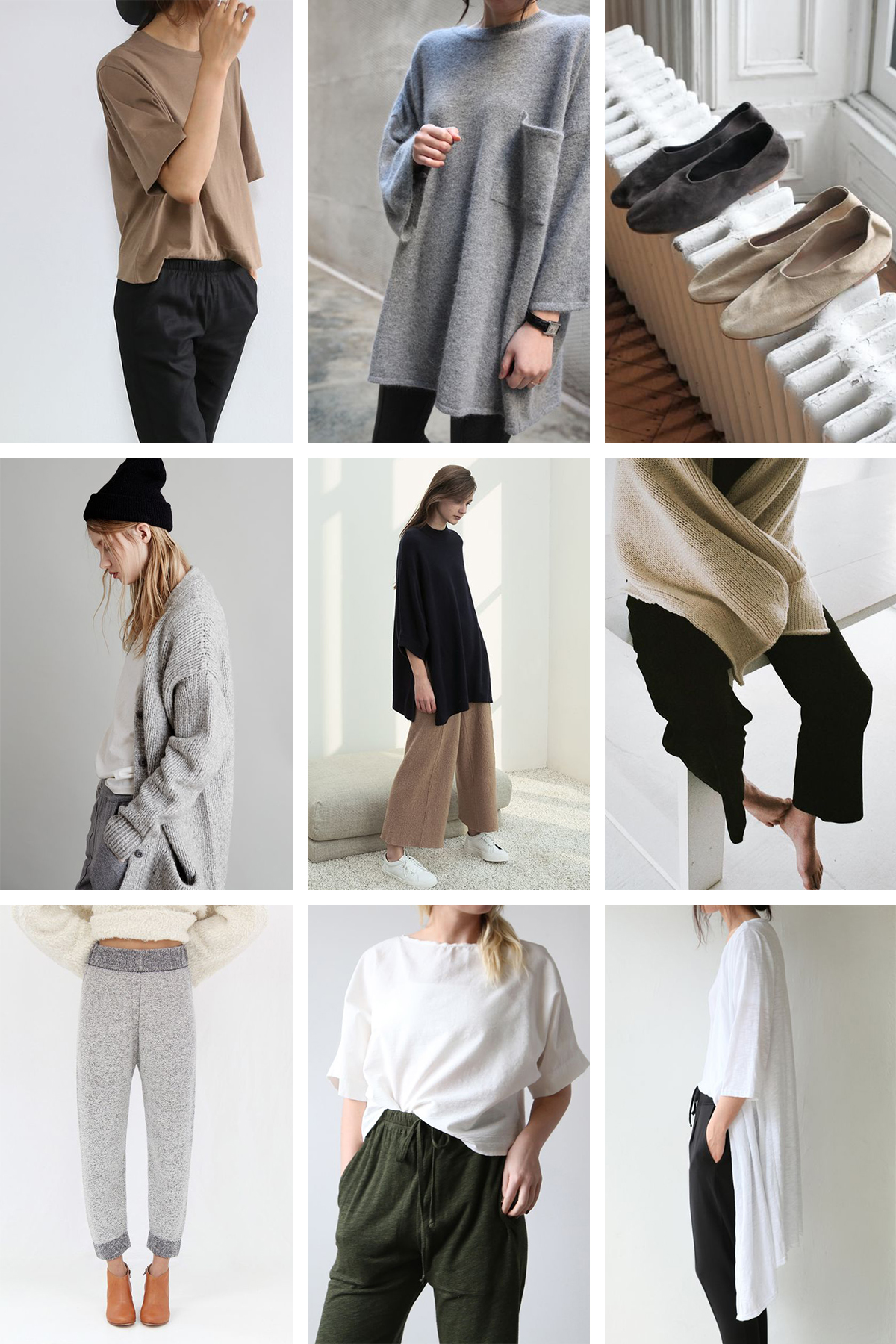 ---
LOUNGEWEAR WISH LIST
---
My next step will be to solidify a wish list for my loungewear updates but for the moment I'm keeping it open and flexible since the seasons are changing and I don't want to commit to too many items or restrict myself too heavily just yet. That said, I'll definitely be keeping a few items in mind and some key criteria on standby so I stay on track going forward.
The Criteria for each piece is that it be:
Responsibly Made – Of course, my top priority as always is to ensure that any new products I add to my life are made responsibly and luckily, loungewear seems to be one area where this is abundant!
Pet Fur Friendly – I won't be holding back on pup or kitty snuggles now or ever so I need to bear that in mind when choosing fabrics and materials. Think greys, neutrals, stripes etc.
Comfy Chic – I'll be looking for pieces that are super comfortable but still very well designed and stylish enough that I don't feel like frump central. Ideally, they'd be presentable for a stroll around the neighbourhood with Dobby.
The Items I'm on the lookout for are:
---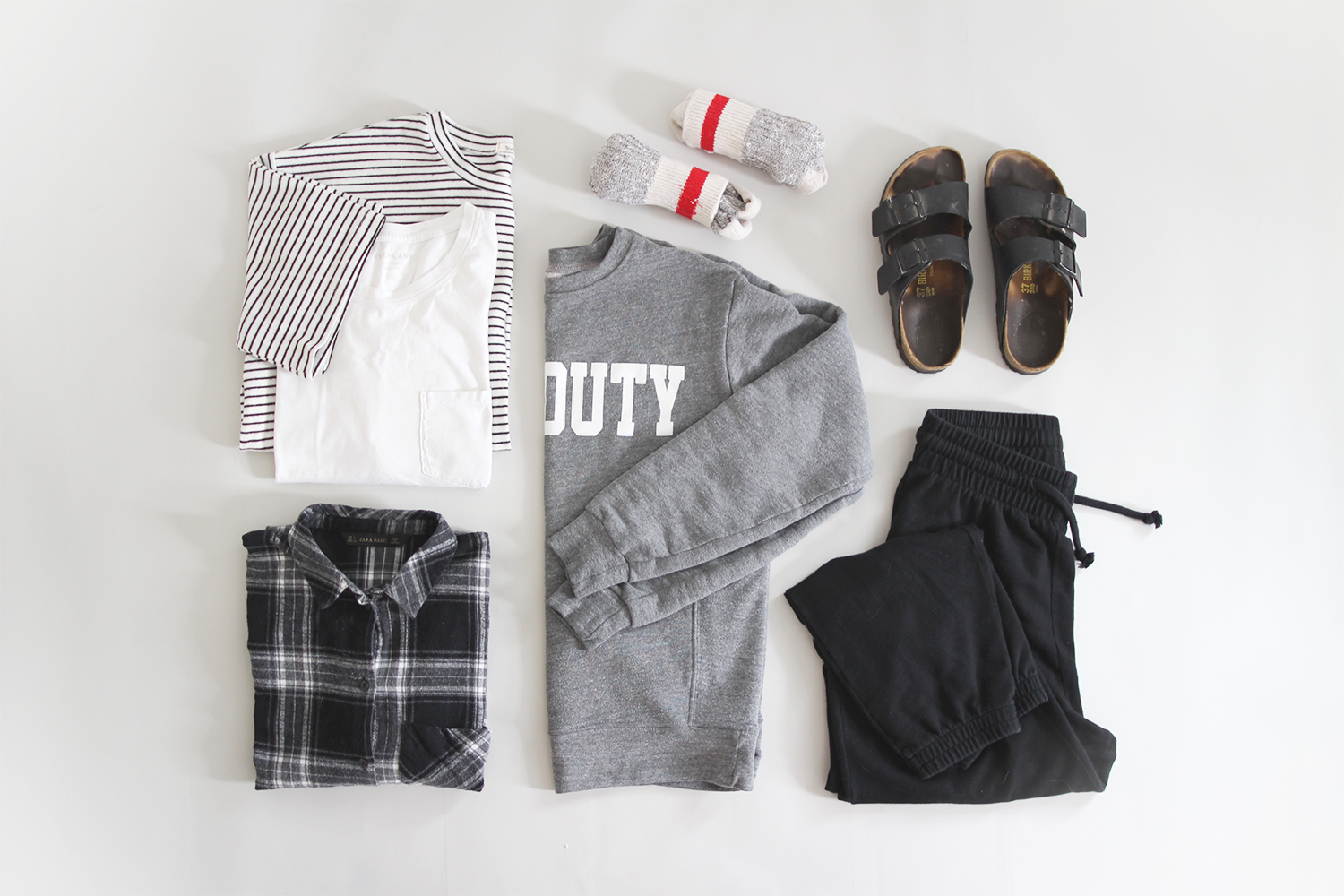 ---
So that's Part 1 of my Responsible Loungewear Capsule! I'm so excited to be embarking on this mini capsule and really ready to build a more functional casual section of my wardrobe. I'll be working away on this over the next month or so and plan to share a full week-long update (including outfits!) once I make some progress in March! 
---
Now I'd love to know, what are your favourite loungewear pieces?
Where do you shop for your comfiest clothes?
Is there room for improvement in this section of your wardrobe?
---
See something you liked? You can shop it and support Style Bee by using the affiliate links provided. This post is not sponsored but when you shop via the links above I may make a small commission from a sale. Thanks for your support!