I hope your week is off to a great start! We had our first taste of summer weather over the long weekend and it was GLORIOUS. Before the thunderstorms rolled in, the warm air and blazing sun had me thinking about summer style and the pieces in my wardrobe that have been laying low for the last many months.
One thing I often forget about the warm season in Ontario is that as much as it can be short-lived, it can also be a scorcher. This makes staying cool and comfortable while still feeling put-together a bit of a challenge. With this in mind, I thought it would be a good time to revisit some of the summer looks I've enjoyed wearing in recent years. This way I can reinvest in those pieces first and remember the styles I feel best in while preparing my seasonal wish list.
As such, we have today's post, which is a roundup of my favourite summer clothing styles (saving sandals & accessories for another day) and a few quick notes on details that make them work for me. Plus, where to look for some great options if you're in the market. Now let's take a look!
---
---
A-LINE DRESSES + SKIRTS
---
A-line styles are great for hot weather thanks to the loose shape that keeps the garment falling away from your frame, letting the air circulate where it's needed most, ie: the nether regions!
Long shift dresses with a subtle A-line or column shape have been staples in my closet for as long as I can remember. They're great as a cover up at the beach when you need some sun relief or an elegant option for a warm night out. Over the last couple of summers I've found myself drawn to shorter A-line styles with a touch of structure through the waist and shoulders. An easy-to-tie belt or drawstring gives the garment a bit more shape without feeling confined.
My trick for feeling at ease in short dresses = bike shorts
If you're looking for a way to make short hemlines a bit more practical I recommend wearing a pair of fitted bike shorts underneath. I have this pair from Mary Young (they were gifted) and they're super soft, breathable and comfy. When I have those on I can hop on my bike, sit cross-legged or just generally not have to think about my dress. Such a game changer! These look like a good option for even shorter dresses and skirts.
---
WHERE TO LOOK FOR A-LINE DRESSES + SKIRTS
SHOWN ABOVE// 1// DAWN DRESS* old CHRISTY DAWN (Save $30 here) // 2 // MINI WRAP DRESS old FAITHFULL THE BRAND (shop via: ShopBop | Anthropologie | Revolve | Arc Apparel in Canada) // 3 // MAXI WOVEN DRESS old ACE & JIG (shop via: ShopBop | Barney's New York | eBay) // 4 // BLUE STRIPE DRESS* old gifted VELVET // 5 // BEL SKIRT gifted ELIZABETH SUZANN // 6 // JERSEY TANK MIDI gifted EILEEN FISHER // *similar option linked
OTHER OPTIONS // REFORMATION (so many fun dress and skirt options) // ONLY CHILD (collab + discount coming soon!) // EILEEN FISHER (lots of great simple shifts) // LACAUSA // SÉZANE // DÔEN // POSSE // LINEN FOX // SOTELA // ULLA JOHNSON // MARA HOFFMAN
---

---
---
TIED TOPS
---
Tied tops are always a summer staple for me. I love wearing a knotted shirt with linen pants or shorts and they're great with jeans, skirts or even over a tank dress when I'm feeling creative. A knotted top is less fussy than a tucked one, adds of bit of definition/shape to a look and always feels relaxed and ready for some fun!
Two key elements that make a shirt good for tying:
1 | FABRIC: I find the best shirts for tying are usually a lightweight cotton or linen and a silky fabric like Tencel works great too. You want the fabric to have some drape so the knot doesn't feel bulky and the ties fall nicely.
2 | LENGTH: Depending on where you want the knot to hit on your torso you may want a longer or shorter length top. I find my boyfriend shirts that fit a bit more oversize are best for knotting because there is lots of fabric to work with and it can still fit loose so it's not too hot.
---
TIE TOP OPTIONS
SHOWN ABOVE// 1 // NANIN (the gingham Bobby top is shown above) // 2 // VETTA (I find the boxy blouse is great for tying) // 3 // EVERLANE (I love the relaxed linen shirt) // 4 & 5 // MADEWELL (has some good options for easy styling at a lower price point) // 6 // POWER OF MY PEOPLE (the Friend and Philosopher shirts tie up so well and they're Canadian made.)
---

---
---
WIDE LEG JUMPSUITS
---
My love for jumpsuits has been going strong for a few years and shows no signs of slowing down. They're just so fun to wear and always feel a bit more playful and easy-going than a dress. Plus, tan, shaven legs need not apply!
I tend towards the wide-leg variety as they're usually a bit cooler for hot days and I like the way a wide pant with a slightly cropped inseam looks. I also prefer jumpsuits that feature a way to cinch the waist via belt, drawstring or elastic. This draws the eye to a visual midpoint, creates an hourglass shape and lengthens the lower-half.
A few reasons why jumpsuits are a favourite of mine for summer:
Great for travel. Especially reversible options that you can wear a couple of different ways.
Easy to style up and down. Weather you're off to run errands or heading to a wedding, a jumpsuit can be styled accordingly. Just swap out shoes and accessories, give or take a styled hairdo and you're all set!
Comfort & simplicity. Jumpsuits make getting ready a breeze plus they're so darn comfy! No shirts to tuck or pants to adjust. Just one piece and a pair of shoes is all you need to get outside!
---
WHERE TO LOOK FOR GOOD JUMPSUITS
SHOWN ABOVE // 1 // VETTA (Love the wrap jumpsuit) // 2 // ESBY APPAREL (the one I have is a few years old) // 3 // MARA JUMPSUIT old gifted ELIZABETH SUZANN
OTHER OPTIONS // HACKWITH DESIGN HOUSE (Adore my HDH Basics Jumper) // EVERLANE // LINEN FOX // ALI GOLDEN // ONLY CHILD (collab + discount coming soon!) // EILEEN FISHER // LACAUSA // REFORMATION // BEAT ON LINEN (Made in Canada) // HARLY JAE (Made in Canada)
---

---
---
EASY SHORTS
---
I'll admit I have a love/loathe relationship with shorts. For the most part any sort of fitted or structured short is a hard no for me. That said, I have managed to find a couple of pairs that I really enjoy wearing and those have helped open up my summer style options on even the hottest of days.
For me, a good pair of shorts consists of:
Wide waistband that sits high on my natural waist and isn't too tight.
Loose fitting leg that's relaxed through the hip/thigh and falls away from my leg.
4 inch inseam. I find this is a great length for me and hits at a flattering spot on my leg with ample butt coverage.
Pockets are handy but if they add bulk, no thanks.
Are you a shorts person? If not, what do you prefer instead?
---
WHERE TO FIND GOOD SHORT OPTIONS
SHOWN ABOVE // 1 // WHITE LINEN SHORT old gifted LLOYD (Made in Canada) // 2 // FLORENCE SHORT by ELIZABETH SUZANN (this style should be back soon) // 3 // UTILITY SHORT old FORMATION (I have an older version of the utility short from this line)
OTHER OPTIONS // NA NIN (I just ordered the Oliver shorts) // JAMIE + THE JONES // EVERLANE (for more structure) // EILEEN FISHER (lots of great relaxed shapes) // MADEWELL (has a good selection of more structured styles) // POSSE // REFORMATION // SOTELA
---

---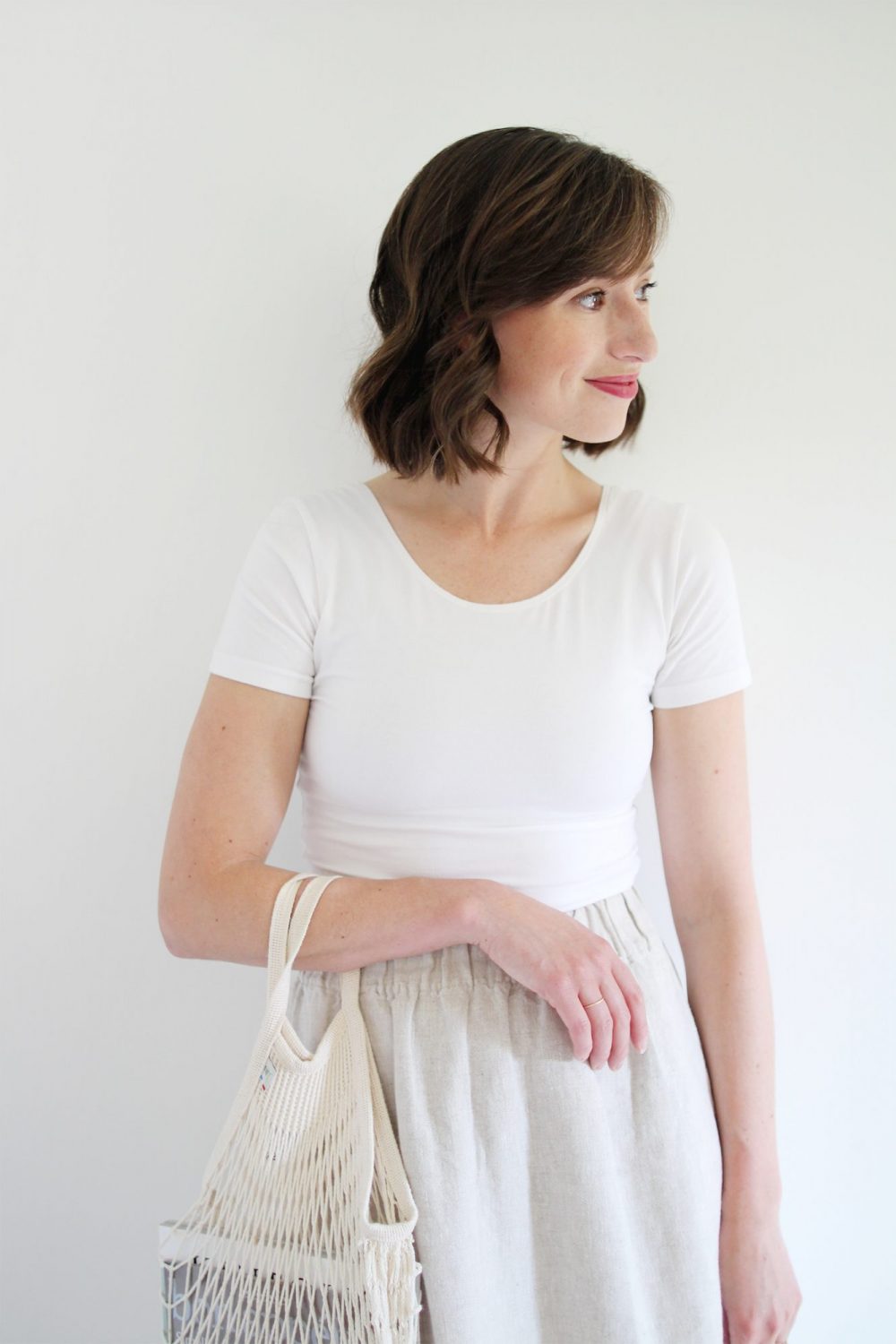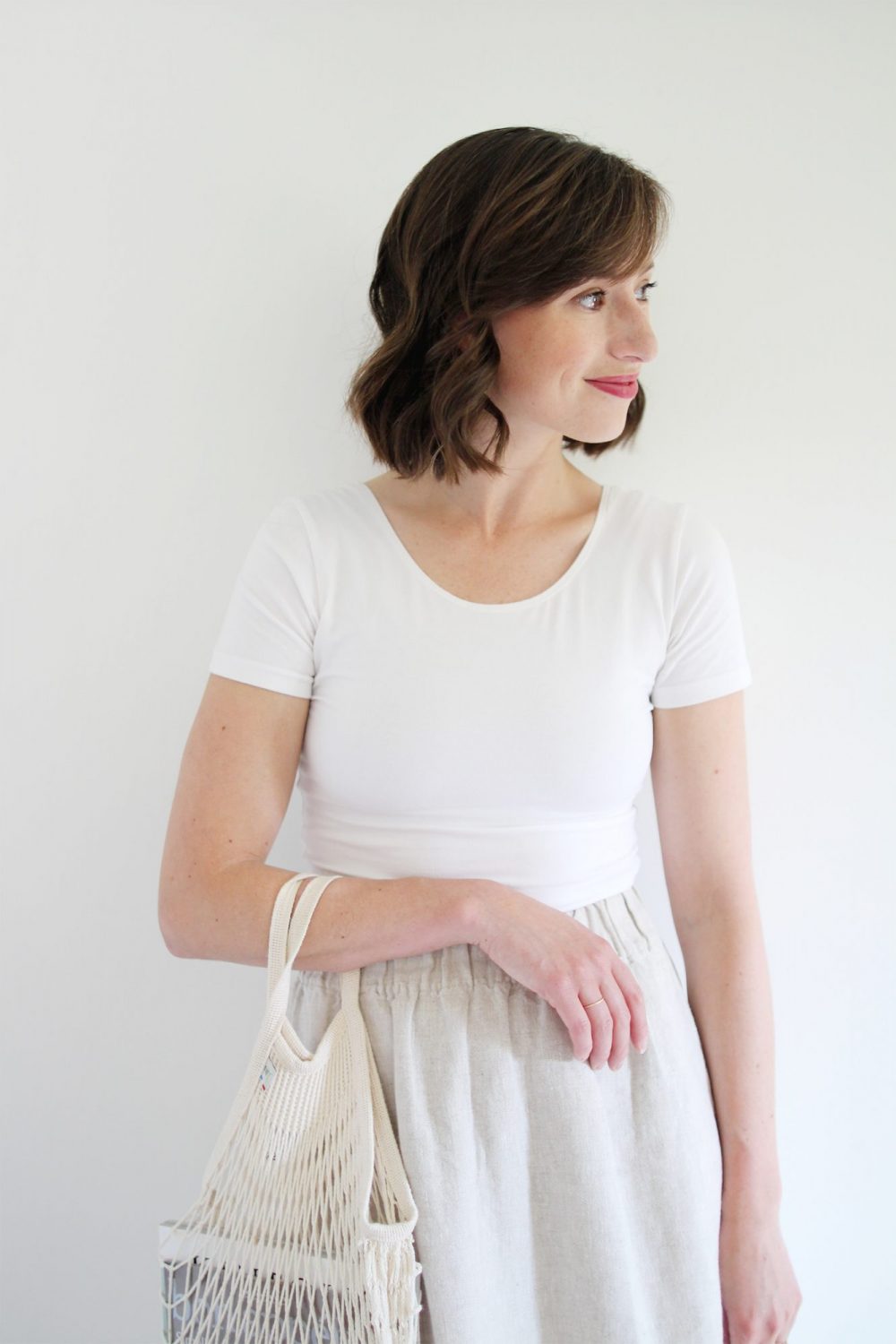 ---
There you have a few of the summer styles I'll be re-wearing this summer!
WHAT ARE YOUR FAVOURITE STYLES FOR HOT WEATHER?
---
Feeling ready to get your Summer closet is tip top shape? Check out the Seasonal Closet Prep tool to help you get going.
---
This post is not sponsored but contains affiliate links. When you shop via the links above I may make commission on a sale at no additional cost to you. Thanks for supporting Style Bee! All opinions are always my own.