I hope you had a great weekend! Most of mine was spent packing invitations and making address labels but I did manage to sneak in a brunch with my boys and a BBQ with some friends and family. No alarms were set and we finally found the perfect light for our dining room. So wins all around!
But it's Monday now and I'm excited to be digging back into my 2017 Closet Mission with a proper Spring Check-In. I find these posts really help to remind myself of the goals I set at the start of the year, allow for some progress evaluation (ideally judgement free) and simply serve as an opportunity to take a moment to share my plans for this blog as it evolves.
At the start of the year I was feeling uncertain about my place in the blogging world, my role as a responsible style influencer and the purpose that this space serves in general. But now, 5 months later, I'm feeling much better about the road ahead. Much of my new-found contentment (in many aspects of my life) has been derived from my decision to step back, slow down and trust my instincts more. I'm a planner by nature and I don't like surprises so embracing an unknown future and accepting that things work out how they're meant to has been a big change for me. Taking the pressure off by placing some major projects on the back burner has also made room for me to enjoy this weird creative adventure without the constant pressure of an unfinished to-do list.
So with that in mind, here's what's on the agenda today! 
CLOSET MISSION UPDATE
WHAT AN IMPROMPTU SHOPPING BREAK TAUGHT ME
THE ITEMS I'M WEARING LATELY
BLOG MISSION UPDATE
WHAT'S ON DECK
---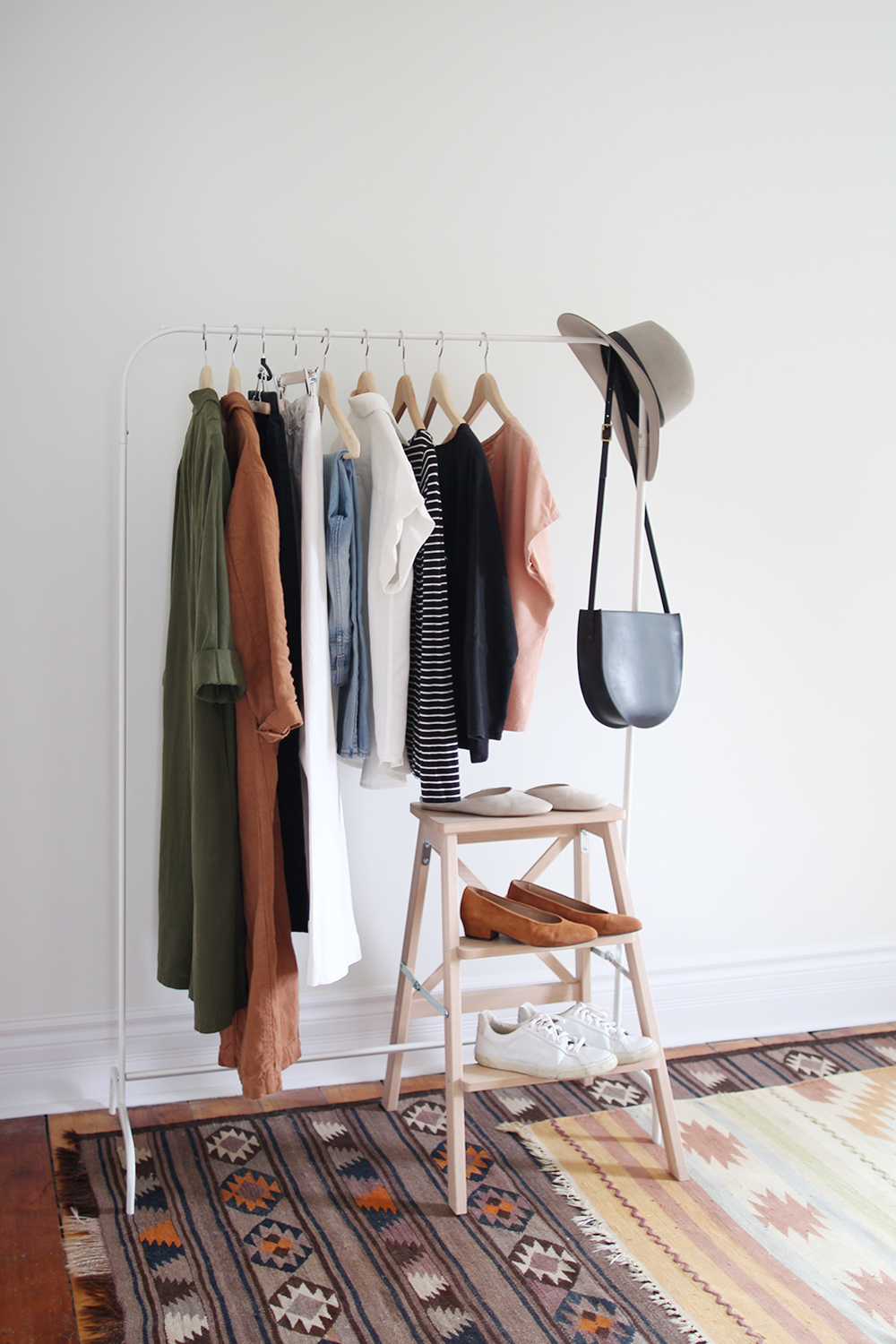 ---
CLOSET MISSION UPDATE
---
This year has been flying by way faster than I could have imagined. I'm honestly a bit stunned by the fact that it's May 1st today. But instead of freaking out about all the things I haven't done yet or need to do I think it's a good time to acknowledge was has happened this year because it's been a busy one so far!
To start let me just review my initial 2017 Closet Mission goals and share a quick update on how each one is going:
1 | WORRY LESS ABOUT THE NUMBERS | This one was been pretty straight-forward and while I haven't been counting necessarily, I have been keeping a close eye on clutter. When my closet starts to feel crowded or my drawers start getting over stuffed I take a moment to weed out anything that's gone untouched or been buried for too long. I consider whether it still warrants a precious piece of closet real-estate and then I proceed accordingly. Conducting a bi-weekly mini-edit has been a great way to keep tabs on what I have, what's being used and what's wasting space.
2 | SUPPORT CANADIAN BRANDS | I feel pretty good about how this goal is shaping up! I've featured several Canadian brands that I really like and believe in such as L'Intervalle and Power of My People and I'm looking forward to featuring more as time goes. At the same time I'm also very cognizant of the fact that I don't want to bombard you, my valued Style Bee reader, with too many new things all the time. It's a tough balance to strike but I've felt great about the way I've been working with brands and presenting them here on the blog. I'm also cautious about sharing Canadian brands just for the sake of their being Canadian. For me, being a Canadian label is a bonus, not a mandate for what I buy or share.
3 | CONTINUE TO SHOP RESPONSIBLY | This one has been a breeze since there are SO many wonderful responsibly made options available now. In fact, it's kind of overwhelming. There are still a few areas in which I'm hoping to discover more and do better (sleepwear, socks & workout wear for example) but for the most part it's been awesome to discover new responsible brands and see my favourites growing and going strong.
4 | REMIX / REMIX / REMIX | Oh yep, I love this goal and it's been on my mind every day this year. Getting more out of my clothes, playing with style and pushing the versatility of my closet has been my favourite aspect of the blog in 2017. The latest #StyleBee10x10 Challenge was an absolute blast and seeing how the community has expanded is such a rewarding experience. So thank you for helping make this goal easier than ever to stick to!
5 | SHOP EVEN LESS | Annnnd this is where I stop patting myself on the back so much. Sure I've shopped less than in previous years, but not as little as I would like. I've had some bad luck with a number of final sale pieces that have made their way into my life but they won't be staying for long. Luckily, I don't experience the same sense of buyer's remorse as I used to get when a purchase didn't go as planned. Each one I make is carefully considered but it seems that many just haven't worked out as I'd hoped. But whether it's sizing, fit, colour or whatever it is that's off, it's ok. I'm choosing not to beat myself up about it but instead to live and learn and take a break. More on that below.
---
IMPROMPTU SHOPPING BREAK
---
Last week I was in a frenzy trying to figure out what to order from the Elizabeth Suzann WWC and just when I felt ready to click 'COMPLETE ORDER' my credit card company called to say there were fraudulent charge attempts on my card and it had to be cancelled. Which meant no shopping until the new one arrives and gets activated next week.
My typical response would usually have been, 'What!? No! I need to a credit card!' But the feeling that resulted from this unexpected shopping halt surprised me because instead of frustration I felt relief. Partly because the fraud charges didn't go through but mostly because it meant I didn't have to make any decisions or pull any triggers for a little while. I could just take a breath and relax. How nice!
So what does that mean? Well, I'm taking it as a sign that I needed a break and a reminder that life without online shopping is just as enjoyable (if not more!). I'm also taking it as a sign that I need to listen to my gut more. Instead of shopping because it's good for the blog or necessary to stay relevant or because everyone else is, I'm going to just relax and trust my instincts. If it feels 100% right, great, if there is even an inkling of anxiety or hastiness associated, I'll hold off.
In fact, I've decided to go on an official Shopping Fast for the entire month of June! More on that below.
In the meantime I have a couple pieces from Elizabeth Suzann that I will order* and an accessory or two from Garmentory that I'm excited about but otherwise I'm letting myself lay real low on the shopping front.
*I'm still deciding but a pair of Florence Pants in Ivory Linen, a Black Petra Crop and a Mara Jumpsuit in Ivory Linen  for my wedding festivities (bachelorette, rehearsal dinner etc.) are currently in my cart.
---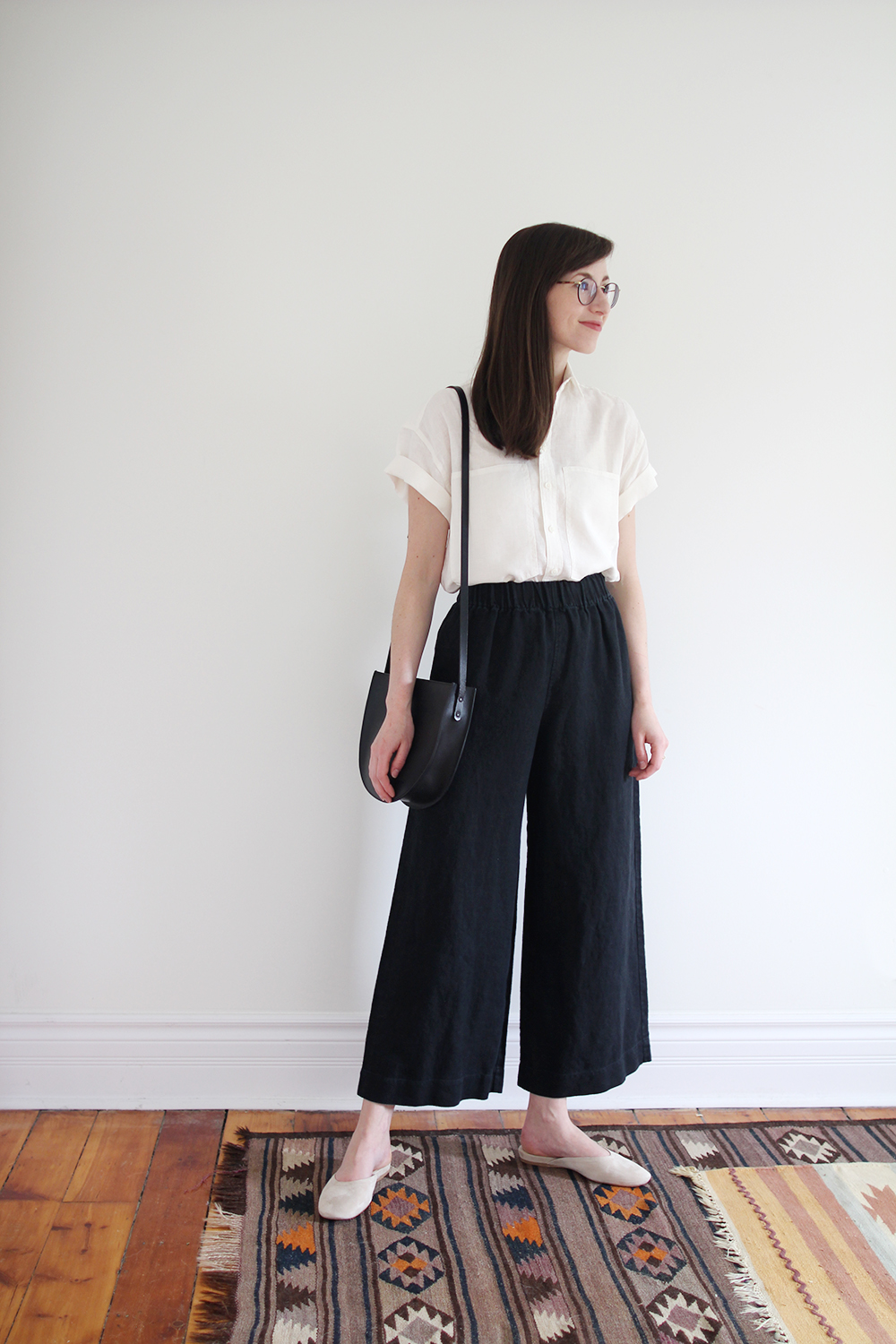 ---
WHAT I'M WEARING LATELY
---
The first thing I reached for after the Spring 10×10 Challenge ended were my black Florence Pants and my new suede Day Mules. I've been trying to remain conscious about the items I gravitate towards most these days and make note of what shapes I love to wear and feel great in. Mostly it comes down to the following formula:
Simple top (tucked in), high rise pants (wide or skinny), cute flats (mules or sneakers incl.) + a duster coat and my black cross body bag.
As I mentioned before I've actually been wearing my 10×10 items a lot since the challenge but in general these are the items in heaviest rotation right now:
1 | DUSTER COATS | I'm a full on duster coat addict at this point. I can't seem to go a single day without wearing one but to be honest I haven't actually tried. This style has been a huge gamechanger in my closet and one that's potentially permeated my personal style for good.
My personal favourites are the Notch Coat by Ali Golden and the Baronne Duster by Ali Golden. ($20 off your first order here)
2 | FLORENCE PANT | I can't stop wearing these pants now that it's warm enough for linen. They're just so comfortable and easy to slip on, tuck a top into and go. I'm sure these will be another permanent style in my collection for the foreseeable future.
3 | KAMM PANTS | Whenever I want to feel stylish and empowered, I reach for my Kamm Pants. Whether it's date night or a party with friends or a catch up over coffee, they never fail to give me the confidence boost I need. Sadly, my black pair had a flaw in the fabric but I'm hoping to have a replacement pair soon.
4 | PERFECT SUMMER JEANS | One of the 10×10 items I can't stop wearing is these jeans. They've been on repeat more now than ever before!
5 | WAYWARD SHIRT | Another 10×10 piece I'm living in is this white line button down. It feels so fresh and springy and pairs too well with my favourite 3 bottoms to not wear it all the time! Stay tuned for a restock and opportunity to use the special Style Bee discount again soon.
6 | LONG SLEEVE STRIPE | This is the striped shirt I'd been looking for forever! Super soft jersey, in a black and white stripe with long sleeves and a high neckline. My friend Sara from IMBY hooked me up with this one by Amour Vert and it's been on heavy rotation since.
7 | T-TOP | I love this black raw silk T-Top from Jamie and the Jones so much. Their new collection of colours is gorgeous and I'm highly considering adding another colour option.
8 | KRISSY TEE | Another raw silk fave right now is this Krissy Tee from Two Fold. It's such a great shape and feels amazing on.
9 | DAY MULE | Everlane sent me these mules to try out and they're awesome. I think my favourite products by Everlane have to be their tees and their footwear. I chose the natural suede mule because I wanted a light neutral flat I could easily slip on and go with and so far they've been perfect. I am a US7 and got the 7.
Soon I'll have my very own page on the Everlane site from which you can shop my favourites!
10 | SUEDE FLATS | Now that these flats are fully broken in they're my go-to when a look needs a pop of colour or a boost of sophistication. These are honestly my favourite Spring flats of all time. *Linked to a different colour.
11 | WHITE SNEAKER | These are actually one of the items I wear most and yet they've rarely been seen on the blog. That's going to change later this week! I were a 38 in these sneakers. 
12 | ELOISE BAG | Ever since I've had this bag it's made using any other bag a bit of a chore. It's another all-time favourite for sure. ($20 off your first order here)
13 | WIDE BRIMMED HAT | It's been the perfect weather for hats lately and this one is always my first pick for some reason. I cannot recommend Janessa Leone Hats enough!
So that's what I've been wearing most since the Spring 10×10 ended!
---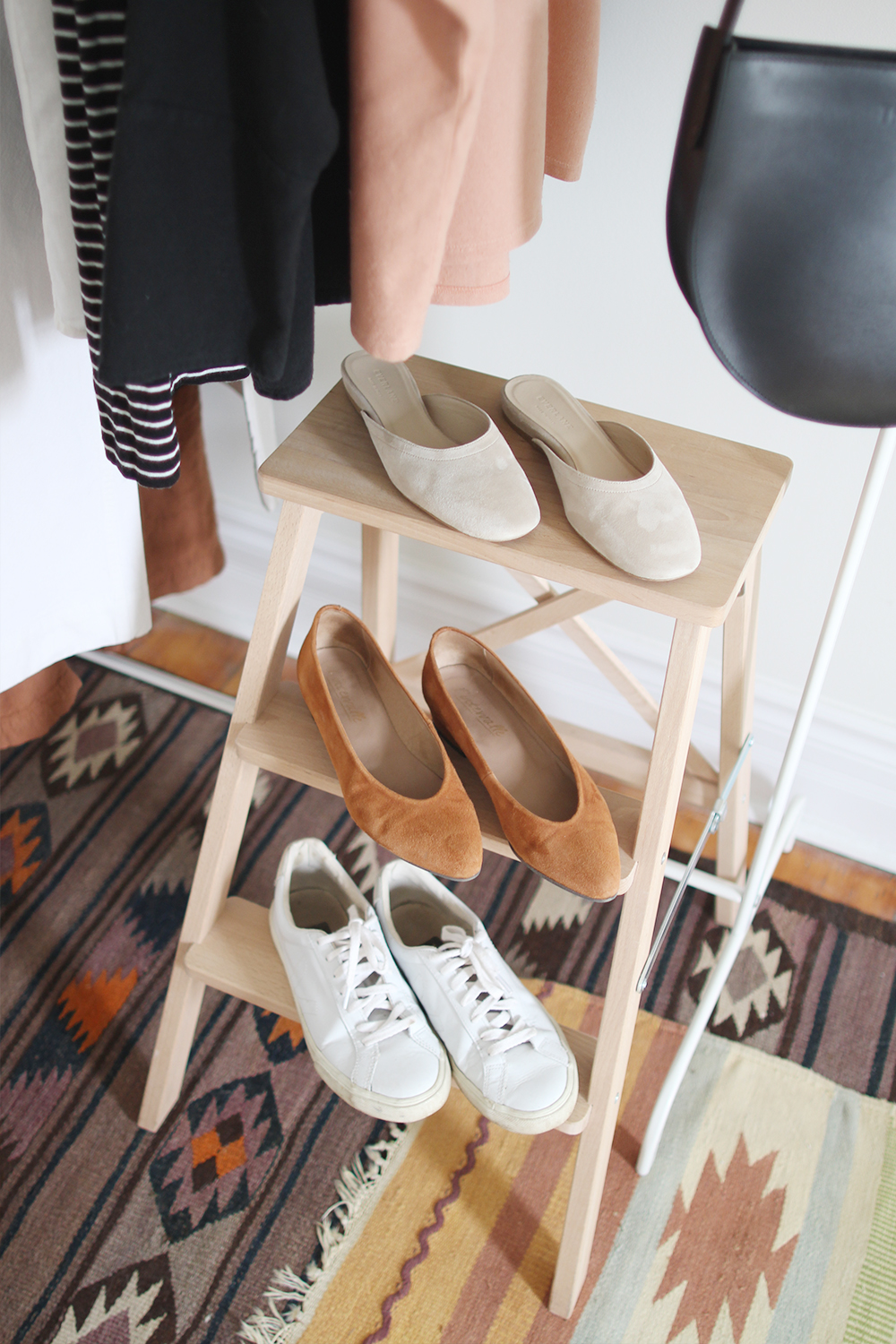 ---
BLOGGING UPDATE
---
The blog has been growing faster than I can keep up with this year and while that's wonderful and steering me down the path to my dream career, I don't want to lose sight of what it's really meant to be about, which is exploring timeless personal style, embracing slow fashion and shopping responsibly. So here's an update on my goals for Style Bee:
1 | KEEP IT REAL | This year more than ever before I feel like I not only have true sense of my personal style but that I've been able to convey it genuinely and authentically on the blog. Every single outfit I've shared on Style Bee is one that I have actually worn (or would have if the weather permitted). There have been no outfits that I just put together for a pretty post, they've all be something I genuinely planned to or actually did wear.
I've also started sharing daily outfits on my Instagram Stories just as a quick and easy way to document my looks throughout the week. I'll be compiling them every so often for my Life Lately series as well.
2 | CREATE MORE TOOLS | This is always an underlying goal here on the blog. I want Style Bee to be more than just a home for cute outfits, but a useful reference for my readers. The new SHOP page is in the works at this very moment and I'm so excited to bring my ideas for it to life. That said, it's a major undertaking so it's still a ways away from completion. Promise it'll be worth the wait!
I mentioned plans to create a start to finish closet tool-kit in my 2017 Closet Mission and while I really do want to build something like this, I want to build it once and be really happy with the result. To do so will take A LOT of consideration, planning and development time. Three things I've found tough to apply towards anything but immediate content for the blog right now. So instead of forcing it to take shape, I'm choosing to focus on what my creative instincts are drawn to and let that idea simmer in my brain for the time being.
3 | BLOG REVAMP | Yeah…so this one is officially on the backburner until the Fall too. I feel crummy that I can't deliver on these goals more quickly but I'd rather wait than rush it and be dissatisfied with the results. I know what I want to do and I have big plans for this little space but I'm going to leave it as is until our wedding is all said and done. That's my major side-project right now and I can only carve out so many extra hours in a day. That said, the revamp will involve a brand refresh, new layout and a better user experience. I have lots of ideas and I think I've found the perfect designer to help me bring them to life!
4 | BUSINESS AS USUAL | I've been really happy with the content that I've delivered on the blog so far this year. That's not to say I wouldn't do some things different or that I don't wish I could deliver more posts more often. But I am feeling a renewed sense of purpose for this space and that I've been able to carve out a clearer concept of what I'm creating for.
Going forward I'll be striving to keep up with my weekly 3 post schedule, although this week will only have 2. My feeling is that quality is far superior to quantity when it comes to posts so I'd rather wait and share something great than rush and share something that's just okay. I hope that sounds good!
5 | COLLABORATIONS | I've felt pretty darn good about my collaborations so far this year but I'll admit that it's been one of the trickiest blogging aspects to navigate. I've tried to maintain a mix by working with a few international brands like, Everlane, Eileen Fisher and ETSY while at the same time partnering with more smaller designers like Corinne, Only Child, Two Fold and Power of My People. I'm going to continue to keep the collaborations to a monthly 2-3 maximum and will always let you know when a post is sponsored in one way or another.
That said (apparently this is my new favourite phrase), I will be taking the month of June off from any partnerships, gifted product and shopping, which I very much looking forward to! 
---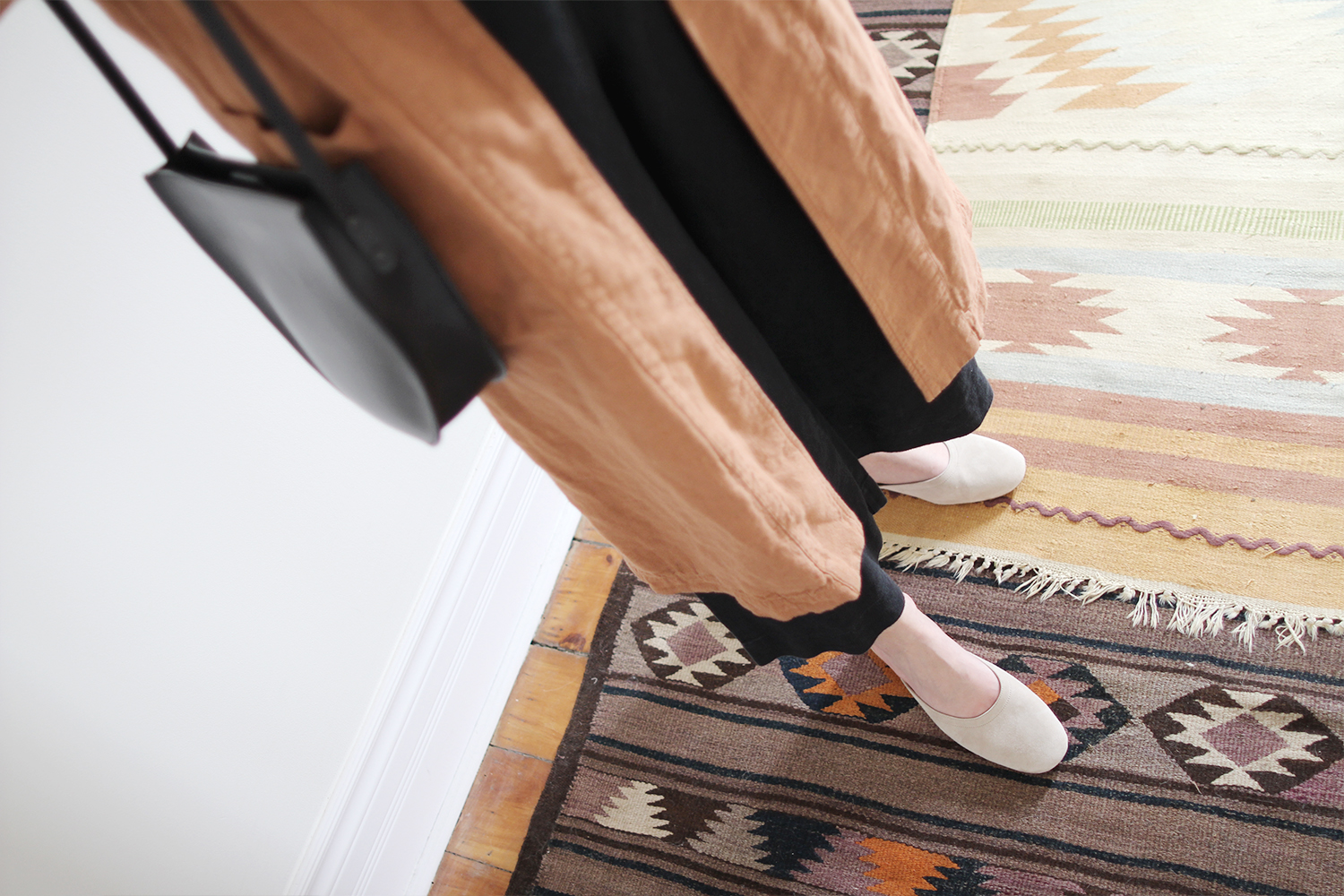 ---
WHAT'S ON DECK
---
I hesitate to over promise on my plans are for the blog because, well, it's not my full-time job at the moment and sometimes life gets in the way of even my most earnest blogging intentions. Heck, sometimes I'm just too damn tired to follow-through! But with that in mind I'm really excited to be exploring the following topics on the blog over the next few months:
1 PIECE 3 WAYS | Starting this Friday and continuing weekly I'll be sharing a post on styling 1 piece 3 different ways.
MY ACTIVEWEAR CAPSULE | Similar to my Loungewear Capsule (PART 1 + PART 2) I'm going to revamp my workout wear once and for all!
KITCHEN RENO REVEAL | We're FINALLY ready to share a full look at our kitchen renovation very soon!
NEW LIFE LATELY POSTS | Catch the FIRST ONE and SECOND ONE so far this year.
WHERE TO START SHOPPING RESPONSIBLY | A starter guide for anyone looking to begin shopping responsibly and the best pieces to invest in first.
SPRING WARDROBE ASSESSMENT | Similar to my WINTER WARDROBE ASSESSMENT I'll be reviewing the pieces I wore most and where there is room for improvement.
RESPONSIBLE FORMAL WEAR | What to buy for weddings, parties and all the other semi-formal events that pop up during the summer.
STYLE BEE CLOSET SALE | This will likely be my largest and final closet sale ever so follow @stylebeecloset for updates.
30 DAY SHOPPING FAST | I won't be shopping, collaborating or accepting gifted goods all June!
RESPONSIBLE SLEEPWEAR | Sources for responsibly made sleepwear that's affordable, chic and comfortable. A surprisingly tall order.
SUMMER 10×10 | KICKING OFF IN EARLY JULY
30 x 30 | In June I'll be trying a 30 x 30 throughout which I'll style 30 items into 30 looks! I'm teaming up with two of my blogger buddies to pull that one off and can't wait to share more soon!
EASY HAIR CARE + STYLING IDEAS | For lazy folks like me.
So that's what's on deck for the next little while. I hope you're as excited about some of these plans as I am! If you've got any requests please feel free to let me know in the comments and I'll add them to my list for the future.
---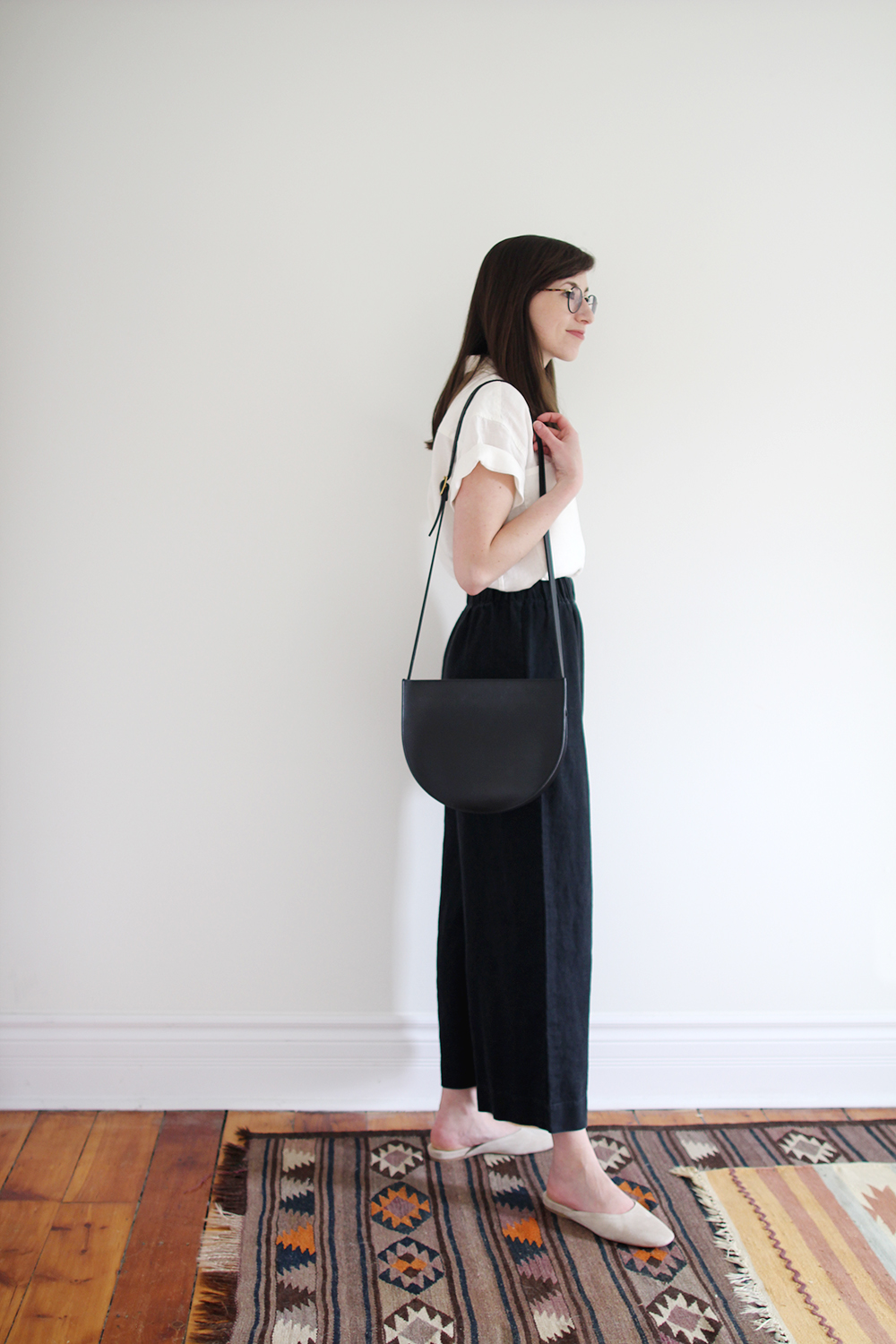 ---
Thanks for tuning in to this Closet Mission Check-In and for taking an interest in what goes on here on Style Bee! 
---
How are your closet goals coming along this year?
Have you followed through on your plans or have some of them taken a back seat?
I'd love to know what you're excited to work towards this Spring and Summer!
---
This post is not sponsored but contains affiliate links. When you shop via the links above I may make a small commission from a sale. Thanks for supporting Style Bee! All opinions are always my own.