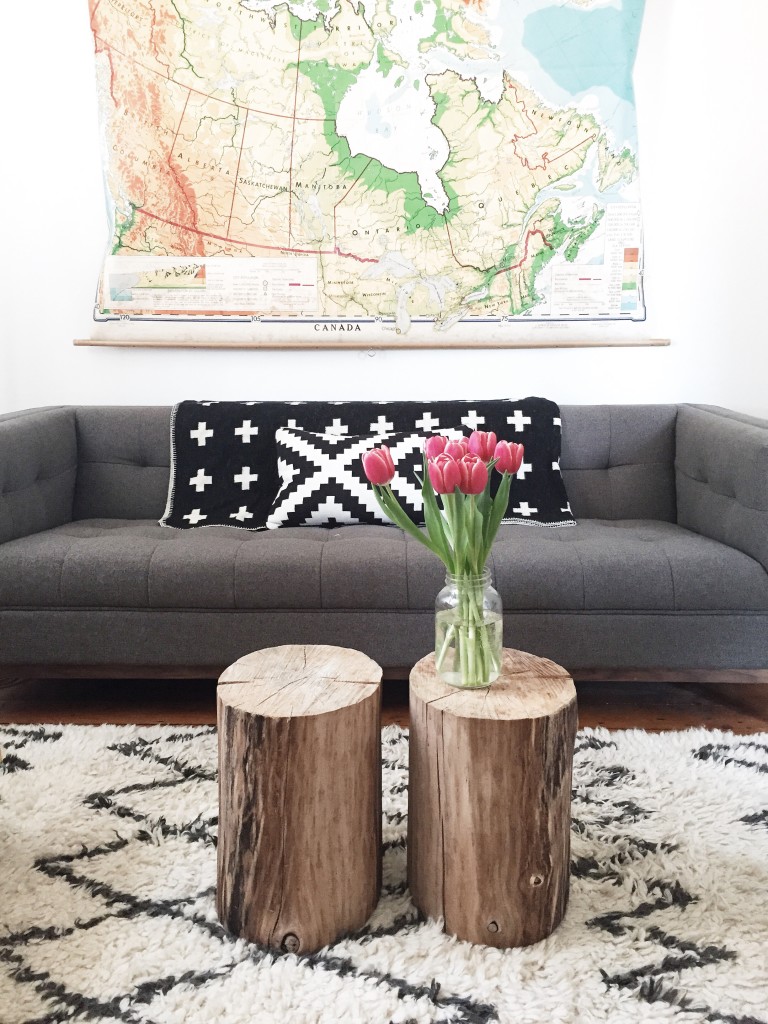 Well hellloooo there! Sorry for my slightly longer than normal absence. I'd love to be able to stick to a proper posting schedule but the days just aren't always long enough. Rather than adding filler content I'm trying to only publish posts I really feel good about. This weekend was the first time our living room has felt complete and after resisting for so long I just had to share a few shots with you.
In case you're new to Style Bee, about a year and a half ago my partner Dave and I bought a quaint little 1890's house that had a ton of character and needed a TON of work. We decided to tackle it head on and complete all the work ourselves, starting with a full 'gut-job' on the second floor and a more superficial face-lift on the living room. Today I'm sharing a few photos of our allllmost completely finished living room. There are still a few finishing touches needed (and a new tv eventually!) but we love the space and it's been a sort of sanctuary for us as we've endured the renos throughout the rest of the house.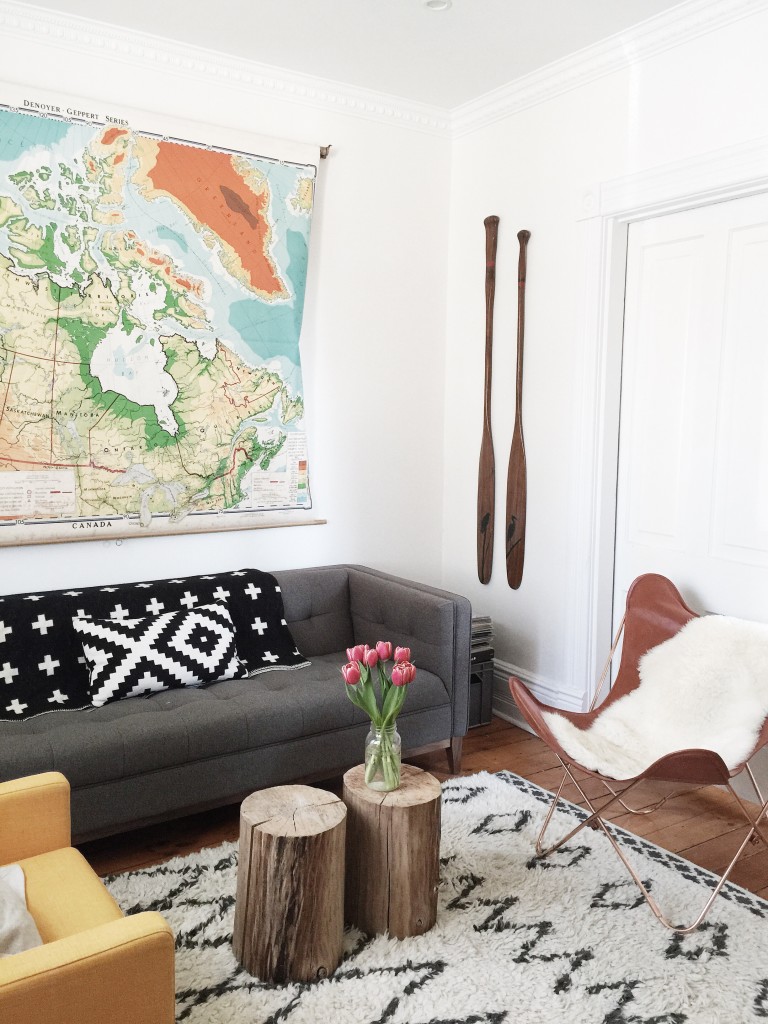 I think a lot of people have romantic notions about renovations, at least I know I did. Shows like Love It Or List It and The Property Brothers barely even scratch the surface of what it's like to redo an old house and they certainly make it seem faster and easier than it ever is. But we've been living and learning about the process and trying not to lose our cool (entirely).
Dave is much better equipped to deal with the renovators lifestyle, ie: living in a constant state of disarray with an ever-present layer of fine dust on everything. Me, not so much. After a few months of living in a construction site I started to go crazy. Be forewarned that a renovation will take it's toll on your bank account, mental stability and relationship! Luckily it didn't push any of them past the point of no return, phew! People kept saying, "It will be so worth it when it's done." and while that sentence annoys me to no end, it's totally true.
Another (slightly annoying) tidbit we kept hearing was, "You can't rush it." and despite all our efforts we discovered this was also very true. Creating a space that feels complete and authentic to you and your family is not something you can do in one go. At least as far as I can tell anyway. You need to spend time in a room, make note of what you're missing, what functional elements are needed and add to it slowly but deliberately.
It was the first time I'd ever really had cart blanche in a space to design, layout and style it however I wanted. This was both exciting and daunting at the same time. Some things like the furniture and large wall map came together easily but the carpet, artwork and other details have taken a long time to settle.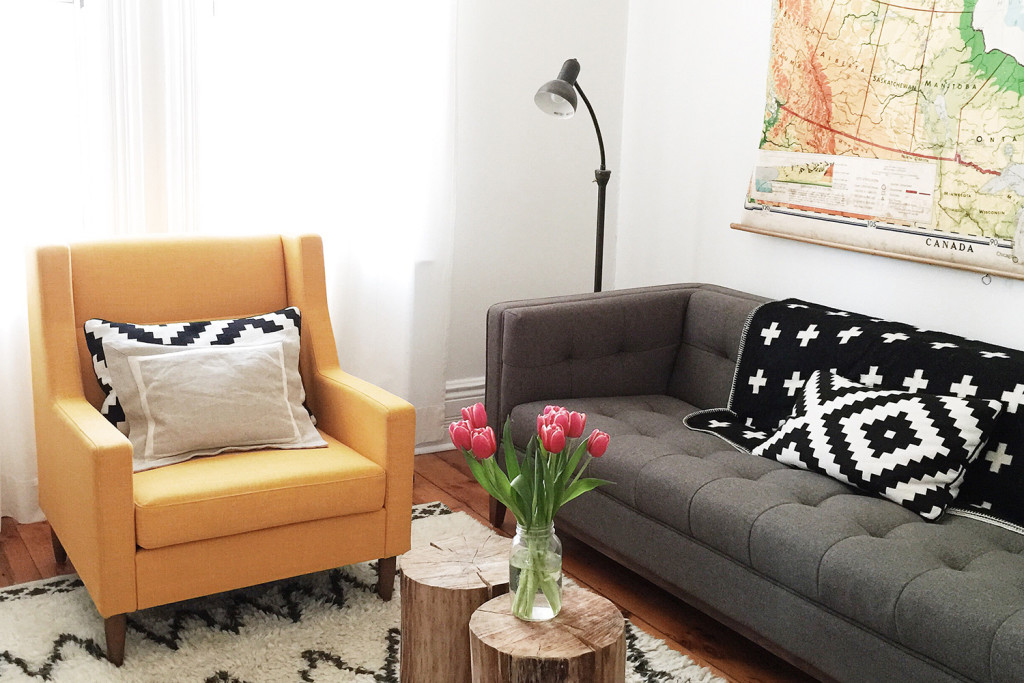 Our house project has made me much more aware of how I live and what I need to enjoy and feel content at home or in a specific room. I've learned that while I'm not a fan of dressing with colour I like having pops of it in my interior surroundings. Things like needing to put my feet up when I watch a show, having a spot to put my keys when I come in the door or that mid-century modern style is my jam are all little insights that make me feel more at ease and at home.
We've also learned that if we can make something exactly how we want it's worth the extra time and effort. Buying something that's not exactly what you need will never fully satisfy. So with that in mind we're building a custom, concrete and walnut coffee table but for now these tree stumps are place holders and I kind of love the unexpected and understated vibe they add to the room. We're also finishing up a small floating shelf to sit under the mirror so our sunglasses and car keys have a proper home.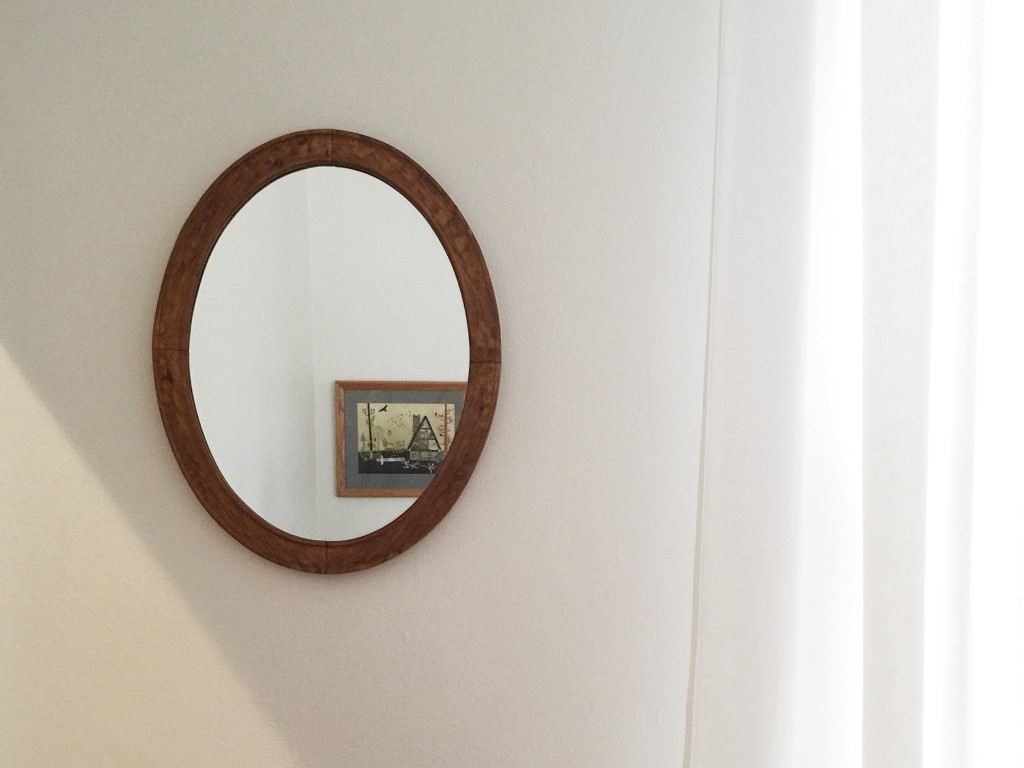 The living room was the least labour and time intensive room we've worked on so far but the project still included:
Stripping many, MANY layers of old paint off the original 120 year-old trim
Sanding the trim
Repairing wall cracks (which involved drywall and taping)
Rerouting electrical
Adding pot lights
Fixing bad floor board patchwork
Painting the walls, ceiling and trim
Furnishing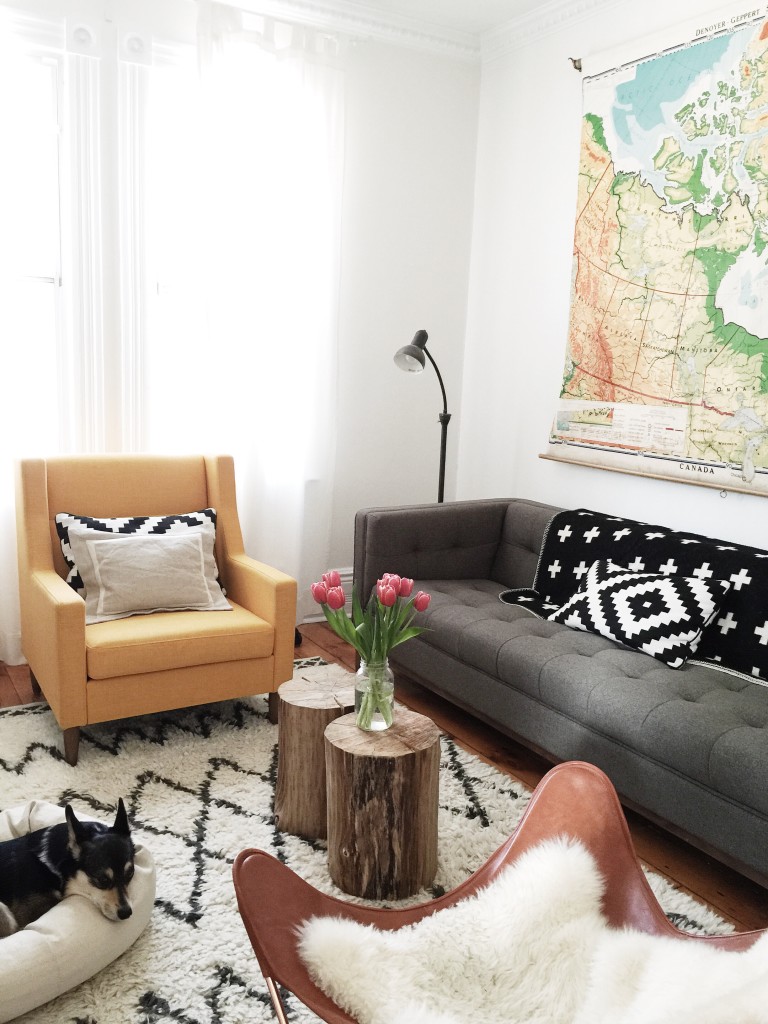 The whole process has been eye-opening, soul crushing, creatively invigorating, threshold testing, team building, pain staking and entirely life changing. I've seen how amazingly talented and hard working Dave is and I've had the chance to test my limits and learn to trust my design instincts more than ever. The renovation has been extremely hard but extremely rewarding at the same time. Some days I come home and a wave of appreciation hits me. I feel so incredibly fortunate to call this little work in progress home!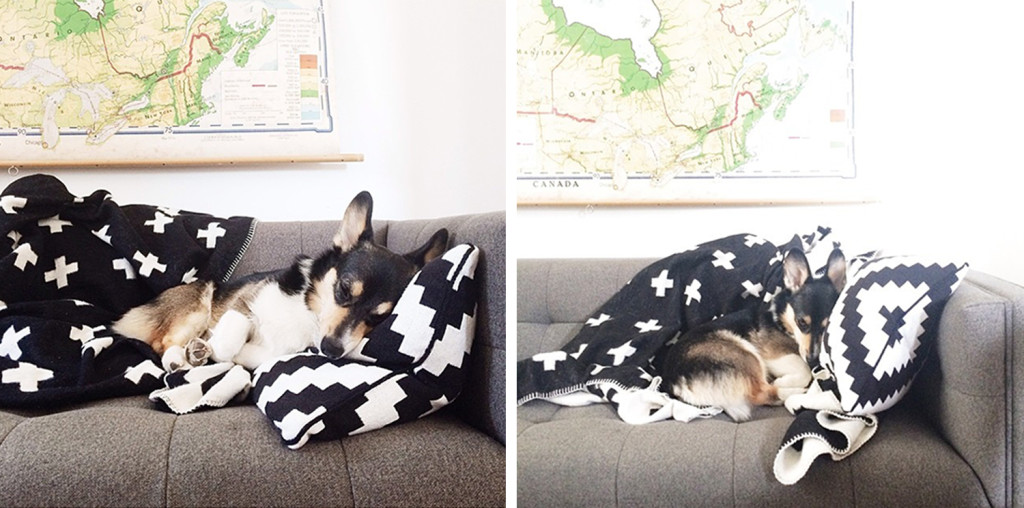 So that's room #1 for you! Stay tuned for the next room reveal, the bedroom, complete with before shots and floor plans! 
Have you done any renovating? If so, how did you manage to get through it?
---
Sources: Yellow Chair || Couch || Butterfly Chair || Rug || Cross Blanket || Geo Print Pillows || Curtains || Art Print || Map and Mirror (vintage) || Stumps (similar)