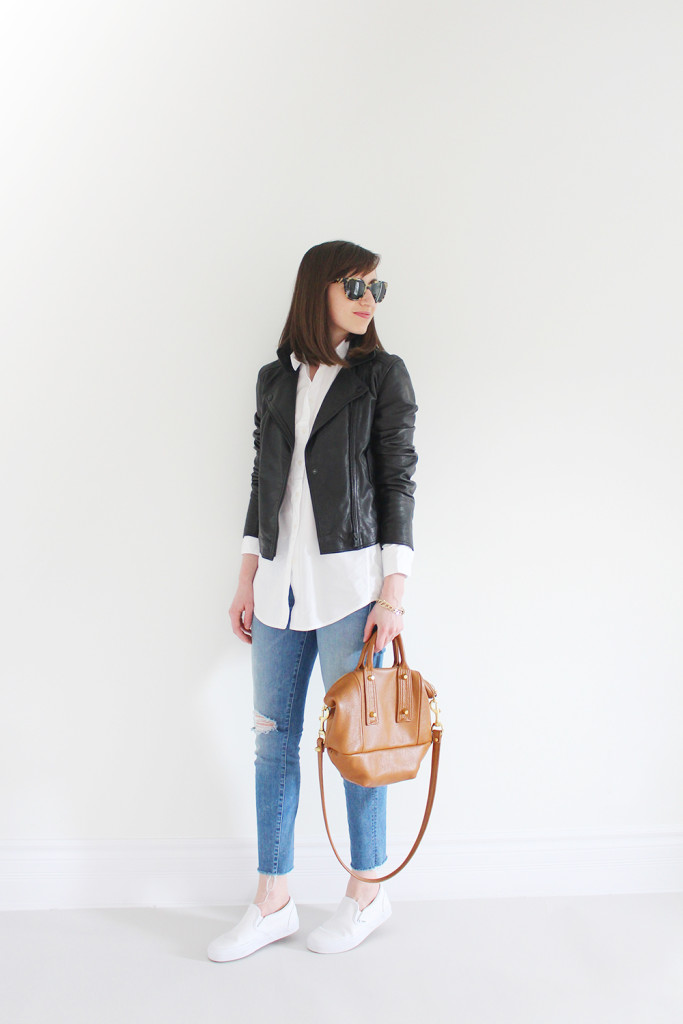 We all secretly acknowledge a dream or a goal to ourselves once in a while. Something that in reality is far fetched but regardless we hope it will come true. Almost two years ago now, when I had just started sinking my teeth into Style Bee, I could only hope my future would hold the opportunity to work with some of my favourite Canadian designers. I knew I had a long way to go before that might happen but the thought was always in the back of my mind, and continues to be.
Recently some of that wishful thinking became a reality when I had the chance to collaborate with Opelle, one of my favourite Toronto bag designers. After I gave myself a good pinch to be sure it was all real, I couldn't wait to get started! If you follow me on Instagram you may already know I paid a visit to the stunning Opelle showroom. It is seriously bag heaven! There are so many gorgeous, buttery leather gems, many in fresh pastels and rich black textures but this delicious little caramel one spoke to me. I could just eat it! Not to mention that it's the perfect size and colour for my spring palette.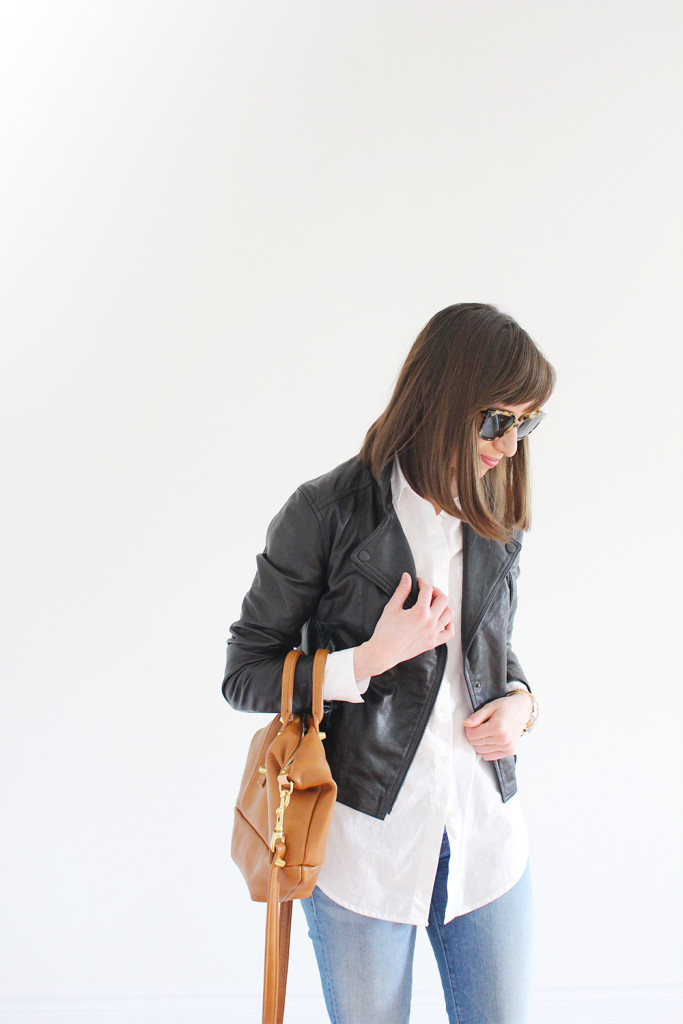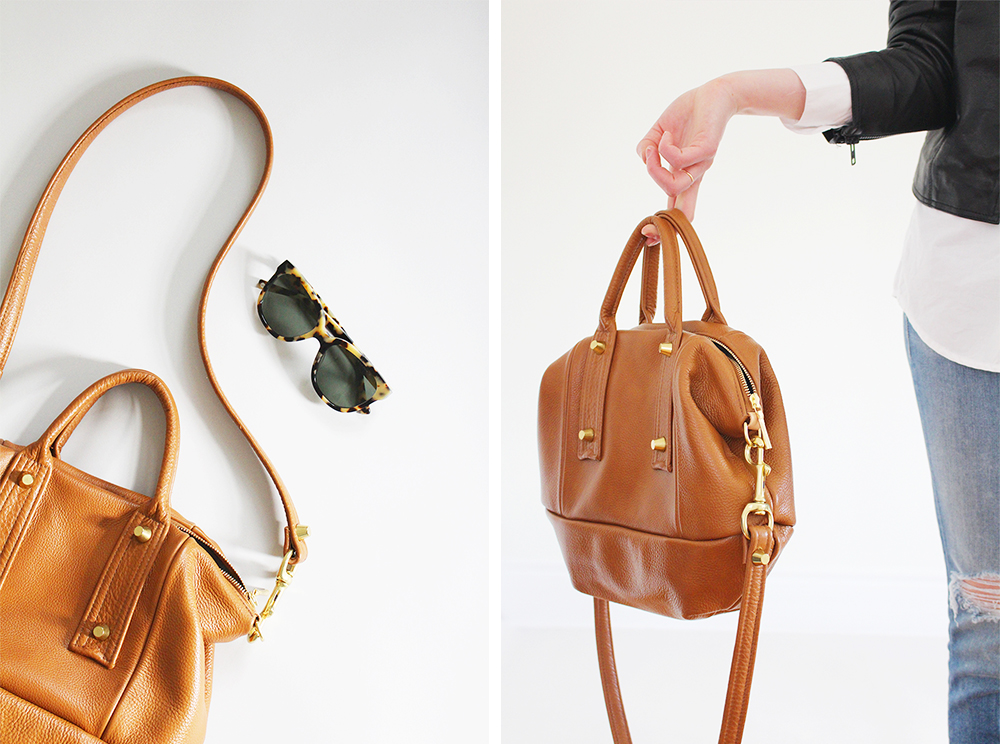 A great bag should bring with it a sense of invigoration that makes you feel as though you suddenly have 1000 more wardrobe options and this one does just that. Right now I'm a bit obsessed with mixing black, white, neutrals and denim together as it makes for a simple, fresh and chic look. Throw a little tortoise and bit of gold in the mix and you're ready for spring. I'll be pairing this caramel fella with just about everything but specifically black trousers and loafers for work and with summery skirts, cropped tees and sandals when the temps go up! Ah, summer, another far off dream of mine.
I've been a big fan of Opelle for years (see an early post here) and was excited to share the brand on the blog once again. The Opelle philosophy aligns so well with the 'Fewer, Better' concept I'm trying to achieve here and through my Closet Mission. Designer and founder, Amy Malcolm, always finds a perfect balance between elegance, simplicity and functionality. Each bag is designed and hand-made in small batches in her Toronto studio using individually selected hides that have been tanned using low-impact processes. Of course a great place to start is with the most incredible leather but strategic interior pockets, double leather handles, wide zippers, removable cross body straps and solid brass hardware are a few extra details that make this bag beyond special. If you've been on the lookout for a new bag that will look amazing and last for ages, without breaking the bank, definitely take a peek at the full Opelle collection.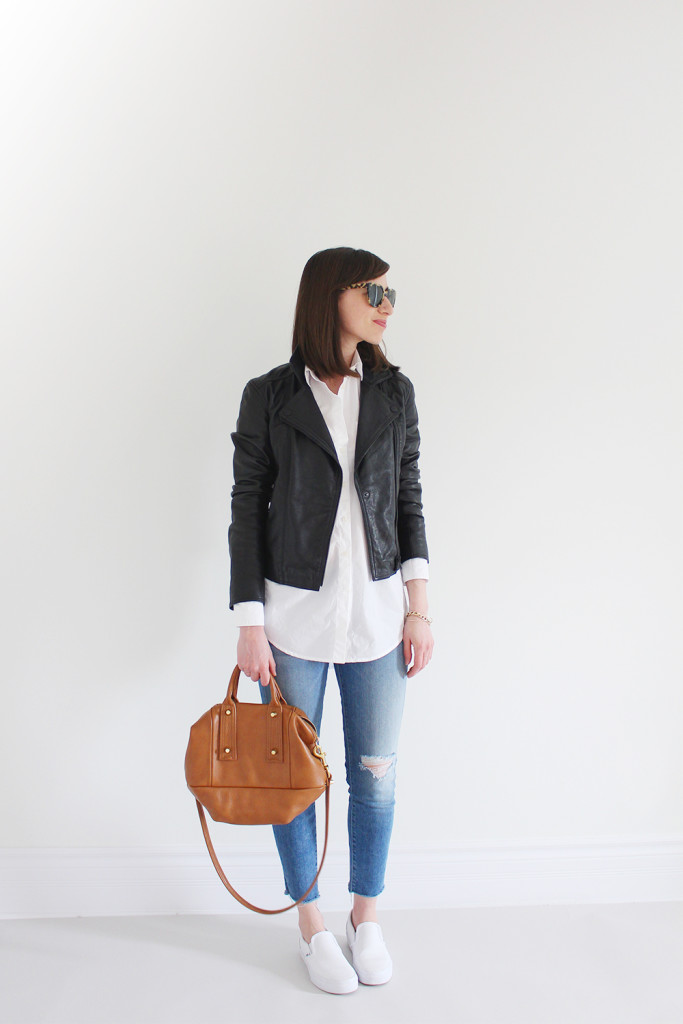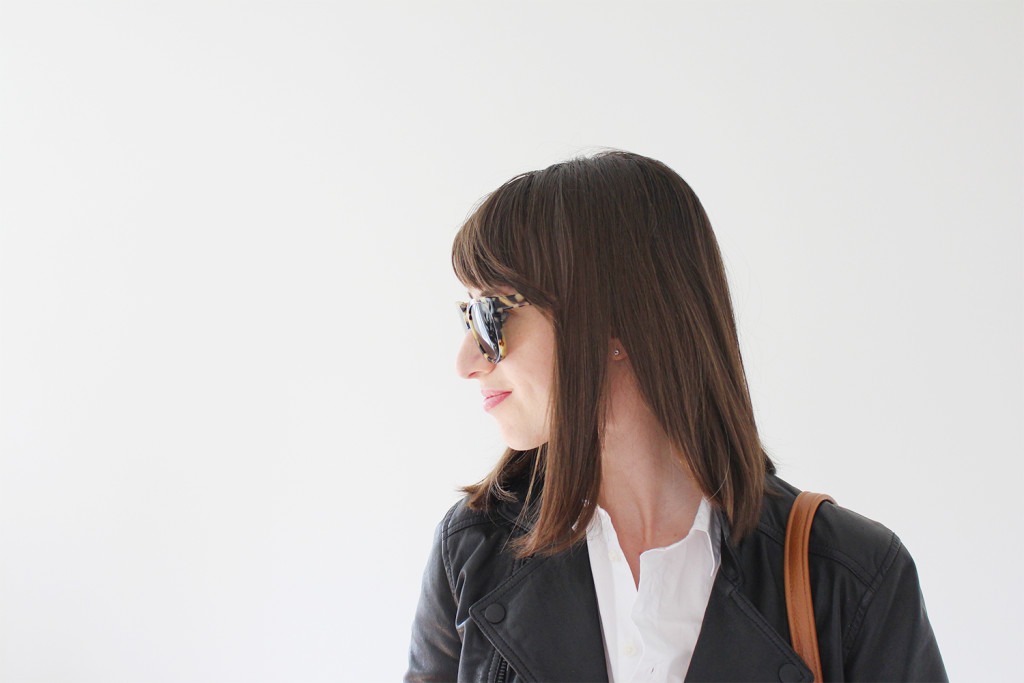 I suppose the true moral of this post is that if you've got a seemingly far off dream in your head, don't stop working towards it. Sooner or later you might just be able to reach out and grab it! Happy humpday friends!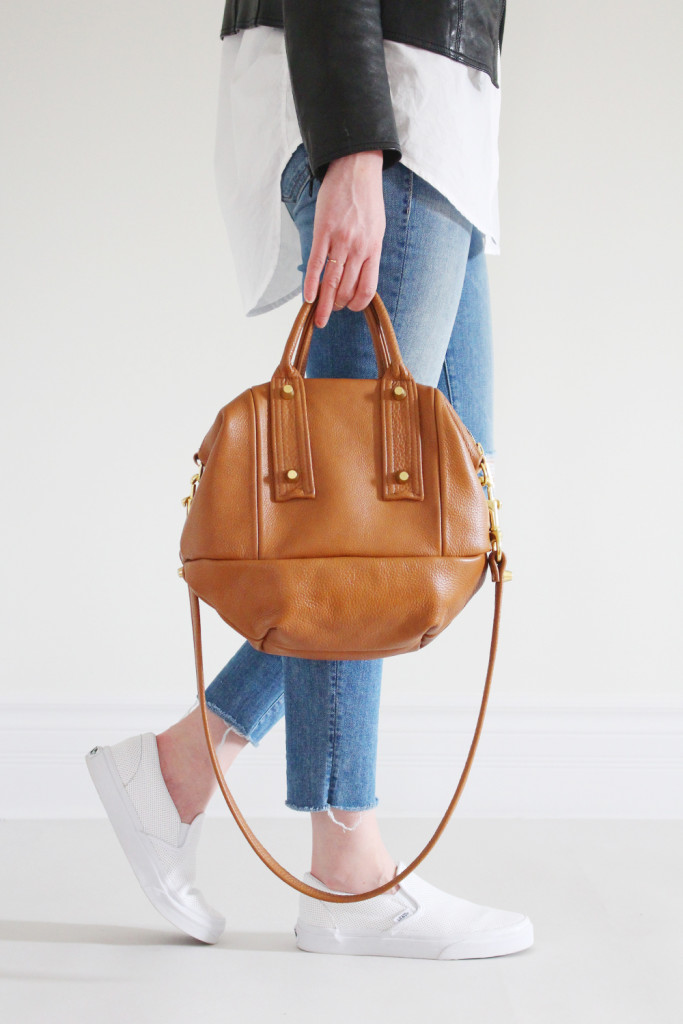 Mini Vanda Bag c/o Opelle // Oversized White Shirt Madewell (xs) || Denim Mother (similar here and here) || Leather Jacket Madewell (similar) (small) || Sunnies Warby Parker || Slip-Ons Vans (TTS) || Rings Laite Atelier
Size reference: I am 5"7′, 120 lbs
---
Please note this post was sponsored by Opelle but all opinions are 100% my own.