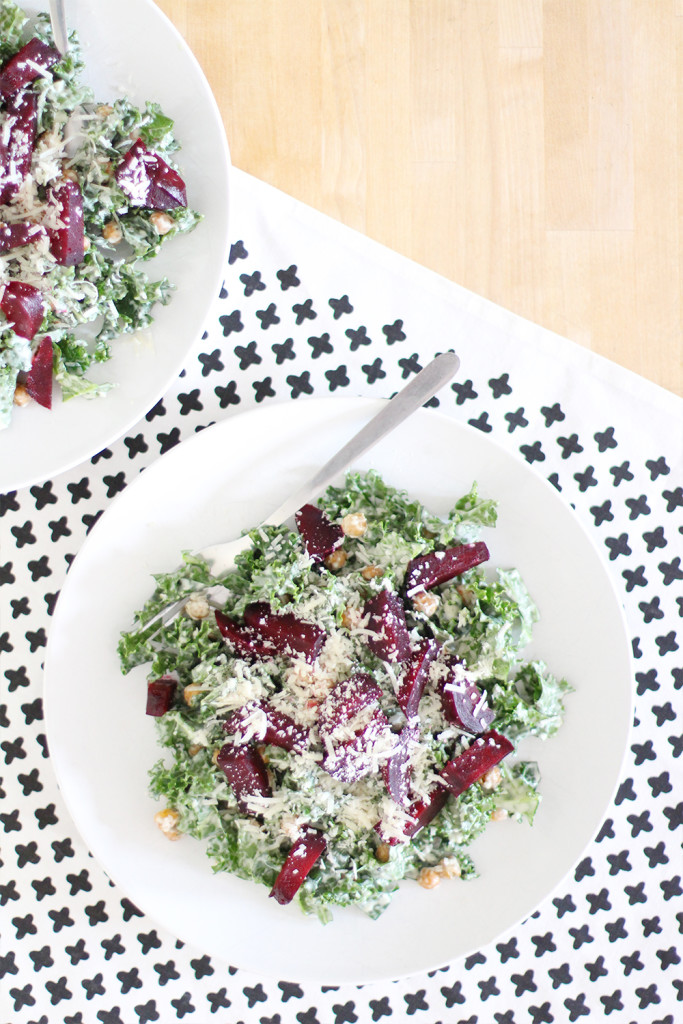 I know the kale train left the station years ago but I'm still on it! It continues to be my favourite green to use because it's applicable to so many recipes and, quite frankly, it keeps the longest in the fridge. I've tried lots of different kale caesar recipes and this one (adapted slightly from this version) is by far my favourite. It's hearty enough to be a main course and always satisfies my cravings for something relatively healthy but savoury at the same time. It was a huge hit at a recent little get together we had and I knew it was time to spread the word!
At first glance it might seem like a lengthy process but the steps are so easy and results are SO good. It's one of those recipes you can pull together while simultaneously tidying up the living room, doing the laundry and checking Instagram (I know, my life is a whirlwind of excitement!). Every element of this salad makes it special. The caesar dressing is light, creamy and just garlicky and cheesy enough. The crispy garbanzo beans are addictive, I have to exercise extreme willpower or they won't even make it into the salad. The roasted beets add a bit of extra substance, sweetness and colour to the show and fresh kale, albeit bitter and aggressive on it's own, turns into the perfect crunchy conduit for the other flavours in this dish. You have GOT to try it my friends!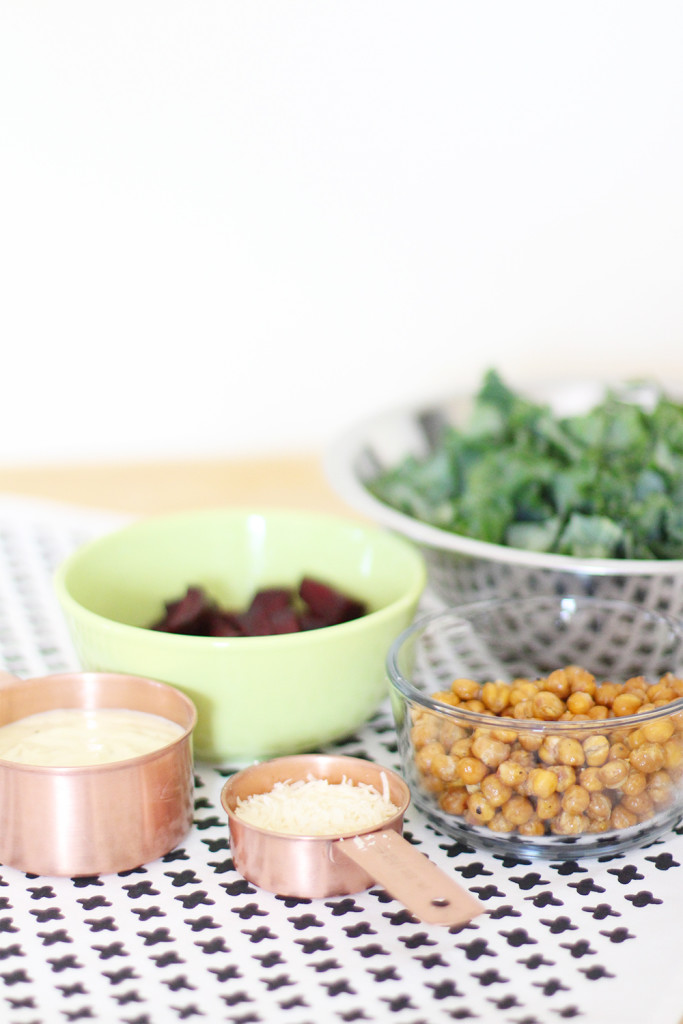 Start by assembling your ingredients: 
For the Dressing:
1 garlic clove
1/2 cup mayonnaise or vegan mayonnaise
1 tsp dijon mustard
3 tablespoons lemon juice
1 tsp worcestershire sauce
1/4 cup freshly grated parmesan cheese
3-4 tablespoons olive oil
1-2 teaspoons of water to thin if necessary
salt and pepper to taste
For the Garbanzo Beans:
1 15oz can garbanzo beans
1 1/2 teaspoons olive oil
salt and pepper
For the Beets:
3 medium sized beets
Drizzle of olive oil
salt and pepper (optional)
For the Salad:
1 head kale (lacianto or curly works best)
1/2 cup grated parmesan cheese
Caesar dressing
crispy garbanzo beans
roasted beets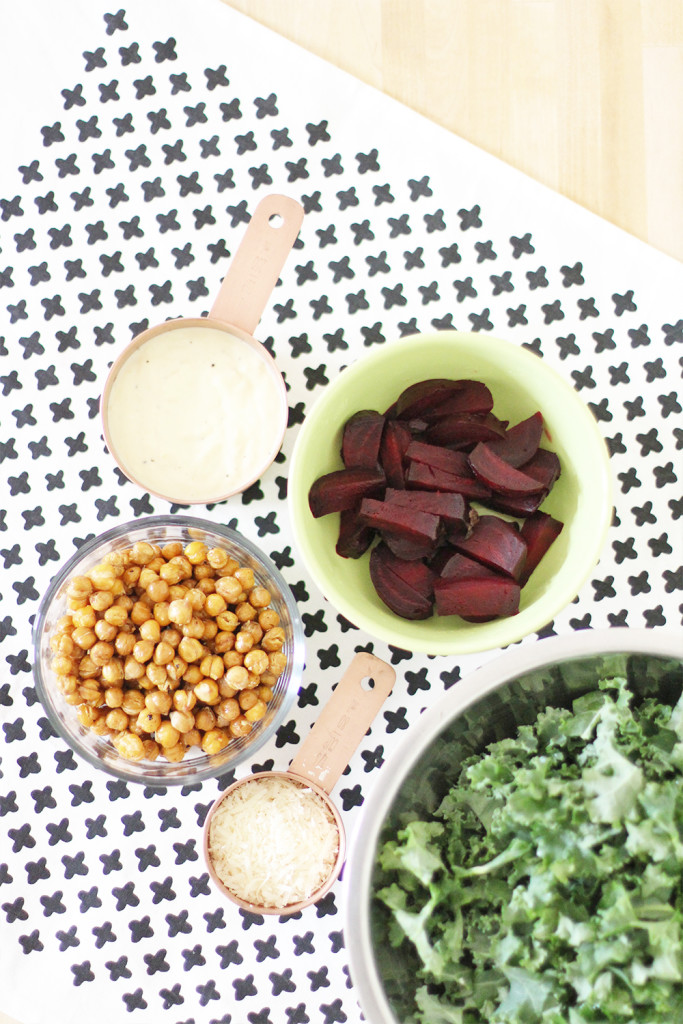 Step 1 – Roast Beets
Preheat oven to 400ºF.
Prep your beets by cutting off greens and majority of the roots, rinse well and pat dry.
Put the beets on a large piece of tinfoil and drizzle with olive oil. Fold over the tinfoil and crimp ends closed to make a little beet pouch. This will help them heat evenly and stay moist.
Put the pouch on a baking sheet and place in oven for about 35 – 40 minutes (smaller beets will need less time). You'll know they're done when you can easily pierce them with a fork.
Once ready, remove from oven and allow to cool until you can handle them easily.
Time to peel them. I usually use a piece of paper towel and find the skins come off very easily.
If this is your first time roasting beets check out this great step-by-step tutorial.
Step 2 – Crisp Garbanzo Beans
Adjust oven to 375ºF degrees.
Rinse and drain the garbanzo beans; lay them on a double layer of paper towels and dry them as much as you can. Slightly rub each garbanzo bean between your fingers to remove the thin layer.
Line the dried garbanzo beans on a baking sheet and toss with olive oil, salt and pepper.
Roast the garbanzo beans for 35-40 minutes until brown and crispy.
Step 3 – Make Dressing
Combine all ingredients except oil, salt and pepper in the base of a blender or food processor.
With the motor running, slowly add the oil in a thin stream into the blender or food processor.
When the dressing is thoroughly mixed, test for desired thickness. If you want it a little thinner, add the water a teaspoon at a time.
Season with salt and pepper.
Step 5 – Assemble Salad
Clean the kale and remove the leaves from the thick inner stalk.
Chop the kale and transfer to a large bowl.
Dress with desired amount of Caesar dressing (I used about 1/2-2/3 of this batch).
Toss in the crispy garbanzo beans.
Plate salad and top with beets and a dusting of parmesan cheese.
Step 6 – Taste, swoon, devour!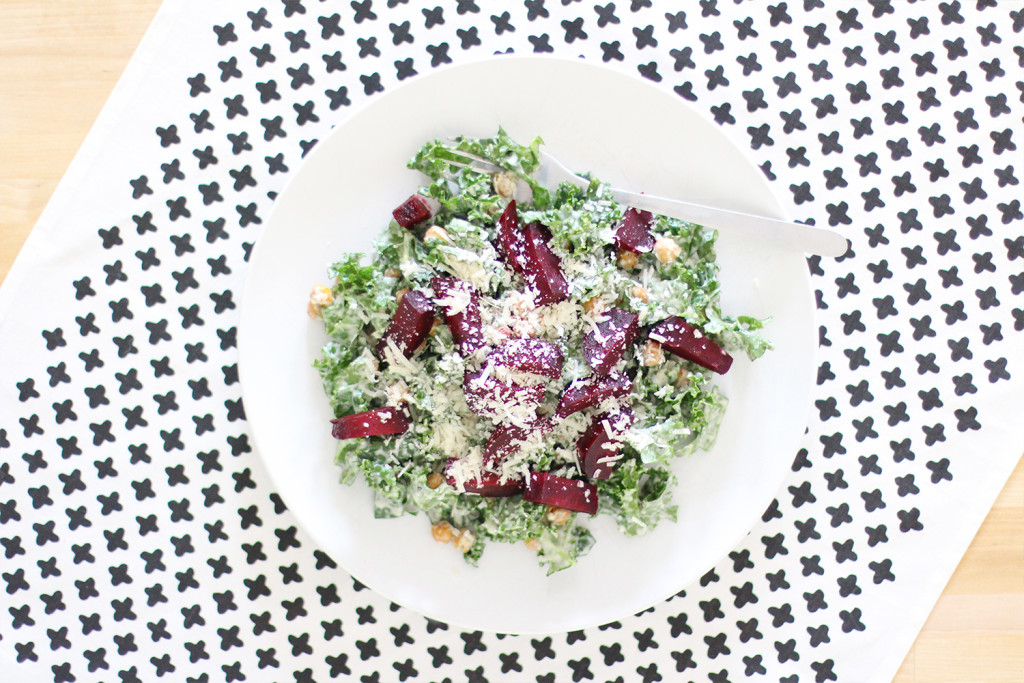 Did you know? Dressed kale holds up really well overnight in the fridge. If you know you're going to be short on time for lunch the next day save some crispy beans, roasted beets and dressed kale in separate containers and when you're ready toss together for an easy-as-can-be midday treat!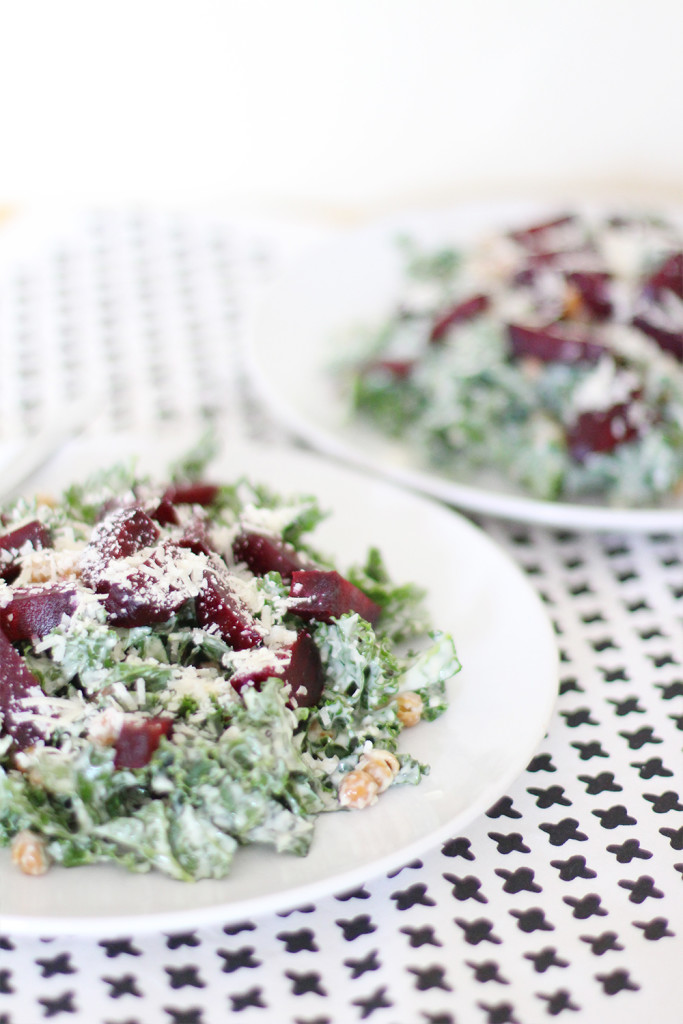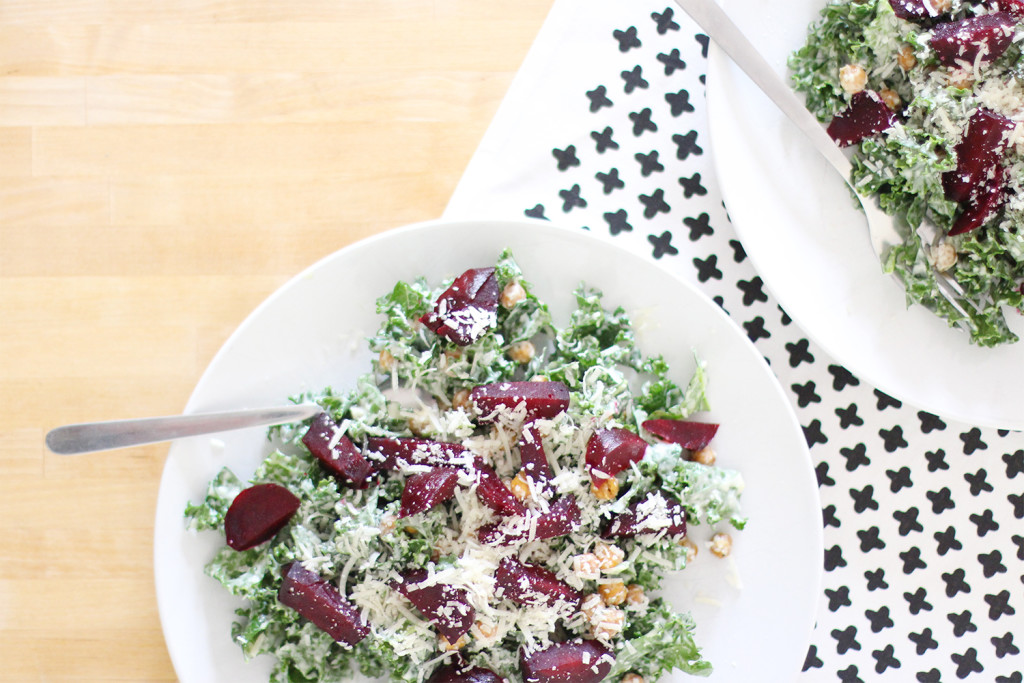 Lint + Honey – Crosses Tea Towel c/o – Be sure to use the code 'STYLEBEE' for 15% off your order!
Save the Bees! In support of a cause close my own heart, Lint + Honey will be donating $1 from the proceeds of all 'Bee' related goods in her shop (like this great print and these awesome pillows) to a Save the Bees fund.