If your Mum is anything like mine then she's a fantastic lady but she probably won't give you much to go on when it comes to a gift she'd like. Luckily, flowers never seem to disappoint, especially when they're wrapped up in a cute vase with a pretty bow.
I love the look of a simple mason jar vase and always seem to have a few spares on the shelf at home. I thought it might be nice to dress one up with a fun paper pattern, a big ribbon and a bunch of fresh flowers as a Mother's Day gift. I brought out my springy green and yellow watercolour paints and played around with a couple fun patterns for you to print out and use for your very own Mother's Day vase. See the super simple instructions below and a list of what you'll need to make this lovely gift for less than $16.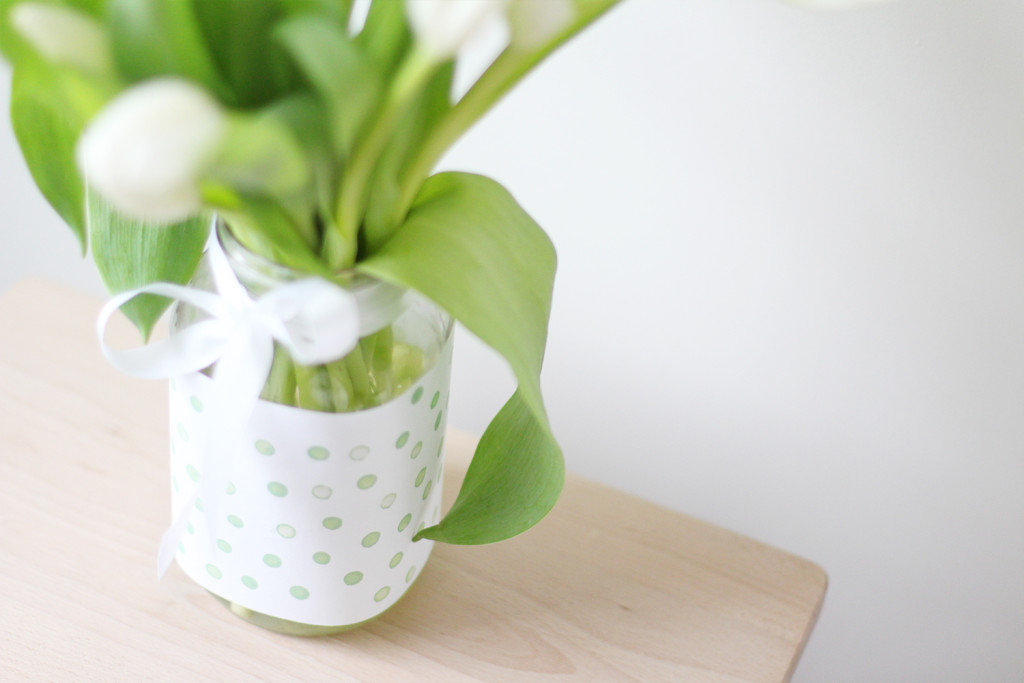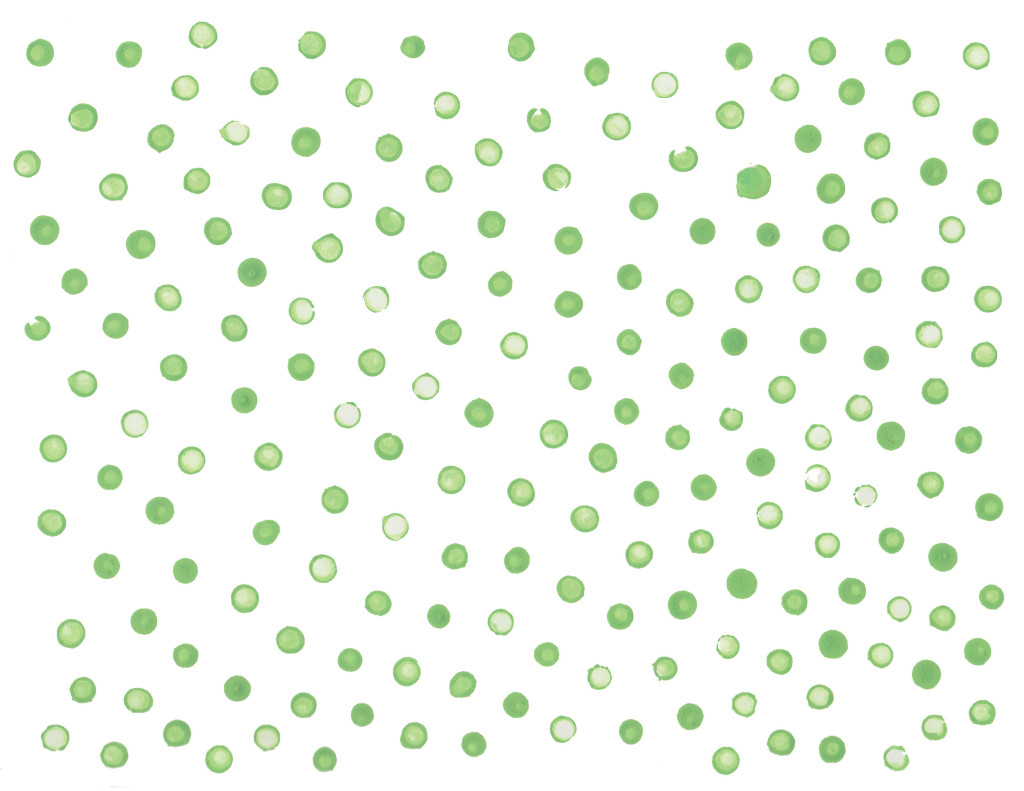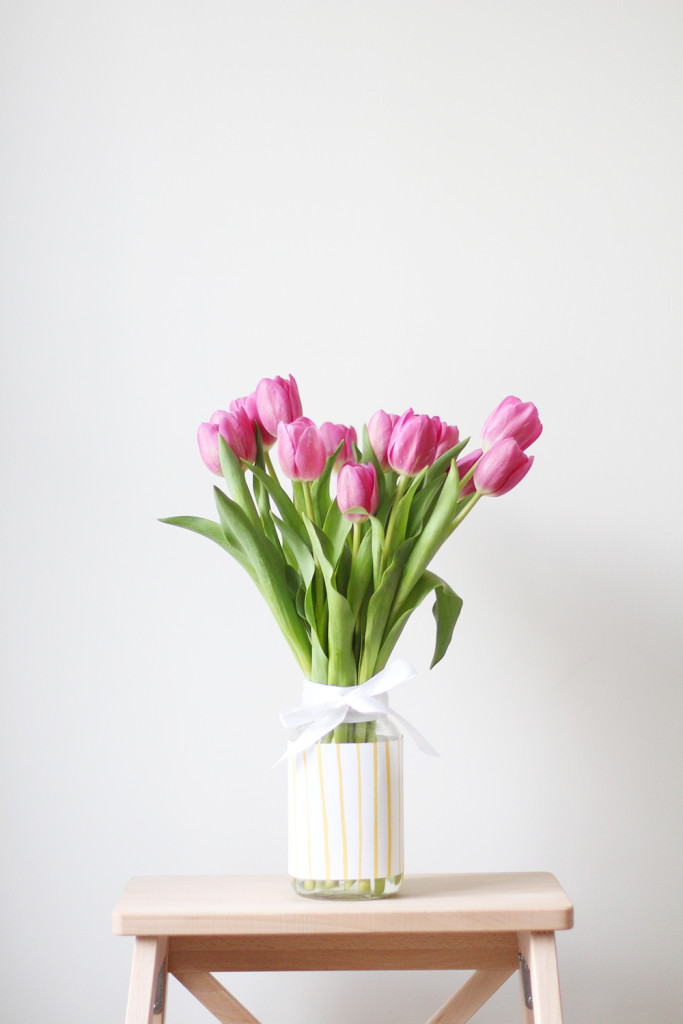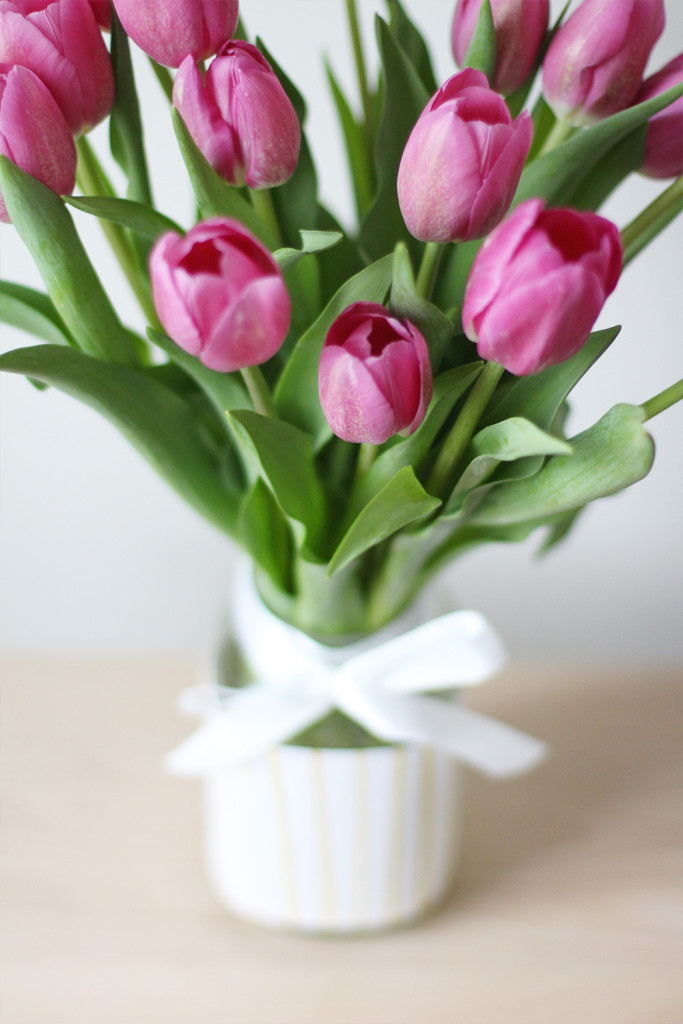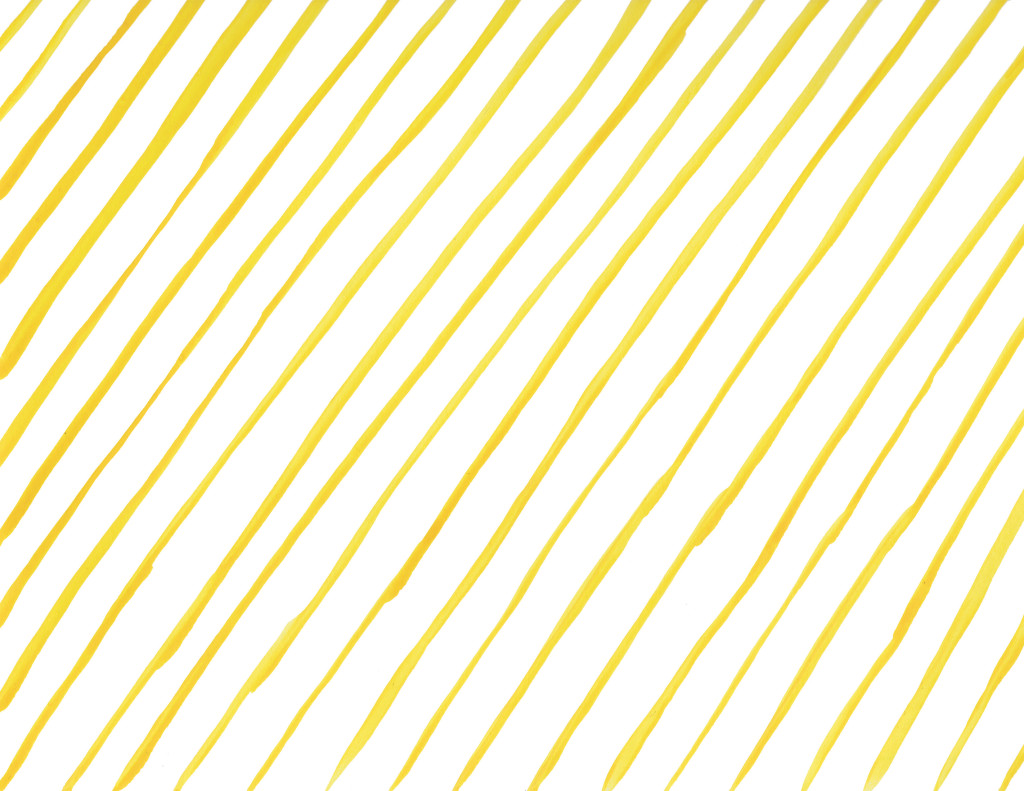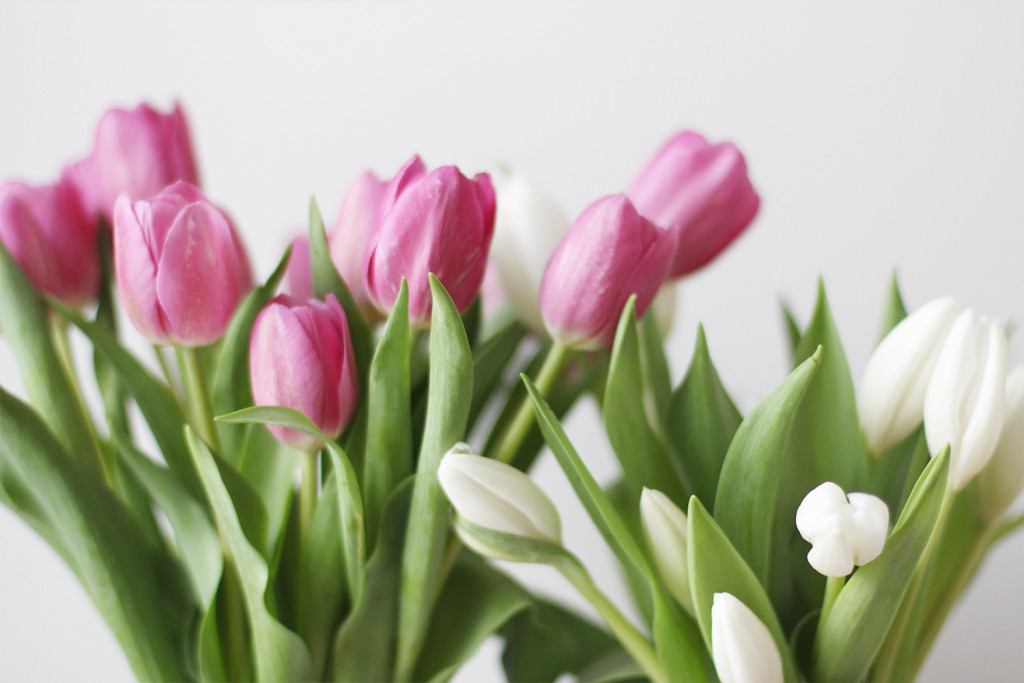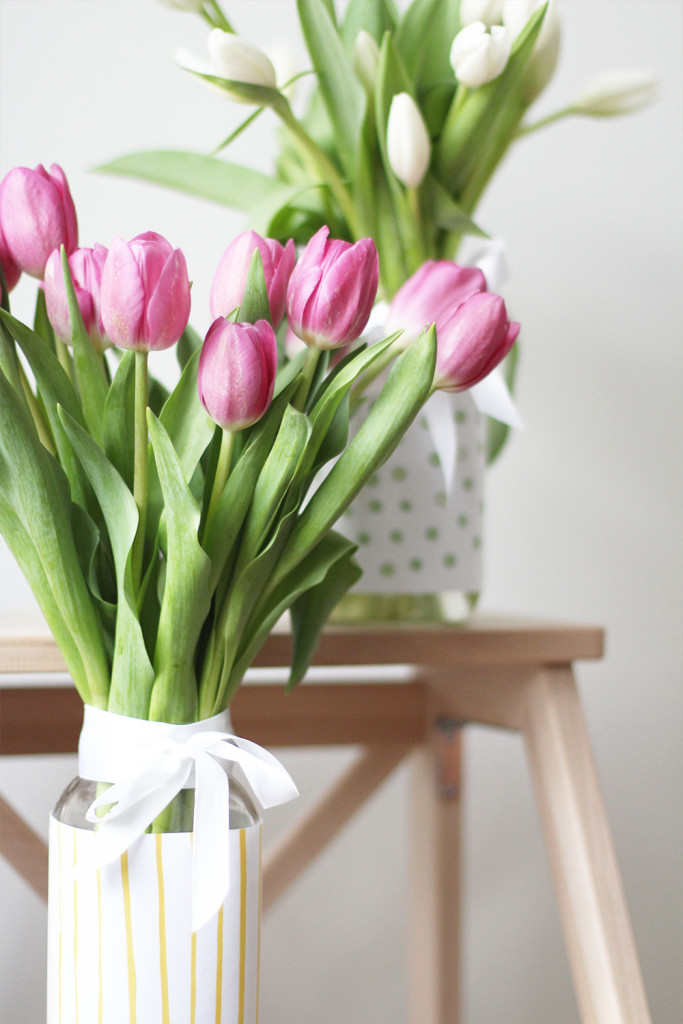 You'll Need:
1 Large Mason Jar (Quart size) | $ 1.35 when you buy a dozen here.
Approx. 2 ft of white ribbon | $ 3.99 for 3 yards here.
8.5 x 11 sheet of white paper to print pattern
Pattern – Download >>> YELLOW stripes || GREEN dots
Scissors to trim the paper (follow dotted lines on PDF)
Clear scotch tape to fasten paper onto jar.
Your choice of flowers | Currently in season: Tulips, Freesia, Lilies, Gerbera, Iris, Peony, Carnations, Snap Dragons.
---
Instructions
Assemble your supplies
Download the pattern of your choice YELLOW stripes || GREEN dots
Print it out.
Crop along the inside of dotted lines to make a long strip (ends will be pointed).
Trim the ends of your flower stems and place in jar.
Fill jar 3/4 full with fresh water. (Filtered water gives longest flower life)
Make sure the outside of the jar is completely dry.
Wrap patterned strip around mason jar belly and tape ends together at the back. (Tape the paper to the jar so it won't slide up or down)
Wrap the ribbon around the jar neck and tie into a big bow. Trim excess ribbon on an angle (prevents fraying).
Give the flowers to a lucky Mama in your life!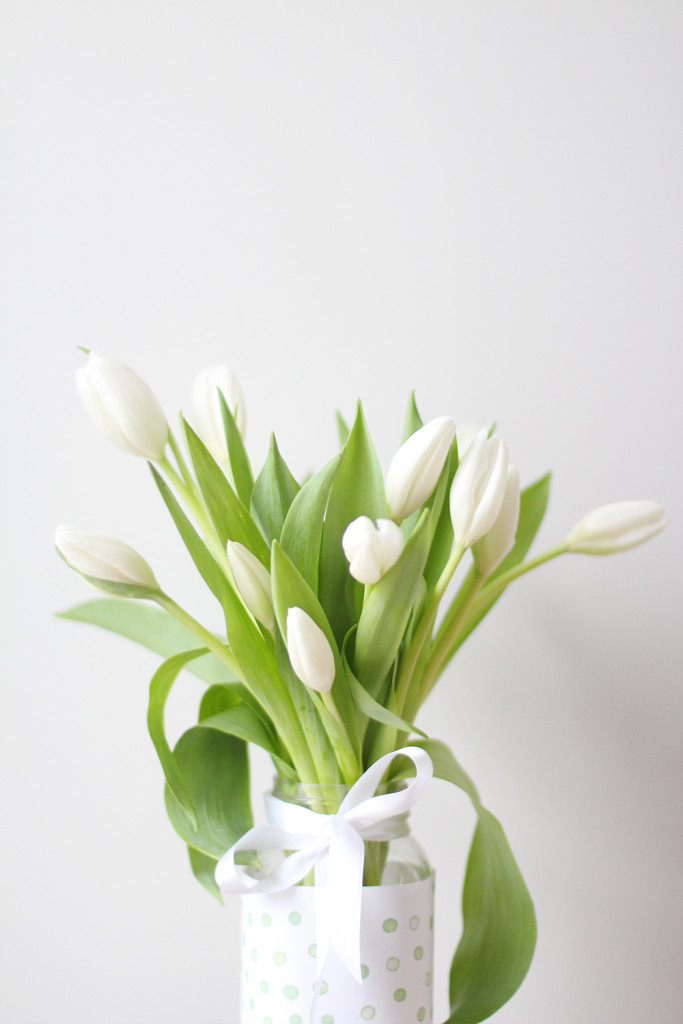 PSST Tomorrow we're back on track with look #7 from my 10 x 10 challenge.