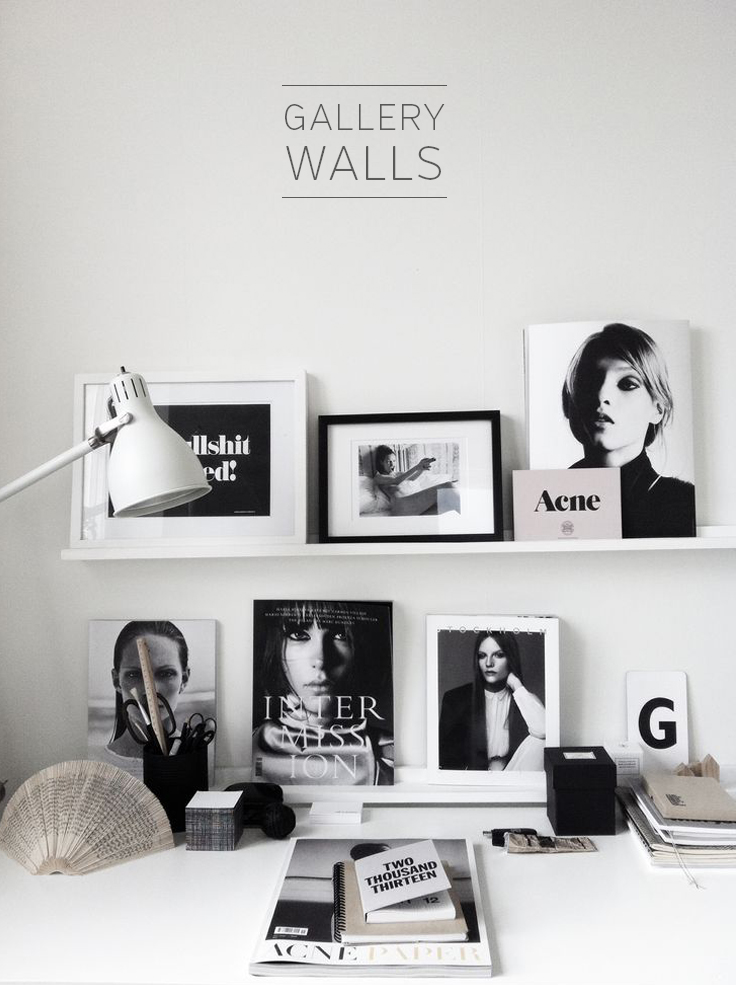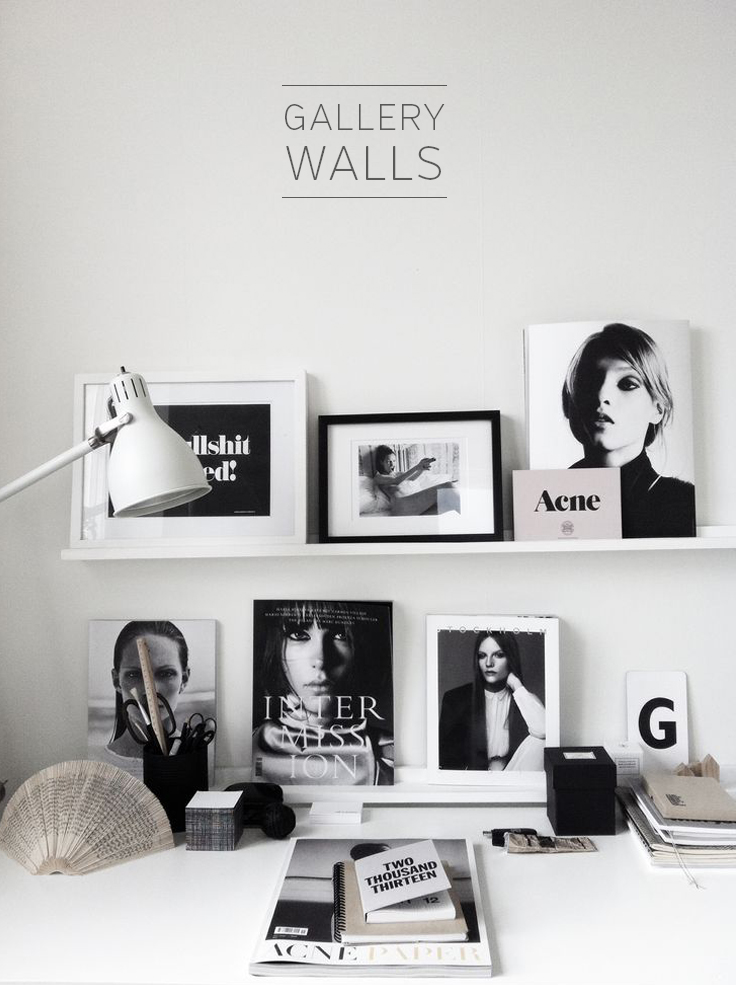 I'm working on putting the finishing touches on my home office and the last order of business is a big, white, empty wall space above my desk. I've imagined having a beautiful gallery wall above my computer for ages but now that it's time to execute I'm finding the task a bit daunting. So I did what any sane person would do when they don't know where to start on a project. I turned to Pinterest.
I've been collecting interior design images on my \\ Spaces // board for well over a year, so I'm definitely not short on inspiration. Once I started sifting through my faves it became clear that there are about 5 different approaches to creating a gallery wall. Now that I've got some better direction, I thought I'd pull together some great examples of the different gallery styles in case some of you are looking to create one yourself.
---
1  |  Layered
I was immediately drawn to this gallery approach. I love the impermanence of this style and the fact that you can adjust and revise your gallery as your taste and collection evolves. Ikea makes a great picture ledge for this very purpose. Since I have a few large scale items I'll probably only go for one ledge but the idea of two rows is appealing. I also like the layered look because you can add interest with a few small sculptures and overlap frames to create a sense of depth.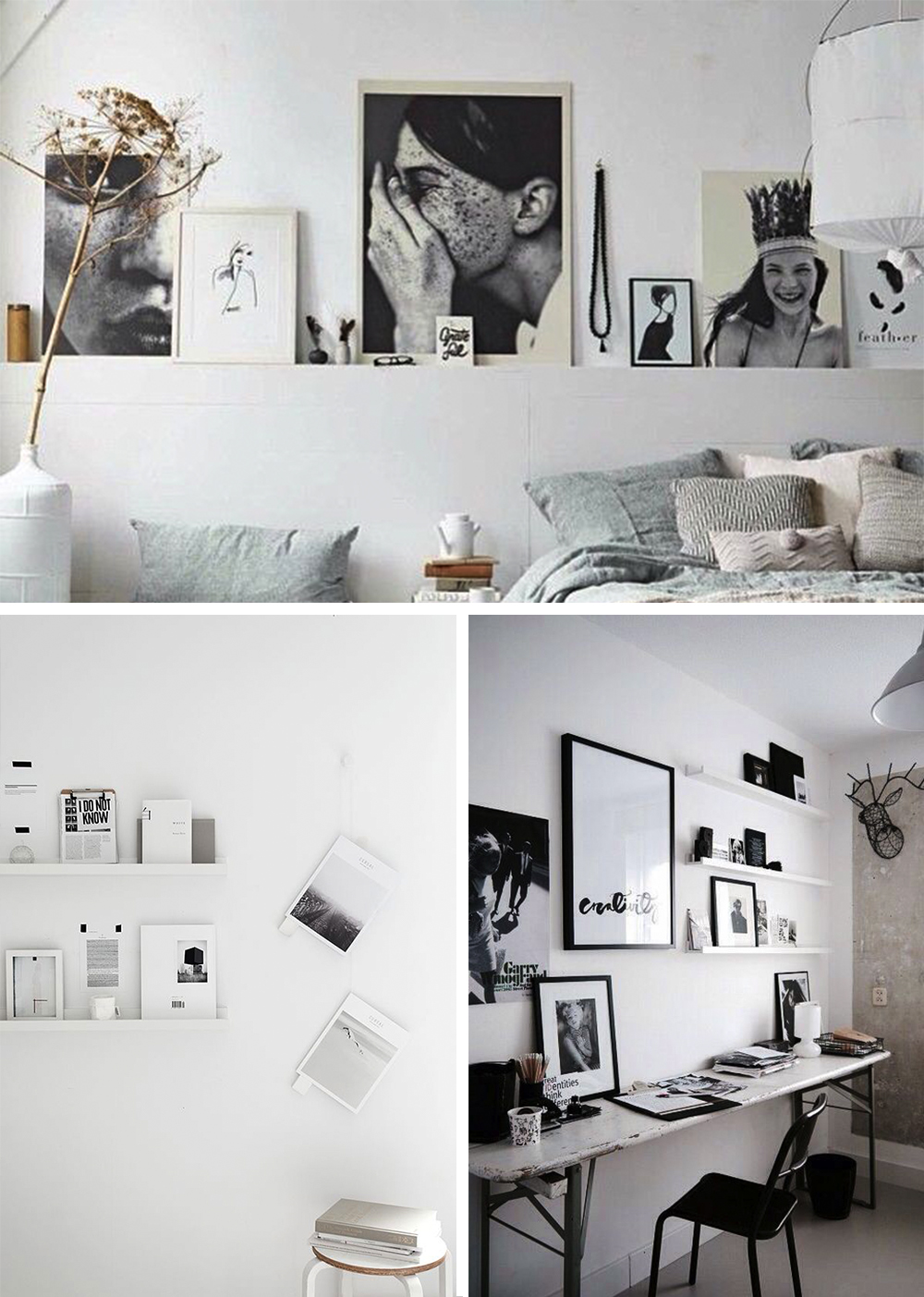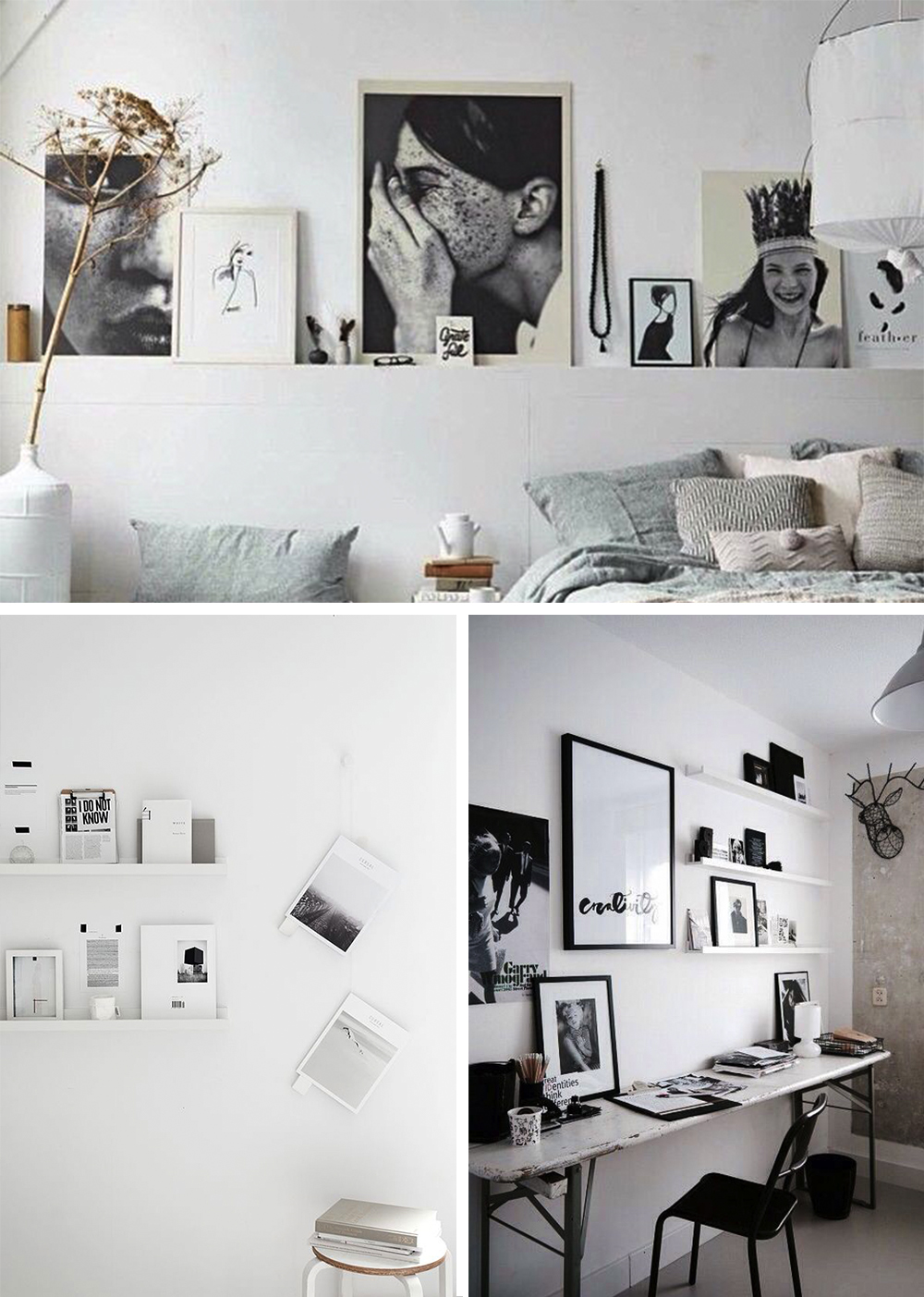 ---
2  |  Organic
This is not an easy style to pull off without it getting messy or awkward but these examples pull it off seamlessly. It's a great way to add artwork over time and build a collection organically without it looking too staged or contrived. I think the mix of frames and uneven spacing works because the artwork is monochromatic. I love that the result makes these spaces look inviting and lived in.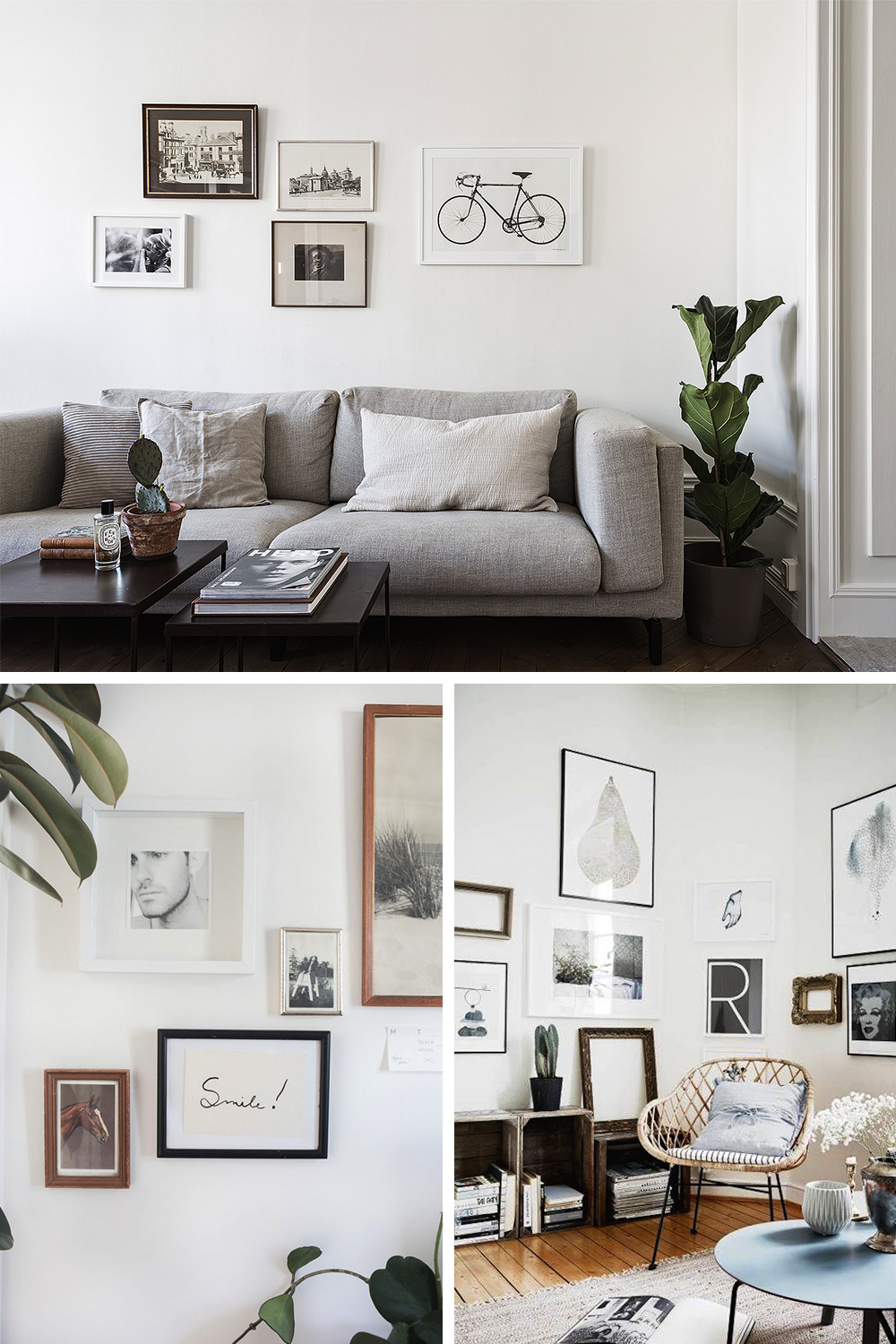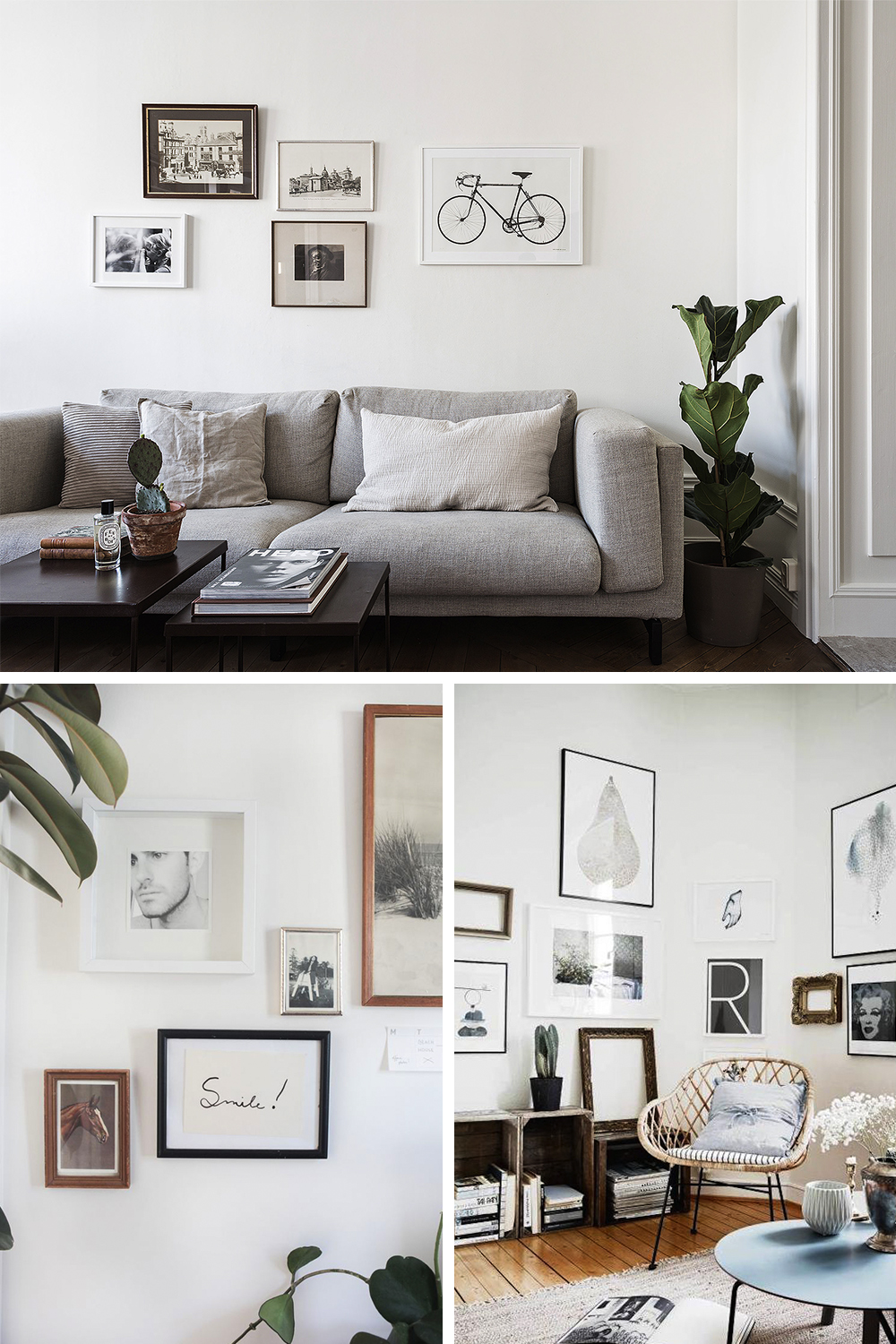 ---
3  |  3D
So these spaces are ridiculously stunning. I love the idea of mixing medias and adding an infusion of natural materials. A shelf or a pin board also makes the wall more functional. To me beautiful books, an old camera or a planter totally qualify as art and should be on display, not tucked in a drawer somewhere.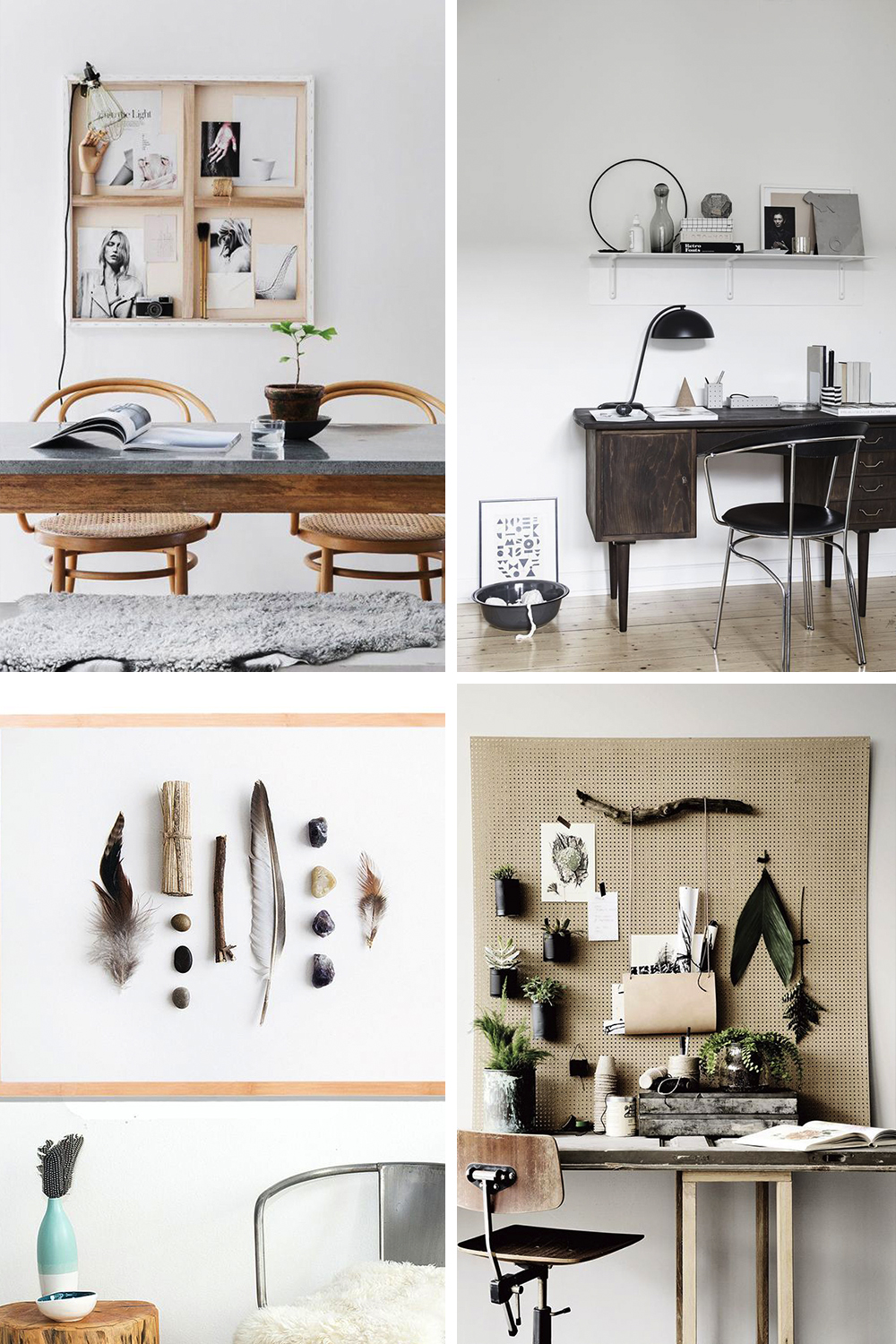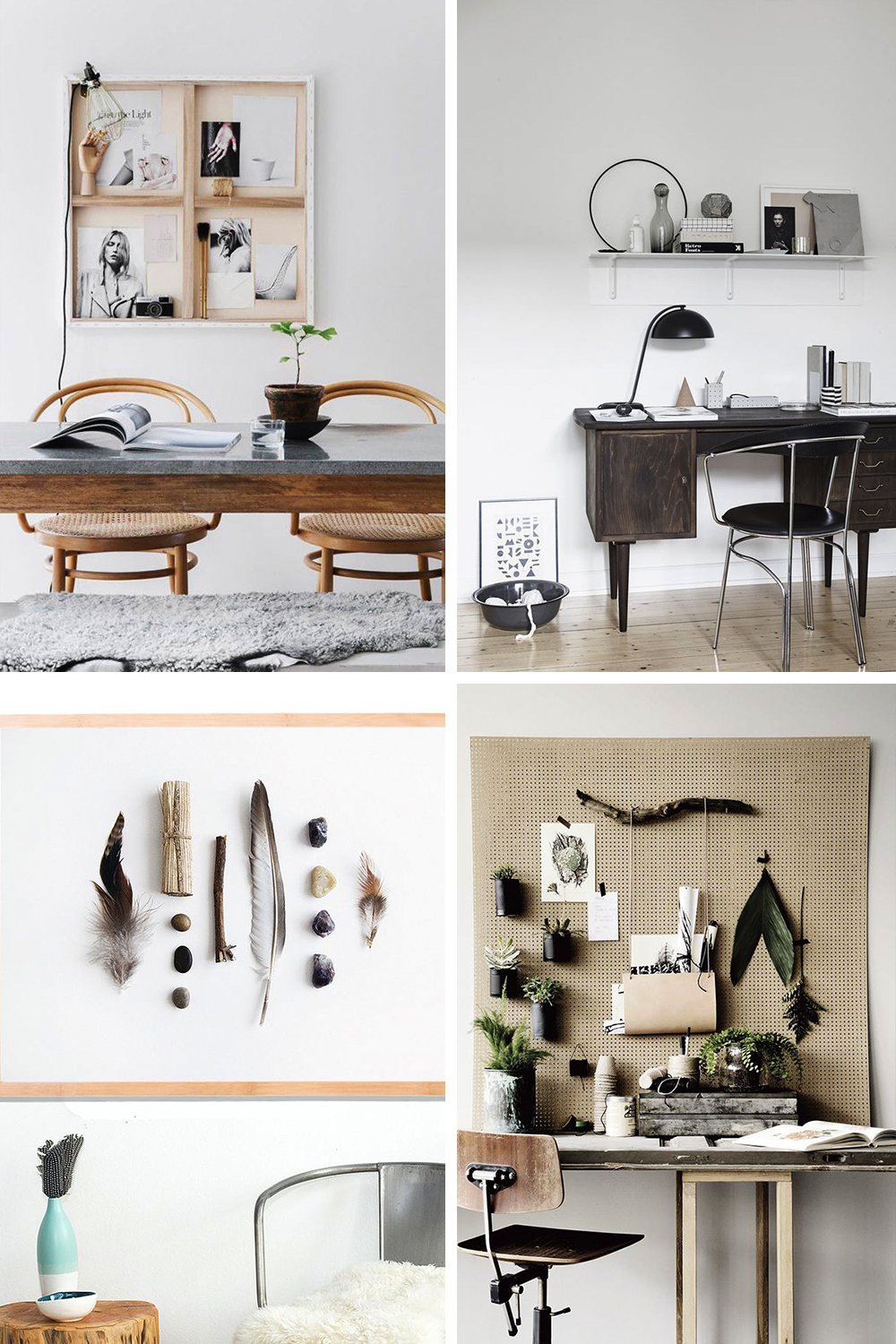 ---
4  |  Grid
The grid wall is an old gallery concept but it still makes for a very striking solution. I think it's important to be consistent with your frames and only alternate between two colours or styles. Maintaining continuity throughout your choices of art is important too so the wall doesn't end up looking jumbled and your eye doesn't bounce all over the place. This tutorial will help you plan out a grid wall so it ends up well spaced and perfected organized.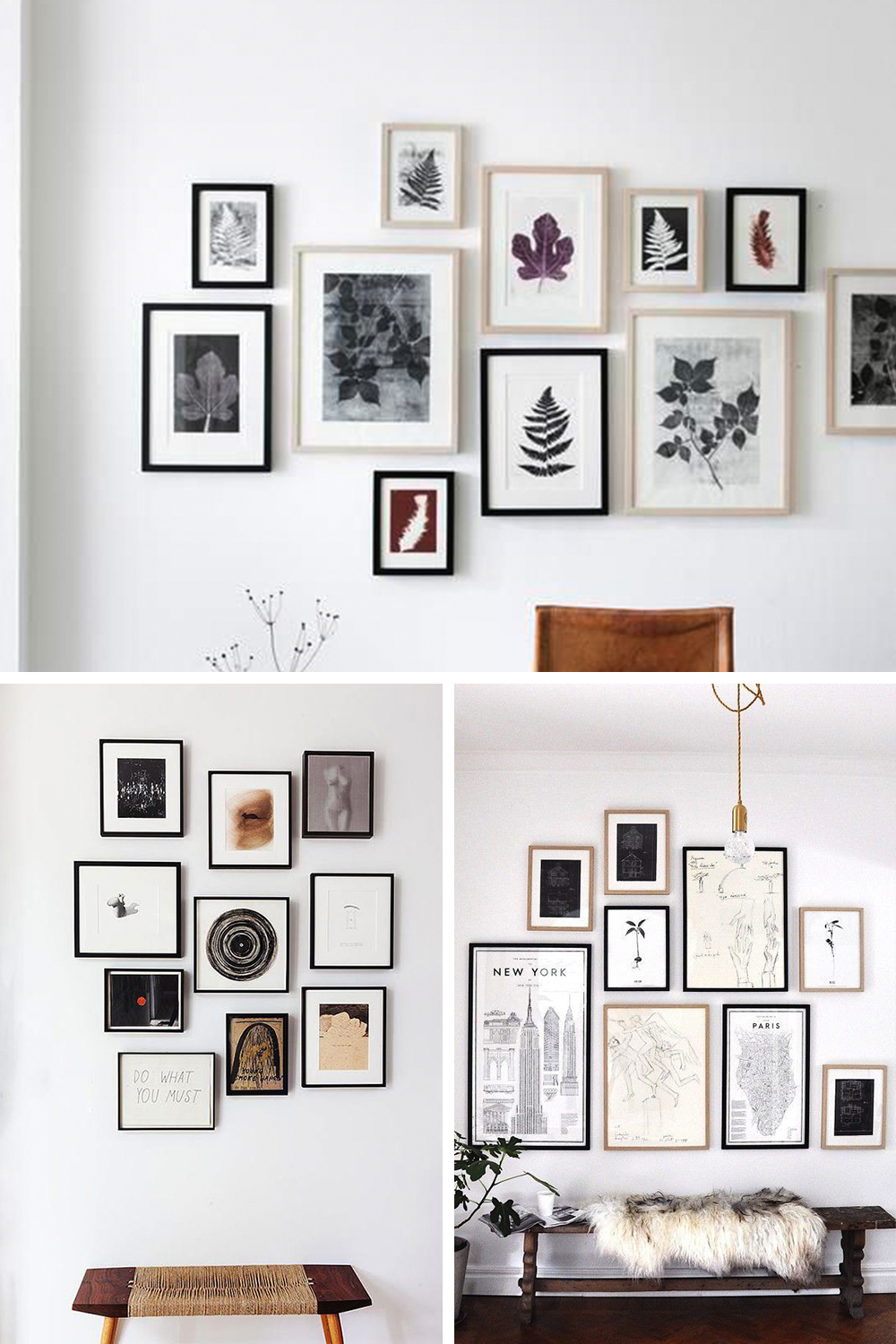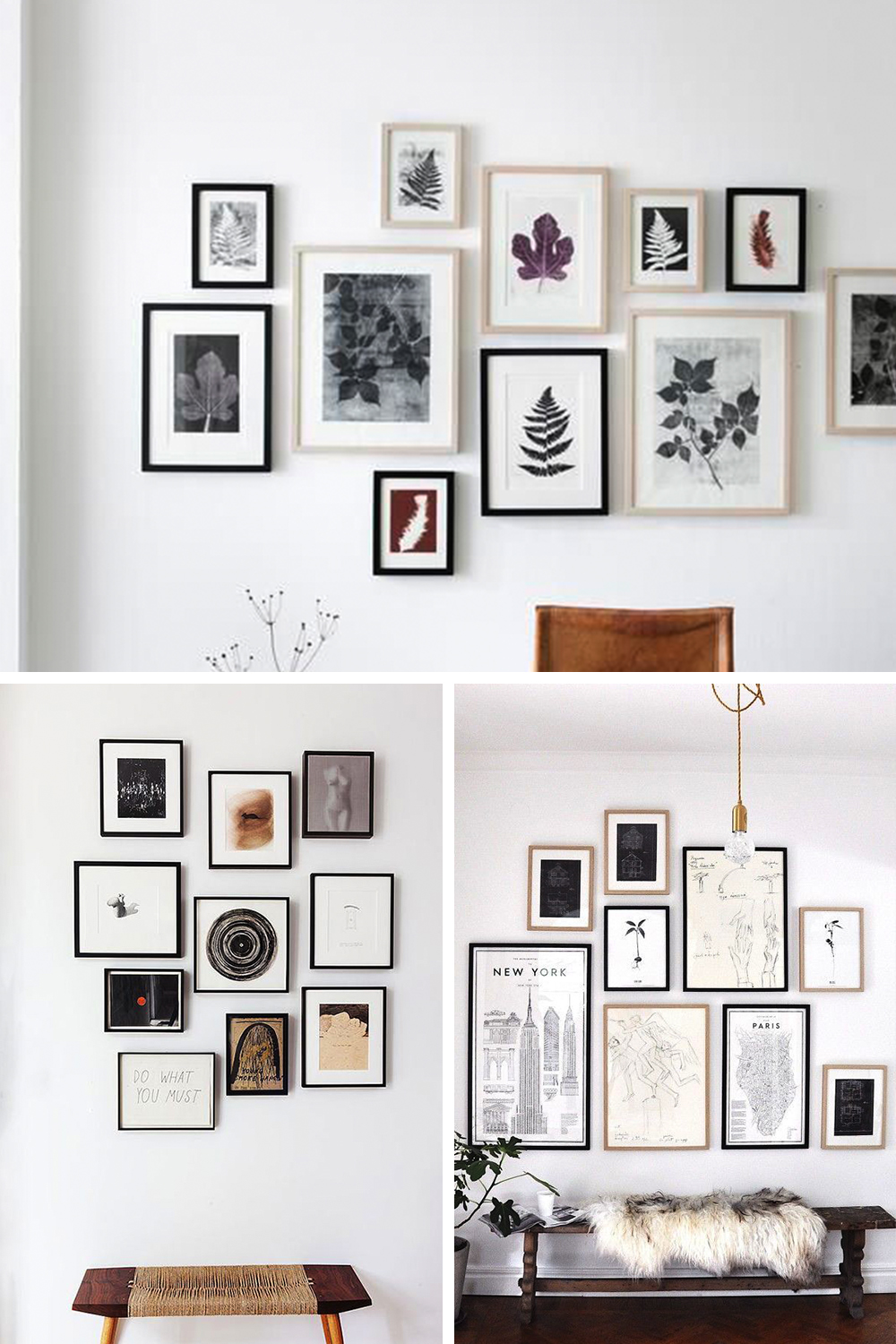 ---
5  |  Inspirational
This is a great option for anyone afraid to permanently aerate their wall or for those who aren't ready to commit to artwork entirely. It's also great for anyone decorating on a tight budget (framing is outrageously pricey!). With just a few strips of washi tape, suddenly your favourite magazine editorials or some decent sketches can become a beautiful focal point in a room. I love the idea of photocopying a cool shaped leaf to add some more personal vibes to the mix too.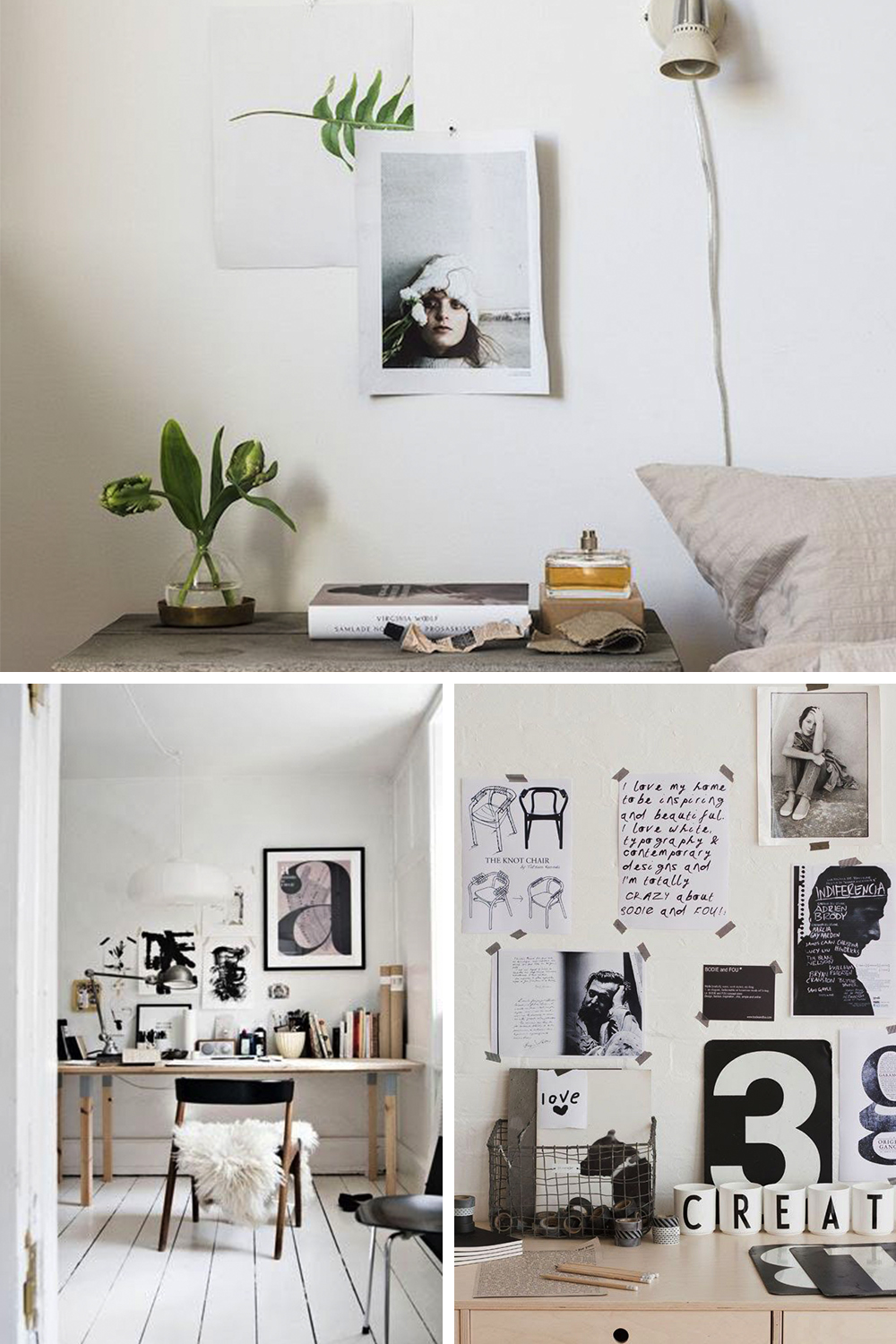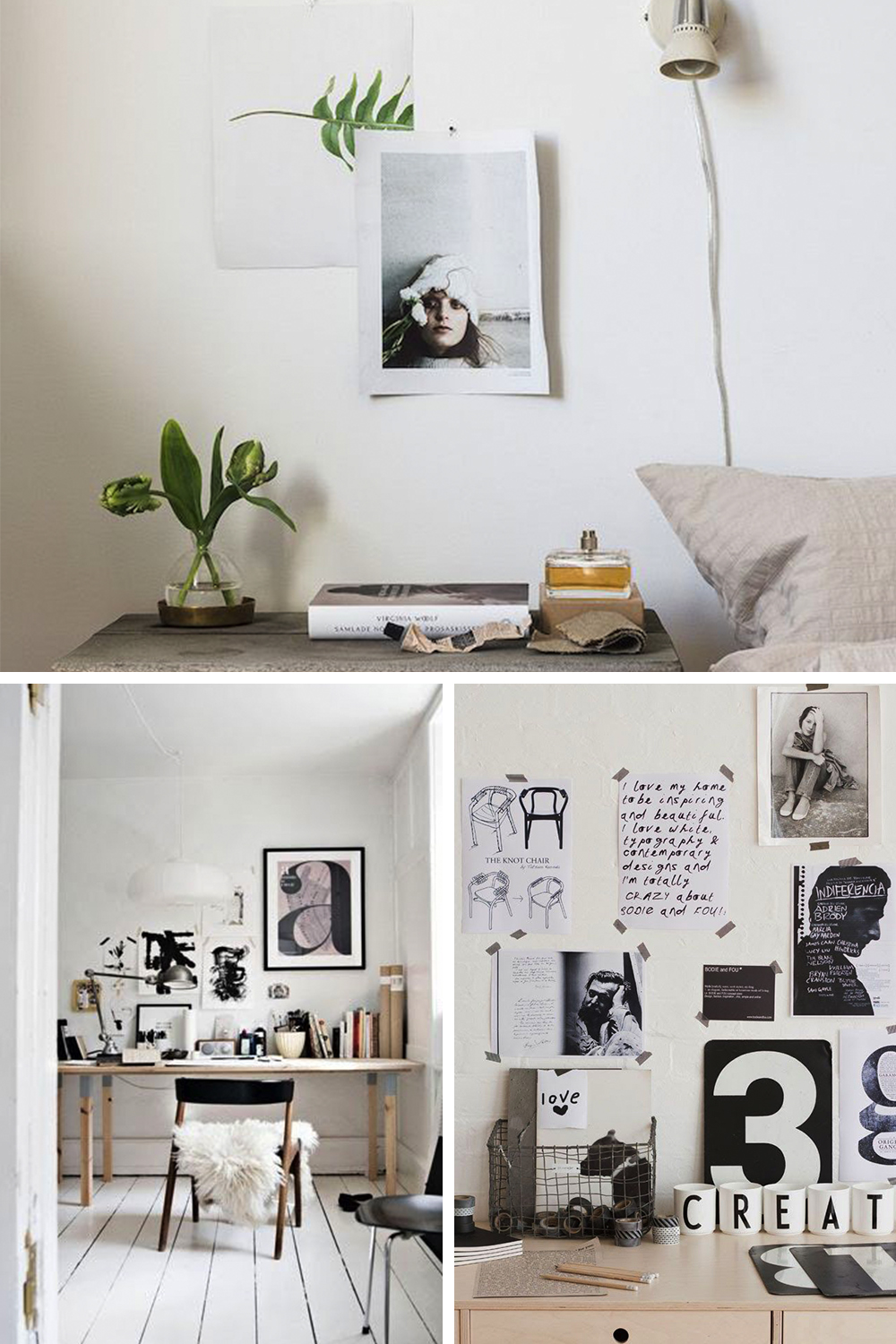 ---
If you've been considering a gallery wall or changing things up in your home I hope these ideas help. Just give me a couple more weeks and I'll be ready to share the final result of my home office/studio!