I think just about any style enthusiast will agree that one of the best things about Fall is the boots. Sweaters are great, coats are awesome too but boots, well, they have my whole heart, forever. Now, if someone were to call me a boot snob, I probably wouldn't be able to prove otherwise but I will say that I have yet to invest in a high-quality pair of boots and regret it. They are basically the Beyoncé of the modern closet in that they always look amazing, make you feel way cooler by association and only get better with age. So while I'm all for adhering to your budget restraints, I do think that if you can invest in anything this Fall, a great pair of timeless, chic boots is a very good call.
---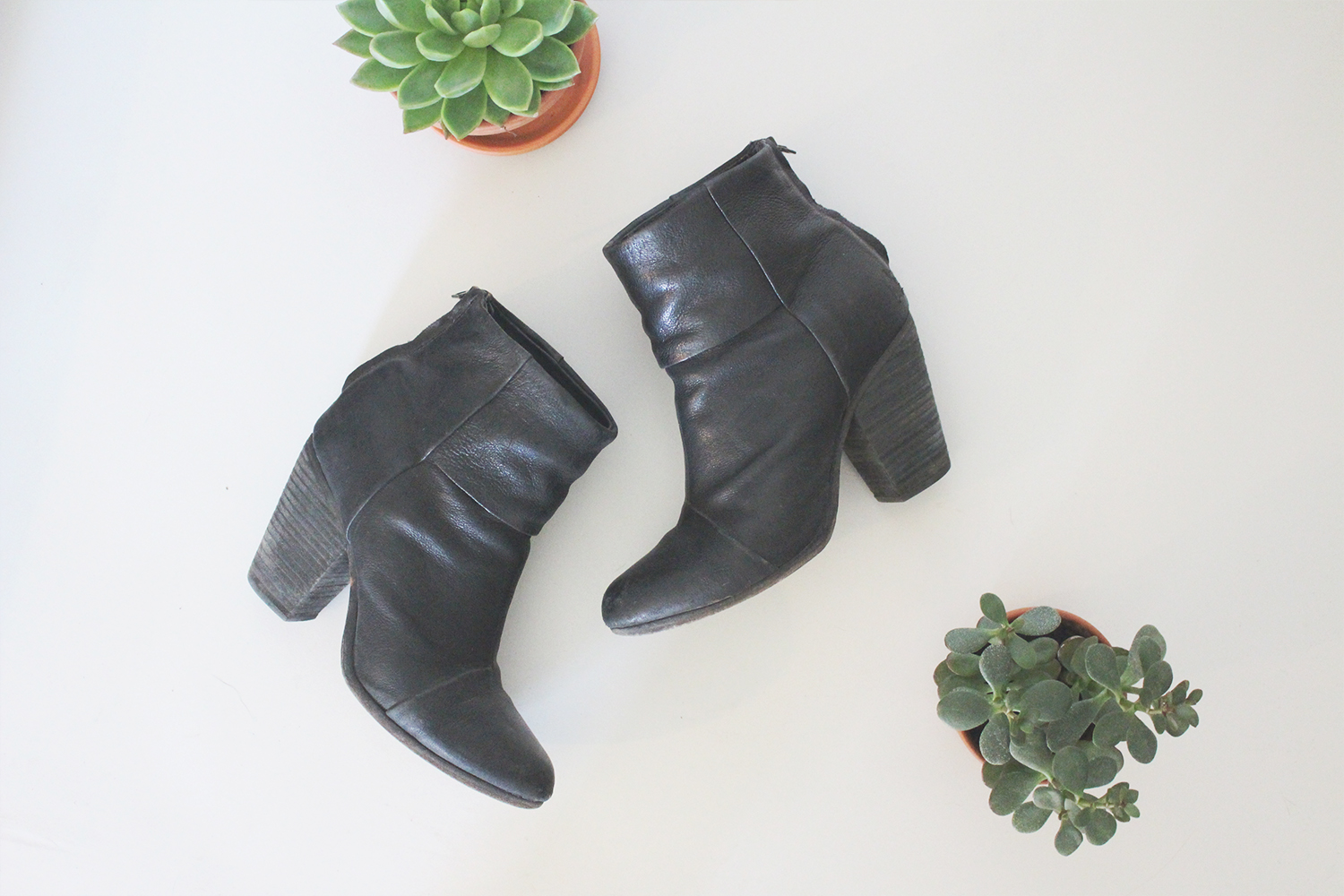 INVESTING IN GOOD BOOTS
Of course the term investment is very subjective in this category. Over the last 5+ years I've had success with boots in a wide range of prices but Canadian weather takes no prisoners, so good quality is a must! Regardless of your budget, here are a few things to look for when investing in a good pair of boots:
Where are they made? Italy is the reigning champ when it comes to handcrafted boots but the US, Portugal, France, Spain and Peru are also top contenders.
Leather Sole. This means the sole can be replaced so even if you wear them into the ground, they can be restored.
Minimal Hardware. This is more of a personal preference however I have found that the fewer studs, laces or zippers involved the better as these things can break sooner than you'd like.
A classic style. Forget the latest boot trend because it won't look nearly as cool next year. Instead go for a true timeless classic like a chelsea boot or a simple stacked heel ankle boot. See my top 10 picks below.
Try them on. This may seem obvious but I am an online shopping advocate. I've bought boots online that have been great but in this case it might be worthwhile to find the boot you're looking for in-store or somewhere with easy returns. Then you can ensure the fit is just right. Make sure you consider the socks you'll be wearing most often too!
---
10 TIMELESS FALL BOOTS 
In case you're in the market for some fancy new footwork, I've put together a selection of 10 great pairs that will stand the test of time and trends, while looking amazing every step of the way.

1. MARS boot by Rachel Comey. These boots have barely left my feet since I got them in August. They are life changingly good and worth every cent! Canada | Global
2. PISTOL boot by Acne Studies. These are so well made and durable. I even neglected them a bit and wore them all the time last winter and they still look like new.  Canada | Global
3. NEWBURY boot by Rag & Bone. My first pair of true designer boots. I bought them on a trip to NYC and at the time they were still made in the US. They are so comfortable it's crazy! Canada | Global
---

---
4. FLAT CHELSEA BOOT. I don't personally own any Chelsea boots but I'd be looking into these for sure: Joie | Acne Studios | J.Crew (shown) | Madewell Nico (on sale) | Coclico 
5. HEELED CHELSEA BOOT. Same goes for these: All Saints | Rag & Bone | Rachel Comey | Vince (shown)
---

---
6. SLIM ANKLE BOOTIES. I have and love the Sam Edelman Petty Boot but would also consider: Rag and Bone | Joie Barlow Boot | Madewell Cait Bootie | Coclico Whit Bootie
---

---
7. BILLIE BOOT. I love my Billie boots, although they've started to show their age. They're great for a first foray into ankle boots to see if the style is really going to jive with you. Madewell
8. HUNTER RAIN BOOT. Whenever the weather gets weird these guys save the day. The classic and the refined version.
---

---
9. CLASSICS WITH CHARACTER. I swooned over the Anine Bing Charlie Studded boot for a good year and they are still some of my all-time faves. Freda Salvador makes an awesome black boot with optional fringe and studded goodness. I am also smitten with these pointed to beauties from Acne Studios, that silver toe detail makes all the difference!
---

---
10. TALL BOOT. I gave up my tall boots after a few years of use and have yet to replace them. Loving the look of these ones though: J.Crew (shown) | Vince Dempsey | Stuart Weitzman | Emerson Fry (so good!)
---

---
CARING FOR BOOTS
Once you've got some great boots in your closet it's important to make them last. I get asked all the time about how I care for my shoes because I've had the majority of my collection for a long time (4 yrs +). I have no secret methods, just consistency and a few products that work really well. So here are my official boots care tips:
Protect. Before you ever set foot outdoors in your boots, be sure you've protected them really well. I use this water + stain protector and spray my boots every few wears during the A/W seasons. This protector is great for suede. When the weather is really rainy or snowy I don't dare wear anything leather.
Clean. If my boots get dirty I clean them with water and Lexol leather cleaner. If they're suede I use a brush or block to sweep off any dirt.
Condition. Scuffs and scratches happen but I find if I thoroughly condition the leather it will repair itself well. I also use suede renew for any suede shoes.
Repair. If the scuffs are persistent find a shoe polish in the right colour, apply it (according to instructions), buff with a cloth and it should be just like new! If the damage is more significant take the shoes to your nearest shoe specialist and they should be able to help. I've had a lot of luck with my guy here in Guelph.
Store them safely. Nice boots often come with a cloth bag to store them in and keep the dust off. Alternatively you can wrap them in and old t-shirt or dishtowel. In the off season I stuff them with paper towel to keep the shape and never pile them on top of each other, I learned the hard way when a beautiful pair of suede knee high boots ended up mangled (#notawesome).
---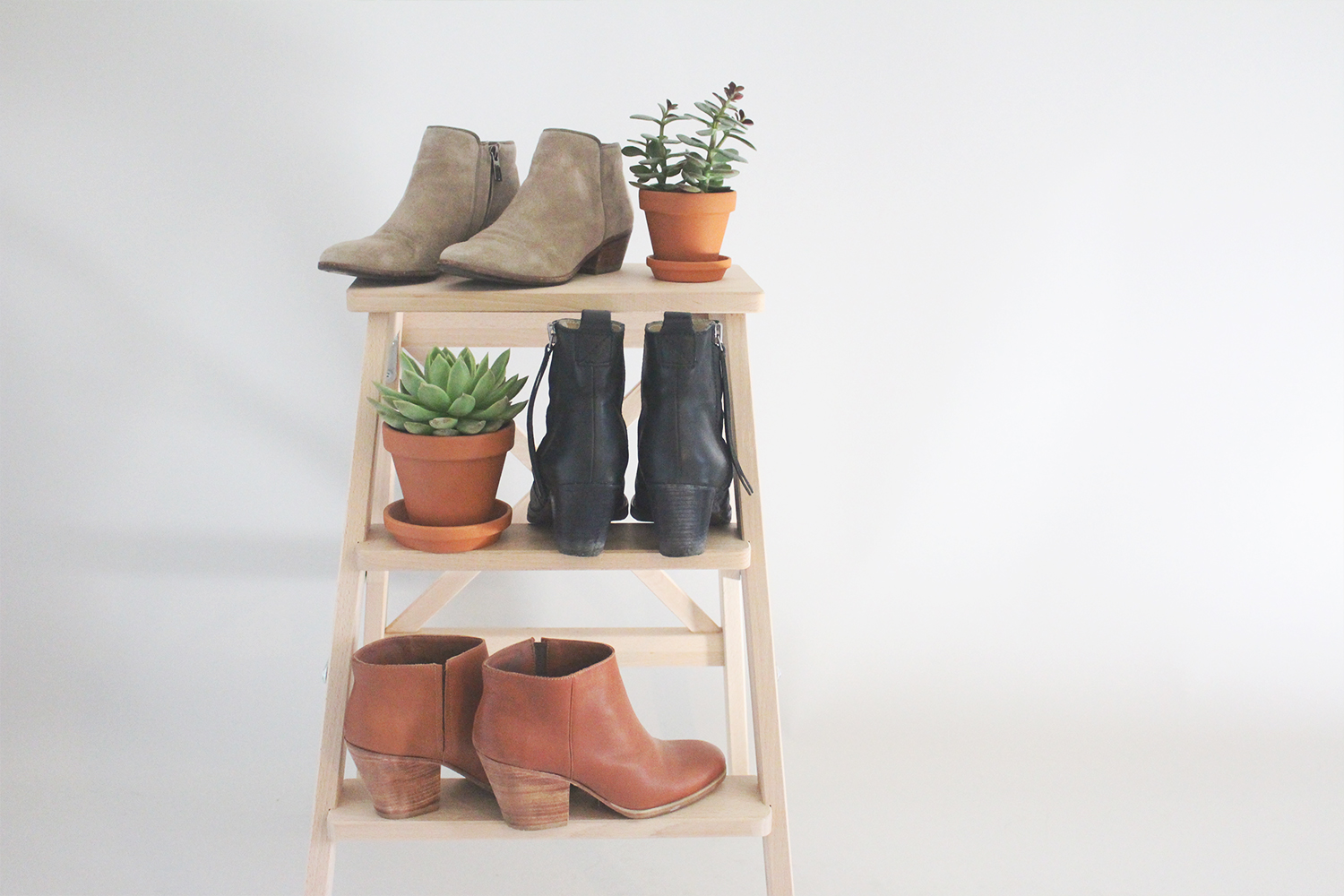 Do you have a favourite pair of Fall boots or any techniques to keep them looking great? Do tell!