To be totally honest, I'm glad to see the back of November. It felt like a month of deadlines, emails and just generally frazzled vibes. But instead of wishing November had been different I'm going to look forward to December and all the good times it has in store.
You know how Einstein said, 'Insanity is doing the same thing over and over again and expecting different results.'? Well, I don't want to go insane, but I sort of have been doing the same thing over and over while expecting a different result. I say yes to too many things and then I feel paralyzed by obligations and commitments I've gotten myself into. So instead of doing that again, I'm actively trying to slow things down for the month of December. The blog will take more of a back seat for a bit (as will social media) and I'll spend the next few weeks getting my brain and my to-do list under control. My ultimate goal is to be able to welcome 2016 with renewed energy and enthusiasm for creative projects and concrete plans for this blog and it's future. But not to worry, there are a few great posts in the pipeline and I'm already feeling the weight lifting!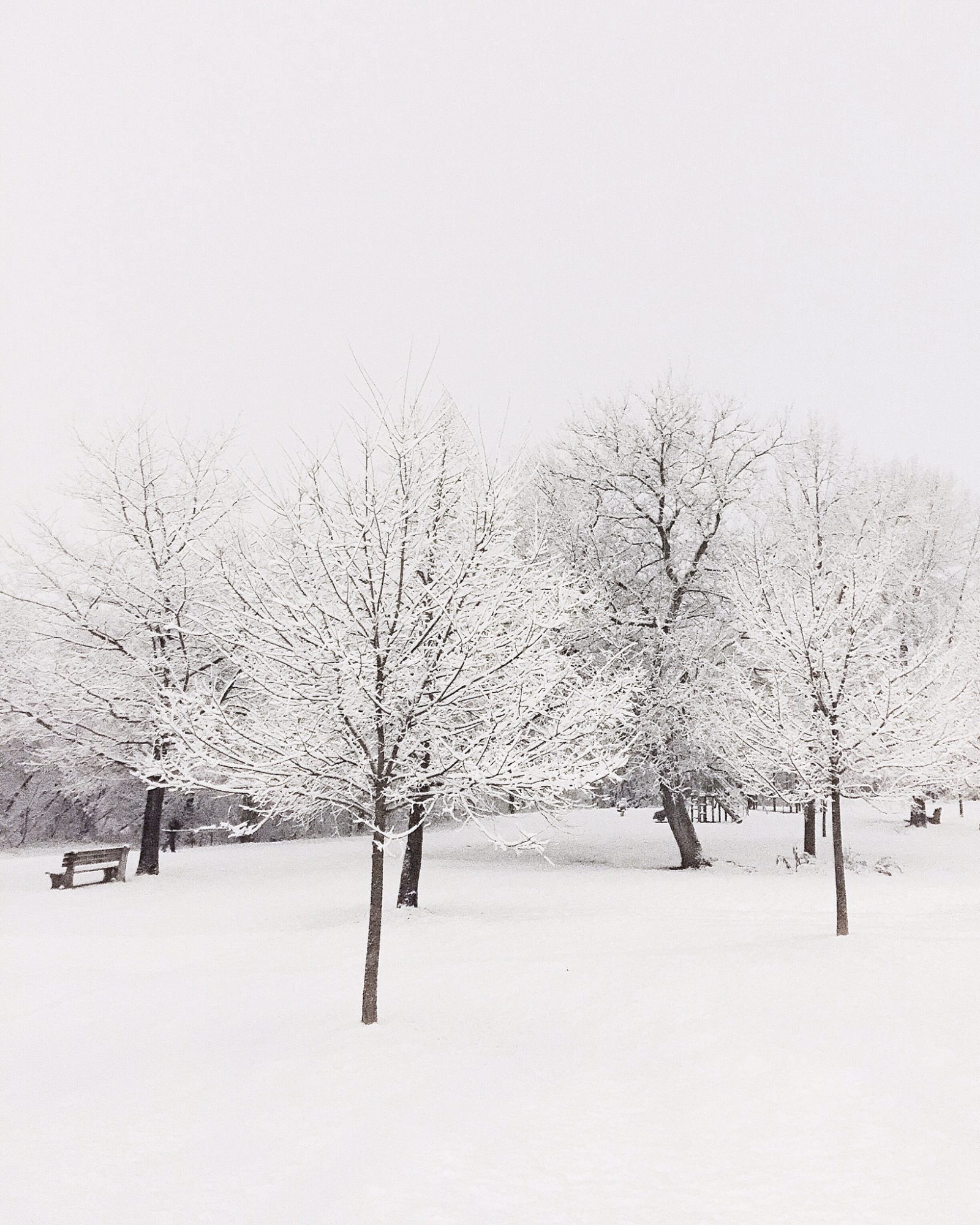 ---
CREATIVE NOOK
Speaking of goals and the future, one of my biggest ones for 2016 is to learn how to sew, really well. I've had a beautiful machine for a couple years now but I haven't had the time or space to use it. I've since decided to stop making excuses and dig in. So I'm setting up a little corner of my studio with a desk and some shelves to serve as my sewing nook. The shot below is what it looks like now (at least when I've cleared out empty boxes and random clutter) but I'll be putting this desk in place and using this image for some shelving inspiration. Do you have any skills you've been eager to learn or improve on? Do tell!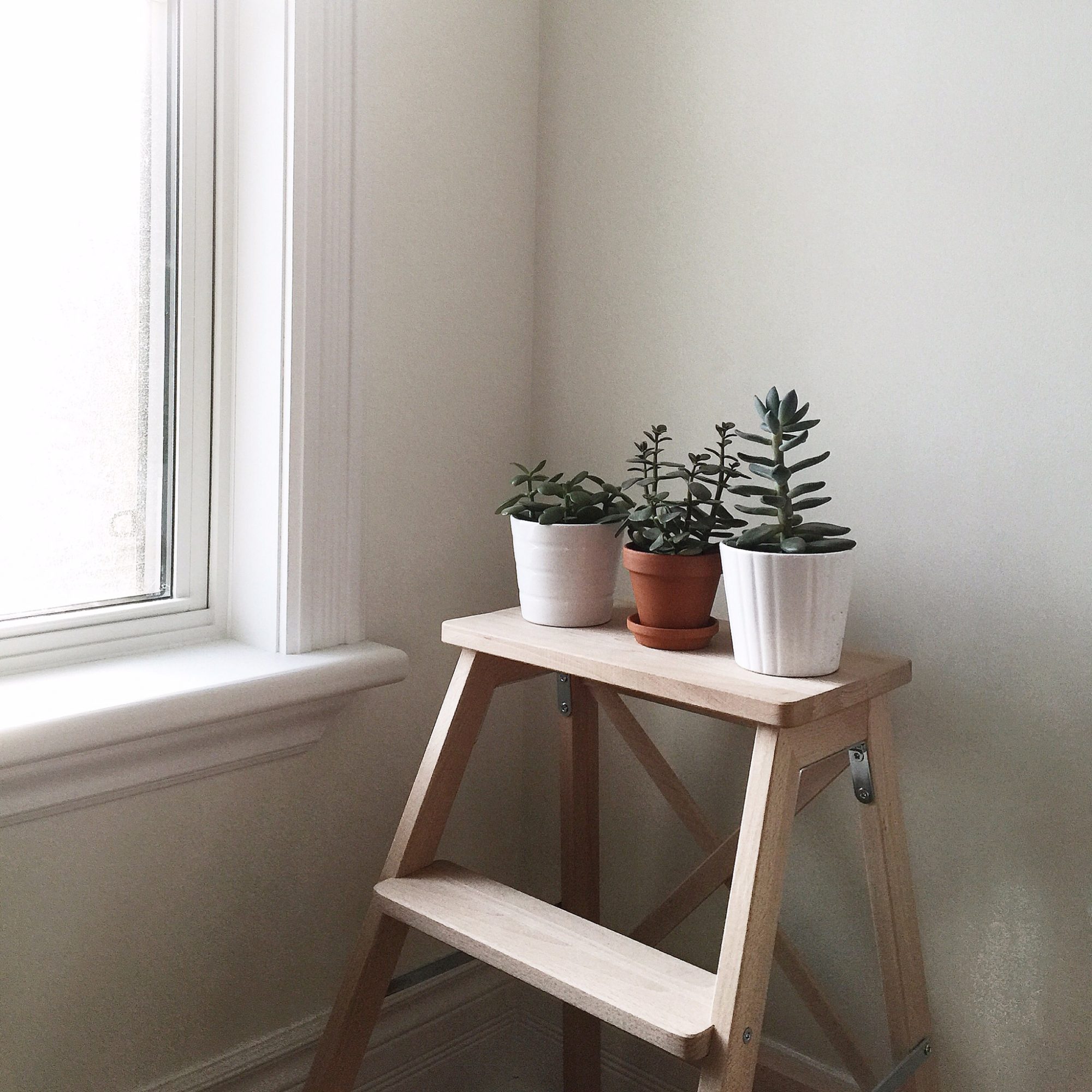 ---
CERAMICS
This Fall I took a wheel throwing and hand building pottery course and I loved it! It was so great to get away from my desk, learn a new skill and have a chance to be creative in a whole new way. I was actually quite amazed by just how many pieces I managed to make in the 10 weeks I was taking the course, and even more amazed that a few of them were not complete failures! I've gained a whole new respect for ceramic artists and the work they do. It's an incredible skill and actually requires a lot more physical input and time than I'd anticipated. A few of my go-tos for inspiration are Arrow + Sage, Helen Levi, Speck and Stone and Jenny Rijke but there are many more!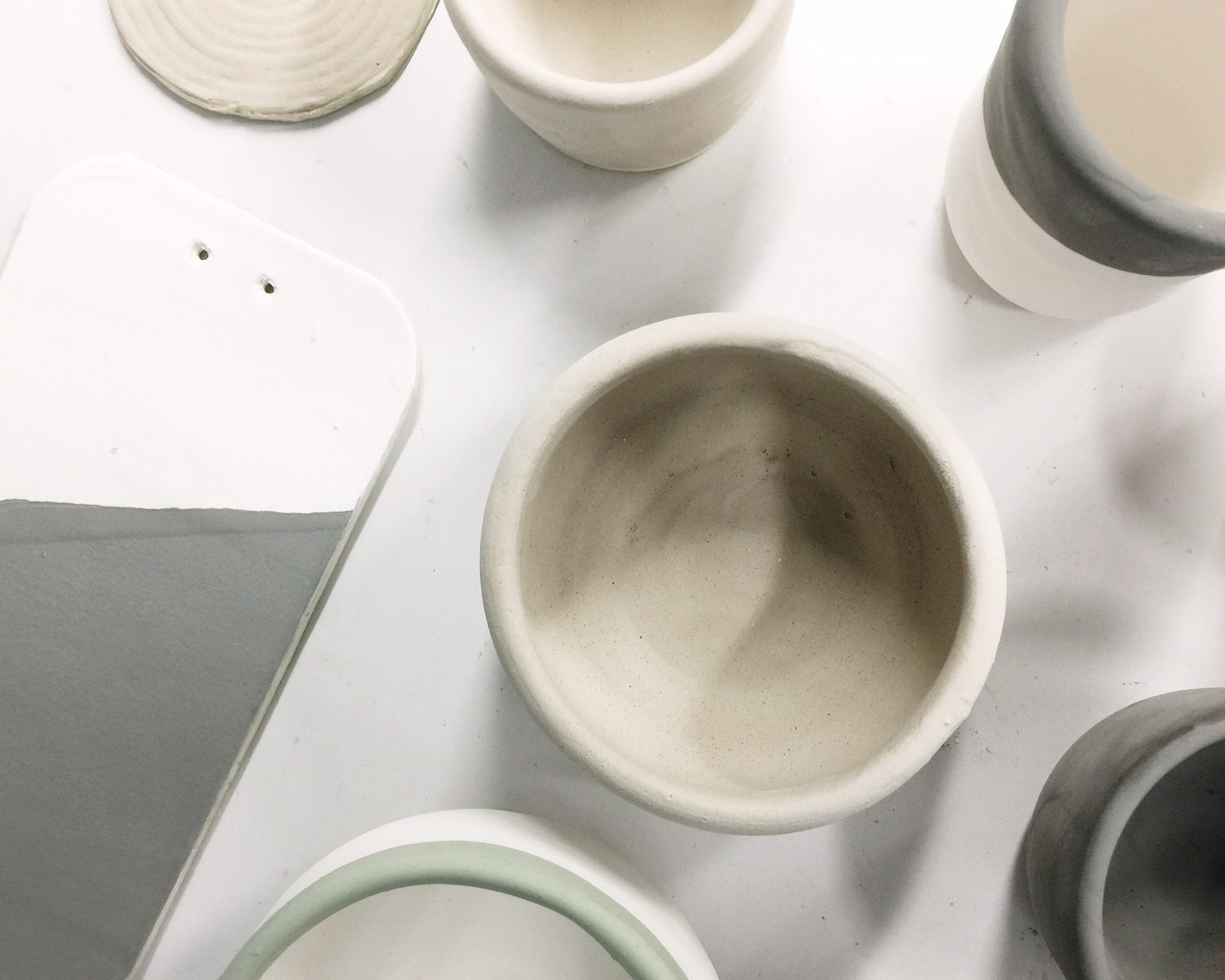 The photo above shows some of my final pieces after glazing and before the final firing. Below are a set of nesting bowls and a set of 3 vessels I made. To be fair the 'nesting bowls' were a happy accident and the 3 vessels were originally supposed to be the same sizes, ha! But I'll definitely take what I can get as a newbie. I'm hoping to take the course again in the spring and really improve on my technique on the wheel.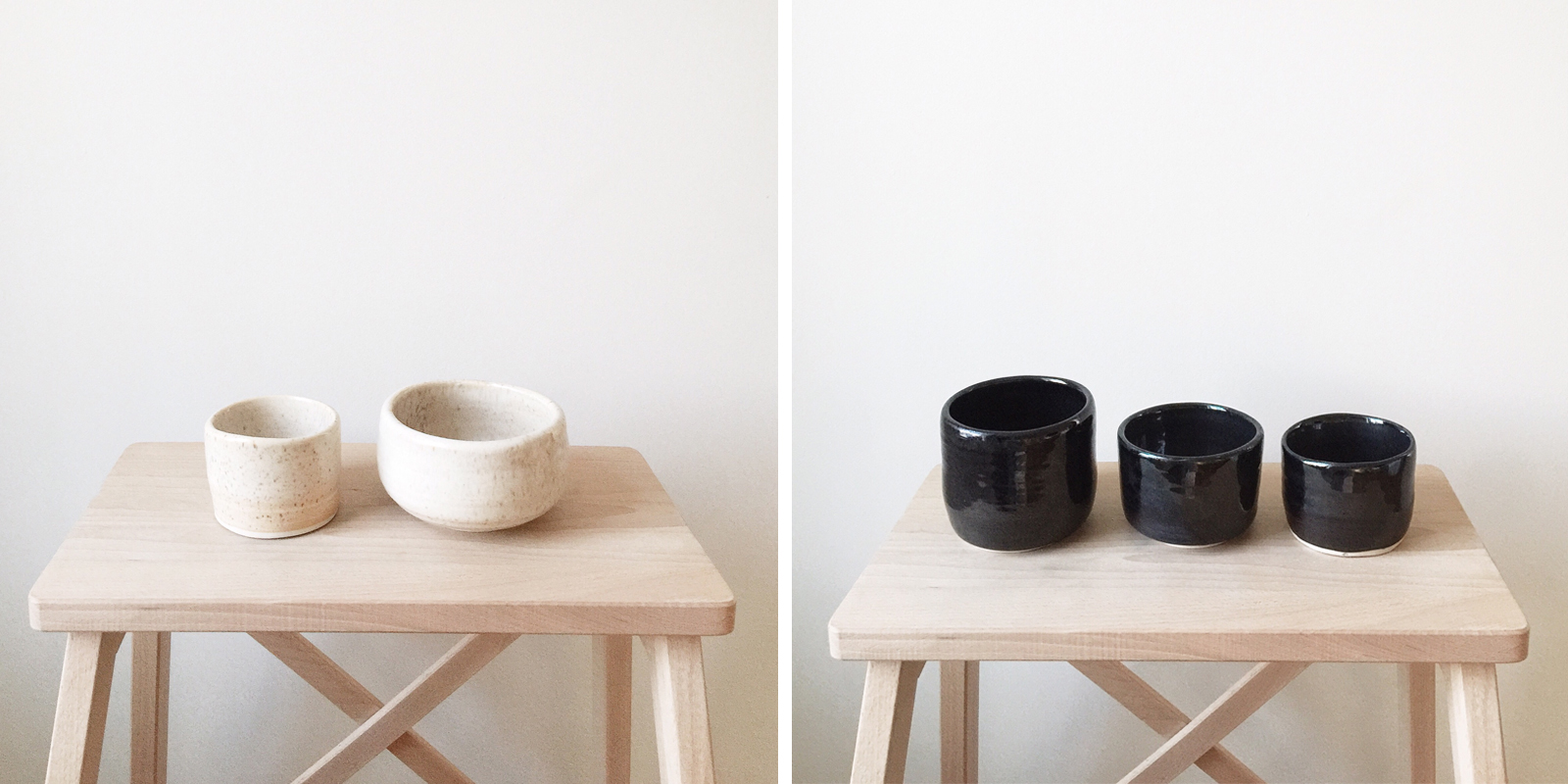 ---
BATHROOM
We finished our bathroom renovations about a year ago now and I'm just finally pulling it all together. It took me forever to find a set of organic cotton Turkish towels that I wanted but I finally did and I love them! They were super reasonable ($20!) arrived in a flash and they look and feel fabulous. Shop them here. I'm just waiting on a couple more small items to polish off the space and then I'll share the full reveal.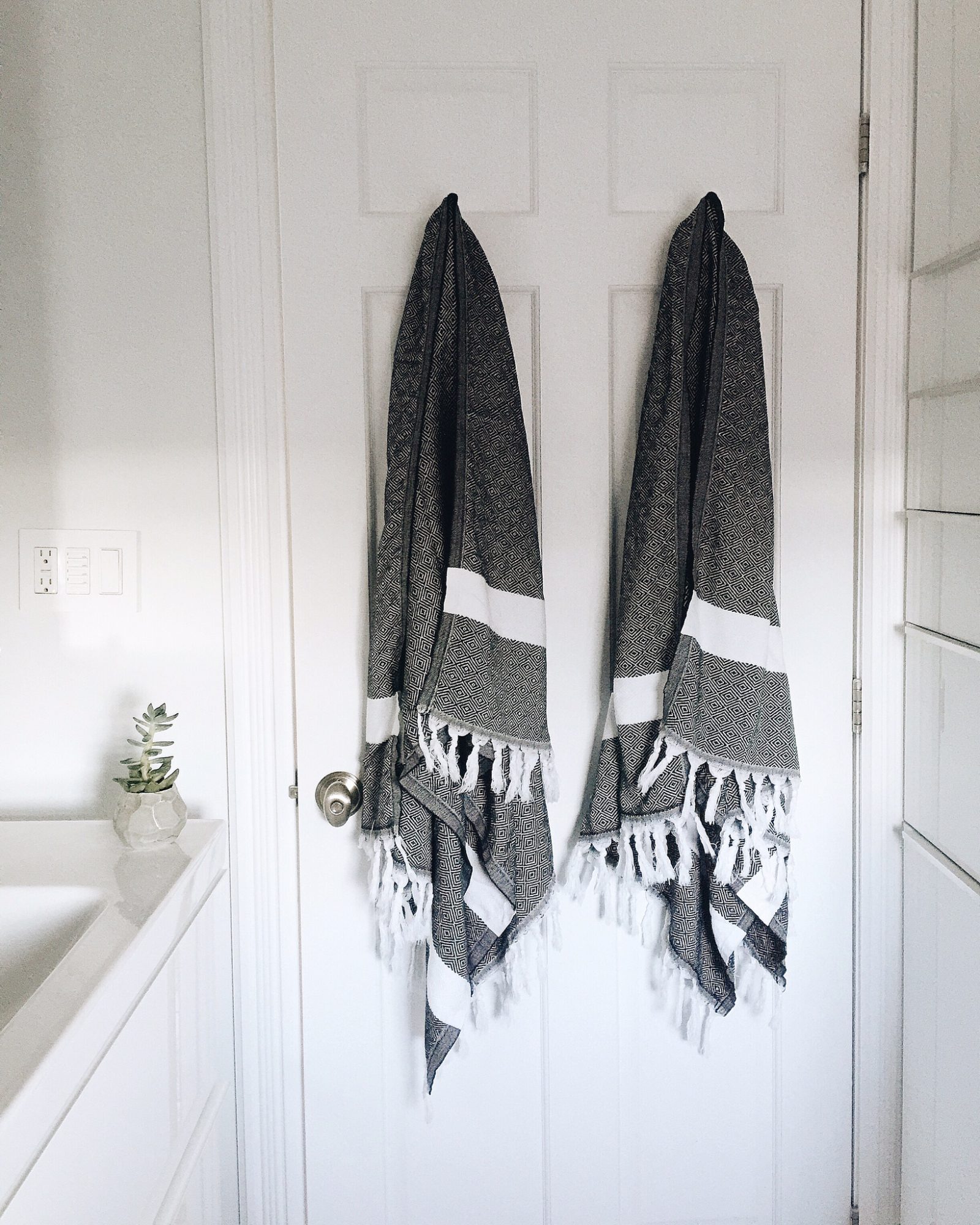 I'm a graphic designer at heart (and at work) so packaging has a very visceral effect on me. Seeing a mish mash of labels and bottles scattered all over the shower is downright agonizing! After I saw this DIY on one of my favourite blogs Almost Makes Perfect I knew I had to do something about it. Fast forward 8 months and I finally did! I ordered the bottles here and the letters here. Total cost was well under $50 and so worth it to calm my clutter OCD.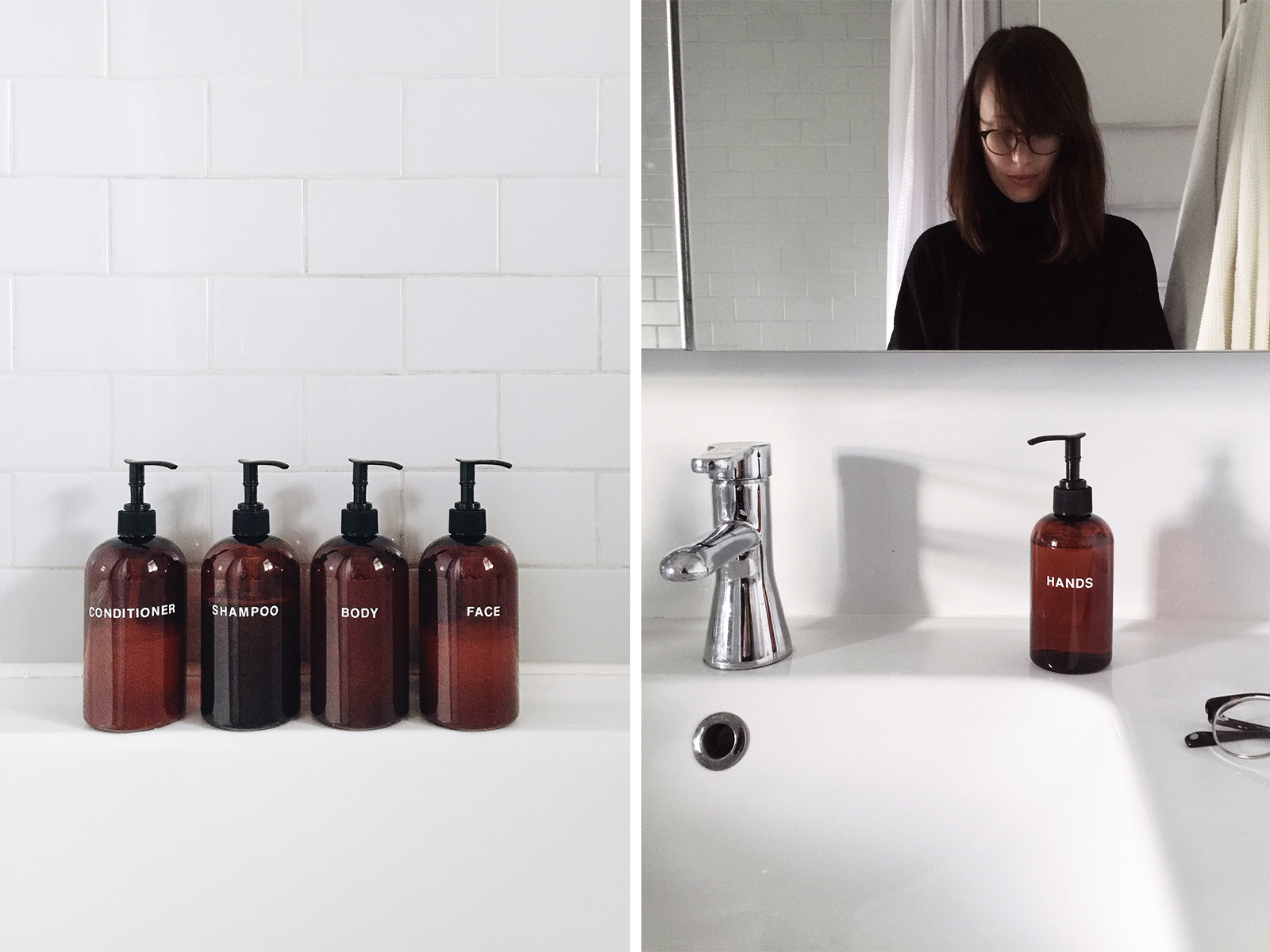 ---
DOBBY
My little bear, Dobby, has been a wonderful source of stress release for me lately. I've been making a point of taking him for at least one really long walk a day (of course, he gets many other walks a day) to get some exercise and to clear my head. It's hard to face a long walk on these increasingly cold (and rainy) days but seeing how happy he is makes it all worth it. Here's a few snaps I've taken of him lately.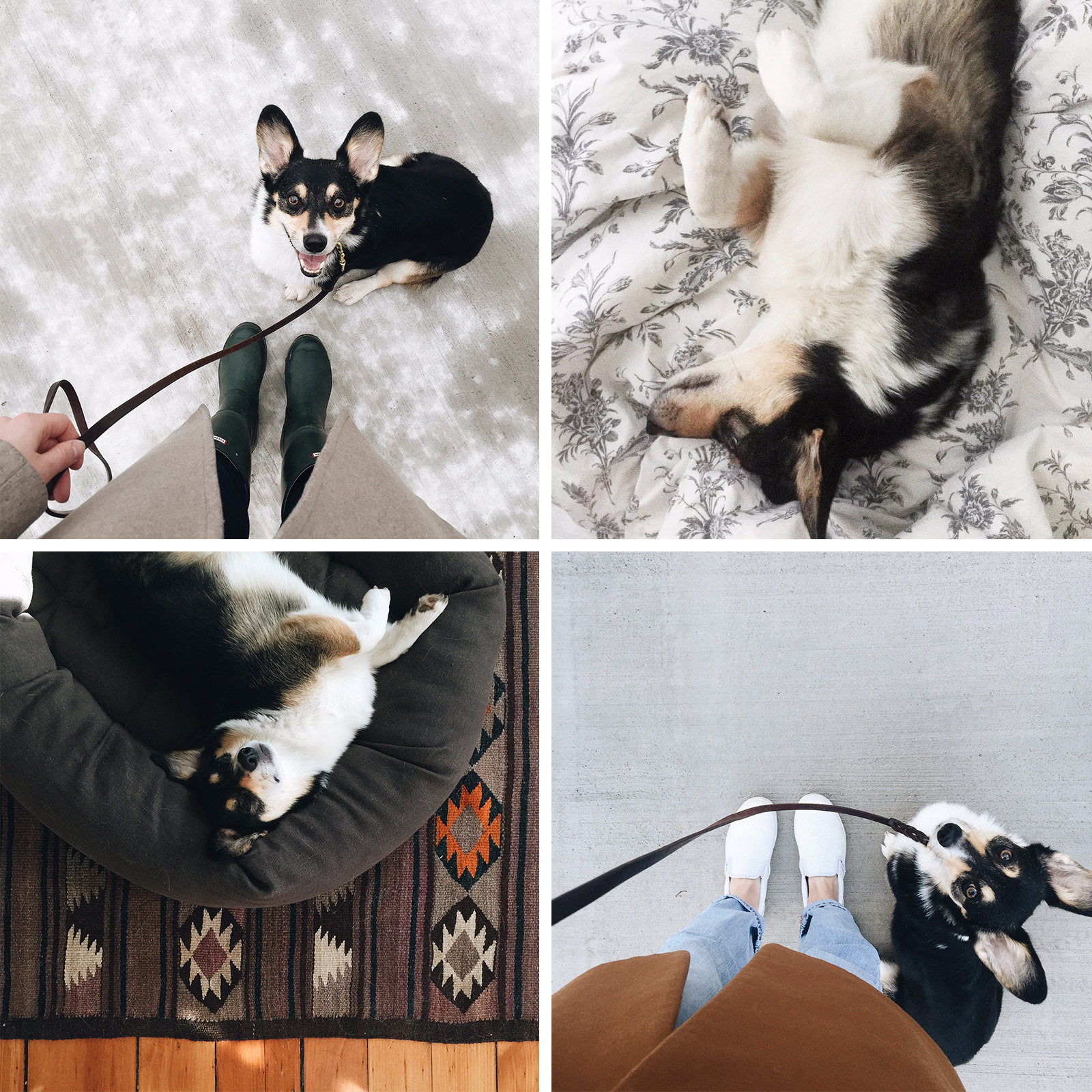 ---
STYLE
Outfit planning has been haphazard and last minute at best lately but luckily I have a closet full of neutrals, which makes getting ready a breeze. Last week I was happy to spread the word about Everlane's #BlackFridayFund which raised over $100,000 to go towards a wellness centre for the brands L.A. t-shirt factory. From the transparency, to the clothes to the brand philosophy, I just love everything Everlane gets up to. I'm particularly swoony (pretend that's a word) over their new Marl collection right now too. I'm also excited to be teaming up with the Canadian based footwear and accessories brand Poppy Barley in a post coming out this week! Stay tuned 🙂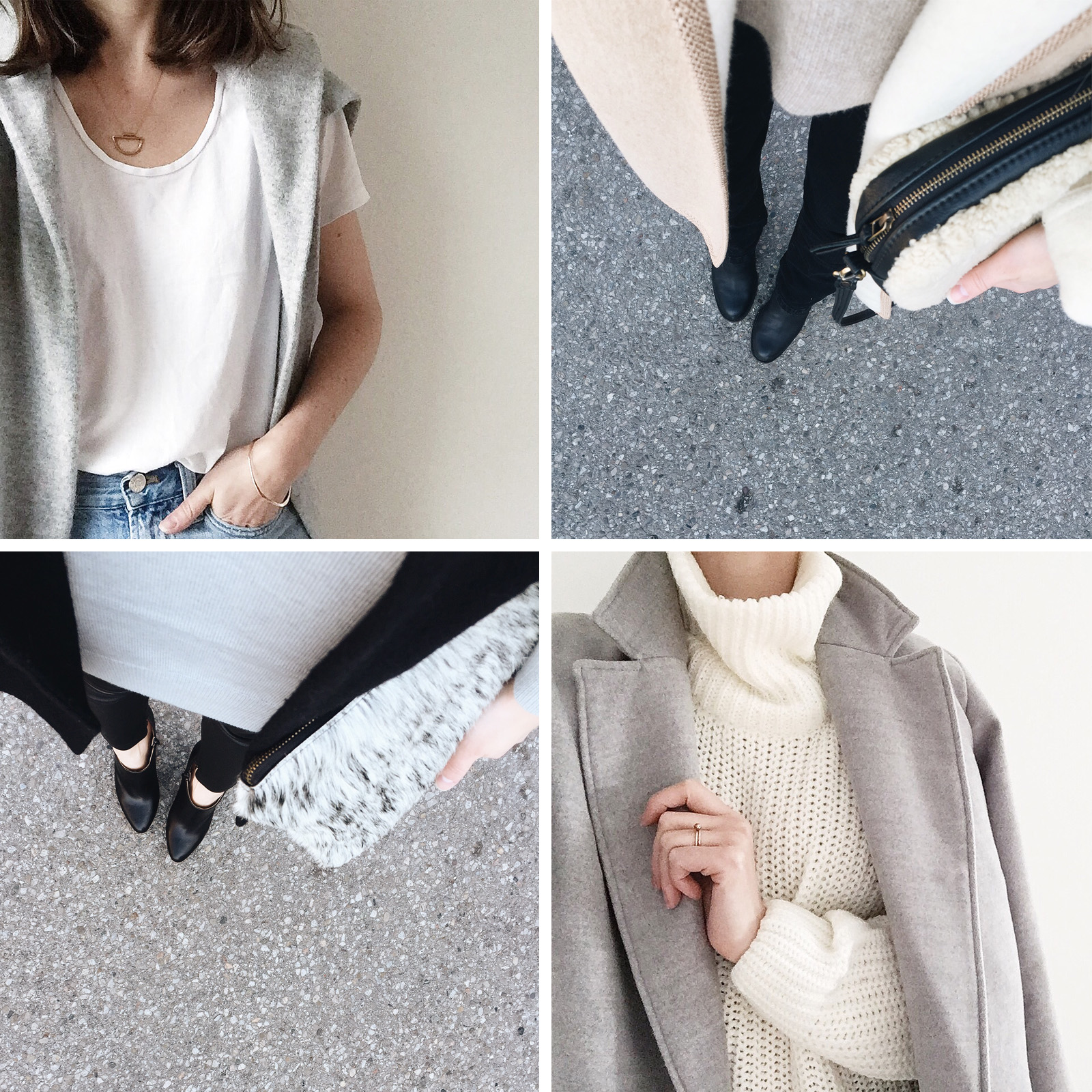 ---
GO-TO GIFT
I recently discovered F. Miller, a Toronto based natural skincare line and fell in love with their clean, minimal packaging at which point I decided to test out the lip balm. Turns out it's amazing too! It works best if it's not too cold and needs a minute or two to soak in but then, wow, so good!
It's become my go-to gift for friends and family this Christmas. It's the perfect little treat or way to round out a gift and it's great to be able to support a small, local business. Plus, when does one ever not need lip balm in the winter?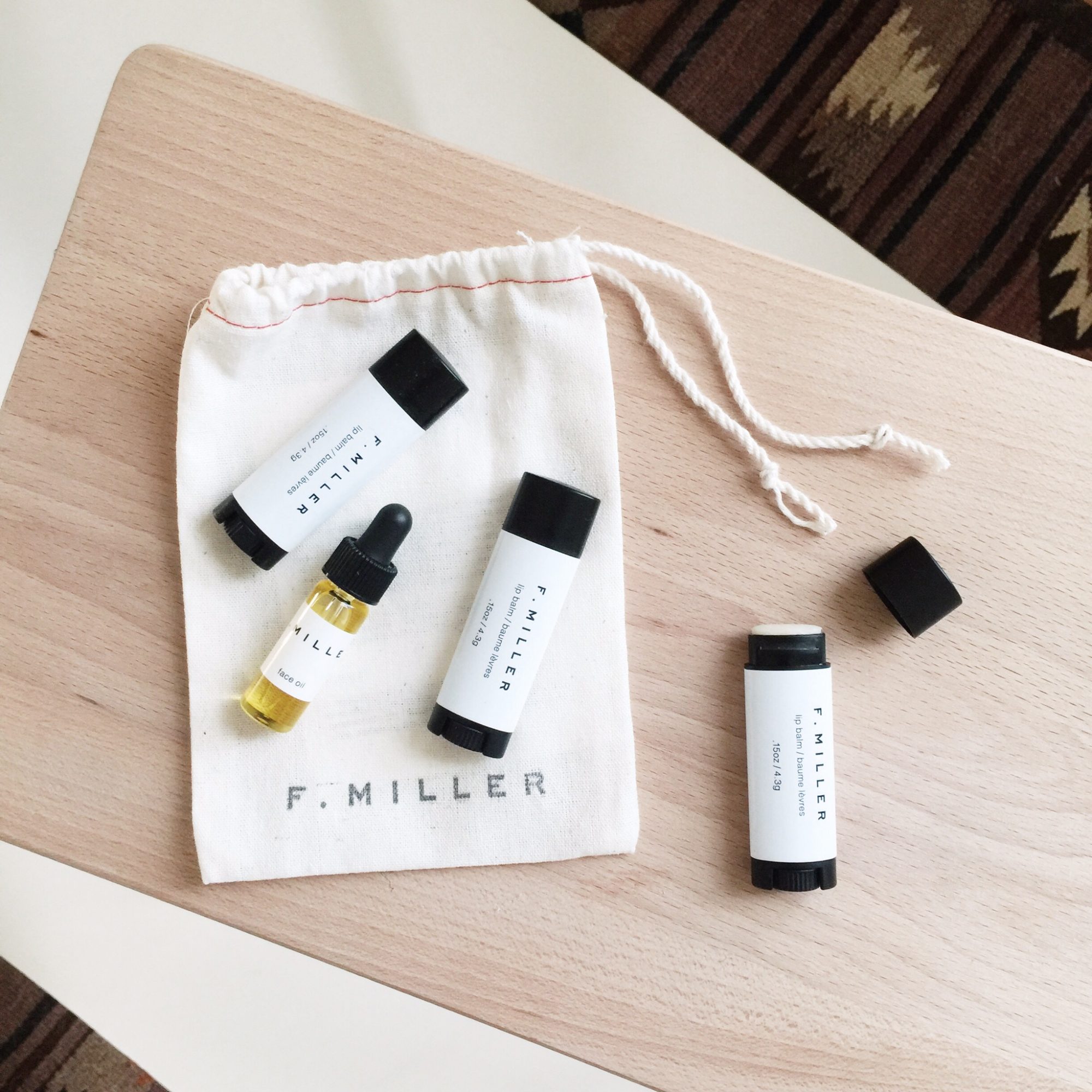 ---
CYBER MONDAY
Ok so I know I'm all 'Sales are trouble!' but there is one that I've been holding out for all month and that is the Need Supply Cyber Monday sale. It took everything I had to wait but I'm so glad I did. I managed to nab my dream coat on sale along with a few other goodies I'll share later. I pulled together a list of some great buys currently available on the site, which looks like: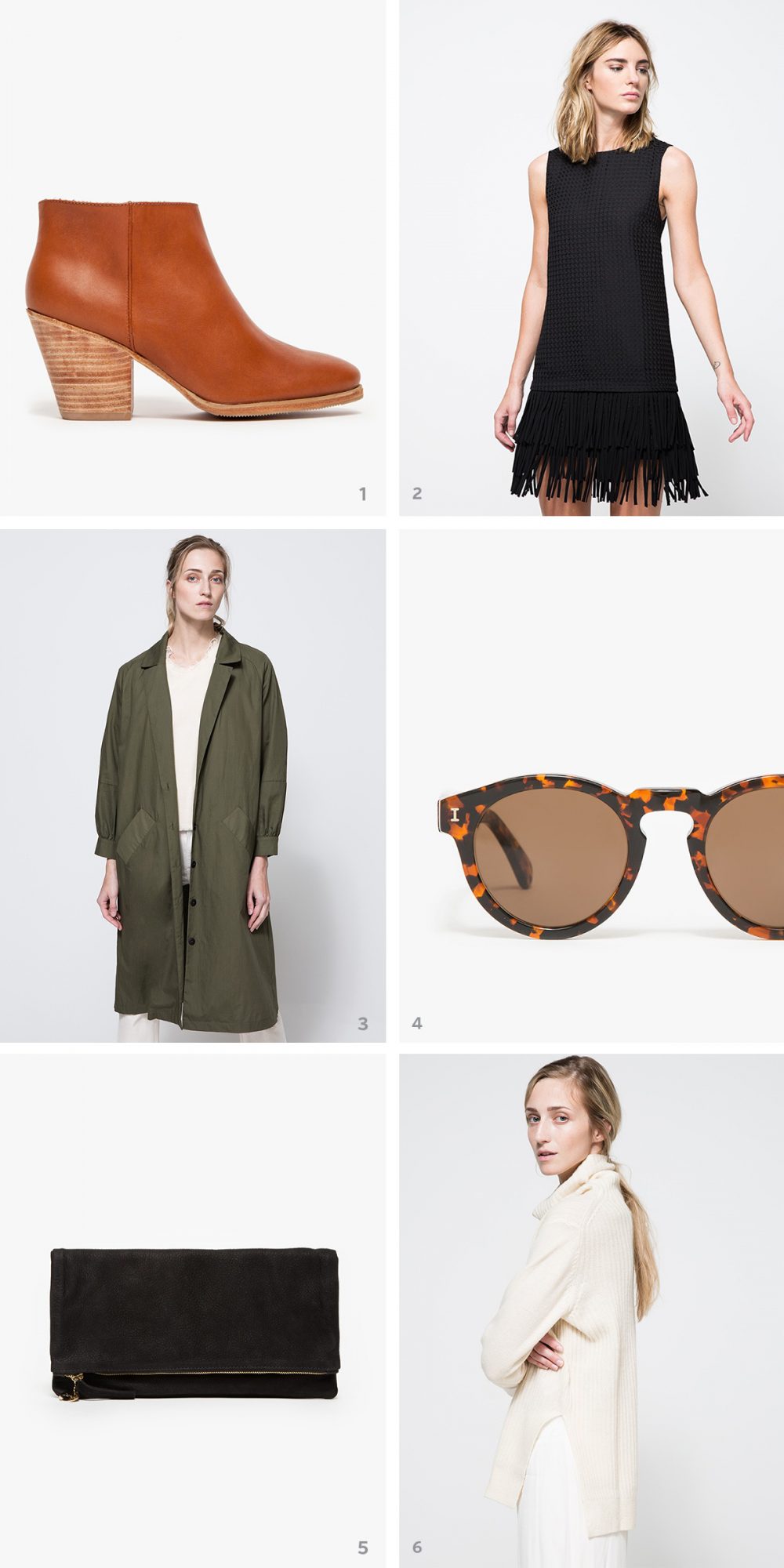 1 – Rachel Comey Mars Boots – Sizes are restocked and ready to blast off the shelves. I am wearing this boots as I type and I honestly can't recommend them enough. Some people (myself included) have found sizing down 1/2 a size beneficial as the boot does stretch slightly to fit really well. I found my heel was slipping in my usual size 7.
2 – The Perfect Party Dress – I've been ogling this dress for ages. It's really reasonable even when it's not on sale and that fringe is just begging for an office party or a NYE shindig.
3 – Olive Trench – Need I say more? If it wasn't already -2 degrees (celsius) out I'd be all over this one!
4 – Classic Sunnies – These frames are pretty much as timeless as it gets for sunglasses. Hand made in Italy definitely doesn't hurt the argument for them either.
5 – Black Clare V. Clutch – I felt so fancy buying this clutch a couple years ago but it's turned out to be one of my best investments. It's held up really well to many a drink spillage and holds a surprising amount of essentials for a great night out. Only 1 left! This one is a great alternative though.
6 – Creamy Sweater – I love the high/low hem and the side slit on this modern version of a classic cream turtleneck. Something to keep you both super chic and super cozy this season.
---

---
All the best for December my friends!