Time for this month's Behind The Design, a series I started to showcase independent brand's that I love and reveal a bit more about talented maker's behind the collections. Today I'm very pleased to introduce Ellen Mote, founder of the newly launched EM Jewelry + Design, based in the heart of Texas. We connected after crossing paths on Instagram and I fell hard and fast for Ellen's incredible work. A few clicks through the inaugural collection and it's clear that this accessory designing dynamo is off to a fabulous start! I was immediately drawn to Ellen's work because I hadn't seen anything quite like it before. She mixes textures and materials and colours in a way that's fresh and intriguing, while at the same time creating pieces that are totally wearable and simplified. No easy feat! Not to mention the attention to detail and focus on quality materials and craftsmanship, which is apparent from start to finish.
I had the pleasure of styling a few of my favourite pieces from the collection and since I'm somewhere tropical this week I thought I'd lend some resort vibes to the post. I also asked Ellen a few questions about her work, inspiration and style. See below for her answers and prepare to fall in love with this creative delight of a lady!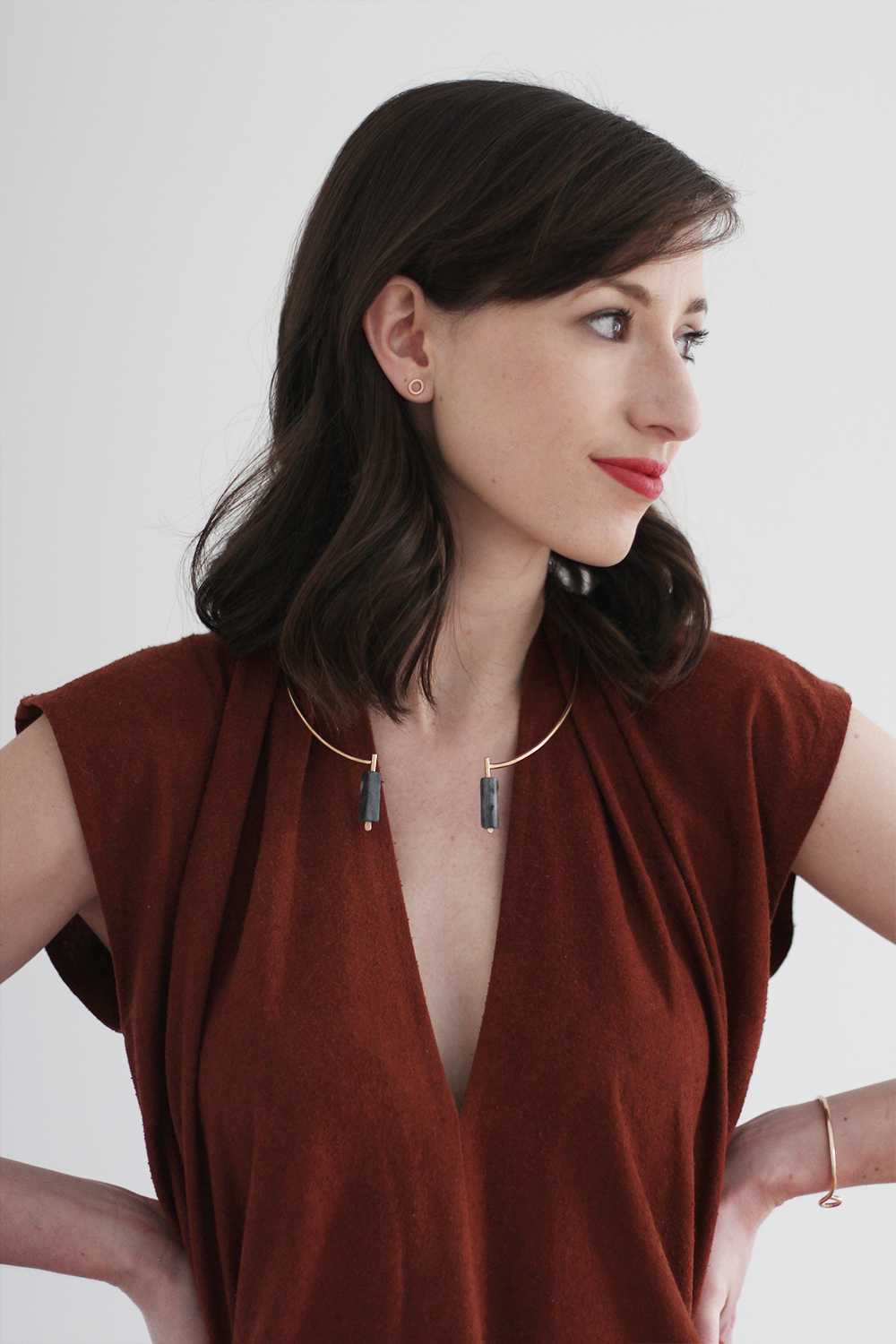 1 – Tell us a bit about how EM Jewelry + Design came to life. Did you always know you'd start your own line?
I never intended on starting my own line, but after my husband and I relocated to a small town in Texas, there were limited job opportunities in my field. I wasn't willing to give up jewelry design because of my location, so after much encouragement from friends, I decided to start my own line. It felt really scary at first, I was so nervous people would laugh in my face (unnecessary fear) but the reception has been overwhelmingly positive, and I have had endless fun doing it. I wouldn't have it any other way!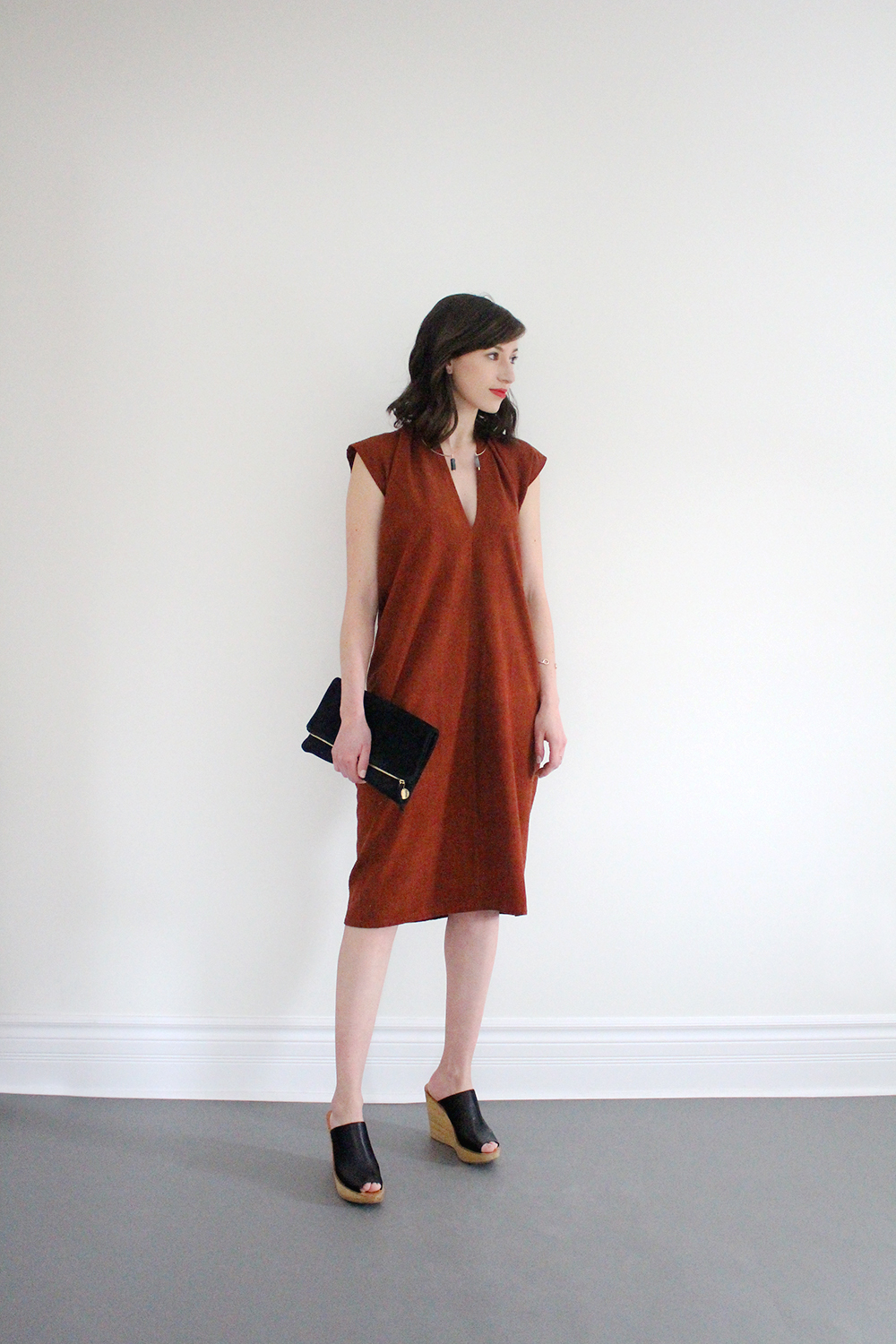 2 – You've attributed some of your design inspiration to the time you spent in Lagos, Nigeria with your family. What are some of the key influences from your travels that come through in your finished pieces? 
I am so inspired by the architecture in every city I visit. I always keep my eyes on the lines of the buildings around me, the negative space between the leaves on the trees, the way people form social circles. I get so lost in what is going on around me that I have run into a person or two along the way. I love watching and sketching the rooflines. These shapes and silhouettes translate well into jewelry.
I am also guilty of touching every thing around me. I love feeling the cool, smooth marble pillars inside an old cathedral, and the thick pages of design books. I enjoy transforming these tangible experiences into wearable jewelry.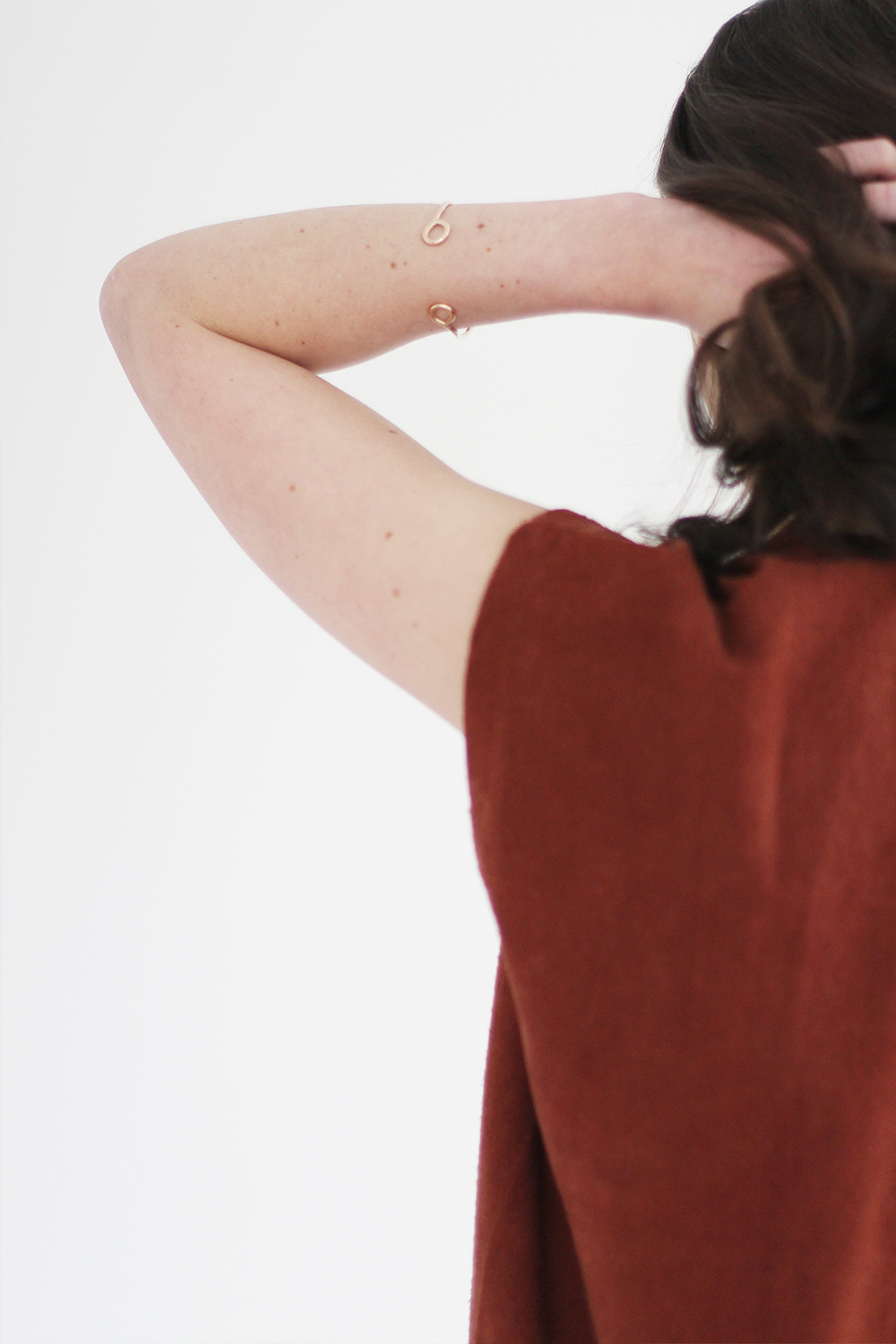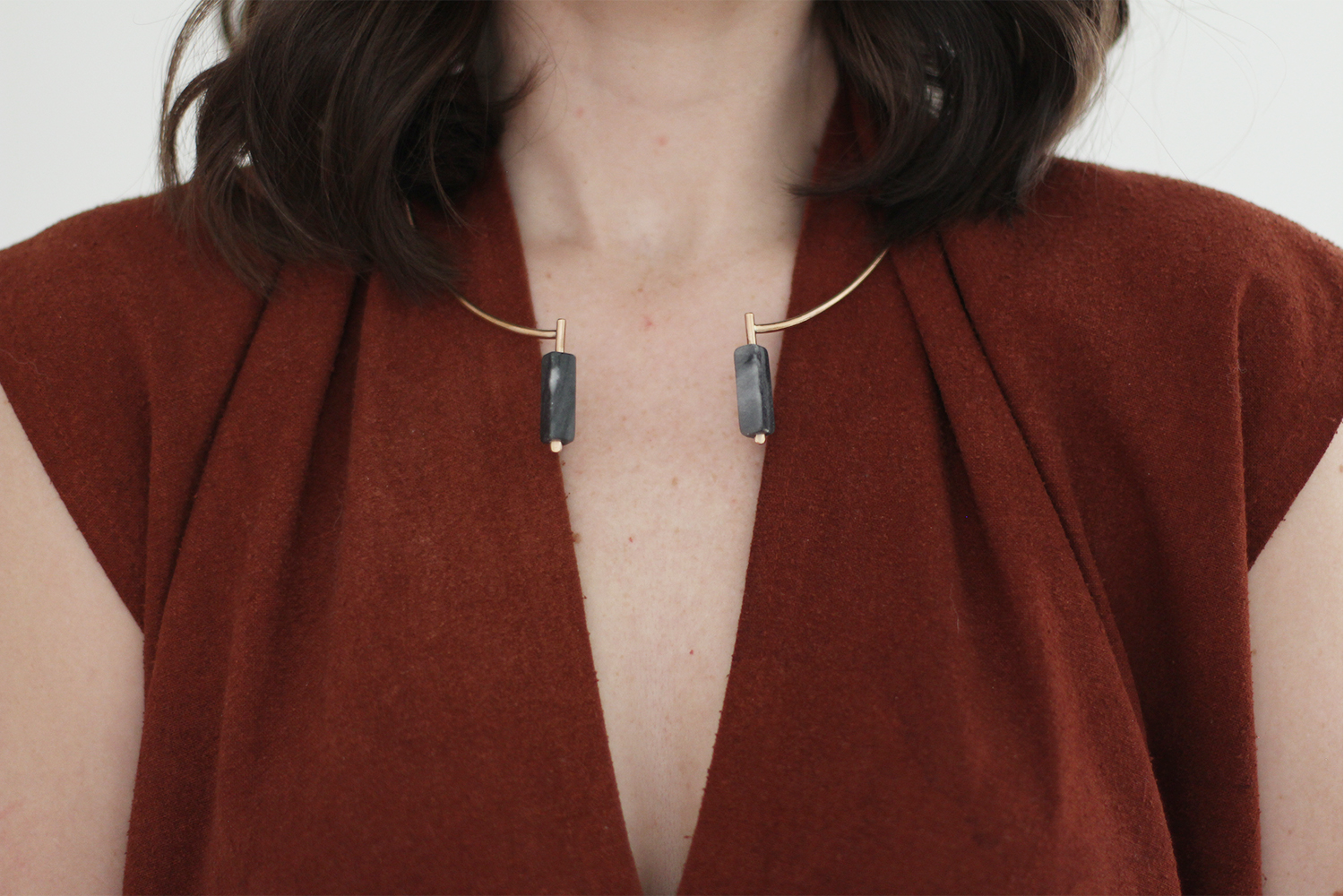 3 – I love the way you've mixed materials throughout your collection. How do you decide which metals, stones and textiles to use? 
Thank you! As I am such a tactile person, I knew I wanted to incorporate different textures into every piece. I aim to use environmentally friendly materials as often as possible and I've been fortunate to find high quality cotton, locally. By using natural dyes, and recycled metals, I am confident in the quality in the final product.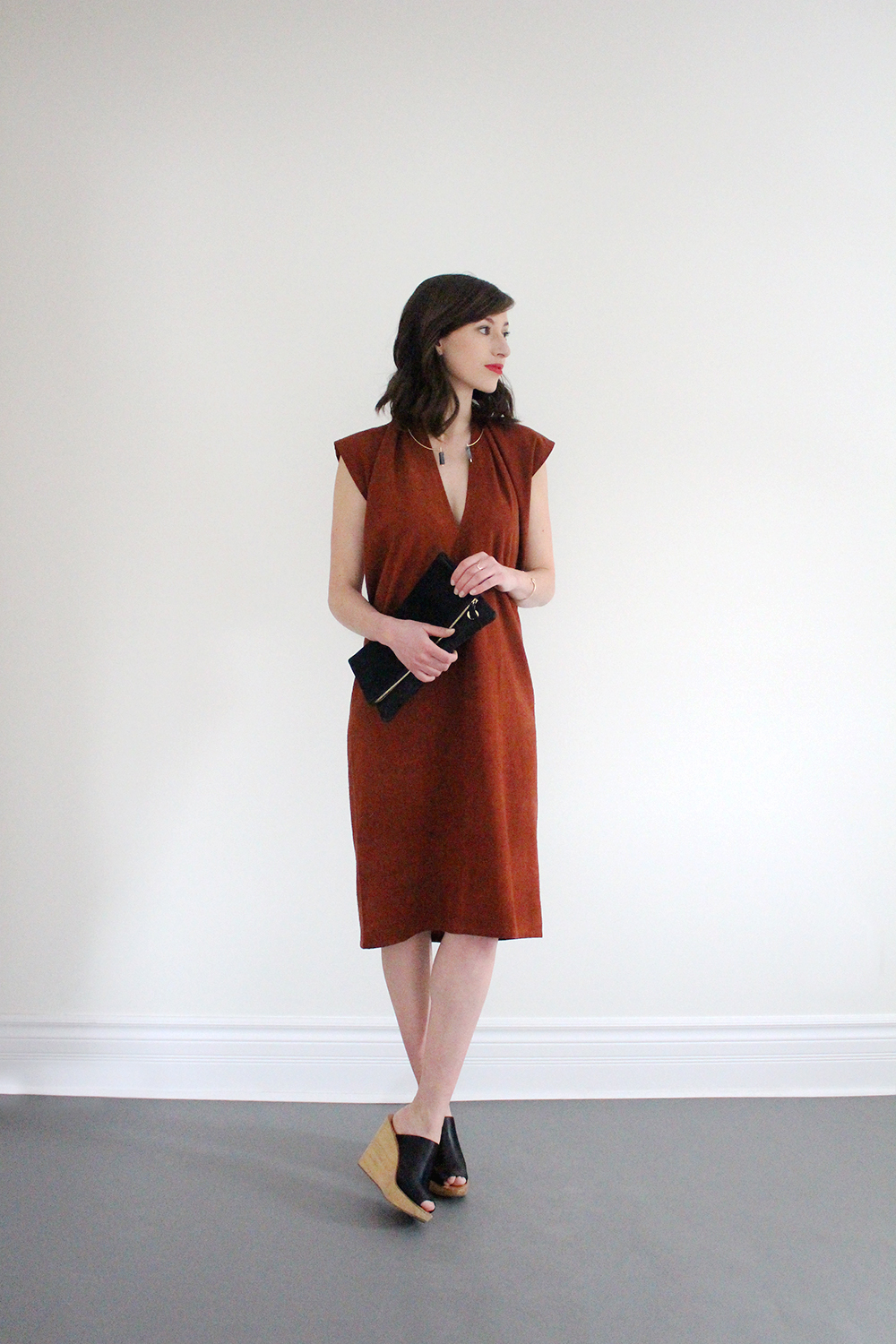 4 – If you had to distill EM Jewelry + Design into 5 words what would they be?
Clean, intentional, simple, shaped, handmade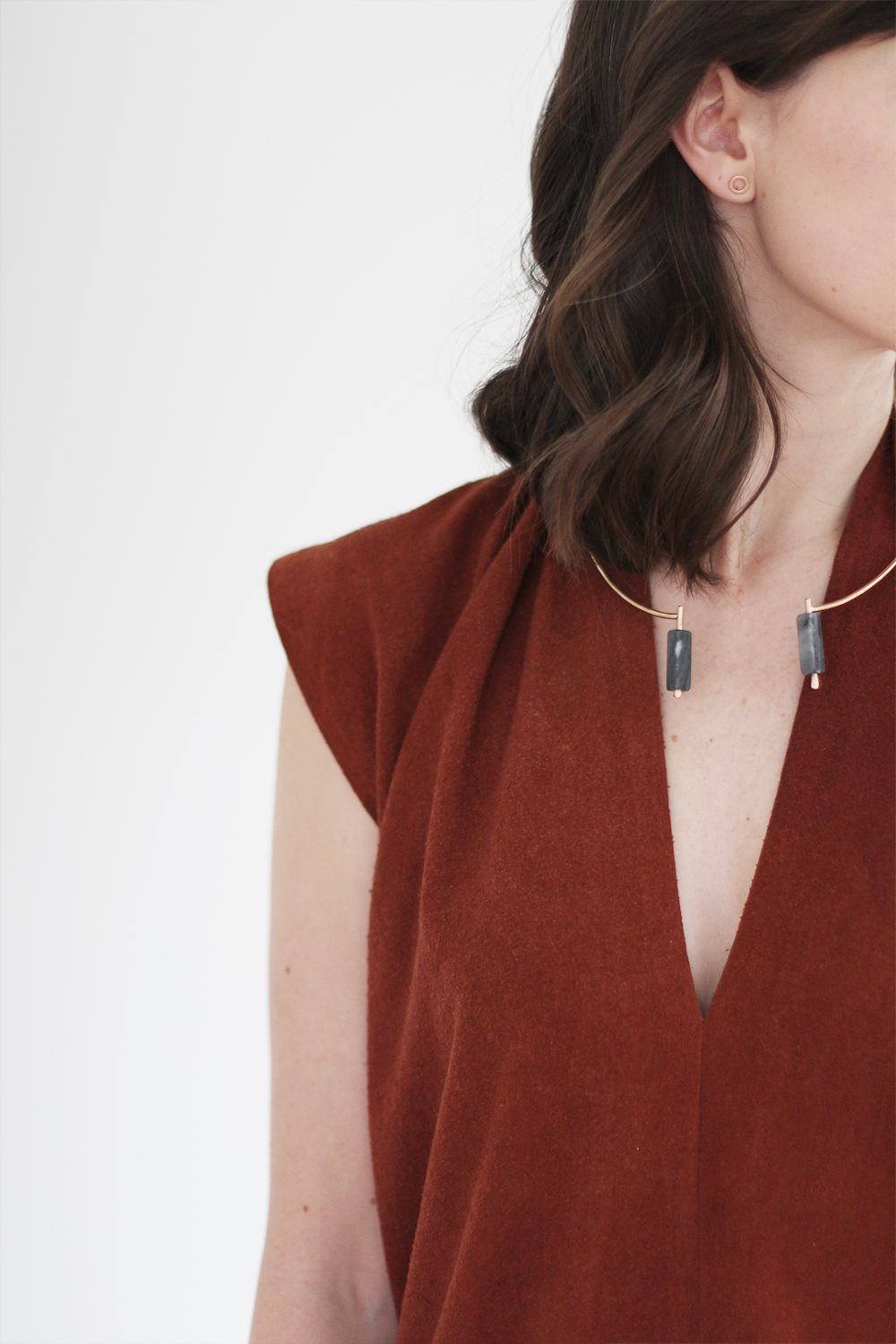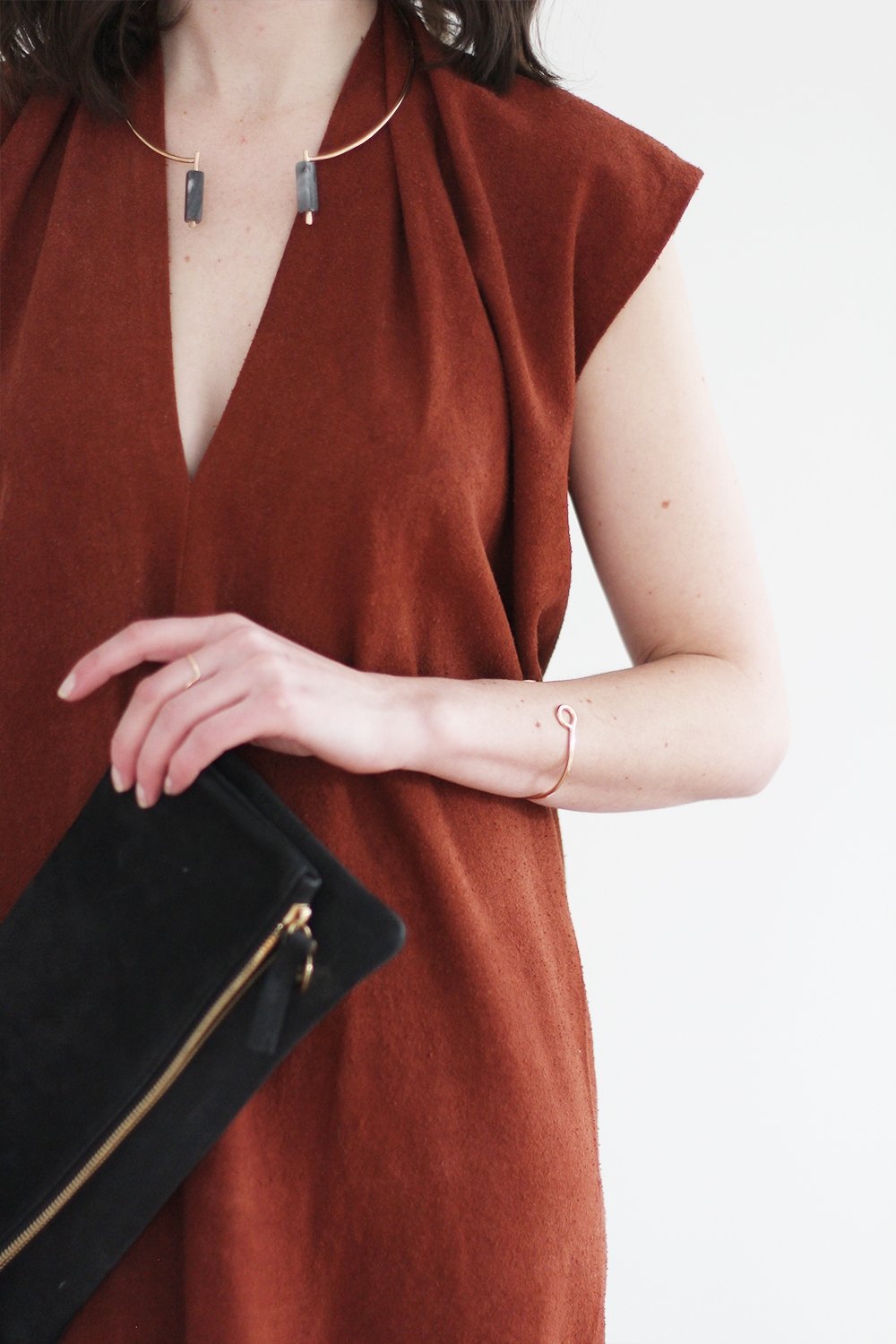 5 – What are you listening to, wearing and watching most these days? 
Listening – I primarily listen to podcasts, two of my favorites are #girlboss radio and The Lively Show.
Wearing – Jesse Kamm Sailor Pants and Sandalwood essential oil.
Watching – The sunrise from my front porch.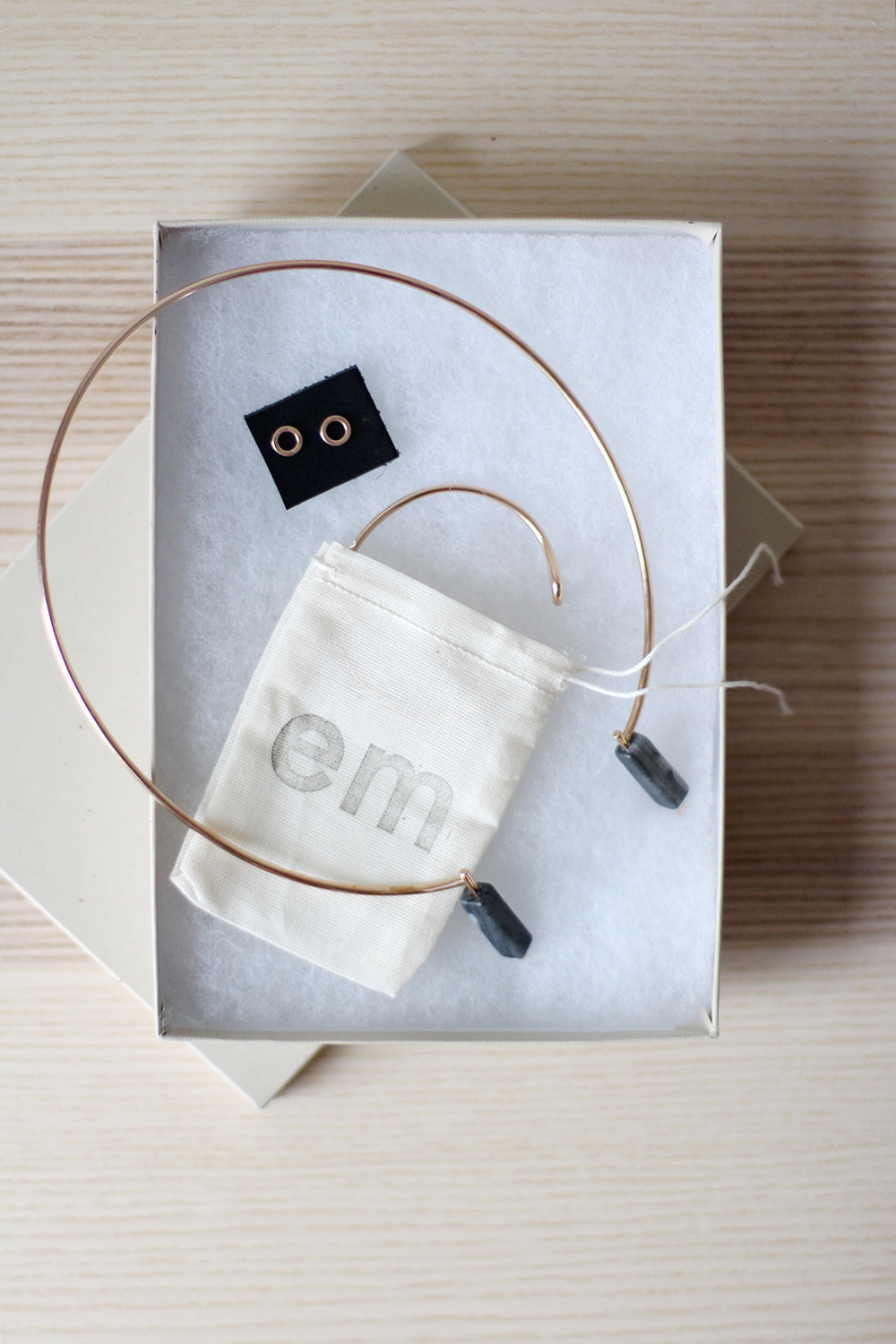 ---
Gris Collar EM Jewelry + Design | Carda Studs EM Jewelry + Design | Lida Cuff  EM Jewelry + Design | Dress Miranda Bennett via Garmentory | Shoes old Rachel Comey | Clutch Clare Vivier
---
Thanks so much to EM Jewelry + Design for partnering on this post. As always, all opinions are my own.