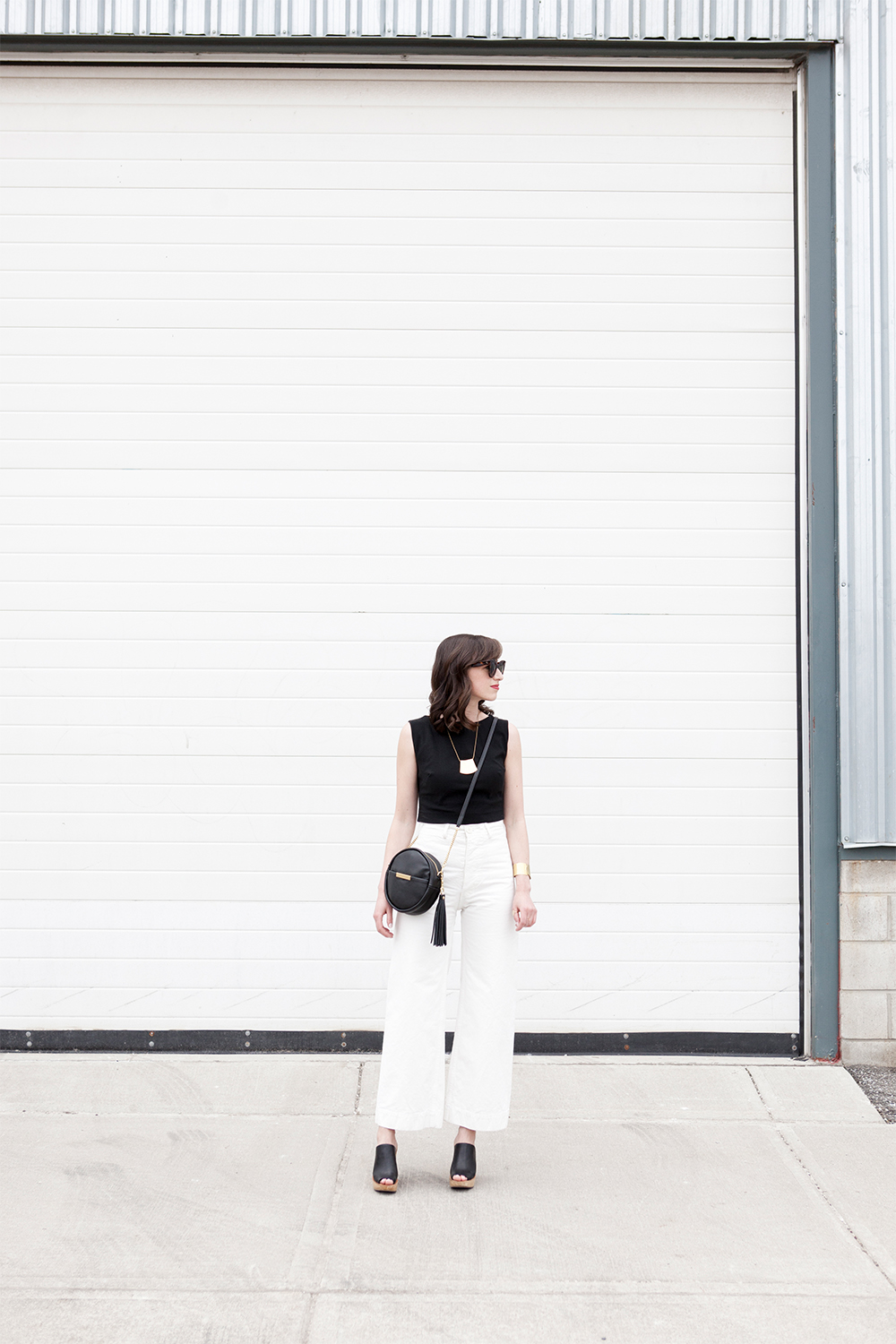 Today marks the official launch of the limited edition OPELLE x STYLE BEE bag! I couldn't be more thrilled to share the end result of this special collaboration with one of my favourite Canadian accessory brands. When I first started this blog, I secretly dreamt of one day working on a project like this, so when the opportunity presented itself at the start of the year it's safe to say it was a dream come true!
I wasn't sure what to expect when it came to the process of designing and creating a bag but I couldn't have asked for a better team to show me the ropes. It was a total pleasure from the first brainstorm session with Amy Malcolm (founder + designer) and Beth Nicholson Crago (artist + creative director), to choosing leather and hardware, to finalizing details, right through to seeing the finished product in all it's glory (see more about the making of here). Now I get to share the results with you!
All the details about the choices we made and what makes this a perfect little bag are below but feel free to skip ahead and shop the OPELLE x STYLE BEE bag in BLACK and ROCHER right now!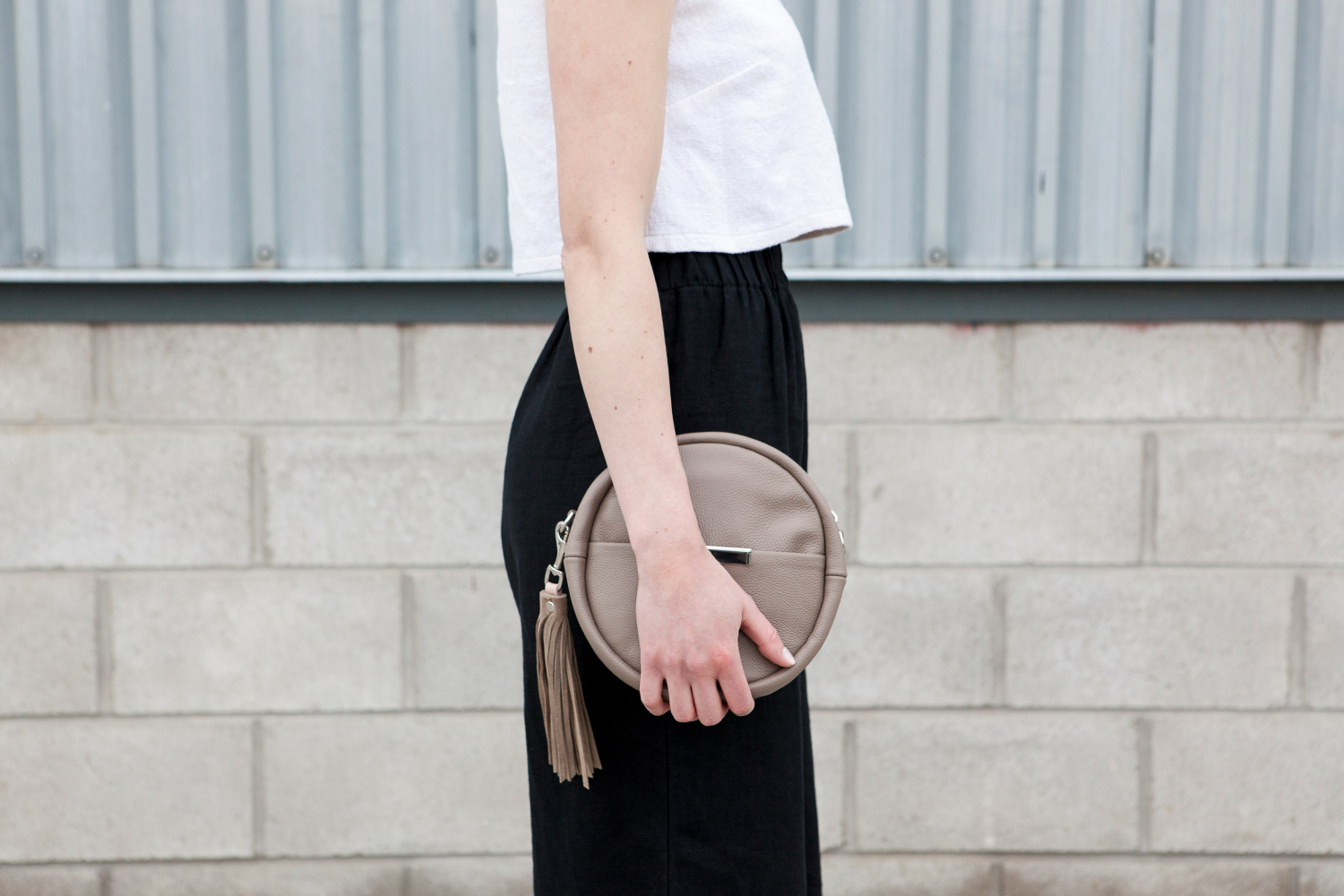 ---
SHOP THE OPELLE x STYLE BEE BAG IN ROCHER
---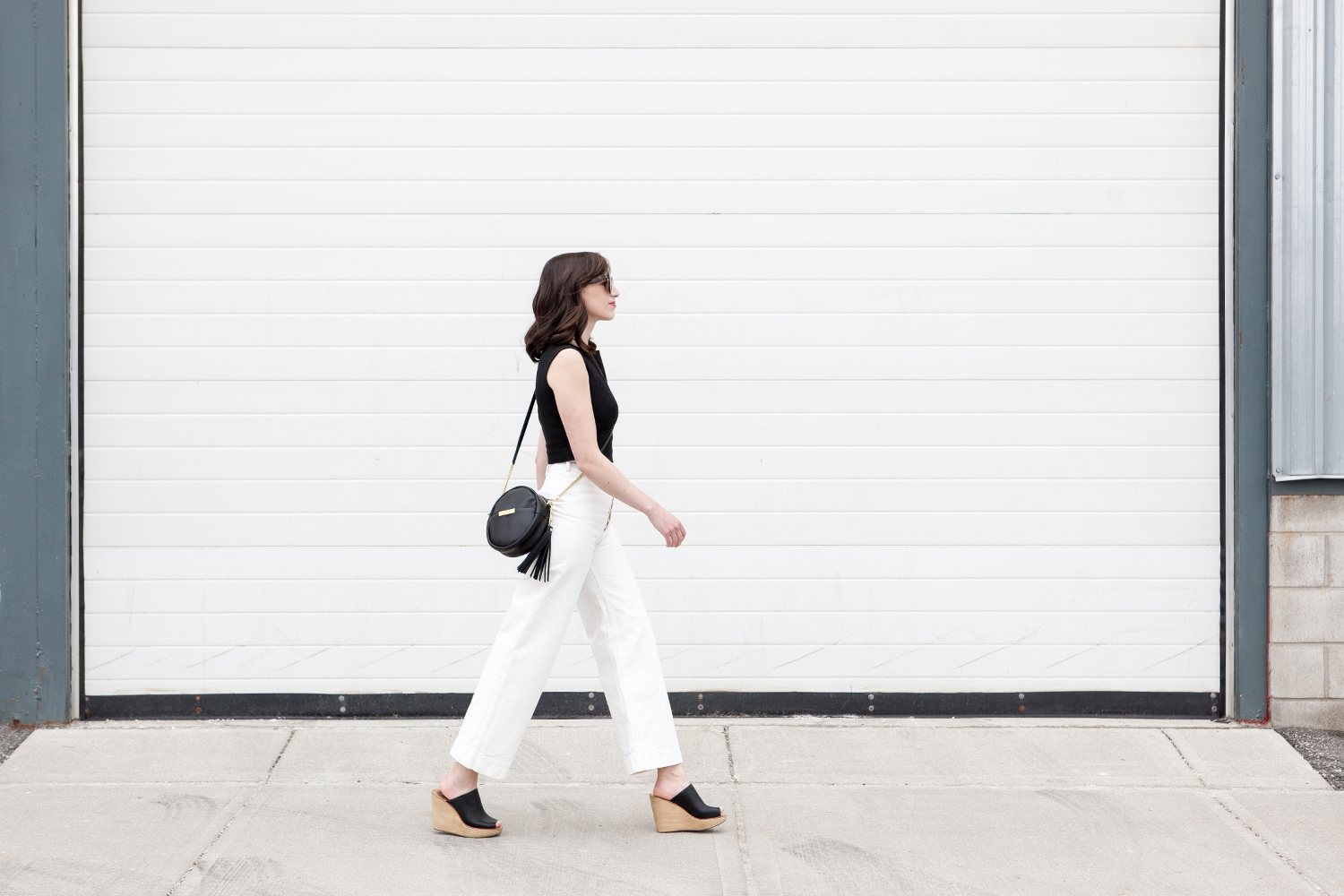 ---
SHOP THE OPELLE x STYLE BEE BAG IN BLACK 
---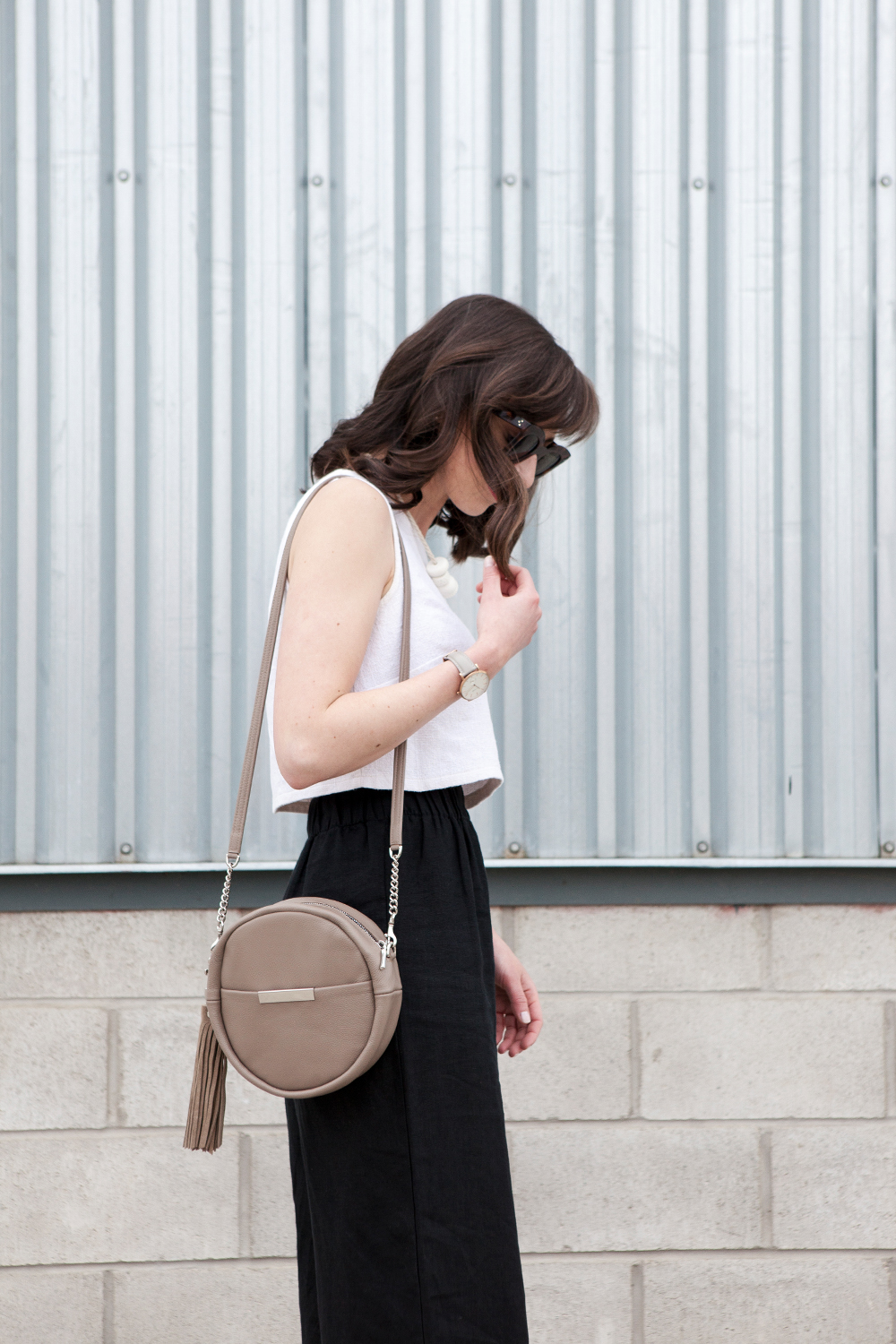 We put a lot of consideration into this collaboration and the details of this bag. We wanted it to embody the aesthetics and philosophies of our respective brands, while at the same time creating both a beautiful and functional accessory that's made to be worn for years to come. With that, I'll just take a moment to give you the run down on some of the different elements of this bag and why each one matters.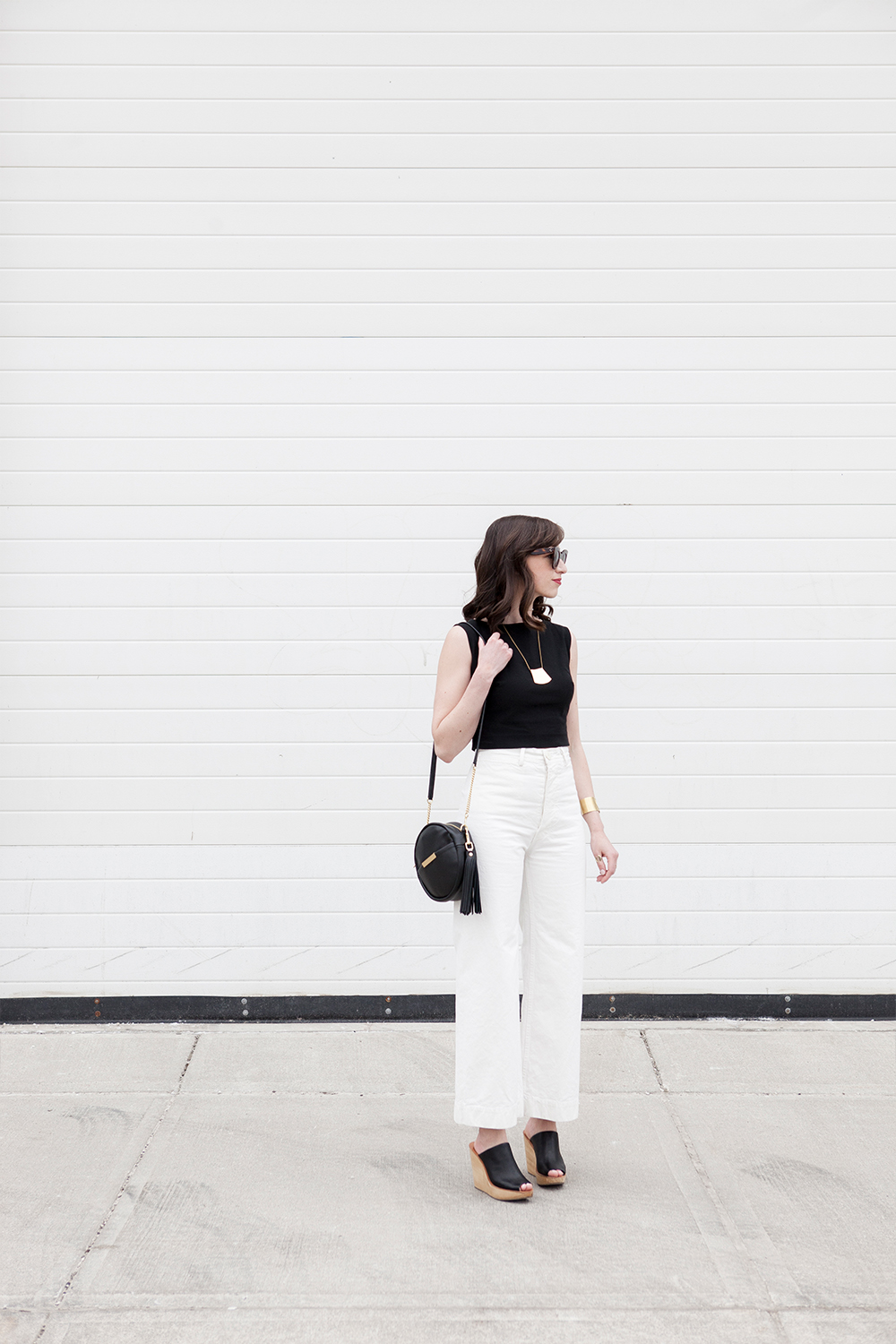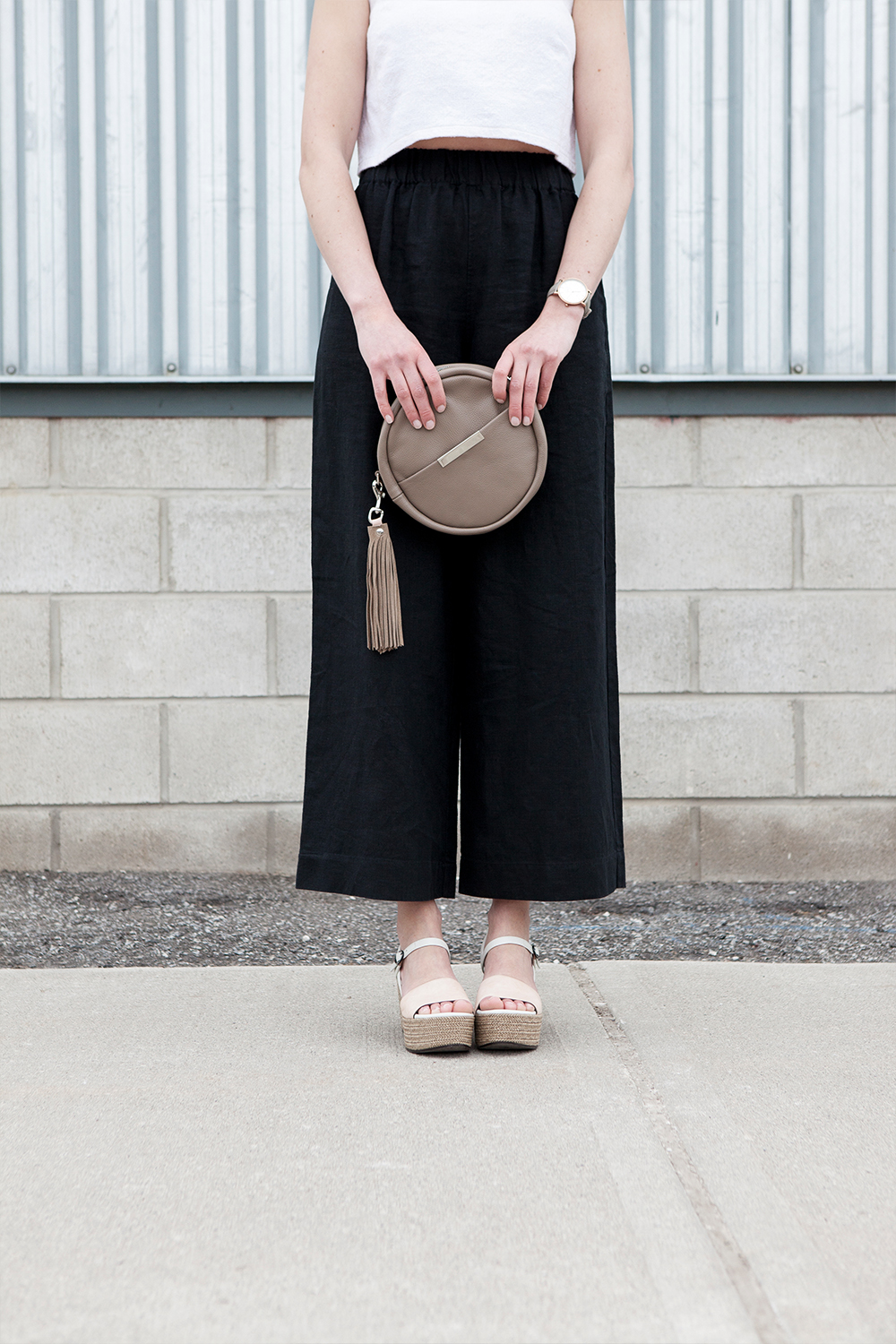 SHAPE: I'd been searching for the perfect circle bag for ages and when I saw OPELLE's plans to launch their Tam-Tam style earlier this spring I knew it would be the perfect shape to use as the base for our collaboration. I just love the fully circular design and how it adds an instant jolt of uniqueness to any look. It's also really great to wear since it lays flat against your hip and moves with you as you're walking. I particularly like how the construction of the bag gives it structure without making it feel too forced or rigid.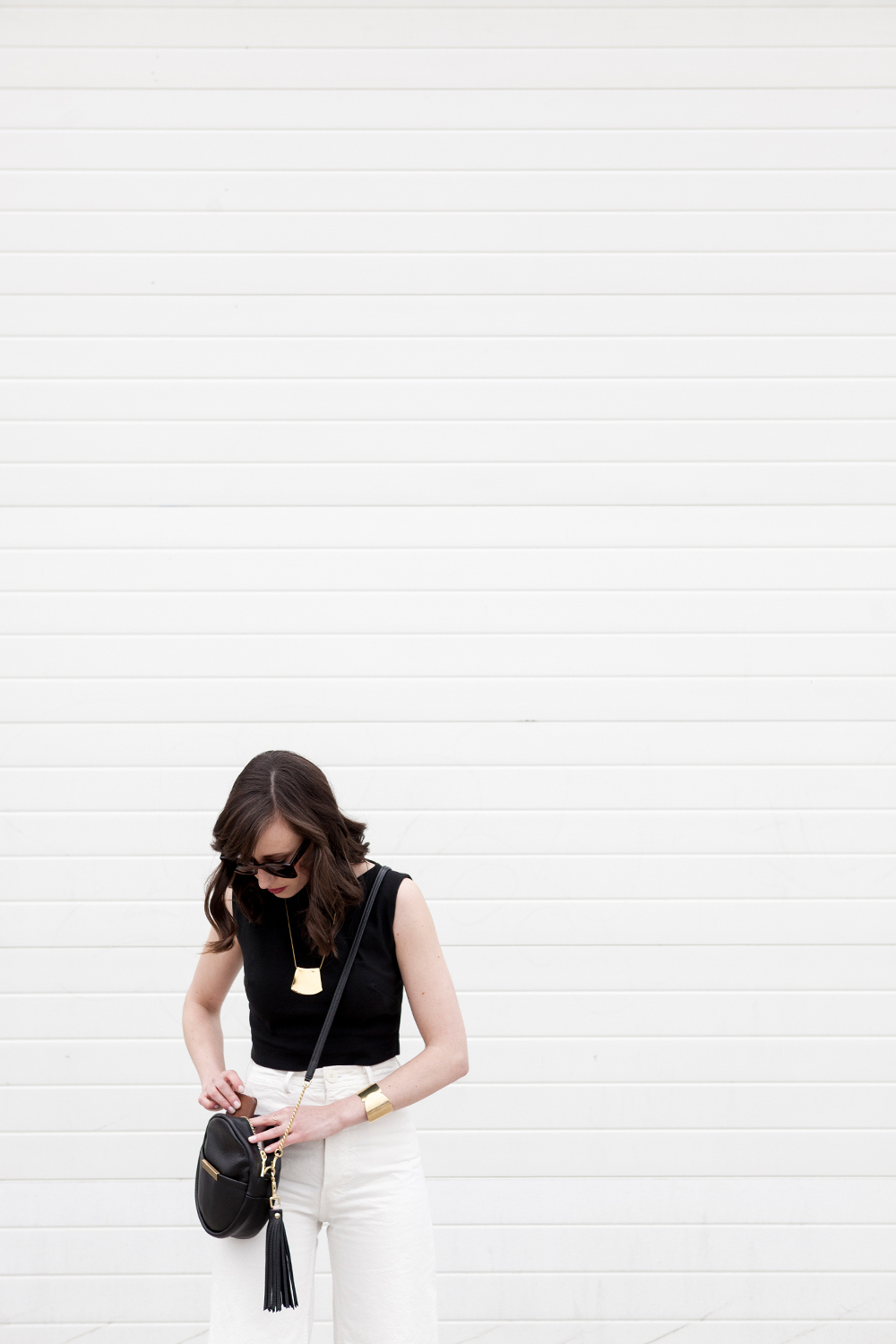 SIZE: What I love about this circle bag is that while it's a compact 8 inches in diameter, it's surprisingly practical, thanks to an 1.5 inch depth, and holds everything I usually toss into the abyss of a larger bag. Without flinching it can accommodate all the following items at once:
iPhone 6+
Wallet
Keys
Lip stick
Gum
Tampons
Hand cream,
Concealer
Roll-on perfume
Hair Comb
Business cards
4 x 6 Agenda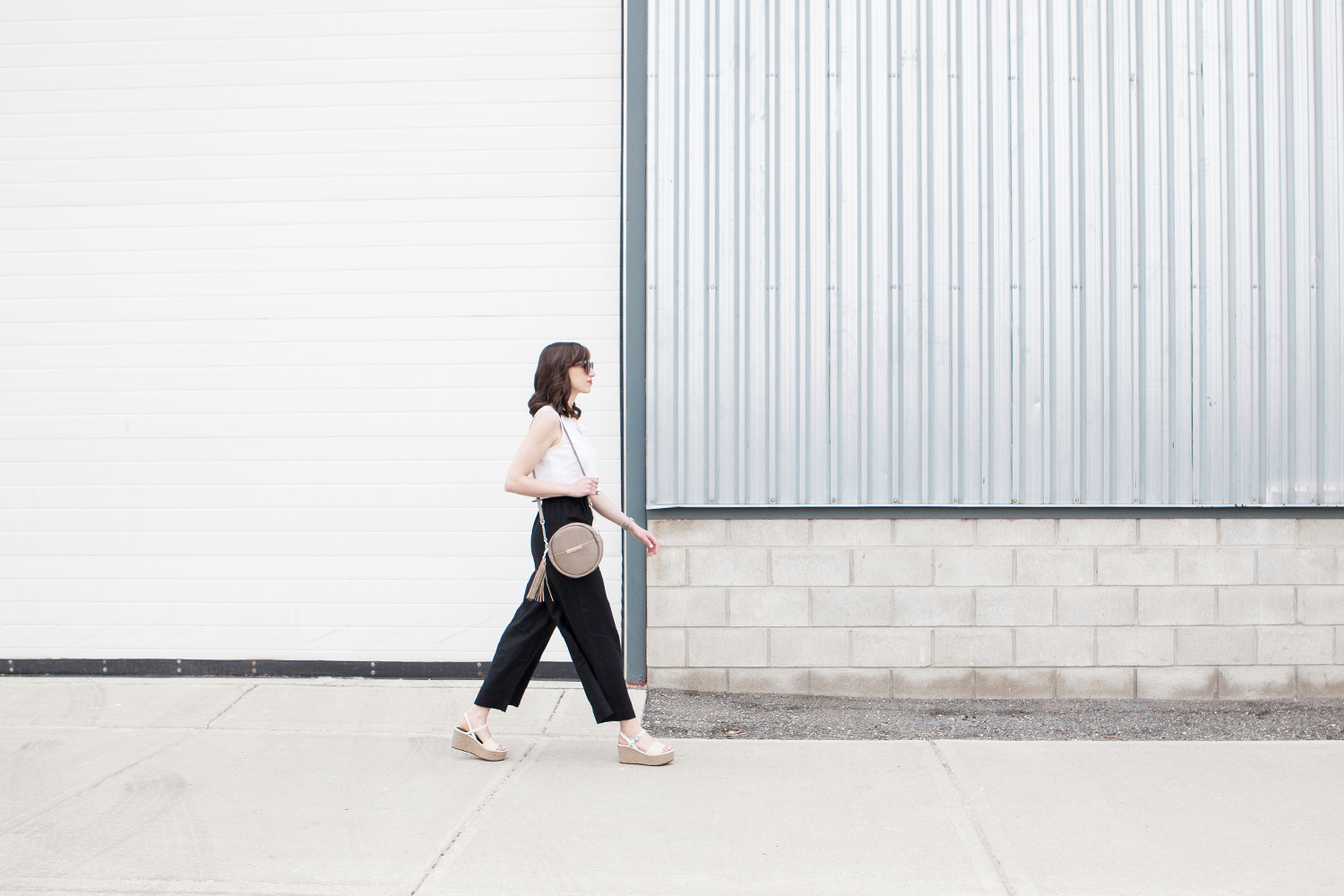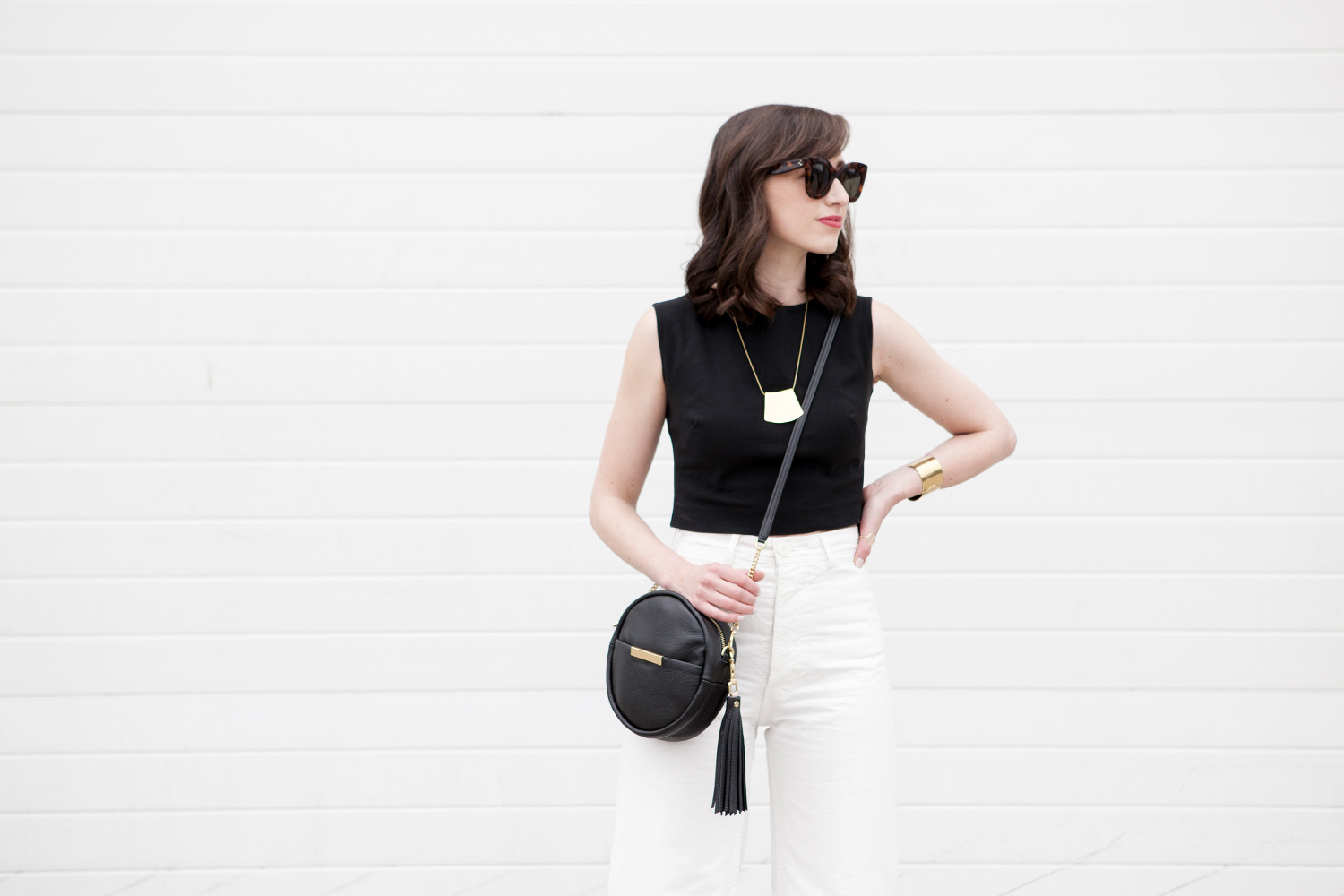 COLOURS: We decided to offer two colour ways for this bag style, one being my forever favourite colour, BLACK and the other being a beautiful warm neutral known as ROCHER. We love Rocher because it's a fresh alternative to brown or tan but still extremely versatile and perfect for the warmer seasons ahead. I especially love how it looks against white denim and natural flax linen. We opted for warm gold hardware on the black bag and cool silver hardware on the rocher version.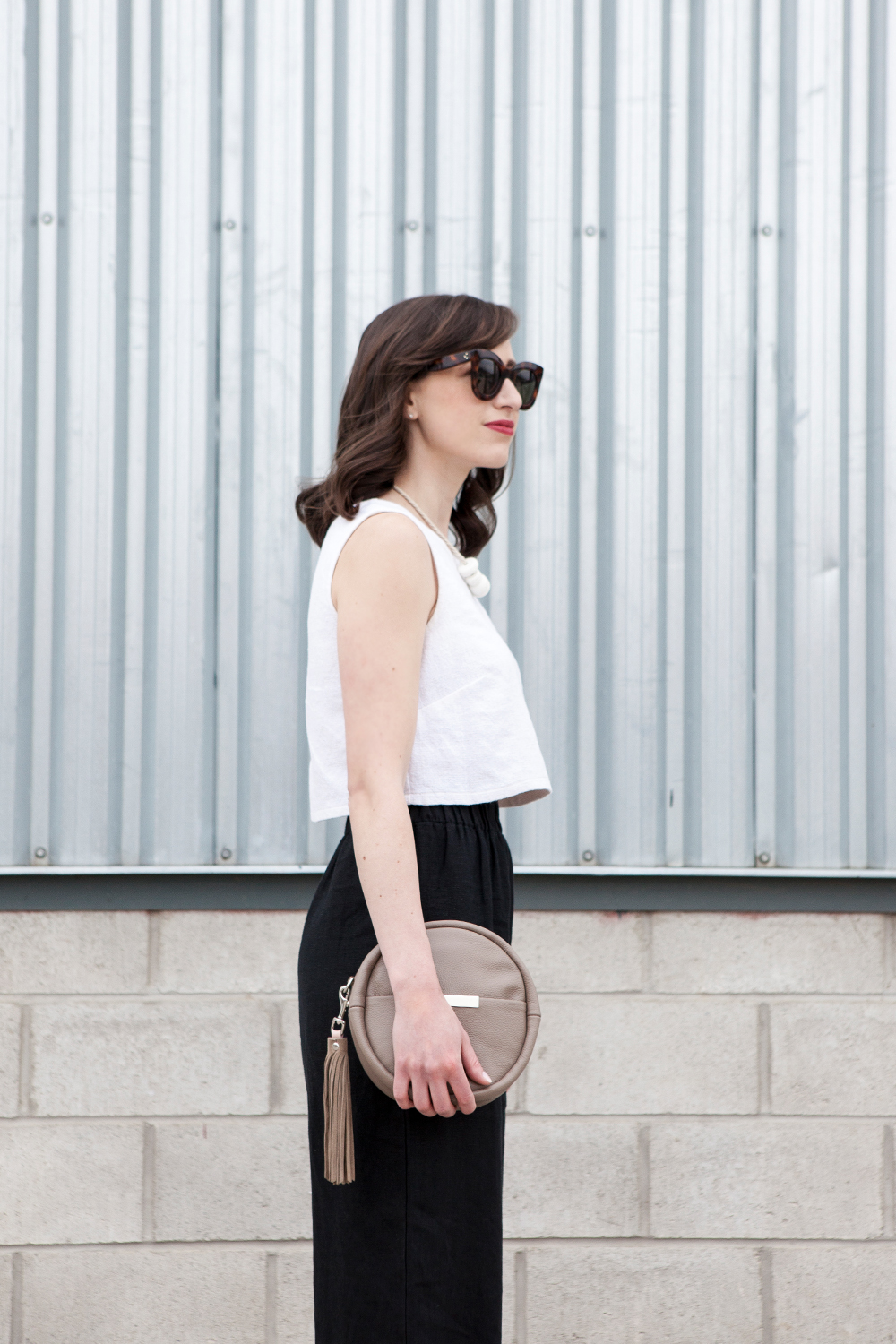 ---
SHOP THE OPELLE x STYLE BEE BAG IN ROCHER
---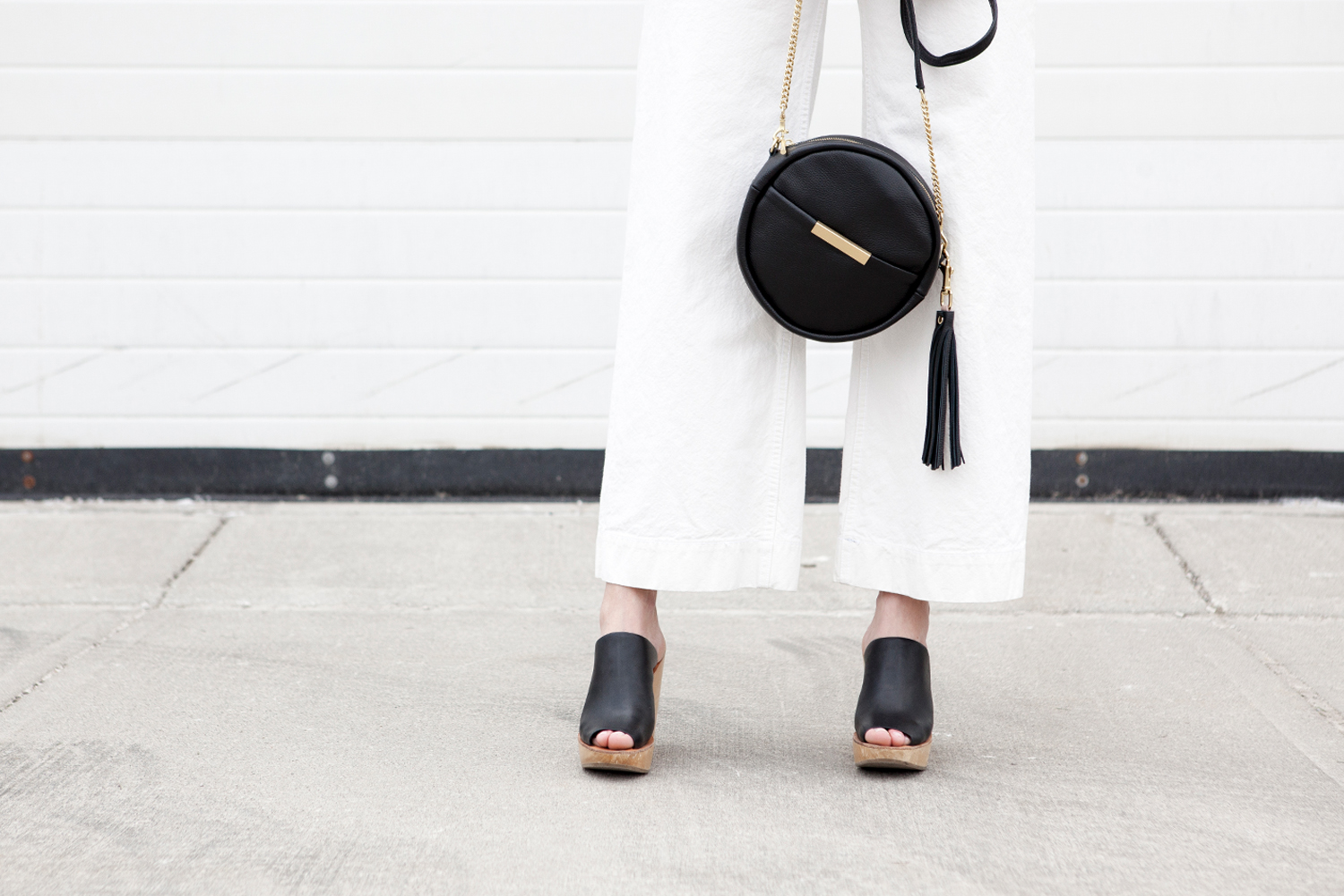 ---
SHOP THE OPELLE x STYLE BEE BAG IN BLACK 
---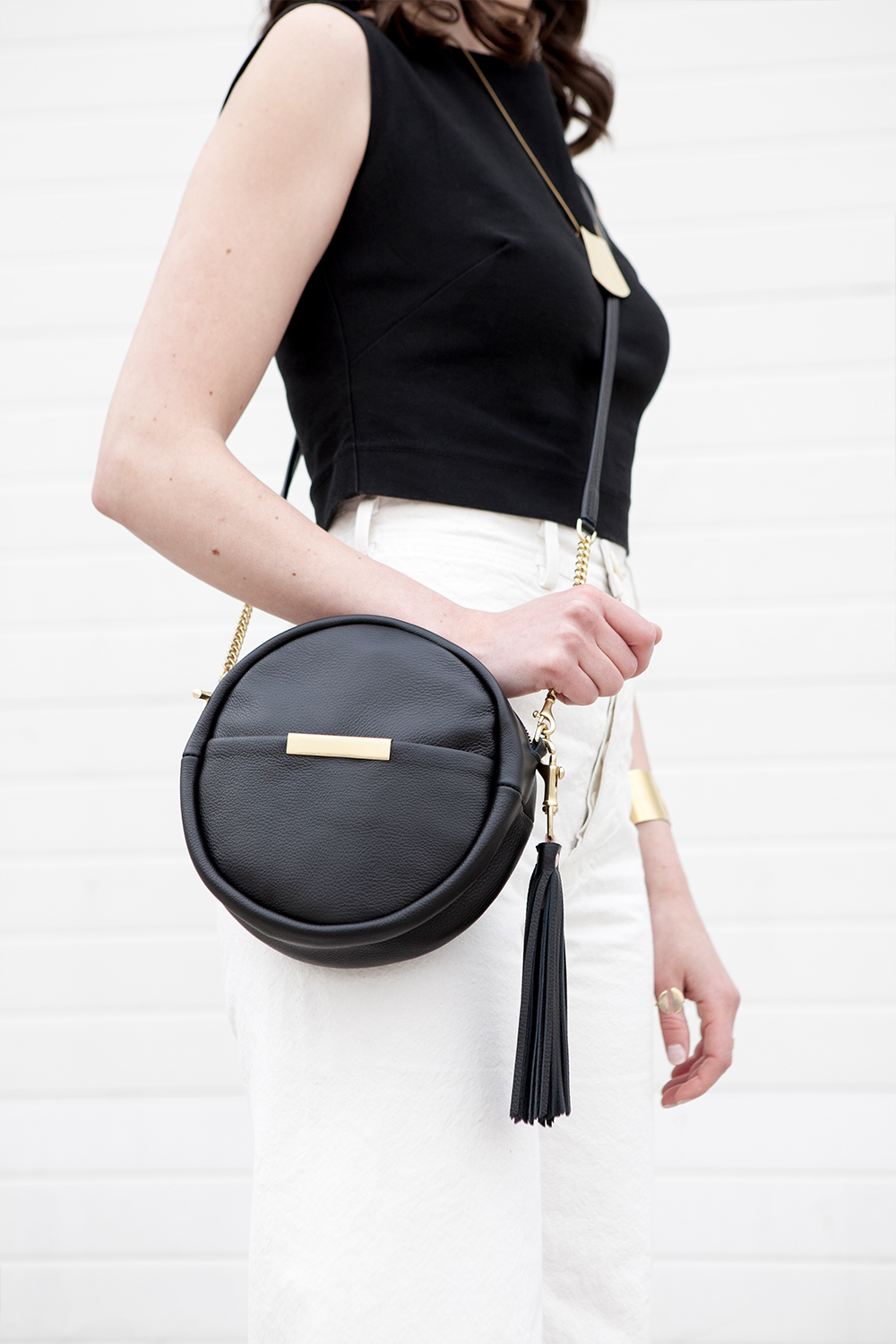 DETAILS: OPELLE bags have always stood apart for me because of the keen attention to every little detail and this one is no different.
Hand-picked and hand-cut top-grain Italian pebbled leather. This leather is very durable and can take a major beating before ever showing any signs of wear.
Each one is fully lined with durable cotton twill.
Interior seams are reinforced with piping so you'll never have to worry about losing change down a hole.
A slim front pocket with magnetic closure is perfect for quick access items like business cards.
An interior pocket is ideal for your cell phone and helps keep things organized.
High-quality solid brass hardware throughout.
Removable, slim, cross-body strap allows the bag to be worn hands free or as a clutch.
Removable black leather and rocher suede tassel charms adds a pop of character and movement.
PRICE: $240 CAD
QUANTITIES: Only 10 of these beauties will be made in each colour so you'll know you're one of only a handful of lucky ladies with this special bag!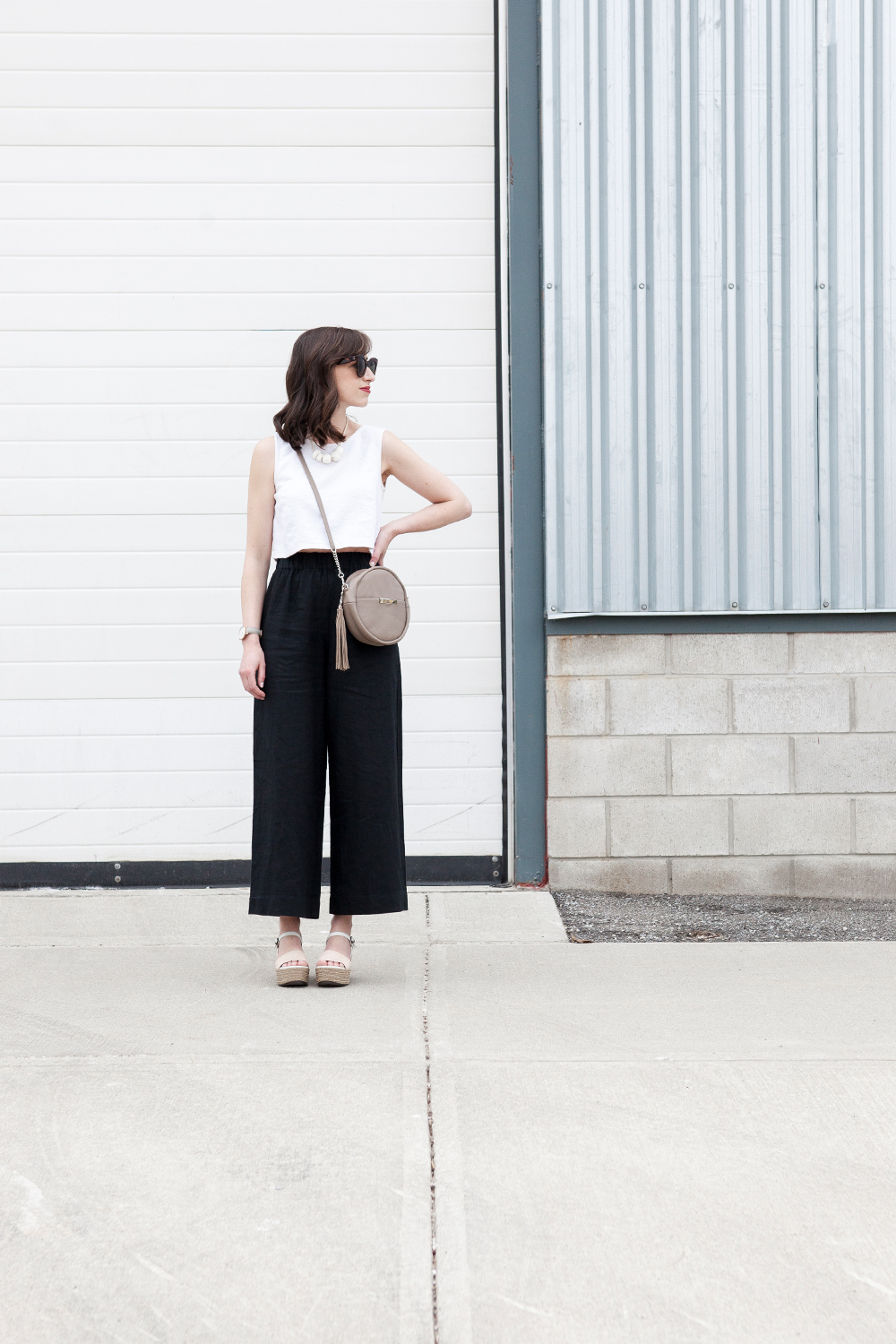 HANDCRAFTED IN TORONTO
All of OPELLE's bags are made to order in the fine city of Toronto and by keeping production hands-on and in-house Amy and her team are able to ensure that each piece is a specimen of perfect quality, created ethically, sustainably and realized exactly as intended. I've had the pleasure of visiting the OPELLE studio and can attest that while the team may be lean, everyone is highly talented, hardworking and absolutely lovely. They welcomed me into their space and graciously answered every novice question I could think of. If there's ever been a team of makers worth supporting, it's this one!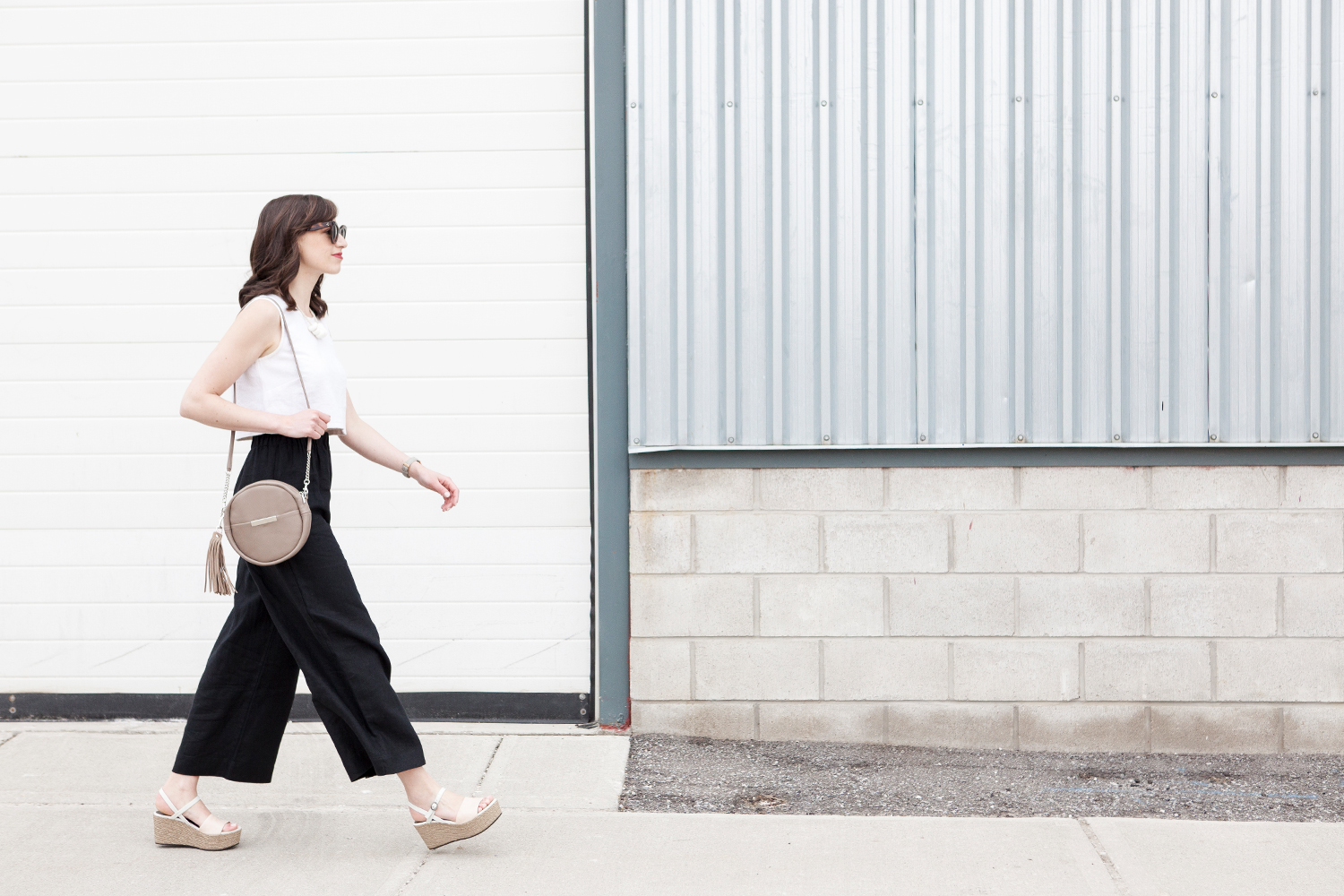 HOW TO STYLE IT
The best part about this bag is that you can wear it for just about any occasion. I've been using it for running errands, dinner dates, market visits, special events and everything in between. I love that it's a statement bag without being obnoxious at all. You can wear it with jeans, a t-shirt and sneakers for an urban-chic look or wear it with this seasons' culottes and a crop top for a contemporary vibe. Obviously, that's my favourite way! It's begging to be swirled around at music festivals or brought along to a summer wedding or vacay. The opportunities are pretty much endless!
---
GIVEAWAY
Since I love you guys and this collaboration would never have happened without you, we're giving one lucky lady a chance to win her choice of OPELLE x STYLE BEE bag! I wish I could send one to all of you but quantities are super limited so fate will have to choose! The entry requirements are easy as ever:
Simply leave a comment below with your choice of either BLACK or ROCHER and let me know where you'd love to wear it this Spring and Summer!
Visit my Instagram for more ways to enter! Post goes live at 12 pm EST.
Open to everyone. Winner will be selected at random on Friday May 6th.
GOOD LUCK!!
---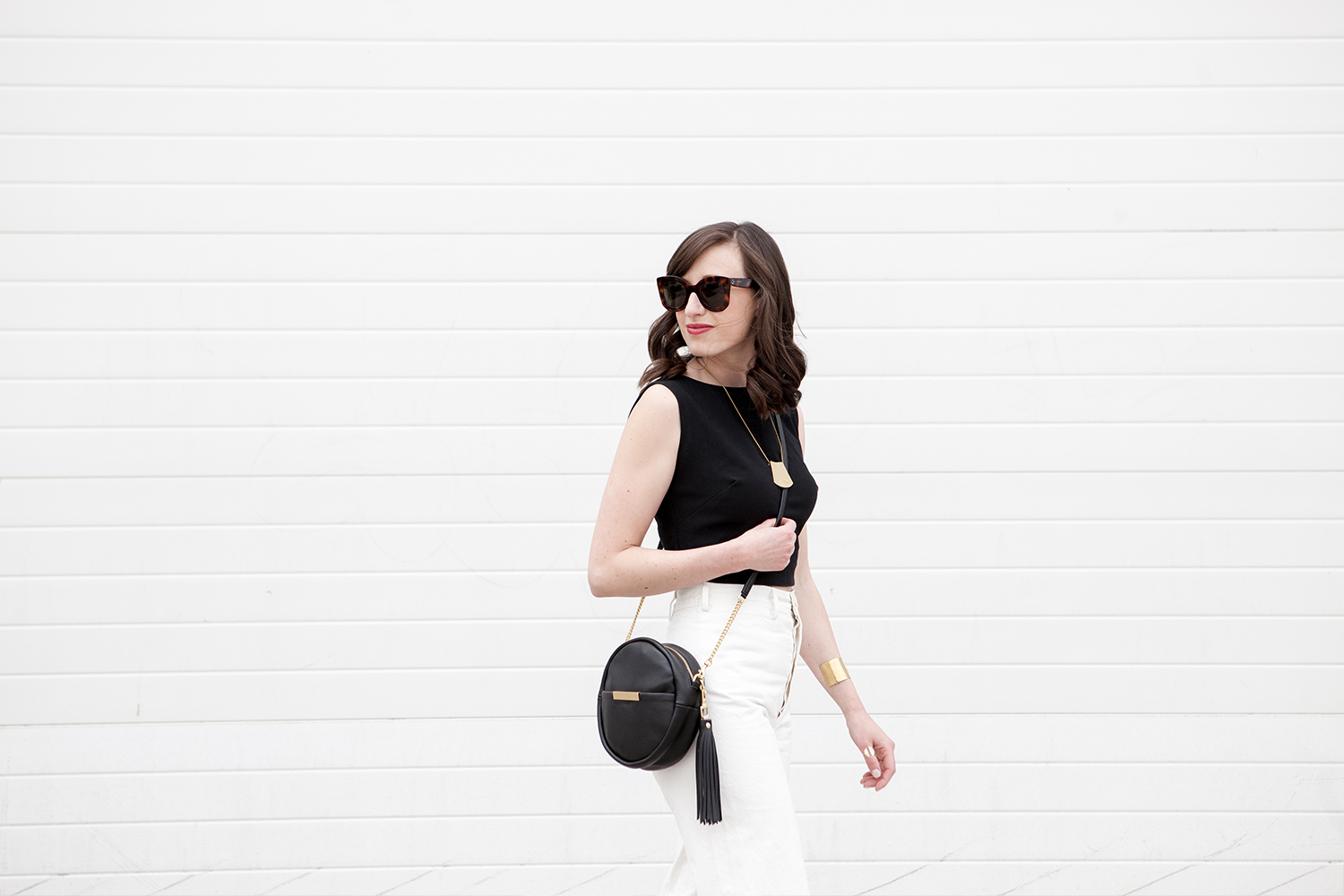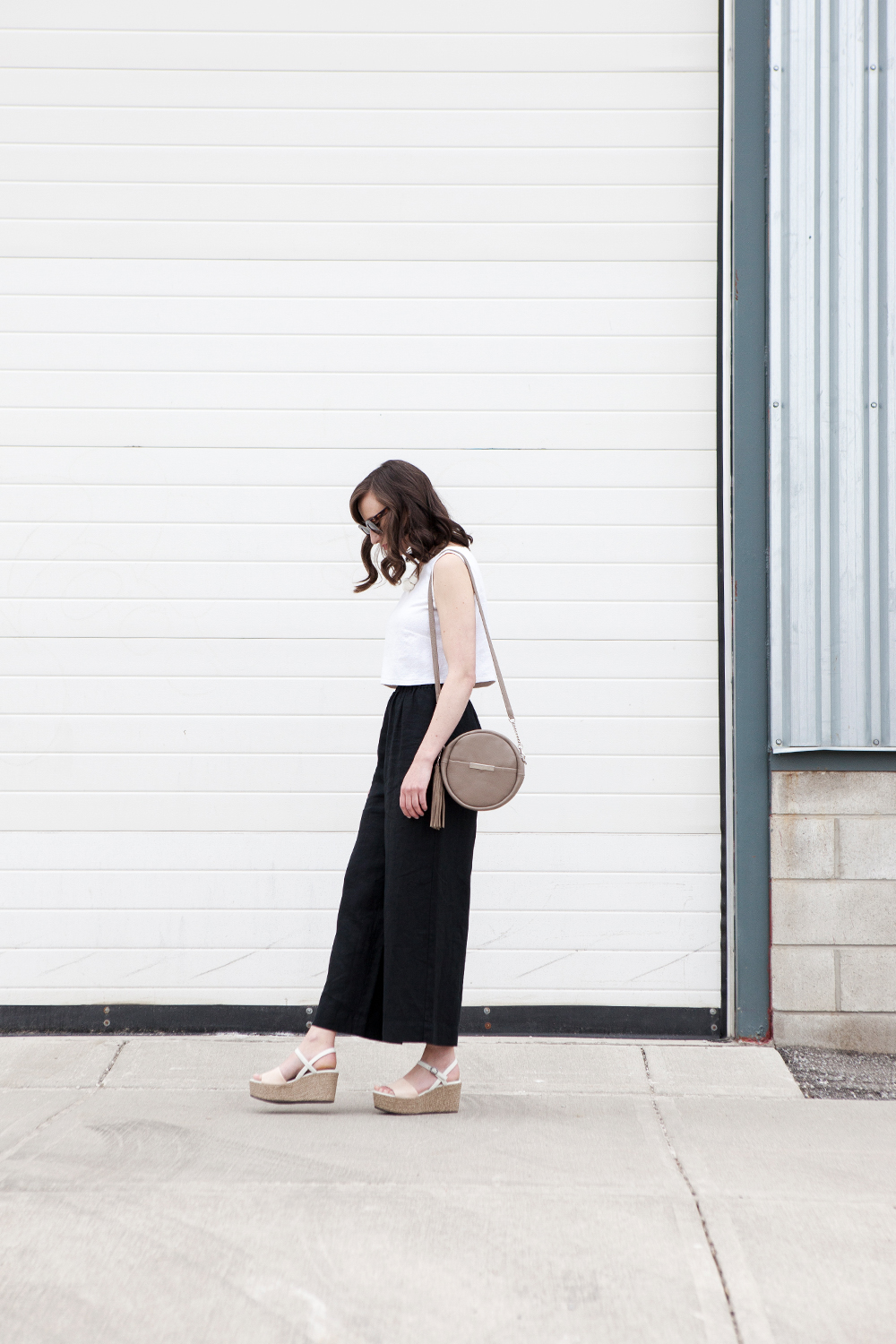 ---
SHOP THE OPELLE x STYLE BEE BAG IN ROCHER OR BLACK BEFORE THEY'RE GONE! 
---
Finally, I just want to say a huge thank you to Amy and Beth of OPELLE for this dream opportunity! The whole adventure was an absolute blast and one of the best learning experiences I've had to date. You ladies are such an inspiration! 
---
LOOK 1 – Tam-Tam Black OPELLE x STYLE BEE | Black Top old Elizabeth Suzann (similar option here and here) | Pants Jesse Kamm | Sunglasses Céline c/o SBG | Wedges Rachel Comey | Shape Cuff c/o Stvdio Brooklyn  | Necklace c/o Young Frankk | Split Ring c/o Claus
LOOK 2 – Tam-Tam Rocher OPELLE x STYLE BEE | Top + Pants Elizabeth Suzann | Wedges by Coclico c/o Garmentory | Watch c/o Chapter 10 (similar) | Sunglasses Céline c/o SBG | Necklace made by moi
---
Photography by AGATA PISKUNOWICZ