First of all, thank you so much for all the well wishes on our engagement announcement! We're very excited to be taking this next step together and really appreciate all the positive vibes.
Now, it's time to talk about two pairs of black pants that I get constant emails and questions about, the Cecilia Pant and the Jolene Pant. Both by Elizabeth Suzann, both totally awesome and both the titles of two of my favourite songs! I wanted to show them in the same context as I know many of you are debating between the two styles. This way you can get a good sense about how they look and fit, at least on yours truly. Here's my sizing for reference:
I am 5 ft 7 1/2 in tall and 125 lbs.
I have a 26 in waist and 37 in hips.
I'm wearing an old size S in the Cecilia Pant and had the waist taken in by about 2 inches (inseam is 25″) | Comparable to a current Size 0 Regular.
I'm wearing a size 2 Regular in the Jolene Pant with no alterations (inseam is 28″)
---
---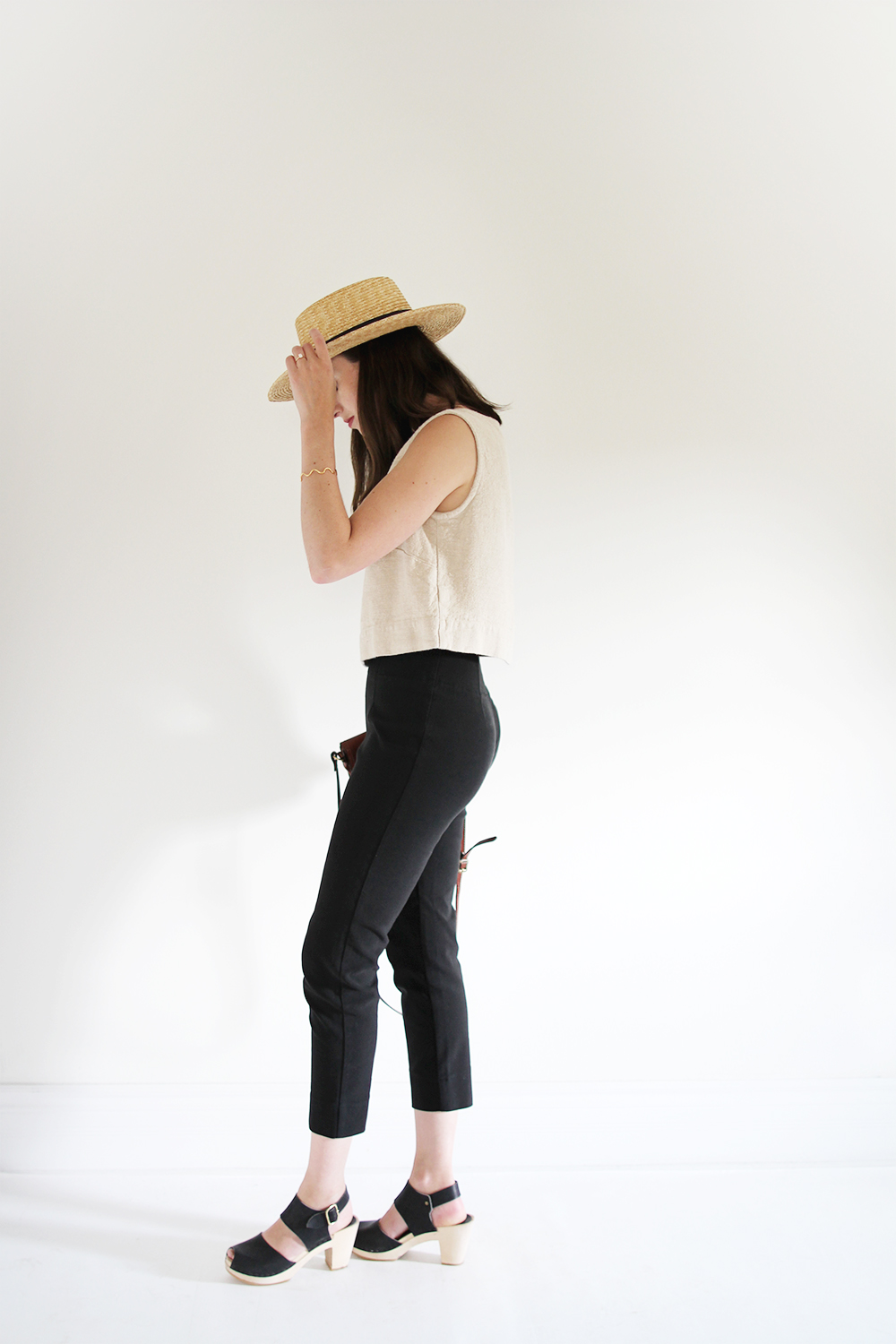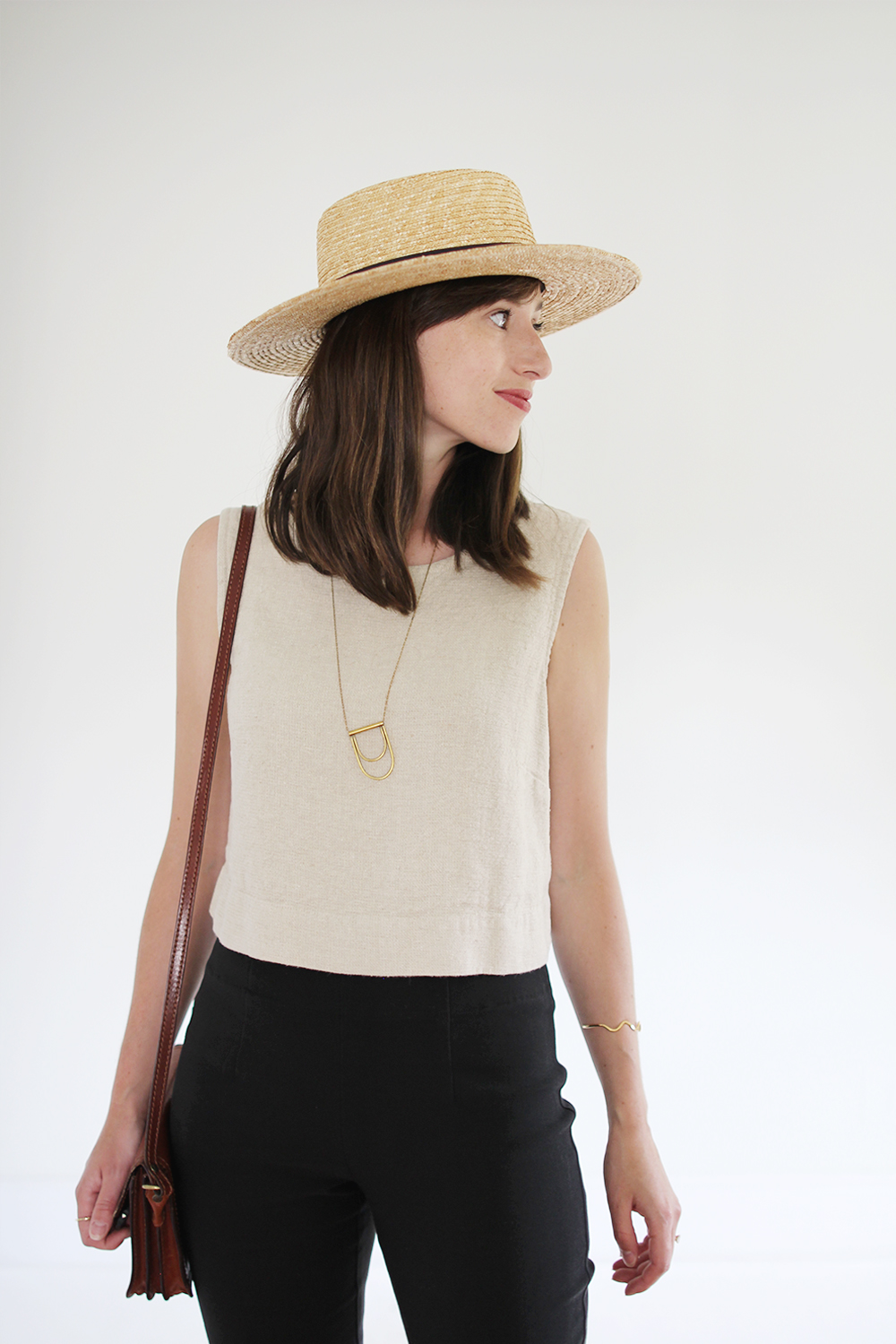 I'll start with the Cecilia Pant because I've had these in my closet for almost 2 years and I've worn them, literally, hundreds of times. Don't ask how they've evaded so many outfit posts, I have no clue! Anyway, I bought them before Elizabeth Suzann changed their sizing but I believe the current size equivalent would be a 0 Regular (2 for a more relaxed fit). I quite like the cropped length but I might opt for the Tall next time I order them so they can take me into colder months. So here's my two cents on what I consider the most essential pair of pants in my closet:
Fit
The Cecilia has a high waist that hits right above the belly button.
They fit snug through the waist, hips and leg all the way to a tapered hem.
These definitely qualify as a slim, fitted pant.
Gussets on the front and back keep the waistline sleek.
Fabric
These have a very forgiving amount of stretch to them thanks to 3% spandex.
Despite the high waist they are very comfortable to sit in as there is lots of give in the fabric.
The fabric is a similar thickness to a jegging but much more structured.
They're quite pet friendly and a lint roller will have them looking new in just a few rolls.
They're a true black but not as deep or rich a black as the Jolene Pant.
Feel  
These hug the waist, hips and thighs but they never feel too 'tight', just snug enough to feel super lean and trim, which also makes them perfect for layering under tunics and longer tops.
I dare say it's impossible to feel bulky in these.
They are much more sophisticated than a legging and there is no mistaking them for those.
They've doubled the fabric in the top 4 inches which helps 'hold' everything in and feels very slimming and flattering.
They are best for Spring, Early Summer and Fall.
Personal Notes
These are my power pants. I wear them to meetings, to dinners, traveling and just about everything in between. I always feel sophisticated and chic in them.
ES claims them to be wrinkle resistant and the perfect travel, which are both entirely true.
They do absolute wonders for the derriere.
After countless washes they have only faded slightly. (I use an enzyme free detergent which also helps)
They had a very strong chemical smell when they arrived (which I didn't like) and it took at least 3 washes to get rid of it. Maybe that's different now but it was unmistakable when I opened the box.
I've noticed that they stretch out after a couple wears now that I've worn them so much, but a quick wash returns them to their snug fit.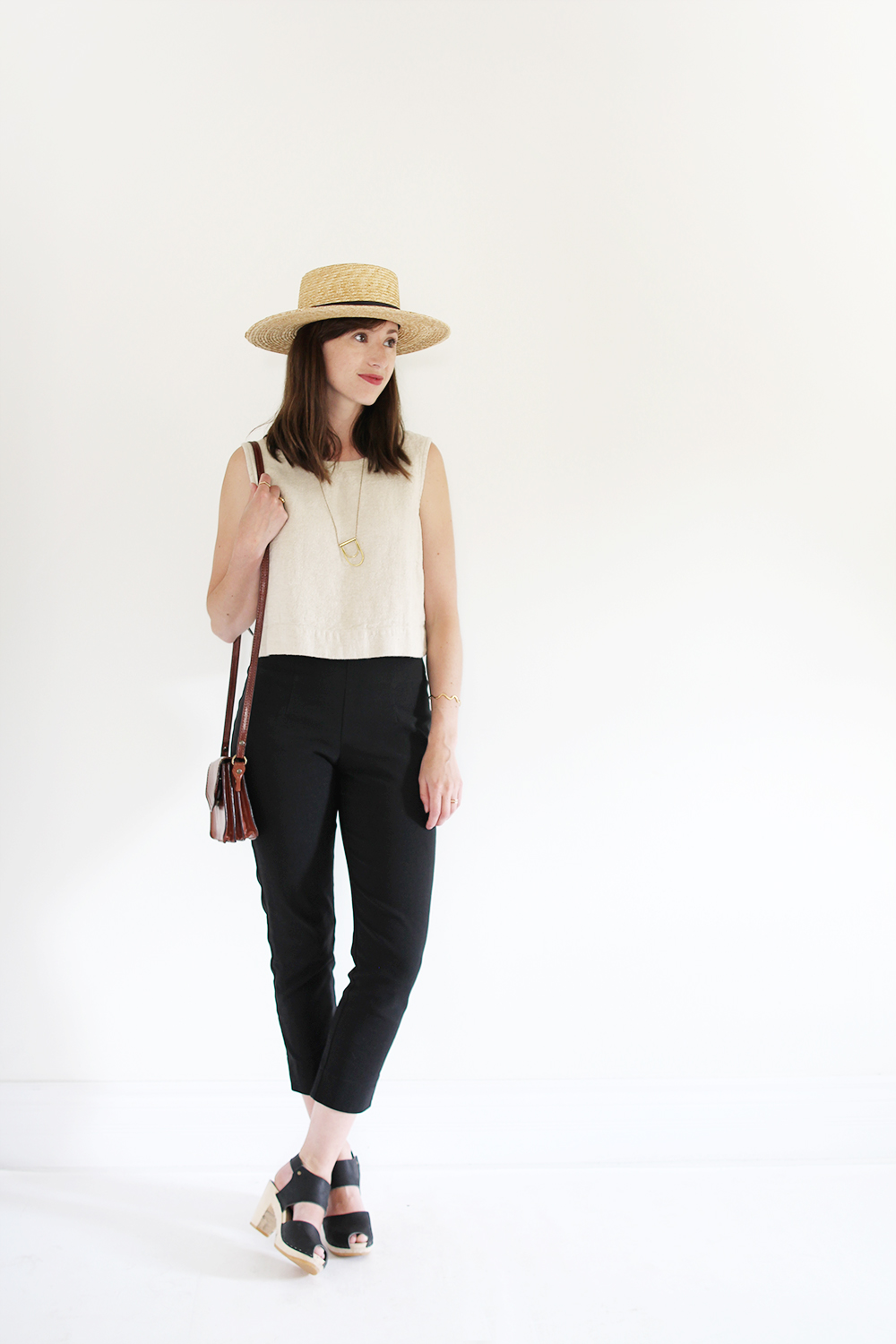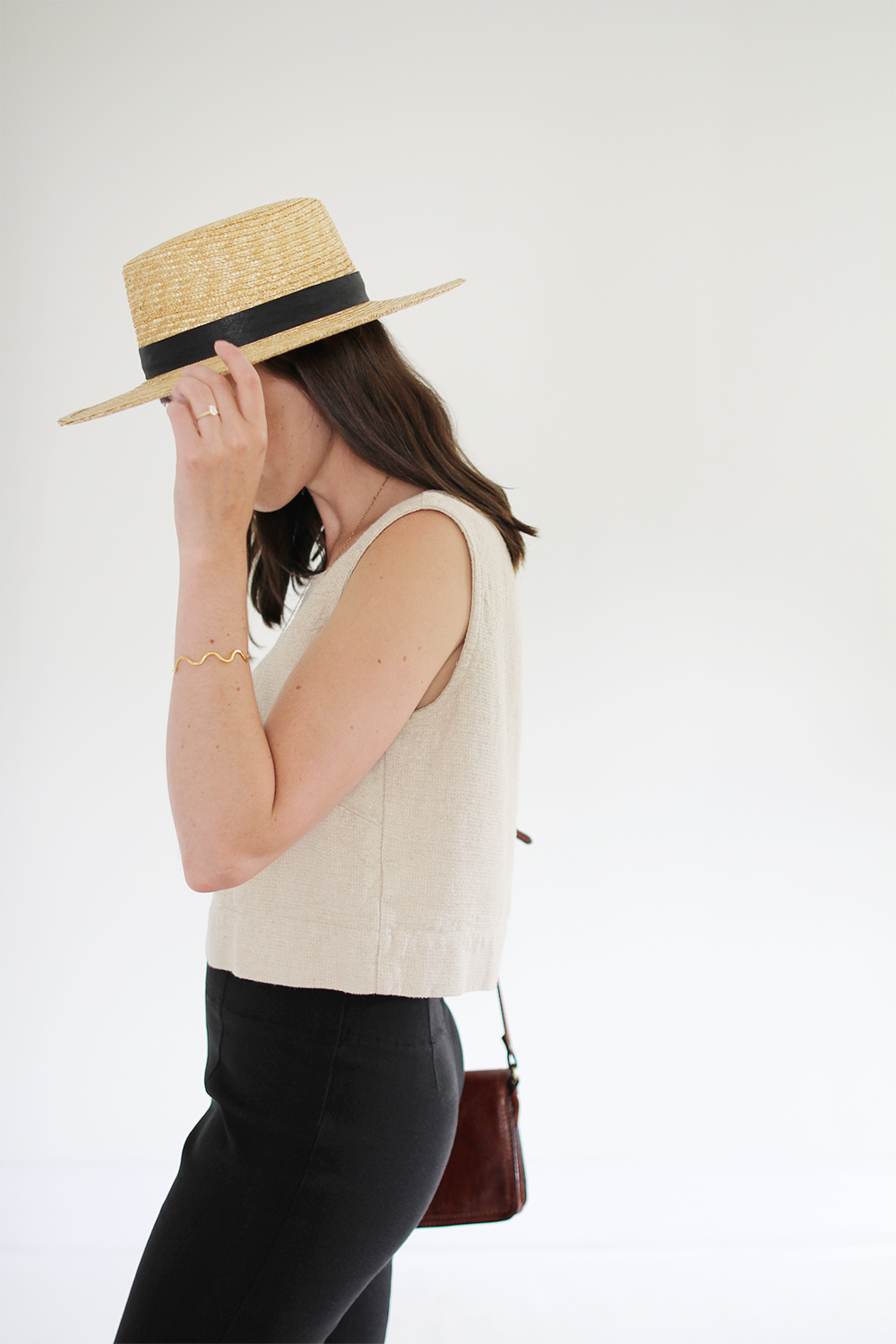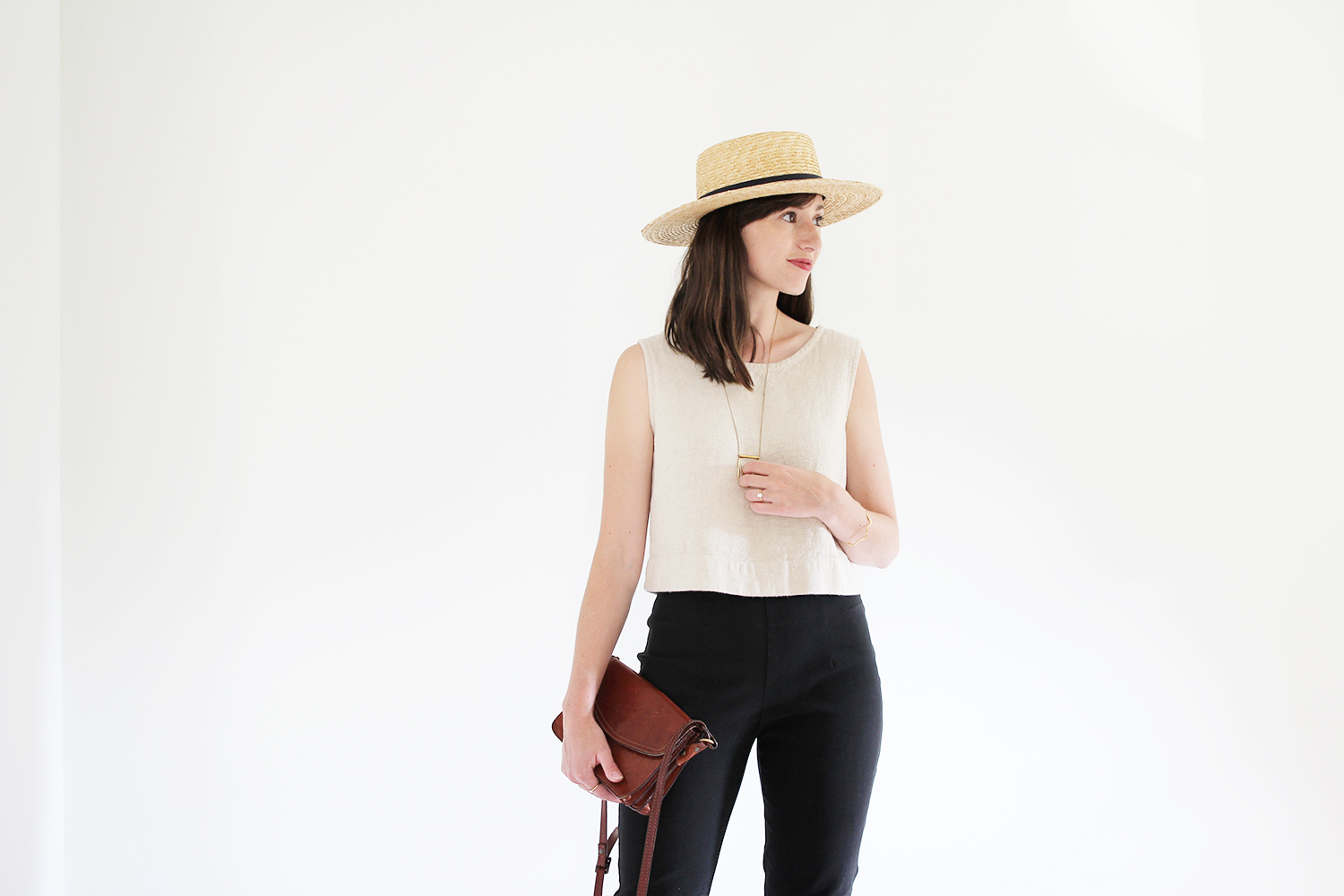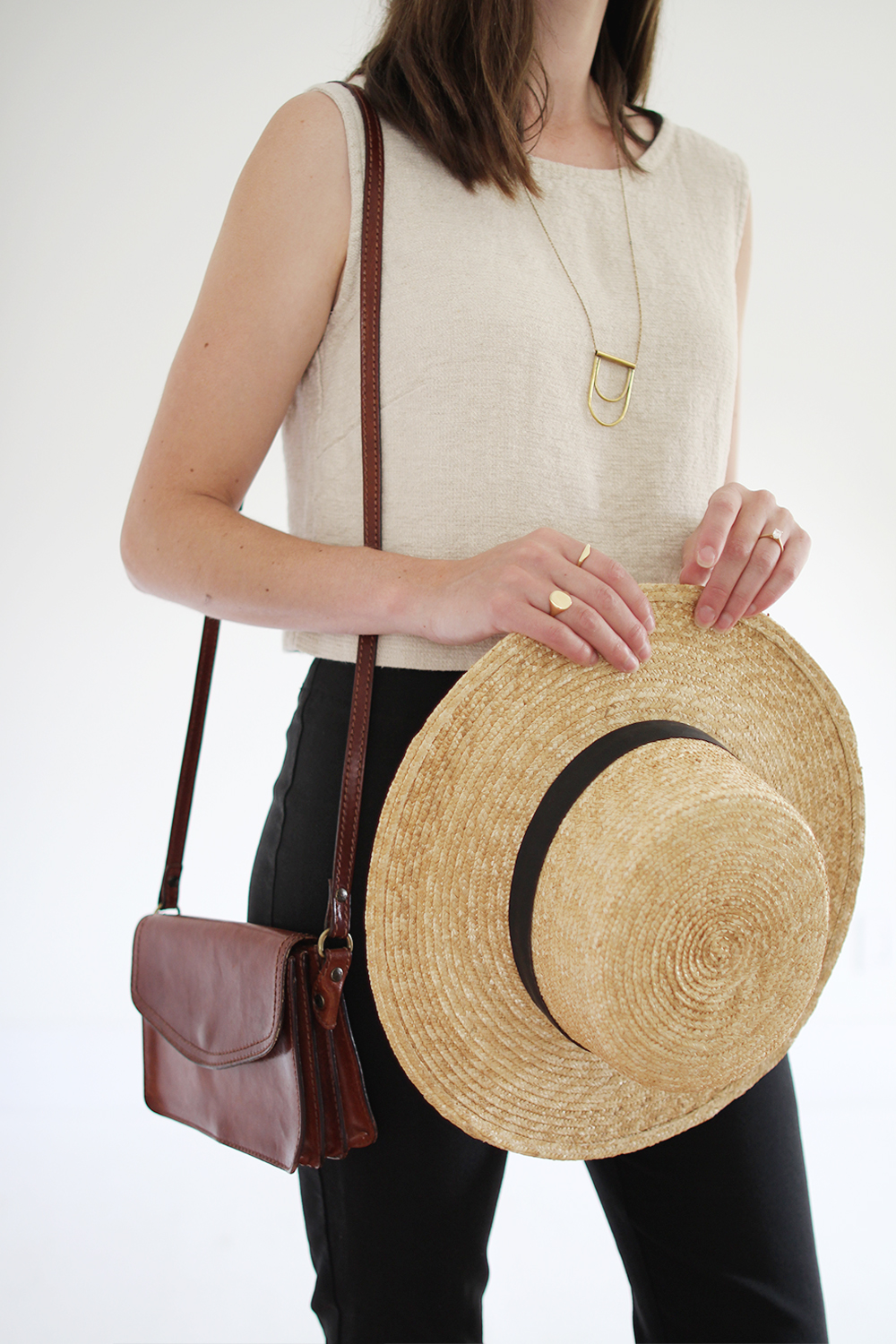 ---
Look #1 | Hat Janessa Leone | Petra Crop c/o Elizabeth Suzann | Cecilia Pant | Bryr Clogs | Vintage Bag (similar here and here) | Wave Cuff c/o Young Frankk | Rings c/o CLAUS (20% off with code CLAUSxSTYLEBEE until midnight tonight!) | Necklace Another Feather
---
---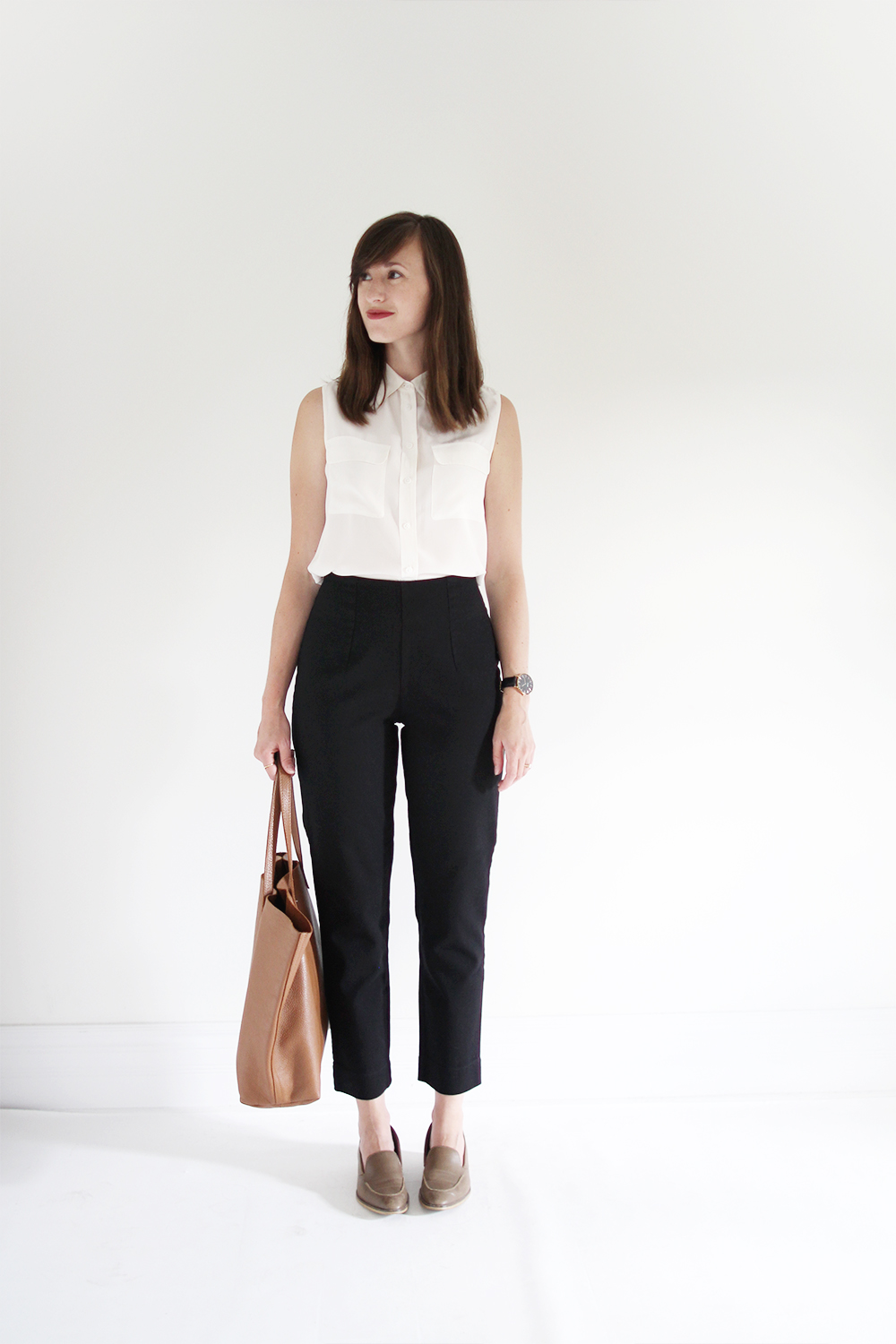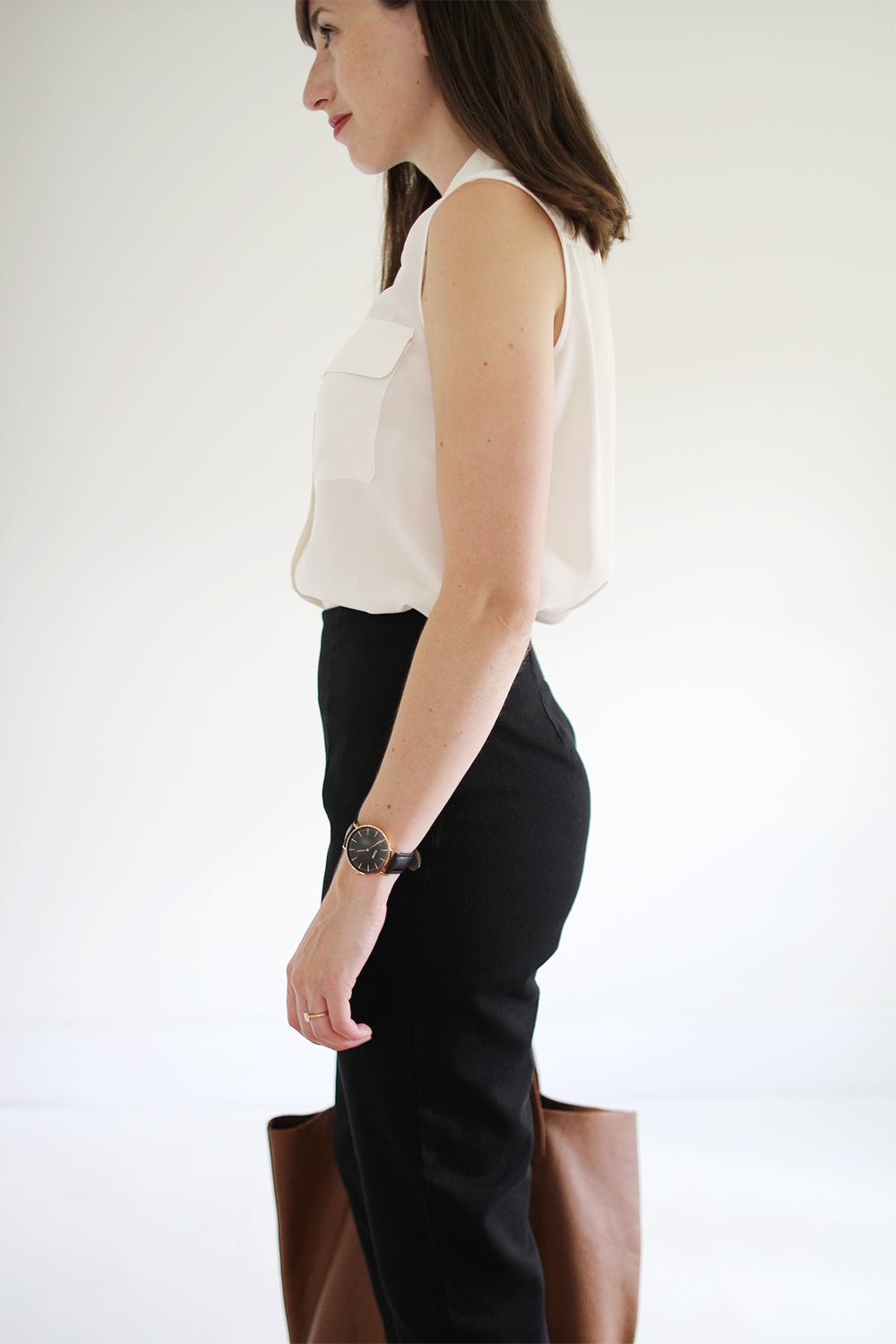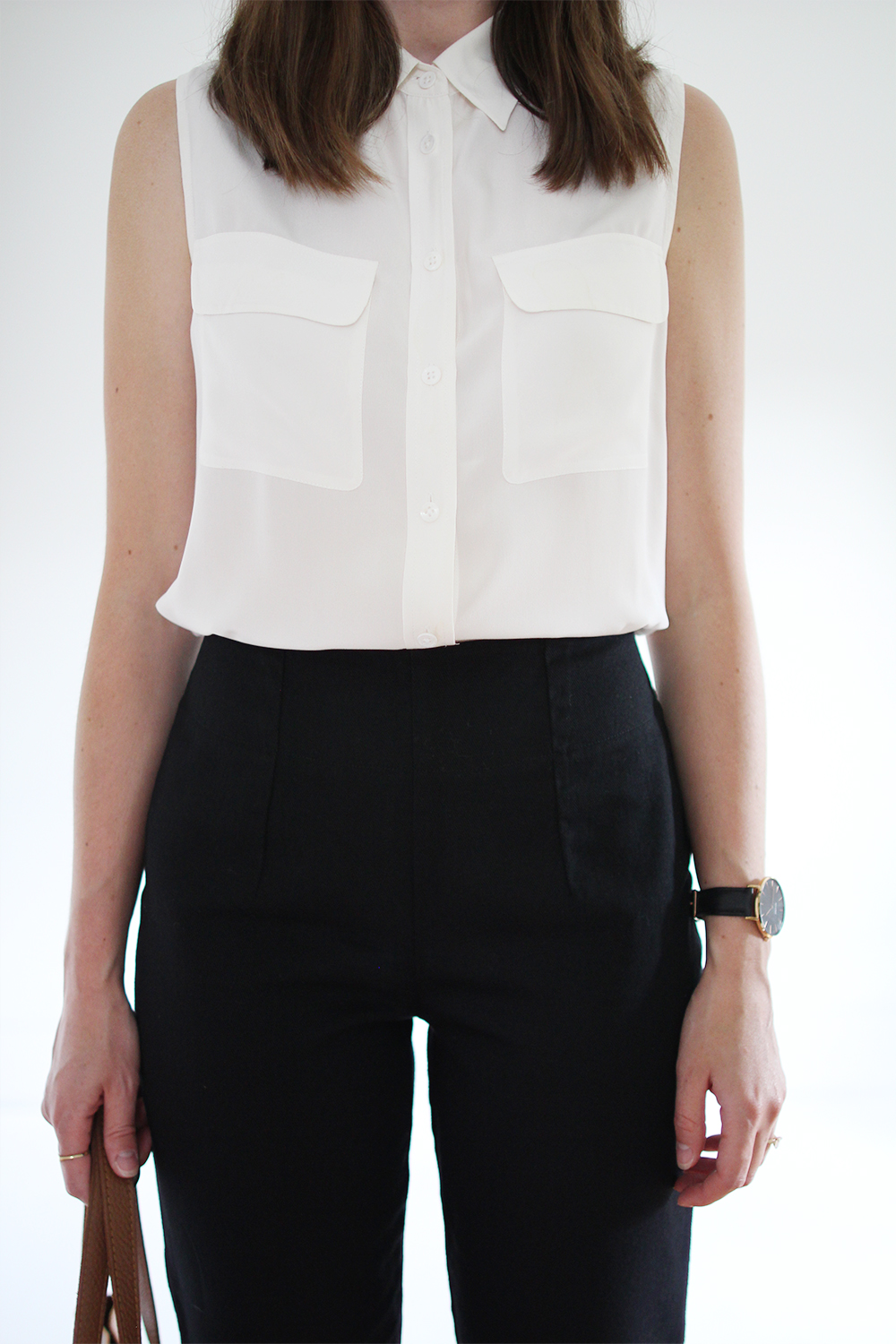 Now onto Jolene! I was very excited when I saw these in the SS16 Collection and couldn't wait to give them a try. Truthfully, since they took a long time to arrive (though entirely worth the wait!) I haven't had too many opportunities to wear them as it's been boiling hot here for over a month but I've had them out for a few evenings and absolutely love them. As soon as the temps go down they'll be on heavy rotation. So here's my two cents on these new faves:
Fit
The Jolene has an even higher waist that hits right at the natural waist for a super slimming focal point. I LOVE the waist on these so much.
The fit is snug through the waist, hips and straight/relaxed through the leg to a cropped ankle.
Gussets on the front and back to keep the waistline sleek and fitted.
Fabric
These are made from cotton twill and have no stretch, yet they don't feel confining, just more structured.
Despite the high waist they are very comfortable to sit in and they will give/stretch out slightly after a long day.
The fabric is a similar thickness and texture to a light wool pant.
These will pick up lint more easily but again, a roller reverses the damage easily.
They're a truly deep, rich black which I love.
Feel  
The Jolene's hug the waist and hips but relax through the thigh and leg so you feel trim and sophisticated but never as though they're 'tight'.
They feel very flattering and slimming without giving too much away.
These are ever so slightly dressier than the Cecilia and absolutely perfect for work and corporate settings.
Again, ES has geniusly doubled the fabric in the top 4 inches which helps 'hold' everything in and feels very slimming and flattering.
They are best for Spring, Fall and Winter.
Personal Notes
I haven't washed these yet (or felt the need to) as they have held their shape pretty well so I can't comment on fade or washing but I don't foresee any issues.
The Jolene's lend themselves well to tucking tops and sweaters in, which I love for the Fall and work meetings. Shirt hems with likely show under the Cecilia.
I originally ordered the size 4 based on the fit guide, model measurements and caution to order up if in between but they were huge on me. I switched them for a size 2 and they fit really well in the waist and hip but I wouldn't have minded a slightly slimmer leg. I might have even gotten away with a size zero but I didn't want to risk them being too tight in the hip/crotch.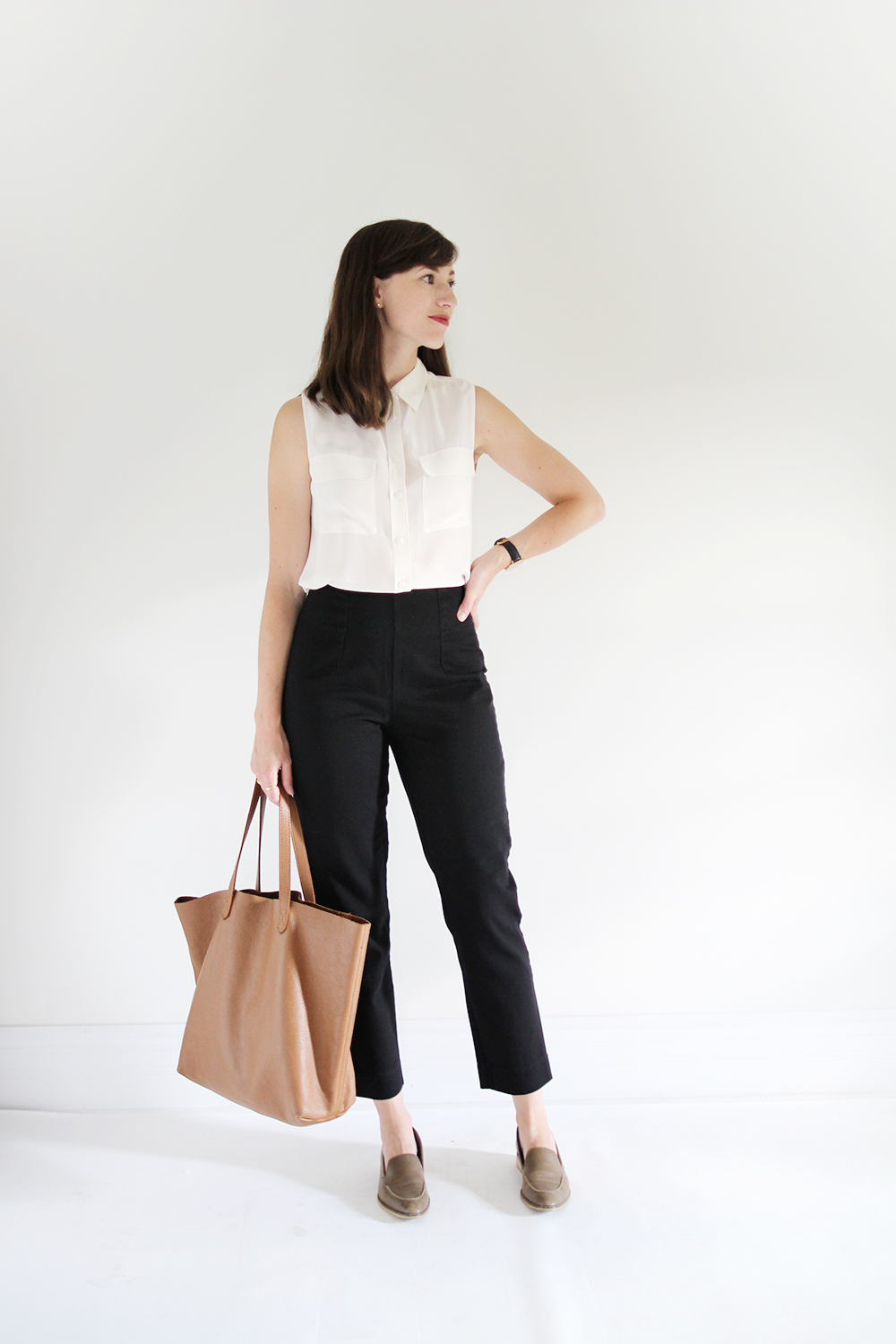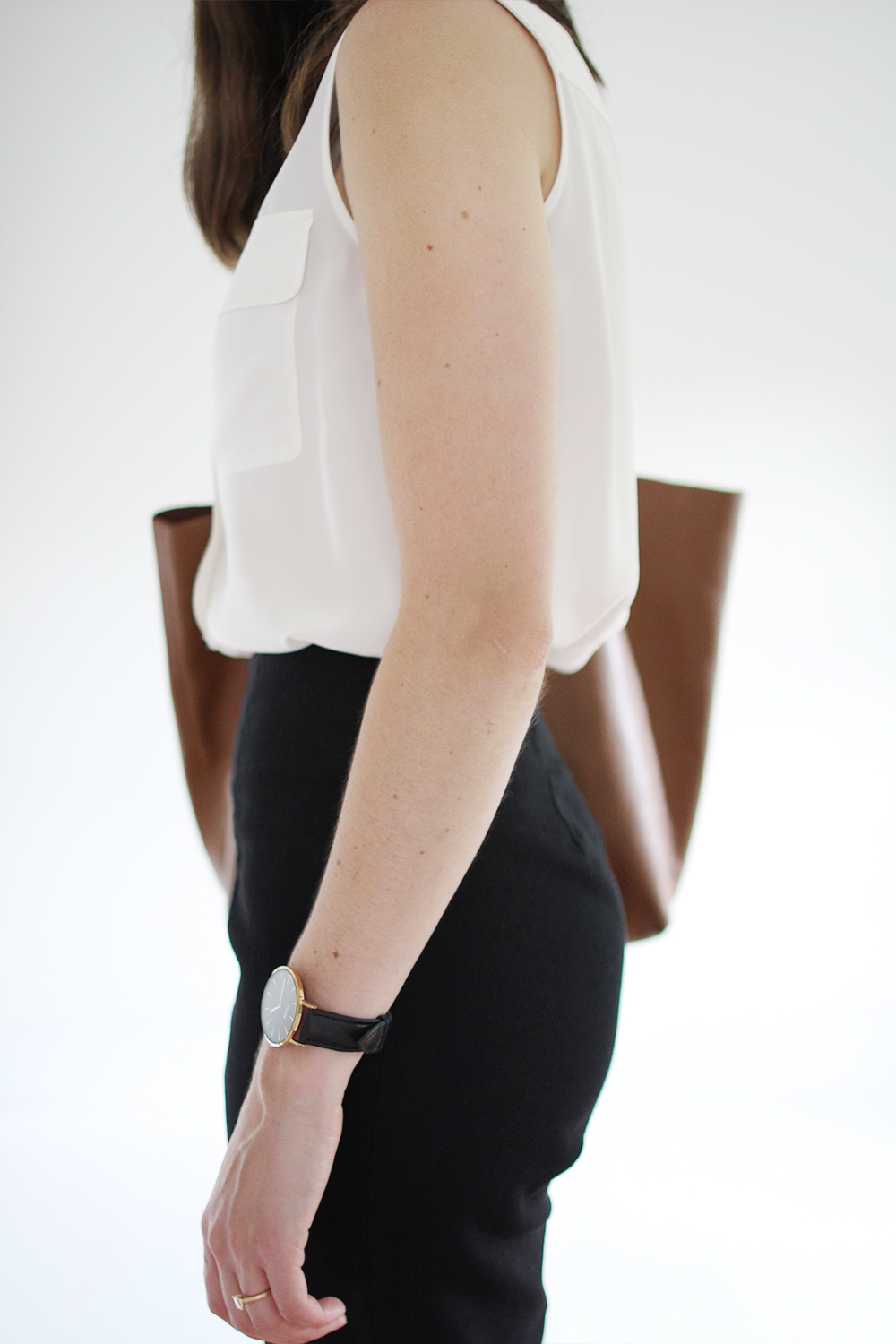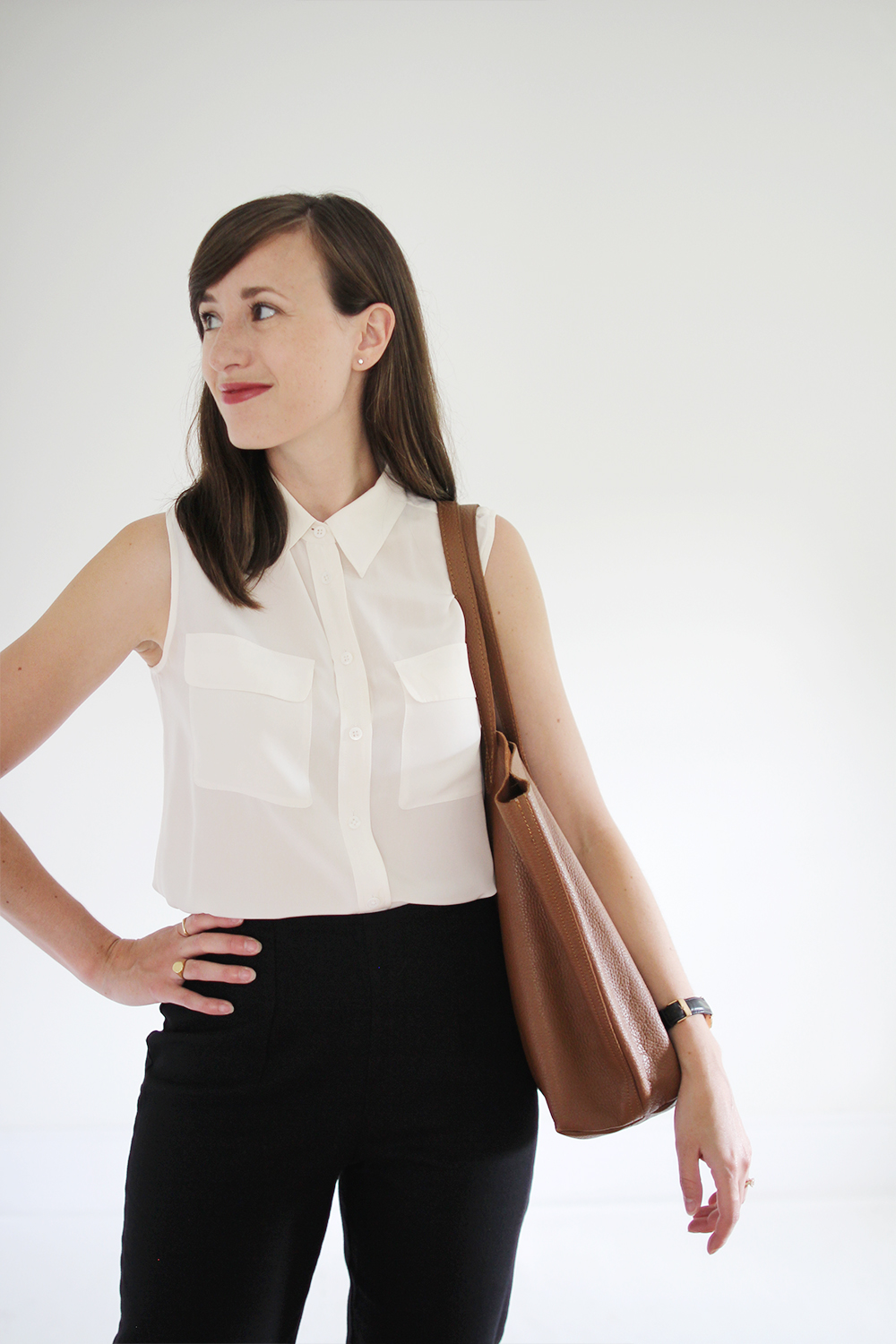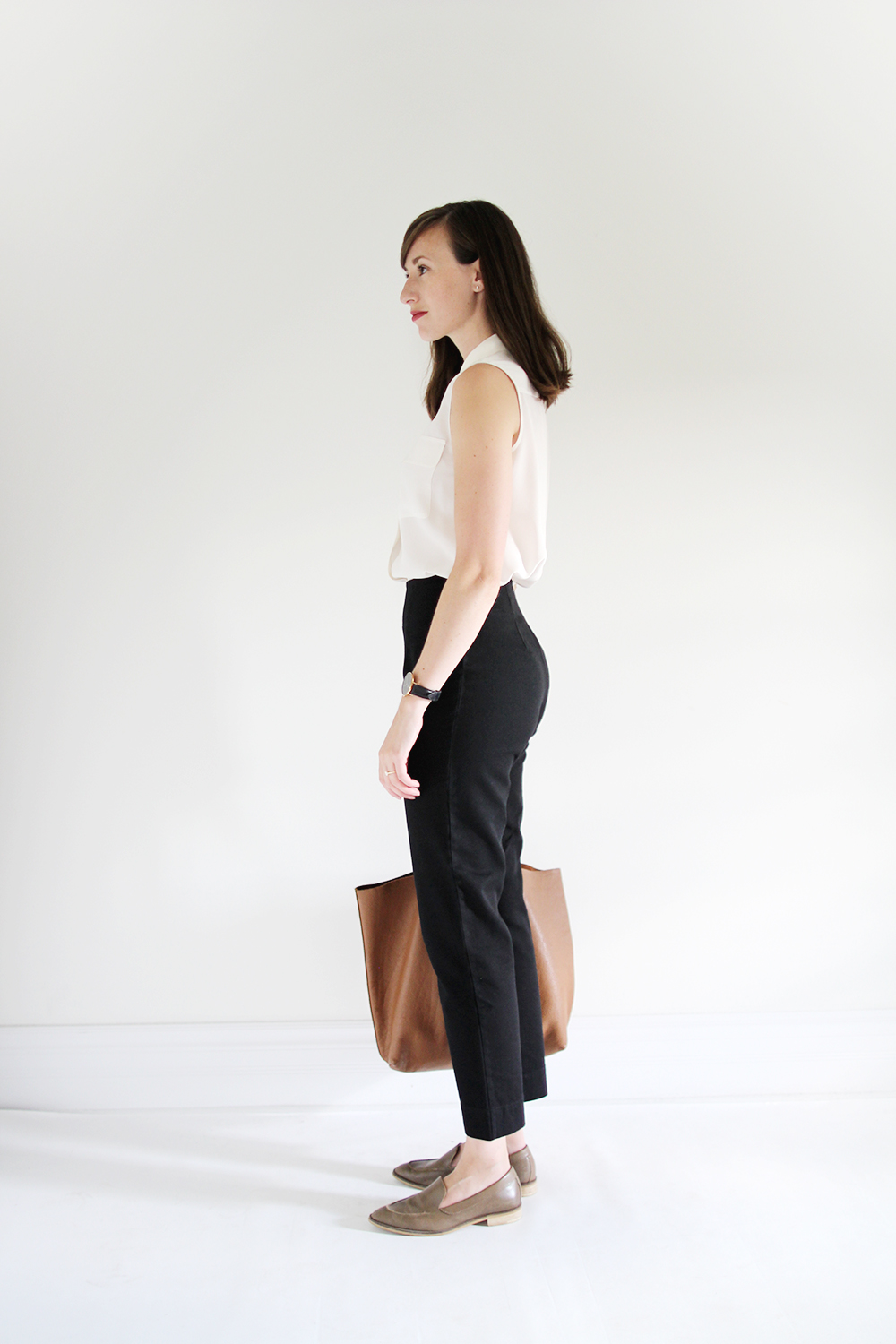 ---
Look #2 | Slim Signature Blouse Equipment (wearing XS) | Jolene Pant c/o Elizabeth Suzann | Watch c/o CLUSE | Tote Cuyana | Loafers Everlane | Rings c/o CLAUS (20% off with code CLAUSxSTYLEBEE until midnight tonight!)
---
So those are my honest thoughts on two of my favourite pairs of pants. Feel free to shoot over any additional questions you might have about them and have a wonderful weekend!
---
 This post is not sponsored. All opinions are 100% my own. Sizing suggestions are based on my personal experience but you know your body and your fit preference best. Elizabeth Suzann offers great customer service and may be able to help you better assess your perfect size.