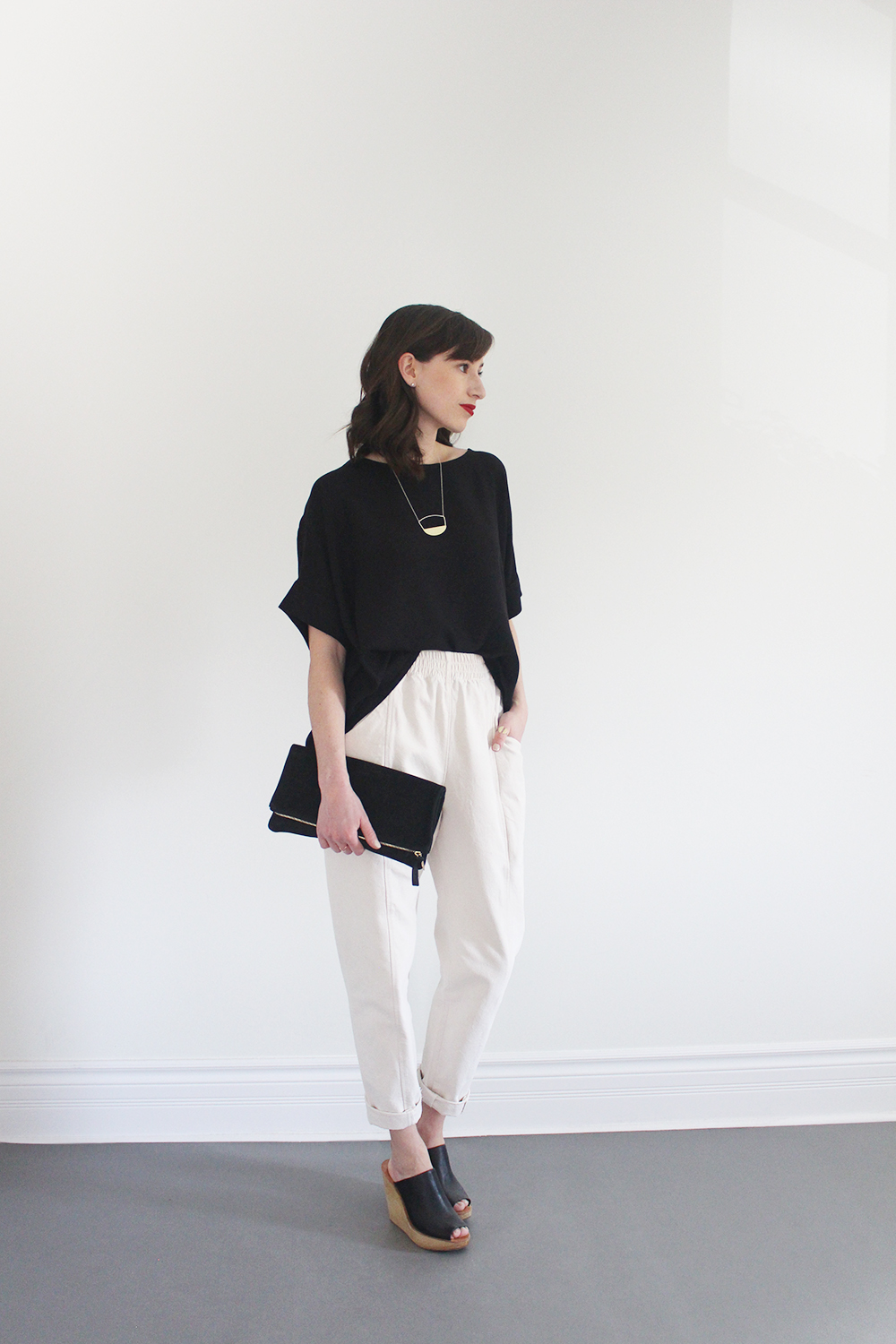 Jealousy is no fun. We all feel it once in a while, some more than others, but regardless, no one is immune to this vile emotion. The fact is, we're all surrounded by friends, colleagues and peers who are doing awesome things in their lives and it's all too easy to compare ourselves to them and lose sight of our own achievements and goals. Sometimes all it takes is a peek at someone else's success and those pesky insecurities start creeping in. Truth is that someone is always going to have a nicer house, a more exciting travel schedule, a bigger paycheque and a better wardrobe. C'est. La. Vie.
For the most part I don't have much time to be jealous, I have too much to get done and too many jobs to deliver on but every now and again it sneaks into my psyche and tries to get the better of me. That's right, I said 'tries' because it's never quite successful and I have to credit a handy little trick I have for that. The trick is this, every time I'm feeling a twinge of envy or resentment I do the following:
Try to remember that whatever it is I'm jealous of probably took a lot of work to accomplish.
I acknowledge that I'm on my own life path and the fact it doesn't look the same is a good thing.
I make a point to commend the person's accomplishment.
I extract as much inspiration as I can from whatever it was that piqued my insecurities and make it work for me instead of stifle me.
Without fail I come away from the situation feeling more empowered than discouraged and excited that people are doing things that are interesting and high-quality enough to make me stop and stir. There is room for all of our hard earned success in this world and sometimes we need a little push to keep setting the bar high. I'm sure you already know that Amy Poehler quote, "Good for her! Not for me." and that's what it all comes down to, right?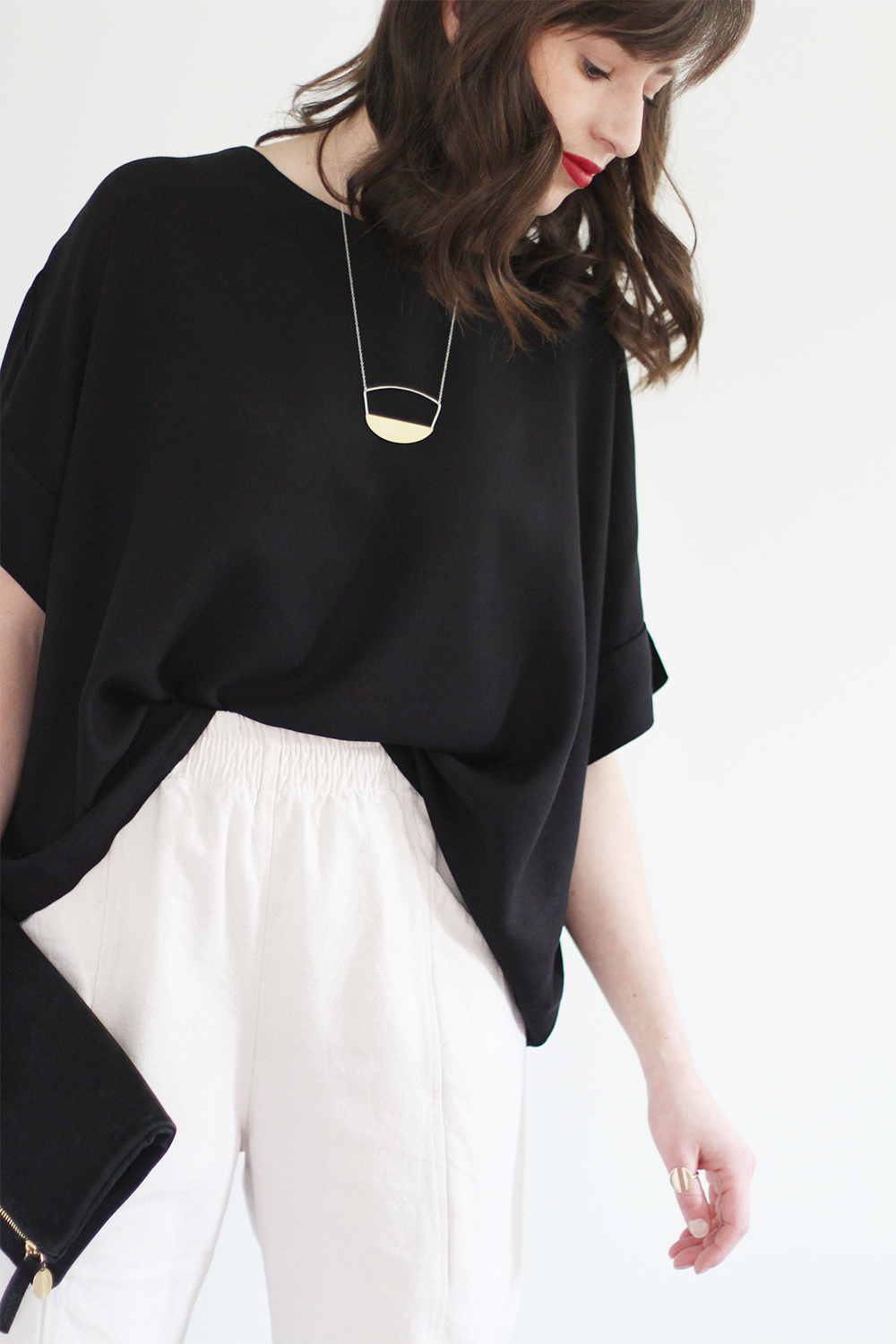 Now, on a happier note, how delicious is this beautifully elevated basic black tee by Only Child? It's probably one of the most versatile, comfortable and effortless pieces in my closet right now. Last winter I interviewed Haley Tucker, the designer and maker behind the collection for my first Behind The Design and since then she's put forth a Spring collection, which is absolutely stunning. There are a lot of things that set Only Child apart from other independent, small run labels, but it's Haley's spot on choices in fabrics and incredibly wearable designs that do it for me. I still can't get over the fact this top is made of 100% cotton, drapes like silk and yet it's entirely washable. Meaning, I can wear it every day of the week if I really want to! Right now, I'm dreaming of wearing it with my comfy canvas clyde pants and dressing it up with some simple accessories and show-stopping shoes.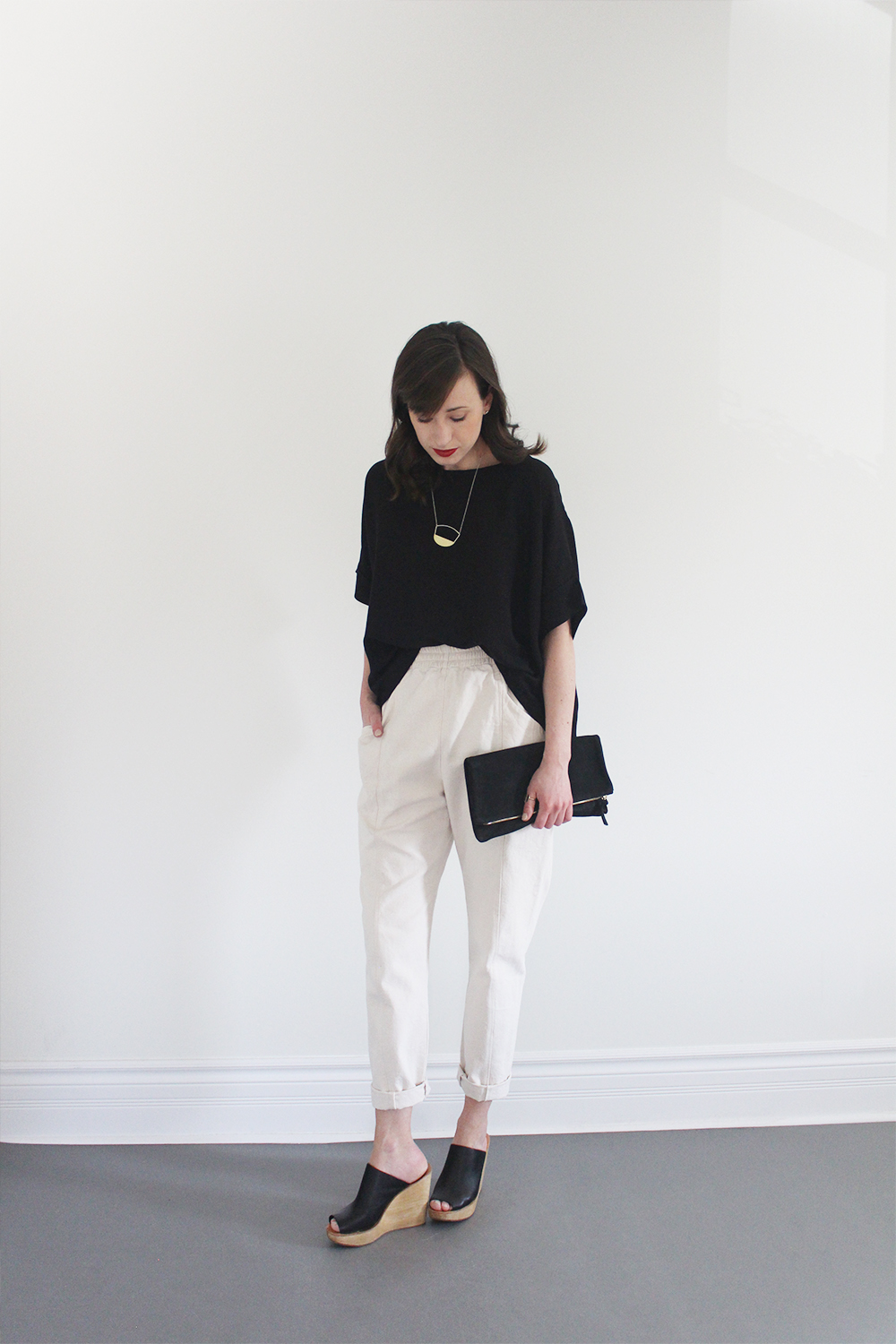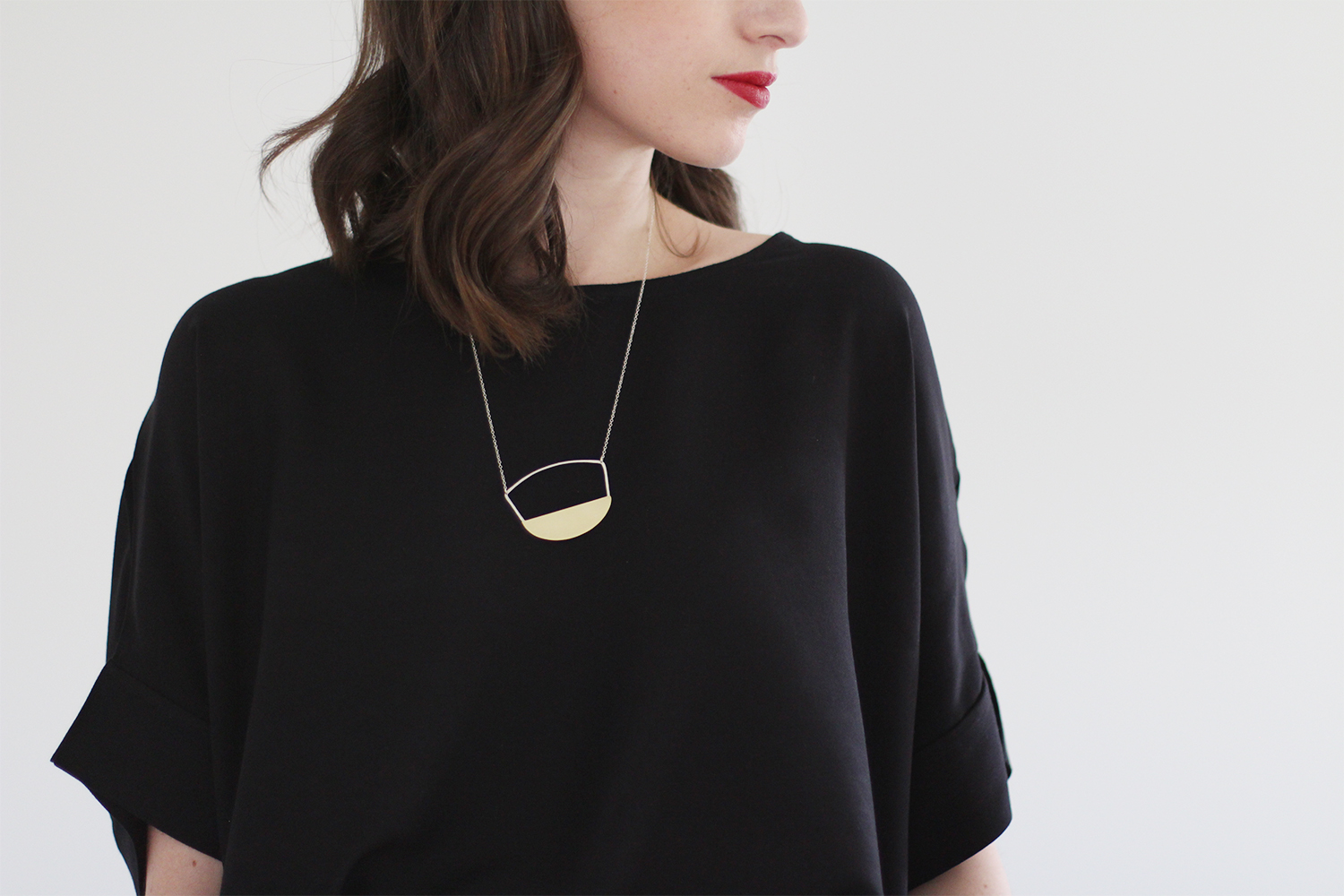 Speaking of simple accessories, one of my latest and greatest discoveries is the jewelry line CLAUS. Another formidable one woman show, Erin Claus, is the founder and maker behind the Brooklyn based line of elegant, minimalist designs. I was immediately intrigued by the use of negative space and how Erin's pieces were so wearable but striking at the same time. I've been wearing the split ring and padlock pendant on repeat since they arrived and just love the modern interest they add to any look. Erin is definitely on my list of jewelry designers to watch!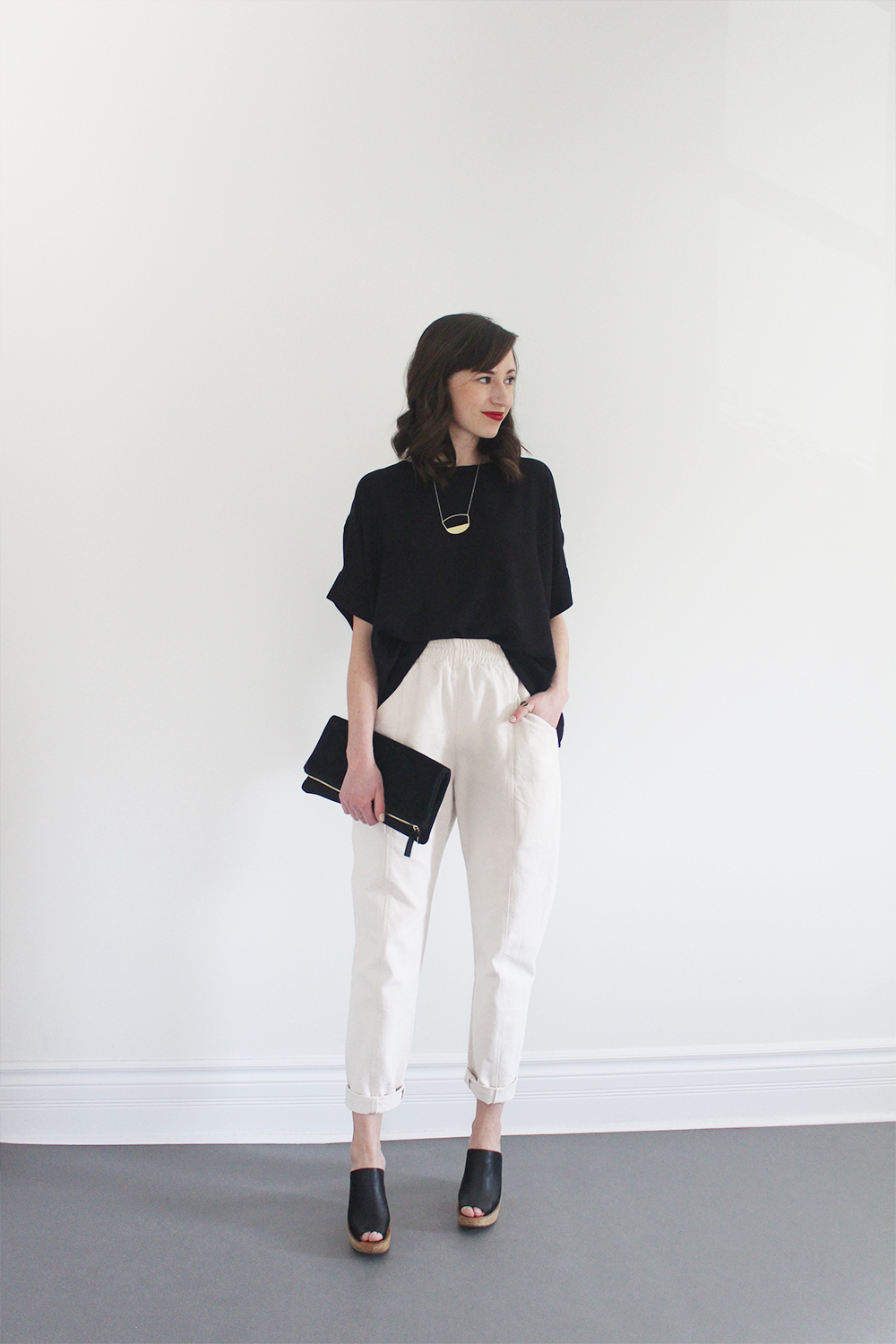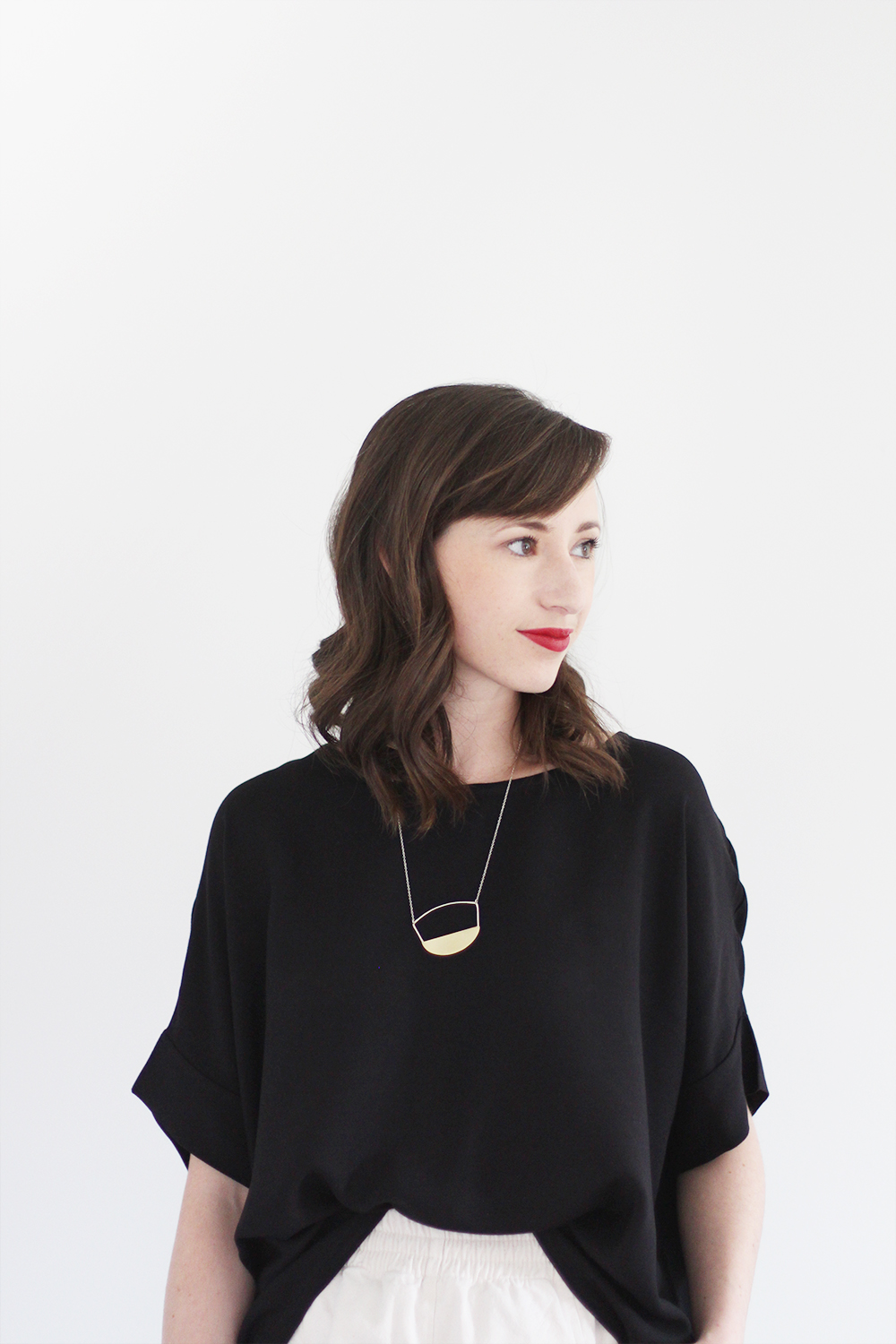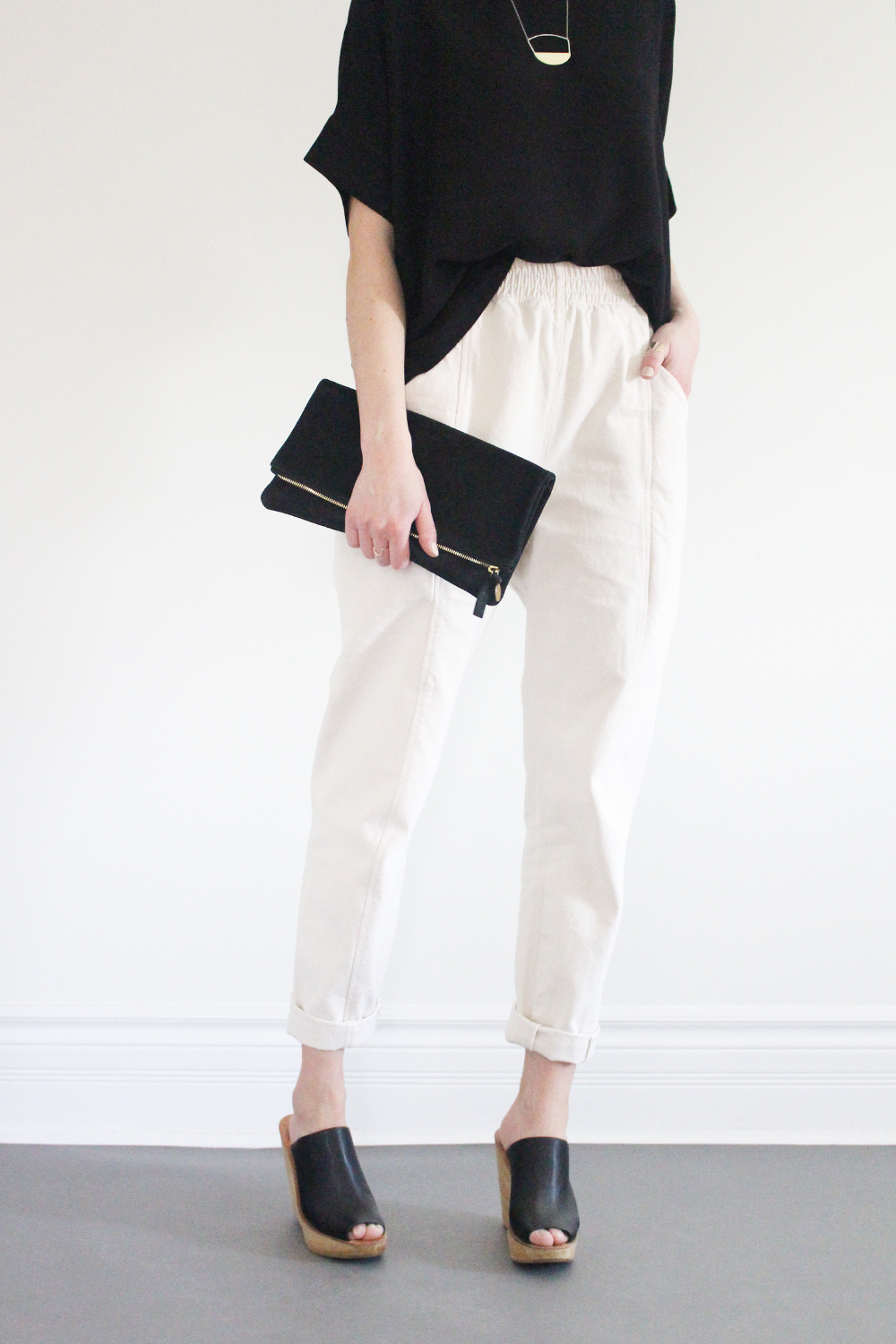 1 | Sara Box Top by Only Child | Also available in White | I also love this option in silk with a similar shape and button front.
2 | Padlock Pendant by CLAUS | The half moon pendant is another beauty. | For an even more minimal vibe I suggest this stunner.
3 | Clyde Pant by Elizabeth Suzann | Please note: I am wearing the original version in cotton canvas in a size S. | The Black Crane carpenter pant is a similar shape in linen. These are a beautiful silk option in a jogging pant style.
4 | Clutch by Clare Vivier | Same clutch in perforated cream and in a tasty caramel.
5 | Split Ring by CLAUS | I also love the signet collection A LOT. Arch ring n/a by The Gather House.
6 | Wedges n/a by Rachel Comey | Very similar option by No. 6 Store and an equally fabulous version by RC.
7 | Lip Colour by Burt's Bees | My favourite lip pencil in Napa Vineyard.
---

---
This post is in partnership with both CLAUS and Only Child. All opinions expressed are entirely my own. Thank you for supporting the brands that support Style Bee.
Ps. The Spring 10 x 10 Challenge was scheduled to start today however it has been postponed to Friday due to some weather constraints. Stay tuned!