It's time to kick off the Fall 10 x 10 Challenge and I'm excited to share the first of 10 looks. If you're just tuning in, I'm using 10 items, to make 10 looks over the next 10 days. I shared all the details about this fun series in Friday's post, so take a look there first if you're intrigued and try it yourself!
Now onto the outfit! This was the first one that came to mind when I started pulling my 10 items together. For me this look isn't pushing any style boundaries or reinventing the wheel and that's totally fine. I'd definitely wear this any day of the week. It's great for cozy studio days spent at my desk, client meetings, running errands, family visits and dinner dates. It's just a simple, comfortable silhouette that I've been loving for a long time. A long sweater with skinny jeans, ankle boots, a statement necklace and a coat. Effortless-chic, done and done.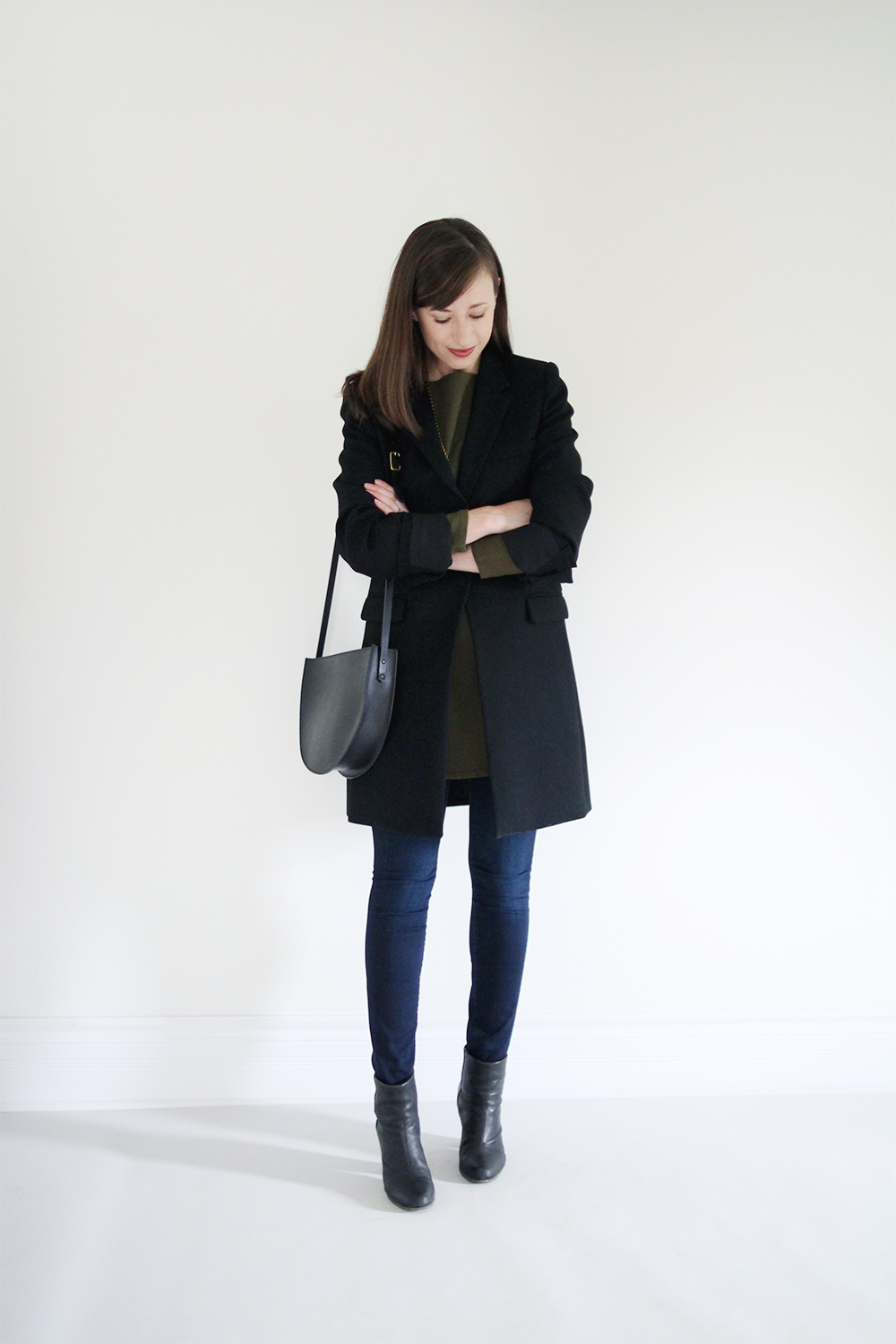 ---
I've decided to assign a formula for these 10 x 10 posts, which I hope will help me analyze my style choices and give anyone interested some better insight as to how different items can work together. I'll be looking in-depth at one of the 10 items in each post and then making some quick notes about fit and styling details that can make a major difference. So here goes! 
---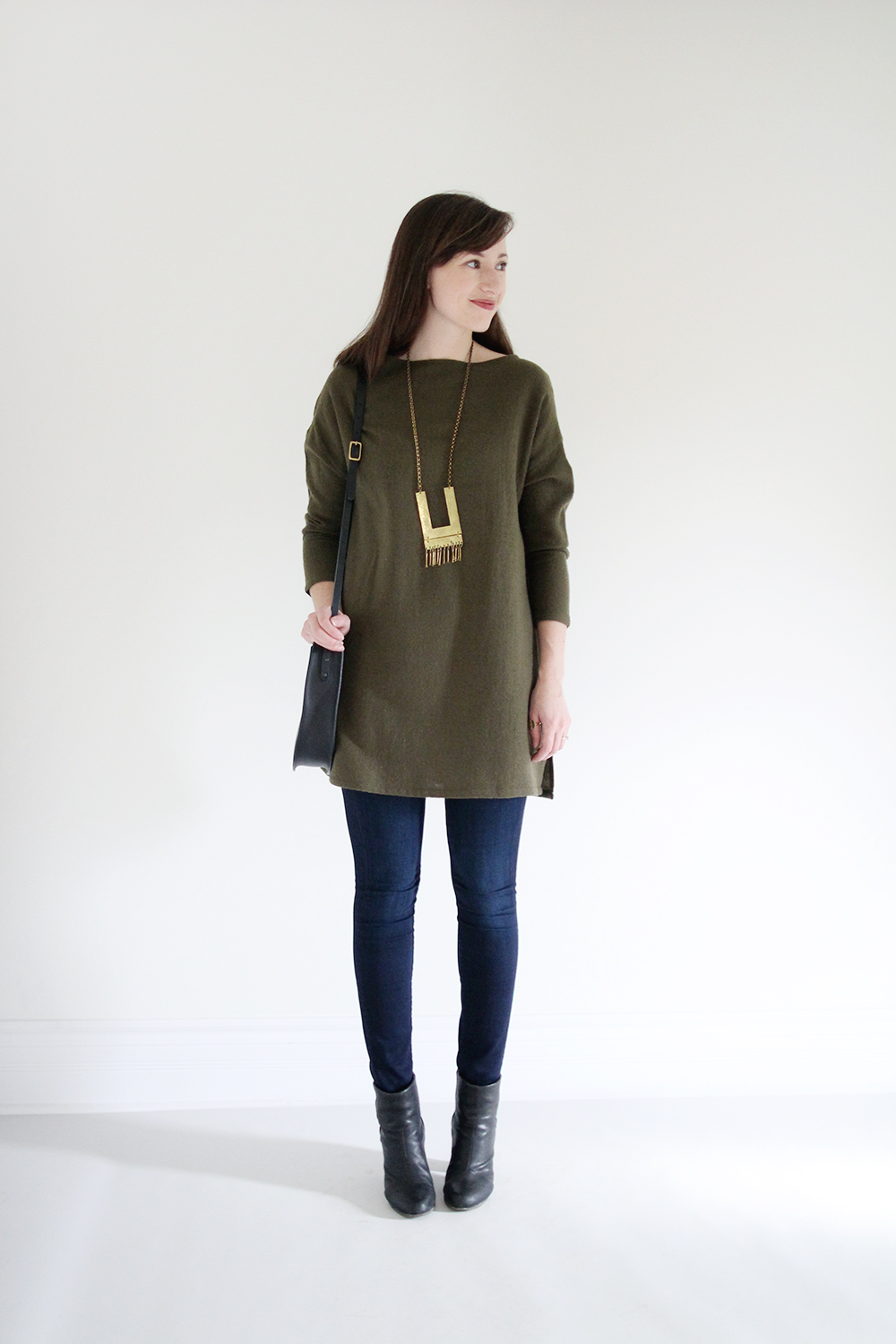 ---
ITEM #1 – The Tunic Sweater
I really really love a good tunic sweater. This one in particular is from FW 2015 by Elizabeth Suzann and the moment I put it on I knew it was going to be a forever favourite. I love the mossy/olive green and the light-weight boiled wool is super toasty without being too hot, itchy or cumbersome.
Before this one, tunics weren't really on my radar but I was looking for something I could toss over skinny jeans, that would go past my butt without being a dress or a humongous sweater. Et voila!
Personally, I prefer to pair tunics with a slim pant. I've seen people rock them over a wide legs but I like the sizing contrast you can achieve with this approach. I think it makes for a very flattering silhouette which slims the legs and elongates the figure overall.
In terms of how this one has held up, it's been pretty good! I've only dry cleaned it once, at the end of last winter and simply spot clean and steam it as needed. Elizabeth Suzann sends a sweater stone with every wool garment which makes removing pills and fuzz very easy. I've only found that pilling occurs in high friction spots like the sides and under the arms but otherwise it's in great shape and I welcome the cozy patina natural wool develops with time.
A few things to look for in a good tunic are:
1 – Movement. It's easy to see how this could get bulky or boxy so look for a fabric that will move with you and give hints as to your shape underneath. This is a beautiful boiled wool that's not at all itchy.
2 – Details. Using this one as an example, the drop shoulders keep the shape relaxed and the side slits help to keep it from being boxy and allow for glances at what's underneath. So key. Plus, an elegant boat neck creates a clean line up top.
3 – Length. Opt for a length that hits at about mid-thigh or slightly higher. This will keep the proportions from getting too top heavy.
---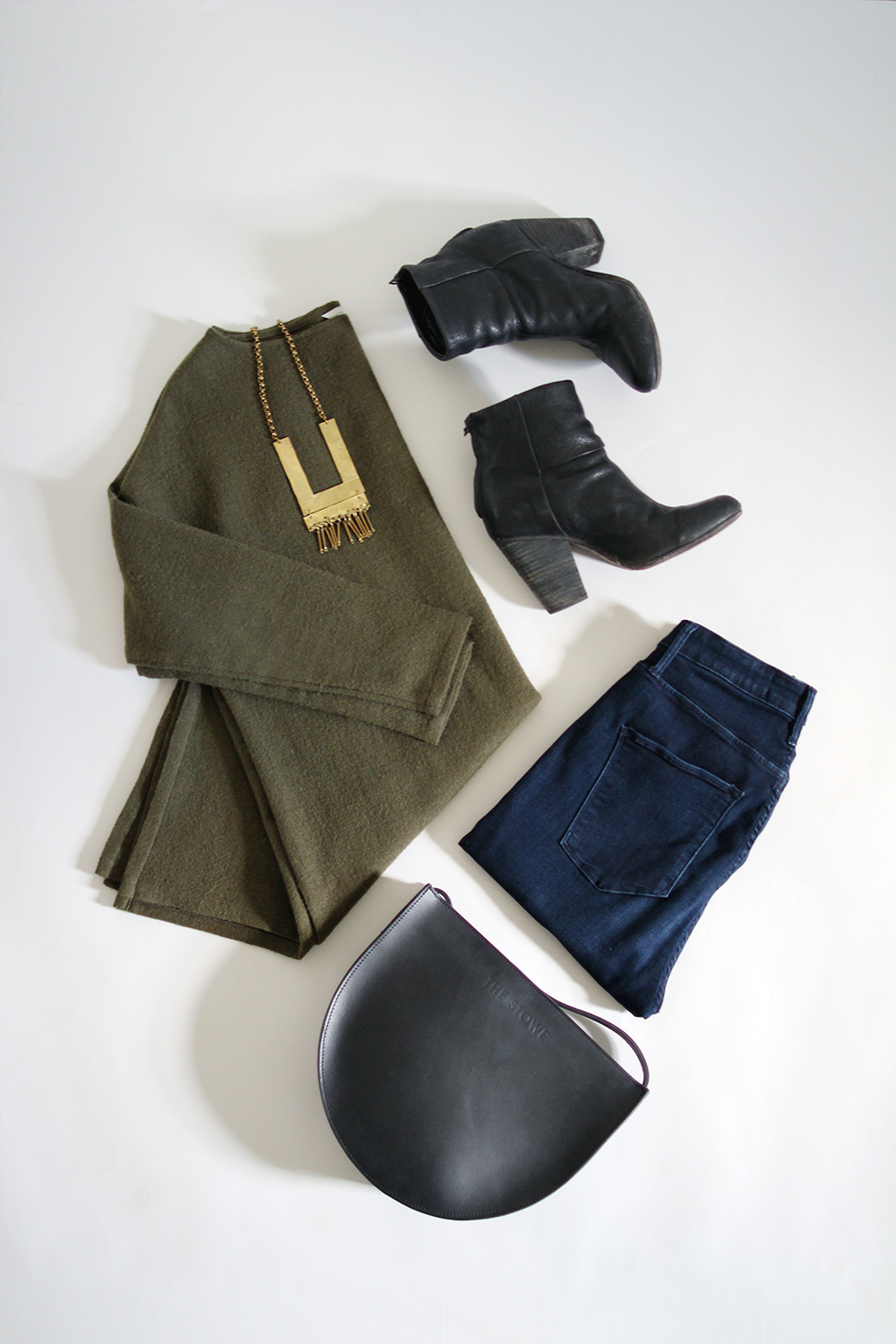 ---
6 TUNICS WORTH A LOOK
1 – The Waffle Knit – Everlane – Available in Charcoal and Navy. This one is an absolute winter weather dream. A chunky knit is balanced by extra-fine merino wool to give it fluidity. I love the cozy neckline and the shoulder stitching draws the eye up and in for a slimming effect. ($135 USD)
2 – The Harper Sweater – Elizabeth Suzann – Available in both Black and Camel. Mark my words, this sweater will be in my life this winter! I'm obsessed with the big pocket and the curved hemline. I'll wear it over a fitted turtleneck with vintage jeans and boots, like it's my job! ($385 USD)
3 – Merino Wool Tunic – Eileen Fisher – This is a beautiful short sleeved option and comes in a wide range of gorgeous colours like Fir and Arnica (plus black and charcoal). Merino wool has a beautiful drape and movement to it and I could even see front-tucking this one into pants as well as wearing it loose. ($300 CAD)
4 – The Open Knit Tank – Everlane – Available in Ocre and Washed Black. I love this one for layering over a turtleneck or a crisp white button-down. It's a shorter option too so a long shirt would peek out perfectly underneath. ($65 USD)
5 – The Staple Basic Split Tee – Jamie + The Jones – Available in lots of gorgeous colours. Great option for those living in more temperate climates. ($188 USD)
6 – Quilted Top – Black Crane – The colour, that fabric, those sleeves! If my torso was a bit shorter, I'd be all over this one. ($164 USD currently 25% OFF with FRENSANDFAM)
---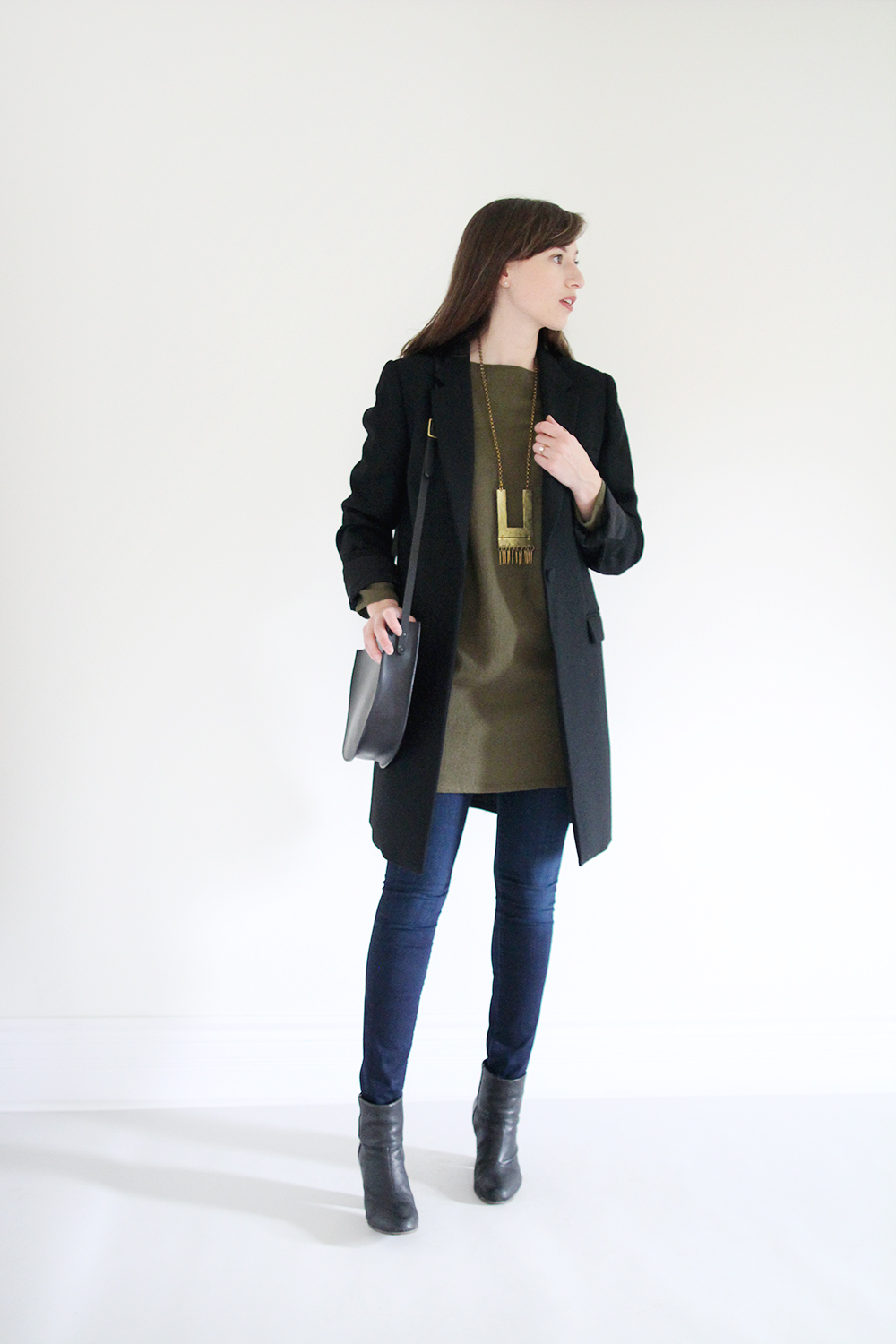 ---
STYLE + FIT DETAILS
1 | Focal Point | Whenever I wear an item like this tunic that's oversize I try to make sure there is a focal point to break up the expanse of the sweater. This statement necklace does the trick!
2 | Cuff Carefully | I'd planned on having the sleeves of this coat shortened but opted to leave them long and cuff them as needed. In this case it works perfectly to let some of the green sweater peek out.
3 | Keep It Simple | I thought about adding a hat to this look but it just felt a bit too fussy. So as much as I love a good wide-brim, I opted to let the outfit stand on it's own.
4 | Layer Deliberately | I wasn't sure this coat would layer well over this sweater but with a little coaxing it actually fits great. I made sure the bottom of the coat would be longer than the sweater so it creates interesting proportions and adds dimension.
5 | Clean Lines | To keep the lower half of the look streamlined, I opted to simply tuck my jeans into my boots, which come up past my ankles by a few inches. My feet will also stay toasty warm!
---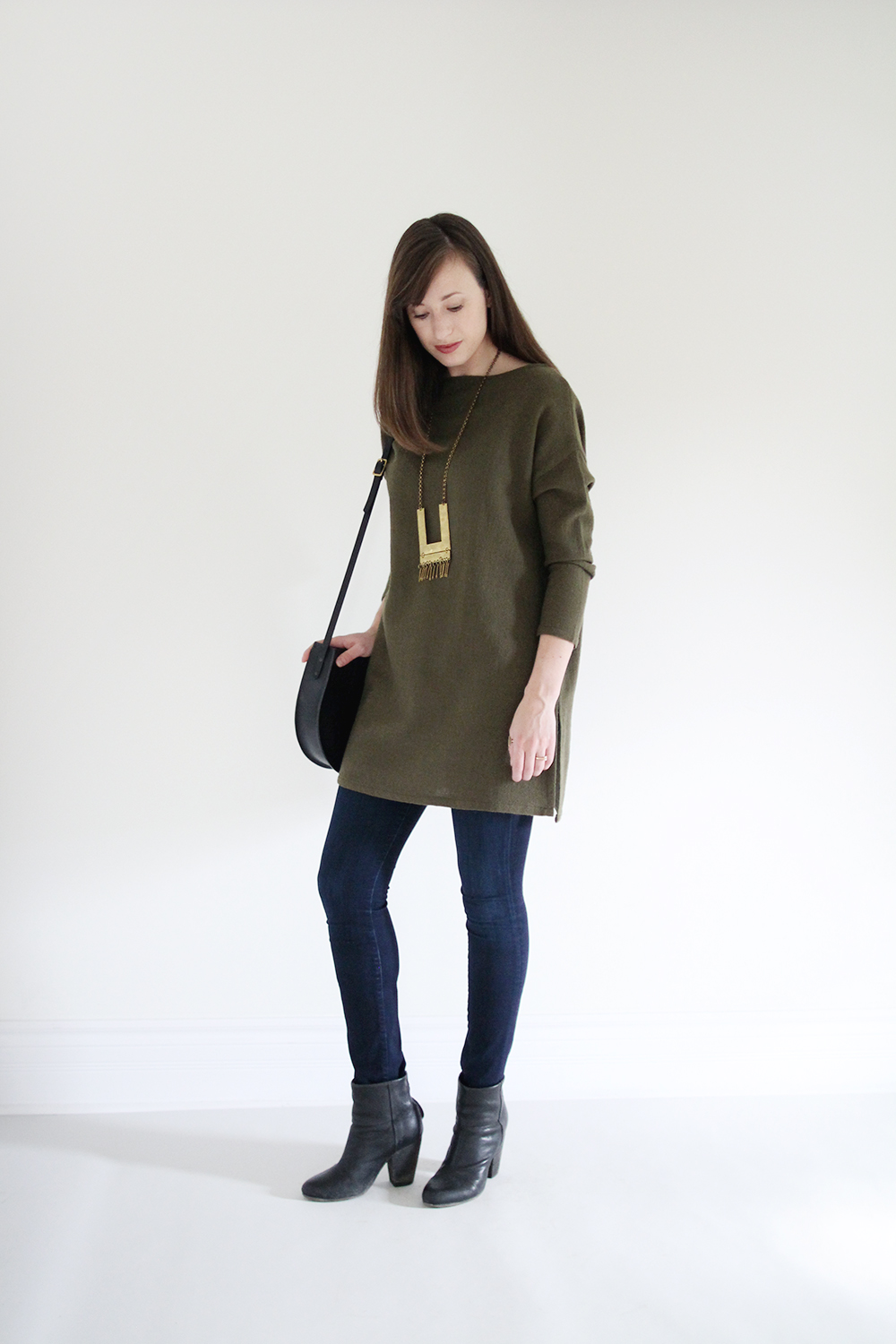 ---
So there's look #1! I'll be sharing a few quick snippets on my Instagram Stories later today (once I delete enough off my phone to take a video!) so take a look for this outfit in action. Looking forward to seeing your looks in the #stylebee10x10 feed!
---
Tunic n/a Elizabeth Suzann | SKINNY JEANS c/o AYR | NEWBURY BOOTS Rag + Bone | Bag The Stowe (made in Montreal!) 25% off at Need Supply  | CAI Necklace c/o Michelle Ross Jewelry (made in Toronto!) | Coat n/a Reformation (similar option here)
---

---
This post is not sponsored but contains affiliate links. When you shop via the links above I may make a small commission from a sale. All opinions are my own. Thanks for supporting the brands that support Style Bee!