We're on the home stretch now! By this time in the 10×10 Challenge, around Look 7 or 8, I'm usually starting to get a bit antsy. I missing a few favourite pieces that I usually wear often (My Mars Boots, Vintage Jeans, T-shirts) and I'm feeling a little (read: a lot) limited in my options. This is usually when I need to just stop trying to overthink things and simplify. Cue this all-black number. I wanted to see if I could create a proper 'dressy' look during my 10×10 and I'm loving this result.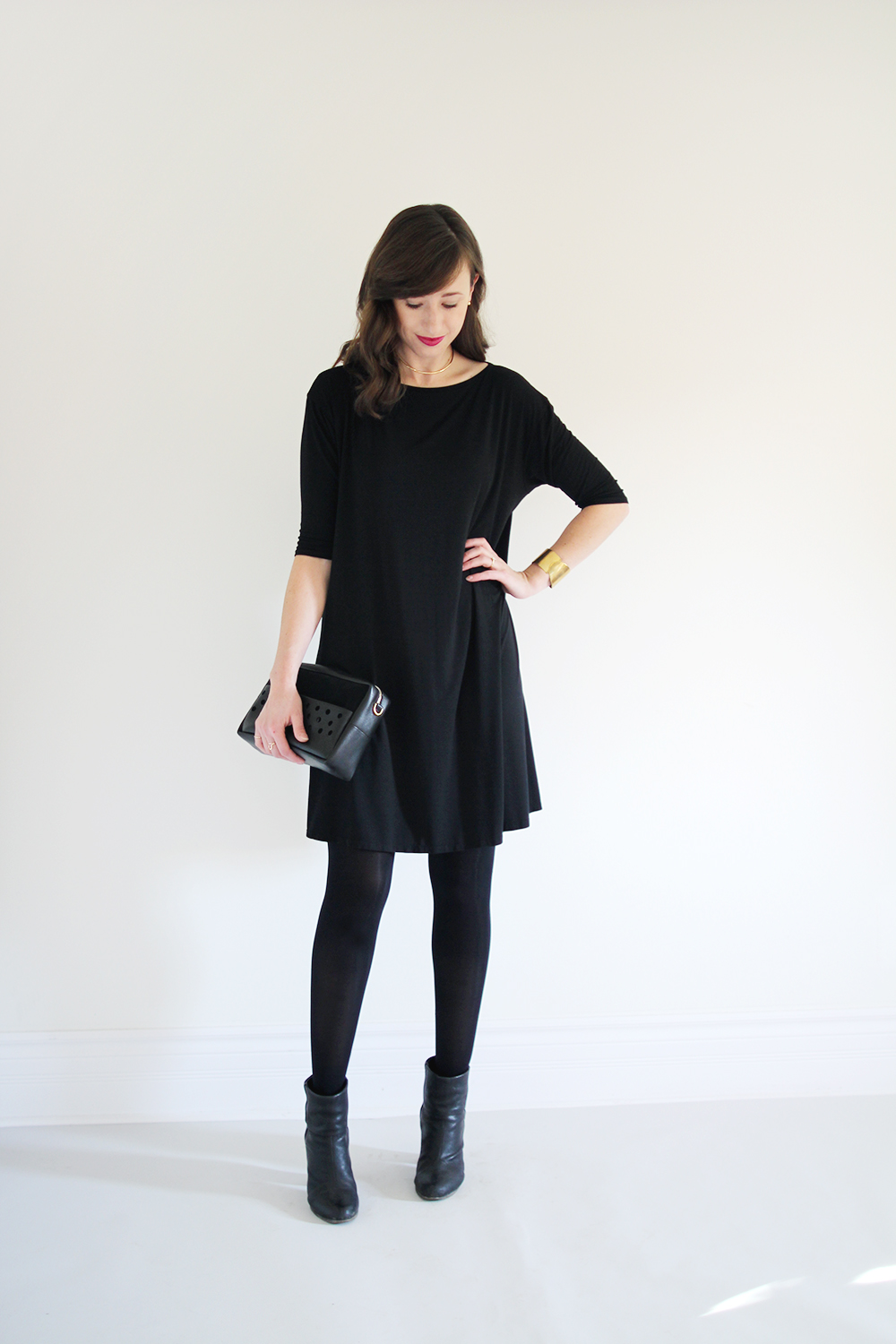 ---
INITIAL THOUGHTS
I love an all black look (despite Anna Wintour's aversion to them). If done right it should be elegant, alluring, timeless, sophisticated and a little bit mysterious. For me, this one checks all those boxes.
This is a quintessential Date Night or Girl's Night Out look but it could be great for an Office Party, Holiday Shindig or even a more casual Fall Wedding.
Even if I don't wear this exactly as is today, it's a great outfit to have in my back pocket when the right occasion presents itself. Today I am wearing the dress, tights, boots and coat but I opted for a natural lip, simple long necklace and my hair is in a basic braid.
It's rare to feel chic, tall, slim, fancy, flirty AND ridiculously comfy all at the same time but this look has managed just that. Big win! HUGE!
---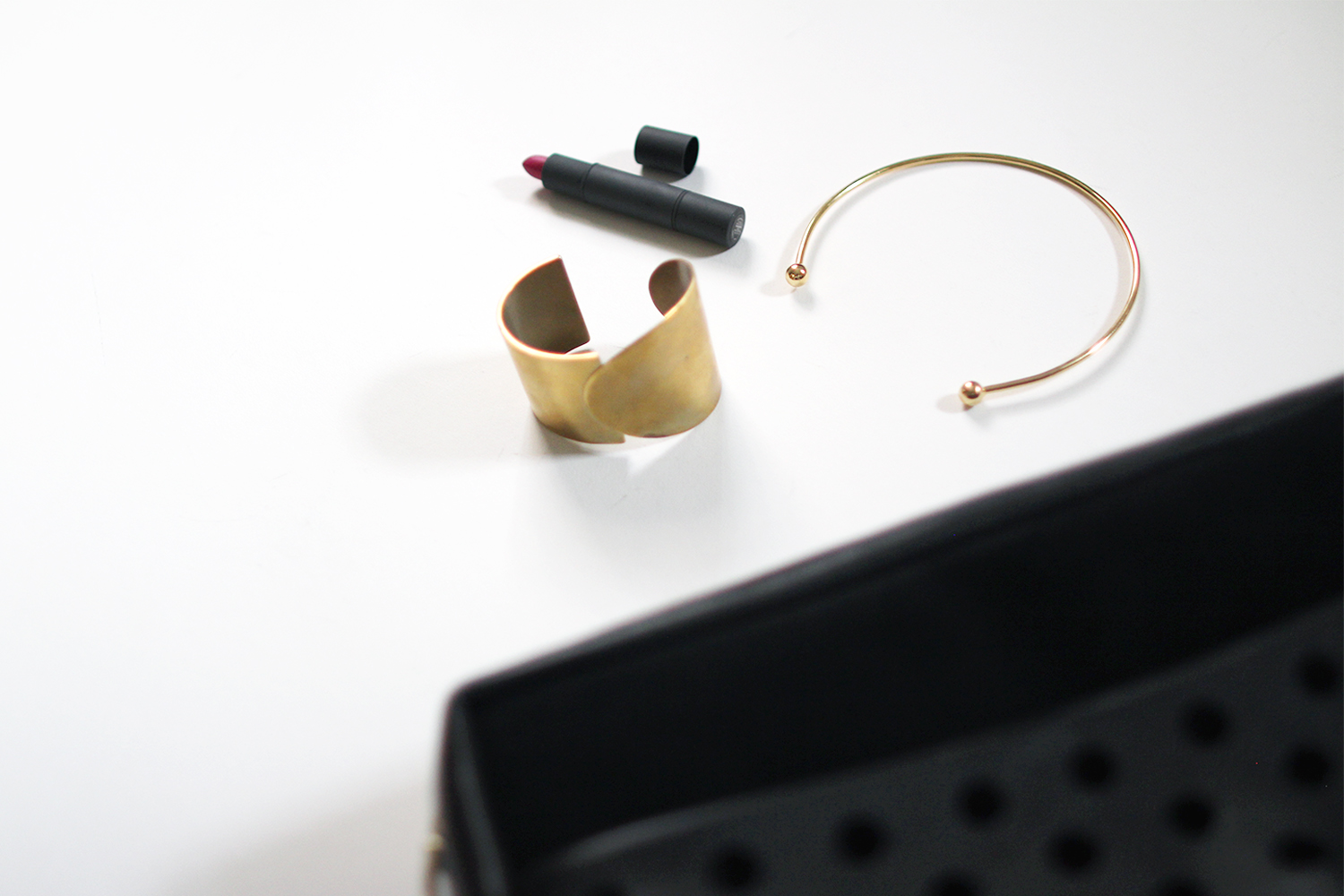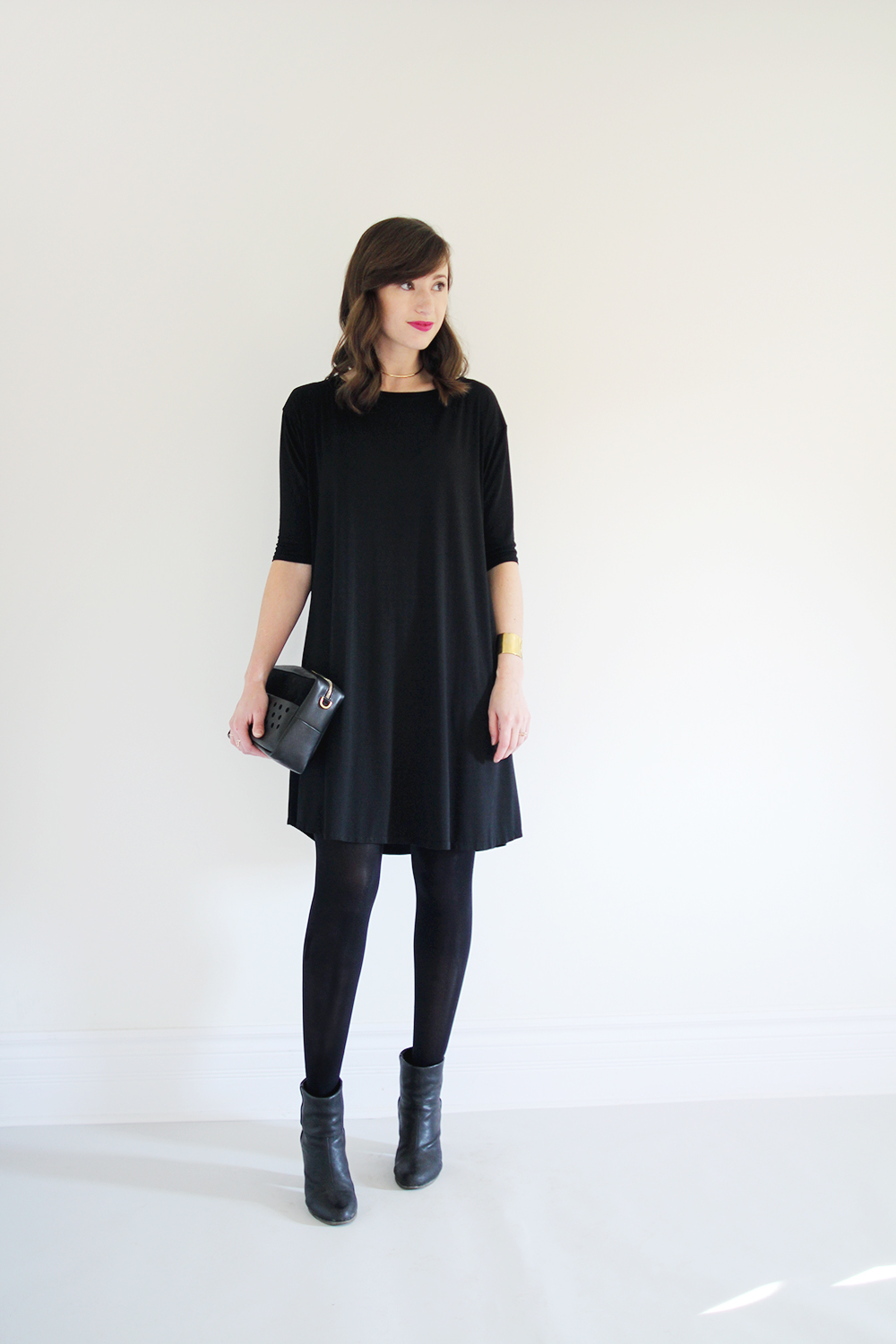 ---
ITEM #7 – THE JERSEY SWING DRESS
I'm so glad to finally be onto this item! A simple black dress is integral to just about any closet whether it's a lean one, a capsule or just simply overflowing. I have a few black shift dresses that I love but the swingy ones definitely spend the most time out of the closet.
This particular one is the Jersey Swing Dress from the recently launched sustainable dress line, Sotela. The collection's founder Hanna Baror-Padilla is a truly positive spirit and such an advocate for women's peace of mind when it comes to style and getting dressed. I had the pleasure of collaborating with Hanna to help spread the word about the Sotela Kickstarter Campaign (see the post) and in exchange she sent me my choice of dress. All the dresses from Sotela are lovely but since I'd been wearing my sleeveless swing dress a lot this Summer I felt this would be a perfect option for Fall.
Long story short, I LOVE it! It's become a true staple in my closet. It's so easy to throw on in the morning with tights and a cardigan or skinnies and a big scarf. It can be dressed up or down and always makes me feel great whether I've been working out or gorging on pizza.
Here's a bit more info about it:
What size am I wearing? – Size 1, for reference I'm 5'7 and 125 lbs and usually a size 2 in dresses.
What's the fabric like? One that you have to feel to really appreciate but it's a super soft Jersey feel made of 92% Modal, 8% Spandex. It's very fluid and flouncy so even though the fit is oversized it doesn't feel bulky or boxy at all. As you move it moves with you in a beautifully languid way. The effect is very elegant. It's definitely a lightweight fabric but it doesn't cling, even over tights.
How much is it? – $100 USD which is excellent value for a timeless dress, made responsibly in LA, out of a beautiful sustainable fabric.
Does the black fade? – Nope! So far I've washed this dress at least 6 times and it's as black as when it arrived.
Washability? – Super easy! I wash on delicate with enzyme free soap and only like colours. Tumble dry extra low. If you hang it any creases will fall out on their own.
Do they ship to Canada? Yes!
Overall Rating 9/10 – If it was just a teensy bit slimmer in the shoulders and arms it would be 100% perfect for me (after a long day they loosen a bit) but they've since adjusted the sizing slightly for more petite women.
Feel free to shoot over any additional questions! 
---
MORE SWING DRESS OPTIONS

---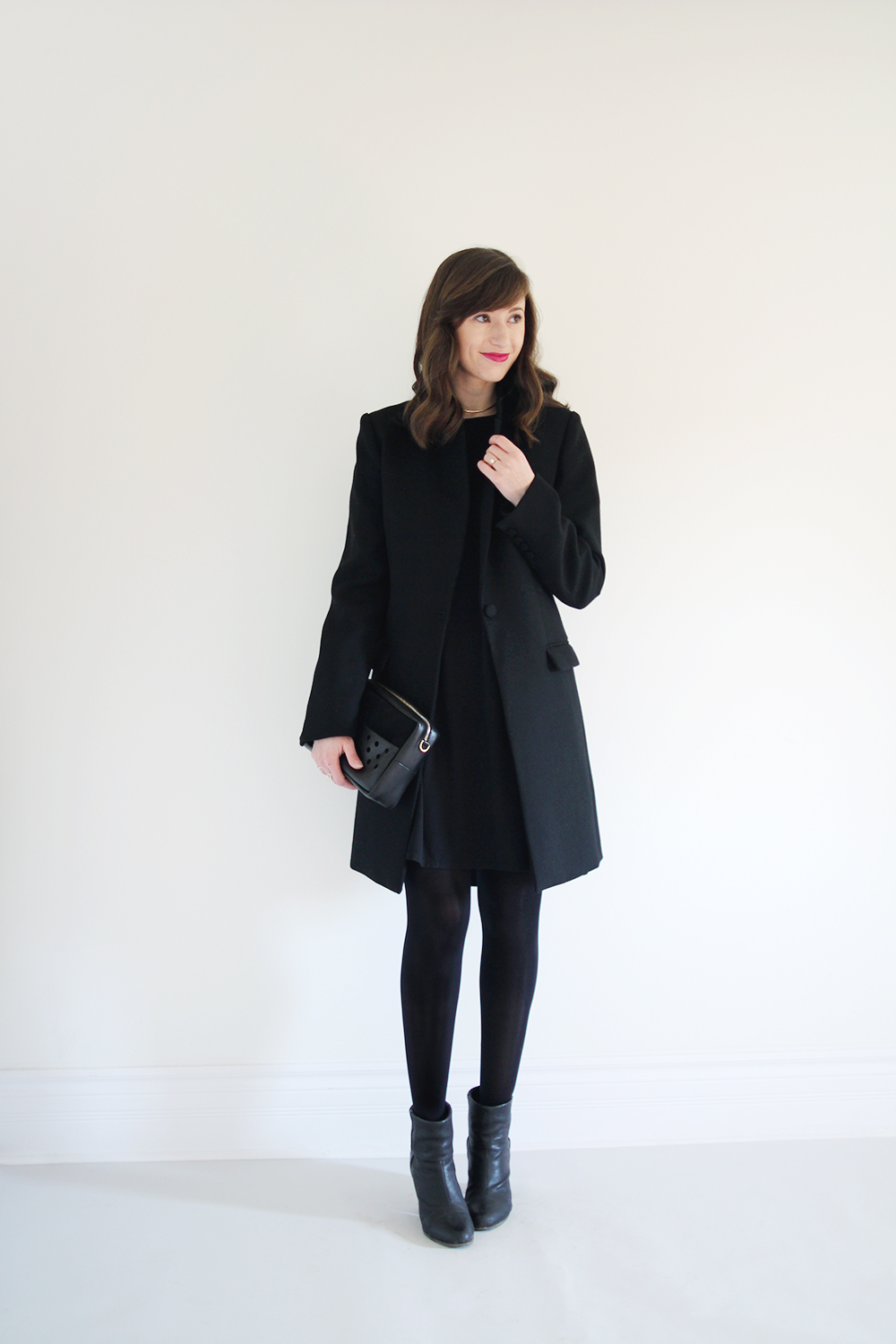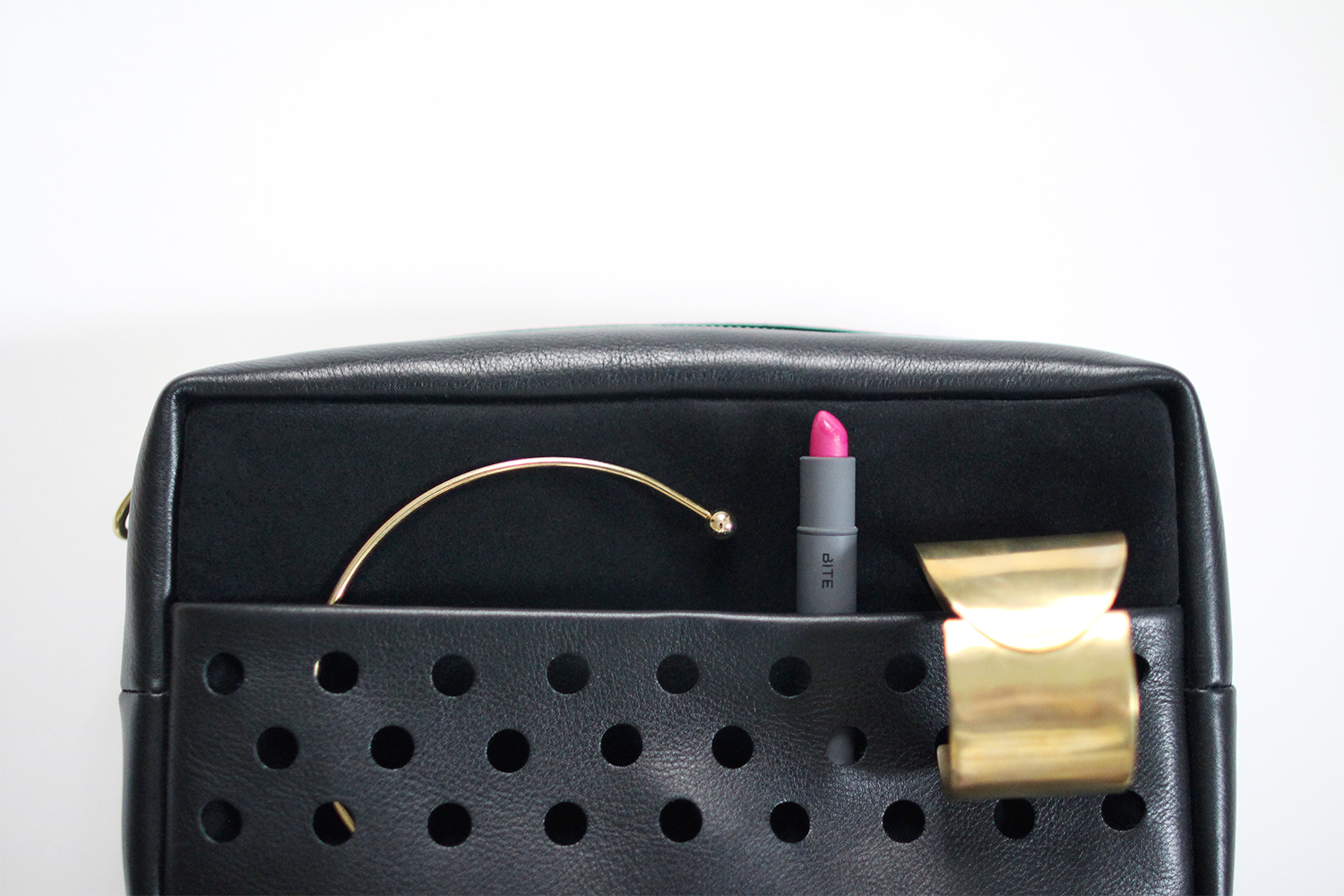 ---
STYLE + FIT DETAILS
1 | MIXED MATERIALS | With any monochrome look it's key to take advantage of different textures. For instance, this soft drapey Jersey paired with the textural wool coat, mixed with leather boots and a touch of suede and perforation adds tons of depth to the tactile palette. The light catches each material differently creating focal points in a subtle, natural way.
2 | BOLD LIP | If ever there was an occasion for a bright bold lip, it's when you're wearing all black. I'm usually a big chicken when it comes to trying anything new in the beauty department but a bright lipstick seemed harmless enough. Turns out I love this one (it's BITE Beauty's Lingonberry blended with Burt's Bees #245) and I didn't feel like it was too out there. Note to self: Play more with lip colour.
3 | DELIBERATE MINIMALISM | I was initially drawn to a long statement necklace for this outfit but decided to try changing it up with a super sleek gold choker (a trend I am treading very carefully around) and my favourite statement cuff. I really like the effect of these minimal but deliberate hits of gold and how they catch the eye just enough against the black. Even the gold zipper on my bag gets to make an impact.
4 | LOOSE WAVES | I've come to realize that no matter what I'm wearing, if my hair is done, I feel pretty darn good. I've managed to work out a system in which I can add a loose wave to my hair in under 15 minutes and it lasts for at least a day (and sometimes overnight!). The next day I usually need a few touch ups but overall it's a small amount of time to spend on something that makes such a difference.
5 | MASCULINE + FEMININE | No, not a French lesson perse, but instead I'm talking about the mix of girly elements (swingy dress, heels, gold jewelry, pink lips) topped with a decidedly masculine coat. I love how the long sleeves make almost seem like I'm wearing my fella's coat but then the slim fit keeps it intentional.
---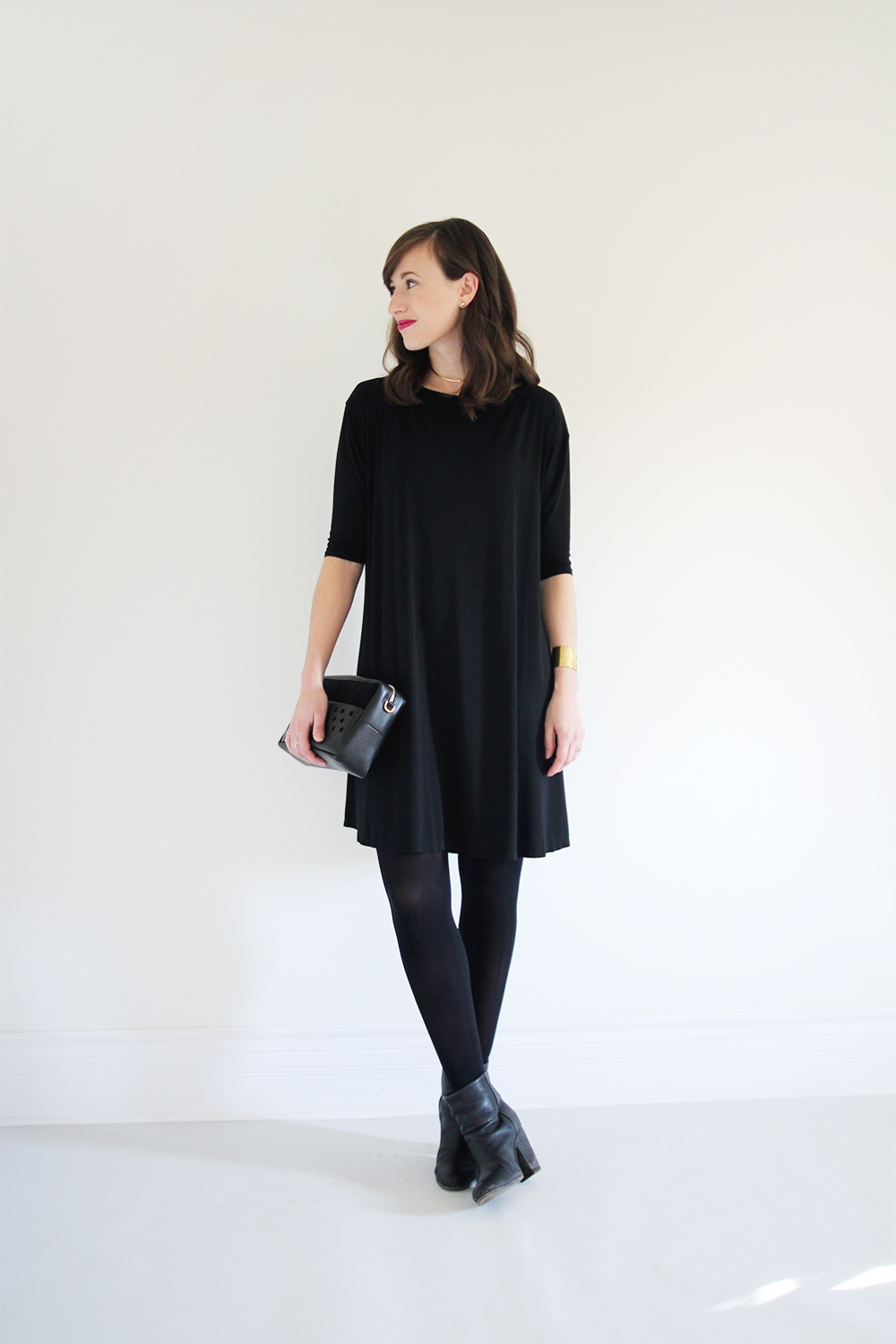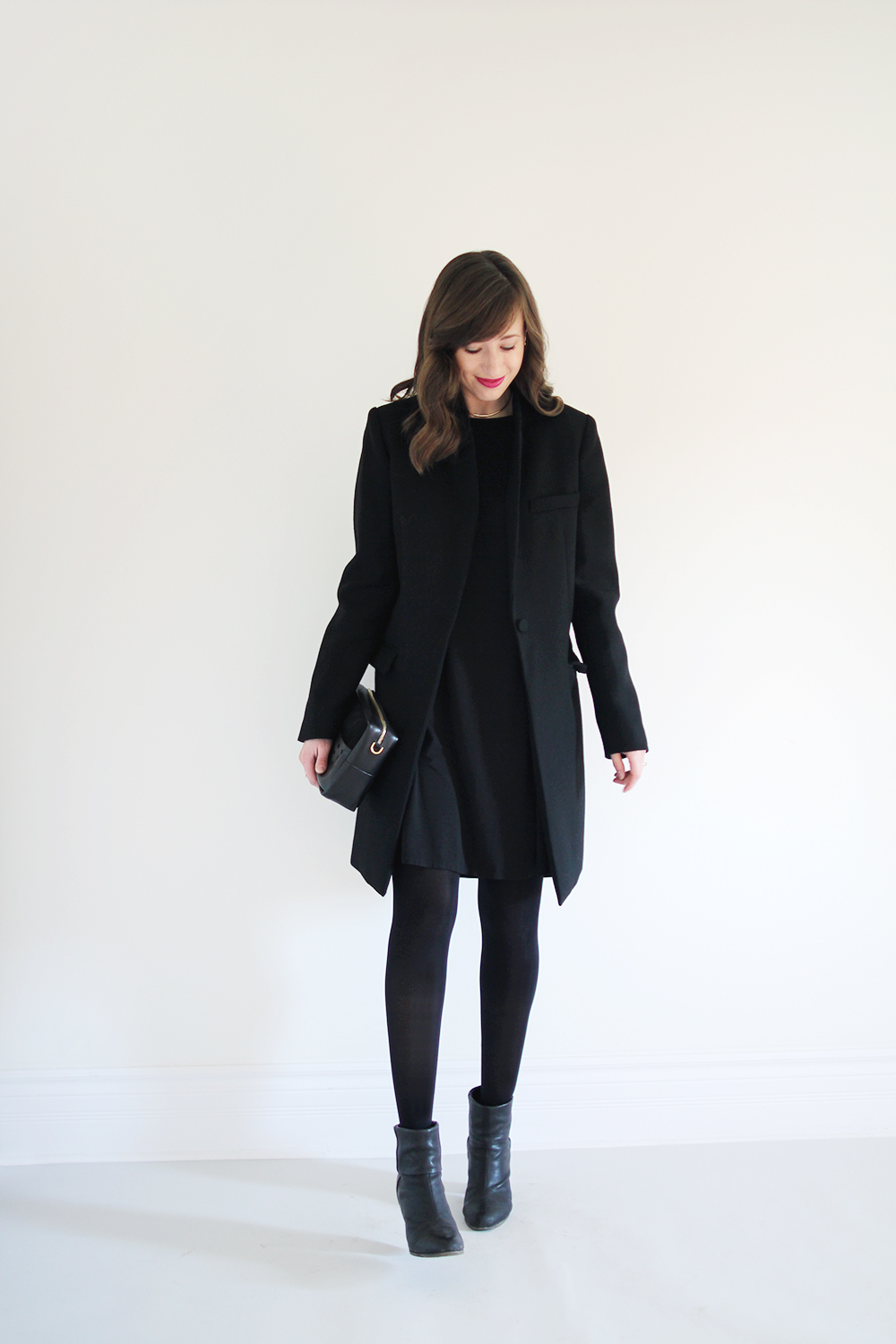 ---
So what do you think, would you try and all-black look like this one? Do you have a dress in your closet that you can't help but reach for over and over? Thanks for reading and happy Humpday!
---
---

---
This post is not sponsored but contains affiliate links. When you shop via the links above I may make a small commission from a sale. All opinions are my own. Thanks for supporting the brands that support Style Bee!