Another week of quarantine has come and gone, and with it a whole bunch of outfits! I'd been planning to publish my next Life Lately today, however, last week was busy behind the scenes so I haven't had a chance to fully pull my thoughts together. I'll try to get that published soon.
In the meantime, I did manage to capture another week's worth of what I wore. So far I'm still enjoying this daily activity and it's motivating me to make a little more of each day. Last week was full of easy-going shapes, comfy knits, floaty fabrics and even included some print!
Carry on to see what I wore each day and I'd love to know how you've been feeling about getting dressed lately.
---
This post was not produced in partnership with any brands mentioned but does contain affiliate links and some gifted items. If you see something you like and decide to shop through the links included, I may earn commission at no additional cost to you. All opinions are always my own and I only feature items I love. Thanks for supporting Style Bee!
---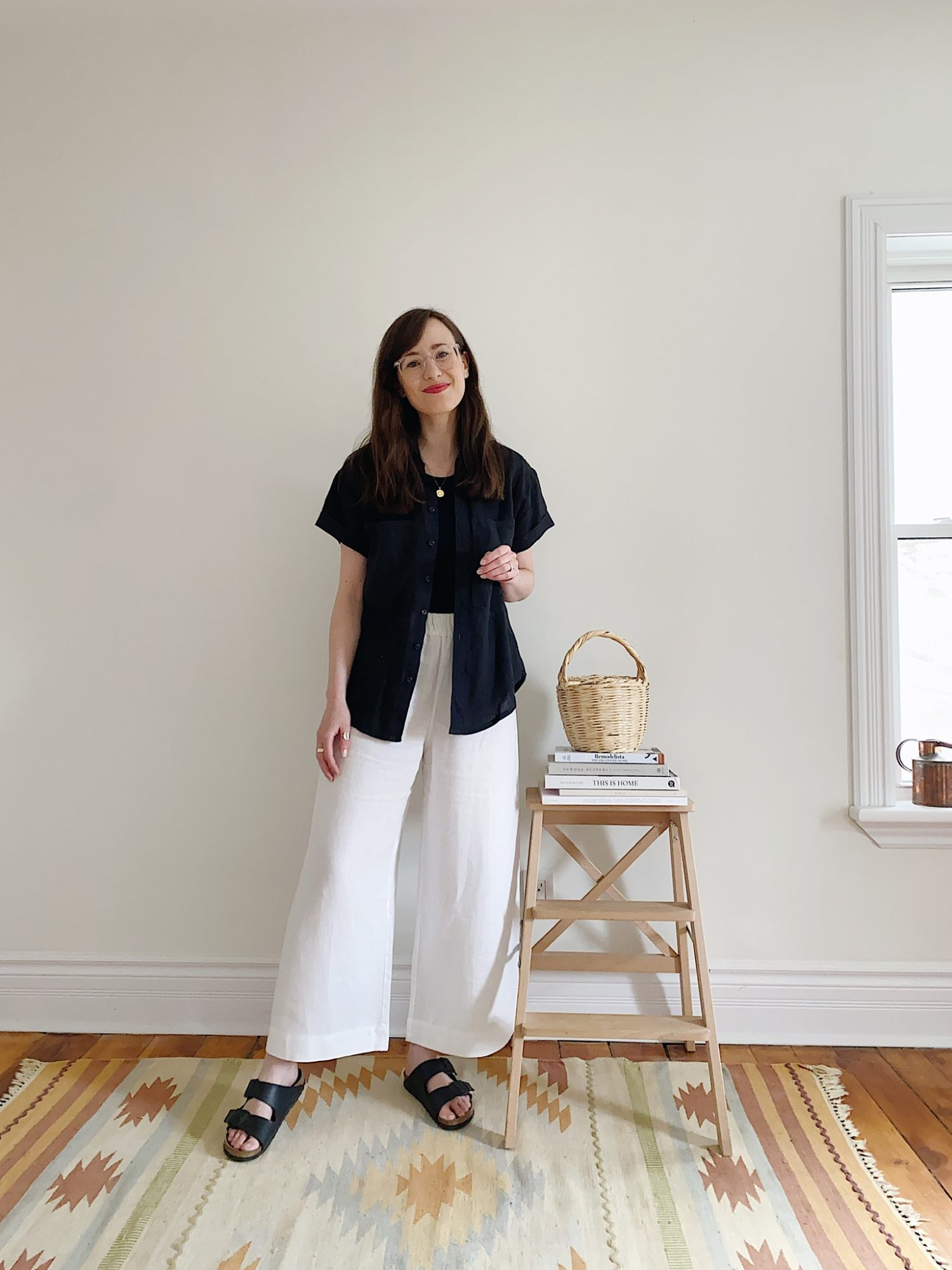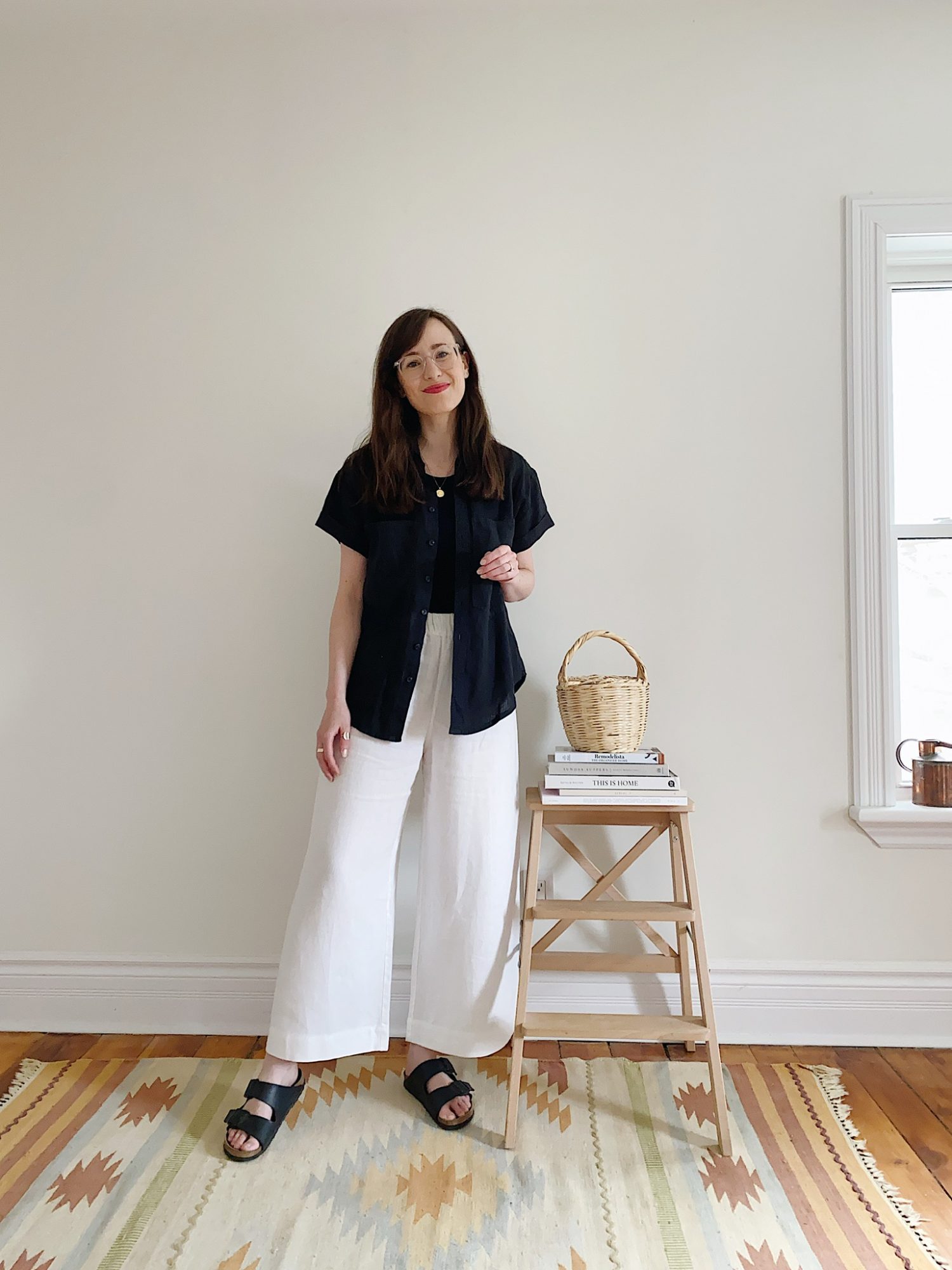 ---
MONDAY – 4/27
---
Monday's are hard enough without having to think about what to wear. Whenever I need to pull an outfit together quickly, I opt for a black and white palette. It's a classic combo and always delivers a pulled-together look with minimal effort.
In this case I used my own styling trick from this post by wearing one of my favourite shirts open over a fitted base tee and wide leg pants. It was warm enough to skip the socks and just go for the sandals so my very old Birks came out to play for yet another spring season!
---
PHILOSOPHER SHIRT (20% OFF through the link until May 11, made in Canada) // BODYSUIT // FLORENCE PANT (currently unavailable, linked to similar option) // ARIZONA SANDAL // LUMEN NECKLACE by Wolf Circus (made in Canada) // BASKET BAG // Lip Colour: THRILLEST // Polish Colour: AKOYA
---

---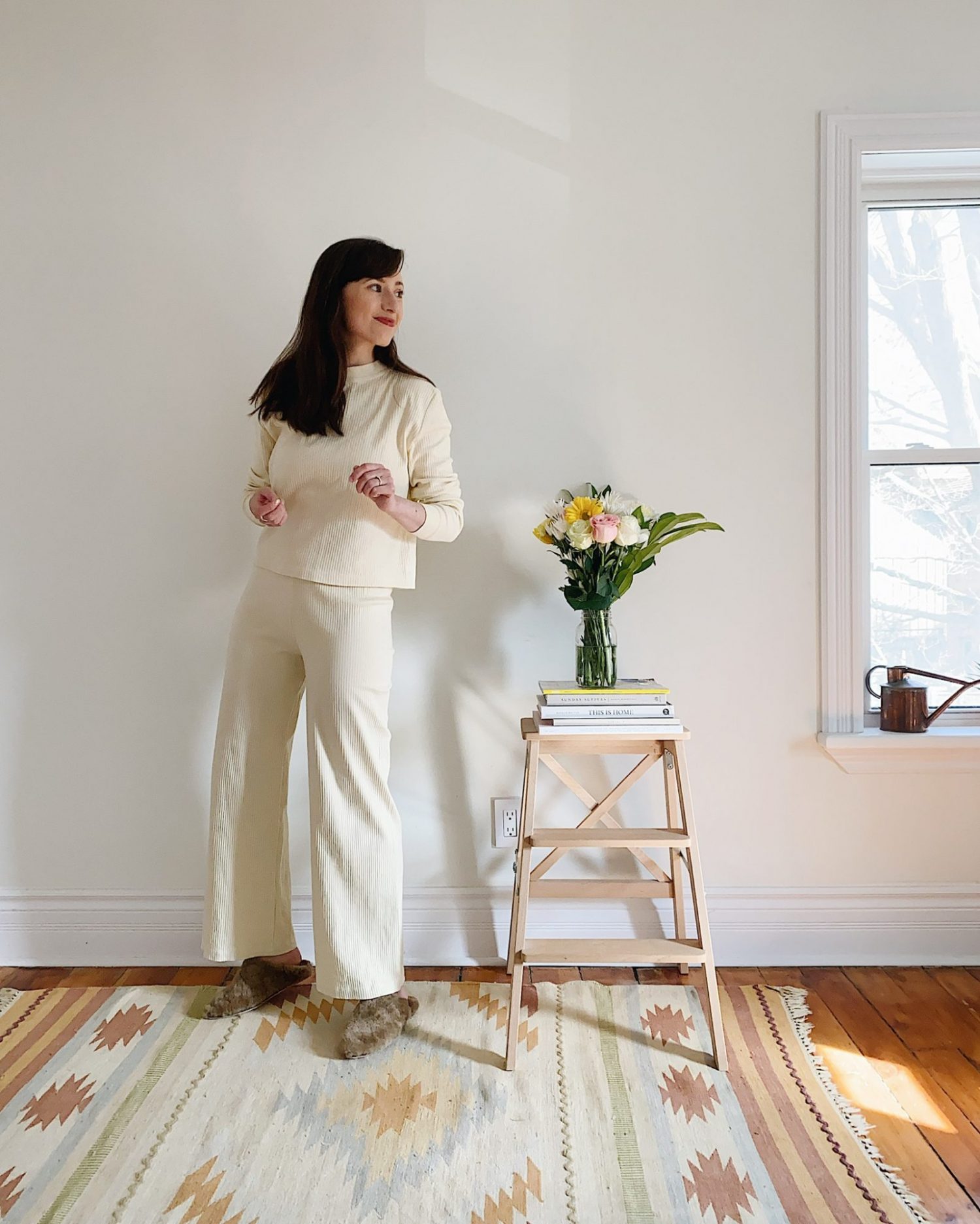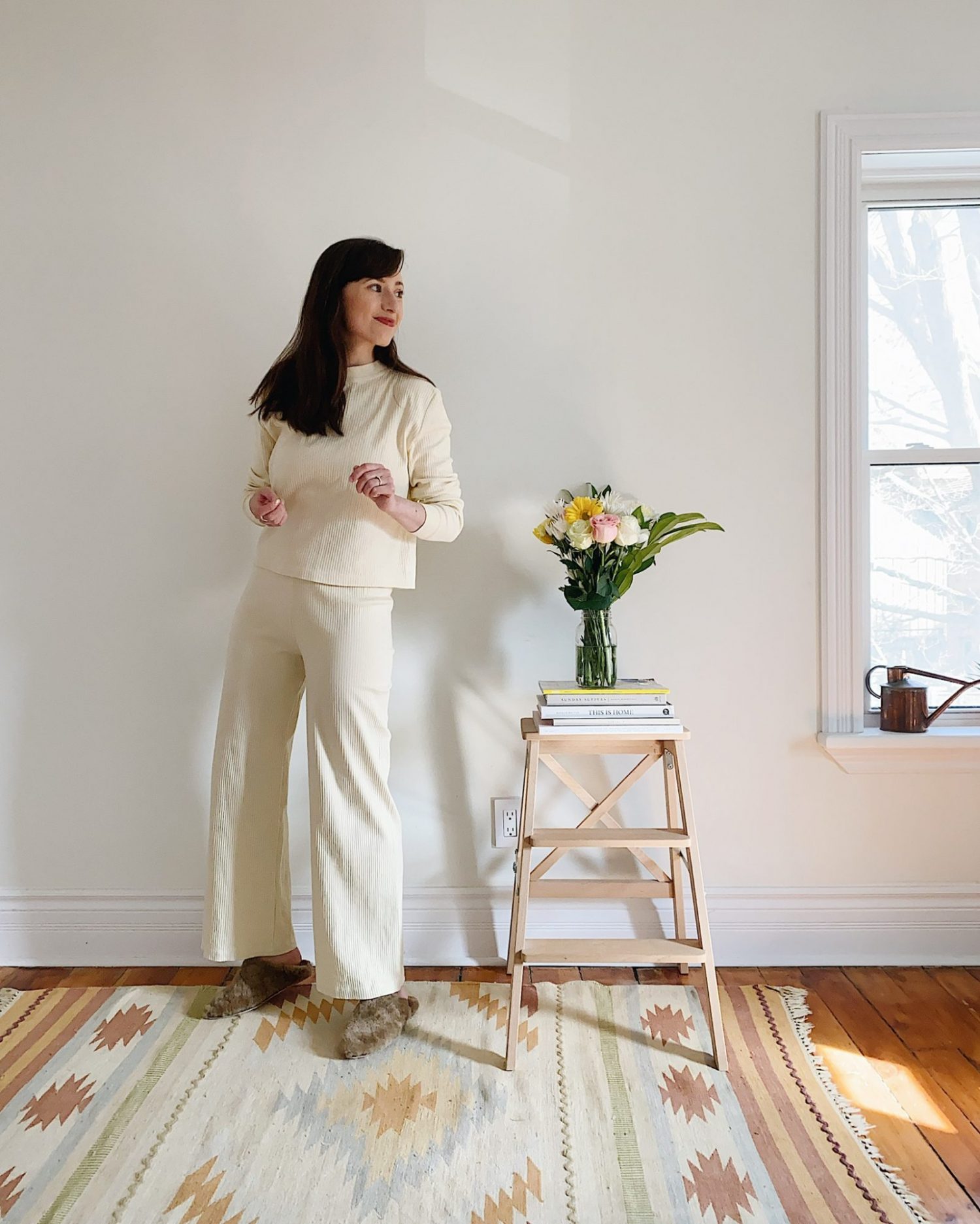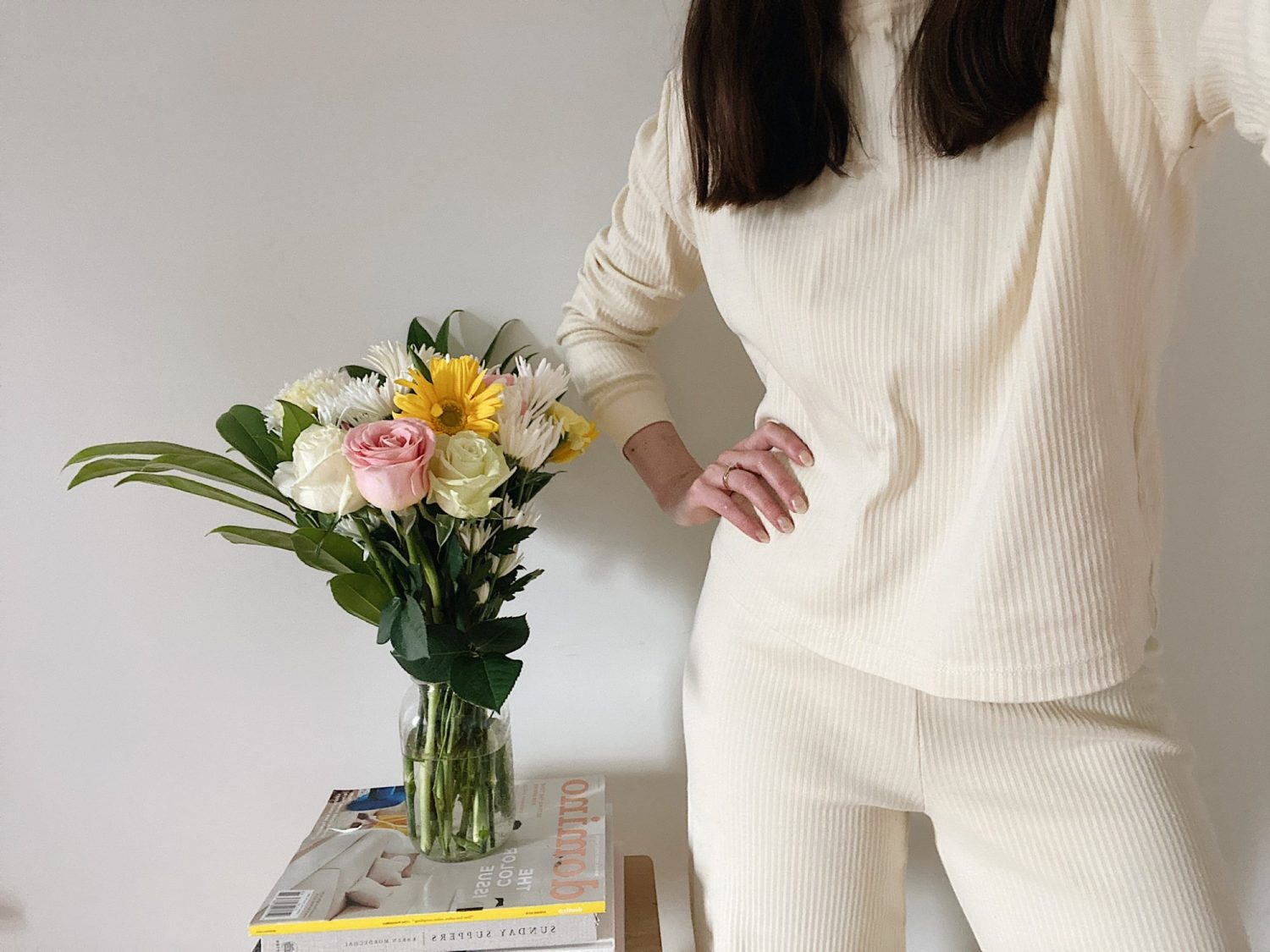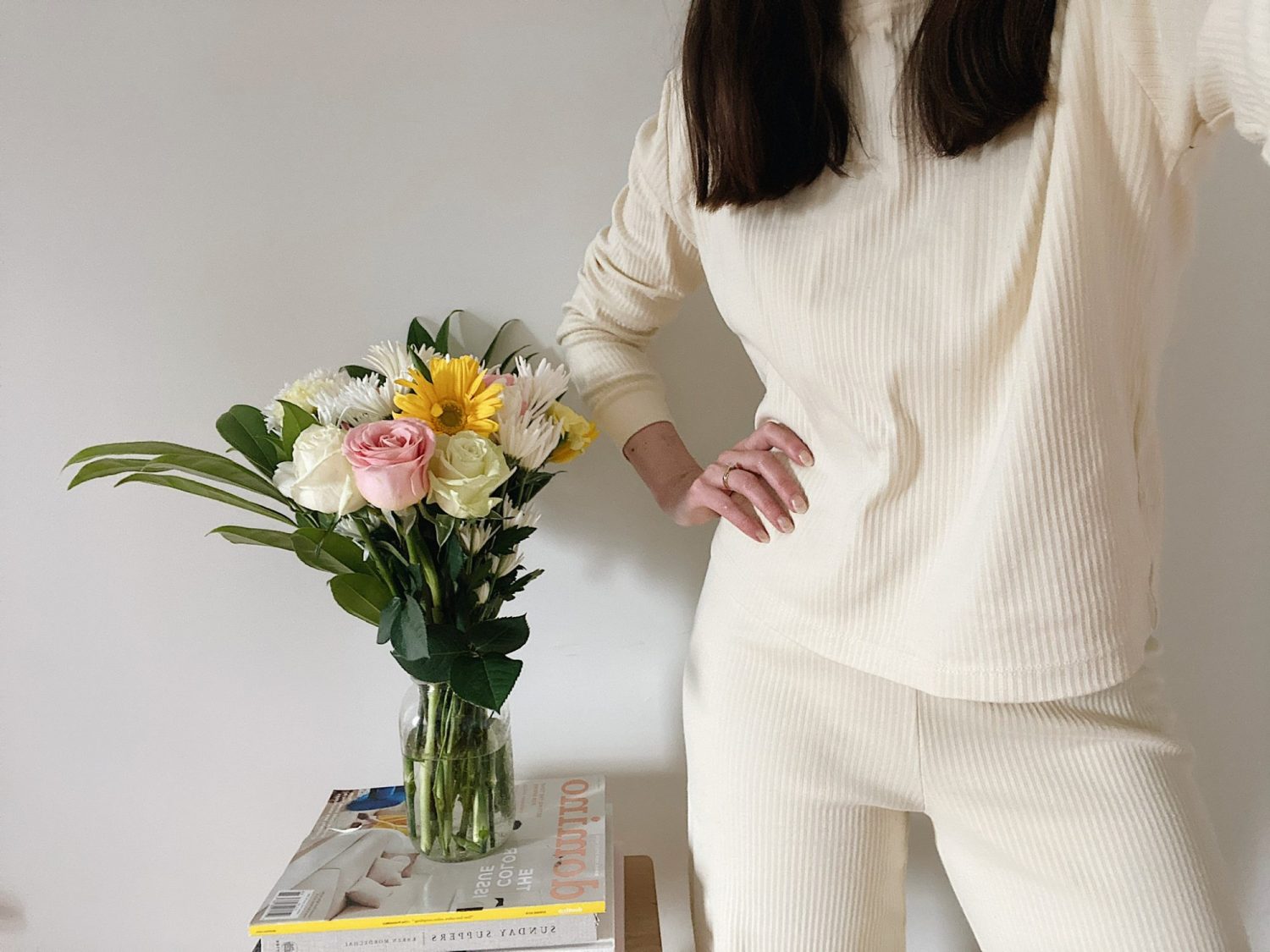 ---
TUESDAY – 4/28
---
I was craving comfort and ease on Tuesday and pulled on this loungewear set I picked up early last winter. I think if you're going to embrace loungewear but want to keep it a little bit sophisticated, a matching set is the easiest way to do so! A fabulous, fluffy slipper doesn't hurt either.
---
LOUNGE SET (sold out, but KOTN does great basics) // DALIA SHEARLING SLIDE (I sized up 1/2 size, Canadian Brand)
---

---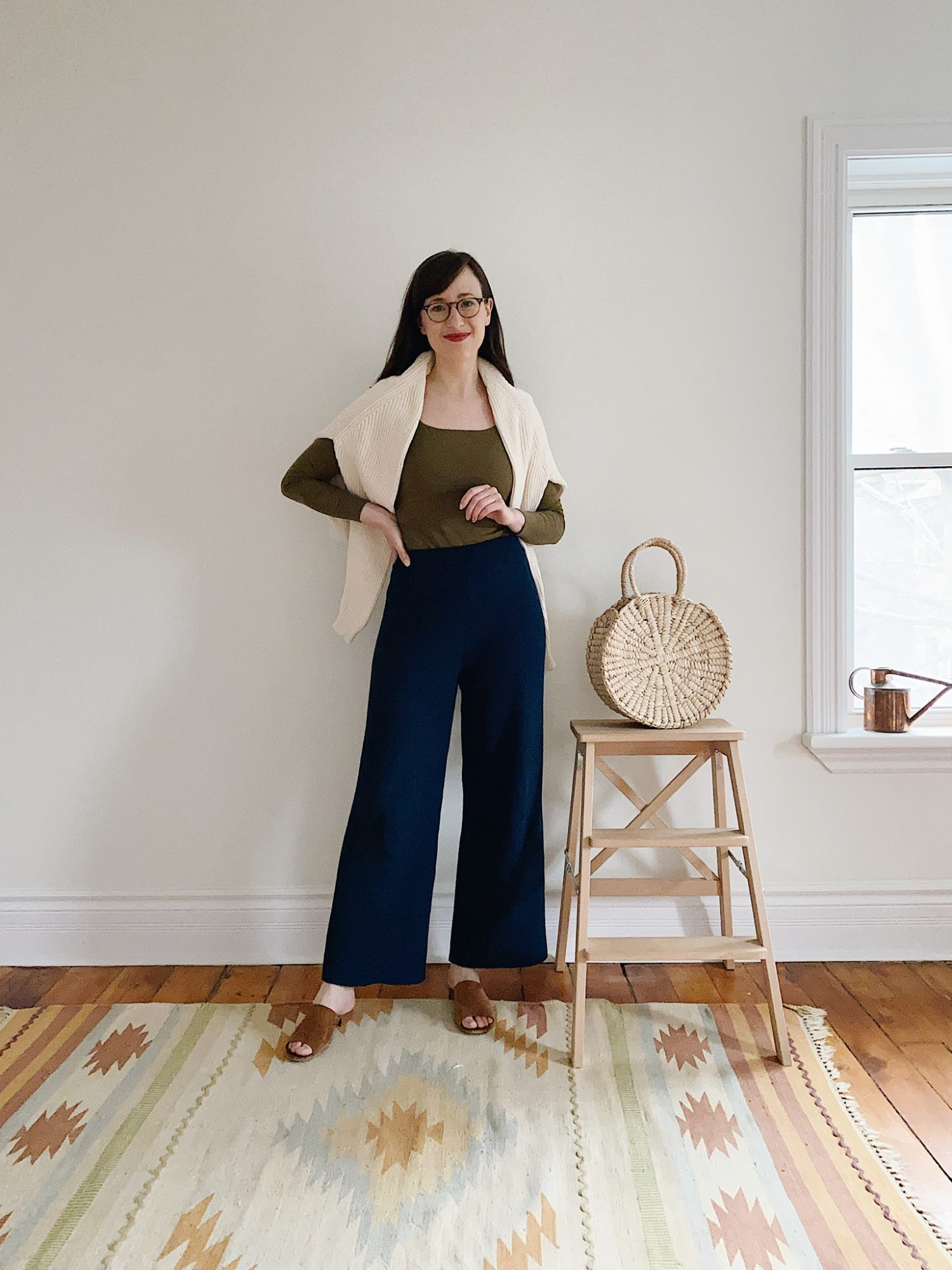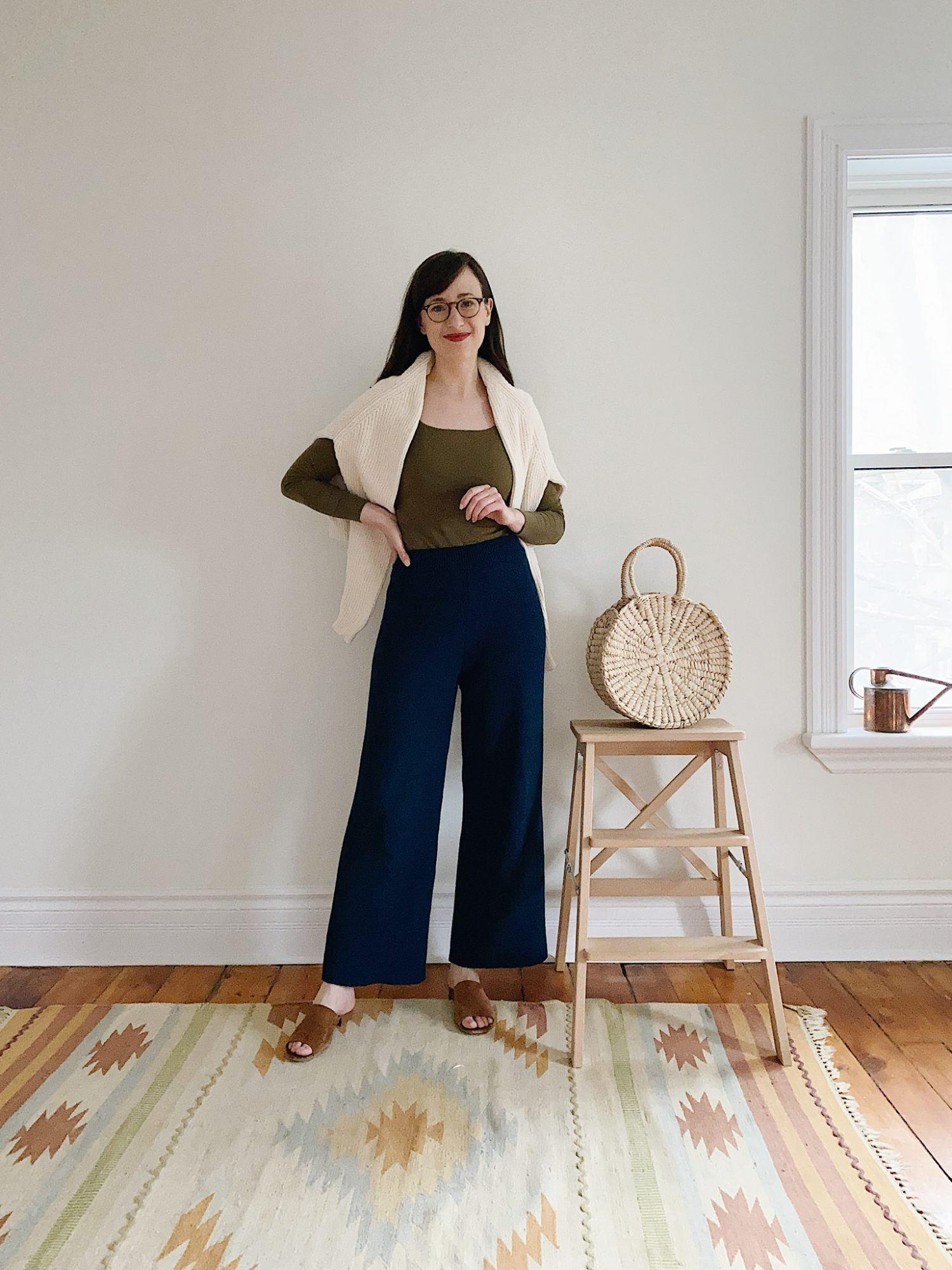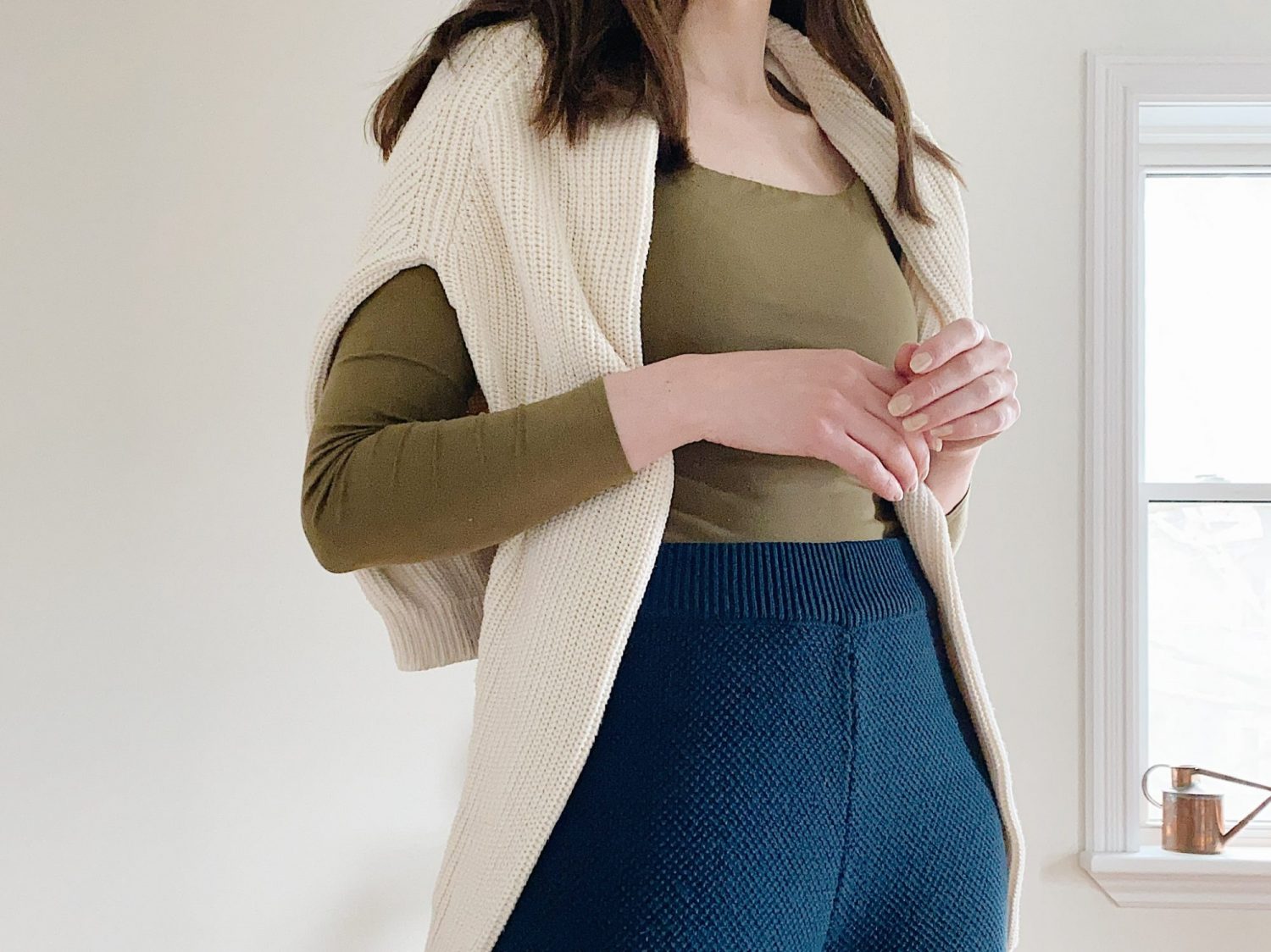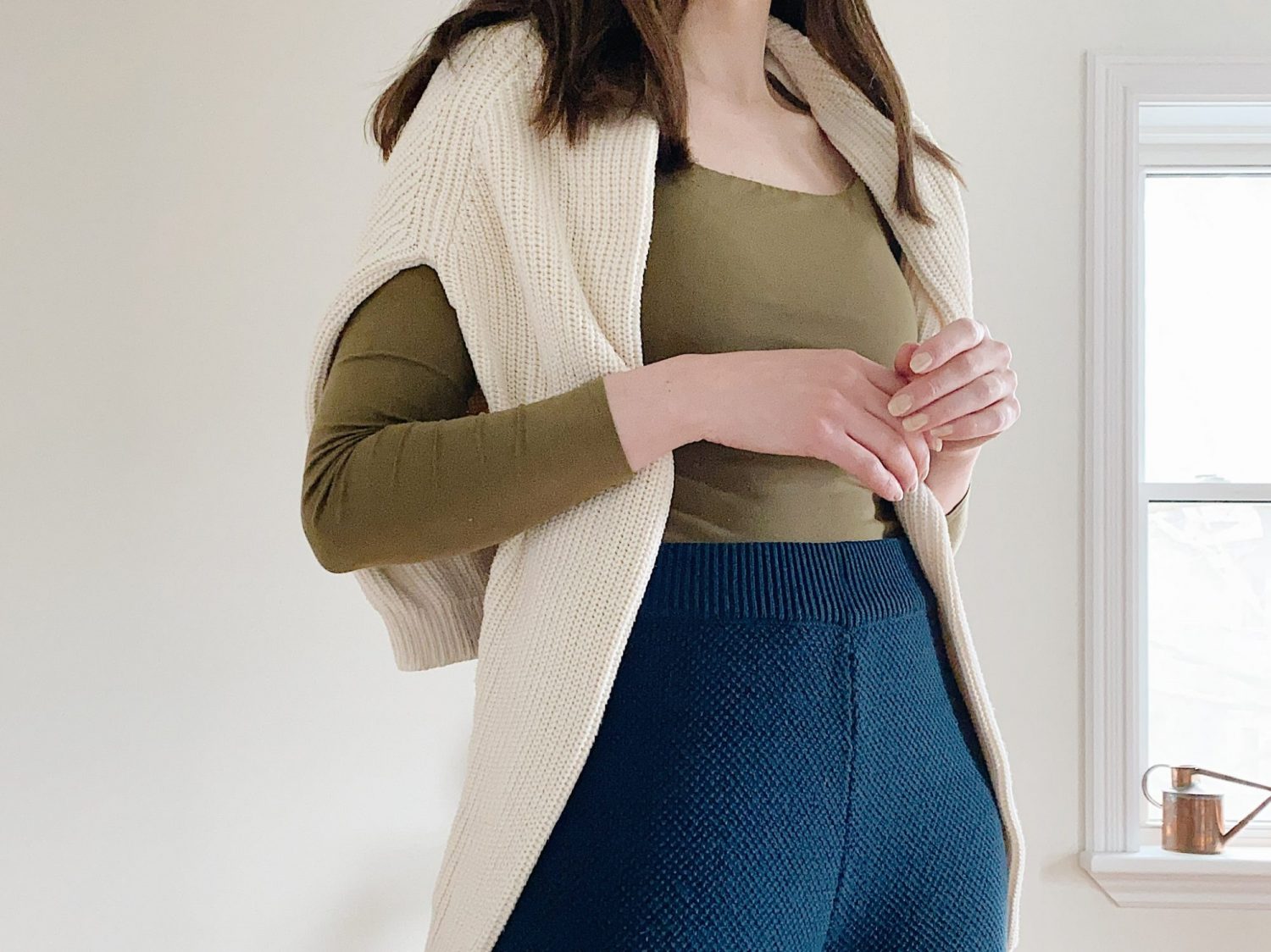 ---
WEDNESDAY – 4/29
---
This outfit ended up causing quite a flurry in my DMs and I get it!
The lovely folks at L'ENVERS recently sent the Louise Pant in a stunning organic cotton knit for me to try out and (spoiler alert) I'm completely obsessed. They are just what I'd been searching for, which is essentially a cotton sweater but in pant form! They're soft and cozy but breathable and light, stretchy without cling and the design is both minimal and versatile. A loungewear unicorn if ever there was.
Right now I really like wearing them with a fitted bodysuit or t-shirt with a sweater over the shoulders and a pair of slides or slippers. These pants have already claimed a very special place in my closet and if you're someone who values high-quality, comfort, well, these might be just right for you!
They feel amazing on and the fit is fairly forgiving since the cotton knit will relax as needed on the frame (I wear a small). If you're a fan of matching sets, the Louise Trouser can be paired with the Léa Top for a positively perfect pair.
---
BTW, I don't earn a commission via L'ENVERS links but they are a previous Style Bee partner and one of my personal favourite brands to wear and work with.
---
LOUISE KNIT TROUSER (wearing S) & ANNA CARDIGAN (wearing S, full review here) gifted separately L'ENVERS (Splitit payment option, similar to AfterPay)
BODYSUIT* sold out // SLIDES* sold out // TORTOISE FRAMES* // CIRCULO BAG gifted Artisan & Fox // *Linked to similar option
---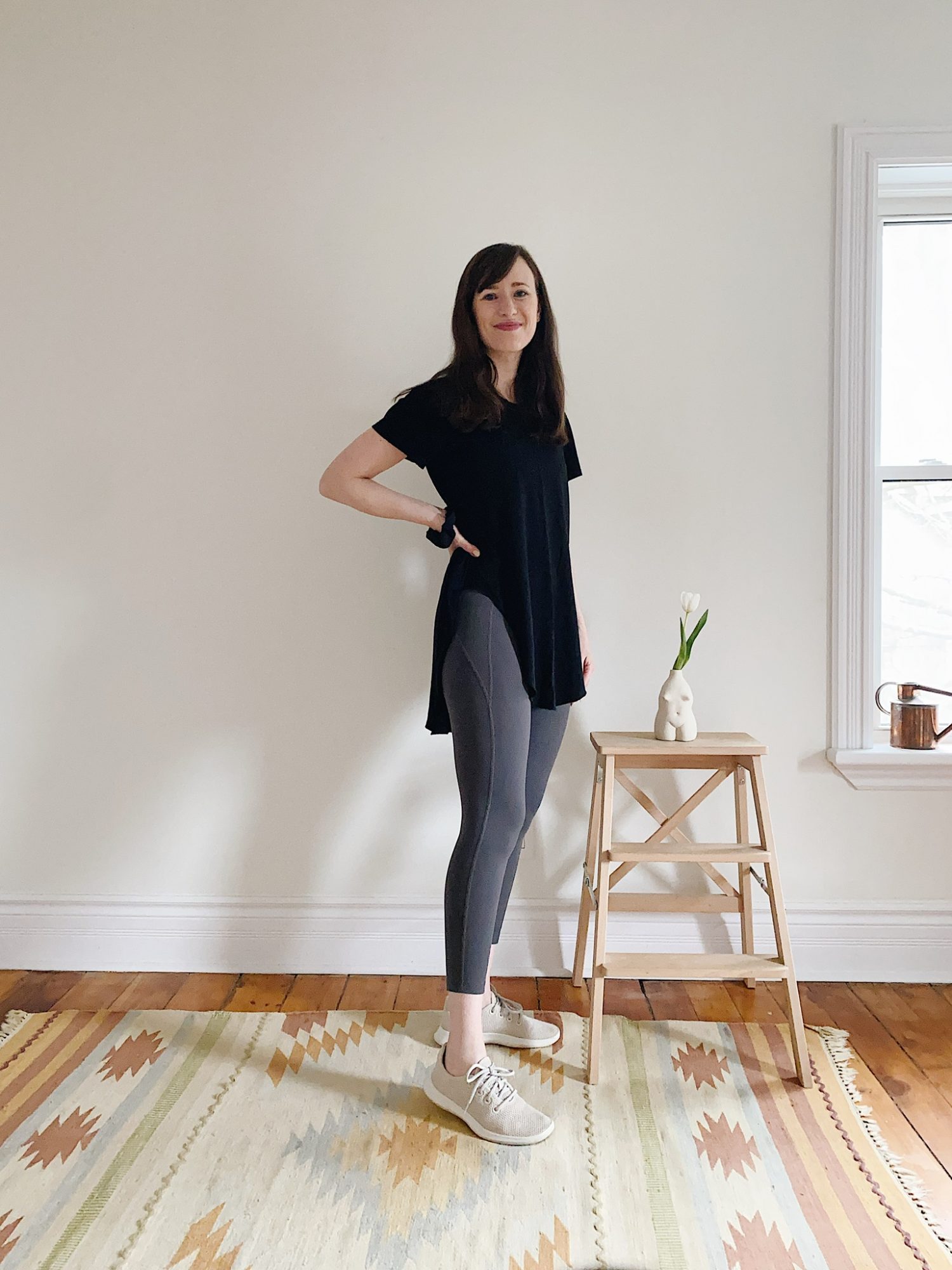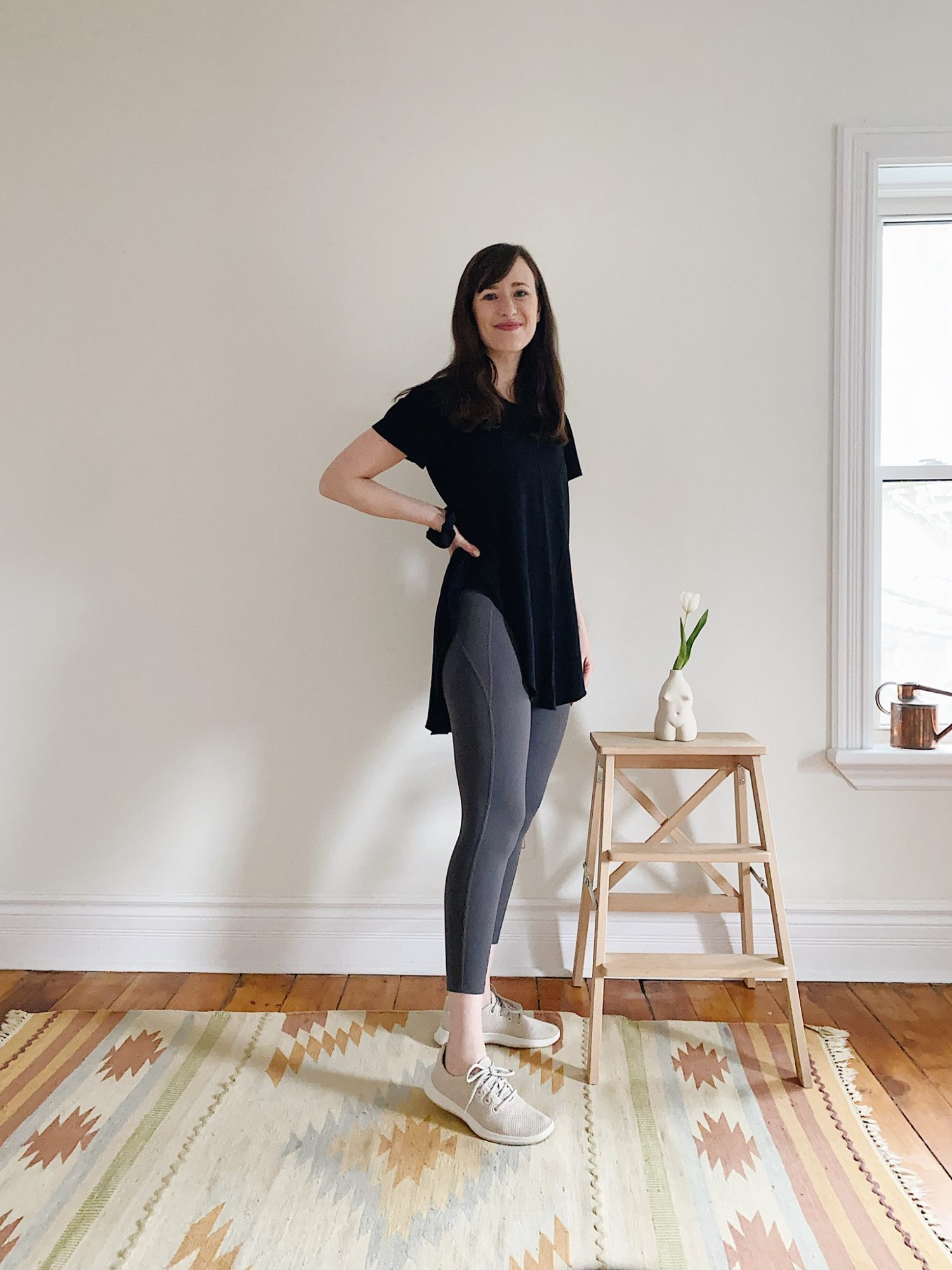 ---
THURSDAY – 4/30
---
Thursday's seem to be the day of the week that I'm least likely to make it out of workout clothes but it's a close call My go-to activewear outfit these days is a matching bra & legging set with a long tee on top, my runners and a handy scrunchie. I'm still doing P.Volve at home and loving it!
---
LONG SPLIT TEE (linked to current version with a scoop neck, made in Canada) // GREY LEGGINGS // TREE RUNNERS (fit is TTS, I wear a 7)
---

---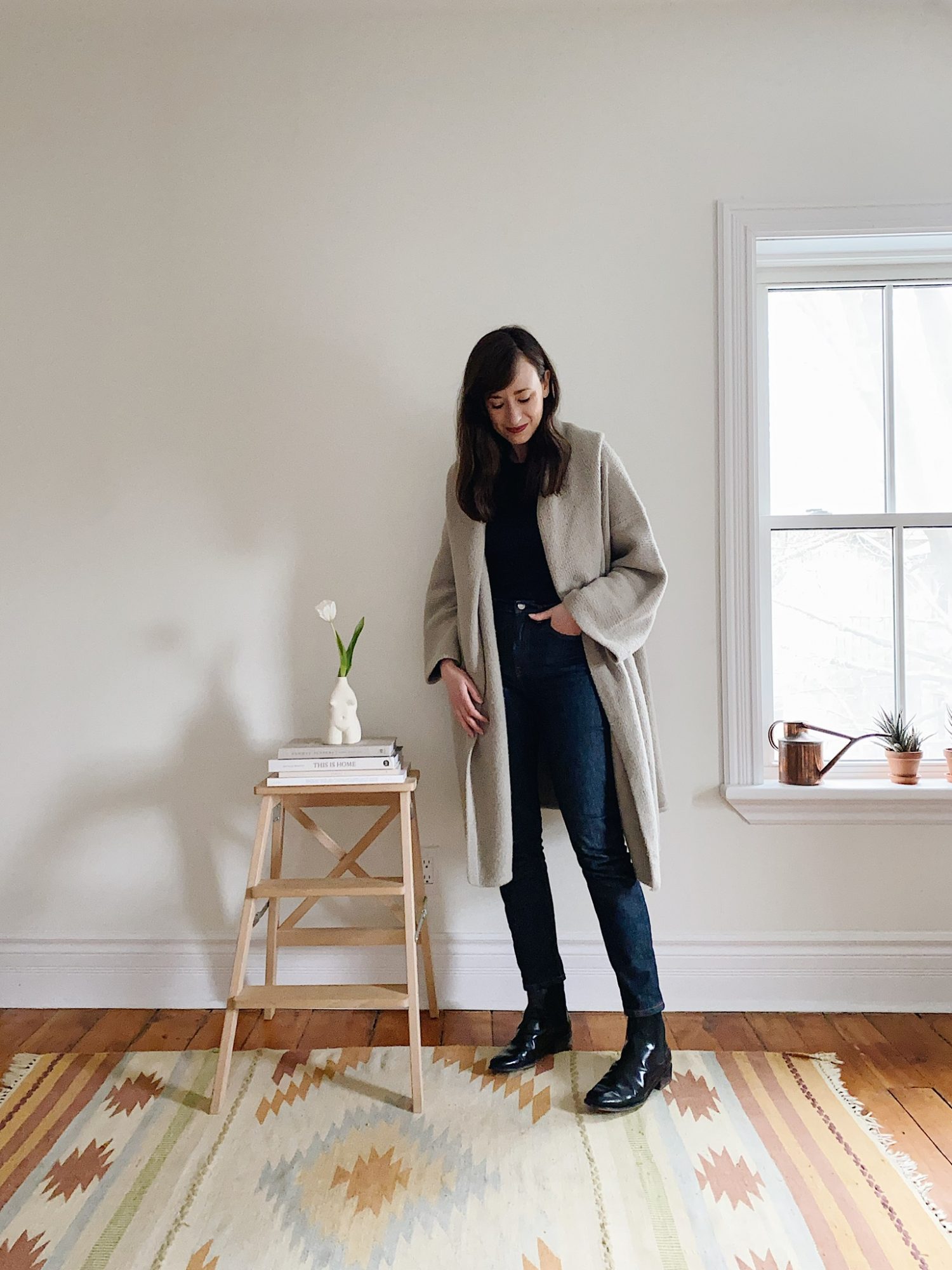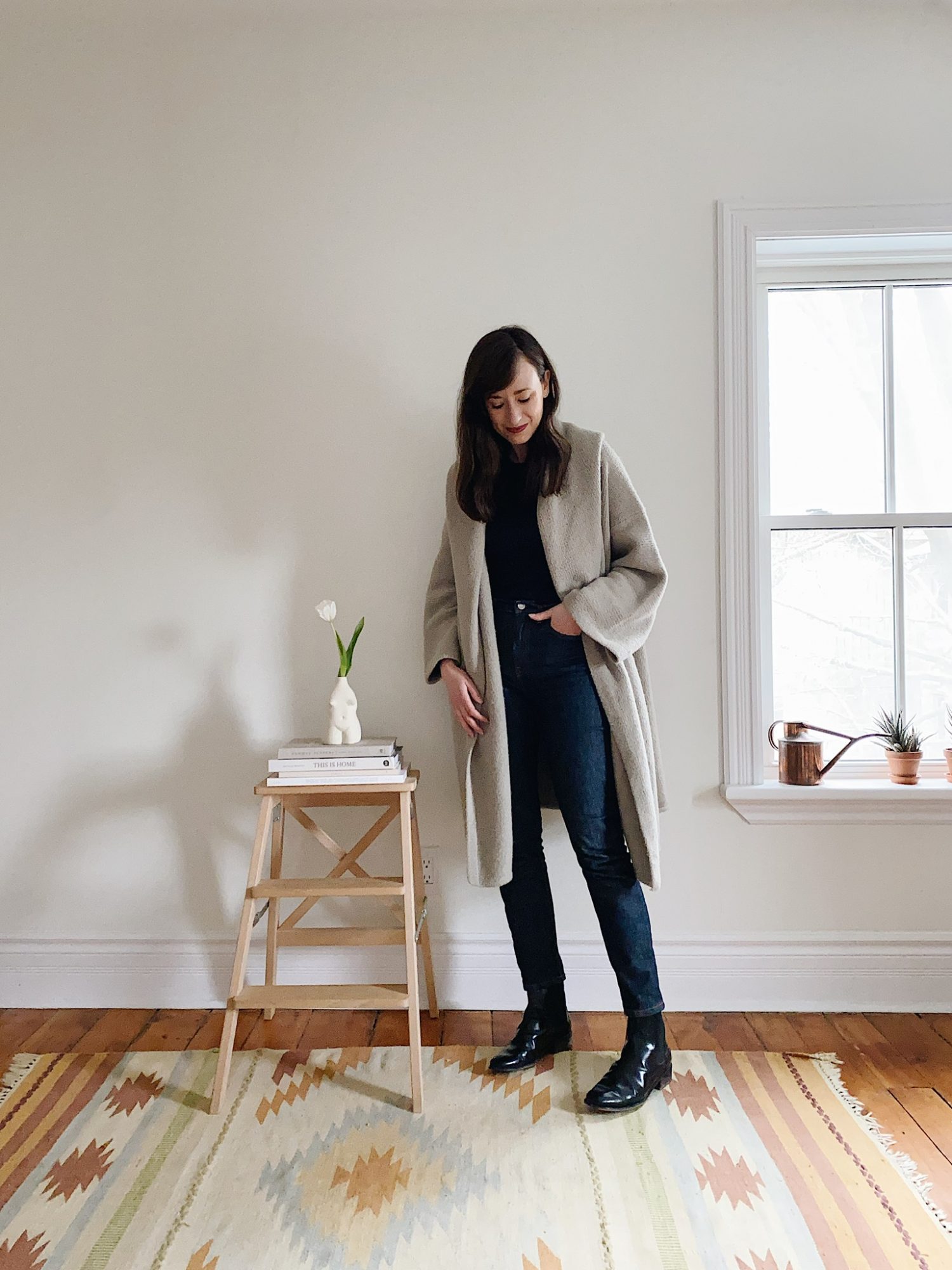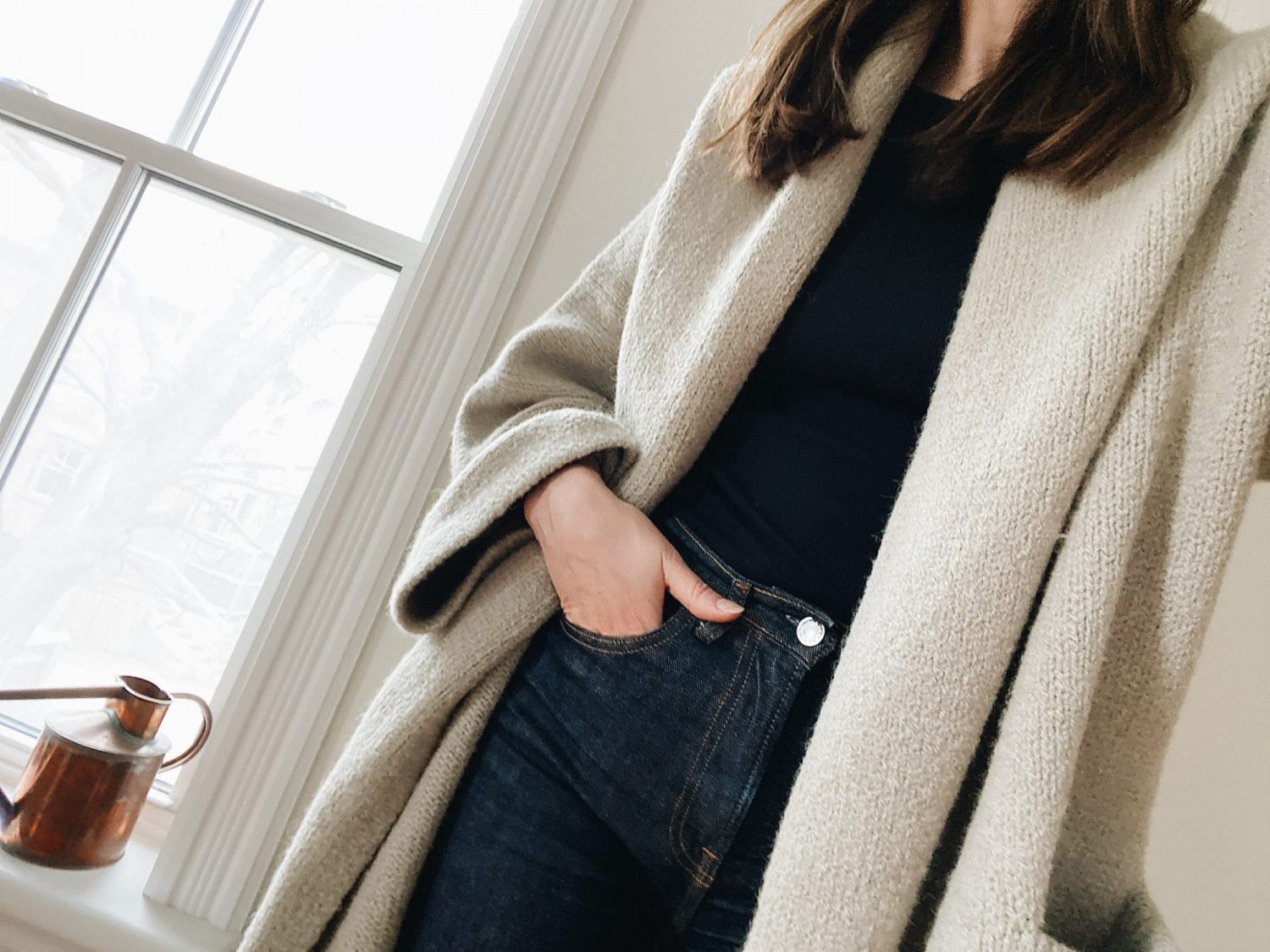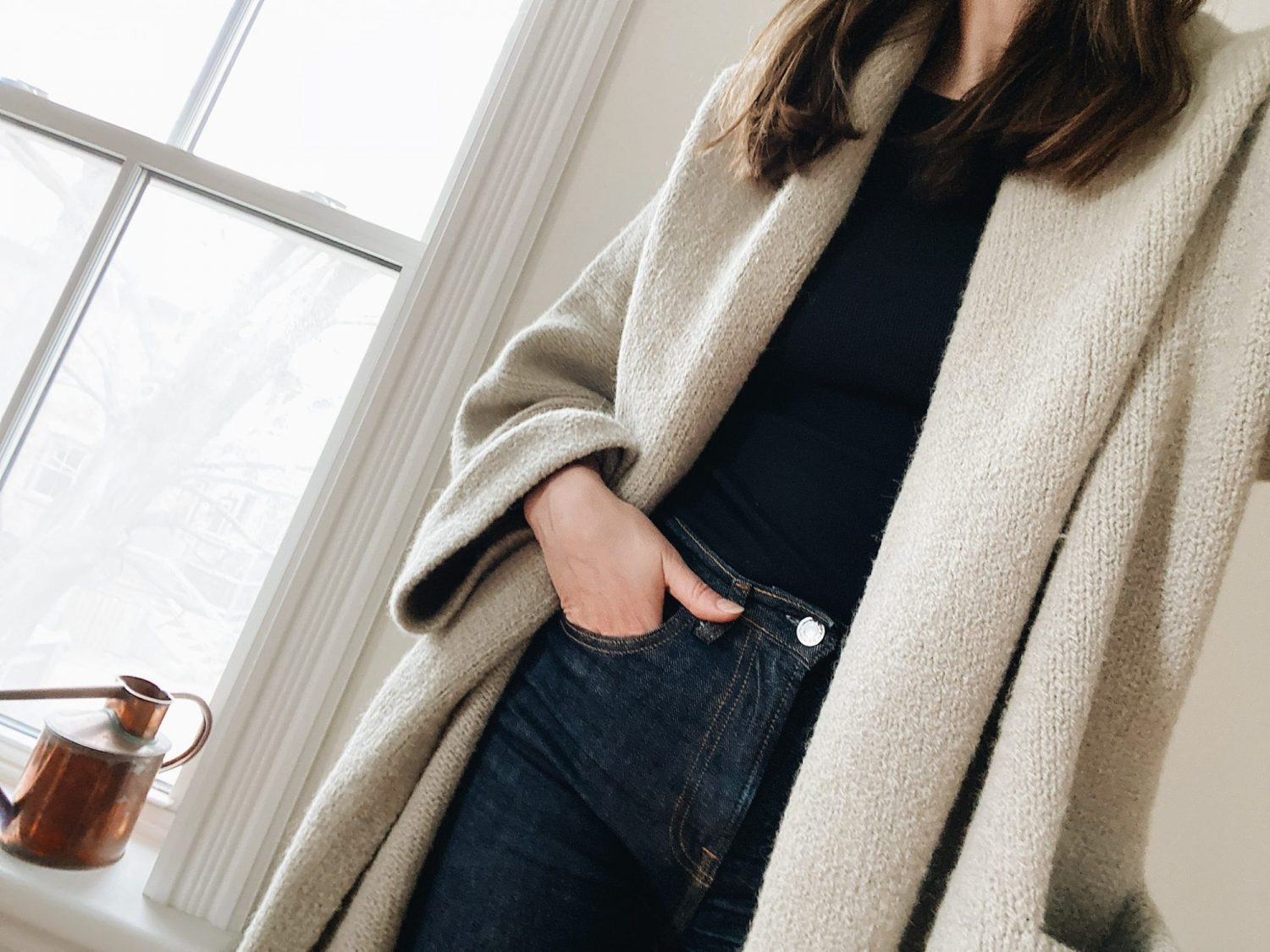 ---
I did manage to switch out of my leggings to walk Dobby around the neighbourhood and since it was still chilly out I grabbed my cozy Capote coat. I love this coat so much and whenever I wear it I feel like I'm getting away with something because it's basically like wearing a toasty blanket with sleeves.
If I had to pick one outfit formula to wear forever this one would be a real contender:
A super cozy coat + a fitted top + high waisted denim + a pair of minimal boots or flats
---
CAPOTE COAT (similar for less here) // LONG SLEEVE TEE // SKINNY JEANS gifted (TTS, I wear a 27) // CHELSEA BOOT* old // WOMAN VASE (made in Canada) // *Linked to similar
---

---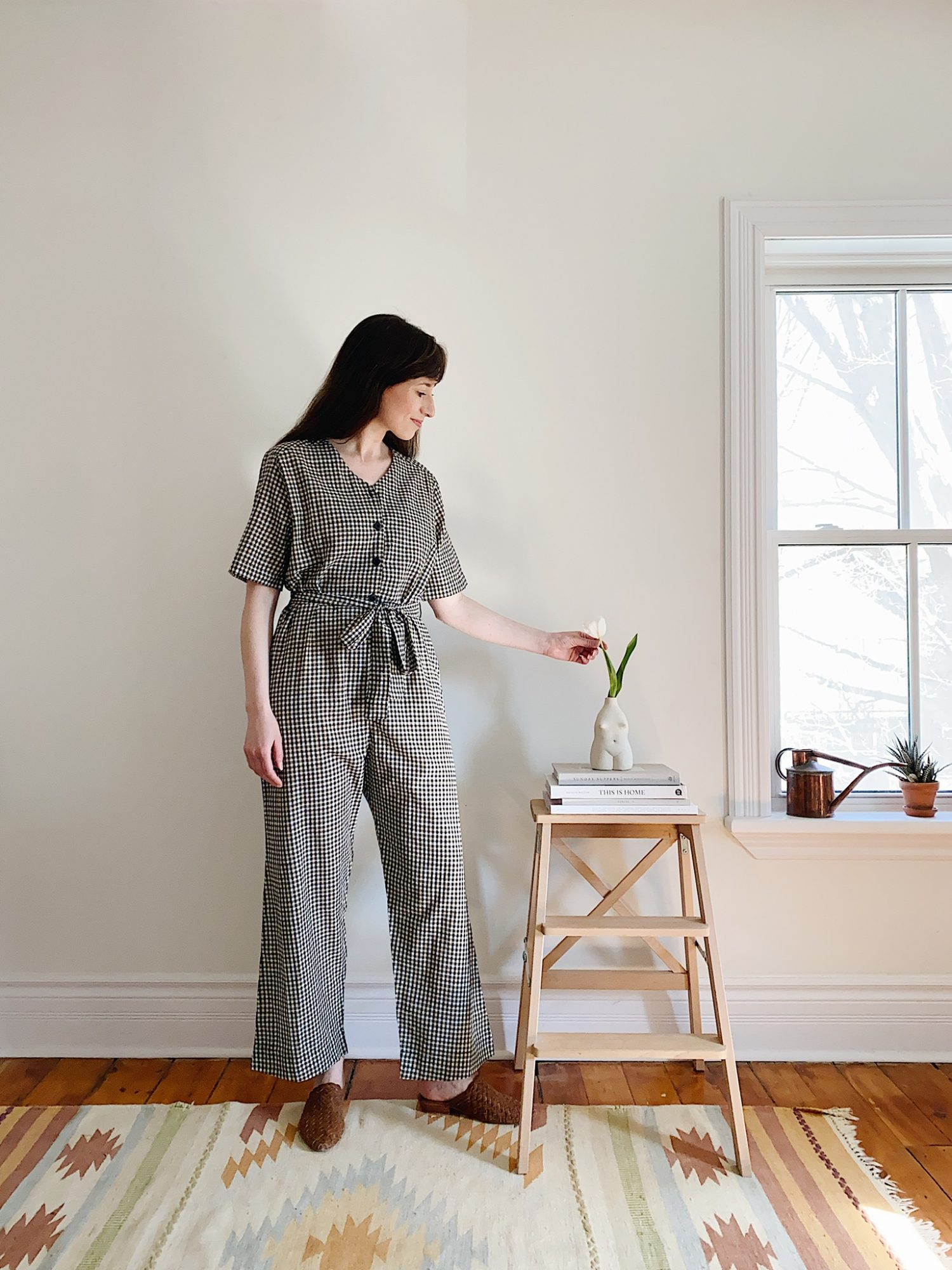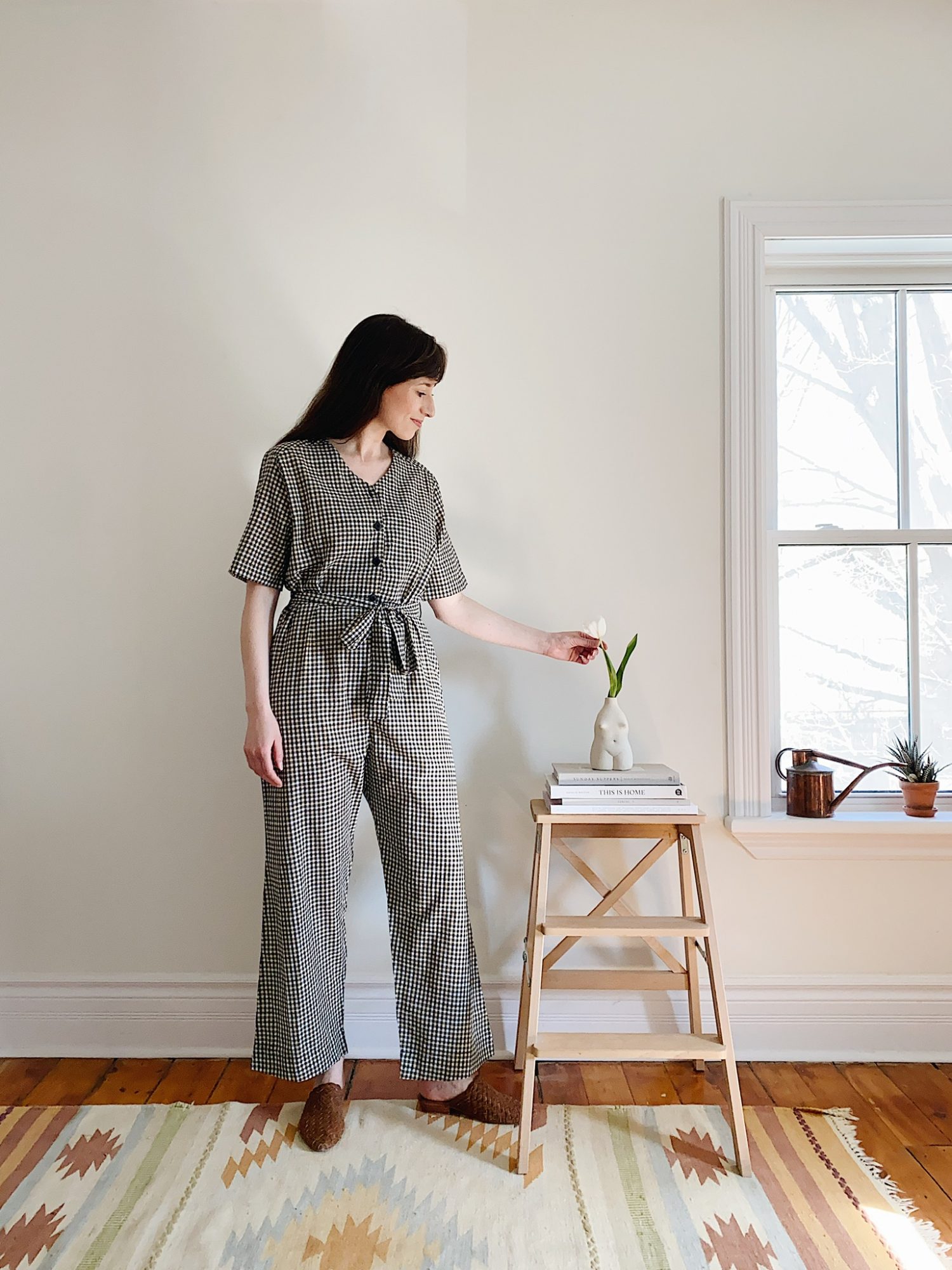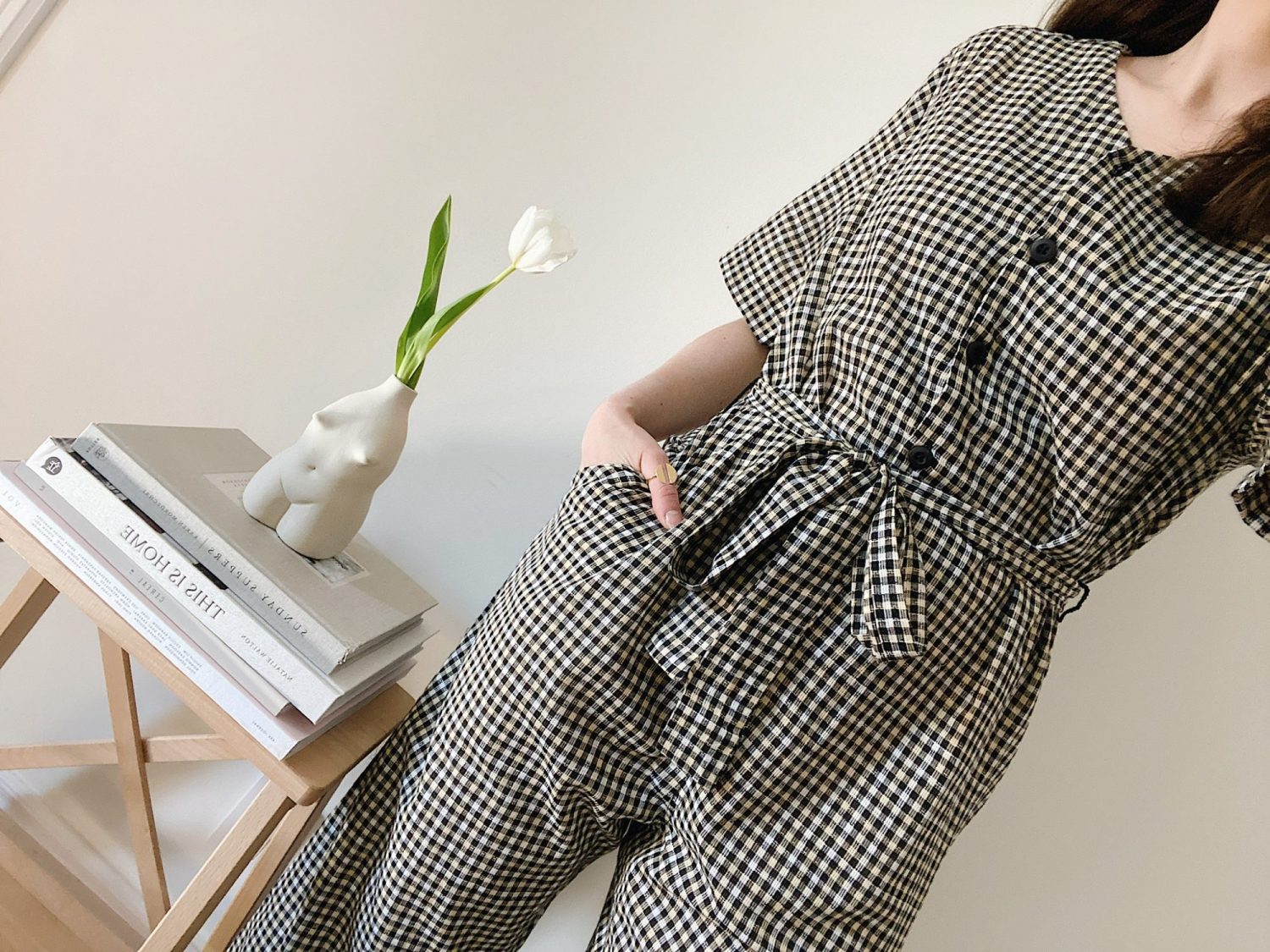 ---
FRIDAY – 5/01
---
A very special treat arrived this week and I had to wear it as soon as possible. I've always loved Ace & Jig pieces (one of my most-worn summer dresses was a purchase I made from them years ago) and when they offered to send a piece from their SS20 collection, I nearly fell off my seat.
The Benji Jumpsuit was my top pick and it's even more incredible in person. The soft, airy, lightweight cotton weave is a dream to wear and the cut is everything I hoped it would be. Right now I love it with slides for a comfy day at home but it'll dress up with block heels and a statement earring when the time comes as well!
This is definitely going to be a piece I treasure for many seasons to come!
---
BENJI JUMPSUIT gifted ACE & JIG (wearing a S, lots of different patterns) // PARIS MULE (Runs narrow I wear a 37, on sale!) // WOMAN VASE (made in Canada)
---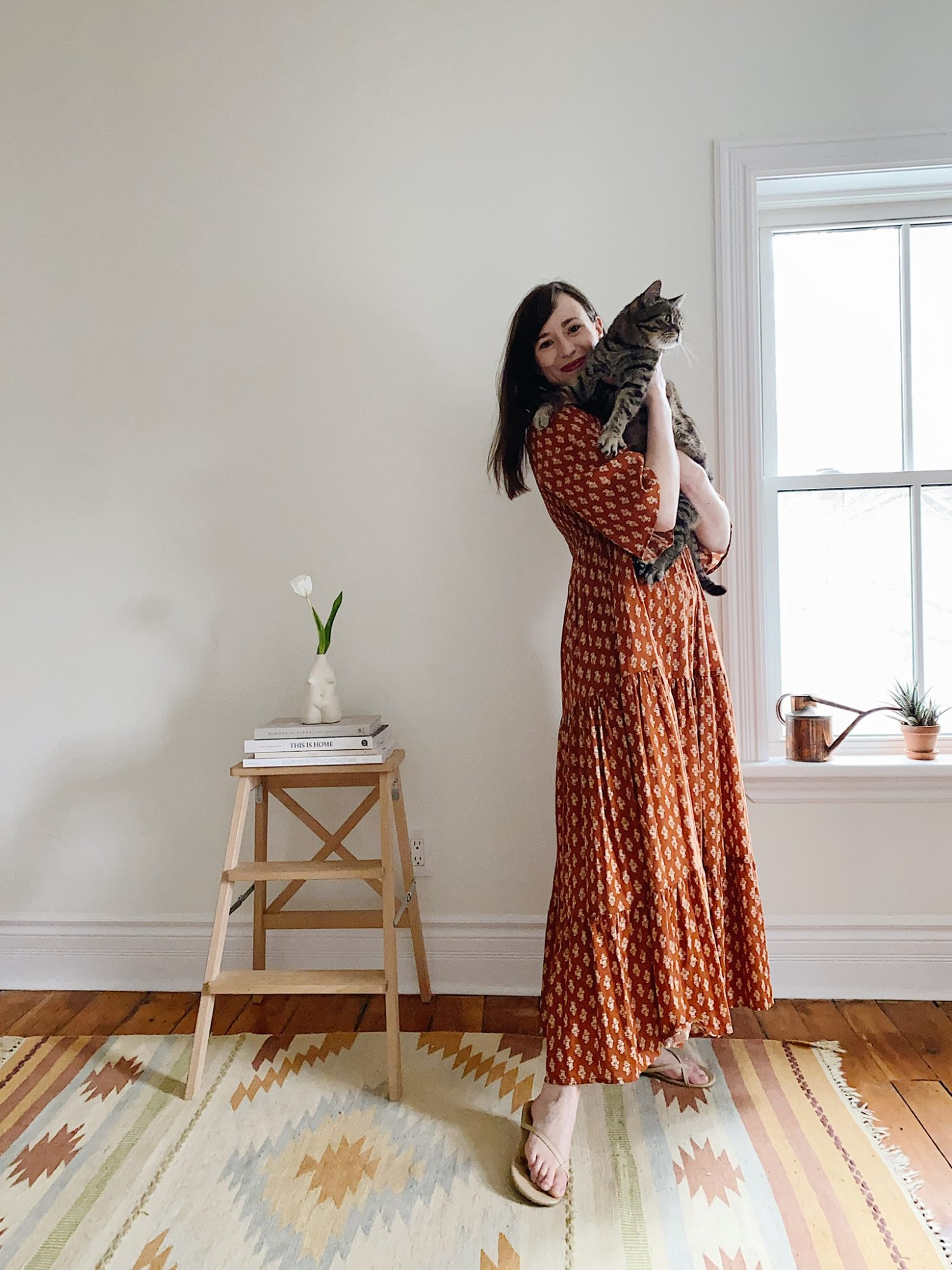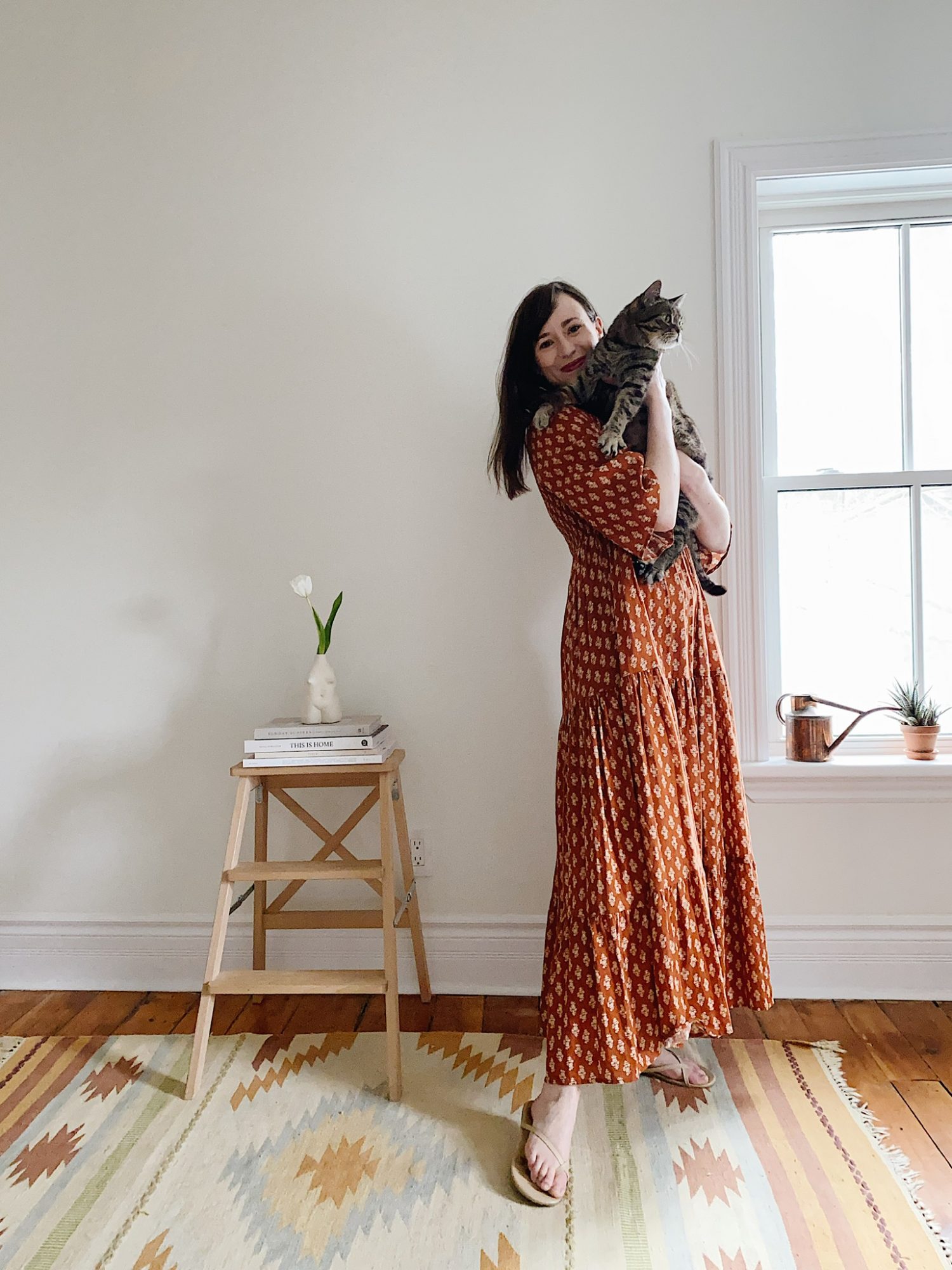 ---
SATURDAY – 5/02
---
I turned 33 this weekend and as odd as it was with the state of the world, it was one of the best birthdays I've had in years. Dave made us a magical pancake breakfast and we took Dobby for a long walk to witness the first major moments of spring coming to life around the neighbourhood.
My parents came by for a cheers from afar and I got to see so many of my dearest friends and family members, over the fence or via Zoom. I felt the love profoundly.
I put on my party dress for the occasion, drank French wine, cuddled the cat and the corgi and lost count of all the special people and things that I'm incredibly grateful for.
---
BASIL DRESS currently unavailable (I wear an XS/S) // FLIP FLOPS (TTS, these are the only flip flops I'll buy!) // EARRINGS similar linked // WOMAN VASE (made in Canada)
---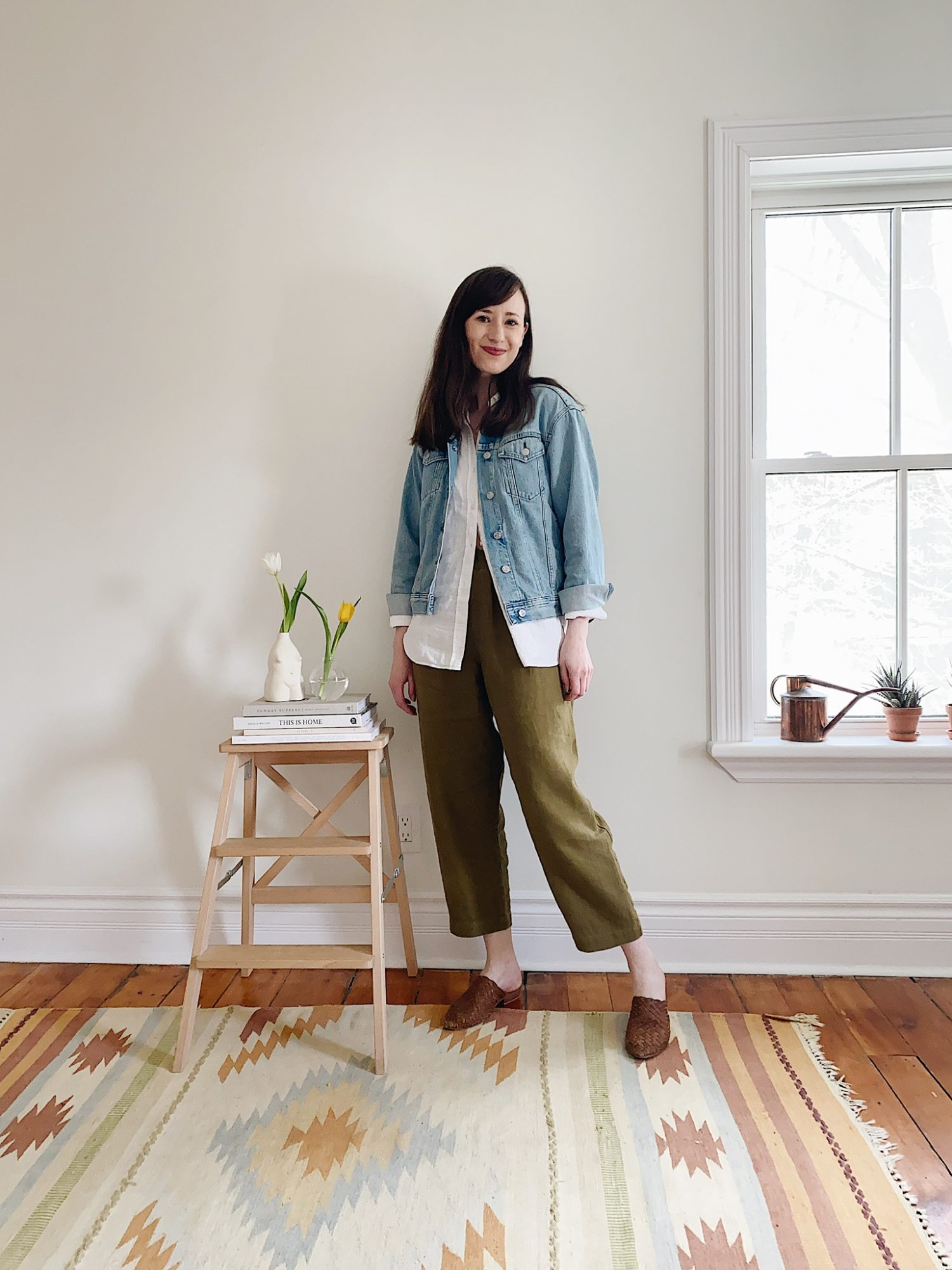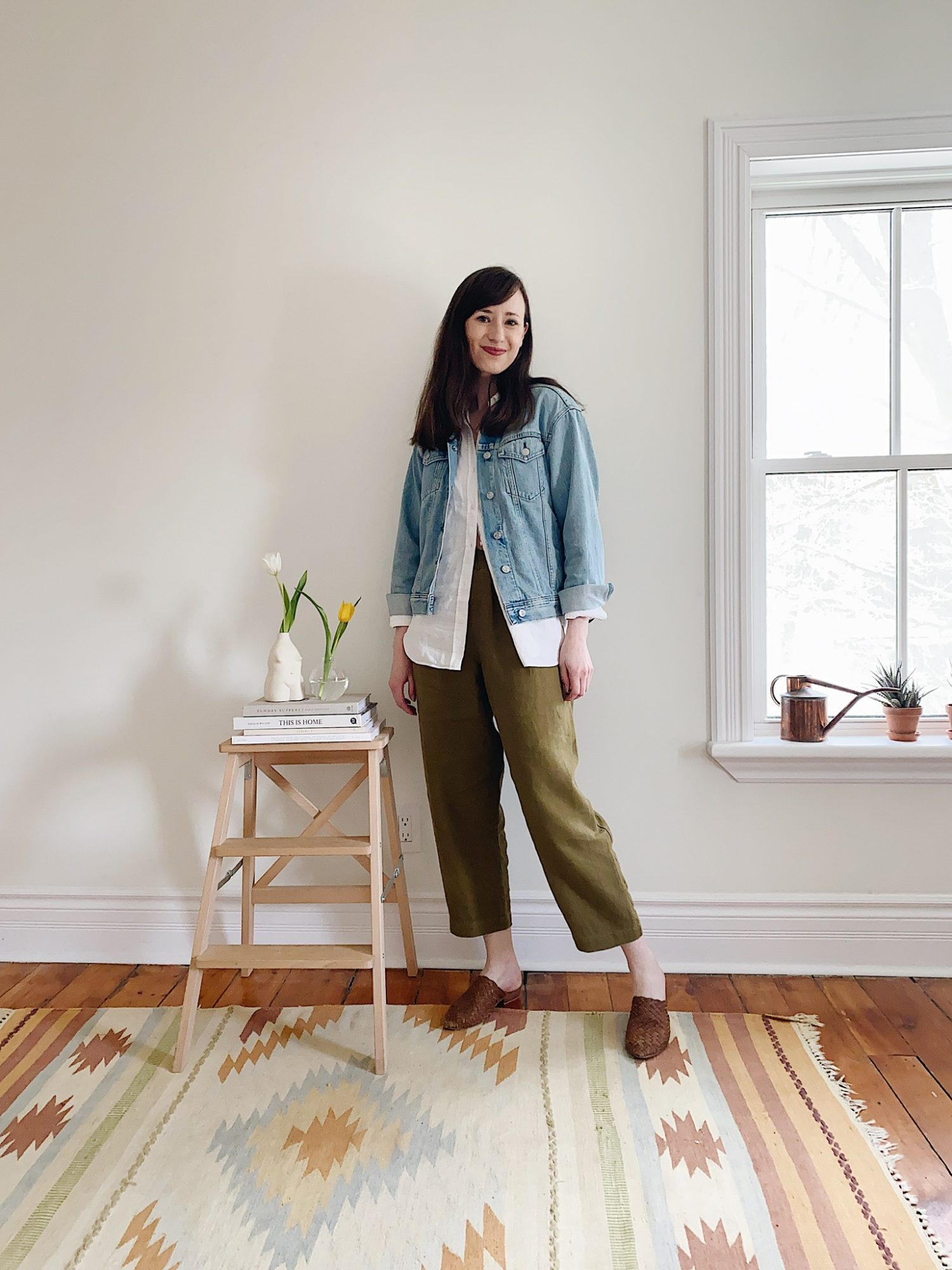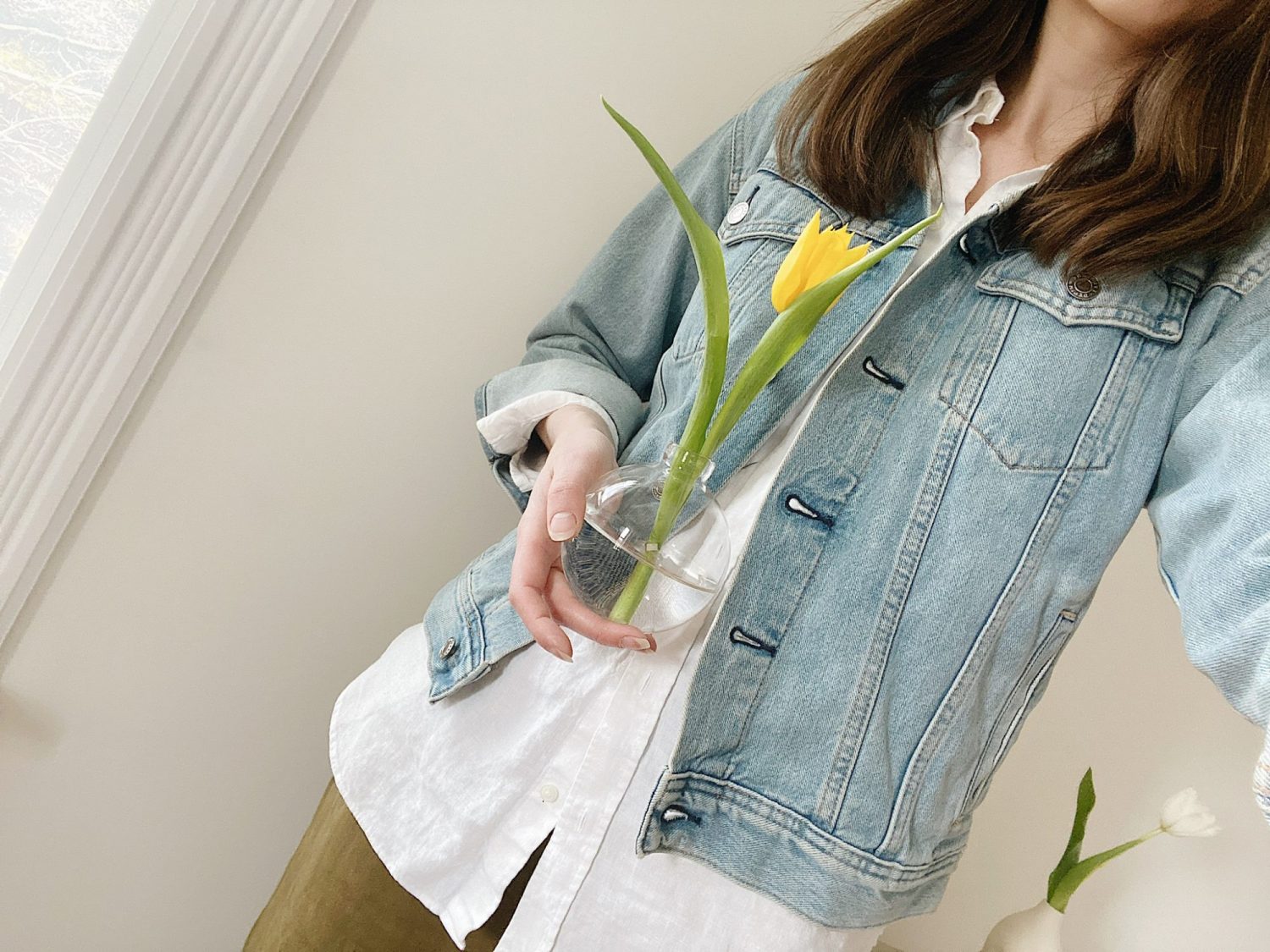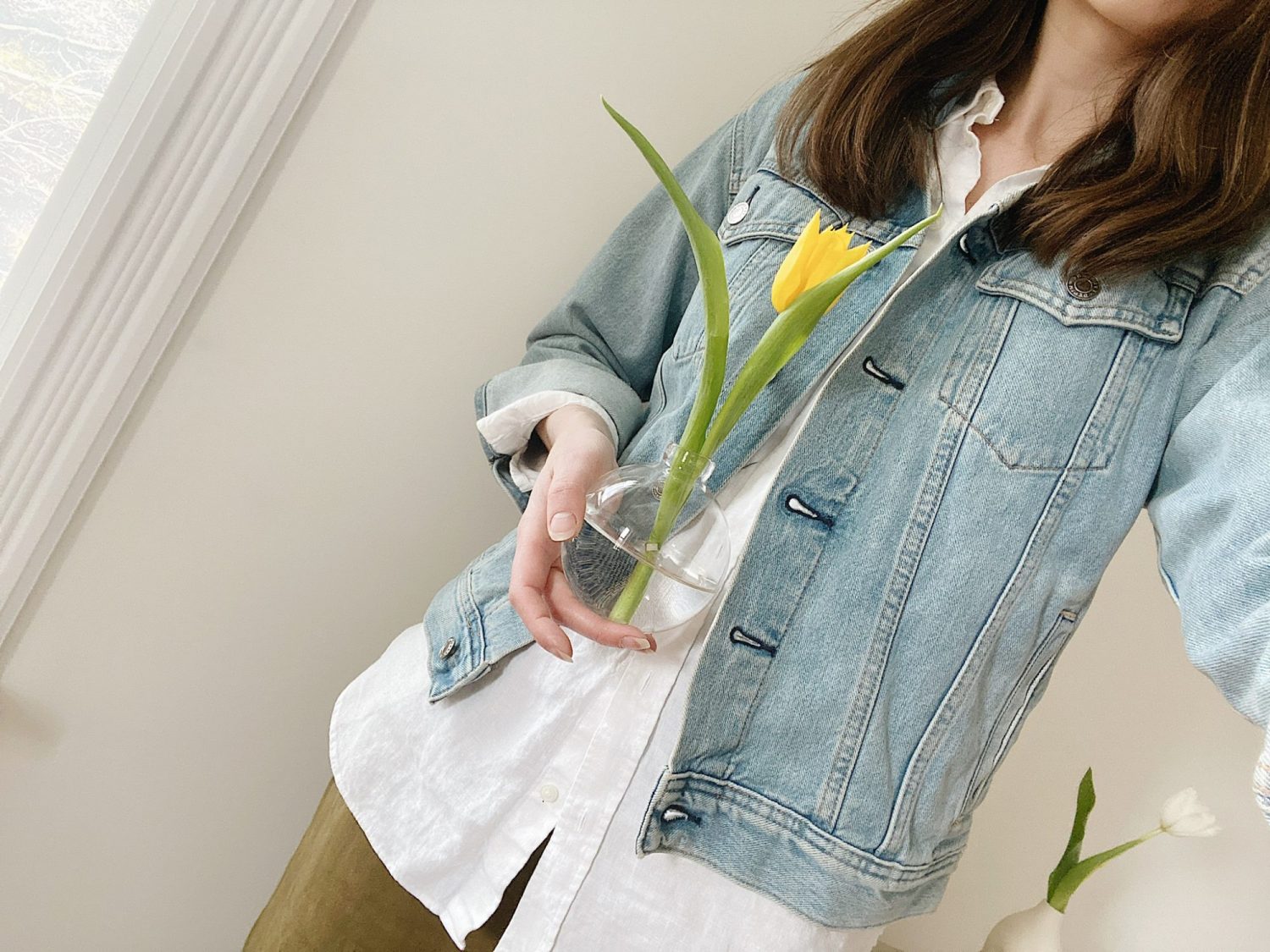 ---
SUNDAY – 5/03
---
Sunday was a gorgeous day here in Guelph and I spent a lot of the day outside with the boys. I also finished up my spring wardrobe reorganization (dare I do a closet tour?) and watched the series, 'Never Have I Ever', Mindy Kaling's new coming-of-age comedy on Netflix.
All-in-all it was a decent week and a wonderful weekend, which I don't take for granted for a moment.
---
DENIM JACKET (wearing S, fit is oversize) // LINEN SHIRT (wearing size 4) // ANDY TROUSER currently unavailable, similar option linked // PARIS MULE (Runs narrow I wear a 37, on sale!) // WOMAN VASE (made in Canada) // GLASS VASE (Size small, Made in Canada)
---

---
---
If you'd like to see another week of outfit ideas, feel free to give this post a read too!
---
How are you feeling about getting dressed these days? Is it more of a daily chore or something that gives you a little pep in your step?
For me getting dressed is not dissimilar to exercising. I often drag my feet about building an outfit at first and then feel much better once I do.