Silk is one of those fabrics that always seems better in theory than it does in reality but despite its temperamental nature, propensity for wrinkles and reluctance to machine washing, I can't help but love it. I typically find myself reaching for it on warmer days but in the spirit of this whole seasonless closet idea, I decided to challenge myself to wear silk over the holidays and into the early months of 2017. Turns out it's entirely doable, it just takes some creative layering and a few tricks to keep static at bay.
This brings me to today's post in which we'll discuss:
2 of My Favourite Silk Pieces
How I'm Wearing Them Right Now
6 Simple Ways to Combat Static Cling
---

---
LOOK 1
---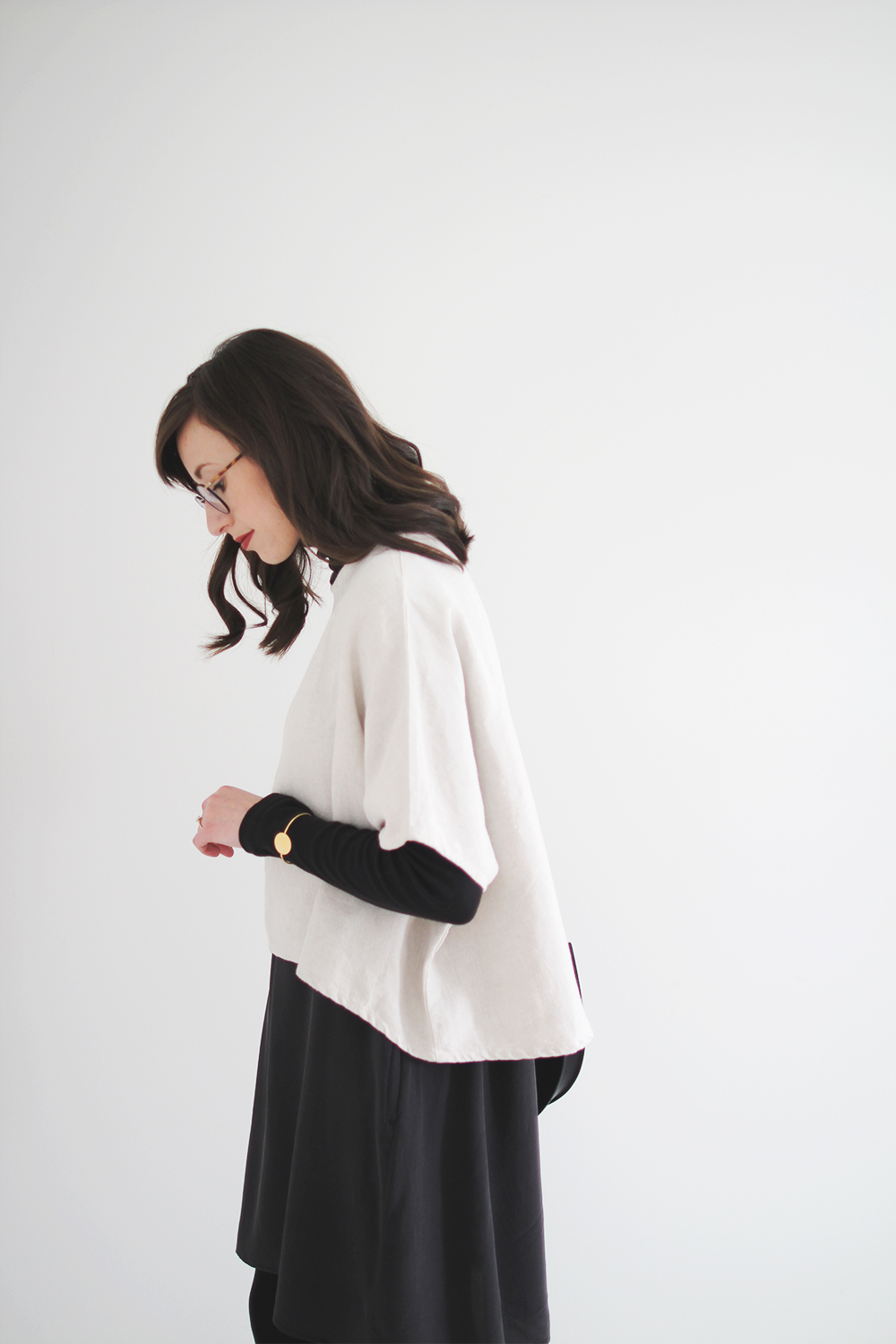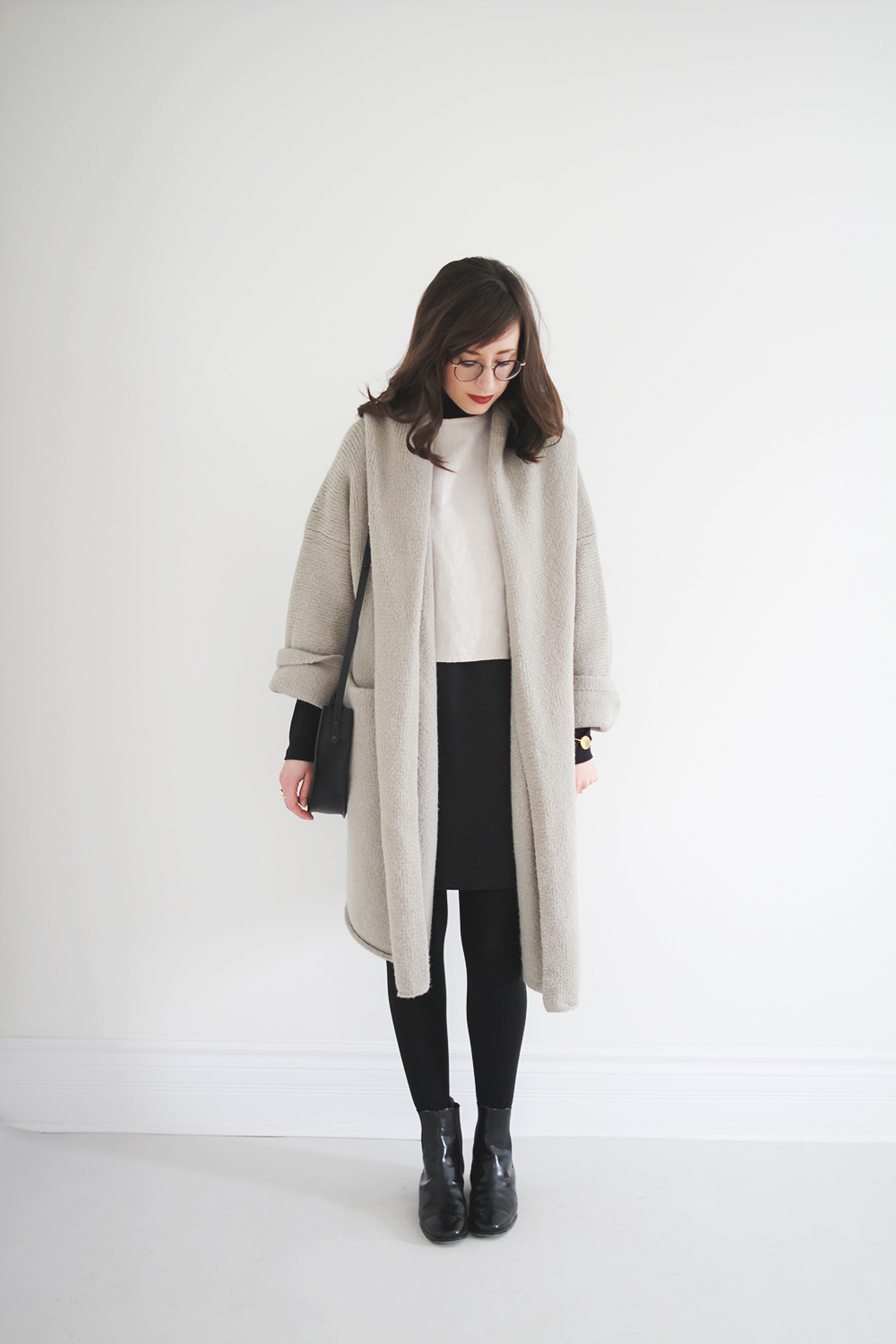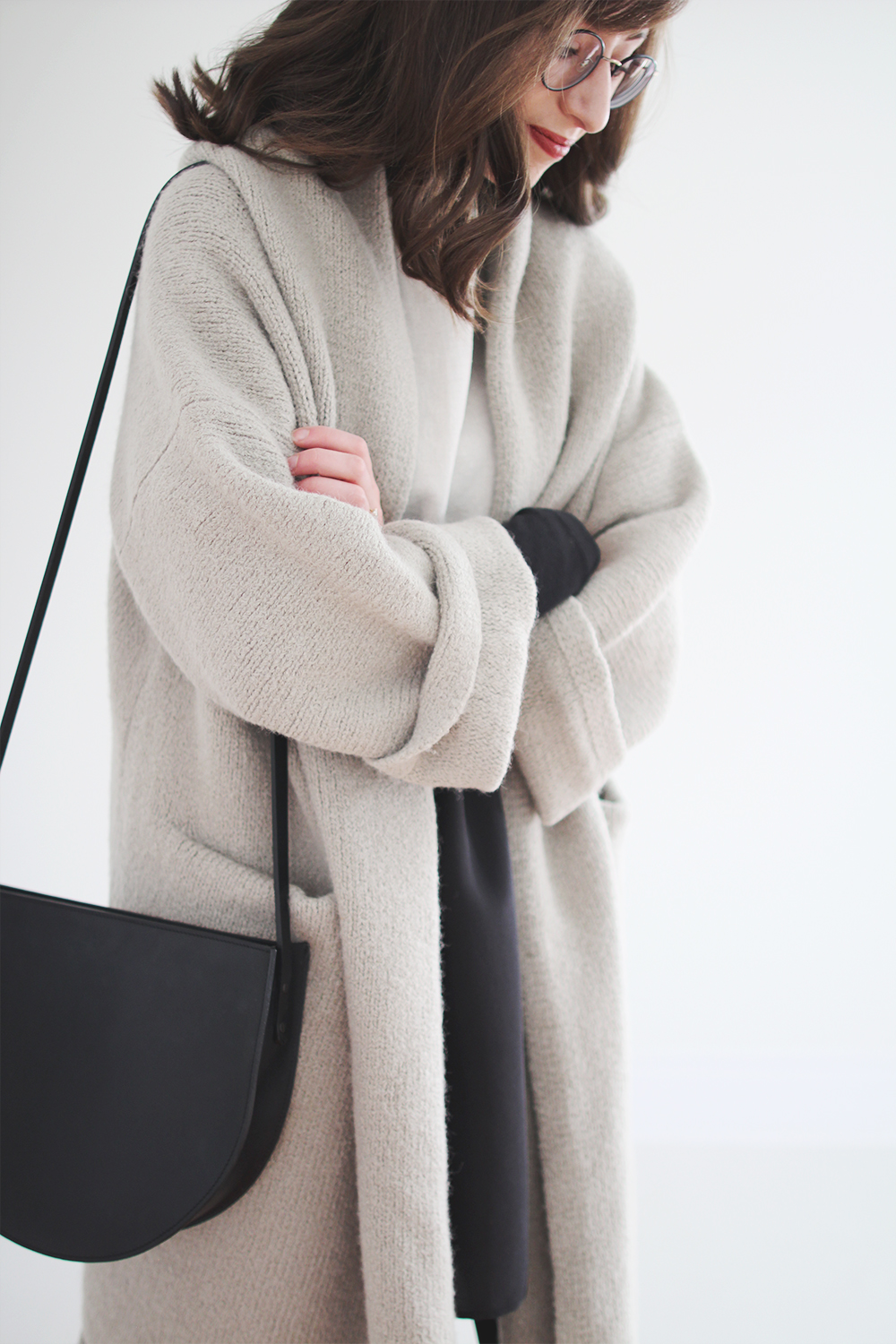 ---
LOOK 1 – SILK TANK DRESS
You might remember this dress from my Spring 10 x 10 Challenge where it proved to be a perfect base layer for the Linen Linn Tee (which I'm wearing now) and the Blank Canvas Top. I love this dress for so many reasons but its versatility has to be #1. My only wish is that it was a true deep rich black (although it seems that's impossible with silk) and maybe just a tiny bit longer for those breezy summer days. Otherwise it's a dream to wear and style. It has pockets but I've kept them sewn up for a slimmer silhouette (and because I keep forgetting to undo them!).
So how the heck do you wear a flimsy silk tank dress in the Winter without hating life? Easy!
A – Start with a form fitting base of thick tights and a black turtleneck.

B – Then slip into the silk dress.

C – Top that with a loose fitting, slightly cropped, densely weighted top.

D – Pull on your favourite cozy black boots.

E – Top it all off with a super cozy sweater coat.

F – Finally, you just need a loose wave, a red lip and a ring or two and you're ready for just about any Winter shindig!
Personally, I love this look because it's cozy, comfy, creative and still simplified and elegant. My favourite elements are the crop top, which works double time to add warmth and give the illusion of longer legs and the super simple colour palette that's soft and comforting.
This look is perfect for most work environments, family events and heck, throw on a pair of skates and a toque and you're all set for a cider fueled swirl along the canal.
---
Linn Tee c/o Elizabeth Suzann (Wearing OS) | Silk Tank Dress by Everlane (Wearing a S) | Turtleneck by Splendid (Wearing S) | Tights American Apparel (Wearing M/L) | Boots by Rachel Comey (TTS) | Capote Coat by Lauren Manoogian | Eloise Bag by The Stowe (Made in Canada) | Wilson Frames – Garrett Leight (Wearing 46 mm)
---

---
---
LOOK 2
---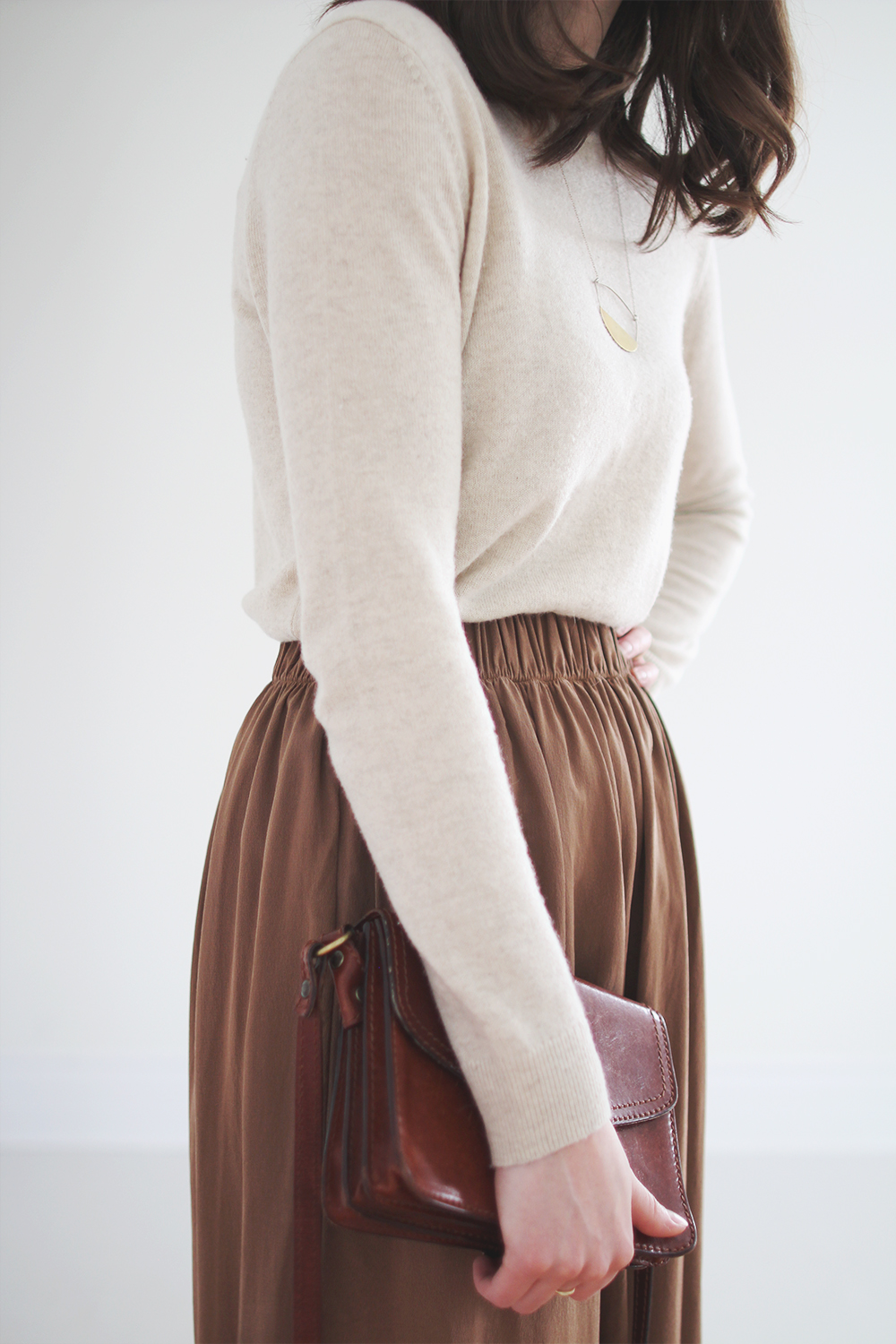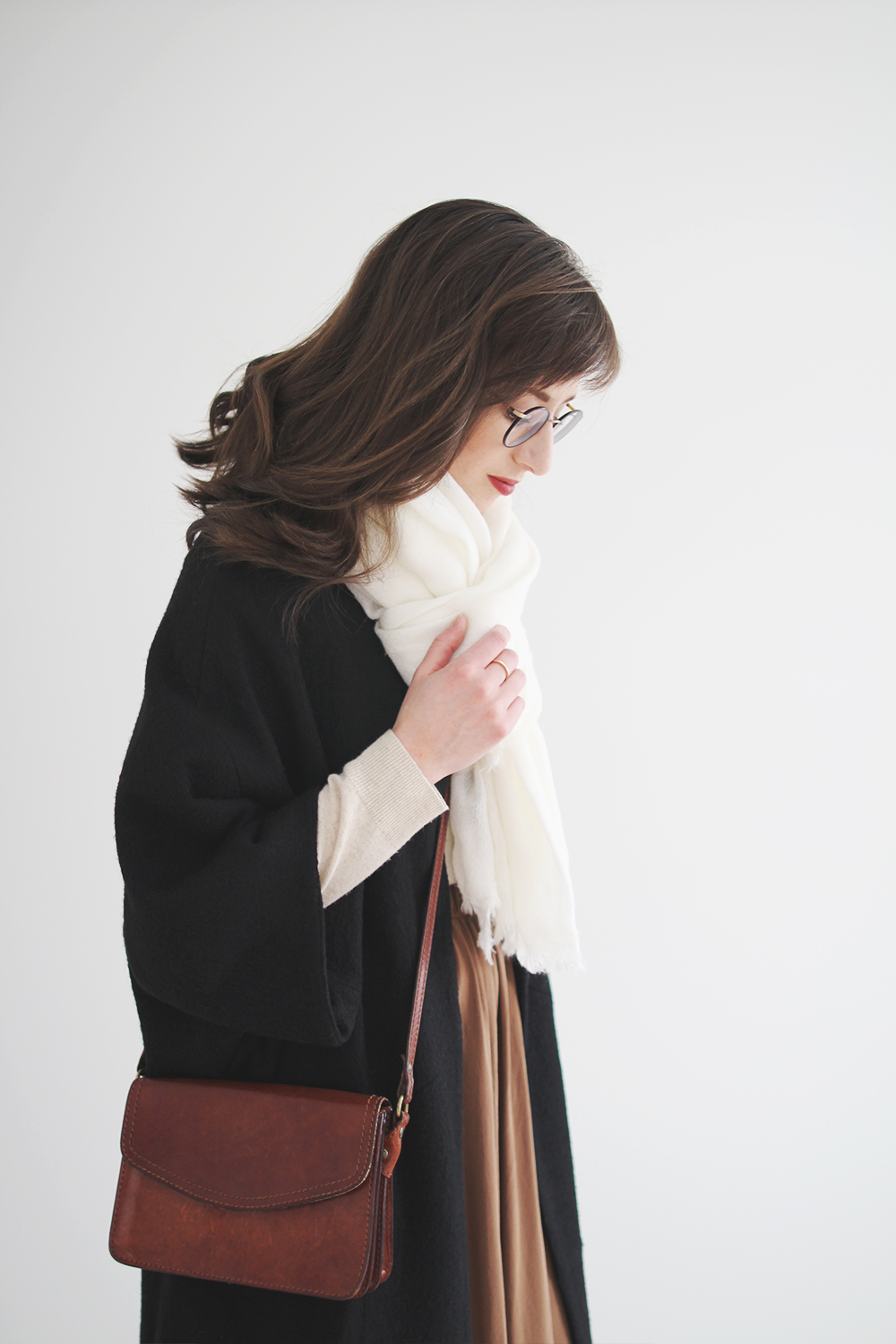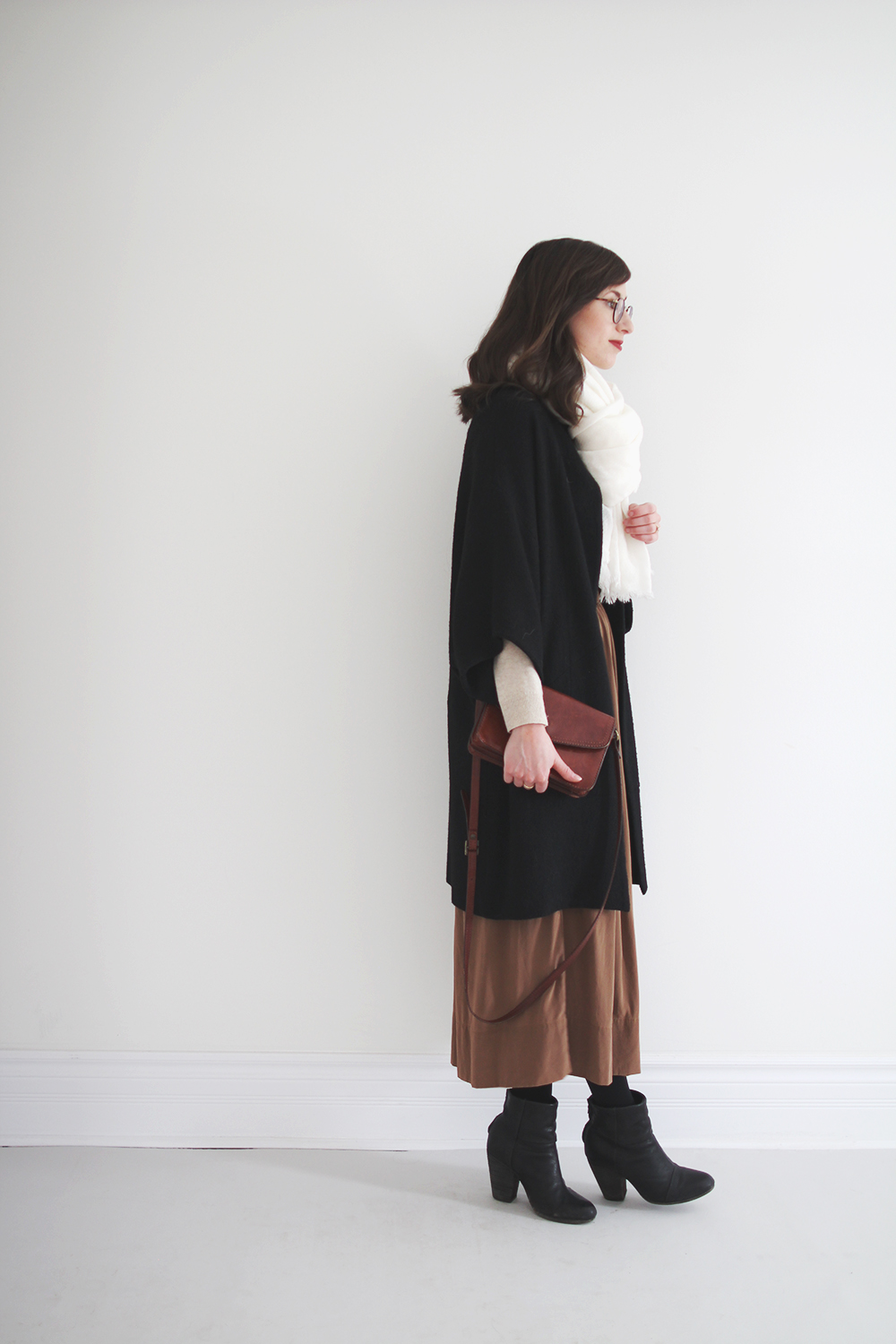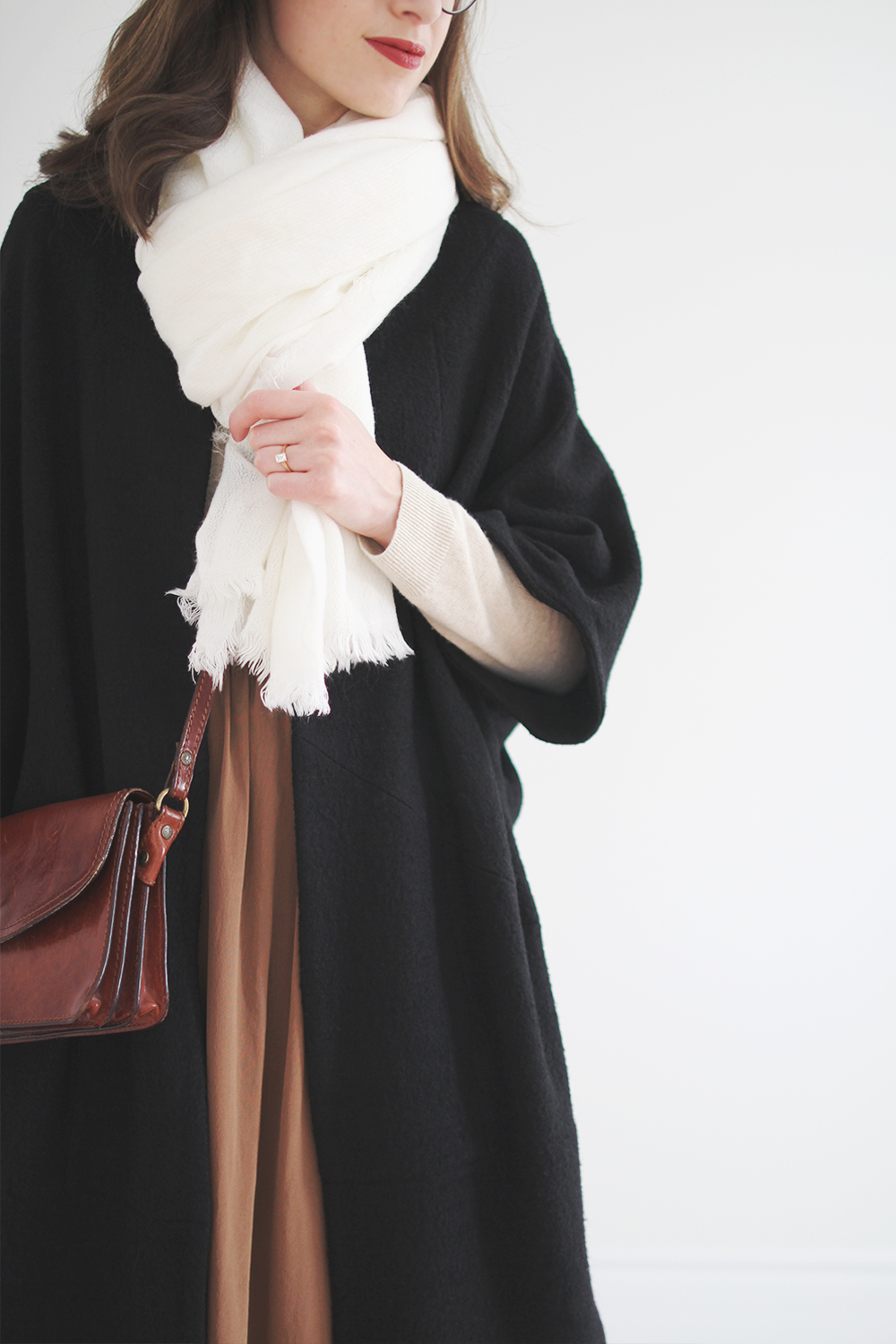 ---
LOOK 2 – SILK SKIRT
I love this skirt so much but I'll admit I was a little stumped as to how I was going to transition it into the colder weather. Being long it gets extra tricky and can easily steer into the realm of Dr. Quinn Medicine Woman (not that she didn't rock a mean maxi skirt!) and that wasn't exactly the vibe I was going for. So I decided to keep things super simple and opt for clean, contemporary elements and blocks of colour. To put it simply, here's how to wear a long silk skirt in the winter:
A – Start with a base of thick black tights and a classic, slim but relaxed cashmere crewneck sweater.

B – Pull the skirt on and over your sweater and adjust it to comfortably sit at your natural waist to create some shape.

C – Slip into a pair of simple, high heeled black boots. You're going to want that extra height to offset the skirt. 

D – Toss over your favourite cocoon style coat.

E – Wrap a big giant scarf around your neck. Bonus if it's white or a bold contrast to everything else.

F – Pick up a low profile cross-body bag and you're on your way!
I wore a very similar look to a family Christmas dinner last weekend and it felt great the whole night. Even after a long car ride the skirt had minimal creases, plus it gets major bonus points for having a stretchy forgiving waistband!
---
Cocoon Coat (old) by Elizabeth Suzann (New version s/o but this one is awesome and a very similar option for less here) | Cashmere Crewneck c/o Everlane | Silk Skirt c/o Elizabeth Suzann (n/a linked to similar) | Necklace c/o CLAUS | Boots by Rag & Bone | Tights American Apparel | Vintage Bag from Millay Vintage (Linked to Similar) | Wilson Frames – Garrett Leight (Wearing 46 mm) | Scarf old Zara (linked to similar made responsibly)
---

---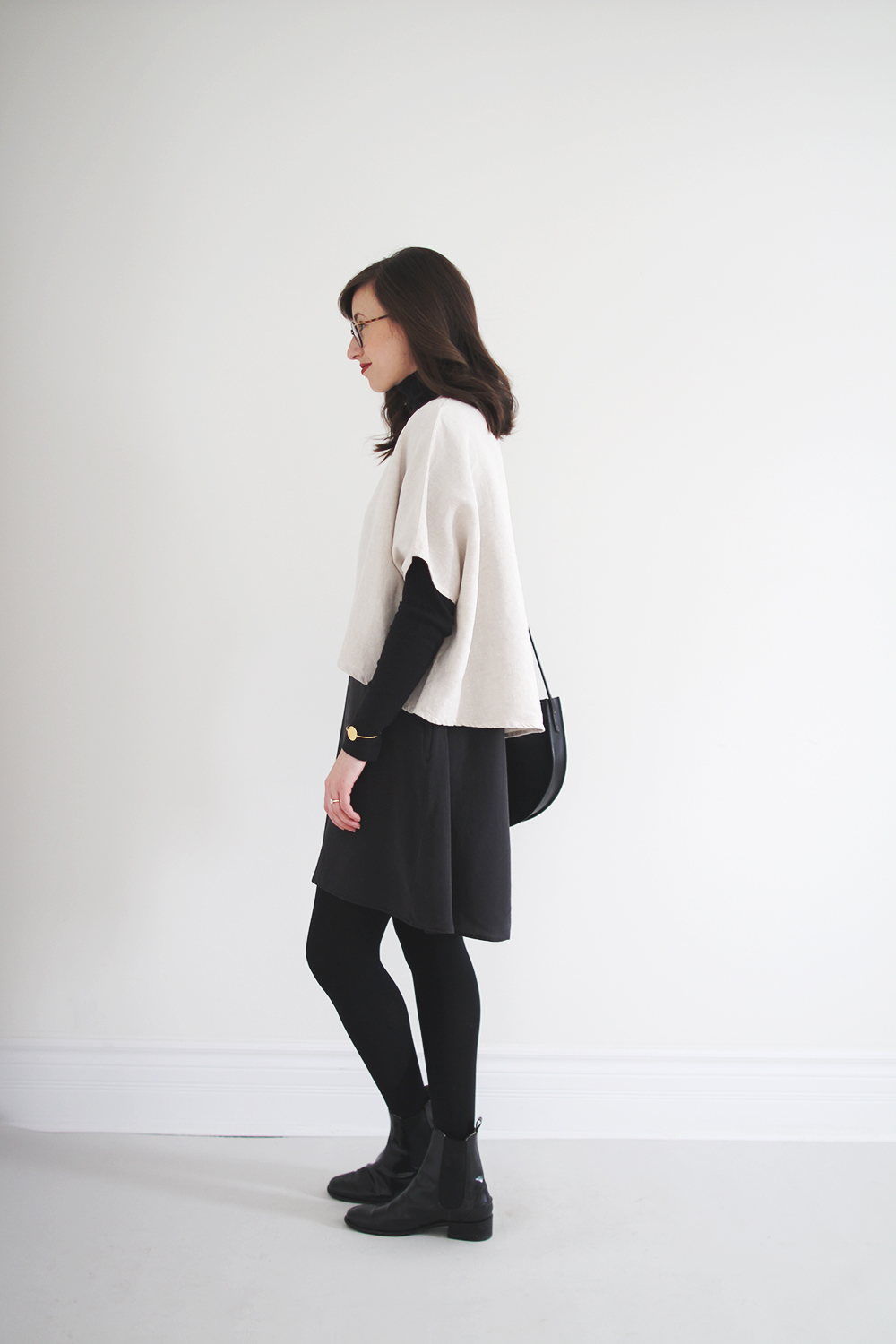 ---
6 SIMPLE WAYS TO COMBAT STATIC CLING
---
For me the biggest deterrent to wearing silk in the Winter (with tights) is the annoyance of static. You have this great look all ready to go and all of a sudden your outfit is clinging to you for dear life. Not ideal! Since I know this is a common problem I looked up and tested out a few ways to fight static. Here are the top ones I've come across thanks to personal experience and WikiHow:
Attach a safety pin to your clothes. I tried this out for this shoot and it worked great! I attached the safety pin to the inseam of my silk dress and skirt (I used one on both sides) so it wouldn't show or damage the fabric. The metal of the pin discharges the electrical build up in your clothes, preventing static cling. I was moving around a lot and noticed no cling at all.
Rub the dress with an anti-static dryer sheet. This is an age old technique but I never have a dryer sheet handy! If you happen to, simply hold the clothing away from your body and rub the underside of the fabric with the dryer sheet. The static should immediately transfer to the dryer sheet.
Wear rubber soled shoes. Ever notice how stocking feet build up electricity easily? Wearing shoes with a rubber sole helps to ground you and prevents electricity from building-up. Alternatively, go barefoot for a while before dressing and it helps to keep static at bay.
Spray aerosol hairspray on the inside of your garment. I was too scared to try this but I might give it a go with something made of polyester or a fabric less fragile than silk. Spray at arms length and be careful not to overload the material with spray. There are anti-static sprays you can buy too, at the drugstore.
Steam the garment thoroughly before putting it on.
Run a metal hanger over your clothes. Run a metal hanger on the surface (front and back) and inside of any article of clothing. Same idea as the safety pin, this will reduce the electrical charge, by transferring the electron charges on the clothes to the metal hanger. Just be careful that the hanger doesn't catch!
---
WASHING SIDENOTE: I've actually machine washed both of these items several times now. I use a very mild detergent and wash on the gentle cycle in cool water. I pull them out the moment the cycle is done and hang them straight up to dry. The dress goes on a regular hanger and for the skirt I use this type. I hang them from my clothes rack and they both come out exactly as you see in these photos. The skirt often feels a little stiff until I've worn it for about an hour and then it relaxes. I'll steam them if needed but try to avoid the iron.
---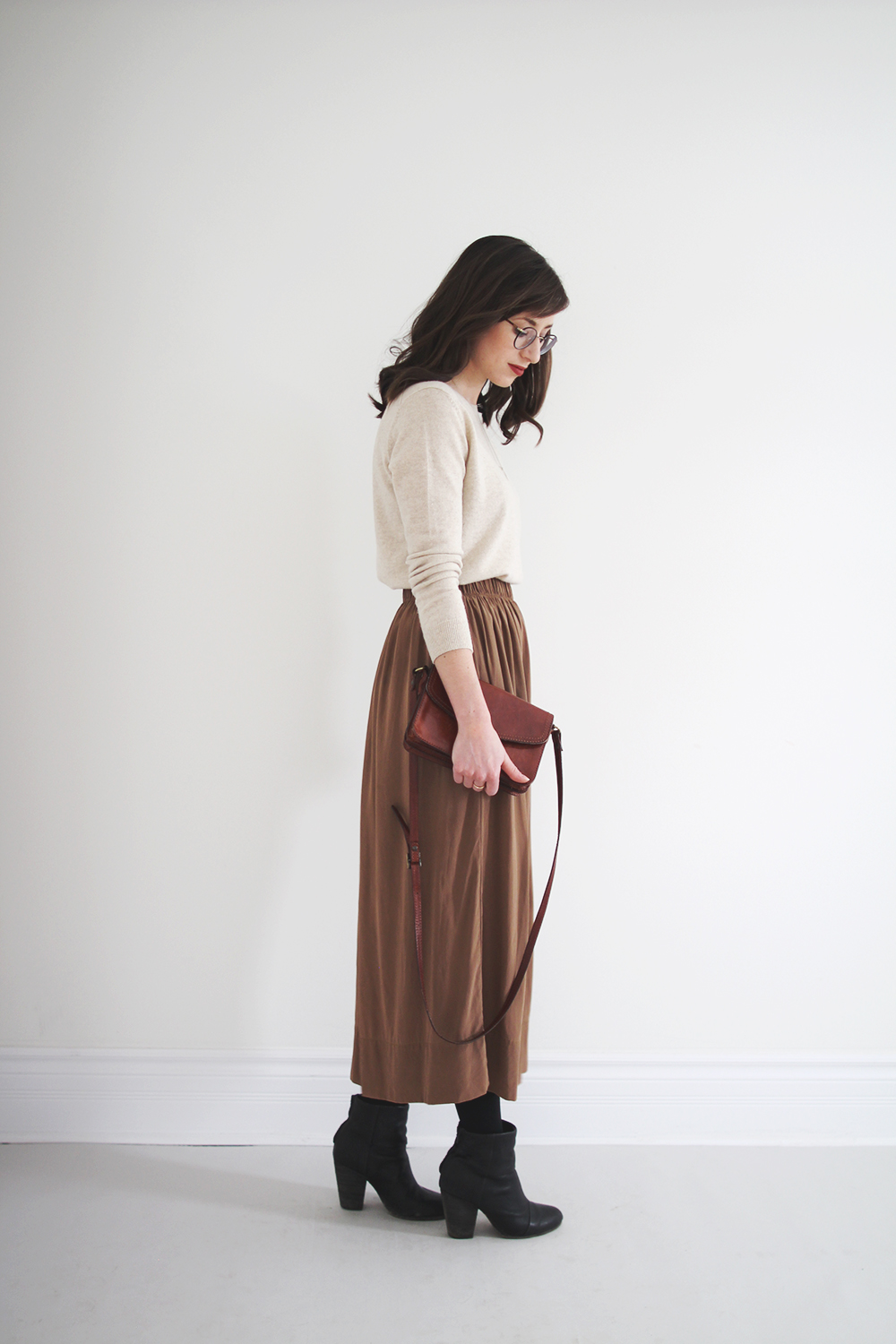 ---
SO TELL ME:
How are you wearing your favourite silk pieces this time of year?
Do you have any tricks for keeping static away?
---
This post is not sponsored but contains affiliate links. When you shop via the links above I may make a small commission from a sale. Thanks for supporting the brands that support Style Bee! All opinions are always my own.