Time to take a look back at this Spring's 10 x 10 Challenge! I can't believe it's already been a week since it ended but that's how she goes these days! While this was my favourite mini capsule yet, this was actually the 4th time I've done one of these challenges (Spring '15 10 x 10, Summer 20 x 20, Fall 12 x 12) so it makes sense that I'd be getting the hang of things by now. In fact, April was my best month ever in terms of site traffic so it's clear that a lot of people are interested or at least intrigued by the concept of these mini capsules too, which is wonderful!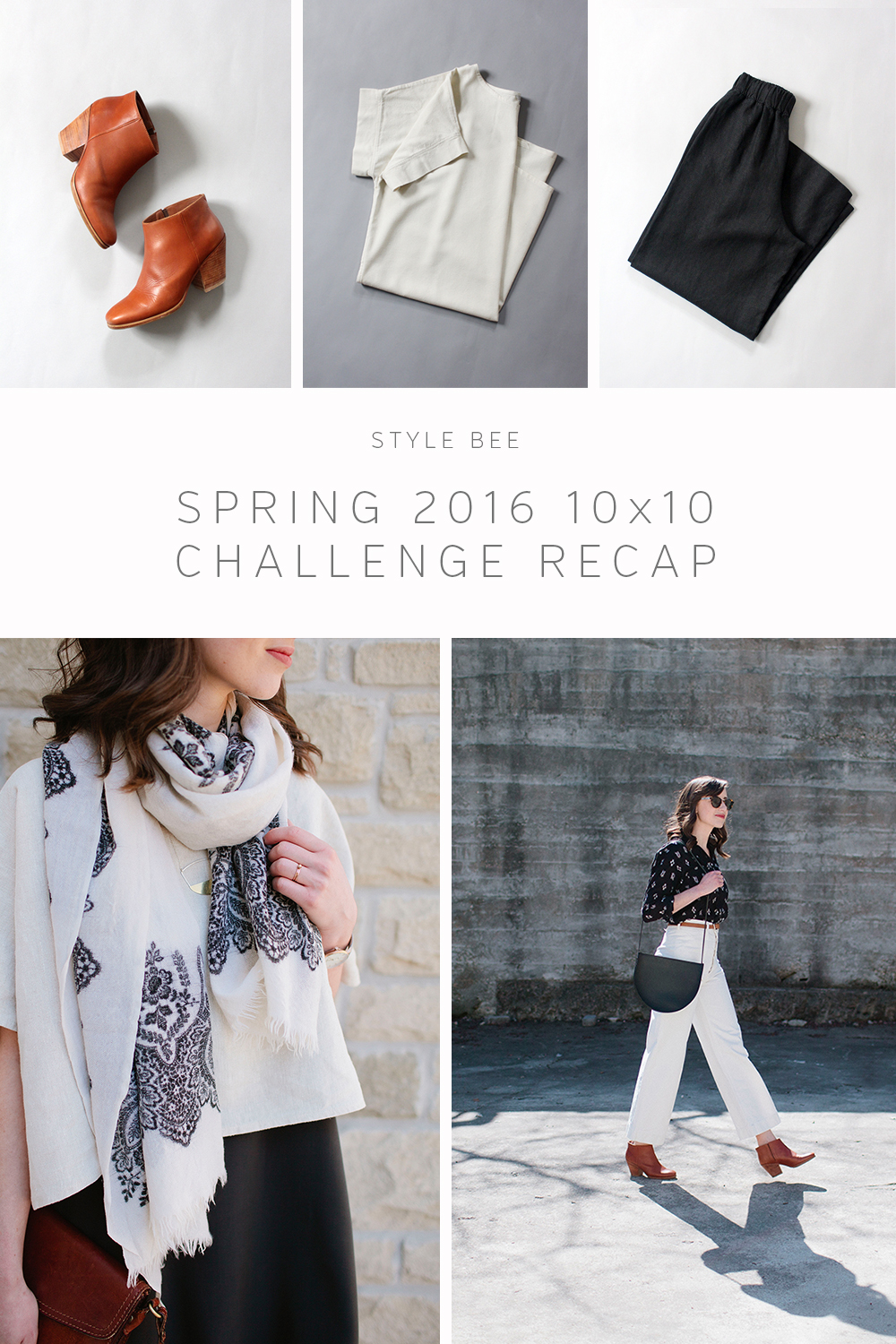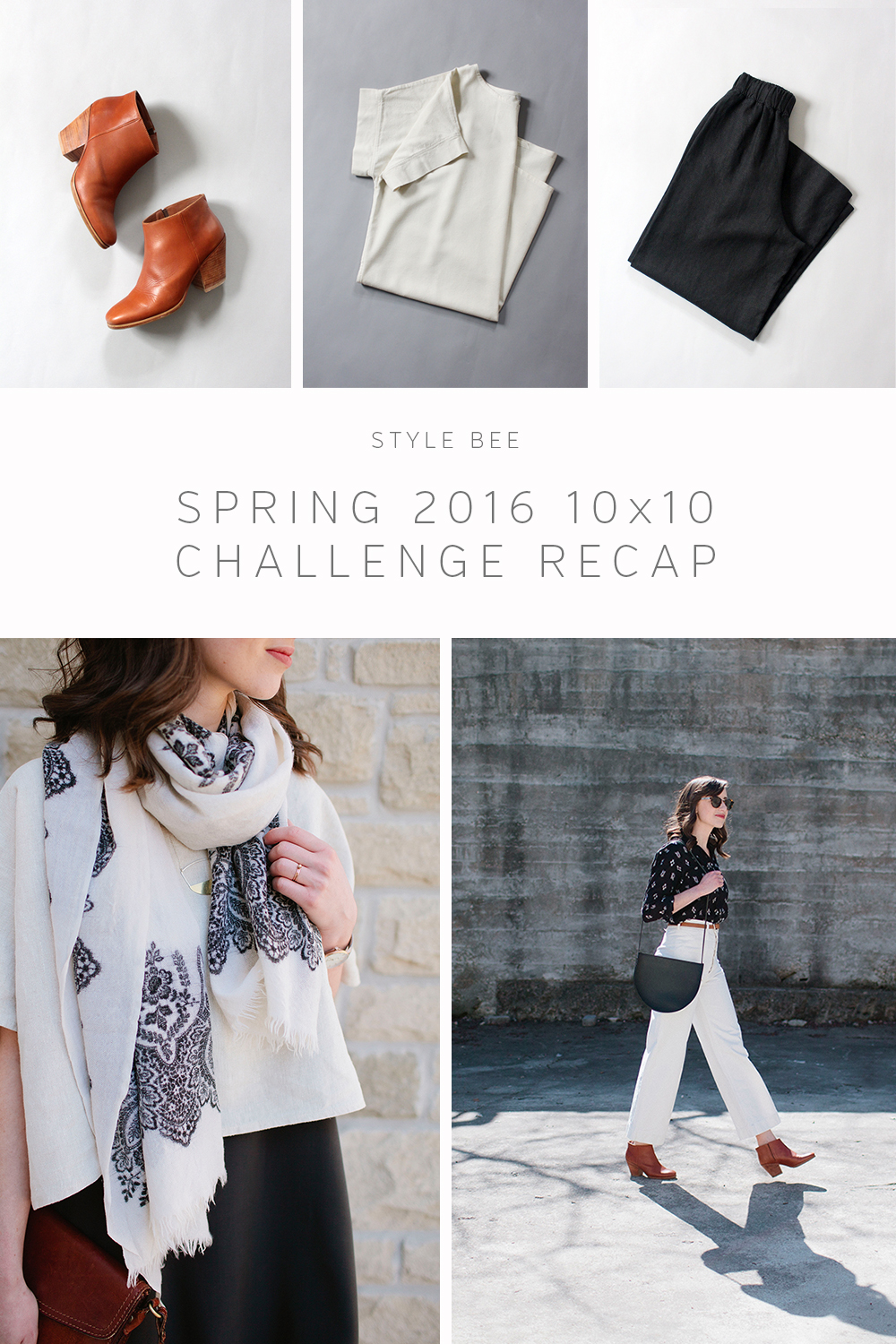 I think these challenges are a great exercise for anyone interested in living with a lean(er) closet, trying out the capsule concept or just looking to get a boost of style inspiration and here's a few reasons why:
1 | It's doable. 2 weeks, 10 items, 10 outfits, no big deal. You don't have to uproot your entire closet and commit to months of shopping abstinence if that terrifies you.
2 | It's free. Even if you're at major odds with your closet, most people can find 10 pieces that they genuinely like, without having to spend a penny. It's the best way to reinvest in what you already have, which is the key to enjoying lean closet life and shopping less is the #1 way to embrace responsible style.
3 | It's creatively invigorating. You've got to strategize and compromise and get a little bit innovative to come up with 10 full looks that you really like and I love how it get's the style juices flowing. Plus, you end up discovering outfits and combinations you might never have tried otherwise.
4 | It's enlightening. The biggest reward for me is coming away from each challenge with a much better sense of my personal style. It's really interesting to compare this challenge to the first one and see how my style has both evolved and yet in some ways, remained the same. It's also really good to be reminded of how little you actually need to feel chic and put together.
5 | It's rewarding. Across the board participants have noted that the challenge was a surprisingly effective stress reliever. Eliminating the process of having to figure out what to wear in the morning really frees up your brain to focus on other tasks at hand. It's also rewarding in that you'll soon see how hard your closet can work for you if you just put in a little extra time up front.
So that's my 10 x 10 Challenge sales pitch for anyone who's still on the fence about trying it out! Now onto the recap!
---
MY TEN ITEMS
Just in case you forgot these are the 10 items:

1 | Patterned Shirt (old) Madewell (similar) ($98)
2 | Mars Boots Rachel Comey  ($425)
3 | Sailor Pants Jesse Kamm  ($395)
4 | Blank Canvas Top Olive (c/o) Jamie + The Jones ($98)
5 | Cropped Sweater Everlane ($115)
6 | Georgia Dress (c/0) Elizabeth Suzann ($215)
7 | Clogs (old) No.6 (very similar) ($275)
8 | Silk Tank Dress Everlane ($88)
9 | Florence Pant (c/o) Elizabeth Suzann ($205)
10 | Linn Tee (c/o) Elizabeth Suzann ($145)
---

---
SPRING '16 10 x 10 CHALLENGE RECAP
I'll do my best not to belabour the process here and quickly run down what worked and what didn't along with the things I'd change, what I loved most and how this challenge can be applied to real-life (calling all jet-setters!). Then I've got a few questions for you folks but let's start with the 10 different looks I created with the ten items above:

The Good:
This challenge reinforced so many of the reasons why I love this Lean Closet Mission. It reminded me that I can do so much with so little and still feel completely satisfied with my style and wardrobe. It also helped reassure me that I've been making good choices in terms of what I've been adding to and keeping in my collection. I genuinely enjoy wearing all the pieces I included and have already worn most of them again since, which is a pretty sure sign of closet contentment. In fact, there are a couple more outfits I would have loved to include in the challenge, like the Linn Tee with the Florence pant or the Georgia dress layered under the Olive Crop or the Olive Crop with the Sailor Pants. If I thought about it I could probably make another 10 unique looks! Maybe 10 x 20 is my next challenge? Yikes!
From a blogging standpoint it was great. I had all my content planned and ready to go plus I got to work with one of my favourite local creatives, Jacklyn Barber. I also learned that many of you really like seeing things repeated and shown a lot of times on the blog, which I didn't originally think was the case. I've struggled for a long time to balance my lean closet objectives with interesting and 'new' blog content. So this was really helpful. I also just love that the community here on this blog and on similar ones has evolved into such a collaborative and supportive space. That makes me happier than a new pair of Comey's, which is saying A LOT!
The Not So Good:
I got a bit overzealous about the weather and Mother Nature kind of left me hanging so I couldn't actually wear every outfit over the 2 week period. That's not to say I haven't worn each look since but the fact is that the weather was colder than anticipated and not every look was practical at the time. Truthfully, this mini capsule was intended as more of an example of what you can do to inspire people to give it a try, more than I meant to show what I was wearing daily. Next time, I would err on the side of warmer, more weather appropriate looks, although now the weather is perfect for all of them! UGH! See my not so happy, frozen hands and toes outtake below: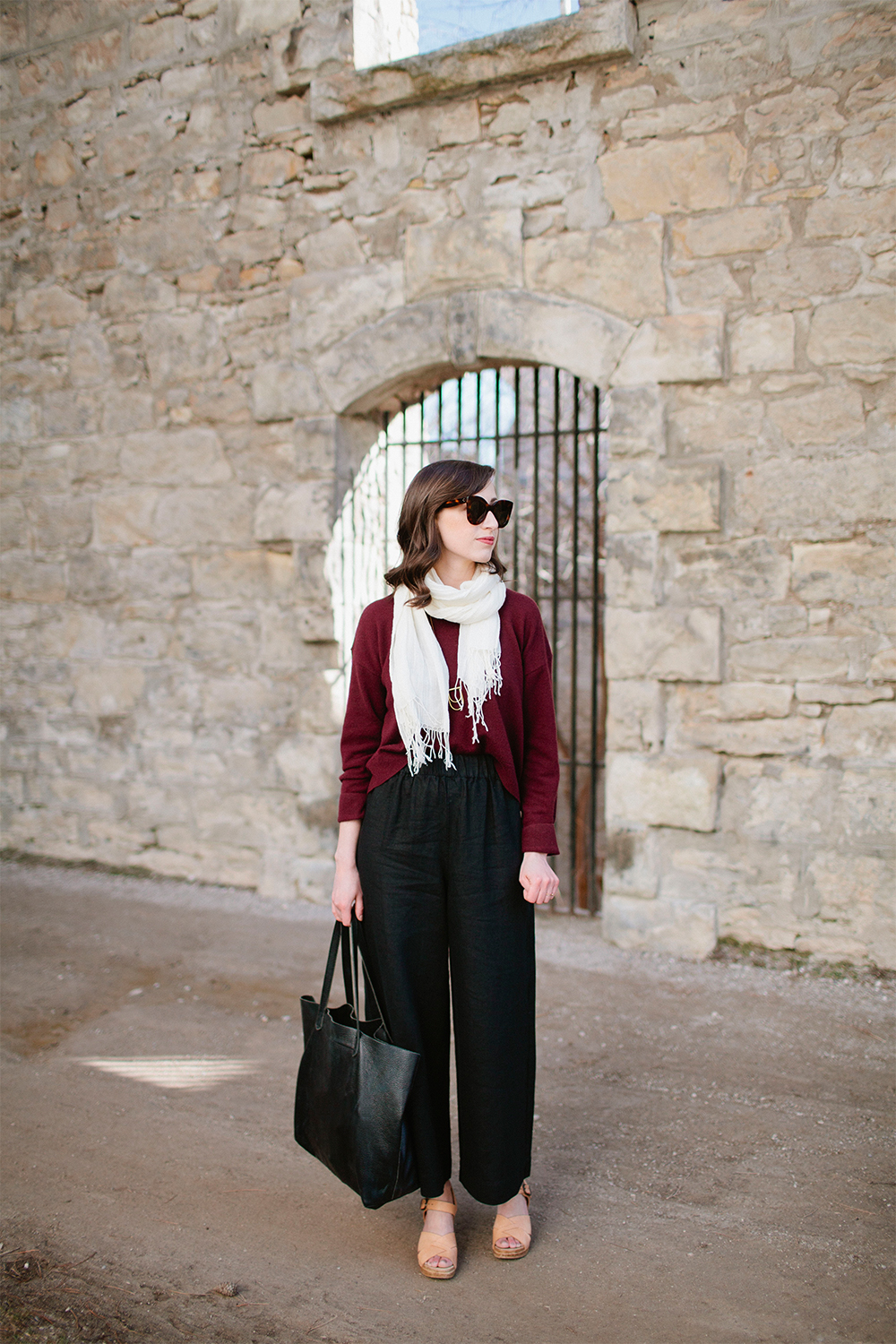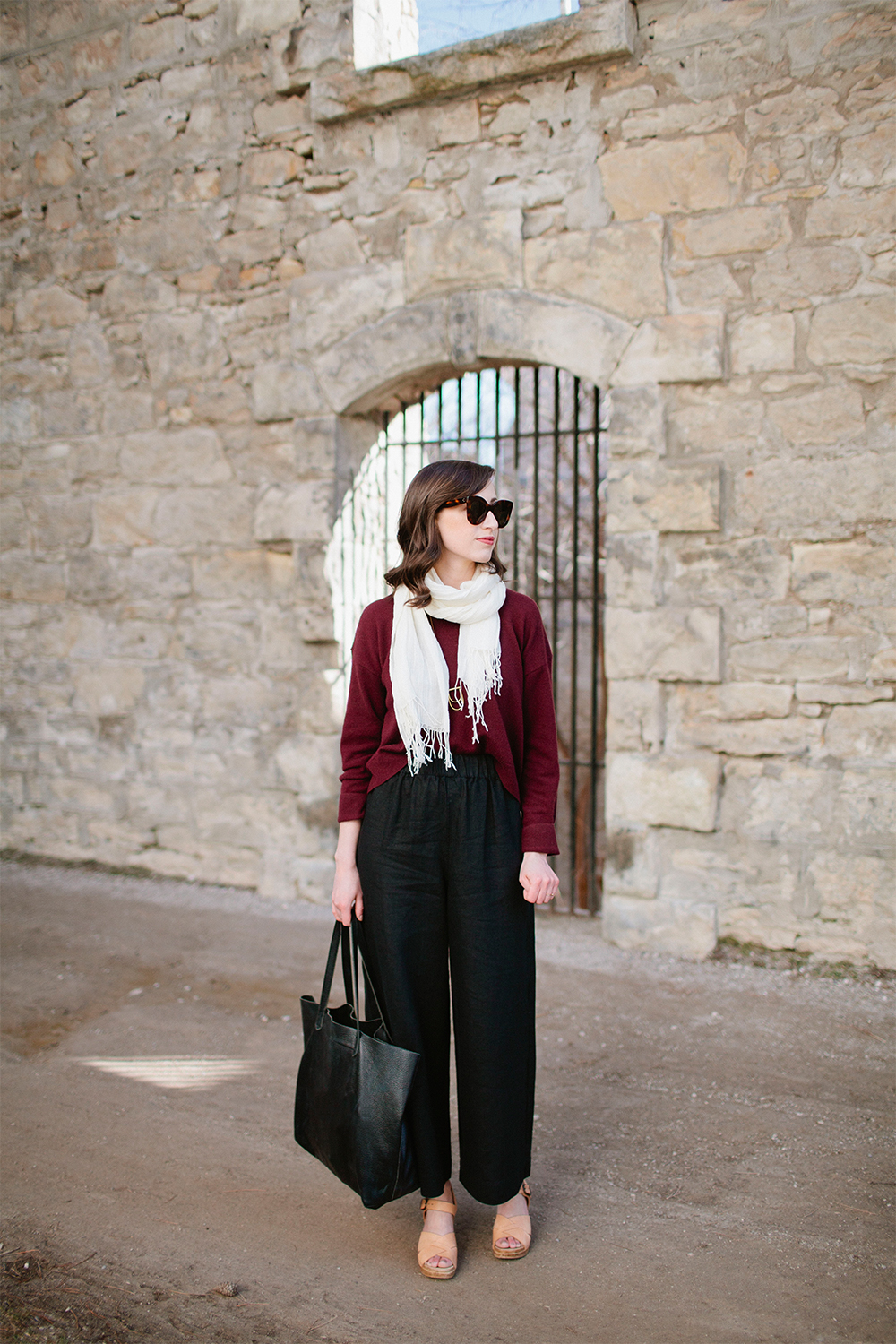 What I would change:
I'd swap a dress for a coat. Otherwise I love everything about the options I had. I know other people found it hard to have only a couple pairs of shoes and I definitely get that. More footwear options do help to provide a wider range of outfit vibes and it's no lie that shoes can make or break a look. That's the thing about this challenge though, you can opt for more of any category if you like. A simple black cocoon coat is the one thing I'd switch for because it works with everything and serves as the perfect layering piece for our bipolar spring temps (see below).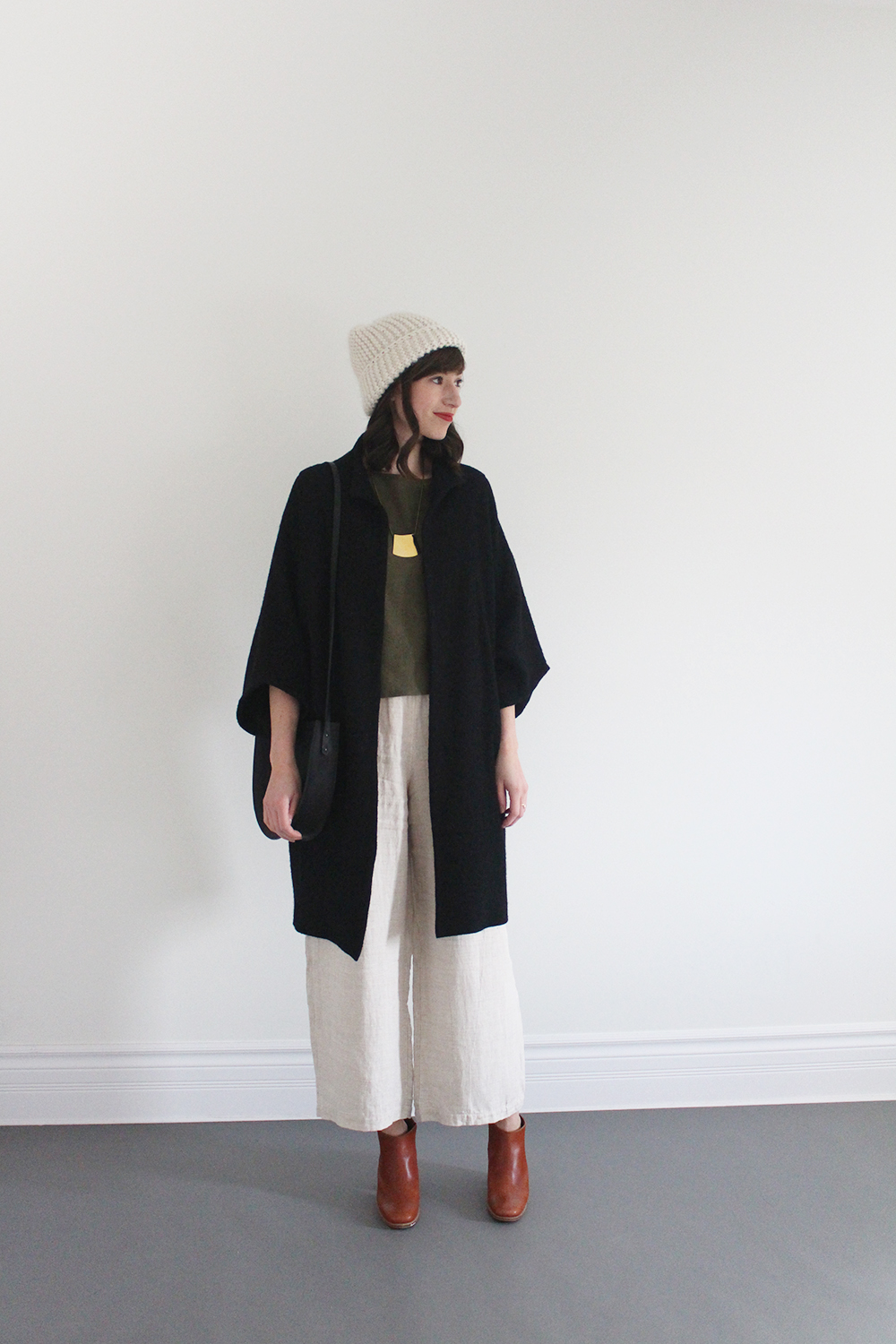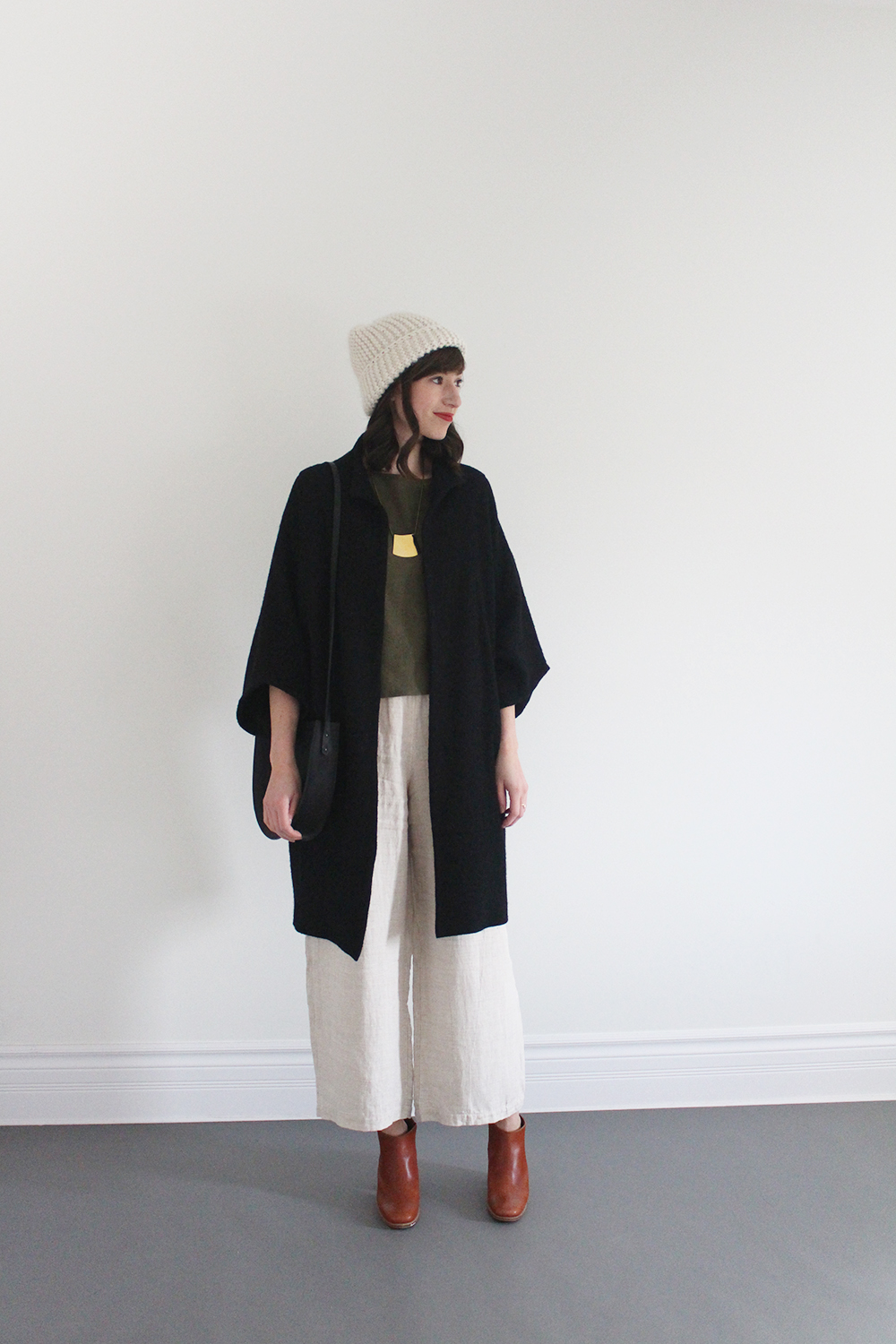 Favourite Looks:
I loved Look #1 , Look #3, Look #7 and Look #8. They were all very comfortable and a little bit unexpected. I love how I was able to express my true personal style and try out some slightly different shapes and styling tricks like cropped length, tied waists and interesting layers. It's always the outfits that I feel most myself in that end up getting worn over and over.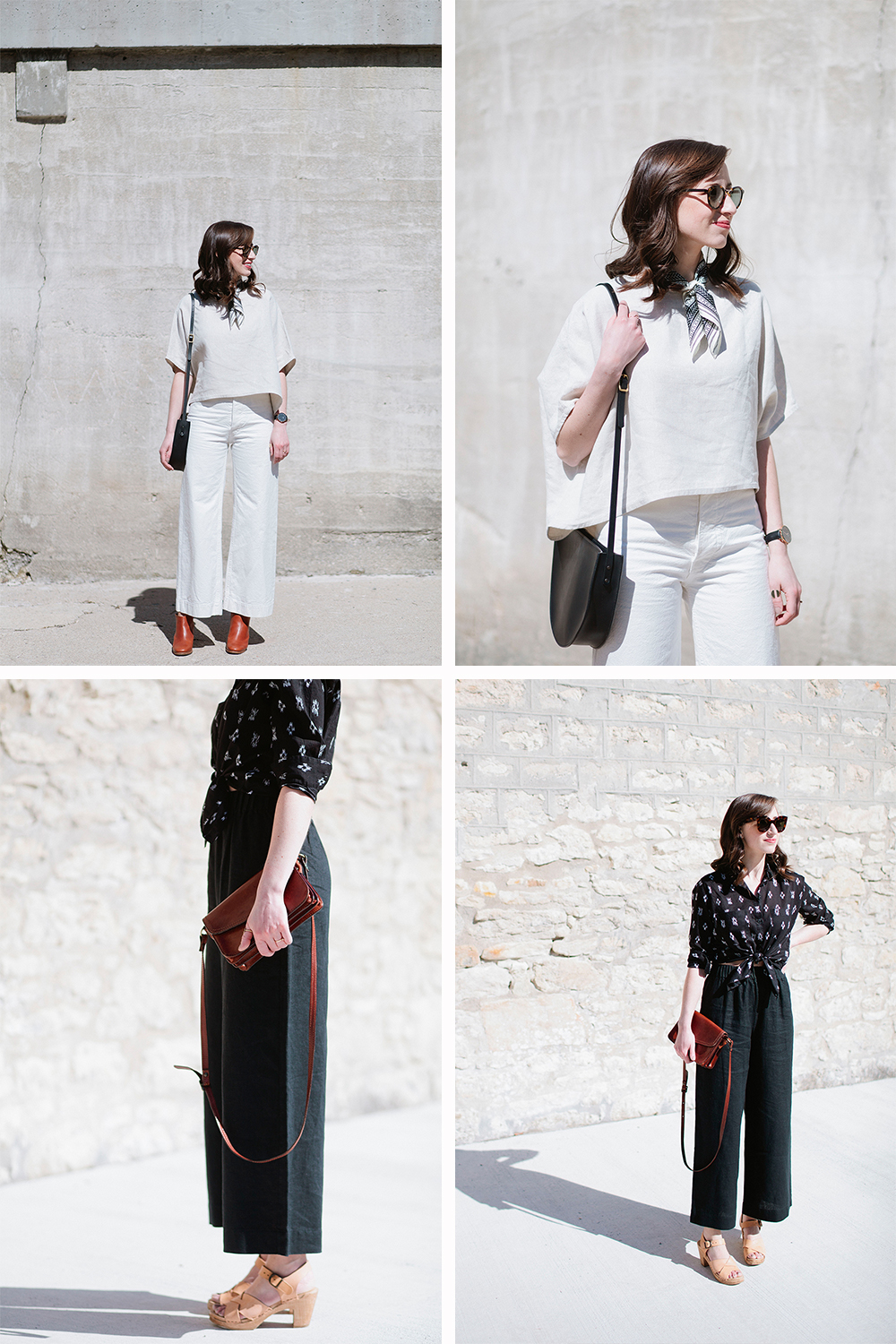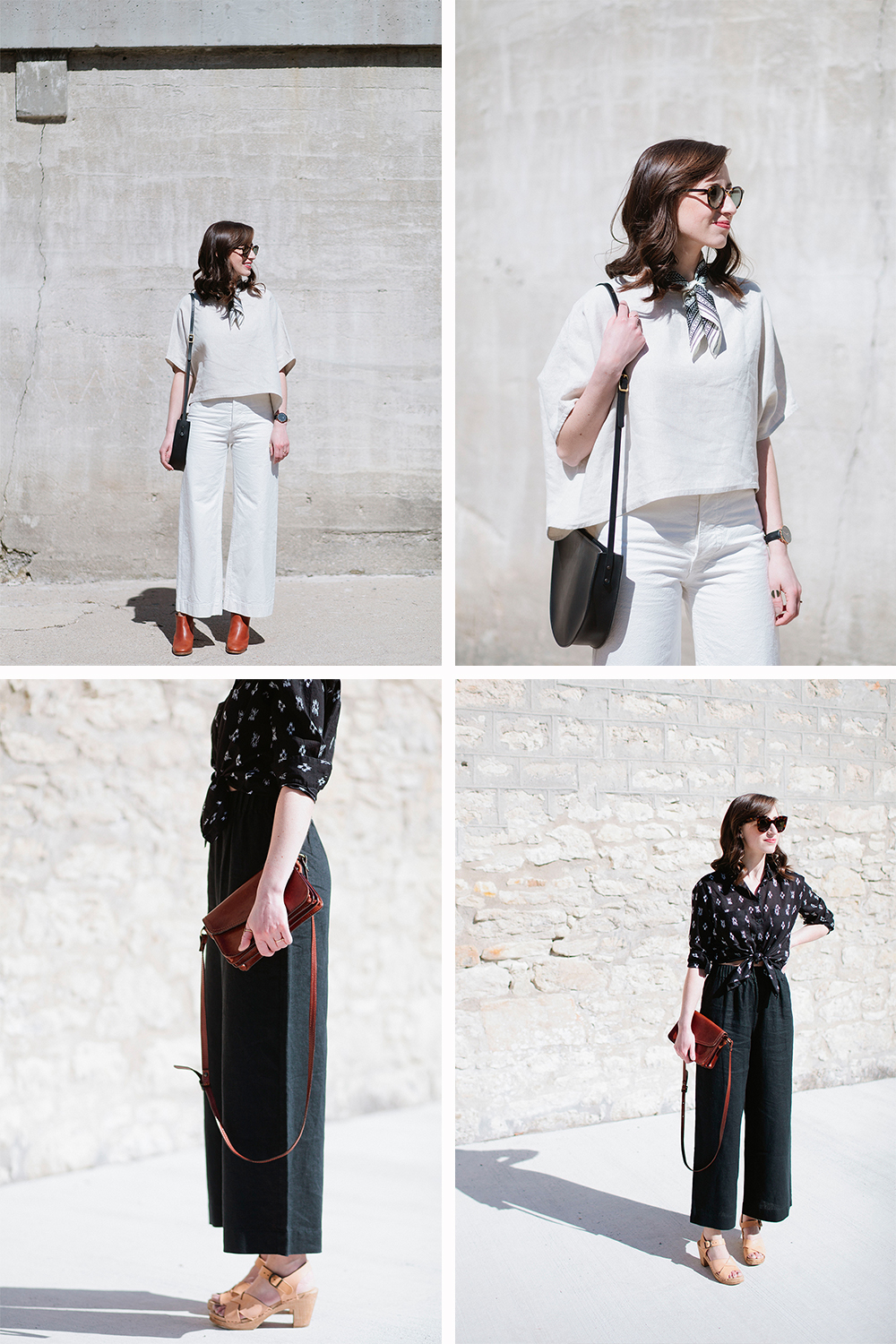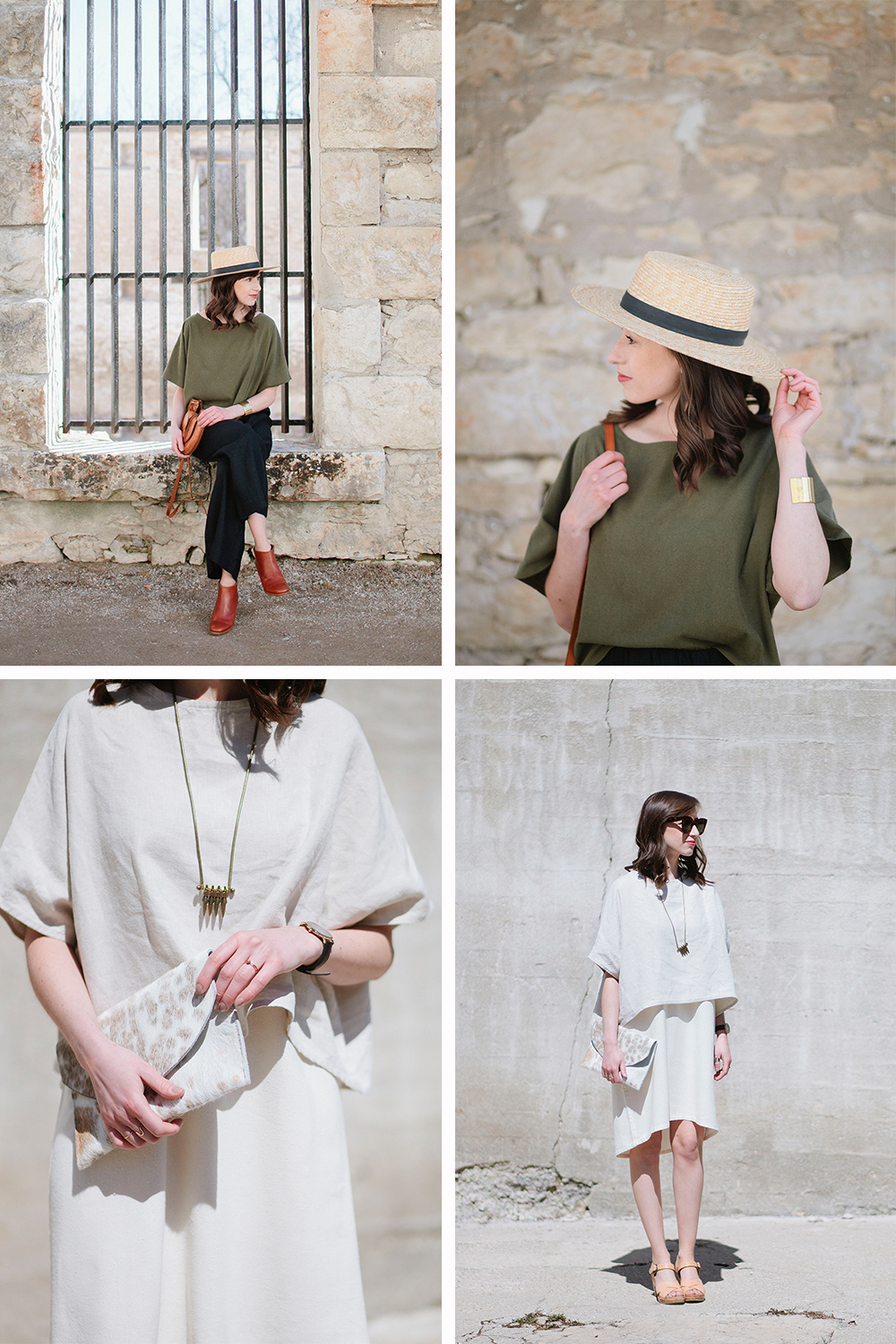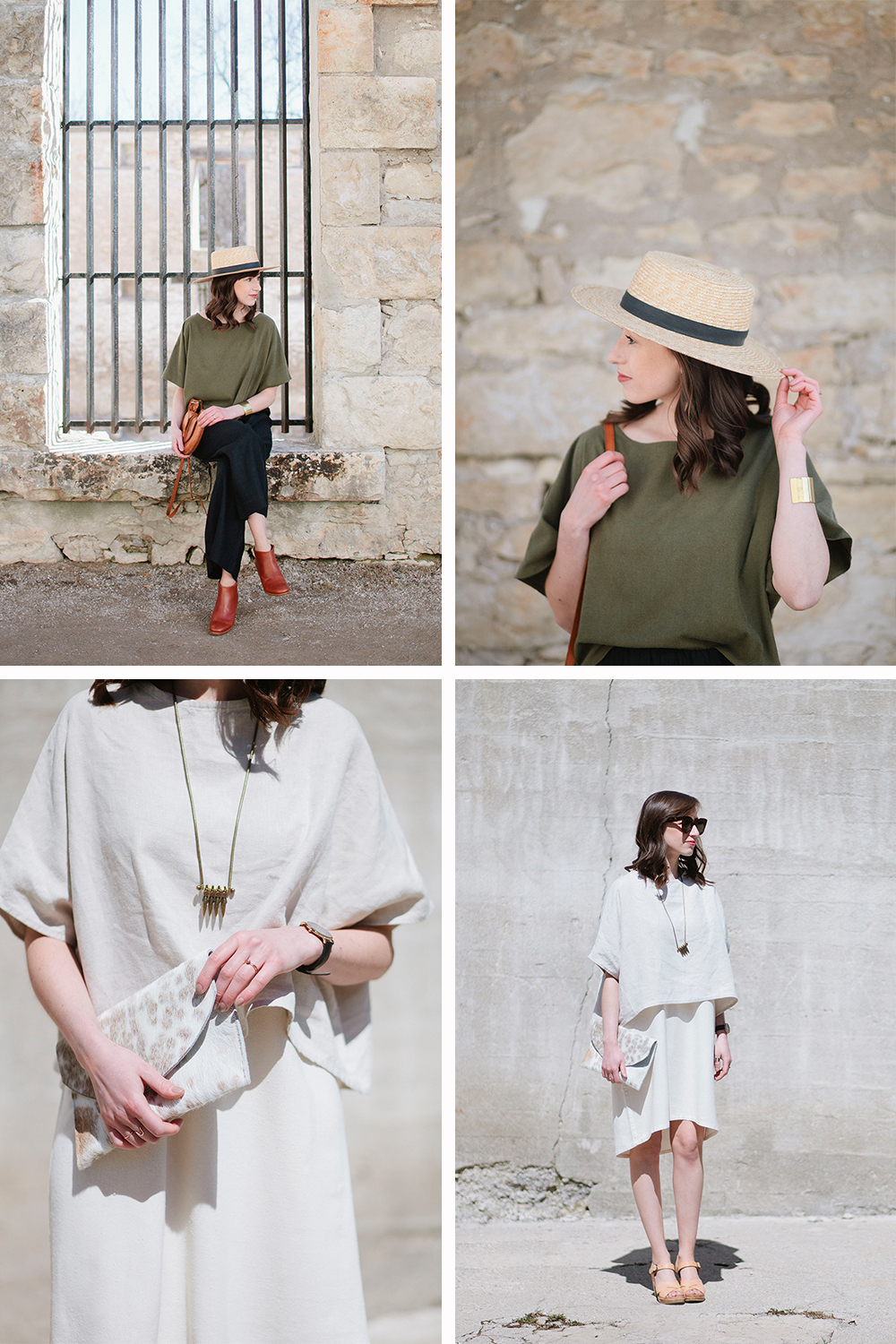 Favourite Item(s):
Florence Pant by Elizabeth Suzann. These are easily my most worn pants this season. They just feel amazing and I love how they look on too. The length is perfect, the fabric is sublime and the waist makes me feel slim and elegant but never constrained or self-conscious.
Mars Boot by Rachel Comey. I'm confident that these are the most perfect boot in existence. They are so comfortable and have aged beautifully since last summer when I bought them.
Blank Canvas Top by Jamie + the Jones. It's probably my most wearable crop top due to the curved hem, beautiful fabric and olive is my favourite colour this season.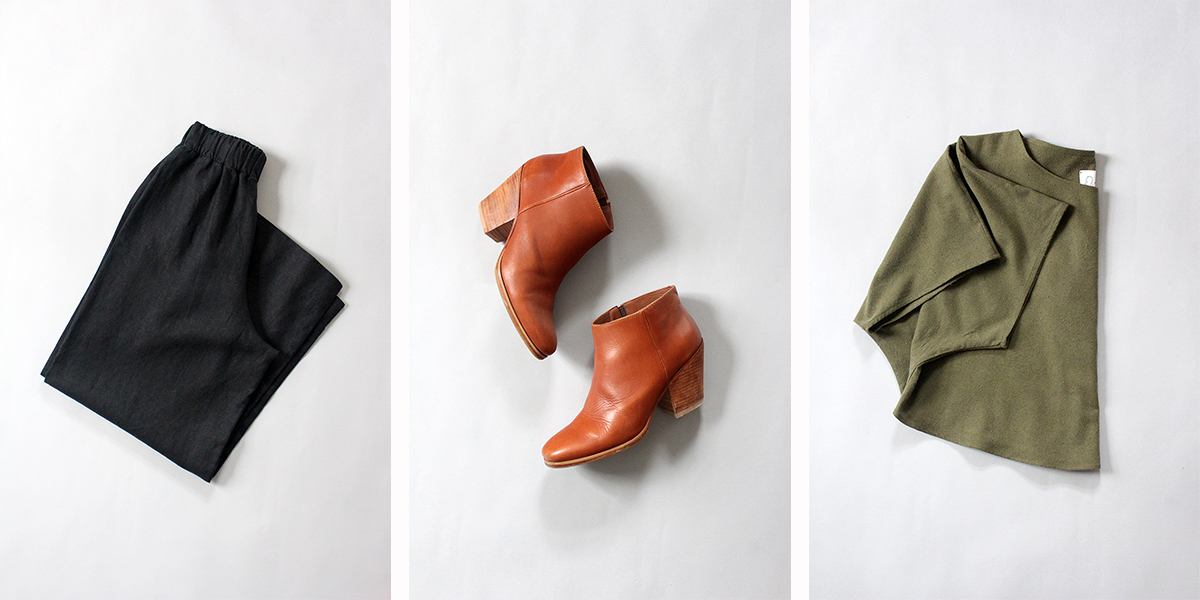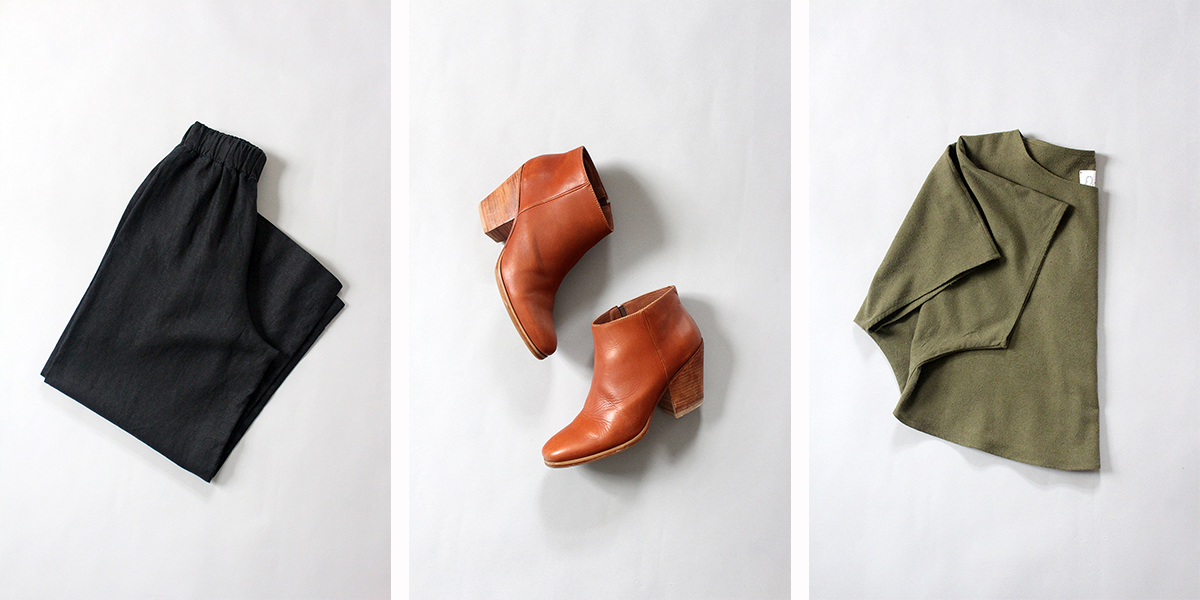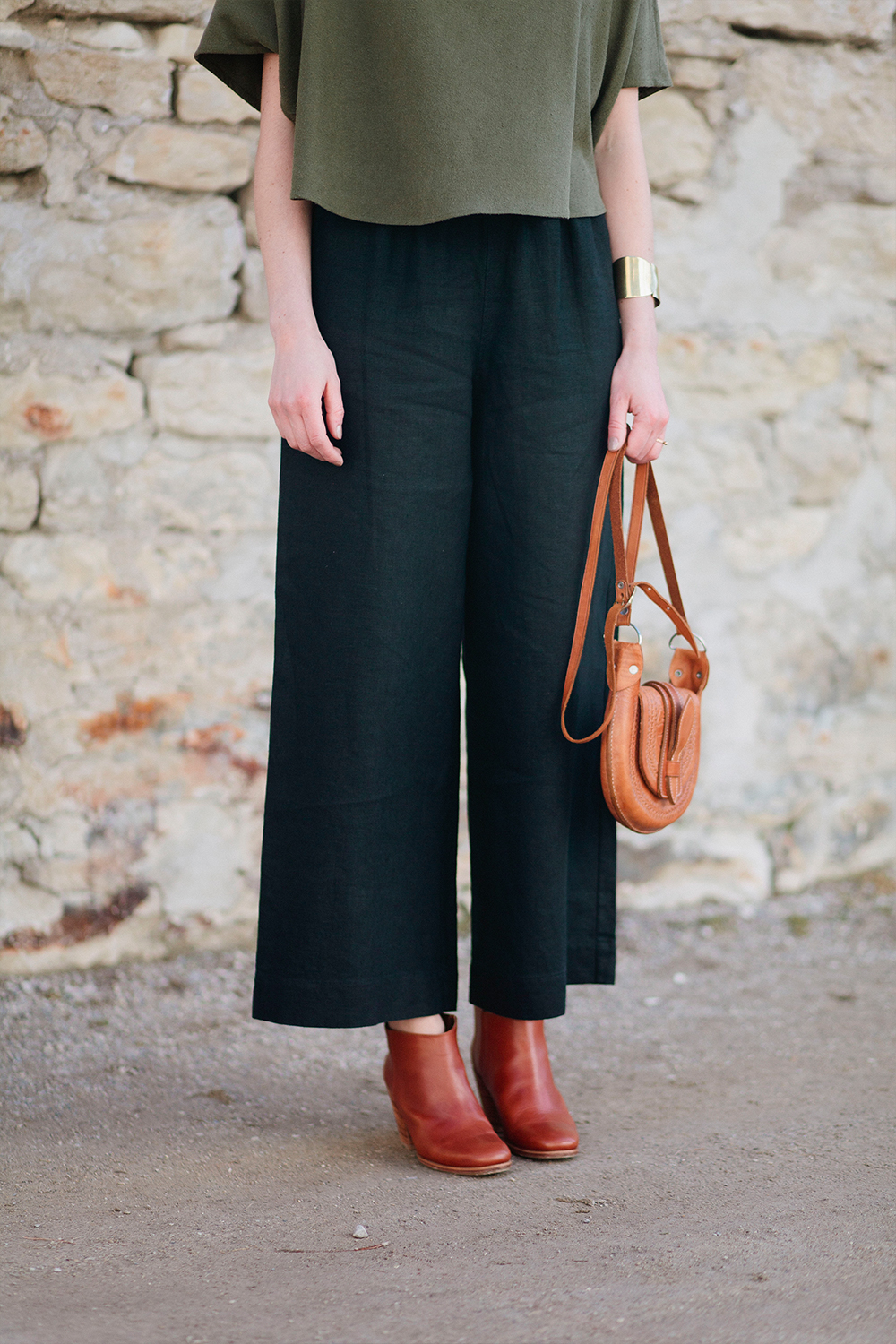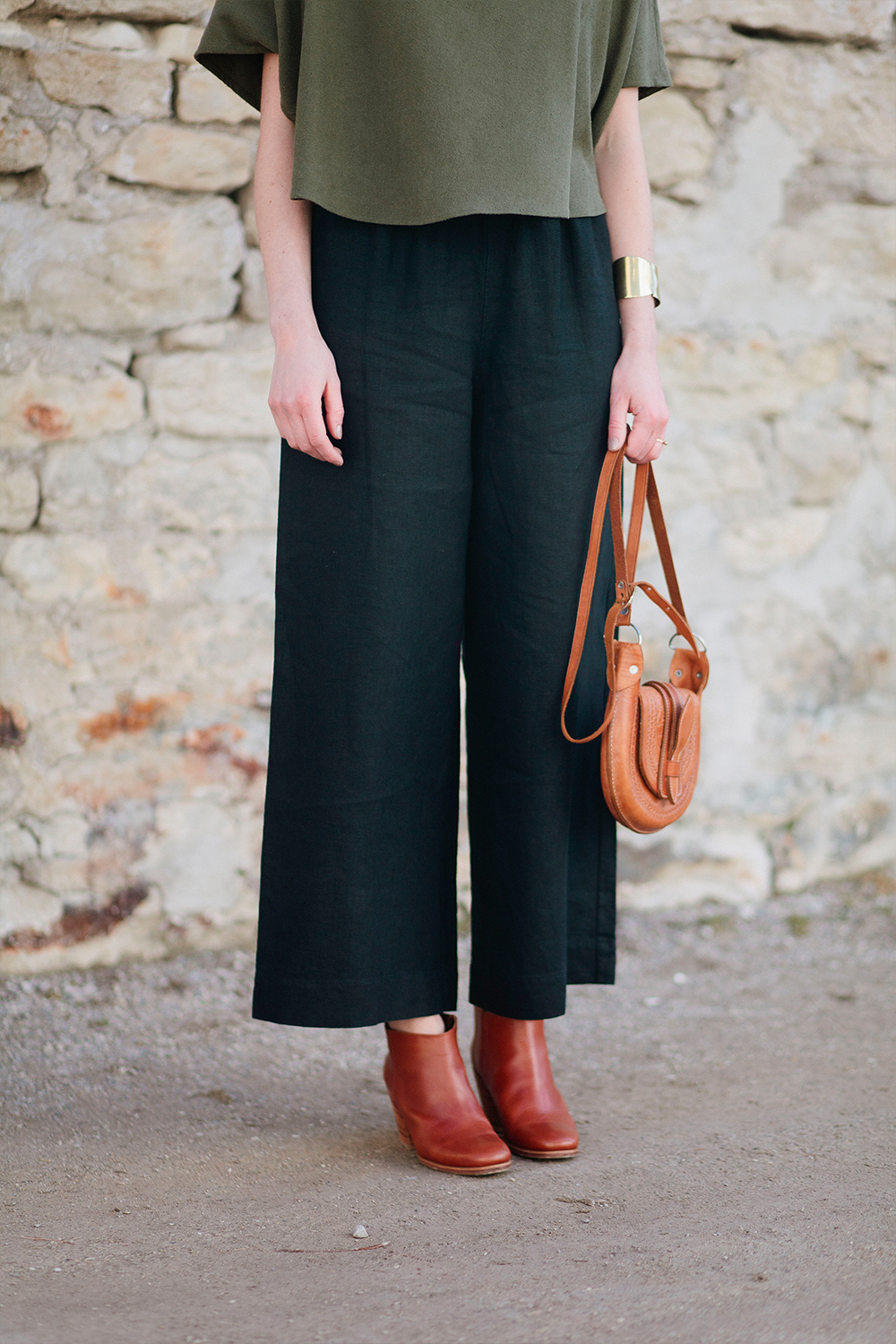 Top Takeaways:
If it's not warm enough I won't wear it. Weather trumps all outfit planning.
Layers are a lean closets best friend. Play with them and shop with that in mind.
Just one or two colours is all you need to keep a neutral palette interesting.
Comfortable footwear need not be bland. Clogs and low heeled boots for the win.
High-waists may not be for everyone, but they are definitely for me.
Wear it, mix it, repeat it!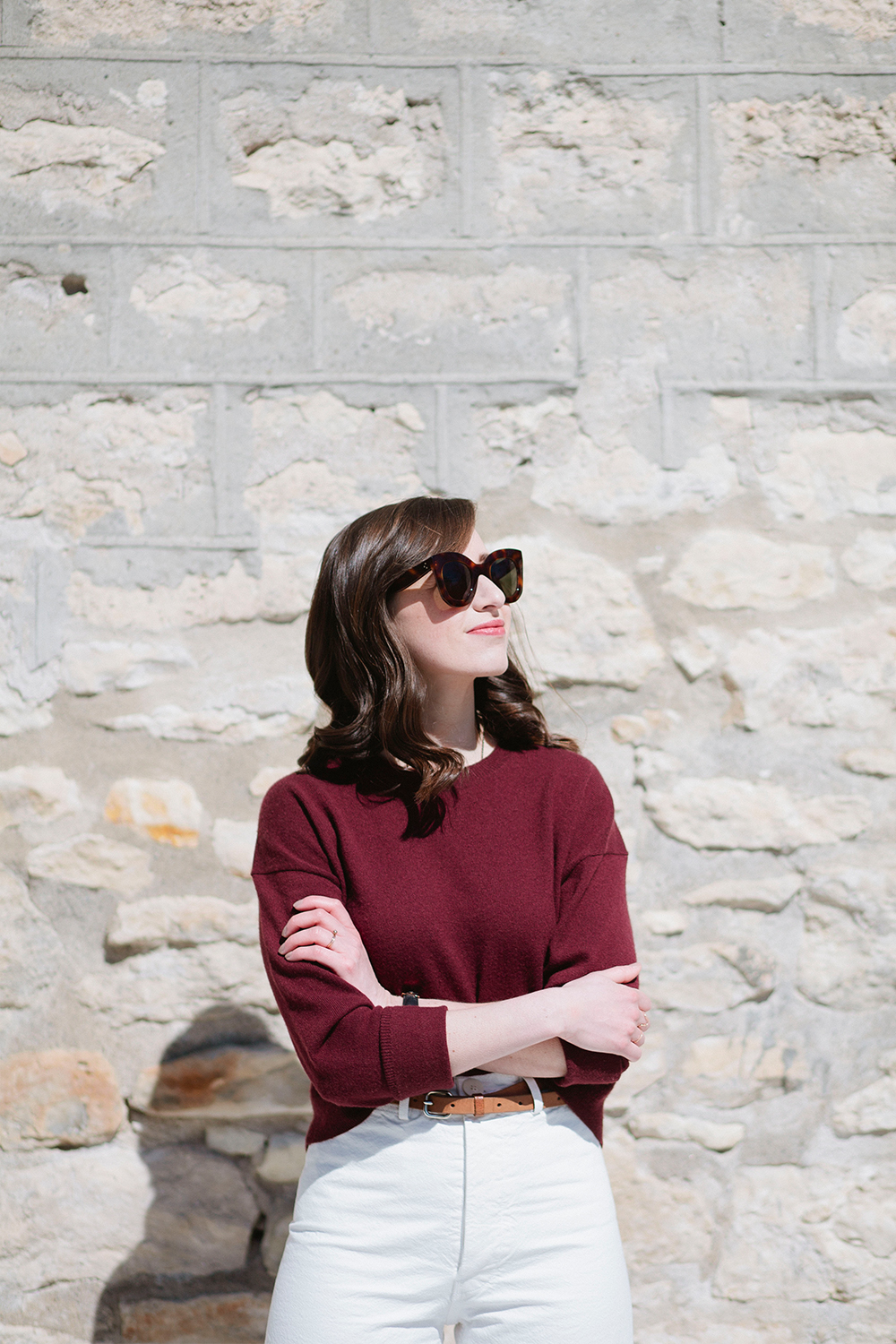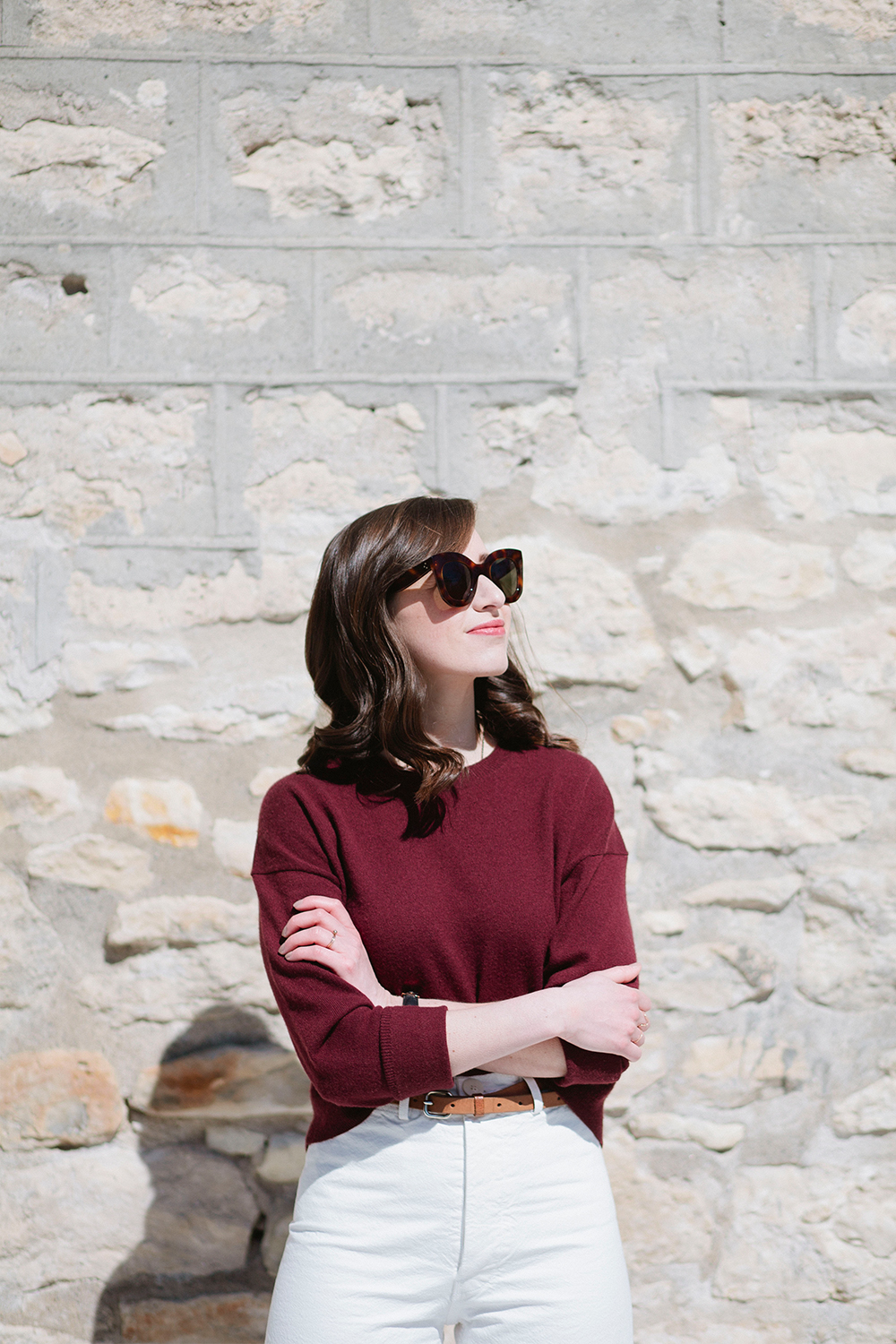 Practical Application: TRAVEL
As many of the other bloggers who did this challenge have mentioned, this was a great way to test out a travel wardrobe. The incredible thing is that you can wear so many different looks from just 10 well chosen items. I stress the phrase 'well-chosen' because it does take a fair bit of planning, testing and mixing and matching things to ensure they're each going to pull their weight for you. But if there was ever a really practical application for this challenge it would be for travel purposes for sure. In fact, I'm considering doing one for my week long trip to Europe in June. 10 pieces fit into a carry-on no problem and that's the only way to travel as far as I'm concerned!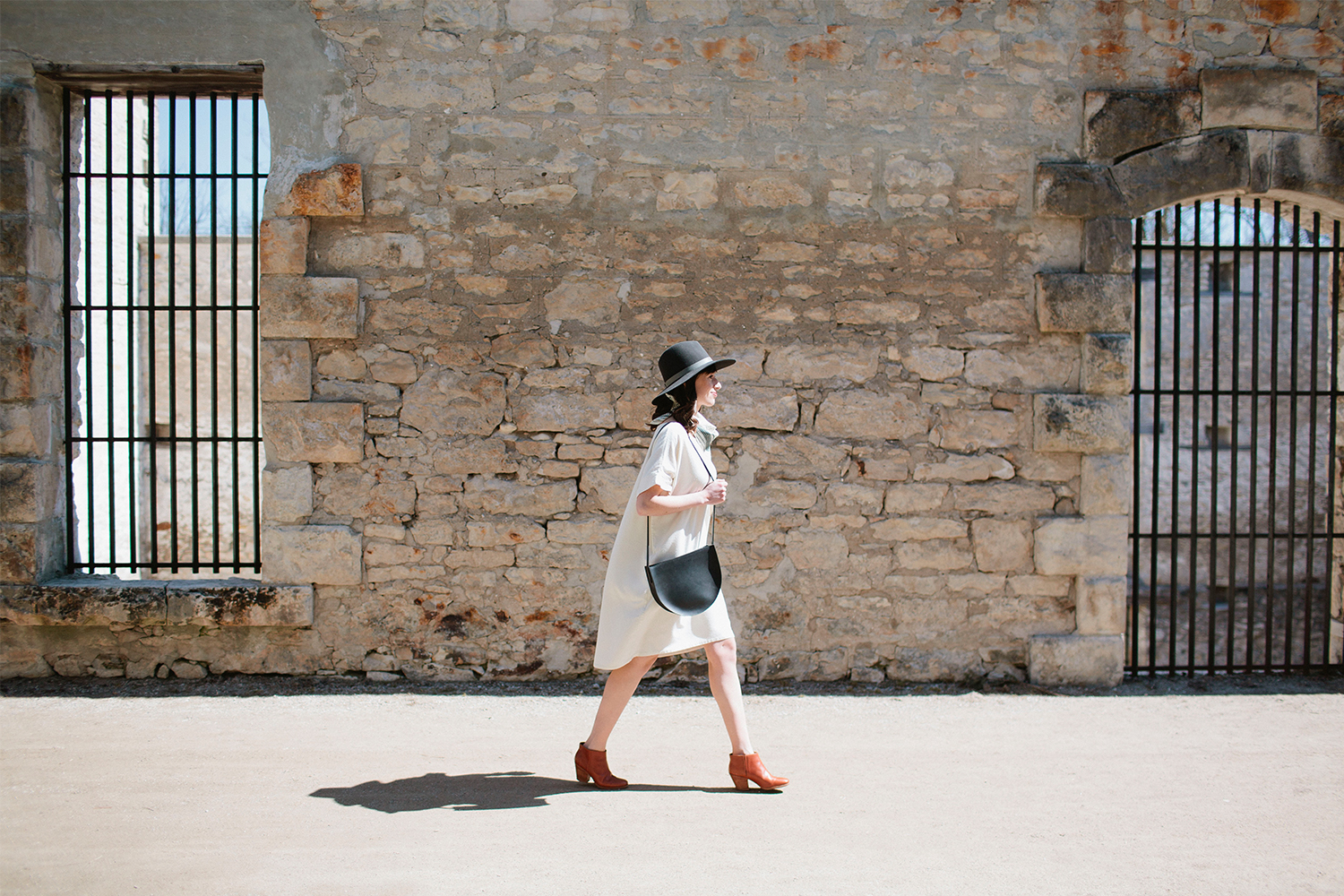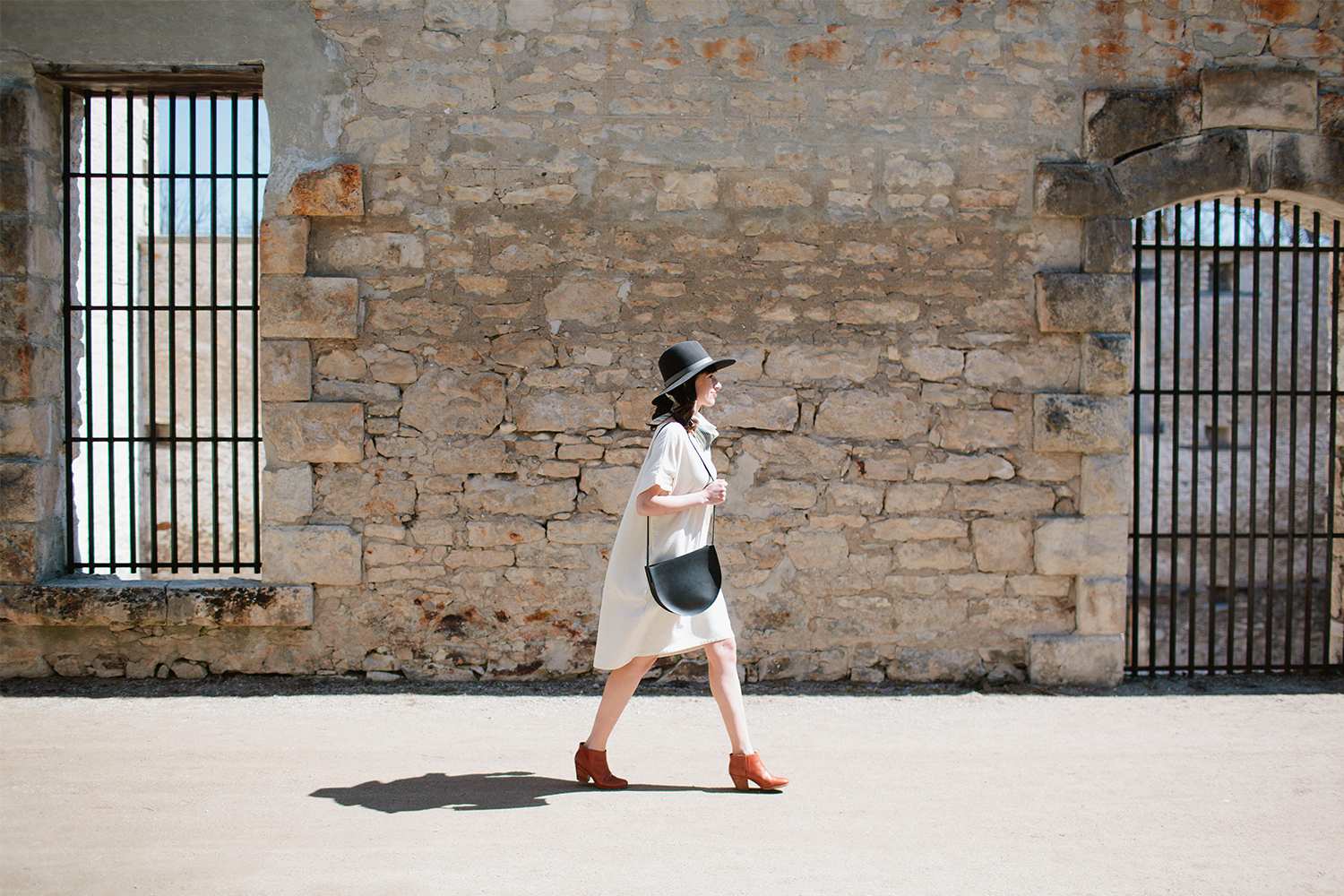 #STYLEBEE10x10
I will admit I was a little nervous about inviting people to join me, assuming no one would, but so thrilled to see such a positive response and uptake to the challenge! The #stylebee10x10 hashtag is full of savvy, stylish women doing more with less and sharing some seriously chic outfits. If you haven't had a look yet, be sure to check it out. Here are 10 of my faves: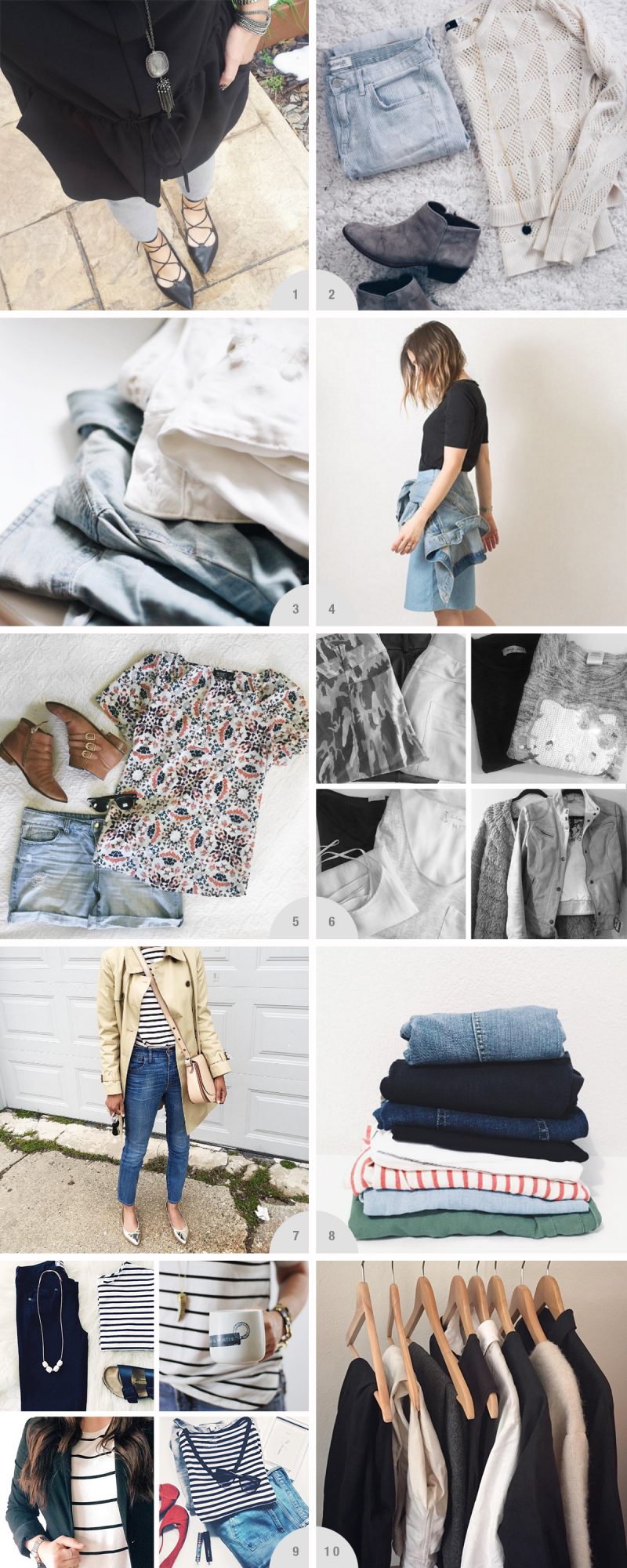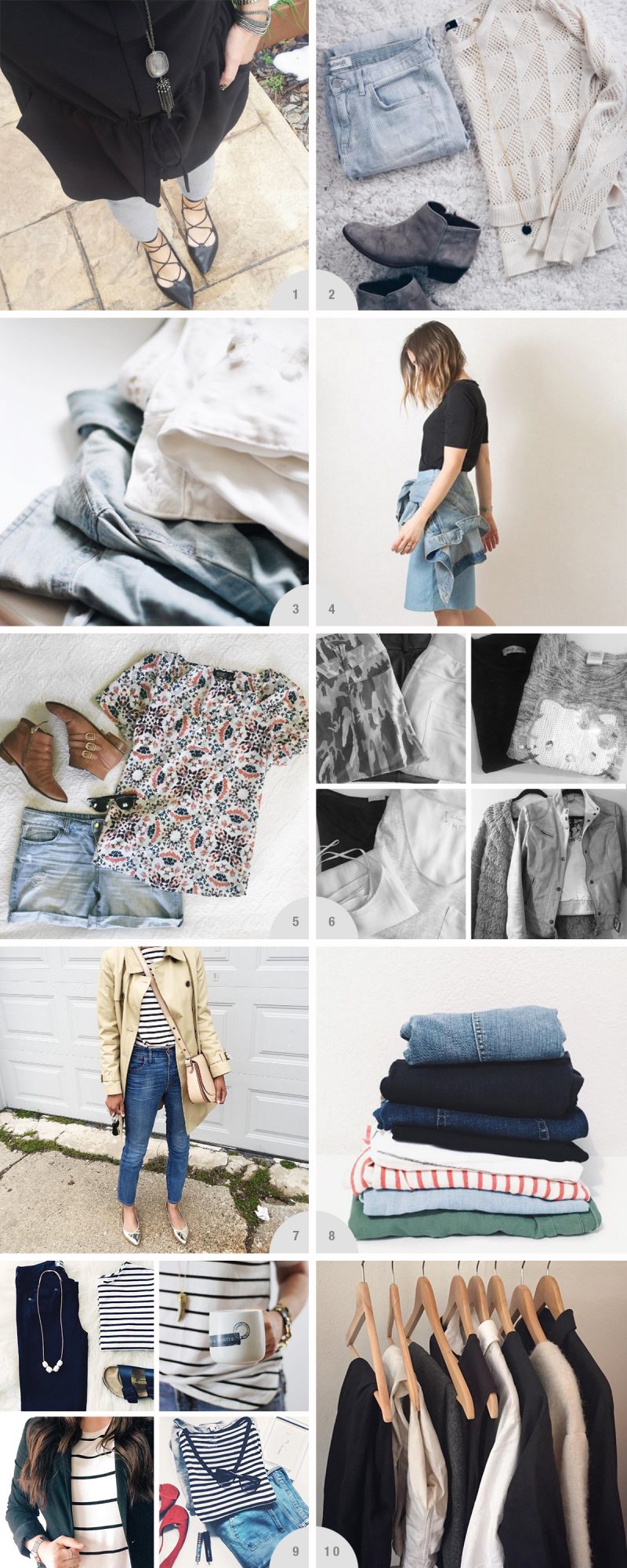 1  @stylethislife | 2  @hellofrommolly | 3 @lovelylauralife | 4 @andreahartman_ss | 5 @theeffortlesscloset | 6 @oliveadewinter | 7 @maydecember_ | 8 @teeshirtsandjeans | 9 @fawndlyandhart | 10 @baytobaltic
---
That, my stylish friends, is all I have to say about this 10 x 10 Challenge! Although I do have a few questions for you guys, so if you have a spare moment let me know what you think!
1 | Did you do the 10 x 10 Challenge? If so, how'd you find it? 
2 | Should I do a Summer 10 x 10? 
3 | What do you like about this series? 
4 | What would like you to see/read more of when it comes to lean closet life?
---
Thanks for reading! Have a great weekend everyone.