If I thought a normal week was quick, then a #WINTER10x10 week must be hyperspeed! Even though time is flying, I've been having a blast and from the looks of it that's also the general consensus.
If you're just tuning in and wondering what the heck I'm talking about, I'm currently hosting a Winter 10×10 Challenge with the delightful and super style savvy Caroline of Un-Fancy. We're using 10 items, to make 10 outfits over a 10 day period. Sound fun? It sure is and you can get all the info about it here.
Last night I sat down with a hot cup of tea and scrolled through as many photos as I could in the #WINTER10x10 feed. It was such a pleasure to see your looks and read your captions from the challenge so far. In doing so I saw a recurring set of insights that I wanted to share. In case you've been thinking any of these things, you're certainly not alone!
Key Insights from the #Winter10x10 Challenge so far:
Winter weather is seriously unpredictable. Wherever you are.
Feeling stylish and warm is not always easy.
Fewer options = Less stress. 
Taking photos of yourself is hard!
Sometimes a cute outfit is all it takes to boost your confidence. Whether you change out of it or not!
All of these insights resonated with me 100% and I wanted to extend a quick thank you for your openness and willingness to put yourselves out there. It's no small feat and I can't wait to see what's still to come in this challenge!
Now, onto Outfit #3!
---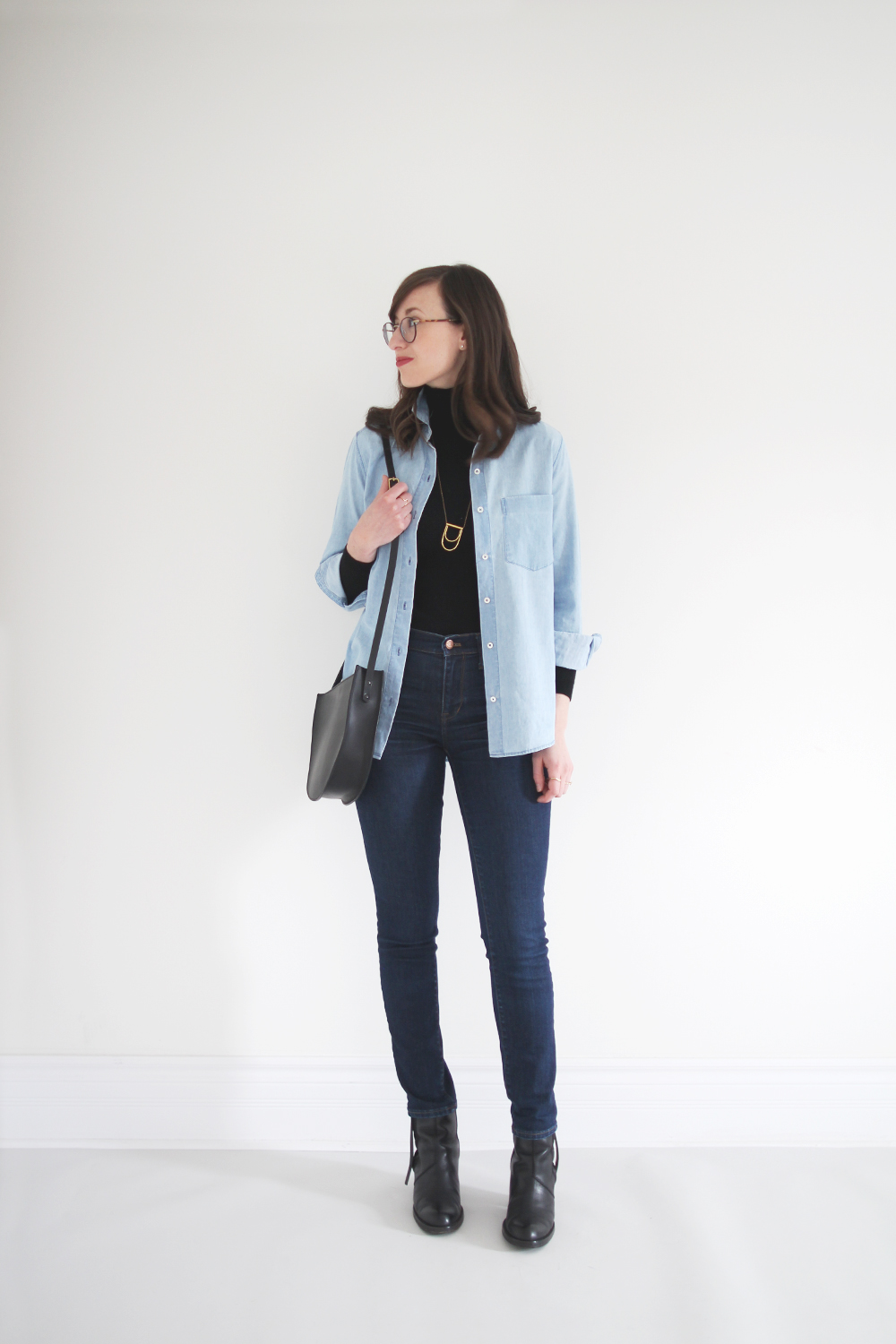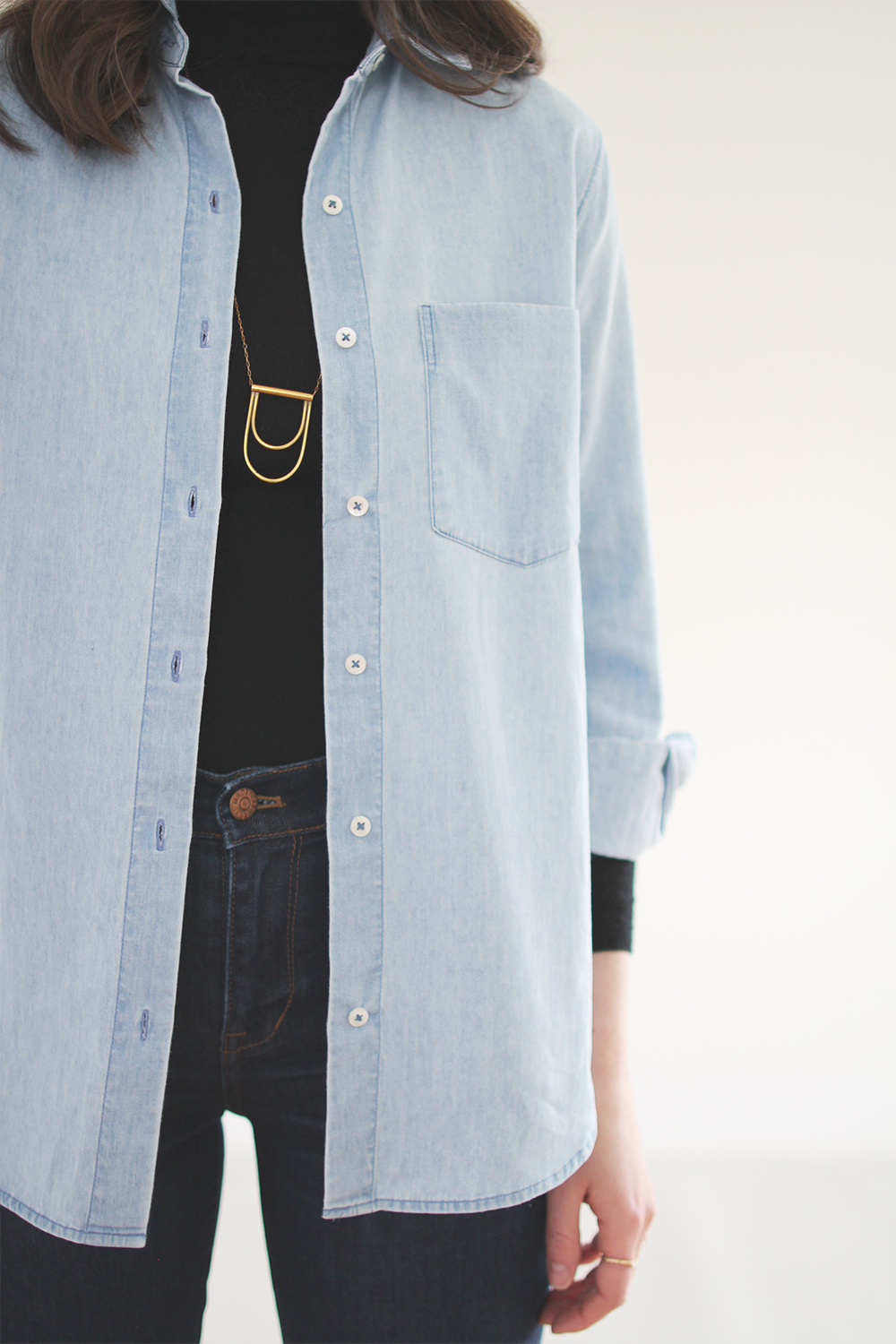 ---
INITIAL THOUGHTS
Usually by this time of the week my style stamina is pretty well spent and I'm saving all my energy for a great Friday night get-up (that's en route tomorrow!). So it really just comes down to comfort. Technically this outfit ticks all the key boxes. It's warm, it's comfy, it's practical and I feel totally relaxed in it.
But, if I'm being totally honest with myself, this look would get filed under 'Okay but not awesome' in my look book. Not because I feel there is anything particularly wrong with it, it just feels a little 'meh' to me.
What's feeling off about it? Well, I like all the basic elements but normally I would layer a longer, more substantial top (duster, sweater, light coat, vest etc.) over for this type of fitted base. It's also missing a warmer element which is usually something I'm sure to include (could be a bag or boots in this case).
What would make it better for me? I might be inclined to hang up the chambray shirt and put on yesterday's white sweater coat. OR I might ditch the base turtleneck, button the shirt all the way up and front tuck. Super easy fixes! I'll try those on my stories today and see how it goes.
That said, I actually really like the outside version of this look, so much that I'll be sharing my Style + Fit Details on that version for today. Plus, I'm totally feeling the high contrast denim on denim. So that's certainly a win!
---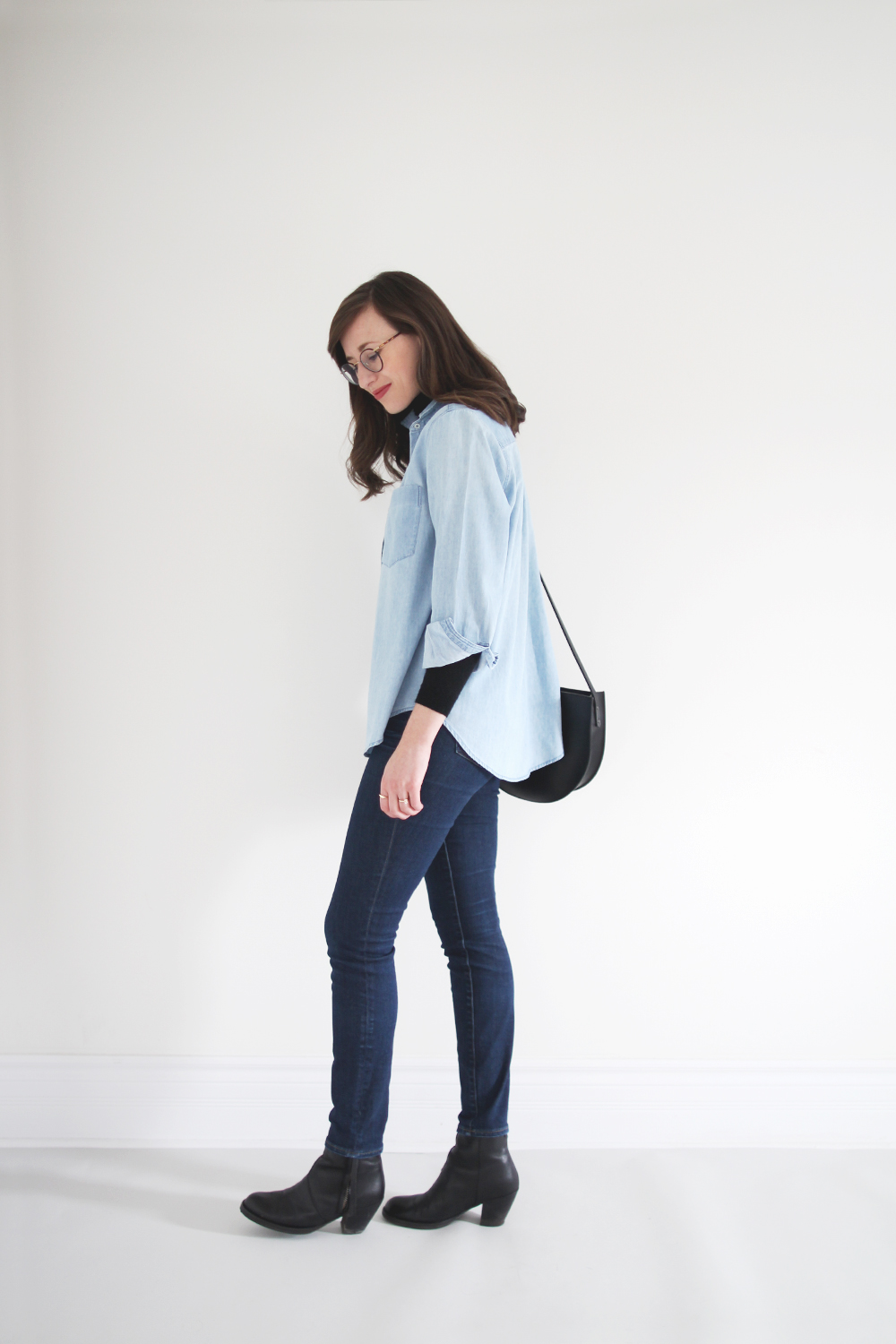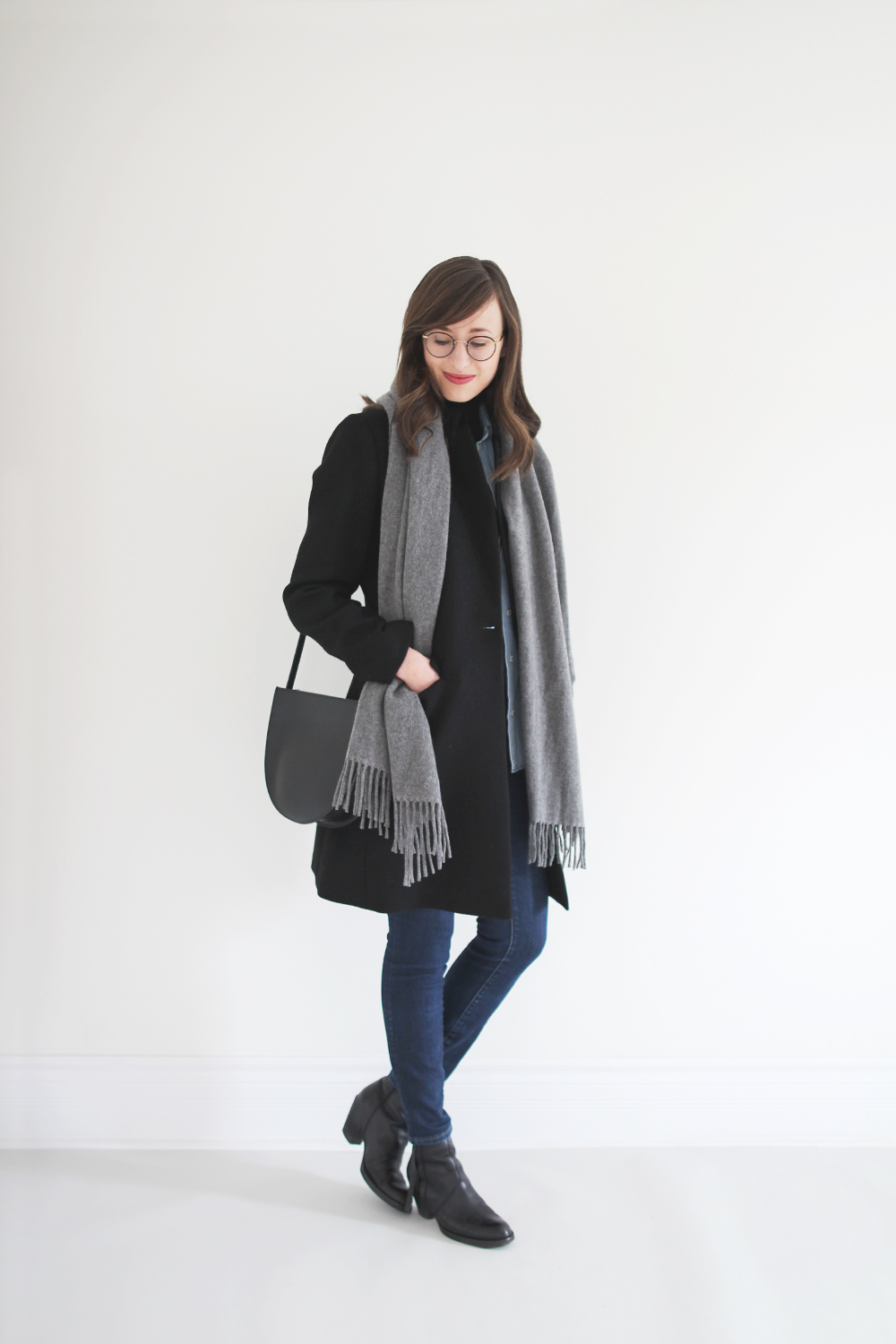 ---
STYLE + FIT DETAILS
1 | LEAVE IT OPEN | There are a total of no less than 4 layers in this look. That's a lot of warmth and although it's definitely cold enough to warrant that here, it's still a lot to handle. By leaving a few of them open you get some air flow and it helps keep things from getting too stuffy or bulky feeling. Plus it's easy to button up if the wind gets serious!
Next time you're having trouble with an additional layer, consider something that gives you the option to wear it open. This trick instantly turns your shirt dress into a jacket or your button down into a cardigan!
2 | UNSTYLED | The long and loose scarf trick is something I've been seeing here and there this season and I've wanted to give it a go. Inspired by these looks (A, B, C) I tried it and I must say it's pretty nice not to have to fuss with with knots or loops. It just adds warmth and keeps things simple! Especially with a turtleneck on I'm not desperate for extra neck warmth.
3 | PEEK-A-BOO | I think my favourite part about this look is how the lightest layer (my chambray shirt) is peeking out amongst the rest. I loved that about yesterday's outside look too. So often with winter style our coats end up obscuring the best parts of a look so it's nice (if weather permitting) to let the whole style story be visible and still stay cozy.
Consider letting a sliver of your base layers peek out next time you're wearing a coat. It makes the look much more dynamic.
---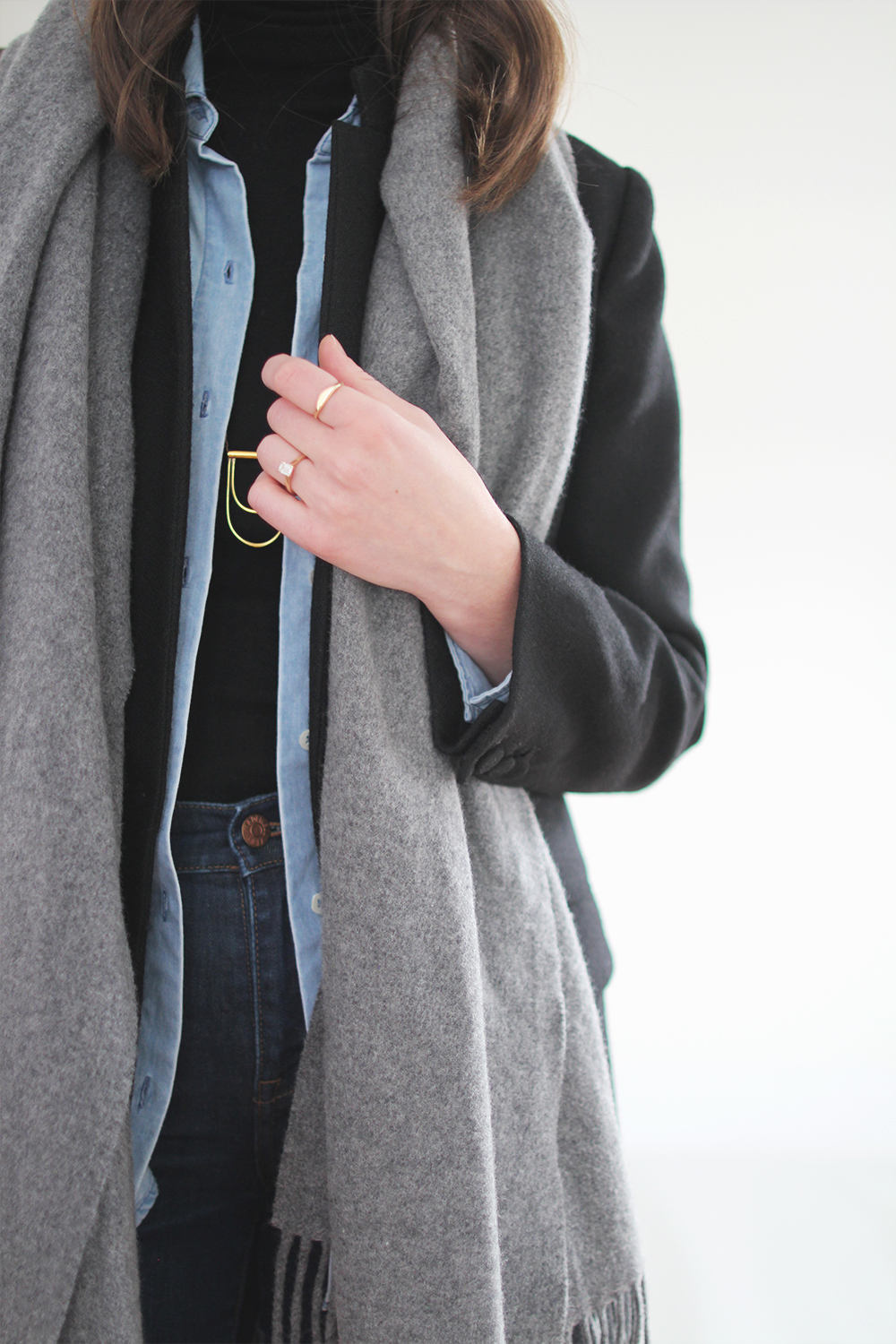 ---
OUTSIDE
Not much to say about this winter ready look, I simply added a black coat and a big wool scarf. I'll add a pair of gloves if needed too. I'll be in the office most of today with a lunch meeting and a workout also on the agenda.
These Pistol boots are enduring their 3rd winter with me and except for some wear on the heel, they're practically like new. They've been great in just about any weather and with frequent spraying have managed to stay in excellent shape.
Before this challenge I gave them some serious TLC with a special clean (I use this for all my leather cleaning), a polish/condition, a thorough shine and a spray (I use this line for shoe care). Hopefully with that kind of attention, they'll be with me for at least 3 more winters! Invest in quality boots my friends, they will not let you down! 
---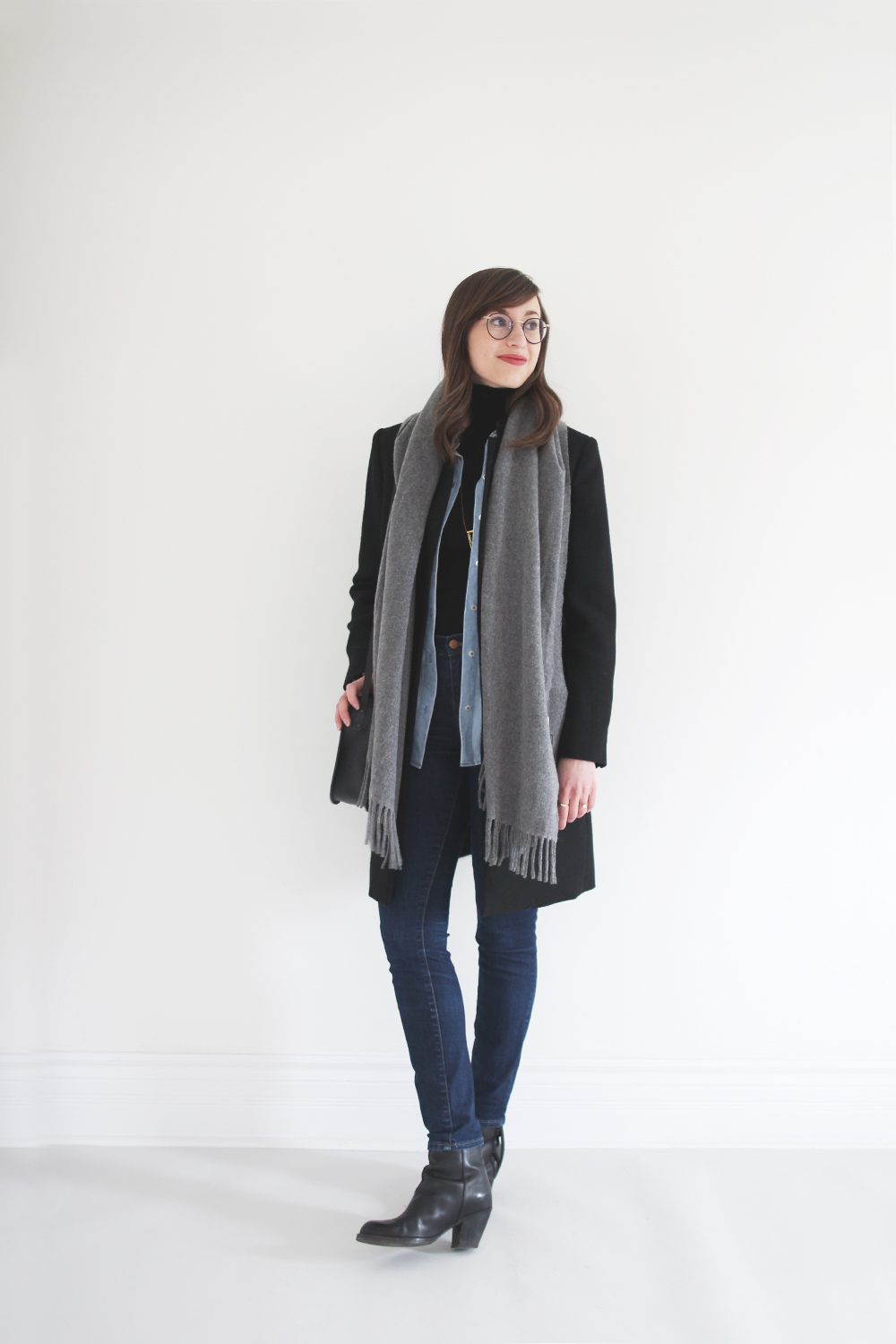 ---
SO THERE WE HAVE OUTFIT #3!
Be sure to pop over to Un-Fancy for Caroline's latest look too!
+ Keep sharing your fabulous looks with #Winter10x10 and if you have a sec, check Instagram Stories today for a real-life look at our outfits in action (@caroline_joy + @leevosburgh).
See you there!
---
---

---
This post is not sponsored but contains affiliate links. When you shop via the links above I may make a small commission from a sale. Thanks for supporting Style Bee! All opinions are always my own.