After a long hiatus from brand collaborations I'm excited to share a special project I've been working on with EILEEN FISHER. This partnership was a natural fit because my personal style philosophies of fewer over better, timeless over trends and responsible over flippant are precisely what EILEEN FISHER's team aims to provide their conscious customer with.
I've long admired this iconic brand for their enduring creative vision, outspoken commitment to sustainable production and keen focus on creating clothes that women of all ages and sizes can feel fabulous in (visit Behind The Label for so much more). So it's needless to say, I was thrilled for the opportunity to introduce you to their latest innovation in effortless style known as The System, which is a series of 8 core pieces that are designed to be the backbone of your wardrobe.
These 8 pieces are: The Tank Dress, The Wide-Leg Pant, The Tank, The Easy Pant, The Slouchy Pant, The Long Shell, The Slim Pant and The Boxy Shell.
Each one is intended to be highly functional, designed to fit flawlessly and provide a failsafe way to get ready in 5 minutes or less. Additionally, all the items have been created from wearable, washable and thoughtfully sourced materials that will stand the test of time. I had the pleasure of trying the full system out and I can honestly say that it lives up to its promises!
The point of this particular partnership was for me to choose 1-2 items from The System that really stood out to me and to then style them into a few different looks. Gee, that doesn't sound like my favourite thing to do at all! Oh wait, yes it does!
I thought I'd have a hard time deciding on my favourites but it was immediately apparent which ones were going to be heroes for me and I chose the Long Shell and the Slouchy Pant without hesitation. Together the two pieces make for such an understated, elegant set and the perfect base layer for literally any occasion.
To demonstrate their versatility, today I'll be sharing how I styled these two system pieces for Winter now, for Winter later, for Spring and for Early Summer. So let's have a look!
---
THE BASE
---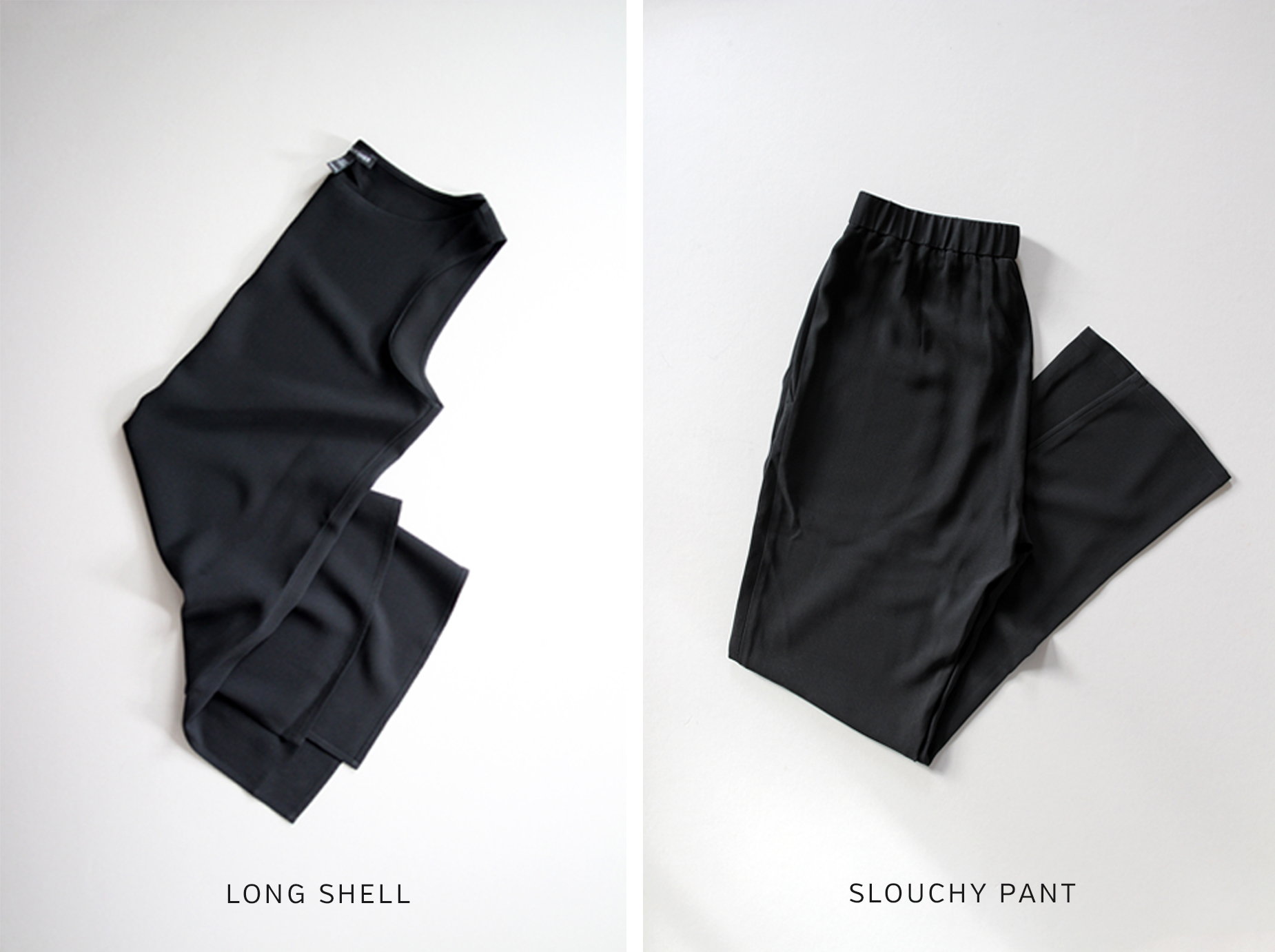 ---
1 | THE LONG SHELL |
I chose the Long Shell (almost before I even tried it) because it's a perfect simple tunic top that instantly injects effortless elegance into any look. The boat neckline is totally chic (but not too wide) and the high low hem is super flattering. Plus the Silk Georgette Crepe it's made from is slightly matte and has the most delicious drape to it. This top will work with all my pants and skirts, tucked in, half tucked or left out and easily glides under blazers and over slim shirts for seamless layering.
Size Note: I'm wearing the XXS which is not a size I've ever worn in my life but seems to fit quite well. XS would have likely been fine too but as you'll see there is still lots of room and there's no gaping under the arms, which can happen with this type of top.
2 | THE SLOUCHY PANT |
I was just going to feature the Long Shell on its own but once I paired it with the Slouchy Pant I was totally hooked on the set. They just felt so easy and sophisticated together that I couldn't take them off. Even my partner Dave saw me preparing for the shoot and said, 'Now that is sophisticated as hell!' haha. Oh and did I mention that the pants have pockets? YUP!
I also wanted to keep these pants because they happen to fill an important gap in my closet, the Dress Pant gap. I have plenty of jeans, fun wide leg options and a couple fitted black pants but these are the perfect combination of smart and laid-back. They're dressy but not too corporate and they're formal but not too much of a trouser. They're just a perfect balance of slim and slouchy and the fabric (same as the shell) feels like a dream and moves so fluidly. I already have a good feeling that they're going to earn their keep!
Size Note: I'm also wearing an XXS in the pants. I think they're fitting me a bit slimmer than intended but it's a happy accident in a way because I love the fit. I'm also wearing them at my natural waist whereas if I wore them lower they'd slouch more.
Practicality: Both pieces are machine washable and wrinkle resistant (and easily steamed smooth) plus lint and pet fur just seems to glide right off. So despite being 'silk' they're not at all precious or fussy. This fabric is basically magic!
So here's what the base looks like on!
---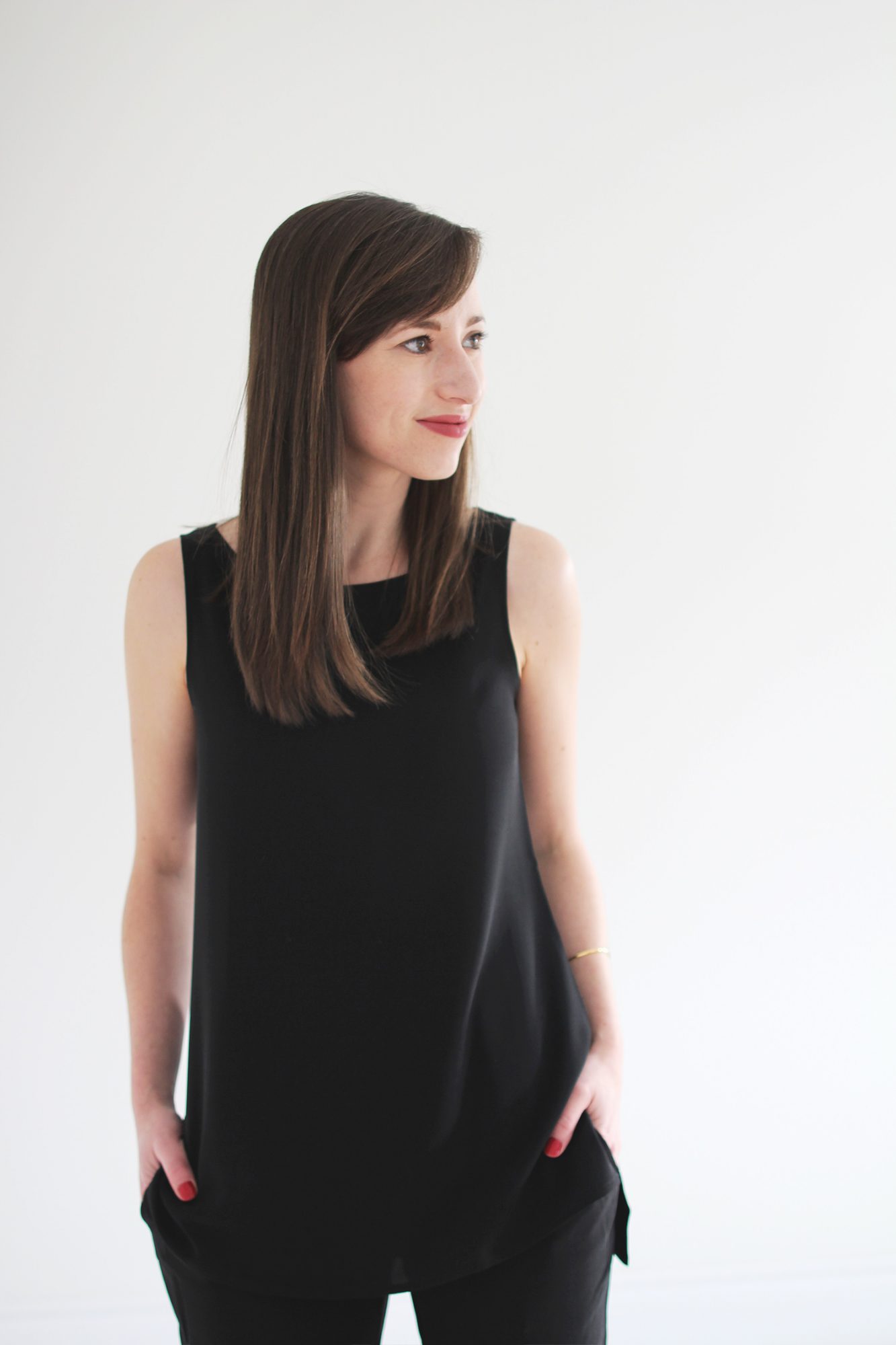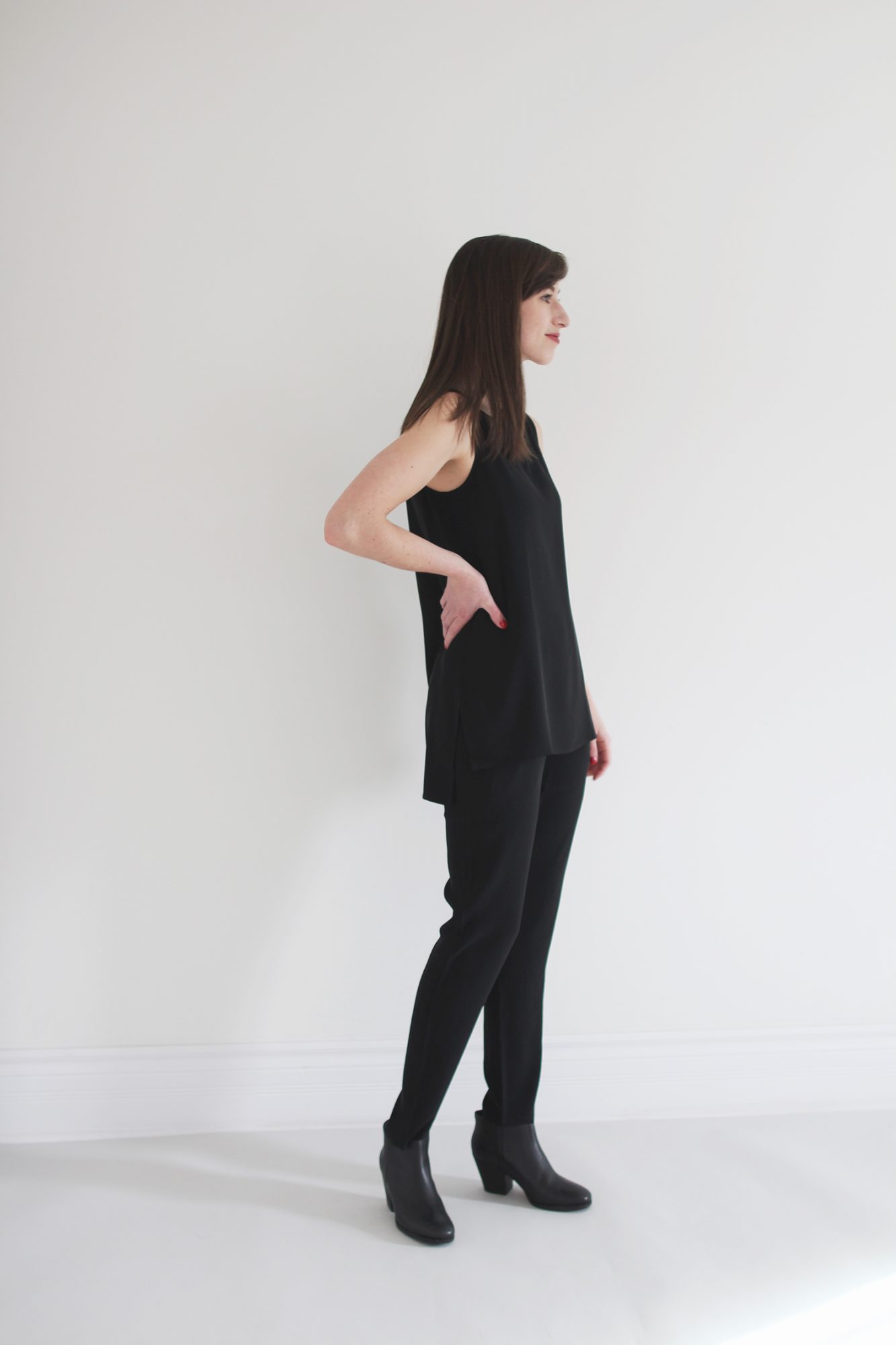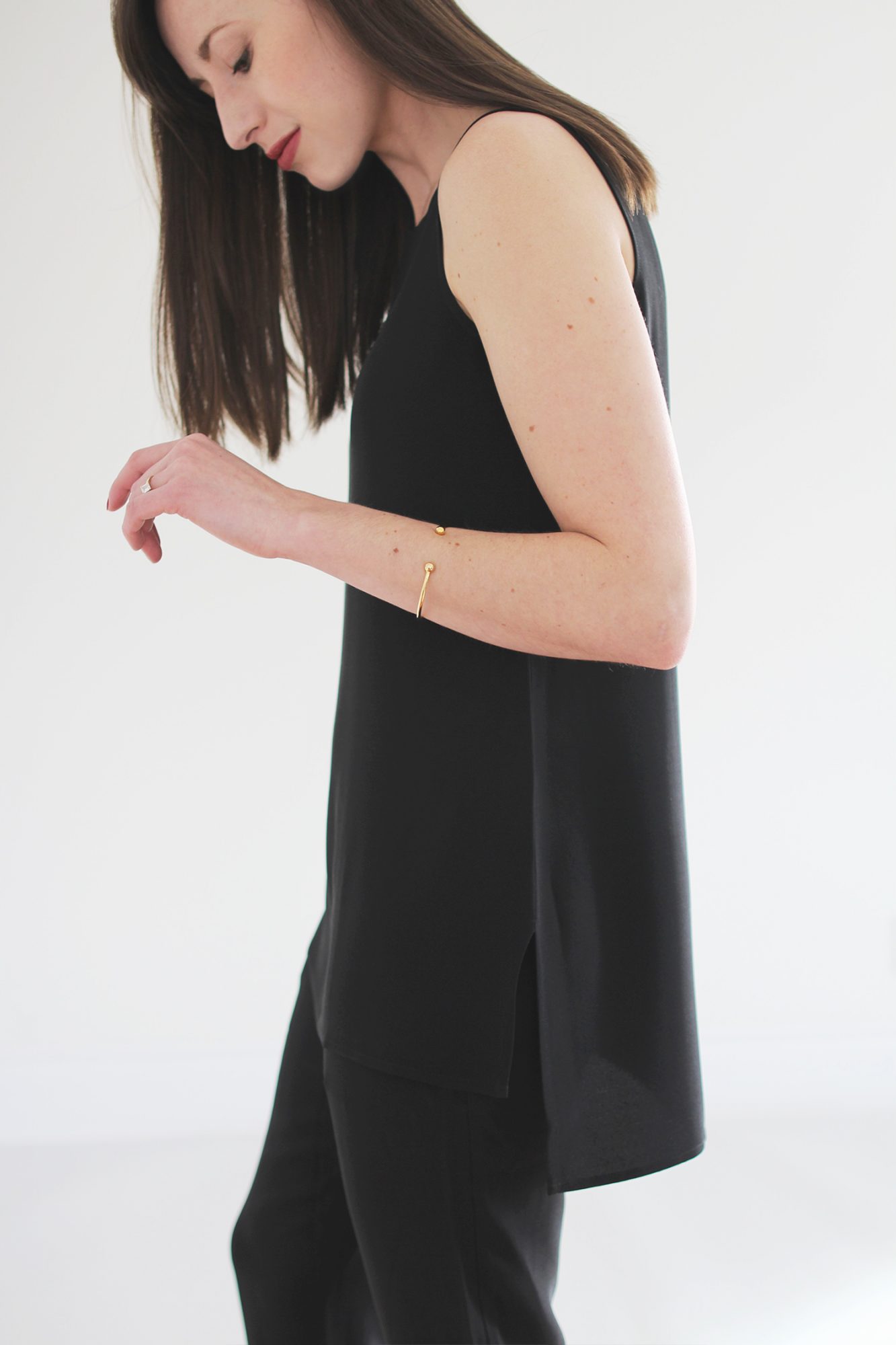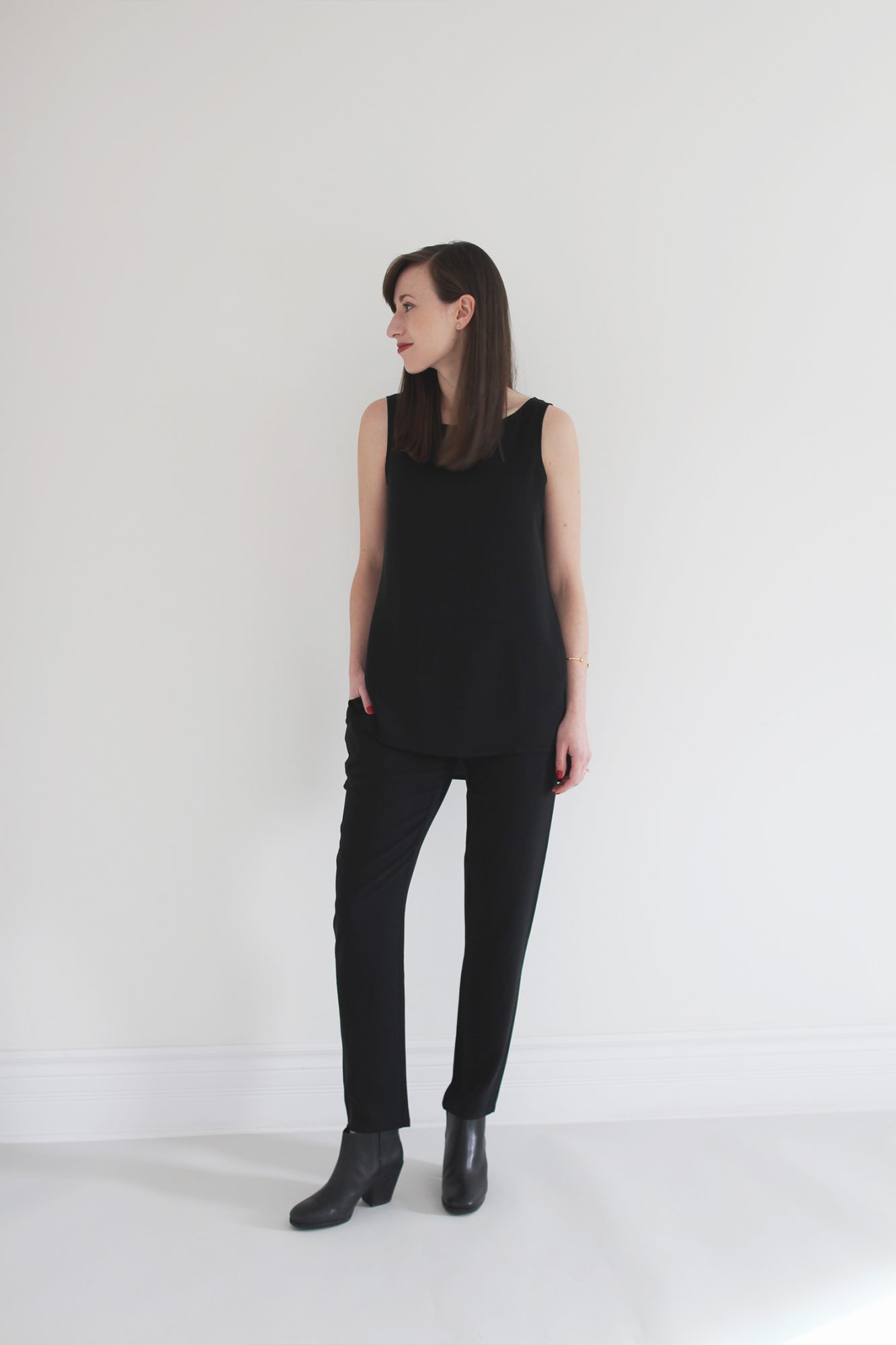 ---
FOR WINTER
---

---
Even though the Long Shell and Slouchy Pants are made of a lightweight fabric I wanted to give them a try for our current Winter season. So I turned to my usual layering tricks to make them cold weather ready and it worked! With a fitted white turtleneck under the shell and tucked into the pants the set almost takes on a jumpsuit look, which I LOVE! Then the coat, beanie and brown boots make it extra cozy and wearable. I'm also really feeling the touch of femininity a red nail adds too!
This look has date night or dinner with friends written all over it and I can't wait to take it for a spin soon!
---
ITEMS: Long Shell | Slouchy Pant | White Turtleneck | Cognac Boots | Black Bag | Cocoon Coat* | Nail Polish | Beanie* |*Linked to similar
---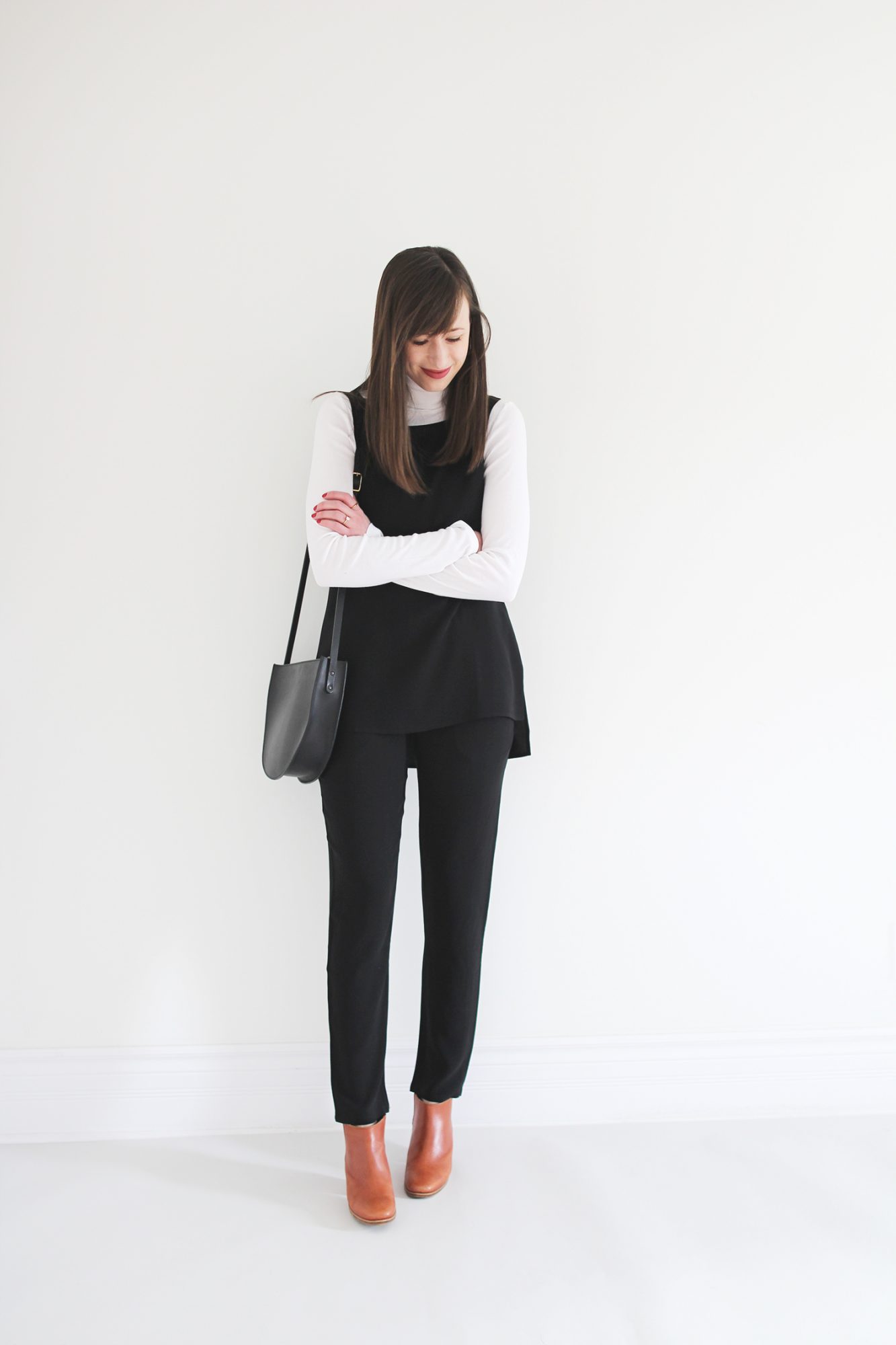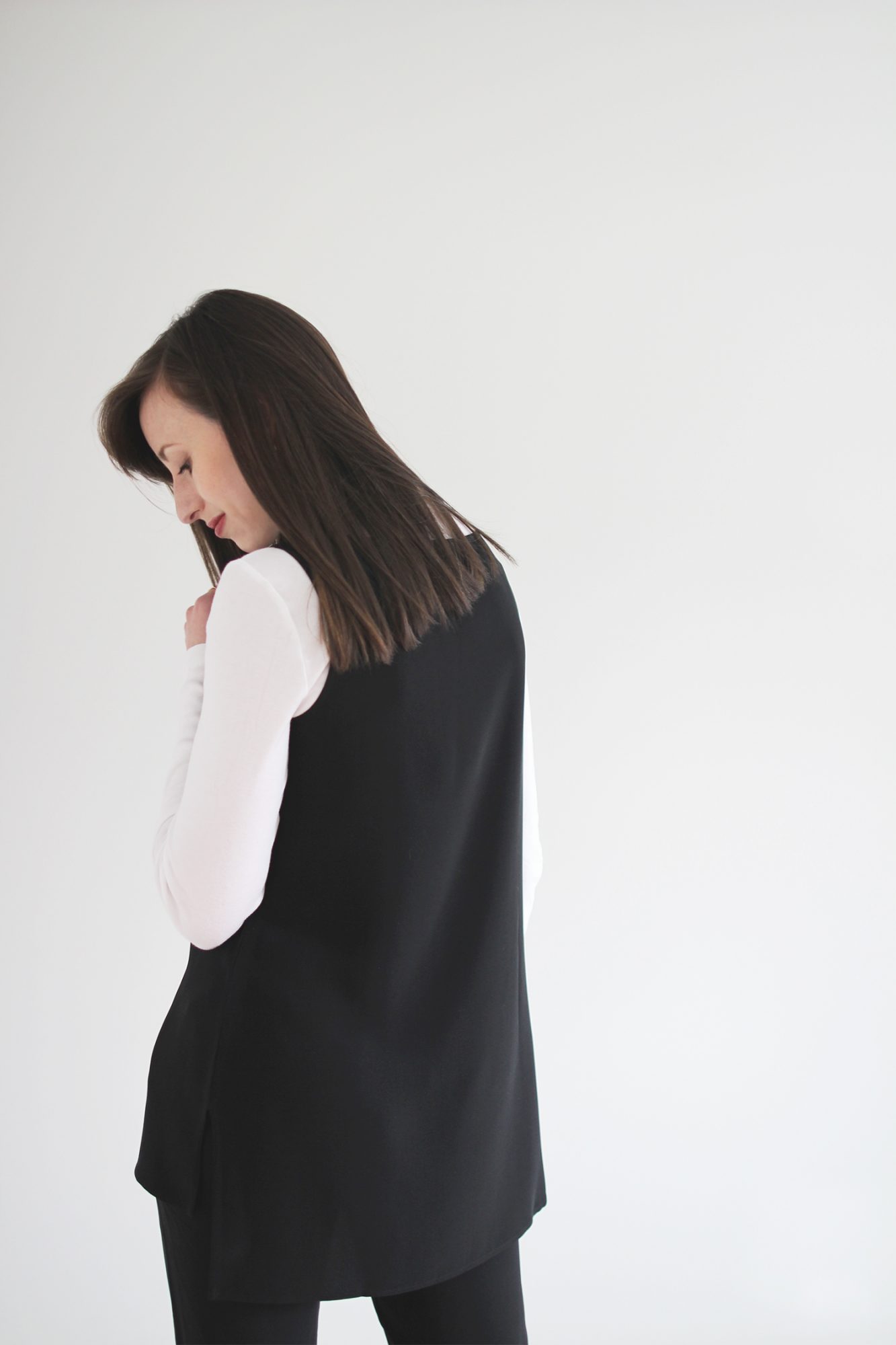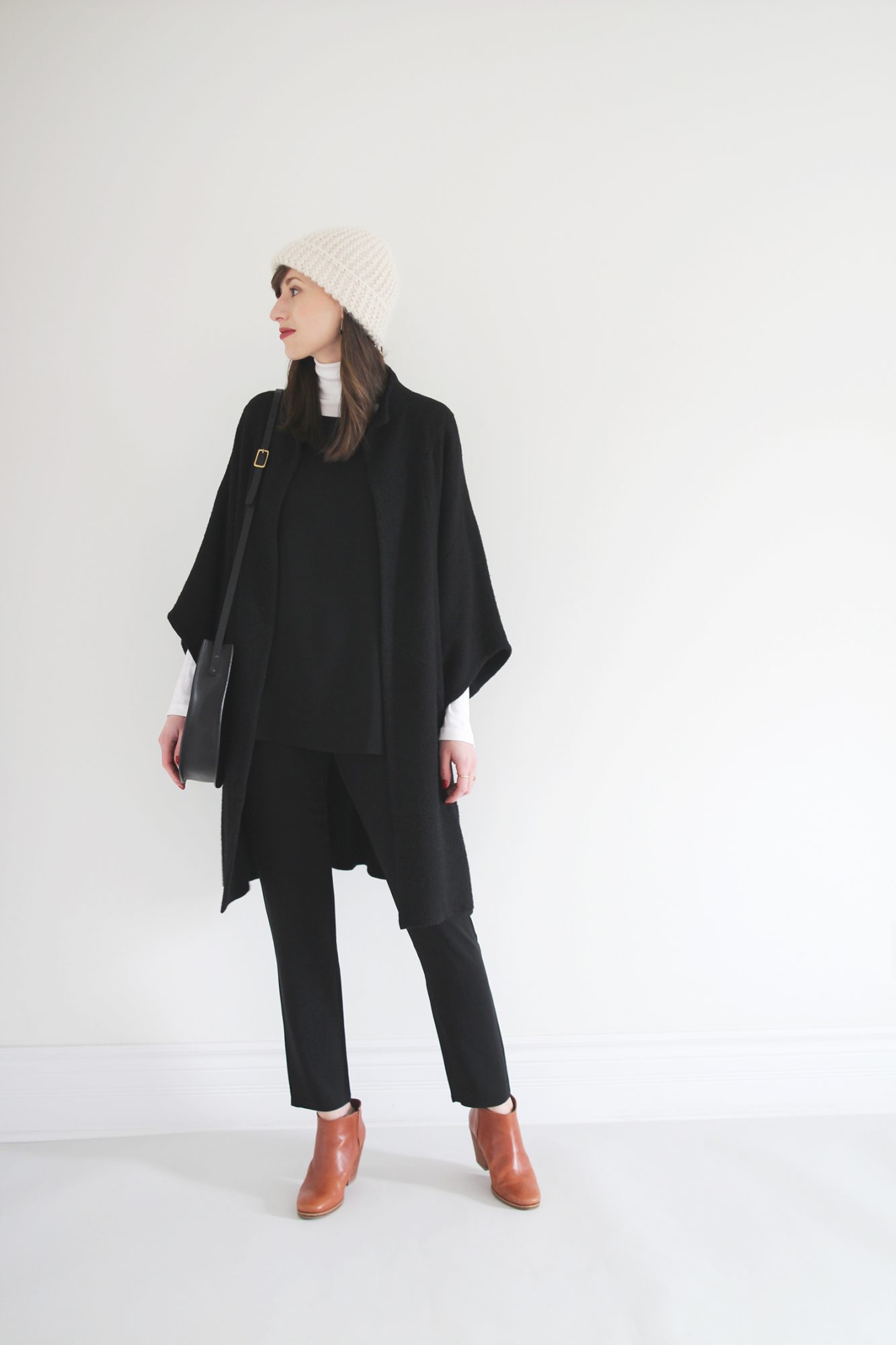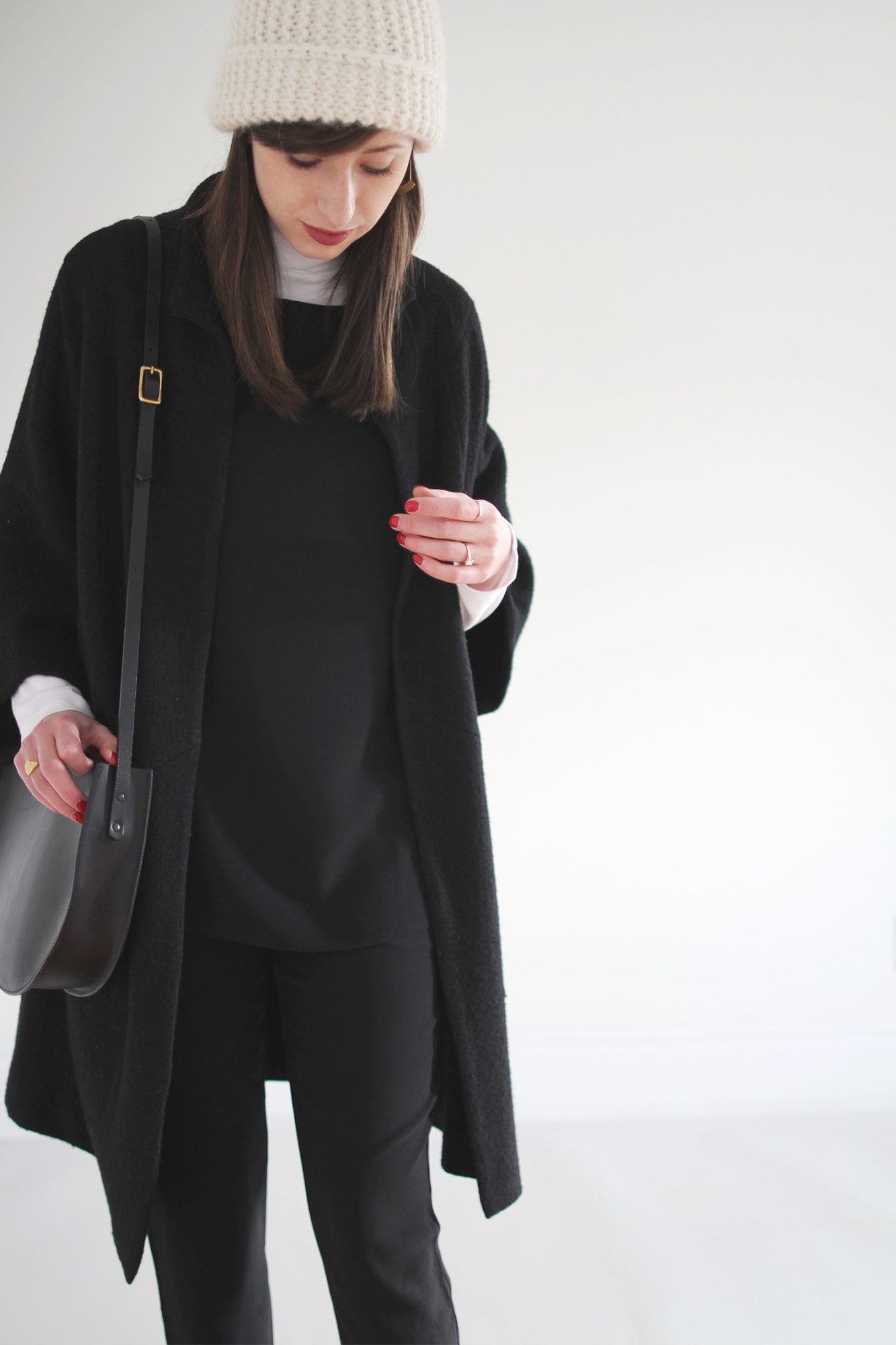 ---
FOR LATE WINTER
---

---
I loved how the first Winter styling approach worked out so I thought I'd try another variation that was more applicable for a typical day. I used the same slim turtleneck trick but the grey version gives it a cozy feel and a denim top coat definitely keeps it extra casual. A brown tote is the perfect way to warm things up and my Pistol boots felt like an ideal way to add a dose of durability to the look. A few simple accessories like a small brass necklace, a classic watch and my usual glasses give the whole look a bit more character while still maintaining a minimal vibe.
I could definitely wear this look for a workday, client meetings or a weekend of brunching and visiting with friends.
---
ITEMS: Long Shell | Slouchy Pant | Grey Turtleneck* | Black Ankle Boots | Necklace | Duster Coat* | Brown Tote | Glasses | Watch | *Linked to similar
---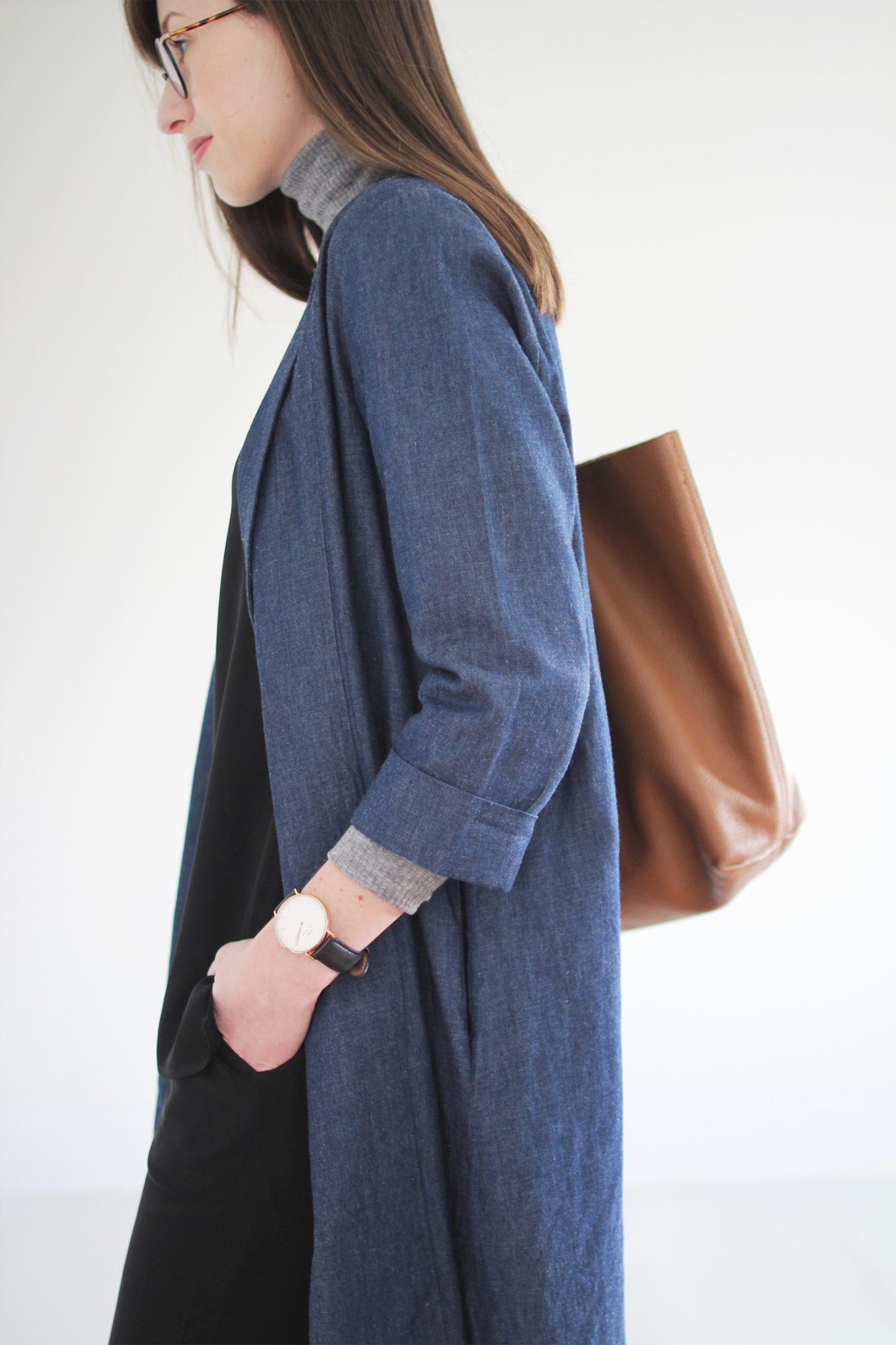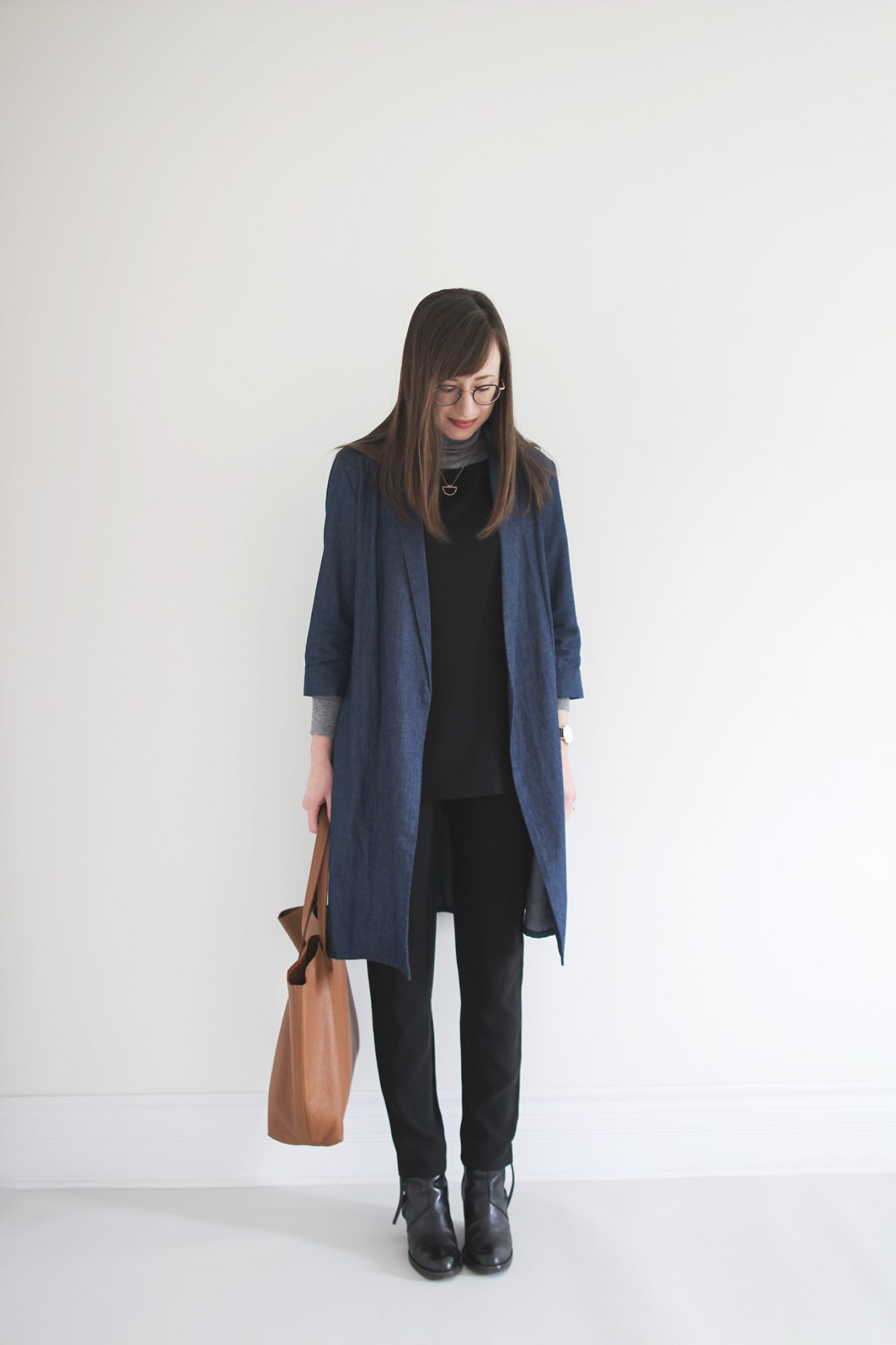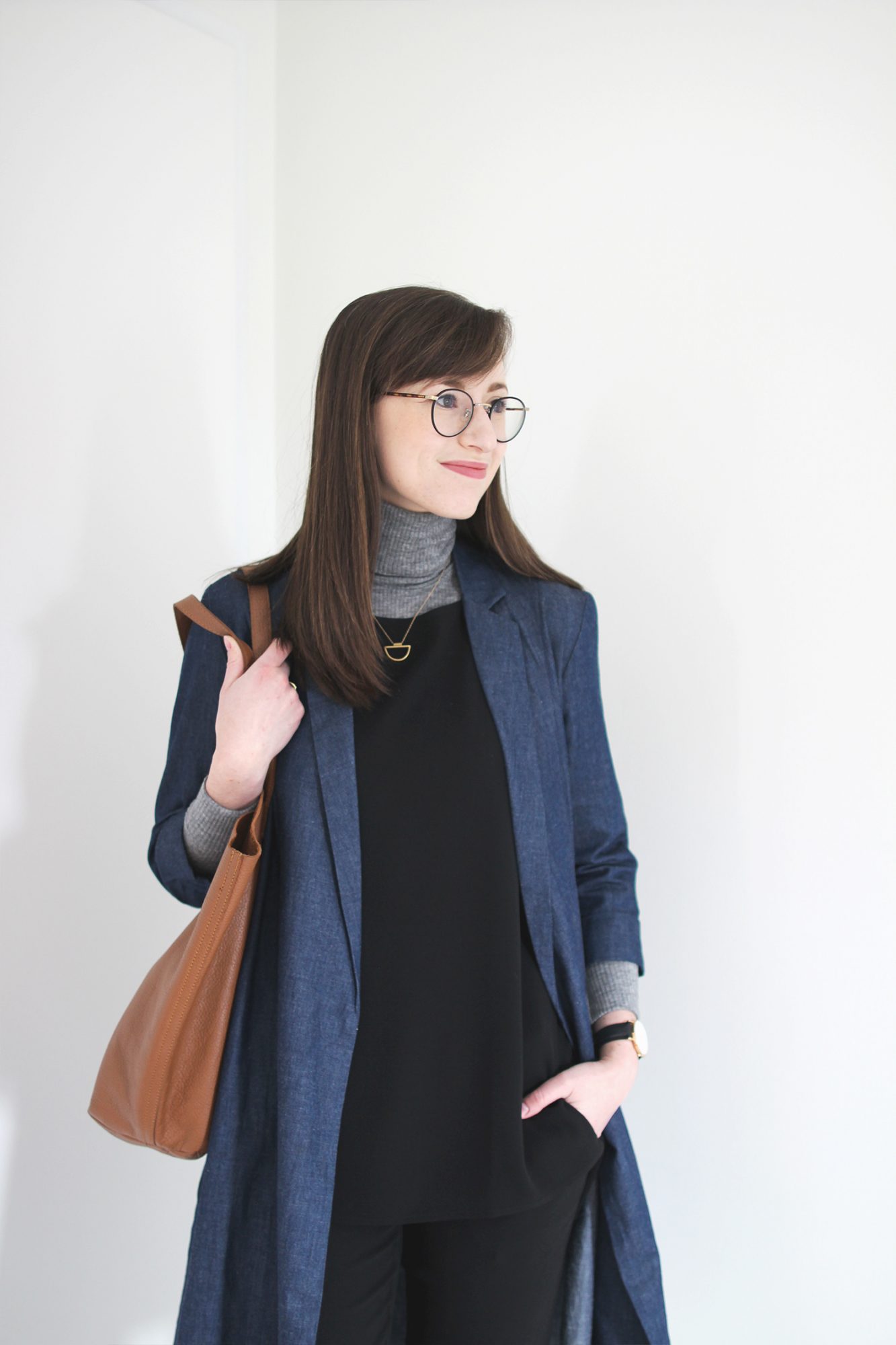 ---
FOR SPRING
---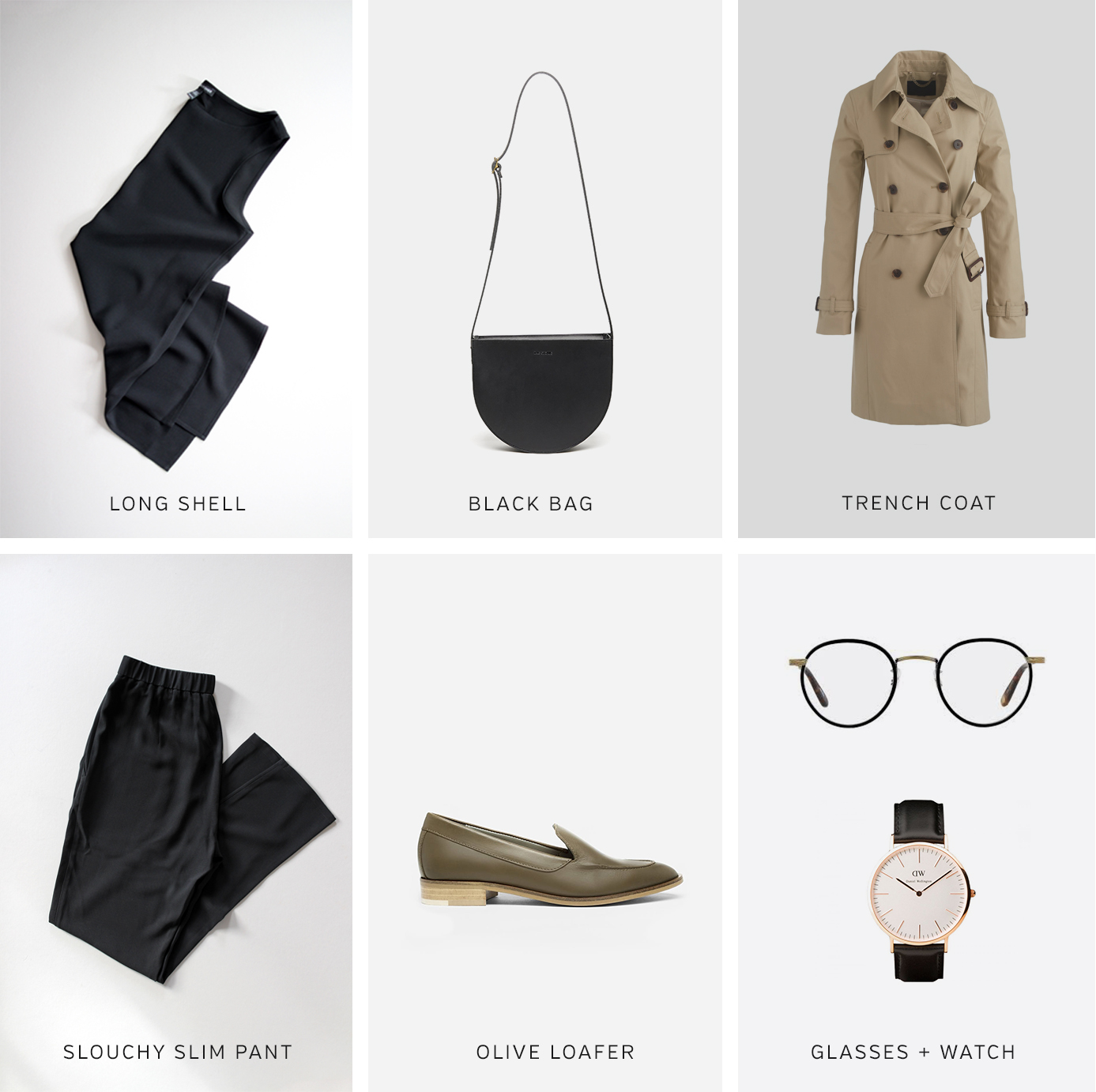 ---
I wanted to see if I could put together a Spring look that's timeless, sophisticated and totally achievable in under 5 minutes. So I literally set my phone timer and went for it! I threw on the two core pieces first and immediately reached for my olive loafers and my trench coat. For some reason those two items scream Spring to me. Then I threw my hair up, cuffed my pants and coat sleeves, added a watch and my go-to bag. If I didn't need my glasses to see what I was doing the whole time I would have put those on at that point too. This look is a classic for sure but an all black base gives it a sleek contemporary feel that's fresh and totally nonchalant.
I definitely channelled my inner Parisian for this one and now I'm even more desperate for warm weather to get here!
---
ITEMS: Long Shell | Slouchy Pant | Black Bag | Loafers | Trench Coat | Glasses | Watch
---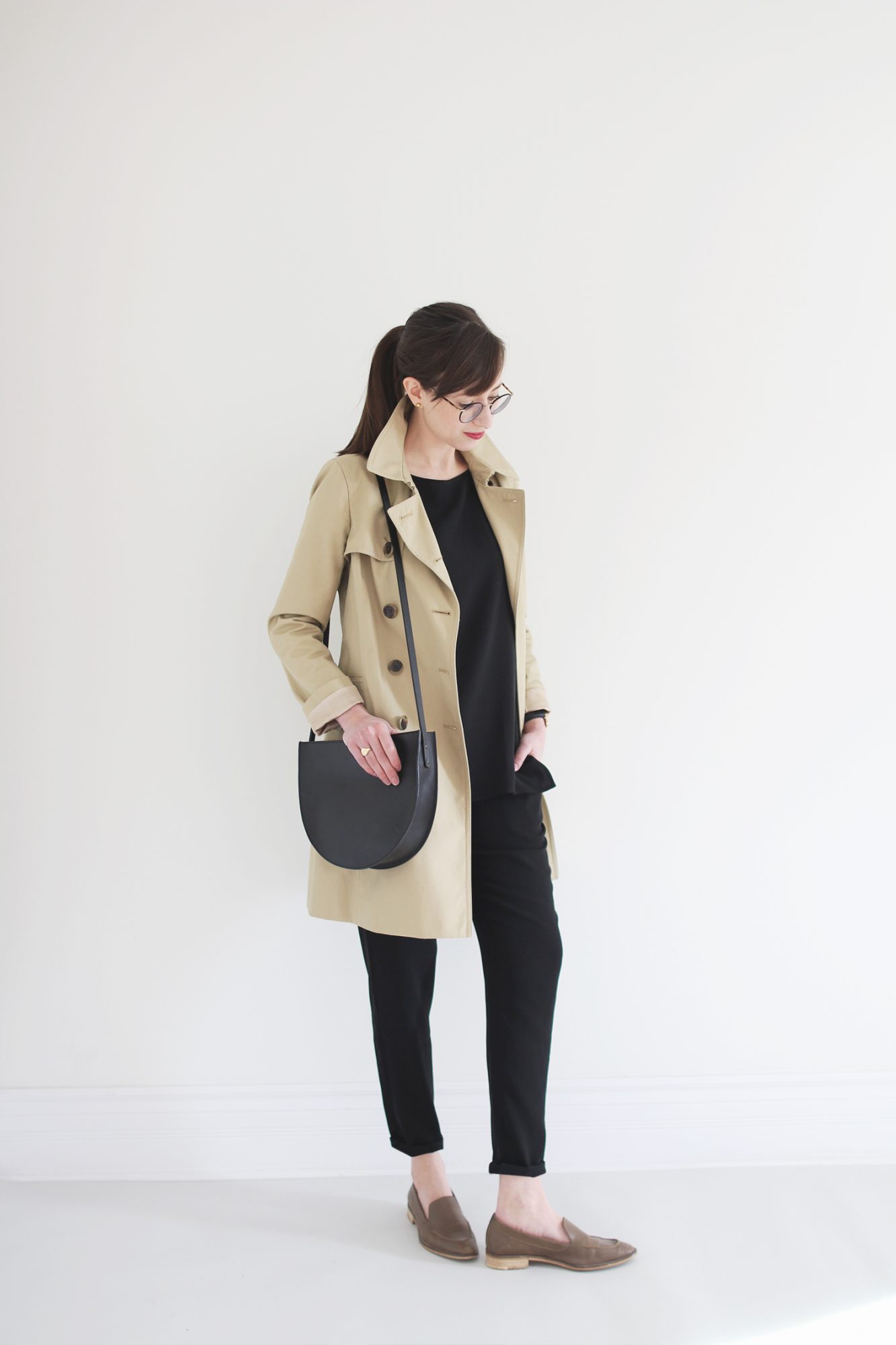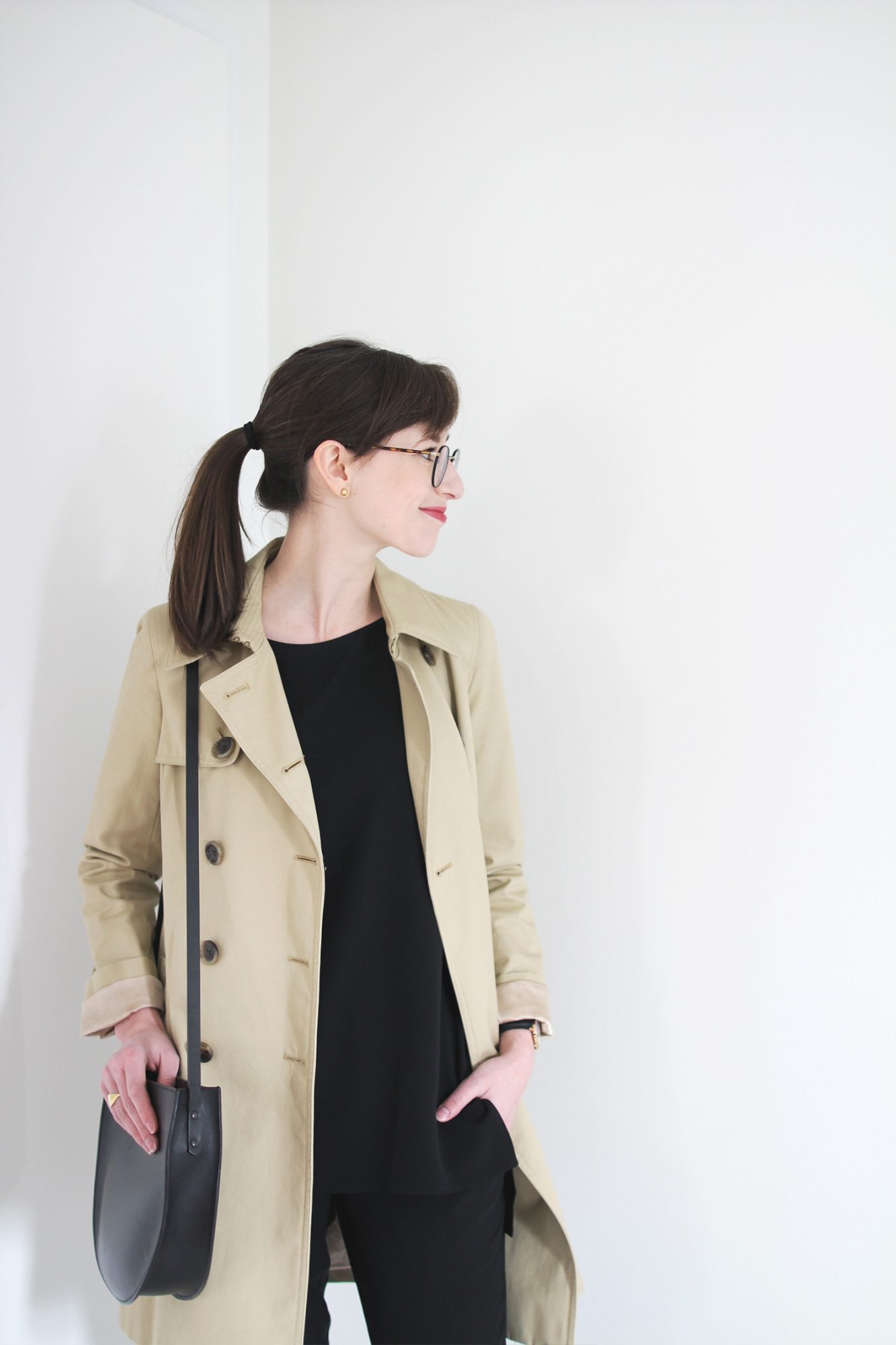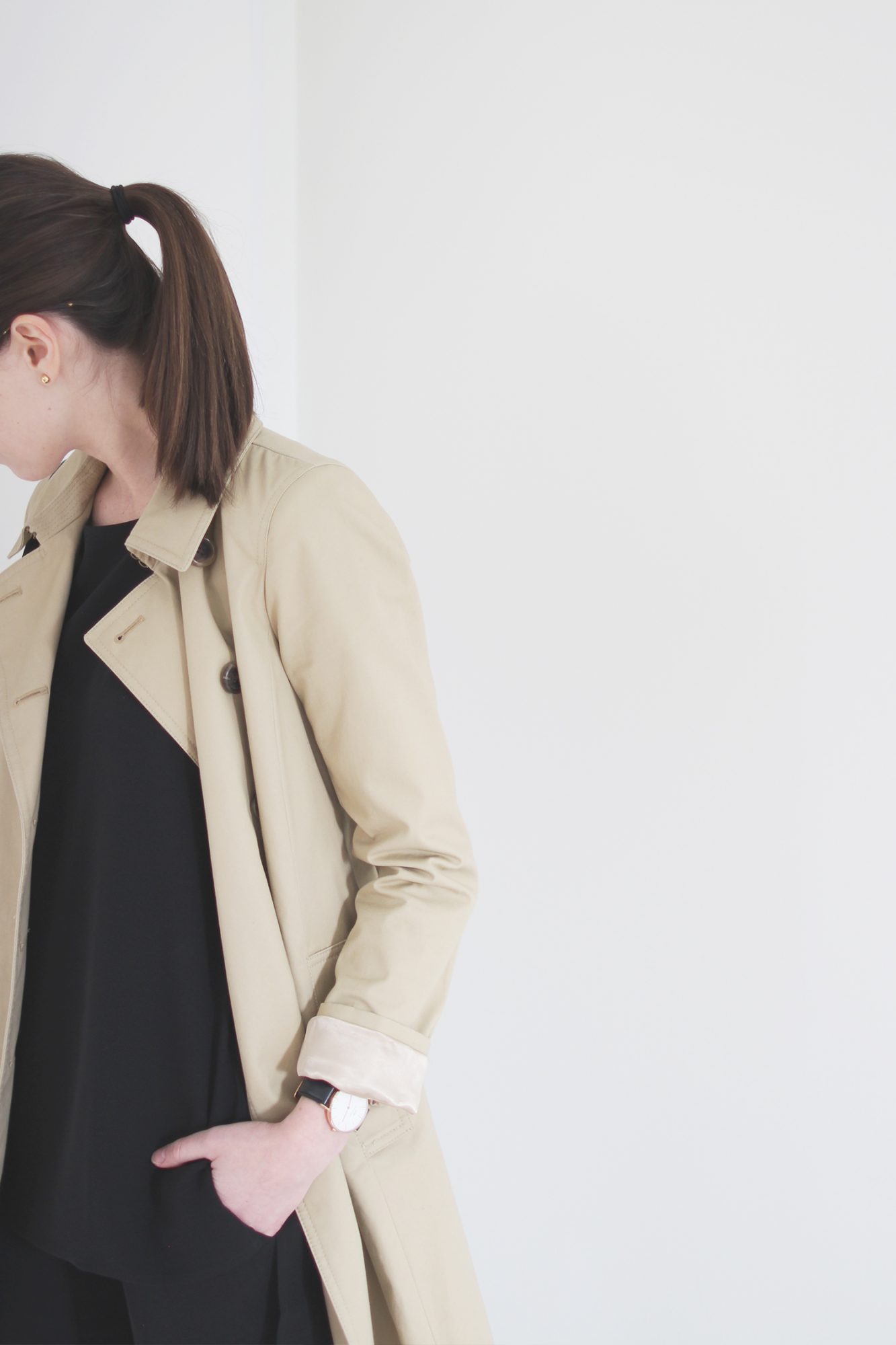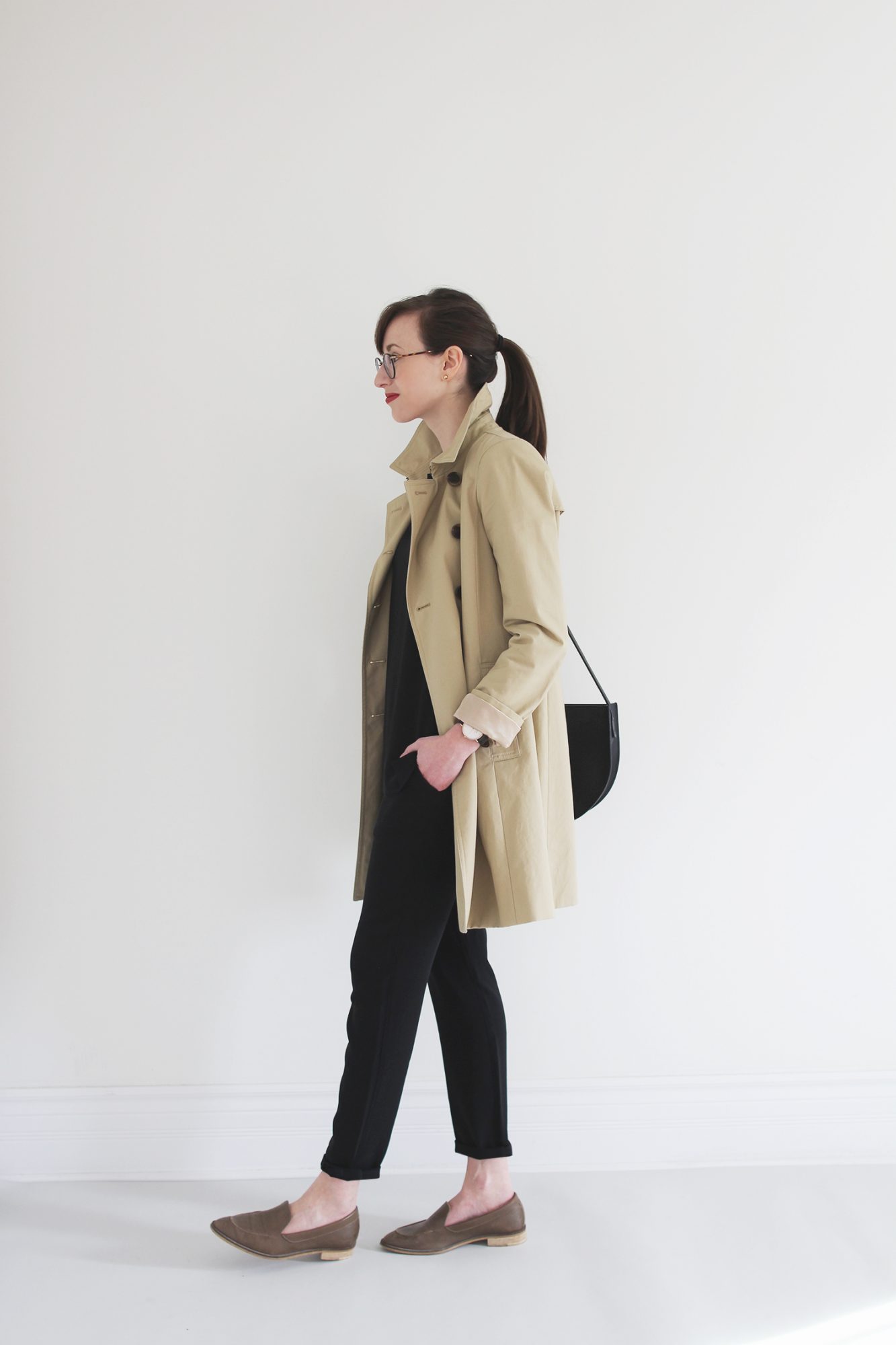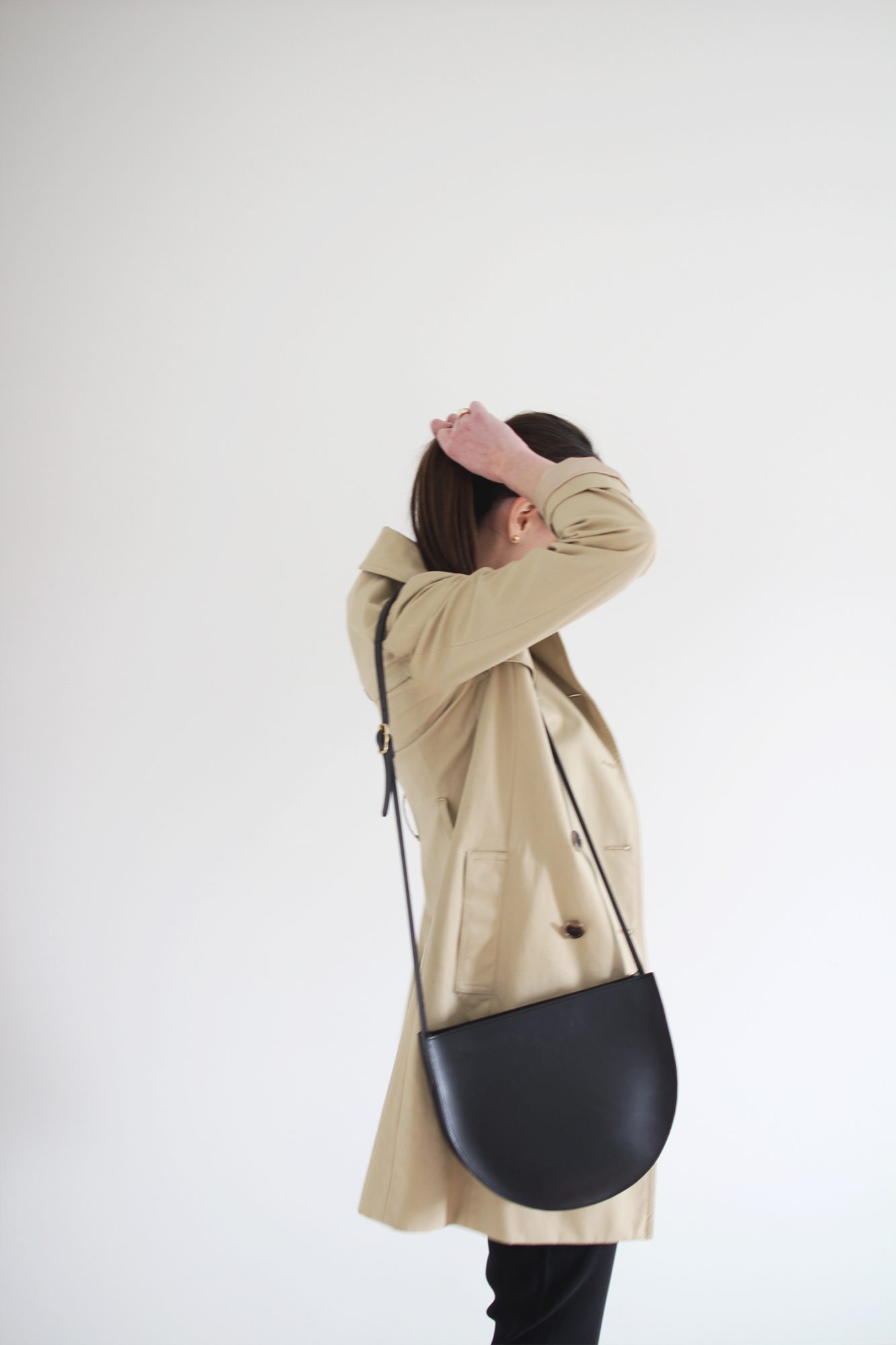 ---
FOR SUMMER
---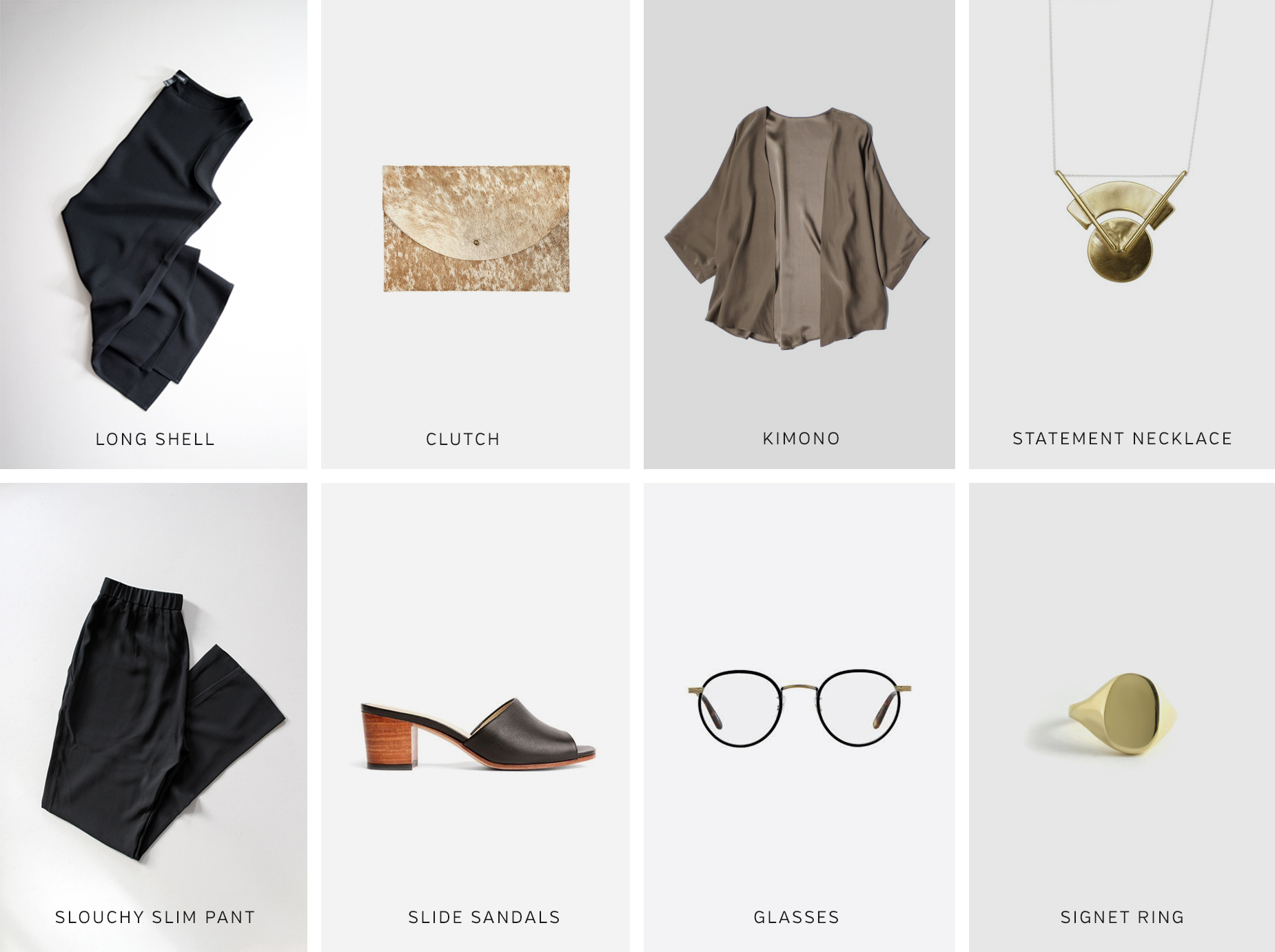 ---
So yes, summer is a long ways off for us Canadian folk but it will be back eventually! One of my warm weather Wish List items last year was a matching set but I never ended up committing to one. Turns out this set is the perfect solution and just begging for any and all things the happy season of Sun and fun has to offer like a backyard BBQ, a casual wedding or a night out on the town. My calendar has started to fill up with events already and I know a foolproof option like this set is going to come in very handy.
I decided that for my final rendition, I'd style this base with a breezy kimono (and without), a super simple slide sandal and add some interest with a statement pendant and a speckled hide clutch. I just wish I'd had time to paint my toes black and had thought to add a bold red lip! Regardless, the result is a super chic look that secretly feels like you're wearing PJs. Hello favourite fashion hack!
---
ITEMS: Long Shell | Slouchy Pant | Clutch | Slide Sandals | Kimono | Necklace | Glasses | Ring
---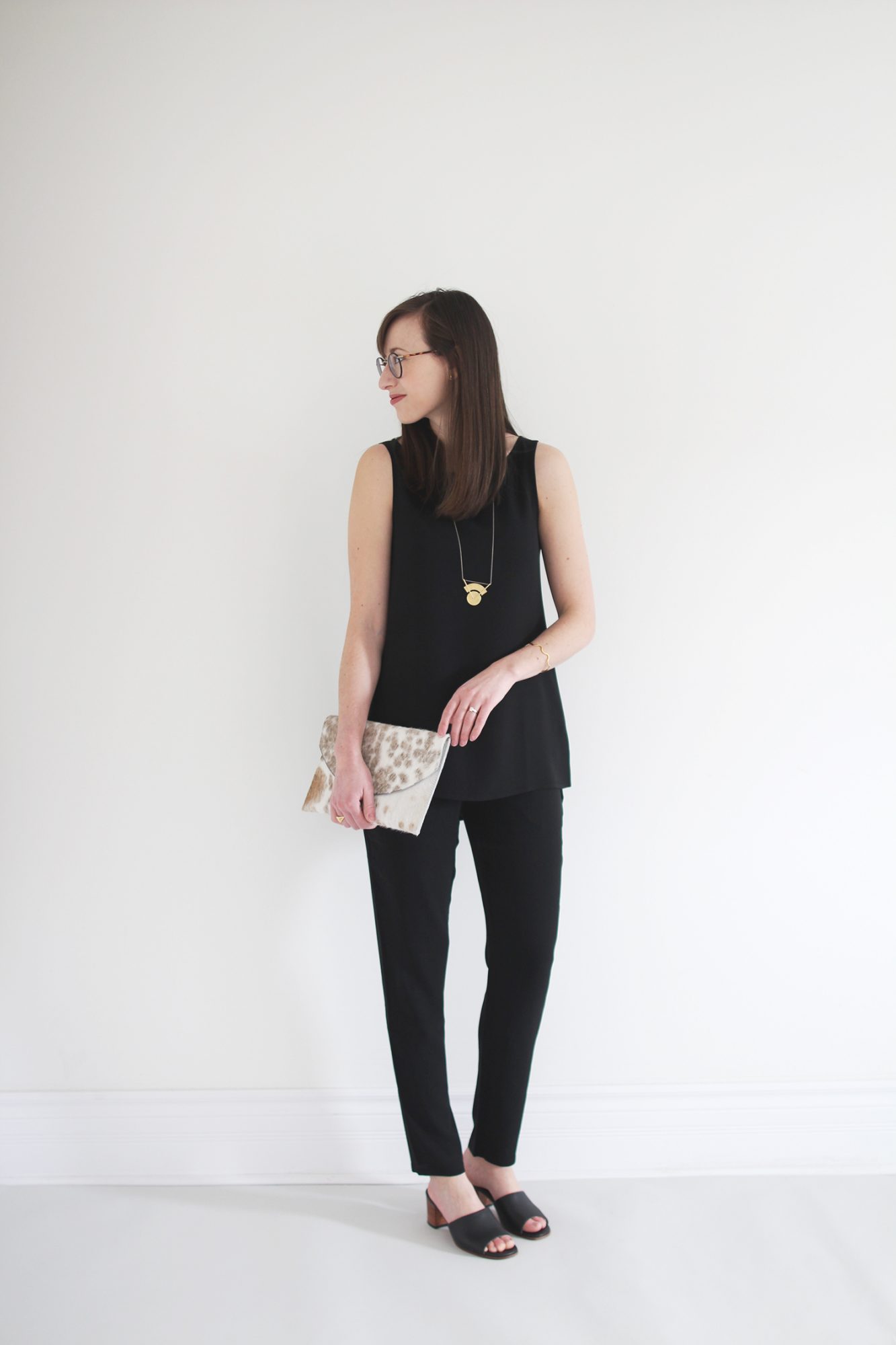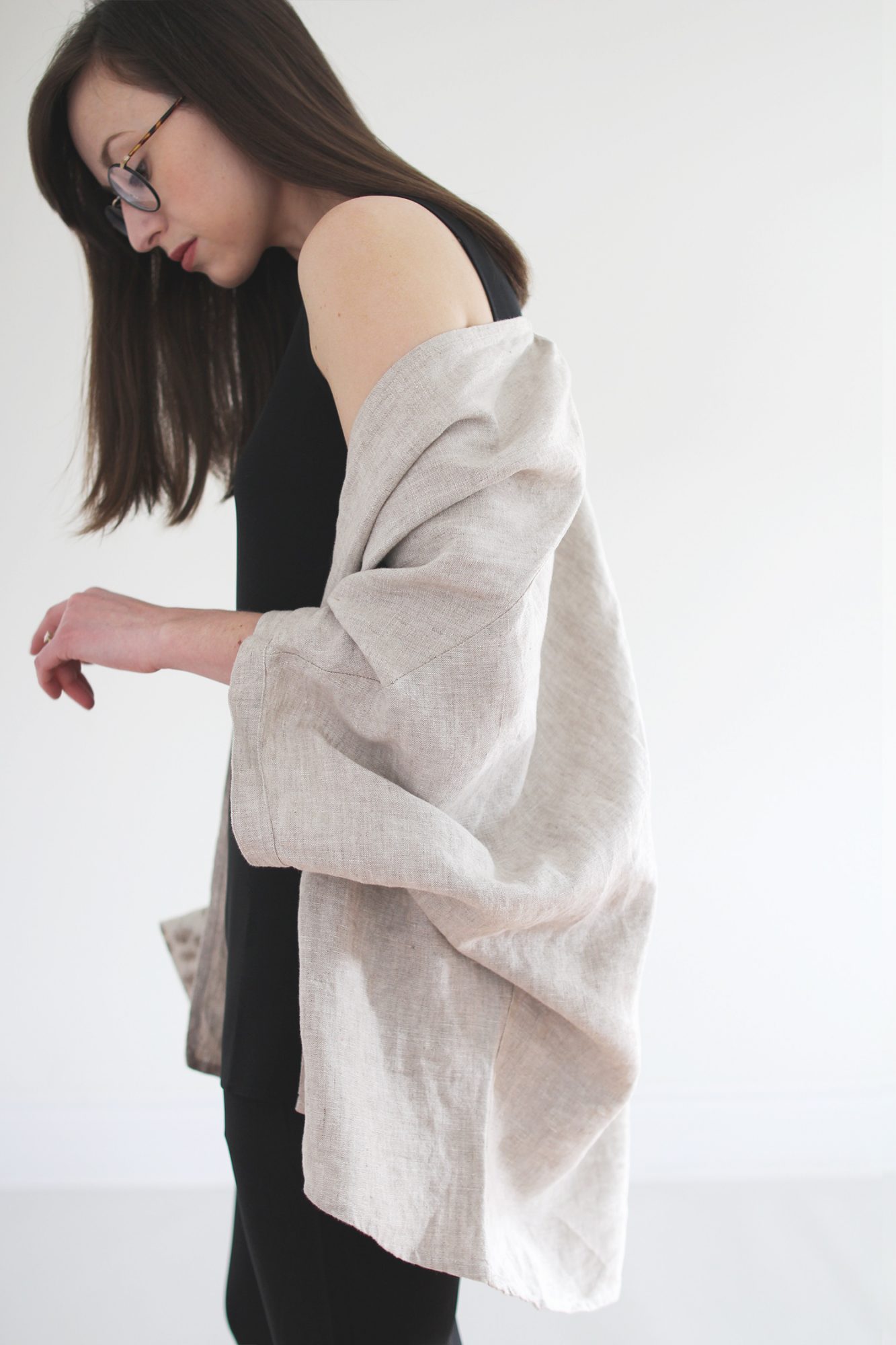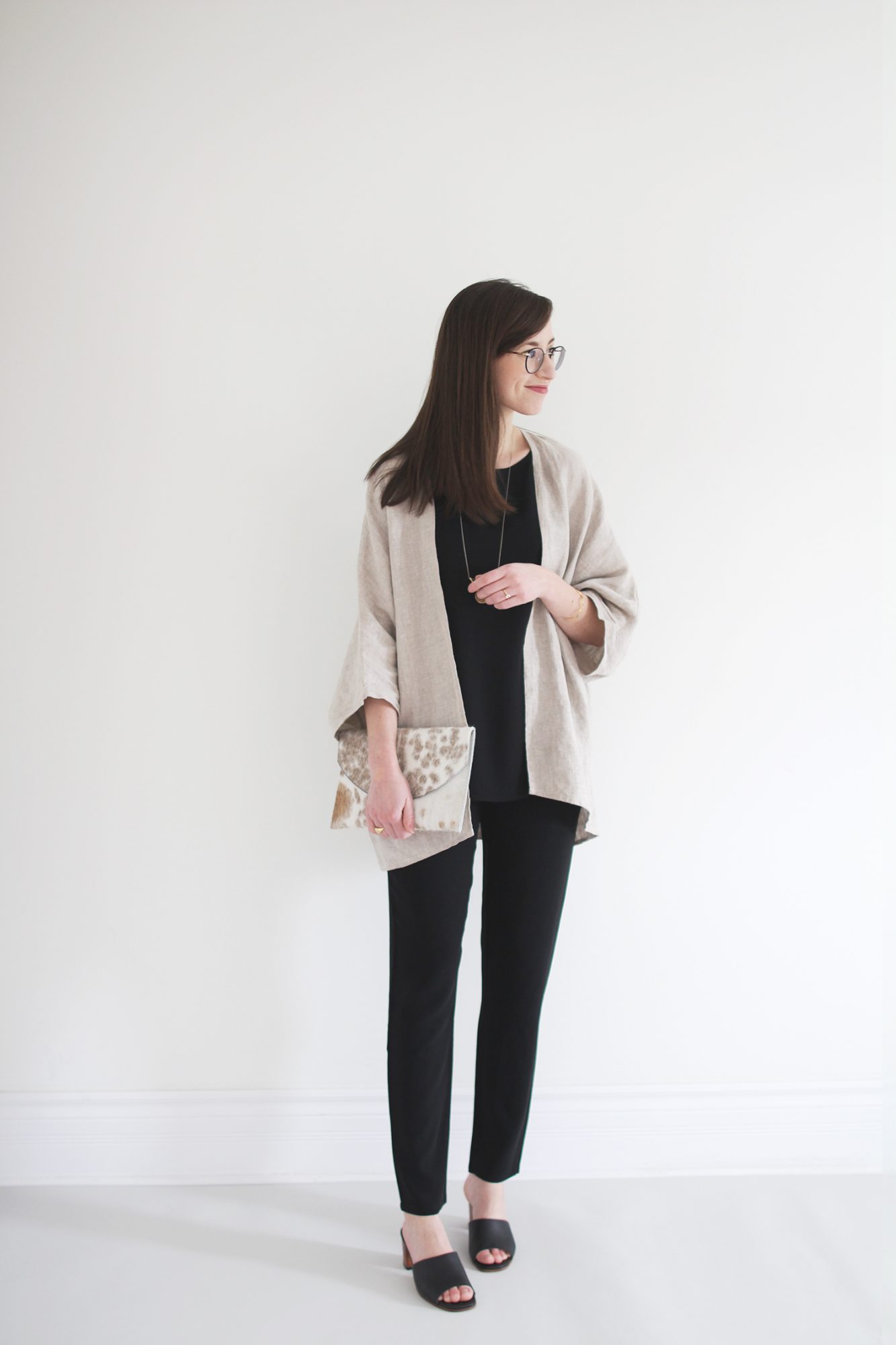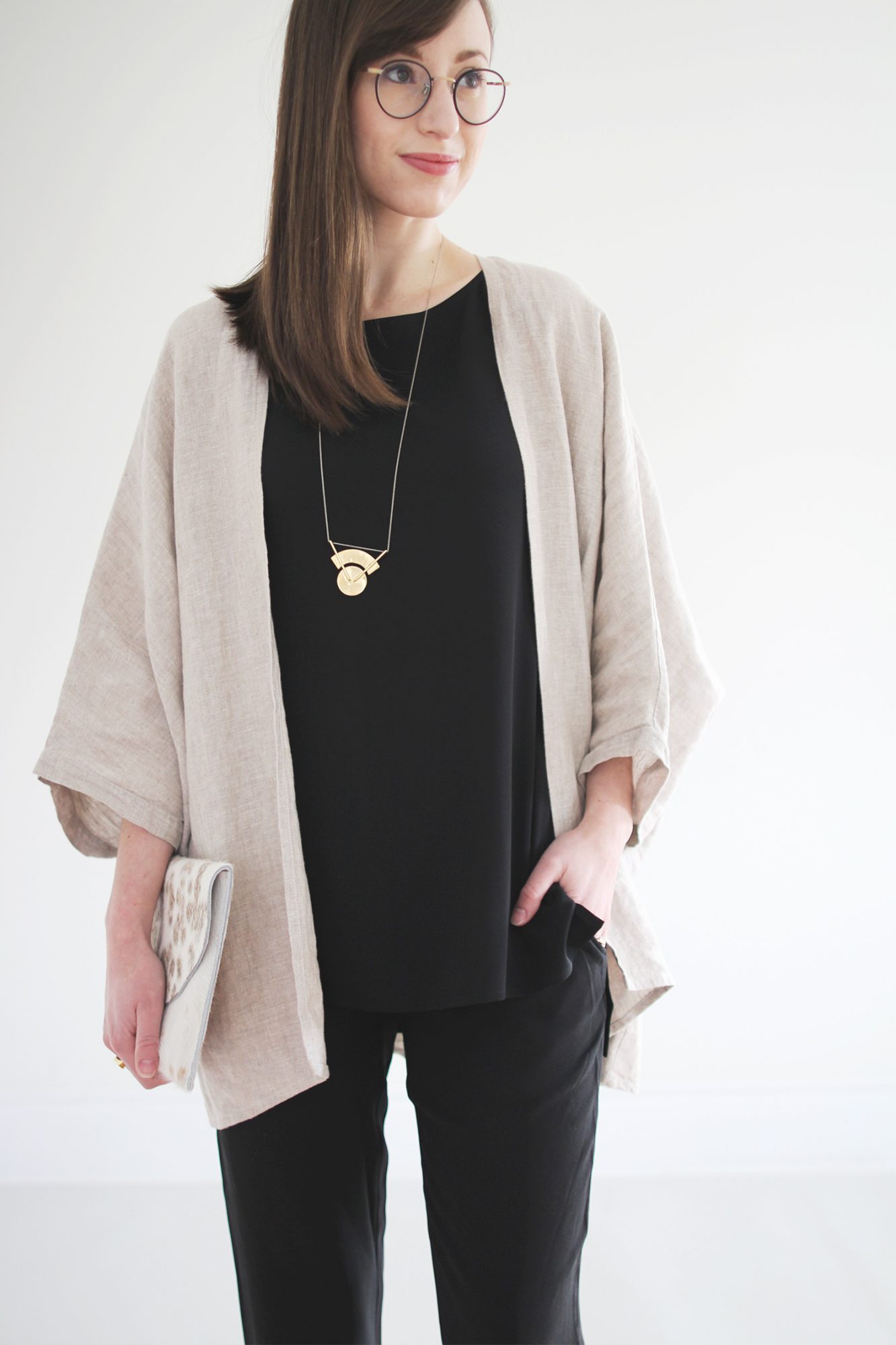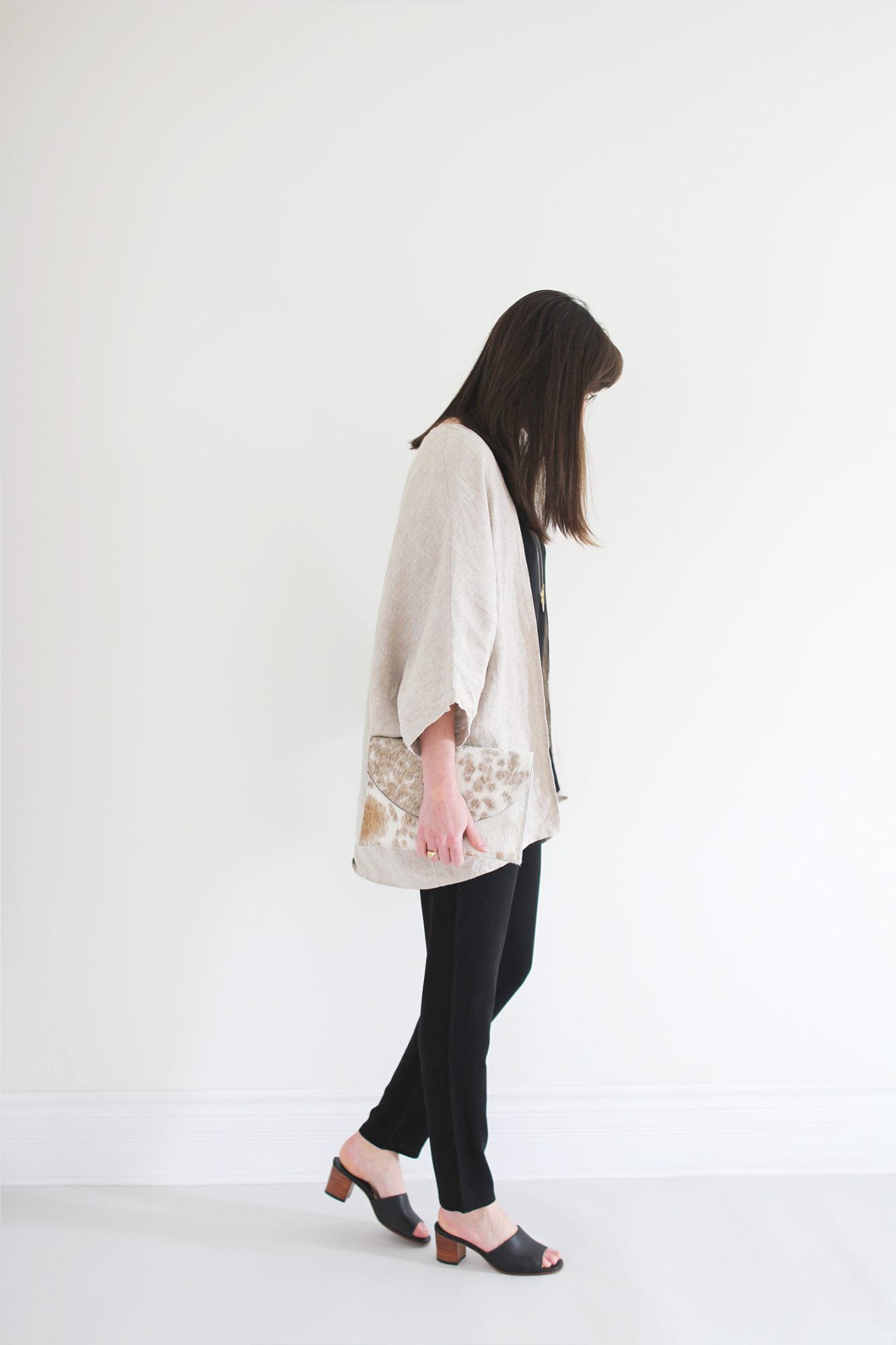 ---
So that's how I'll be styling my new EILEEN FISHER Long Shell and Slouchy Pant from The System.
It's amazing what a simple set that feels fabulous can do for both your closet and self-esteem. I can't wait to wear these instant heroes now and in the warmer months ahead!
If you're in the market for comfortable, versatile clothes, designed beautifully and produced responsibly consider taking a look at all 8 pieces from The System.
---
SO TELL ME, WHAT PIECE(S) WOULD YOU PICK FROM THE SYSTEM?
---
This post contains affiliate links and was created in partnership with EILEEN FISHER. Products and compensation were received in exchange for the feature. Style Bee is committed to collaborating with responsible and socially conscious companies and makers. Thanks for supporting this space and the brands that help make it possible.