Ready for a really comfy week? Awesome, me too! After enjoying a March break blogging vacay last week I'm definitely still in the mood to embrace some low-key style and lots of my favourite casual looks, which I've never shared on the blog before!
But before we dive into outfits, I'm going to give you an update on my Responsible Loungewear Capsule. Having had no first hand 'capsule' experience until now it's been a great learning exercise. Once I decided I was going to give this section of my wardrobe some much needed attention, see Part 1 here, I started really digging in and trying to get to the bottom of what works and what doesn't when it comes to loungewear. Thank you for all your suggestions too!
Creating this mini capsule has been really interesting. It has meant I've had to pay close attention to how I gravitate towards different styles and outfit combinations, to plan ahead and make some very calculated omissions and additions to this section of my closet. Previously I'd barely given it any thought but now, about a month later, I'm happy to report that the experience so far has been fabulous! I've made some great progress and I'm at a point now that I think I'll be content with my comfy capsule for at least the next full season and then some, which is exactly what I was aiming for.
So let's take a look at: 
MY LOUNGEWEAR CAPSULE UPDATES (Including Where I Started, What I Parted With and What I Added)
MY UPDATED CAPSULE (Including All 15+ Items)
MY GO-TO LOUNGEWEAR OUTFIT FORMULAS 
WHAT'S ON FOR THE WEEK
---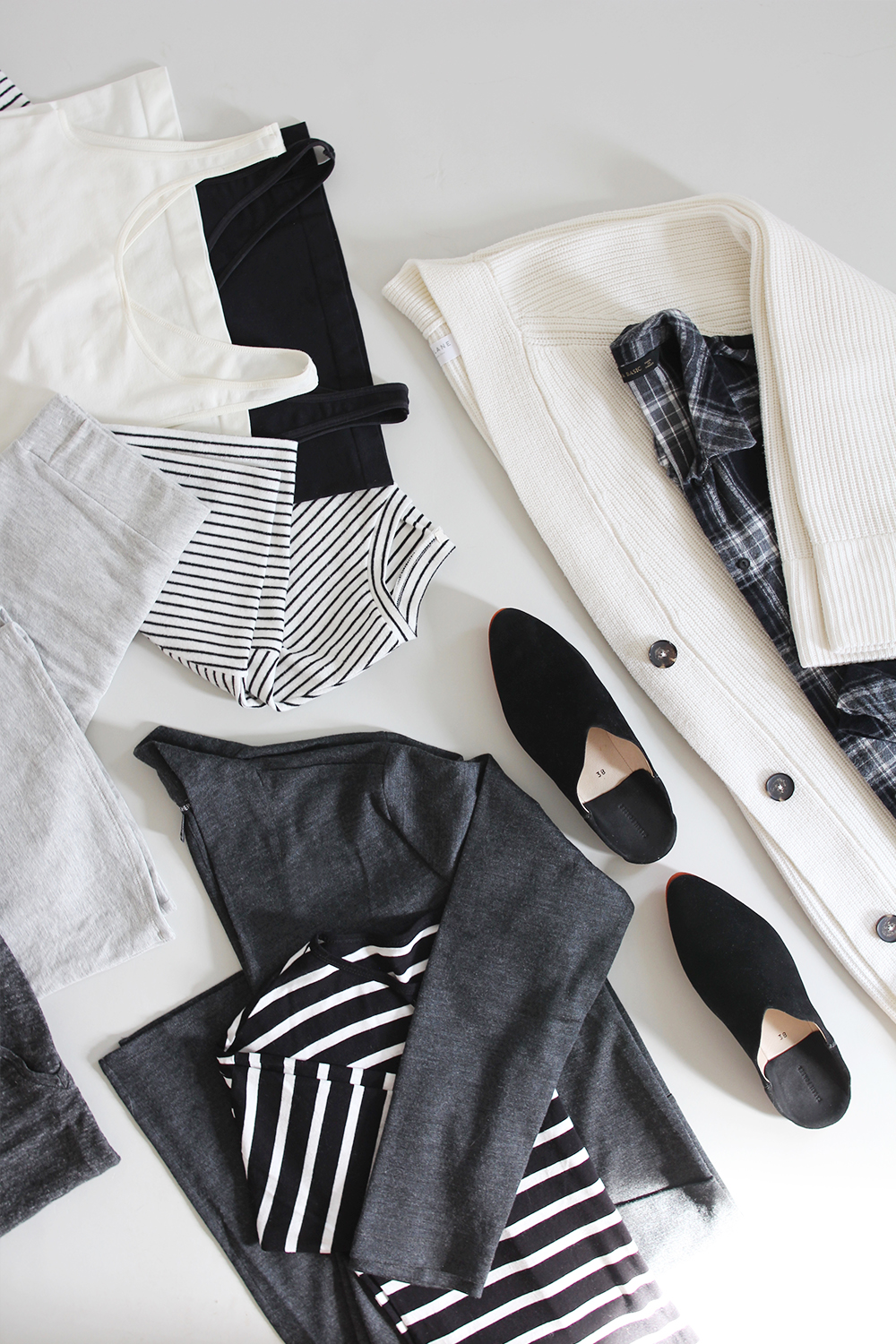 ---
LOUNGEWEAR CAPSULE UPDATES
---
WHERE I STARTED: In PART 1 of this capsule series I talked about where I was at with my loungewear situation. It wasn't totally desperate but there were certainly a few key issues that needed addressing, which were:
Logistical Mayhem. I was pulling pieces from all over the place for after work or weekend use. I always felt like I was 'stealing' from my real closet but then I wouldn't wear many of the pieces for work anyway. Basically it was just a jumbled mess in both my head and in reality. Plus the pieces I enjoyed wearing were few and far between so most of the time they'd be in the laundry bin and I'd be out of luck!
No Designated Spot. I hadn't assigned a specific place in my closet for my comfy clothes which made them hard to find and when I can't find something within a few seconds, well, I just wear something else. So pieces I love were getting forgotten and going unused.
Needed A Major Edit. My main closet is a lean machine but my workout, loungewear and sleeping clothes hadn't been properly edited or organized in way too long. It was time to say goodbye to a few items in my loungewear that I didn't love but had hung onto for one reason or another.
WHAT I PARTED WITH/RELOCATED:
Any ill-fitting, stained or just plain old unwanted t-shirts went into the donation bag.
I moved my leggings, long-sleeved tee and graphic sweatshirt to my camping gear.
I relocated my Birks back to my Summer footwear section.
I'm considering saving the cozy moon boot/slippers for next Winter but since they're not really my style they might get donated too. Especially since I have slippers I love now.
I also brought in a few tops and a sweater from my main closet.
Once I'd remedied those key factors (organize, designate a spot, edit) I was well on my way to a more functional loungewear capsule. I consulted my wish list and began taking steps to incorporate a few key new pieces. I wanted to ensure anything I added would be responsibly made and highly utilized so with that in mind, some key criteria also included:
More pet-friendly materials, meaning heathered grey and charcoal to camouflage lint and fur.
Sleek, contemporary design so I can feel both comfortable and chic.
Easy to maintain items that are extremely versatile and easy to mix and match.
Interchangeable palette of neutrals and classic patterns like stripes and plaid.
So from there I started shopping. Now, I wouldn't expect the average person to add this many items, this quickly. 6 months would probably be a more natural timeline in reality. But since I'm a blogger, with some awesome friends behind some beautiful brands, I was able to take broader steps towards a completed loungewear capsule in a short time span.
WHAT I ADDED:
SAVING FOR LATER:
There are a few things on my loungewear wish list that I've decided to save for later this year, when we're facing another cold season. Those items include: warm, wool socks, long-sleeved tees and flannel leggings.
I also left out sleepwear from this update in particular because I've decided to tackle that section of my closet separately. I'm assessing my needs now that Spring is arriving and as it turns out, it's not all that easy to find sleepwear that's made responsibly and fits my criteria. So I'm holding out until I do. Plus, there's more than enough to talk about on the loungewear topic as it is. So I hope you don't mind that we'll be saving sleepwear for another day soon!
With that, let's dig into my updated loungewear capsule! 
*Links to the items below were updated as of May 1, 2019. 
---
MY UPDATED LOUNGEWEAR CAPSULE
---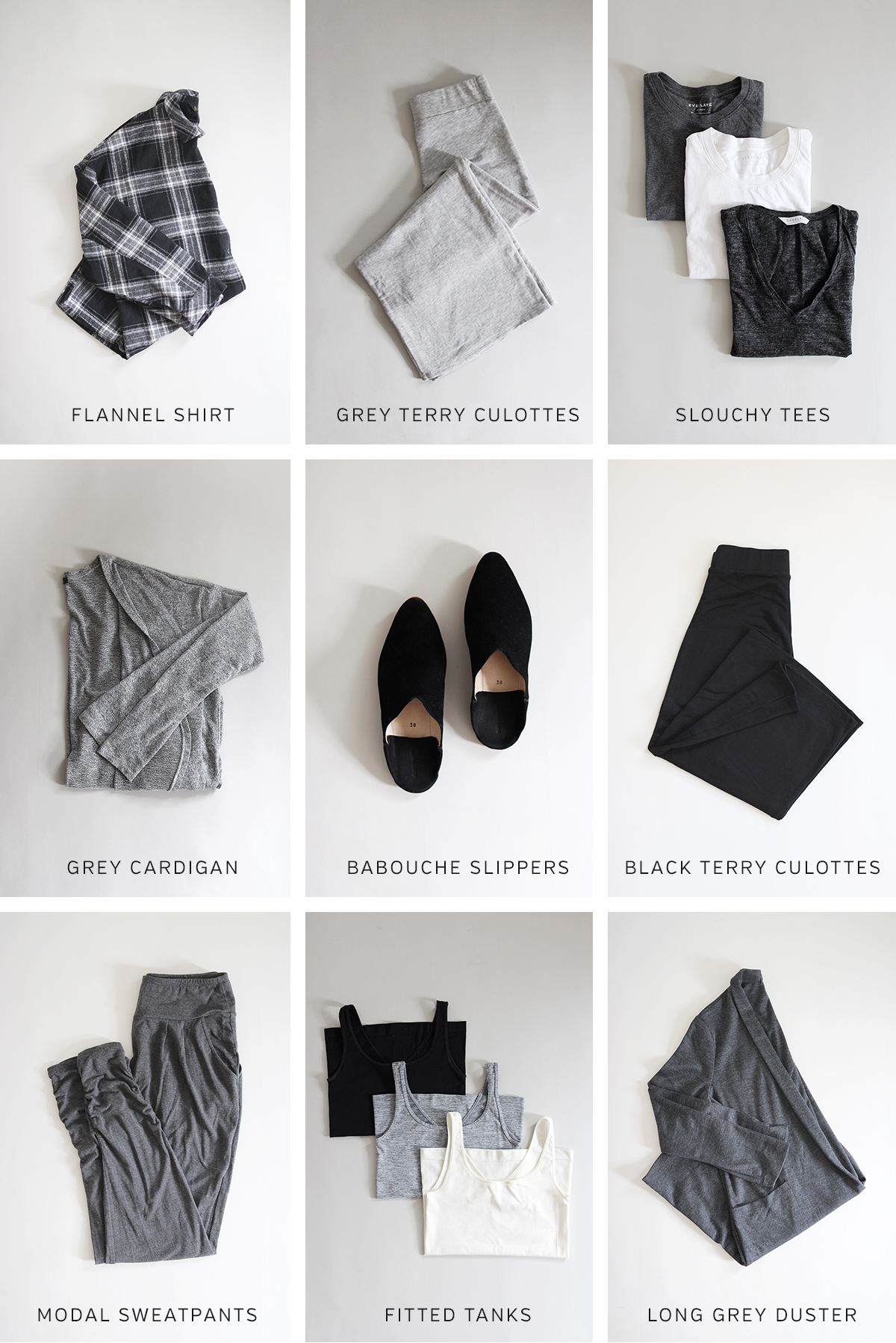 ---
FLANNEL SHIRT | OLD | I love this well-worn plaid boyfriend shirt from Zara. I usually wear it open over a tank with culottes but it's also great buttoned up over sweatpants. It's super soft but still fairly warm and easy to launder.
TERRY CULOTTES (aka Lela Trouser)* | NEW | c/o CORRINE | These are quite literally the most gloriously soft pants ever. My friend Susan (mastermind behind Corinne) hand makes the most incredible, ultra comfy but totally stylish pieces out of this exclusive heavy French Terry and I'm obsessed. I wear a Small. Made responsibly in LA. *Linked to similar option currently available.
SLOUCHY TEES | OLD + NEW | Everlane makes a great t-shirts. I decided to add 2 new Box-Cut Tees (white and charcoal) to my capsule and moved an old relaxed linen tee over from my main closet in hopes that I'll get more use out of it. Made responsibly and imported. For the box cut tee I size up to a M for the slouchy fit that I love.
LIGHT GREY CARDIGAN | OLD* | This piece has gotten a ton of use considering it was a freebie and not exactly aligned with my style. It's not my favourite because it's starting to look a little overworn but it's still a great piece to throw on in a pinch. *Linked to similar imported.
HOUSE SLIPPERS | n/a | Carrie Forbes via Garmentory | These slippers are total GAME CHANGERS and exactly what I was looking for. I had them in my Garmentory cart for ages and finally pulled the trigger with some store credit. I've honestly worn them almost all day every day since. They're the perfect shape that feels a little bit polished but still super lightweight and cushioned for mega comfort. Each pair is handmade in Morocco. *Linked to the pair I have since added and love.
BLACK TERRY CULOTTES* | OLD | These were the first pair of pants I tried by Corinne and I totally fell in love. These have been worn and washed a ton of times and have kept their rich black colour and shape very well. They don't stretch out at all either. The only drawback is that pet fur loves these so I have to keep a lint roller handy if I want to wear them a few times in between washes. I wear a Small. Made responsibly in LA. *linked to updated version with longer inseam
MODAL SWEATPANTS (aka the Dressy Sweatpant) | NEW | c/o ENCIRCLED | At first I wanted to add a pair of Encircled's Minimalist Leggings but after trying a couple of sizes I found they just weren't meant to be (they're revising the waist height for the next run so I'll try them then, but it came up too high on me). Instead Kristi (founder of Encircled) generously offered to send me a pair of the Dressy Sweatpant to test out and I instantly fell in love. They're made of a delicious Modal material that feels so amazing it's hard to describe, but it's something along the lines of silk and jersey mixed with terry. Anyway it's awesome, the cut is super cool and they're made right in Toronto! I wear a Small.  
FITTED TANKS | OLD | These have been in my closet for years now and they're basically like new. I got them on a whim at Anthropologie and they're still available. They're the perfect fitted tee for under sweaters and tuck into pants easy since they're not too long. I wear a Small. Imported.
LONG DUSTER | NEW | EILEEN FISHER | This piece was my loungewear 'splurge' because I'd been lusting after this perfect long, modern, charcoal duster/cardigan for months. I had it sitting in my cart for a few weeks and slowly but surely the price kept dropping (Nordstrom has some amazing Eileen Fisher sales) and when it hit 55% Off and my size was still available I pulled the trigger. Um, so yeah, best thing I've added to my closet all year and I haven't gone a day without wearing it since it arrived. I wear an XS. *Linked to similar option currently available
---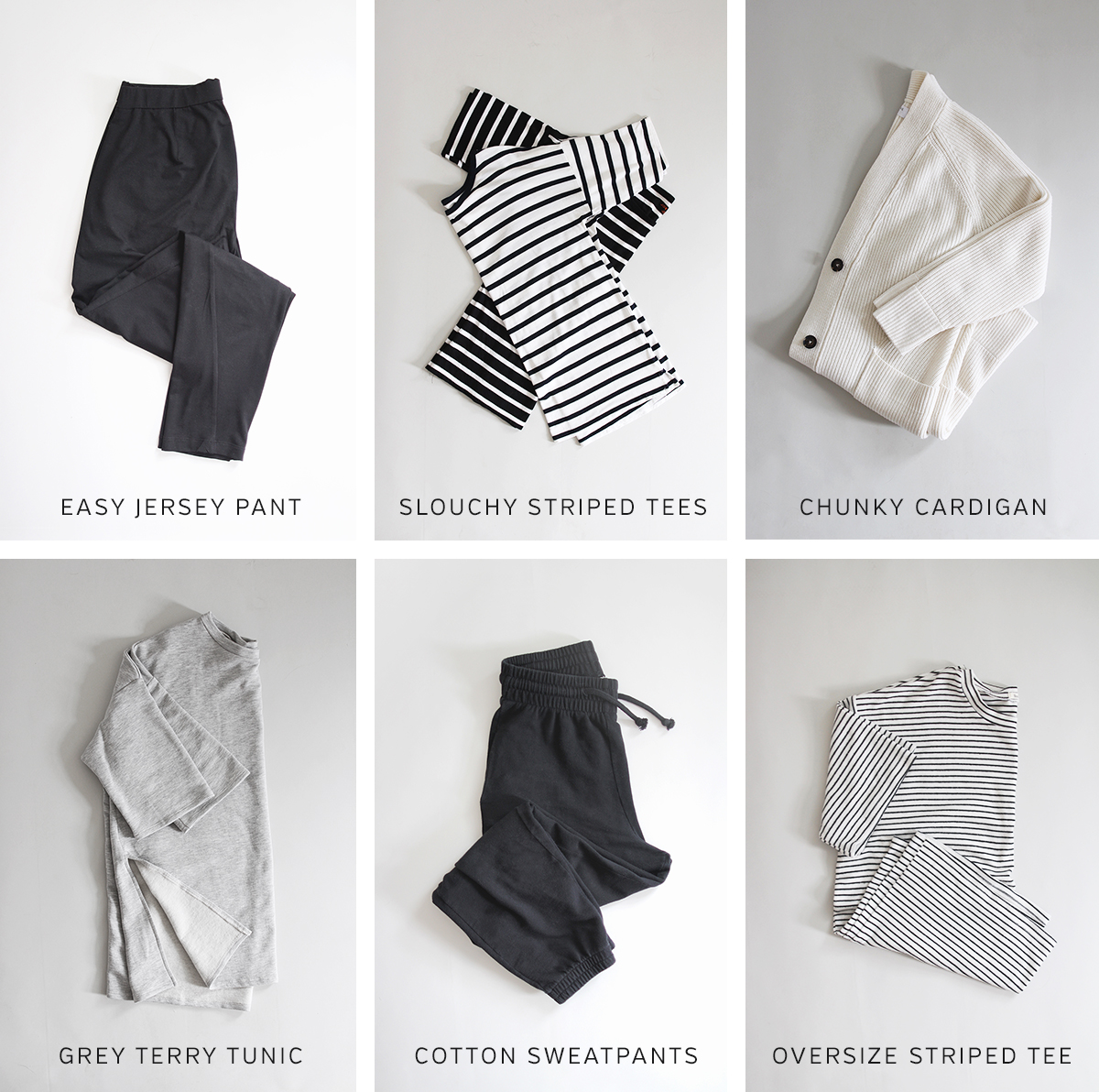 ---
EASY JERSEY PANT | NEW | c/o EILEEN FISHER | I received these pants as part of The System collab I did and they've been amazing. They're the perfect incognito sweatpant because of the sleek shape and slinky black jersey. I wear an XXS. Made in USA.
SLOUCHY STRIPED TEES | OLD* | These were impulse buys back in the days when I frequented Joe Fresh and have surprisingly held up really well (hand wash/hang dry helps). I felt it was time to move them into the capsule for good since I wear them every week and they're perfect slouchy material to tuck in and/or layer under cardigans.*linked to similar made in USA
CHUNKY CARDIGAN | OLD* | I bought this beauty before the holidays last year and have worn it A TON this winter. At first I resisted adding it to my comfy capsule because I felt like it should be saved for more presentable occasions but I love wearing it and figured I would get a lot more use out of it if I accepted it was a part of the capsule. Doesn't mean it can't leave the house with me whenever I want!
GREY TERRY TUNIC (aka City Sweater) | NEW | c/o CORINNE | This is exactly the type of tunic sweater I was hoping I would find for this capsule. I wanted something that would be contemporary in shape and fit but still super soft and comfy like a sweatshirt. This one is called the City Sweater by Corinne and it's made of the same dreamy French Terry as it's matching culotte counterparts. It's basically heaven in sweatshirt. I wear a size Small and it's perfectly oversize. Made responsibly in LA. More on this piece tomorrow!
CLASSIC SWEATPANTS* | OLD | Base Range | These are a true sweatpant, just updated with great detailing like a thick, flattering elastic waist, slim but relaxed fit and a perfect weight black cotton. Love these so much I might add the ivory pair one day. I wear a size Small. Made responsibly of organic cotton in Portugal. *Linked to similar imported pair.
OVERSIZE STRIPED TEE | OLD | This old fella was a super cheap find and won't be going anywhere until it's irreparably stained or damaged. It's just a giant striped tee that can be worn tunic style or front tucked for a slouchy look.
And that my friends, is my Spring Loungewear Capsule! 

---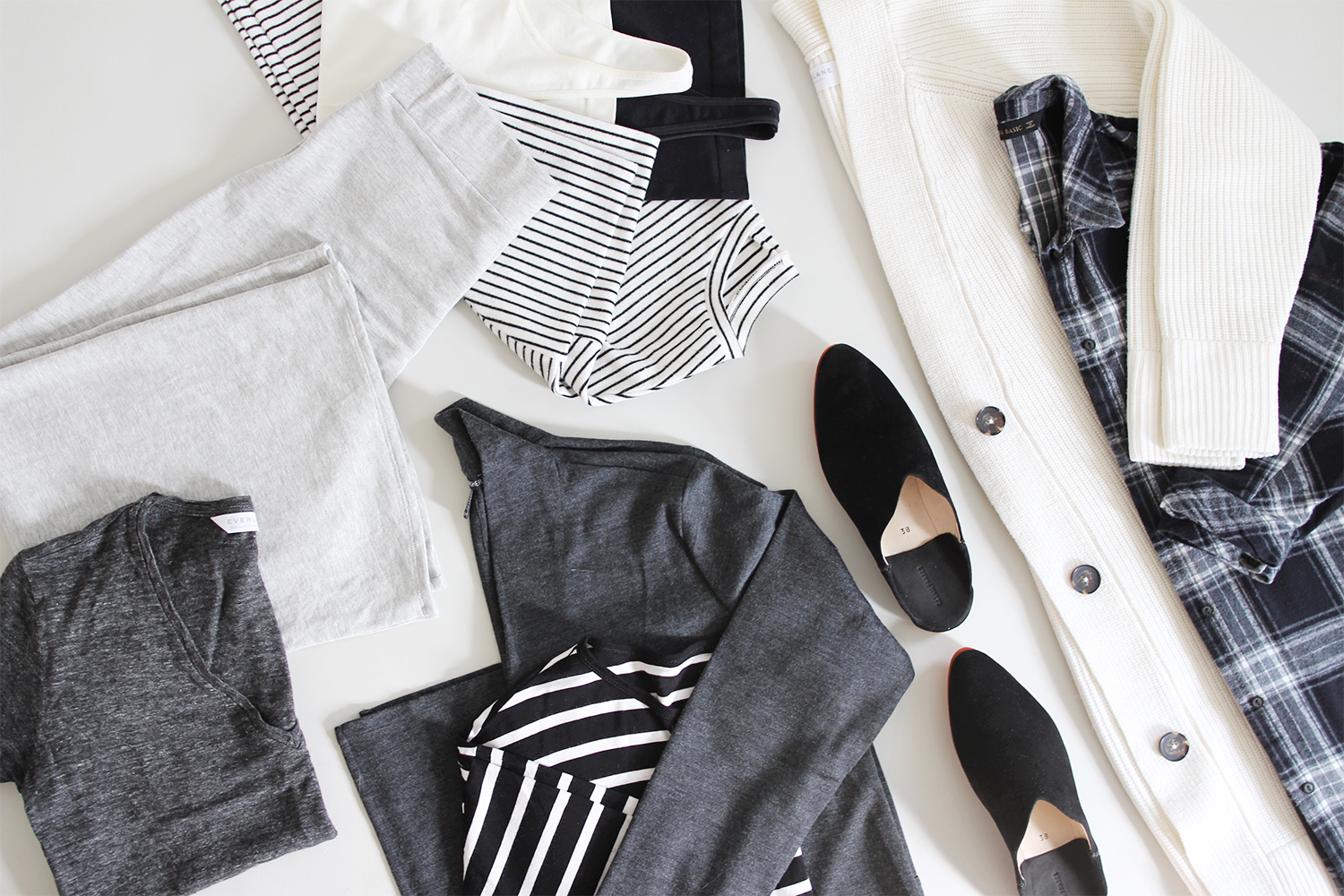 ---
 GO-TO LOUNGEWEAR OUTFIT FORMULAS
---
As I've been documenting and paying closer attention to my loungewear needs and tendencies I've discovered that I gravitate towards two formulas in this area of my closet. Those being:
FORMULA #1 – Oversize top (tunic sweater, oversize tee, boyfriend plaid) + slim comfy pant + slippers + usually topped off with a beanie for extra toastiness.
FORMULA #2 – Base Layer (tank or tee) + wide comfy pant + cardigan + slippers.
---
WHAT'S ON FOR THE WEEK
---
Turns out there are a TON of different ways to create those two formulas within this capsule. So over the next 4 days I'll be sharing a couple looks every day that each embody one of these uniforms. It's going to be so fun to play with a totally different genre of style and I hope you'll tune in!
---
 SO LET'S HEAR WHERE YOU'RE AT ON THIS TOPIC!
HAVE YOU ADDED ANY NEW LOUNGEWEAR GEMS LATELY? 
WHAT IS YOUR GO-TO AFTER HOURS UNIFORM?
---
See something you liked? You can shop it and support Style Bee by using the affiliate links provided. This post is not sponsored but when you shop via the links above I may make a small commission from a sale (at no additional cost to you). Thanks for your support!