Well we've made it to the midway point already and I must say this has been one of my comfiest work weeks, ever! It's going to be hard to return to world of structure after all these relaxed layers but luckily we're only halfway through all the loungewear looks I've got planned!
When I pulled together all my final items for my updated loungewear capsule I realized there was no real colour in the palette. Just white, cream, black, greys and a couple of black and white patterns. At first I thought it was going to be too boring, and maybe it is a little, but now that I have essentially a completely fool-proof set of pairing options I've realized how this lean palette makes my loungewear capsule even more stress free.
Which is precisely the main goal right? A bunch of super comfy clothes I love to wear but don't have to think too hard about. After a long day of emails, screens, strategy, planning, layouts and editing, well less choice is definitely something I'm down with!  If I had to pick a colour to add it would probably be camel or some sort of warm neutral just to soften things up a touch. But for now let's see a couple more looks using this ultra lean palette!
---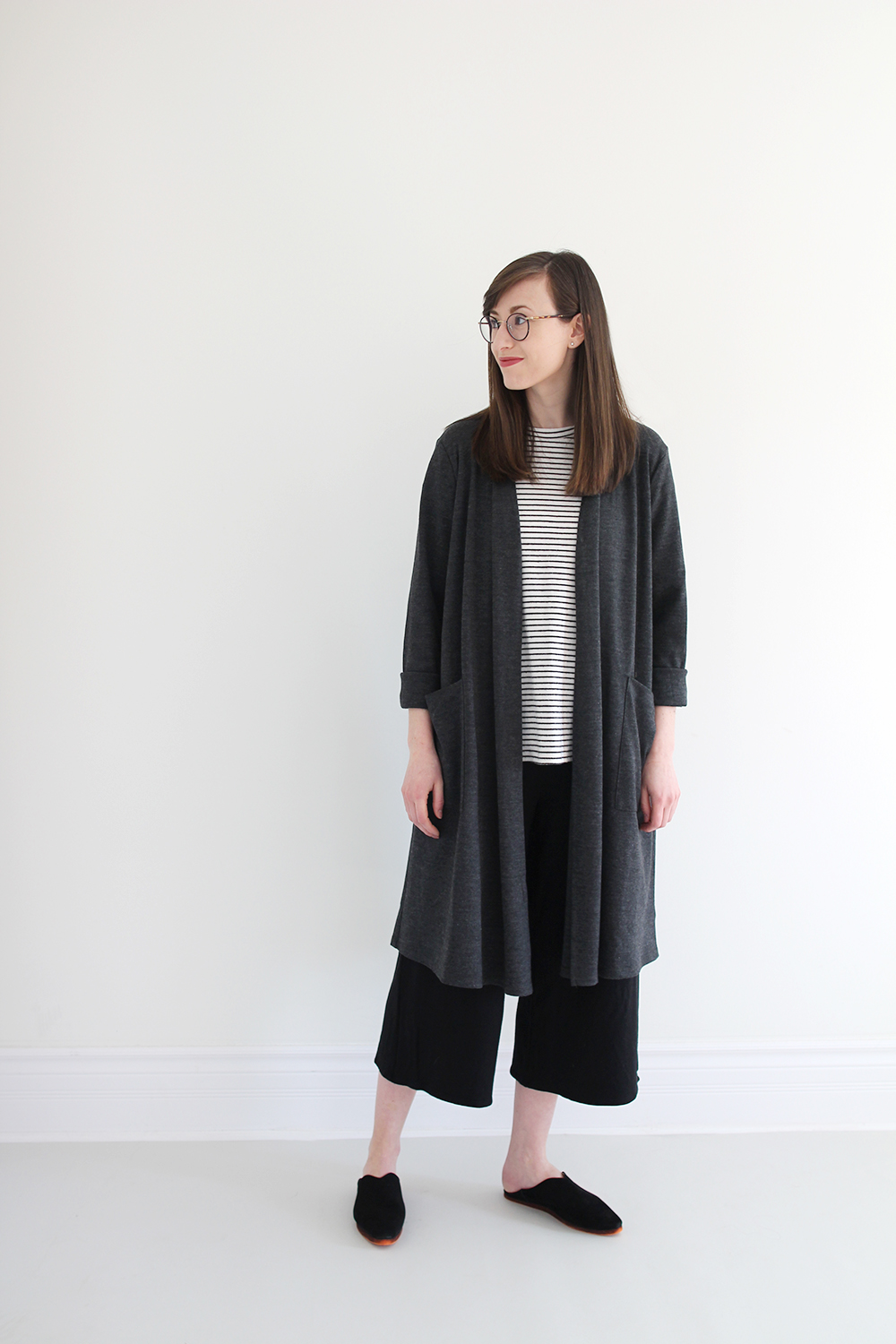 ---
LOOK 3
---
I love the proportions of this look, which kind of surprised me since I'm usually not one to go for volume on top and bottom but somehow it feels right in this instance. I think it works because the stripes add a bit of pattern to liven up the black and grey and they also serve as a focal point for the outfit overall. The cropped length of these pants keeps it from feeling too heavy and the wide leg creates the illusion of an a-line shape, which helps balance the other loose fitting elements.
Anyway, I'm obviously over analyzing what is essentially just a super comfy look for around the house!
Like I said in yesterday's outfit post, this long grey duster has been earning its keep in a major way. It just seems to be the perfect top layer on any look I put together. This won't be the last time you see it this week either!
But if we want to talk value, well, this t-shirt can't really be beat (at least not in my closet). Considering it rings in at $16 USD, I've had it for 4 years, worn the crap out of it and it's still in mint condition anyway. It wasn't made responsibly and it's mostly polyester (even though the site said cotton) but it's still an after hours hero of mine. I suppose it serves as a good reminder that the most 'responsible' way to enjoy your closet is to make what you have last as long as you can!
TO GO OUT: I'd probably try a couple of different switch-ups for this one. The first would be to simply swap my slippers for ankle boots and switch out the duster for my capote sweater/coat. The second way would be to switch my sweatpants for white skinnies and swap my slippers for loafers or white sneakers. 
---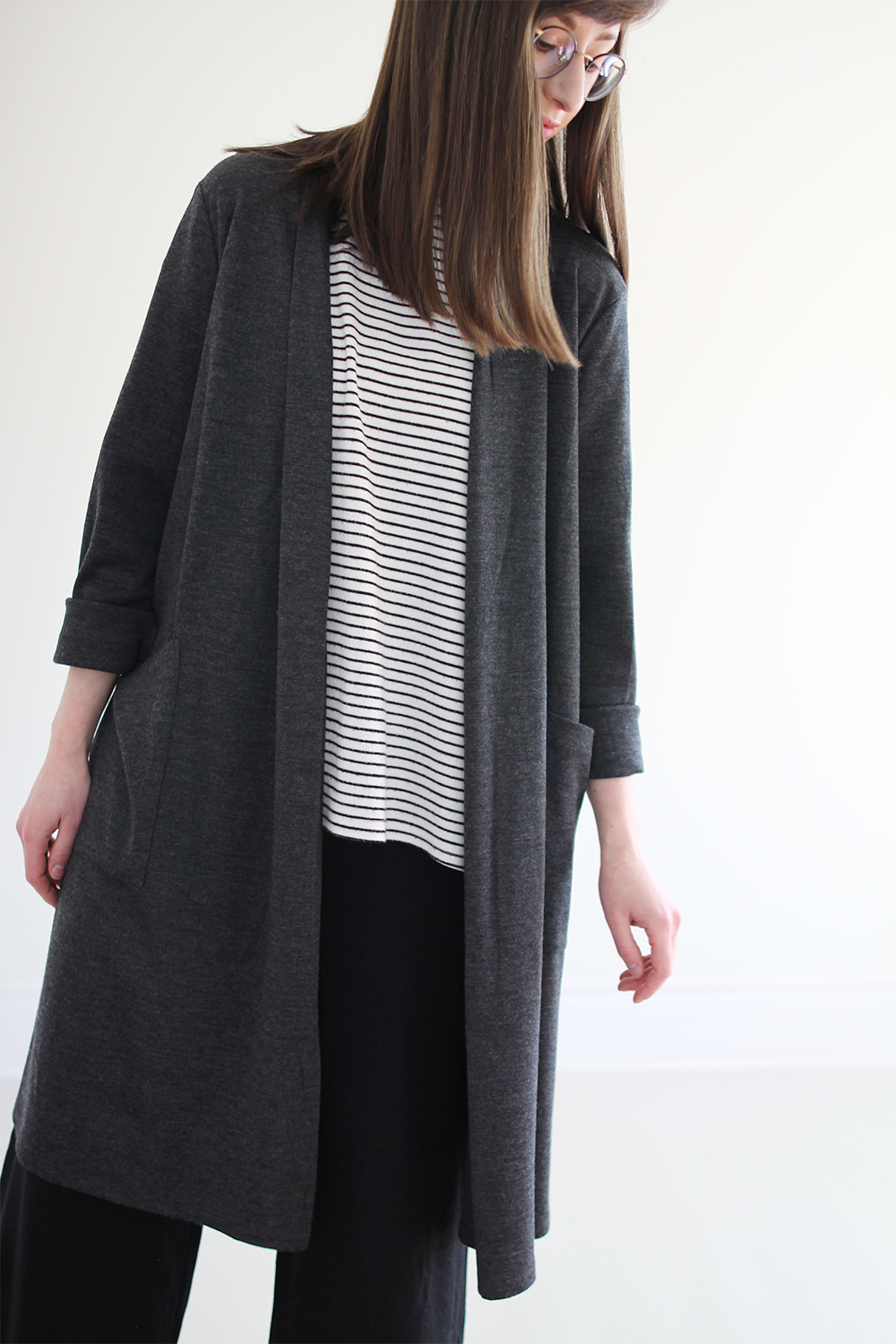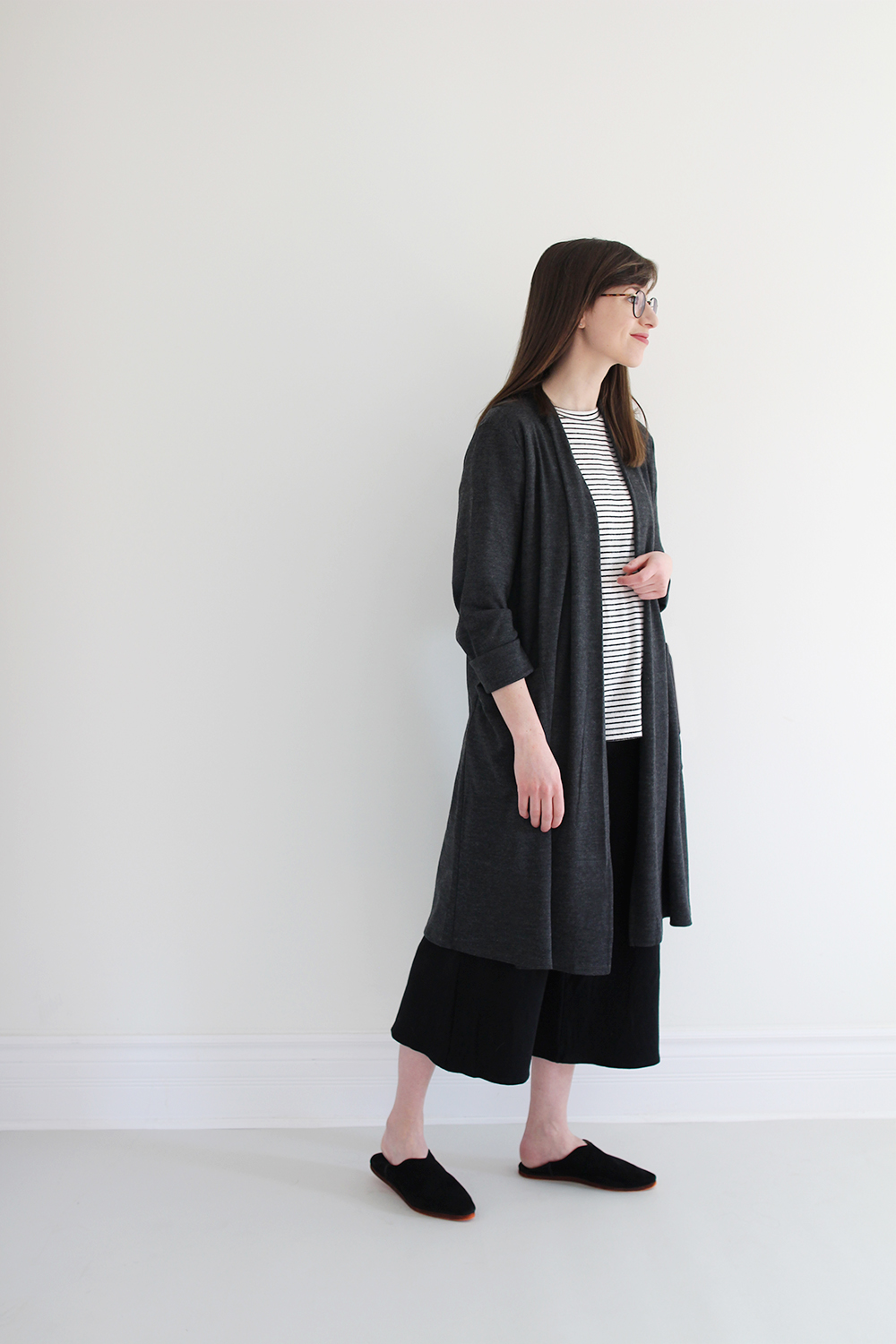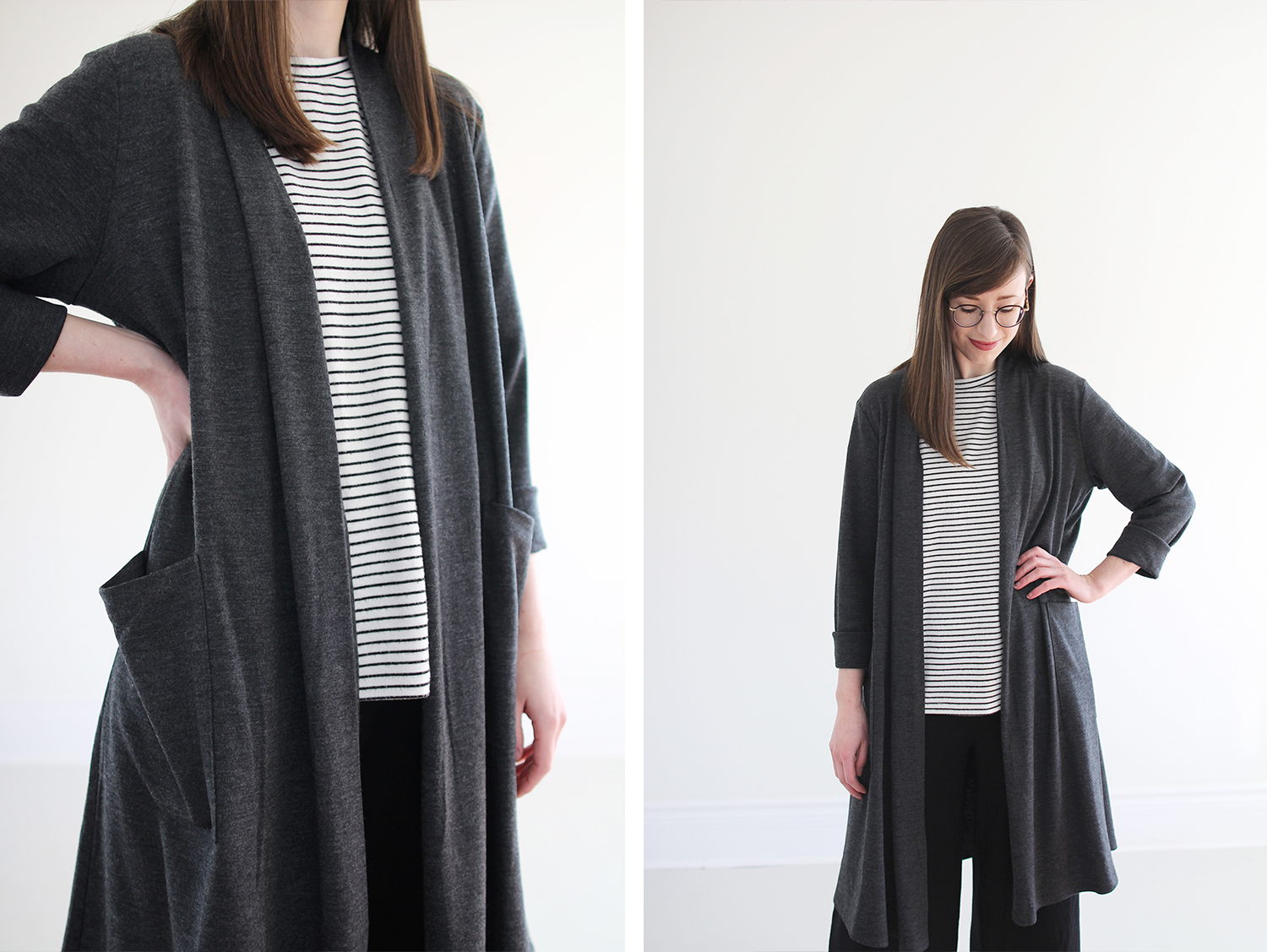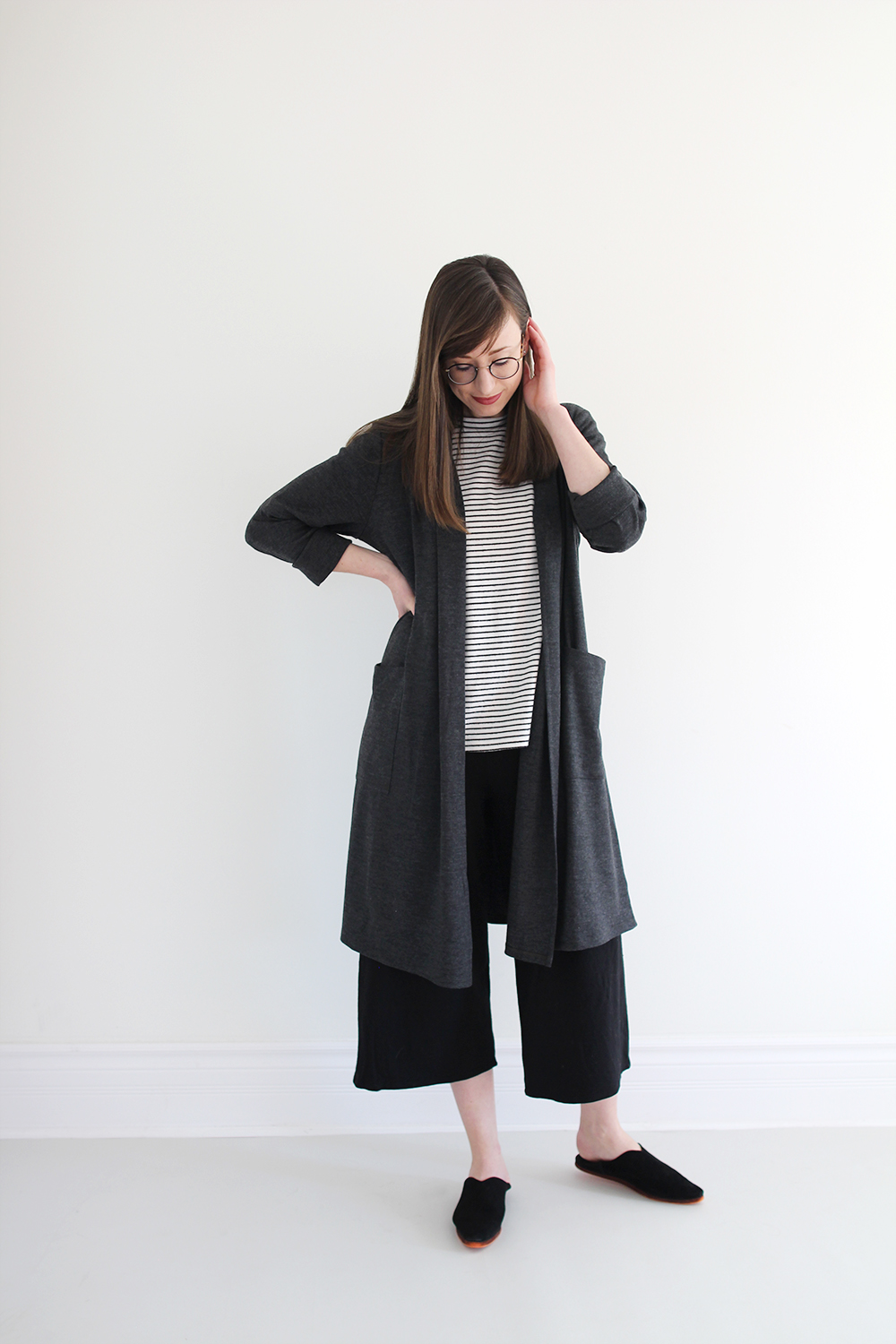 ---
1 | GREY DUSTER by EILEEN FISHER n/a Similar made in USA options here (40% OFF), here (shorter) and here.
2 | OVERSIZE STRIPED TEE old SHEIN | Responsibly made options here (size up by two for a tunic fit) and here (borrow from the boys!)
3 | BLACK TERRY PANT old CORINNE – $122 USD – Linked to updated version! Made in LA.
Receive 20% off your order at CORINNE all week long with code STYLEBEE (through March 24th) 
4 | BABOUCHE SLIPPERS by CARRIE FORBES – $174 USD – Made responsibly in Morocco – Size up 1 size.
Available via Garmentory (all sizes restocked!) and Bronze Age offers a similar pair for less (no comfy sole though). Receive $20 OFF your first order when you sign up here. 
5 | GLASSES by GARRETT LEIGHT (Wearing a 46 mm)
---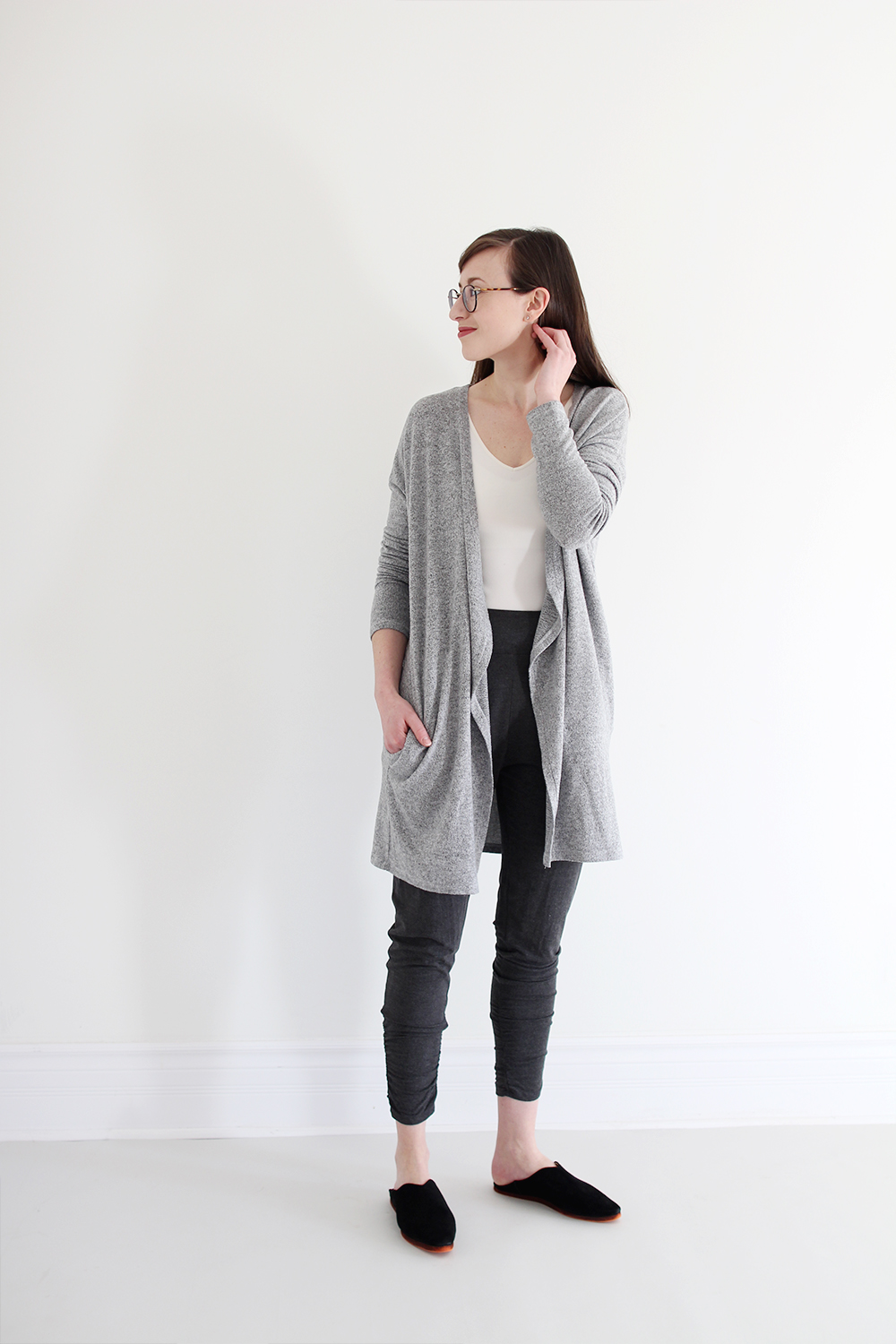 ---
LOOK 4
---
As the weather slowly but surely starts to warm up I've found myself reaching for my tanks more often and it's a really nice feeling! At this point, I have hardly any tank tops left in my closet but these fitted v-neck ones are definitely keepers. They're made a of a nice thick spandex that hugs you but doesn't feel too tight. Plus they're a great length for tucking into pants without getting bunchy or cumbersome. I love pairing them with a high waist pant and layering a soft sweater or cardigan on top for an easy at-home outfit.
These pants were one of my new additions to the capsule and I'm so glad I got to try them after another style didn't work out. They're made in Toronto by Encircled (a new fave of mine) out of the softest modal/spandex blend, that feels incredible on. They've got a nice wide waistband and a touch of pleating at the front which is unique and flattering. I wasn't sure about the ruching at the ankle but it's actually highly functional and allows you to wear them cropped (as shown) or long. Definitely worth a look if you need some contemporary sweats!
If I'm being honest, this grey cardigan is one of the weaker links in my loungewear capsule and has the highest frump factor in my opinion, yet I haven't been able to bring myself to part with it. This piece certainly doesn't owe me anything after countless wears and washes but I'll see how much I reach for it as the weather warms up more. It might turn out that I only really need my charcoal duster.
TO GO OUT: I'd leave the cardigan at home and pull the pant legs down so they're not cropped. Then I'd add my Pistol Boots, an open chambray shirt and a leather jacket or my black blazer coat for a city vibe. Encircled also has a ton of  great styling suggestions for the Dressy Sweatpant here.
---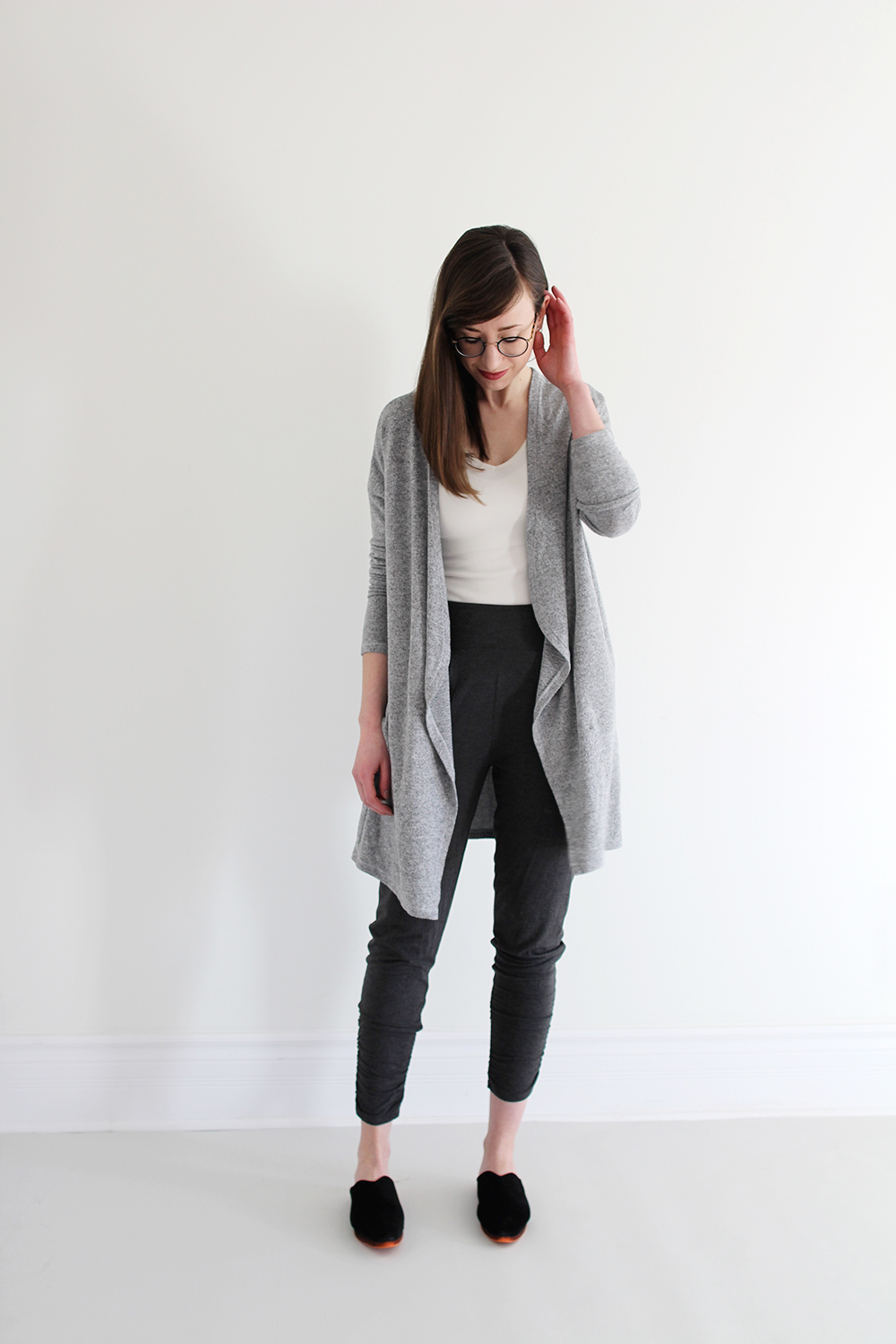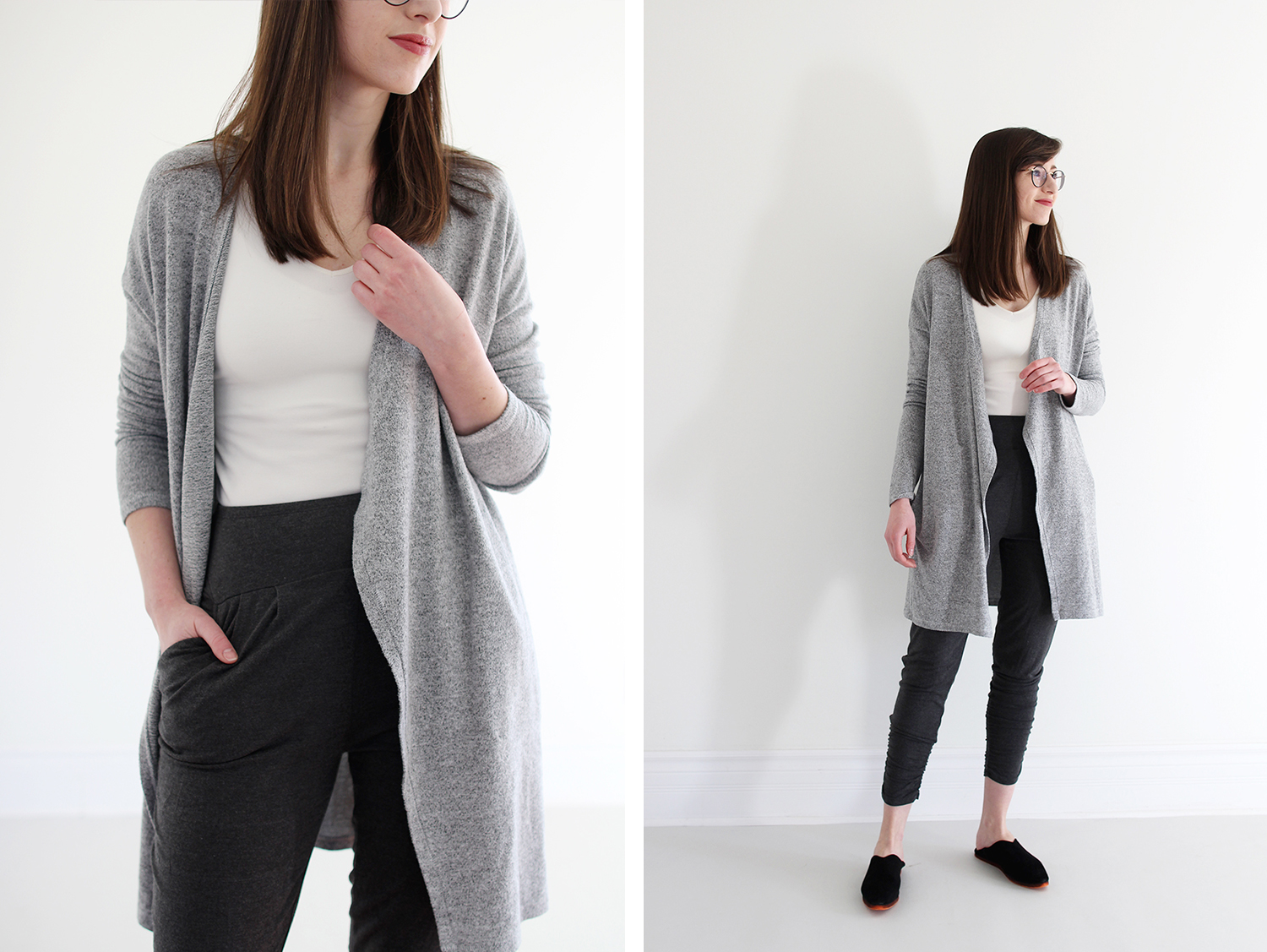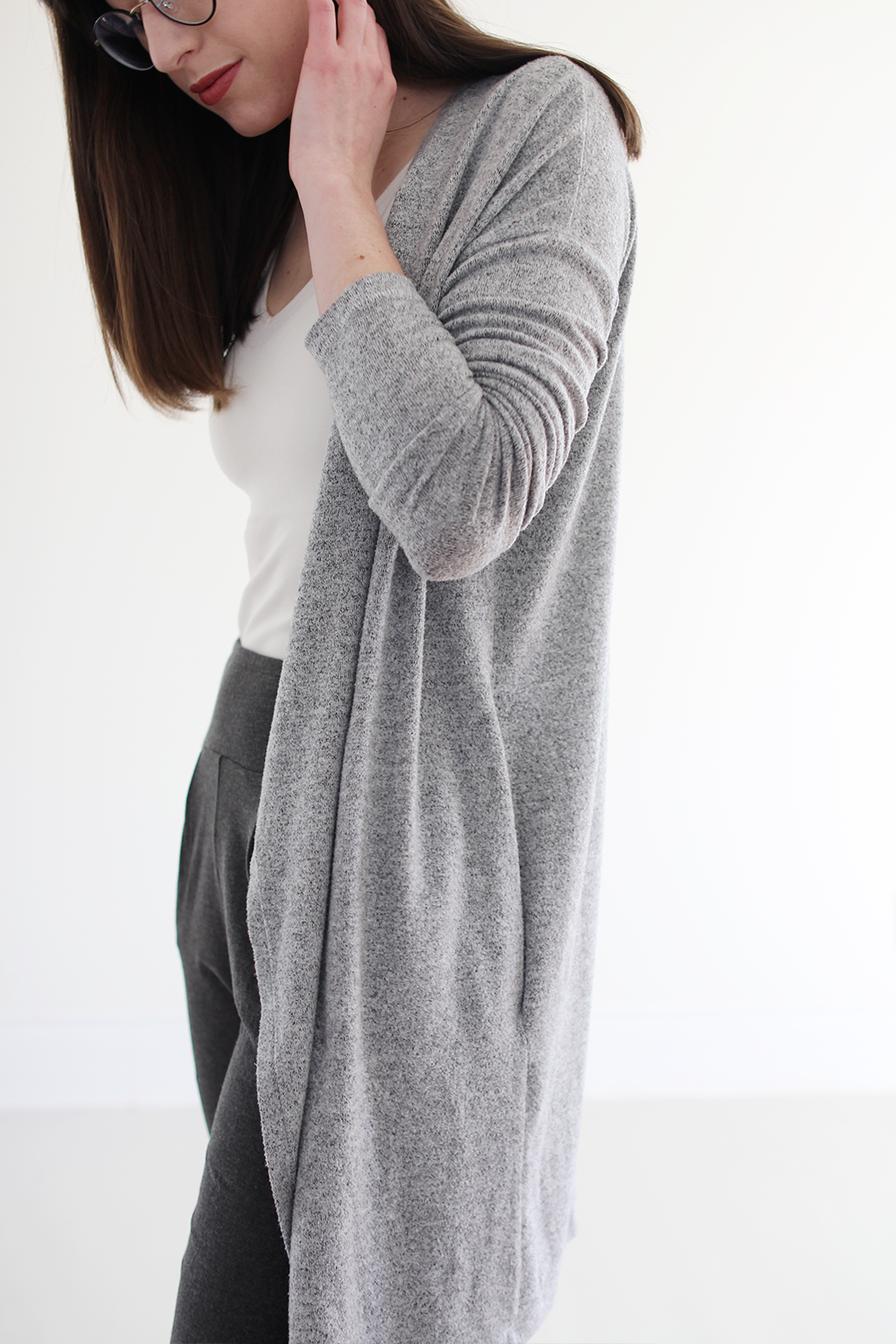 ---
---
So there we have looks 3 + 4 from my loungewear capsule!
Catch Looks 1 + 2 from yesterday and have a peek at my Instagram Stories to see how one (or both) of these comes to life today!
---
See something you liked? You can shop it and support Style Bee by using the affiliate links provided. This post is not sponsored but when you shop via the links above I may make a small commission from a sale. Thanks for your support!