Can you believe we're already 1/4 of the way through 2017! It's kind of bonkers right? I don't know about you but it feels like March just started. I guess that's just how it goes when you've got lots on the go. It can be hard to see the forest for the trees sometimes when you're busy and just trying to get things crossed off your checklist but once in a while it's good to step back for a minute. That's one reason why I like pulling these posts together.
As I mentioned in my previous Life Lately, I've been working on being more present and on savouring the good parts of each day instead of letting them slip by or get overshadowed by whether it's 'capture worthy' or not. So far I've been doing okay at this and although I'd like to say I've been on my phone less, that's not entirely true. I've just been less affected by its proximity. So I guess that's an improvement! I've been leaving it at home when I walk Dobby and in my bag whenever I'm at a restaurant, which has been a nice change. That said, there were a few times in recent weeks that I caved in and grabbed my phone for a snap of something I felt was worth the intrusion. So here's a look!
---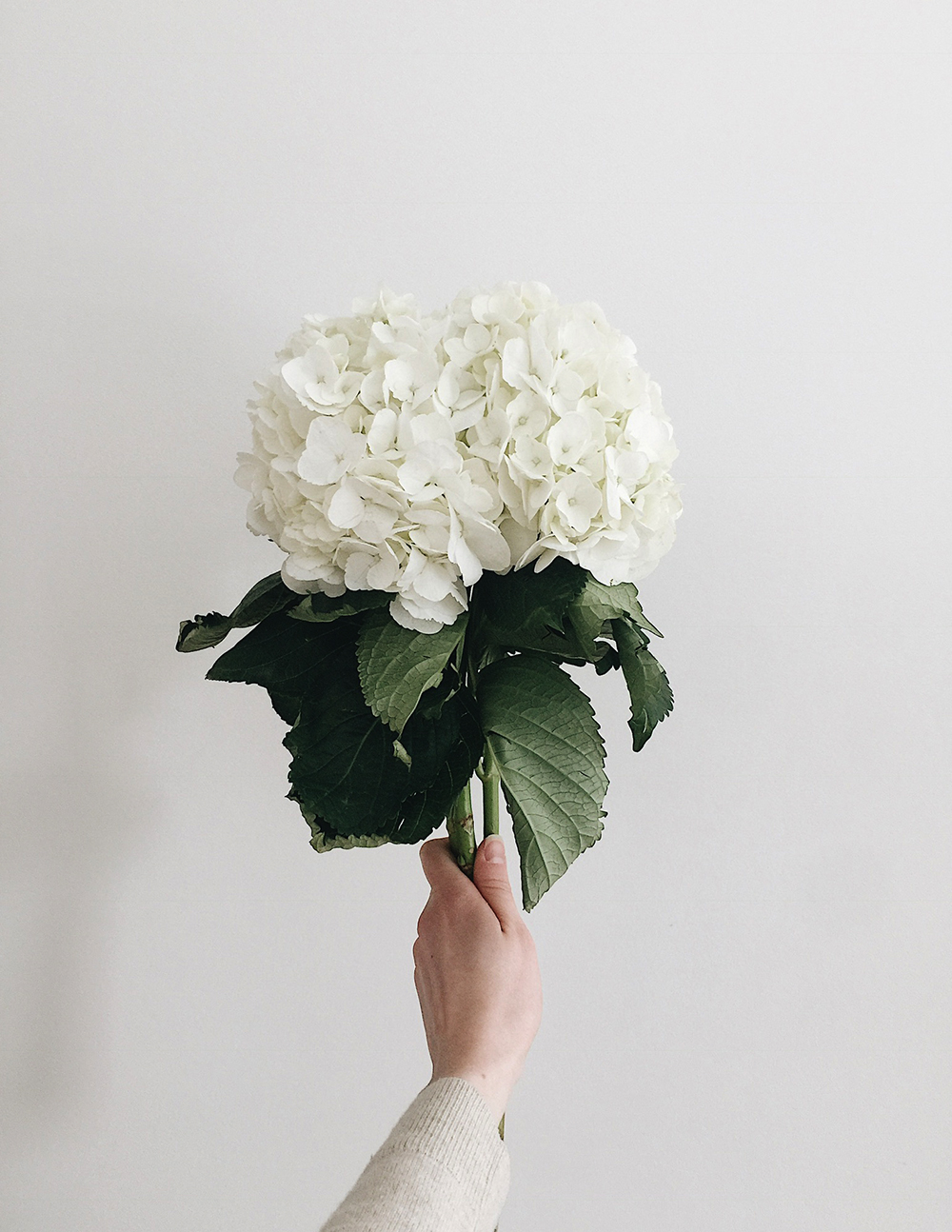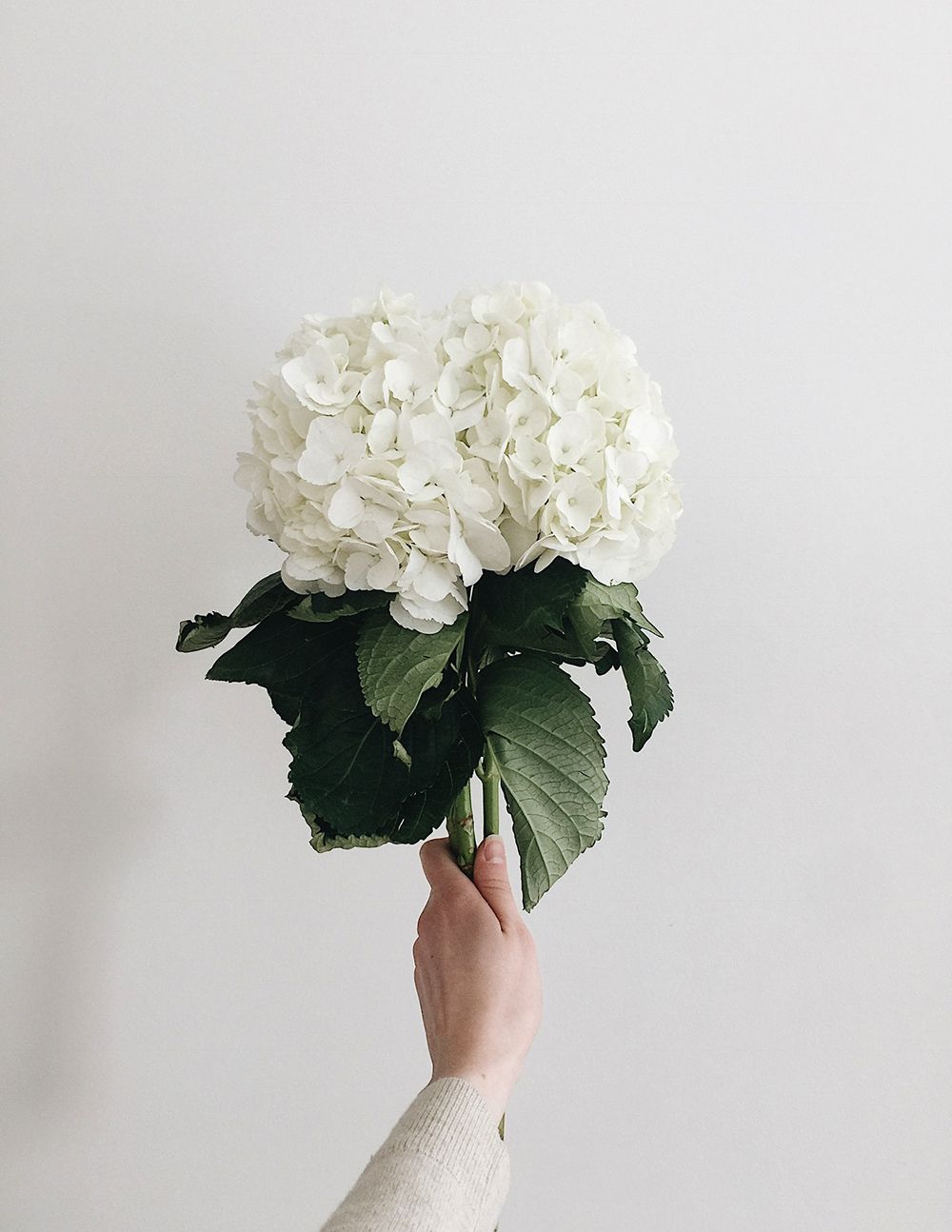 ---
PLANTS
---
On our way home from Dave's latest job site in Waterloo we stopped in to my favourite place, Belgian Nurseries, on HWY 7. We did some veggie and flower garden planning and admired the seemingly endless array of beautiful plants, trees, succulents and cacti that they have in their giant greenhouse. If you're ever in the Guelph/Waterloo area, definitely plan to pop in! Something about the atmosphere there just leaves me feeling refreshed, calm and inspired.
---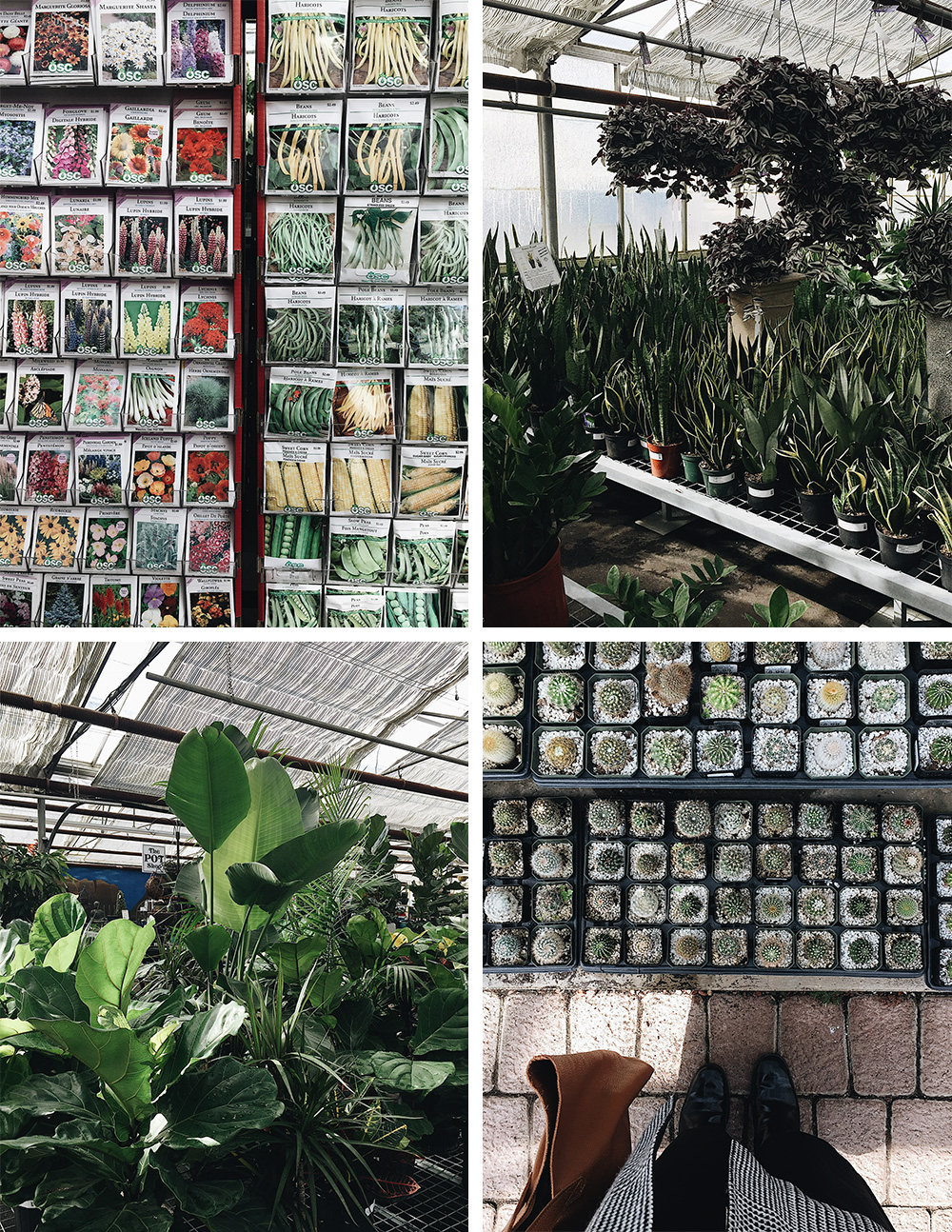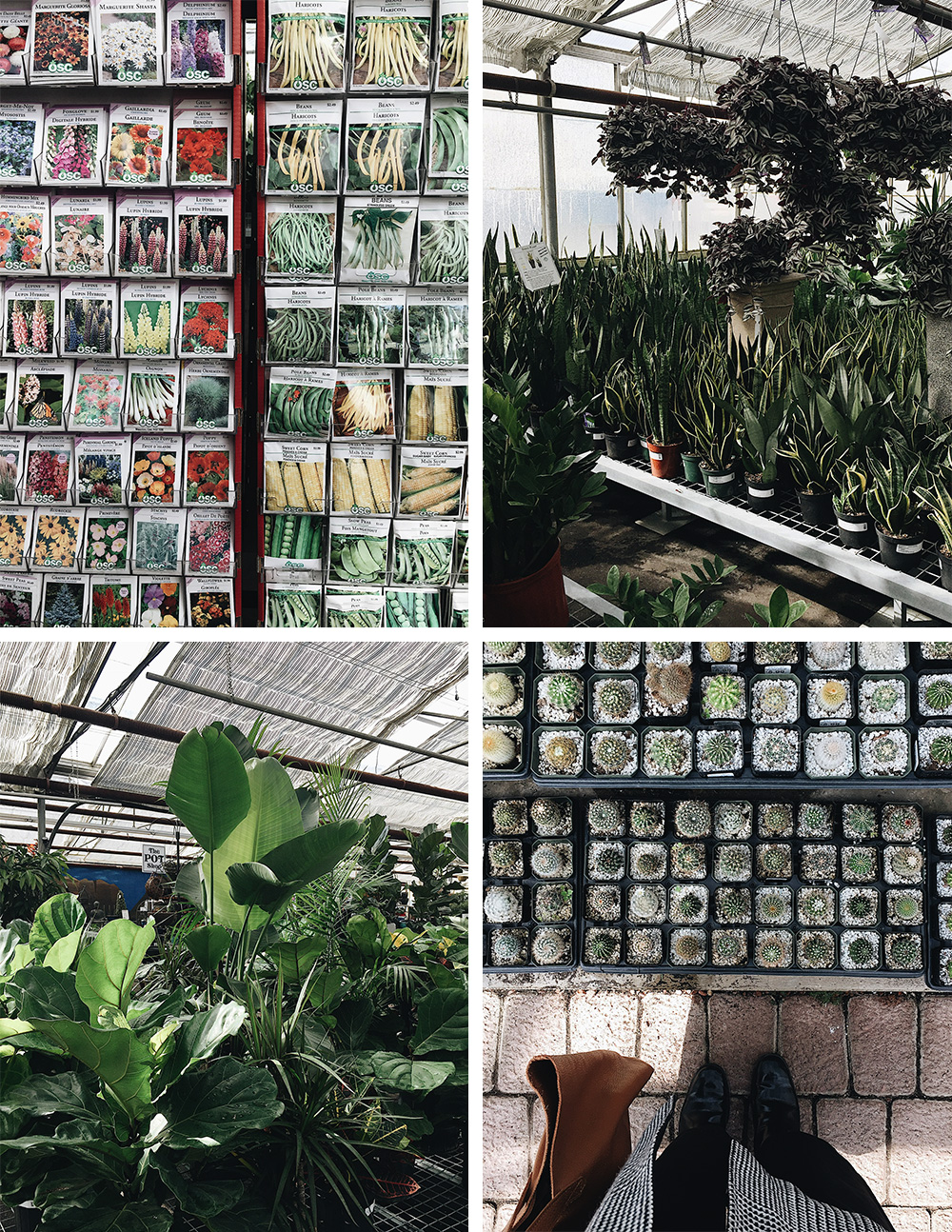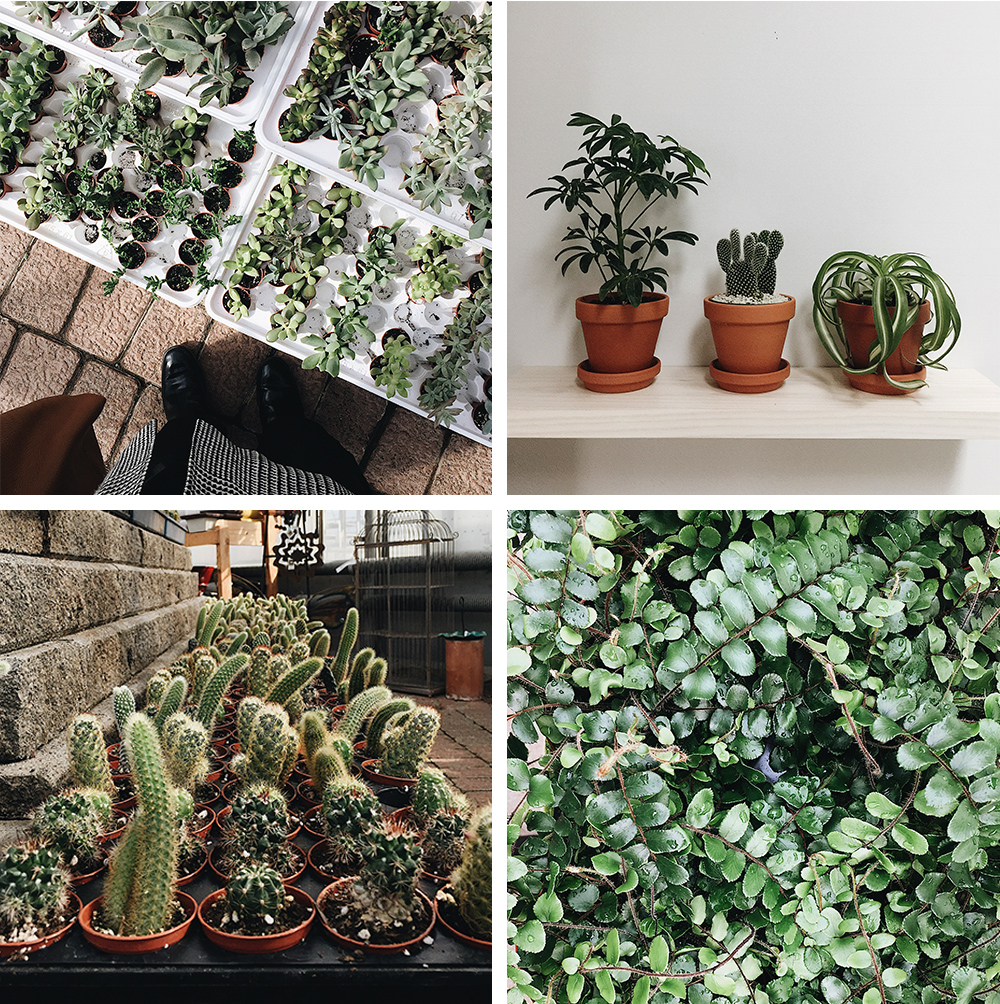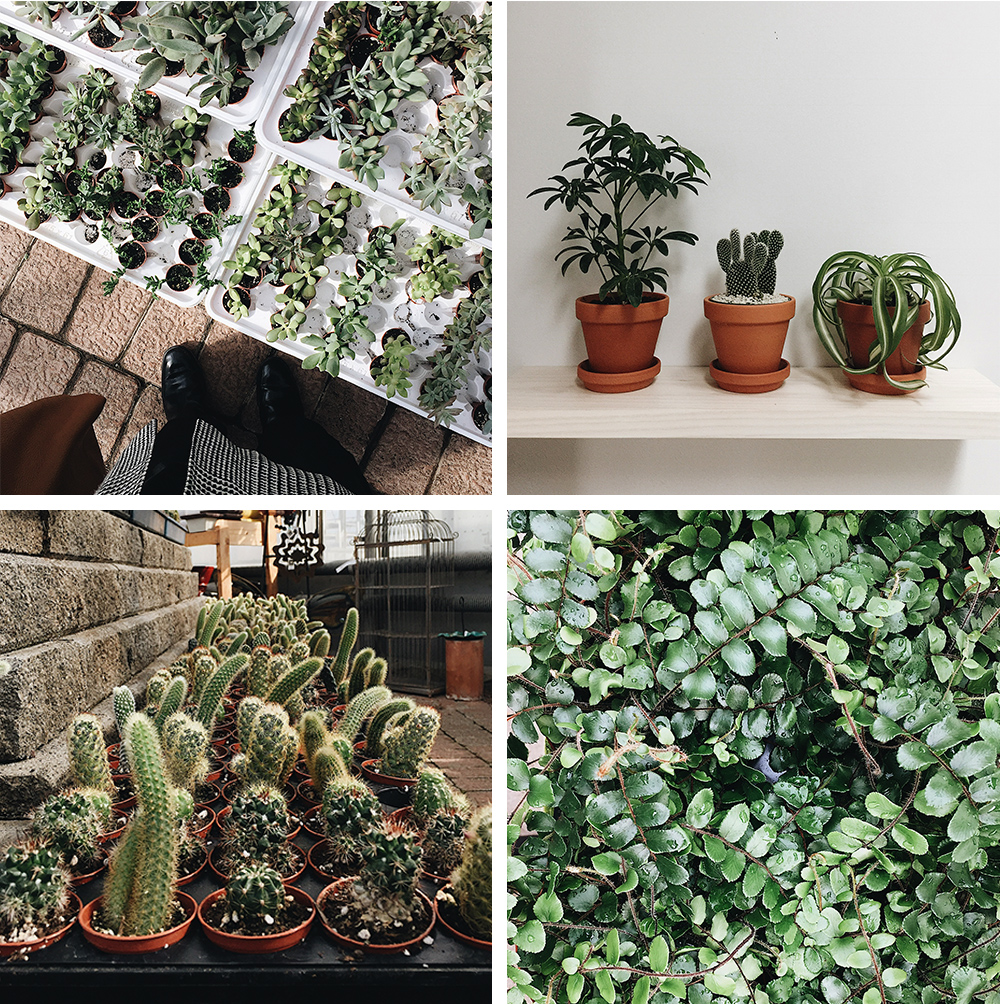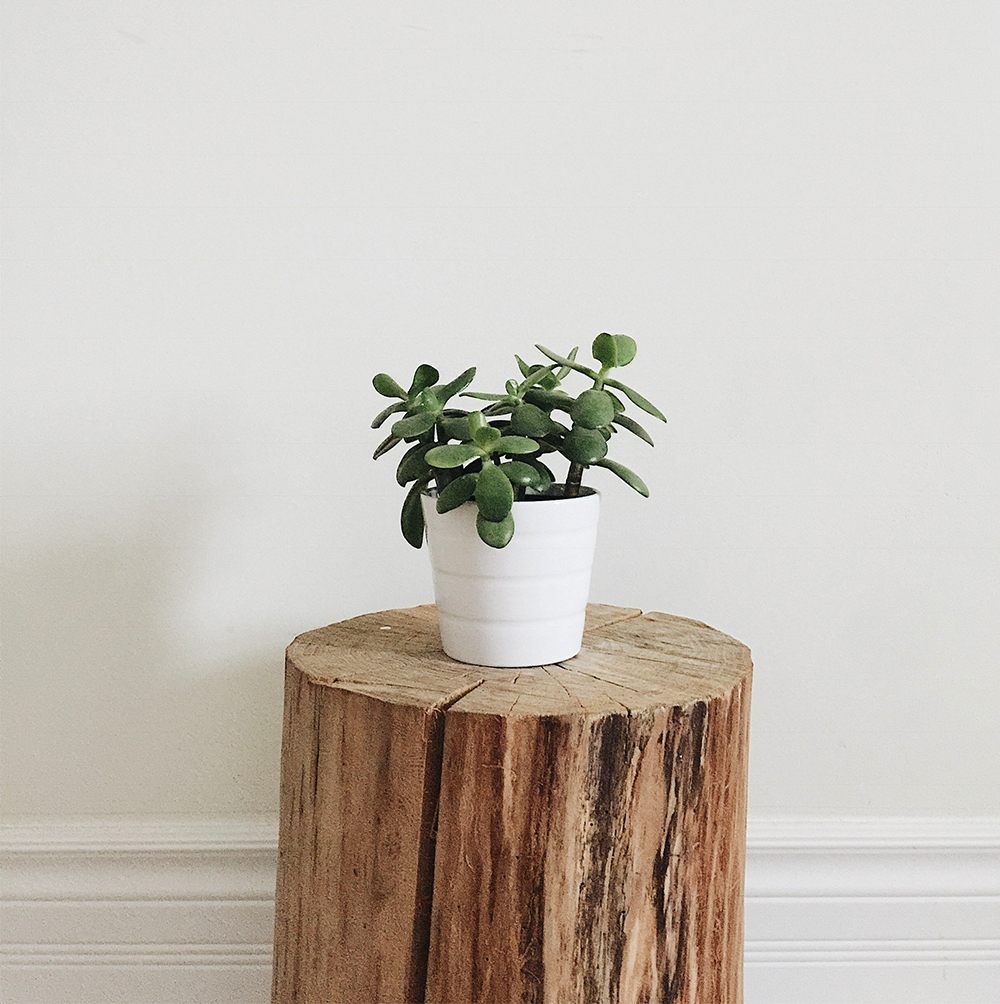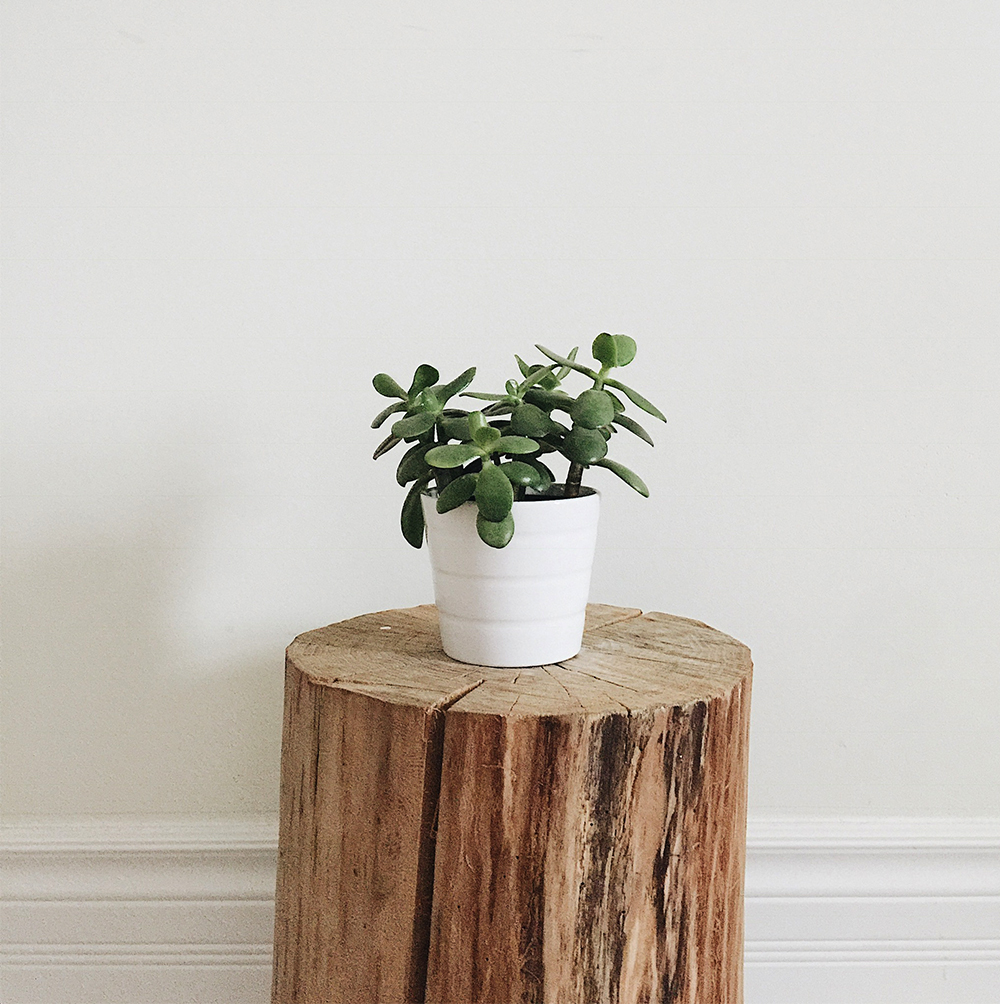 ---
HOME UPDATES
---
As much as I can get a bit stir crazy, it's been a very busy couple of months with work and I feel especially lucky that I'm able to do it from home. I've had just about every meal at my desk but I've managed to pull together some pretty good ones on the fly. Berries with maple syrup and oatmeal is my go-to breakfast, with coffee of course and kale salads have been a recurring lunch theme. Yesterday I treated myself to roasted zucchini + linguine and it was delish!
I also managed to complete my dream floating pantry/plant wall and LOVE the result. Having all these ingredients out in the open has totally helped me make better use of them. I'm a huge fan of roasted nuts and seed so I'm always toasting them up for salads. Having my spices all visible has been super handy too.
Plus, my pantry plants are always the first to remind me that they need water!
---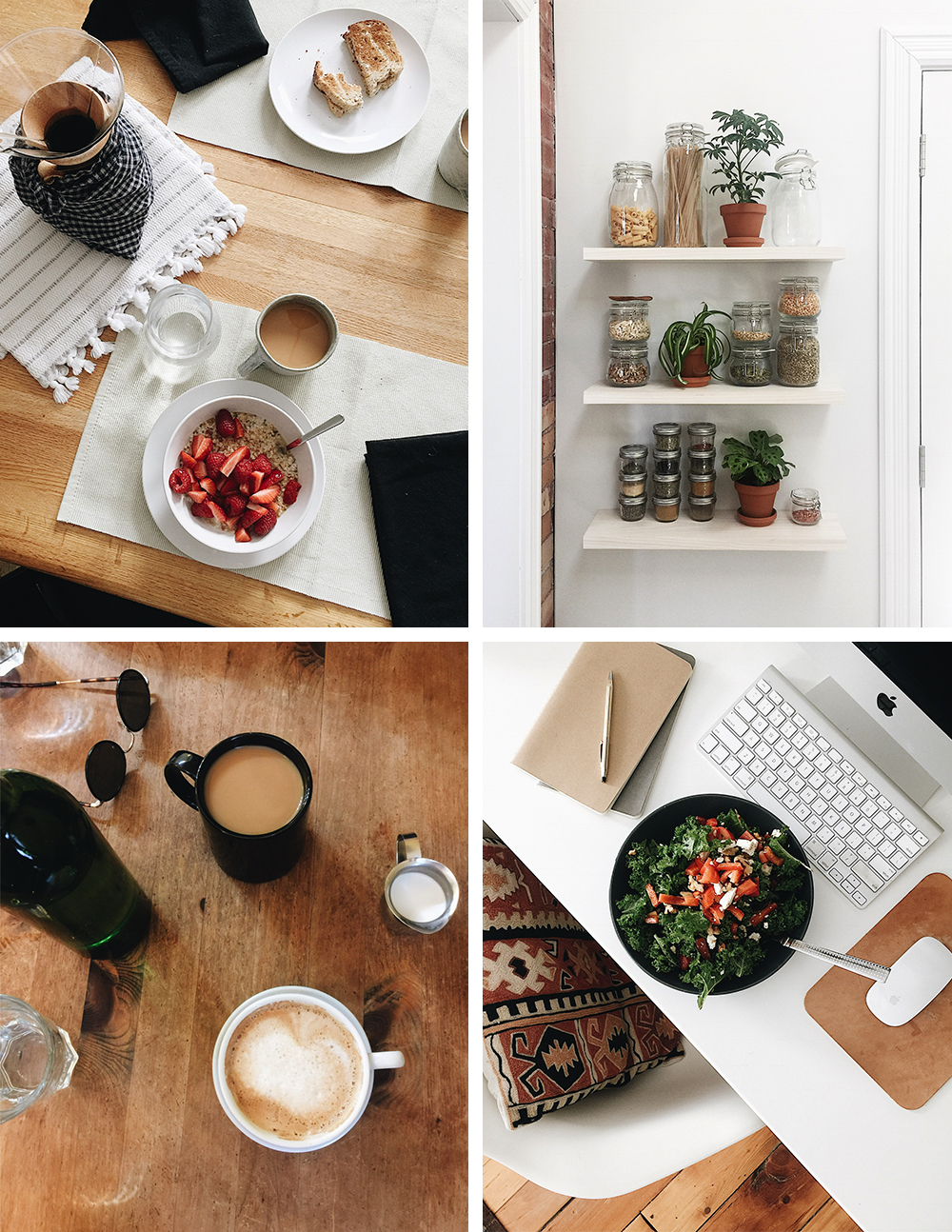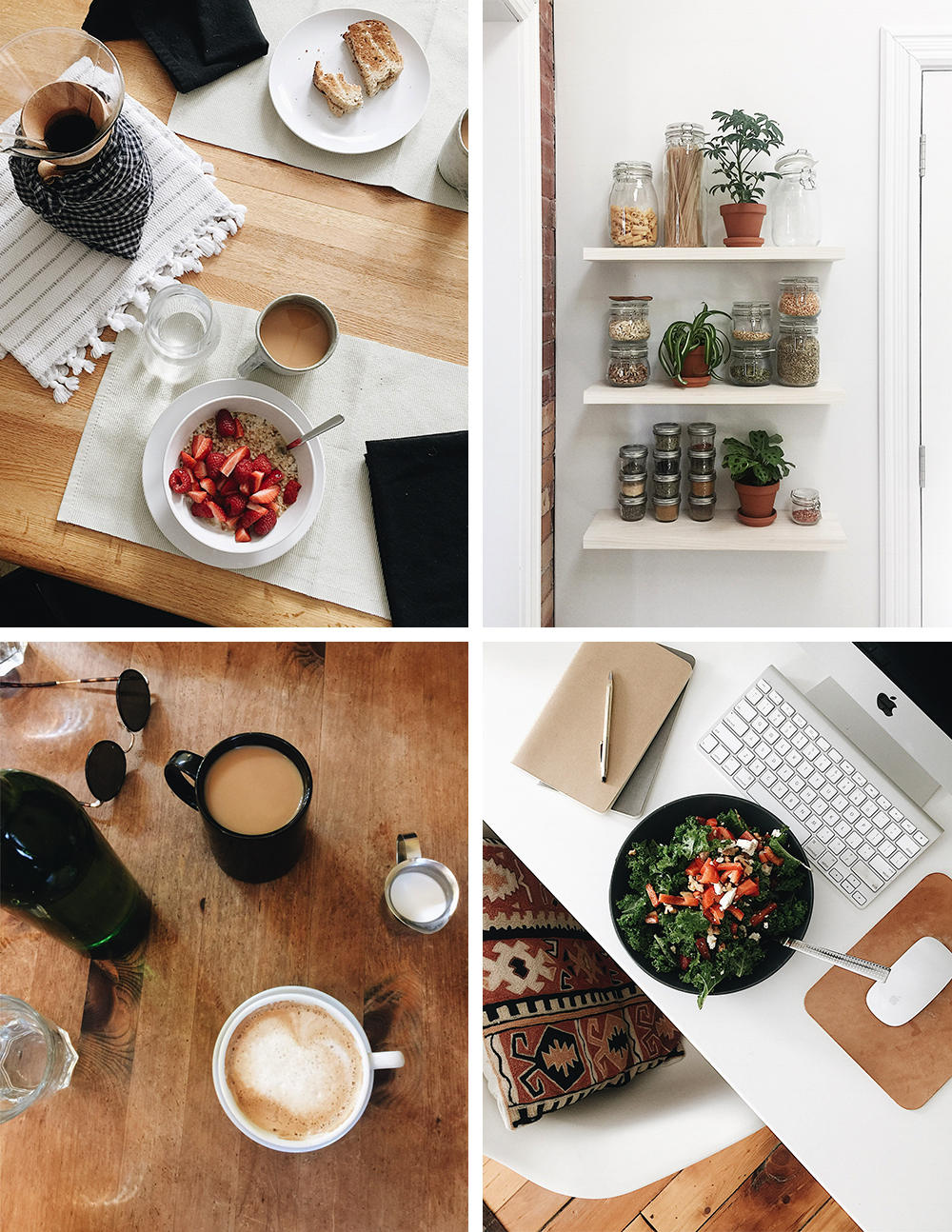 ---
Our dining room has been slowly getting a makeover since we finished renovating it earlier this year. We just received two gorgeous custom units by our talented friends over at ERA 66 and we're smitten! They're exactly what we were hoping for and they've already transformed the way we use the space. The large unit below is intended to serves as a few things:
Sideboard for the record player and some nice vessels and plants.
Top Drawer is a charging station for laptops and phones.
First row of drawers houses the record collection.
Bottom row is Dave's filing system and hides some miscellaneous 'office' appliances like a scanner etc.
We're going to hang a print above the record player and install a couple of floating shelves for some favourite books, artifacts and art pieces we'd love to display sometime soon too.
---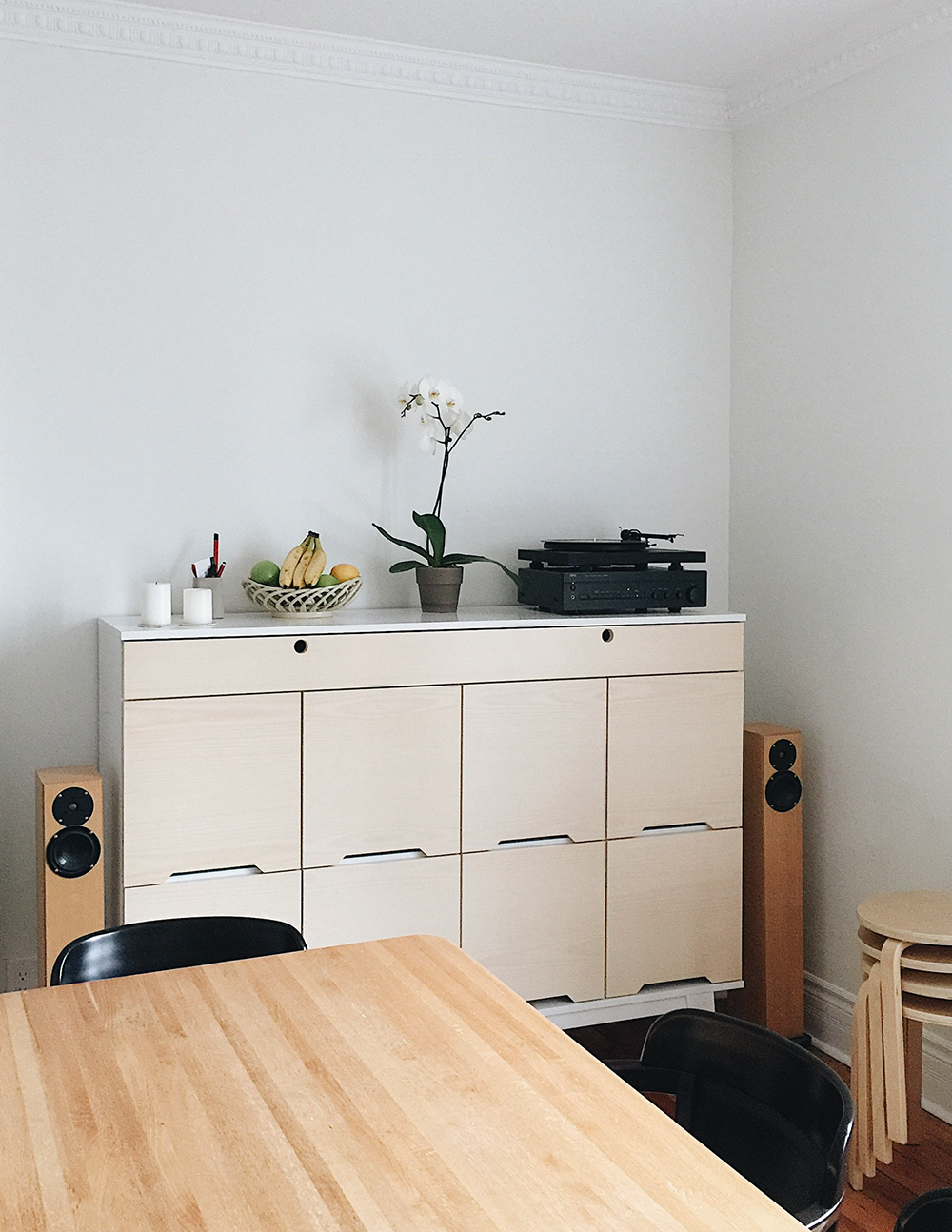 ---
The small unit in the bottom right photo is our new entryway unit and keeps our hats, scarves, gloves and Dobby's coat, leash and boots neatly tucked away. We'll be adding a row of hooks above for coats and hats.
We also managed to snag our dream chairs (the wishbone chair in black and natural) on major clearance at a local shop and we're still pinching ourselves that they're really ours. You can see them in the top left photo below.
So what has felt like an eternity pulling this space together is suddenly feeling very close to complete! I'll share more when we've made some final updates. Slow and steady she goes!
---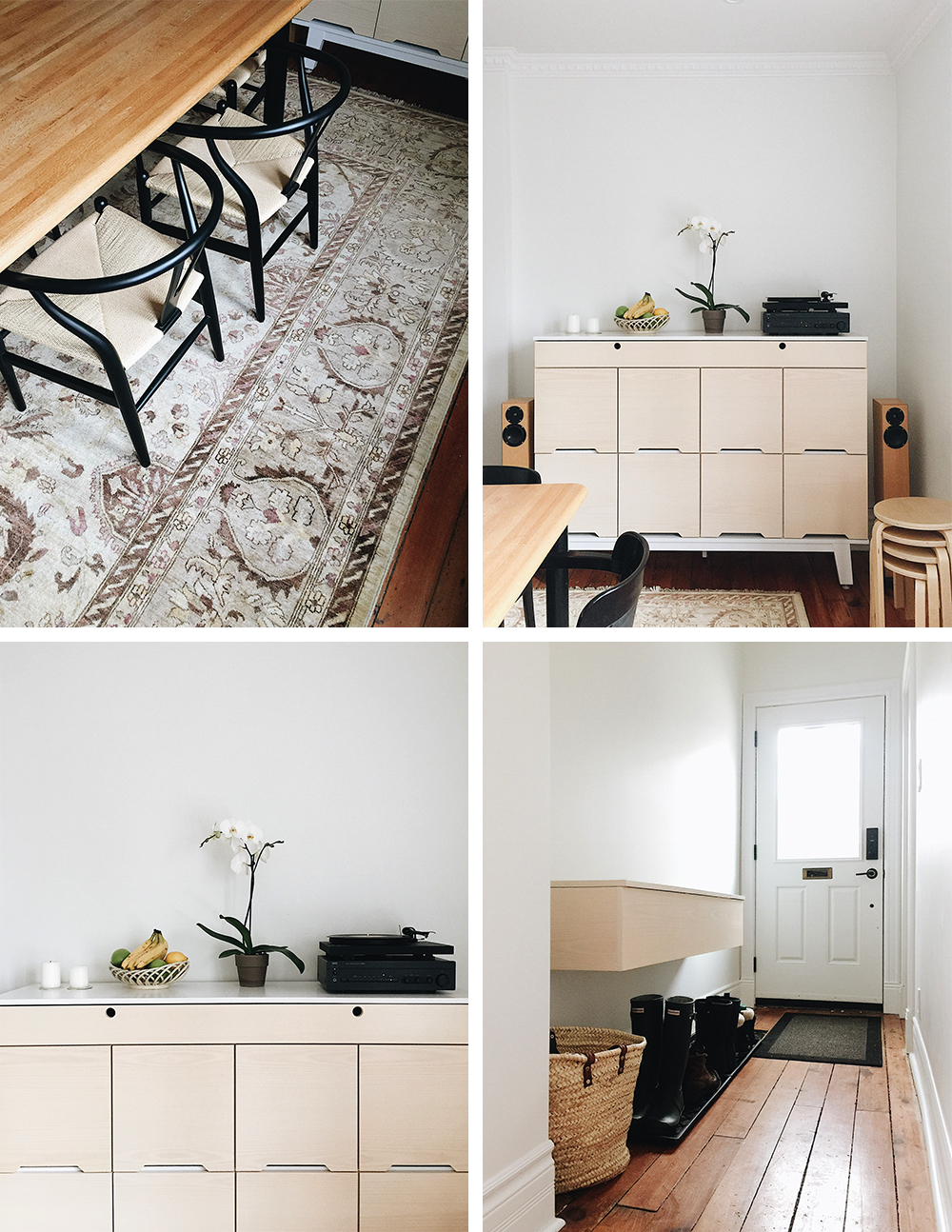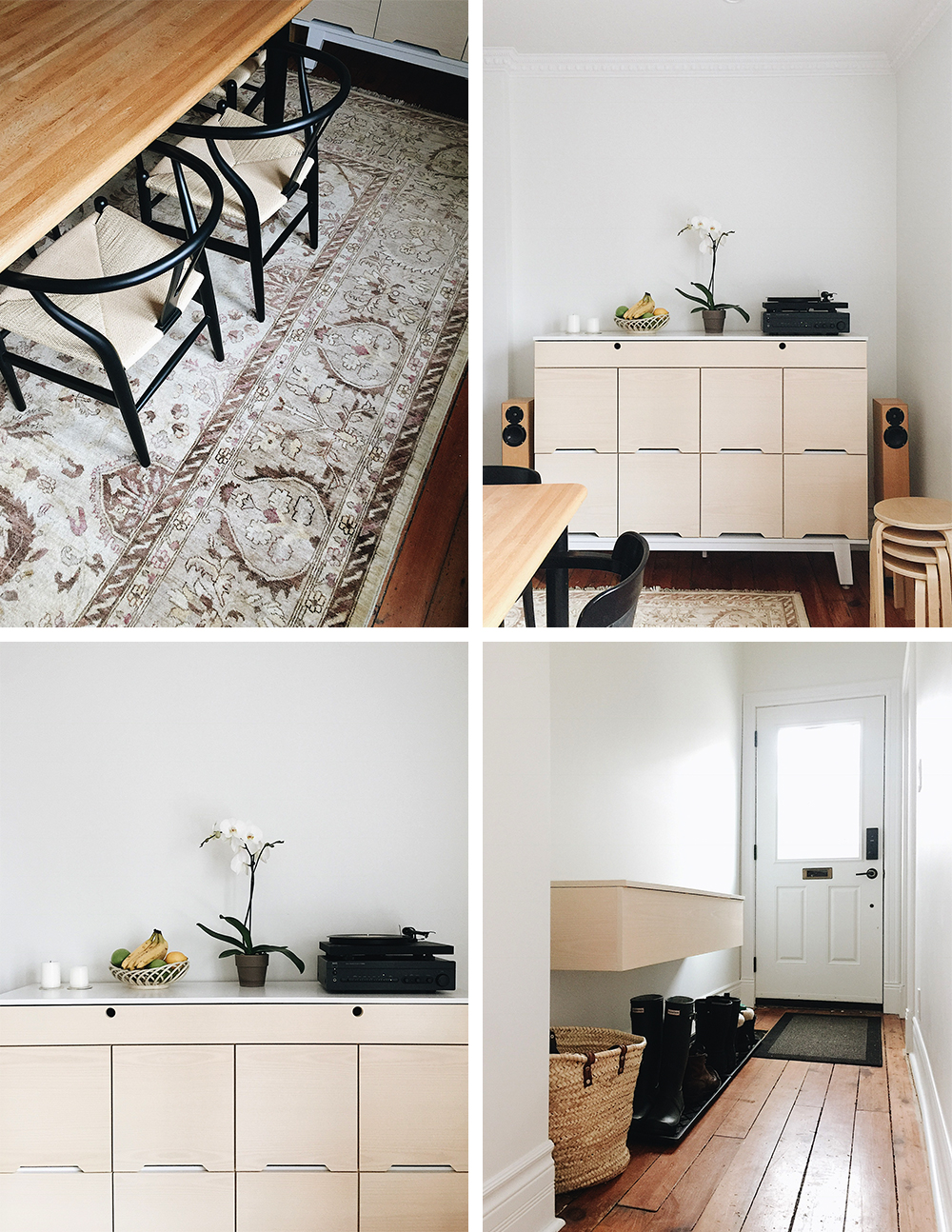 ---
FUR BABES
---
My furry little children have been living the life as usual around here. While Evie grabs a day-long nap on the bed (preferably unmade), Dobby takes his typical nap-guarding position on the couch from which he can alert me immediately to all impending threats to our security. The mailman being one such intruder.
Every day they seem to do something that makes us laugh at their goofiness and swoon over their cuteness. It's truly impossible to imagine a life without these lazy little buddies around!
---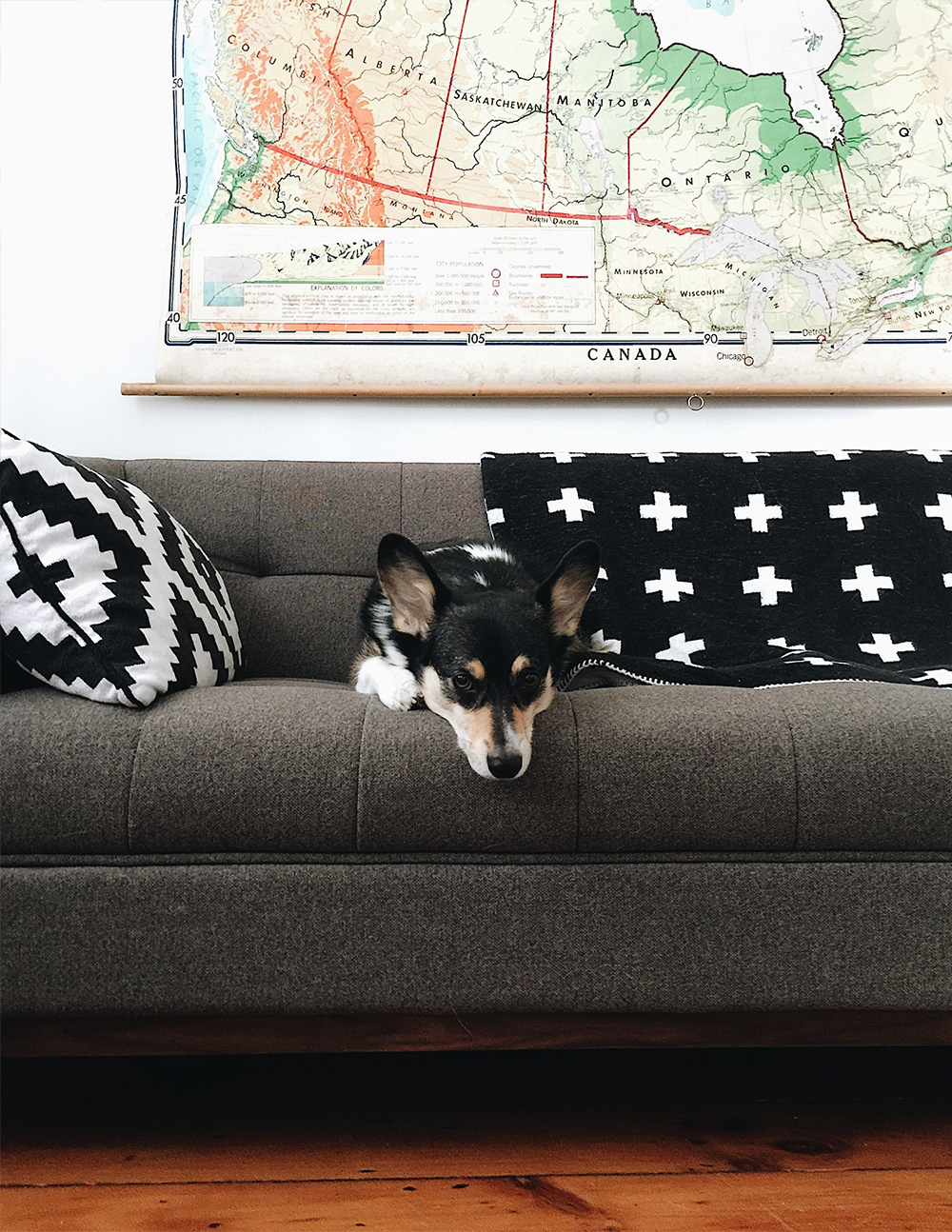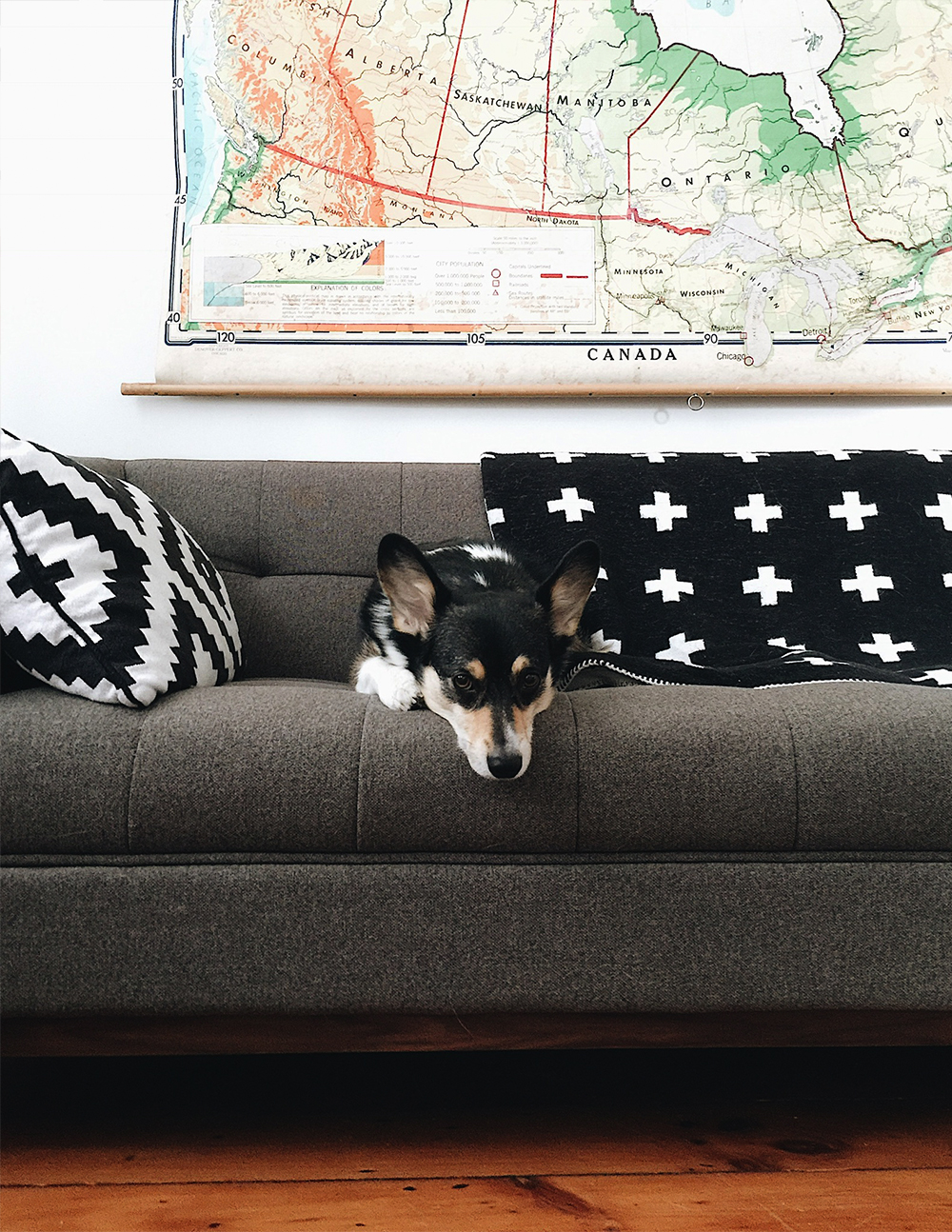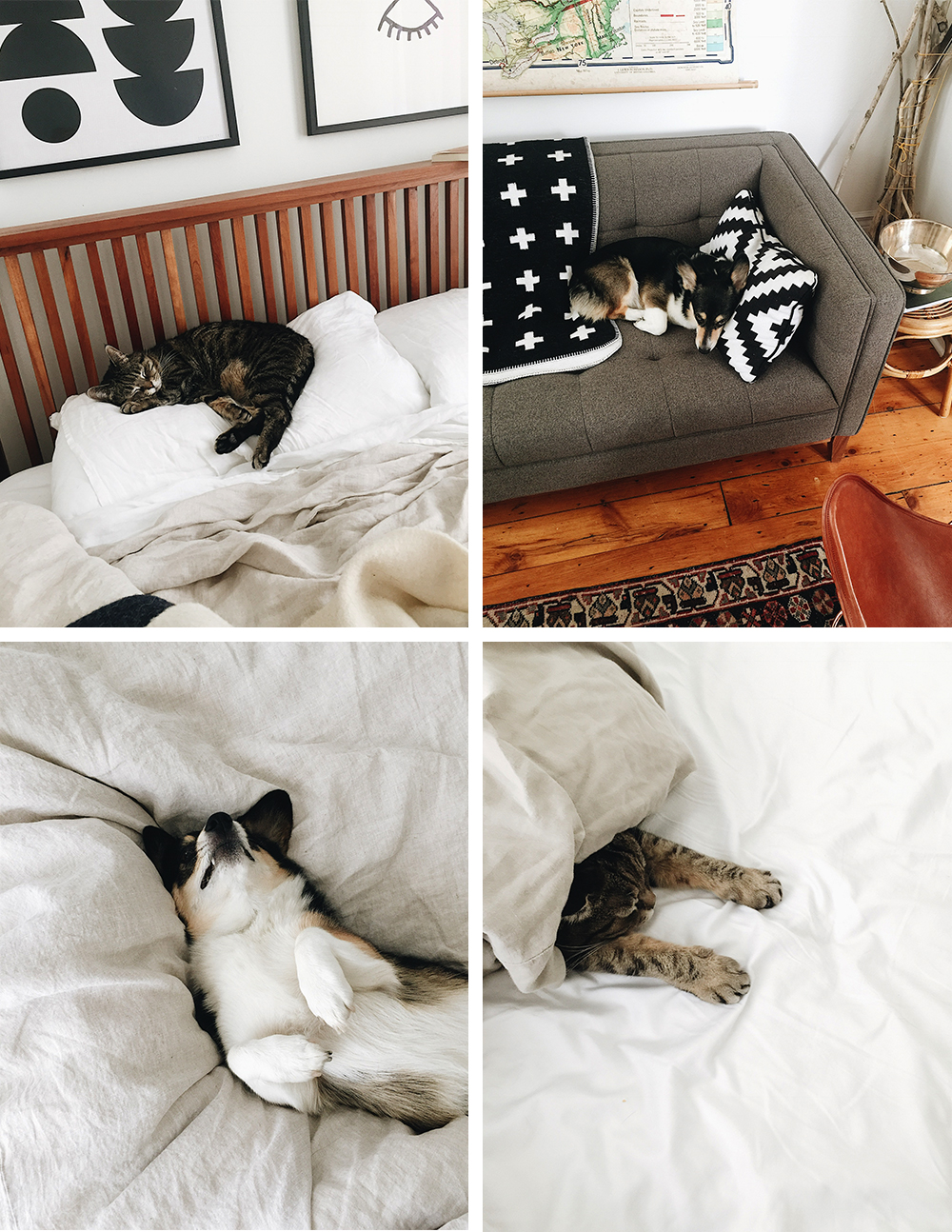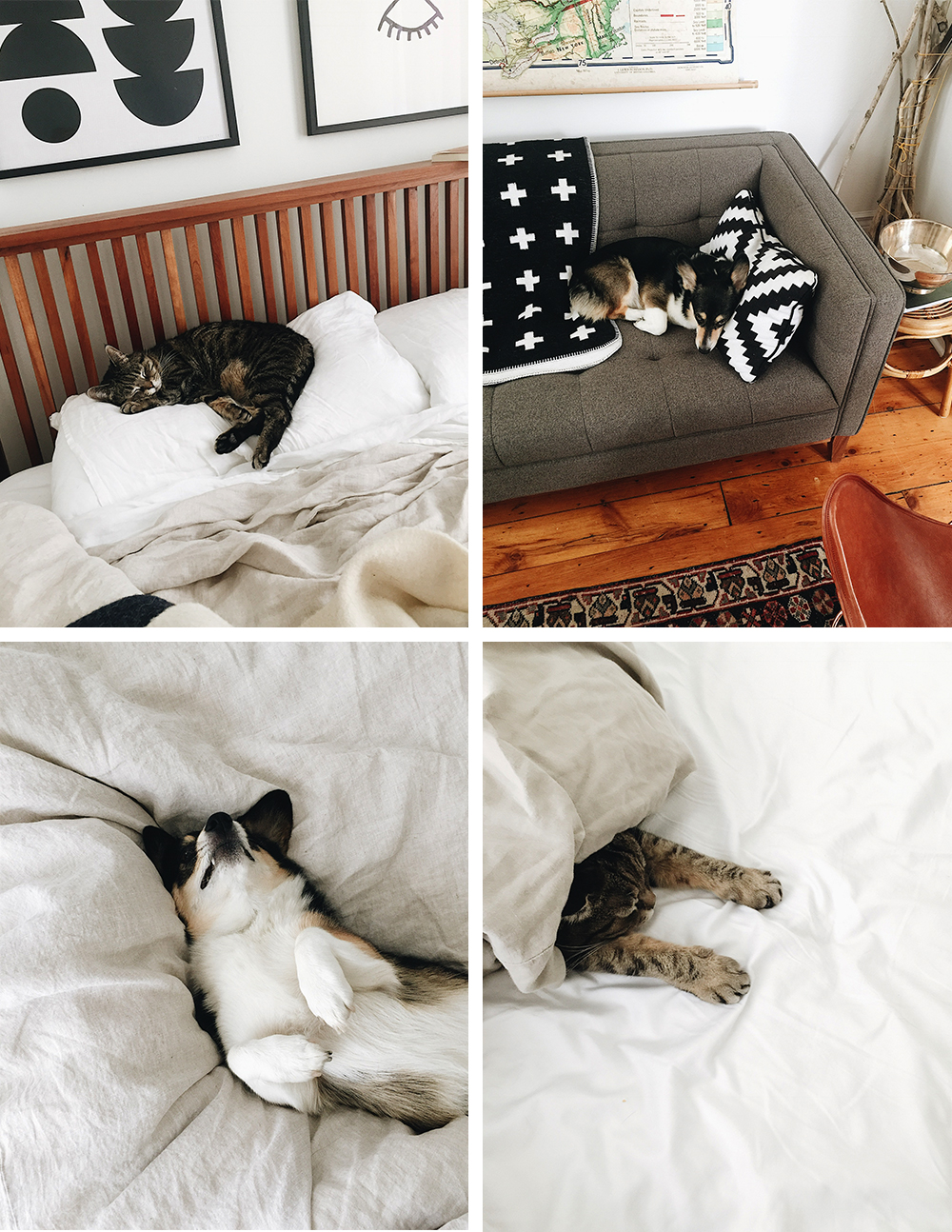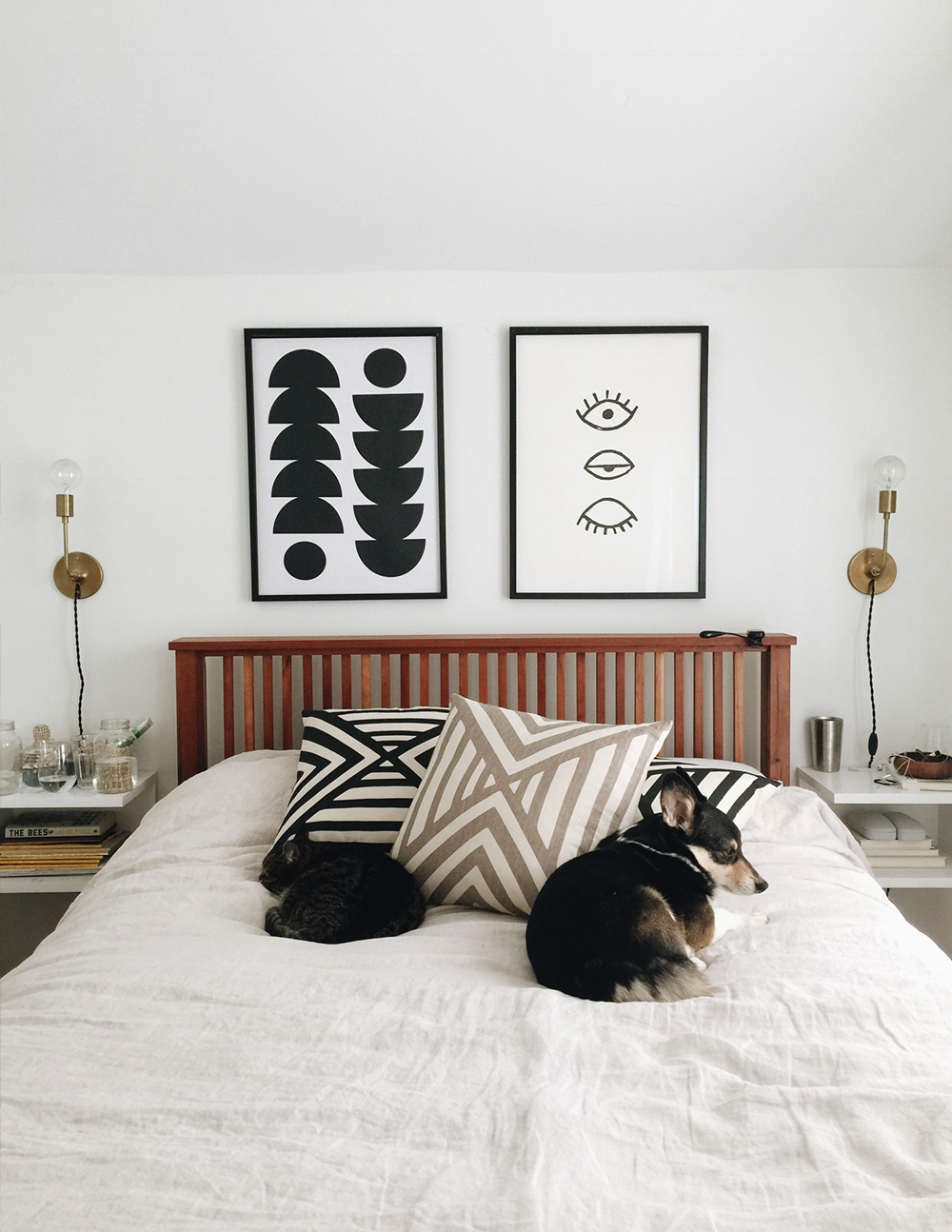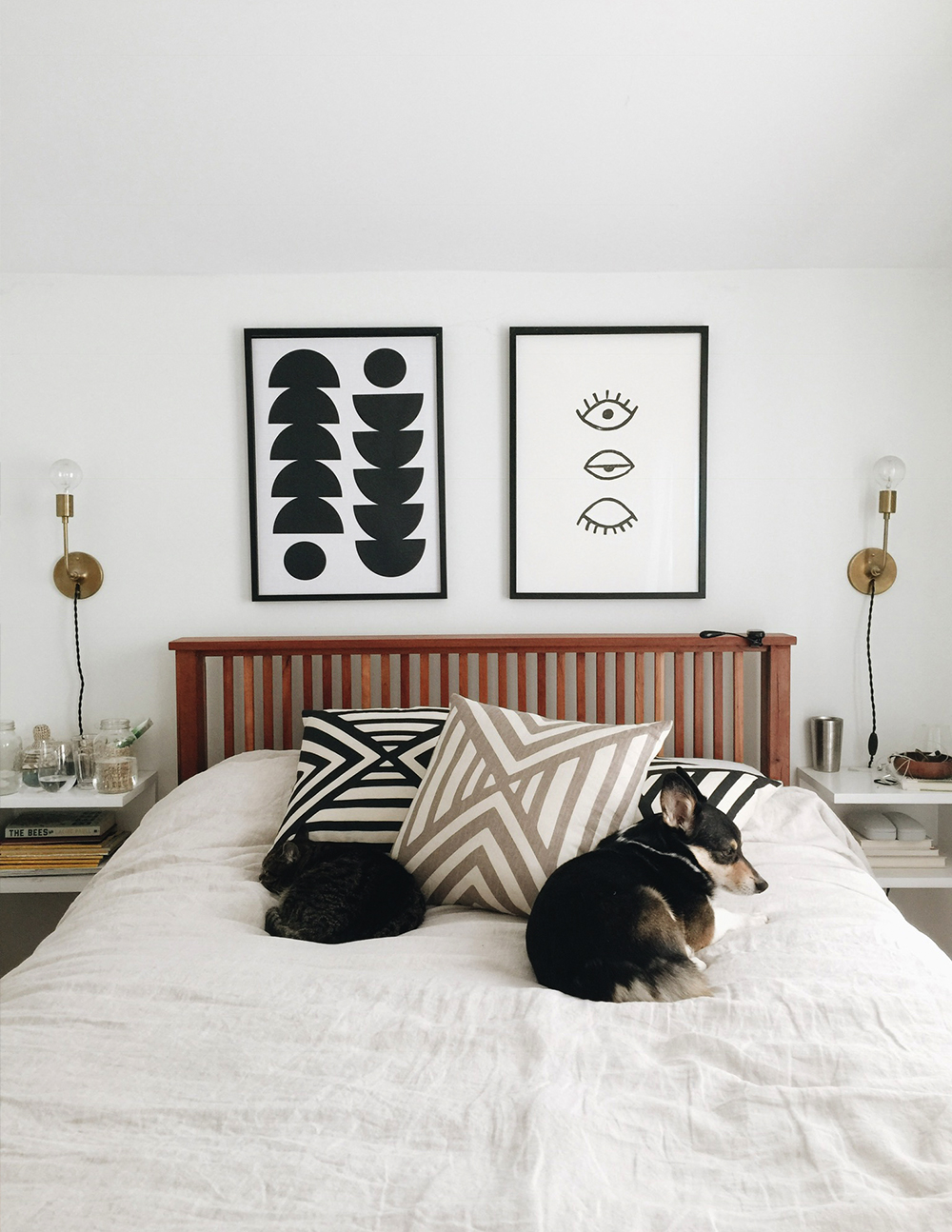 ---
STYLE
---
I'm not going to lie, I've been chomping at the bit for some Spring weather so I can embrace some proper Spring style! We've had a few warm sunny days lately but before those it was either cold and snowy or wet and grey. Luckily the long-term forecast is giving us all hope (no thanks to last night's freezing rain!). I can't wait to bear my ankles and even, dare I say, my arms and neck, in some fresh Spring looks! Until then I'll be in my usual turtleneck, Kamm pants, coat and boots but here are a few behind the scenes style high points from the last little while.
---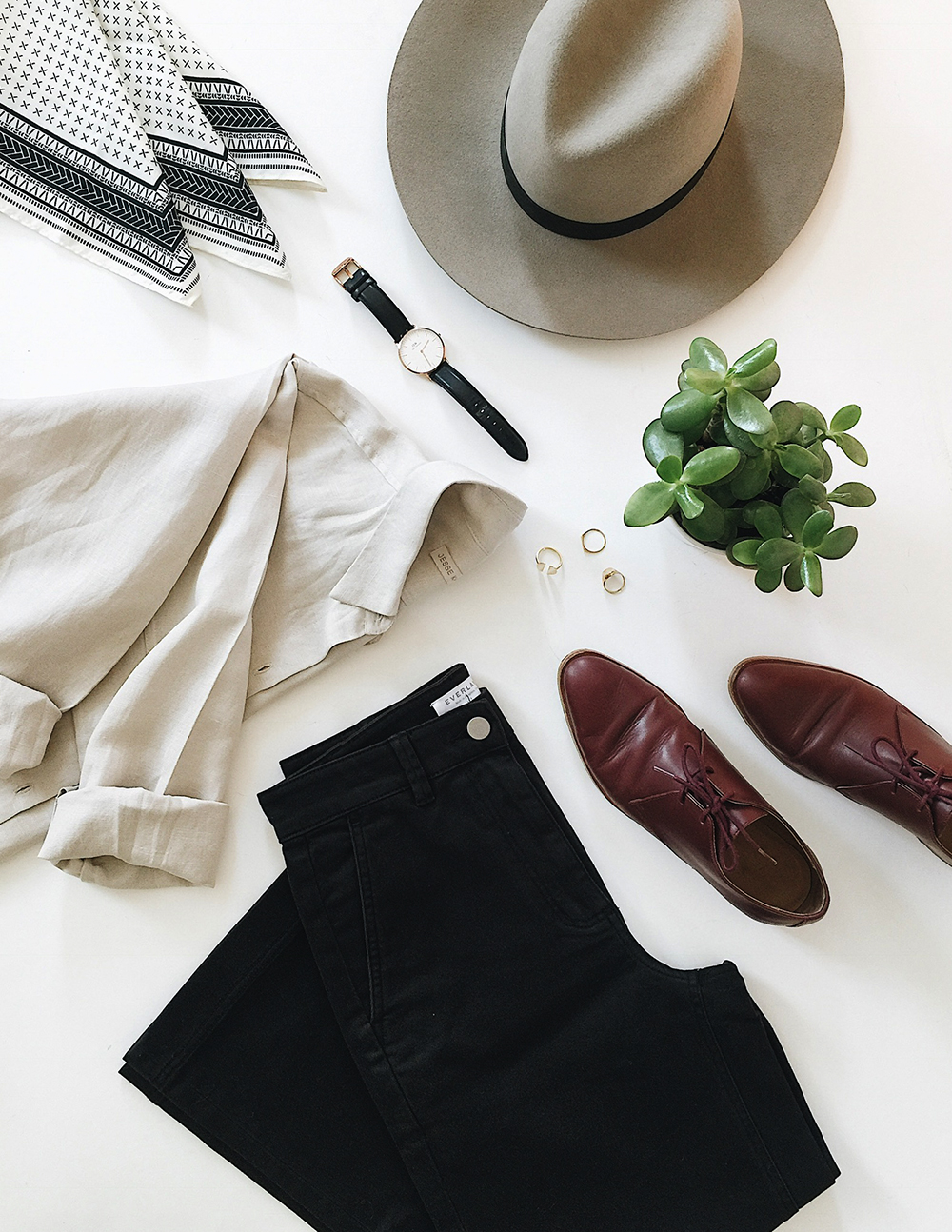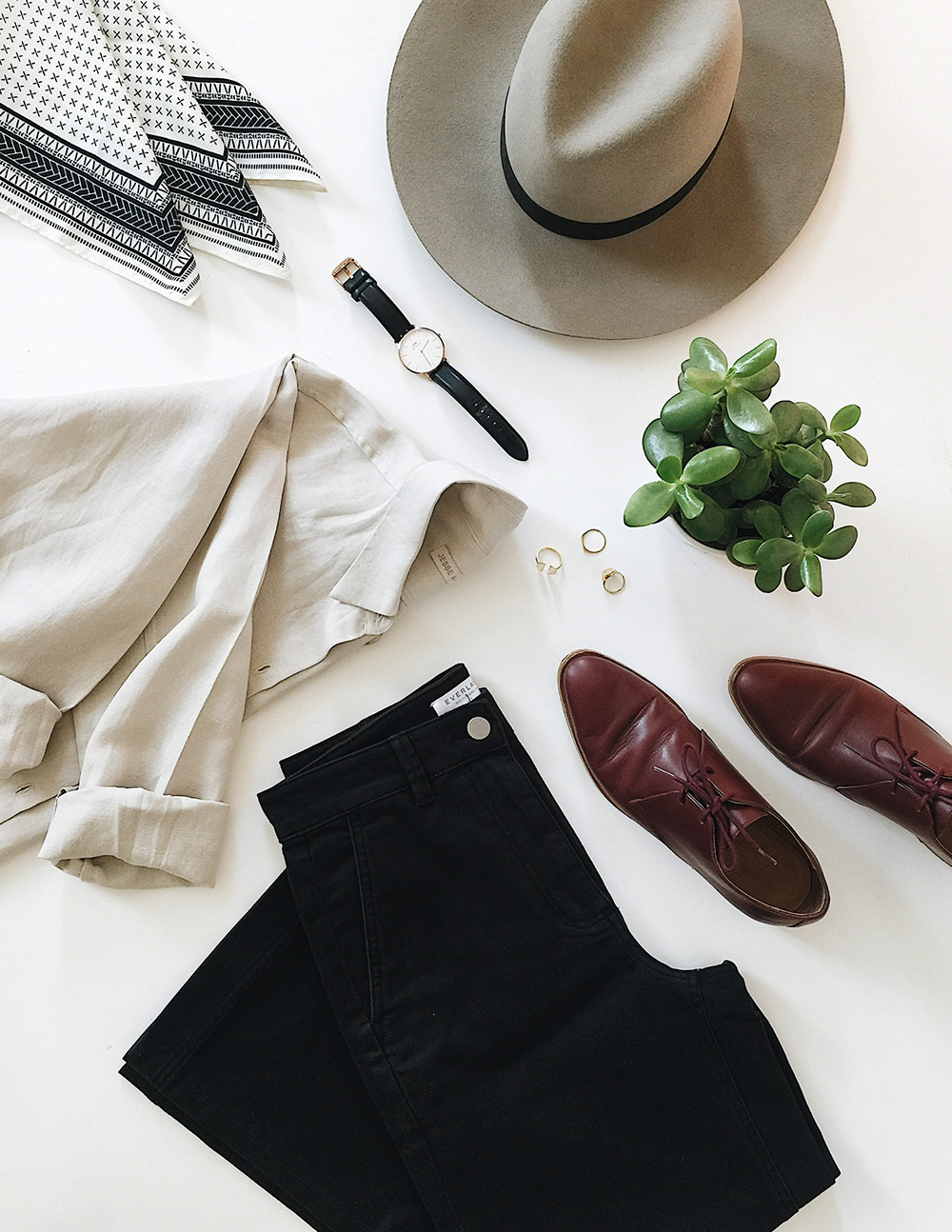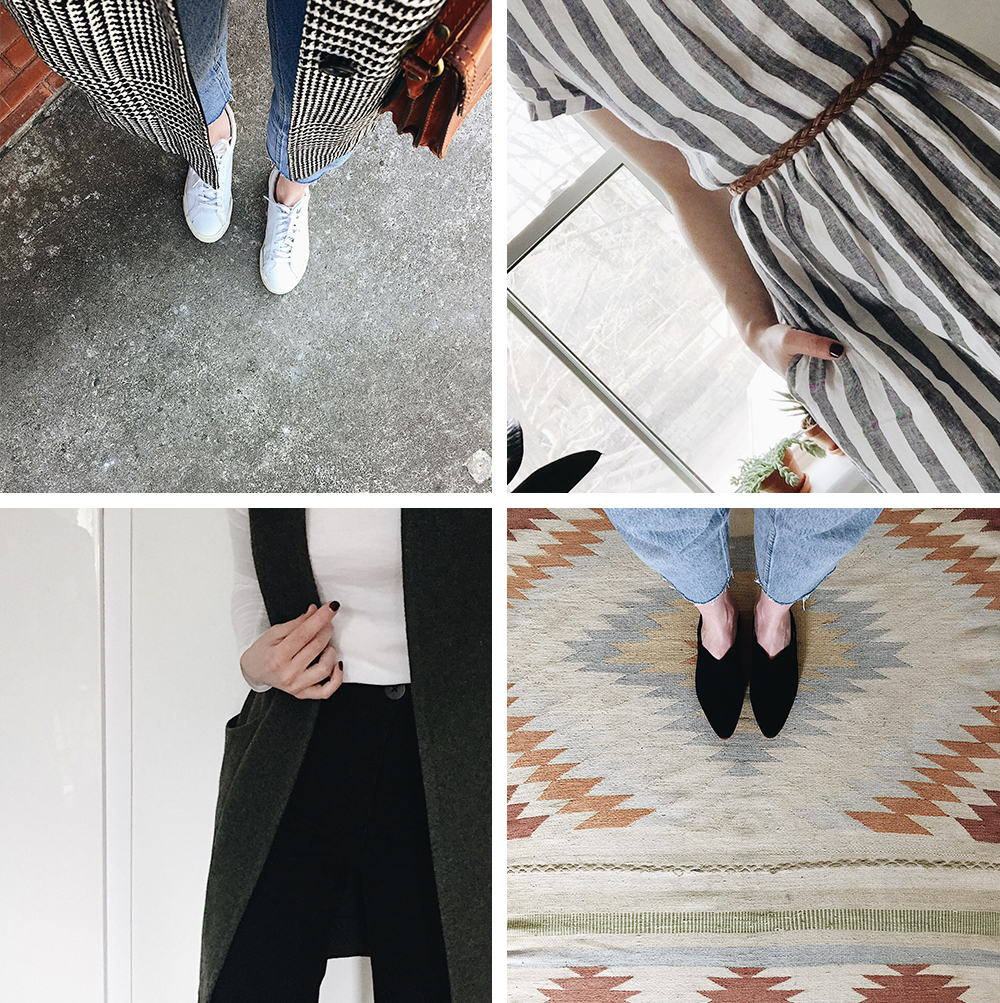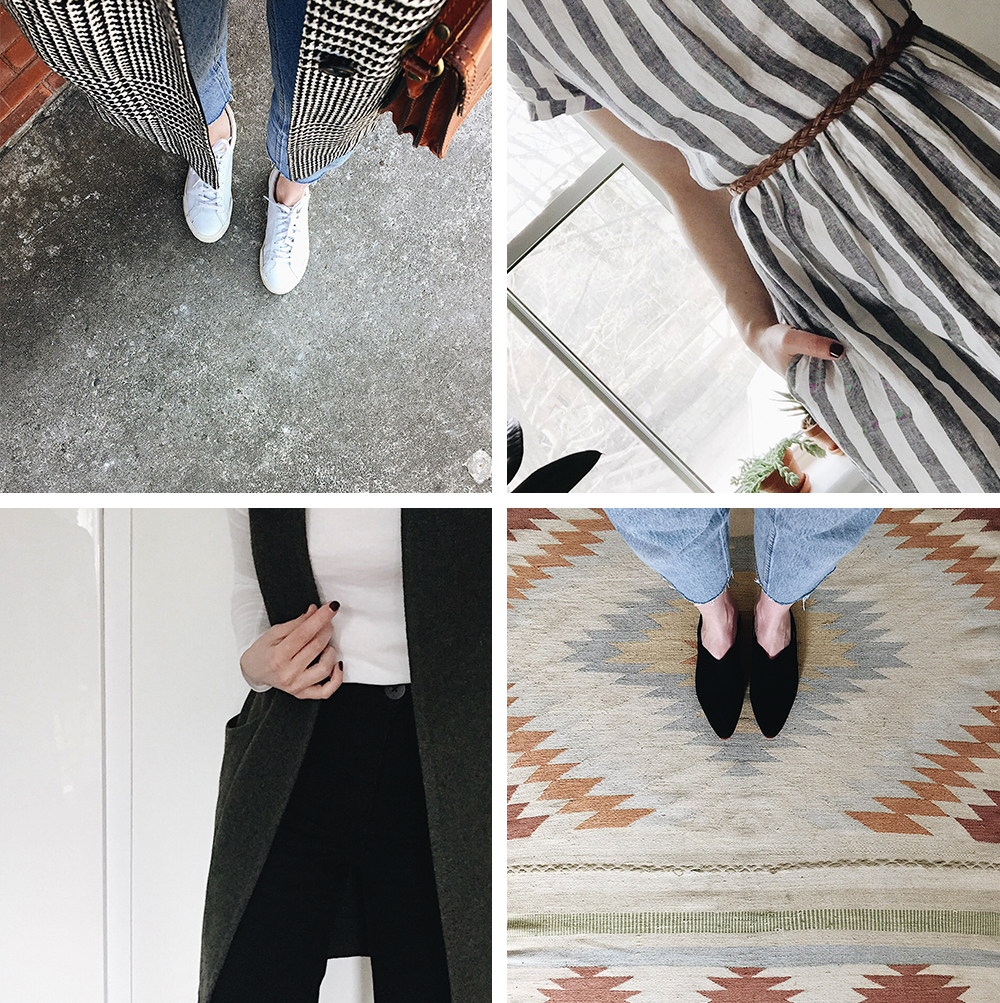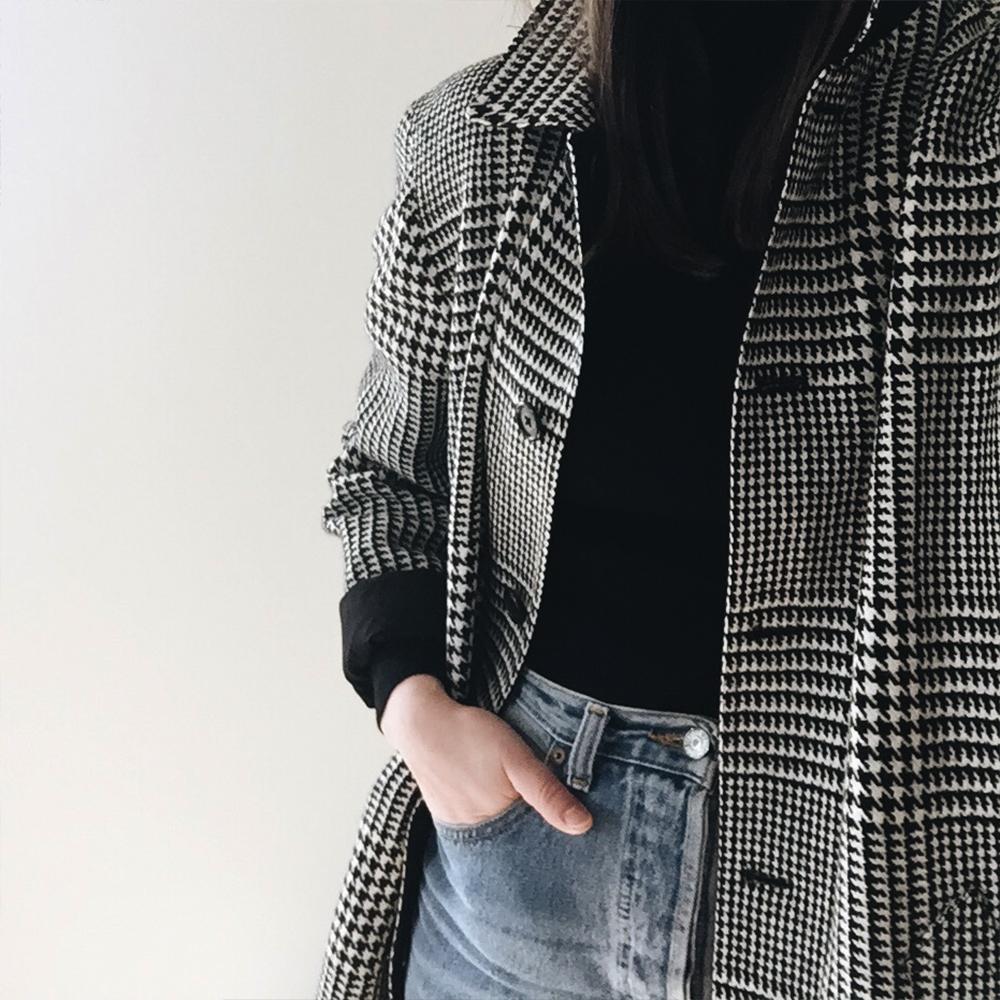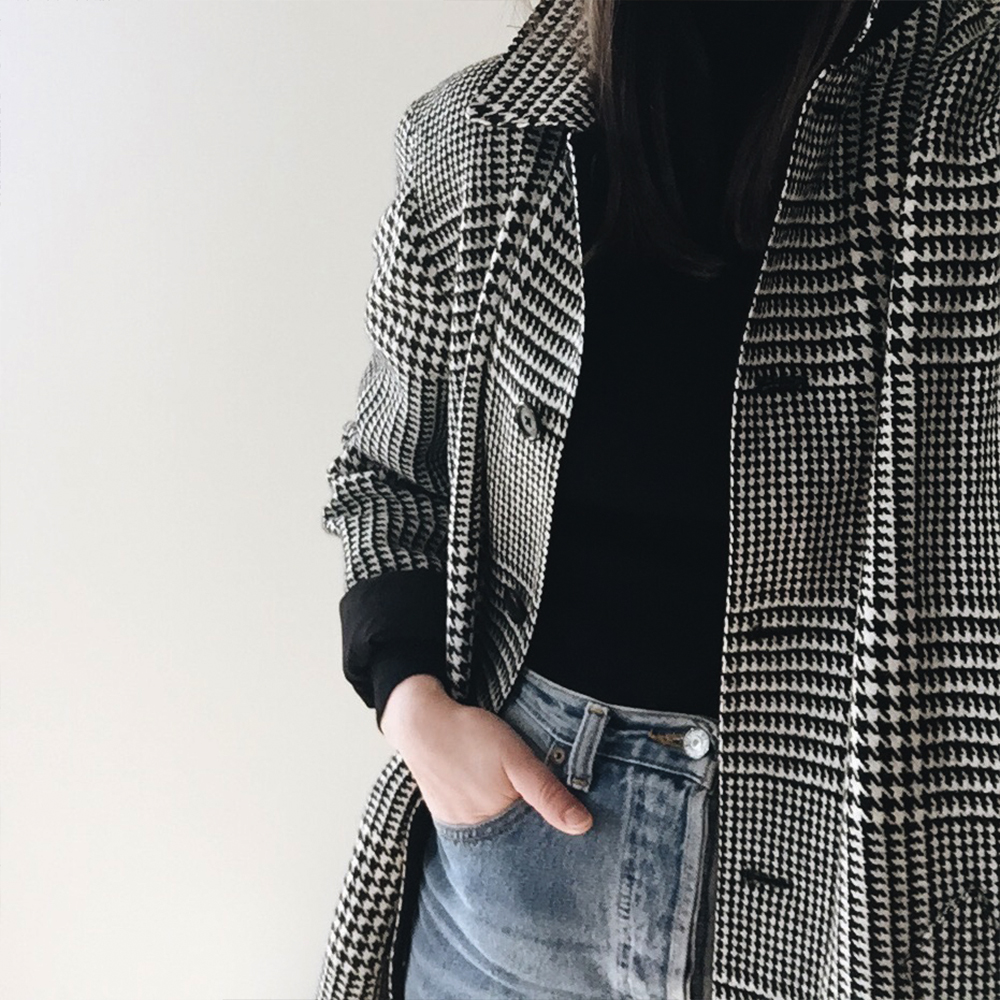 ---
Ruhl Builds
---
Last June Dave left his job in engineering to start RUHL BUILDS and it's been incredible to see how his business has taken off in such a short time. Since then he's been working on some pretty exciting projects and I'm in total awe of his abilities to transform a space. When the last one wrapped I got to play stylist/photographer for the day and snapped some pictures of the finished job, which was a full house refresh. He's about to wrap up another stunning kitchen renovation and get started on a super cool train station restoration. It's fair to say I'm pretty proud of that handsome, hardworking, future husband of mine!
---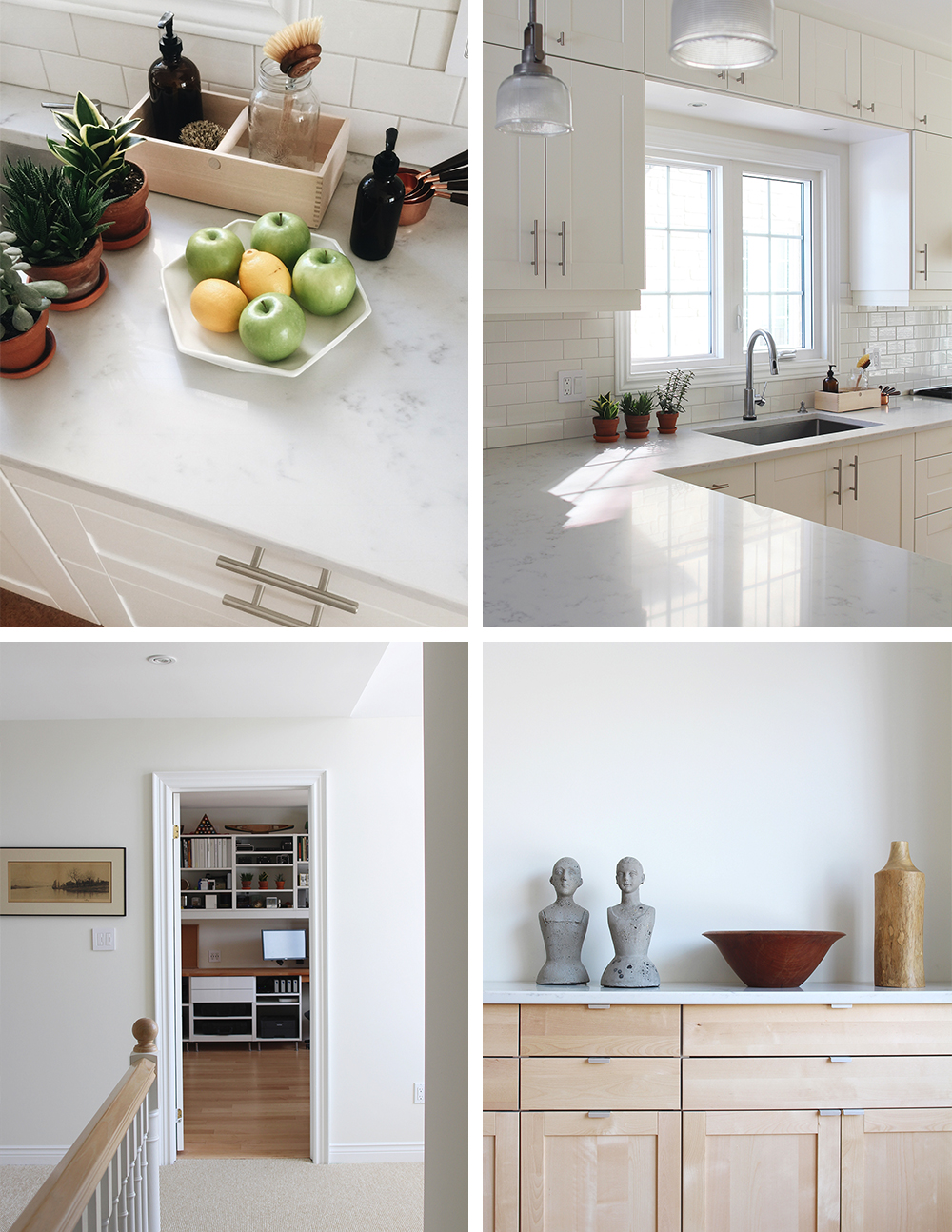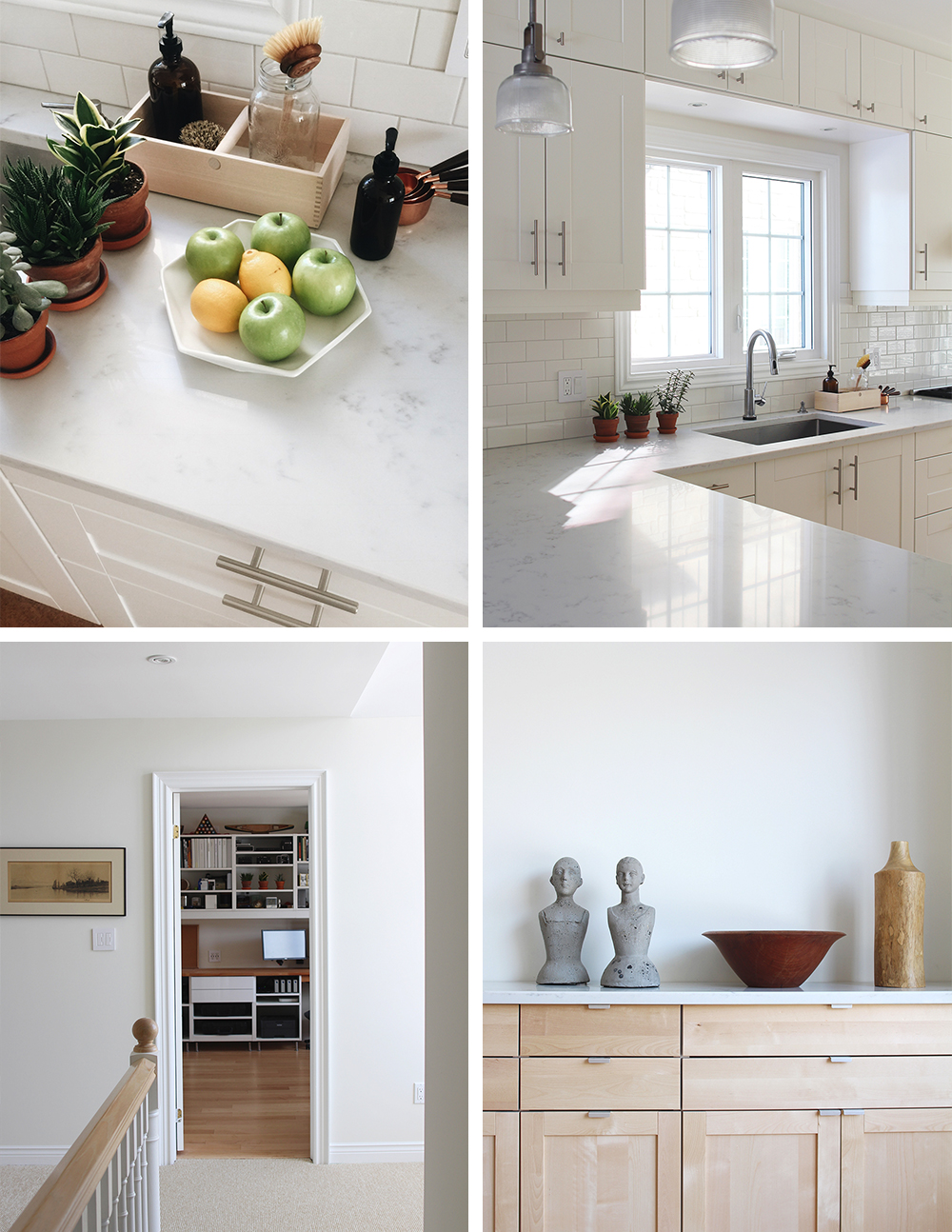 ---
10 x 10 Challenge
---
As you might have seen on Wednesday or on Instagram, the start date for the #SPRING10x10 Challenge was announced! I'm teaming up with cutie and capsule guru Caroline of Un-Fancy again for another 10 Days, 10 Items and 10 Outfits! We'll be sharing our 10 pieces on Friday, April 7th and the first looks will be live on Monday, April 10th. This way you can see what we're working with and plan your 10 pieces over the weekend for a Monday start. Or if you're raring to go, then by all means, get going right on the 7th!
I have a really good feeling about this challenge you guys! Based on last time I know we can continue to build on this welcoming, thoughtful and supportive little conscious style community. I hope you'll join us! Invite your friends, the more the merrier! Feel free to check out the 10×10 Challenge Page for TONS of inspo and all the details and tips you need to get involved.
---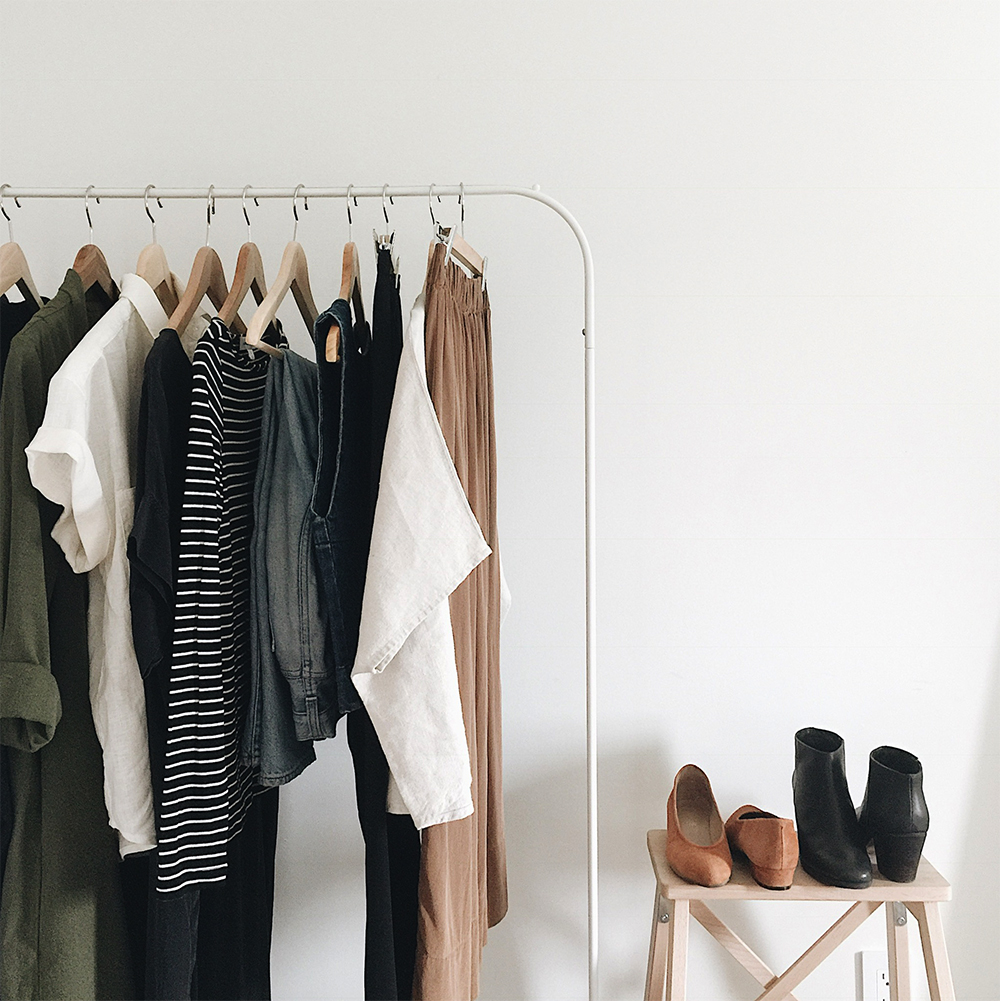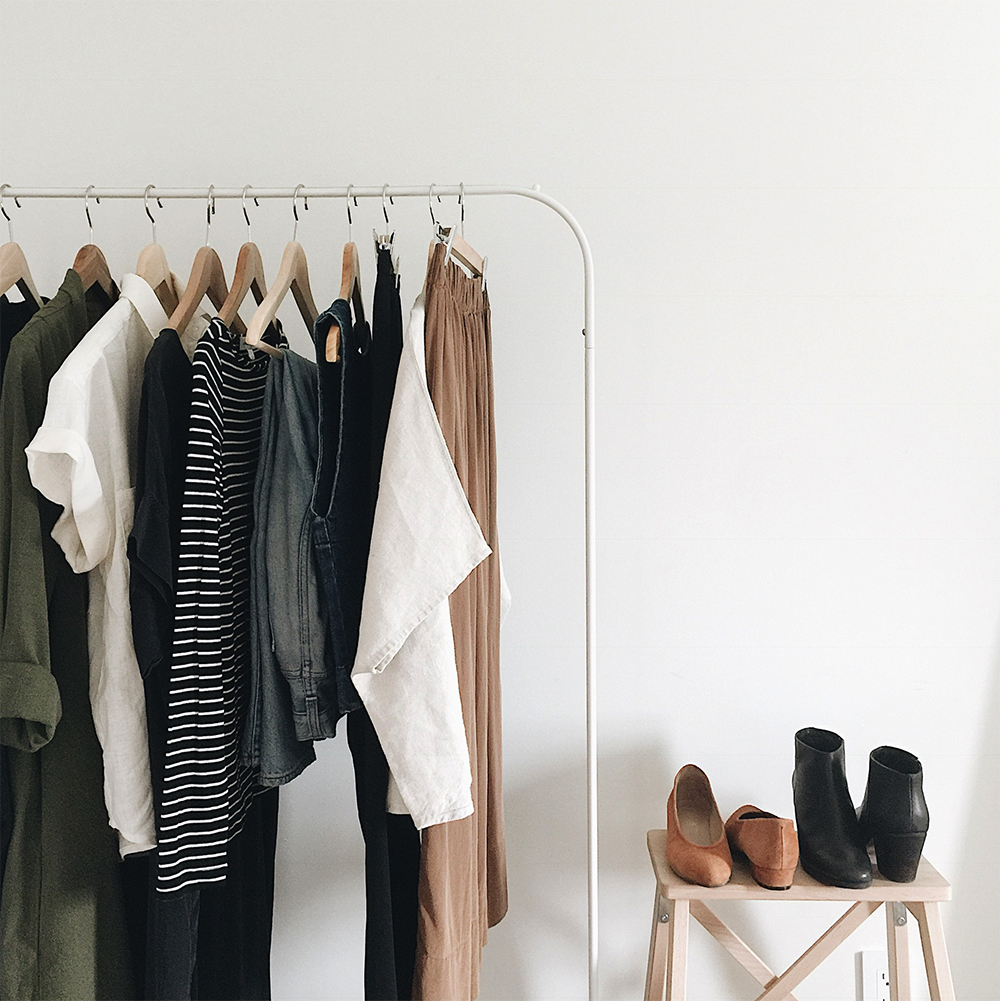 ---
Before I wrap up there's one topic (in particular) I said I'd share more of and haven't posted about, which is our upcoming wedding. As much as I'd like to share what's going on with our plans, my time is much better spent on making them actually happen. As you can imagine (or know all too well) there's a lot to get organized but once the invites are in the mail and I've had a final sit down with my event guru I'll be able to regroup and share what's up. To those who've expressed an interest I so appreciate it and promise to follow-through when the time is right!
---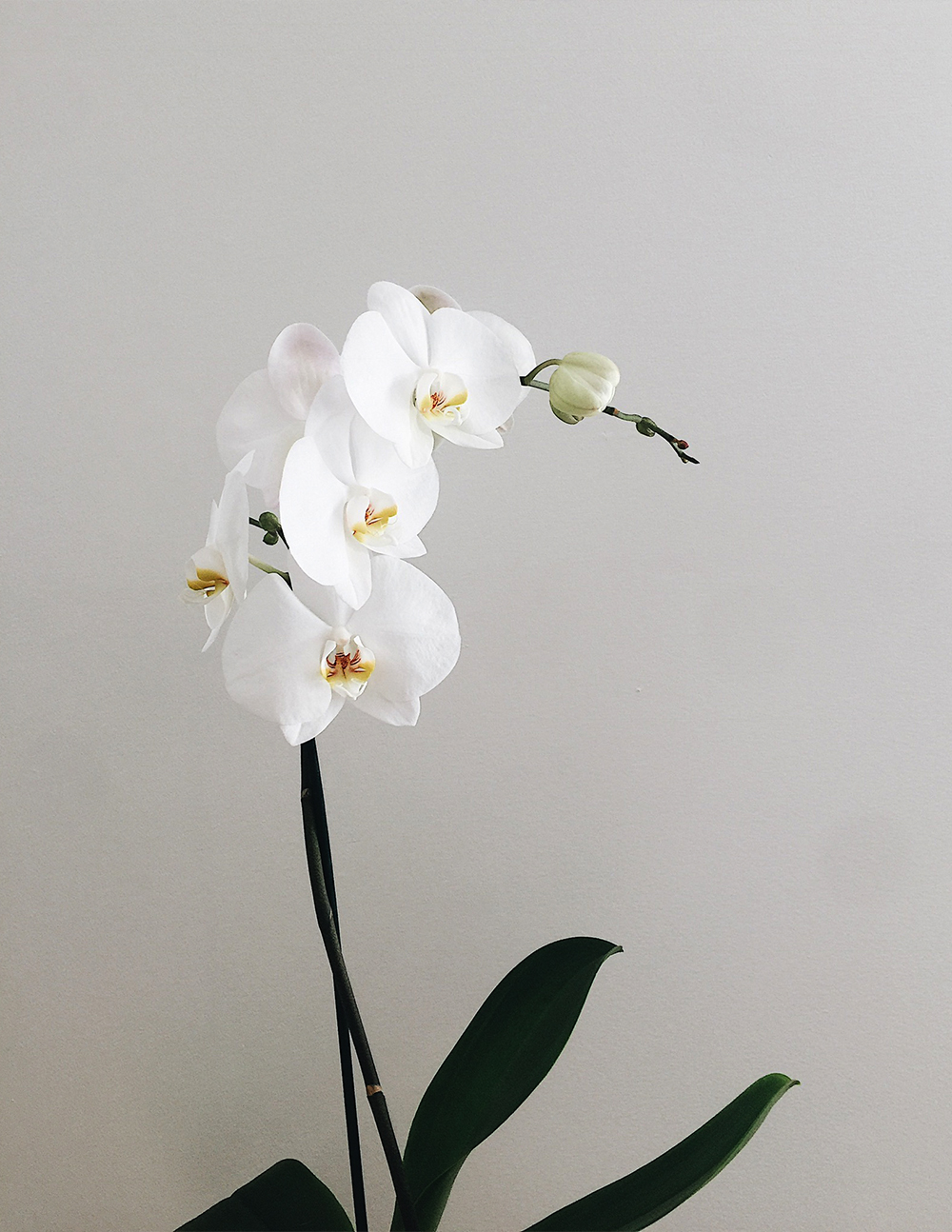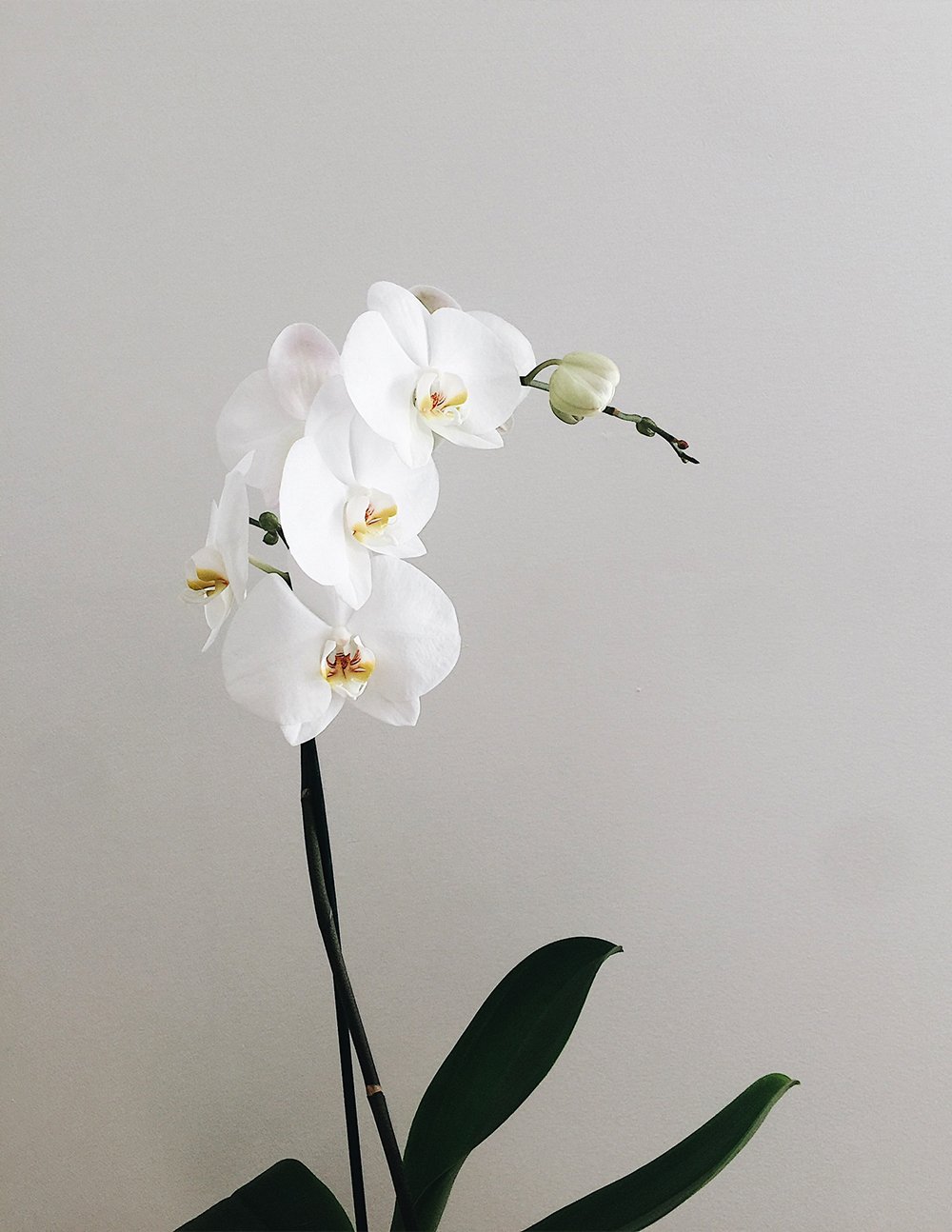 ---
So that's essentially the best of the last two months around here!
One of my favourite humans is in town for the day today and we're treating ourselves to mani-pedis, an Italian lunch and a whole bunch of quality catch-up time. It's long overdue and I'm so ready for a Friday off! Then tomorrow I'm heading to the OOAK Show with some friends and excited to peruse all the Canadian-made goodness. If you're going, maybe I'll catch you there!
I'll be back here again next Thursday with an exciting collab that I'm thrilled to be a part of.
Then it's 10×10 Challenge time, woohoo!
---
I'd love to know what you've been up to lately!
Any good books on the go or Spring plans in the works?
Wishing you all a wonderful weekend!
---
This post is not sponsored and all opinions are my own, as always! If you're interested in any sourcing information just let me know in the comments and I'll pass along shopping info. 
---