HOORAY! It's Friday AND it's time to kick off the SPRING 10 x 10 Challenge! I've been so excited for this new season and this new installment of the 10×10 Challenge and it's here at last. Just like last time I've teamed up with my girl Caroline of UnFancy to host this fun exercise and we're so looking forward to seeing all the great looks you create and insights you share along the way. Last time we were totally blown away by this small but mighty conscious style community we're so proud a part of.
The best part about this challenge is not all the great style inspiration, or the cute new outfits we discover but the way in which women from all over the world can come together in a supportive, positive and thoughtful space to collectively appreciate personal style and it's impact on our daily lives. Even though it might be 'personal' style it's much more fun to explore it together.
With that said I hope you'll join us in this fun, easy-going exercise and I'm so excited to see all the people who are already chomping at the bit to get started! Thanks for spreading the word and encouraging your friends to join in. It's definitely going to be the best 10 x 10 Challenge yet!
Today's post is a big fella and will run down the following:
Everything you need to know to join in the 10 x 10 Challenge.
A few tips on pulling together your 10 items.
What I took into consideration when choosing mine.
My 10 Items for the #Spring10x10 Challenge. (Skip to this section if this ain't your first 10×10 Rodeo.)
A quick note about how outfit posts will work for the next two weeks.
So let's get to it!
---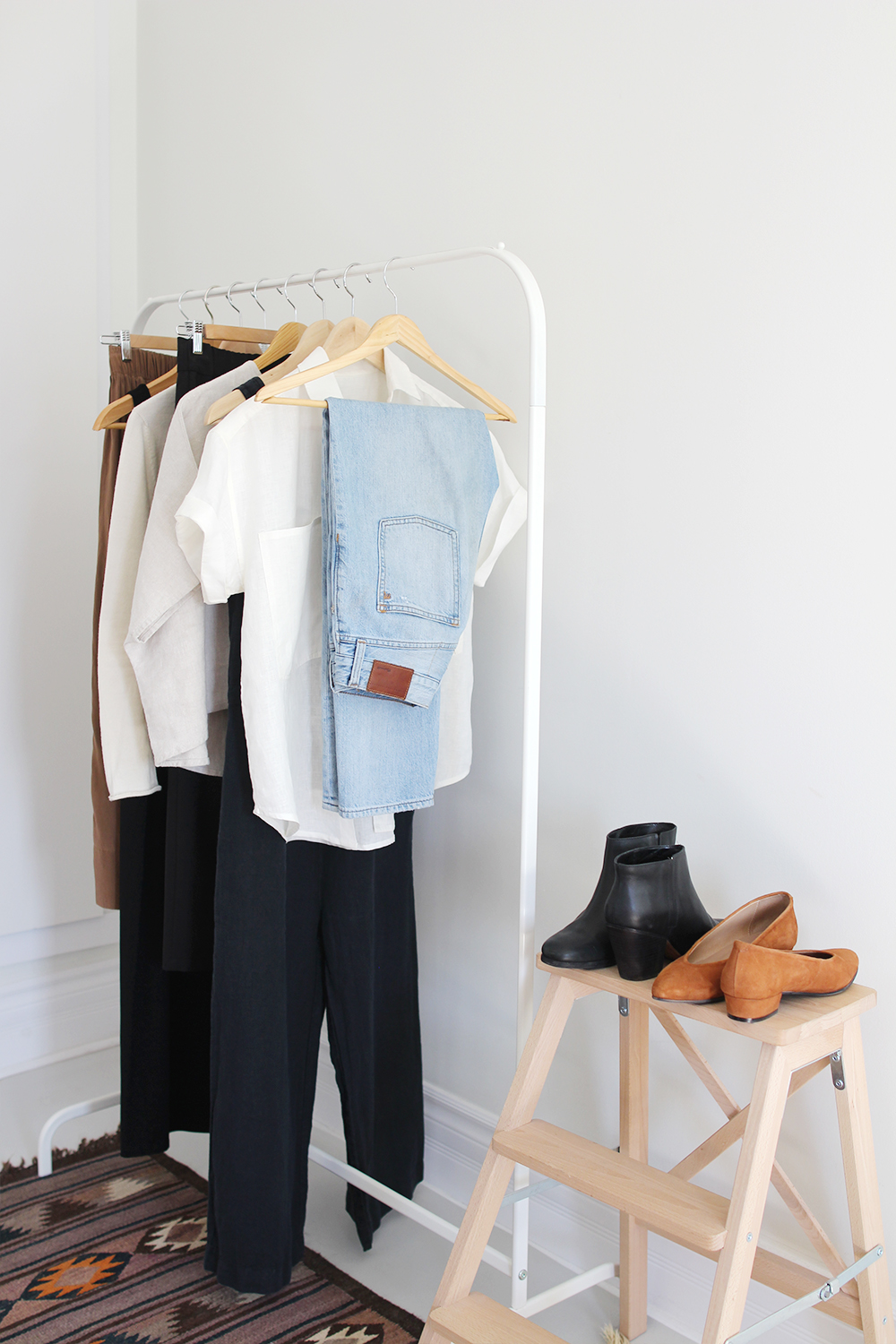 ---
10 X 10 CHALLENGE 101
---
No worries if all this challenge talk has you scratching your head! The 10 x 10 Challenge is an exercise I established in 2015 to help encourage myself to get more creative with my clothes during a 30 Day Shopping Fast. The concept is essentially a micro capsule closet that you work with for 10 days, trying new looks and styling your clothes in ways you might not otherwise consider.
---
WHO IS THE CHALLENGE FOR?
---
ANYONE! But more specifically, anyone looking to:
Take a break from shopping.
Reinvest in their existing closet.
Test their style creativity.
Make their closet work harder.
Find a better sense of personal style.
Test out a capsule closet.
Establish a couple of go-to uniforms.
Pack for a trip. 10 x 10 Challenges are ideal for travellers looking to pack lighter.
---
BASIC GUIDELINES
---
PICK ANY 10 ITEMS FROM YOUR CURRENT CLOSET
STYLE THOSE ITEMS INTO 10 DIFFERENT LOOKS
USE 10 DAYS TO DO IT
HAVE FUN AND DON'T TAKE IT TOO SERIOUSLY!
I say 'guidelines' instead of 'rules' because this is meant to be a fun and helpful exercise, not a daunting or rigid task. It's all about being creative and exploring personal style. If it doesn't go flawlessly, no worries, you're still going to learn something positive from it.
For example:
You can limit yourself to only those 10 items for the full 10 days or just wear those items to work or after work.
Take the weekend off and do 10 business days (that's what I tend to do).
You can try a smaller challenge first if you prefer with only 6 items over 6 days or up the ante and choose a few more items to style over a longer period (I've done 20 pieces over 20 days before).
If you're really not loving one item, just switch it out!
Do whatever makes it feel manageable but still be sure to challenge yourself!
---
HOW TO PARTICIPATE IN THE SPRING 10 x 10 CHALLENGE
1 | Pick 10 Items from your closet to wear for the next 10 days.
2 | Snap some shots of your 10 pieces and your outfits as you go and post them on Instagram. It can be a flat lay, wardrobe shot or a stack to start then a daily outfit (ask a friend or the fella to snap one), a mirror selfie or you can wait and share a grid of many looks together. Whatever you're comfortable with and if that means no photos that's cool too.
2 | Use the hashtag #SPRING10x10 so we can see what you put together! We'll be sharing our favourites from the feed during our wrap-up posts too!
3 | Feel free to include the existing hashtags #StyleBee10x10 and #UnfancyRemix if you like as well! That way they'll be in the general archive for all future challenges too.
4 | In Real Life | Similar to last time I'll be sharing my day-to-day looks on Instagram Stories so you get a 'real-life' look at the outfits. Caroline will be doing the same so tune in if you like and try sharing your own if you feel up to it!
---
CHECK OUT THE 10 X 10 CHALLENGE PAGE WHERE YOU'LL FIND MORE INFO, TONS OF EXAMPLES, STARTER TIPS AND A HELPFUL WORKSHEET TO GET YOU STARTED.
---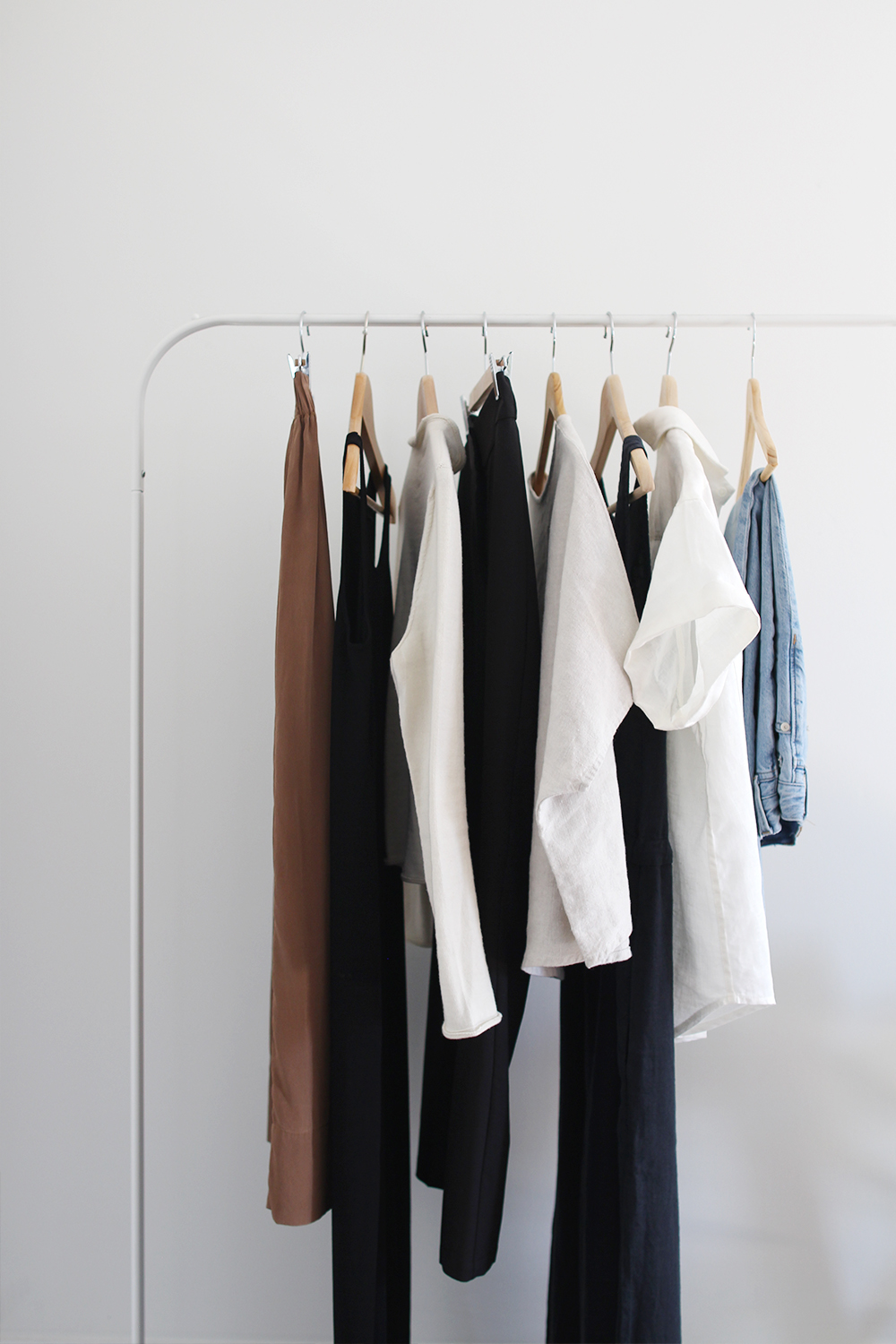 ---
TIPS ON PICKING YOUR ITEMS
---
WHAT IS INCLUDED?
---
Any core closet item you choose counts as a part of your 10 items. For example:
TOPS
SWEATERS
PANTS
DRESSES
SHOES
COATS
Keep in mind these are not hard and fast rules! If you really feel like you need all your shoe options that's OK, don't include shoes this time around and add an extra top or bottom instead. No judgement shall be passed 😉
For instance: I'm leaving coats out for this challenge (again) so I have options for our crazy weather.
---
WHAT IS NOT INCLUDED?
---
Any accessories or jewelry you add to a look does not count as a part of your 10 items. For example:
Hats
Bags
Scarves
Necklaces
Gloves
Jewelry
Base Layers (ie: underwear, tights, bodysuits, socks etc.)
Workout Gear
PJs and Loungewear
---
BEGINNER'S FORMULA
---
If you're a little bit stumped as to where to start with your items consider this formula:
2 Pairs of Shoes (1 heel + 1 flat)
4 Tops (Consider pieces that layer well like a fitted long-sleeve, a button-down and a cardigan)
1 Dress
2 Bottoms
1 Top Layer
A few other tips for choosing items:
Check the forecast and pick practical items for the weather.
Don't give yourself too much time to choose. Try to make the call in under 30 mins. But if you need more, that's cool too! You've got all weekend to play around with your picks.
Go for an easy, lean colour palette. Think neutrals, denim, white, black and grey with 1 or 2 colours.
Reach for your favourites first and then add one or two pieces you'd like to wear more or aren't sure about.
Avoid Dry Clean Only items or pieces that are a pain to launder so if need be you can refresh them during the 10 days.
---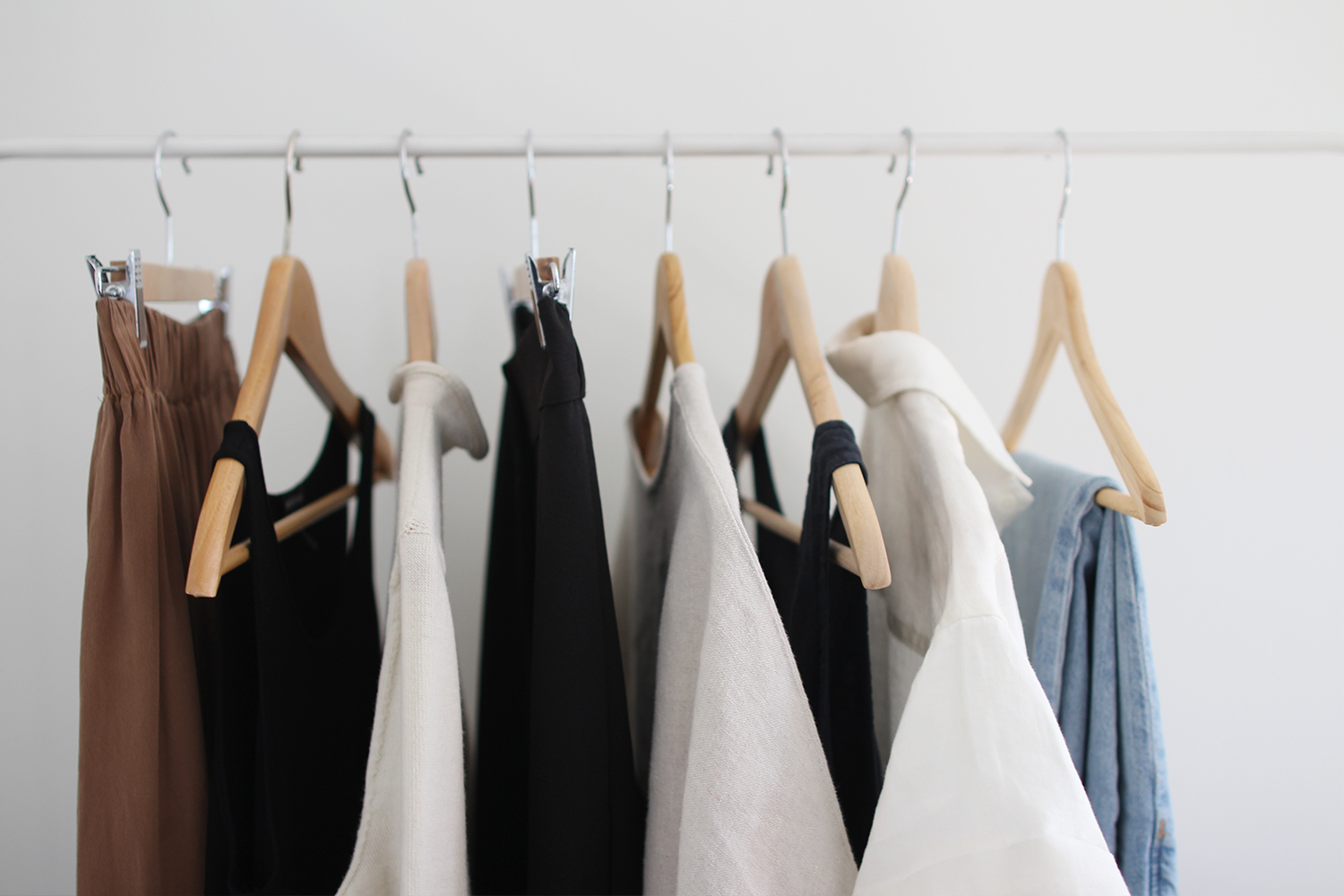 ---
A FEW THINGS I CONSIDERED
---
It's Spring at last! But yet, Spring in Ontario (especially early Spring) isn't exactly all fresh blossoms, birds chirping and sunshine. It's usually all over the place with a hot spell here and a cold front there. Last year I learned the hard way that being under-dressed for a Spring 10 x 10 is not stylish, it's just dumb. So this time around, similar to the Winter 10×10, I'm giving myself access to my full coat collection in addition to my 10 items. Some days I won't need one, which will be awesome, but when I do I'll share both the indoor and outdoor version of a look. I must also admit that my Spring coat collection is finally looking good and I don't want to miss a chance to wear one that I love just because it's not within my 10 pieces. Since there's no such thing as 'cheating' with the 10×10 Challenge I figure it's all good!
Otherwise my main considerations for choosing items were:
Weather Forecast – Luckily we're getting a taste of what real Spring is like and the next two weeks are mainly in the double digits! Highs of 11°C – 20°C are in the forecast so I'm busting out some flats, a dress and some ankle baring items. The lows are still pretty low though so I kept a sweater, ankle boots and lots of long layers in the mix.
Activities – I'll be working in my studio and local coffee shops most week days with a couple of meetings, dinners out a gallery opening thrown in there. I like to get dressed and feel put-together when I work so even though I'm at home, I'm in a professional mindset. Then we've got an Easter Weekend Brunch and a mini vacay to Toronto coming up too. I'll give myself some leeway on the weekends but still try to use a couple of the items.
Wear + Washability – Most of these items are easy to wear twice, wash up quick and dry overnight so I'm not too worried about it.
Wear What You Love – I decided to follow my own advice from my loungewear capsule and pick items that I'm really excited to wear, whether they're something I would normally save for later or not. Pieces like a silk midi skirt or a jumpsuit would normally wait until the weekend but not this time! I'm also loving this fresh spring palette with lots of creamy white and neutrals with some trusty black pieces mixed in.
So here are my 10 items!
---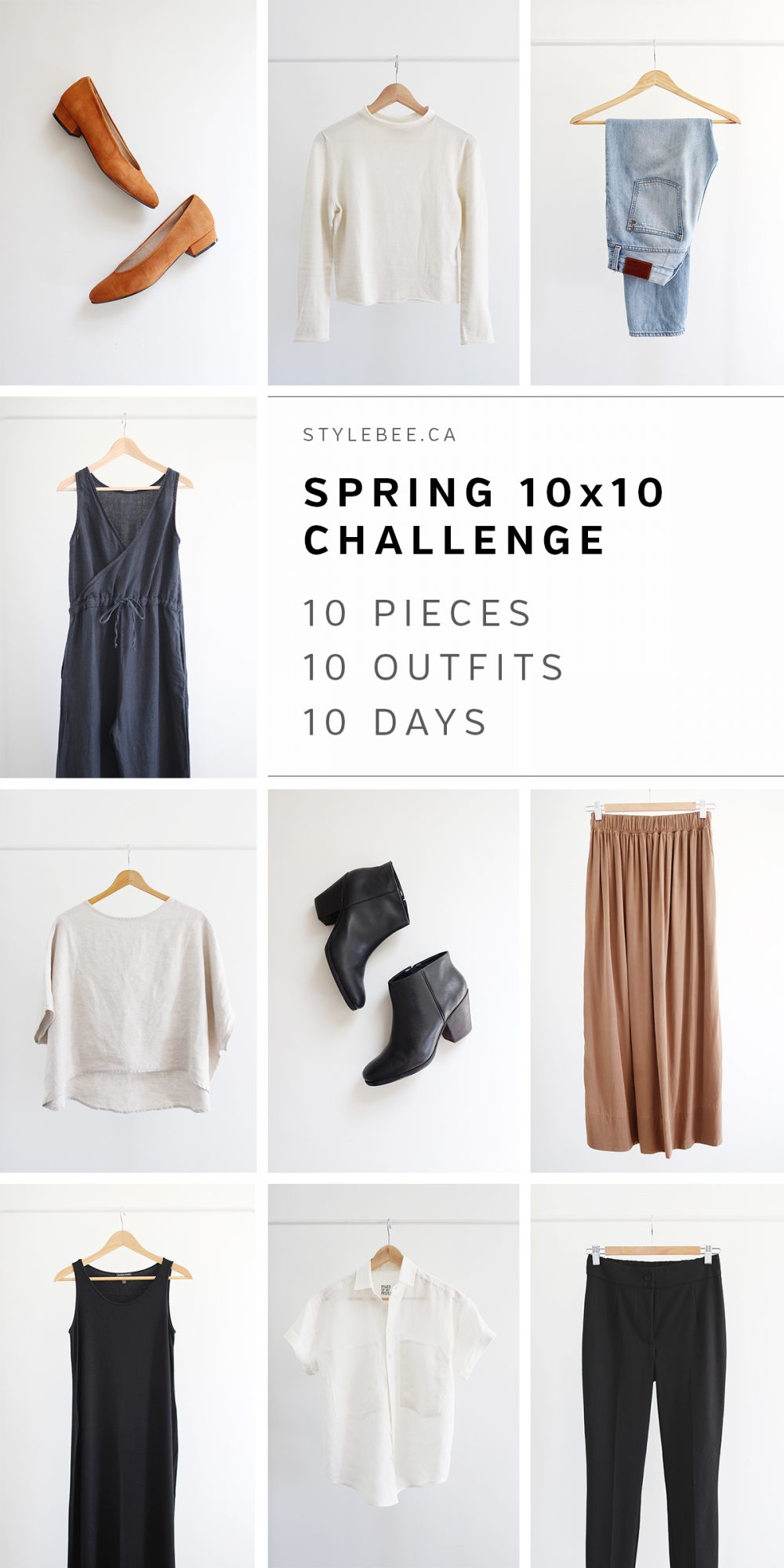 ---
MY 10 ITEMS
---
I'll quickly share my 10 items and where you can find them (or something very similar) below but I'll be going in depth about one during every outfit post, similar to what I did during the Fall Challenge. So for now, I've just included a quick blurb about why it's included. Also, many of these pieces are gifted items from past collaborations but they're really only here because I love them not because I was paid to share them. As you know, I'm pretty damn picky about what I add to my closet so if I wouldn't buy it, like fore real, I don't add it. So that little 'c/o' note is just for transparency at this point.
---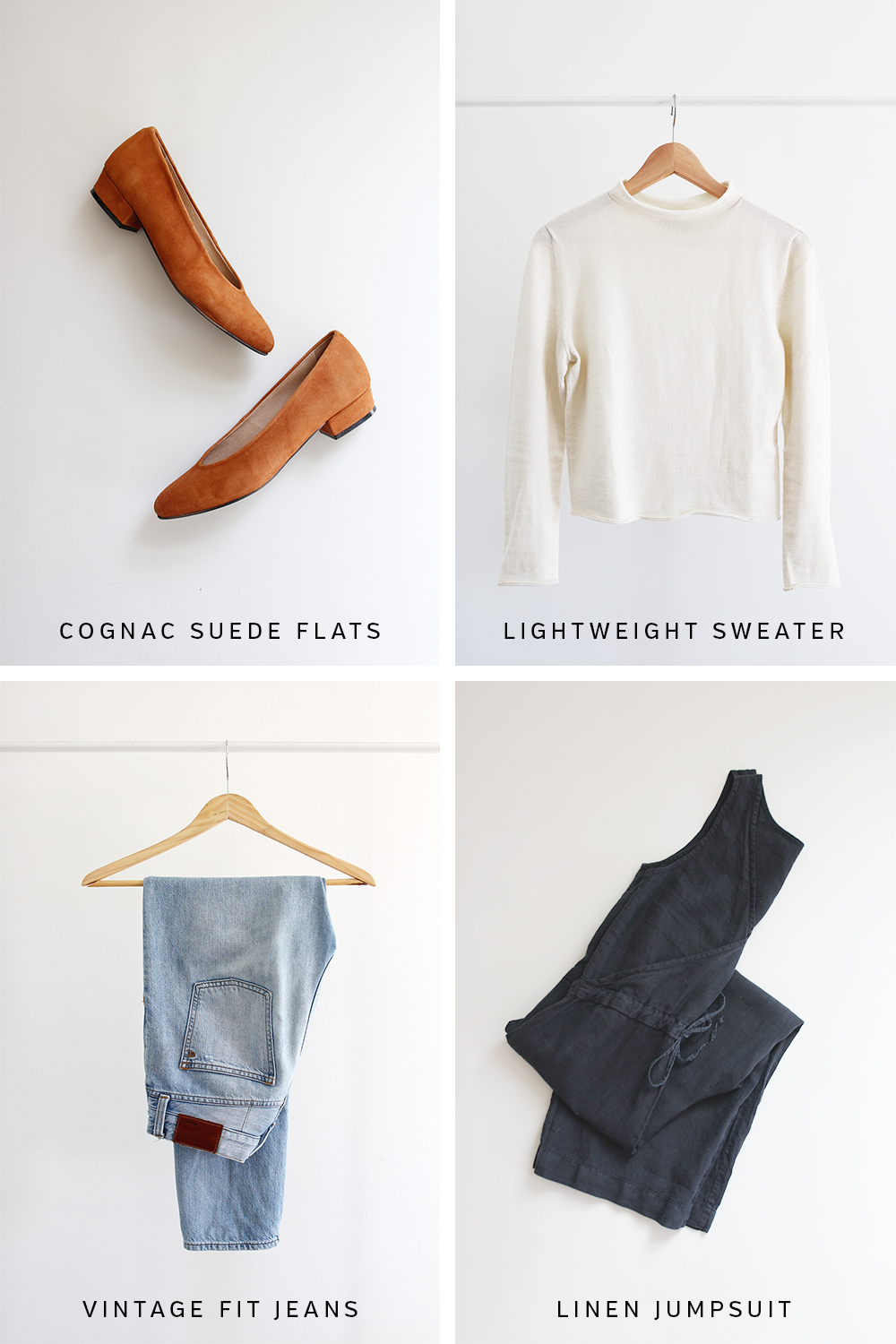 ---
1 | COGNAC SUEDE FLATS | L'Intervalle (2 months old) | $138 CAD | Made in Spain | Similar pair by Stuart Weitzman ($365 USD) and in Blush by Coclico ($295 USD) |
I have been wearing these around the house for months! I can't wait to finally take them for a real spin. I sprayed them with suede protector so hopefully they'll be safe.
2 | LIGHTWEIGHT SWEATER | Elizabeth Suzann (new, sold out) | Made responsibly in USA | Linked to similar by Everlane ($120 USD) |
I just got this beauty from the latest re-stock and it's easy my favourite lightweight sweater. The wool is absurdly soft and it feels both cozy and fresh at the same time. It'll be perfect for those nippy low temps.
3 | VINTAGE FIT JEANS | Madewell (2 yr old) | $162 CAD | Imported | Responsibly US Made Option by AGOLDE ($158 USD) |
I can't help it, Madewell jeans are so damn good. I've been wearing these weekly for years now and had to include them in this challenge.
4 | JUMPSUIT | c/o Esby Apparel (1 yr old, linked to new version) | $295 | Made responsibly in USA | Similar by Black Crane ($190 USD) and Not Perfect Linen ($136 CAD) |
This poor fella has been collecting dust for too long and I've been dying to get it out of my closet and into the world again! It was one of my favourite additions last Spring.
---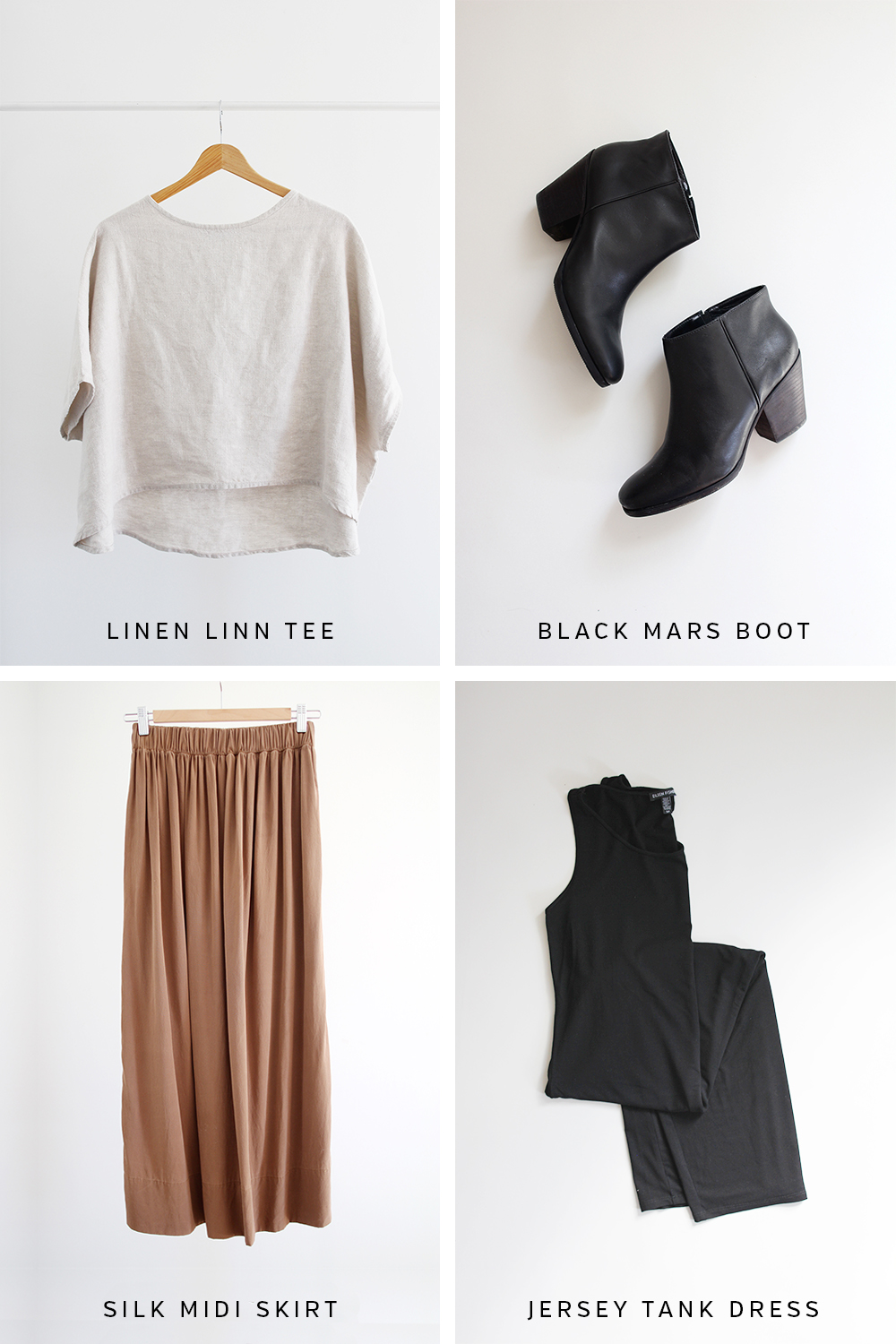 ---
5 | LINN TEE | c/o Elizabeth Suzann (1 yr old) | $145 USD | Made responsibly in USA | Similar by Eileen Fisher on sale.
You may have noticed that this one was part of last Spring's 10×10 Challenge but it's the easiest piece to throw on and go while still looking put together so it's back for round two!
6 | MARS BOOT | Rachel Comey (6 months old) | $426 USD | Made in Peru |
With the weather dancing up and down and all around I know I'll need some proper footwear for the cooler days. Plus, Mars boots are my favourite shoes and it pains me to be apart from them.
7 | SILK MIDI SKIRT | c/o Elizabeth Suzann (1 yr old, sold out) | Made responsibly in USA | Linked to similar by Base Range ($210 USD) and similar in linen by Black Crane ($229) |
I love this skirt but I hardly got to wear it last year so I've decided to retrieve it from the 'only on a perfect day' category and test it out for real-life.
8 | JERSEY TANK DRESS | c/o Eileen Fisher (4 months old) | $278 CAD | Made responsibly in USA |
My collaboration with Eileen Fisher in January, totally spoiled me. Her pieces and fabrics are phenomenal and this jersey dress has been patiently waiting for some blog love. I've worn it a ton of times already so I know it's going to be a great option.
---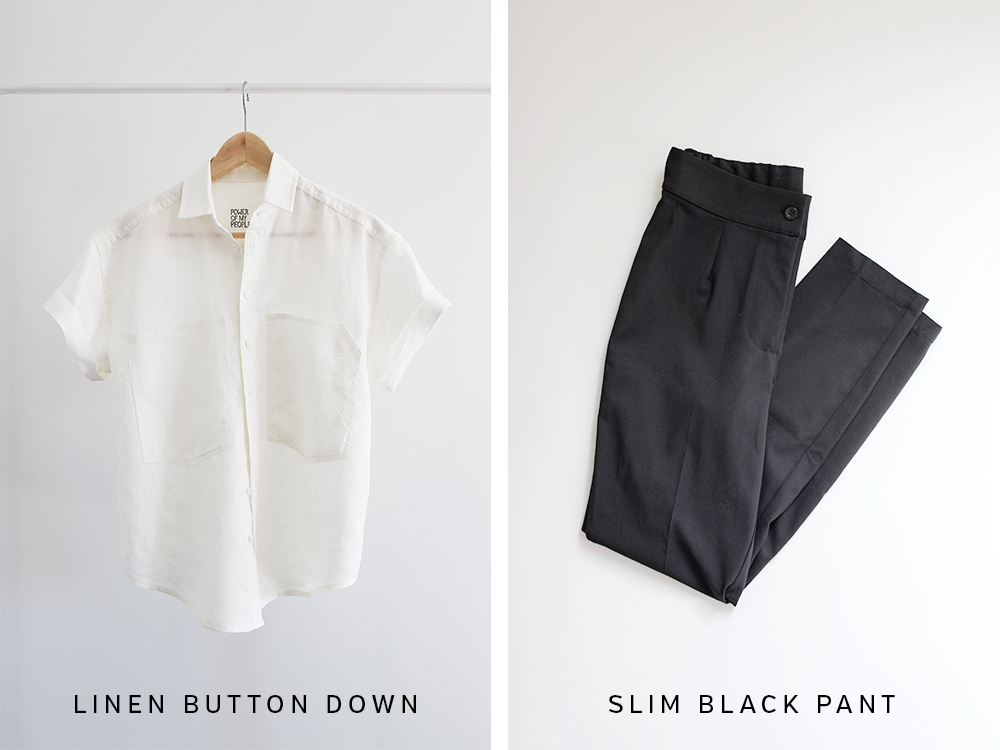 ---
9 | LINEN BUTTON DOWN | c/o Power of My People (new) | $165 CAD | Made responsibly in Canada | The lovely folks at P.O.M.P. have generously offered Style Bee Readers 20% OFF sitewide during the 10 x 10 Challenge! Just use code: STYLEBEE when you checkout.
I'm so thrilled to finally have one of these perfect shirts in my closet. Power of My People is a Canadian made line of work shirts that my partner Dave has been obsessed with for ages. So when I had a chance to add this one (and give Style Bee readers a chance to save on one too), I took it. I dare say it's the most versatile piece in this selection.
10 | SLIM BLACK PANT | c/o Nicole Bridger (new) | $194 CAD | Made responsibly in Canada of Blue Sign Certified fabric. | Similar by Eileen Fisher here (on sale for $210 CAD) and here ($236 CAD).
The lovely folks at Nicole Bridger (another Canadian line) sent me these pants to try out, no strings attached, no feature required but I LOVE them. So I decided to give them a true test run during this challenge.
So there you have the 10 pieces you'll be seeing a lot of over the next two weeks!
---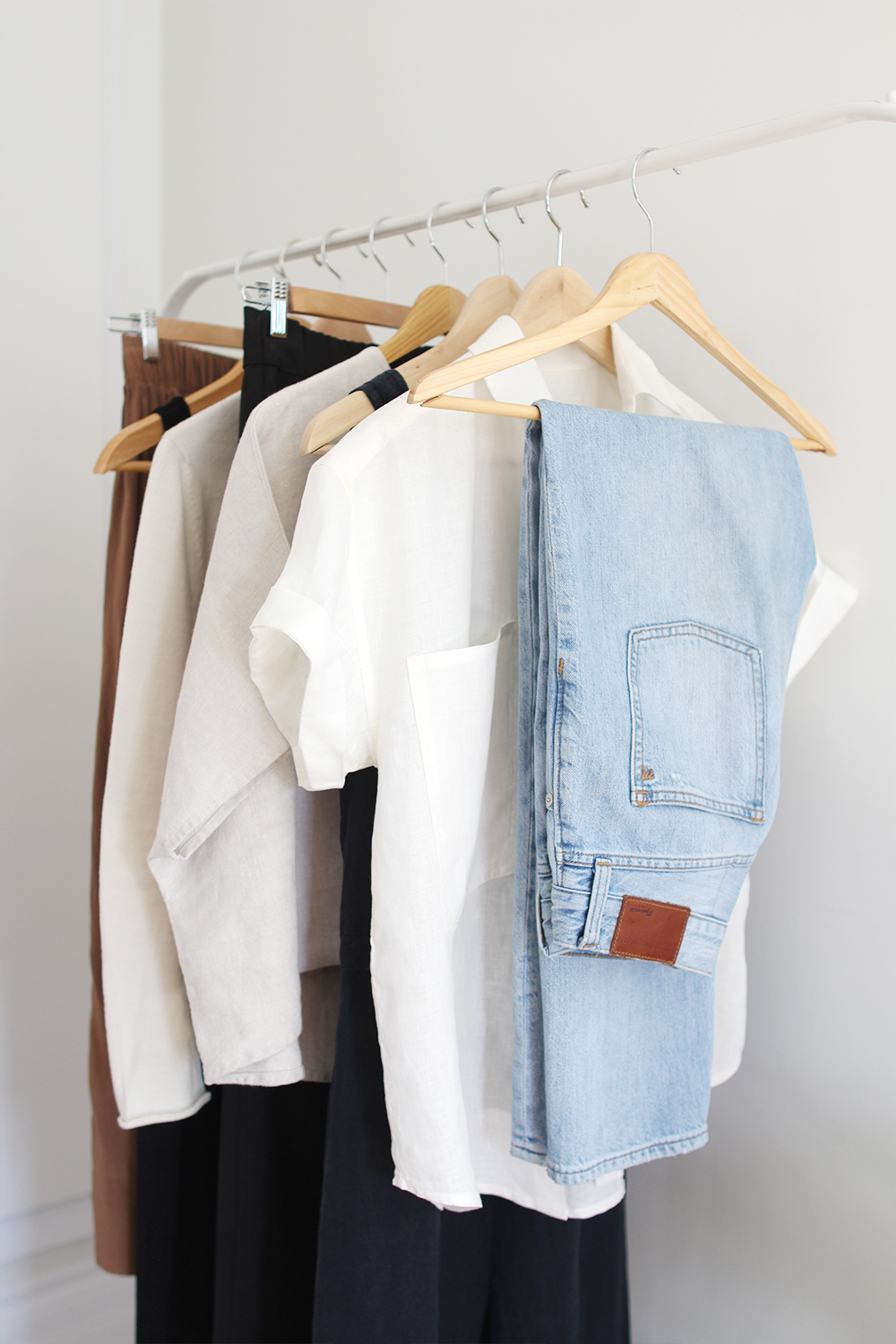 ---
OUTFIT POST STRUCTURE
---
I'll be posting one look everyday, Monday through Friday over the next two weeks. I'm taking it easy on the weekends, but will be working on bonus looks during those days for reveal in the final wrap up on April 24th. So for the most part posts will look like:
Quick Intro
Initial Thoughts
Fit and Styling Tips
A closer look at 1 of the 10 items each day.
+ a daily style story on my Instagram @leevosburgh.
Hope that sounds good! Be sure to check out Caroline's daily posts too at Un-Fancy or on Instagram @caroline_joy!
---
AND THAT MY FRIENDS IS THE START OF OUR SPRING 10 x 10 CHALLENGE!
---
SO TELL ME:
WILL YOU BE JOINING IN?
ARE YOU BLOGGING ABOUT IT?
IF SO LET ME KNOW YOUR URL SO I CAN CHECK IT OUT!
WHAT PIECES ARE YOU MOST EXCITED TO STYLE?
ANY QUESTIONS BEFORE YOU GET STARTED?
FEEL FREE TO LET ME KNOW IN THE COMMENTS.
---
WISHING YOU ALL A WONDERFUL WEEKEND AND A FABULOUS #SPRING10x10!
---
This post is not sponsored but contains affiliate links. When you shop via the links above I may make a small commission from a sale. Thanks for supporting Style Bee! All opinions are always my own.