Friday has arrived and so has the final outfit in the #Spring10x10 Challenge! So a double 'YAY!' is in order for sure. I'm sad to see the challenge end but I'm feeling great after having completed my seventh one (had to go back and count to be sure!). It's been such a treat to co-host with my talented and inspiring friend Caroline of Unfancy and I know this community would not have expanded the way it has without her support, thanks Caroline!
But the biggest thanks goes out to all of you! Whether you joined in or simply followed along it's been so encouraging to know there are so many people interested in making more of their closets and who appreciate the impact personal style has on our everyday life. It's awesome! I hope you've enjoyed the process and have some great insights to keep in your back pocket (pun intended) for the future too. I'll be organizing my findings and takeaways over the weekend and can't wait to pull together a #Spring10x10 recap post for Monday.
Missed this 10×10 Challenge? No worries, there will definitely be another one soon and you can always try one out on your own! You can get all the info here and tons of inspo here.
But before I sign off for the weekend, I've got one more look to show you!
---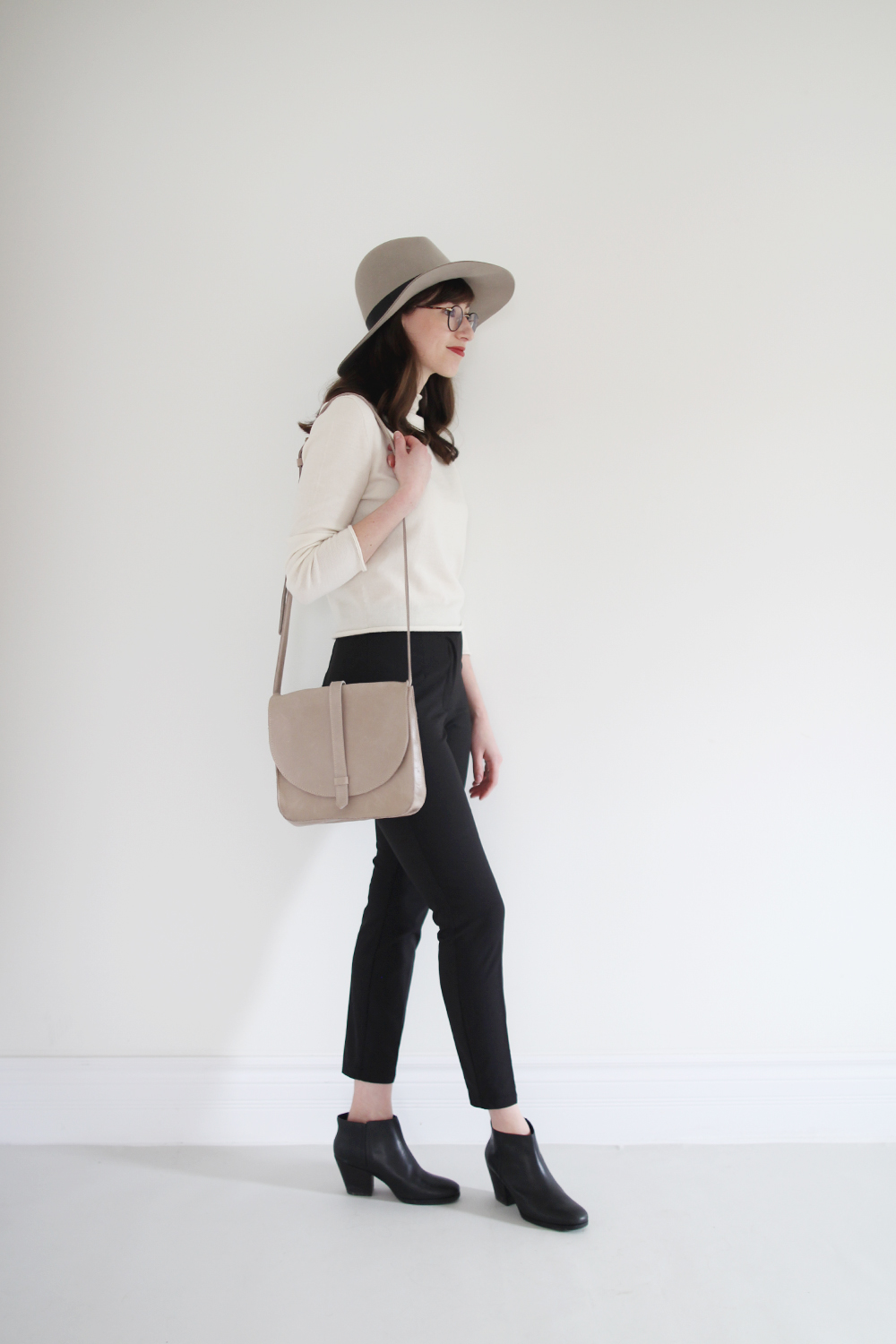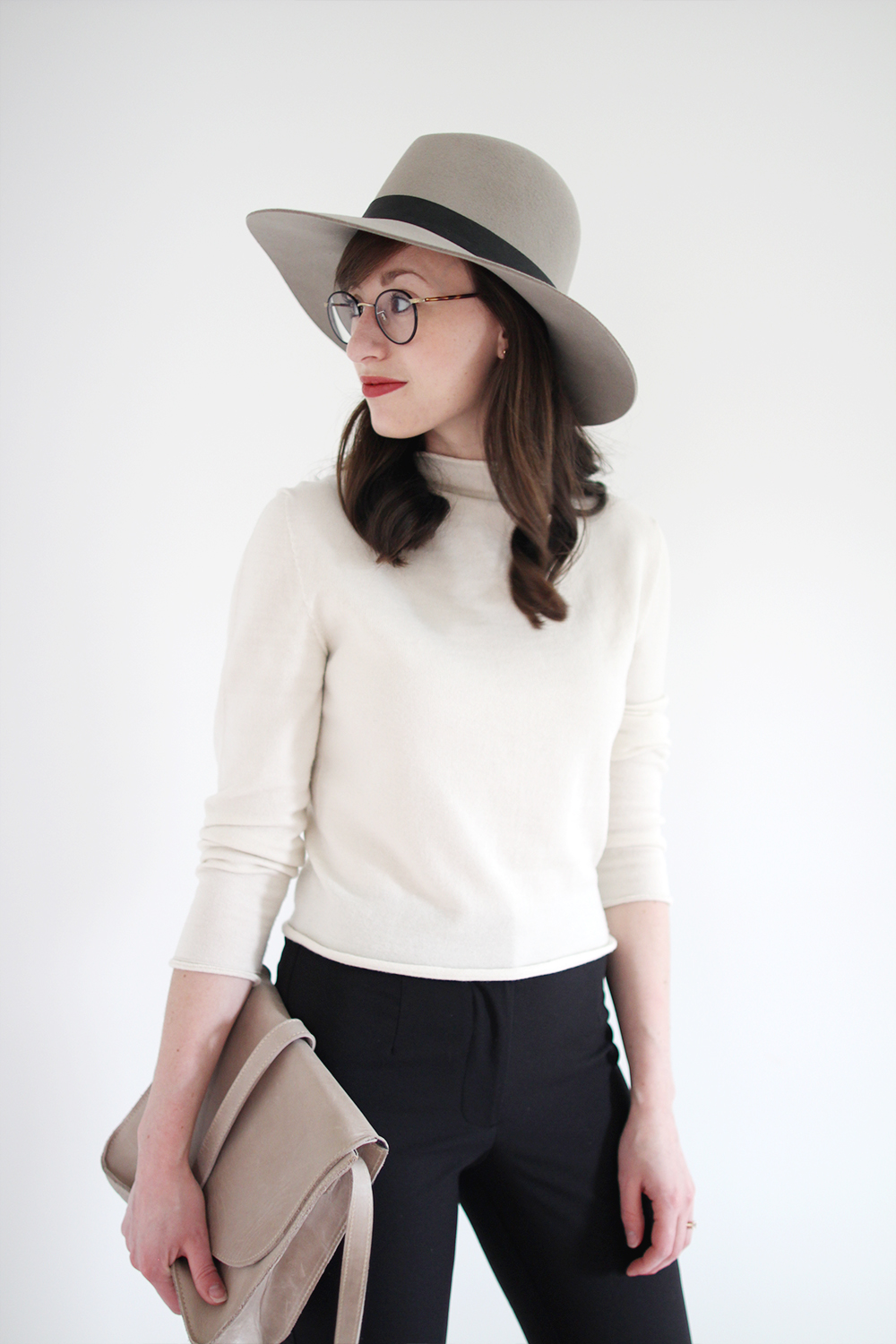 ---
INITIAL THOUGHTS
---
I think this might be my favourite outfit from the whole series, but there are definitely a few contenders for that title. This is not an outfit I would have normally put together if not for the challenge but I'm SO glad I did. It feels like a mashup of all my style icons. The pants conjure up some classic Audrey vibes, the sweater feels very Grace Kelly on holiday, and the other elements are obviously a nod to Diane K.
This is also a bit of a style breakthrough for me which I was worried wasn't going to happen this time. I mean two form-fitting pieces in 1 outfit? Woah! Definitely a new silhouette for me and even more surprising is how much I like it and feel comfortable in it.
I think the 'comfort' element is key in that I don't feel like anything is tight but instead more slim fitting. I can move around and do whatever the day calls for without any discomfort or fuss. The 'liking' part is thanks to a simple palette, awesome materials and a few familiar fit details like a cropped length top, high-waisted pants and an ankle grazing inseam.
So glad to be closing out the challenge with a new look and silhouette concept that I'm really excited about!
Today's Agenda: Making the most of this gloomy friday. I'll be out and about for a bit but otherwise it's emails, planning, shooting a bit and then more emails and planning. I'm definitely calling it a day in good time and pouring myself a generous glass of wine!
---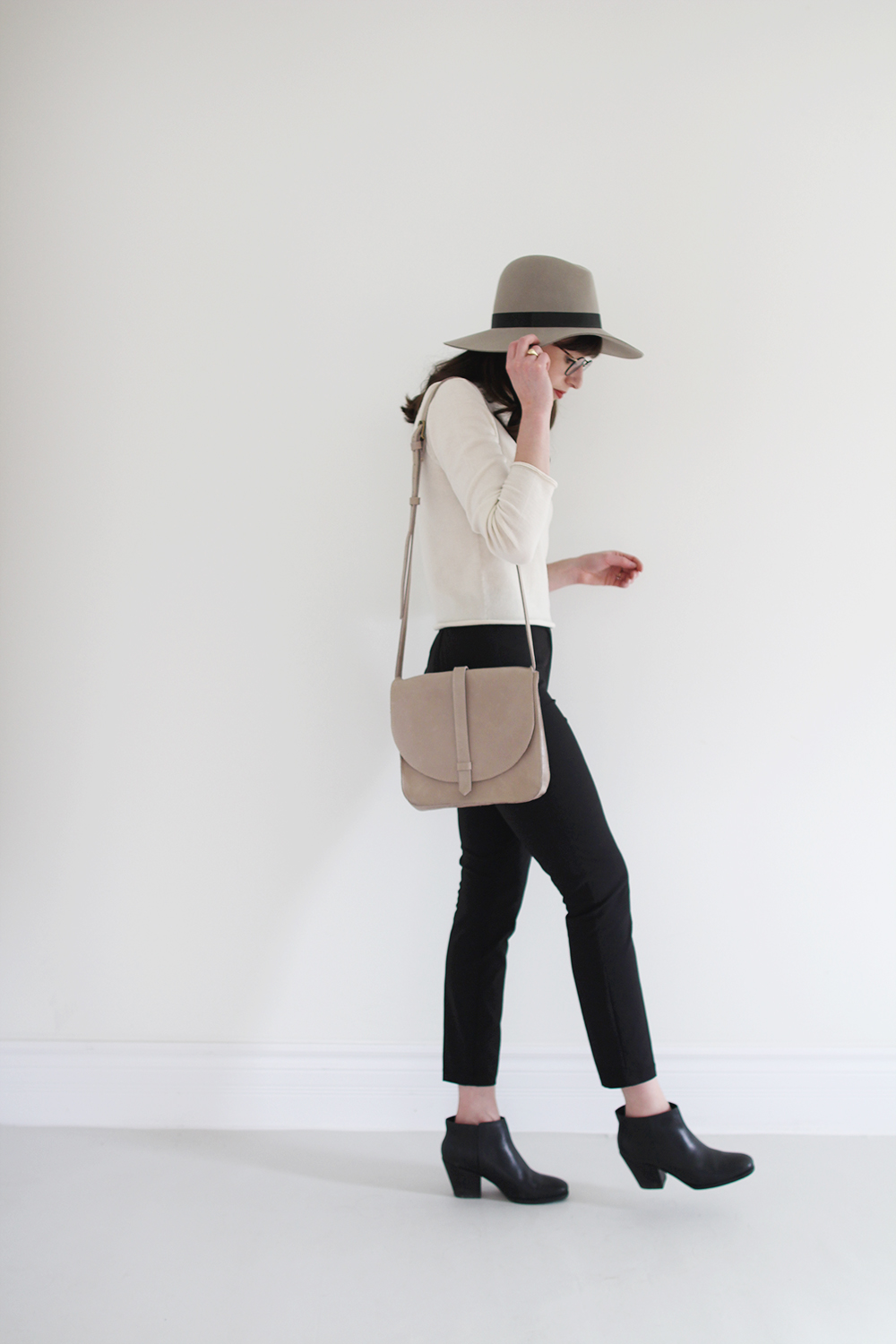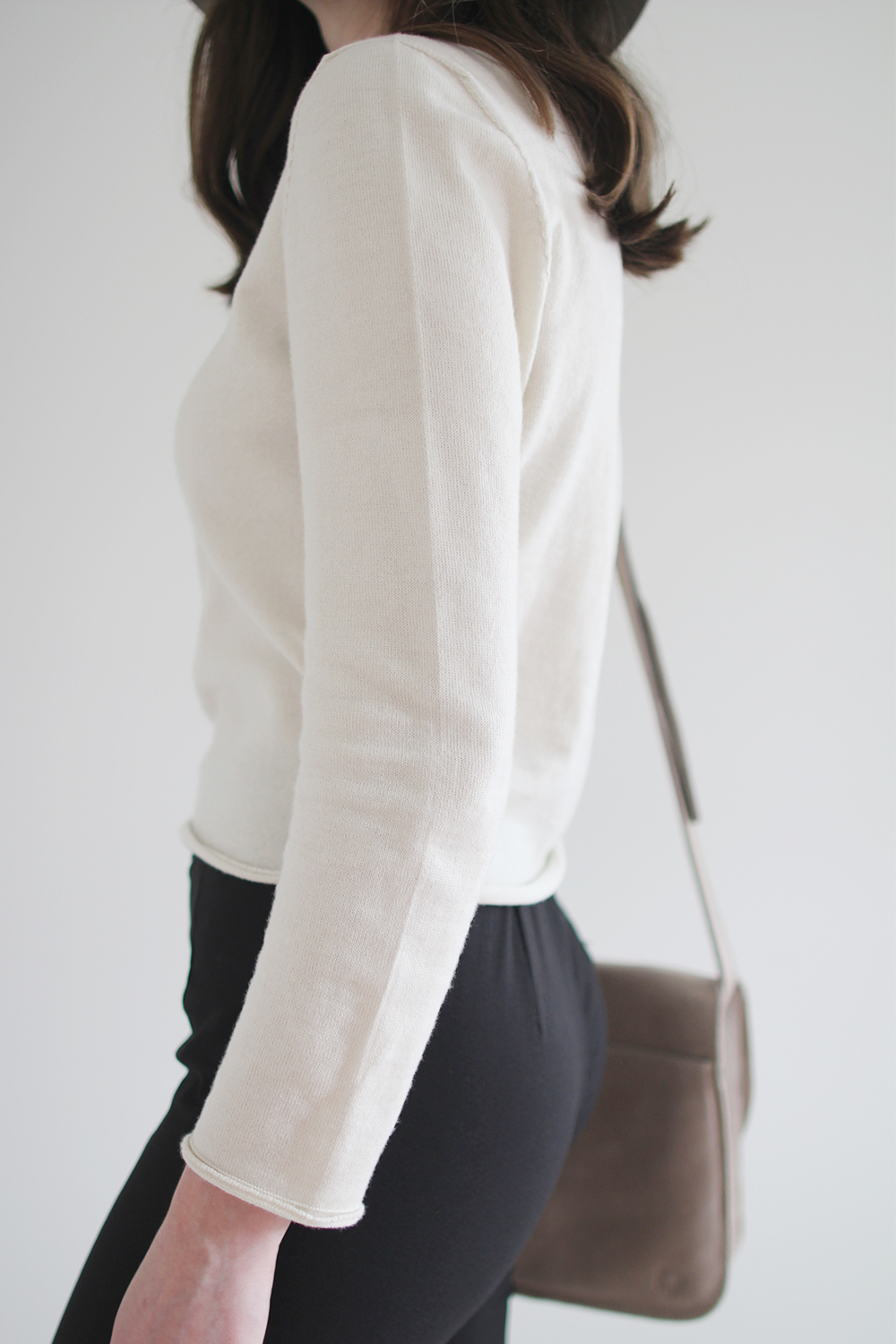 ---
STYLING DETAILS
---
1 | SLIM ON SLIM | As you likely know by now, I'm not afraid of a little volume in my outfits. Actually, the opposite has been true for some time now but I'm slowly warming back up to the idea of a more slim fitting silhouette. To me the key word here is slim. Pieces that graze the figure closely but never feel tight are beginning to see a lot more wear thanks to this challenge. To keep within my comfort zone I stick to low-key neutrals like black and ivory. This way it's not too much change to adapt to.
When you're experimenting with new shapes and fits, stick to colours and materials you're very comfortable with so you can focus on whether the fit is right without being distracted.
2 | SLATE ACCESSORIES | This 10×10 challenge really confirmed my love for slate accessories paired with a black and ivory look. Like SO MUCH! Something about this palette is so calming and timeless and makes me feel entirely at home with my style. Sure it might not be exciting or vibrant, but it's elegant and ageless, which I love.
Once you find a palette you love, roll with it. Don't feel like you have to add a pop of colour or pattern. Pay attention to how a palette makes you feel and embrace it accordingly!
3 | ALL HAIL THE ANKLE | I'm really loving the exposed ankle lately. In fact, every look throughout this 10×10 Challenge has featured it in some form. Finding the right inseam to flatter this area and work with my ankle boots has made all the difference. on my a 28 in inseam hits at the perfect spot to leave some room above my ankle before my boots. Without knowing it, both the pants I included on the challenge have that inseam length.
When considering why a look is working or where it could use some help, assess the ankle situation. Do your pants need to be hemmed or cuffed to hit at the best spot?
4 | KEEP IT CLASSIC | Every piece in this look reads timeless and classic to me. It still feels contemporary but I know I'll be able to wear all these items for many years to come and that none of them are trend based or likely to date themselves thanks to design or pattern.
Classics are called such for a reason, so it's always a safe bet to invest in good quality options that will stand the test of time and trends.
5 | LONG CROP | I know that sounds like an oxymoron but this top is the 'longest' crop top in my collection and I really like the fit. It falls beyond the top of my high-rise pants by about an inch which makes for supremely easy pairing.
Perhaps you've never dabbled in the crop-top realm for fear of over-exposure, and I get it! But instead of writing the style off completely look for a length that hits below your belly button and above your hips for a fool-proof overlap on any higher rise bottom. You might be surprised by how easy and flattering the result is!
---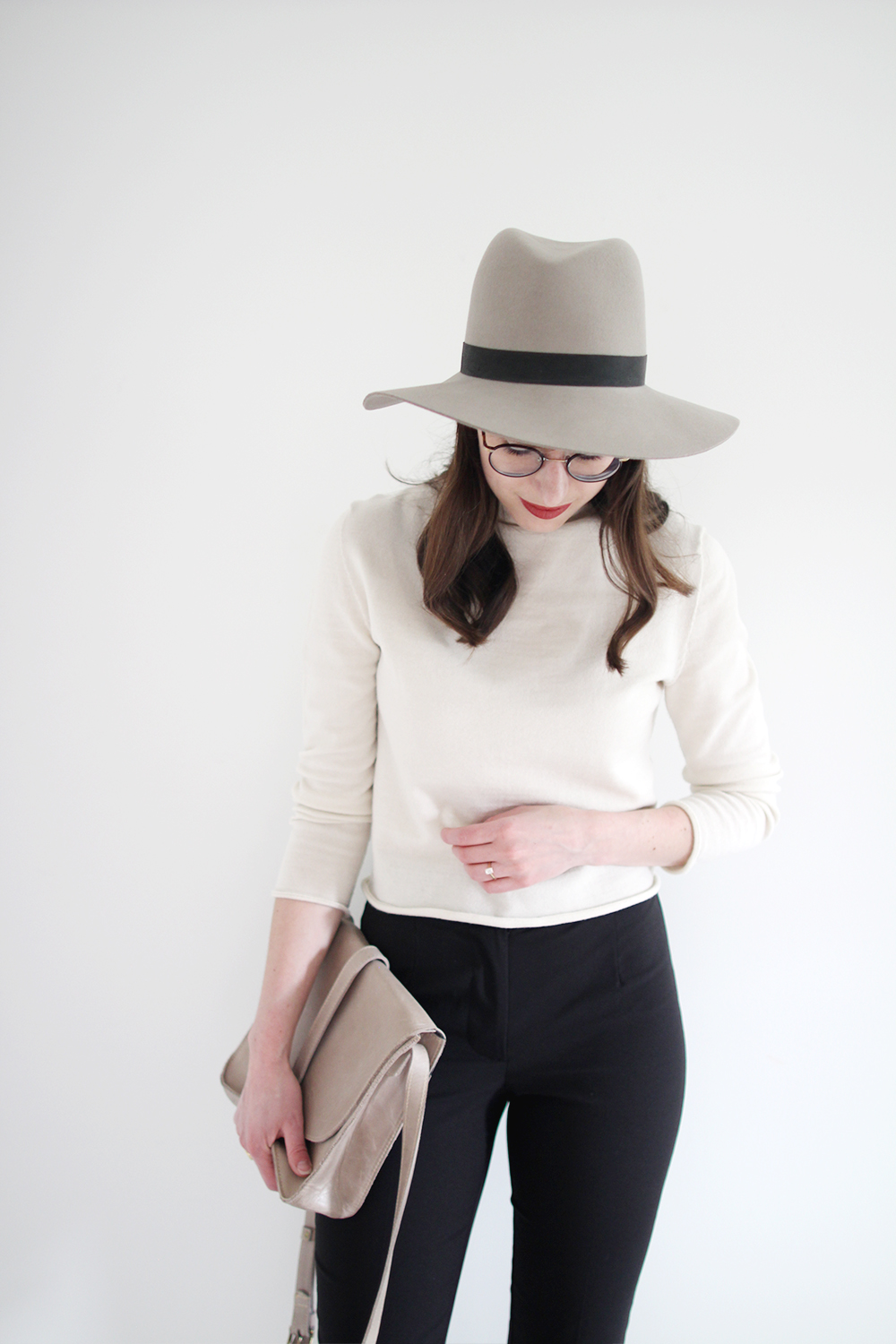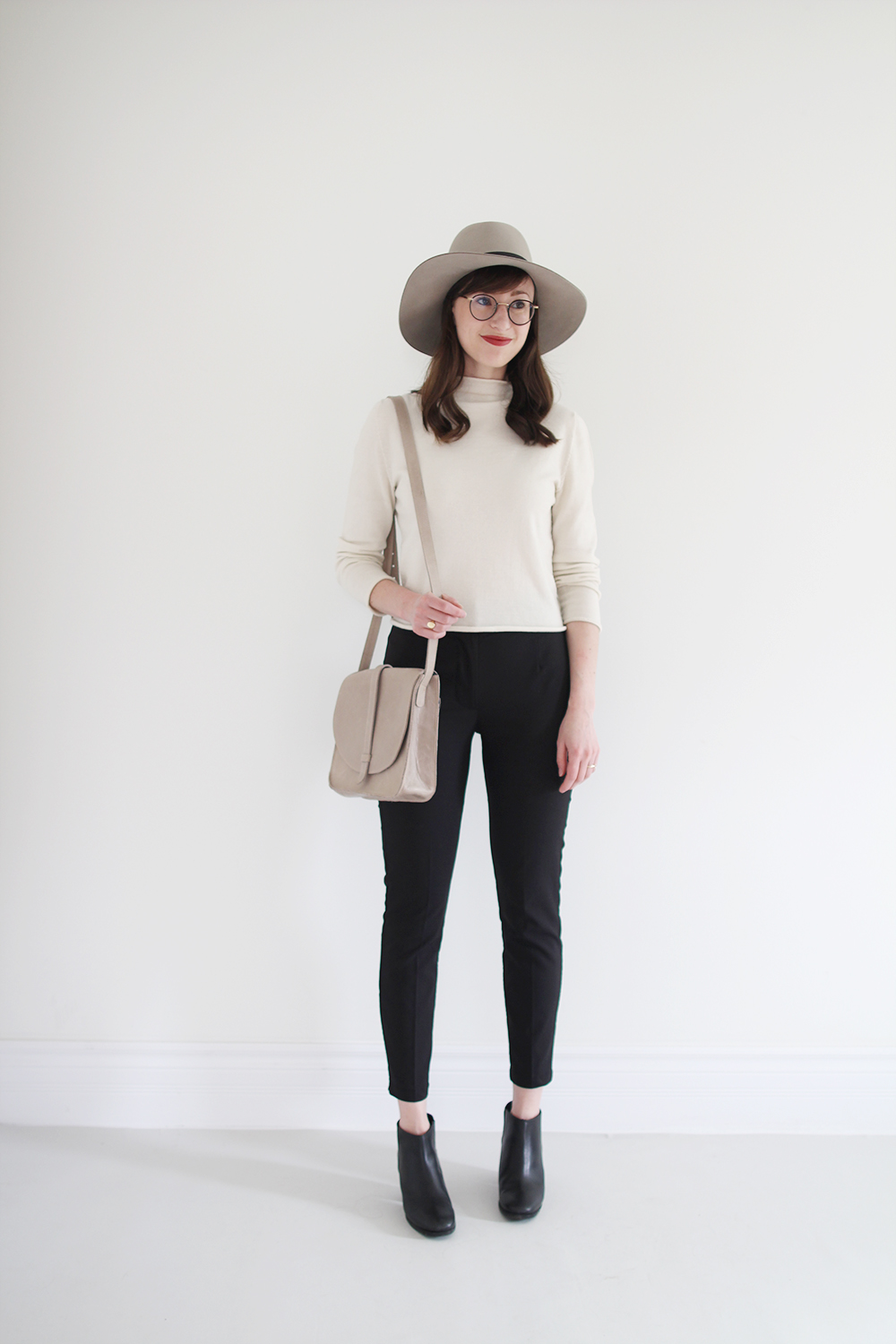 ---
TODAY'S ITEM SPOTLIGHT – MARS BOOT
---
I've been an unabashed fan of the Mars Boot by Rachel Comey for years now and my love for this shoe is still as strong as ever. They're the best-selling signature style by the beloved Brooklyn designer and after many seasons spent in them I can definitely appreciate why they've garnered a mass cult following. Even though it's not exactly 'boot' season I get A LOT of questions about these so I'll do my best to impart my thoughts on these once and for all!
SIZE: The Mars boot fits True to Size but slightly narrow. I actually have 2 sizes in these. My Whiskey pair are older and a US 6.5 and my Black pair are newer and a US 7. I prefer the US 7 so my recommendation is to take your normal size and if you're foot is wide take a 1/2 size up. I have a narrow foot so I didn't find them too tight but many people note that they fit snug at first and stretch out with wear to fit your foot perfectly. This was the case with my 6.5 pair. The difference is that I can only wear a slim sockette with the smaller pair but I can get away with a regular dress sock in the larger size.
PRICE: $426 USD, which is definitely an investment price but so well worth it. Also, you can often nab them during seasonal sales (both of mine were snagged on Black Friday) and that helps.
MATERIALS: Pull-on design with concealed elastic goring at inner ankle (genius!). Almond toe (timeless!). Tonal topstitching (minimalist!). Lightly padded footbed (comfort!). Leather lining (fits and feels great!). Stacked block heel (more comfort!). Leather sole with rubber traction pad (replaceable and no slipping!).
FABRICATION: These boots are made in Peru by expert craftsmen and the quality is highly apparent.
COMFORT: These are very comfortable boots. The stacked, angled, block heel makes for a very comfortable and supportive heel so you get some height (3 inches) without the pain. The footbed is indeed padded so there is little chance the balls of your feet will be sad. There is not much in the way of arch support so if you need that, an insole might help but I have high arches and find there's no issue.
CARE + DURABILITY: I simply wipe my Mars boots off when they get dirt or mud on them and spray with protector a few times a season (especially after exposure to rain). Both pairs have been drenched in the rain and dry out fine with no marks or stiffness. My whiskey pair needs a polish to return them to a rich brown once or twice a year but they buff up like new every time. The pair in these photos hasn't been polished or buffed ever and I got them last Fall. Other than the fact they've melded to my feet, both pairs are pretty much like new after many many days and kilometers of wear.
STORAGE: I wear these so often that I rarely end up 'storing' them at all but they come with a dust bag so I store them in there during the dead of winter or when I travel.
---
Again, this review is not sponsored, I'm just a big fan of these boots! 
---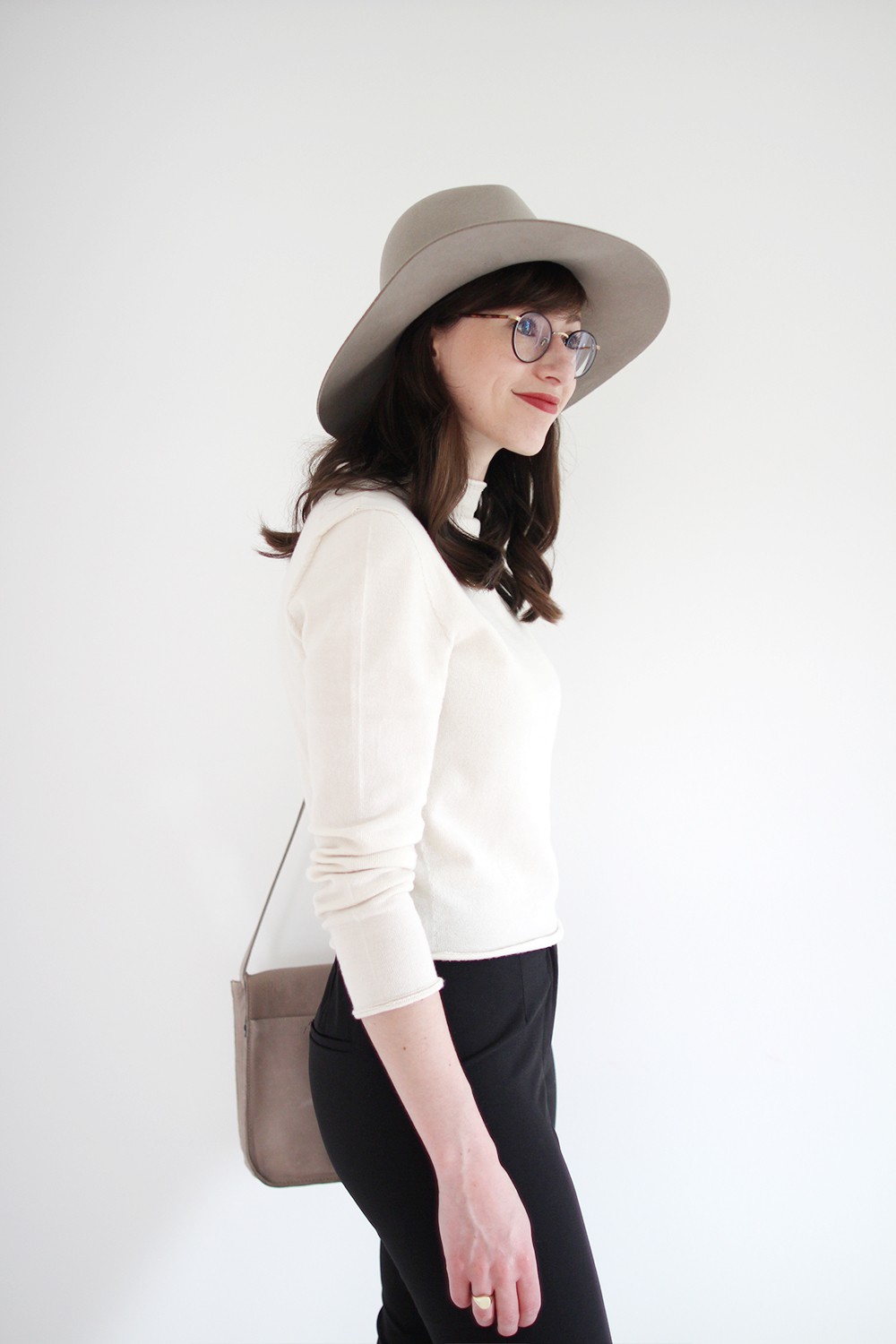 ---
COAT ADDITION
---
A little denim top coat felt like the perfect way to polish this look off for a crisp Spring day. The shape is clean and minimal, which pairs perfectly with this understated neutral look. The coat is lightweight but definitely helps to fend off the chill that's in the air. I love how this coat pairs with just about everything but a slim black pant feels especially chic at the moment. These sleeves are cropped by design so they always let a nice amount of the shirt below peek out. This is one outfit I will definitely be repeating in the near future!
---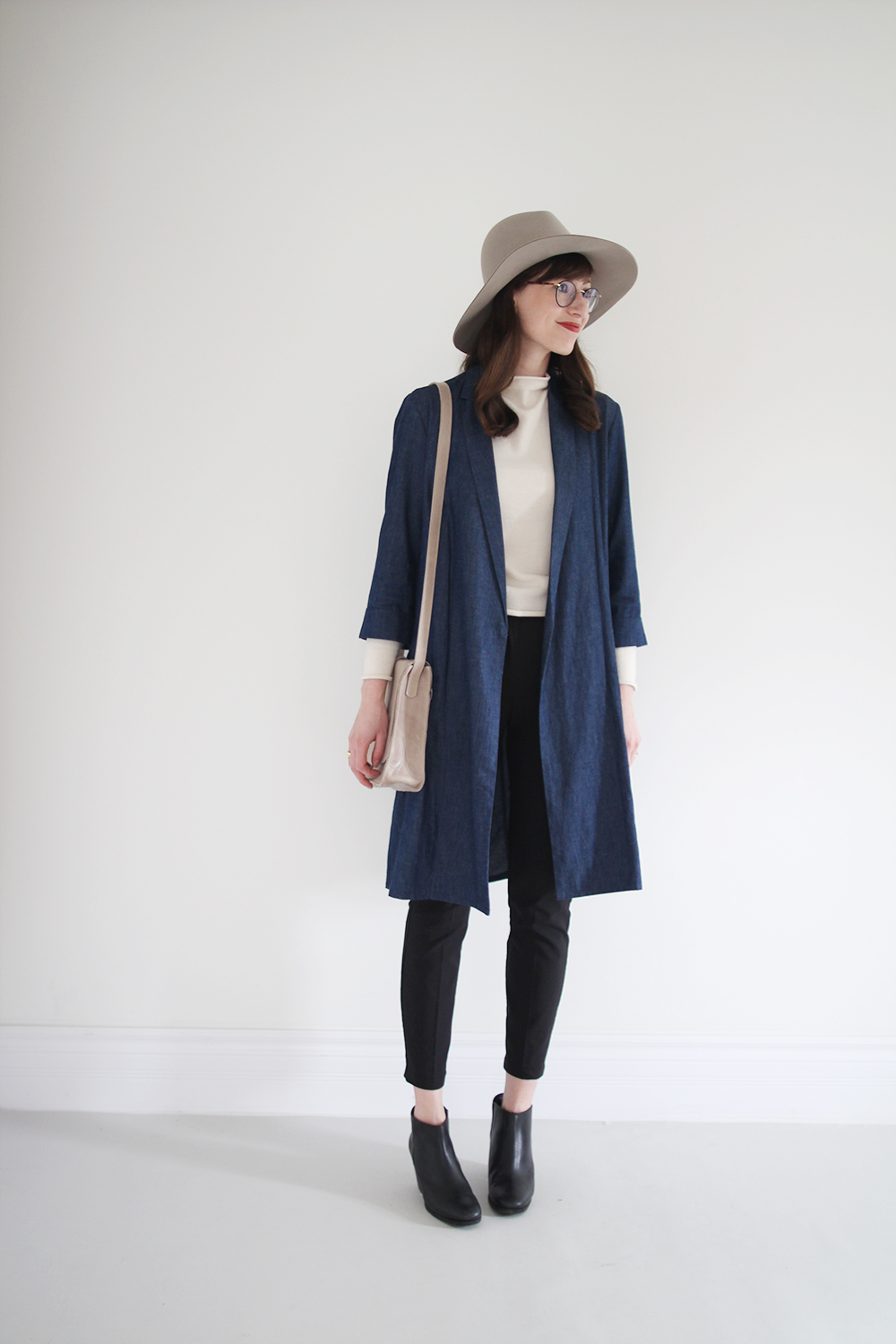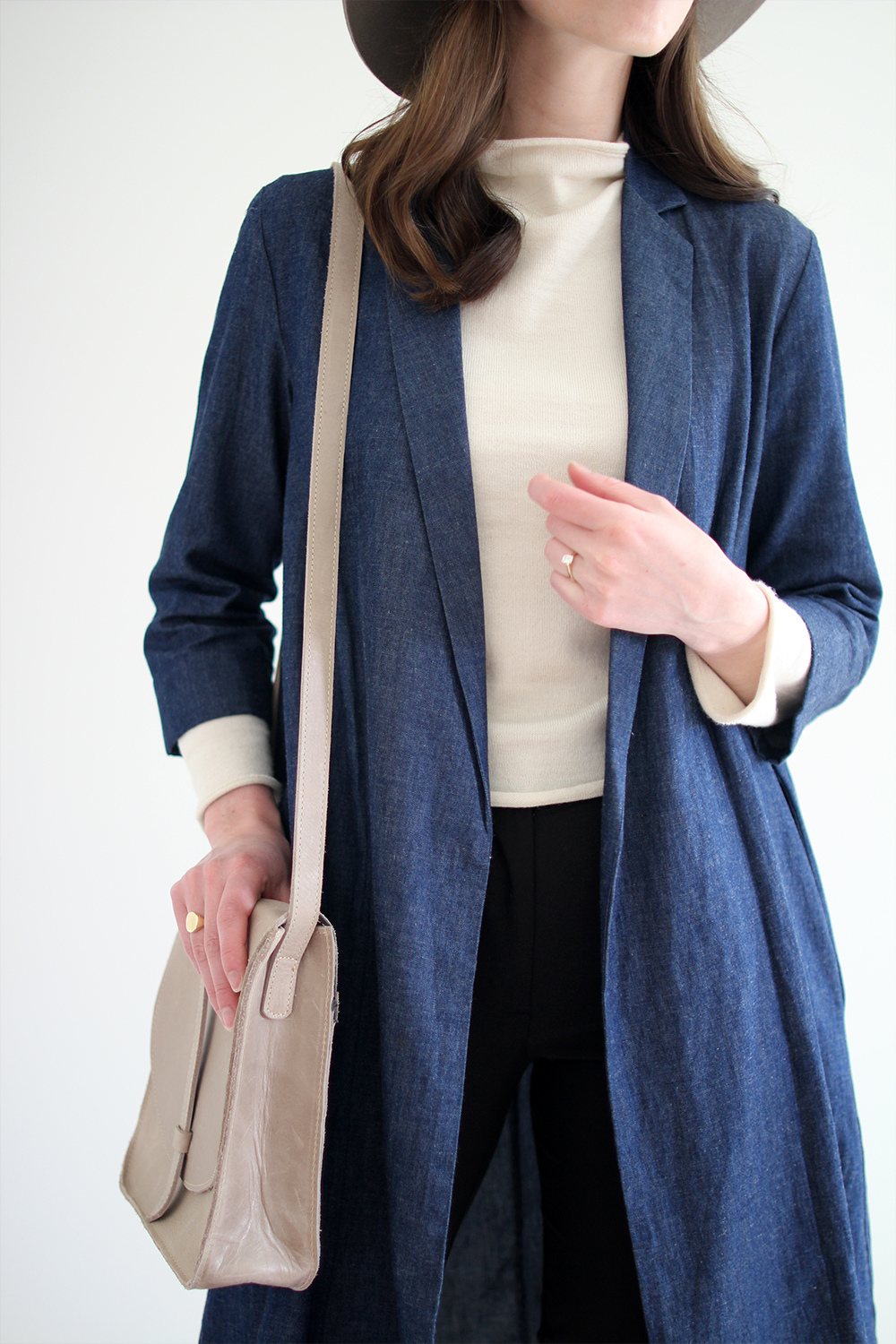 ---
1 | RHODES SWEATER | Elizabeth Suzann (new, sold out) | Made responsibly in USA | Similar option by Everlane ($120 USD)
2 | SLIM BLACK PANT | c/o Nicole Bridger (new) | $194 CAD | Made responsibly in Canada of Blue Sign Certified fabric. | Also available in Slate. | Similar by Eileen Fisher here (for $250 CAD) and here ($236 CAD) be sure to size down in both.
3 | MARS BOOT | Rachel Comey (6 months old) | $426 USD | Made in Peru
4 | TIRHAS SADDLE BAG | c/o FASHIONABLE | $148 USD | Made responsibly in Ethiopia and Mexico
5 | DENIM DUSTER | Ali Golden | s/o | Similar here and same style in different colours here (receive $20 Off when you sign up). | Made Responsibly in the USA
6 | LOTUS HAT | Janessa Leone | $181 USD | Made Responsibly in the USA
GLASSES | GARRETT LEIGHT | $335 USD | SIGNET RING c/o CLAUS | $110 USD | Made Responsibly in the USA
---
YAY! WE DID IT! ANOTHER 10×10 CHALLENGE IS COMPLETE.
---
I'd love to know, if you joined in the challenge, was it a helpful exercise? Would you consider doing it again?
Give your takeaways a ponder over the weekend because I'd love to know your findings too!
If you have any specific questions about how I chose and mixed up my 10 pieces, let me know!
---
Tune into my Instagram Stories (@leevosburgh) later today for the final outfit in action. Be sure to catch Caroline's last look over on her blog and Instagram too!
---
This post is not sponsored but contains affiliate links. When you shop via the links above I may make a small commission from a sale. Thanks for supporting Style Bee! All opinions are always my own.