Happy Friday everyone! Another week has flown by and we're heading to a friend's cottage for the weekend. I can't wait to unplug, kick back and catch up with some of my favourite people. We've got good food, cold drinks, lake fun and lots of relaxation on the agenda, which is precisely what I'm in need of. Are you heading anywhere for the weekend? I know it's a big one for those of you south of the border.
But before I sign off for a couple of days, let's have a look at the final outfit combos from this Formal Wear Series. This last one might just be my favourite, but I must admit it's hard to say for sure. I saved this look until the end because it's one of my all-time favourite 'fancy' additions to my closet and even though it's outside my typical style I still feel 100% myself in it, whether I'm dressing it up or down.
If I've learned one thing throughout this series it's that you can indeed get glamorous without sacrificing comfort or versatility. You need not feel self-conscious or uneasy in order to be dressed for the occasion. In fact the better you feel the better you look! Forgive the cliché, but confidence really is the best accessory.
So let's take a peek at this last look and recap all the formal looks from the series (+ a bonus outfit)! 
---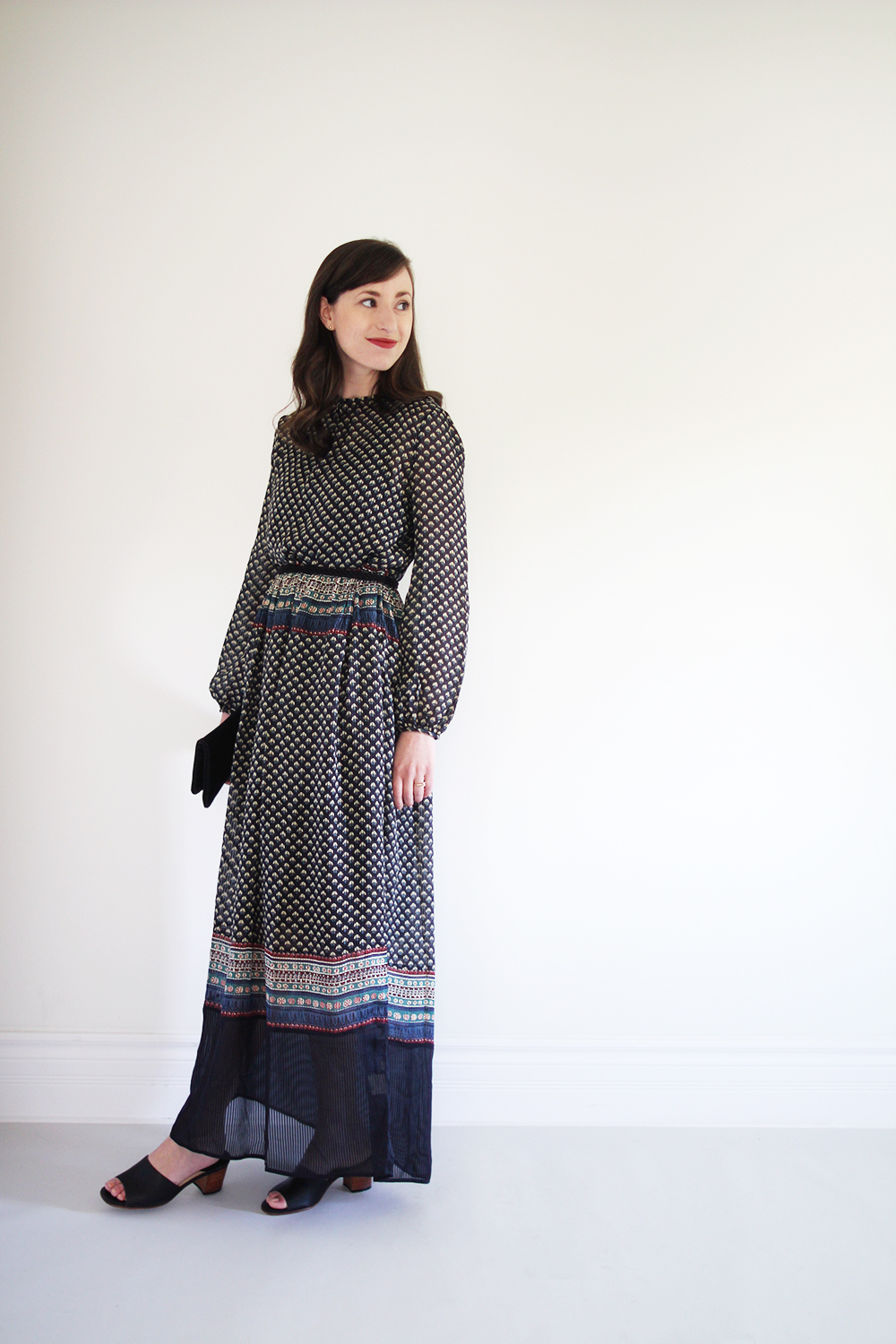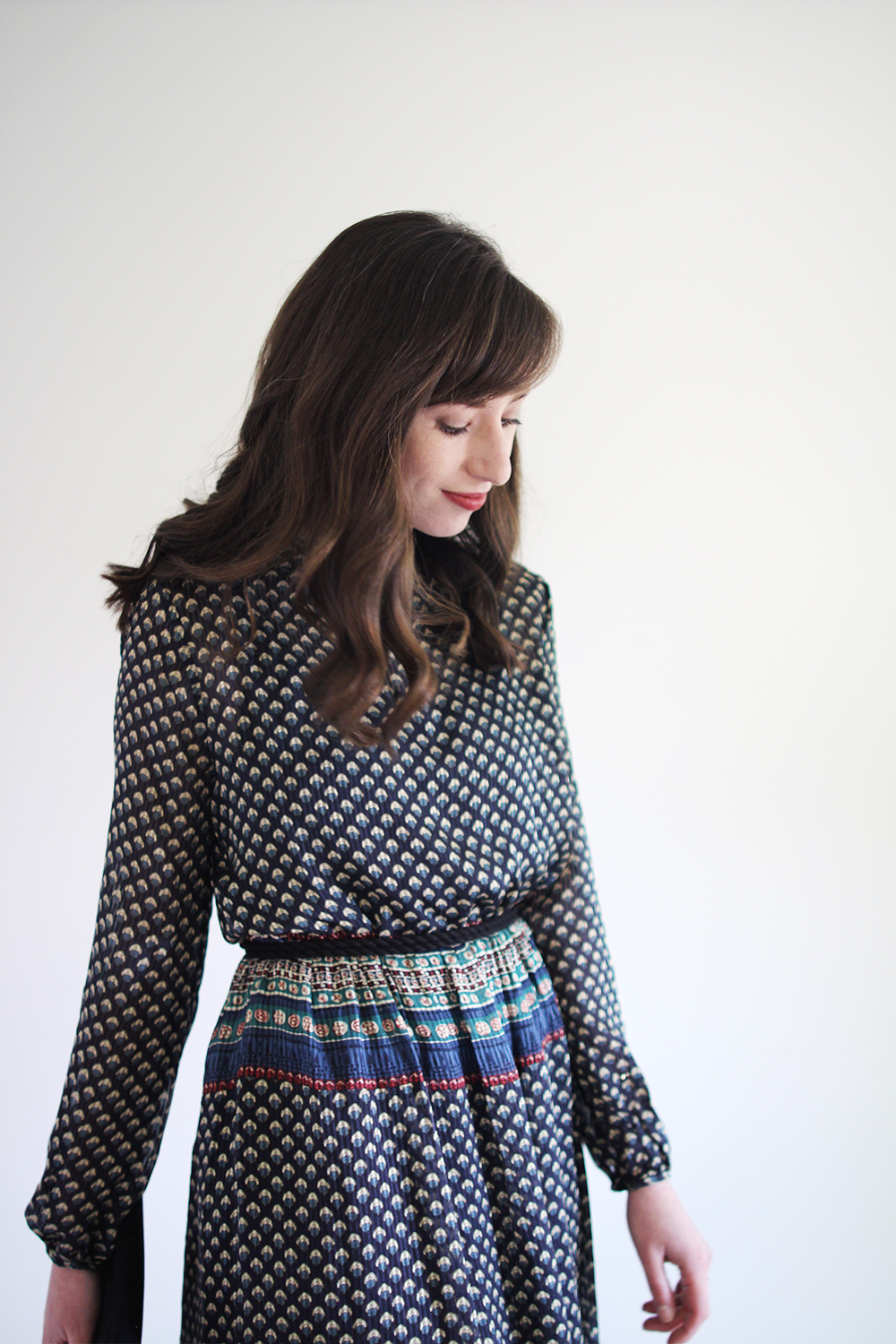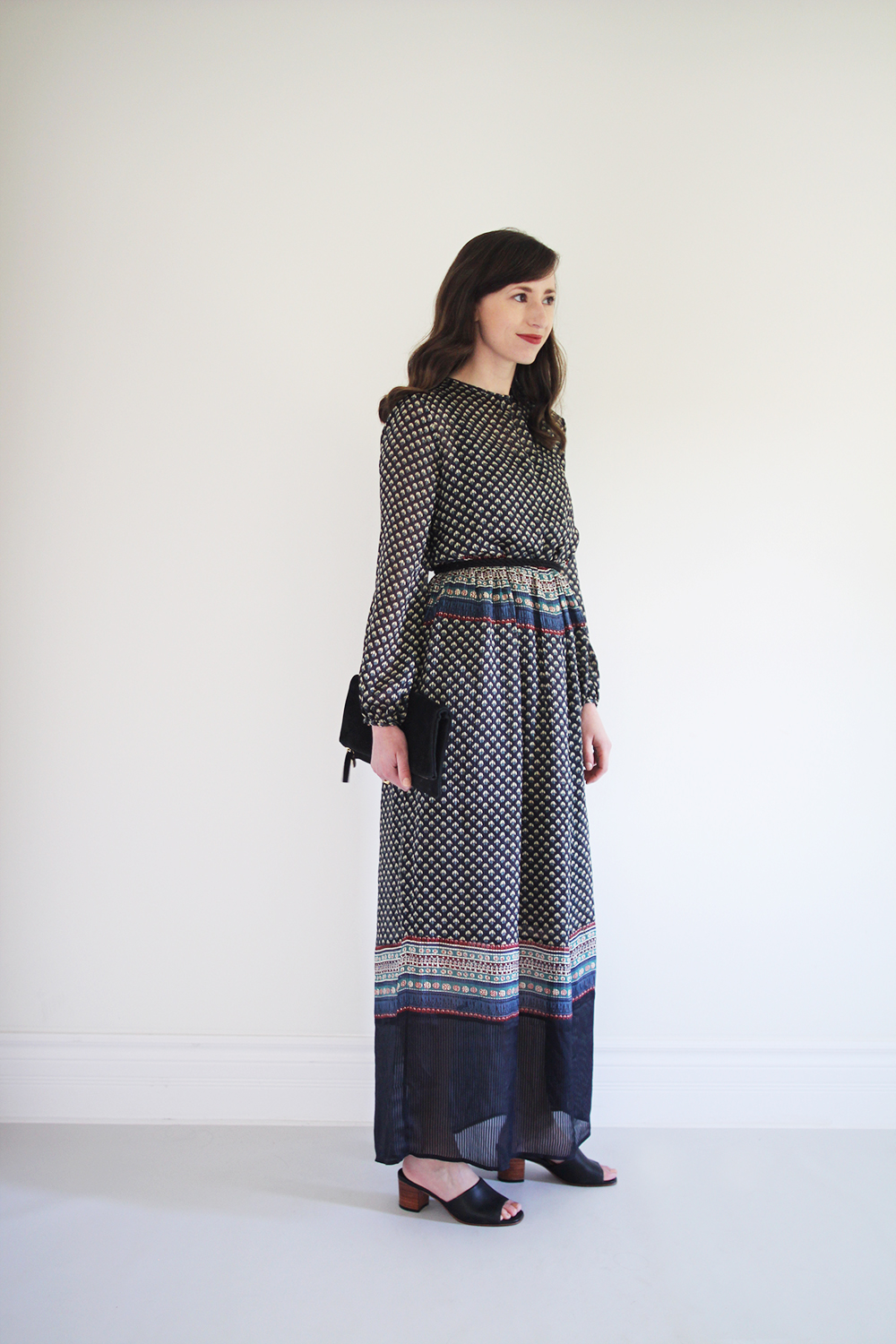 ---
INITIAL THOUGHTS
---
This dress had been on my mind and wish list since I first spotted it last Fall. I was instantly mesmerized by the gorgeous pattern, unique design (hello long sleeves!) and ethereal silk jacquard fabric (it's like wearing butterfly wings). It had all my bohemian dream dress elements mixed into one perfect piece. Except for the price tag, which with our crap exchange rate was just too far outside my reach for such a special occasion item. Then about a month ago I saw it was in the last chance section marked down by 50% and well, as you can see, that was all the incentive I needed to make it happen.
Now all I can say is that this is probably the loveliest piece in my entire closet. I'll be wearing this one every chance I get this summer. Weddings, showers, birthdays, rehearsal dinners, bbqs, date nights, you name it, if the weather allows I'm in it.
Aside from being a total beauty this dress attracted me for it's more practical reasons:
1 | LONG SLEEVES + HIGH NECK | Not only is this an elegant visual design but it's totally impervious to tan lines, whether you have some to hide or you're avoiding them. I'm in the latter boat as I'll be wearing a strapless wedding dress at the end of the summer.
2 | BELT OPTION | I love that this dress has a removeable belt giving you the choice of either defining your waist or wearing the dress loose (as per look #2 today).
3 | SUPER LIGHTWEIGHT SILK | This silk jacquard is like nothing I've felt before. It's so light and airy it honestly feels like you're wearing a breeze. I love silk crepe and raw silk but this is 100x more breathable. This does make it more delicate for sure so watch out for snags.
4 | MINI SLIP INCLUDED | The product description doesn't mention this but it comes with a little silk slip that's sheer but when layered under the dress makes for full coverage to the mid thigh.
This one is sure to become a go-to for years to come. It's a great option for expecting ladies too because it has a very forgiving waist-line. For shorter babes who don't want to rock heels, you'll need to have it hemmed as I'm 5'7 and it's just barely short enough to not drag on the ground.
---
PSA: DÔEN is having a pop-up shop in Toronto! They'll have a selection of SS'17 styles to shop at The Narwhal (8 Price Street, Toronto) on June 2nd and 3rd if you want to snag a bohemian beauty like this. This is in no way endorsed, I'm just on their mailing list!
---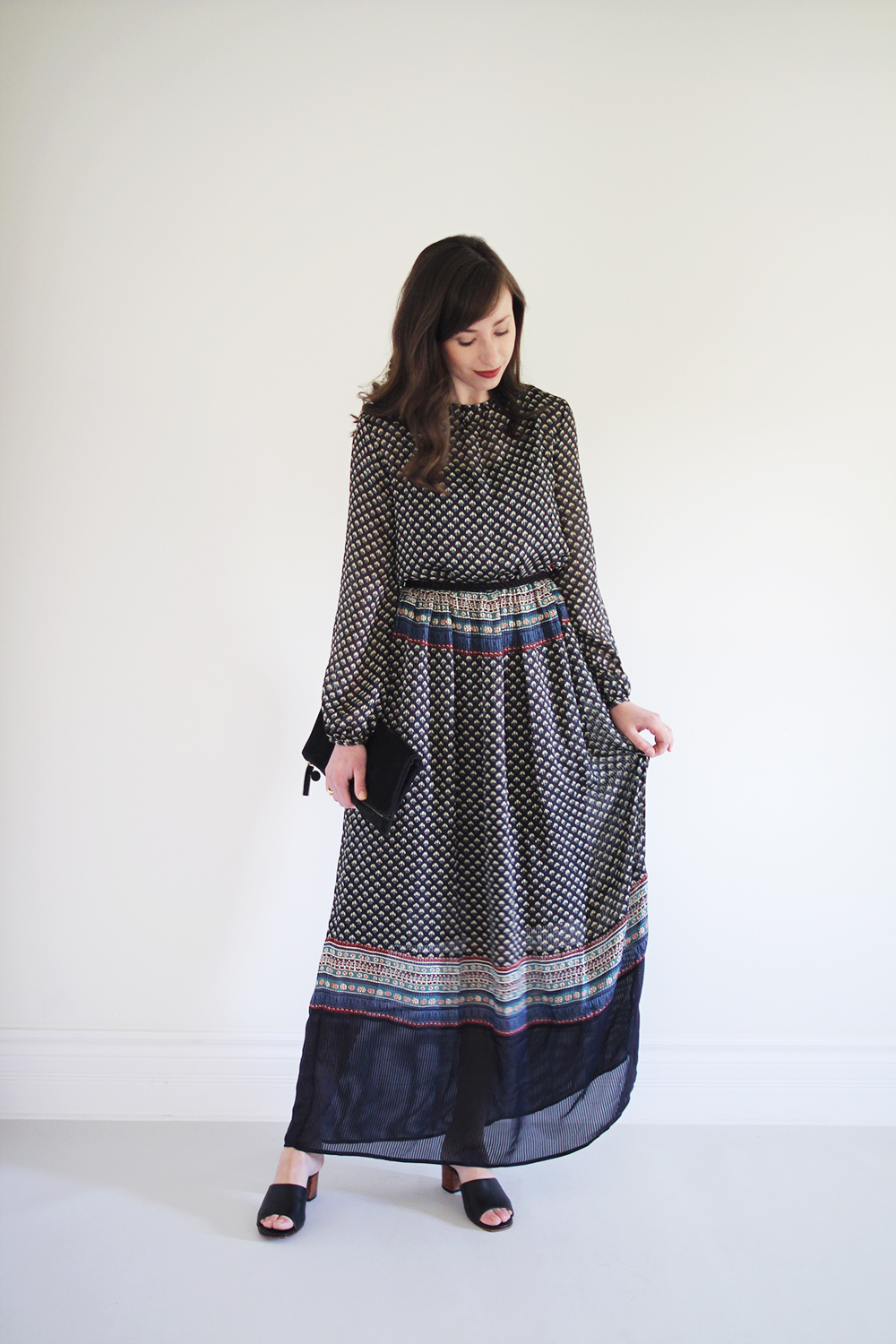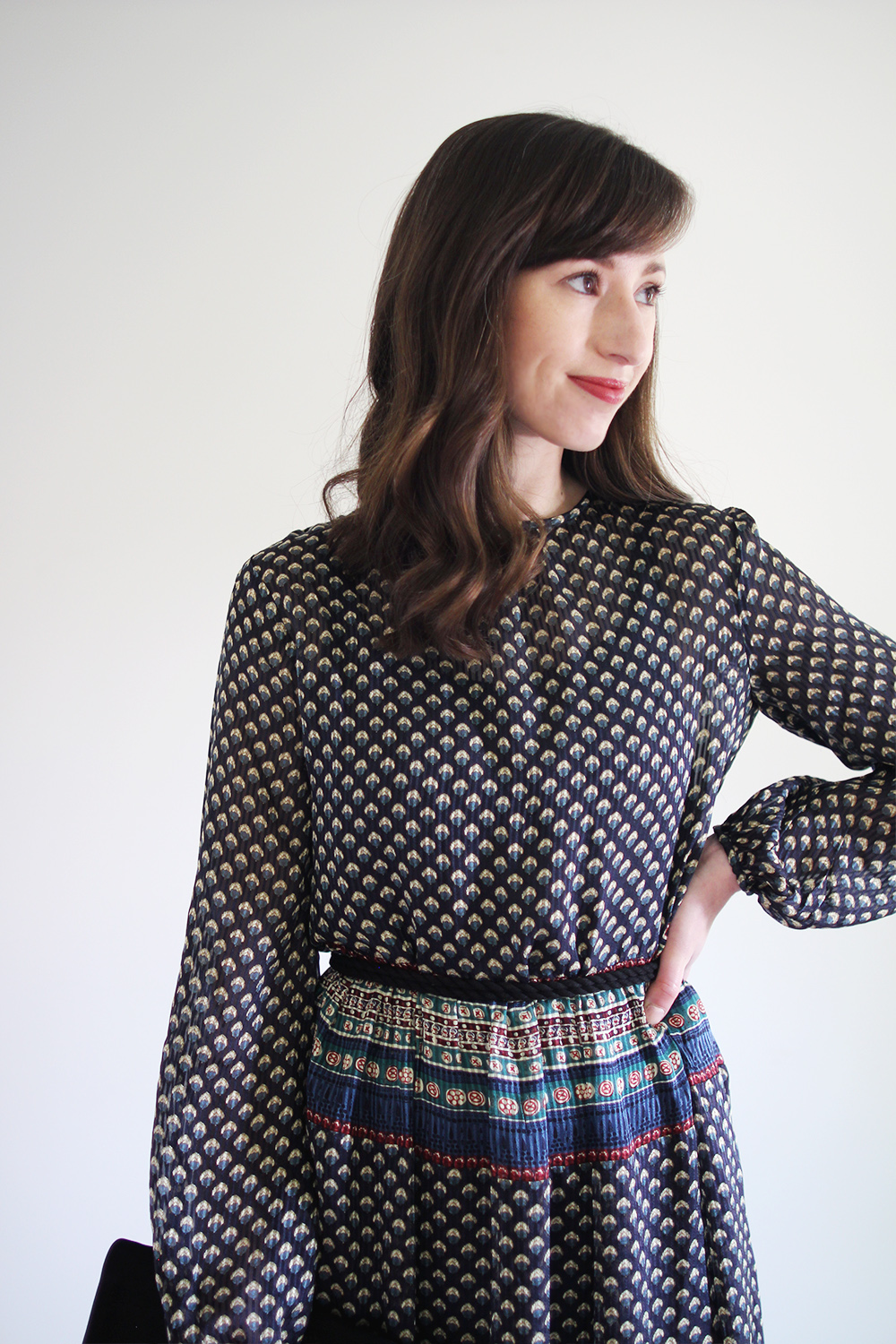 ---
STYLING NOTES
---
1 | EASY BOHÈME | You probably remember the acronym K.I.S.S. (keep it simple stupid) and it definitely came to mind when I was putting this look together. This dress is probably the most bohemian item in my closet and thus, a bit outside my usual comfort zone. So I let the pattern be the focal point and kept every other element very simple. From my basic black clutch to my super simple sandals and the black rope belt, every 'extra' is black and minimal.
To keep a look simple, even when you're wearing a lot of pattern my suggestion is to keep your accessories cohesive (clean lines, same colour etc.). This way while the pattern makes a statement the overall look still stays clean and unfussy.
2 | RESISTING BLING | I would have loved to add a statement earring to this look but I didn't feel as though I had the right option in my collection (this pair or these would have been awesome). So instead of wearing something that wasn't exactly right, I stuck with my usual gold studs and just embraced the simplicity.
Instead of forcing something to work try to just go with the most simple neutral option. When it comes to jewelry, rather than adding something that's not totally spot on, opt for pieces that you know will work 100% even if they're what you wear everyday. 
3 | COLOUR PICKER | Similar to the tool in photoshop, when possible, I like to find a small colour in my look to replicate on my lips for a subtle note of tonal continuity. In this case I noticed the small hints of burgundy in the pattern and played up my lip colour to match.
If you want to infuse a look with more colour over all you could use this same trick and apply it to your accessories. For instance a pair of burgundy sandals or a burgundy clutch would work really nicely too.
---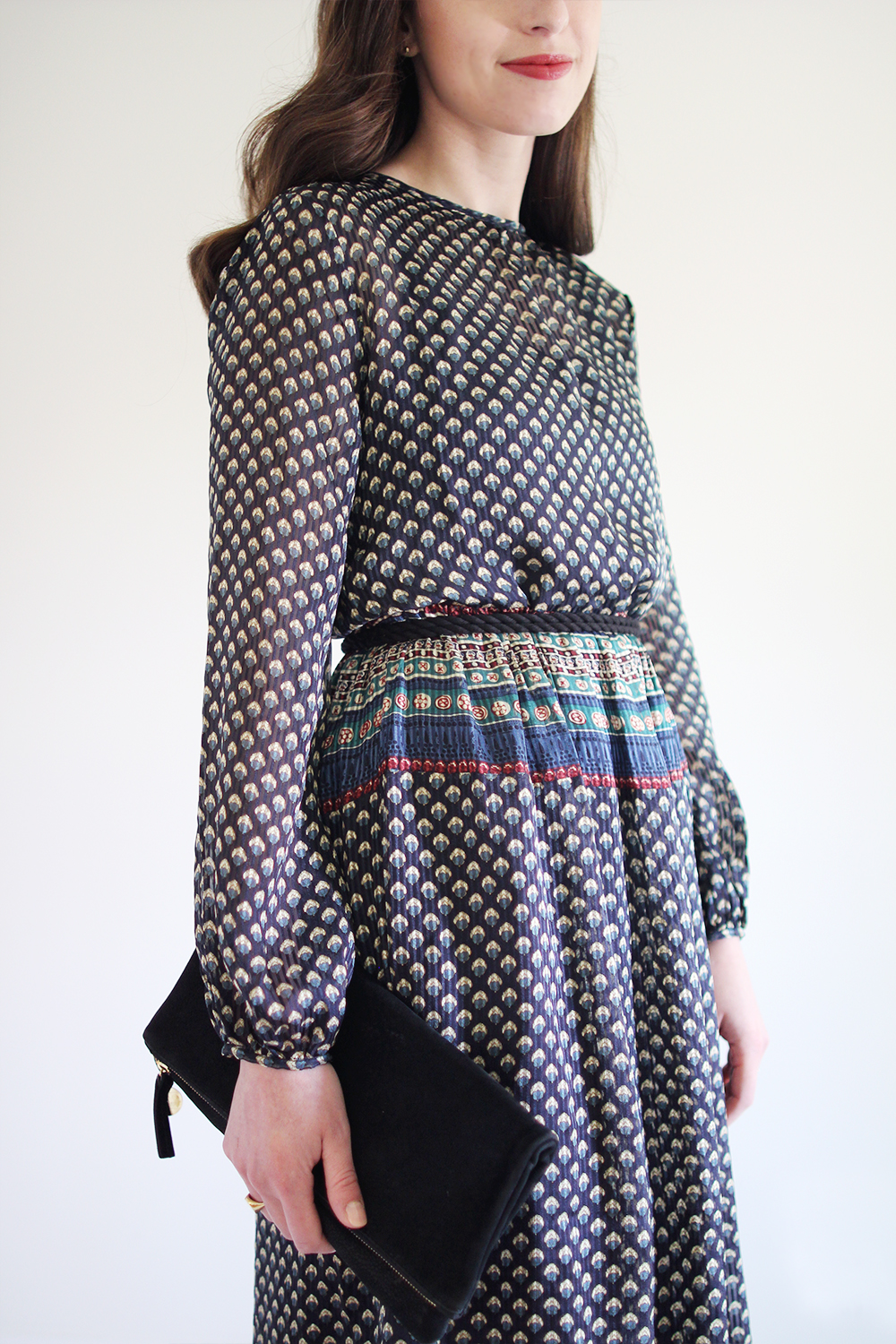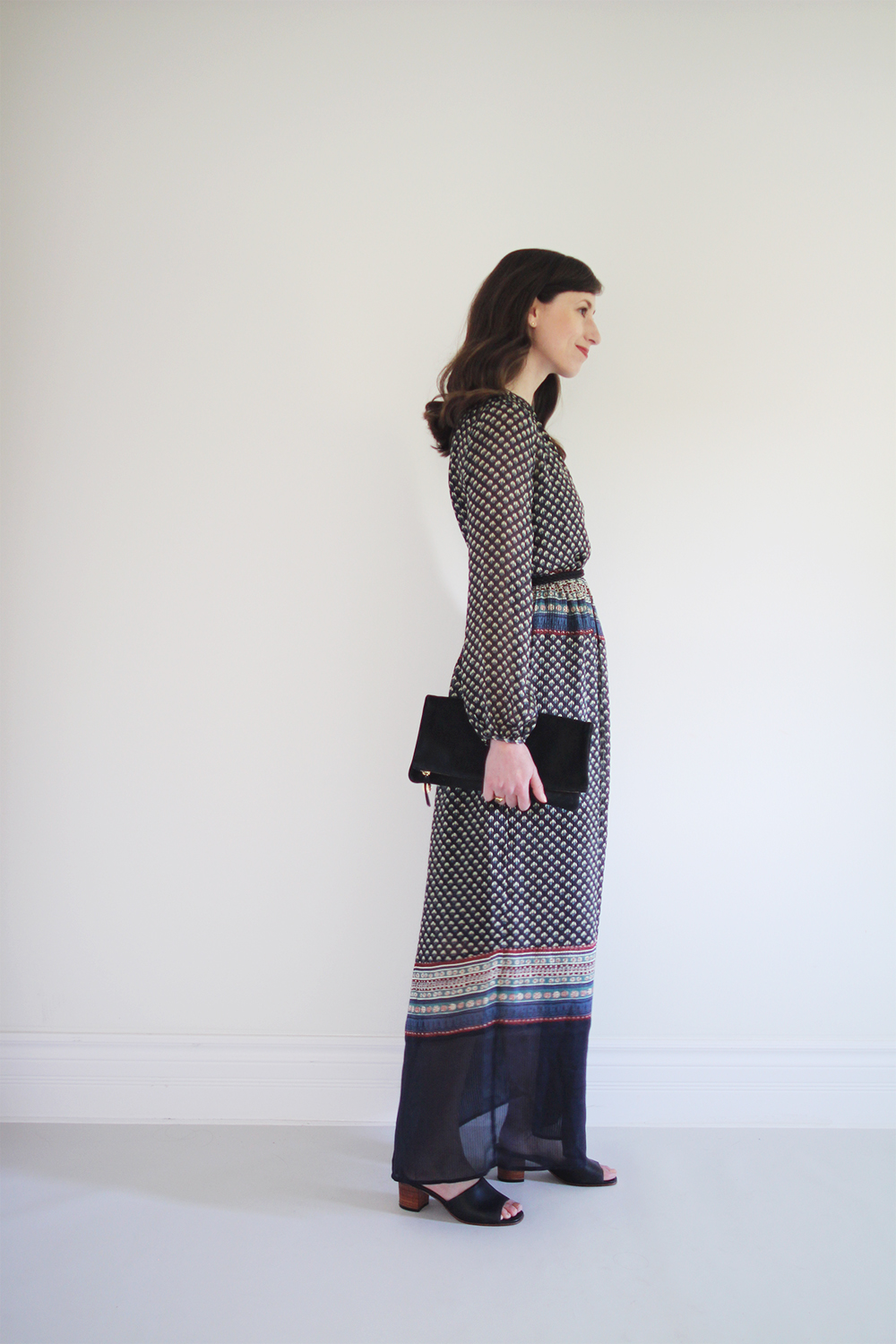 ---
1 | WILLOW DRESS | DÔEN | $187.50 USD (on sale) | Wearing a size S | All sizes still available in the navy version | Made responsibly in India | Many other gorgeous dress options from this line.
2 | FOLDOVER CLUTCH | Clare Vivier | $209 USD | Made in LA
3 | ELIZABETH SLIDES | c/o NISOLO | $158 USD | Made responsibly in Peru | Also in a honey leather colour.
4 | DOME STUDS | ATTIC | $290 CAD | Made in Toronto
5 | LIP COLOUR | Kosås in Fringe | $24 USD
---
LOOK 2 – FUN
---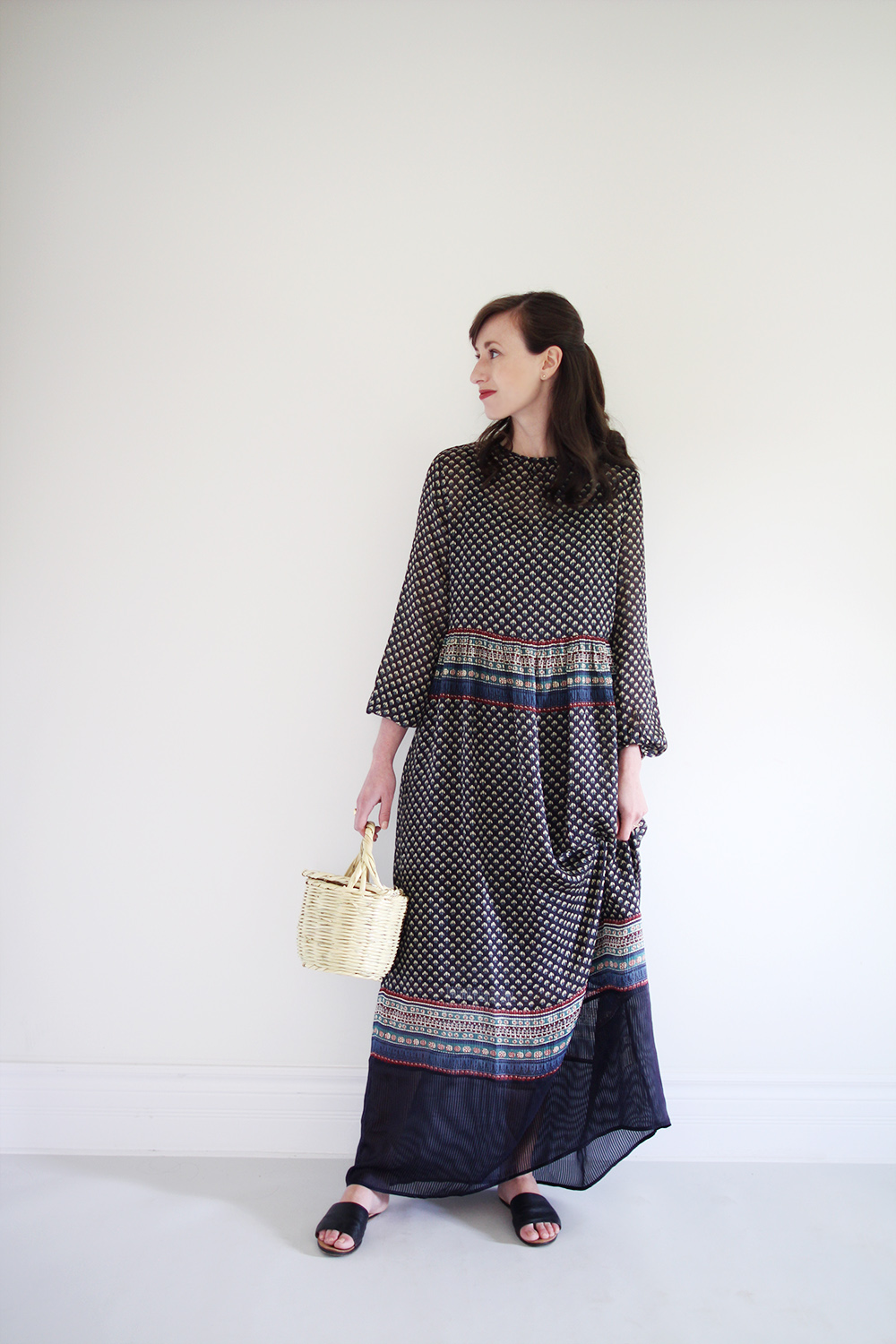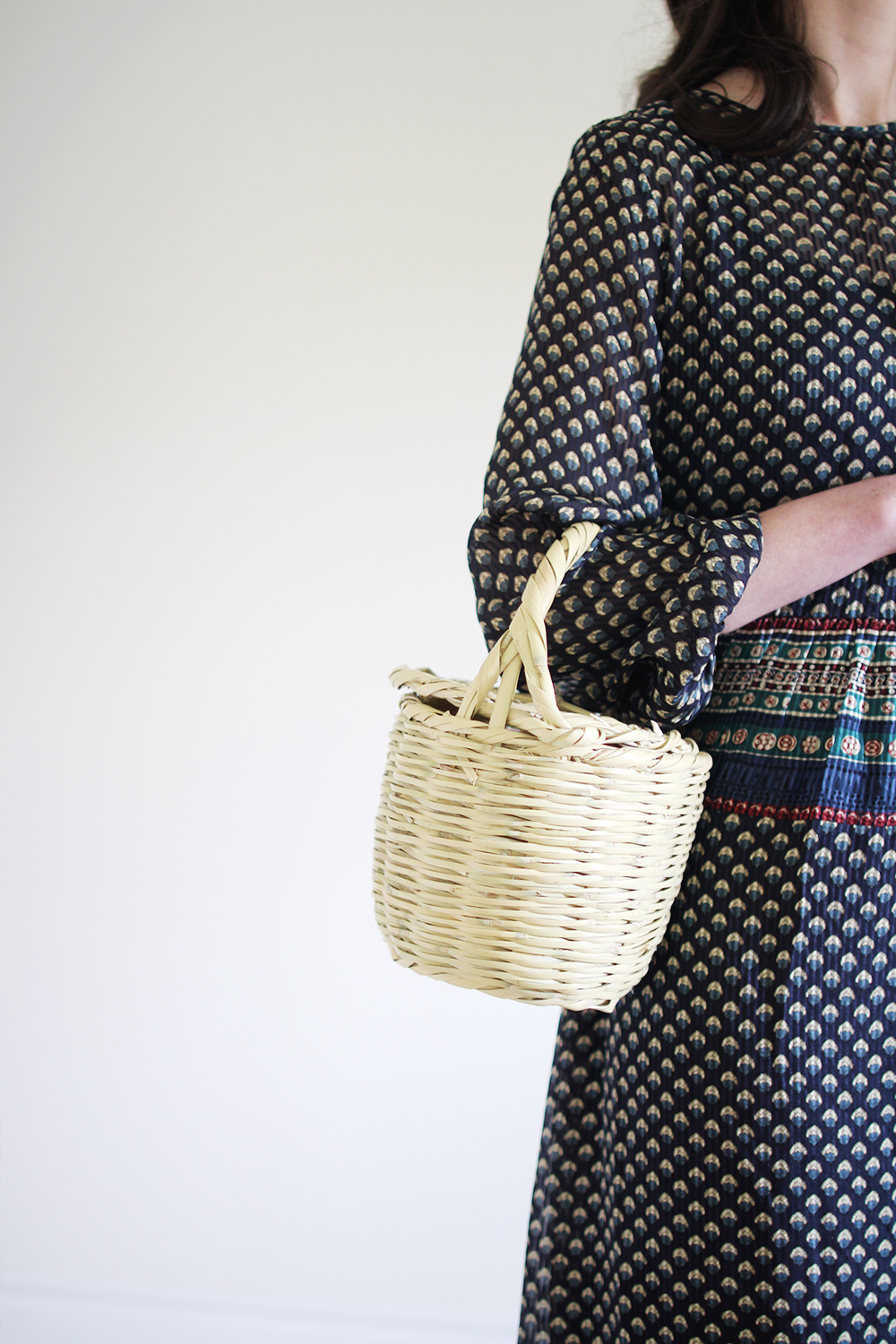 ---
INITIAL THOUGHTS
---
I wore this exact outfit for Mother's Day brunch and it was perfect. So comfortable and still entirely appropriate for the occasion. In fact, we had some family visiting that night and I just kept it on right through an afternoon visit and out for dinner downtown.
One thing that's great about maxi dresses is that you really can dress them up or down. In this case I simply tied my hair back for a half-up look, pulled the sleeves up, switch to flat sandals and grabbed a cute basket bag for a Cali-cool, farmers market vibe.
When it comes to wearing 'fancy' pieces for more casual activities the hardest part is to wrap your head around the idea that the item is not too precious. At least that's what I've found. But once you're out in the world, there's no turning back and you realize that it's entirely doable. In fact, you'll probably start seeing way more opportunities to wear your upscale items than if you kept them safely tucked away, going underused and underappreciated.
---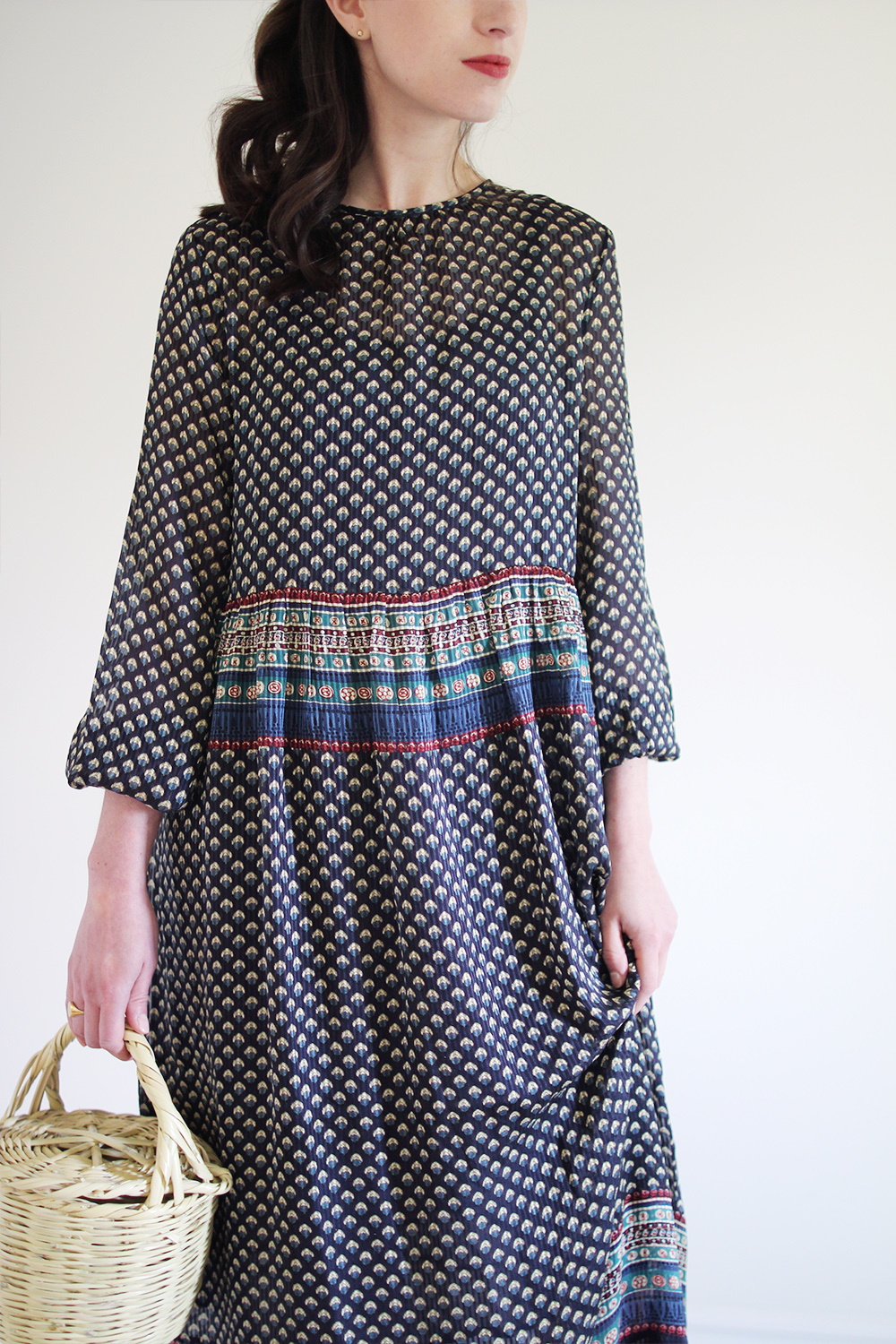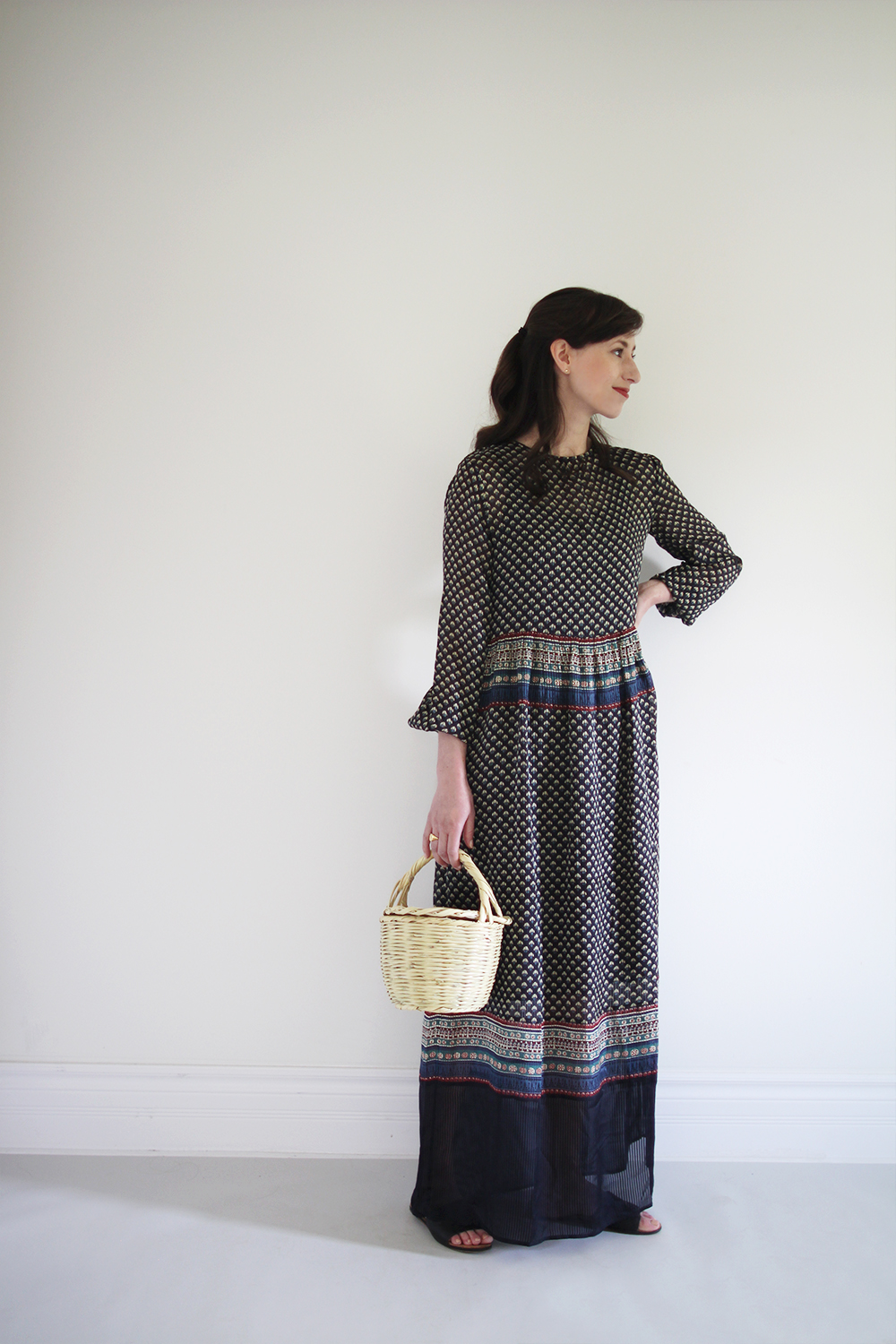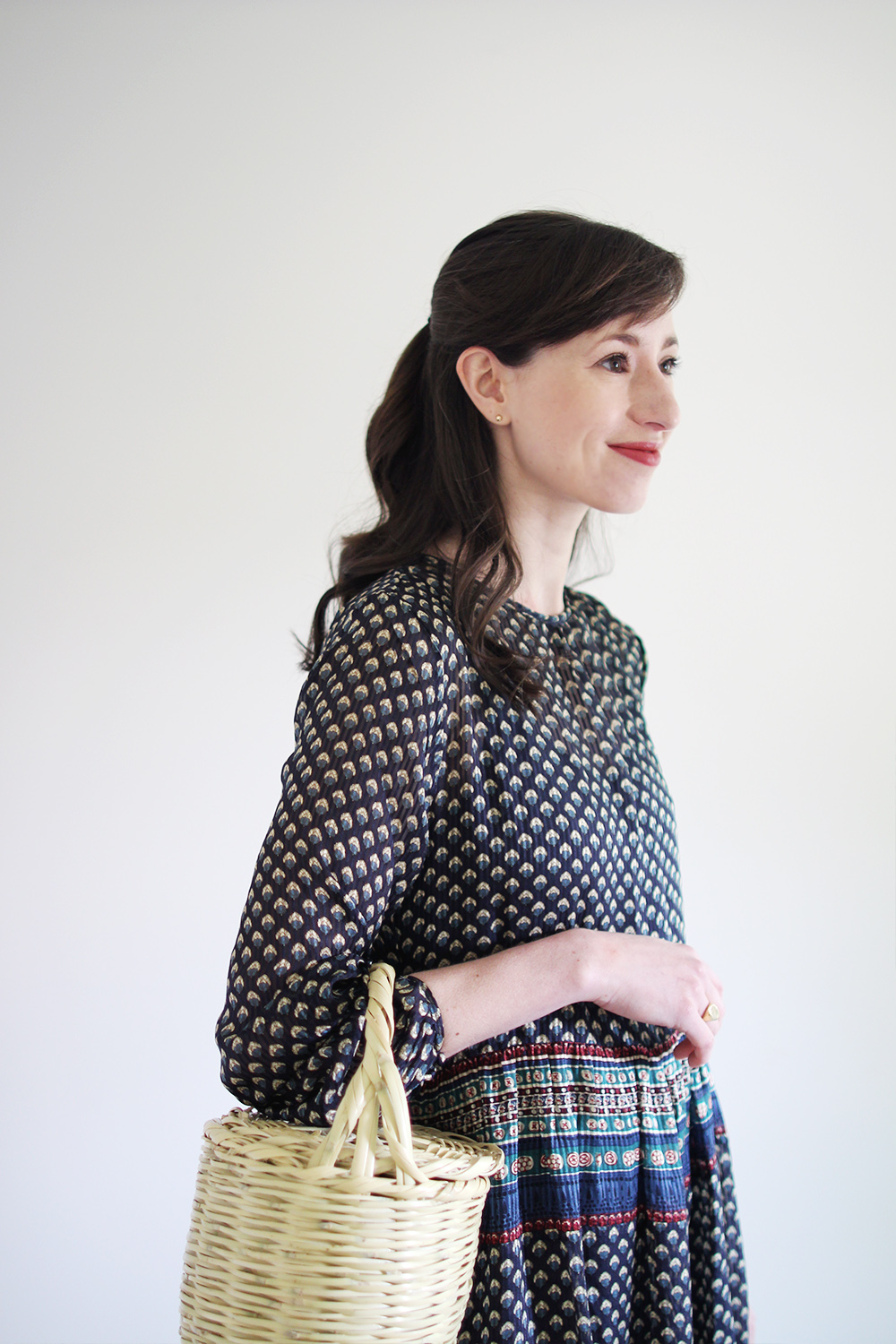 ---
STYLING NOTES
---
Instead of going into detail about how I styled this dress for a more casual vibe (I covered that briefly above) I thought I'd use today's post to highlight three key ways to take any 'formal' look and make it feel more 'fun'. These tricks can be applied to any fancy item you're interested in getting more use out of.
1 | ADD A TOUCH OF WHIMSY | Whether it's through a cute bandana (as in look #2), a fun basket bag (as in this case) or a colourful flat (as in look #1), I've found that this is the quickest way to transform a look from fancy to something more low-key. Simply adding a fun accessory makes a big difference.
2 | OMIT OR SWITCH OUT AN ELEMENT | In this case I ditched the belt for a loose fit and immediately this dress felt much less formal and more approachable. In Look #1 I swapped the wrap dress layer for a denim duster. In Look #2 I swapped the black blazer for a floaty linen top and grabbed a big tote for a more everyday vibe.
3 | FLATTEN OUT | This one is obvious but it works every time. Switch your heels for flats or at least for more everyday ready footwear. In this look I switched my heels for flat slides. In Look #1 I swapped my sky-high platforms for much more relaxed sandals. In Look #2 I swapped my high heeled mules for a flat mule instead. The minute you feel more comfortable in your footwear, you'll feel more relaxed in the outfit too.
---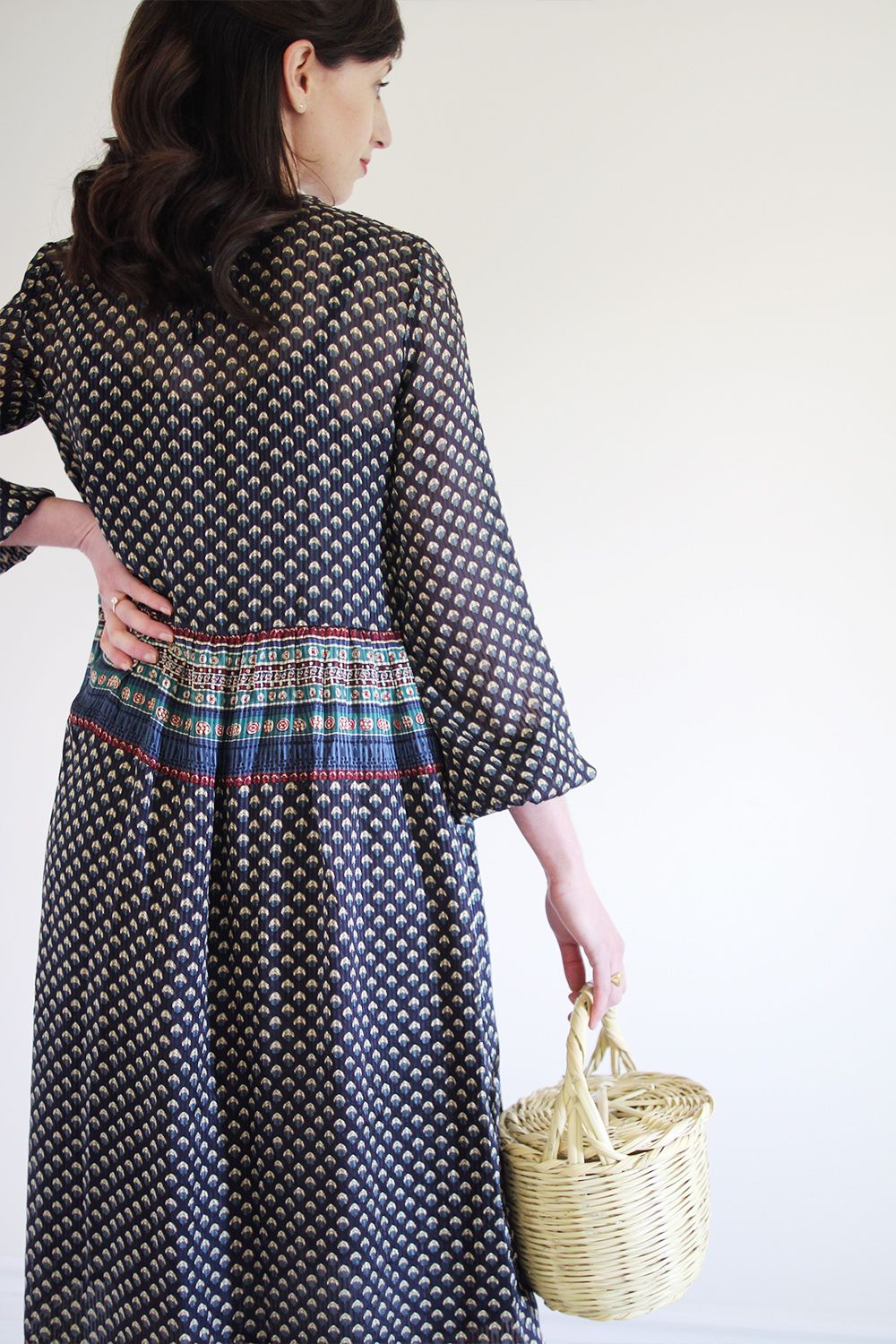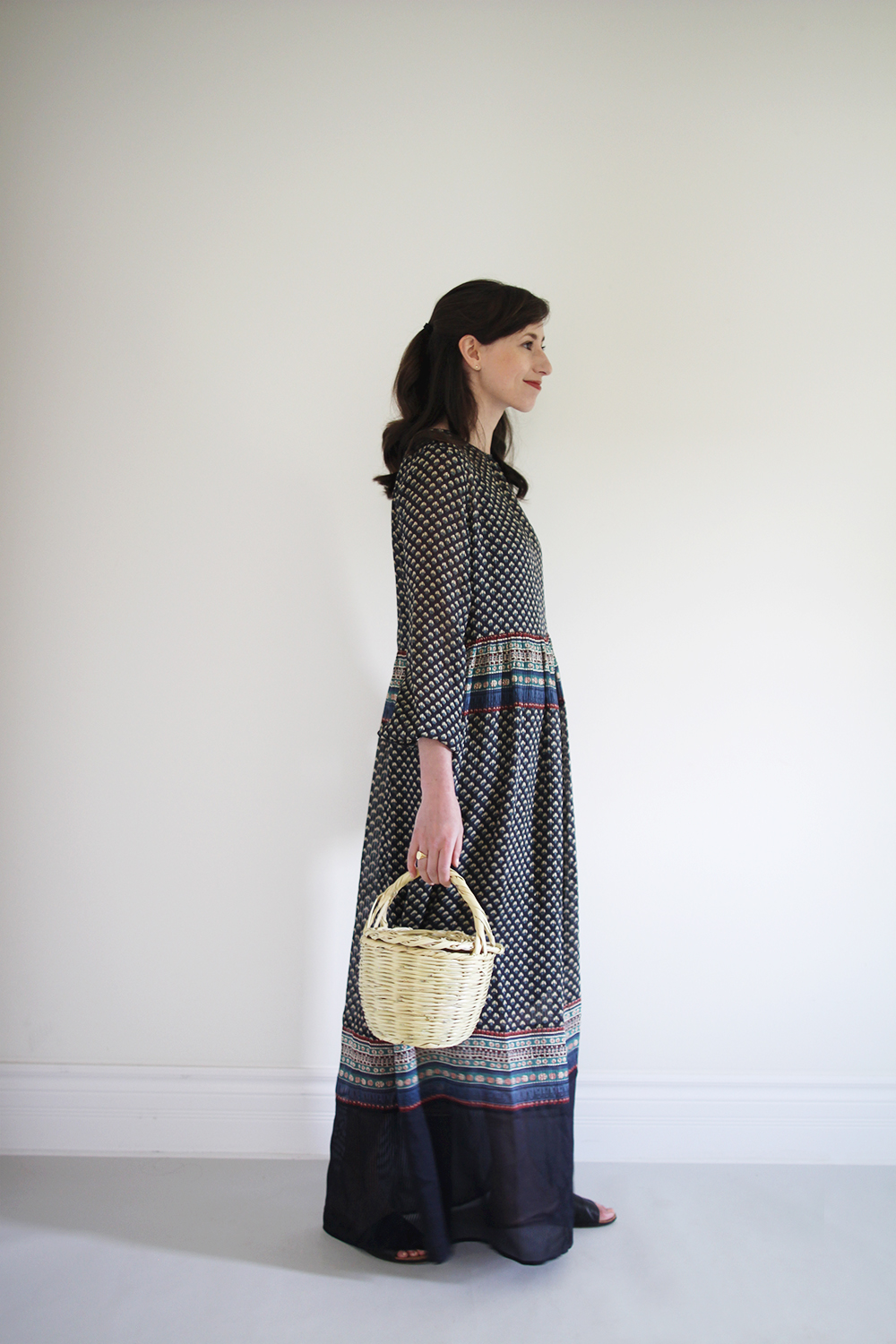 ---
1 | WILLOW DRESS | DOEN | $187.50 USD (on sale) | Wearing a size S | All sizes still available in the navy version | Made responsibly in India | Many other gorgeous dress options from this line.
2 | BASKET | Le Birkin Basket | $120 USD | Handmade in Portugal | I have the size Small.
Similar option also Available on ETSY for less in the size shown.
3 | SLIDES | Le Palatines | $260 USD | Made in LA |
Similar option from L'Intervalle for $108 CAD. Made responsibly in Spain. Save 10% with 'STYLEBEE10'
5 | LIP COLOUR | Burt's Bees in Redwood Forest | $12 CAD
---
FORMAL WEAR RECAP
---
Here's a side-by-side look at all the outfits I've put together for this series, plus a bonus look that I didn't have time to do a full post about. I love these quick snapshots and seeing how they compare to each other. It's also a great reference for the next time I'm feeling stumped about what to wear or how I can get more versatility out of an item. Do you have a favourite?
---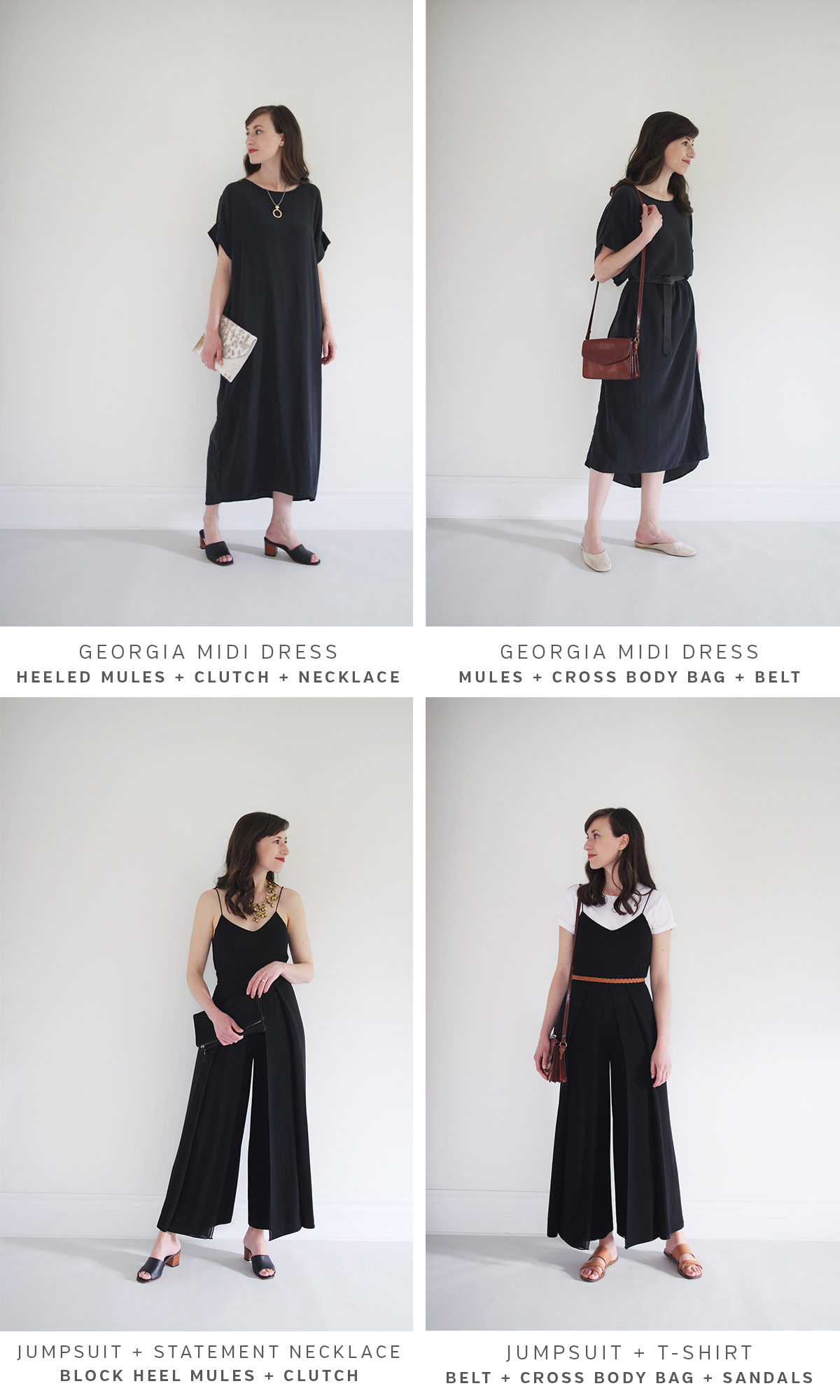 ---
That's a wrap on this formal wear series!
I hope it's been a helpful source of inspiration for your upcoming events.
DO YOU HAVE A FAVOURITE OUTFIT?
---
WISHING YOU ALL A WONDERFUL WEEKEND.
See you on Monday with a new 1 ITEM – 3 WAYS and a special treat!
---
This post is not sponsored but contains affiliate links. When you shop via the links above I may make a small commission from a sale. This income helps limit the amount of sponsored content that appears on Style Bee. Thanks a lot for your support!