Ready for the next two looks in this formal wear series? Awesome, me too! I must admit, it's been pretty fun stepping up my fancy game lately and it's had me looking forward to all the events this summer has in store. If you need a little pick me up, go try on the prettiest pieces in your closet, I bet it'll do the trick!
On Monday I shared a couple of looks with dresses as the base. One was a flouncy floral wrap dress and the other was a sleek slip dress (the best part is that they were sold as one!). Both were new to me and it was so fun to try something different. But today I'm revisiting a base that I first tried out earlier this year and have been loving ever since. The base is made up of two silk georgette pieces, the Long Tank and the Slouchy Pant from The System capsule by Eileen Fisher.  I always feel effortlessly elegant when I put them on and the main thing I've learned from wearing them is that you don't need a fancy dress to feel fabulous.
So here's how I rock this set for a fancy night out and a fun day around town. 
---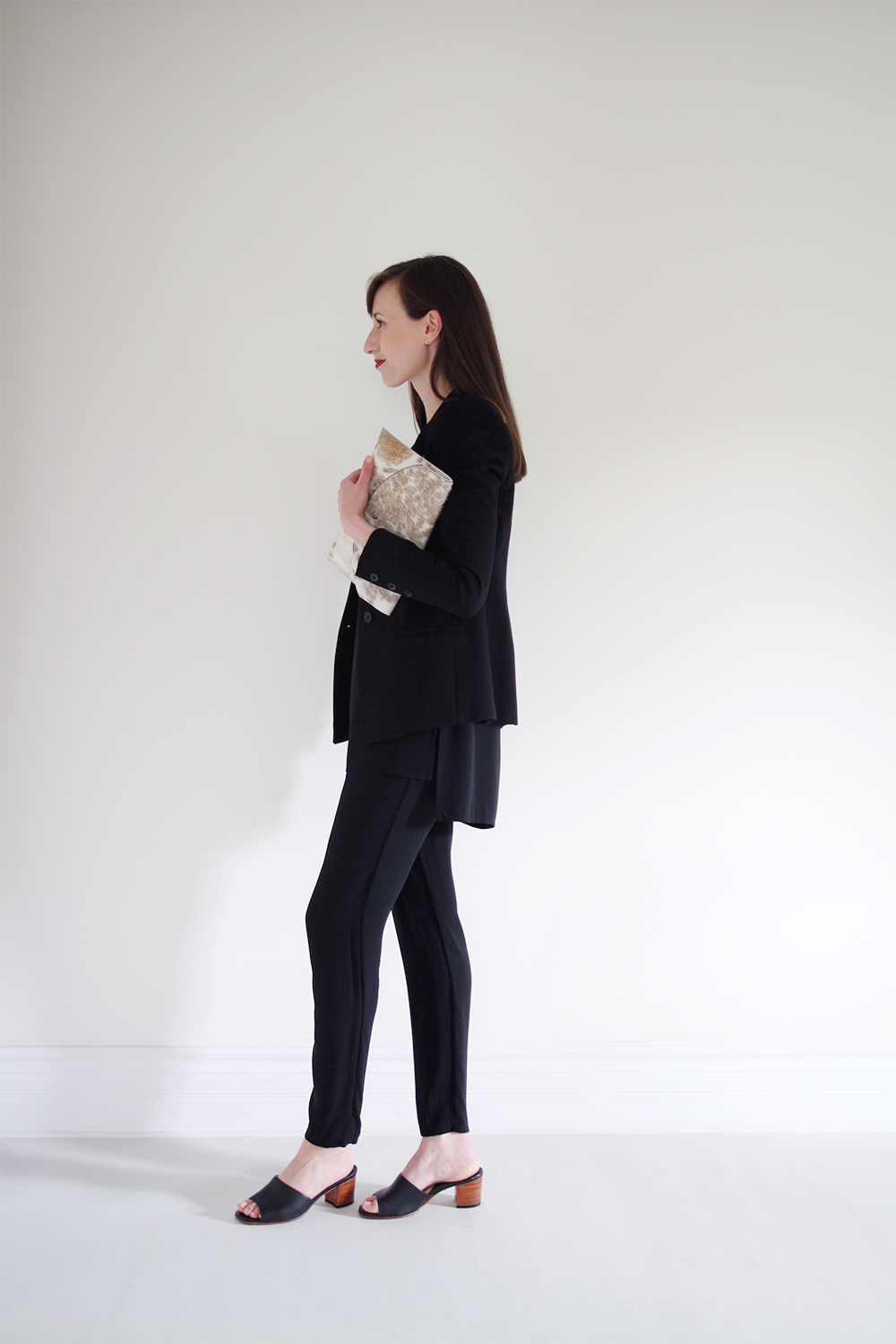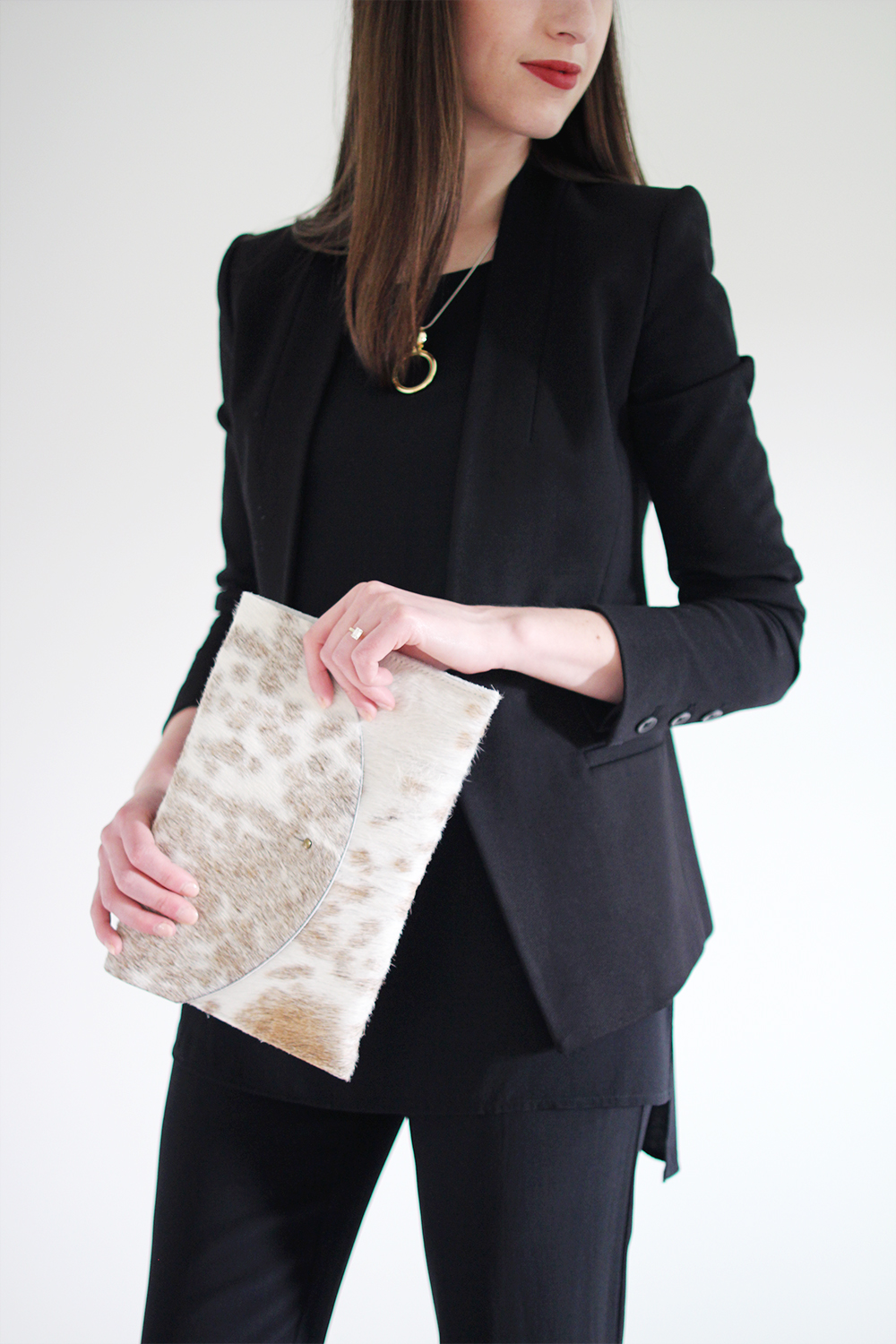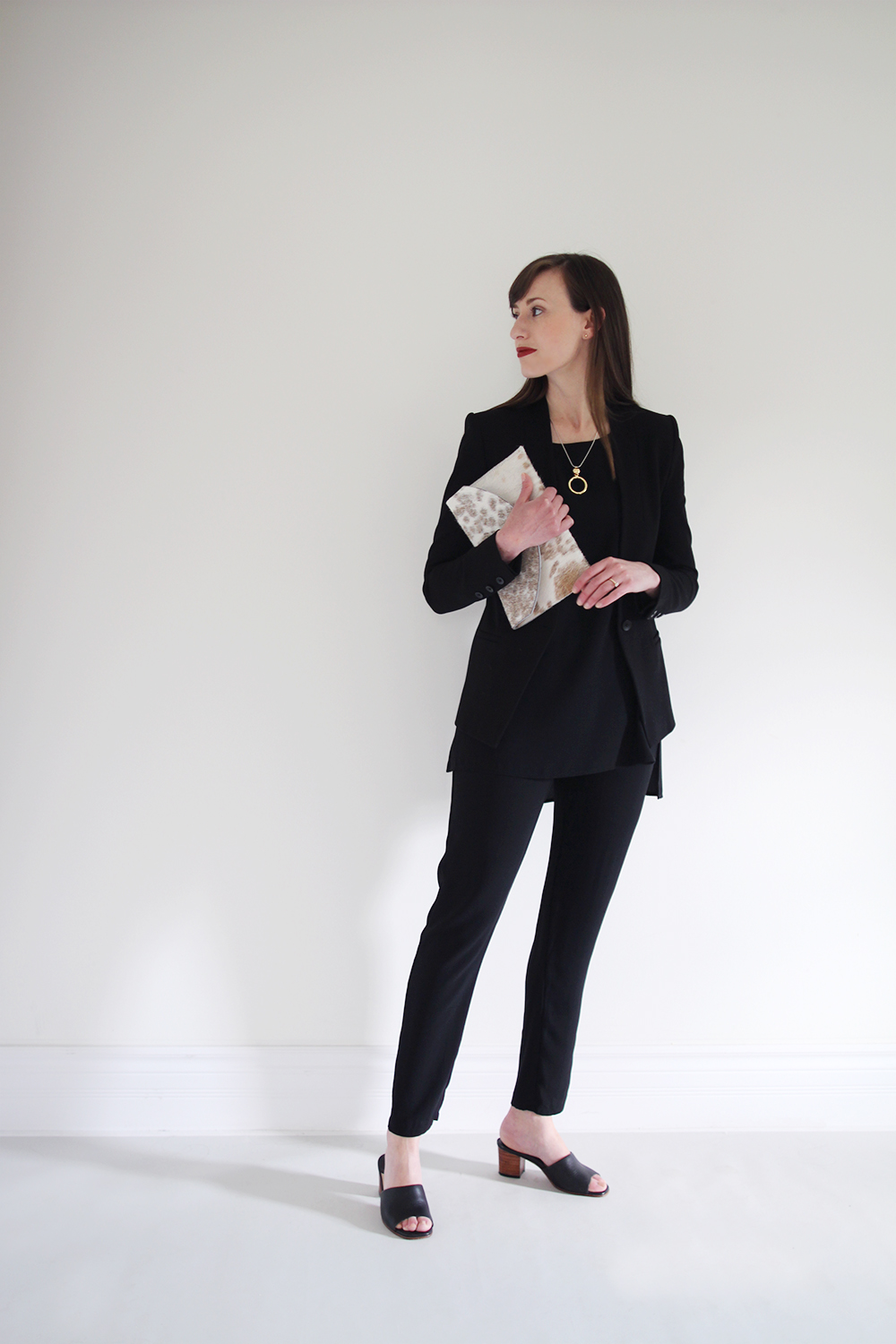 ---
INITIAL THOUGHTS
---
I'm already a big fan of this look, in fact, I've worn a few times in real life. I wore it to my fellas 30th birthday dinner, a girl's night out in the big city and once again to the theatre. It's become my go-to outfit when I want to look seriously sophisticated, feel empowered and be super comfortable all at the same time. For me, there's just nothing that delivers on all three requirements quite as well as a silky black set paired with a sharp blazer and a bold lip.
The really great part about this outfit is that it can work for so many things. It's totally appropriate for a wedding guest look (I'll ditch the blazer if it's hot), great for a graduation ceremony, any sort of shower event, engagement party or whatever work shindig you might have on your calendar. Or if you're my age and everyone is turning 30 it's perfect for a special birthday event as well.
I kept accessories very minimal with this look but opted for my usual statement makers like these fun block heeled mules, this spotty envelope clutch and my new favourite orb necklace. Combined with the simple sharp shapes in the base outfit they create one of the most chic and timeless looks I have in my repertoire. A deep bold lip adds the perfect pop of colour and leaves no question that this lady means business.
A key element that makes these items so handy is that they really don't wrinkle much at all. In fact, I didn't even iron these pieces after washing them. I just machine washed on cold with mild detergent and hung them to dry (both on hangers, not a drying rack) and they came out like new. Even after multiple wears it's hard to find many wrinkly spots other than behind the knees and along the front from sitting. All this to say, they're awesome options for any destination events you might have planned.
I think everyone needs a fail-safe formal option in their closet that they can reach for and know that every time they'll feel fabulous and chic. This is that option for me.
---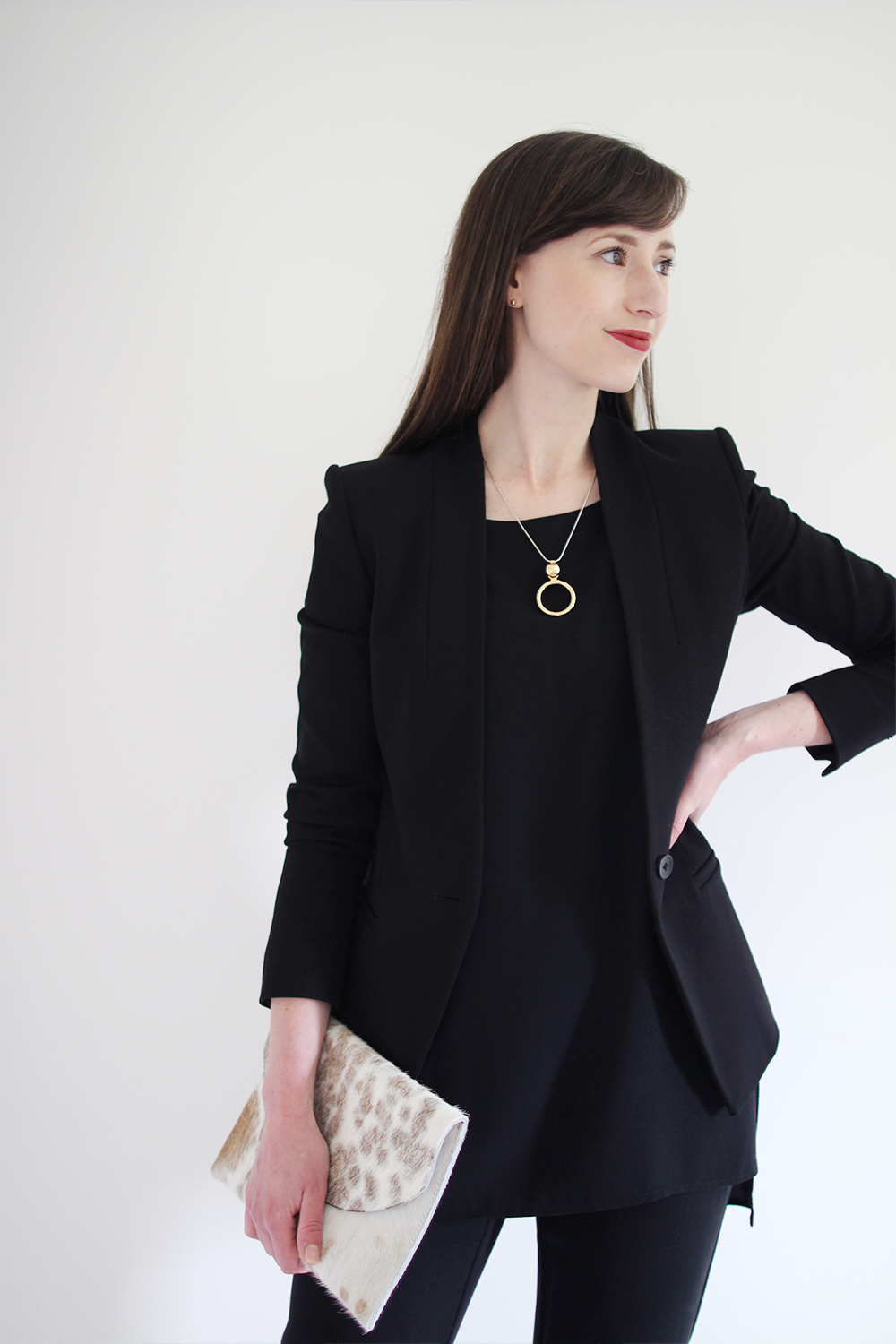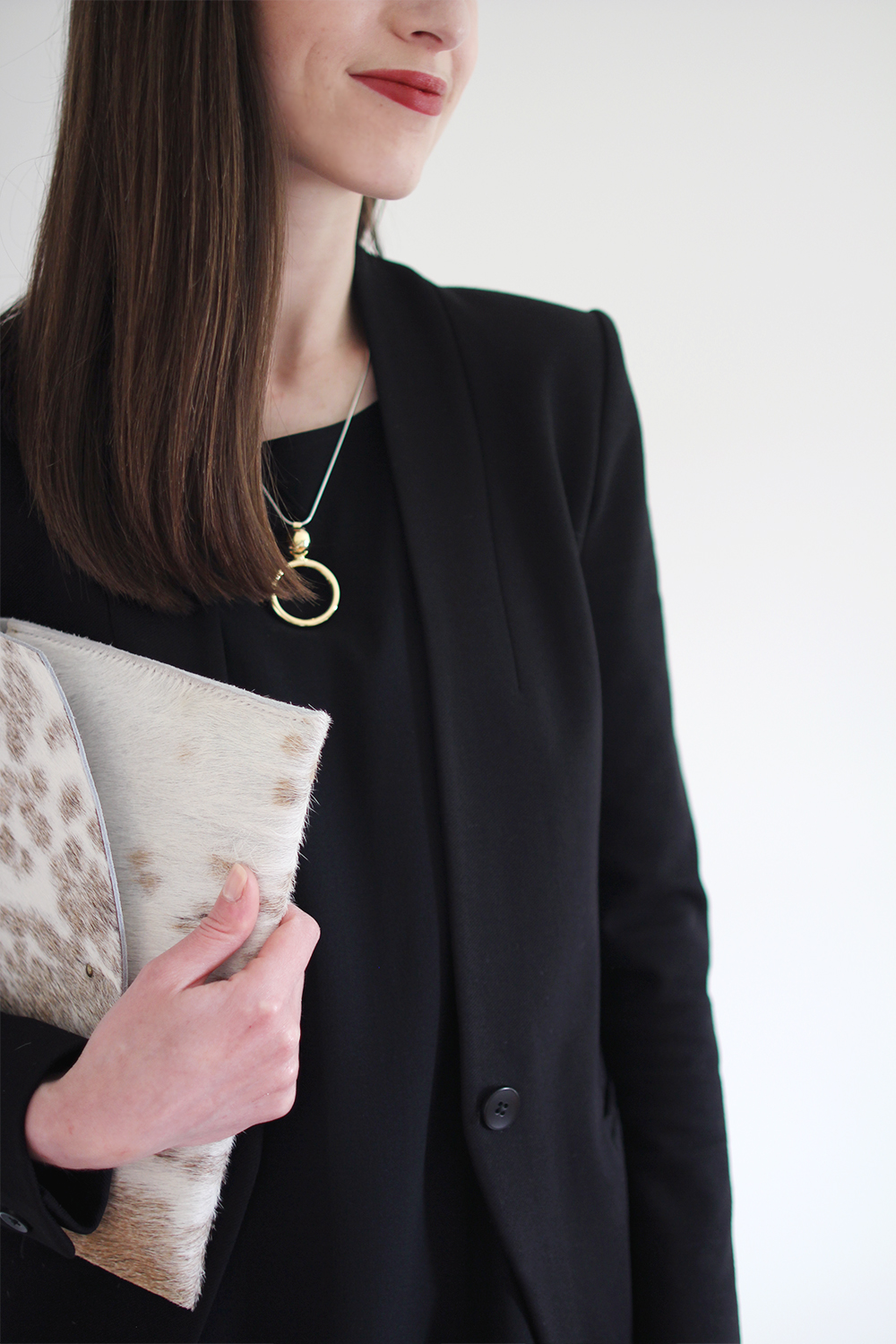 ---
STYLING NOTES
---
1 | NOT SO BASIC BLACK | There's no question that three black pieces in one look is a lot. Yet, to me, it doesn't feel boring or dreary thanks to all the sharp lines how they work together to create a very clean look while still allowing for lots of ease and movement. Nothing is tight but each piece has a flattering, body skimming element. The pants are slim and slinky, the blazer is fitted through the shoulders and arms but relaxed through the torso and the tank glides over the figure and has a very flattering length and cut. Each one has a contemporary shape that feels fresh and floaty, not bland and stagnant.
If you're interested in putting together an all black outfit, choose your pieces carefully and pick options that have movement and contemporary elements to keep it from feeling too stuffy or harsh.
2 | COLLARLESS | This blazer has no collar which I believe is what has made it so versatile. Being otherwise fairly conventional it might have felt too corporate if it had a collar but thanks to this special detail, along with its sleek fit and single button, it serves as a contemporary piece that's great for both work and after hours purposes. After many years in my closet it's a piece I only reach for now and then but would seriously miss if I let it go.
Sometimes a classic piece like a black blazer just needs one contemporary element for it to serve a more versatile role in your closet. When you're considering an item that is a timeless staple take a moment to assess what makes it special. 
3 | LIPPY | This bold lip colour really makes the look for me. It gives the severity of the all-black base a feeling of intention and ties it all together. It also helps to take the vibe from corporate power-house to after-party ready in a flash.
When you want to kick a look up a notch and really drive home the sophistication factor, add a dark bold lip and you'll be set!
4 | WARM UP | As per usual I felt the need to soften up this dark base with a few warm accents. One way I did this was through my tan and white speckled clutch. Another was through the gold pendant on my necklace and the last warm tone can be seen in the wooden base on my heels. They're all fairly subtle but when combined the impact is enough to keep the look from feeling too heavy overall.
When you need a quick fix to lighten or soften up a black outfit base use accessories like a light bag, a statement piece of jewelry and shoes to mix in some other tones. It will work wonders without looking forced.
---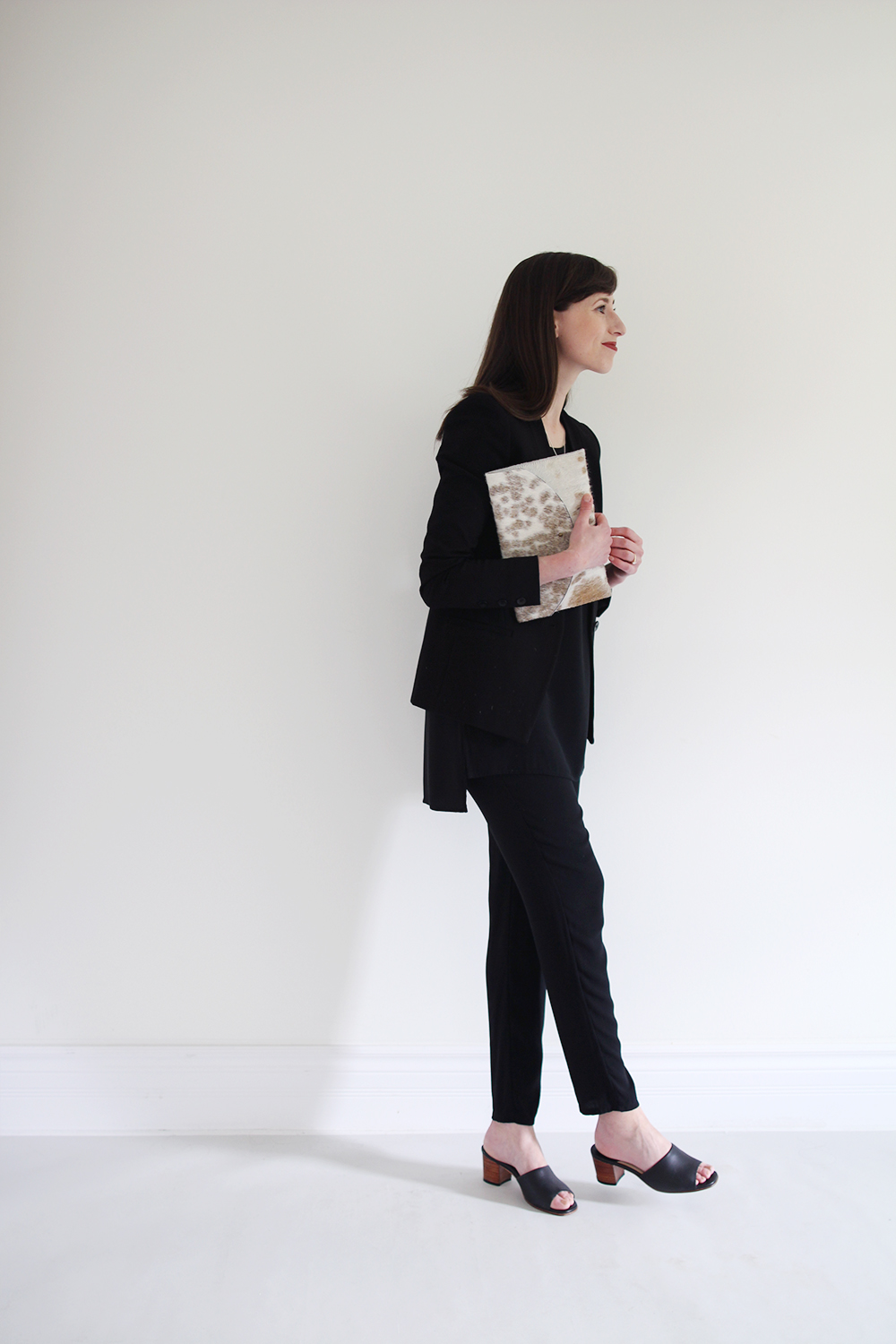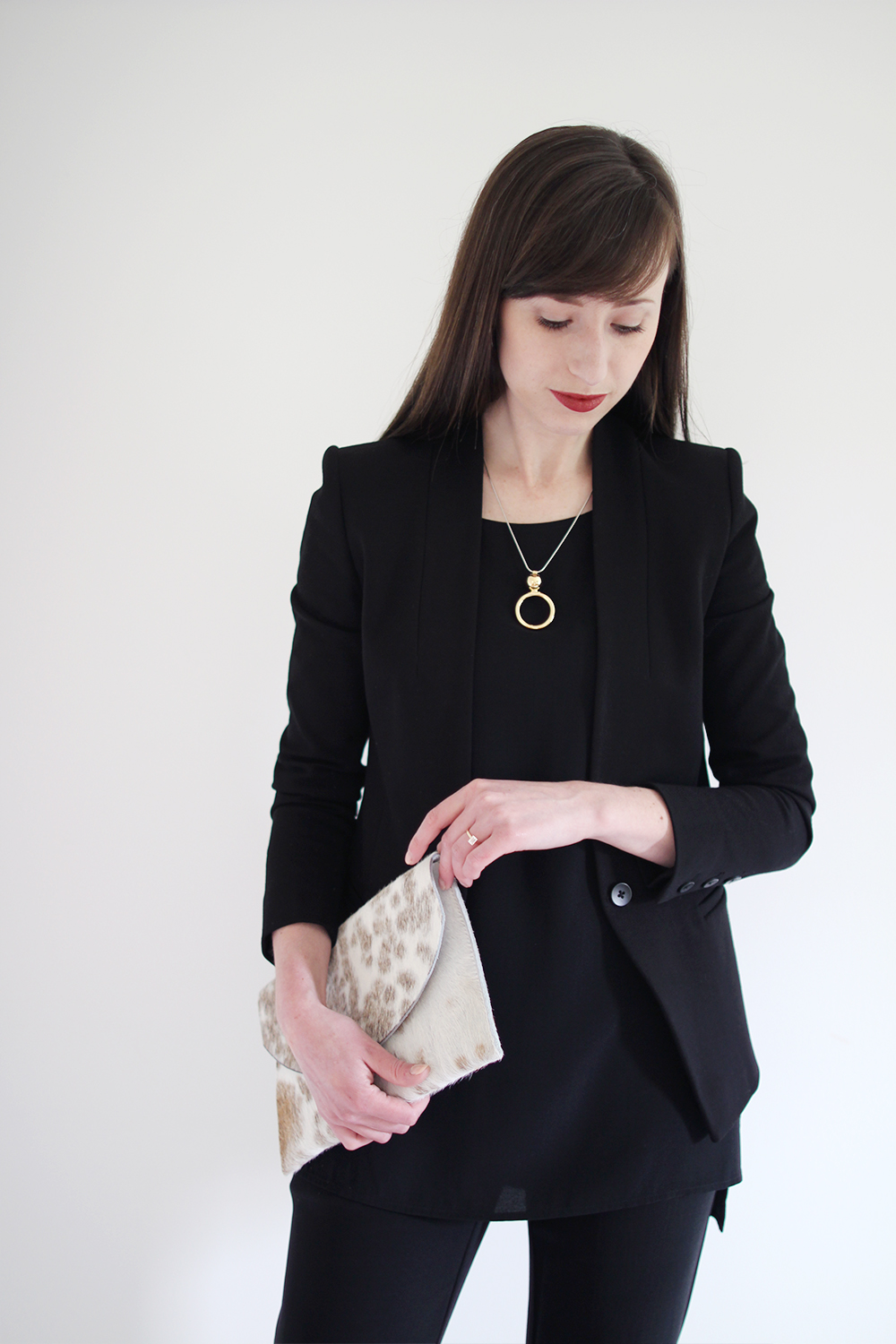 ---
1 | BLAZER | old Madewell | A few beautiful contemporary options:
2 | TANK | c/o Eileen Fisher | $230 USD | Wearing XXS
3 | PANT | c/o Eileen Fisher | $258 USD | Wearing XXS
4 | NECKLACE | Young Frankk via Garmentory | $102 USD
5 | CLUTCH | c/o Primecut Bags | $85 USD | Receive $20 OFF your first order when you sign up here.
6 | LIP COLOUR | Kosås in Fringe | $24 USD
7 | ELIZABETH MULES | c/o Nisolo | $158 USD | Made ethically in Peru | Wearing size 36 typically a narrow US7 | The FUKO Sandal is a similar option in more sizes from L'Intervalle for $148 CAD, made responsibly in Spain. Receive 10% Off with 'STYLEBEE10' through July 31.
---

---
LOOK 2 – FUN
---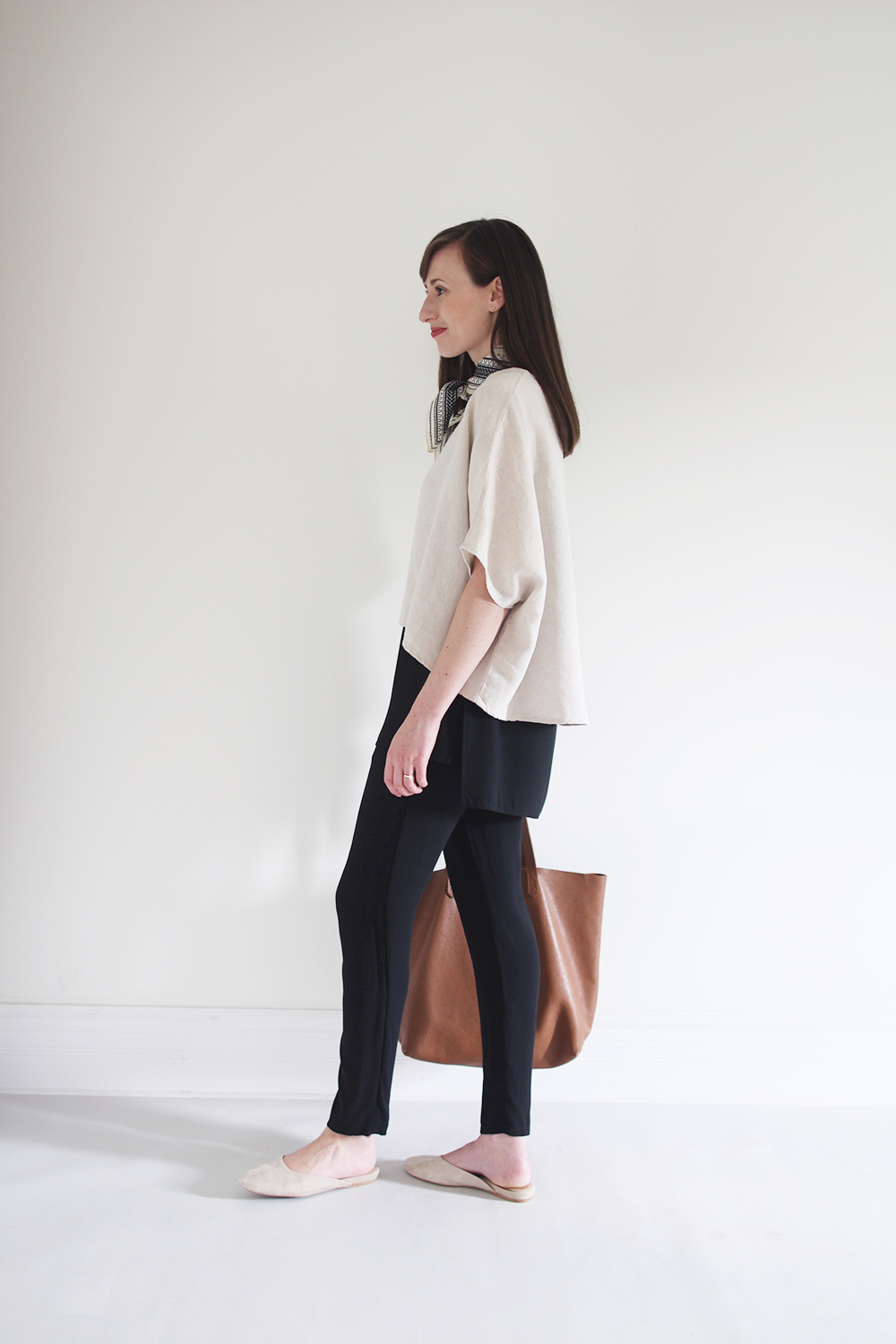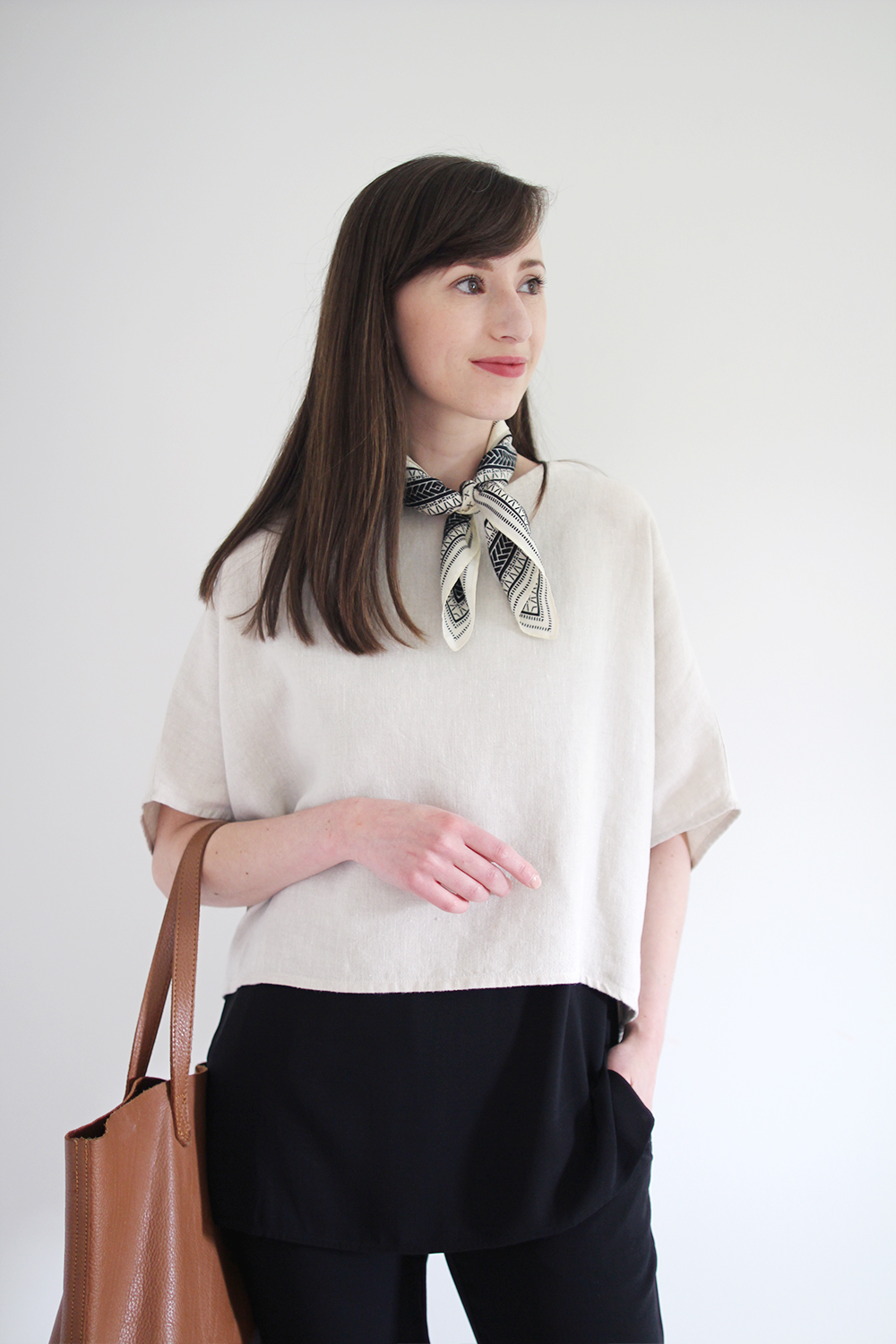 ---
INITIAL THOUGHTS
---
As soon as I put this outfit on I couldn't believe I hadn't tried it before. It's suuuuuper comfy and yet at the same time it feels sophisticated and polished. I'm totally at home in this colour palette (and loving the way the linen top and suede shoes match) and I really love how the shapes in this look work together.
I could wear this for any number of everyday occasions like a meeting, coffee date, lunch or just for working in the studio. It would carry me through to dinner out no problem too.
It's super simple but thanks to the unique shapes of both tops it has a contemporary vibe which keeps it from feeling blah. All the fabrics are swingy and move beautifully and while nothing is tight they do skim the figure in a flattering way, especially the pants. Plus, all the materials are just so darn wearable and feel great on.
The bandana was a last-minute addition but I dare say it makes the whole outfit. It adds just the right amount of playfulness and whimsy!
Verdict: This outfit will be a repeat offender. 
---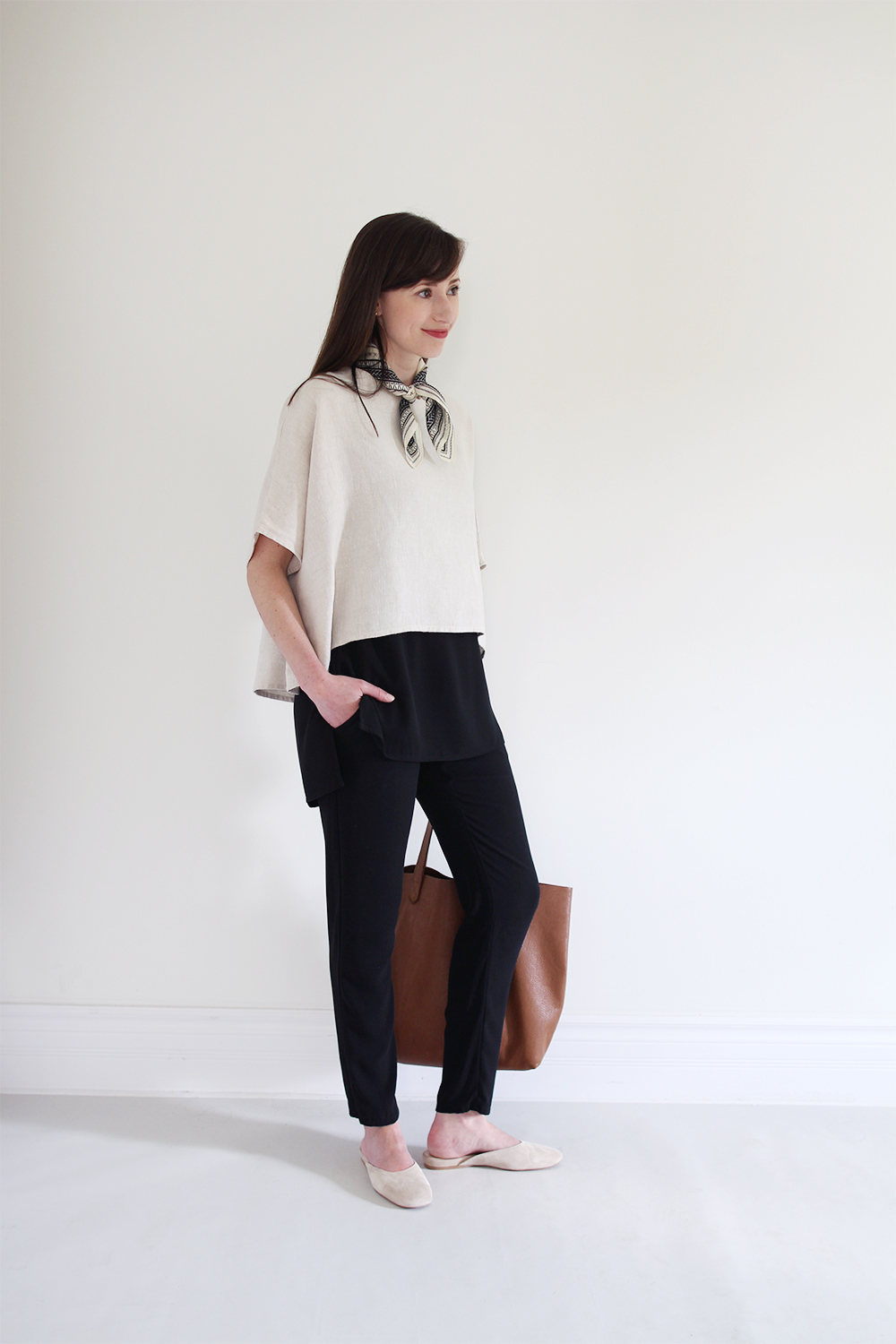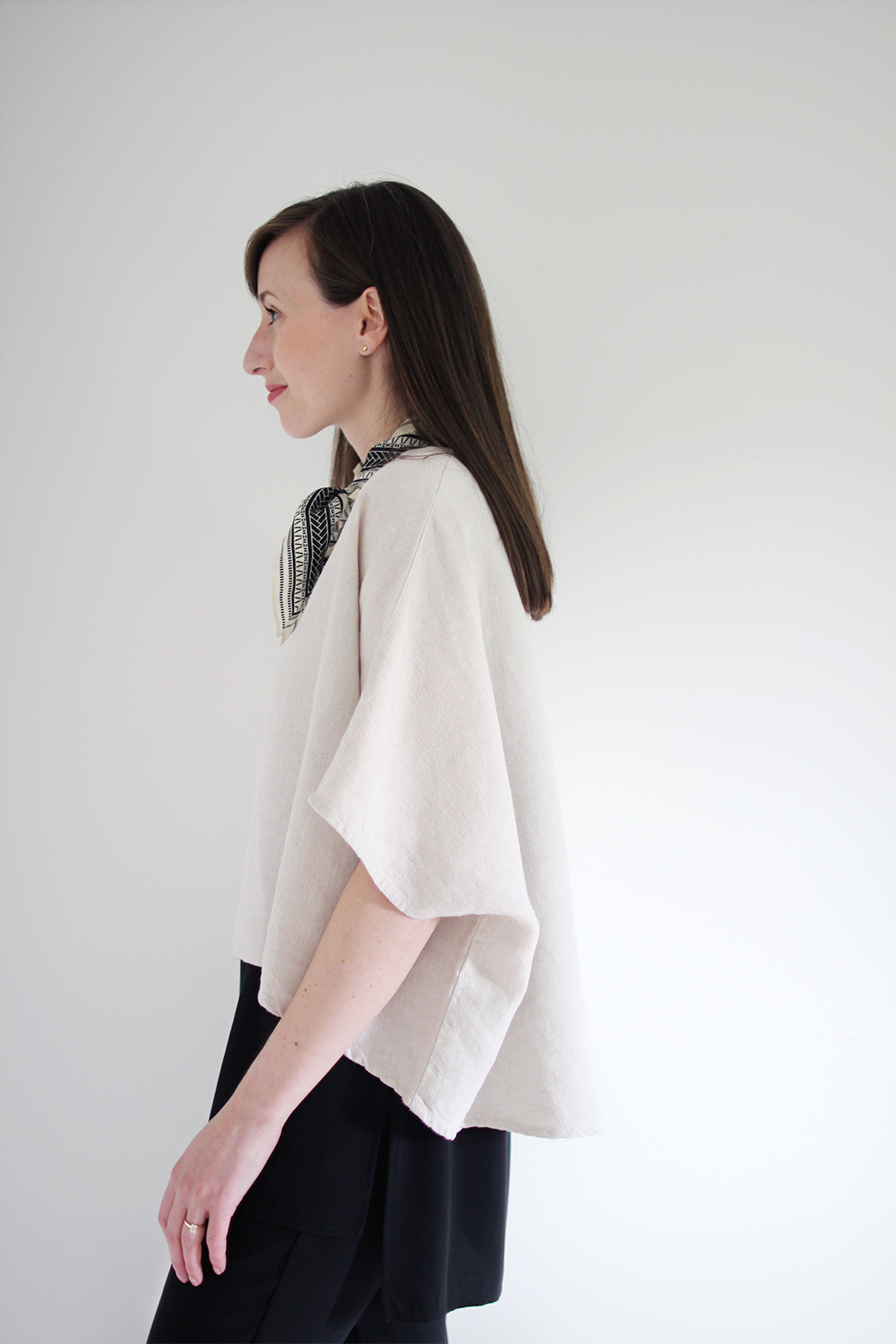 ---
STYLING NOTES
---
1 | HIGH – LOW HIGH-LOW | At first I was planning to delete the long tank from this outfit and just wear the Linn Tee over the pants, but I threw it on for kicks and ended up loving how the layers work together. So being the nutcase I am I analyzed why that is and it became clear that it's because of the high-low hem on both items. Even though one is curved and one is sharp they have the hem concept. Thanks to a sizeable difference in length they pair perfectly.
When you're layering tops choose options that have good movement (ie linen, silk, cotton voile etc.) and a significant difference in length to create a dynamic pairing. Stick to simple shapes with repeated hems (ie: high-low, straight around etc.) to get the desired effect in an unfussy way. 
2 | DOUBLE TONE | Separately my stoney suede flats and flax linen tee wouldn't be an obvious match but when playing bookends to an all black base they're perfect together. I love that they're both a warm grey tone but still very soft and cool. Going forward I'll be pairing these two pieces together with dark and light denim, my Kamm Pants and also with my jersey tank dress!
Consider pairing pieces within the same tonal range when wearing an otherwise all black or white look. You might be surprised by how well they work together. Then, wear them together as often as you like!
3 | PINCH OF PATTERN | As I mentioned above, this bandana was a last-minute addition. I'd considered adding the bib necklace I usually wear with this top but then I thought, nah, let's try something a little less obvious and this bandana came to mind. As it turns out it added the perfect touch of pattern and interest.
Next time you're about to add a necklace to a look consider a neck scarf instead. It may be just what the outfit ordered! 
4 | TOTE-ALLY | This Classic Tote by Cuyana is the one bag I reach for over and over when I want to add a large block of colour to a look. I love this perfect classic caramel too because it's not too yellow or too brown. It never fails to warm things up and it's such a pleasure to use. It fits my laptop, file folders and all the other work necessities required for a day on the go. It's also my #1 choice for a travel bag too.
If you need a great work/travel appropriate bag, definitely consider a classic tote that's made of a highly durable material in a versatile colour. Cuyana also offers this style with a zipper if you're worried about concealing important cargo. I gave that version to my Mum and she loves it.
---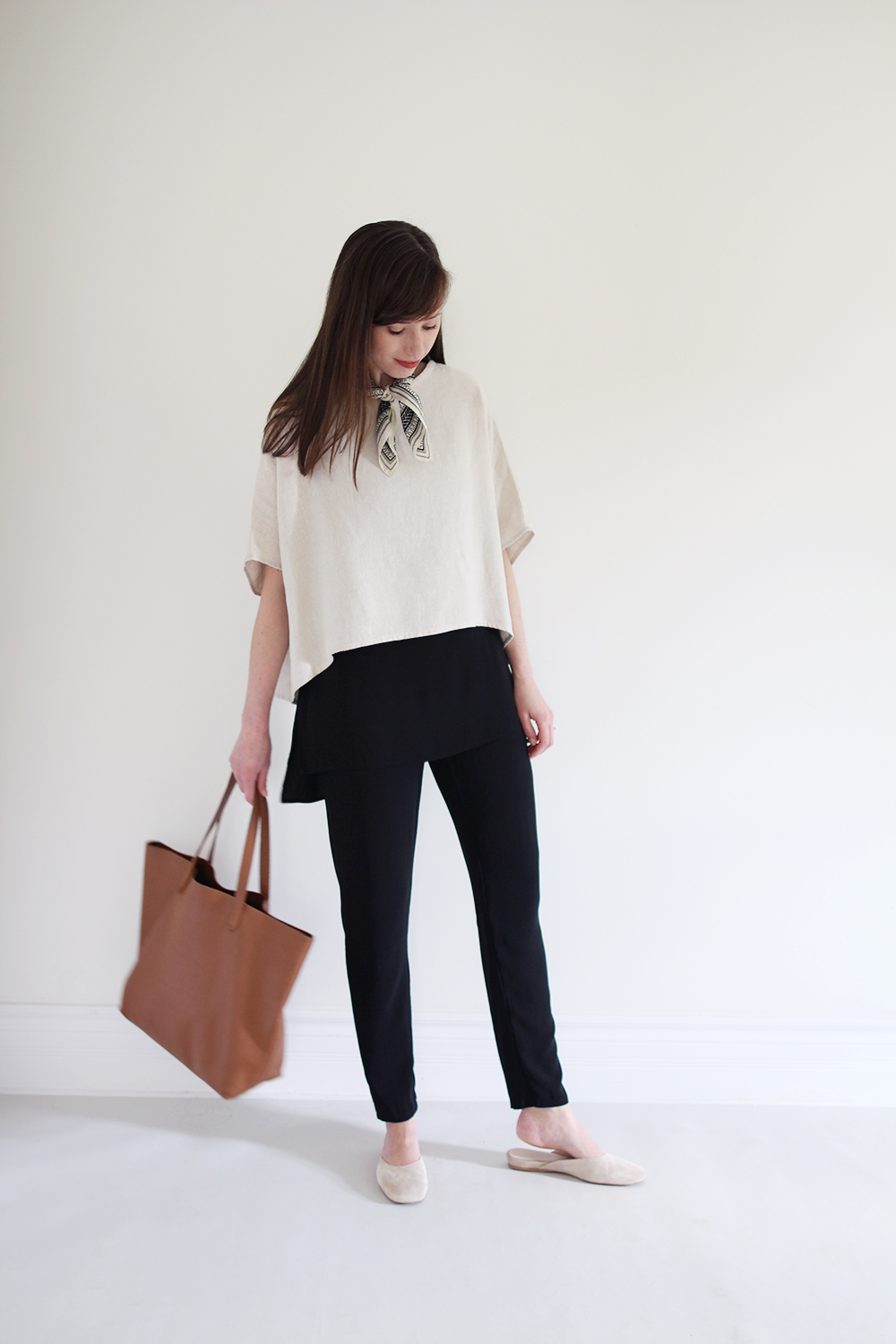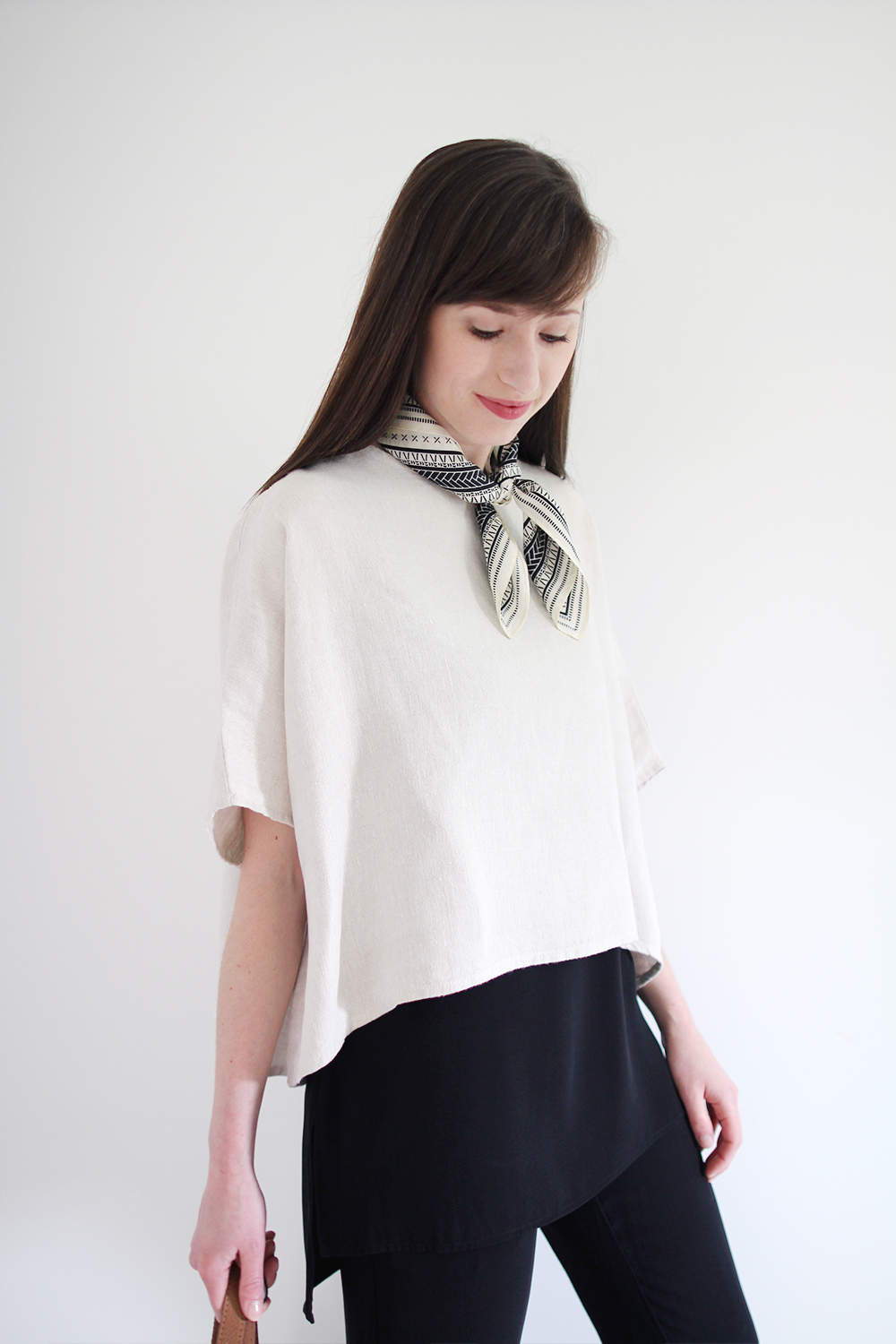 ---
1 | BANDANA | A Peace Treaty | $88 | Made in India | Check out all my scarf tying tips here.
2 | LINN TEE | Midweight Linen Flax c/o Elizabeth Suzann | $145 USD | Made in Nashville.
3 | TANK | c/o Eileen Fisher | $230 USD | Wearing XXS | Made responsibly in China.
4 | PANT | c/o Eileen Fisher | $258 USD | Wearing XXS | Made responsibly in China.
5 | TOTE | Cuyana | $175 USD | Made in USA
6 | DAY MULES | c/o Everlane | $120 | Made in Italy
---

---
SO WHAT DO YOU THINK ABOUT A FORMAL PANT SET?
WHAT'S YOUR GO-TO FANCY OUTFIT?
DO YOU STICK TO BLACK PIECES OR OPT FOR COLOUR?
---
This post is not sponsored but contains affiliate links. When you shop via the links above I may make a small commission from a sale. This income helps limit the amount of sponsored content that appears on Style Bee. Thanks a lot for your support!