Something about dressing for the weekend is just a little more fun than during the week, isn't it? Especially when the weather is marvelous and you get to hang with good friends, sleep-in past 8 and eat some tasty food. I hope you had a great weekend and a chance to relax a bit and get outside to enjoy these wonderful long days!
Over the weekend I also had a chance to get caught up on the #June30x30 feed and read through some of your comments and thoughts so far. As usual, everyone is doing a great job! We're seeing lots of skirts, dresses, linen tops and fun patterns coming out and I love it. The general consensus seems to be that 30 pieces can go a lot farther than we even thought to begin with and that some of the colours we used to reserve for Fall and Winter are totally applicable to Spring as well. Of course, I couldn't agree more with either insights. It seems like the community still has lots of energy and we'll be sure to hit the halfway mark going strong! Woohoo!
If you haven't already be sure to check out the feed and catch up with my pals ANDREA (SEASONS + SALT) & PAIGE (STYLE THIS LIFE) to see the fabulous looks they've been getting up to! Andrea is killing it in her new Kamm Pants and Paige totally convinced me that stripes and rosé are a match made in heaven!
Now it's time for a quick look at the last three days and outfits 9, 10 and 11!
---
LOOK 9 – FRIDAY JUNE 9
---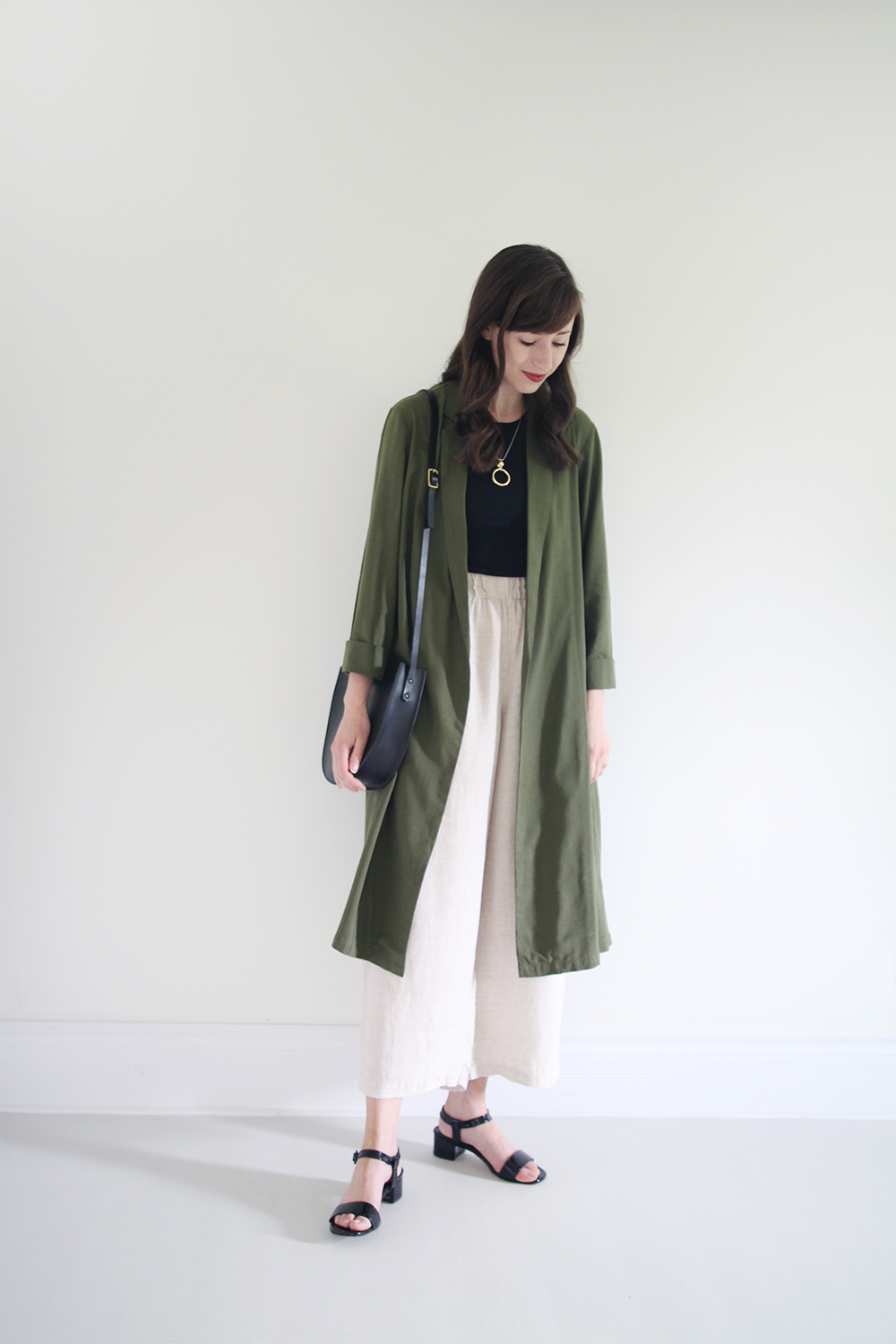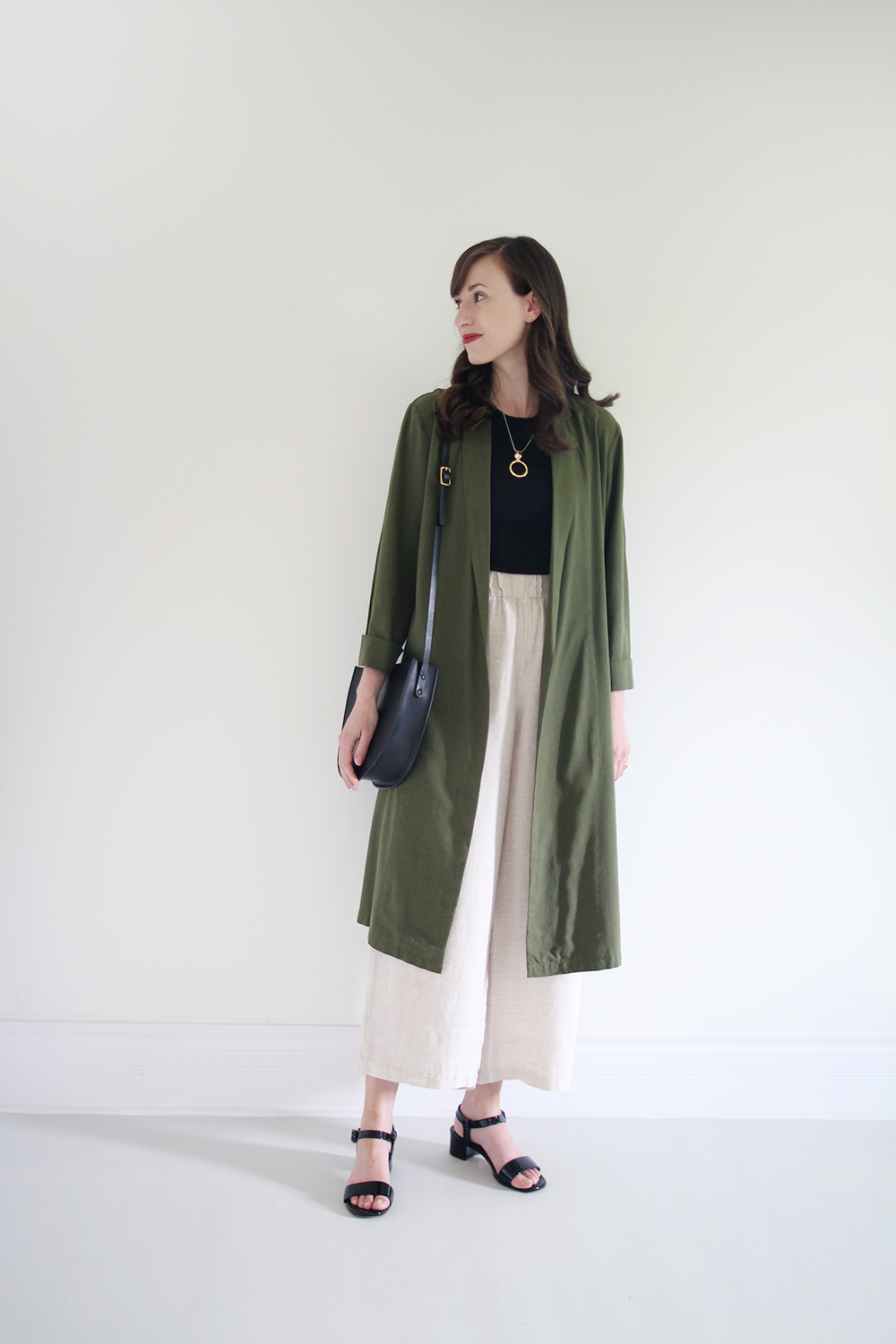 ---
TEMPERATURE – High of 25º C and cloudy. The afternoon was hot but breezy and the air cooled down nicely in the eve.
ACTIVITIES – I was working in the office to wrap up the first phase of a big project then I had a fun evening of catching up with some girlfriends over wine, guacamole and lots of laughs.
ITEM PERFORMANCE – This was the first time I wore this cropped jersey tank, which I picked up at the OOAK Spring Show and I LOVE it (check out the awesome Toronto line Hoi Bo). It's super comfy and just the right length to tuck into a pair of high waist pants without feeling bunchy at all. I also really like the high neckline, which is elegant and great for layering under necklaces. I know it's going to be a staple all summer long.
During the day I just wore my black slide sandals but wanted to elevate the look slightly for an evening out. This was easy to do by swapping in my patent leather block heels and adding a statement necklace. A bold red lip didn't hurt the situation either!
STYLE TIPS: 
Black pieces can be made warm weather ready by pairing them with earthy tones like flax and olive. 
Add some continuity by repeating one colour. In this case my black top, sandals and bag work nicely to give the look a cohesive feel.
Elevate a simple look easily by adding a couple of luxe materials like a patent leather heel and a bold sculptural pendant. 
Try adding a statement coat to a simple black and flax base. It's guaranteed to take the look to a whole new level!
---
JERSEY CROP TANK | Hoi Bo (not online but they have dresses, tanks and other amazing pieces in the same gorgeous fabric) | Made in Toronto
GREEN DUSTER (s/o but other colours available) | Ali Golden | Wearing M but take your normal size. | Made in responsibly in India. | Save $20 off your first order from Garmentory
FLAX FLORENCE PANT | old ELIZABETH SUZANN (linked to current version) | $205 USD | Wearing Size S | Made in USA
SOPHIE SANDAL | MARYAM NASSIR ZADEH via SSENSE | Black Sold Out. Awesome MNZ selection here (many on sale).
ELOISE BAG | The Stowe | $387 CAD | Made in Canada.
NECKLACE | c/o Young Frankk (sold out) | Made in USA
---
LOOK 10 – SATURDAY JUNE 10
---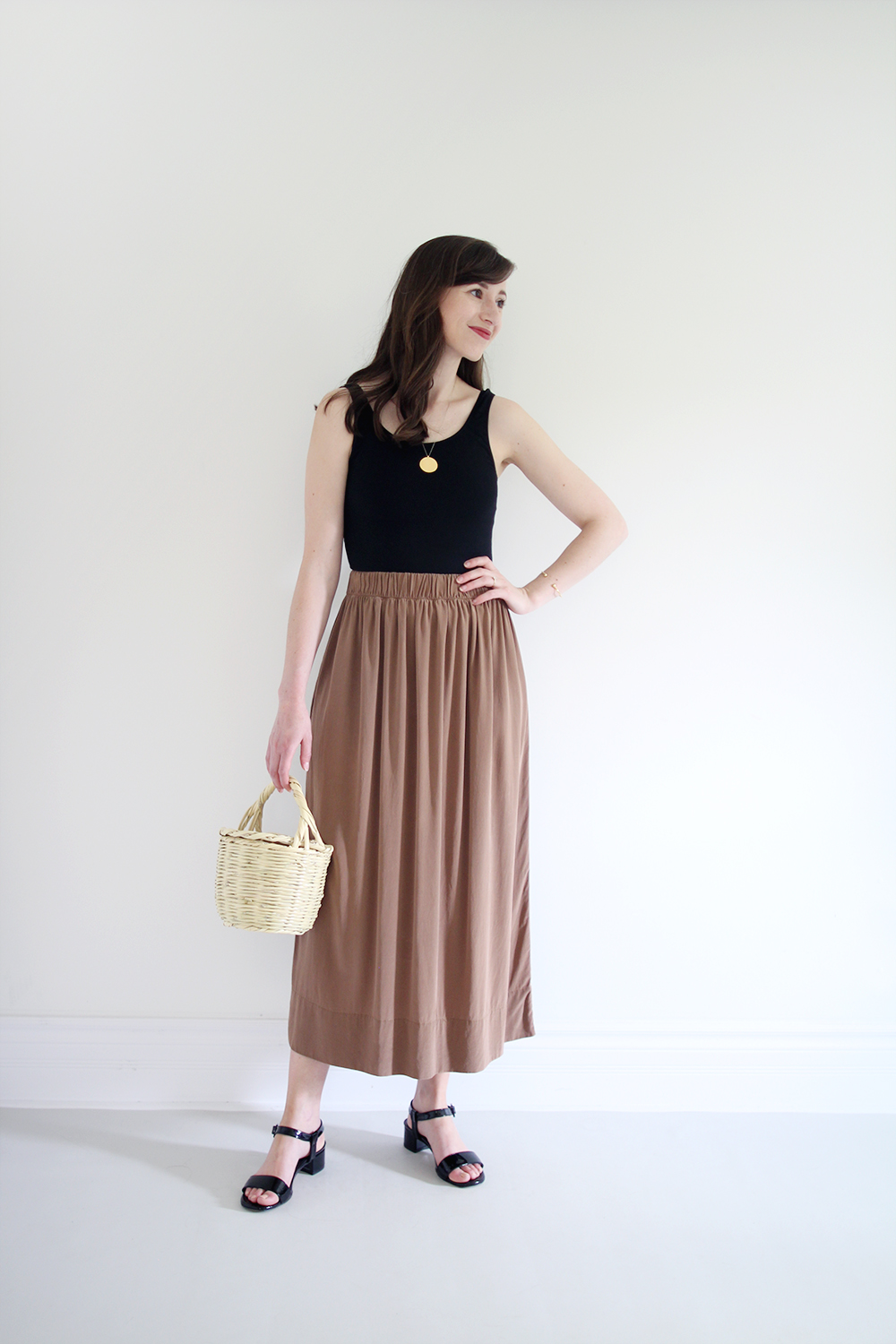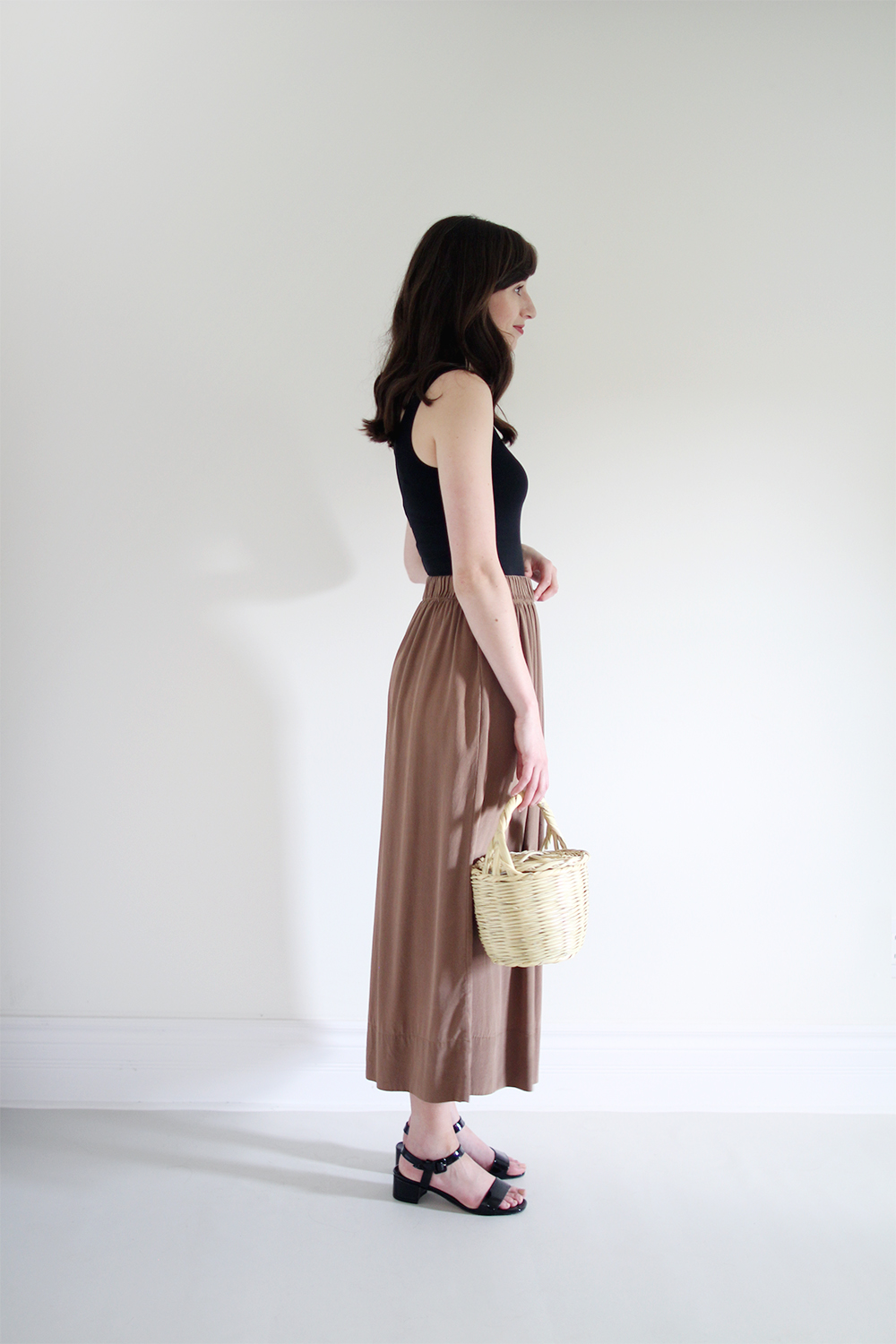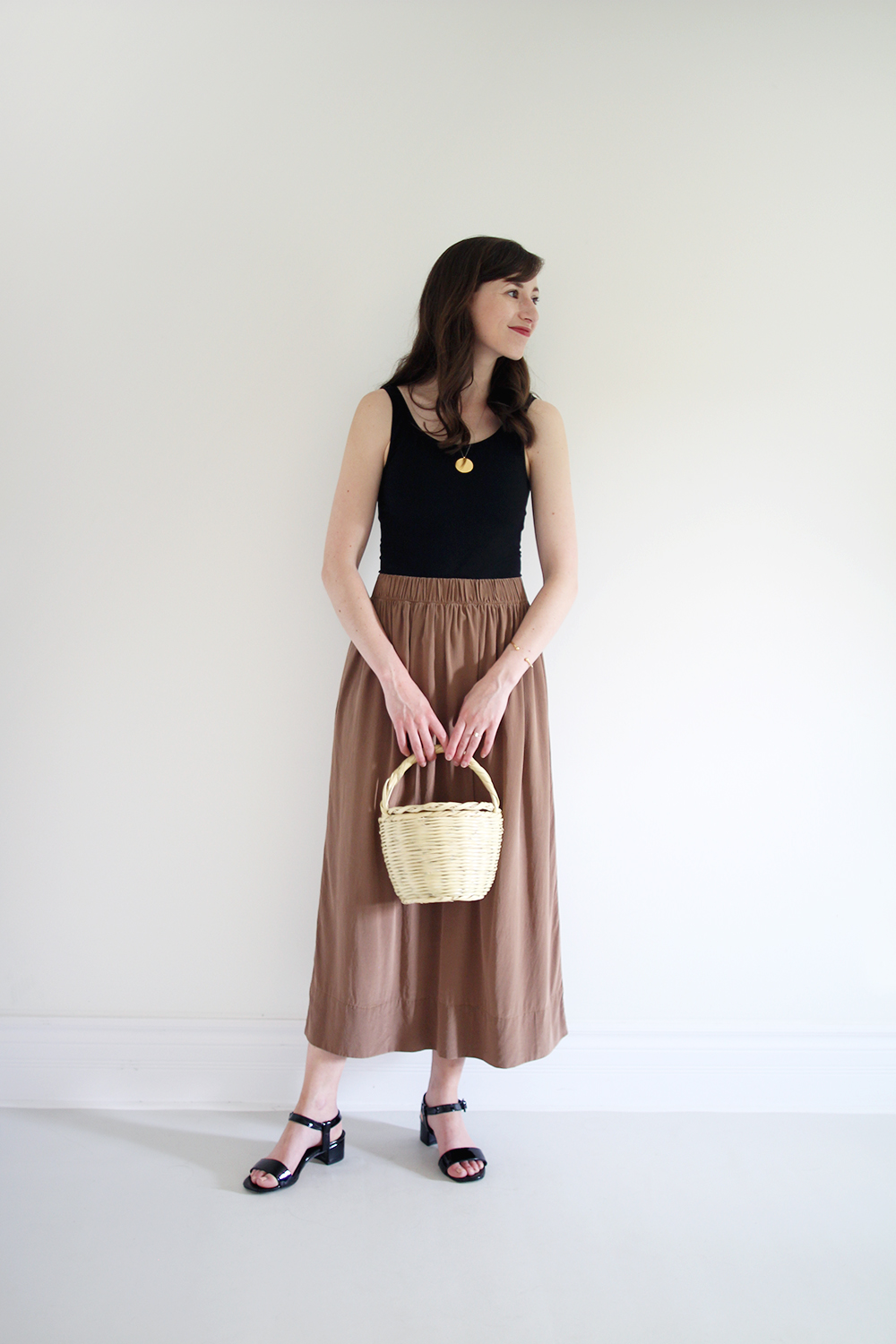 ---
TEMPERATURE – High of 29º C and sunny. Definitely hot but the breeze saved the day.
ACTIVITIES – Errands, dog walks, blog prep and a backyard BBQ with friends in the evening.
ITEM PERFORMANCE – I've been so looking forward to wearing this look all month and it didn't disappoint, for the most part.  The only trouble with this skirt, as I've mentioned before, is its susceptibility to moisture. It's so beautiful and fun to wear but the moment I get too hot (ie: inclined to perspire) or come into contact with any moisture it shows. So when I'm cool and there's a breeze everything is perfect but when humidity creeps in I start to get a little paranoid. So note to self, save this one for dry days and temps under 27!
Otherwise this outfit is the perfect June get-up. It has so many of my favourite elements mixed together in a simplistic, feminine and timeless format. It's very comfortable and I can easily imagine myself wearing this for many years yet.
STYLE TIPS: 
Make any look weekend ready with the simple addition of a basket bag. It's such a classic way to inject some summer market vibes.
Balance a full skirt with a slim fitting top for an ultra flattering, feminine silhouette.
Make life easier by wearing a bodysuit instead of a tank so you don't have to fuss with creeping hems and bunching around the hips/waist. 
---
---
LOOK 11 – SUNDAY JUNE 11
---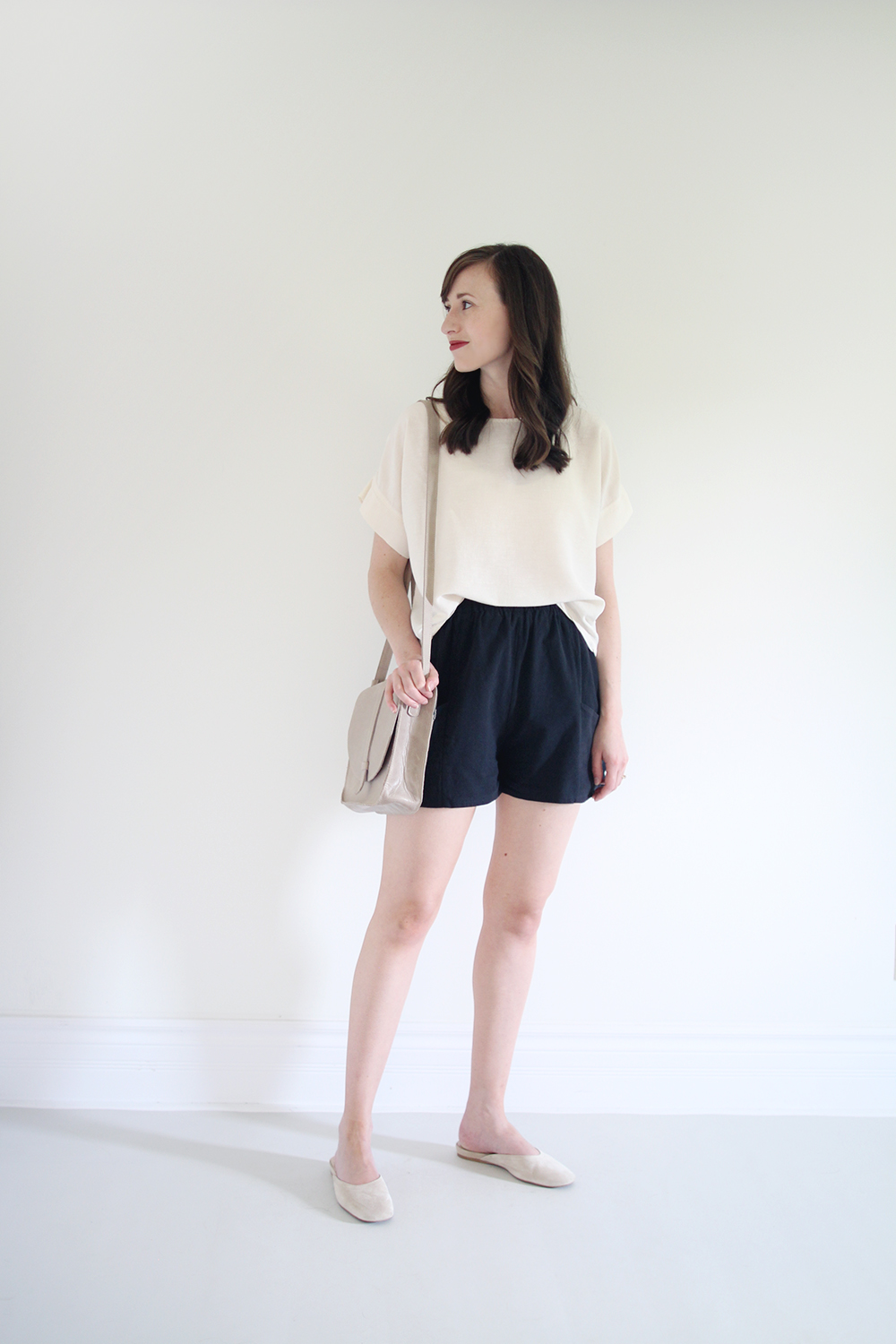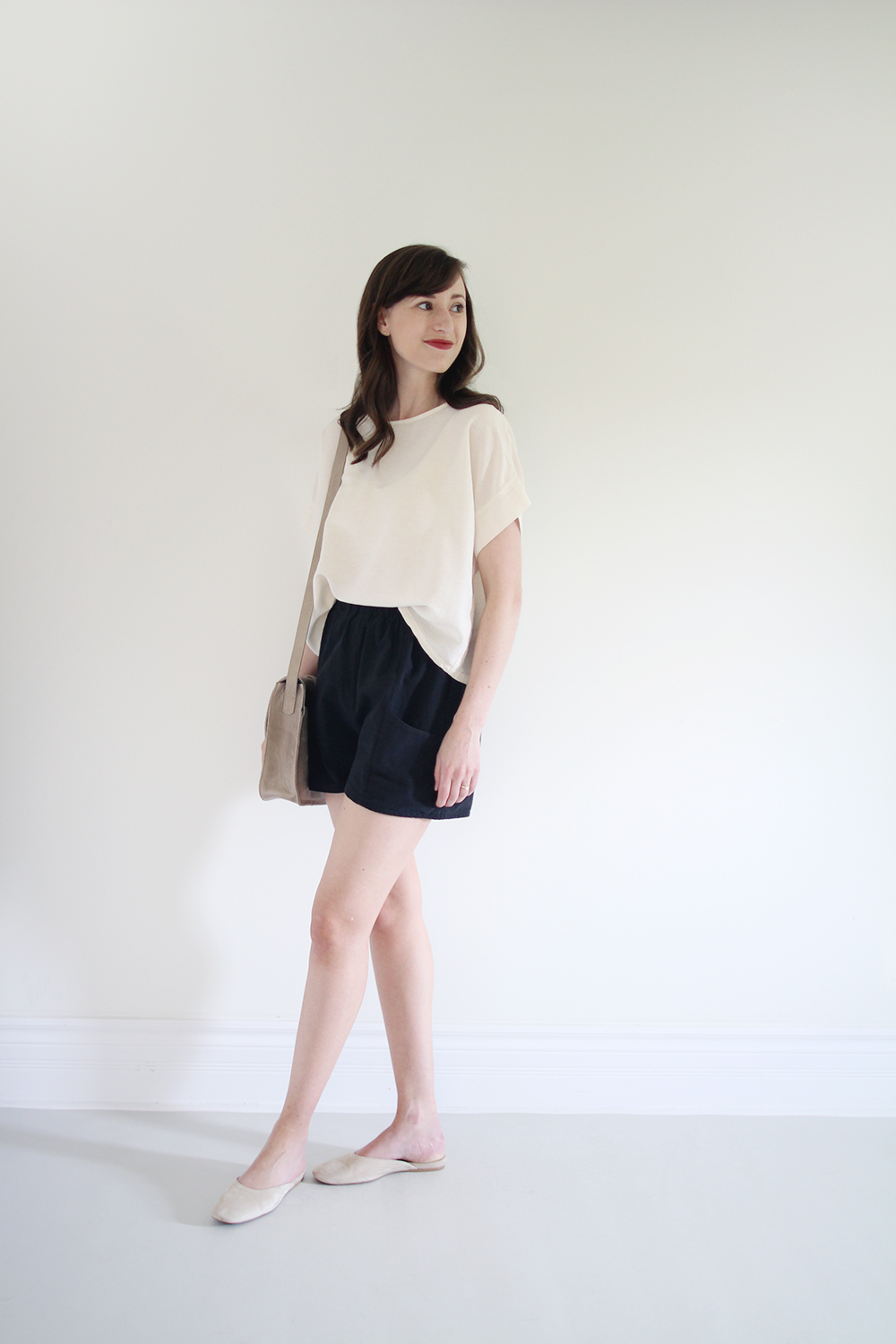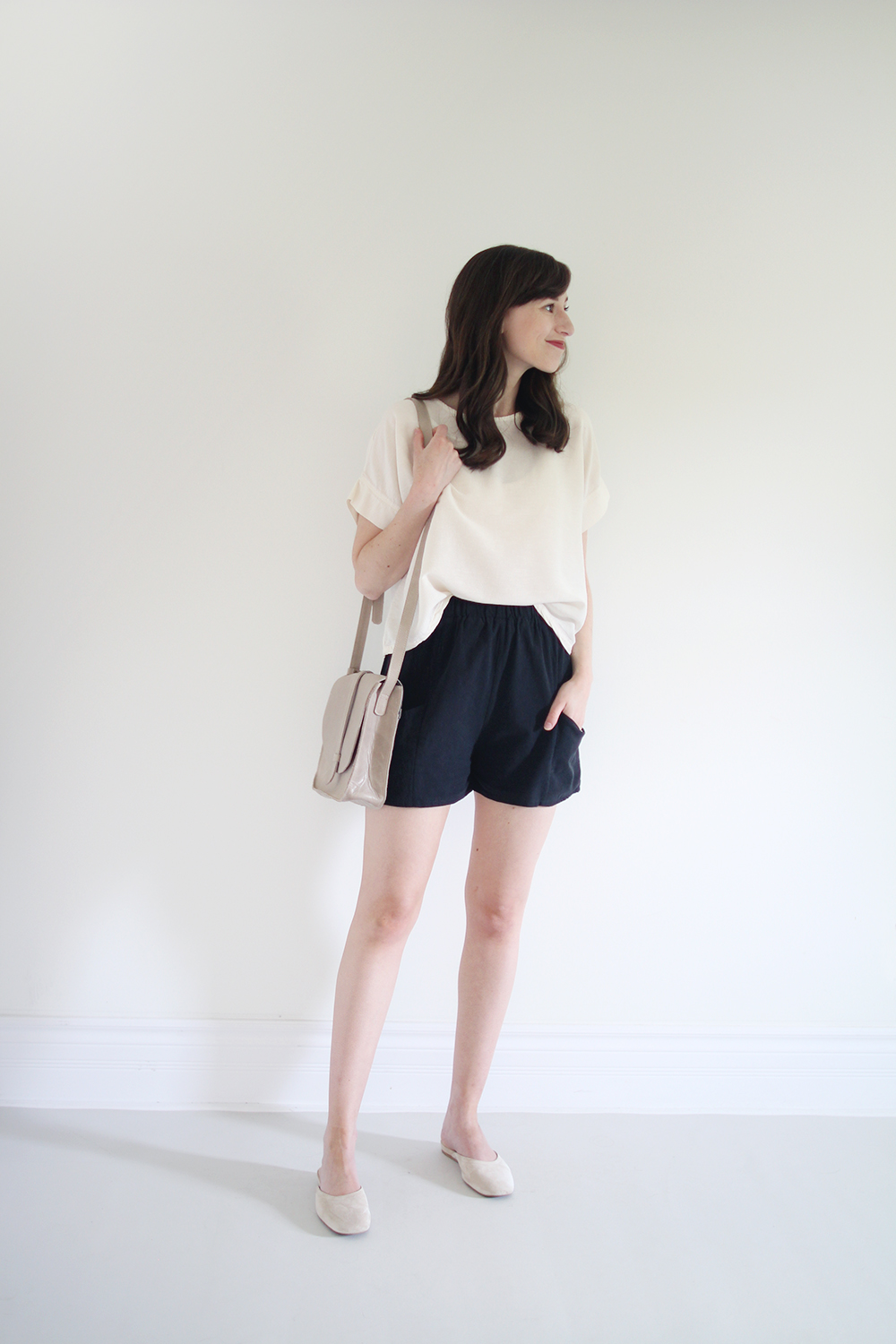 ---
TEMPERATURE – High of 30º C and sunny. AKA: Hot as a pistol. 
ACTIVITIES – We had a lazy wake up, took Dobby for a walk and enjoyed a tasty brunch in the yard before the sun got cray. Then I hunkered down for an afternoon of blog prep in my cool(ish) studio. All of a sudden, 5:00 rolled around and it was time for a Sunday dinner with Dave's family. This look was the perfect loose, lightweight set for the hottest Sunday of we've seen yet this year.
ITEM PERFORMANCE – Whenever it's really hot I go for super simple looks and loose layers. This one kept me comfy and cool all day. Both items are a blend of natural materials (Silk/Hemp top and Cotton/Linen shorts), which helps them be both breathable and temperature regulating.
Before I discovered this black pair, wearing shorts was always a chore. But these are a pleasure to wear and have been a staple in my closet for several summers now. The high waist, made of a thick elastic in combination with the wide a-line cut of the leg make them very comfortable and flattering. Plus, they go with just about everything in my closet!
I love the elegant colour palette in this look and I think it helps to refine the outfit overall, since otherwise it's quite casual and relaxed. But the soft contrast between ivory and washed black, paired with soft greys keep it light and sophisticated.
STYLE TIPS: 
A simple front tuck was all this look needed to feel styled rather than thrown together. It also helps to create a more defined waist and long leg which is especially necessary with shorts.
Mimic soft shapes through soft colours in your accessories to keep an outfit feeling light. 
When it's hot but you're not into exposing a lot of skin opt for pieces that fall away from the frame like these a-line shorts and this Georgia tee with banded sleeves that flare out. The repetition is visually pleasing plus it's very practical from a temperature standpoint too. 
When shopping for hot weather items opt for breathable materials (cotton, linen, hemp) whenever you can or you probably won't be comfortable. 
---
---
2nd WEEKEND DOWN, 2 TO GO!
DO YOU HAVE A FAVOURITE LOOK OUT OF THESE THREE?
---
WISHING EVERYONE A PRODUCTIVE WEEK AHEAD!
SEE YOU ON FRIDAY WITH LOOKS 12 to 15!
---
This post is not sponsored but contains affiliate links. When you shop via the links above I may make a small commission from a sale. This income helps limit the amount of sponsored content that appears on Style Bee. Thanks a lot for your support!