Well, there goes another June week! I can't believe we're halfway through the month already but the calendar never lies. Our week here in Guelph started out hot and steamy, cooled down for a bit and then cranked right back up for a toasty Friday. I'm not going to lie, I'm kind of loving this erratic weather, especially since it's given me a chance to really test the full gamut of my #JUNE30x30 closet. One day I'm wondering if I need to swap in a sweater and the next day has me wearing my shorts yet again. Honestly, I'll take this over the depths of winter any day!
So far, the outfits I've put together have been pretty obvious combinations but as my friends Andrea (Seasons + Salt) and Paige (Style This Life) touched on in their Monday posts, we're starting to get into the creative zone, which is where the style fun really begins. I'm excited to push myself a bit more and amazingly, there are still a few pieces I haven't worn yet!
One other thing I should note is that I thought I'd be miserable with only 4 shoe options at this point, but shockingly I'm quite content. And that's coming from a serious shoe girl here. Definitely a surprising mid-way finding. I'd love to hear if you've discovered any unexpected insights so far too!
So here's a look at the latest 4 outfits from the #JUNE30x30 challenge!  
---
LOOK 12 – MONDAY JUNE 12
---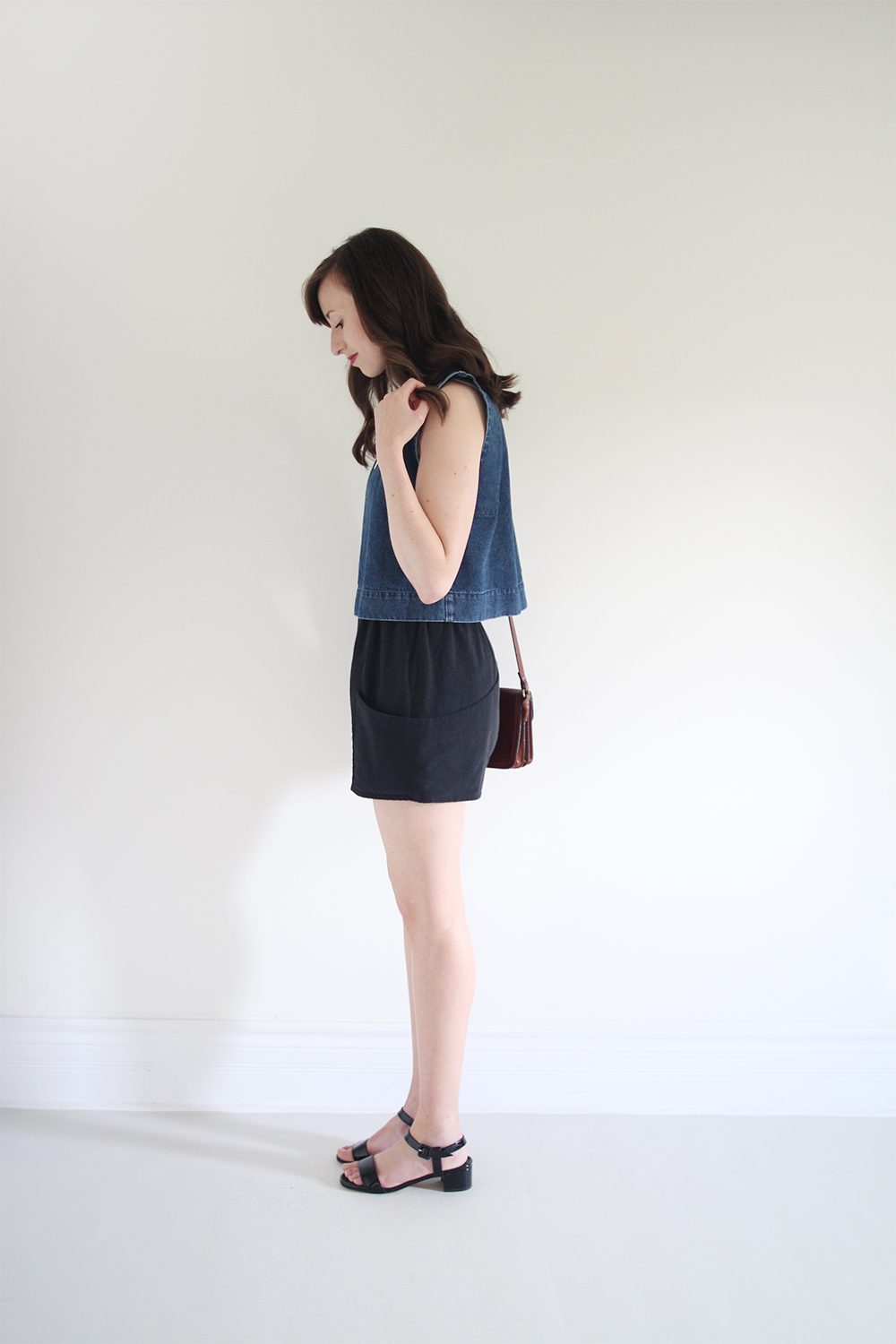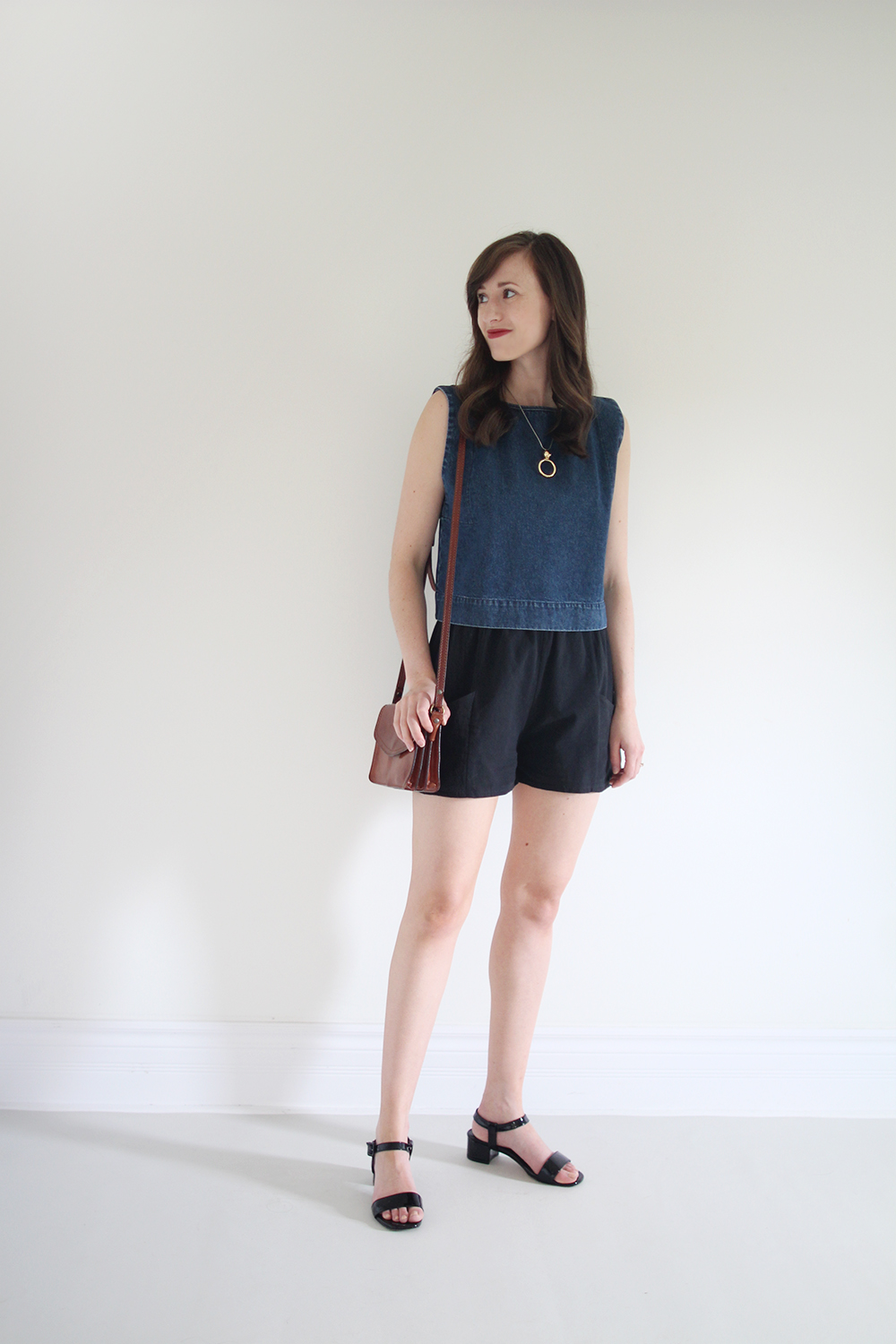 ---
TEMPERATURE – High of 31º C and sunny.
ACTIVITIES – The day was pretty casual, mostly emails, planning and office time. I had an important conference call in the afternoon and once that was over I took Dobby for a long walk to get some fresh, albeit hot, air and to clear my head for the rest of the days tasks. Nothing like a Monday of emails to start the week!
We had a big garden fresh feast for dinner and got some time in on the latest season of House of Cards. Only a few episodes in but I can feel the tensions rising and I love it!
ITEM PERFORMANCE – I thought this top might be too hot for the day but it worked out great. Thanks to its boxy fit it allows for lots of airflow and I love that it's sleeveless but still covered my shoulders from the sun.
These shorts were great all morning but it cooled off in the aft/eve so I switched to my Florence pants in black to stave off the bugs and breeze.
STYLE TIPS: 
Black and Denim is a failsafe combo. No matter how you mix the two you can't really go wrong! 
The low block heel is a new go-to footwear style for me but has quickly become a favourite. It literally elevates any look ever so slightly, plus you get to wear a heel without feeling like it. If you're on the fence, it's not going anywhere so give it a try!
Simple is always chic in the summer. Too many fussy elements or tight fits just doesn't fly with me. Go for easy to wear items with sculptural shapes and details so your basic look still feels clean and fresh.
---
DENIM CROP | ILANA KOHN via GARMENTORY | Wearing Size S | Made Responsibly in USA
Save $20 off your first order from Garmentory! 
SOPHIE SANDAL | MARYAM NASSIR ZADEH via SSENSE | Black almost Sold Out. Awesome MNZ selection here (many on sale).
OXBLOOD BAG | VINTAGE | Love this option from Baggu  | $120 USD | Made in USA
NECKLACE | c/o Young Frankk (sold out) | Made in USA
---
LOOK 13 – TUESDAY JUNE 13
---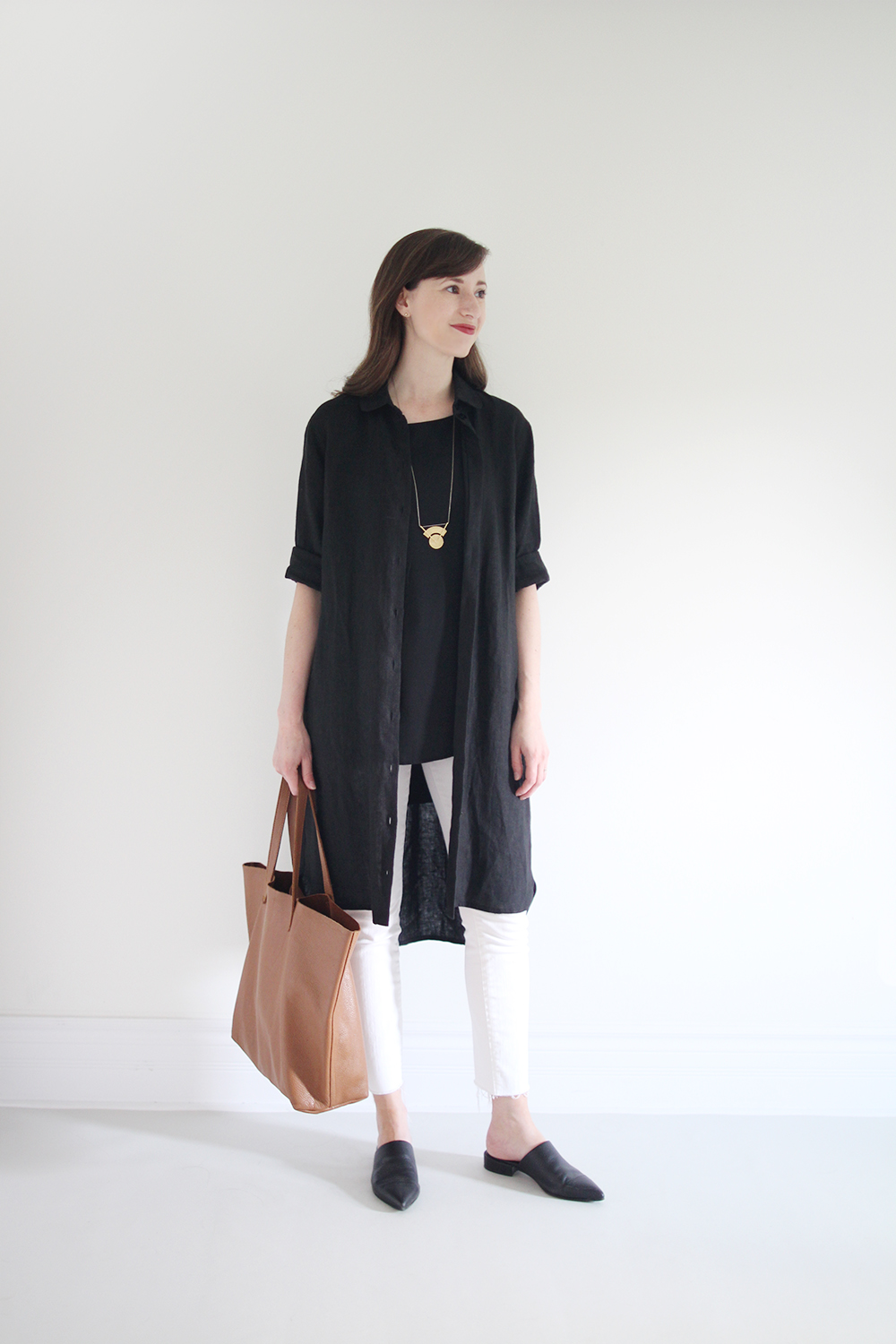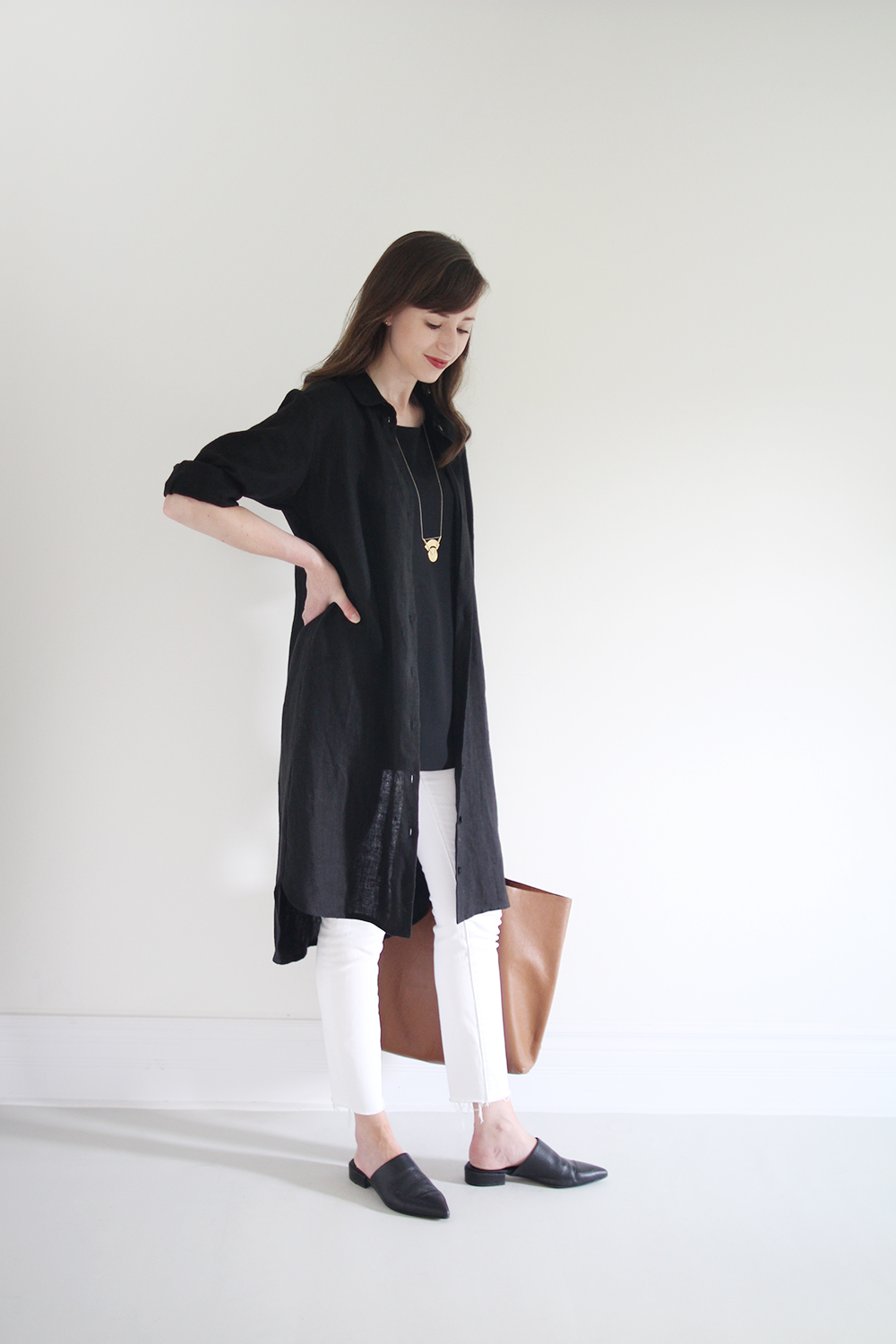 ---
TEMPERATURE – High of 26º C with a mix of sun and cloud. The afternoon was hot but breezy and the air cooled down nicely in the eve.
ACTIVITIES – I had an appointment in the morning, working in the office all afternoon, took Dobby for a long walk and then convinced Dave to take a stroll downtown for dinner on the patio of our favourite Italian restaurant. It was the perfect way to end a busy day.
ITEM PERFORMANCE – I'd been planning to wear this look all challenge long and this was a great day for it. I felt super comfortable all day but still put-together enough to go about my business downtown and then again when we went out for dinner. Something about a black and white look always feels sophisticated to me.
I love wearing this shirt dress as a light jacket and the mix of materials in this look is another favourite element. I wasn't sure I'd be able to make this tank work in such a casual outfit but it's the one element that elevates everything and keeps it feeling a touch more formal.
STYLE TIPS:
As you know black and white looks can feel harsh but by keeping the materials soft and loose you can get away with it for a more casual vibe. Try rolling your sleeves, leaving your top un tucked and adding a warm tone through accessories. 
White skinny jeans are my go-to summer item when it's not quite hot enough for bare legs (or I'm too lazy to shave). Pair them with just about anything (even all black) and you're pretty much good to go.
No time for a pedi? No worries, mules are having a major moment right now and they're the next best thing to sandals, chipped polish be dammed! Just give your heels a quick scrub and you're all set.
---
TUNIC | c/o EILEEN FISHER | $218 USD | WEARING XXS | RESPONSIBLY MADE IN CHINA
IDA SHIRT DRESS | c/o ODE TO SUNDAY | €220 | WEARING SIZE S | MADE IN LITHUANIA
WHITE SKINNIES | MADEWELL | $125 USD | WEARING 26 | Similar style made in USA. 
CLAUDIA MULE | c/o L'INTERVALLE | $138 CAD| WEARING 37 (USUALLY US7) | MADE IN SPAIN |
Save 10% with 'STYLEBEE10'
CLASSIC TOTE | Cuyana | $195 USD | Made responsibly in USA.
NECKLACE | old STVDIO BROOKLYN | Made responsibly in USA.
---
LOOK 14 – WEDNESDAY JUNE 14
---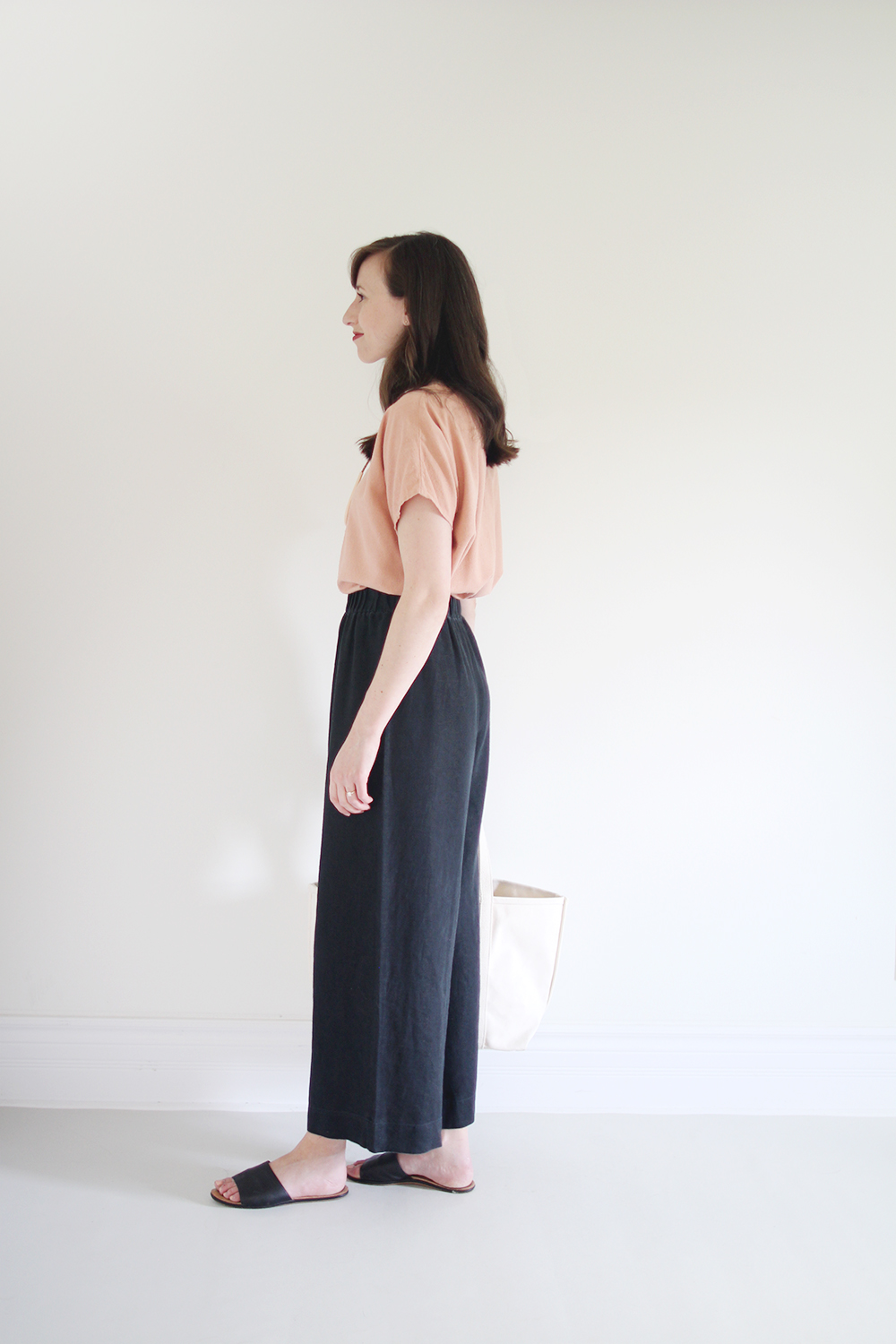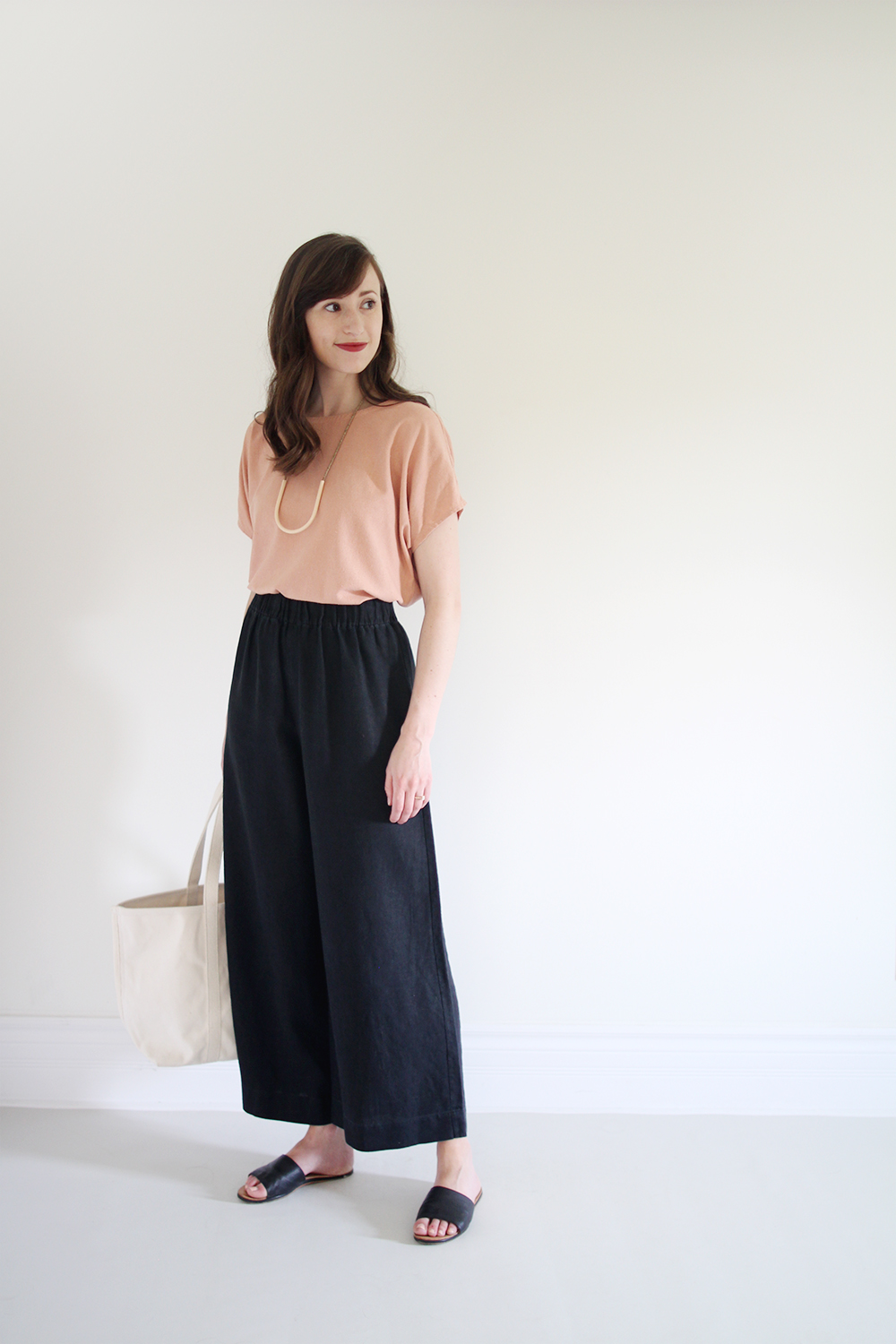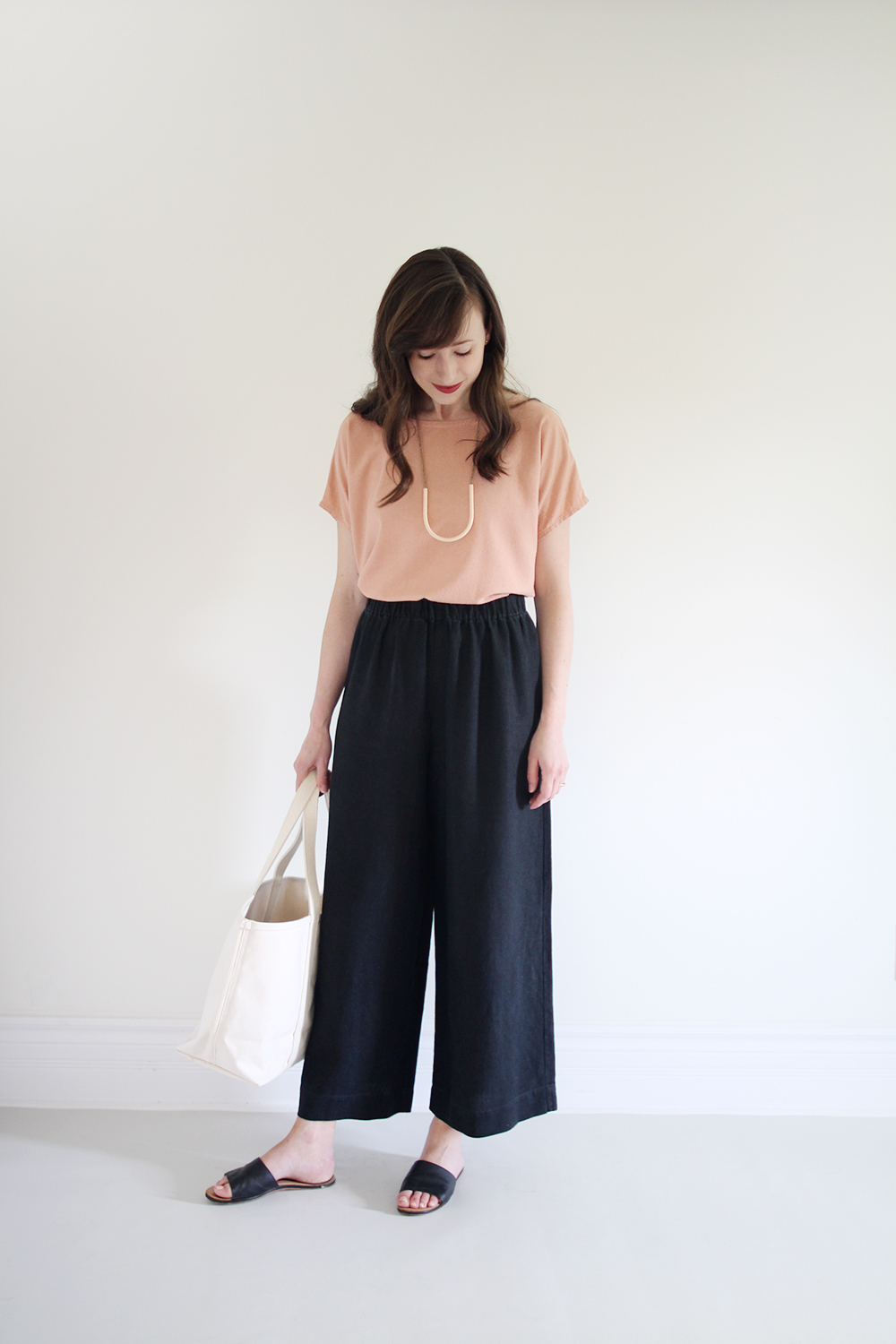 ---
TEMPERATURE – High of 25º C and cloudy. The afternoon was hot but breezy and the air cooled down nicely in the eve.
ACTIVITIES – I spent the morning in my workout gear and after a quick lunchtime sweat I grabbed a shower and settled into this comfy look for a day in the studio working on layouts and estimates.
If it seems like I'm always in my office writing emails, well, that's because I am! No complaints though, as long as I get to take my usual afternoon break with the pup and ditch my desk for the river path for a little bit.
The fella and I grabbed a quick dinner and took his old 911 out for a drive up to Guelph Lake. We caught the sun going down and the blue birds catching their evening feast. Aside from the 1 zillion bugs, it was perfect.
ITEM PERFORMANCE – This look was so comfy, I basically felt like I was in loungewear! I wasn't sure how this tee would tuck into these pants but I opted for a full tuck and loved the way it worked out. This pink tee is so much more versatile than I'd first imagined and I really love it paired with black pants. I paired a simple nude necklace on top of the pink tee for a subtle monochrome feel and I think they're pretty much a perfect match.
I was planning to visit my tailor but didn't get a chance so my tote bag is still filled with jeans awaiting repairs and alterations.
STYLE TIPS: 
One small tone on tone detail (like this top and necklace) immediately pulls an outfit together. The tones need not be identical but even a scarf and a tank or a tee and shorts in the same colourway make for a sophisticated result in no time. 
It's basket, beach tote and woven bag season right now. Don't be shy about grabbing a big bag to run errands or go about your day. Any natural colour will do! 
I love how the wide waistband on these pants defines my waist without making me feel like I need to suck in for a second. If you're rocking a loose fitting tee over linen pants go for a full tuck to give the look shape while still keeping it relaxed overall. 
---
---
LOOK 15 – THURSDAY JUNE 15
---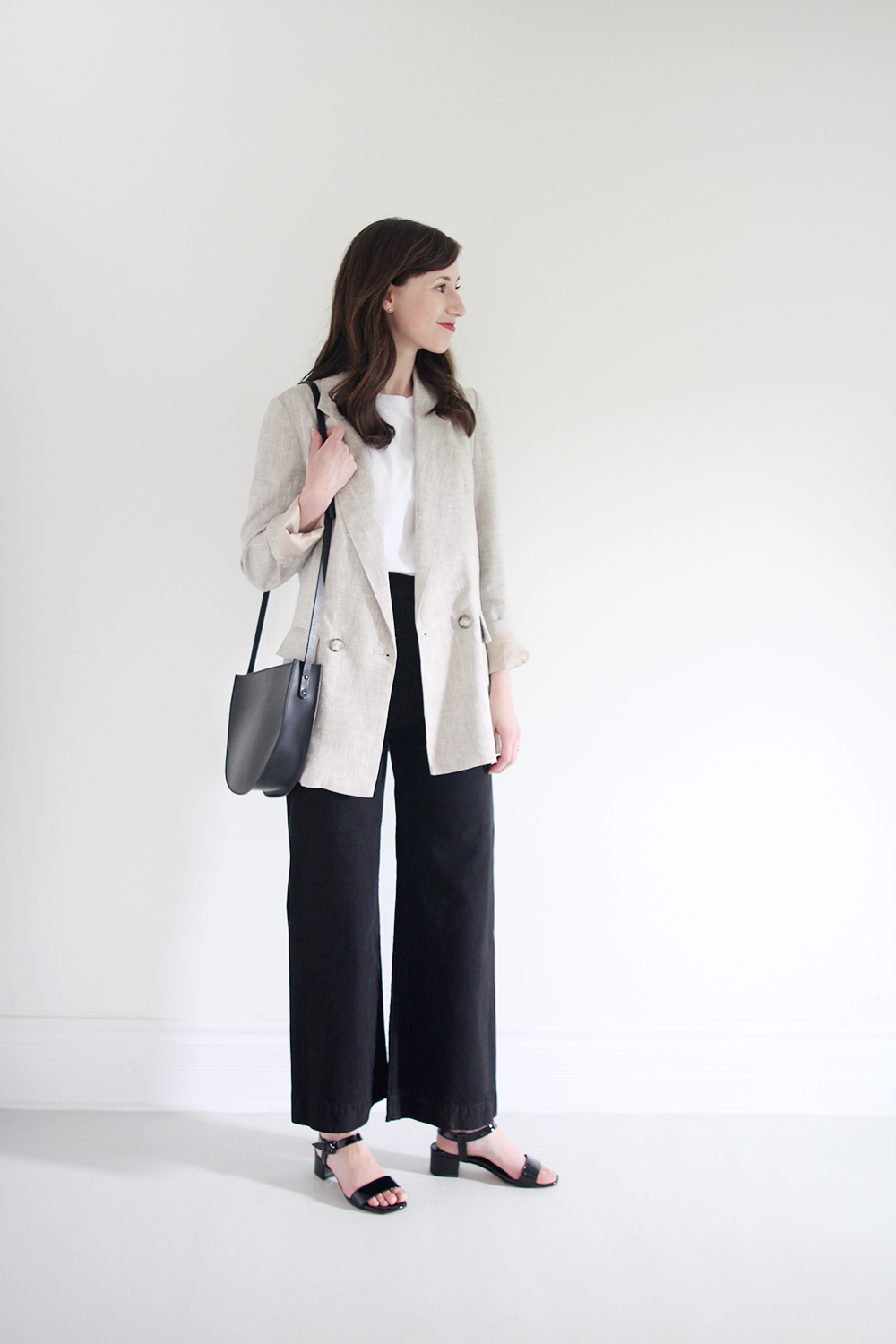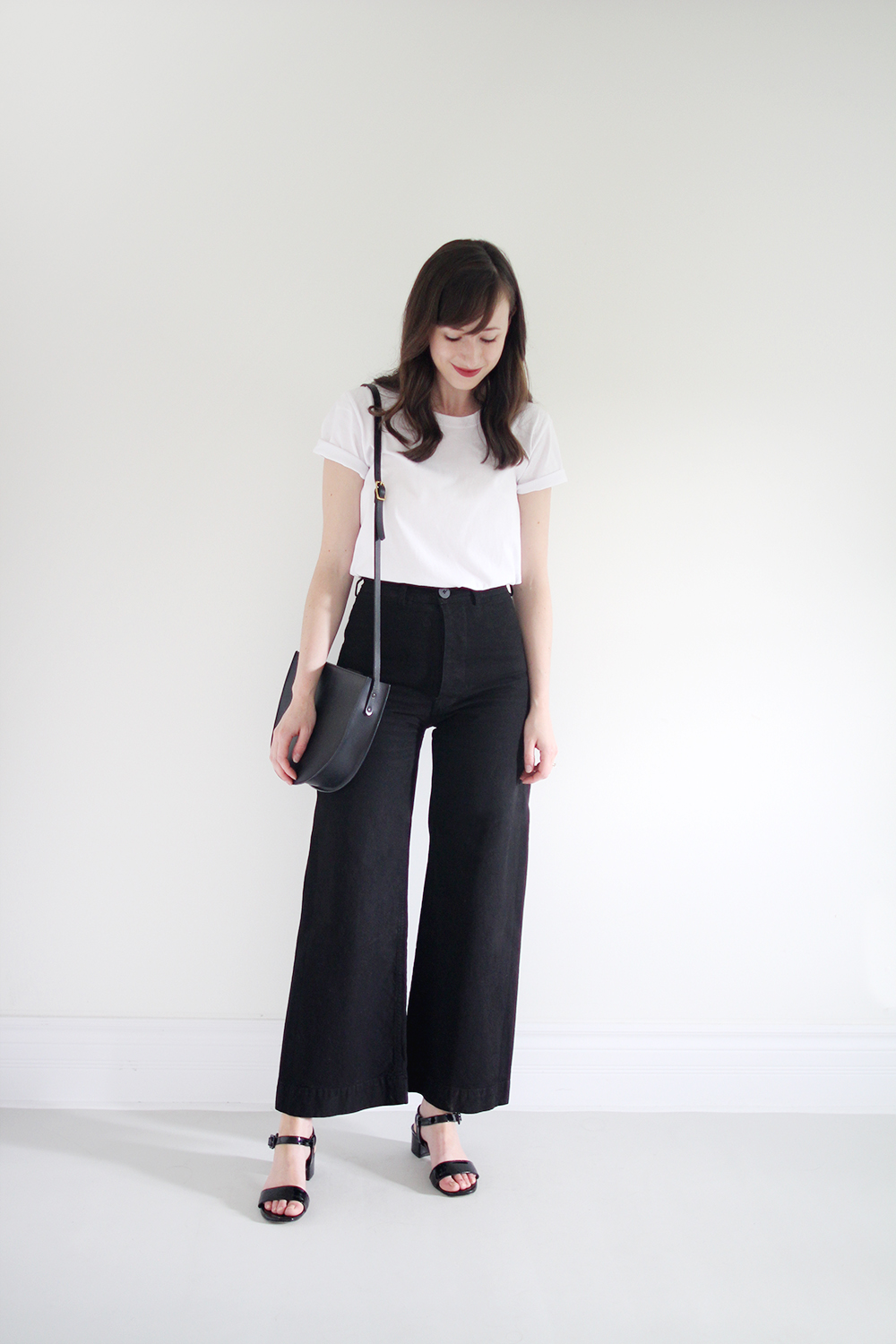 ---
TEMPERATURE – High of 18º C humid and rainy. It drizzled all day, which made the garden very happy.
ACTIVITIES – I've been on a sudden fitness kick lately. Well, I say sudden but actually I've just realized that the wedding is 2.5 months out so no more putting it off! So I started the day in my gym clothes again until I took a break at lunch to get some exercises in.
Then I switched to my Kamm pants and a tee for an afternoon of layouts and emails, which took me happily out for dinner downtown with Dave. I simply grabbed my blazer for a contemporary date night look.
ITEM PERFORMANCE – I've already worn all the items in this outfit during the #June30x30 so far but I was really excited to put this one together. I love the simplicity of the palette and the shapes of each piece and how they pair to create a clean, classic look in an updated silhouette. You really can't go wrong with Kamm pants and a basic tee! Oh and boyfriend blazers may be creeping up on dusters as my new favourite outerwear style.
STYLE TIPS: 
Elevate a basic tee in no time by pairing it with a statement pant and a sleek black sandal. 
Keep a blazer from feeling corporate by rolling the cuffs up several inches. 
Sturdy black pants don't exactly scream summer but when combined with white cotton, flax linen and open toes, they feel much more seasonally appropriate.
---
---
2 WEEKS DOWN, 2 TO GO!
ARE YOU TRYING OUT THE #JUNE30X30?
IF SO, HOW DO YOU FEEL NOW THAT WE'RE AT THE HALFWAY MARK?
READY TO GET A BIT MORE CREATIVE?
ITCHING TO GET BACK TO YOUR CLOSET?
I'D LOVE TO KNOW!
---
WISHING EVERYONE A WONDERFUL WEEKEND!
SEE YOU ON MONDAY WITH LOOKS 16, 17 + 18!
---
This post is not sponsored but contains affiliate links. When you shop via the links above I may make a small commission from a sale. This income helps limit the amount of sponsored content that appears on Style Bee. Thanks a lot for your support!