Going into the weekend I had all sorts of intentions to push the style limits and try combos I would have never thought of before this #JUNE30x30 Challenge started. Then, I totally flipped the switch and ended up in the most easy and minimal looks from the challenge yet. As luck would have it, they're actually three of my favourite outfits from the whole month so far! I guess it just goes to show that pushing the style limits isn't always necessary to find new combinations you love. Simply reconfiguring go-to silhouettes, mixing up favourite pieces and a little laziness is all you need.
As we close in on the finish line of this experiment I'm paying close attention to what my co-hosts Andrea (Seasons + Salt) and Paige(Style This Life) are saying. Like me, Andrea is getting ready for full closet access again but impressively, Paige pointed out that she hasn't even touched a couple of her items, which is admirable for sure. I think we're all in agreement that this challenge hasn't been too much of a 'challenge' (30 pieces is a lot) but it's been a really rewarding exercise in evaluating one's wardrobe and measuring how applicable items are to our daily life. I know it's made my mornings way easier and been a whole lot of fun!
I'm excited to share my full round-up of 30 looks on Friday along with all my takeaways. But, until then, here's a look at the latest 3 outfits I put together!
---
LOOK 23 – FRIDAY JUNE 23
---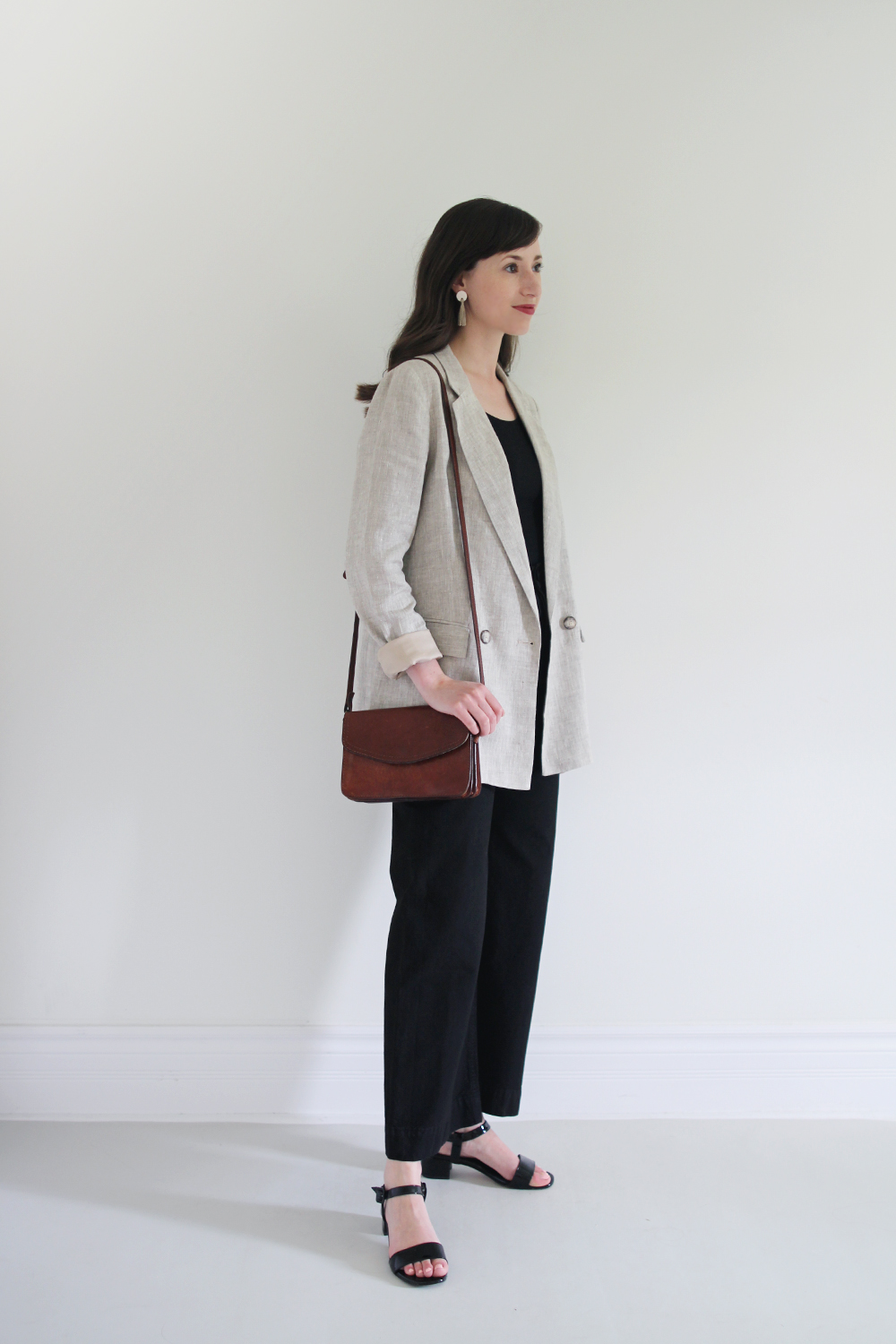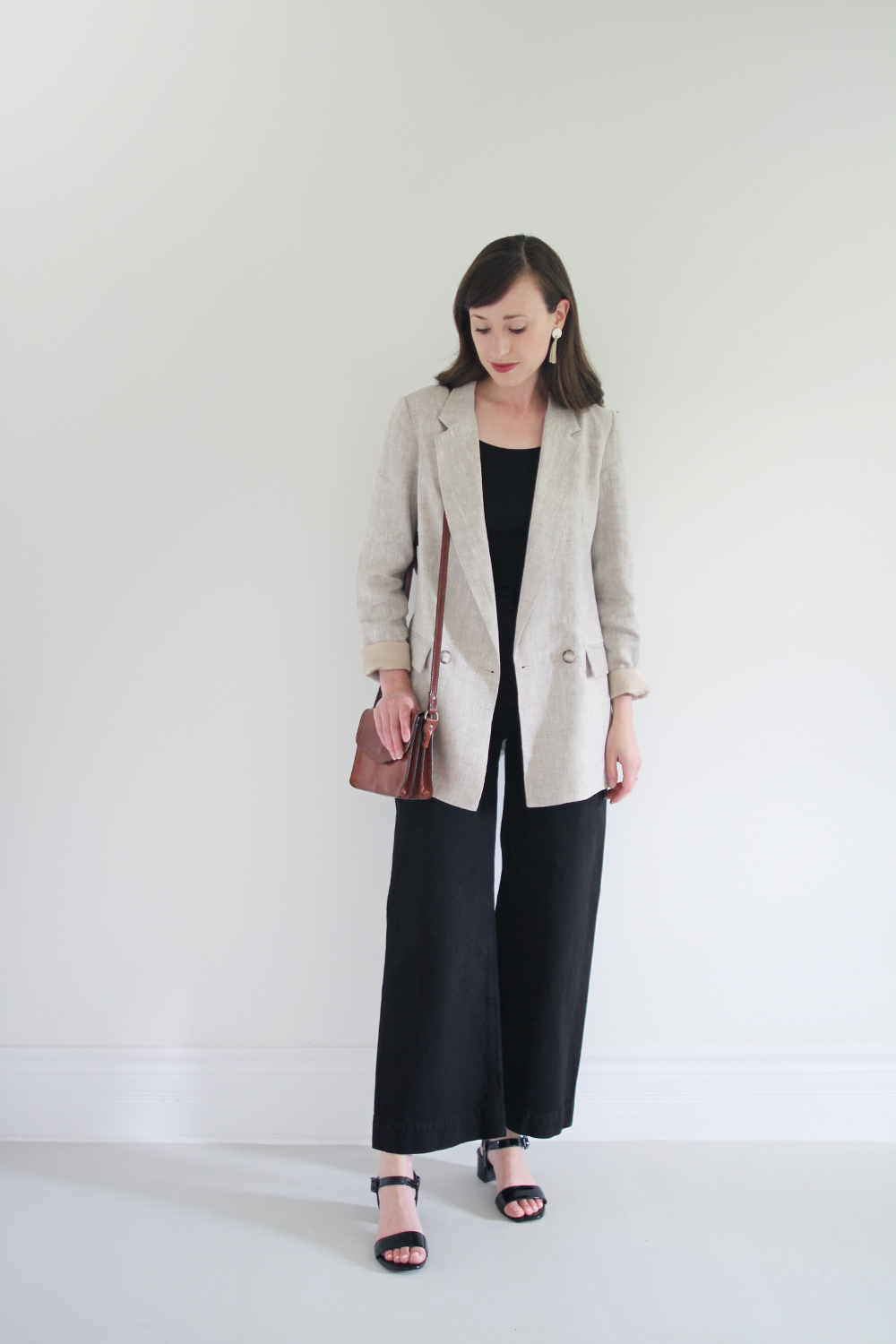 ---
TEMPERATURE – High of 24º C and cloudy.
ACTIVITIES – I was in my workout clothes for most of the day because, well, you know how it goes. But after I finally got a workout in, I dressed up for a late dinner out before catching our friends play a show downtown. It was a fun night out and the perfect way to decompress from a very busy, slightly disheartening work week.
ITEM PERFORMANCE – These items are all closet heroes and I love how this look came together. I felt totally polished and put together for a night out and about and this blazer was the perfect topper for the weather. It's also the kind of outfit I could happily walk home in after a late night. My feet were happy and I was plenty comfy. Oh and these adorable handmade earrings from my friend Korinne Vader finally made their debut and totally finished the look.
STYLING TIPS:
One statement piece of jewelry is all you need. I promise! For instance these earrings have way more impact on their own than they would if I tried to add a necklace or bracelet to the look.
A black base will never let you down. Ever! Add a contrasting top layer to soften the vibe. Bonus points if it's in a summery material like linen.
I've said it before and I'll say it again, invest in timeless, well-made accessories in simple shapes. For example, these shoes are a true classic style I can wear for years and this vintage bag was made in Italy in the 70s but could have been released yesterday thanks to its clean lines. Simplicity is the name of the long-term style game.
---
---
LOOK 24 – SATURDAY JUNE 24
---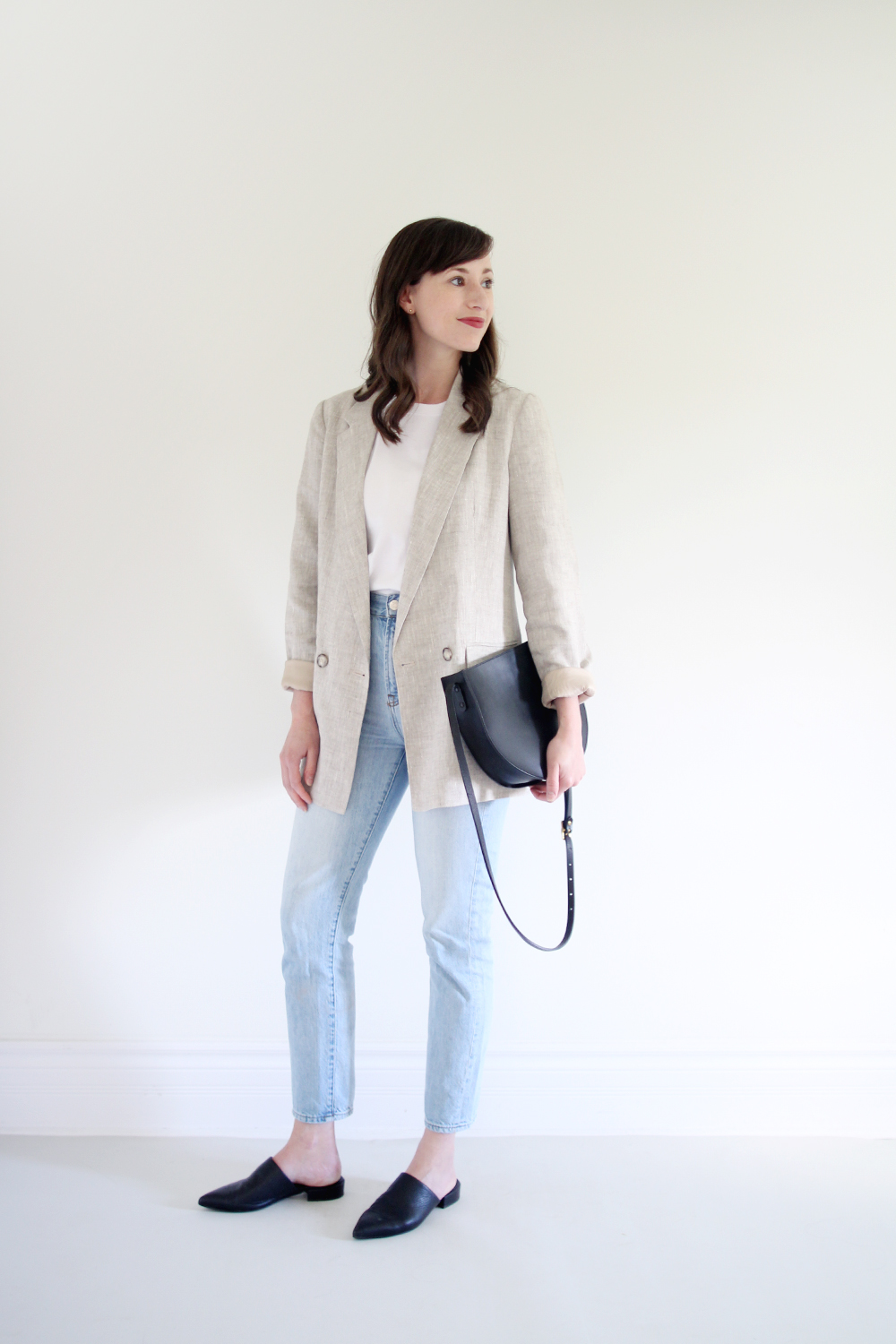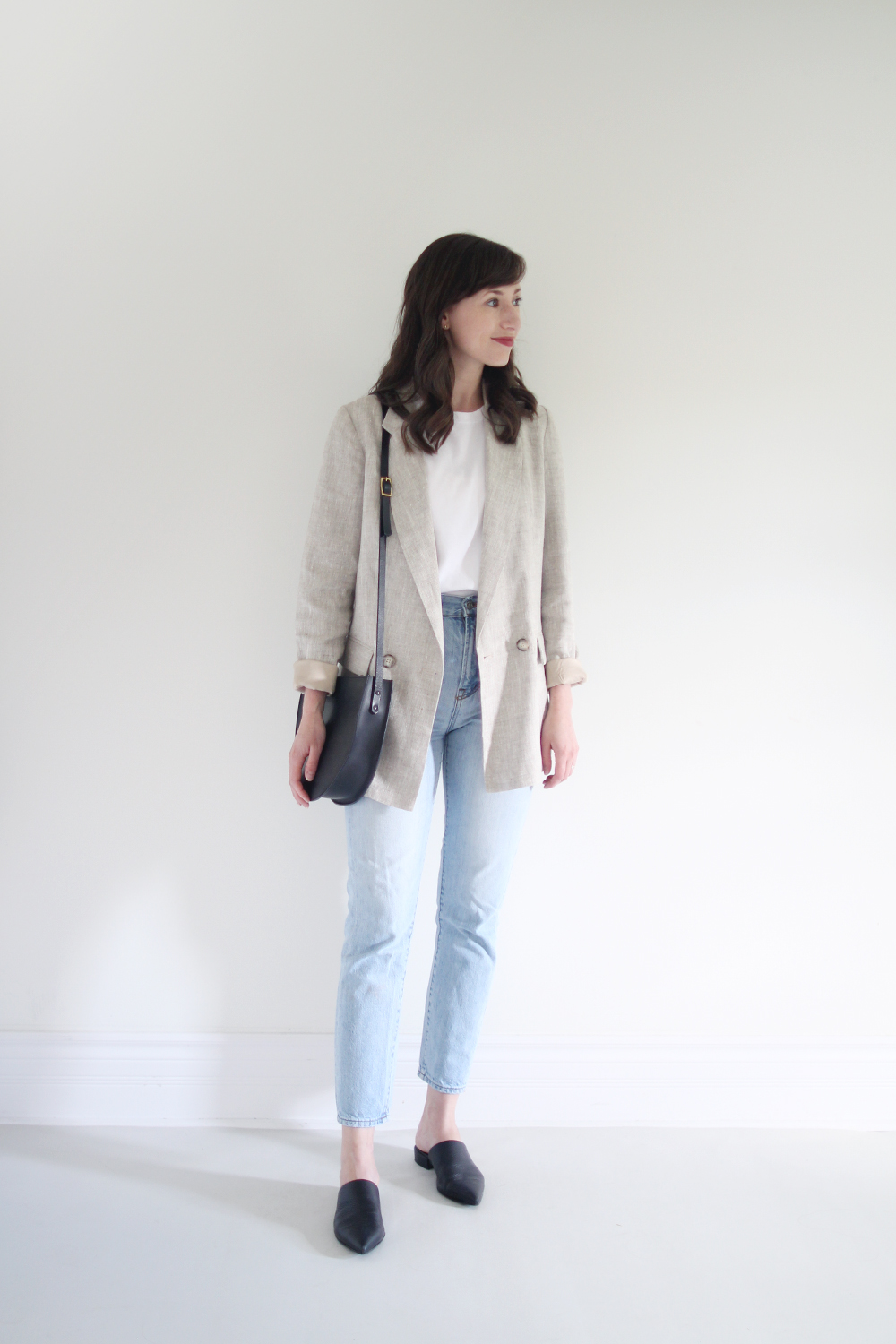 ---
TEMPERATURE – High of 22º C with sun and clouds.
ACTIVITIES – I was shooting for this post and Friday's post all day so I wanted to finish the afternoon and enjoy the evening in something comfy and basic. I'd already worn this tee and jean combo so I knew it would fit the bill.
I spent the evening cooking up dinner and editing photos but I wore my flats and blazer to take Dobby for our usual long walk around the neighbourhood.
ITEM PERFORMANCE – I really REALLY like this outfit. So much that I can easily see this formula becoming a standard. Cotton tee, tucked into high-rise denim, with a boyfriend blazer, mules and my favourite bag. It's totally timeless, wearable and I feel polished and chic in a nonchalant way.
STYLING TIPS:
Take jeans and a tee from basic to badass in two simple steps: 1) Add a boyfriend fit blazer. 2) Slip into a pair of sleek, sophisticated mules. Done and Done!
Light washes in warm weather fabrics like linen, cotton and soft denim make for a fresh palette anchored by a couple of black leather accessories.
A blazer and jeans suddenly feels Summer ready with a cropped ankle and a rolled cuff. Just that little bit of skin makes all the difference.
---
LINEN BLAZER | REFORMATION | $228 USD | WEARING XS | MADE IN USA | Similar available now by Veronica Beard (Made in USA) | Similar available and on sale by VINCE (imported, size up)
CLASSIC FIT JEANS | Madewell | $115 USD | Wearing 26 take your normal size | Similar style made in USA.
WHITE COTTON TEE | c/o Tradlands | $49 USD | Wearing XS | Ethically Sourced and Sewn in the United States.
CLAUDIA MULE | c/o L'INTERVALLE | $138 CAD| WEARING 37 (USUALLY US7) | MADE IN SPAIN |
Save 10% with 'STYLEBEE10'
ELOISE BAG | The Stowe | $387 CAD | Made in Canada.
---
 LOOK 25 – SUNDAY JUNE 25
---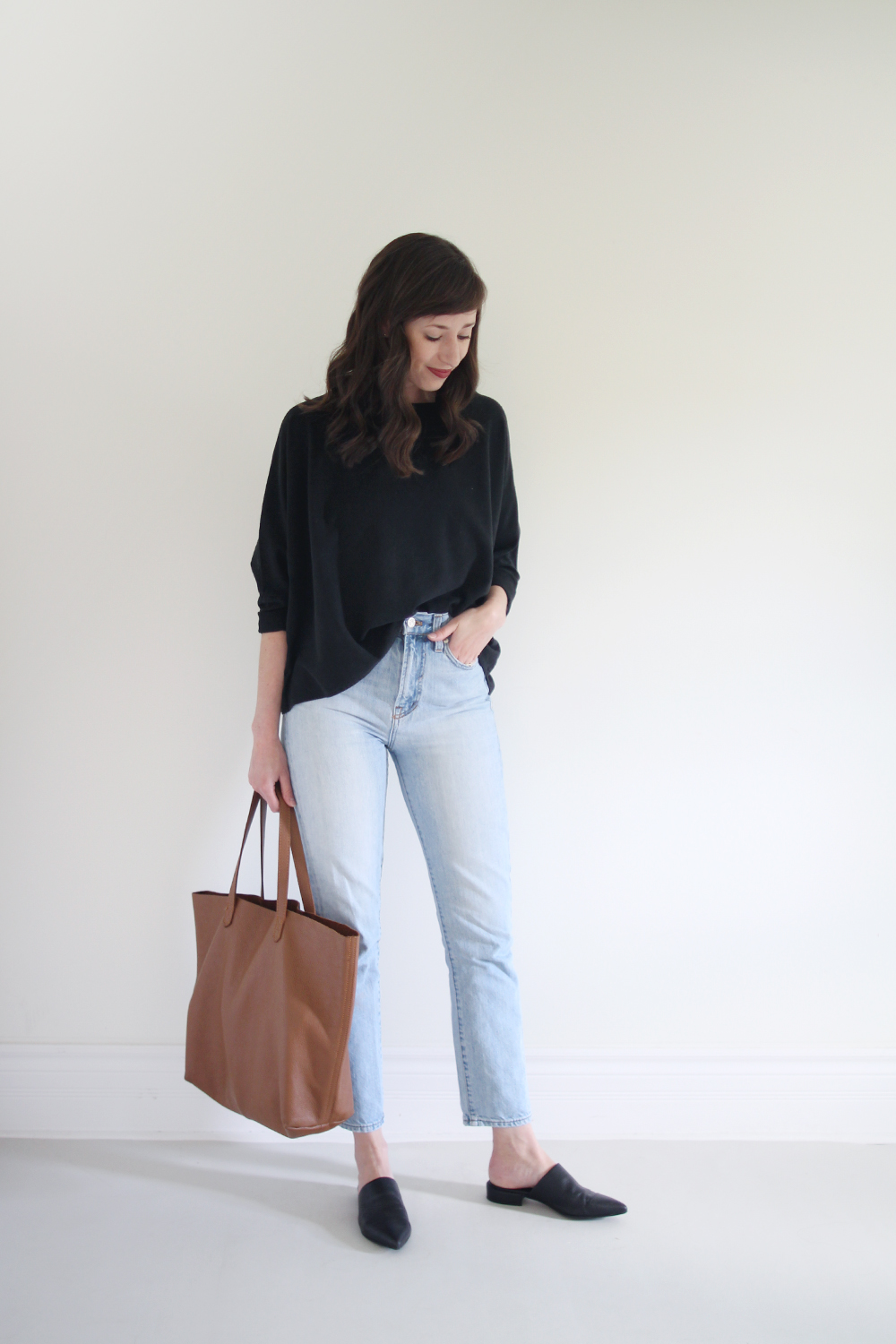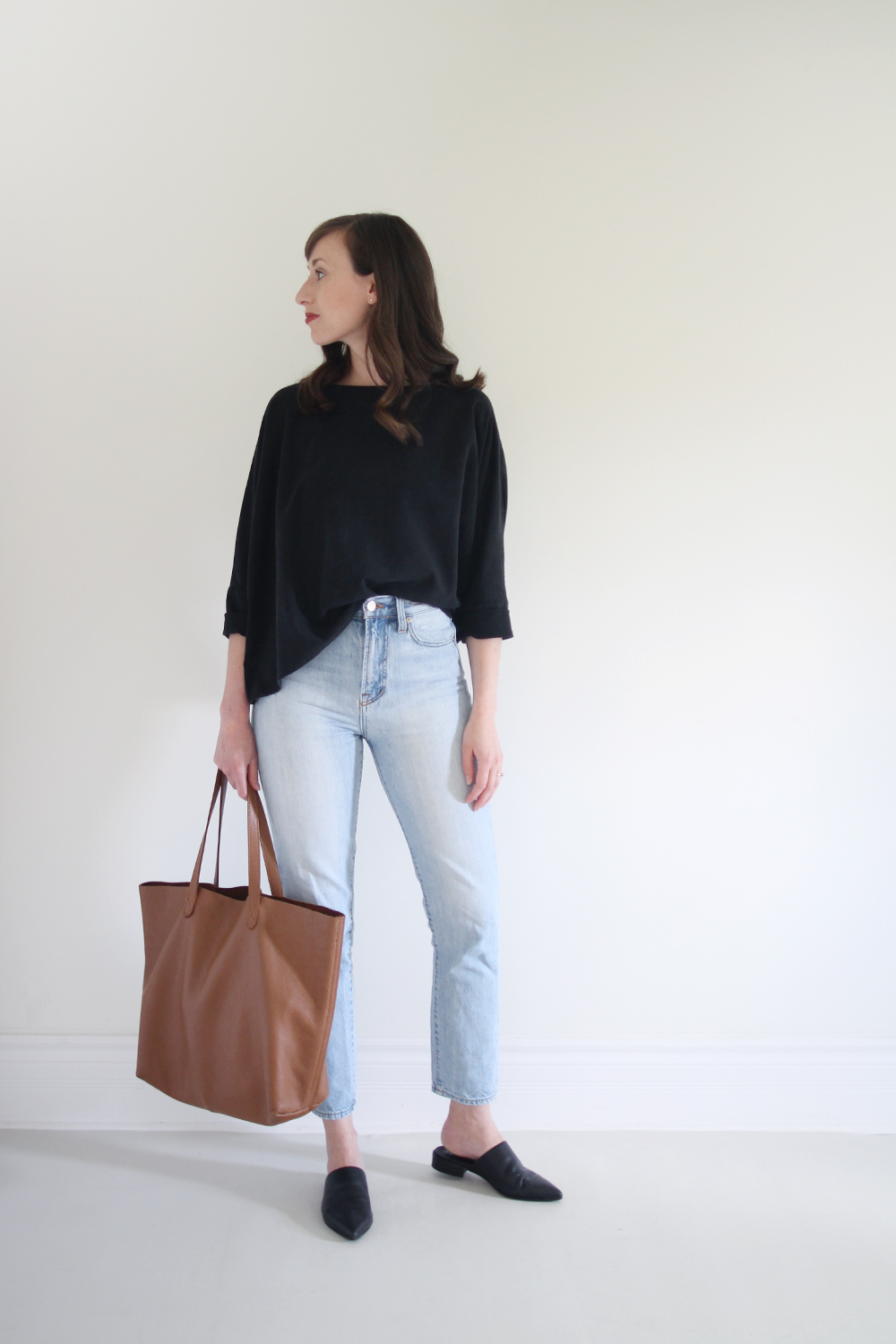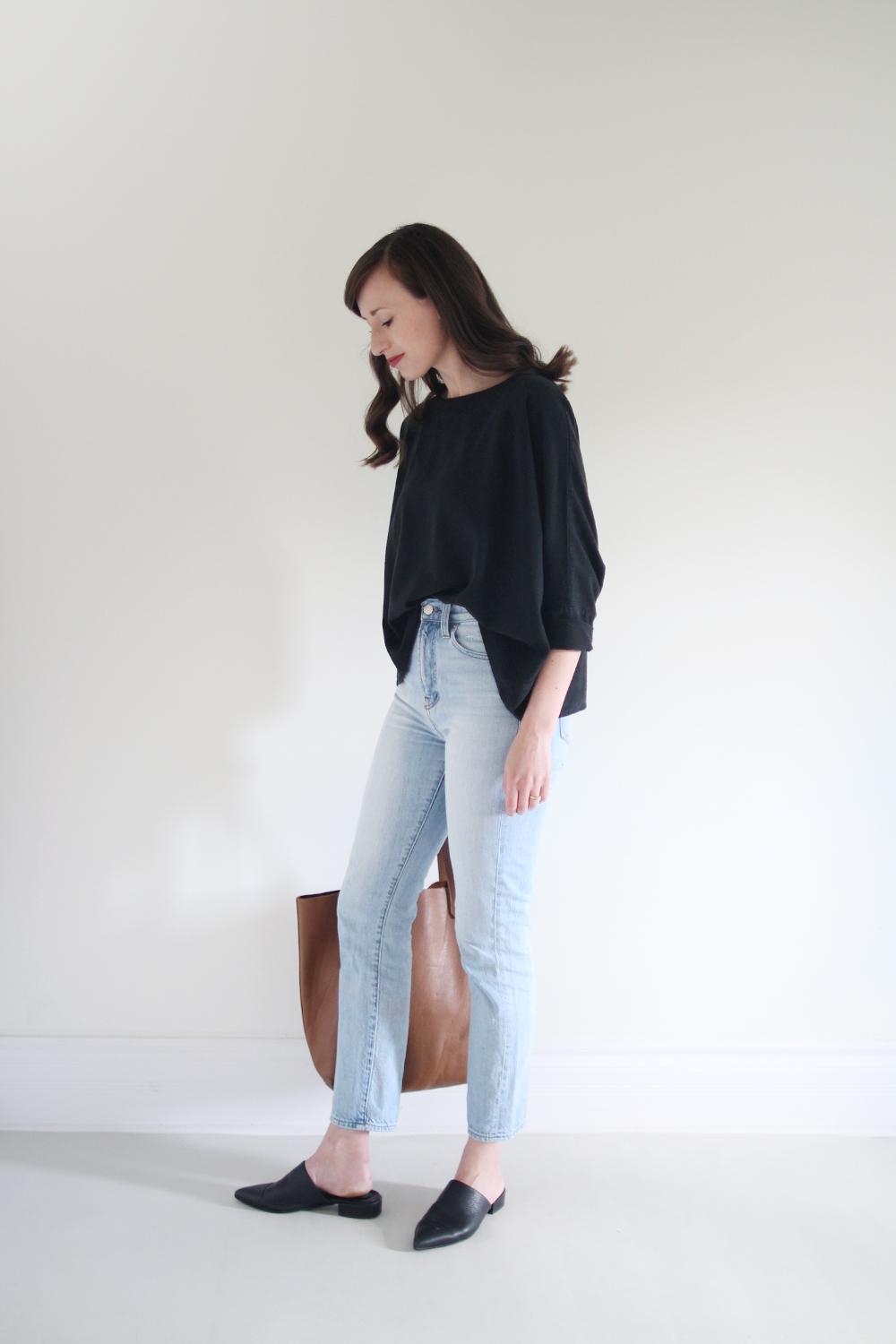 ---
TEMPERATURE – High of 19º C with lots of wind, sun, clouds and a thunderstorm thrown in.
ACTIVITIES – We woke up early to get cracking on a busy day. While Dave rebuilt our entire staircase (Yep!), I made us breakfast, spent the day on blog prep, zipped out for lunch, and finished up the day by cooking up a big batch of home-made pasta sauce, my all-time favourite Sunday dinner.
ITEM PERFORMANCE – These two tried and true faves never miss a beat. Every time I wear my T-Top I wonder why I don't have it in 10 more colors. Thinking I'll finally add another one to my closet this Fall.
I have to confess I 'cheated' for the first time in the challenge. I wore my Clyde Vest out to grab lunch because it was a little chilly for just this top and well, I really wanted to wear that vest! No regrets.
STYLE TIPS: 
Try a side tuck in lieu of a front tuck for a cool asymmetrical look. It works great with this raw silk T-Top because it's a soft fabric that drapes beautifully. Stiffer fabrics don't always cooperate as well.
Roll your cuffs up for just a hint of additional styling. 
A big, caramel coloured tote is the perfect addition for a simple black and denim look. It keeps things simple but adds a dose of colour and a strong shape into the mix.
---
T TOP | c/o Jamie + The Jones | Wearing S/M | $188 USD | Made in responsibly in USA.
CLASSIC FIT JEANS | Madewell | $115 USD | Wearing 26 take your normal size | Similar style made in USA.
CLAUDIA MULE | c/o L'INTERVALLE | $138 CAD| WEARING 37 (USUALLY US7) | MADE IN SPAIN |
Save 10% with 'STYLEBEE10'
CLASSIC TOTE | Cuyana | $195 USD | Made responsibly in USA.
---
OKAY EVERYONE! JUST 1 POST LEFT IN THIS #JUNE30x30 SERIES!
HOW DO YOU FEEL ABOUT THESE EASY PEASY OUTFITS?
---
SEE YOU ON FRIDAY WITH A FULL ROUND UP OF ALL 30 OUTFITS. IN THE MEANTIME, BE SURE TO CATCH WHAT ANDREA AND PAIGE HAVE BEEN UP TO!
---
***EXCITING NEWS! THE SUMMER 10×10 CHALLENGE KICKS OFF JULY 7th!***
---
This post is not sponsored but contains affiliate links. When you shop via the links above I may make a small commission from a sale. This income helps limit the amount of sponsored content that appears on Style Bee. Thanks a lot for your support!