It feels as though it's been a long time since I put together a good old fashioned outfit post. But here we are! This one was inspired by all the warm Fall weather we've been having lately. The changing leaves and balmy breezes have been such a treat this year. This unexpected combination has translated into muted earth tones, easy layers, light knits and simple shapes within my closet and personal style. Needless to say, it's been a lovely autumn to dress for.
As you may know, I'm all for easy-chic combos when it comes to Fall style! One of my go-to uniforms since the Fall 10×10 Challenge has been along the lines of today's look. That is, a dark pant, plus my new Patti Shell, a cardigan or kimono, a loafer or sandal and a geometric bag. It can be created lots of ways within my current wardrobe and the result is an 'effortless' look that's super comfy and chock-full of understated autumn vibes. No pumpkin spice required!
So here's how that uniform can work for a warmer Fall day (now) and scroll down to see how a few tweaks make it ready for colder temps (later). I've also shared lots of info on the Patti Shell, my latest Elizabeth Suzann addition, in a Fit & Function section below. PS. This post isn't sponsored, it's just because! 
---
NOW
---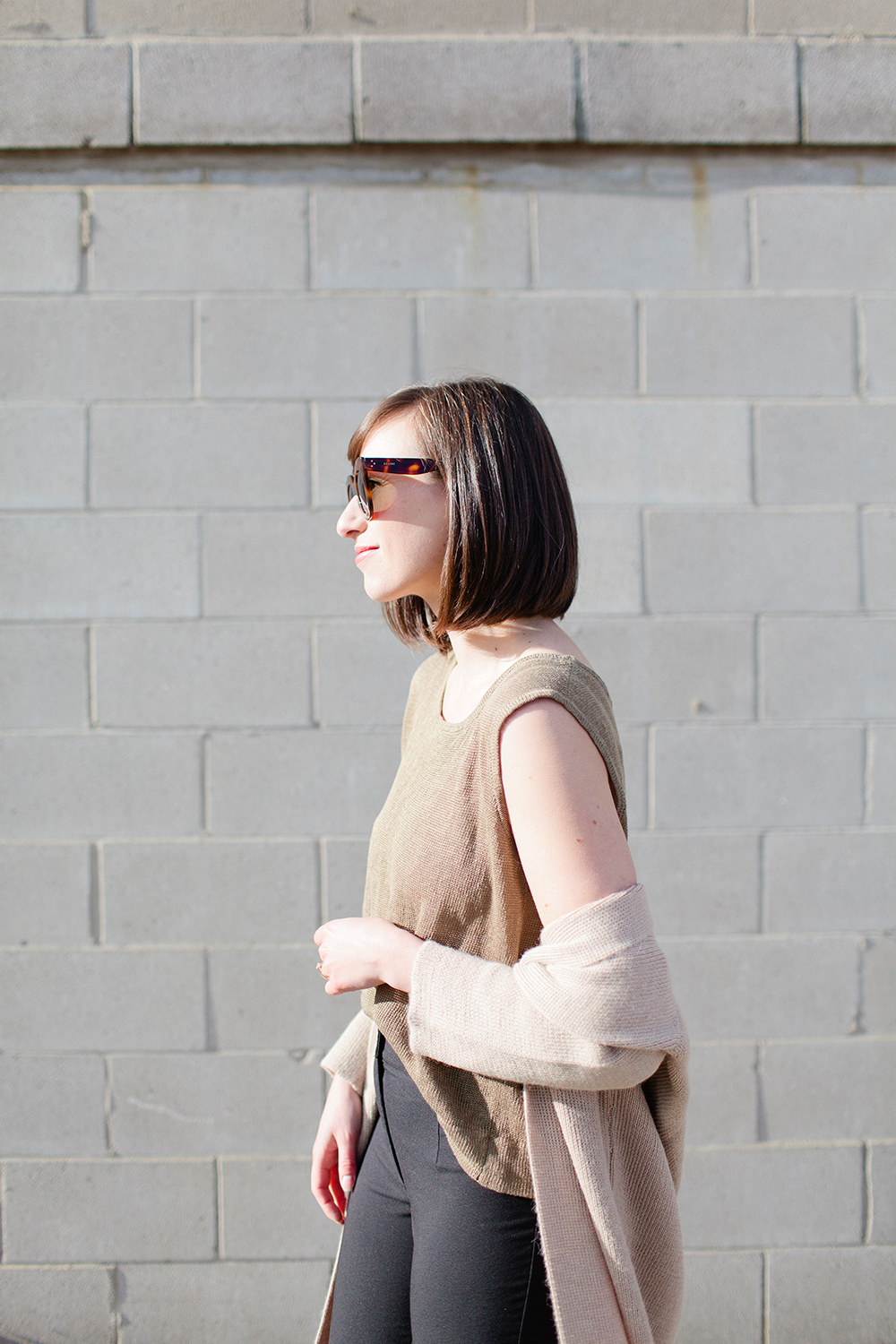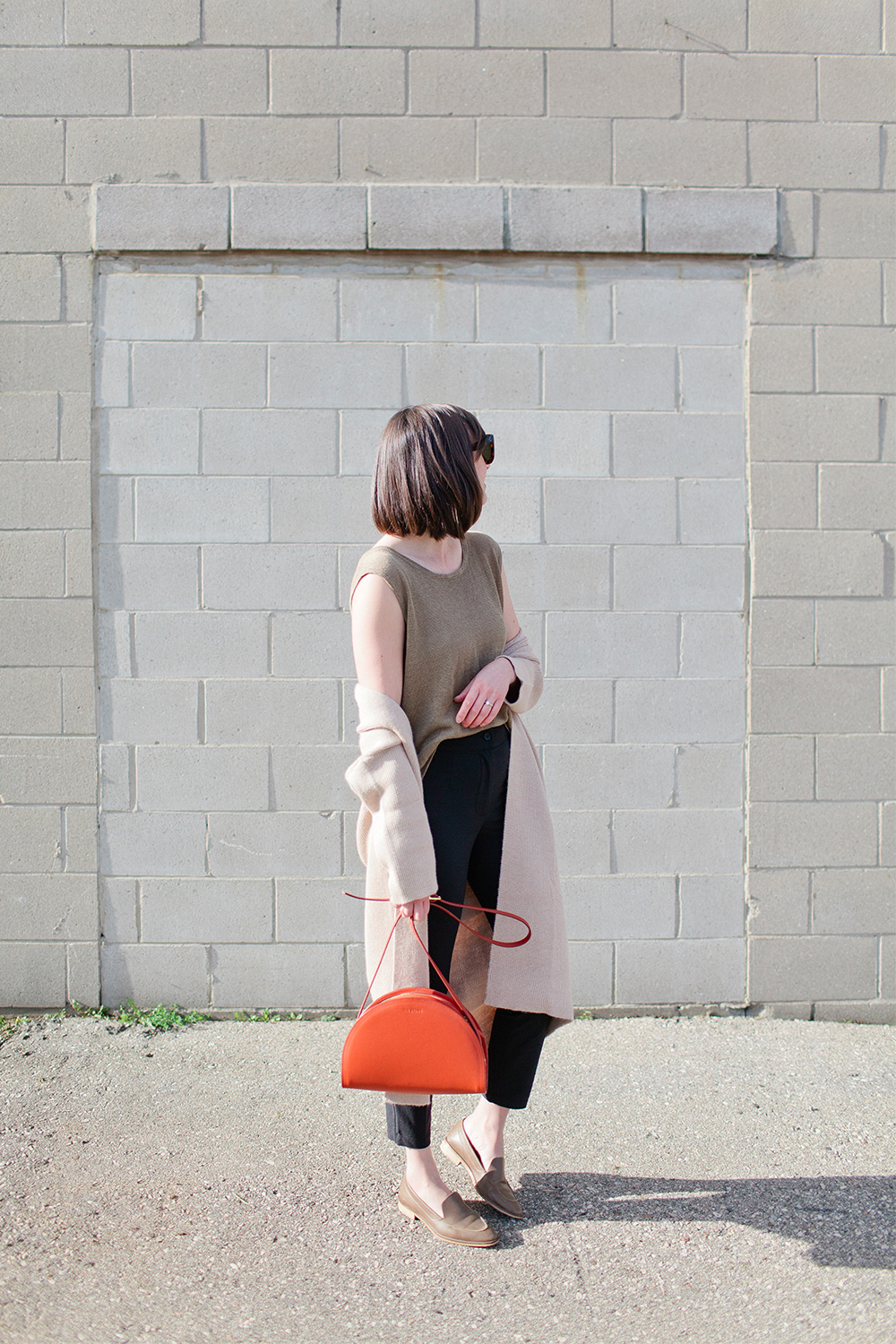 ---
FIT & FUNCTION
---
I love the cropped mock neck sweater I bought from the last ES + Kordal collaboration and hoped the Patti Shell would be another gem. I ordered it just minutes after the collection launched and it is indeed a new fave! I shared it on my instagram this weekend and got a few questions and DMs, so here are my general findings on fit and function:
SIZE: I'm wearing a size S which is my usual size in tops. I'm 5'7 and 125 lbs for reference. I am pretty close in measurements to the ES model and found it fits a bit looser than I'd expected but not so much that I wanted to size down.
FIT: I've always loved how Elizabeth Suzann pieces are designed to fit and the Patti Shell is no exception. The fit is definitely relaxed but thoughtfully tailored so the neckline isn't gaping and the armholes don't show your bra. The length hits just below my hip bones so it's not particularly long or cropped. It's cut straight through the torso but the fabric keeps it from feeling boxy.
FABRIC: 100% washed linen knit, which is 'cool and slinky like soft, fibrous chain mail,' as ES put it so perfectly. It's very soft to the touch and moves fluidly, similar to a silk more than a knit or typical linen.
Is it warm? Nope. It's a linen knit so it's quite lightweight. The weave is open so it's not much warmer than regular linen except it falls closer to the skin. It will be amazing paired with my Florence Pants in the late Spring and Summer next year but for now and into the Winter I'll be wearing it under my long cardigans and duster coats. I might try it over a fitted turtleneck too!
Is it see-through? Not especially. At least not that I can tell. It's described as a 'sheer' knit and I feel like that's accurate. I simply wear a nude bralette underneath and find that's entirely enough to keep it PG.
Does it wrinkle? Not much and compared to your typical linen not at all. I'd already worn the top before these photos were taken and it had barely any fold lines right out of the box.
Does it stretch out? I can see that it might stretch more if it were tighter on my frame but the loose fit means it doesn't have to. The weave is not super tight so I imagine with lots of wear it will relax but should return to it's original size when washed.
DESIGN DETAILS: There are two key design details that set this simple knit apart to me.
SHOULDERS: The shoulders on this top are cut so they fall in a very elegant way and hit a flattering spot on the arm. I didn't adjust them for the shoot or even think about them at all while taking photos. They just sit right where they are and I love that. The cut is reminiscent of a muscle tank, as ES notes in the description, but executed in a way that's very sophisticated.
HEM: There is a deep 2 in. hem on this top which helps it hang beautifully when worn loose and tucks into pants easily (+ stays put!).
CARE: Handwash in cool water with a mild detergent. Submerge in cool water, gently squeeze and release fabric to fully wet. Let soak, remove from water, and press with a dry towel. You may also machine was on the hand-wash cycle in cold water. Tumble dry on lowest setting or lay flat to dry, stretching garment to original shape. Lightly steam once dry to remove wrinkles.
COST: This beauty was a piece I'd anticipated buying for a while so I was prepared to drop $220 USD for it, knowing I could wear it at least 3 out of 4 seasons of the year. It will be a perfect piece to take on trips and a great option for everyday wear in the studio. It's easy to dress up or keep casual and I LOVE the muted sage green shade with all the neutrals in my closet.
---
Feel free to ask any additional questions you might have! 
---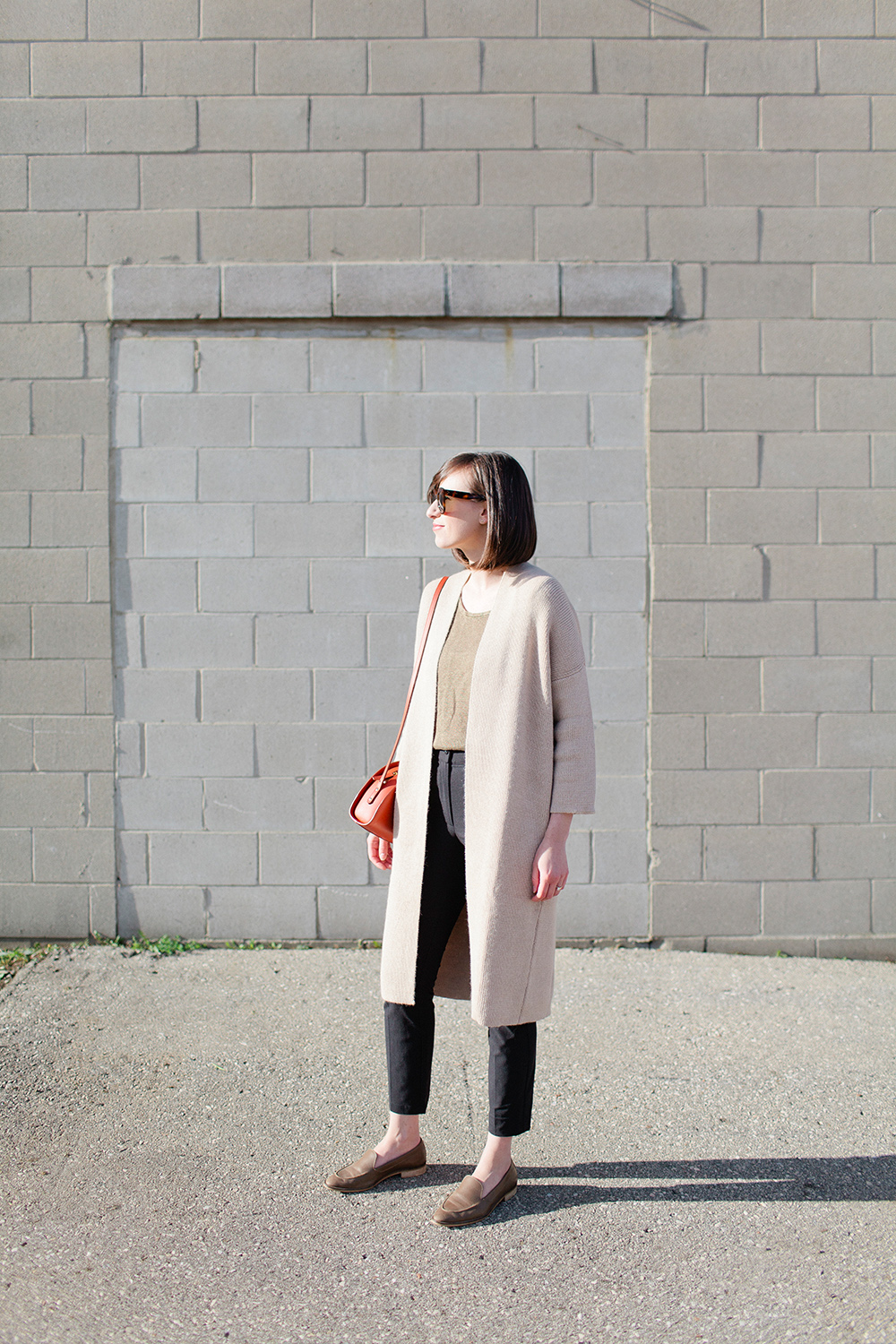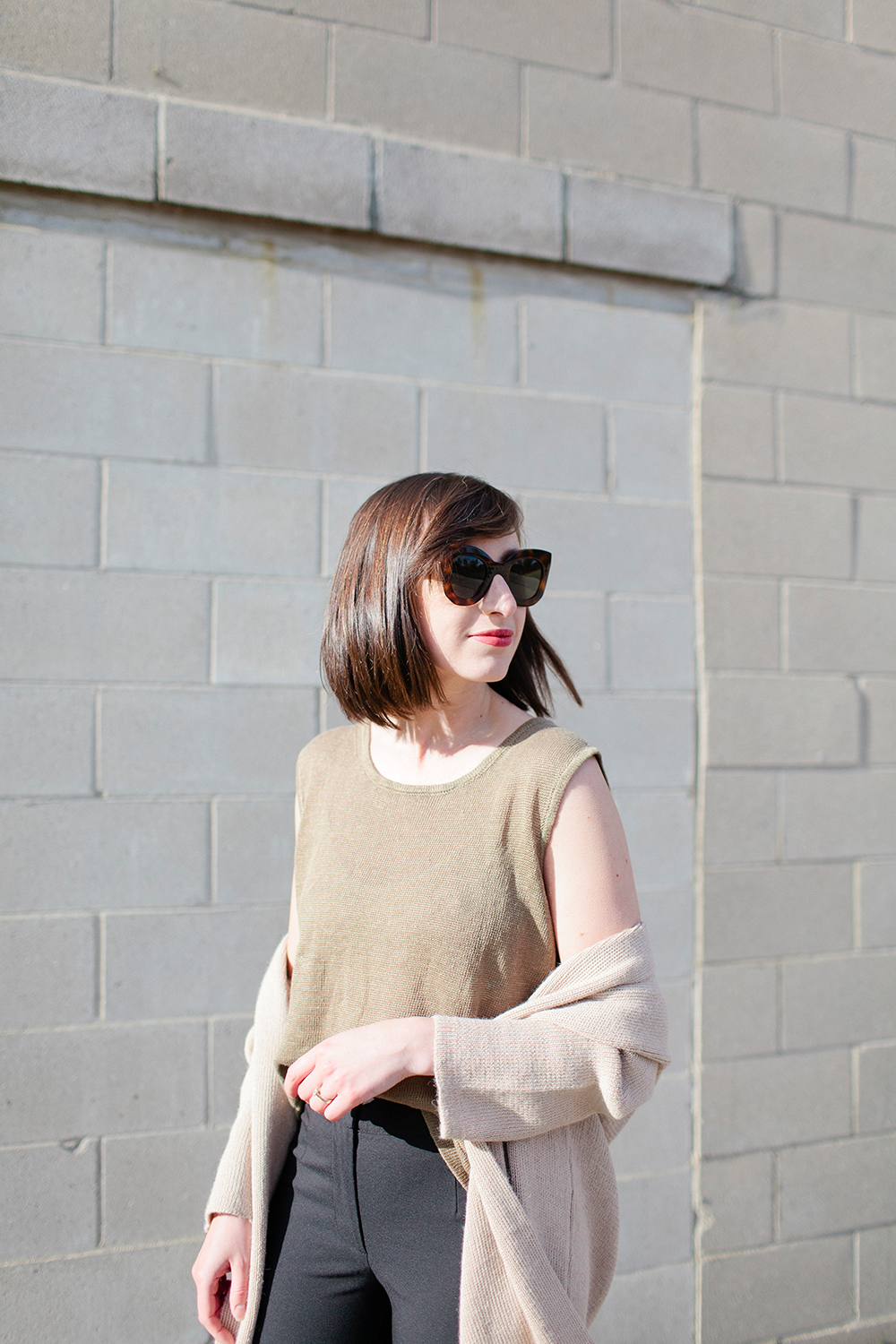 ---
LATER
---
Since the temps are heading south soon, I wanted to layer up and give this look a cold weather vibe. Keeping things super simple I just tossed on my long wool camel coat, swapped my loafers for ankle boots and exchanged my leather bag for a fuzzy one instead. I love how both looks have almost the same palette and how the warm neutral tones all mix together. I wasn't sure if it was too much colour but I'm into it!
For a cold day, if the wind picks up I'll grab my grey wool scarf, button my coat and slip on a pair of gloves for good measure!
---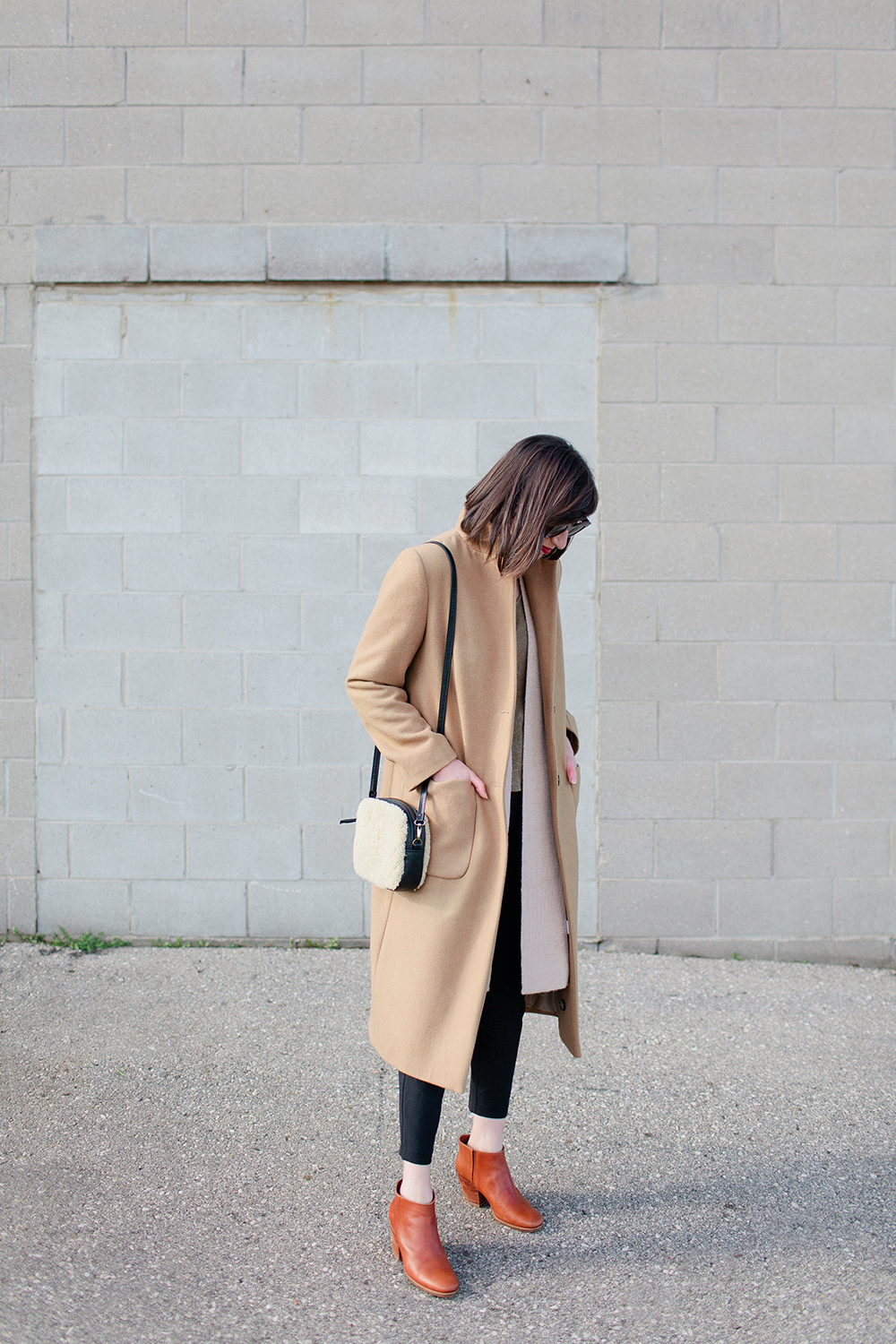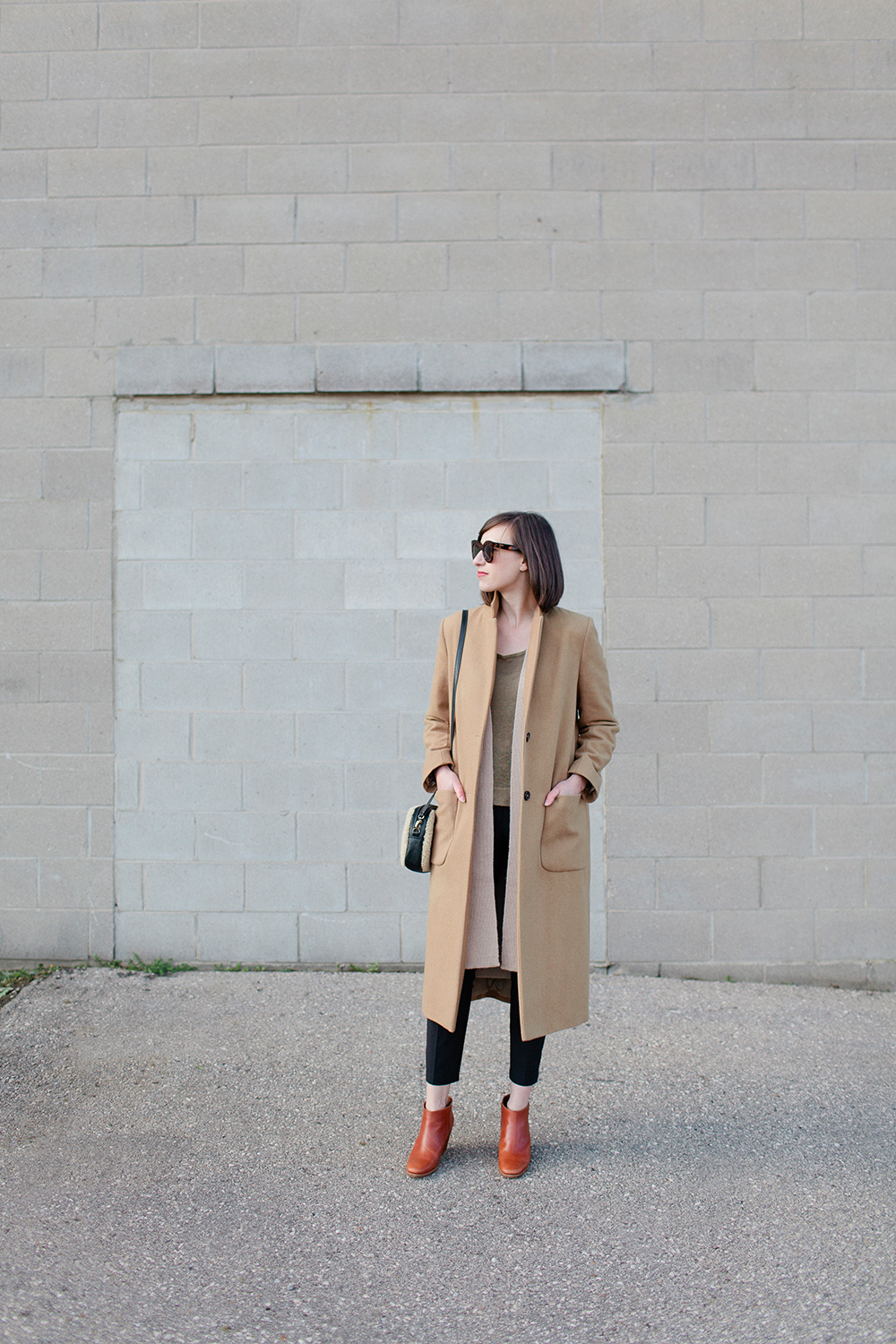 ---
SHOP THE LOOK
---
PATTI SHELL IN MOSS | ELIZABETH SUZANN + KORDAL | Wearing size S | $220 USD | Made in Brooklyn, NY.
RIB CARDIGAN FAWN | HAN STARNES via Garmentory* |Wearing size S/M | $370 USD | Made responsibly in Peru.
BELIEF PANT | c/o NICOLE BRIDGER | Wearing size 4 | $198 CAD | Made in Vancouver, BC.
SUNGLASSES | old CELINE | Made in Italy.
LOAFERS | EVERLANE | Wearing size 7 (runs narrow) | $168 USD | Made in Italy.
MARGOT BAG | c/o THE STOWE* | Made in Spain.
CAMEL COAT | MARVIN BROWNE | Purchased in London | Similar here (imported), here (made in Canada) and here (made responsibly for less)
FUZZY BAG | old by PRIMECUT BAGS* | $120 USD | Made in Portland.
MARS BOOTS | RACHEL COMEY* | TTS | Made in Peru.
*Available through Garmentory. Save $20 when you sign up here and get free shipping and returns always.
---
Did you order anything from the latest ES + KORDAL knitwear collection? 
What are some of the new ES Signature styles you're excited about?
Personally, I can't wait to get a better look at the Wide Clyde and the new silk colours!
---
Photography by my talented friend Jacklyn Barber.
---
This post is not sponsored but contains affiliate links. When you shop via the links above I may make a small commission from a sale. Thanks for supporting the brands that support Style Bee! As always all opinions are my own.