The countdown is officially on! Just 3 days and 3 outfits left in the #Summer10x10 Challenge. It's been a whirlwind in the best way and my co-host Caroline of UnFancy and I have had such a blast this time around. I'm glad it's not quite over yet and it's been great to read that the same experience is ringing true throughout the 10×10 community.
If you missed this round of the 10×10 Challenge, don't worry! You're always welcome to give it a try on your own time but we'll definitely be back with another one next season. In the meantime, get all the info you need to try it out here.
I've found that Summer is a great time to try one of this challenges because the weather is so much more consistent and with it being such a hectic season it's the perfect time to remove an element of stress from the day. As always this challenge has been a wonderful way to make getting dressed each morning a super simple way to start the day, instead of an unnecessary decision stressor. Having my outfits planned and ready to go (or at least having only 10 options) is such a treat and relief!
Speaking of which, today is going to be a scorcher so light airy layers and my favourite summer dress were a must for outfit #8! So let's take a look!
---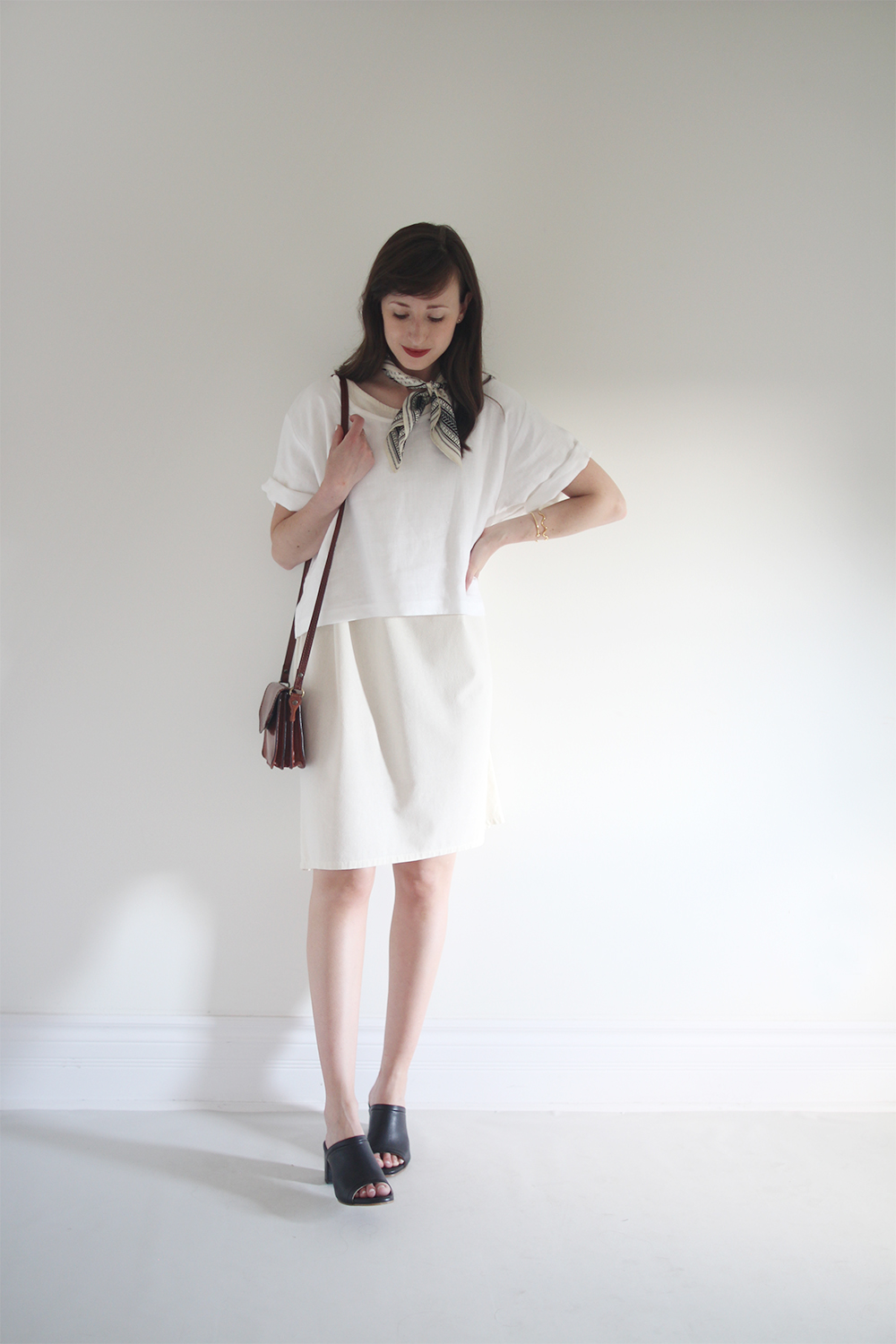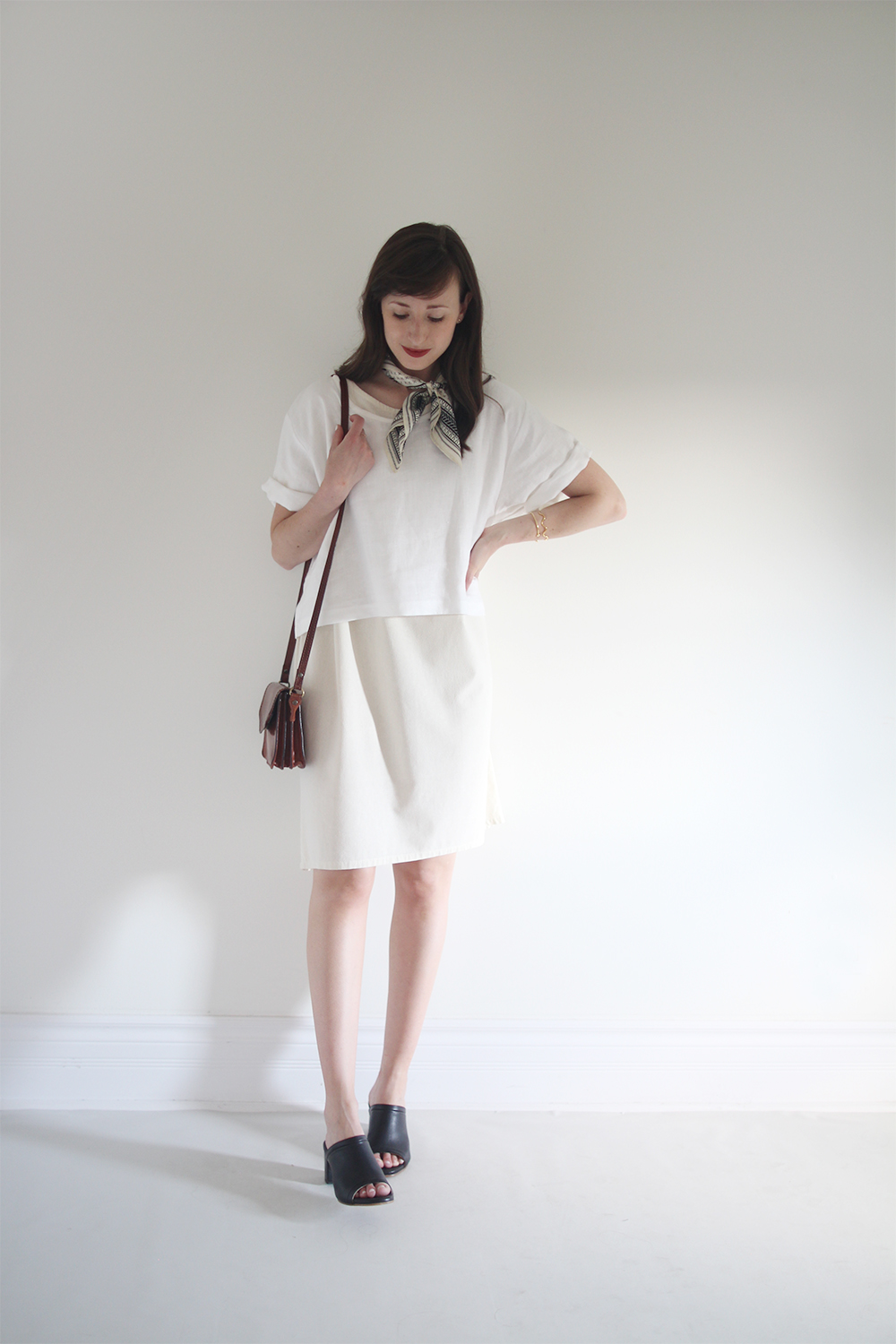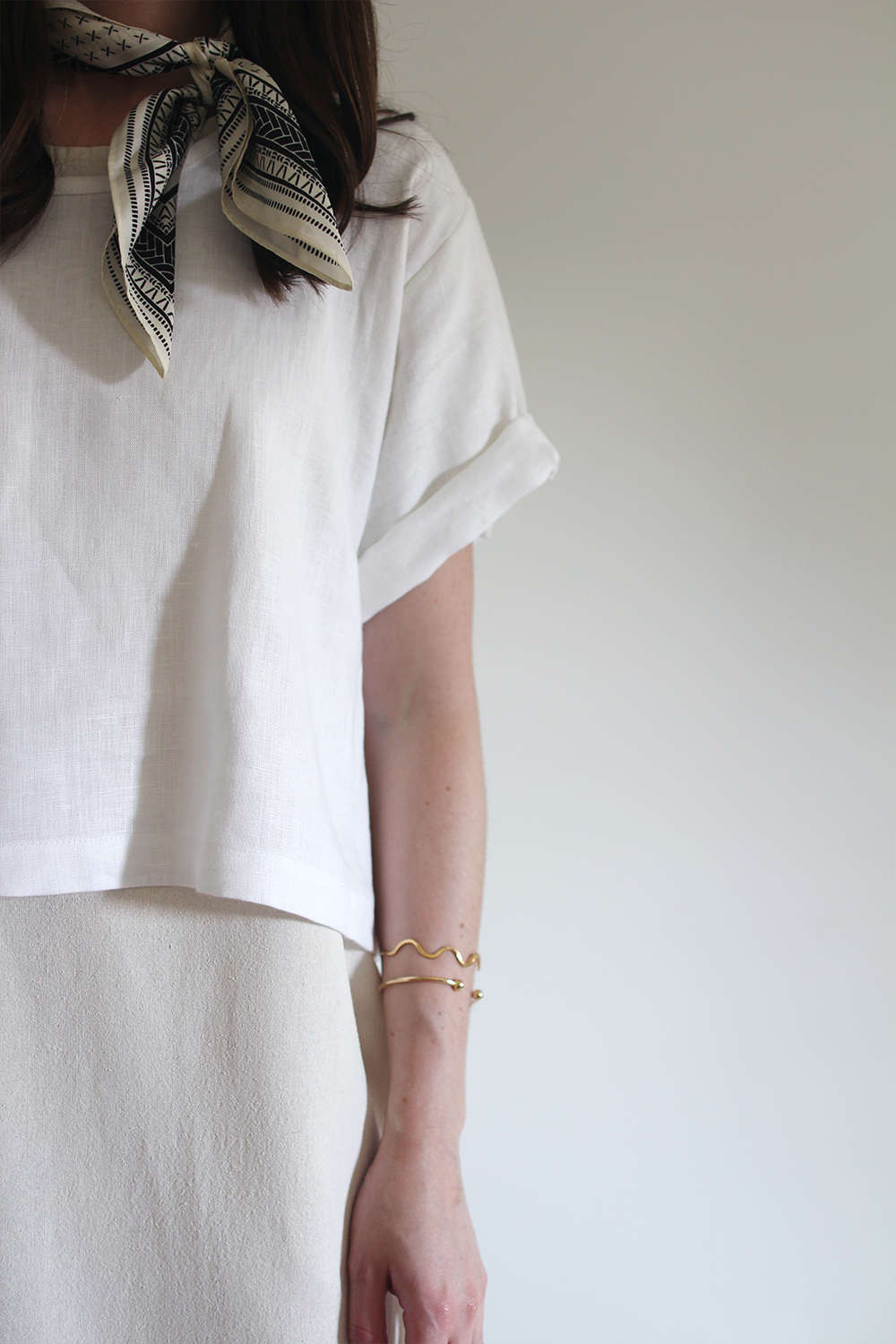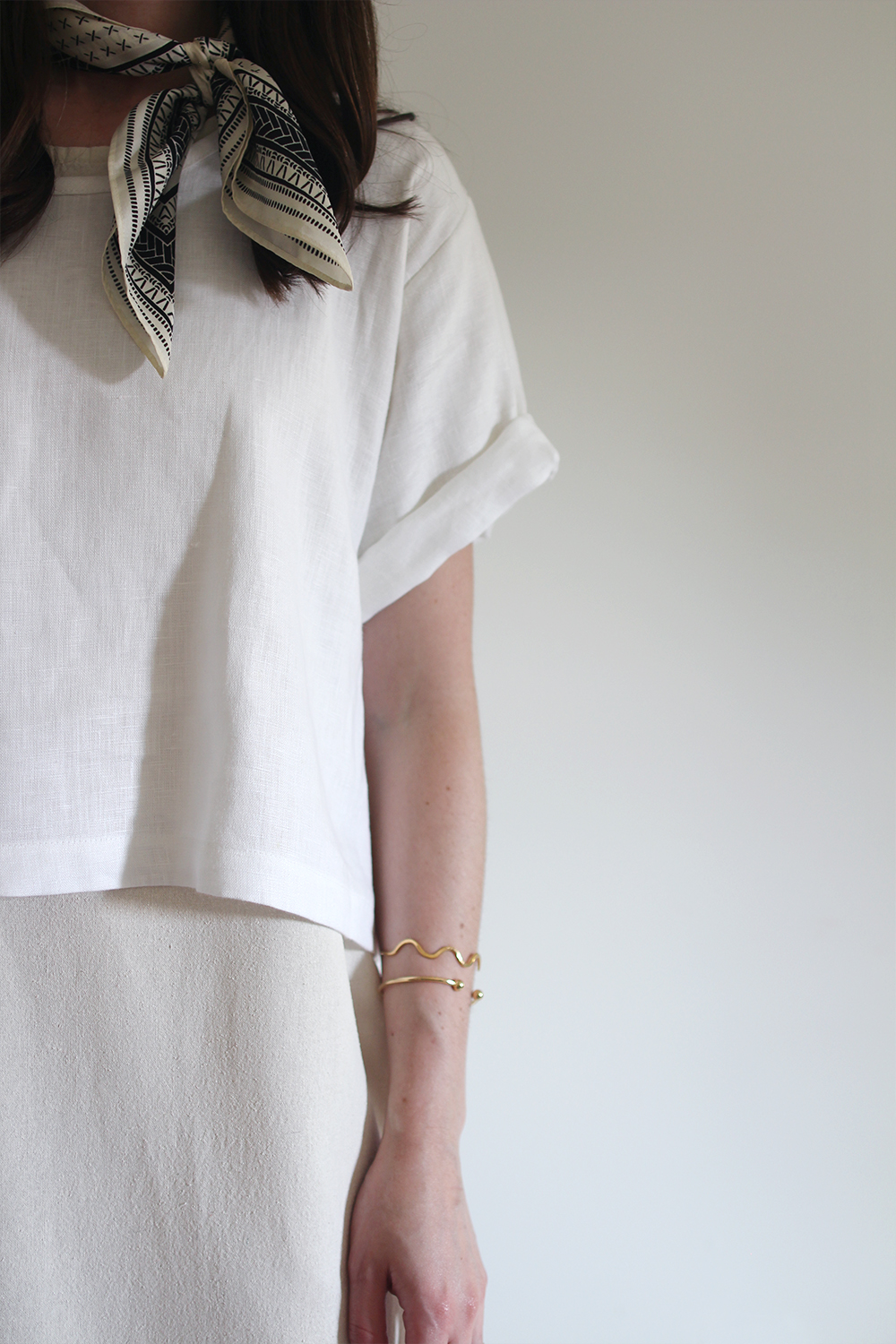 ---
INITIAL THOUGHTS
---
TEMPERATURE – High of 29º C with a mix of sun, thunder showers and humidity.
ACTIVITIES – A quick morning meeting followed by a full day in the office working on layouts and responding to emails. Then I'll zip out for some dinner supplies and maybe squeeze in a yoga class.
INITIAL THOUGHTS – I knew I had to try layering these two pieces during this challenge because I love wearing this dress under a loose top. It gives it dimension and interest without feeling fussy. I was also tempted to try it with a belt but it's just too hot for anything tight today.
This is one of those easy breezy outfits that's so simple but still has lots of fun details like rolled sleeves, monochrome layers, stacked bracelets, a flirty scarf and some classic pieces like a vintage crossbody and some minimal mules. Combining all those things into one outfit might not seem 'simple' but somehow it feels like it's working.
Honestly, I wish I had more exciting things in store for today because I love this look but that just means I'll have to repeat it another day when I do. As the day gets hotter I might opt to lose the tee but I usually stay pretty cool in the office.
---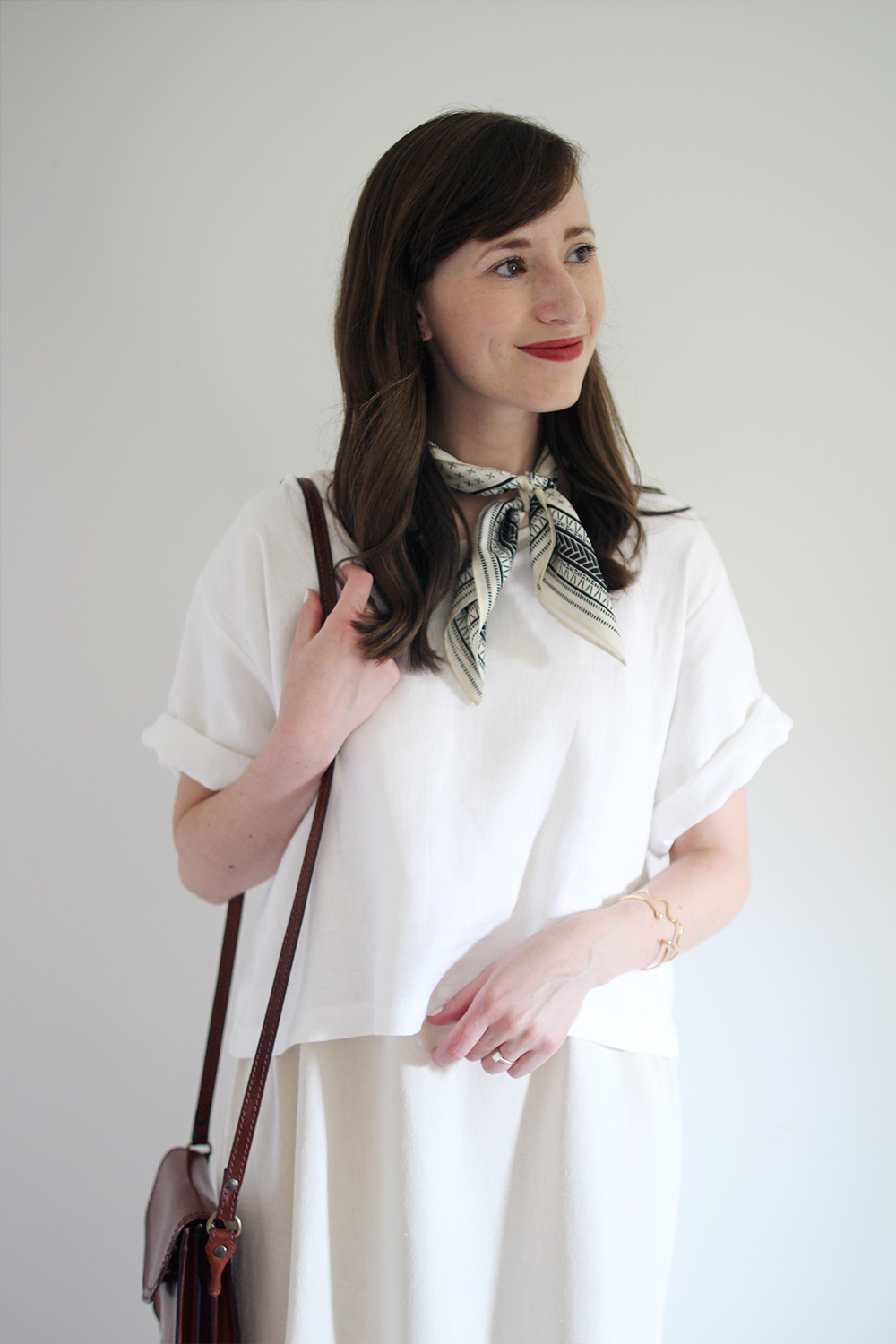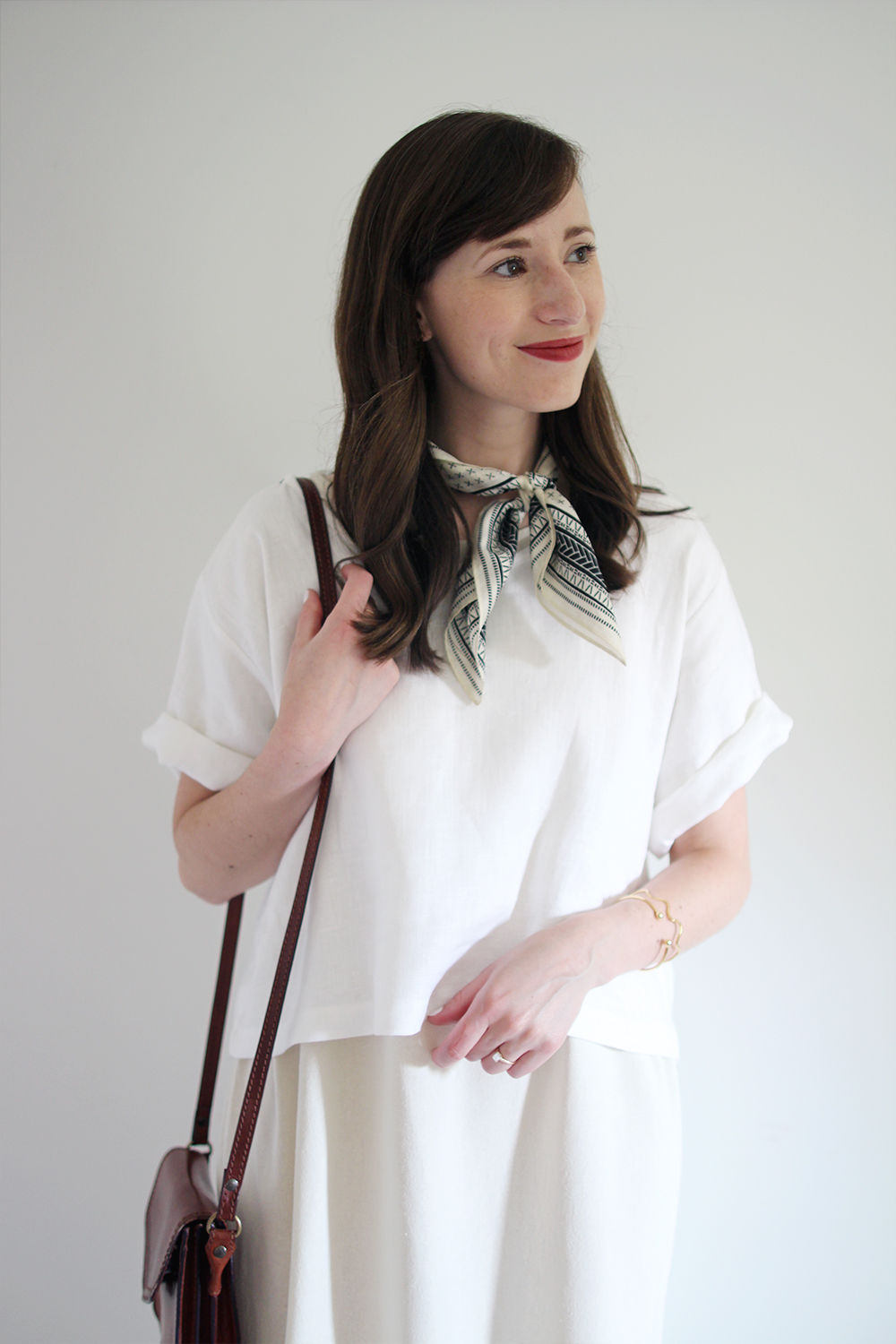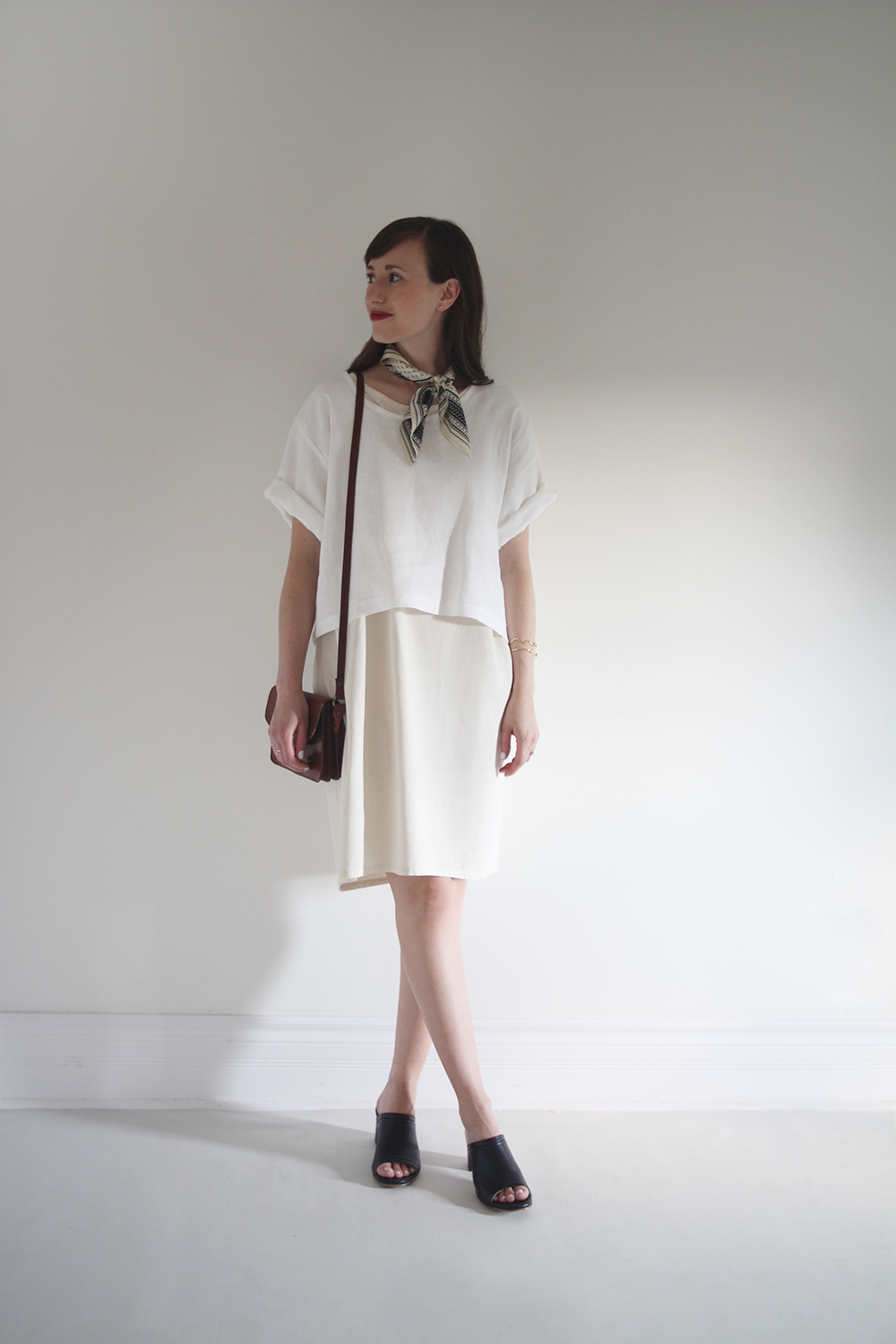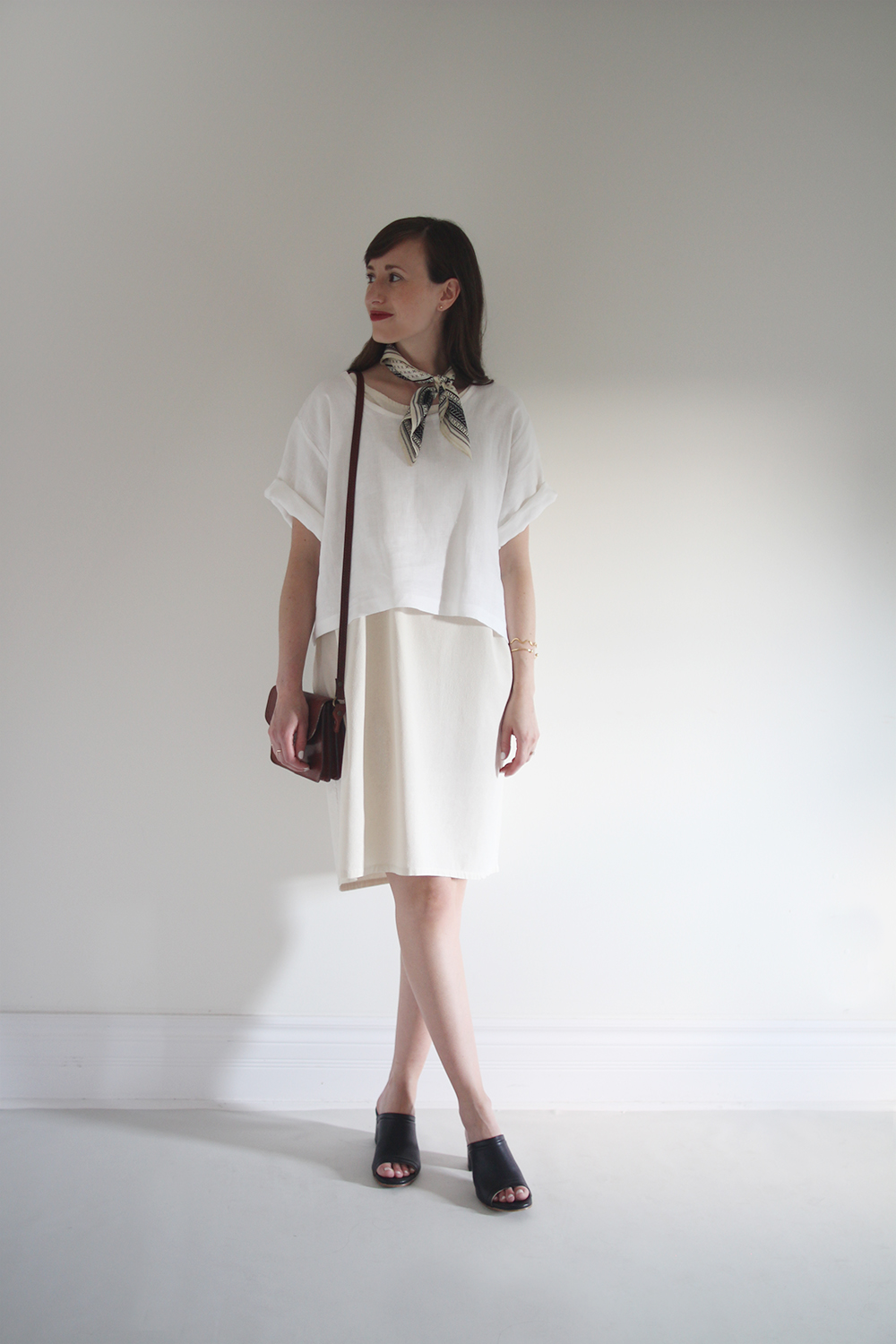 ---
STYLING TIPS
---
1 | PUT A SCARF ON IT | I felt like something was missing from this look until I remembered my go-to little bandana that seems to be the perfect additional whenever I need something a bit more interesting than a simple necklace. It adds a flirty Parisienne flare to any look and the more I wear it the more at ease I feel. Today I tied it nice a loose so it's not hot on my neck.
Next time you're looking for a piece to add that 'je ne sais quoi' touch to an outfit, consider a little bandana or square scarf. It adds an instant dose of interest that's whimsical and fresh. See how I tie my scarves in this post.
2 | DOUBLE UP | I've used this trick in two instances on this look. The first is by layering a tee over my dress for a tiered monochrome effect. The second was by stacking two simple bangles on my left arm. I don't normally wear several bracelets at once but it seemed to add just the right amount of gold accent since I chose a scarf over a necklace.
You know I love repeating shapes in an outfit but repeating elements in this way has the same influence of continuity on a look and it's often easier to assemble. Give it a try next time you're working with a simple look.
3 | DARK ACCENTS | Even though this look feels light and airy there are still four elements that are darker accents to keep it feeling grounded and well, because I like contrast! The dark(ish) lip colour wasn't intentional really, I just love this colour and it works with everything I wear. But I find it pairs especially well with this vintage oxblood bag. I opted to leverage the black pattern on my scarf to help my black mules fit into the look without feeling too heavy and I think it helps a lot.
Don't be afraid of adding some darker contrasting elements to a light look for Summer. Work in sets like I did for this outfit and you'll find it keeps things simple and subtle so you're not taking away from the soft base. 
4 | TONAL REPEATS | I'm loving how this trick came into play here. My lip colour + bag are a similar deep red tone. My linen top and raw silk dress are different shades of white with an extra dose of ecru in my scarf. Finally, the black scarf pattern and my black slides bookend the look without feeling heavy.
Always look for ways to repeat elements in an outfit for subtle continuity that pulls everything together. Colour is a great way to start and when you spread the tones throughout the look you steer clear of getting too matchy-matchy. 
---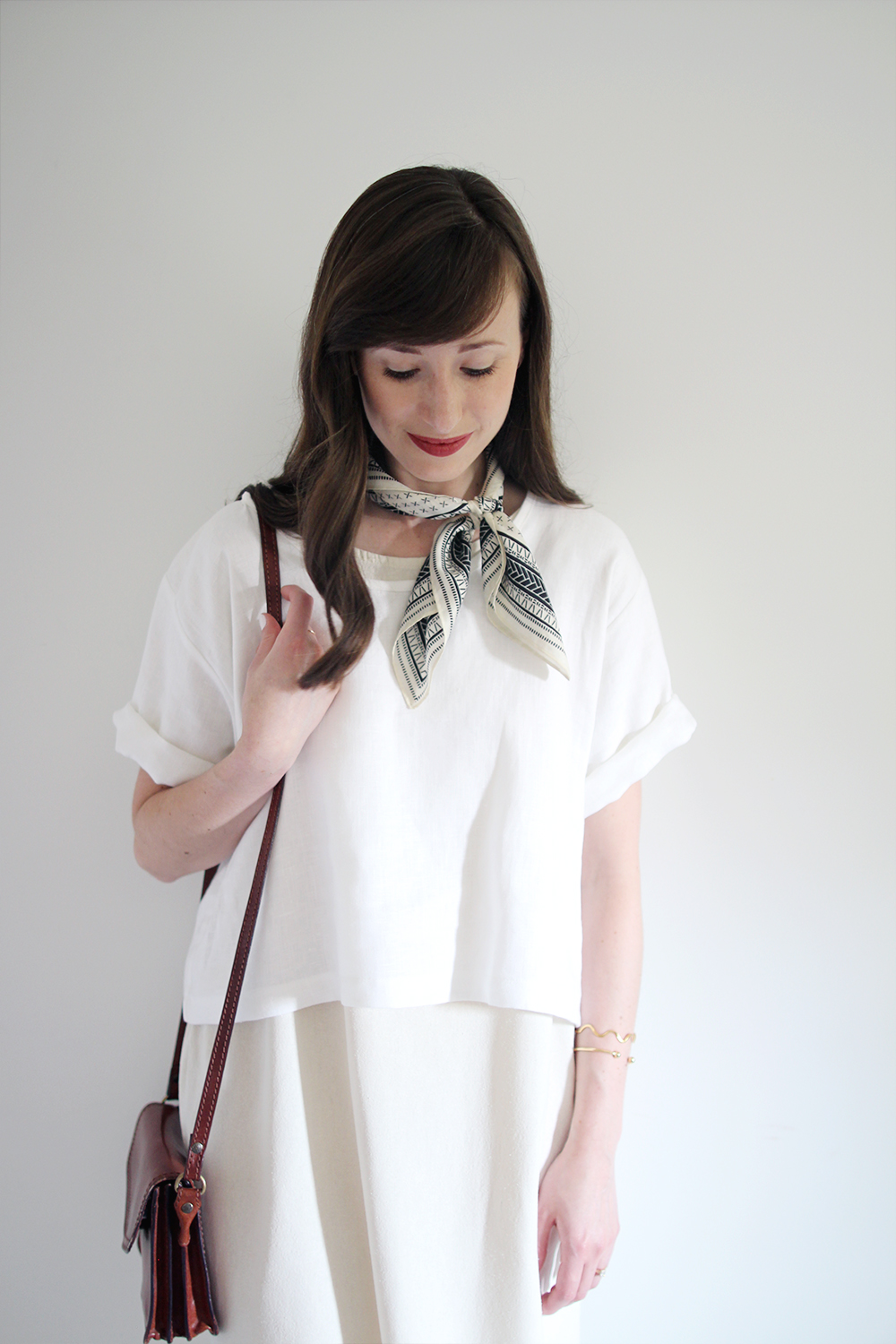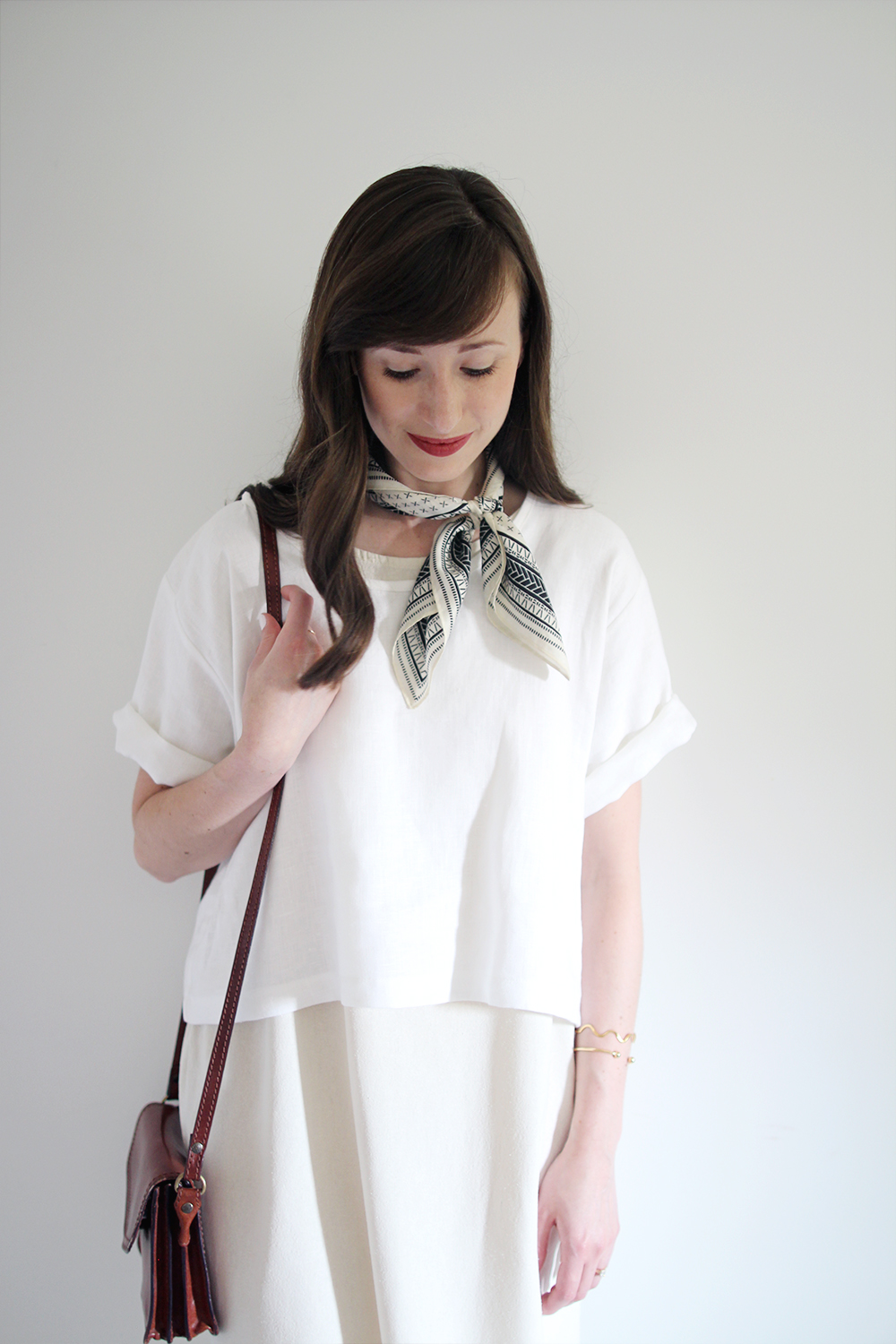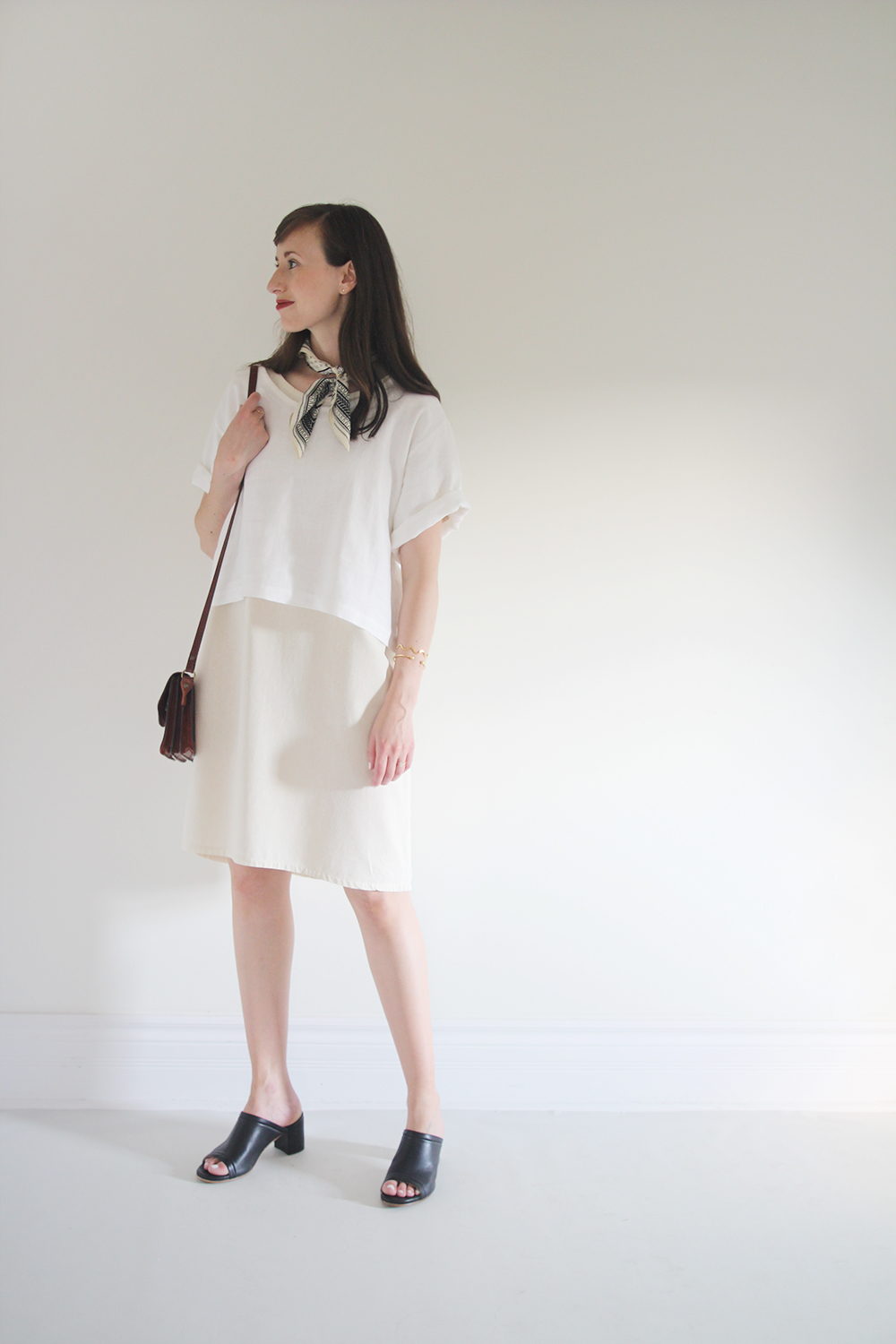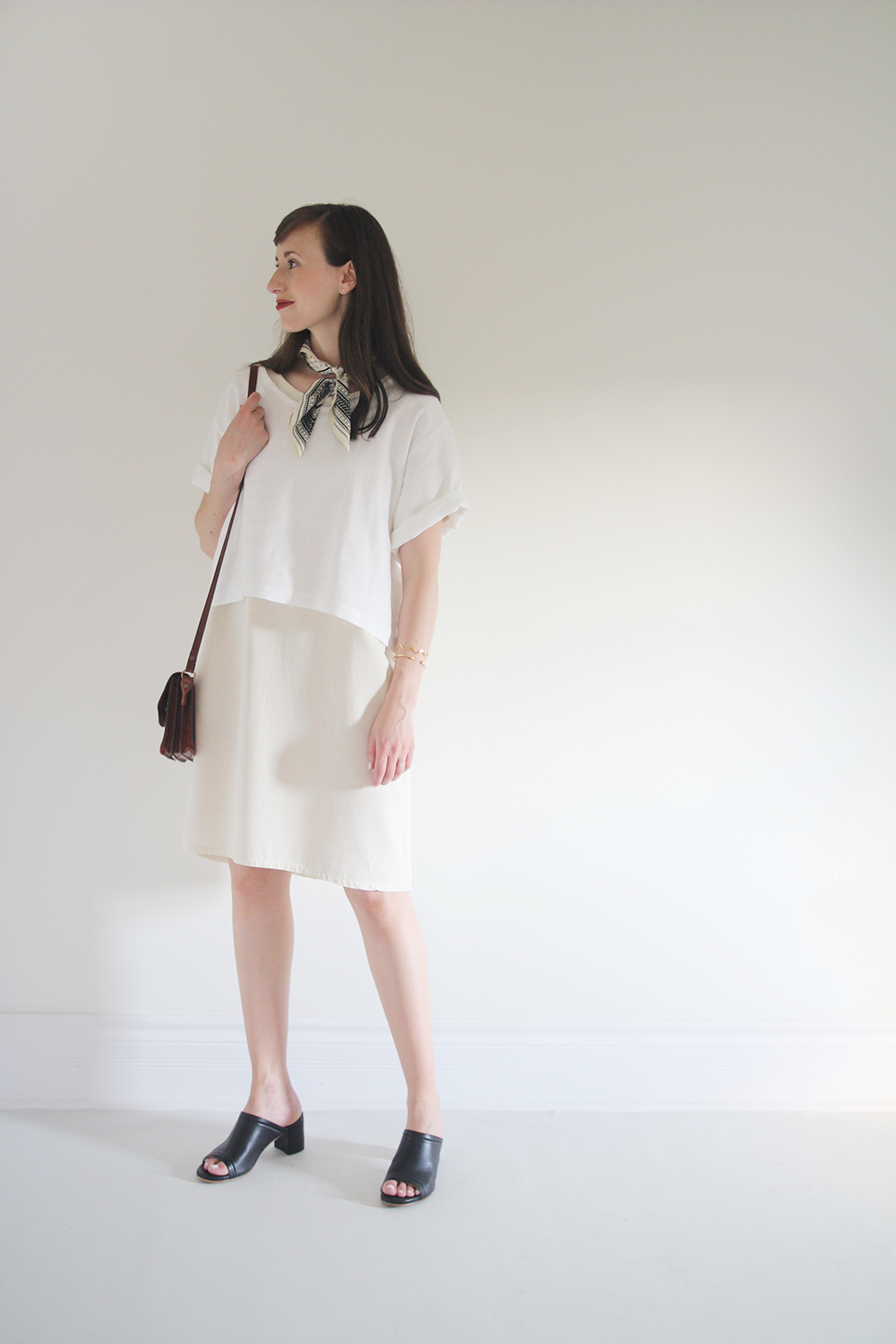 ---
ITEM SPOTLIGHT – GEORGIA DRESS
---
This Georgia Dress by Elizabeth Suzann is the dress I always reach for when it's hot out (like today) or when I just want to be extremely comfortable but still presentable to the world (ie: not in sweats). It's a truly classic shift dress and one of the first styles that really set the brand apart. It's a customer favourite and applicable to so many occasions, from lounging at home, to attending a wedding (maybe don't wear this colour), to working in an office, to travel, you name it, this dress is ready!
I always feel good wearing this dress. Weather I'm having a great day, feeling slim and rocking it with heels and a bold lip or I'm having an off day, feeling a little (or a lot) less than my best and I need a pick me up, it never fails to deliver. It's safe to say that Georgia's got your back!
So let's take a closer look at the Georgia Dress in Raw Silk broadcloth, shall we?
FABRIC: 100% raw silk broadcloth, which is very soft, light but heavier than the crepe silk weight and is very breathable. It is an off-white, eggshell or ivory colour which you can see compared to the true white top. The fabric (and cut) gives this top a great shape which falls away from the frame for a very warm weather friendly effect.
As Elizabeth Suzann accurately notes: 'Raw silk is nubby and textured, and feels a lot like cotton but softer and with more drape. Lighter-weight than our linen, but a bit more durable than our silk crepe.'
SHEER FACTOR: This is not see-through or particularly sheer thanks to the thickness of this raw silk broadcloth. However, you're still going to want to wear nude underwear but then you're totally fine. I was worried about show-through before I got it but once I saw it on, even with back lighting, it doesn't feel too sheer.
CREASING: This dress is great in the creasing department because it doesn't wrinkle easily, especially compared to linen and crepe silk. I've worn it many times for a full day and there were only a few lines on the back from sitting or on the front from a bag or seat belt to show for it.
FIT: OS and I'm 5'7, 125 lbs for reference. This dress fits very relaxed. If you'd prefer a slimmer fit maybe consider the OS-.
The Georgia dress has a swingy, boxy silhouette which gives it a modern, architectural feel without being overbearing. The length hits just above the knee with a hem that is slightly longer in back than in front. Drop shoulder creates a sleek and flattering line, and the banded sleeve flips out for a little extra shape and elegant vertical cut across the arm. Boat neckline is open and flattering but still bra friendly.
CARE: Hand or machine wash on gentle cycle with cold water. Tumble dry low. Leave unpressed for a beautifully rumpled look, or press on medium heat with steam to remove wrinkles, straighten neckline, sleeves and hem. Will press to a crisp, smooth finish (as shown in this post).
COLOURS: This piece also come in a black raw silk broadcloth, 4 linen colours, 2 linen gauze colours and 4 crepe silk colours. It's also available in a Georgia Midi version, see how I styled it three ways here.
DURABILITY: This dress is extremely well made, which goes without saying for Elizabeth Suzann. The linen is heartier than the raw silk, but the raw silk is also very durable. It's a great piece for Mom's with grabby little ones or fur parents like myself who have pups that might be inclined to get overly affectionate at times. It washes up so easy but if you want extra insurance, go for the black. The Crepe Silk and Linen Gauze are also lovely but perhaps a touch more delicate.
MADE IN: Nashville, TN
PRICE: $215 CAD
---
HAVE ANY MORE QUESTIONS? ASK AWAY!
HAVE A GEORGIA DRESS YOURSELF? I'D LOVE TO HEAR ANYTHING YOU'VE FOUND IN TERMS OF FIT AND WEAR EXPERIENCE!
---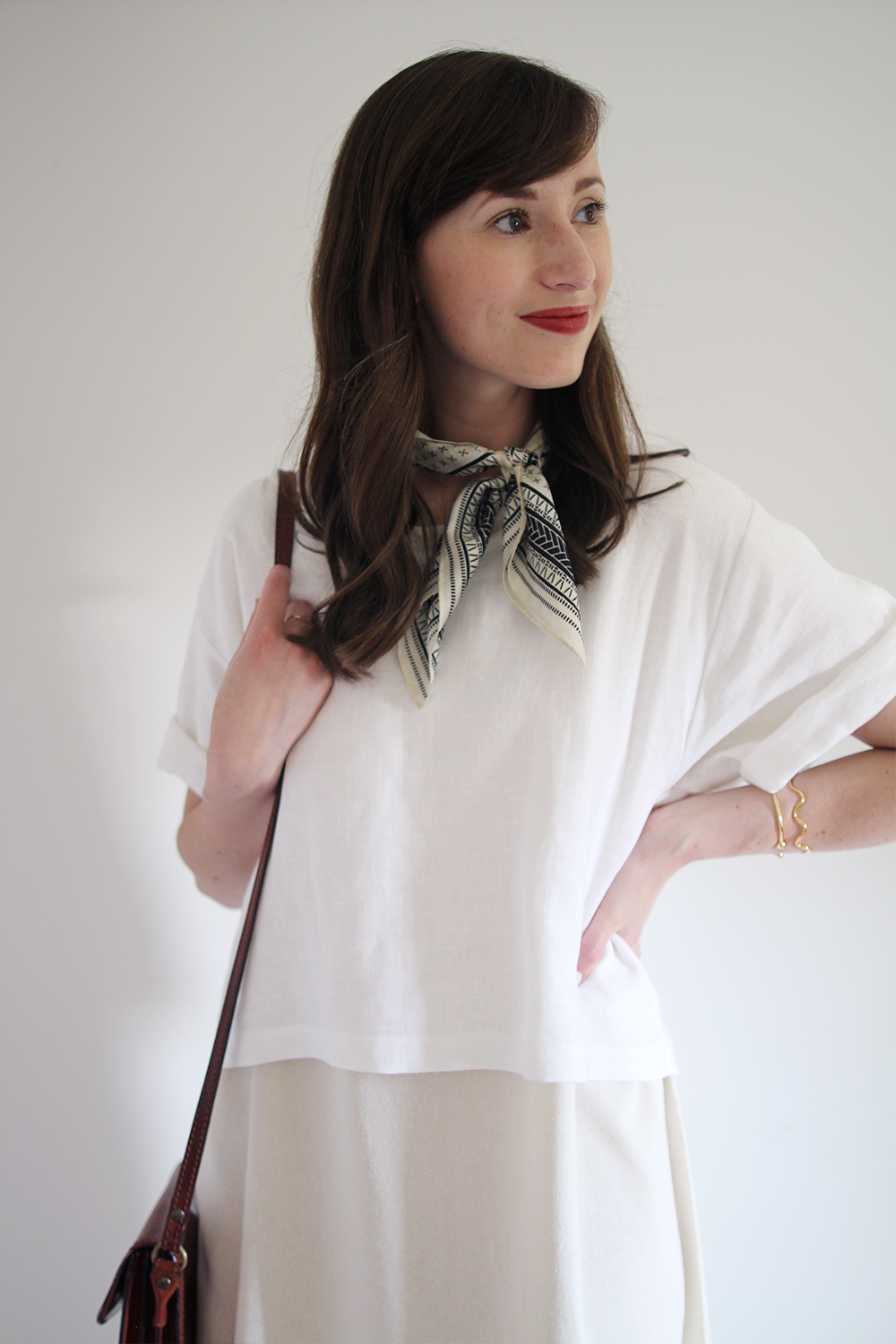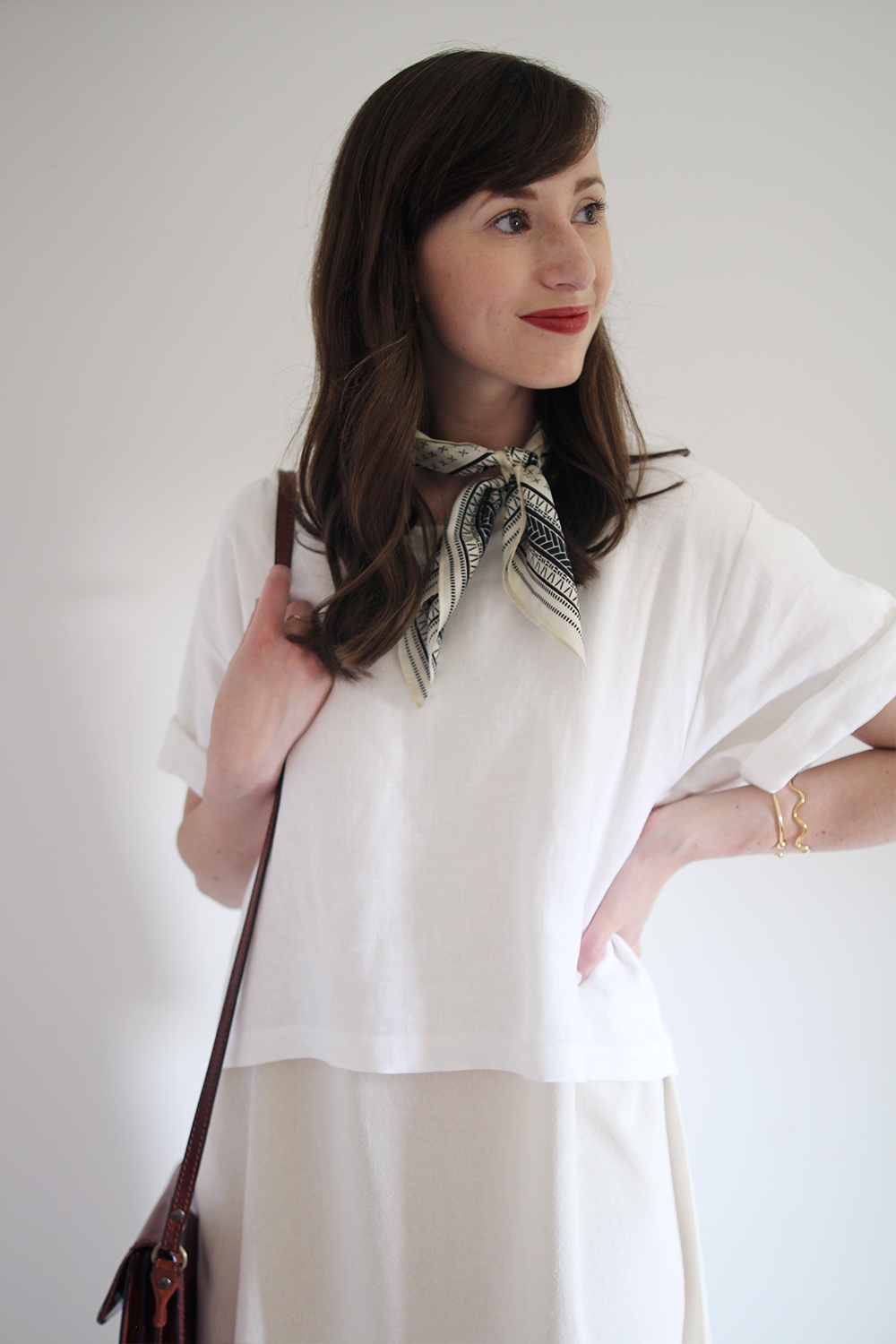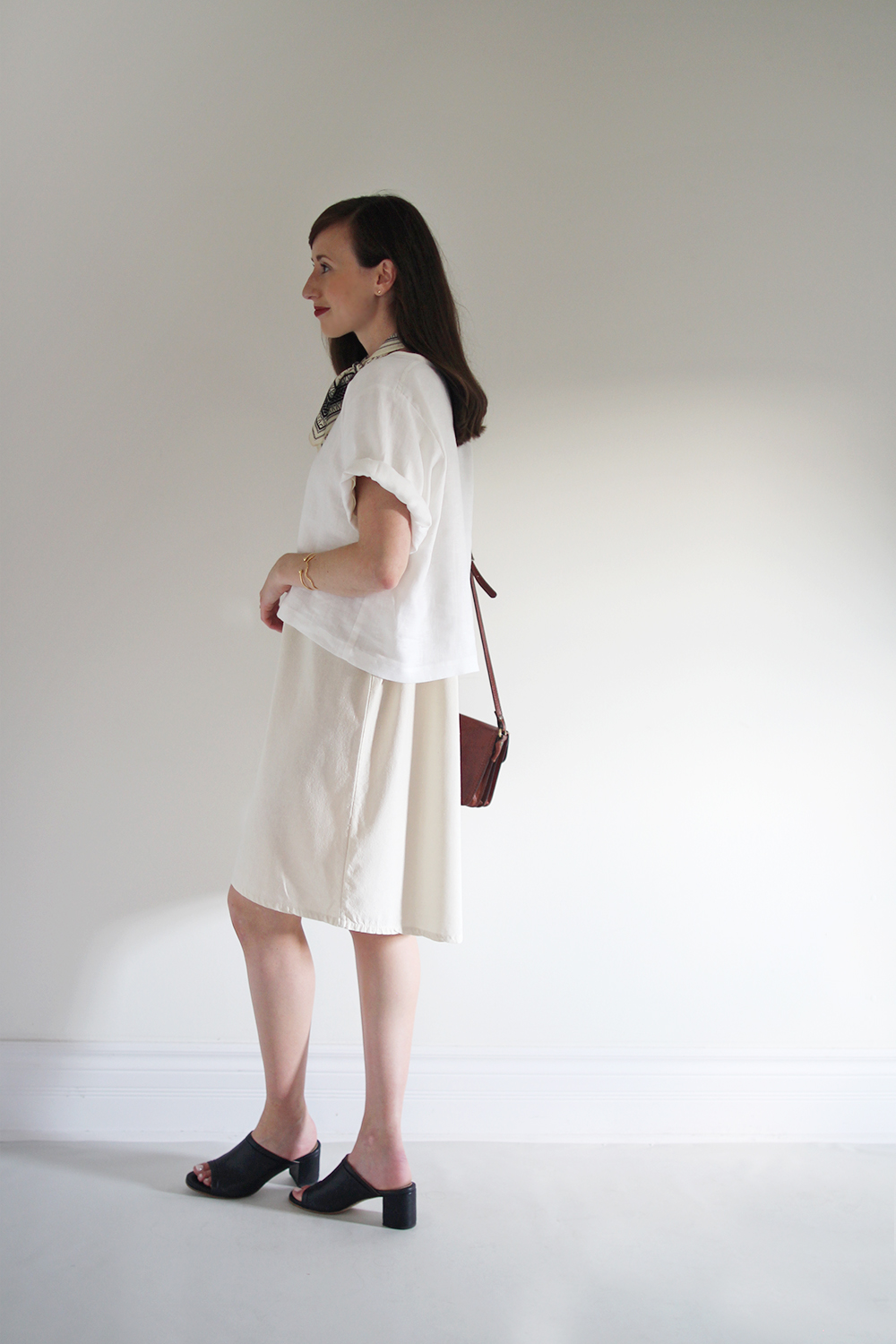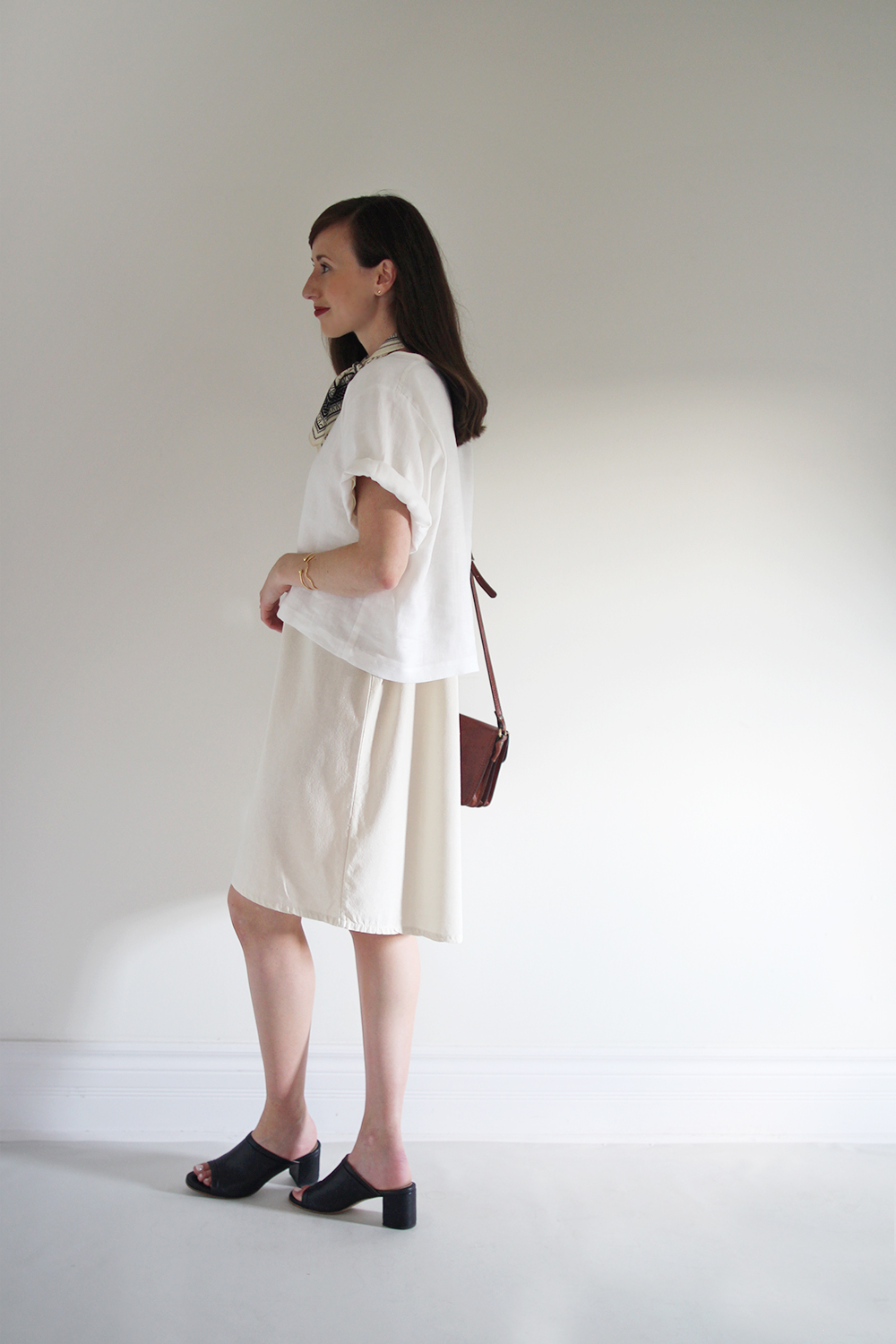 ---
JUST TWO LOOKS LEFT IN THE #SUMMER10X10! SEE YOU TOMORROW OUTFIT #9!
---
SHOP THE POST
---
1 | CROPPED LINEN T-SHIRT | c/o LLOYD CLOTHING | $110 CAD | Made in Vancouver | OS | Style Bee readers save 10% OFF sitewide at LLOYD with 'STYLEBEE' during the 10×10 Challenge! 
2 | GEORGIA DRESS | c/o Elizabeth Suzann | Wearing OS | $215 USD | Made Responsibly in Nashville.
3 | PEEP TOE MULE | c/o POPPY BARLEY | $248 $208 CAD On Sale! | I wear a 7 Narrow | Made responsibly in Mexico
4 | OXBLOOD BAG | VINTAGE | Love this option from Baggu  | $120 USD | Made in USA
5 | BANDANA | A PEACE TREATY | $88 USD | Made Responsibly In India
---

---
This post is not sponsored but contains affiliate links. When you shop via the links above I may make a small commission from a sale. This income helps limit the amount of sponsored content that appears on Style Bee. Thanks a lot for your support!