Well friends, it's that time again! 10×10 Challenge time that is! My best blogger pal Caroline of UnFancy and I are thrilled to be teaming up for another instalment of this fast, fun and furious little style series.
In case you're new or need a recap, the 10×10 Challenge is a super simple exercise that anyone can do. You just need to choose 10 items from your closet, create 10 looks with those items, over 10 days. Easy peasy right? Right!
The 10×10 Challenge is something I first tried out during a shopping fast in 2015 in an effort to get more creative with my closet. From there, with the help of Caroline and so many other style savvy, conscious closet folks, this challenge and the incredible community around it has really taken off. Now people all over the world are joining in and seeing how fun and useful it can be. It's awesome!
Another reason why I think this exercise has been so well received is because it's all about what you learn as you go and take away from it, not so much about how great your looks turn out or how closely you stick to the guidelines. It's also a wonderful way to connect with other folks who are exploring their style too. In fact, the #10x10friends community is probably my favourite part! It's welcoming, supportive, easy-going and full of great insights and style inspiration.
So what do you say, care to join the fun? I sure hope so! Still not sure, no worries, this post has all the info you need! 
Now onto today's Winter 10×10 kick-off post in which I'll be covering:
My challenge goals and plan for the next 10 days
The 10 items I chose for the #Winter10x10 and why
10 x 10 Challenge 101 – All the info you need to join in
A few tips on pulling together your 10 items – To help you get started
---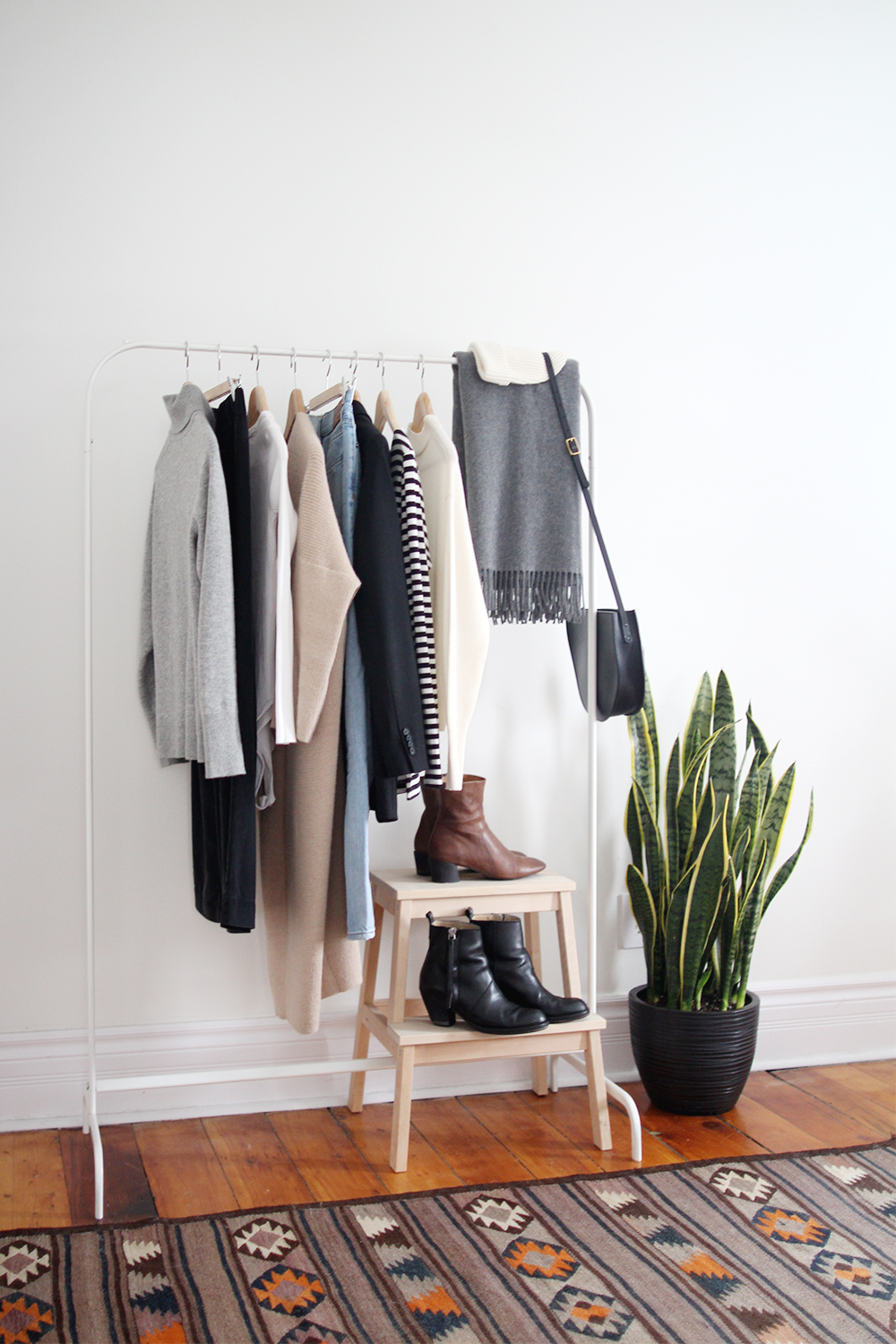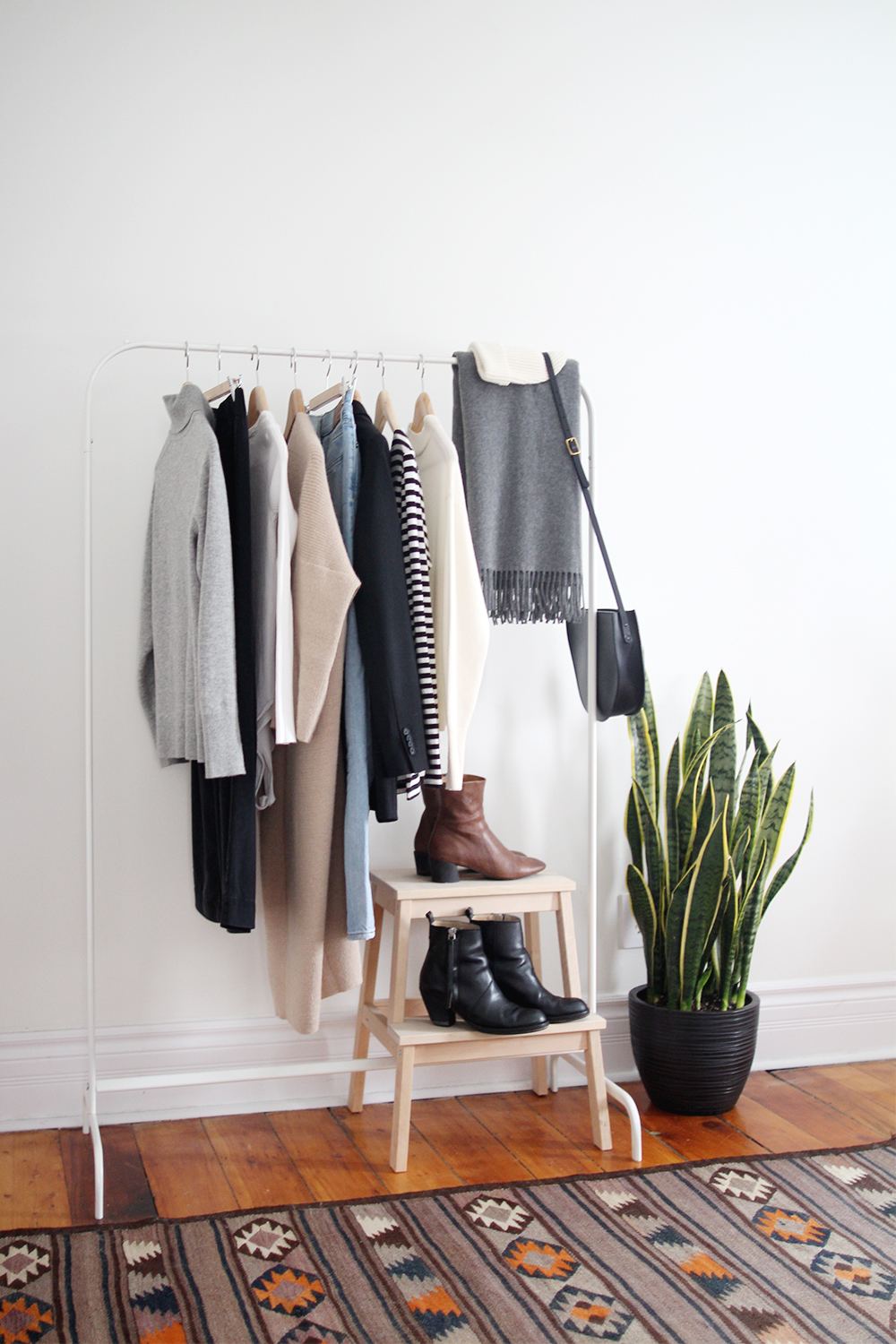 ---
 MY CHALLENGE GOALS:
Embrace the need for comfy-chic.
---
This will be my tenth 10×10 Challenge if you can believe it! That being the case, one might assume that there's little left to learn from such an exercise. But here's the thing, every time I do it, it's a little different and I discover something new. So even if it's mostly just a refresher, I find it worthwhile. Plus it's a new season of my life (literally and figuratively) so it's a great way to check in with myself and recalibrate my style a bit.
I'm not sure if it's this time of year or because it's been so insanely cold but I've been really craving all the creature comforts these days. Hearty meals at home, hot tea, red wine, extra blankets, bubble baths and cuddles with my fur kiddos are all top priorities. Basically I've been devouring all things hygge lately and those cravings have extended to my closet too.
I've found myself reaching for pieces to keep me cozy while still letting me feel as though I'm properly put together (and getting me out of my workout gear). I've also been keeping things super simple when it comes to colours and shapes and choosing soft, warm fabrics to wear against my skin. Cue all the toasty cashmere and alpaca knits and pair those with soft cotton and slinky silk. Oh hello!
So I suppose more than aiming for a specific goal I've decided that I'm going to take it easy on the style front this time and just go for simple looks that I feel good in while enjoying some of the winter closet items I really like wearing these days. The outfits might not be anything groundbreaking but that's ok!
---
MY 10×10 CHALLENGE SCHEDULE
---
Last time I did the 10×10 challenge in 10 consecutive days instead of taking weekends off and doing week days only. I really enjoyed the momentum that came with this straight through approach and was pleasantly surprised by how quickly it flew by. So, I'll be doing that again this time! In fact, I'm starting with my first look today and I'll be sharing it on my stories this afternoon. In terms of blogging, my plan is to share my first 5 looks in detail on the blog next week and the final five when I wrap up on the 29th. I'll be sharing each look daily in my stories though!
Here's to 10 days straight my #10x10friends! 
---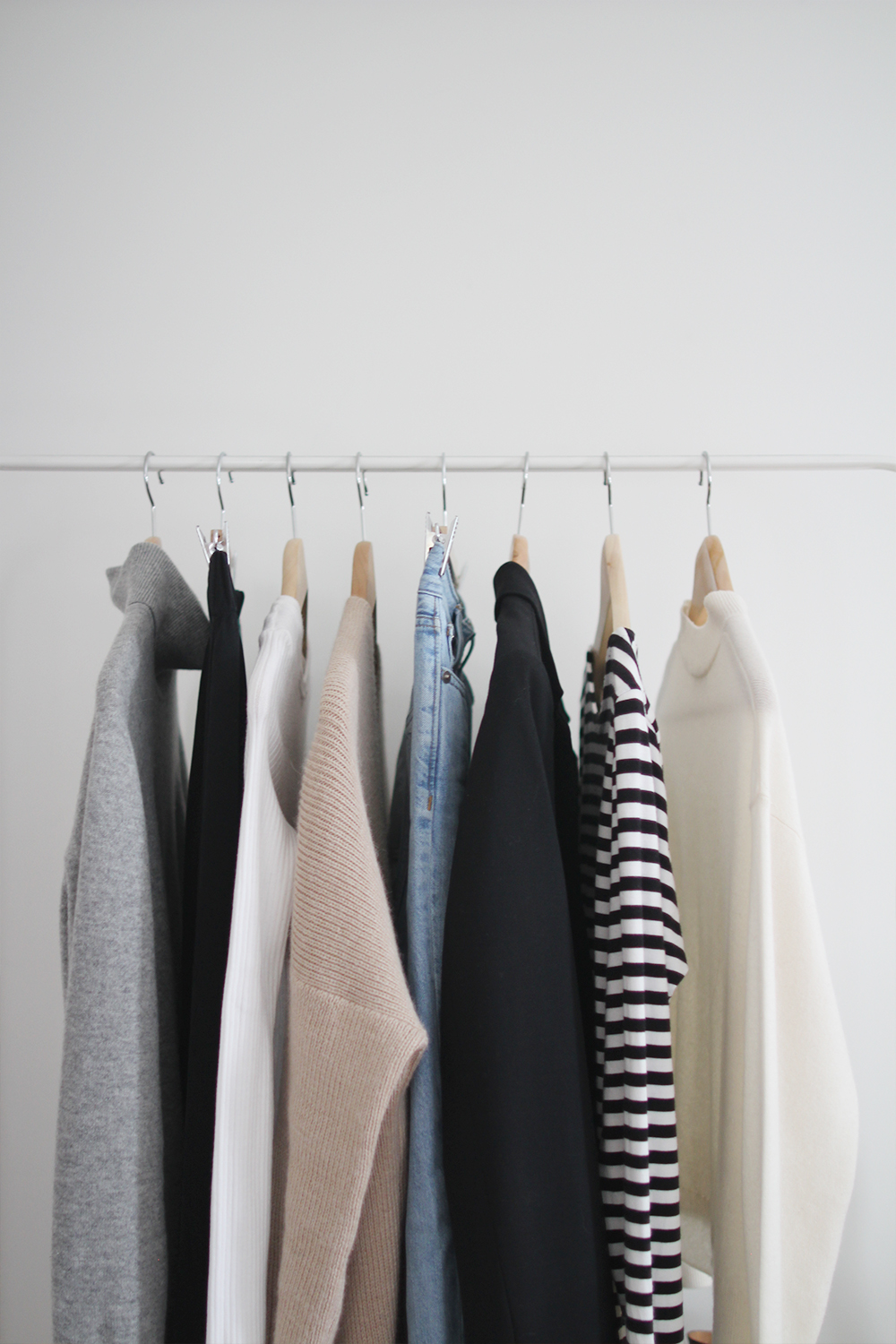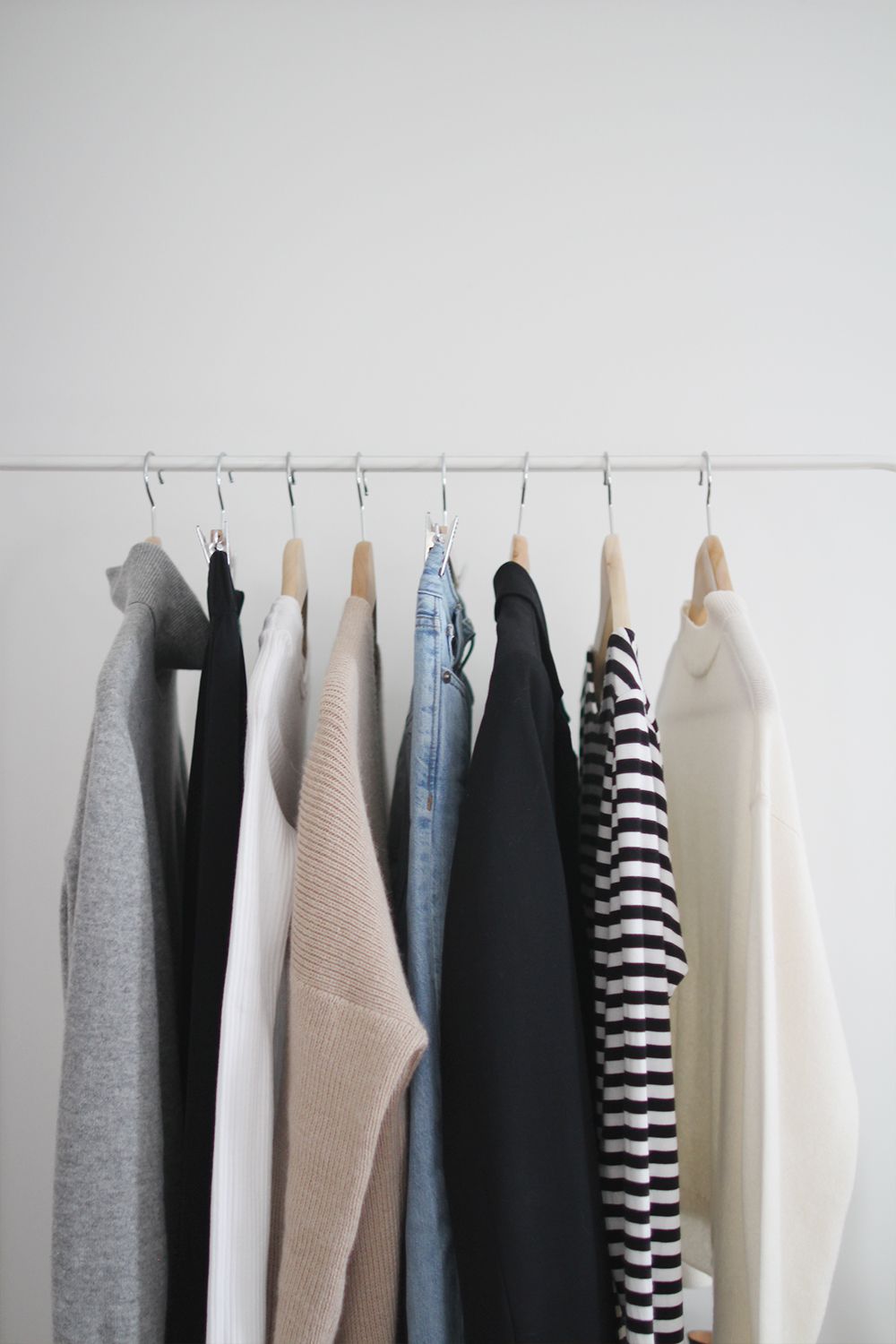 ---
MY 10 ITEMS
---
WEATHER: It's been crazy cold over the last month here in Ontario but the temps are calming down slightly to hover around 0°C which is much more bearable than the -25°C we've been desperately avoiding.
ACTIVITIES: The next ten days are going to be a mix of meetings, working from home, dinners out with Dave and family, a birthday party and daily workouts along with the usual errands and business out and about. It's going to be pretty busy but nothing too intense.
So here's what I'll be rocking for the next 10 days!
1 Pair of Jeans
1 Blazer
2 Cashmere Sweaters
1 Long Sleeve Tee
1 Pair of Silk Wide Pants
1 Cardigan
2 Pairs of Ankle Boots

1 Bodysuit
---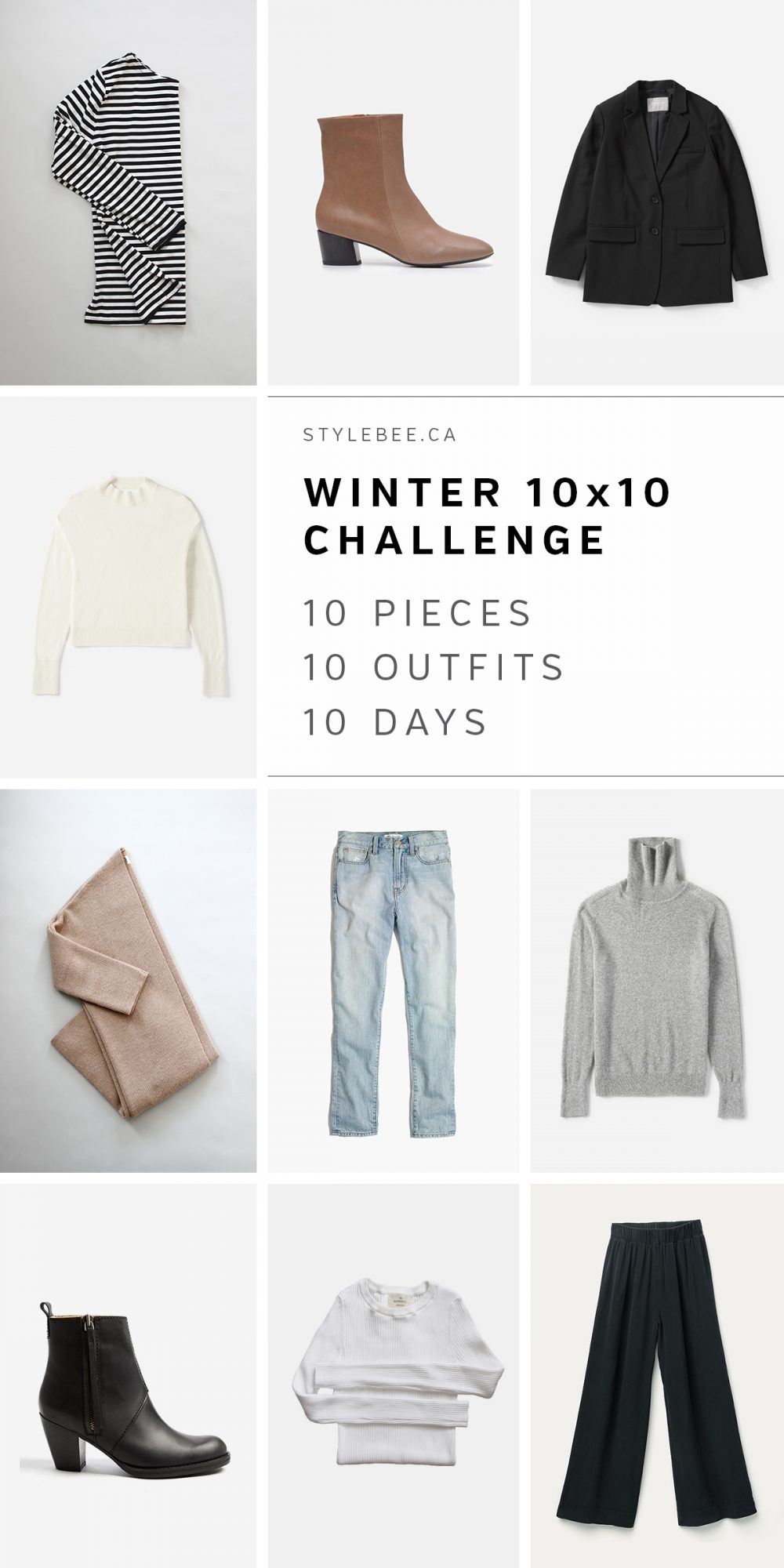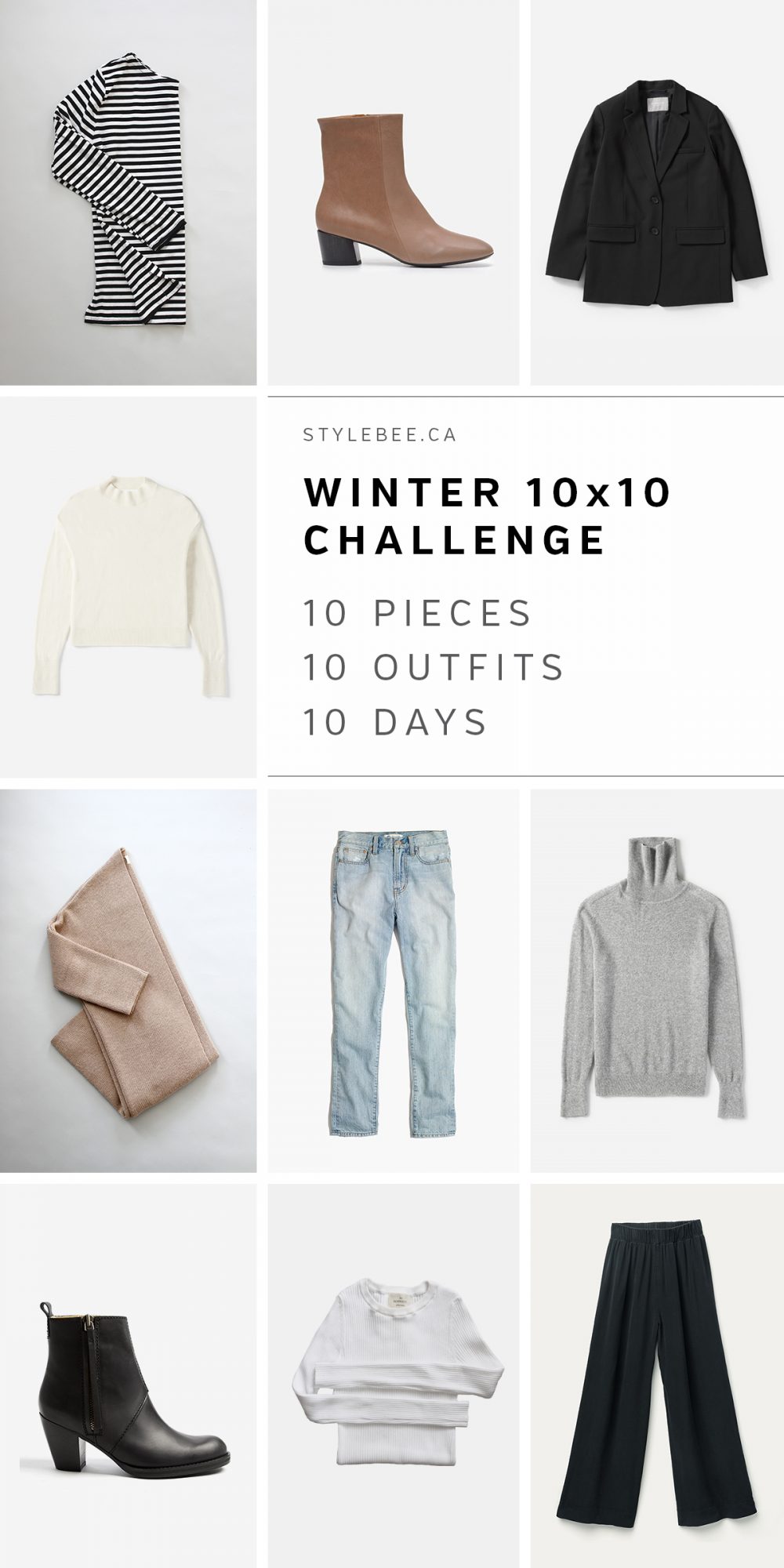 ---
Same as last winter I decided to leave coats off my list of 10 pieces and just focus on inside looks. Plus it's been so cold that I usually need at least two layers on indoors! I'll be sure to share an inside and outside version for this round too though which is always a fun style exercise. So with that detail noted, here are the 10 items I'll be wearing for this 10×10 Challenge! 
1 – STRIPED TEE – Emerson Fry – Sold Out – Made in USA – Similar option here
Even though this striped tee was one of my most worn pieces in 2017 and I didn't really need to wear it more, the thought of going 10 days without it was too much to handle. So here we are! It's also super easy to wash and dries fast so it'll be quick to freshen up after each use.
2 – CALLY BOOT* | c/o COCLICO | $435 USD | Made responsibly in Spain | I'm a US 7 and have the 37.5 which fit snug at first but relaxed with wear. | *Save $20 at Garmentory when you sign up here.
These are easily one of the comfiest pairs of boots I've ever owned. The leather is so supple and the heel is the perfect height for all day wear. I LOVE the tall shaft with all my cropped pants and really helps keep the cold breezes at bay. I've logged some serious step counts in these beauties and cannot recommend them highly enough! Also, they clean up really well so I don't worry if they get wet or salty. 
3 – BOYFRIEND BLAZER – Everlane – $150 USD – Size 2 – Made responsibly in China.
I've said it before and I'll say it again, my blazer addiction is real and I couldn't resist this perfect black option from the Everlane release last Fall. It's a timeless piece and so easy to throw on over jeans and sweater with a leather boot to instantly feel like a boss babe! I have a very good feeling that this one will be in rotation for many years to come. 
4 – MOCK NECK CROP CASHMERE – Everlane – $100 USD – Size S – Made responsibly in China
The cropped cashmere sweater from Everlane is one of my favourite winter styles. It's just the right amount of cropped without being too short and looks great worn loose or front tucked. The mock-neck is a nice design solution to keep your neck warm without adding too much bulk. I'm also really loving light tones in my winter closet these days. 
5 – LONG CARDIGAN* | Han Starnes via Garmentory | Sold Out | Made responsibly in Peru. | *Save $20 at Garmentory when you sign up here.
This cardigan is likely one of the best additions I've ever made to my winter wardrobe. It's been my go-to whenever I want to be toasty cozy in a flash but still look chic. It's held it's shape remarkably well, even after long days spent sitting at my desk or evenings curled up on the couch. No pilling to speak of yet either! I'm sorry it's another sold out item but I think there might be one left in Stone, a dark brown here. Hopefully Han Starnes brings something similar back next year!
---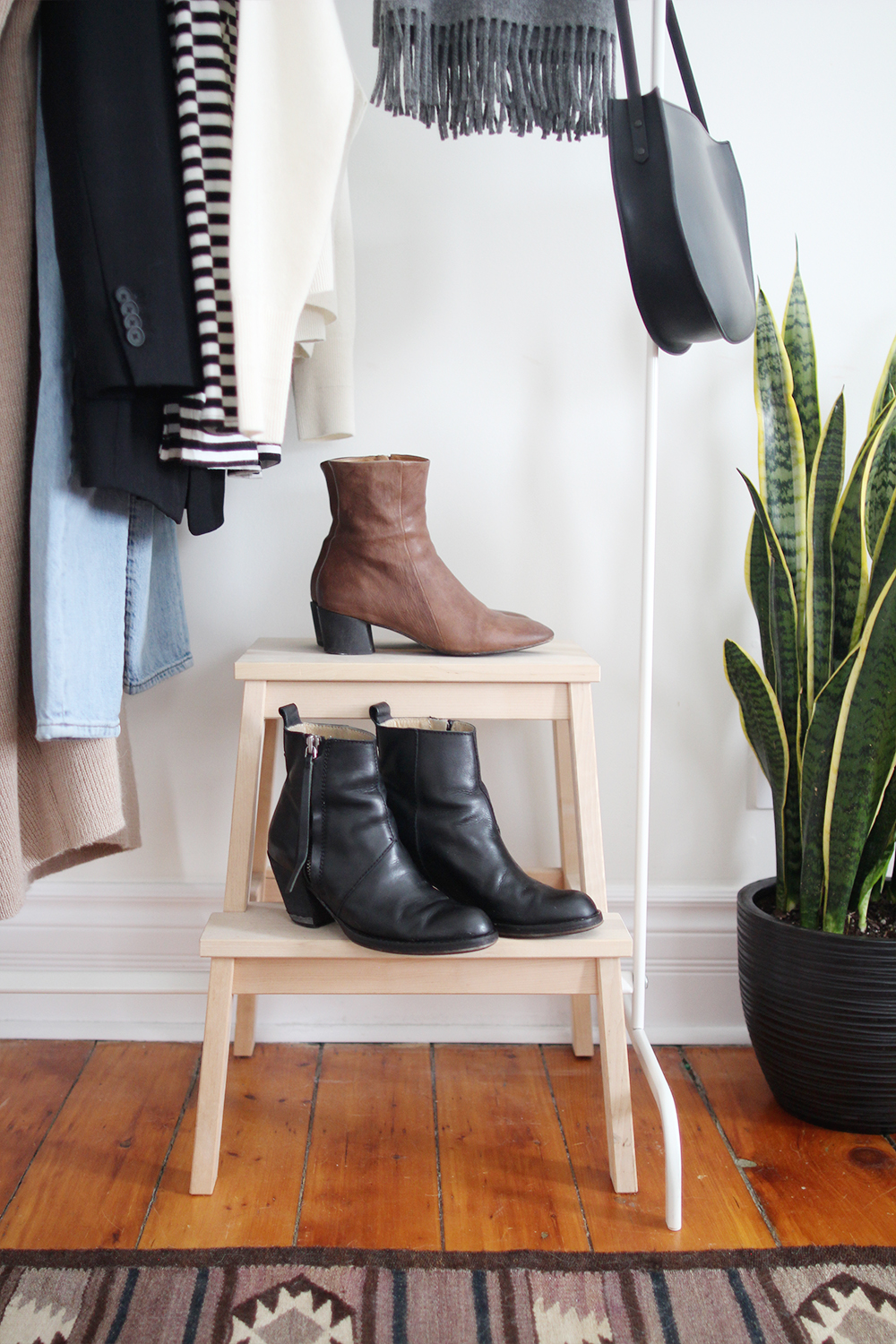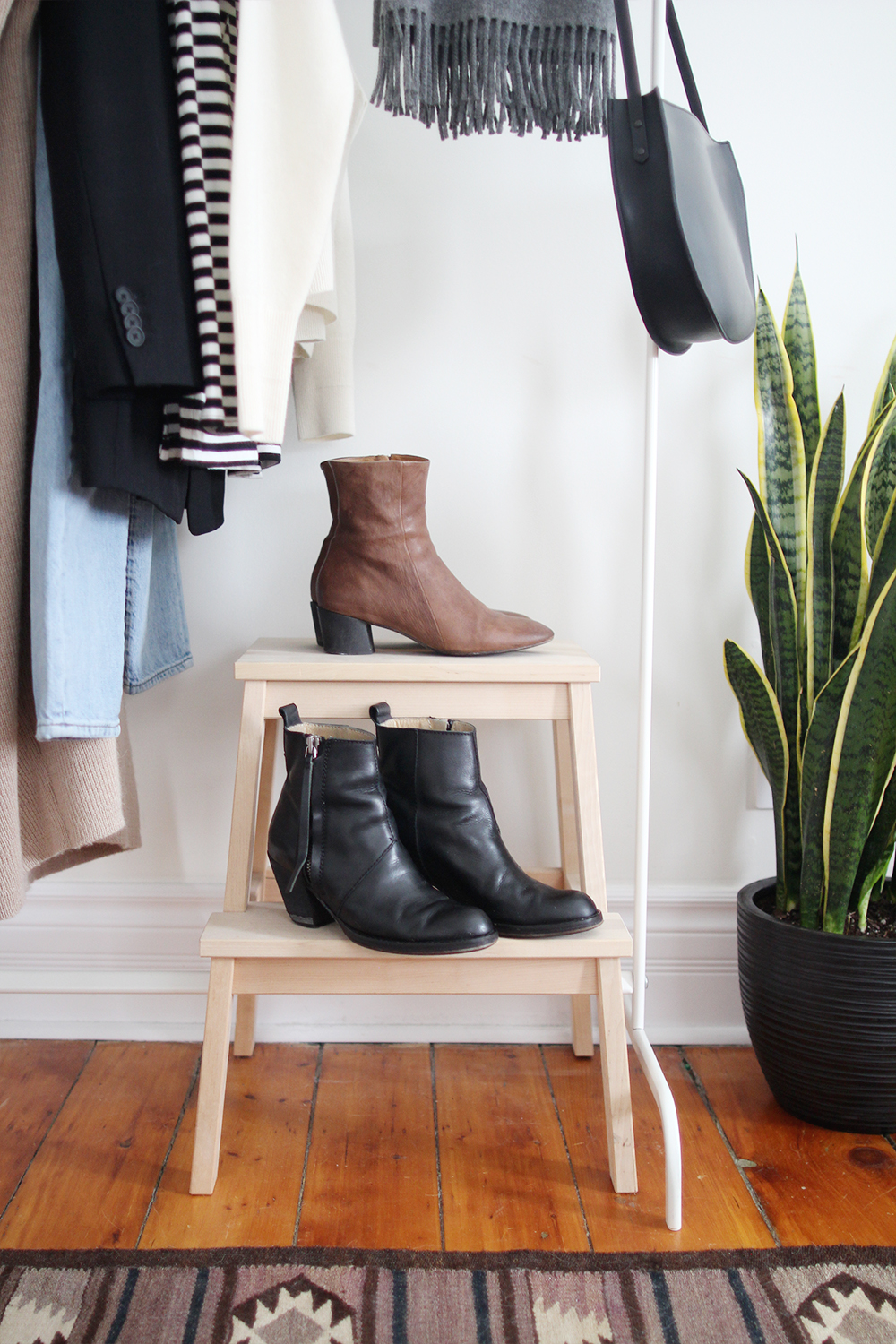 ---
6 – LIGHT JEANS – Madewell – $150 CAD – Size 26 – Imported | Similar here for less ($68 USD) made responsibly/sustainably in Vietnam
I'm kind of surprised that I've never included these jeans in a 10×10 Challenge before. They're from my fast fashion shopping days but they're still one of my favourite pairs of denim. I'd always kept them in the warm weather section but recently felt the urge to pull them on so, we'll see how they work for winter! 
7 – GREY CASHMERE TURTLENECK – Everlane – $120 USD – Size S – Made responsibly in China
I bought this sweater last Fall to replace an old one I'd had for ages but was too small so I never wore it. This one has a great relaxed fit but still tucks nicely into a high waist pant or layers under a cardigan or blazer. It's a true classic. 
8 – BLACK PISTOL BOOT – Acne Studios – Size 7 – Made responsibly in Italy
These might be the oldest investment footwear I have in my closet and they're still going strong after several winters! I'm thinking I'll need to take them for some heel repair after this challenge but the leather is still in amazing shape and they feel better than ever. 
9 – WHITE RIBBED BODYSUIT – The Bodysuit of Barcelona – €80.00 – Size M – Made responsibly in Barcelona
I know bodysuits are a somewhat polarizing item. People either seem to love them (that's me!) or think they're weird. Being of the former mindset, I am 100% in love with the ones I got last Fall and I've been wearing them literally every week since. Definitely keeping an eye on this brand too!
10 – SILK FLORENCE PANT – Elizabeth Suzann – $235 USD – Size S Reg – Made to order in Nashville
Now silk pants aren't exactly known for their insulating capabilities but my WORD are these pants ever comfortable. As you know, I'm a Florence Pant fan for life and I've got to say, these might be my favourite ones ever (I still haven't tried the canvas though). I wore these to literally every party or event over the holidays and they were the perfect mix of luxe and low-key. Safe to say, I'm obsessed with these pants.  
---

---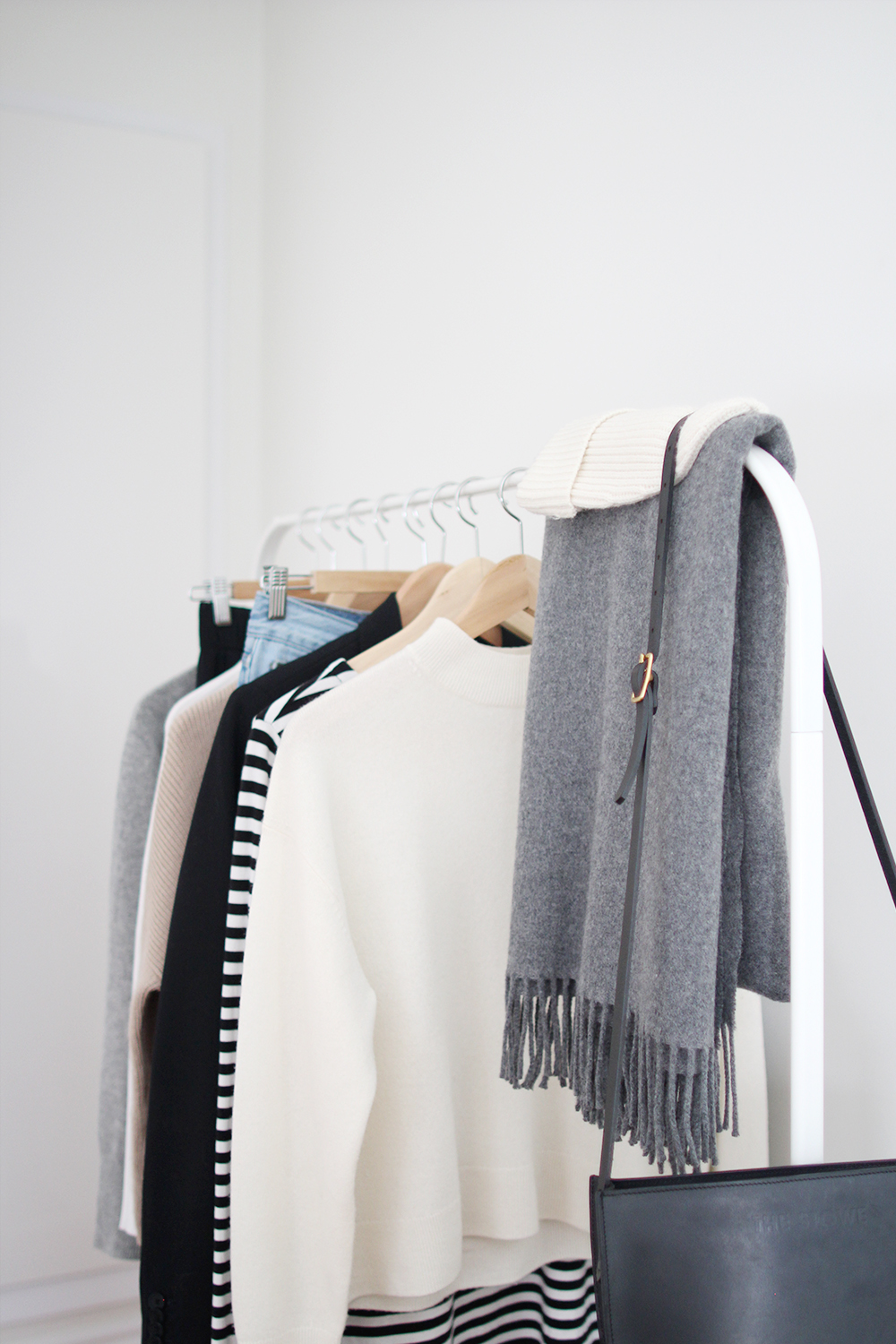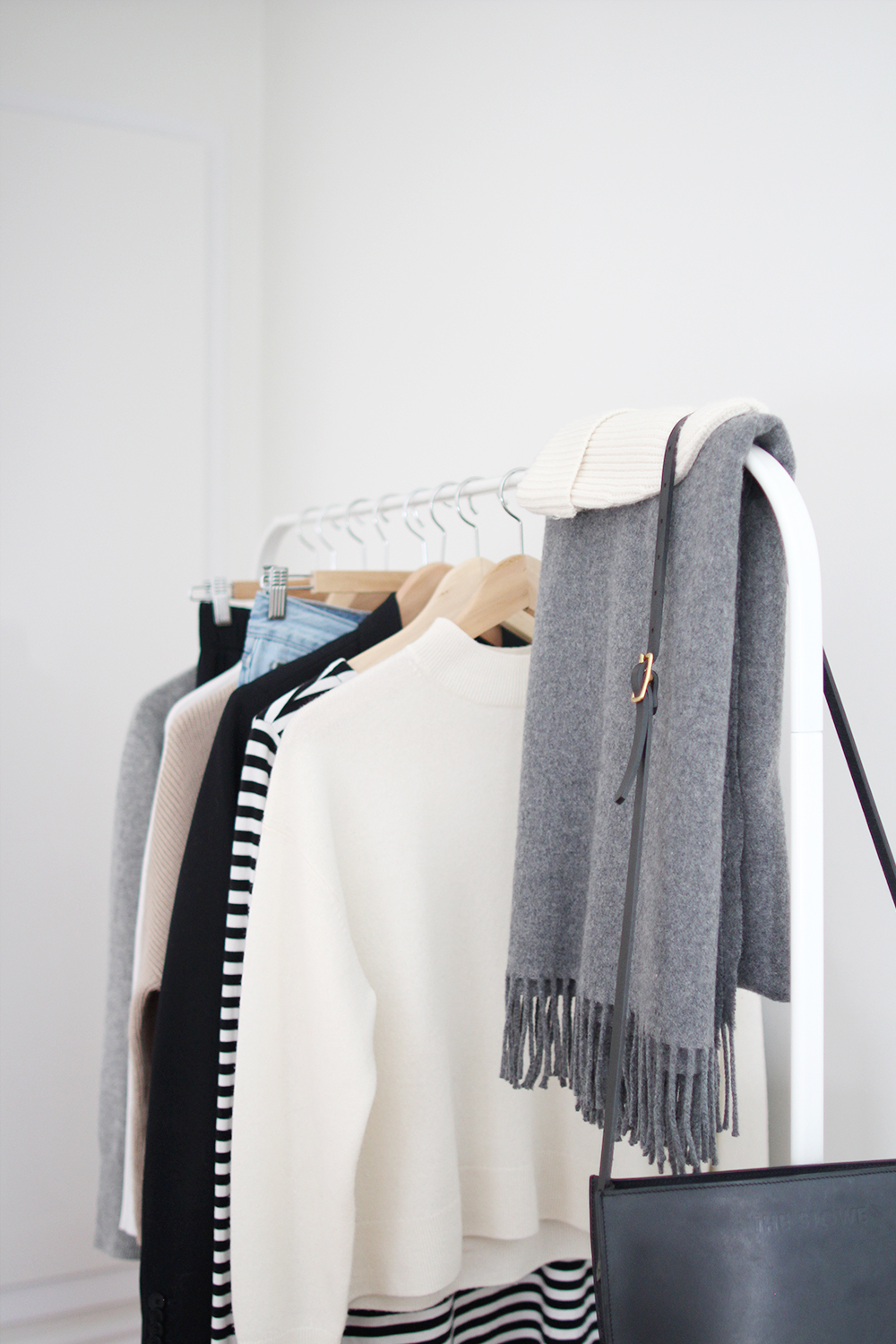 ---
10 X 10 CHALLENGE 101
---
No worries if all this challenge talk has you scratching your head! The 10 x 10 Challenge is an exercise I established in 2015 to help encourage myself to get more creative with my clothes during a 30 Day Shopping Fast. The concept is essentially a micro capsule closet that you work with for 10 days, trying new looks and styling your clothes in ways you might not otherwise consider.
---
WHO IS THE CHALLENGE FOR?
---
ANYONE! But more specifically, anyone looking to:
Take a break from shopping.
Reinvest in their existing closet.
Test their style creativity.
Make their closet work harder.
Find a better sense of personal style.
Test out a capsule closet.
Establish a couple of go-to uniforms.
Pack for a trip. 10 x 10 Challenges are ideal for travellers looking to pack lighter.
---
BASIC GUIDELINES
---
PICK ANY 10 ITEMS FROM YOUR CURRENT CLOSET
STYLE THOSE ITEMS INTO 10 DIFFERENT LOOKS
USE 10 DAYS TO DO IT
HAVE FUN AND DON'T TAKE IT TOO SERIOUSLY!
I say 'guidelines' instead of 'rules' because this is meant to be a fun and helpful exercise, not a daunting or rigid task. It's all about being creative and exploring personal style. If it doesn't go flawlessly, no worries, you're still going to learn something positive from it.
For example:
You can limit yourself to only those 10 items for the full 10 days or just wear those items to work or after work.
Take the weekend off and do 10 business days.
You can try a smaller challenge first if you prefer with only 6 items over 6 days or up the ante and choose a few more items to style over a longer period (I've done 20 pieces over 20 days before).
If you're really not loving one item, just switch it out!
Loungewear and gym gear don't count unless you want it too.
Stressed about choosing shoes, no prob, let those count as extra!
Do whatever makes it feel manageable but still be sure to challenge yourself!
---
HOW TO PARTICIPATE IN THE WINTER 10 x 10 CHALLENGE
---
1 | Pick 10 Items from your closet to wear for the next 10 days.
2 | Snap some shots of your 10 pieces and your outfits as you go and post them on Instagram. It can be a flat lay, wardrobe shot or a stack to start then a daily outfit (ask a friend or the fella to snap one), a mirror selfie or you can wait and share a grid of many looks together. Whatever you're comfortable with and if that means no photos that's cool too. 
2 | Use the hashtag #WINTER10x10 so we can see what you put together! We'll be sharing our favourites from the feed during our wrap-up posts too!
3 | Feel free to include the existing hashtags #StyleBee10x10 and #UnfancyRemix if you like as well! That way they'll be in the general archive for all future challenges too.
---
CHECK OUT THE 10 X 10 CHALLENGE PAGE WHERE YOU'LL FIND MORE INFO, TONS OF EXAMPLES, STARTER TIPS AND A HELPFUL WORKSHEET TO GET YOU STARTED.
---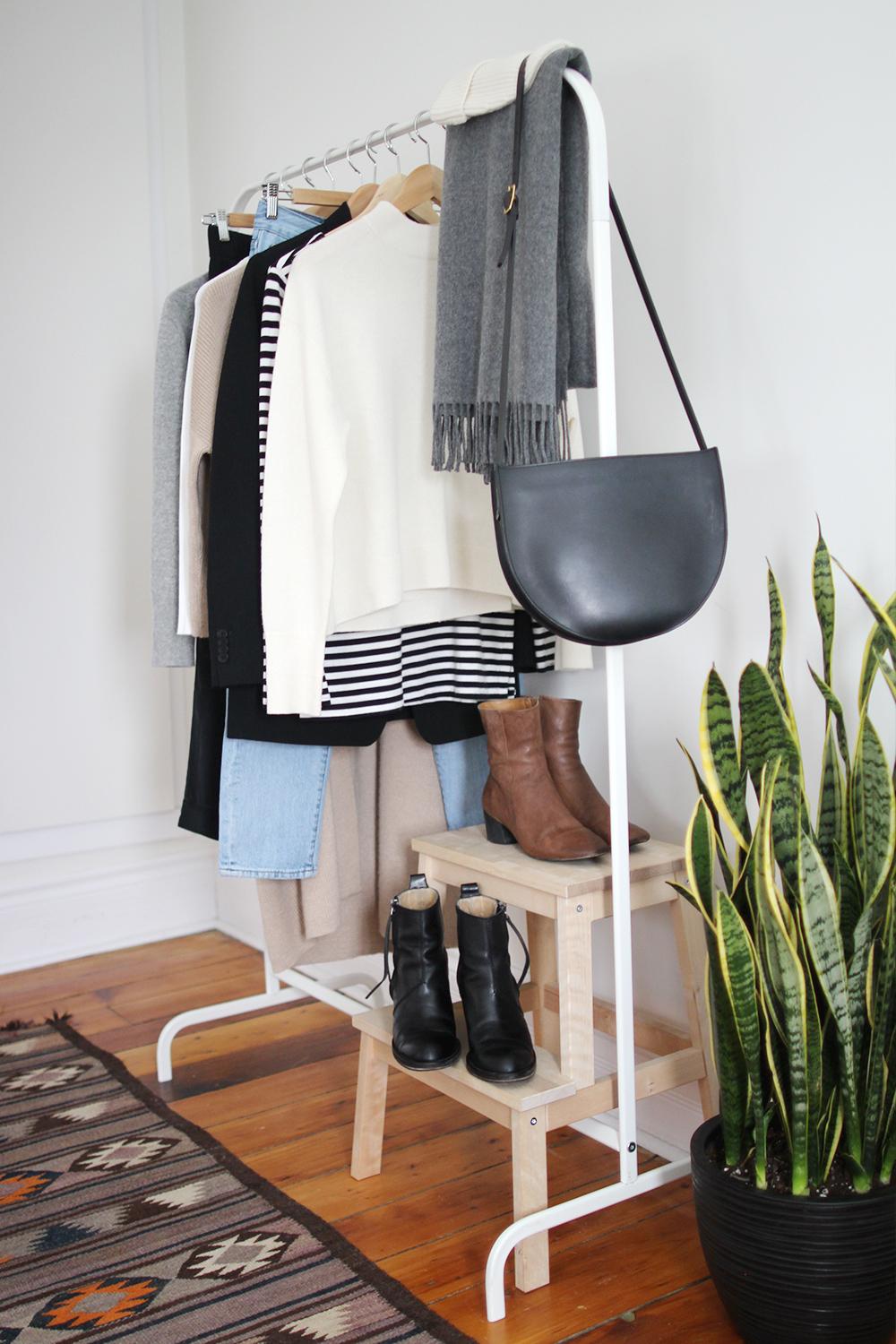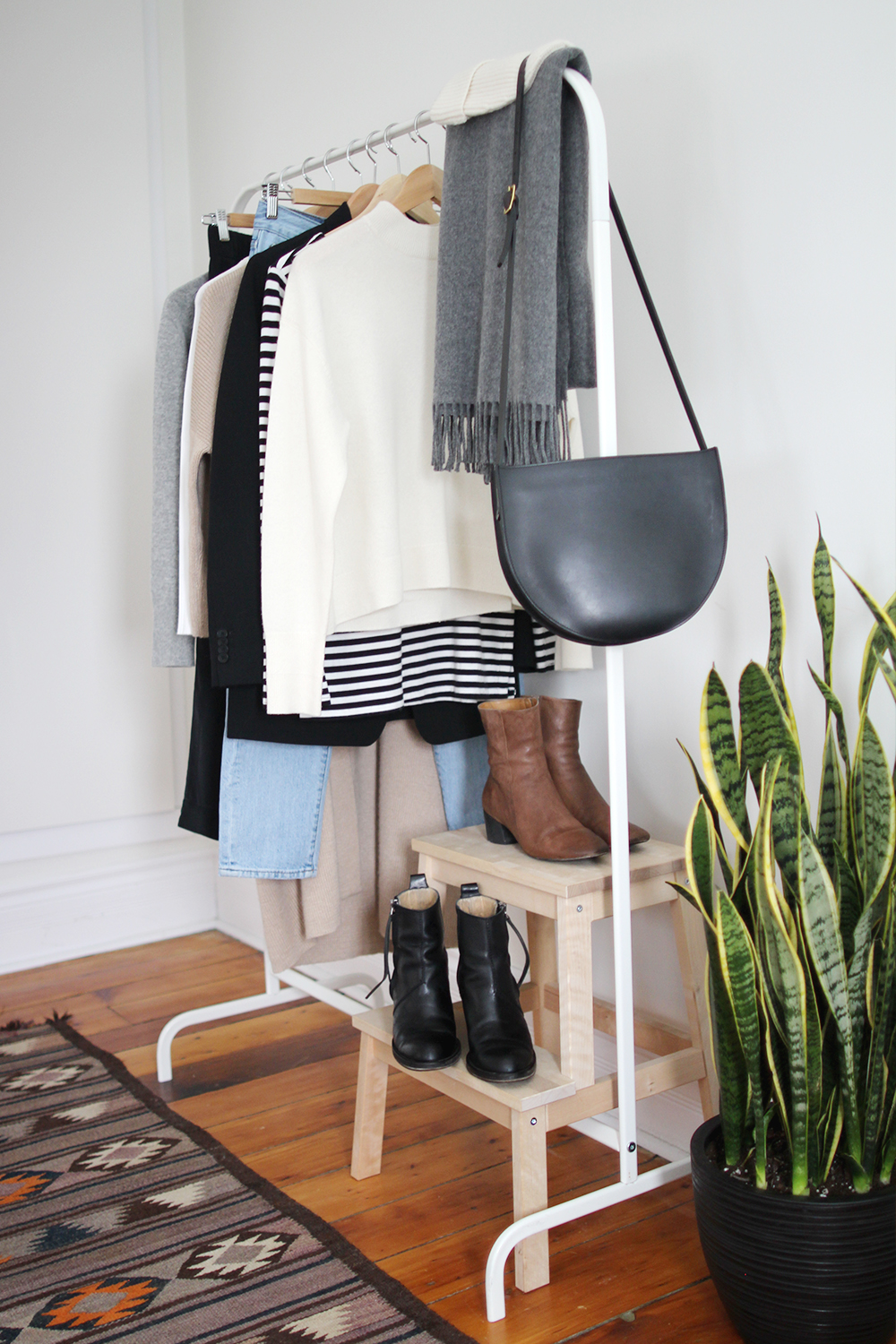 ---
TIPS ON PICKING YOUR ITEMS
---
WHAT IS INCLUDED?
---
Any core closet item you choose counts as a part of your 10 items. For example:
TOPS
SWEATERS
PANTS
DRESSES
SHOES
COATS
Keep in mind these are not hard and fast rules! If you really feel like you need all your shoe options that's OK, don't include shoes this time around and add an extra top or bottom instead. No judgement shall be passed ?
---
WHAT IS NOT INCLUDED?
---
Any accessories or jewelry you add to a look does not count as a part of your 10 items. For example:
Hats
Bags
Scarves
Necklaces
Gloves
Jewelry
Base Layers (ie: underwear, tights, bodysuits, socks etc.)
Workout Gear
PJs and Loungewear
---
BEGINNER'S FORMULA
---
If you're a little bit stumped as to where to start with your items consider this formula:
2 Pairs of Shoes (1 heel + 1 flat)
4 Tops (Consider pieces that layer well like a fitted long-sleeve, a button-down and a cardigan)
1 Dress
2 Bottoms
1 Top Layer
A few other tips for choosing items:
Check the forecast and pick practical items for the weather.
Consider your activities for the next 10 days.
Don't give yourself too much time to choose. Try to make the call in under 30 mins. But if you need more, that's cool too! You've got all weekend to play around with your picks if you need until Monday.
Go for an easy, lean colour palette. Think neutrals, denim, white, black and grey with 1 or 2 colours.
Reach for your favourites first and then add one or two pieces you'd like to wear more or aren't sure about.
Avoid Dry Clean Only items or pieces that are a pain to launder so if need be you can refresh them during the 10 days.
---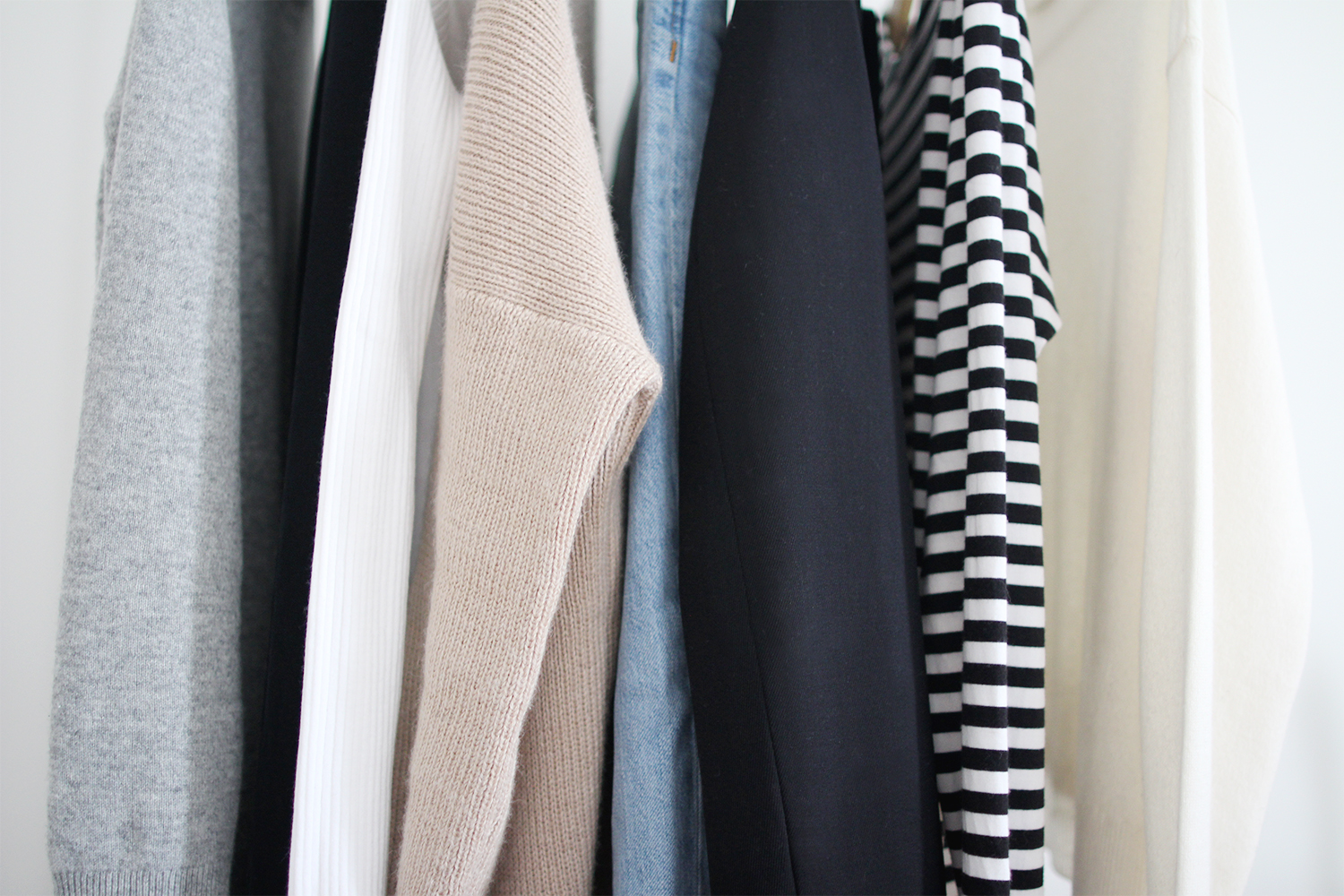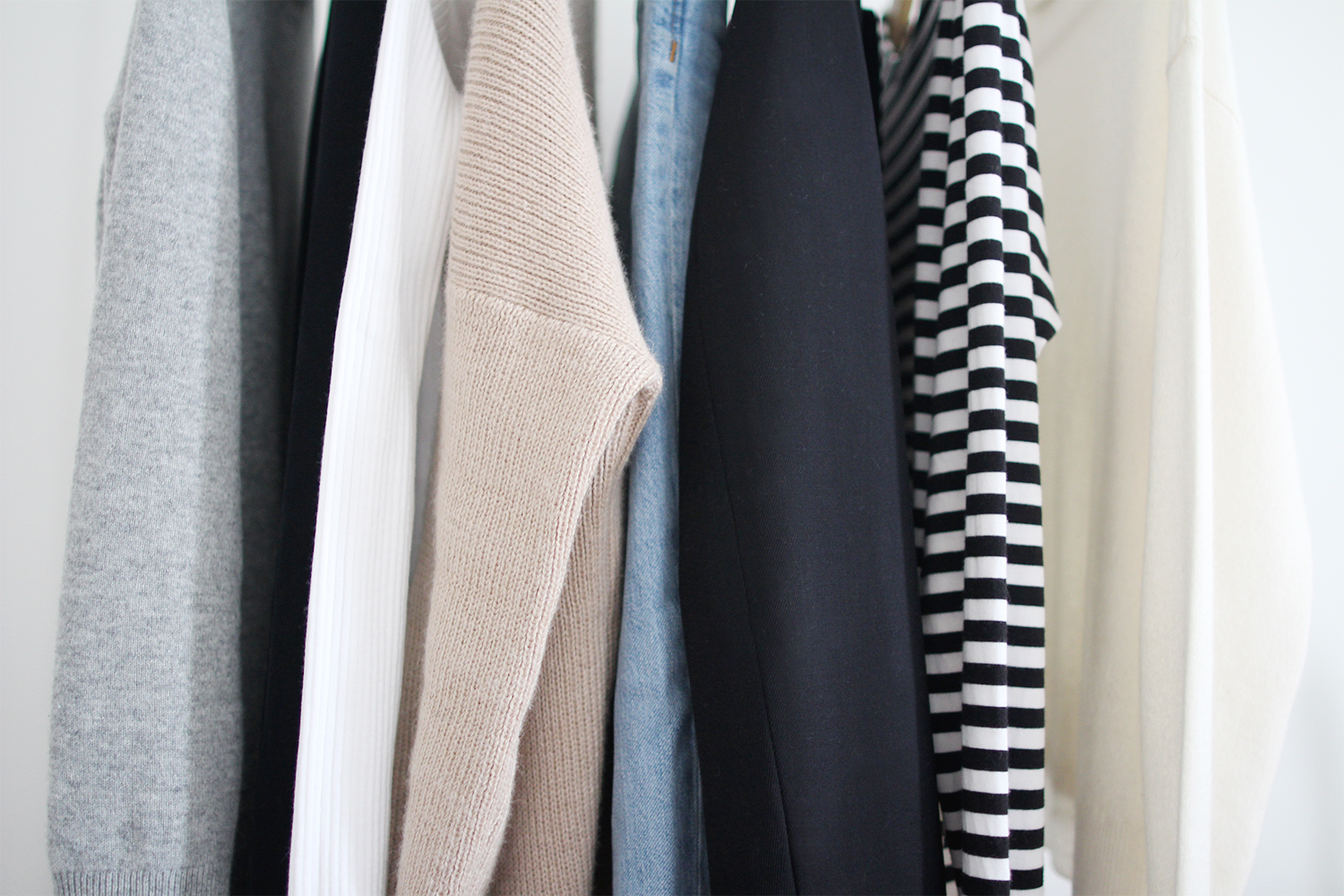 ---
SO WHAT DO YOU SAY? CARE TO JOIN US? 
SURE YOU DO!
FEEL FREE TO DROP ANY QUESTIONS YOU'VE AND I'LL DO MY BEST TO ANSWER THEM TODAY.
---
I'LL SEE YOU TOMORROW ON INSTAGRAM STORIES WITH LOOK #1! 
DON'T FORGET TO SEE WHAT MY PAL CAROLINE PICKED FOR HER 10 ITEMS TOO!
---
This post is not sponsored but contains affiliate links. When you shop via the links above I may make a small commission from a sale. Thanks for supporting Style Bee! All opinions are always my own.