Hello again everyone! I hope your 2019 is off to a great start and the year is treating you well. My plans for a short break from the blog ended up extending as several unexpected challenges arose but I'm glad to be getting back to it and so excited to finally share the new Style Bee brand and site with you!
This update has been underway for a long time and has evolved a lot since I first decided it was time for some changes. I worked with the incredibly talented Hannah Beasley of Hannah Rose Creative to develop a new brand identity and space that feels fresh, inviting, contemporary and open. I'm delighted with how the final iteration has come to life and there are lots of new things to check out. So let's take a little walk through the new Style Bee, shall we?
---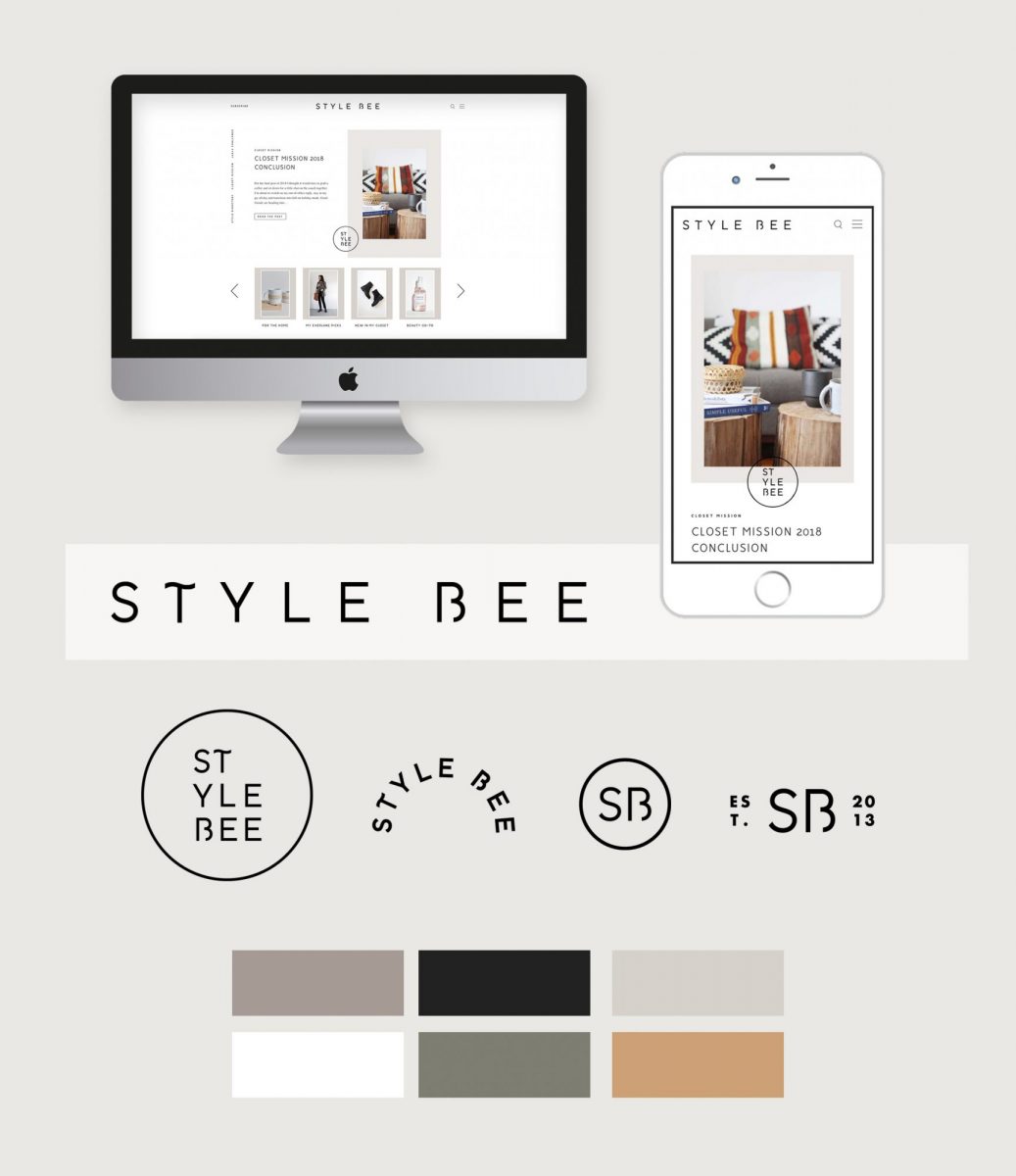 ---
The home page is fairly self explanatory and essentially highlights all the key sections and elements of Style Bee. You'll always find the latest post right at the top. Below this section you'll find a little carousel of featured items and links that have caught my attention or that I think you might enjoy exploring. This will be updated frequently.
Beneath that you'll find more of the latest posts and can simply 'load more' to your heart's content. If you'd prefer to jump directly to a catalogue of all posts in chronological order you can bookmark this page.
Beneath the latest posts you'll find some of the most loved posts from the last couple of years. This section will be updated with time as new posts jump up the ranks to earn a spot. Now let's peek at some of the new and improved sections on the site.

---
One of my top goals for the update was to make Style Bee a more resource focused space, rather than simply an ongoing style journal. For too long the Closet Mission section had been lying dormant, yet, it's one of the first places new visitors tend to explore. There were literally years of exercises, tools and worksheets just sitting around!
So we created a new home for all the essential steps to help folks on their own Closet Mission adventures. The page begins with where I started out with some bad shopping habits and how a few simple goals evolved into an entire lifestyle change. Then it gets into all the exercises I've developed to help in the process.
The Define + Streamline Toolkit covers all 8 steps but those interested in taking it slowly can explore each topic individually. This page is probably my favourite update to the Style Bee site!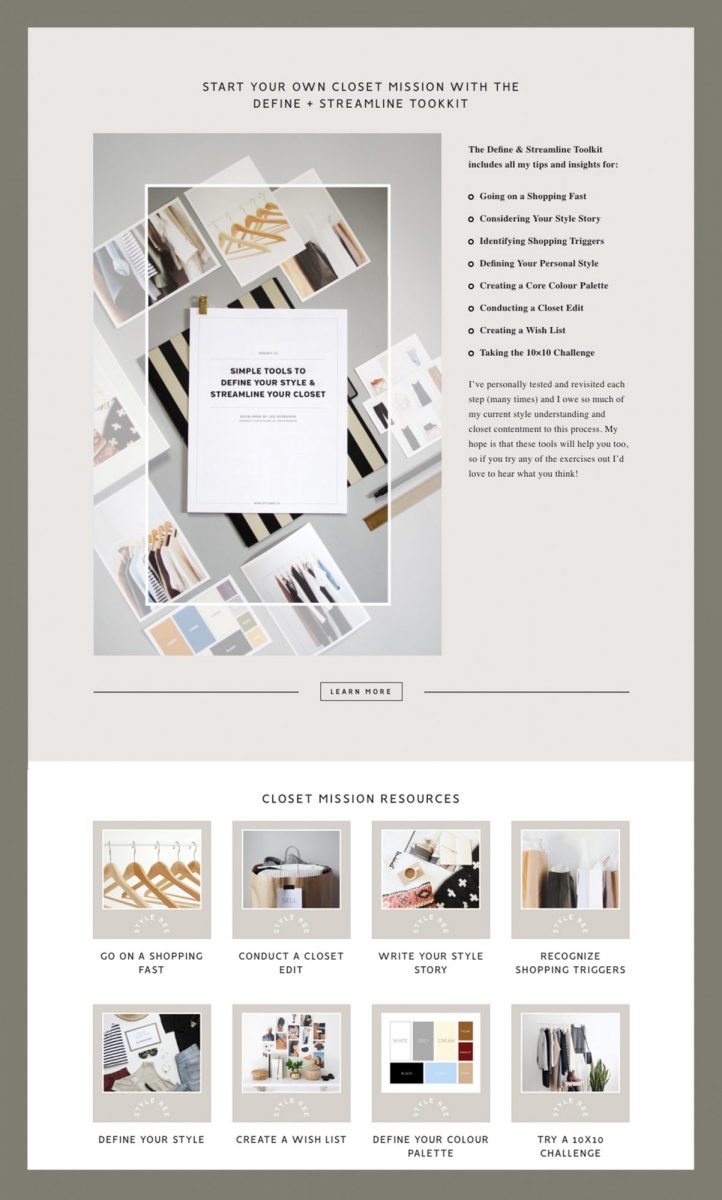 ---
Being one of the most visited resources, I wanted to make the Style Directory (formerly Where to Shop Responsibly) a more visual space with categories that visitors could manipulate and explore. Here you'll find my favourite brands and shops for thoughtfully made goods that stand the test of time and answer a need for both elegant design and real functionality. Right now the directory includes about 40 of my personal favourite brands and shops but I'll be expanding it more and more.
You can search the style directory by brand category (clothing, home goods, swim, footwear, jewelry etc.), location (Canada, USA + International for now), and price point (under $100, under $200 etc.) to help you isolate what you're looking for. I'll be continually adding to this directory, so be sure to check back often!
---
This resource has been a frequent request for several years now and we finally made it happen. Initially I'd struggled to find a way to compile all my pieces from both affiliate partners (ie: Everlane) and non-affiliate brands (ie: most indie brands like ES and J+J) but Hannah created a custom shop space for me! Right now you'll find all the pieces I love to wear throughout the winter season including boots, coats, accessories and bags (about 65 items). Soon I'll be adding my spring closet with summer and fall to follow so be sure to check back often!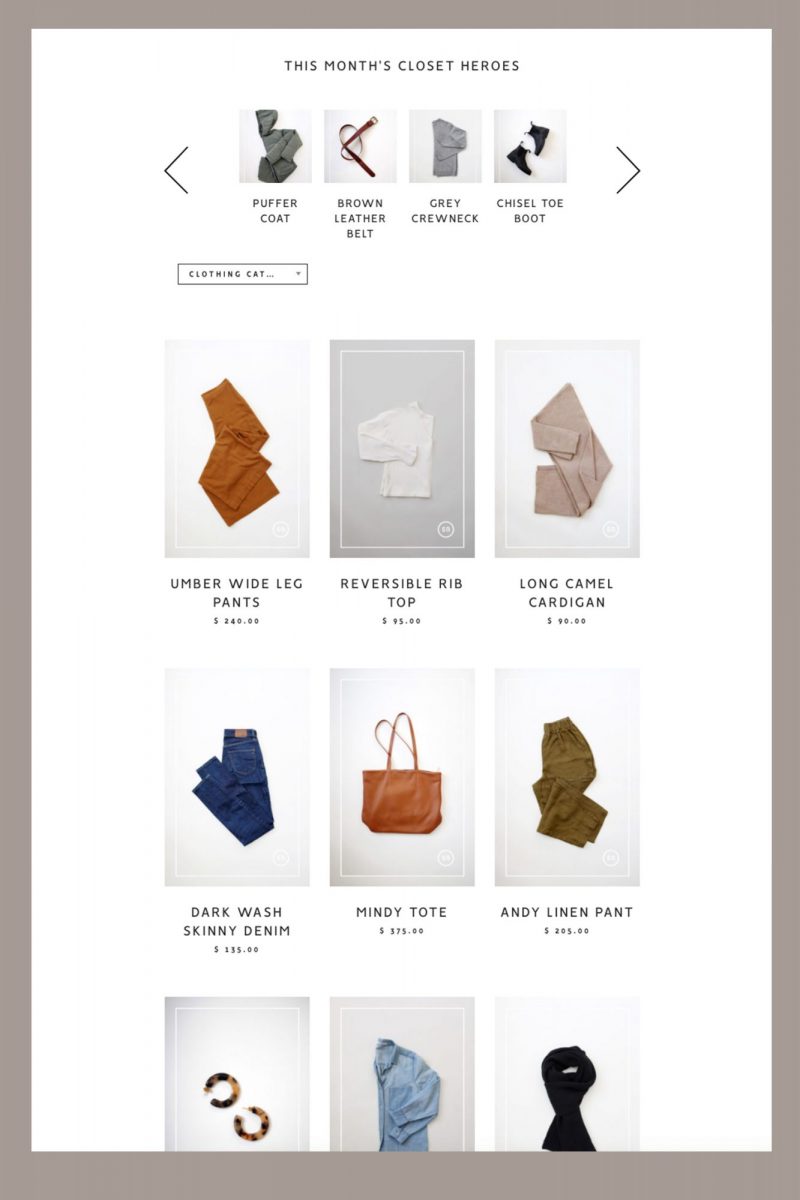 I was initially hesitant about sharing my closet so openly. I didn't want it to seem like a brag fest or imply that any one needs all these items. Nor did I want to open myself up to criticism surrounding minimalism and the subjectivity of what a lean wardrobe 'should' be. But after a lot of consideration I realized that I would have LOVED to see this kind of resource when I was starting out on a more mindful shopping path. So I hope this item library will help you to plan your own closet, see what I'm working with and gain new inspiration for your personal style!
---
Then we're onto a new and improved 10 x 10 Challenge section, which will provide any one who might be new to the concept with all the information they need to give it a try. I love how this page walks through the details of the exercise in 6 simple steps.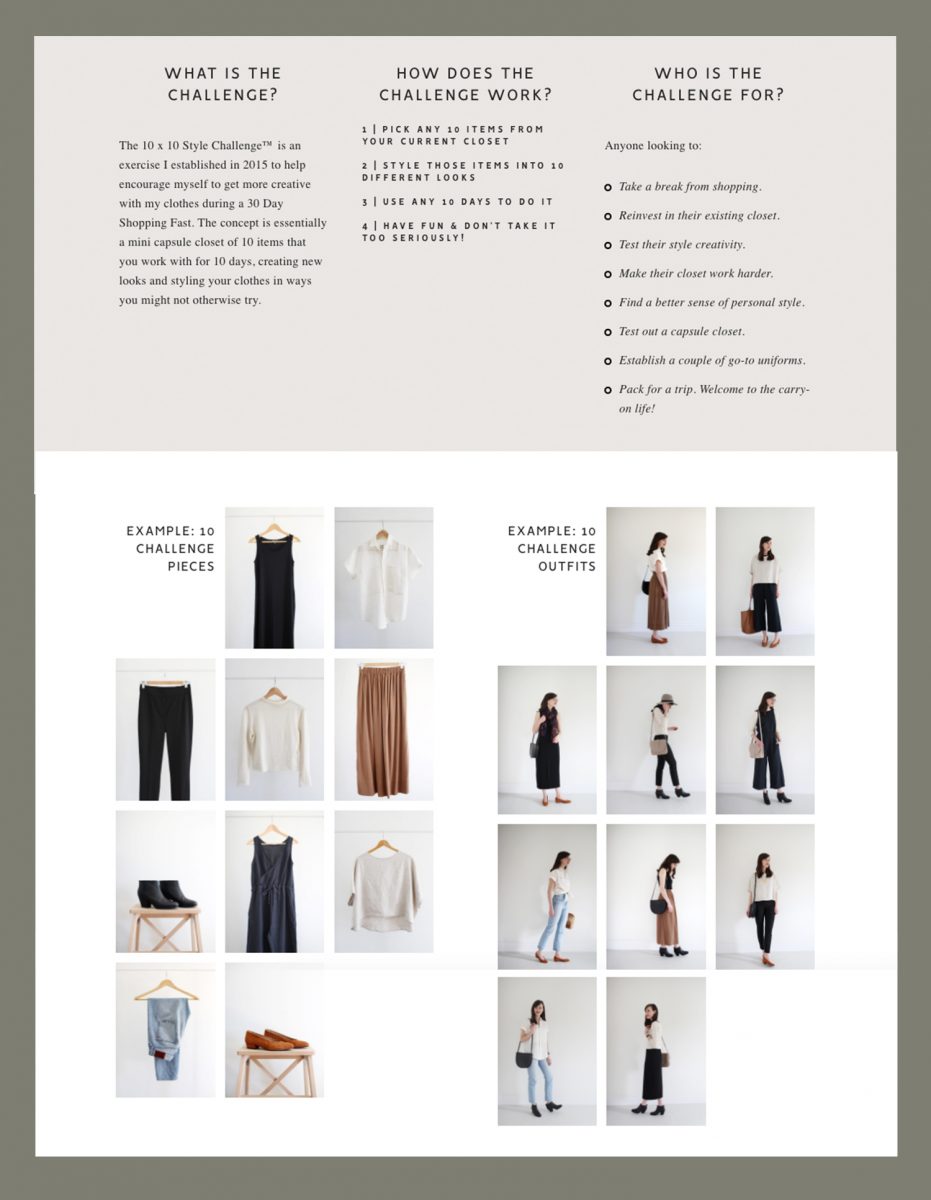 ---
For brands interested in partnering and collaborating with Style Bee there is now a specific page where you can submit your information, see about the brands I've worked with and learn what some of them had to say about their experience. While I don't share my media kit unless I believe we'd be a really great fit, I do try to review all inquiries and take each one into consideration.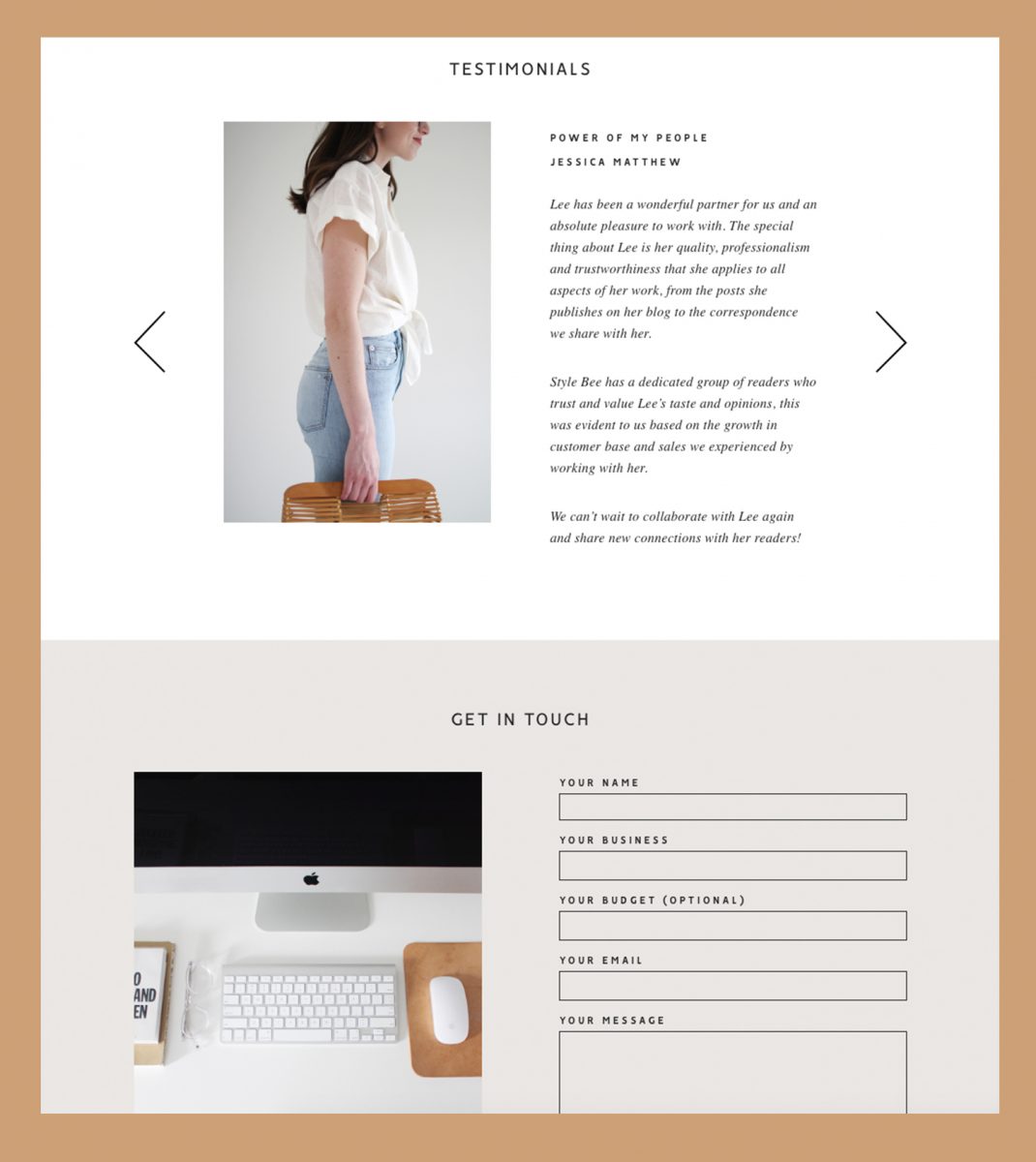 ---
MENU + SEARCH + SUBSCRIBE
You'll find the full menu and search field in the top right hand corner. The menu covers all key pages and categories along with some other important information like frequently asked questions along with privacy and policies.
You'll also find the subscribe button at the top left and bottom right of each page. If you haven't already, I would love if you'd join the mailing list and that way you'll never miss a post! As I dial back my use of instagram this year, subscribing to my newsletter is definitely the best way to keep up to date. Emails only go out when there is a new post!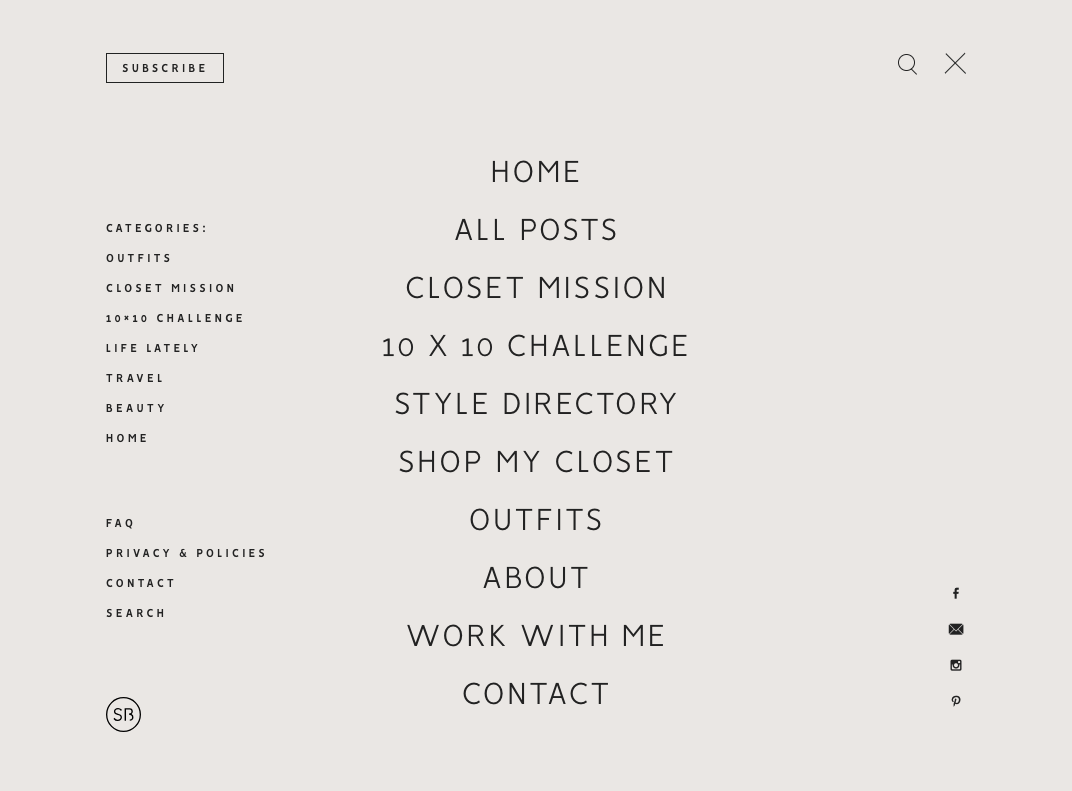 ---
Finally, I'll just share one more shout out to my amazing designer and developer Hannah Beasley. I cannot even begin to tell you how integral Hannah was throughout this process, from interpreting my ideas, to creative conception, to brand strategy, right through to development and execution. When we hit some major hosting and server hiccups she handled everything with ease.
Hannah is always on point with her suggestions, at the ready with solutions and no detail seemed too minor for consideration. If you're looking for a designer, developer, brand strategist and all-around great person to work with on your business, Hannah Rose Creative has a glowing recommendation from me. Thank you so much Hannah!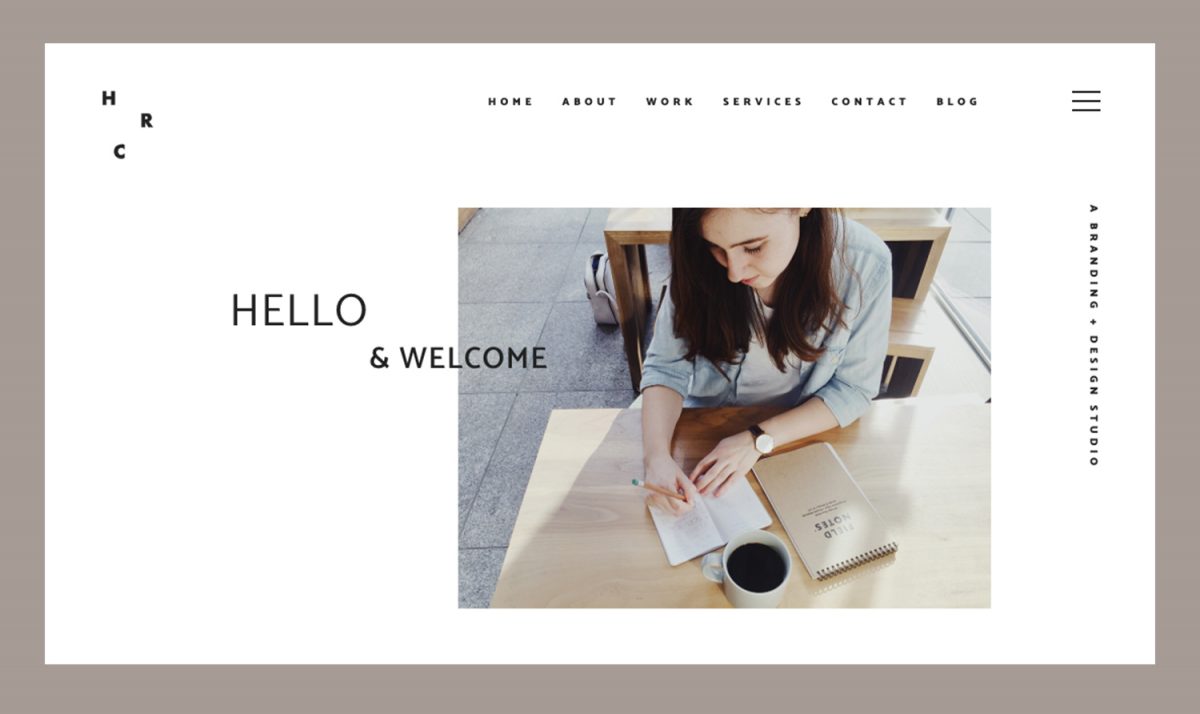 ---
Well, that's about all the key info I wanted to share about this big update! Feel free to explore a bit and play around. I really hope you'll find the new site helpful and intuitive. I'd love to hear what you think, if there is anything else you might find useful or if you run into any issues.
---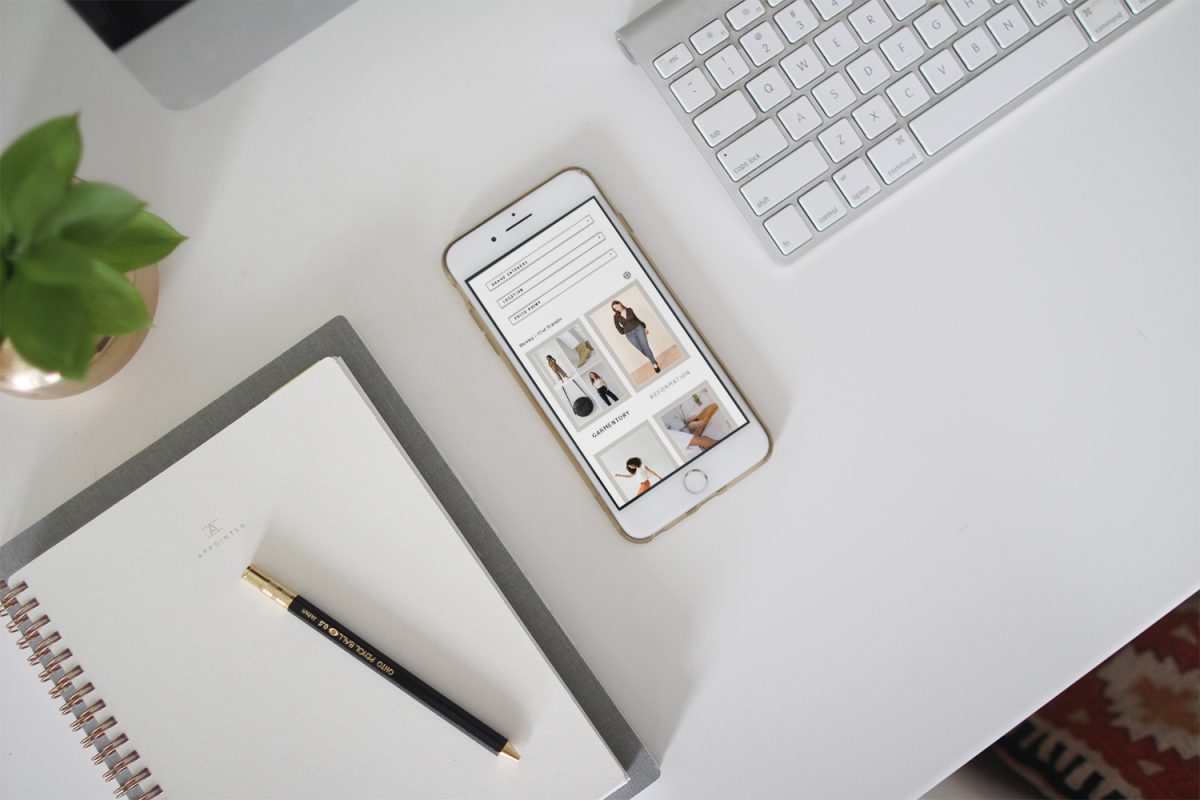 ---
Thanks so much for your readership and patience while the site was under renovation. I hope you love the new Style Bee as much as I do!

---
Have a great weekend and see you again soon with new style posts and lots more!